I remember riding a bus home from a work trip in the middle of winter. I listened to a podcast about the Galapagos Islands as I gazed out over the piles of white snow. The podcast made it sound like it was so far away, filled with exotic wildlife and dangerous volcanoes that only the lucky few would ever have a chance to visit. Fast forward three years, I was traveling to Ecuador and discovering how to visit the Galapagos on a budget.
In the vastness of the Pacific there's a place unlike any other: enchanted volcanic islands that are home to a remarkable collection of animals and plants.  Here, evolution is proceeding with spectacular speed. Black lizards that swim in the oceans and spit salt from their noses. Penguins thousands of miles from Antarctica.  And an abundance of unique plants. (Animals & Galapagos)

– David Attenborough's Galapagos: Origin
All of my research led me to one conclusion:
I can't afford to go.
Without a steady income, even a last minute cruise was out of reach. Inevitably, the Galapagos was placed on the back-burner.
One day, on an intense Instagram scroll,  I noticed a friend from college posting her Galapagos adventures. I reached out to her and discovered it's actually possible to explore the Galapagos without a cruise!! Back to Google I went!
Not so surprisingly, many blogs and guidebooks focus on cruises, only mentioning the possibility of DIY-ing it. After quite a bit of digging, I found some reputable blogs filled with tips for planning a DIY trip to the Galapagos!
As it turned out, there were more people than I thought traveling to the Galapagos on a budget. Once on the islands, I met many people who opted out of a cruise or a land-based tour and instead planned their own itinerary.
Of course, there are pros and cons to each approach to the Galapagos. For example, if you are a scuba diver, then a live-aboard cruise sounds like the way to go as it takes you to islands unreachable without a cruise. If you're not, like me, you can still see plenty of wildlife with a snorkel and fins.
Before you even set foot on the islands, know what you'd like to do and see. Knowing where you're willing to splurge and where you will save will help you stay on budget. So, without further ado, let's dive into how to DIY the Galapagos, on a budget.
This post contains affiliate links, which means that, at no additional cost to you, I will earn a tiny bit of income if you decide to make a purchase or booking.
The Itinerary
To get to the Galapagos, I first flew from the states to Quito. I spent two days in Quito, before heading off to the islands. In total, I spent 10 days and 9 nights on the Galapagos. I visited Santa Cruz, Isla Isabela, and San Cristobal, in that order. Here's how that travel looked:
Fly from Quito to Baltra (Santa Cruz). This included a 30 minute layover in Guayaquil, where I did not get off of the plane.

Ferry to Isla Isabela

Ferry to Santa Cruz

Ferry to San Cristobal

Fly from San Cristobal to Quito – this was a direct flight

.5 day on San Cristobal prior to flight
Before we discuss the tours, amazing wildlife, and stunning landscapes, let's get some practical information for visiting the Galapagos.
Non Negotiable Fees
First, there are two non-negotiable fees that every visitor to the Galapagos Islands must pay. The first is a $20 visa that you will pay at the airport before departing mainland Ecuador. The second is the $100 entrance fee paid at the airport upon arrival in the Galapagos. Additionally, if you plan to visit Isla Isabela there is a $10 entrance fee paid on arrival. Everything is cash only.
Galapagos Islands Packing List
Packing for the Galapagos Islands could be difficult, but really all you need is a swimsuit, good sun protection, and cameras to get amazing photos of the Galapagos landscape and wildlife.
Sun protection is of the utmost importance as the sun is incredibly strong on the Galapagos Islands – and you'll be outside enjoying it 99% of the time. I highly suggest a sun shirt, a wide brim hat, and reef-safe sunscreen (I like Sun Bum). Remember any lotions you put on your body will end up in the ocean so be careful with what you wear to protect the environment you came to observe!
You'll also need sturdy walking shoes. Hiking boots may not be necessary, but definitely a good pair of walking shoes and water sandals like Keens or Chacos. Many of the beaches are very rocky, so save your feet and wear good shoes!
Santa Cruz Island
Puerto Ayora is the main town on Santa Cruz Island. It takes about an hour to get there from Baltra airport.
Getting to Puerto Ayora
After exiting the airport, I took the third bus to the ferry (this is free). Honestly, don't try to rush to the first bus, they'll be packed, it's better to wait a bit for the crowd to clear. The bus takes you to a taxi boat. It is then a $1 taxi boat ride across the channel, which is about 10 minutes. From there, I opted for a taxi. Taxis on the island are white pickup trucks. For $25 my taxi driver took me directly to my hotel. There are buses that will take you into town for much cheaper, but the bus wasn't there and I was impatient!
Cost of transport: $26
Accommodation
I spent three nights in Santa Cruz at Hotel Brisas del Pacifico. In total it cost $80 for a private room with a private bathroom. This hotel is about a 10-minute walk into the city center, however, it was clean and safe. The hotel is located directly next to a market, which was a great place to pick up fresh fruit for the day on my walk into town.
A few days later when I returned to Santa Cruz for one night, I stayed at Hostel Gardner two blocks away from the pier. I had a 4-bed dorm with a bathroom and breakfast for $20/night.
Cost of 4 Nights Accommodation on Santa Cruz: $100
Book your accommodation for Santa Cruz!
Puerto Ayora Day Trips
I opted not to do any booked tours on Santa Cruz. There were two tours I wanted to do on Isabella and San Cristobal, so I allocated my funds to those! There are plenty of free (or inexpensive) things to do on Santa Cruz.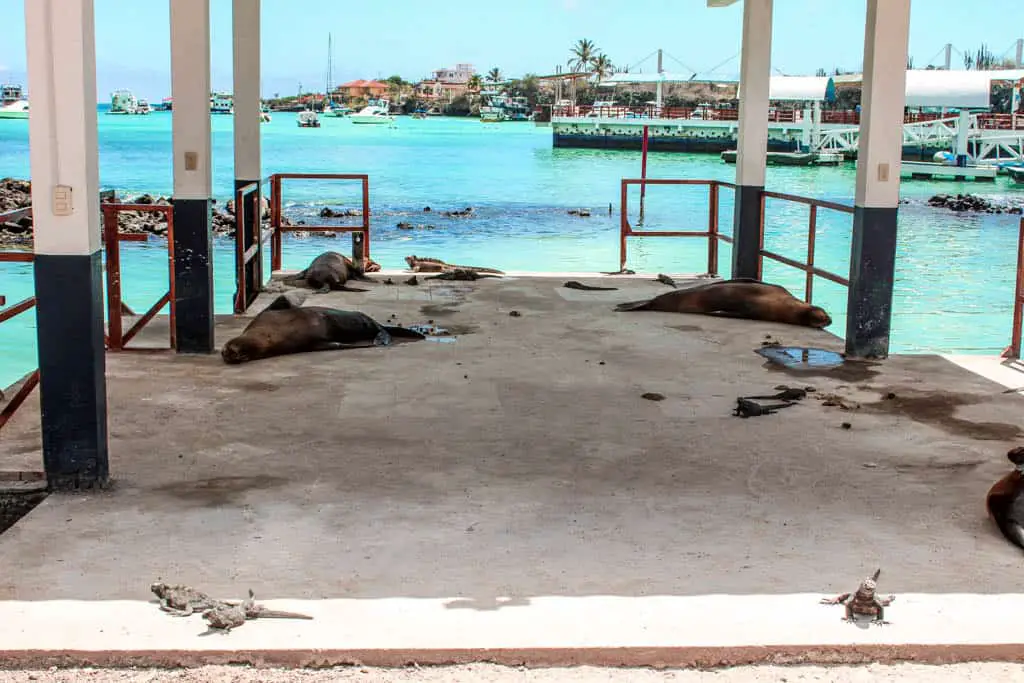 Free (or inexpensive) Things To Do on Santa Cruz Island, Galapagos
I spent the first day simply wandering Puerto Ayora, passing numerous tour shops offering last minute cruises. So if that is the route you decide to go, you will have plenty of places to check! I decided to get a bit away from the city center and meandered along Avenida Charles Darwin.
Along this street is the Galapagos fish market, where fishermen bring back their daily catch for cleaning. It's quite the sight to see as pelicans hang around hoping to catch some scraps! Definitely worth observing the interactions here for a bit!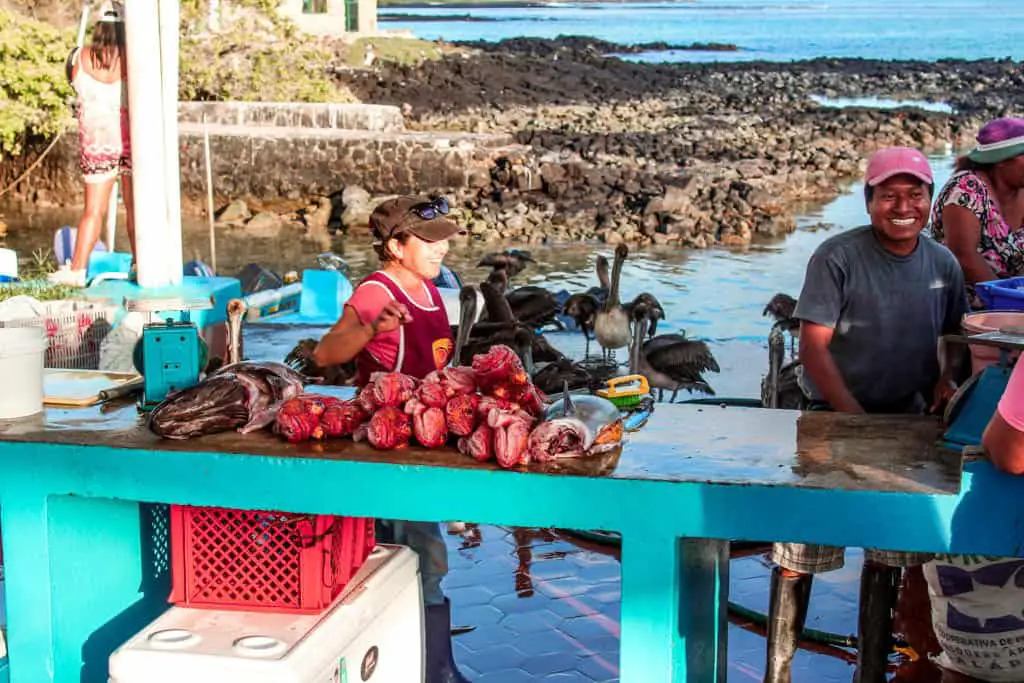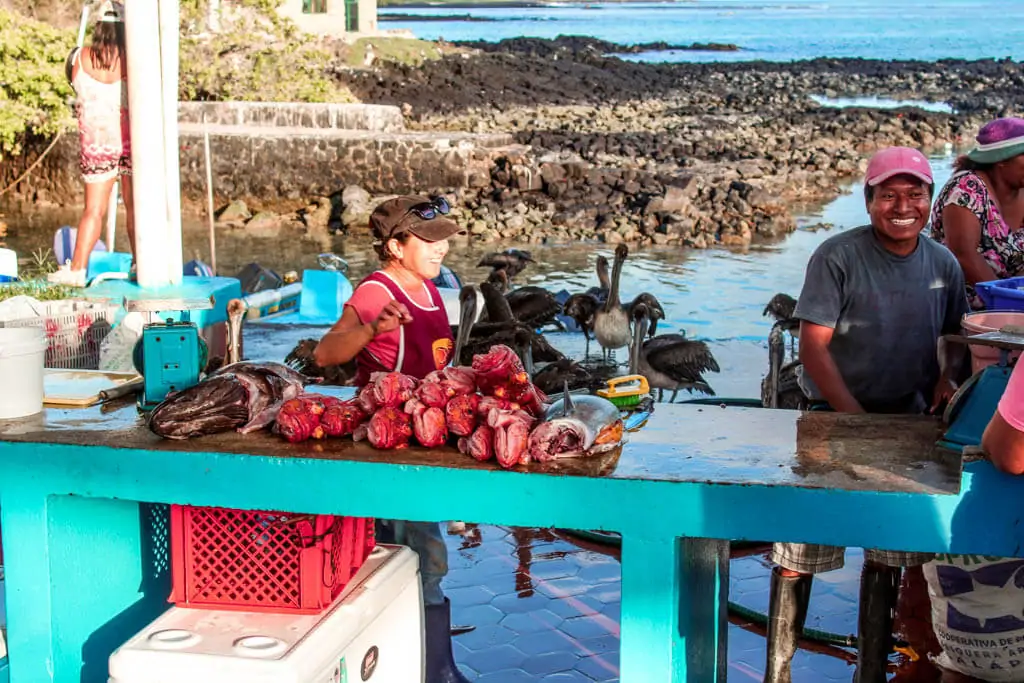 Charles Darwin Research Station
I walked along Avenida Charles Darwin for about 20-30 mins, passing Playa de la Estacion, where I took pleasure in dipping my toes in the chilly waters, on my way to the Charles Darwin Research Station. The Charles Darwin Research Station is a non-profit organization dedicated to the conservation of the Galapagos islands. It is free to enter and it was here that I caught my first glimpse of the Giant Tortoises and land iguanas, with Darwin's finches fluttering about everywhere.
The vision of the Charles Darwin Foundation and its Research Station is to ensure a sustainable Galapagos by providing breakthrough research which informs conservation actions and inspires humanity to preserve this extraordinary archipelago and our planet as a whole.

Annual Report 2016 with preview of 2017
On my way back to rest in my hotel, I found a small restaurant on Avenida Baltra, Bone, that had great smoothies and fantastic looking ice cream. I say fantastic looking because I didn't eat one, but a guy sitting alone at a table nearby was and I used his ice cream as a way to start a conversation – just one way to make friends while traveling solo.
We began chatting, I found out he was diving with his friend while on the islands. They'd been in the Galapagos for about three weeks, mostly doing day trip dives (not live-aboard cruises) to save money. I spent the rest of the evening wandering around town with them, getting ideas for how to spend my time on the islands. For dinner, they introduced me to Los Kioskos, which became my dinner spot the remainder of the time on Santa Cruz.
Cost for a wander and Charles Darwin Research Center: Free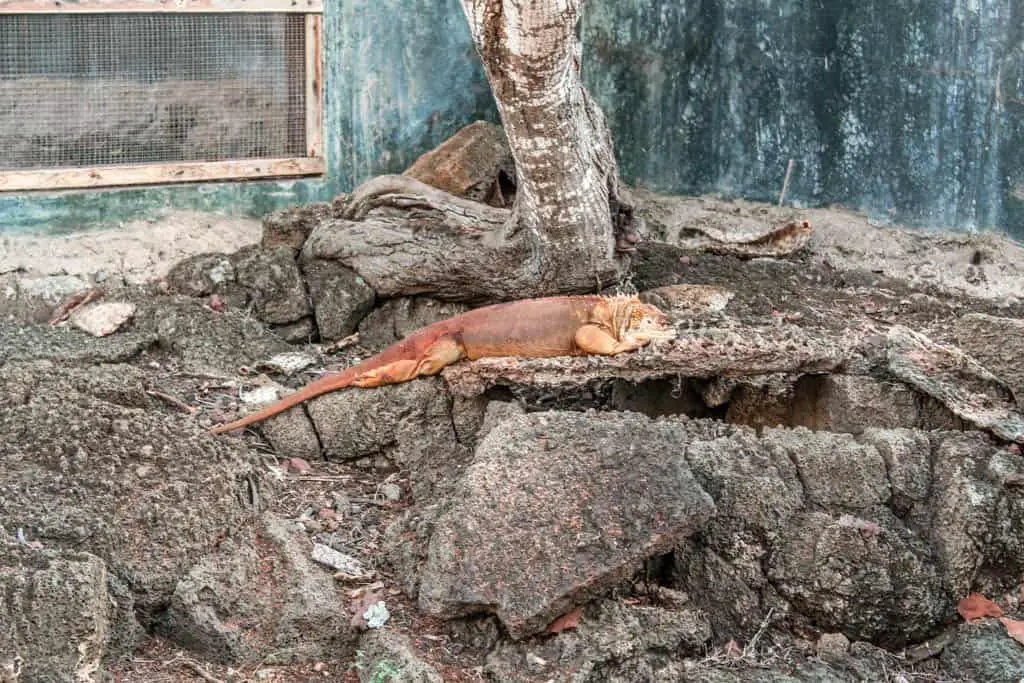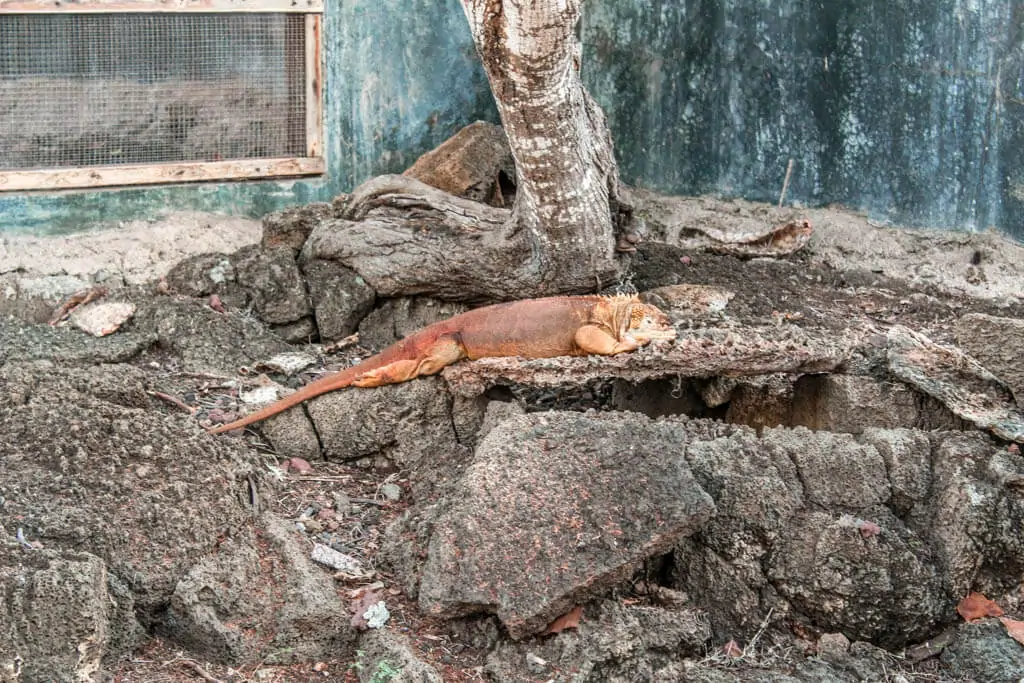 Los Kioskos
At night, one block of Charles Binford, from Avenida Baltra to Islas Plaza, becomes an open eatery. All of the restaurants along this block put tables in the street and serve inexpensive ($8-$20), yet delicious seafood. You can walk up and down this block, checking out menus that are written on whiteboards or handed to you by restaurant owners eager for your business. Pick one that looks good to you, relax, and enjoy the lively atmosphere of Los Kioskos.
Tortuga Bay
Tortuga Bay is an expansive white sand beach home to numerous marine iguanas, fur seals playing in the waves, and even a shark that spends time in a cove. It is accessible by walking from town or by a combination of a $1.50 taxi ride and walk. The night before, my friends warned me it was quite a long walk and recommended I check out Galapagos Deli for a hearty breakfast of eggs, toast, ham and cheese, juice, and hot chocolate, which cost $7.95!
How to Get to Tortuga Bay
I started the walk on Charles Binford – the same street as Los Kioskos. I followed this street (in the opposite direction of Los Kioskos) until I came to a staircase and a sign for Tortuga Bay. This is the only portion of the journey that a taxi can take you if you decide to use one. It's about a 30-minute walk and there's not much shade along this road, even at ten o'clock in the morning.
So, I was grateful that at the top of the stairs there's a guard stand where I found ice-cold water to refill as I registered. Registering means you put your passport number, time of visit, and number of visitors in a ledger.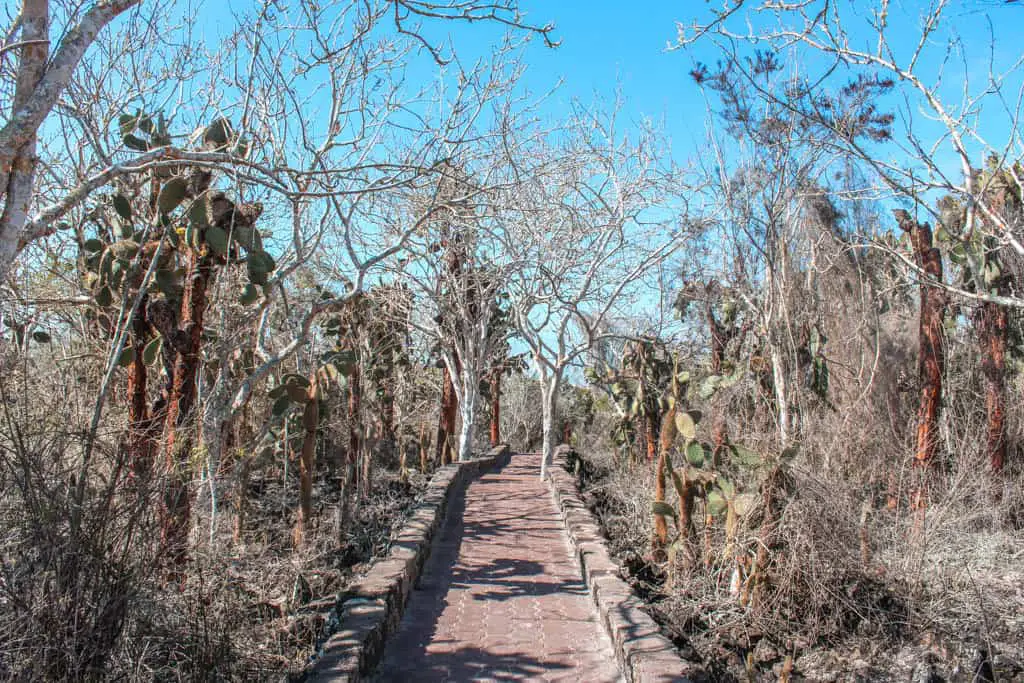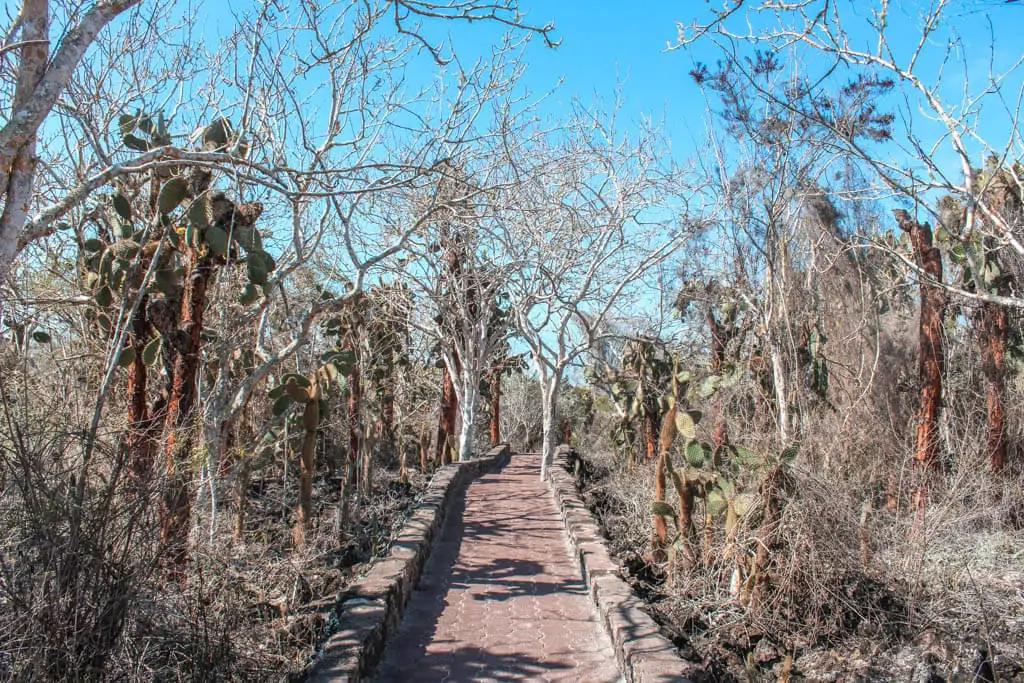 This is when the walk really begins. There is a cobblestone path to follow lined with cactus looking plants and lava lizards scattering about, so watch your step! As I got closer, I started feeling the sea breeze, smelled the salty air. and caught my first glimpse of those teal waters.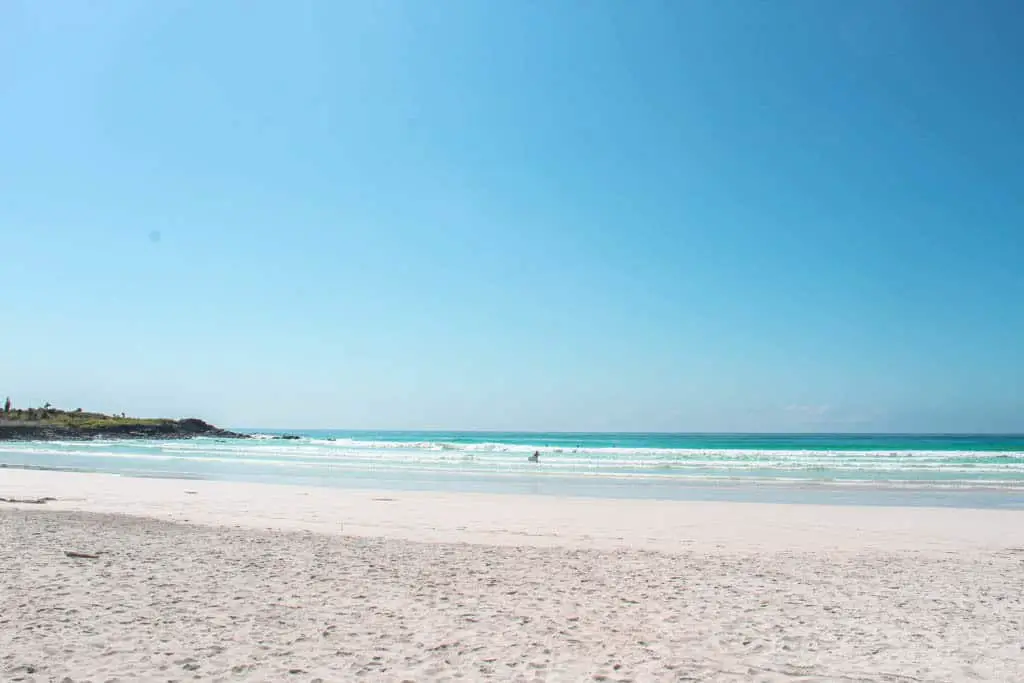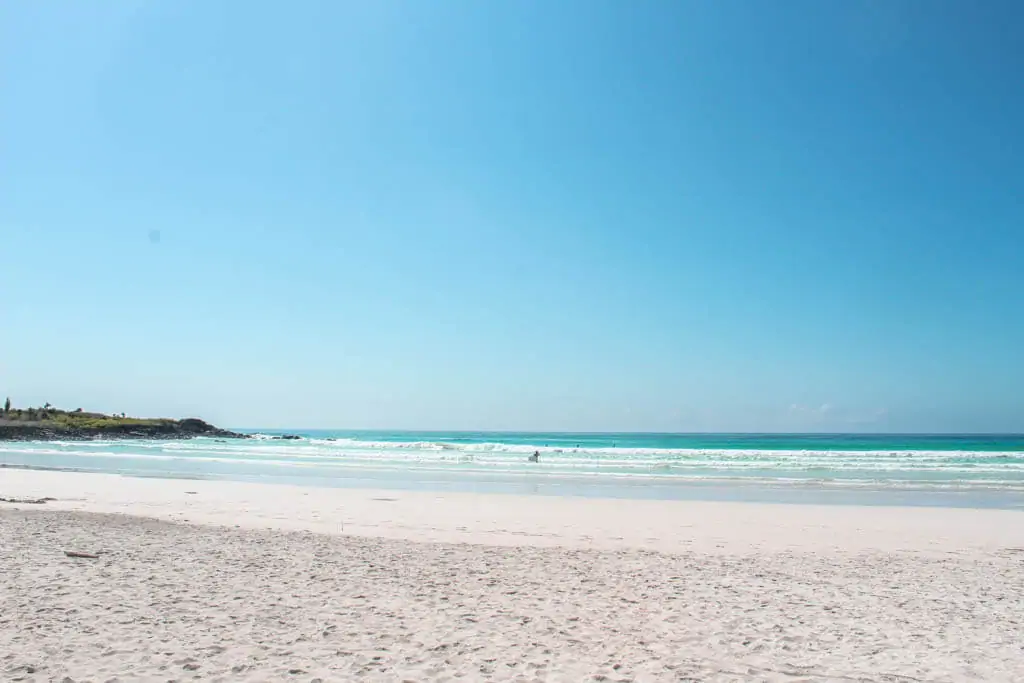 It took about an hour to walk for this section so I immediately jumped into the chilly water to refresh. I then walked the length of the beach, finding a great cove for snorkeling with plenty of iguanas sunbathing, swimming, or taking shade in the mangroves.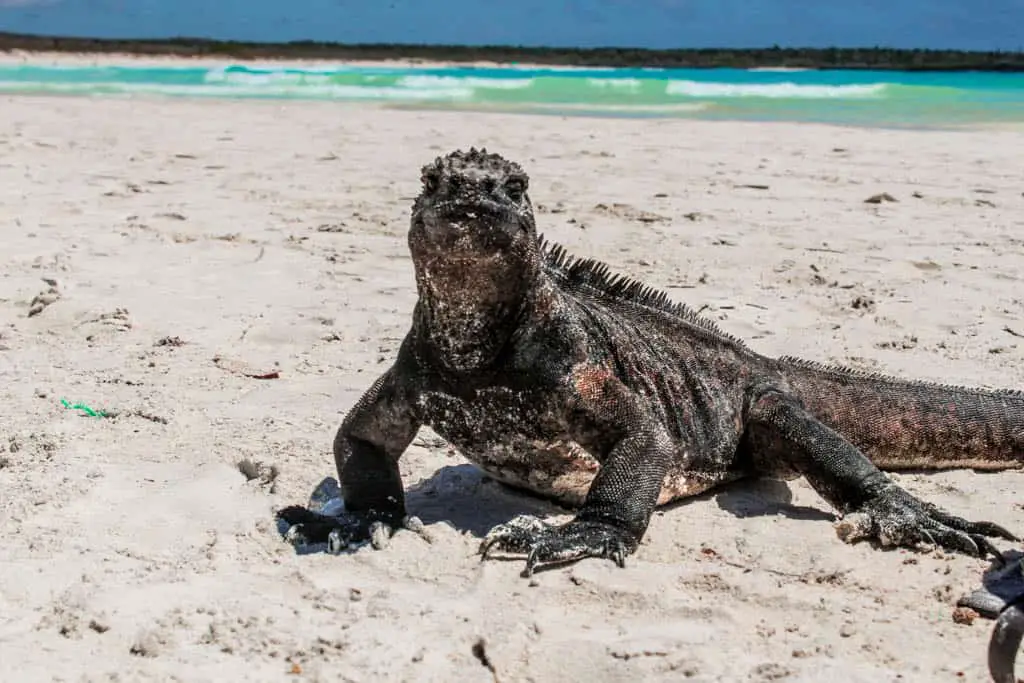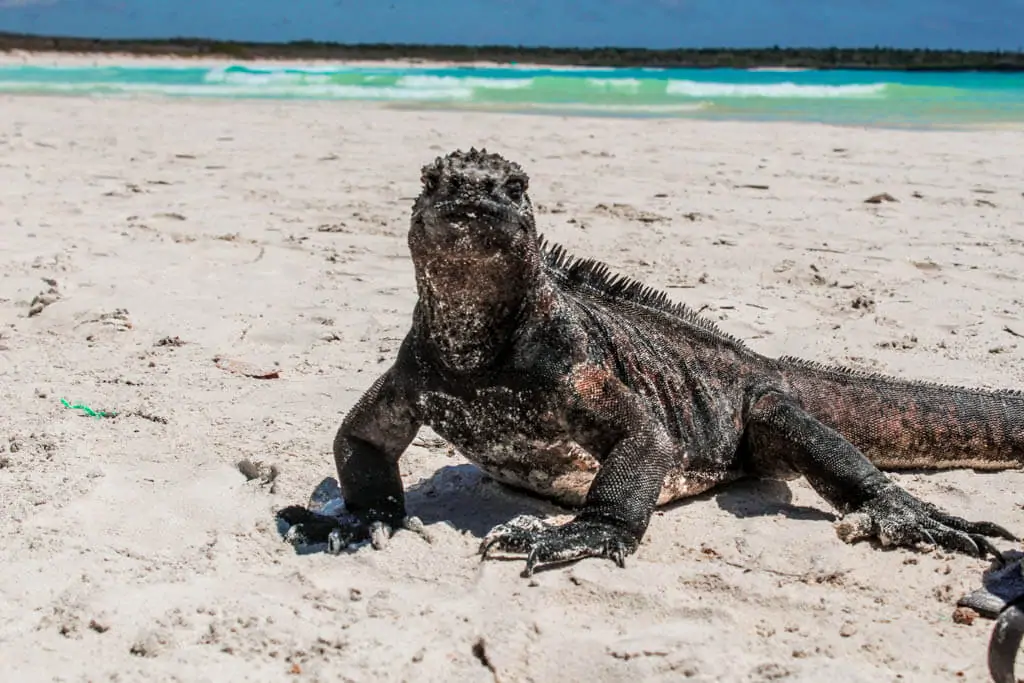 Be warned – to clear the salt water from their sinuses, iguanas "spit" – just another reason to maintain the 3-meter distance.
Beyond this grove, the beach continues to another little cove that is great for snorkeling and has a bit more shade. Additionally, there are kayaks for rent so you can explore a bit further afield from the beach. Supposedly, there is a shark that hangs out in this cove that you can see from your kayak! I did not rent one as I didn't have any cash on me, but they cost $20 for a few hours.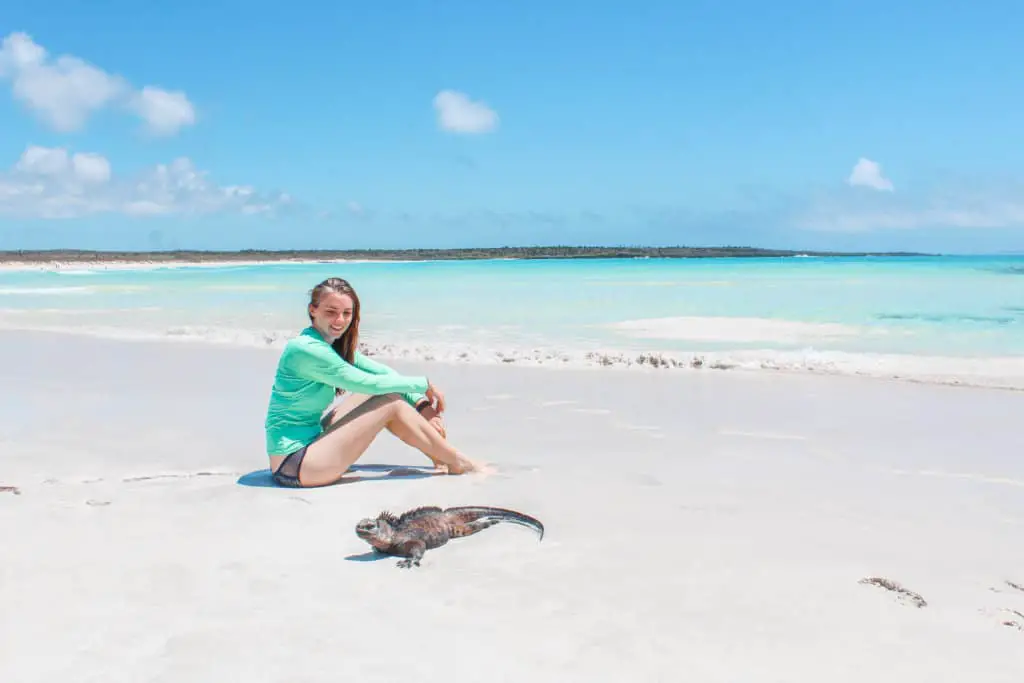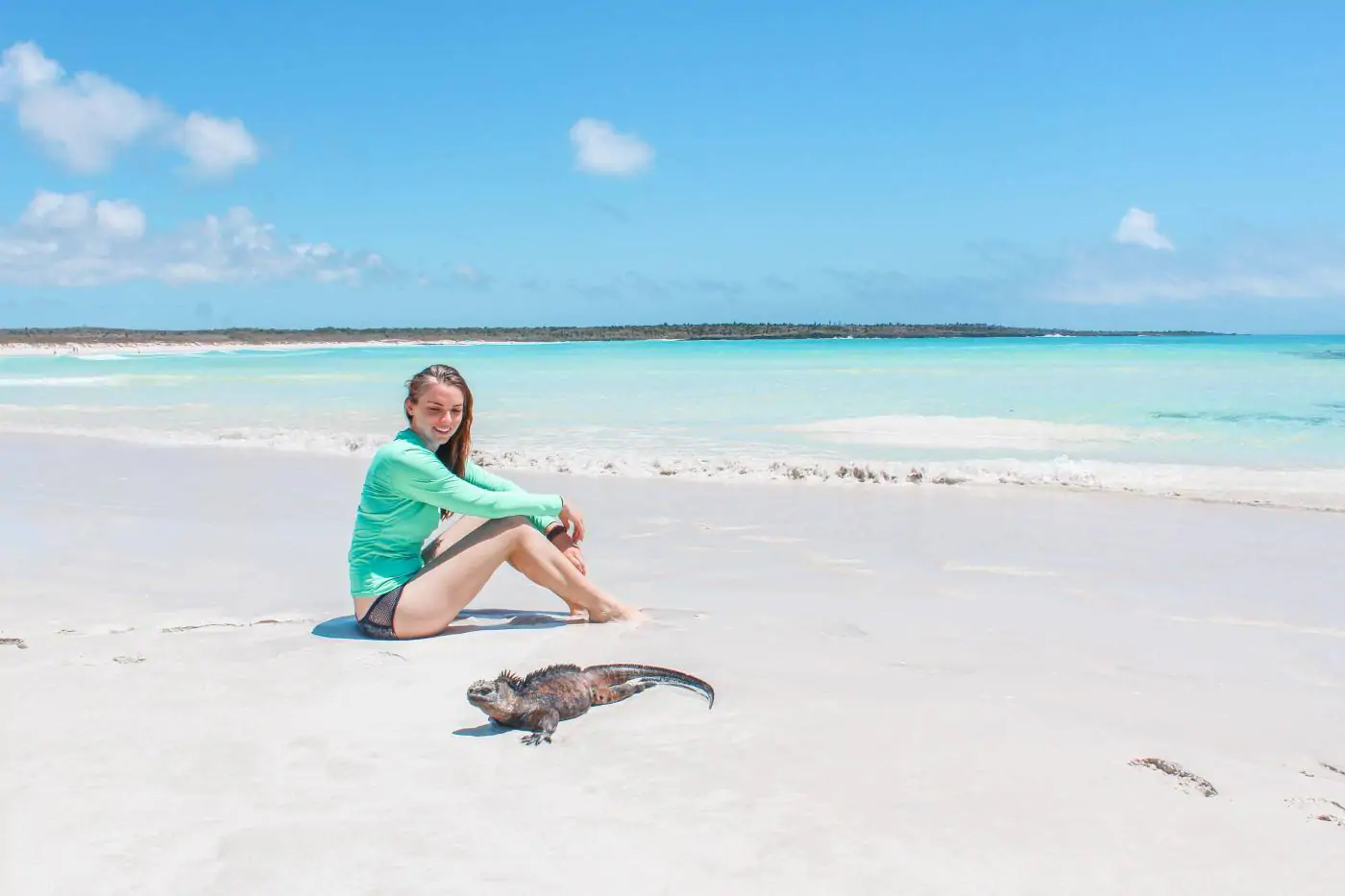 For your adventure to Tortuga Bay, make sure to bring along plenty of water, snacks, and sunscreen. The sun here is very strong, my Irish skin handled it well because I made sure to wear a rash guard and used my towel to cover up as needed.
If you'd like a more detailed packing list make sure to check out everything I brought to the Galapagos!
Cost for Tortuga Bay: Free
Las Grietas
Las Grietas is a swimming hole in between high volcanic rocks. In order to get to here, I took an 80 cent water taxi ride from the pier to Finch Bay Hotel. Then, I followed the clearly marked path passing some beautiful hotels, a few restaurants, and a tiny beach called Playa Los Alemanas. Eventually, I came to salt flats where there is a little stand that sells snacks, beverages, and rents snorkels for $4. This is the last place to rent a snorkel before continuing along the dramatic landscape to Las Grietas.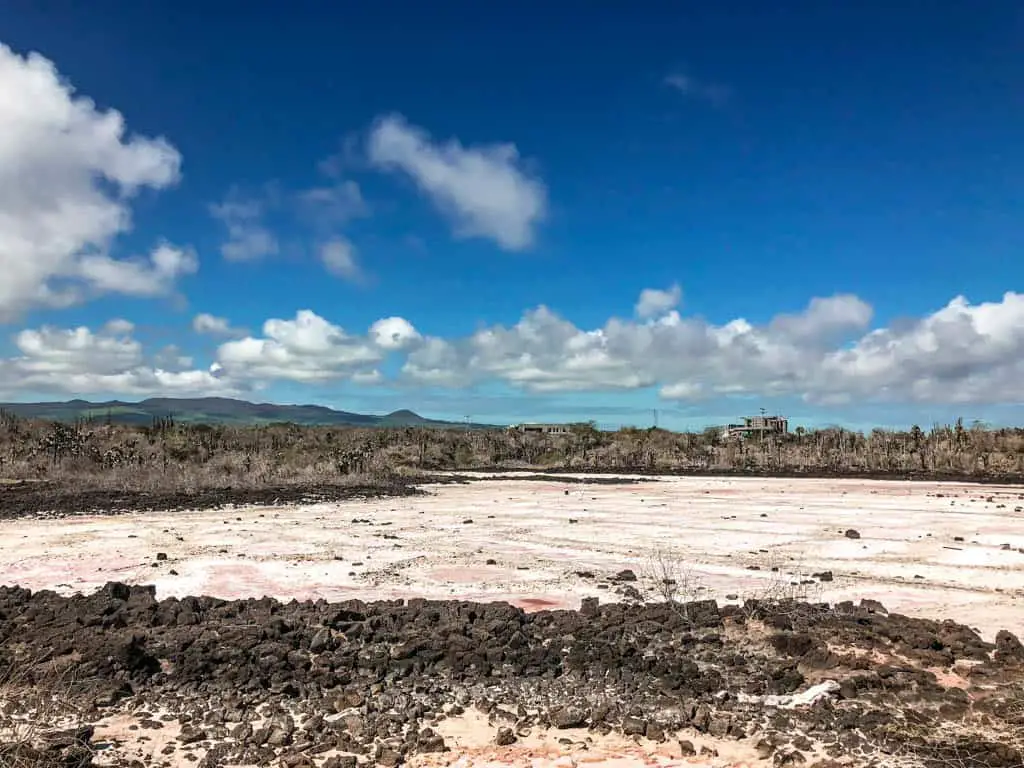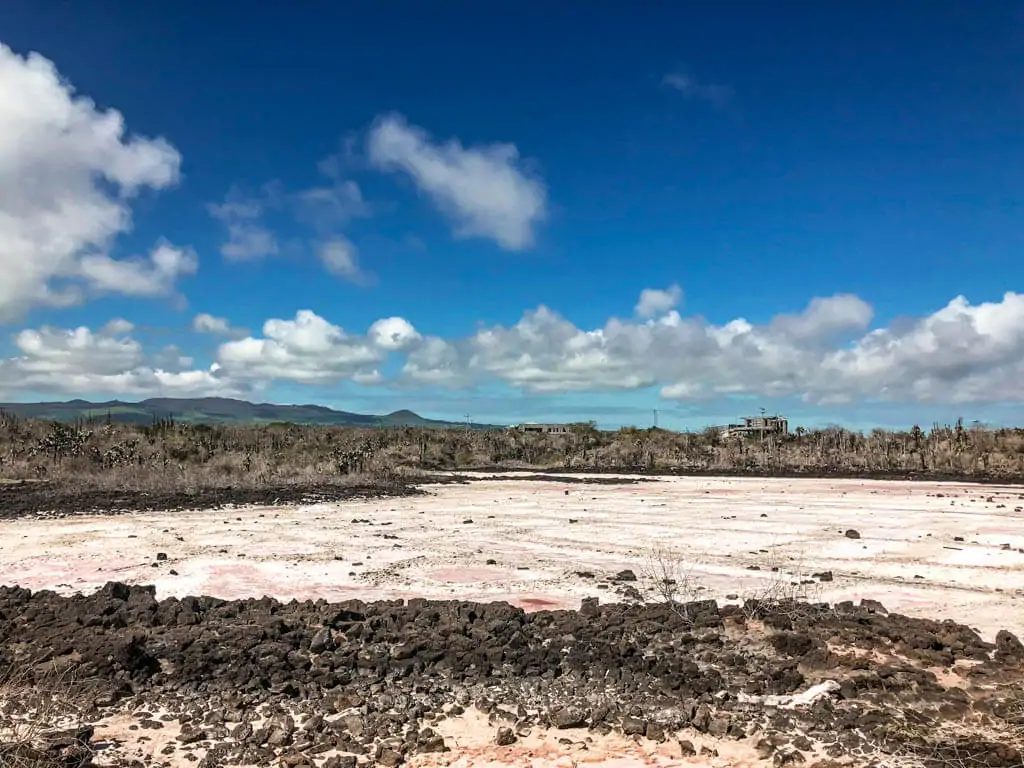 The path became red dirt, a bit rocky, and was lined with vegetation I've never seen before. I felt like I was walking on Mars. Upon arrival to Las Grietas, I was surprised at how many people were already snorkeling (my first lesson to not do touristy things on a Sunday afternoon). The rocks are pretty slippery, so bring sturdy sandals or shoes.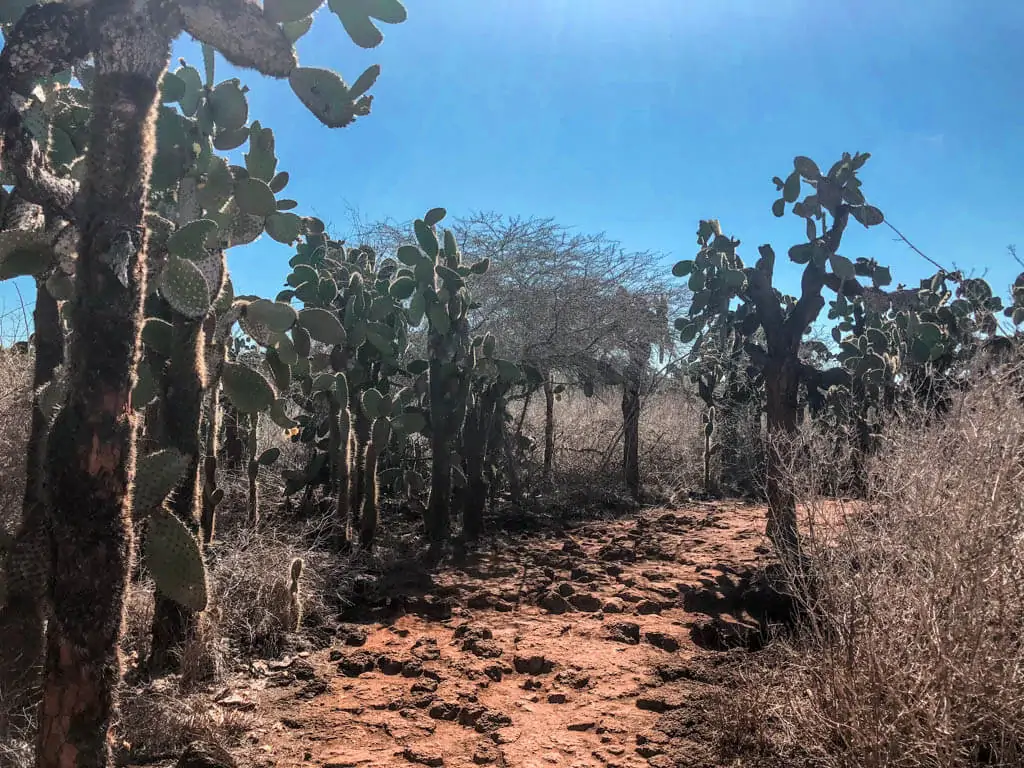 Once in the water, I ended up seeing more people than fish. A fellow traveler recently told me that just behind this popular area, there is another snorkeling spot with fewer people. I wish I'd known when I was there! But now, you can check it out!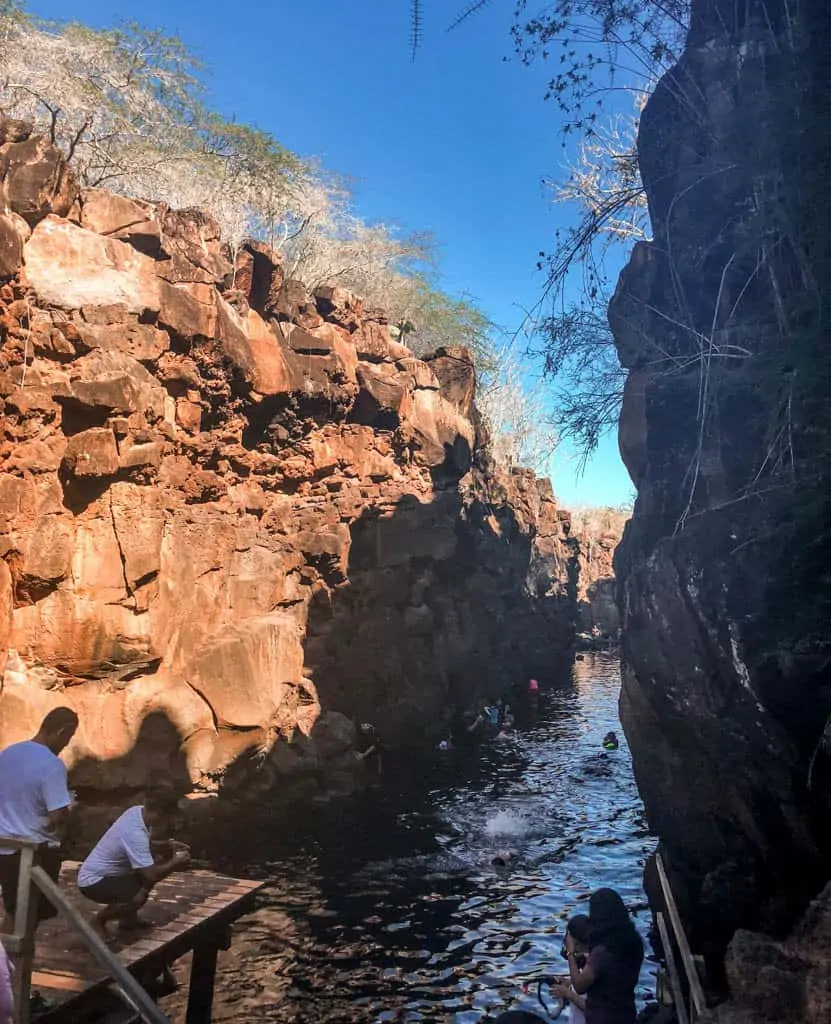 Cost for Las Grietas:  $4 snorkel + $1.60 (round trip water taxi) = $5.60
El Chato Tortoise Reserve
El Chato Tortoise Reserve is an excellent place to get acquainted with the beautiful (and smelly) giant tortoises in their natural environment. There are also lava tunnels to explore on this property that gives you an appreciation for how these islands came into existence.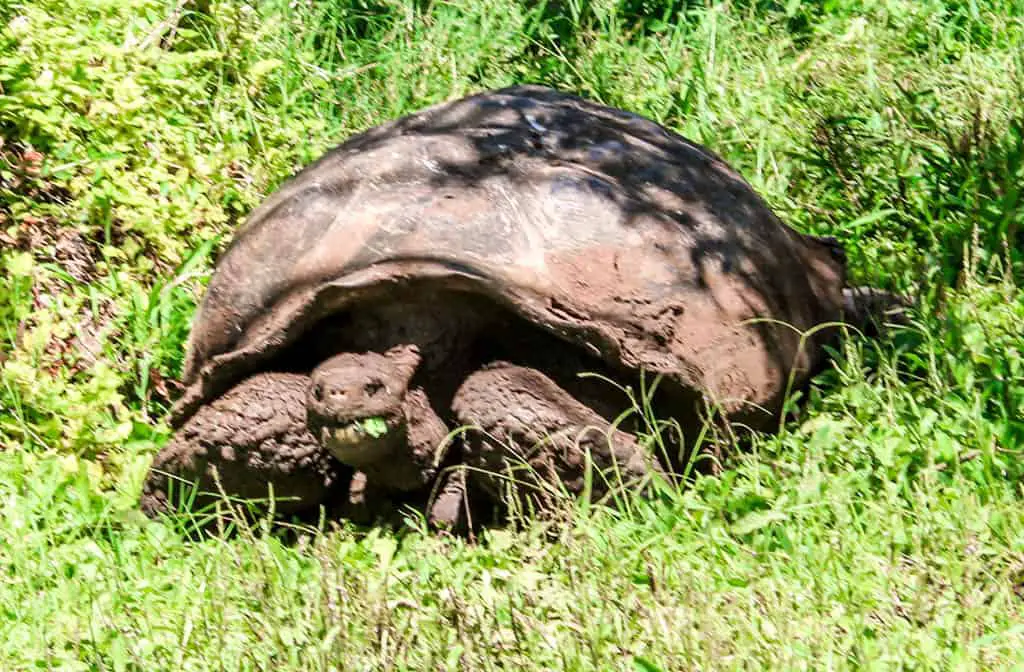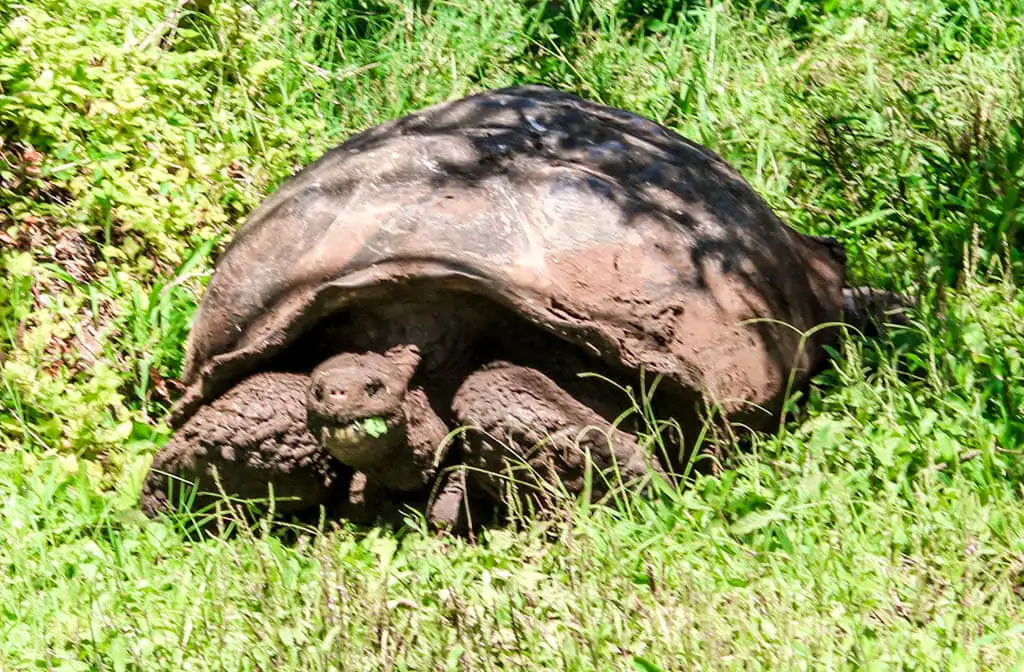 El Chato is about a 30-minute drive from the town of Puerto Ayora. I opted to pay for a taxi, which cost $35 round trip. If you make a friend on the island, perhaps you could split the taxi fare.
The other option for getting there is to rent a bike for the day which was $15. So if you're looking to get a good workout in at the same time, this could be a good option for you! Just be warned that the last mile or more is all gravel and there is very little shade. There is a $5 entrance fee to enter the reserve and they offer complimentary tea and coffee.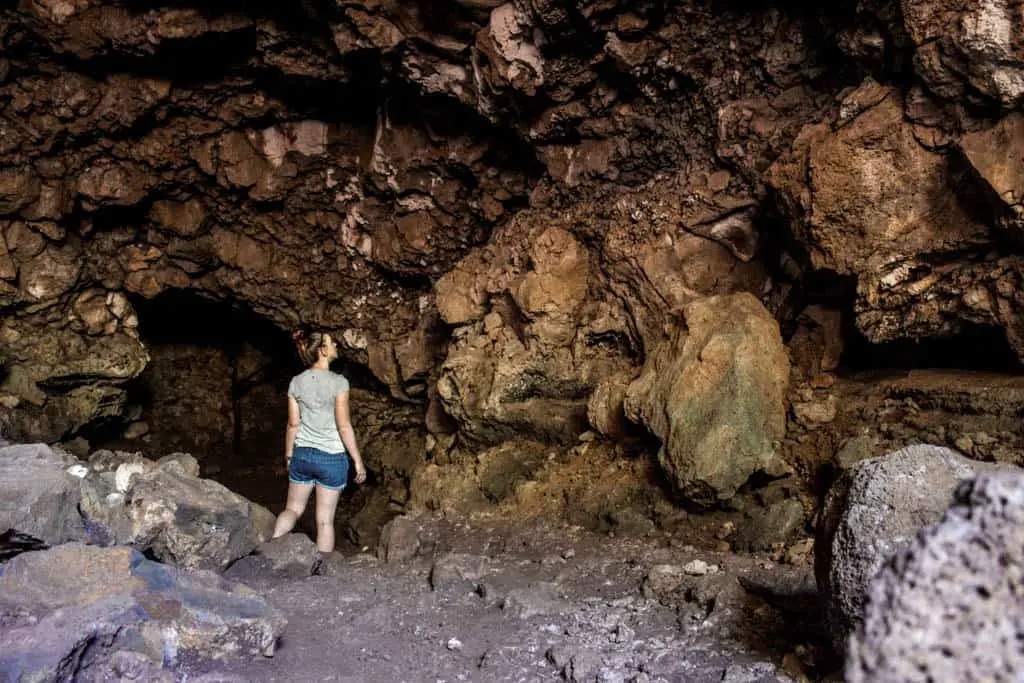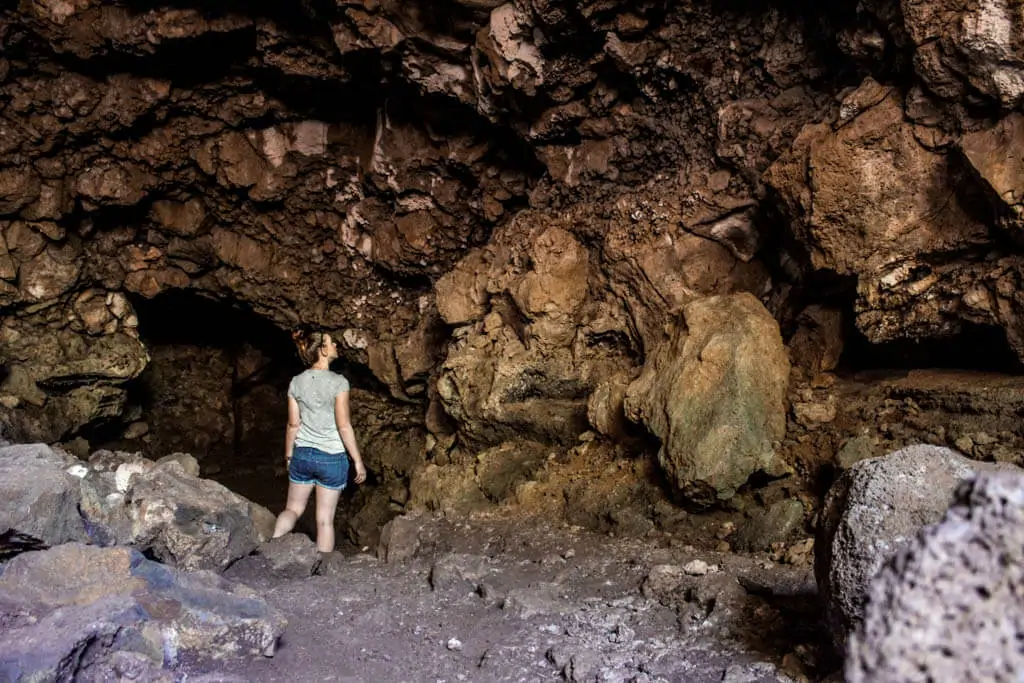 I started exploring El Chato with the lava tunnels. The first tunnel was completely dark and slightly scary to walk through. I definitely used my phone's flashlight option to help me get through. The second tunnel has a bit more natural light, and the third tunnel is lit throughout.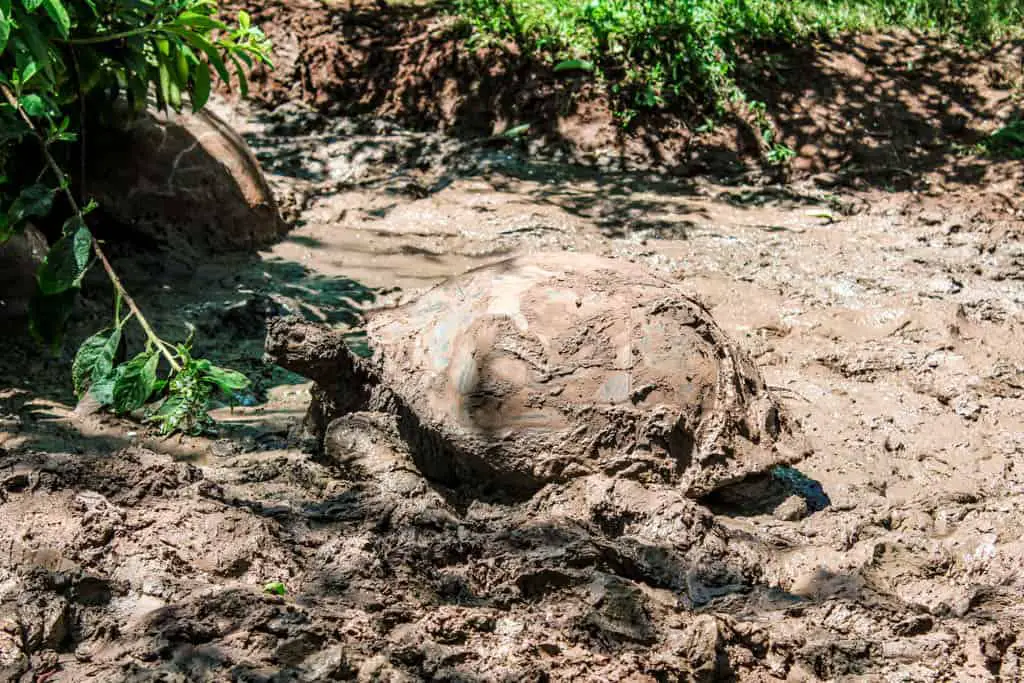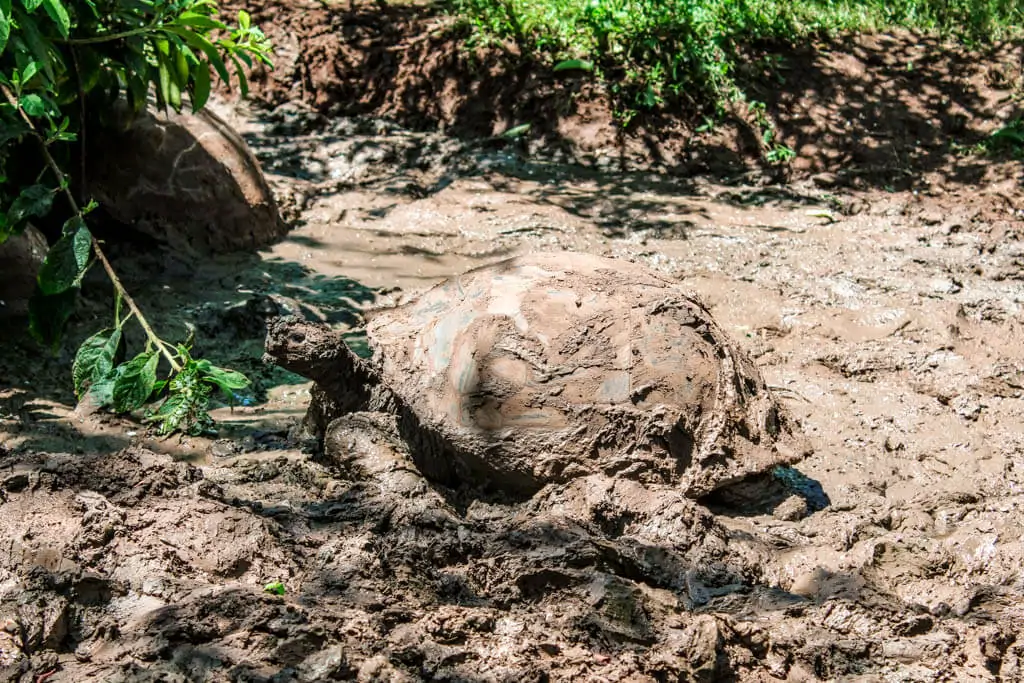 Emerging from the last tunnel, I followed the path to a small pond (or mud pit) surrounded by tortoises! They were everywhere along this path! Watching them stretch their necks out to eat is quite the sight! Surpassed only by watching one press himself up and walk across the path to a shadier spot.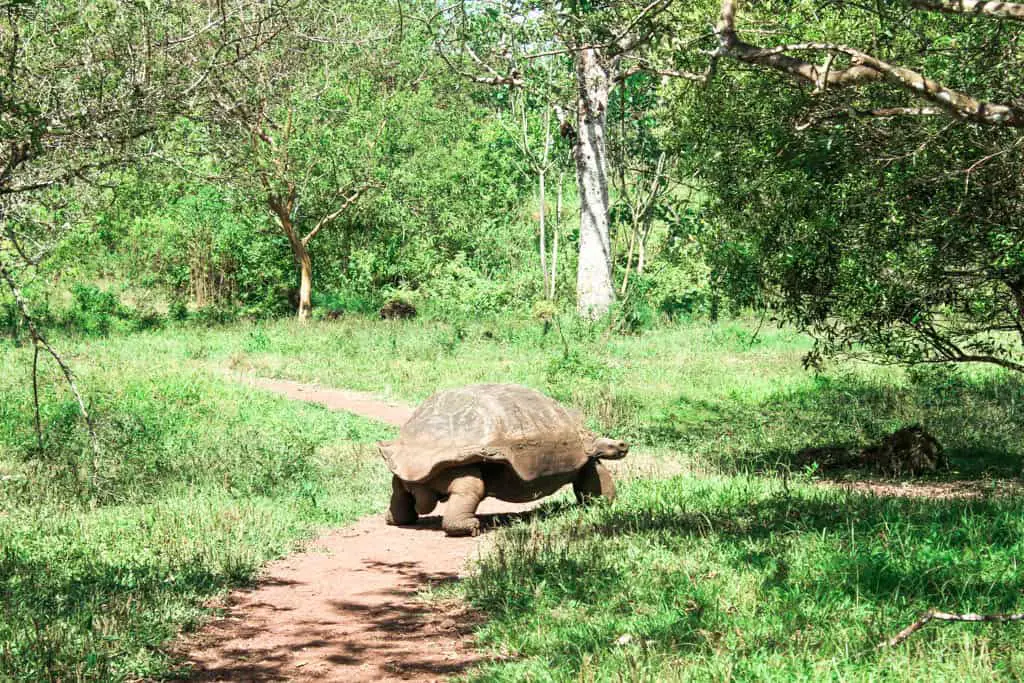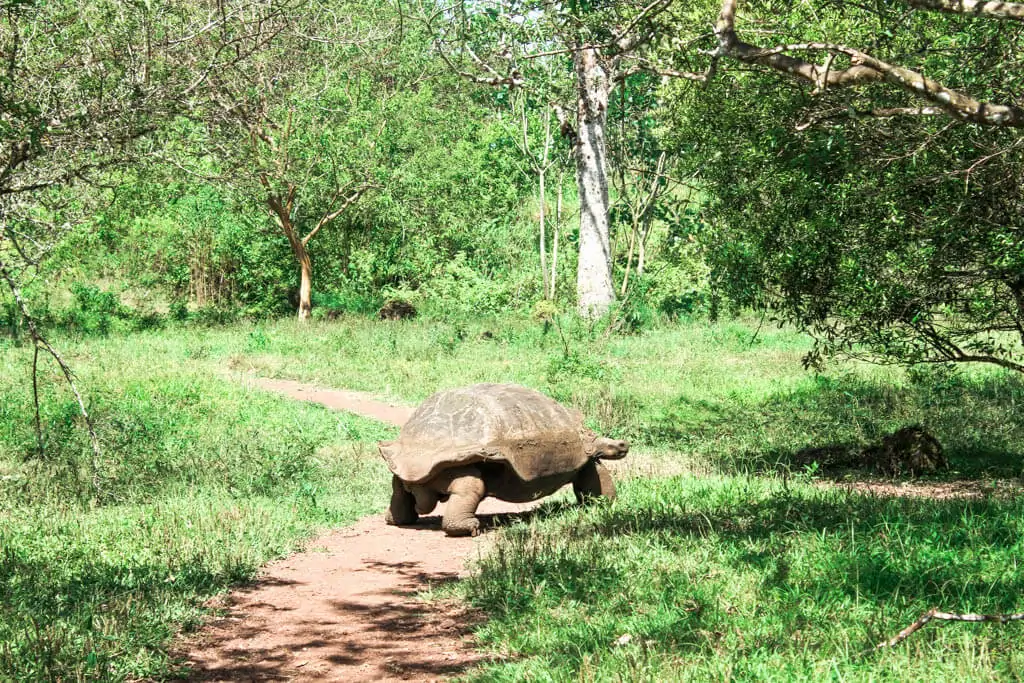 The tortoises let me know with a hissing type noise if I was getting too close for their comfort. They don't have good vision, but they sense vibrations. One time I approached a bit too quickly causing a tortoise to pull his head in, making another woooshing type noise! I spent about two hours here, finishing my visit with the complimentary tea.
"I was always amused when overtaking one of these great monsters [a tortoise], as it was quietly pacing along, to see how suddenly, the instant I passed, it would draw in its head and legs, and uttering a deep hiss fall to the ground with a heavy sound, as if struck dead…"

Charles Darwin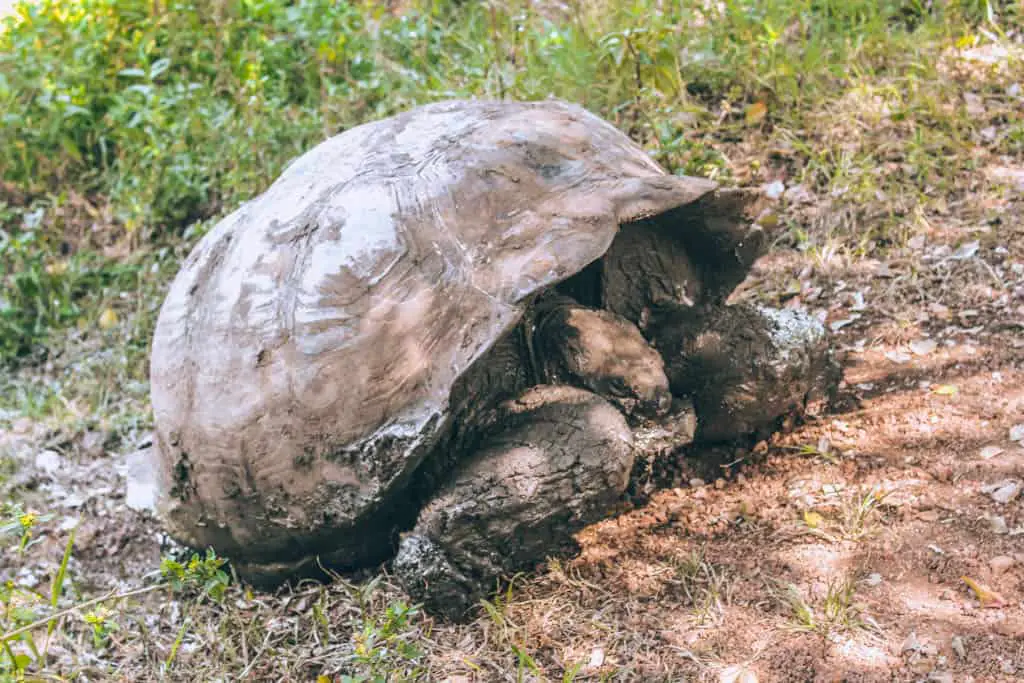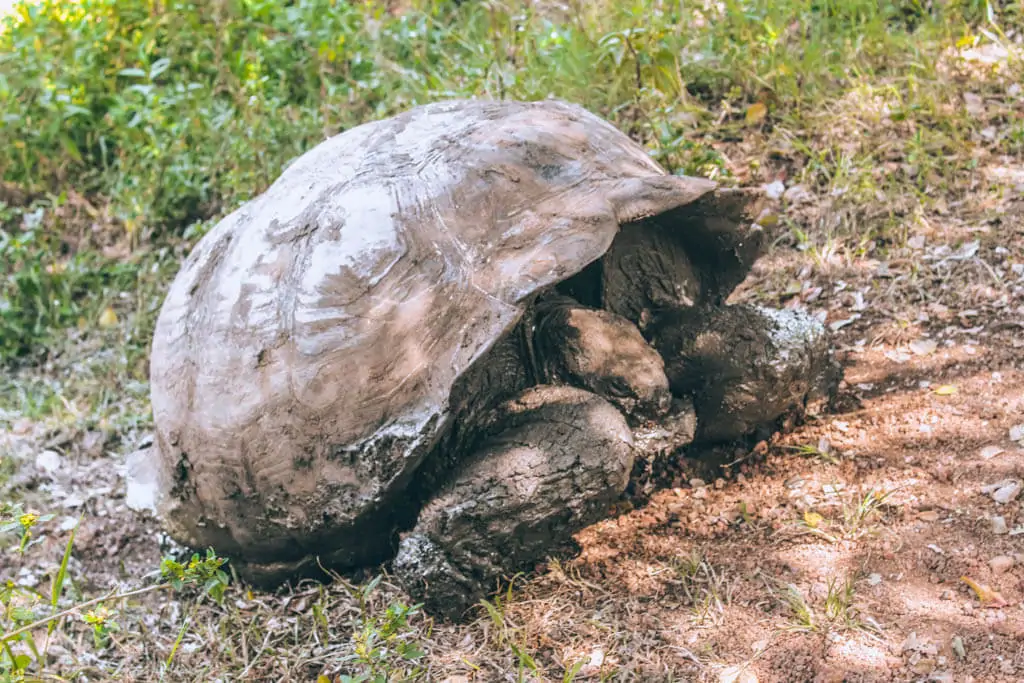 When I returned to Puerto Ayora, I still had a full afternoon ahead of me. I decided to make the trek back to Tortuga Bay with hopes of catching my first sunset. The sun sets around 6:00 pm daily – as it turns out – Tortuga Bay employees begin asking people to leave at 5:00 pm. Therefore, I did not get to see the sunset over Tortuga Bay, or at all, as the sun set during my walk back to town.
Cost for El Chato Tortoise Reserve: $35 taxi + $5 entrance fee = $40
Isla Isabela
The only way to get to Isla Isabela is by ferry which costs $30 one way and departs at 6:30 am and 2:30 pm. Since I only had a total of two days on Isla Isabela, I took the 6:30 am ferry to give me more time. As soon as I stepped foot on the island I loved the vibe. I loved the dirt roads, the easily accessible sandy beaches with restaurants across the "street", and the welcoming attitude of the locals.
Since I had such a short amount of time, before I even went to my hostel, I booked my Los Tuneles tour. Remember my college friend who inspired me to dig deeper into this trip – she told me Los Tuneles was an amazing day trip from Isla Isabela. I wanted to make sure I had a spot on the boat!
Accommodation
I stayed at Hotel Neptuno located on the edge of town. For two nights, a private room with two beds and a private bathroom cost $100. I didn't quite realize that I'd booked such a large room but decided to not let the cost bother me as I was just happy to be somewhere that felt like an island.
I happily wandered along the beachfront looking for a place to eat and to figure out what to do with my afternoon.
Cost of accommodation for two nights on Isla Isabela: $100
Book your accommodation for Isla Isabela!
Concha de Perla
That question was quickly answered by a local who recommended renting a snorkel for Concha de Perla. For $4 I rented a mask and snorkel from a shop for the day.
Concha de Perla is located right near the pier on the edge of town. It's clearly marked and there's a walkway dotted with sea lions that brings you to the snorkeling cove. There weren't too many people there and those that were said they saw rays, turtles and sea lions.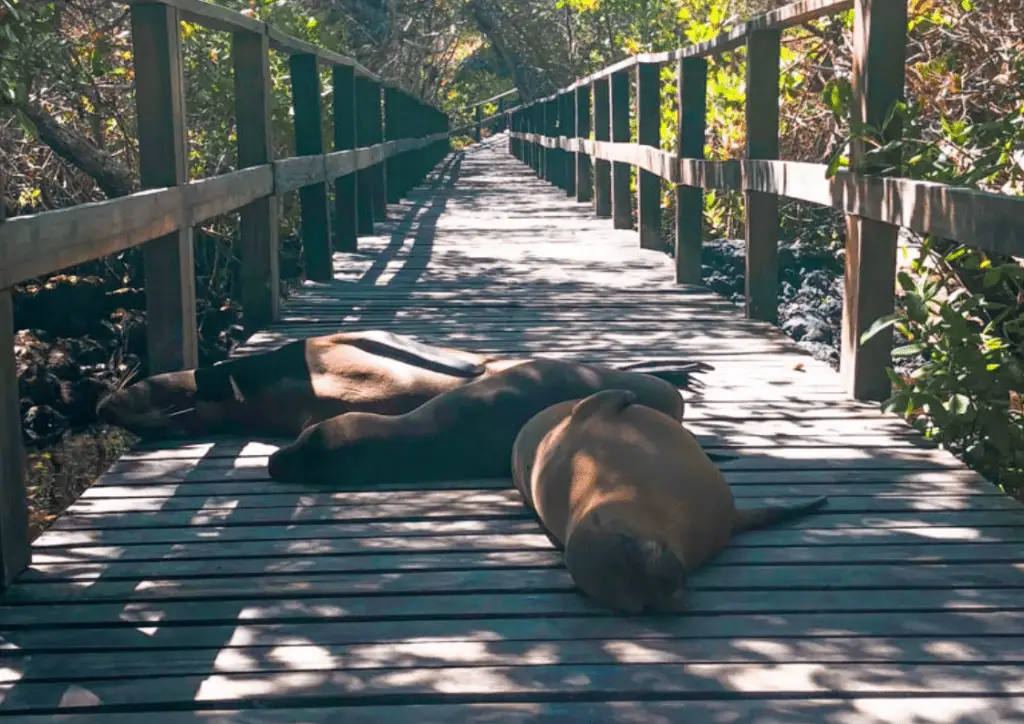 I jumped in to see what I could find. Unfortunately, I didn't see any rays, but I saw plenty of new fish, chocolate chip starfish, and iguanas swimming underwater. Finally, just as I was about to get out, a sea lion swam underneath me and started playing in the water. For as clumsily as they move on land, they are incredibly graceful underwater.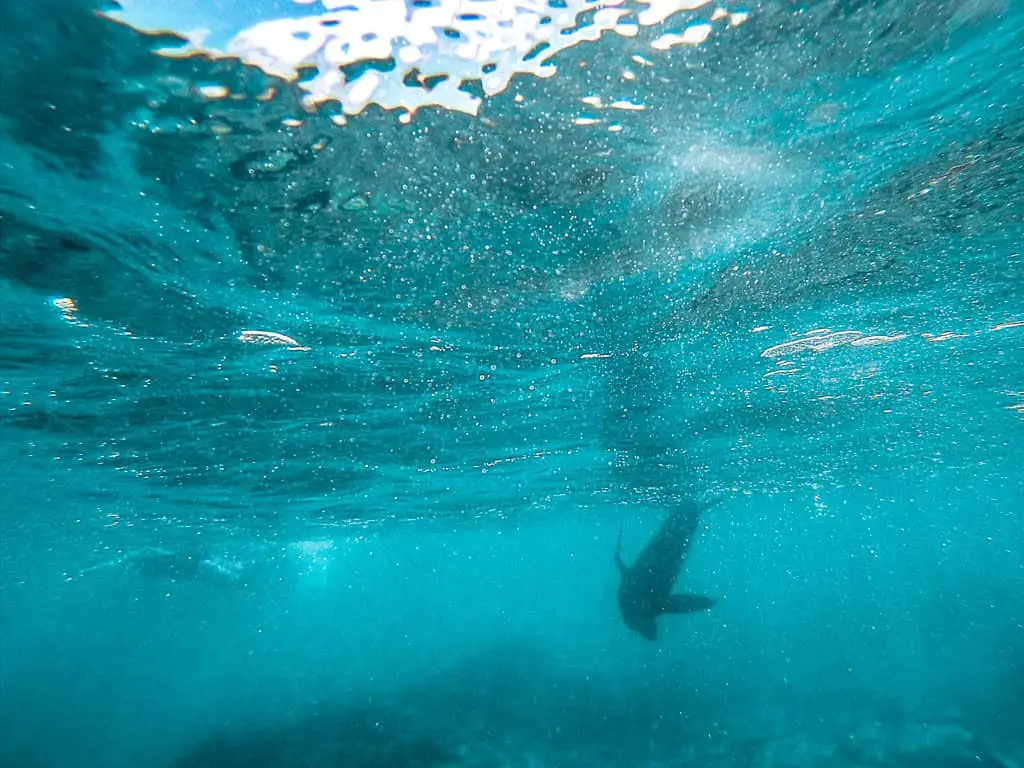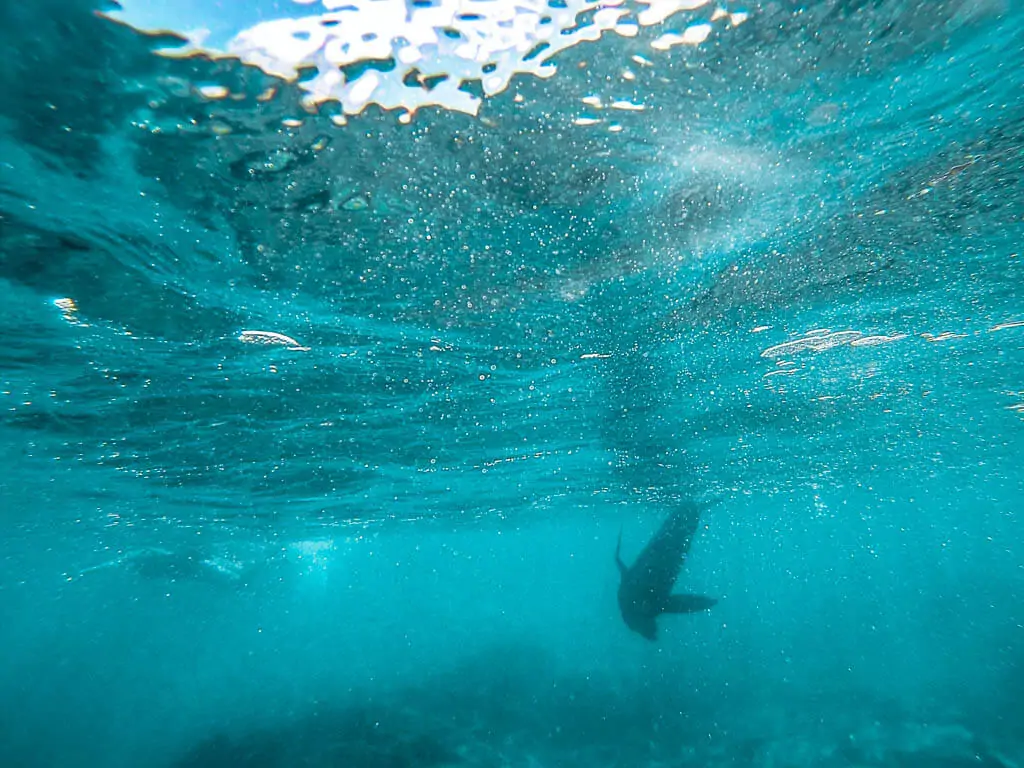 After the snorkeling fun, I headed to the beach where I drank fresh coconut, and caught my first Galapagos sunset! It did not disappoint! I had dinner at one of the many restaurants – taking advantage of the $8 set menu.
Cost of Concha de Perla: $4 snorkel rental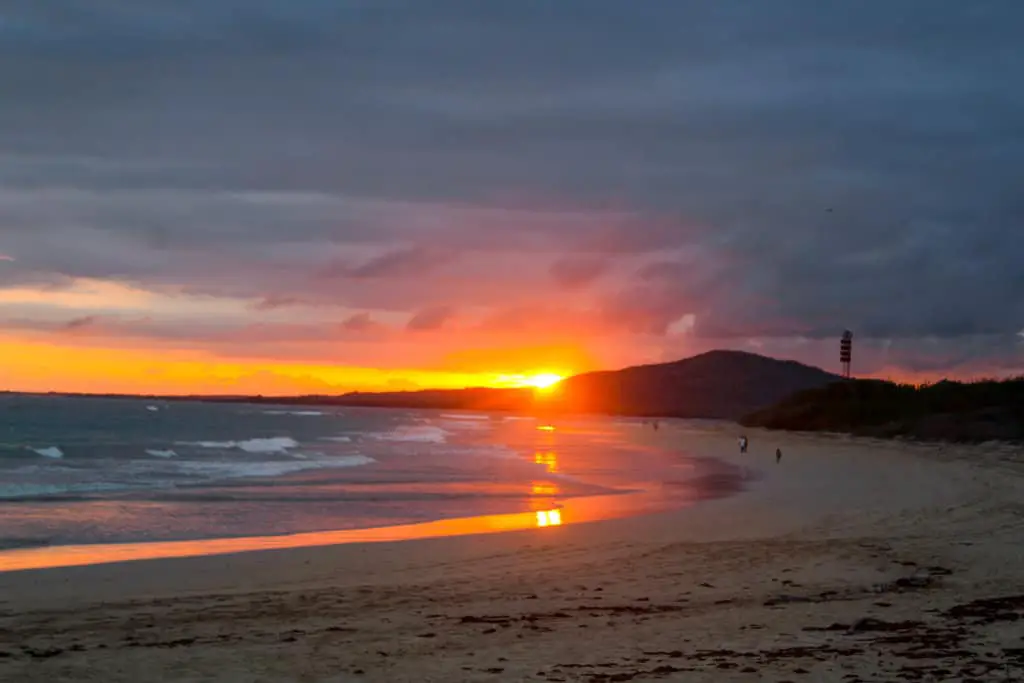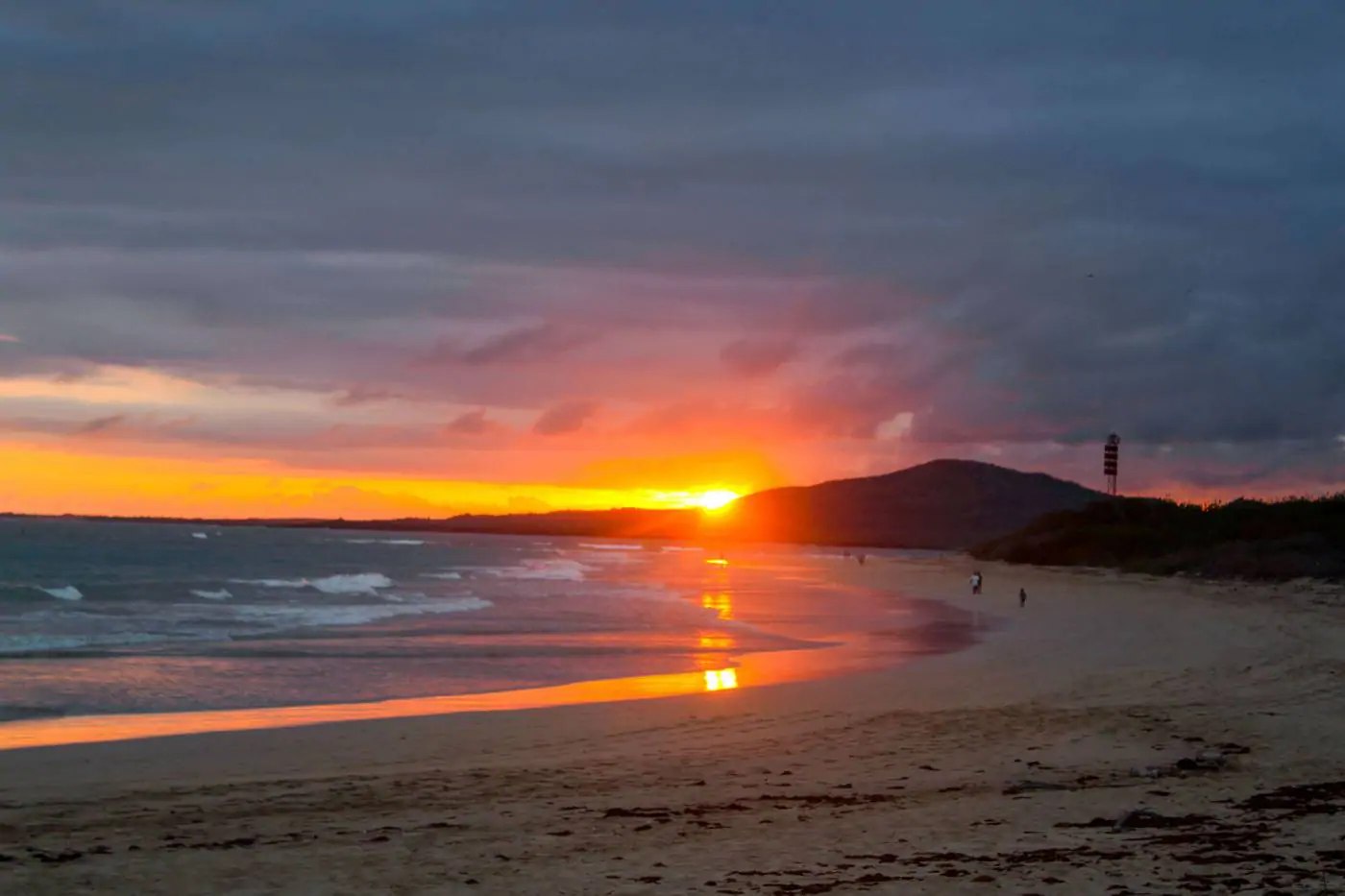 The big day finally arrived. I was going snorkeling at Los Tuneles. I booked the tour with a company called Rosedelco, it's the first one I saw walking into town. This was hands down, the best snorkeling experience I had on the islands. It cost $120; including a wetsuit, snorkel, fins, lunch, towel and hot tea!
The captain and guide were fantastic, making sure everyone got their photos! There were two locations for snorkeling. At the first, we saw four manta rays, hundreds of white tip sharks (two who were mating!), at least a dozen sea turtles, two seahorses, along with a myriad of other fishes. At the second location, we snorkeled through the lava tunnels before walking on top of them to see the Blue Footed Boobies!
This was my first sighting of the Blue Footed Boobies! The female had just laid two eggs and her mate was keeping close watch. A little further afield we saw a baby Boobie!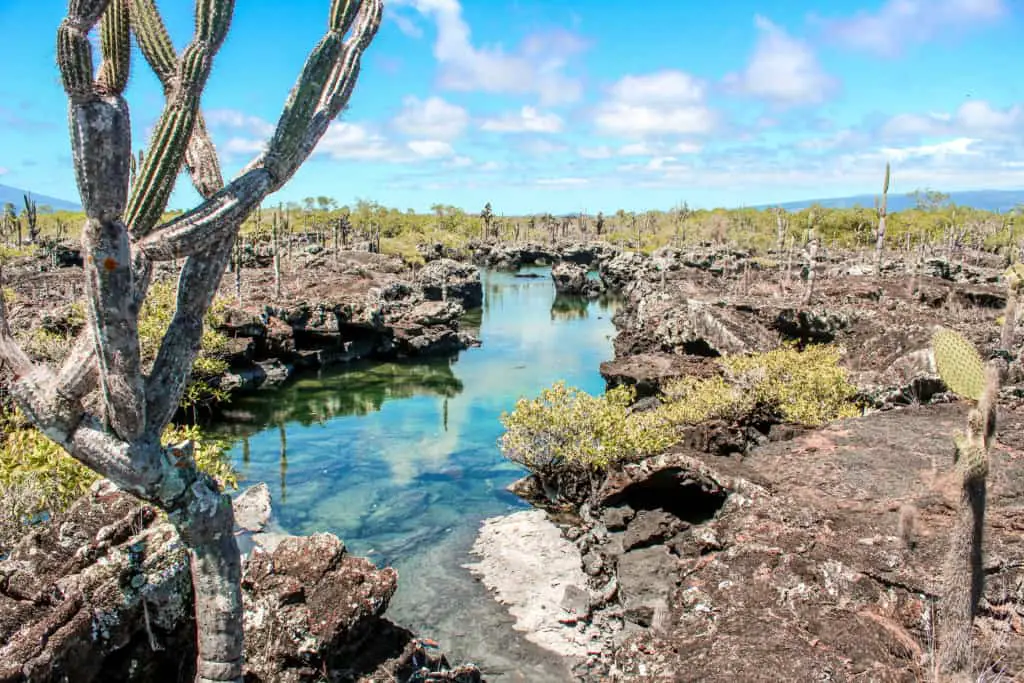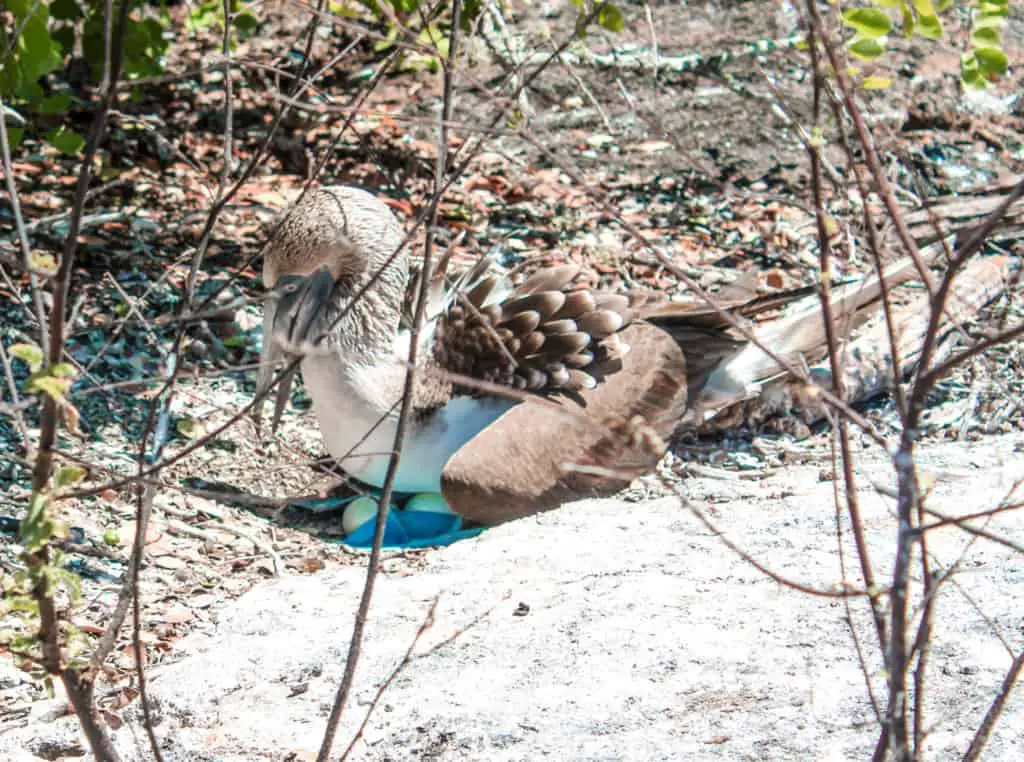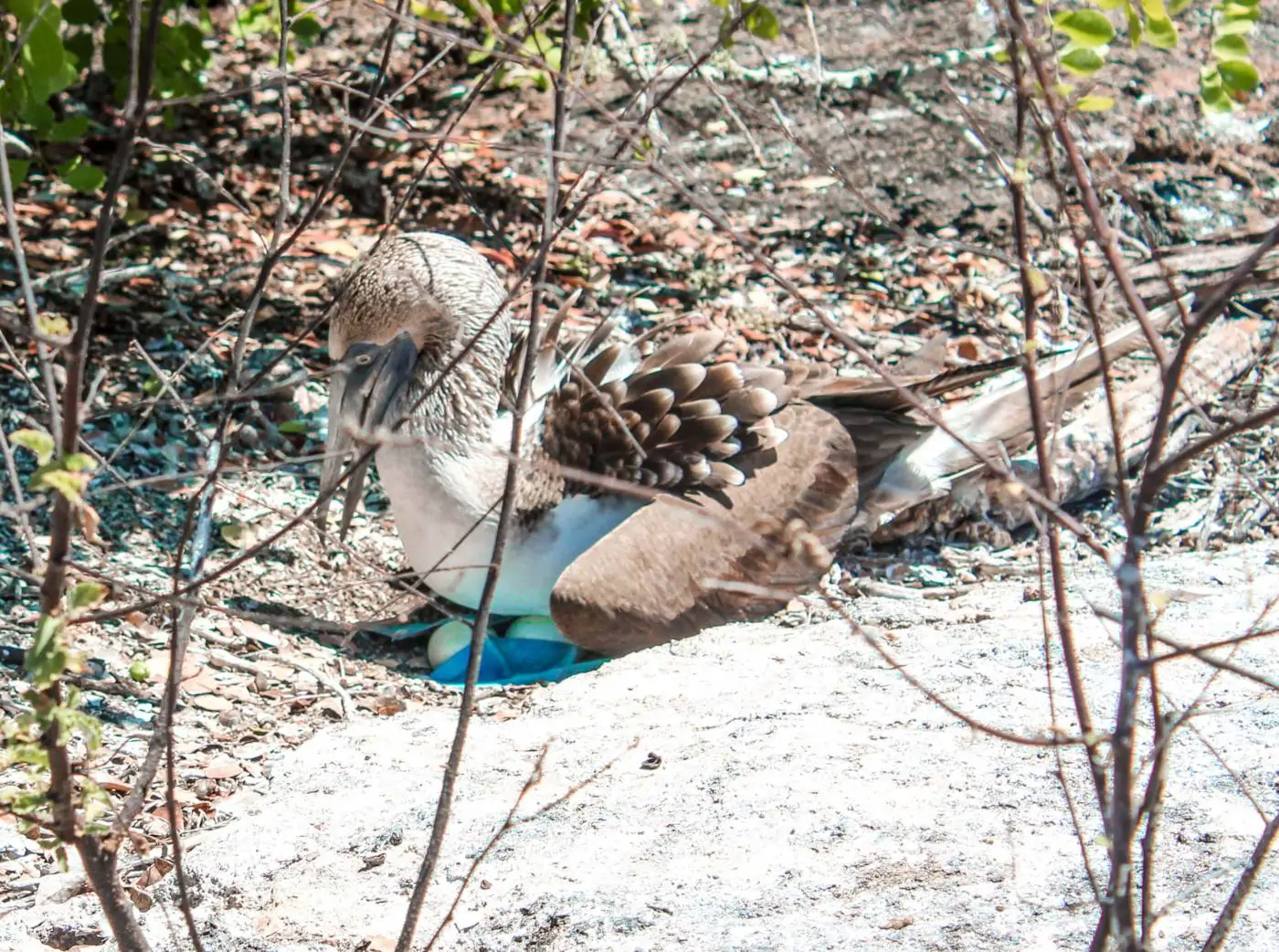 Cost for Los Tuneles Tour: $120
Bike Ride Isabela Island
Returning from Los Tuneles on cloud 9, I quickly changed, paid $2.50 for a fresh coconut and set out for a bike ride. I rented a bike from Galapagos Bike and Surf for $4 per hour. The intention was to make it to the Wall of Tears (Muro de las Lagrimas) by sunset, which unfortunately did not happen as I spent too much time at different points of interest along the way!
I stopped at the Tortoise Breeding Center, Centro de Crianza, which was worth it to ohh and ahh at how tiny they start and how big they grow! I took another detour up a hill to see the flamingos. The flamingos are actually quite a distance down from the road, but seeing those gorgeous pink colors with the dramatic landscape behind them was stunning.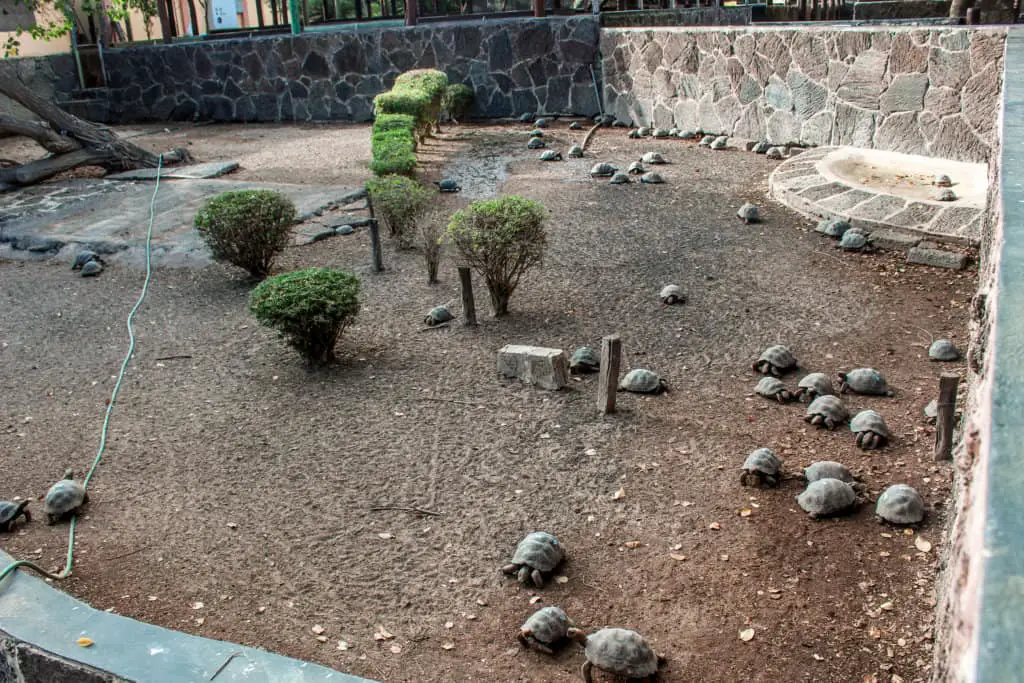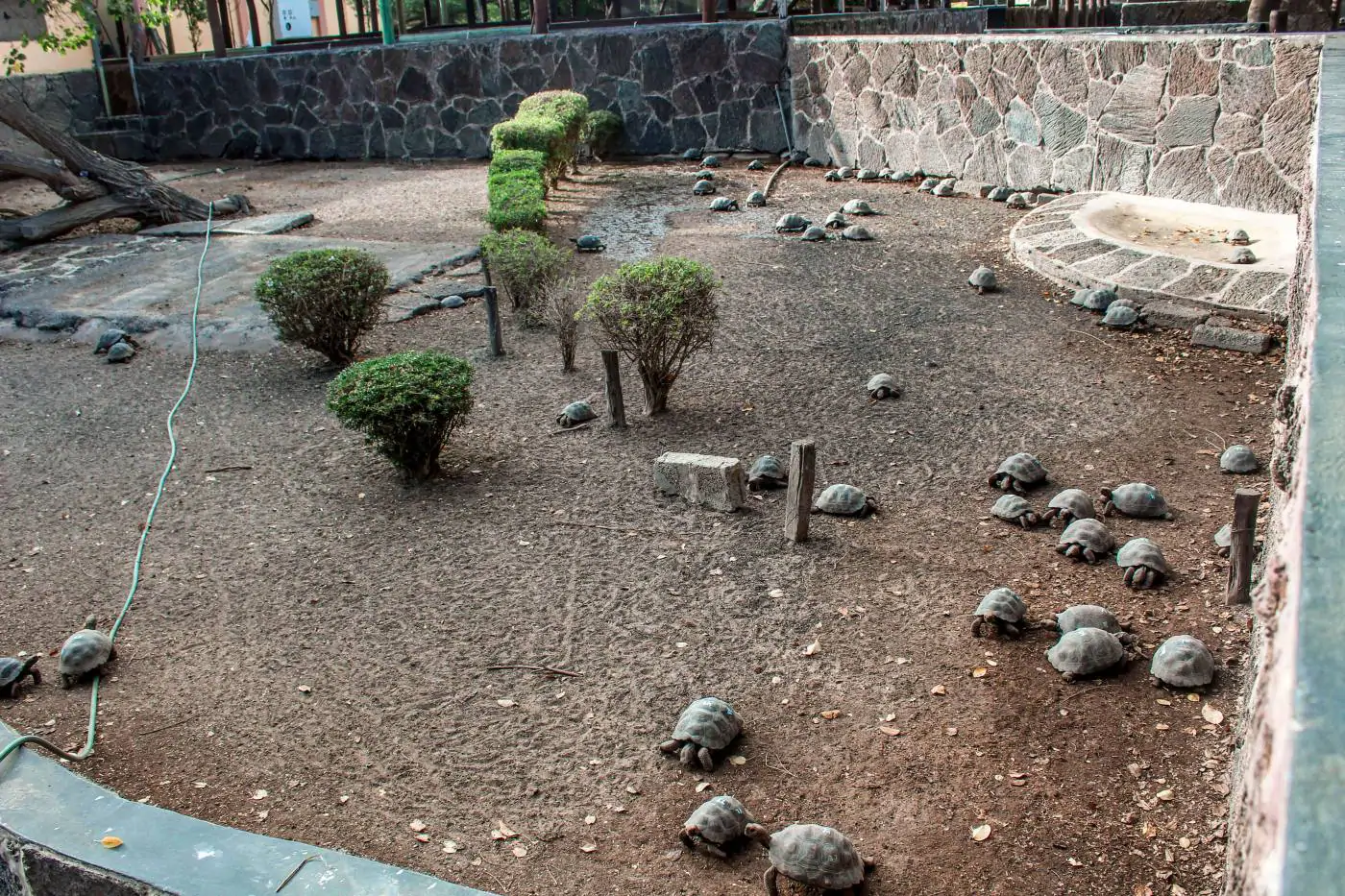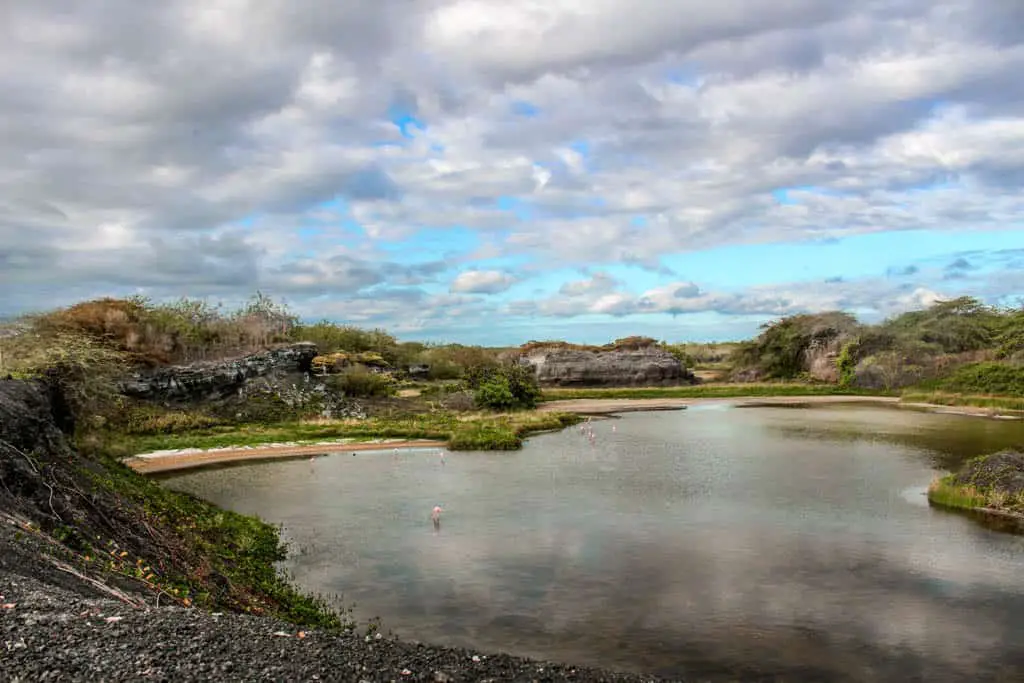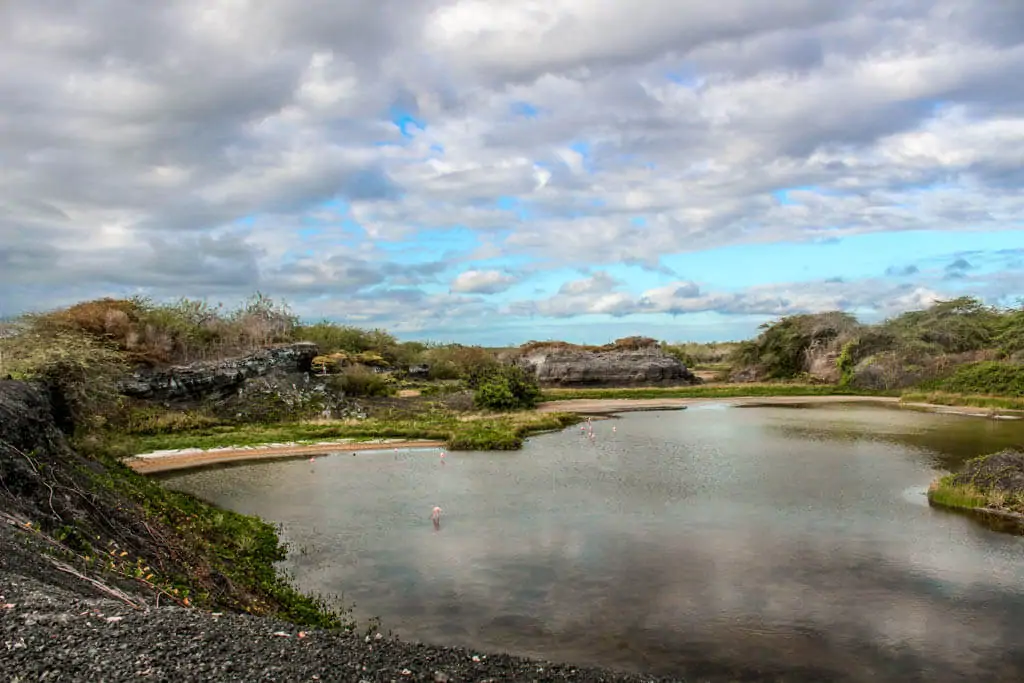 Finally, I was off to Wall of Tears, which is about 5km from the edge of town. The first bit of the path is on the beach. I had no idea how hard it was to bike on sand and I had to get off the bike and walk a fair amount of the time, making the bike ride take a bit longer than expected. Once on paved roads, it's a mostly uphill climb. Be careful of Giant Tortoises along the sides of the road!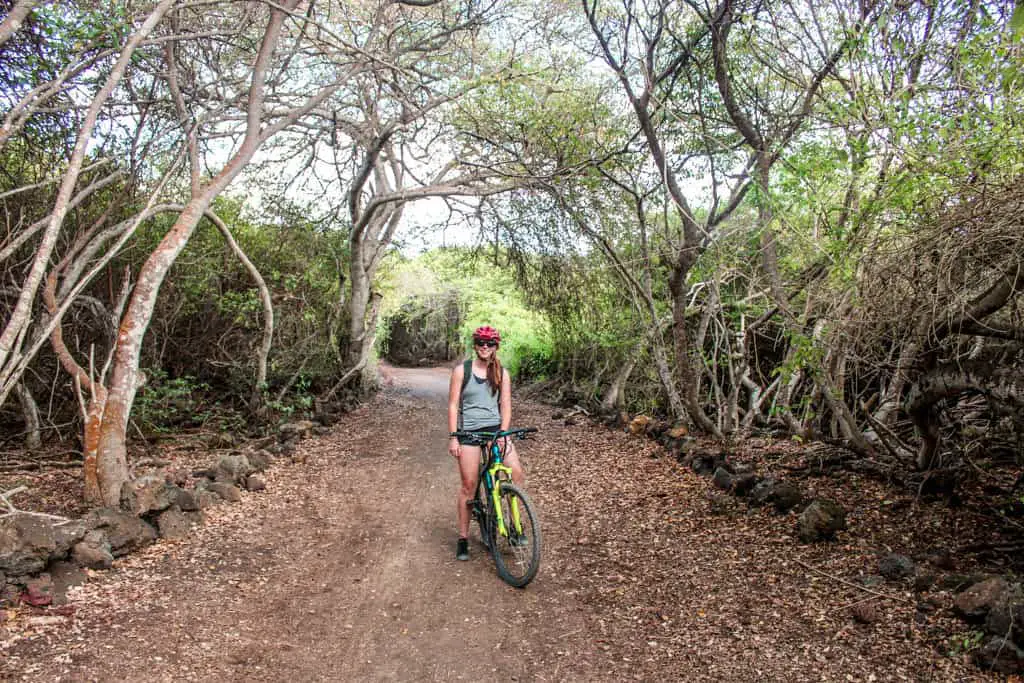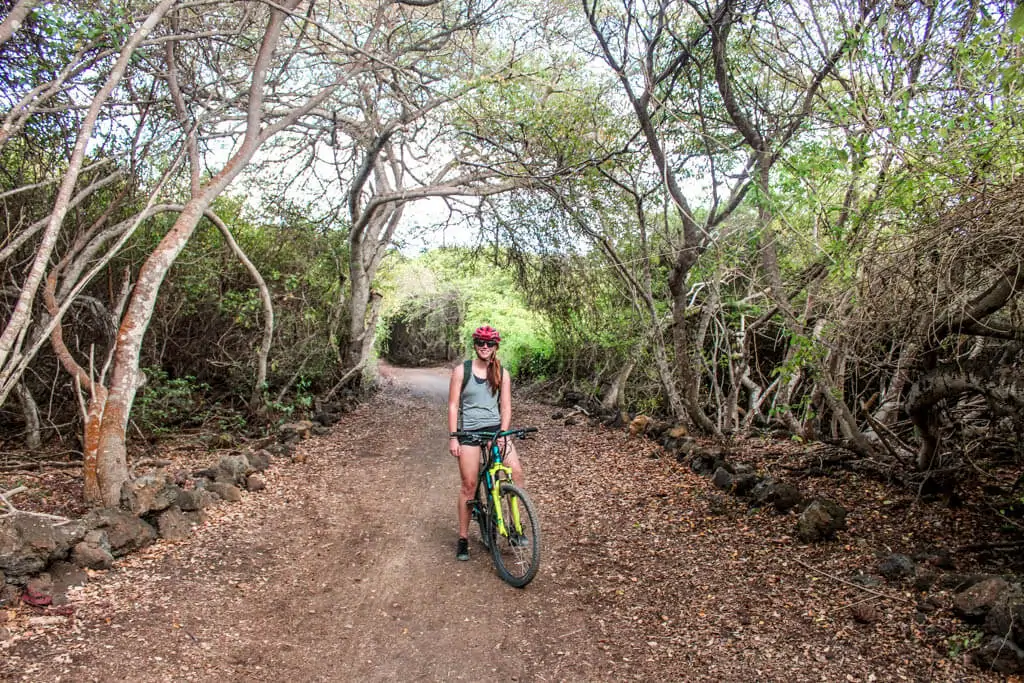 I made it to one viewpoint about 30 mins away from the Wall of Tears and decided that was far enough as I wouldn't have made it back to the rental shop before closing if I continued further. It was a great spot to relax, hydrate, and prepare for the bike ride back to town. The return trip back was much easier as it's mostly downhill. As we approached the beach section of the trail, the sun was just beginning to set, stunningly behind the hills. Thankfully, I made it back to the shop just as they were closing up, for a total of $8.00 for the ride.
Cost to attempt the bike ride to the Wall of Tears = $8.00 bike rental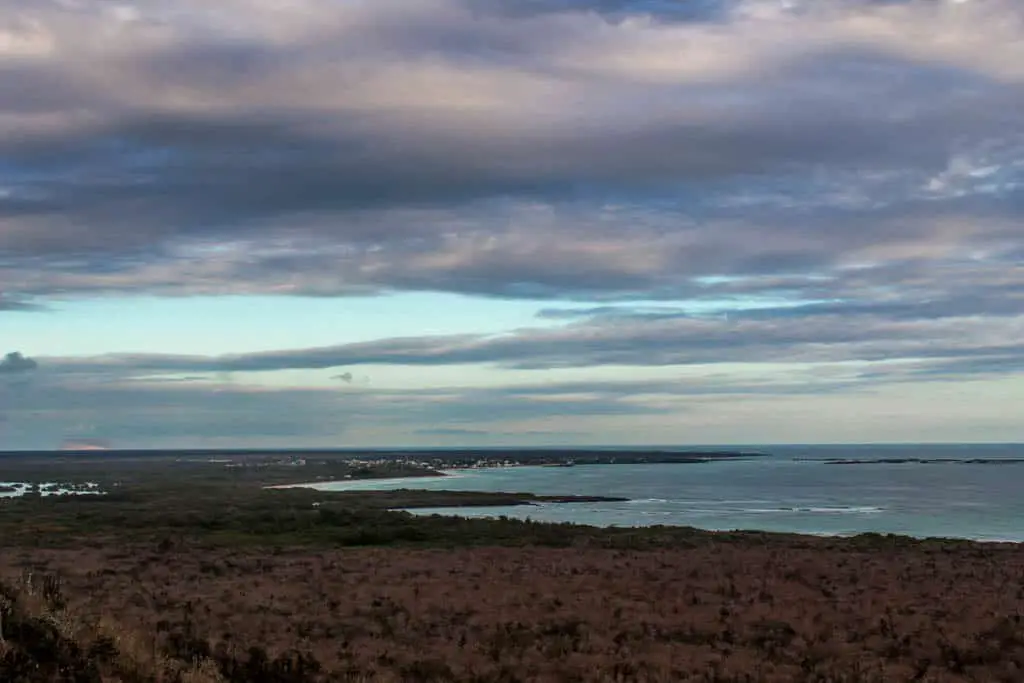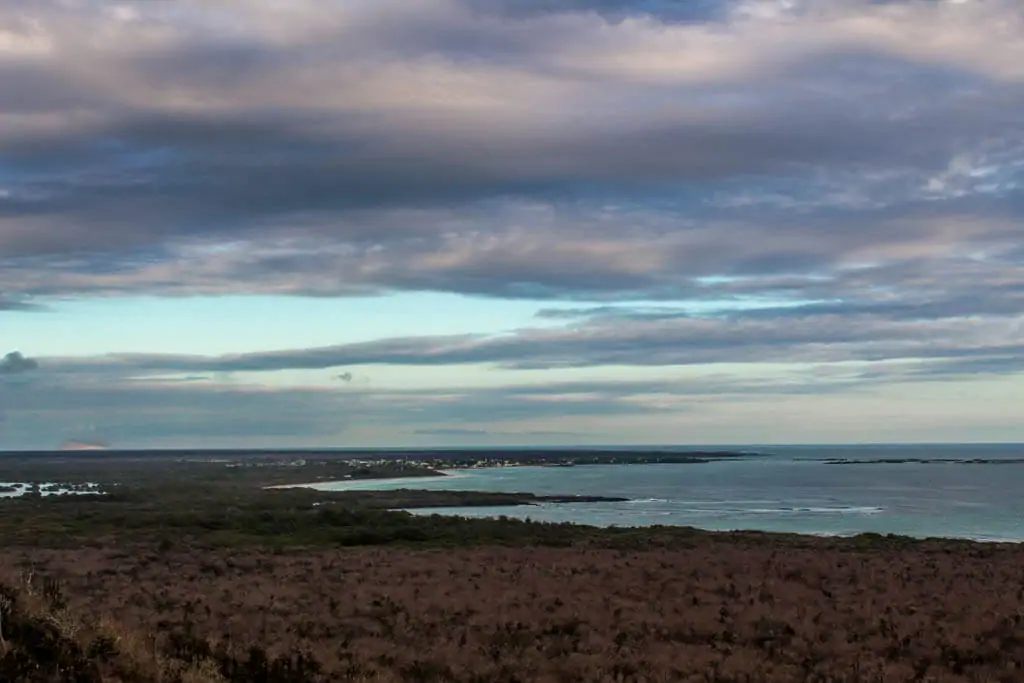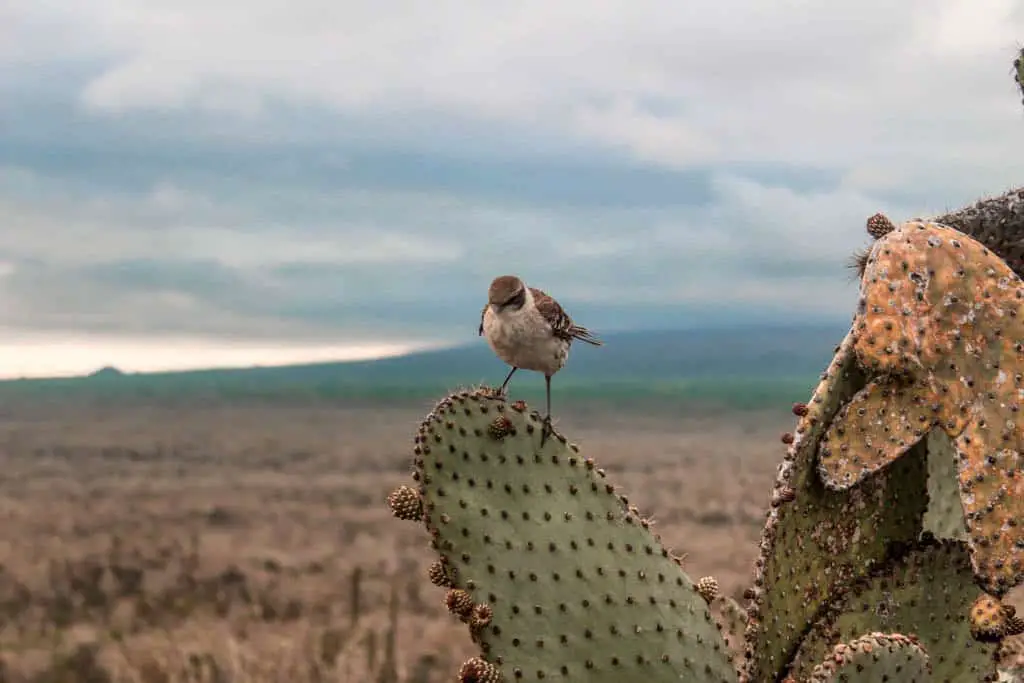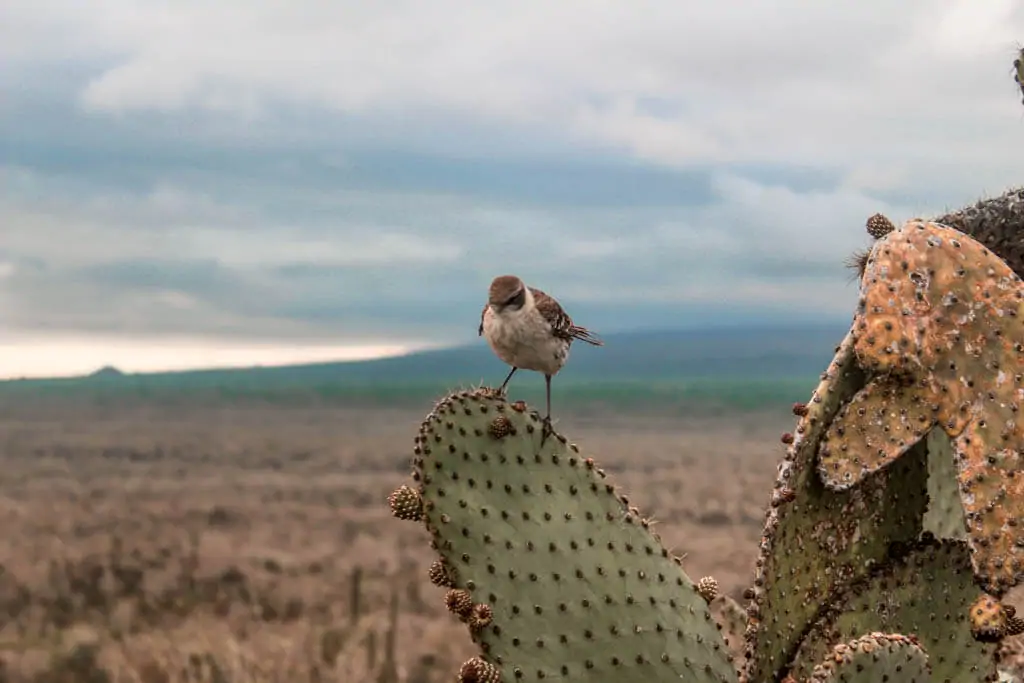 Los Tintoreras
The final tour I did on Isabela was Los Tintoreras. I booked it because a friend I'd met on the island wanted to go and it sounded like a good way to spend the morning, prior to returning to Santa Cruz. It cost $40 from a different tour company than I used for Los Tuneles. In all honesty, I should have saved that $40 and spent the morning relaxing on the beach with a coconut. The tour started with a 45-minute snorkel, where I saw less than at Concha de Perla.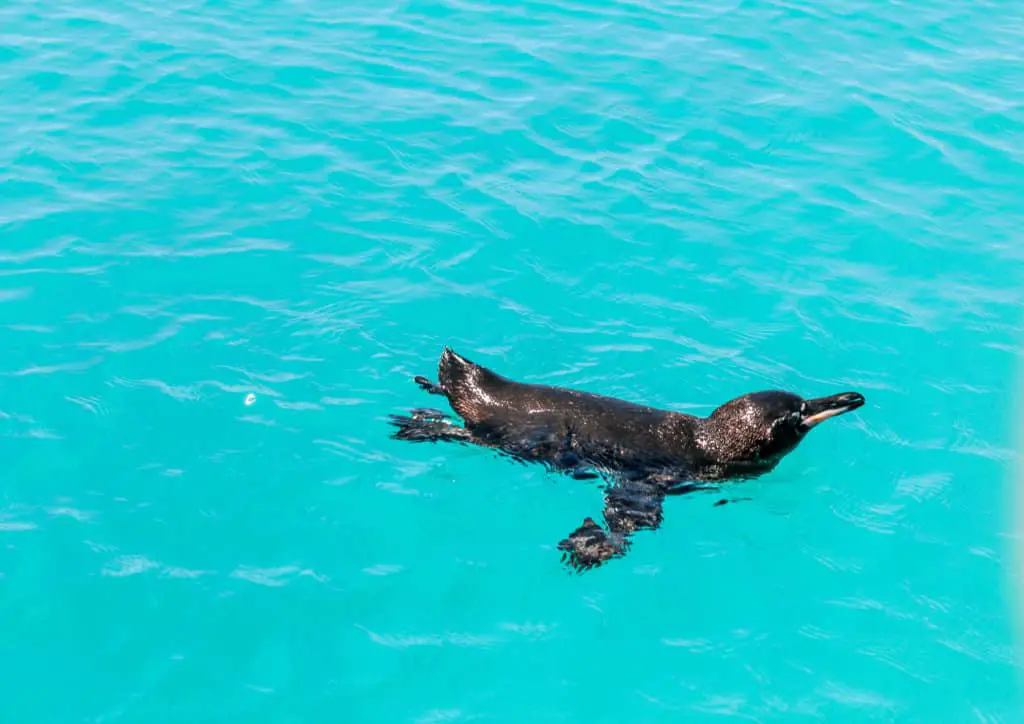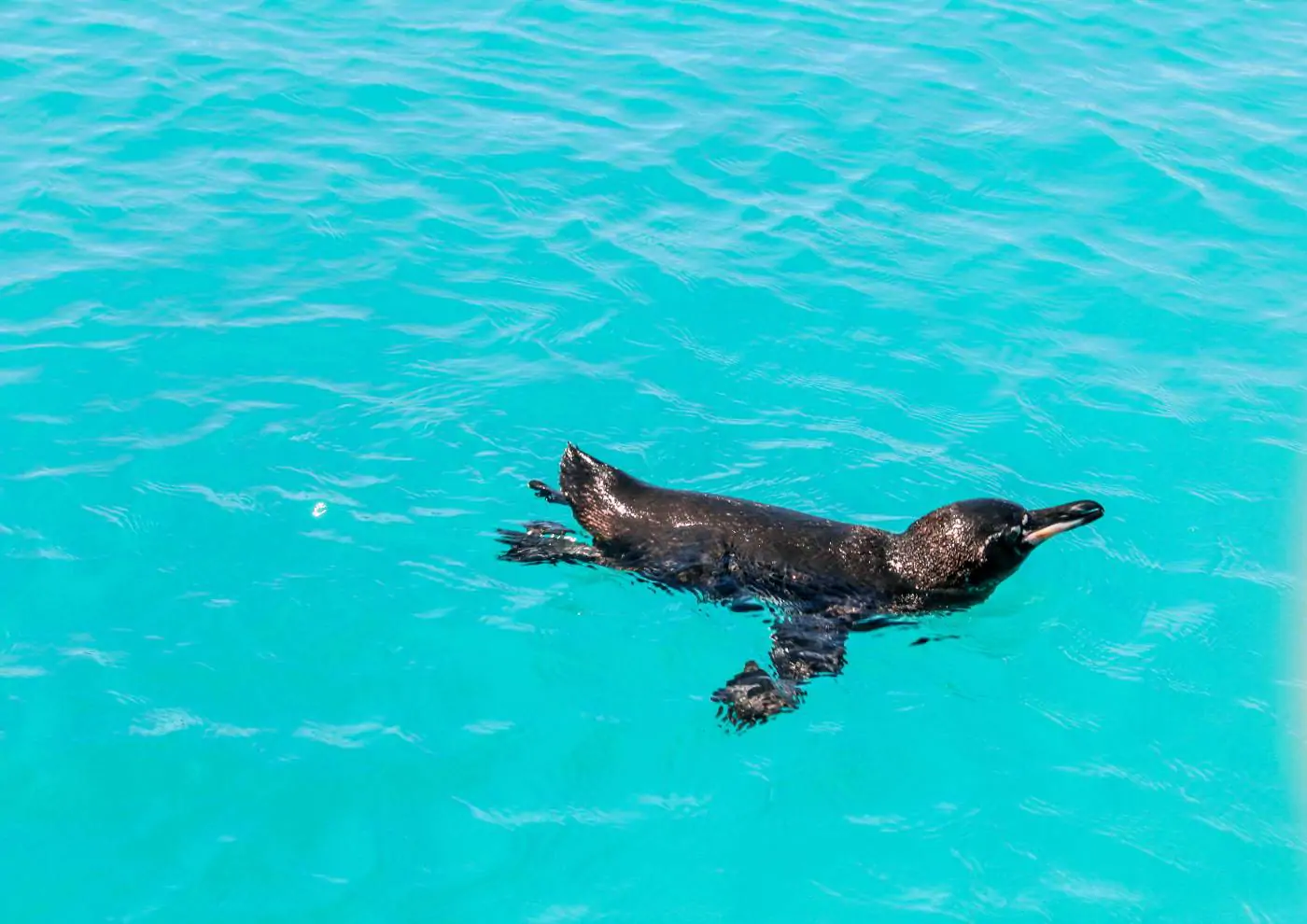 We then took the boat to see penguins, which was the highlight as I hadn't seen them yet. There were a handful on the rocks, with one fishing in the teal waters.  After looking at the penguins from the boat, we disembarked on top of Islote Tintoreras which is home to a plethora of Iguanas.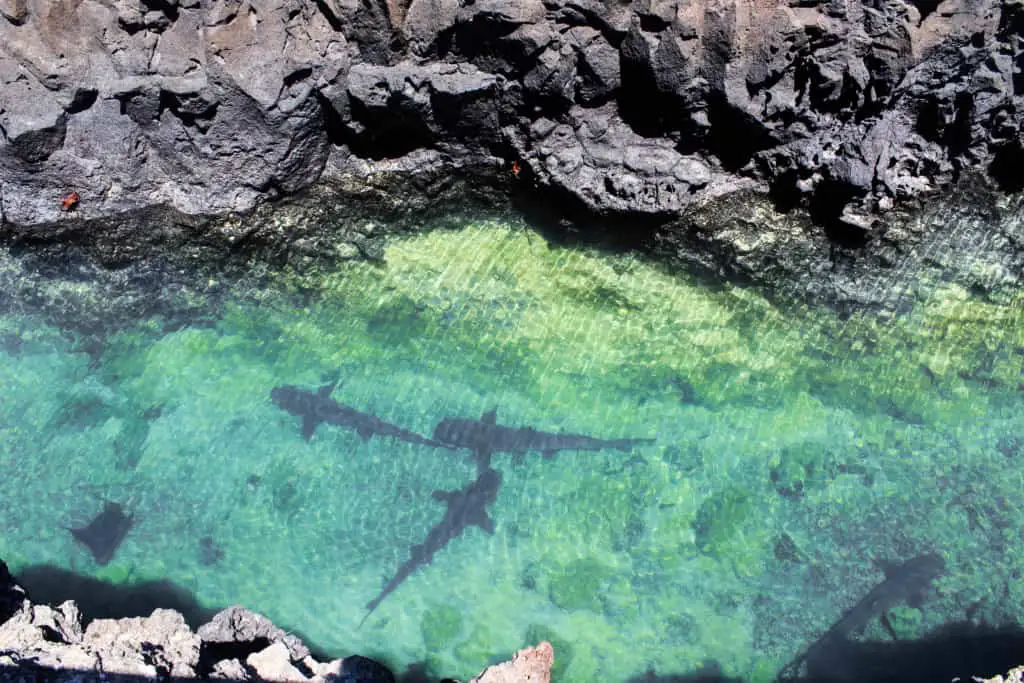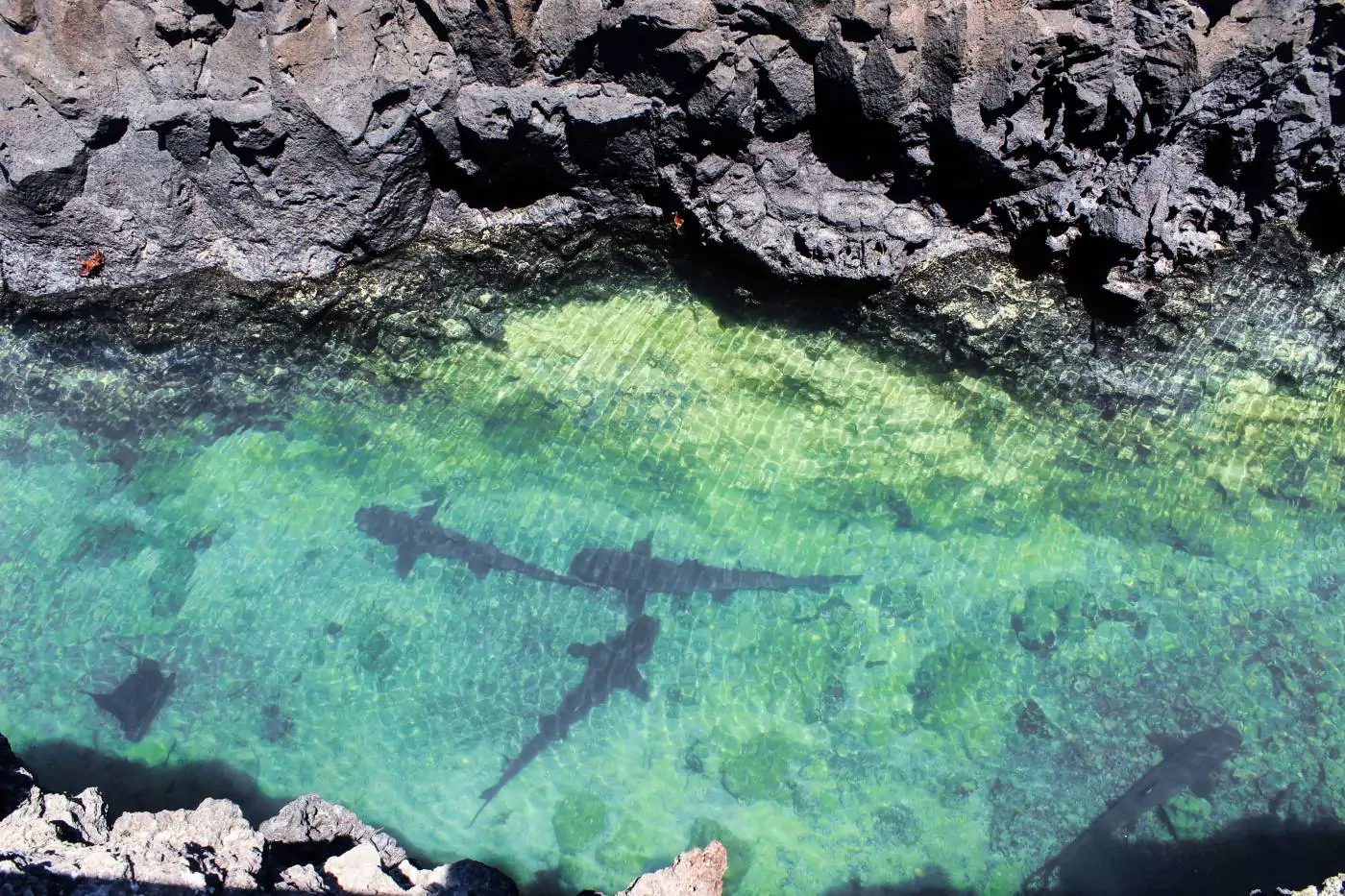 We walked around this Isla for about 30 minutes, catching a glimpse of white tip sharks and a ray resting in the water below. So, I suppose with the penguins and the ray, it wasn't a total waste of money and still a fun way to spend the morning!
San Cristobal
Another 6:30 am ferry from Santa Cruz awaited me, this time heading to San Cristobal Island.
Accommodation
I arrived without any booked accommodations and found a private room, with a private bath for $15/night one block away from the city center. Unfortunately, I can't recall the name of the hostel, but it was just above a restaurant named Lucky's. You can find Lucky's recommended in the Lonely Planet Guidebook.
Cost of 3 Nights Accommodation on San Cristobal Island: $45
Book your Accommodation for San Cristobal!
I had a mutual friend from California who was disembarking his live-aboard cruise on the same day as my arrival so we decided to split a taxi ($60 for the day) to take us to three different places on the island.
Taxi Tour
The first stop on our taxi tour was the only freshwater lake on the islands, Laguna El Junco. From the parking lot, it's a brief 10-minute walk uphill to the crater of a volcano that is filled with fresh water. It was quite cloudy at the top limiting our visibility of the entire lagoon. However, overhead we could see the frigate birds using the freshwater to clean their feathers!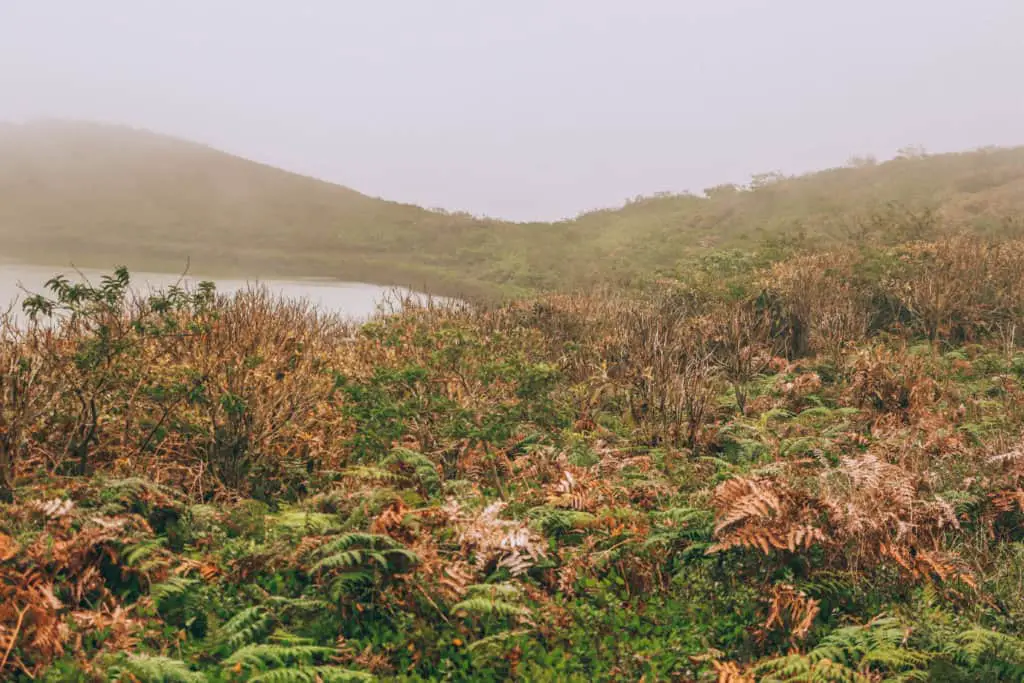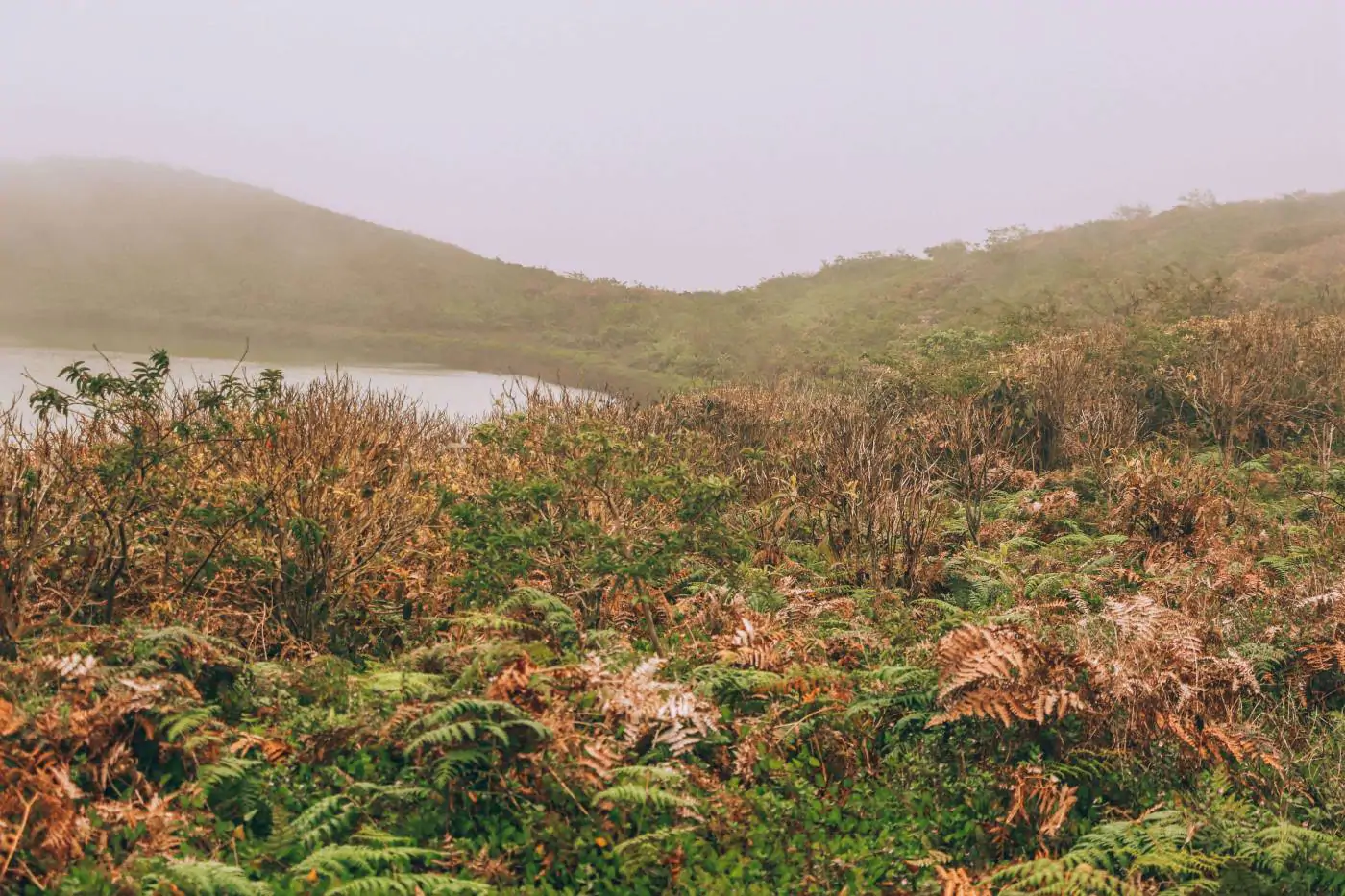 The next stop was the Galapaguera de Cerro Colorado, a tortoise breeding center. Here we followed a clearly marked path through some incredible landscape, hoping to find more giant tortoises. It's amazing how well their shells blended in quite well with the other rocks. At times the tortoises were right next to me, and I didn't even see them! So keep your eyes open, you'll find them!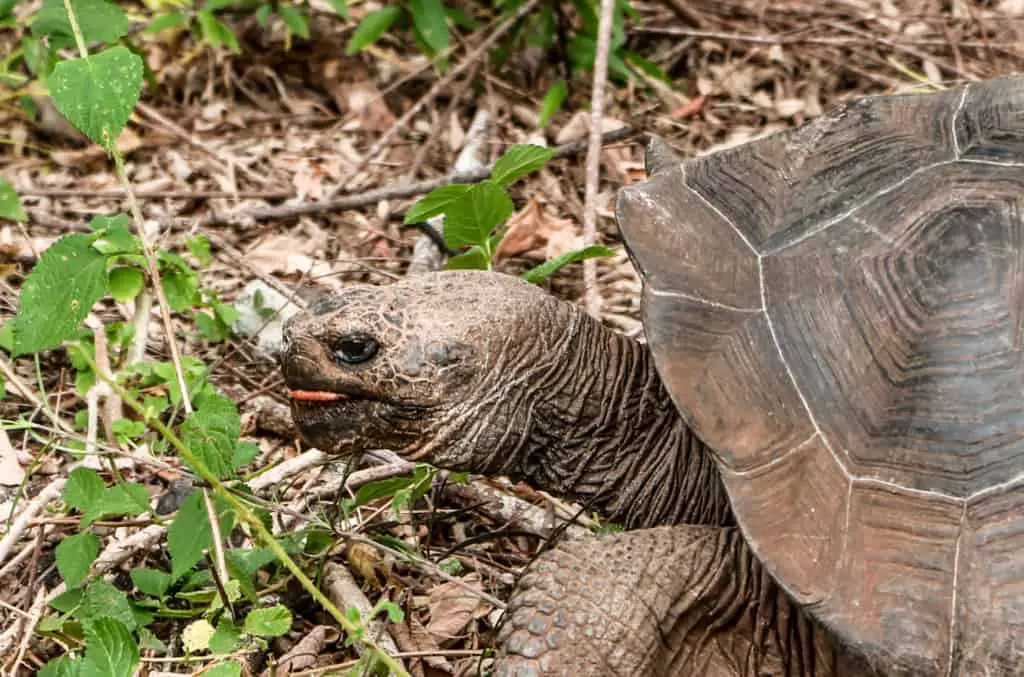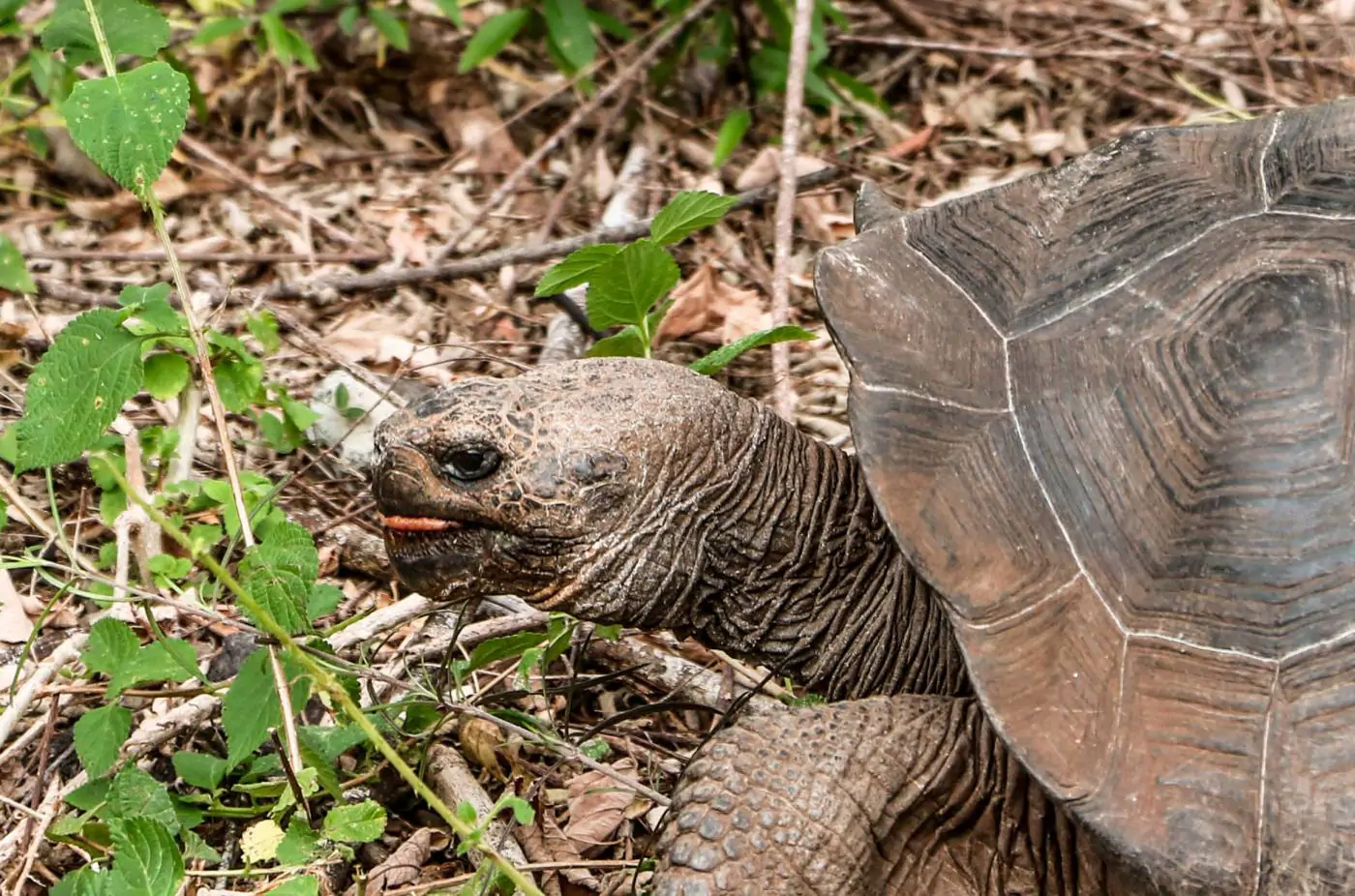 The third and final stop on this tour was a small beach called Puerto Chino that was filled with sea lions, including little pups. Besides a couple with a child, we were the only other humans at this beach. The waves were calm and perfect for snorkeling, had we brought our snorkel gear! This is a great place to cool off, enjoy the quiet, and get a good giggle at the sea lions doing their thing!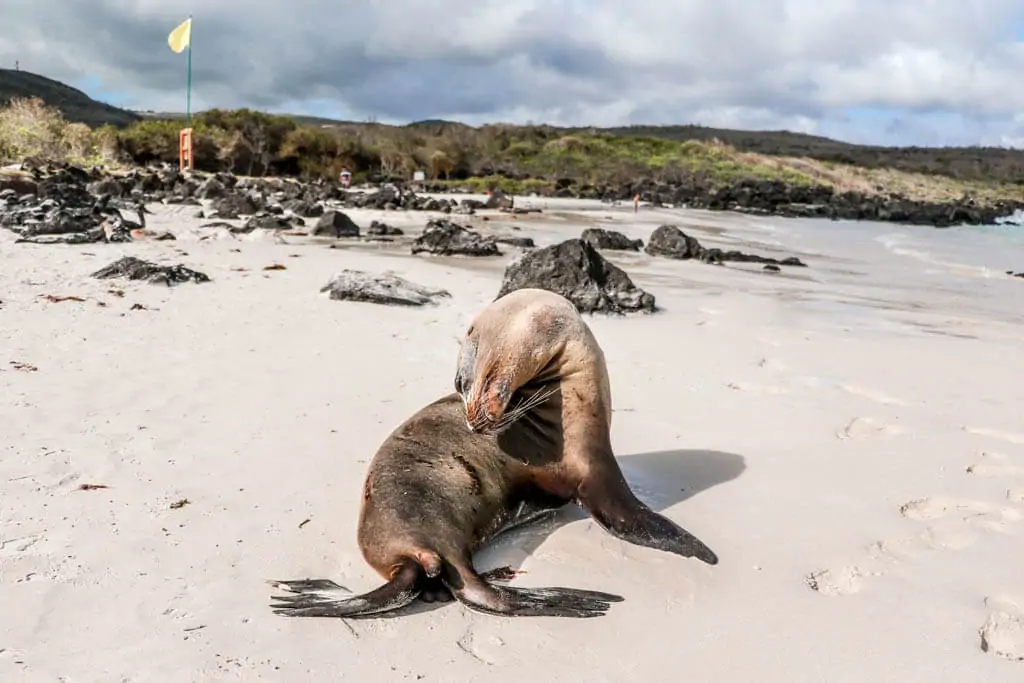 The whole tour took about four hours and the taxi should wait for you. Our taxi driver left while we were exploring Galapaguera so we had to wait about 20 minutes for his return. So, I didn't feel too guilty about taking my time at Puerto Chino.
Cost for four-hour taxi tour: $30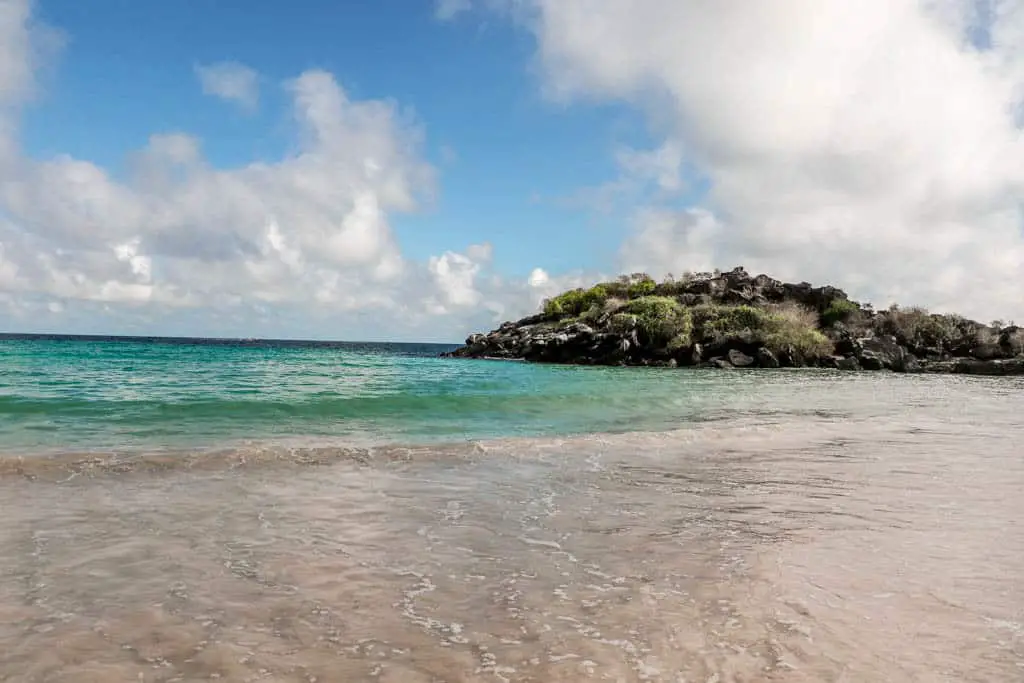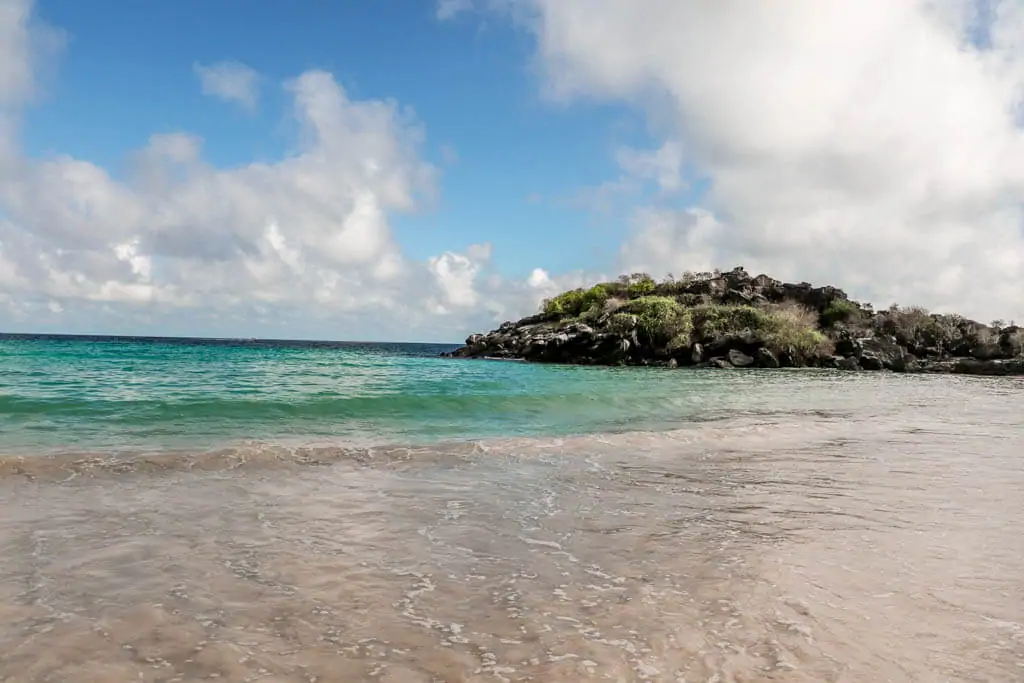 360 Tour
The main activity I wanted to do on San Cristobal was snorkeling at Kicker Rock and the best way to do this was on a 360 tour. So, I signed up with Galapagos Eco Fishing as they included the snorkel, wetsuit, fins, as well as lunch and snacks for a fair price of $130. This was the longest tour I'd done, leaving at 7:30 am and returning around 4 pm.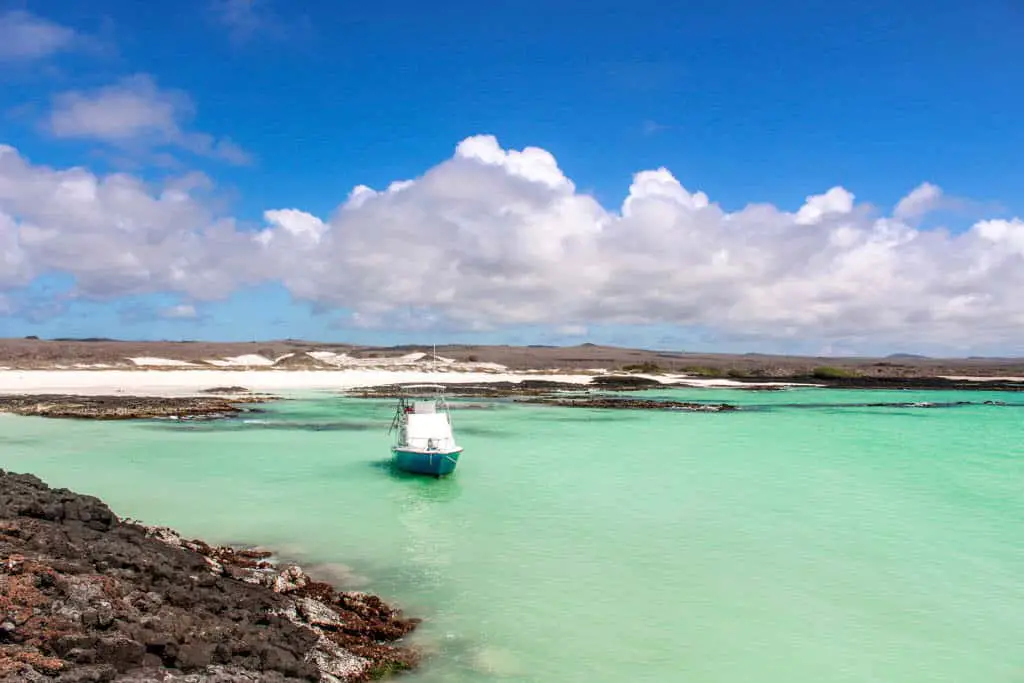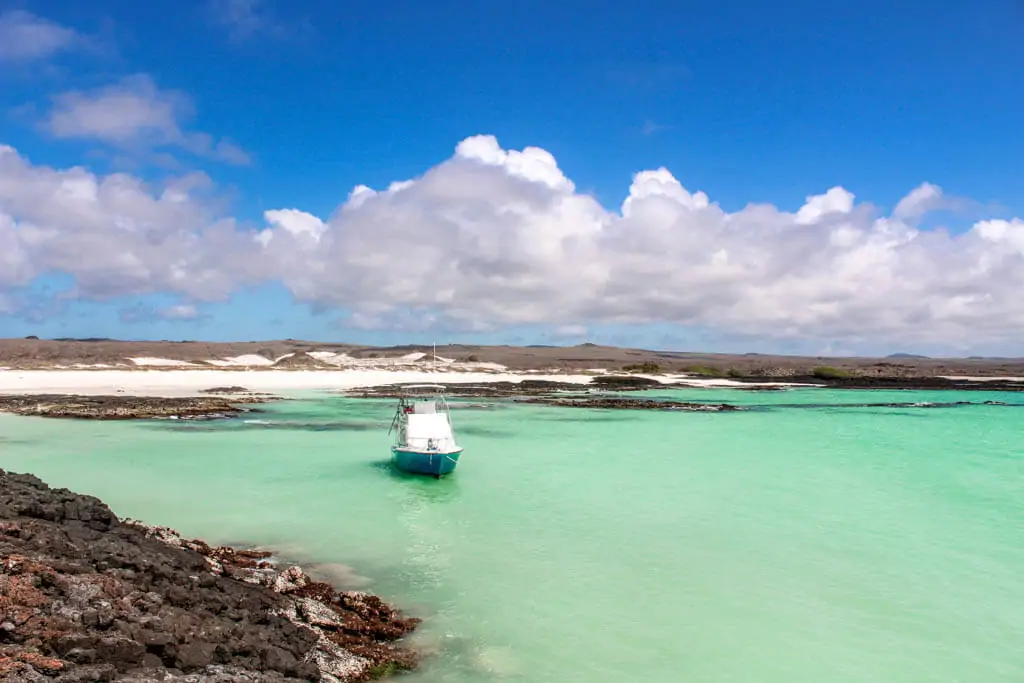 The tour takes you to multiple white sandy beaches where you have the option to snorkel, swim, or simply relax. Additionally, there is open sea fishing at Punta Pitt. Unfortunately, our boat did not catch anything, but it was relaxing being on the water, watching turtles swim by and a variety of birds flying overhead.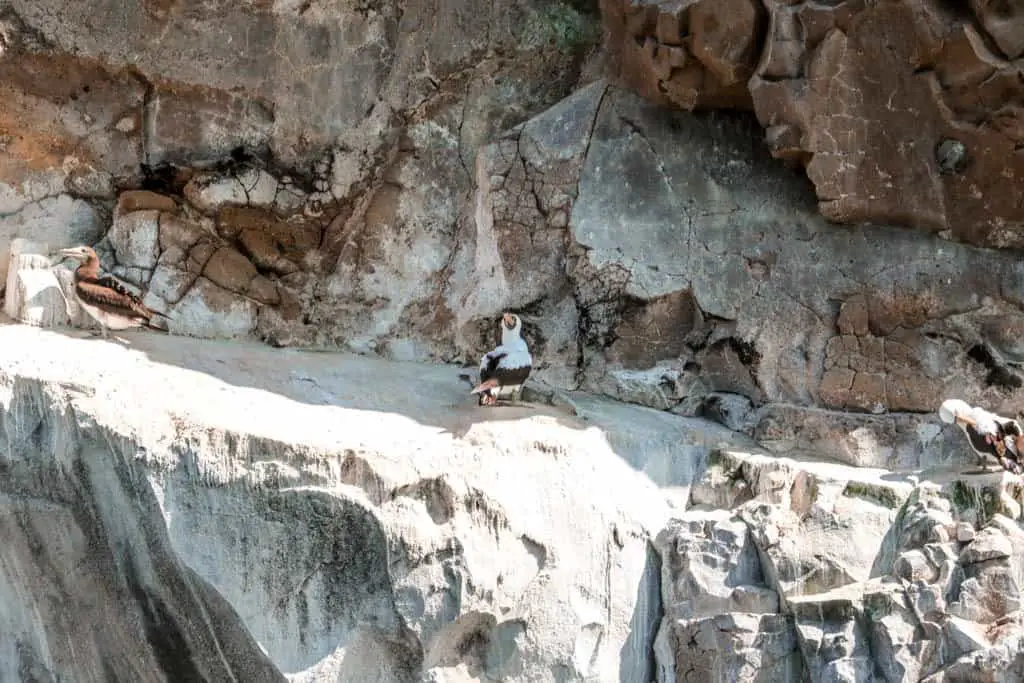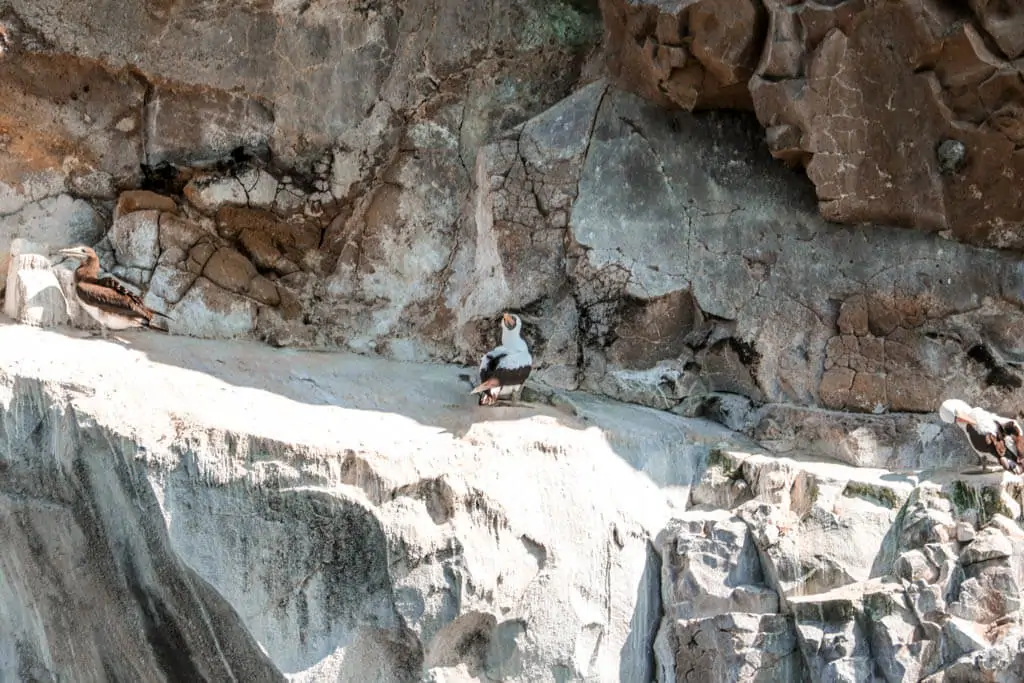 The highlight of this tour was snorkeling at kicker rock, known by locals as Leon Dormido. Keep your eyes underwater as you move through the channel for the opportunity to see Galapagos sharks, sea lions, turtles, a myriad of fish, and quite possibly hammerheads!
Cost for 360 Tour: $130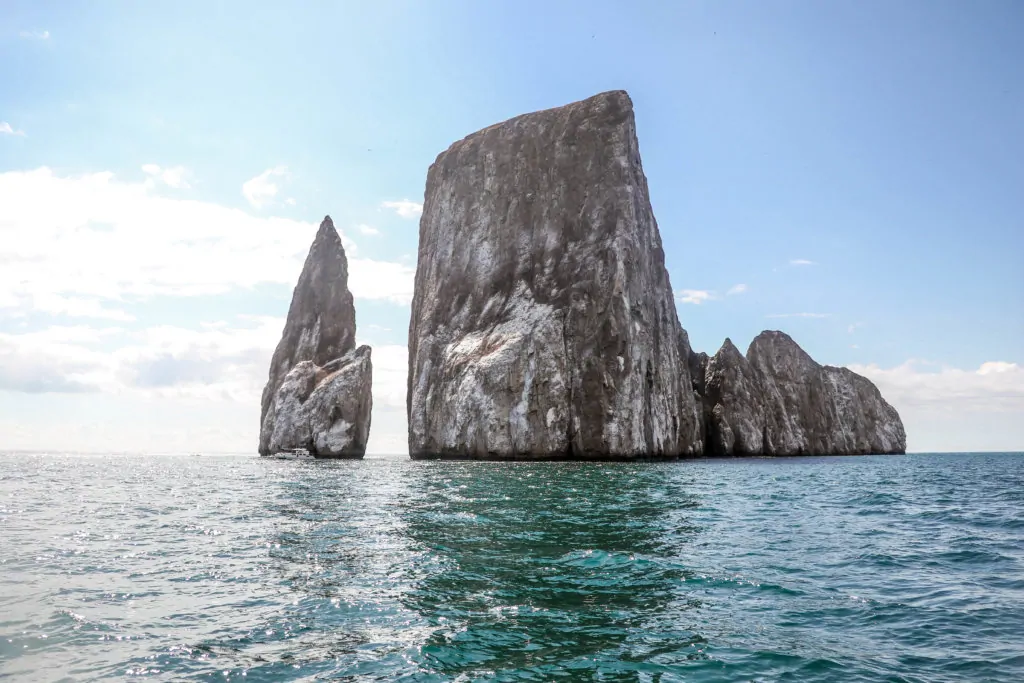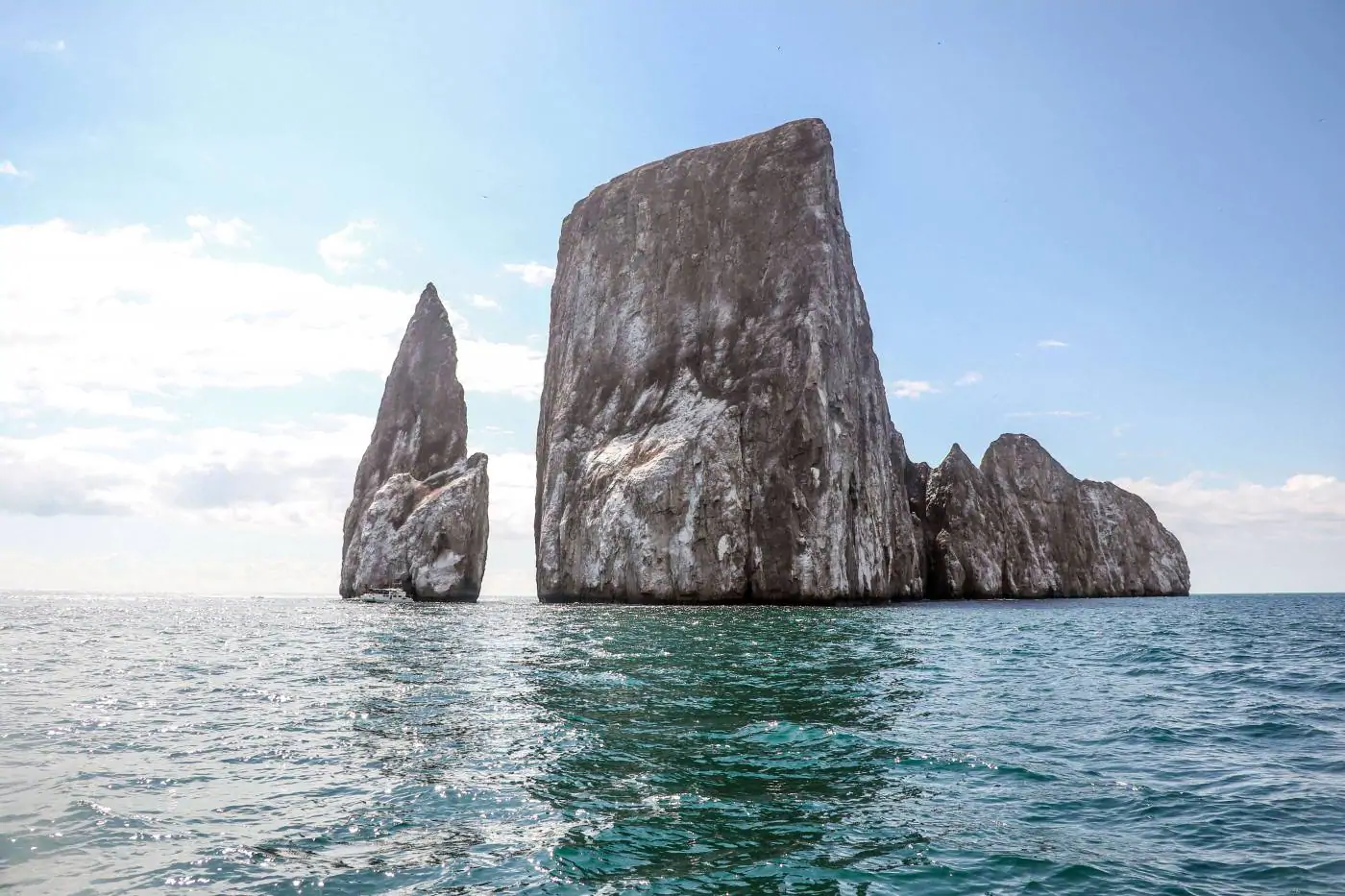 Hike to Cerro Tijeretas
On my final full day on the islands, my friend and I embarked on a hike to Cerro Tijeretas. We followed the main road beyond Playa de Oro and Playa Mann to the Centro de Interpretacion. This center has interesting information about the Galapagos, its development and the impact tourism has had on the islands.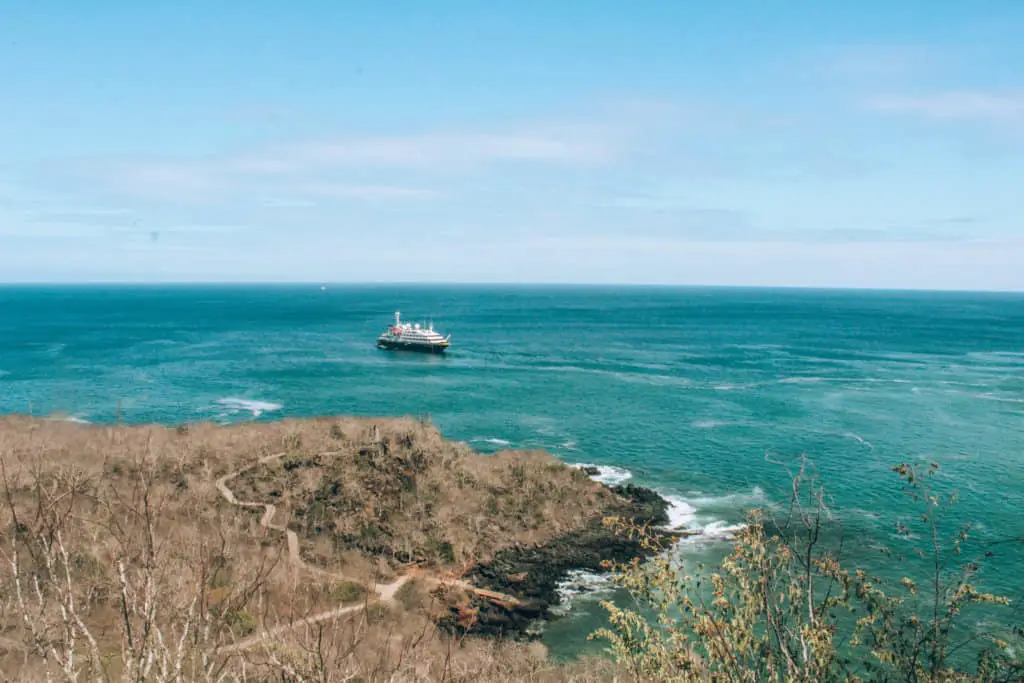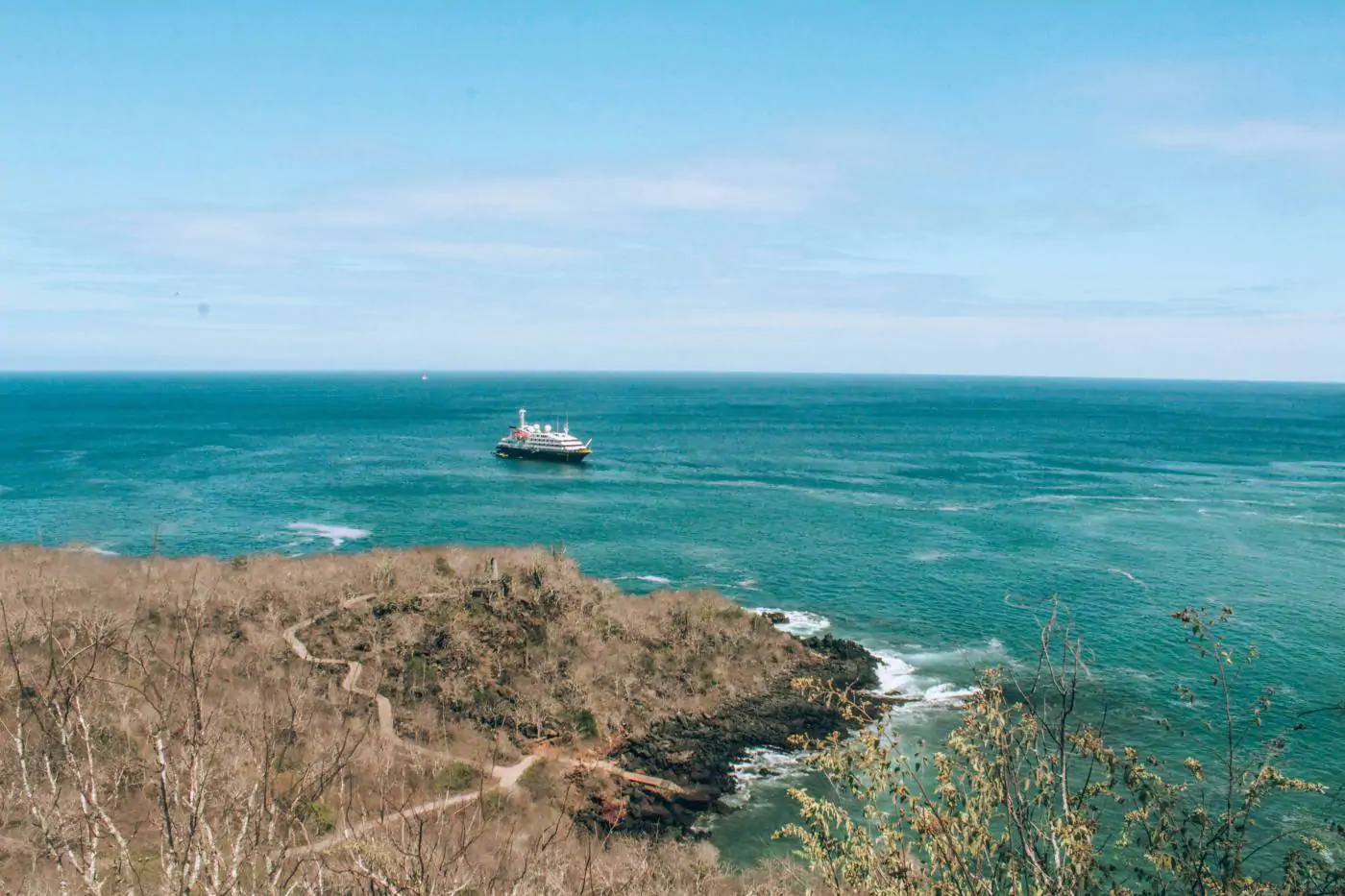 Behind this center we followed the signs for Cerro Tijeretas, which provides a great view of the coastline and perhaps a cruise docked out at sea. Below Cerro Tijeretas is Tijeretas bay, where it is possible to snorkel, depending on the tide. I was quite nervous about getting in the water. It was a very rocky entrance, the waves were strong, and there were crabs everywhere! Crabs are my least favorite, they're like water spiders! Anyway, after a bit of convincing, I got in the water. I'm so glad I did! It felt great to cool off after the hike.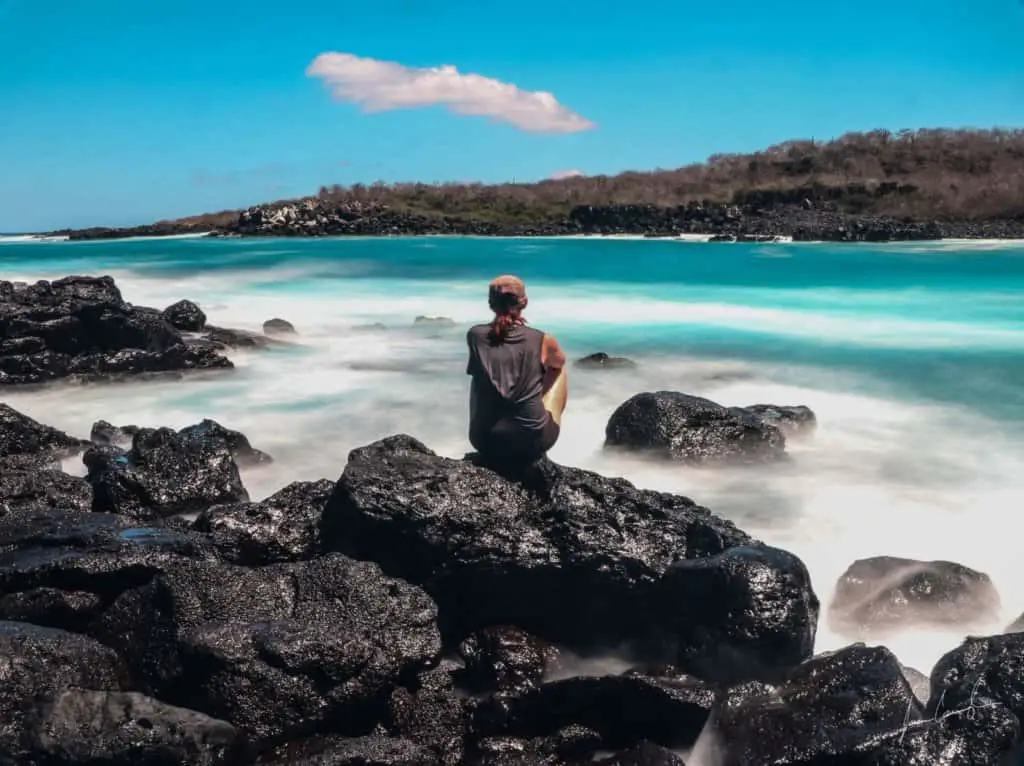 Beyond Cerro Tijeretas are more beaches along a dirt path, which I've heard are beautiful and quiet. We opted not to continue on, as my friend had a ferry to catch. We turned back toward town, passing the Darwin statue along the way and eventually coming to Playa Punta Carola.
There were so many sea lions and their pups on this beach! It was so entertaining watching them swim and play in the water, or lounge in the sand. Playa Punta Carola was the best spot, for me, to snorkel with sea lions. It's a bit rocky on entrance to the water, so take your time and be careful. I was so focused on the rocks and sea lions, I didn't even notice my proximity to a sea turtle until he touched my leg with his!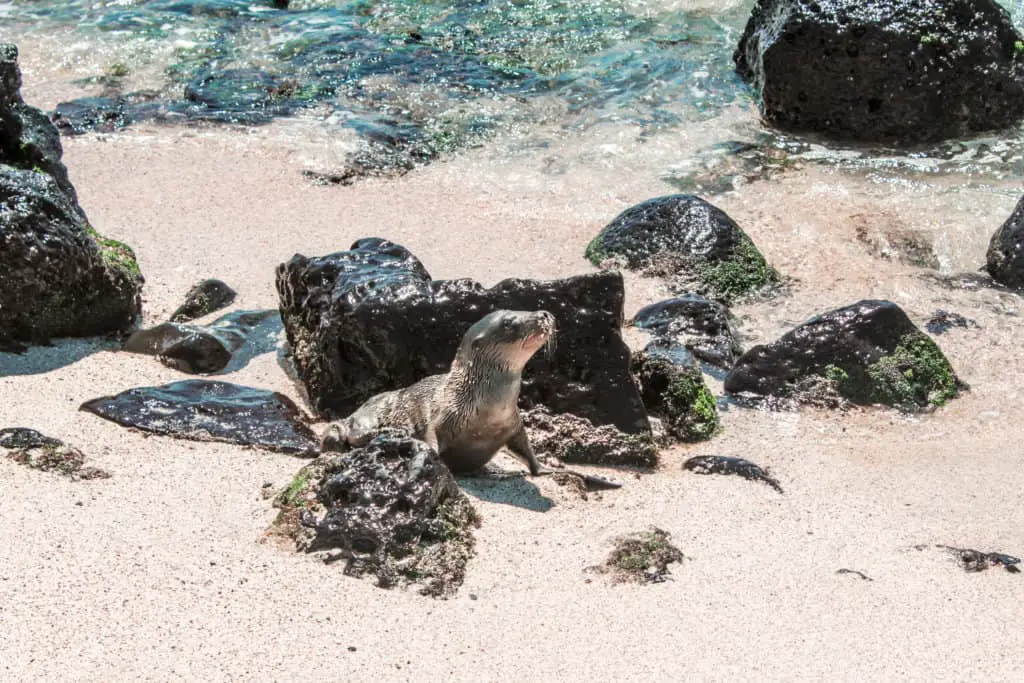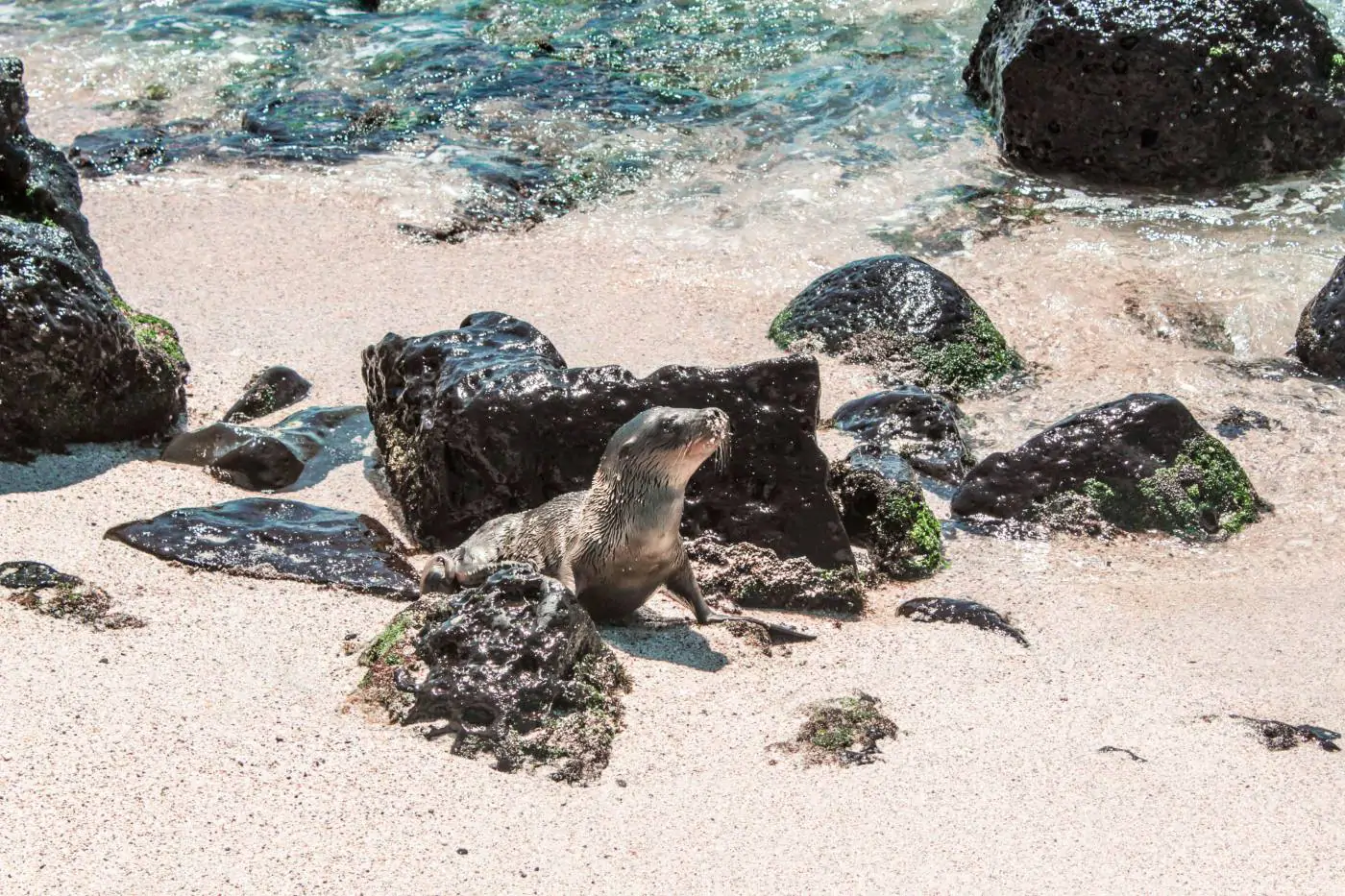 Another good option to snorkel with sea lions on San Cristobal is La Loberia, which I didn't have a chance to visit 🙁
Finally, it was time to bid farewell to my friend. I spent the remainder of my last day on the Galapagos under the shade of a tree on Playa Mann. As the sun began to set, I followed a walkway to the left of the beach. Here, there is a lighthouse, and the perfect spot to catch my final Galapagos sunset.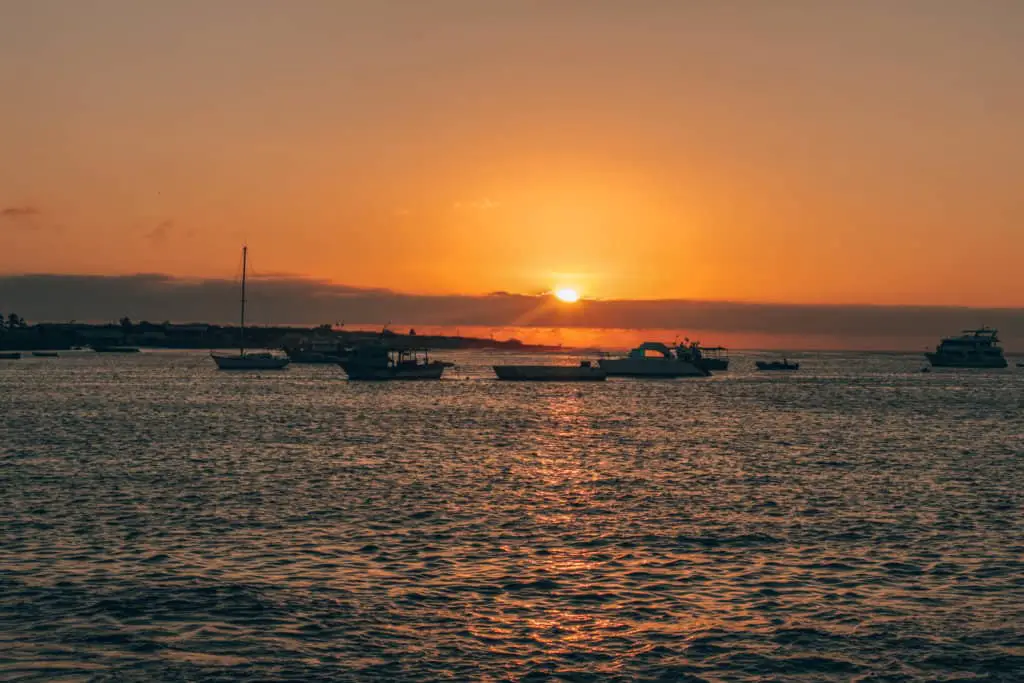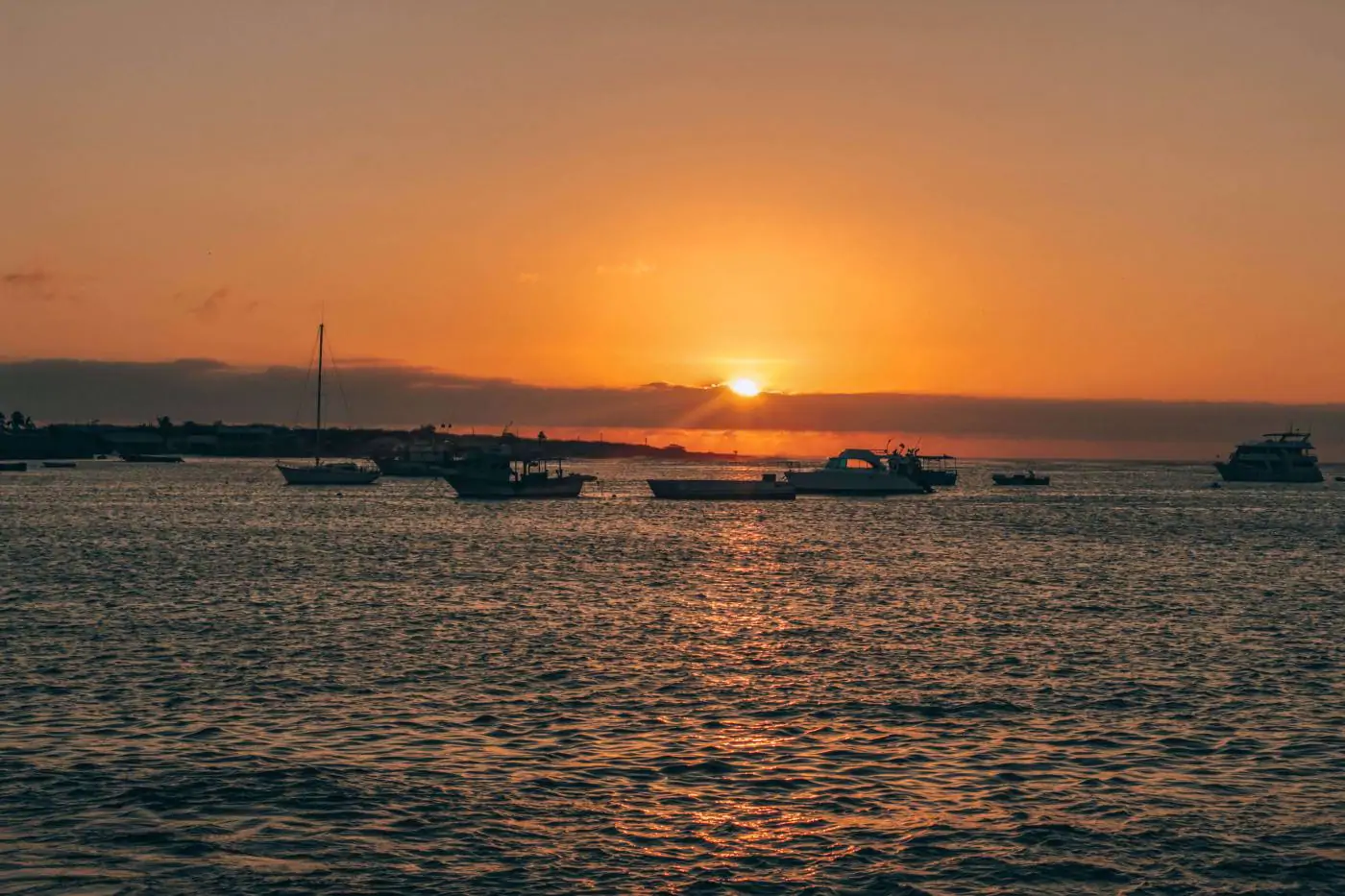 Cost of Hike and Swimming with Sea Lions: Free
Leaving the Galapagos
I departed the following afternoon from the San Cristobal airport to Quito. I opted for the 5 minute taxi ride for $2.00 from the Malecon to the airport. The check-in process at this tiny airport was straightforward. Once checked in, you wait outside security. Then they call your flight, allowing you through security. Since only one flight enters at a time, it's incredibly smooth.
Galapagos Trip Cost
Over the 10 days and 9 nights I spent on the Galapagos Islands, I spent approximately $1650. If you'd like a detailed breakdown of this, I'm more than happy to email you my budget!

What would I have done differently to make this cheaper?
Only book the arrival night at each accommodation, instead of committing for the entire time. This easily would've saved me $80

Couchsurf – a fellow traveler just told me she couch surfed on the Galapagos!

Hire a bike instead of a taxi to get to El Chato. Considering I spent another full afternoon at Tortuga Bay I had plenty of time to make the trek!

Stay at a hostel or hotel with a kitchen so I could cook a meal or two.
When I returned to the Community Hostel in Quito, I was met with many questions about my trip. And, over the past few weeks I've heard the same question of others who've gone to the Galapagos.
How did you afford it? I'd love to go, but it's out of my budget.
The bottom line, with anything we do, it can be as expensive or inexpensive as you'd like. I knew that this would quite possibly be the only opportunity to visit this magical place. I decided to do as much as I could for free and splurge on some particular tours. The time and money would've been spent on something, why not a once in a lifetime experience?
I took SO MANY photos of the Galapagos that I dedicated an entire post to my favorite photos. If you just want some fun inspiration for your trip, check out my favorite photos from my 10 days on the Galapagos Islands!
Like this post? Pin for later!