Quito, Ecuador's capital city, is nestled in the Andes mountains, surrounded by many volcanic peaks at a breathtaking altitude of roughly 2800m (9300 ft). I spent two months living and teaching yoga at Community Hostel in Quito's old town. During that time I discovered the best things to do in Quito by exploring the various neighborhoods, shops, and activities the city has to offer. But I also came to learn that most visitors only spend 3 days in Quito before heading over to explore the Galapagos Islands on a DIY trip or simply pass through on their way to Colombia or Peru.
So while two months may be too long for most people to spend here, I've compiled some of the best activities you can do with 3 days in Quito to make the most of your visit!
Side note, I'm not great at packing, but I found this Ecuador packing list to help you make sure you have everything you need for Ecuador. 
This post contains affiliate links, which means that, at no additional cost to you, I will earn a tiny bit of income if you decide to click and make a purchase and booking. 
A Few Fun Facts About Quito
It's the second-highest capital city, with La Paz being the first. Three days may not be long enough to acclimatize to the altitude (it affects everyone differently). Therefore, I don't recommend scheduling any strenuous activities, like hiking, as most people won't be ready for it! I mean seriously, after two months of living there, I still got breathless walking up the stairs in the hostel.

Thanks to its beautifully preserved old town, Quito is a UNESCO World Heritage Site.

Ecuador's currency is the USD, which was troublesome for Ecuador's economy for many years as they made the switch.

You can view a number of volcanoes from certain viewpoints

in Quito, but the two most "popular" and still active volcanoes are Pichincha and Cotopaxi. You can

hike to the summit of Rucu Pichincha

in a day or take a

day trip to Cotopaxi

to hike to the refuge and mountain bike back down.  
Where to Stay in Quito
There are two neighborhoods where most people stay in Quito: Old Town or New Town (La Mariscal). 
Old Town is the historical area where most of the itinerary below takes place. This is where you'll find all of the colonial architecture, many beautiful squares, and beautiful government buildings.
New Town, or La Mariscal, is where you go to party at night! Plaza Foch is known for its fun bar scene so if you're looking for a good time at night, head to Plaza Foch.
Considering I was teaching yoga at Community Hostel which covered my room and food, I didn't have a need to try other accommodation options. Community Hostel is located one block away from the historical center, on the same street as Mercado Central, and near really good restaurants and breweries.
It's a warm and friendly place to stay with activities each night. Activities include a pub crawl, salsa lessons, a movie night, and ladies night. And of course, there are twice daily yoga lessons on their rooftop, which is also the best spot to catch an epic Quito sunset. 
That being said there are a number of accommodation options throughout Quito from budget to bougie. Check out the options below to find something to suit your travel style and budget.
Safety Concerns for Solo Female Travelers in Quito
Definitely adhere to the traditional solo female travel safety tips when in Quito. Specifically being alone at night, I do not recommend this at all, especially in Old Town where it gets pretty deserted after dark.
Theft is the main concern when visiting Quito. But the thing about theft in Quito is thieves don't necessarily target tourists, they just target clueless people. The people who put their belongings in the overhead storage on buses or who have their phones out on the street. So, to avoid becoming a target keep your bag zipped and perhaps in front of your body especially in Plaza Grande and on buses. Keep your phone out of sight when walking the streets.
When utilizing taxis, make sure the taxi is marked and that the driver puts on the meter. Or that you agree on a price before you get in the car. Uber is also a great option here and I used it more often than taxis.
Your Itinerary for 3 Days in Quito
Alrighty, lets discover the best things to do in Quito for 3 days!
Day One in Quito
Eat at Mercado Central
Rise early and head over to Mercado Central for breakfast. This market opens around 5:00 am (although you definitely don't have to get there at 5:00 am) and is where you can find numerous stalls for fresh fruit and veggies, plus butchers, cheese shops, grains, and even roses.

Did you know that one in every three roses bought in the USA are exported from Ecuador? Ecuador roses are considered the best worldwide and they're sold in a number of stalls in Mercado Central, for much cheaper than the bouquet you'd buy at home.
But this section is about the food, so back to that.
Food to try at Mercado Central
I highly recommend getting the Llapingachos (two eggs, sausage, avocado, potato patties)  with a smoothie. Just be warned, ask for your smoothie without sugar "sin azucar". They like to load most things up with sugar here!
Two other options for food at the market are Corvina (fried fish with potatoes and ceviche) and Encebollado (fish soup – hangover cure…supposedly). But also pick up some amazing fruit – try the mangos, passionfruit, and avocados!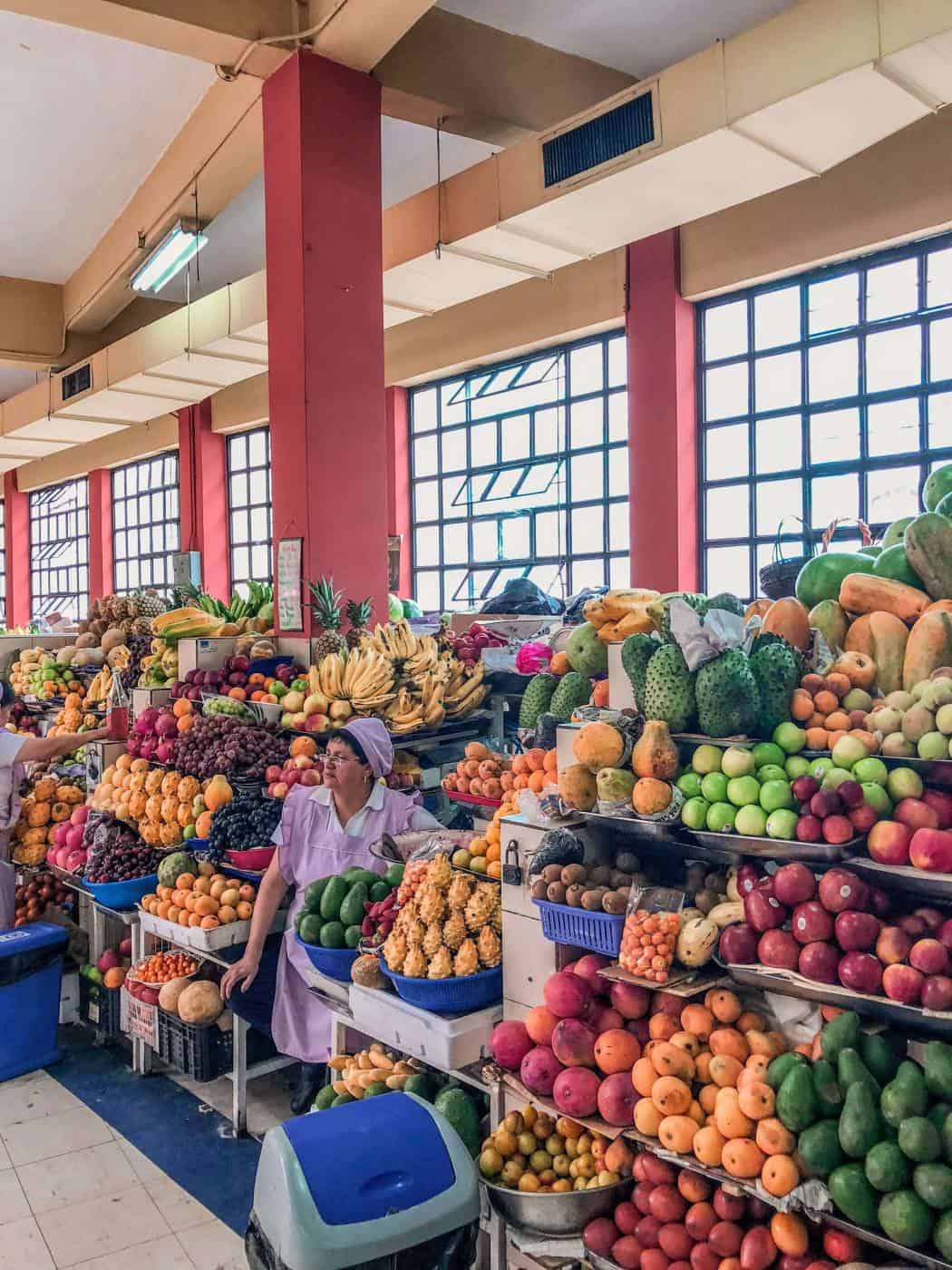 Take a Free Walking Tour
After you've eaten your fill take a free walking tour from free walking tours Ecuador. The tour departs at 10:30 am and 2:30 pm Monday to Saturday and starts just down the street from Mercado Central at Community Hostel.
The tour will take you through Quito's Old Town describing buildings of significance such as the Compania de Jesus church which is laden with gold on the inside. But they don't allow photos so you'll just have to go see for yourself!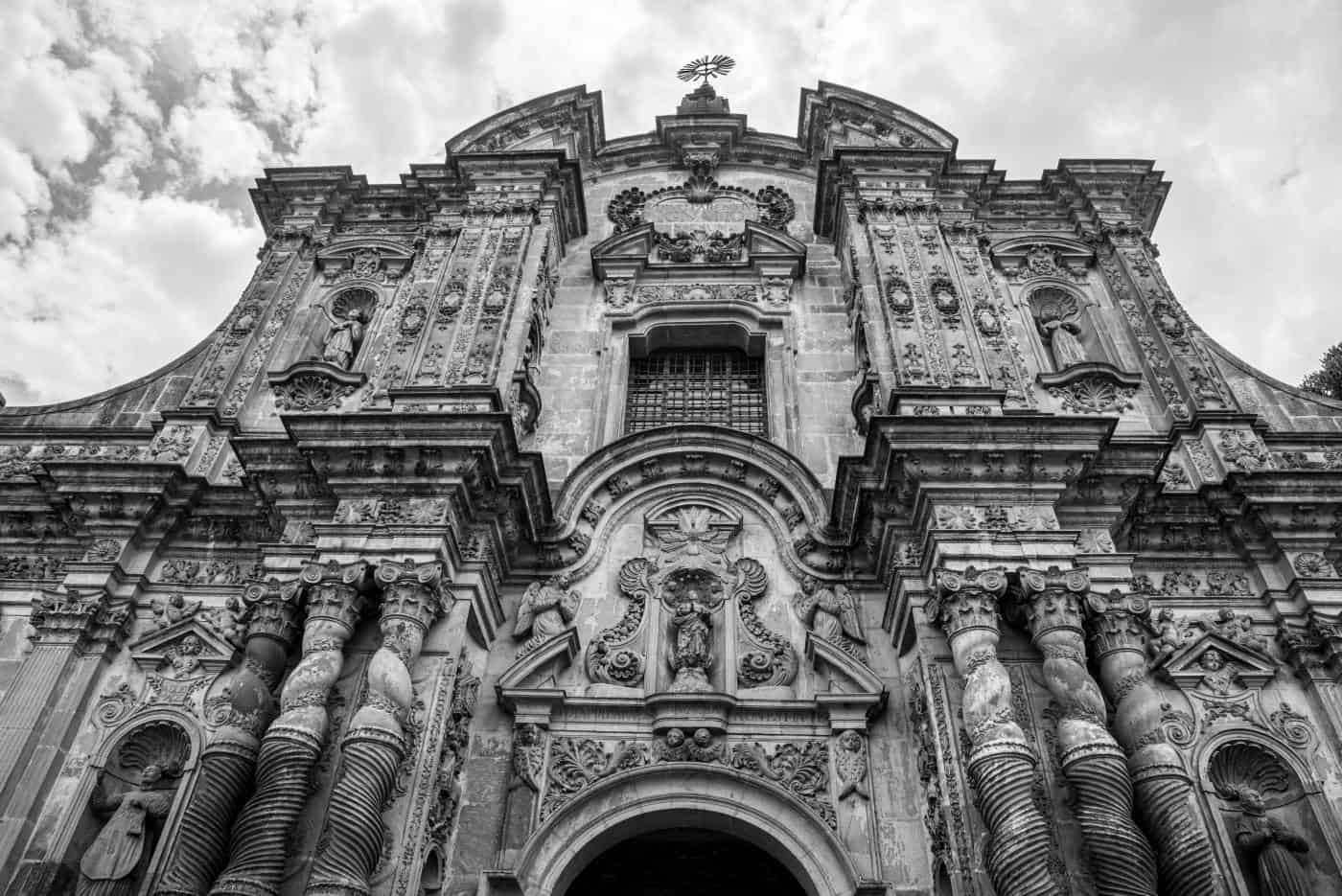 Eat Lunch at a Local Spot Recommended by Your Guide
Ask your guide for a lunch recommendation at a local spot. Lunch will cost about $5 and you'll receive soup, a main dish with meat and rice, and a drink. It's definitely a difficult place for vegetarians as they'll assume you can eat chicken. So say "no carne y no pollo, solo vegetables" and hopefully you'll get your point across. If you're looking for a more upscale spot to eat, check out La Purisma near Plaza Chica.
Climb the Towers at Basilica del Voto Nacional
Basilica del Voto Nacional dominates the skyline of Quito. You can see its impressive towers from various vantage points in the city. In the afternoon, burn off your lunch by walking up the stairs and testing your fear of heights on the ladders of Basilica del Voto Nacional as you climb the ladders to the towers. 
There are two entrance fees, one to enter the church ($2) and one to climb the towers ($2). You don't need to pay both the climb the towers!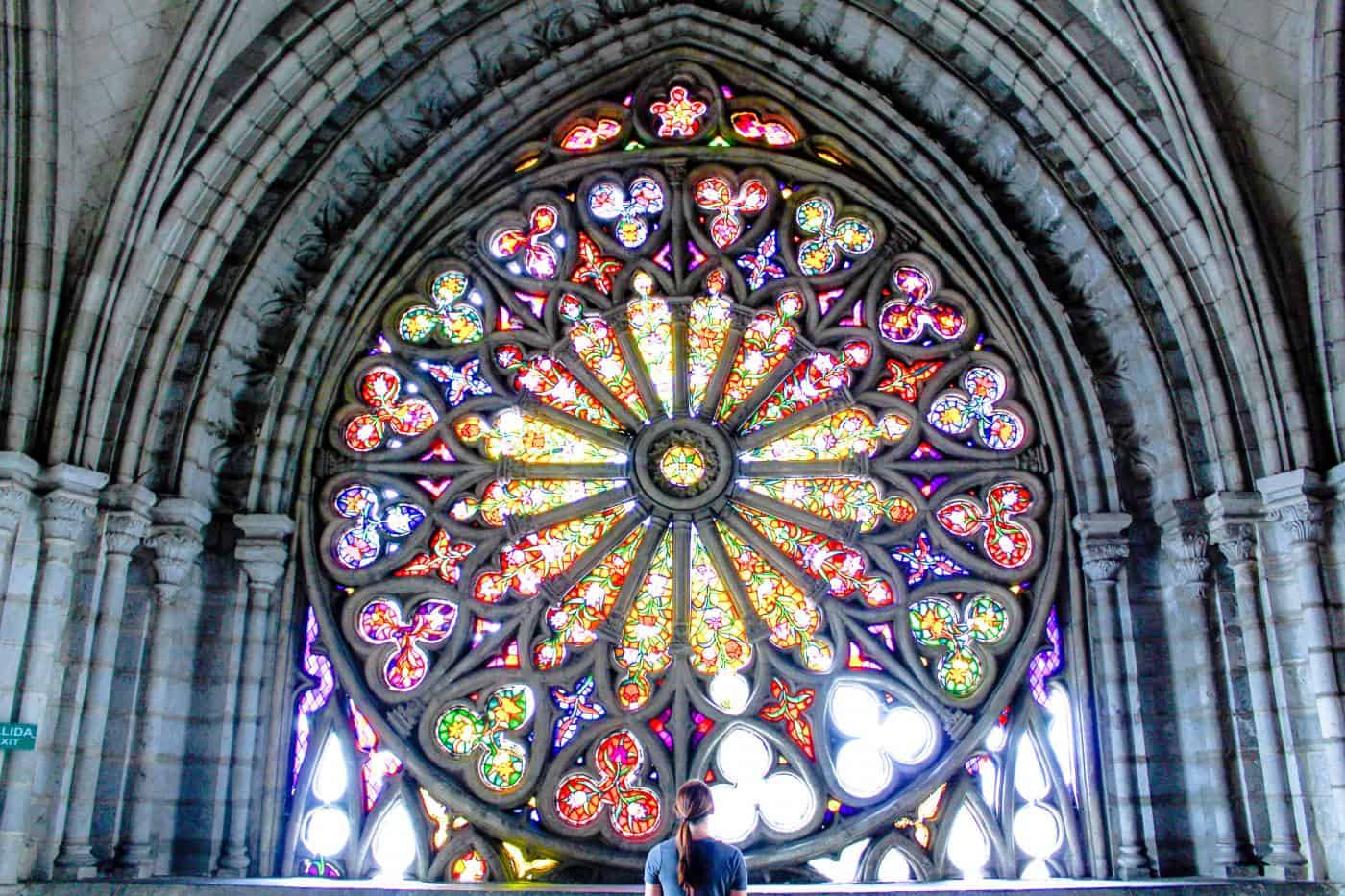 Buy your ticket from a window near the bathrooms and you'll start climbing up a number of flights of stairs until you reach a beautiful stained glass window. Then you'll walk along a wooden plank where below are the church pews (don't worry, you can't see them). Then climb up the ladder to the outside. From here its a rickety spiral staircase to the top of the tower. I almost didn't go up out of fear, but I'm so glad an older lady told me to just do it.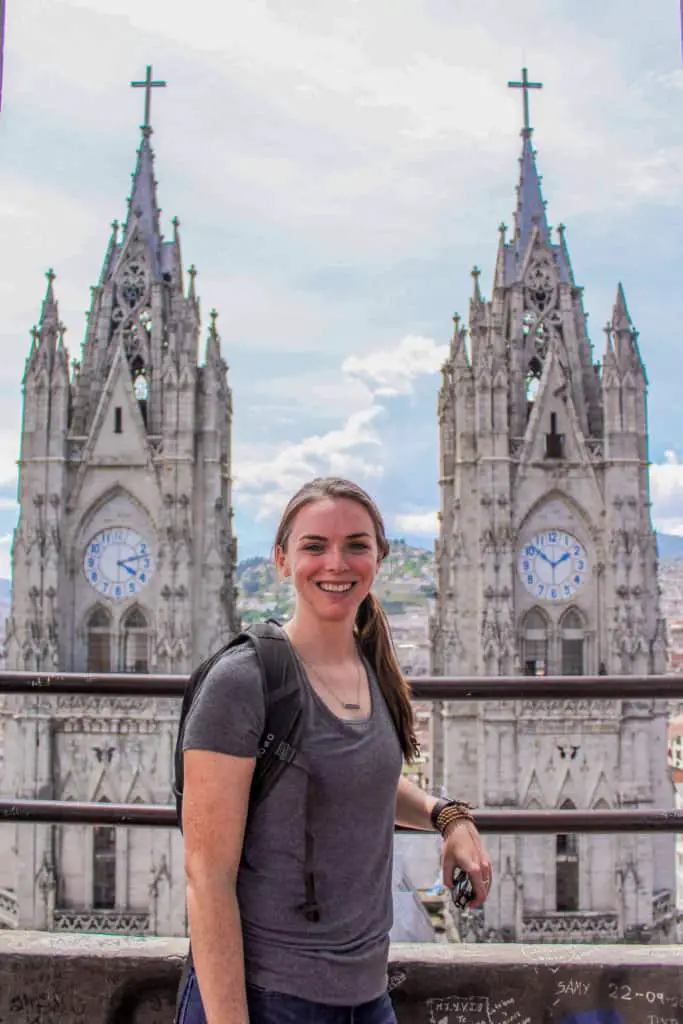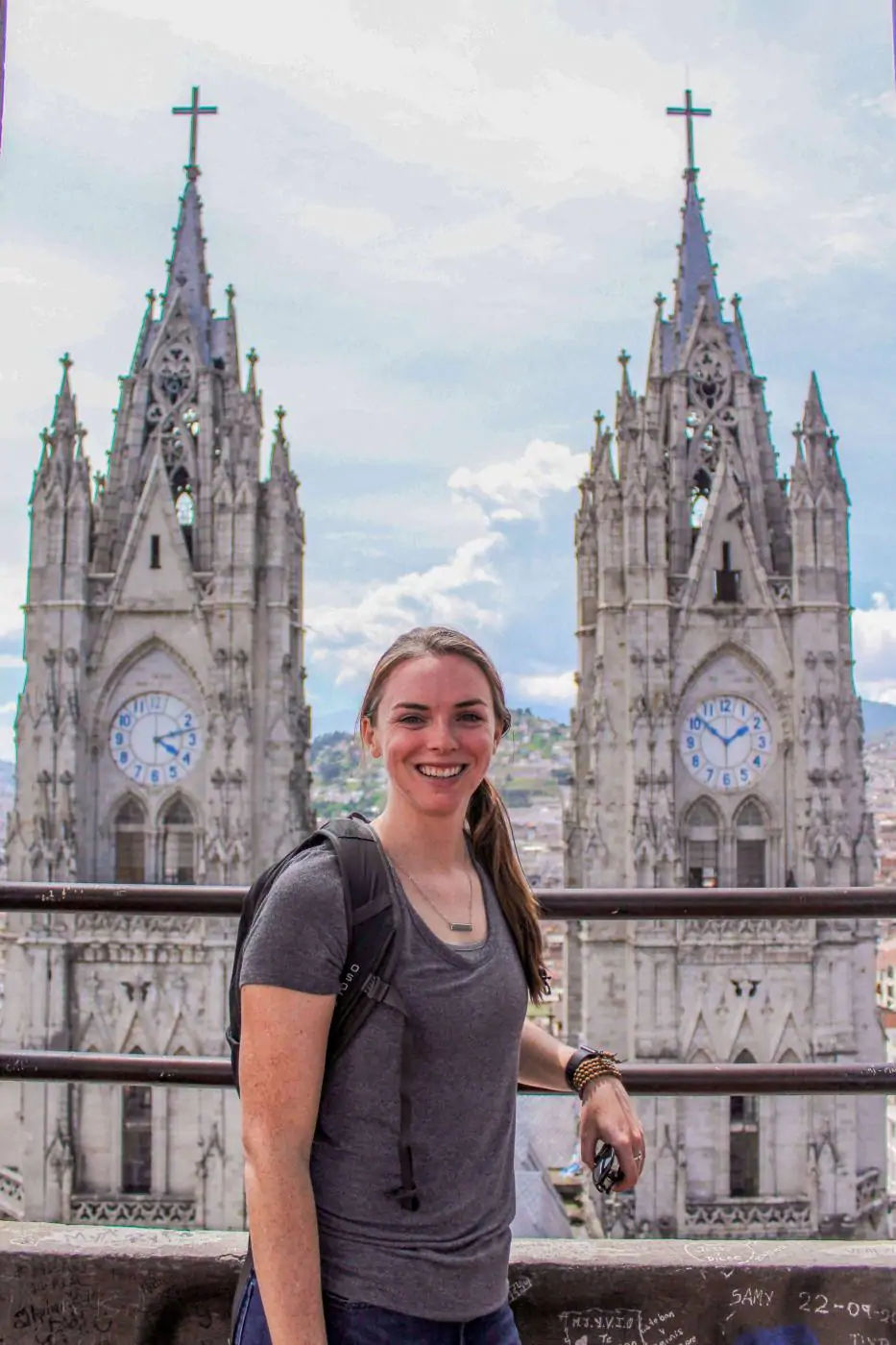 Eat Dinner from the Food Trucks at La Pradera Food Garden
I stumbled upon this outdoor food truck plaza after a wander in La Floresta. I returned the next night with a few new hostel friends to celebrate a birthday. There are a number of food trucks that sell local food, vegetarian options, pizza and ice cream! There are plenty of tables to choose from and a bar for drinks. Definitely, a good spot to try a few things or share a meal with new friends!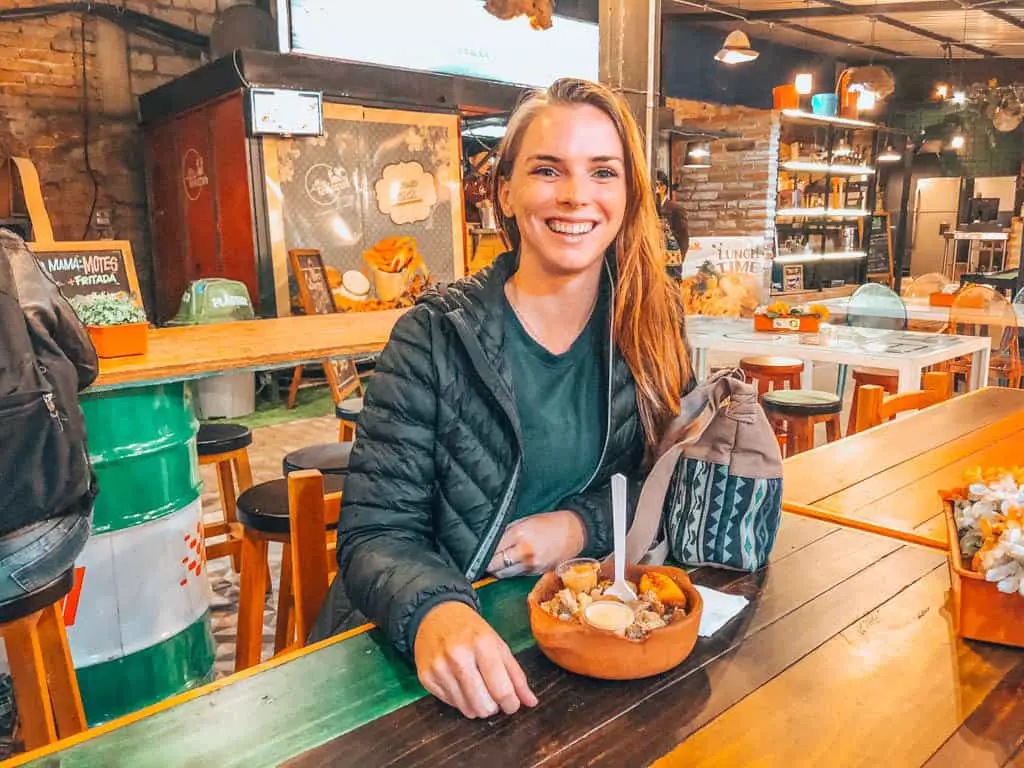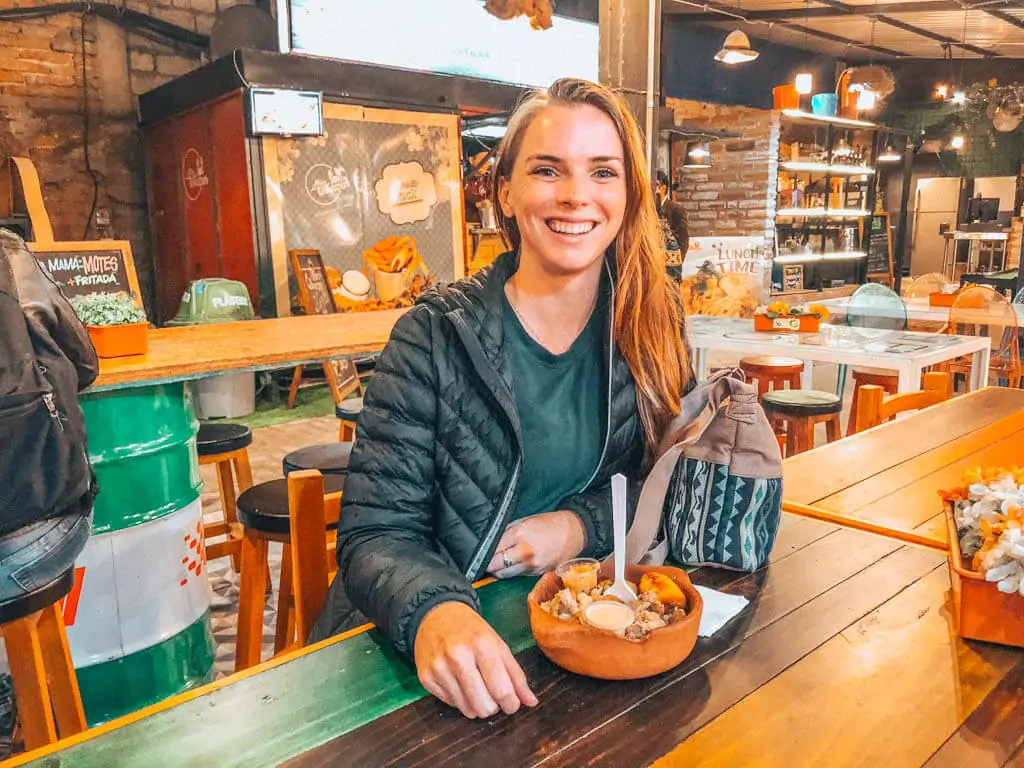 Go Salsa Dancing
In the evening, get your salsa dancing on at Salsateca Lavoe. Located on the northern end of the city, this is where you can witness some professional-level salsa dancing. Even though many of the people who come here are really good, don't worry if you're not. You can still take a spin on the dance floor with someone who knows what they're doing. Or just get out there and dance like no one's watching!
Day Two in Quito
Breakfast at En Dulce
So, if you opted to go out last night, you probably slept in a bit. Whenever you roll out of bed head for breakfast at En Dulce. This tiny cafe in Old Town has great breakfast options and large windows where you can watch the bakers bake up some tasty treats.
Ride the Telefériqo
After you're nice and full take a taxi to the Teleferiqo. This cable car ride brings you to the starting point for a popular hike up to the active Pichincha volcano. But don't worry, you don't need to hike it to take in the sweeping views of Quito below. From here you'll really get an appreciation for how long and skinny this city is. On a clear day, you may even be able to see Cotopaxi.
Since I lived in Quito, they've added a swing at the top…go get your gram on!
The taxi ride should cost at most $5.00 and the cable car costs $8.50. Make sure to have the taxi driver turn on his meter!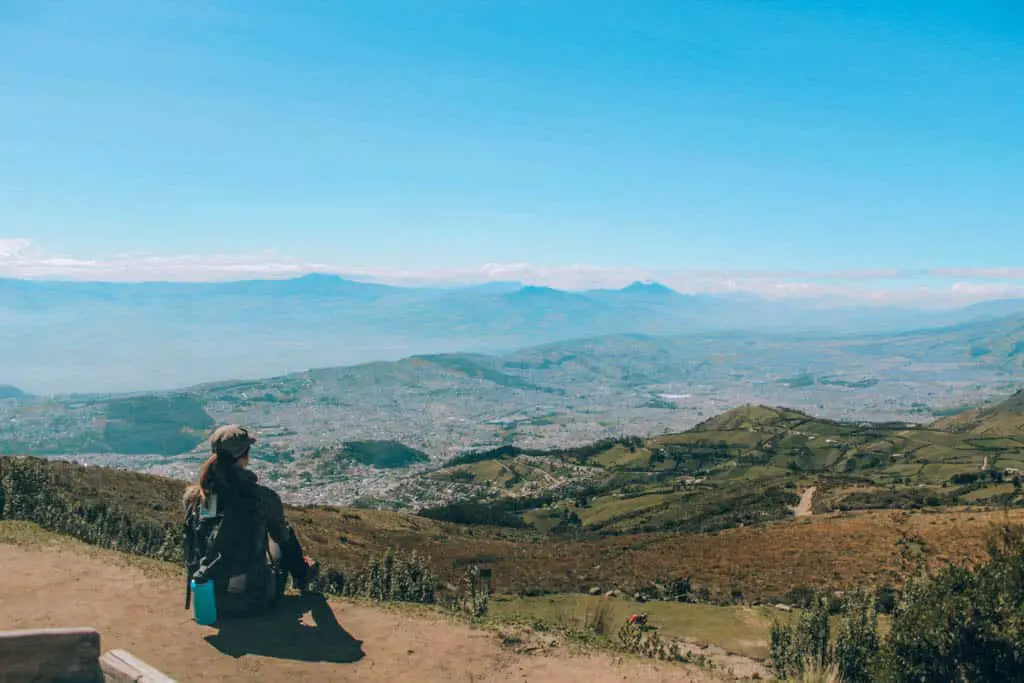 Explore La Ronda & Learn About Chocolate at Chez Tiff
In the afternoon head to La Ronda – a charming area of the city with narrow pedestrian paths, plenty of restaurants, and shops. This is a great place to visit at night as well to drink, dine, and dance, but I'm sending you in the afternoon to check out a popular chocolate shop called Chez Tiff.
Chez Tiff is the product of a Swiss and Ecuadorian love, which resulted in this beautiful chocolate experience. They hold demonstrations that show the process of making chocolate all the way from cacao bean (which you can taste) to the various forms of white to dark chocolate that we enjoy around the world.
Honestly, I am unsure of what times these demonstrations are held. A friend and I wandered in one afternoon and there was a gentleman working who only spoke Swiss and Spanish. We asked for a demonstration which he obliged for the two of us and he gave it to us in Spanish. It was such a great experience even if I only understood half of what he explained. I returned here many times to pick up a mid-afternoon sweet treat.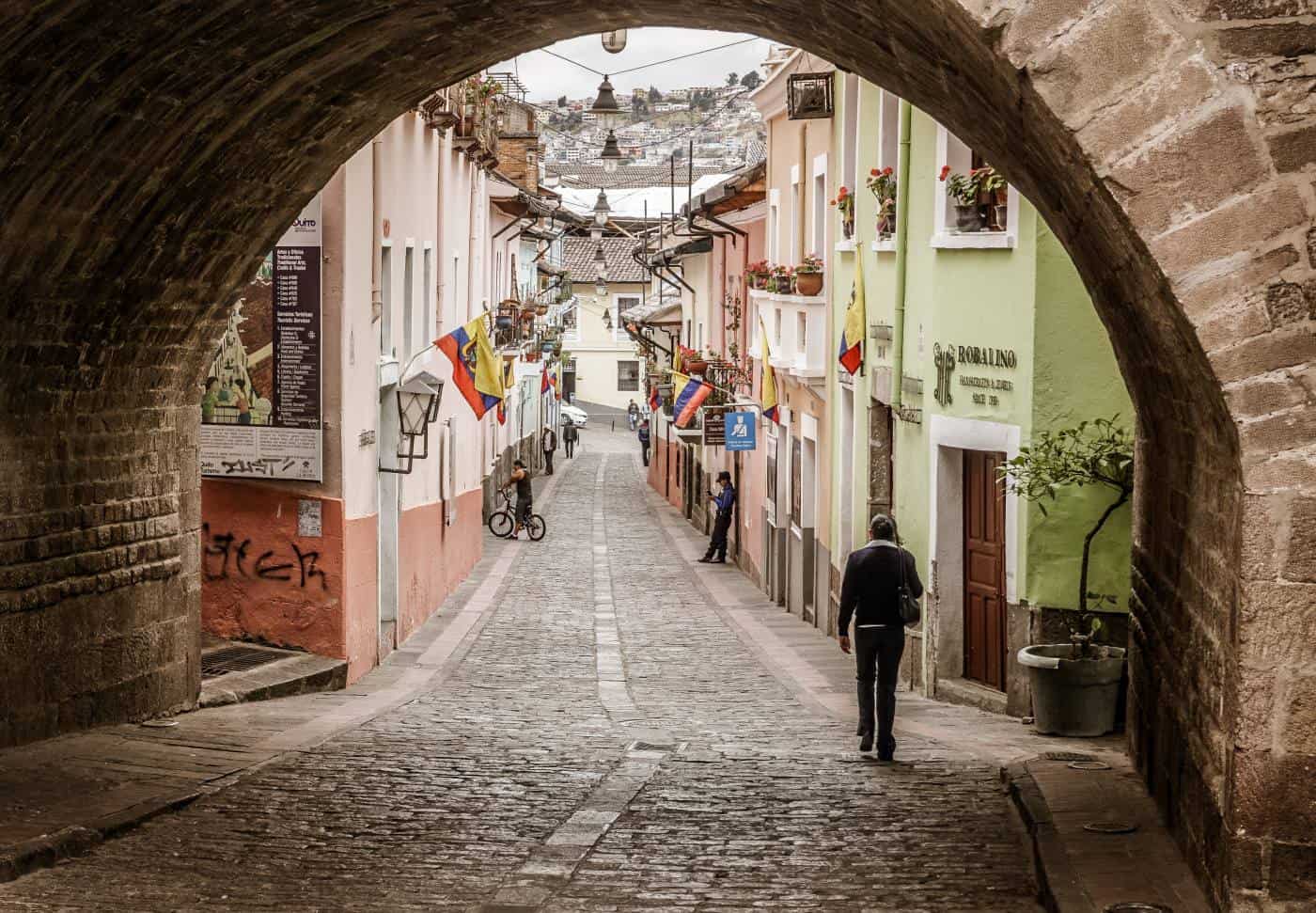 Visit the Madonna on the Panacillo
From La Ronda, hop in a taxi to take you up to the Panacillo. I wouldn't recommend walking as it's not the safest part of Quito. Once at the Panacillo you can climb to the base of the Madonna and witness another great vantage point for Quito. This is a great place to watch the sunset in Quito.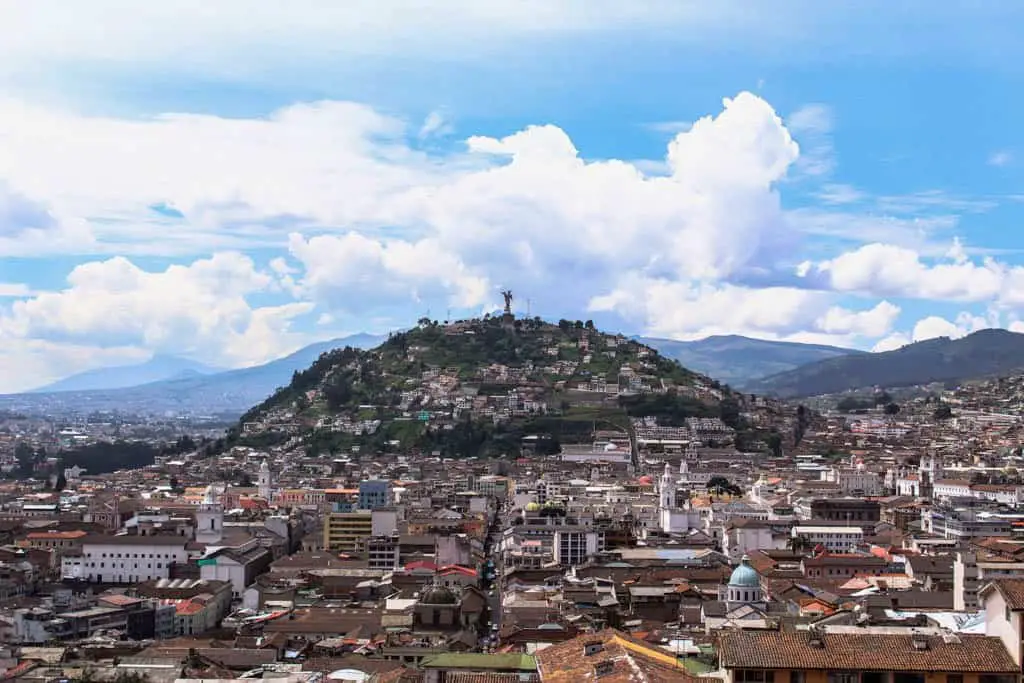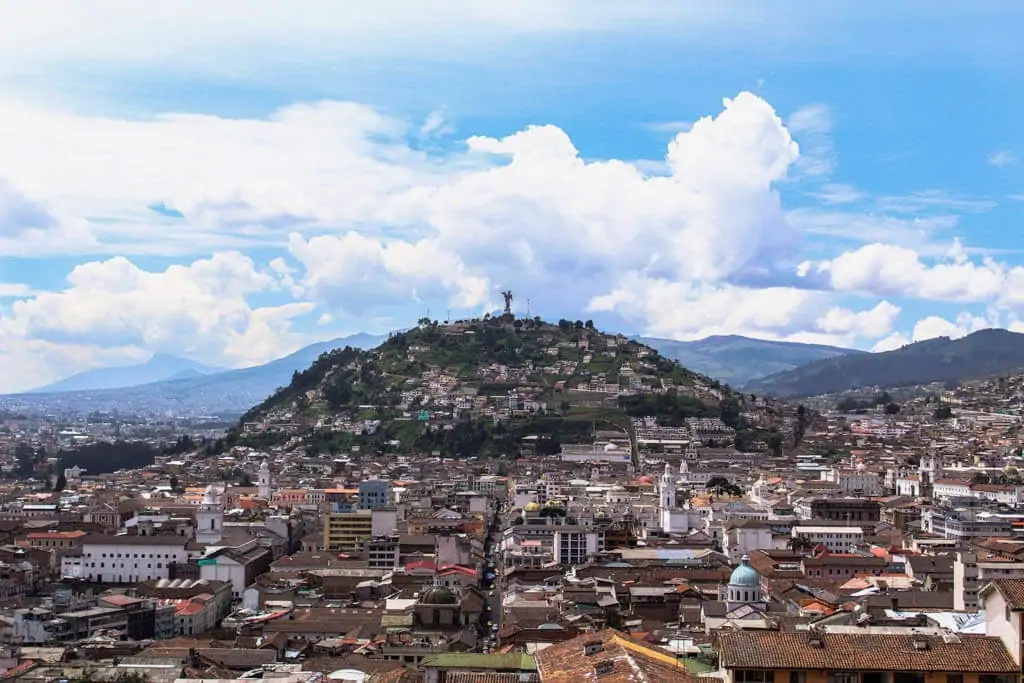 La Ronda at Night
After the sunset, grab another taxi to take you back to La Ronda where you can witness the change of environment from afternoon to evening. Dine at any of the restaurants or even try Cuy. The evenings in Quito can get chilly so try a traditional drink called Canelazo to warm you up. It's a rum drink. And it's delicious.
Day Three in Quito
During your first two days in Quito, you saw quite a bit of the city, so on your third day, I'm going to suggest escaping the bustle of Quito and taking a day trip! There are a number of excellent day trips from Quito that will give you a glimpse into the varied landscape and Ecuadorian life outside of the city.
Day Trip to Mitad del Mundo
Hire a taxi to take you to La Ofelia bus station and find signs for Mitad del Mundo. Hop in line and pay $1.00 for the ride. It will drop you off in front of Mitad del Mundo. It costs $5.00 to enter the monument. Or, you can take a pre-planned day tour and skip the public transit. Which if you're short on time, I'd recommend an organized day trip because the bus took 2 hours whereas it should really only take 40 minutes by car.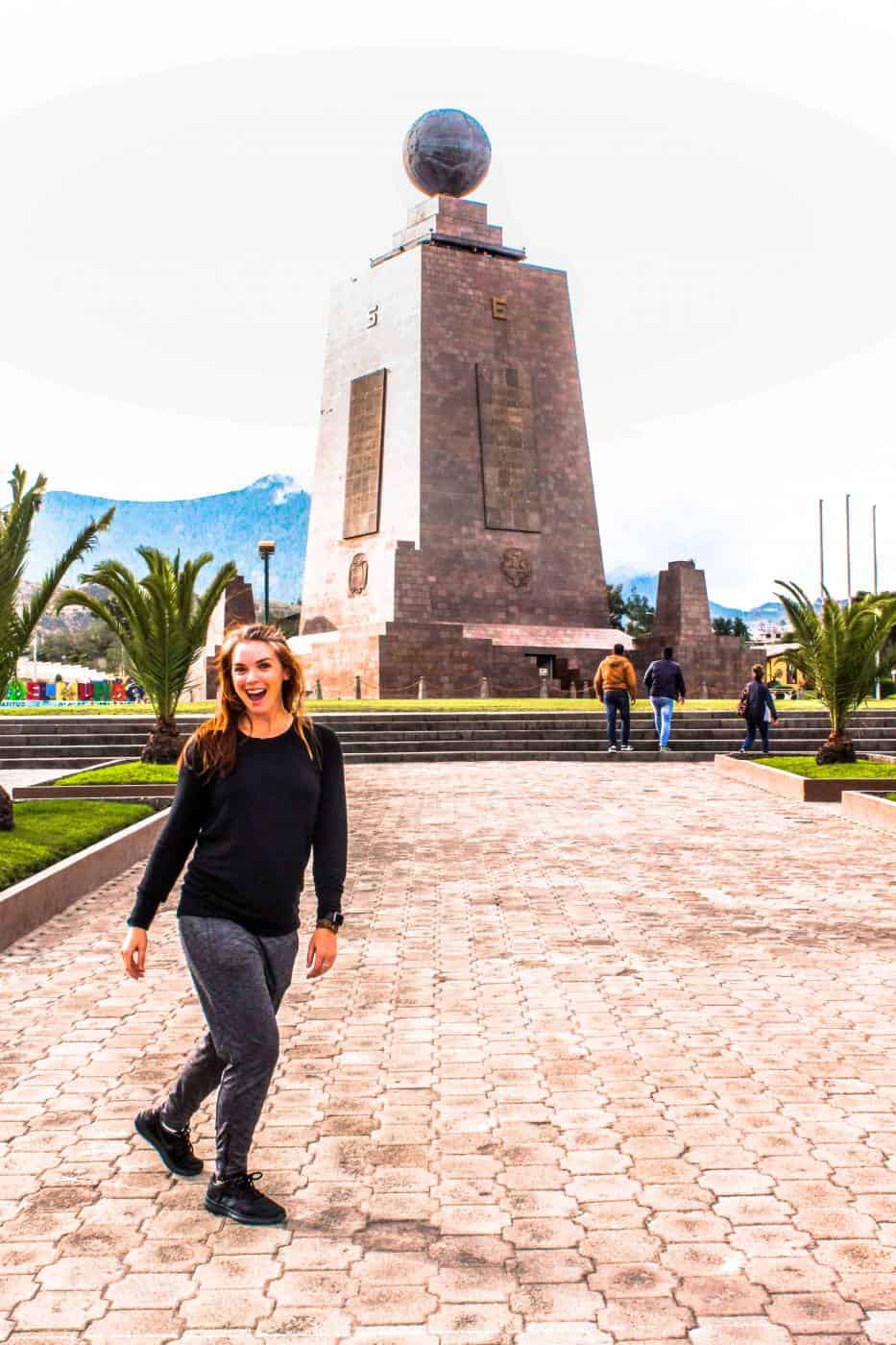 Day Trip to Mindo Cloud Forest
For a bit more of an escape from Quito and a real change of scenery head two hours to Mindo and explore Ecuador's cloud forest. Mindo is absolutely stunning and a great place for adventure activities such as tubing or more relaxed activities like chocolate tasting. But, I recommend spending a day hiking the waterfalls of Mindo!
To get to Mindo by public bus, head to La Ofelia bus station. There are three companies that take you to the town of Mindo starting at 6:30 am. When you arrive in Mindo, check the return times, purchase your ticket, and then hire a taxi to drive you to the cable car that will take you across the cloud forest the start of the waterfall hike. There are about 6 waterfalls you can hike to, one that you can jump 20 ft into, and many you can swim in – so be sure to wear a swimsuit and pack a change of clothes!
The hike should take around 3-4 hours depending on how long you spend at each waterfall. Then head back into town for a tasty meal at any of the restaurants or if you have time, pick up some chocolate from El Quetzal.
The bus ride takes approximately two hours each direction and costs $5.00.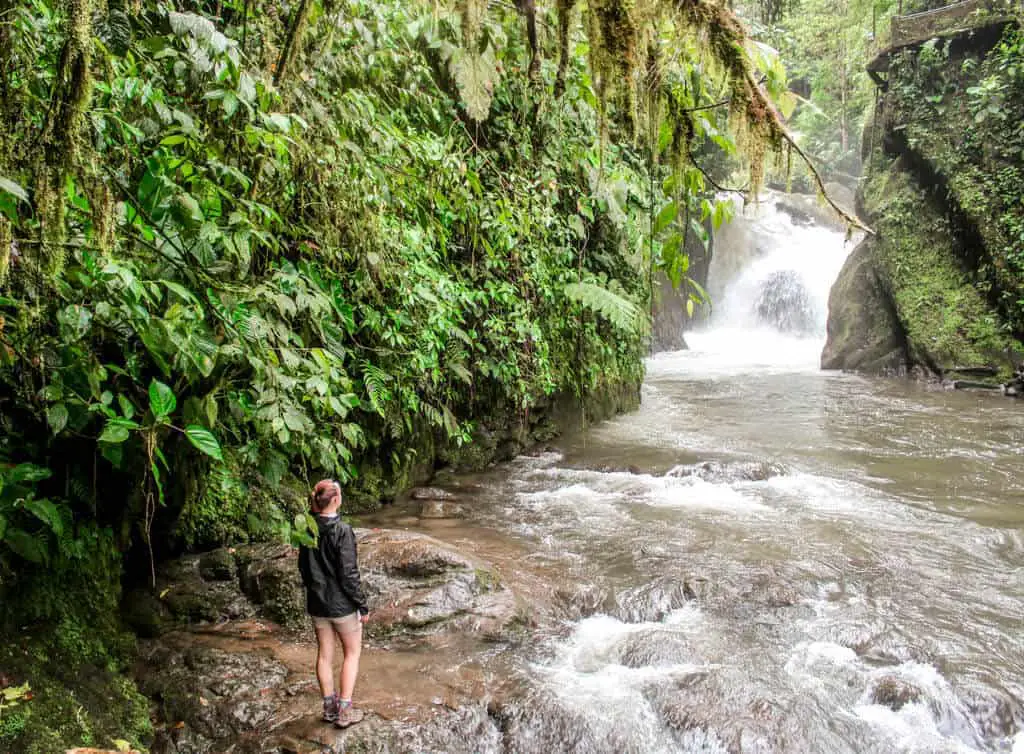 If You Have More Time in Quito…
Well those 3 days in Quito were pretty epic, but if you have more time or just want some different options, check out my other recommendations for things to do in Quito.
Hike Pichincha
It's a tough hike, but if you've never climbed an active volcano before, this is a great place to start! Make sure you're acclimatized to the altitude and start early in the morning!
Many seasoned hikers use the hike to Pichincha as an acclimatization hike for other Ecuador hikes like the Quilotoa loop!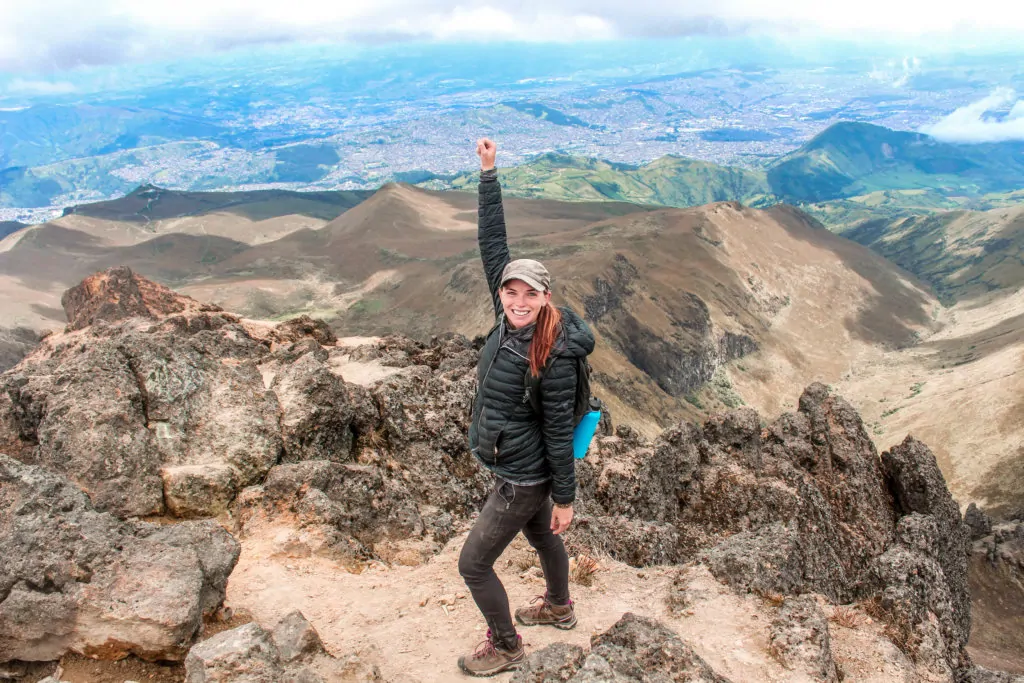 Visit the City's Parks
Quito has so many green spaces within the city limits. One of my favorite parks is Itchimbia. It's easy to get to from Old Town, there's a jogging path surrounding it, a large soccer field, and a restaurant.
Two other great parks are Parque Carolina and Metropolitano both located in the north of the city.
Parque Carolina has a lot to offer. You can rent a bike to ride through it, take a boat on the water, take part in a dance class, or use their outdoor gym.
Parque Metropolitano offers hiking! It feels like you've stepped into a forest within Quito. All of these are great options if you need a little escape from the city.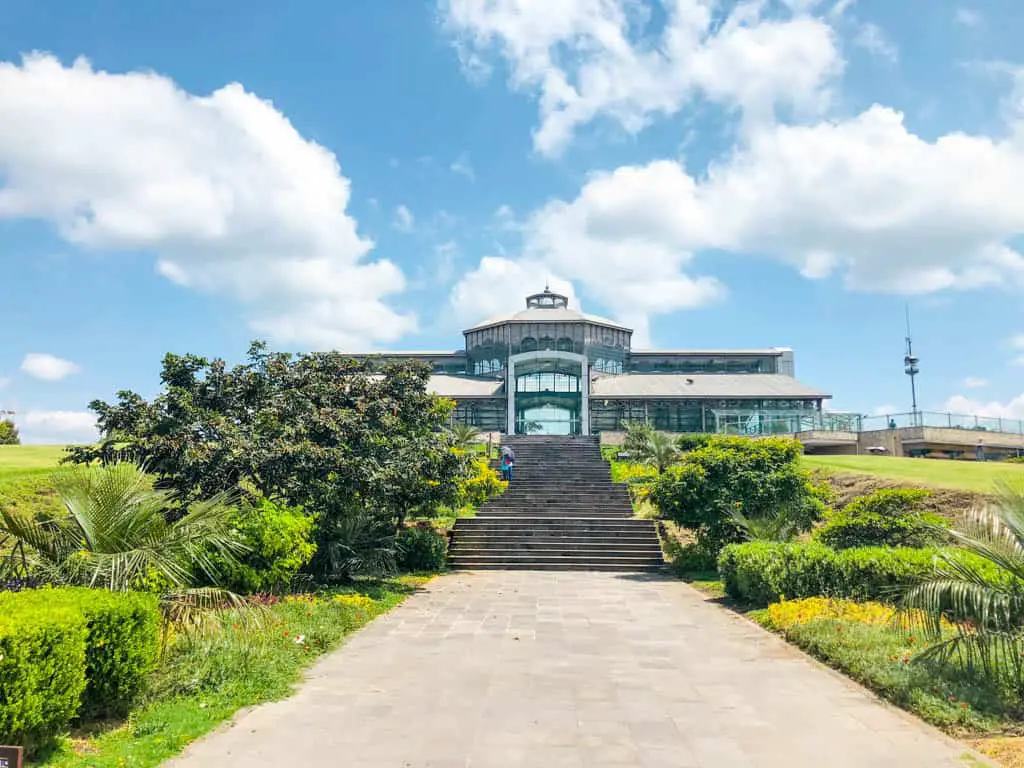 Explore La Floresta
This is the hipster part of town filled with lots of great restaurants and cafes. This is the neighborhood where I thought "if I were to live here, this is where I'd live." It's a bit quieter than Old Town and La Mariscal. You can check out the museum and former home of famed Ecuadorian artist Guaysamin, La Capilla del Hombre. Admittedly, I didn't visit the museum, but I heard great reviews!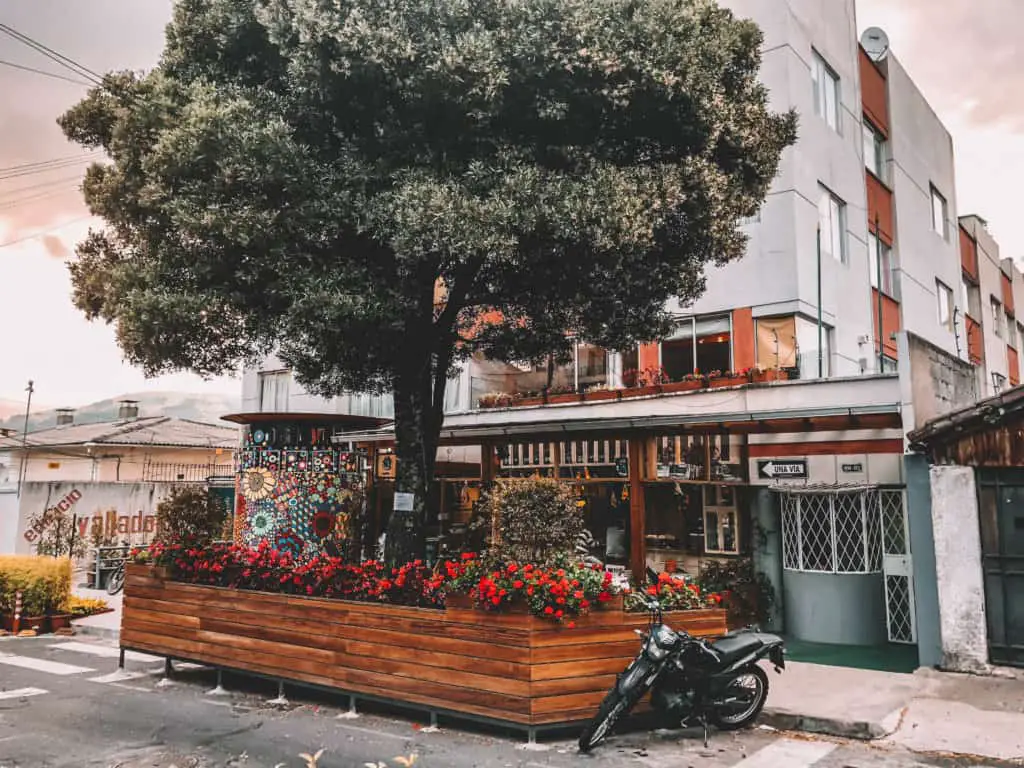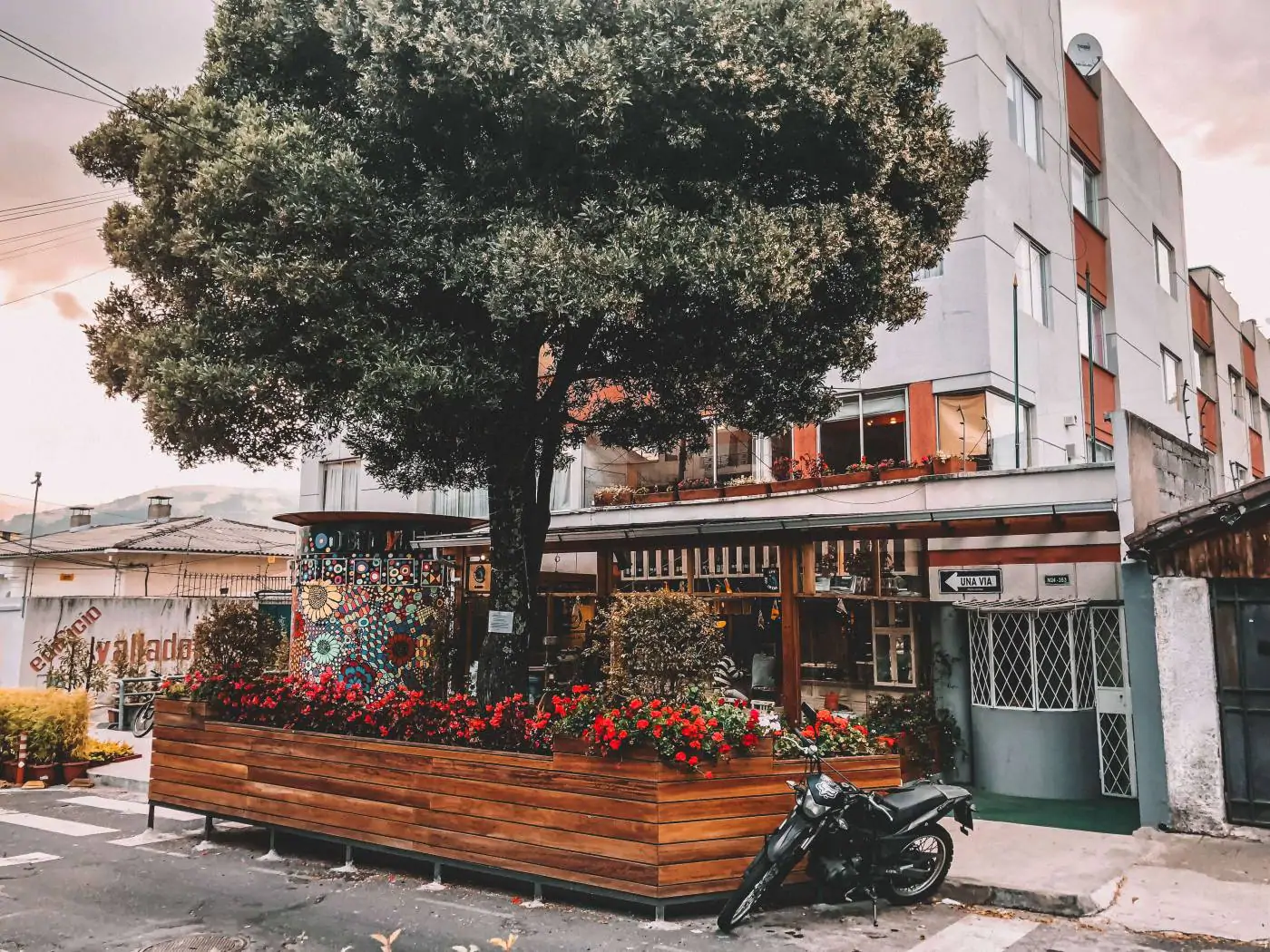 Learn Spanish
Generally, Ecuador is a great place to learn Spanish. Not many locals speak English so you'll have to learn a bit anyway! But they speak slower making it easier to understand and they don't have any crazy accents (lookin' at you Argentina).
Participate in Ciclopaseo
This is one of the coolest things I did in Quito. Every Sunday, the main street that runs throughout the city shuts down for cars and opens up for cyclists, runners, and walkers. You can rent a bike in Old Town for about 10 dollars and join the locals as they ride through the city. It ends at the old Airport which has been turned in to a type of playground for adults and kids alike. Community Adventures usually hosts a group ride for Ciclopaseo each week if you'd like to find a group to go with!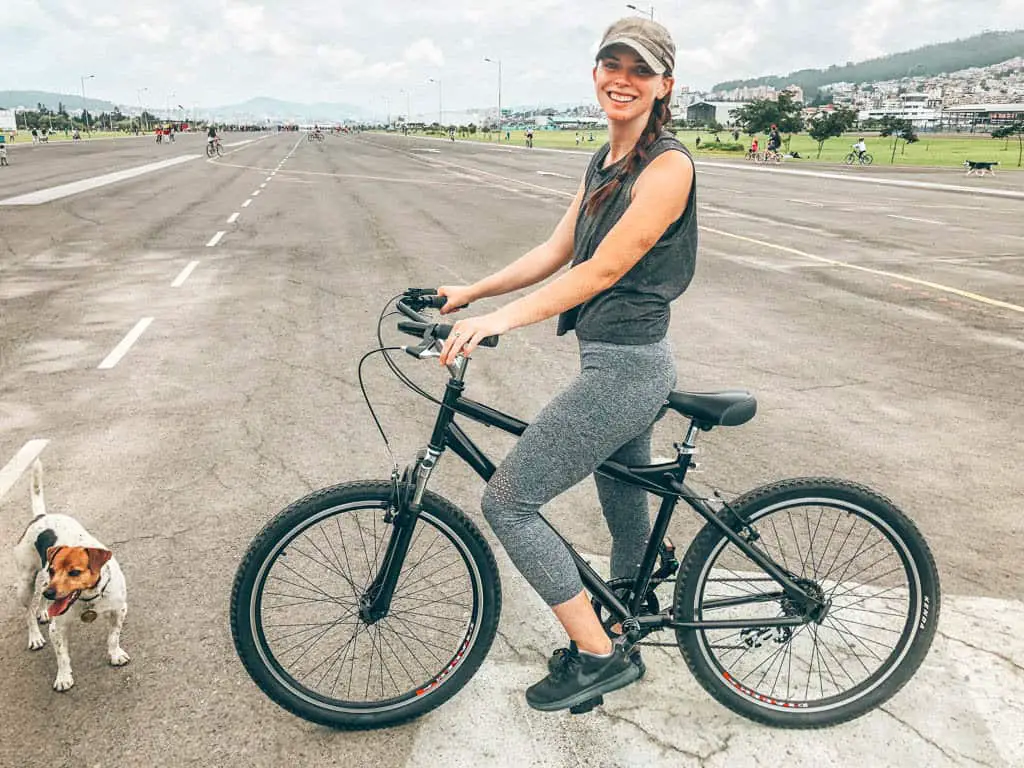 Food to Eat in Quito
Lapingachos. Two fried eggs, an avocado, sausages, a beet salad, and two potato patties. For 2.50. So good.
Encebollado. Reportedly a hangover cure. This fish soup filled with yuca, red onion, and cilantro is very hearty. Add some popcorn on top. And for $2 you'll be refreshed after a night of partying and off to explore the city.
Corvina. Fried chicken or fish. You can find this in the market.
Cuy. I didn't actually get the nerve to try Cuy in Quito or in Peru. Just a reason to go back, I guess?
Empanadas. Eat 'em all!
Ice Cream Cone. 

You'll also see locals walking around with a swirl ice cream cone. One side is pink, the other side is white. There are lots of vendors selling these and it's a nice treat!
You can also try even "weirder" items. I took a food tour where I ate Menudo (tripe and other cow insides) as well as a soup made out of placenta. I tried them both. They weren't terrible.
Also, one day I tried a random spot that said "hídago" on the menu. I sat down and ordered it. Only to find out later that it was in fact liver. But it was only $5 and not half bad!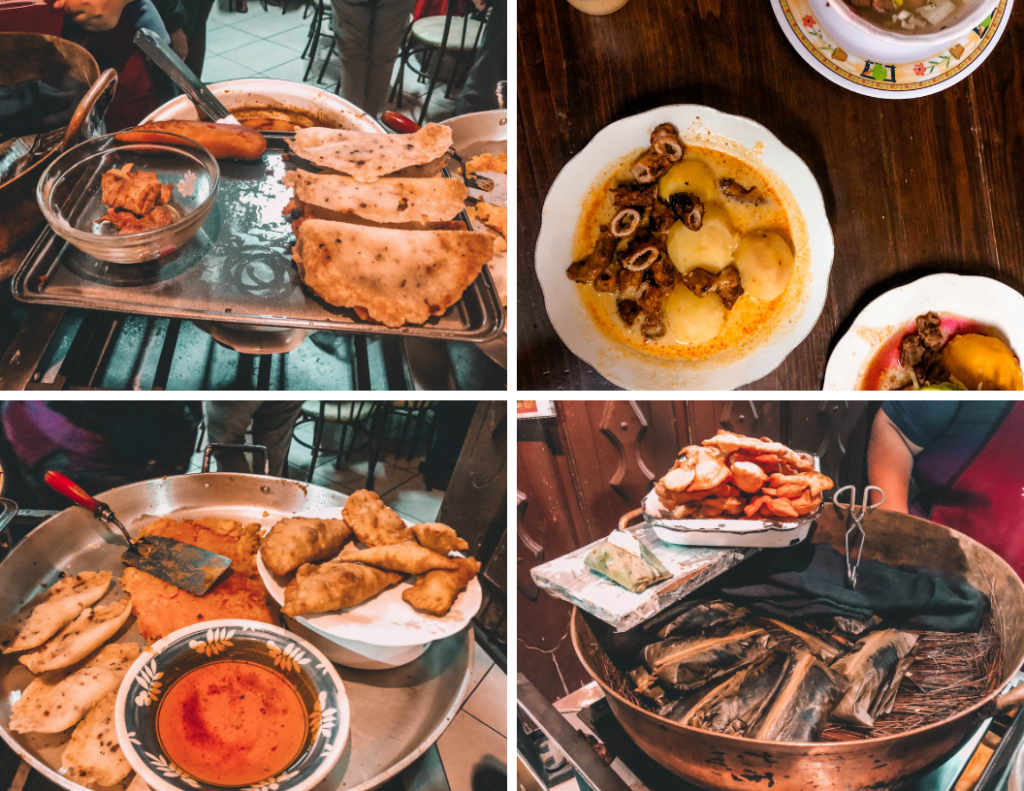 What to Drink in Quito
Definitely try the Canelazo in La Ronda.
Also, you may find a street vendor offering an herbal drink made with aloe. It is so tasty. Although since it's made with aloe, the texture is quite thick and could be off-putting. But hey, I ate placenta so maybe you shouldn't listen to me ha!
All of the hot chocolate.
While we are talking about drinks, I took it upon myself to try out all of the hot chocolate in Quito. These were my favorite places for it. But be warned, it's a bit more bitter than I expected, which was actually quite enjoyable.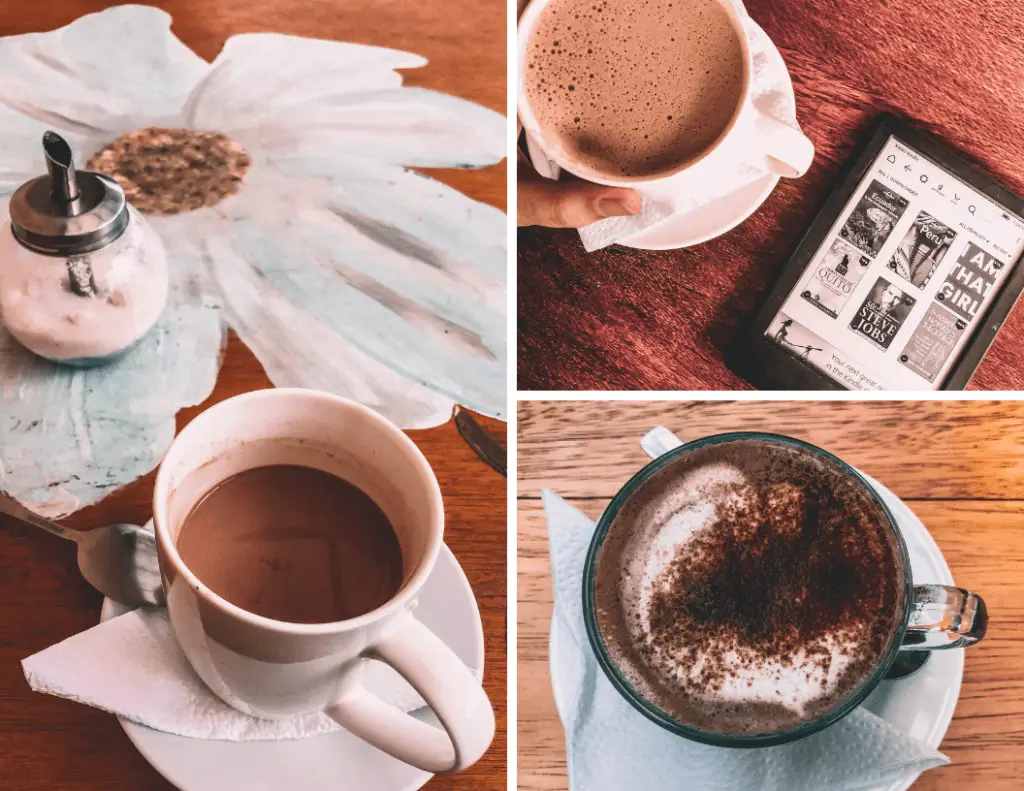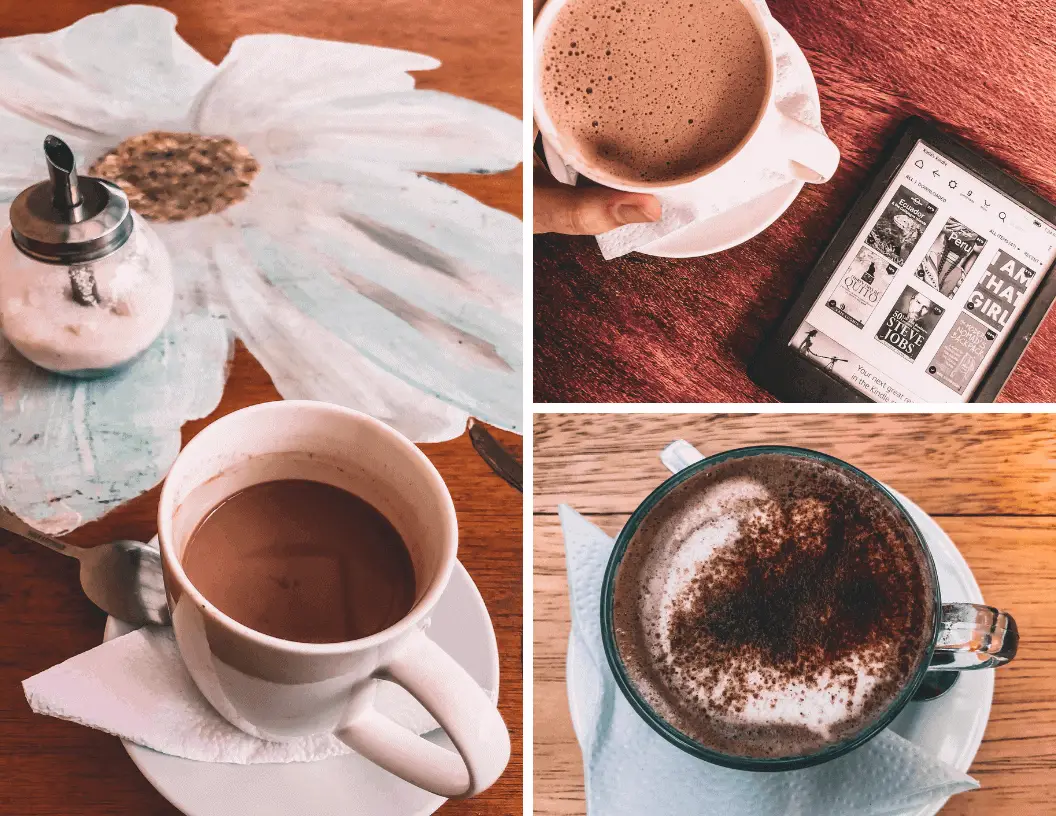 Favorite Cafes for Hot Chocolate
Cafe Jaru
Cafe Jaru is located near Parque Carolina and has a hip vibe and strong WiFi. They have a good food and coffee menu as well as delicious hot chocolate. It's a good place to get some work or trip planning done after exploring Parque Carolina.
Ocho y Medio
Ocho y Medio located in the chic La Floresta neighborhood is actually a movie theatre that shows local and international independent films. There is also a cafe with large windows, beautifully tiled floors, comfortable seating, and delicious hot chocolate.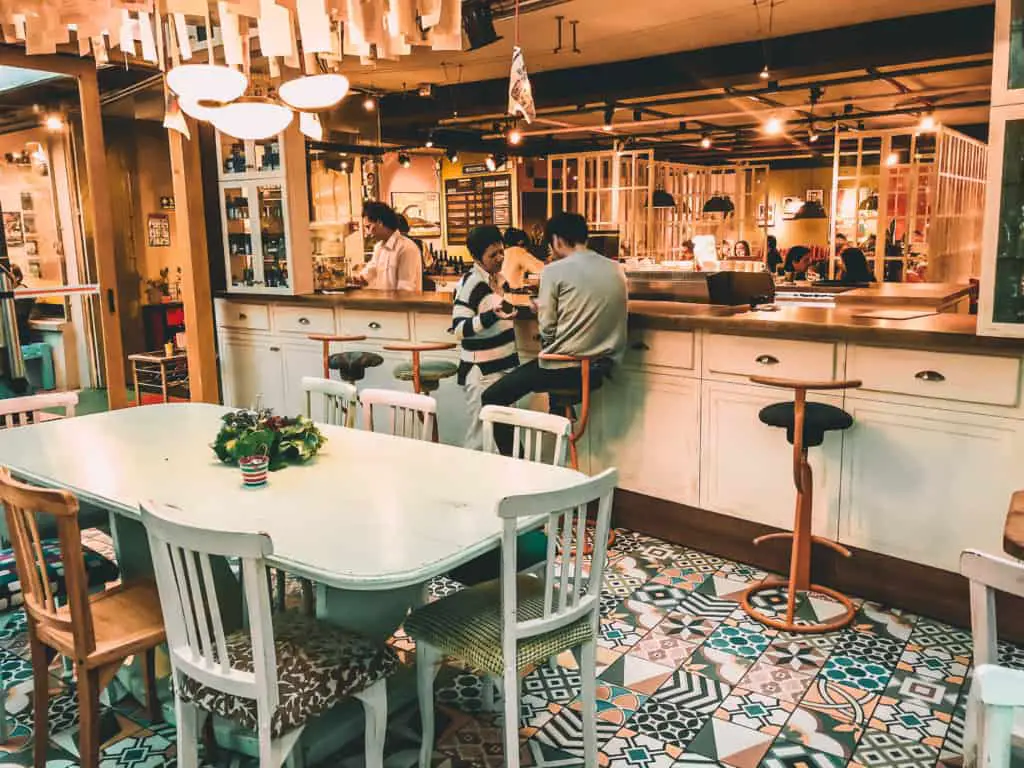 Cafe Galleti
Cafe Galleti in Plaza Chica in Quito's old town is where I had my first realization that hot chocolate can, in fact, be bitter. They're also known for their coffee so it's a great spot for coffee drinks to try. They also had some sweet treats available, ample seating, and large windows for people watching.
Pacari
Pacari is a high-quality chocolate maker that uses only Ecuadorian cacao. And they have a shop just off of  Plaza Grande. There is a cafe on the second floor that is tiny, but if the balcony seat is open enjoy your creamy hot chocolate with a view of the bustling street below.
This is more than enough to keep you occupied in Quito for 3 days! You have lots of food to eat, great viewpoints to visit, and neighborhoods to explore! Let me know what you're most looking forward to about your trip to Quito in the comments!

Like this post? Pin for later!