One of my top 5 things to do during my two months living in Ecuador was to visit Cotopaxi National park. My original idea of staying at a hostel located within the park fell through because my time in Ecuador was running out and I'd already spent plenty of money in the Galapagos. Since I was getting my accommodation in Quito for free in exchange for teaching yoga, I figured I could compromise and do a Cotopaxi day hike instead. I decided to book the Cotopaxi day trip with the travel agency associated with the hostel.
This post contains affiliate links, which means that, at no additional cost to you, I will earn a tiny bit of income if you decide to click and make a purchase and booking.
What to Expect with Your Cotopaxi Day Trip
The Cotopaxi day trip cost $50 and included transportation, breakfast, two guides, a hike to the glacier, and a mountain bike ride back down. It sounded like a pretty epic day trip, so even though I'm not a huge fan of tours when it could easily be DIY'd, I went for it.
The tour departed around 7:00 am just a few blocks away from my hostel in Plaza San Blas. As I hopped in the already full van the two guides began to give us an overview of the day. We would stop for breakfast, then continue on to Cotopaxi national park stopping again for snacks, then we'd climb to the refuge, and mountain bike down. It was good to know I'd hopped in the right van!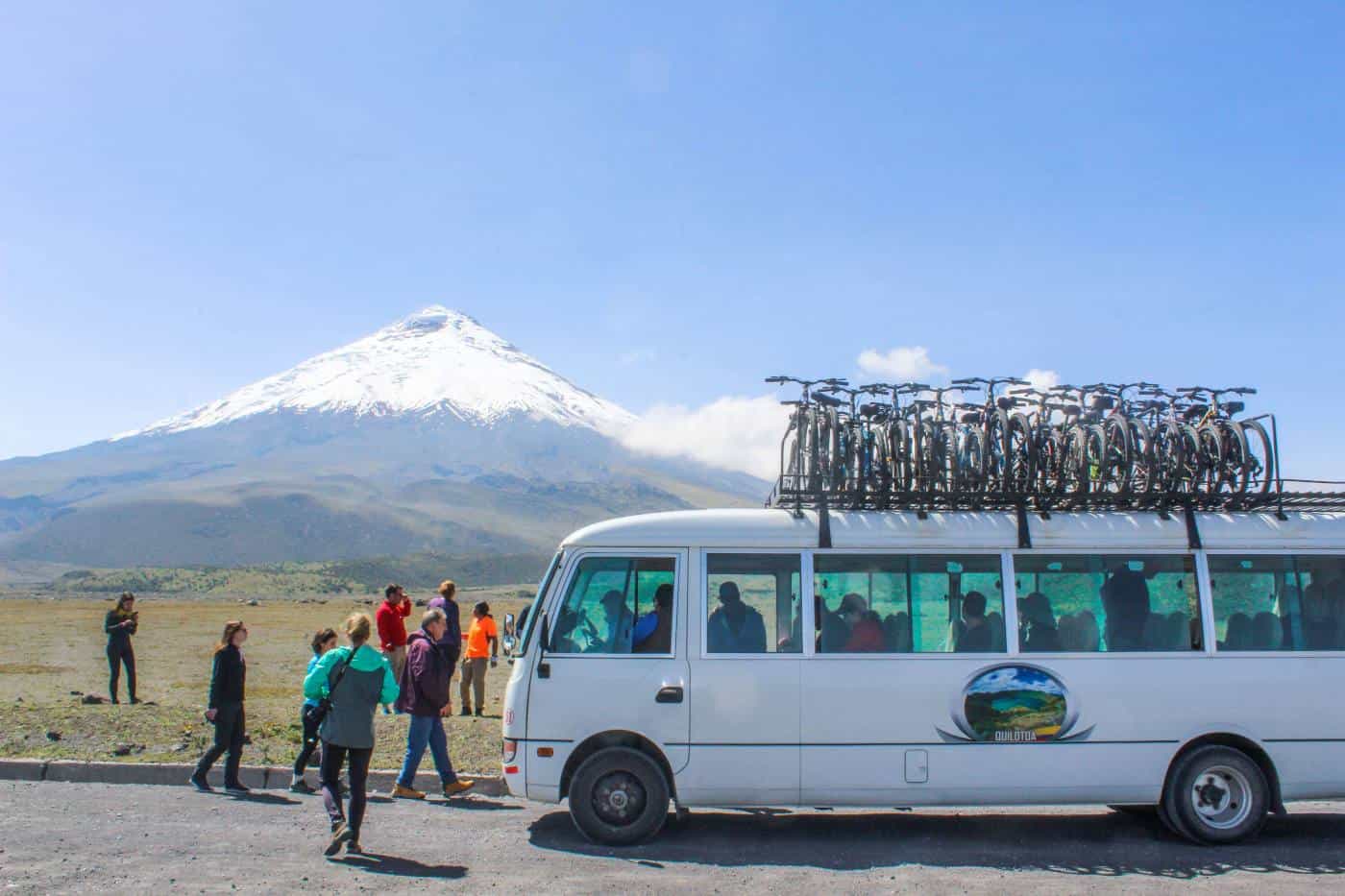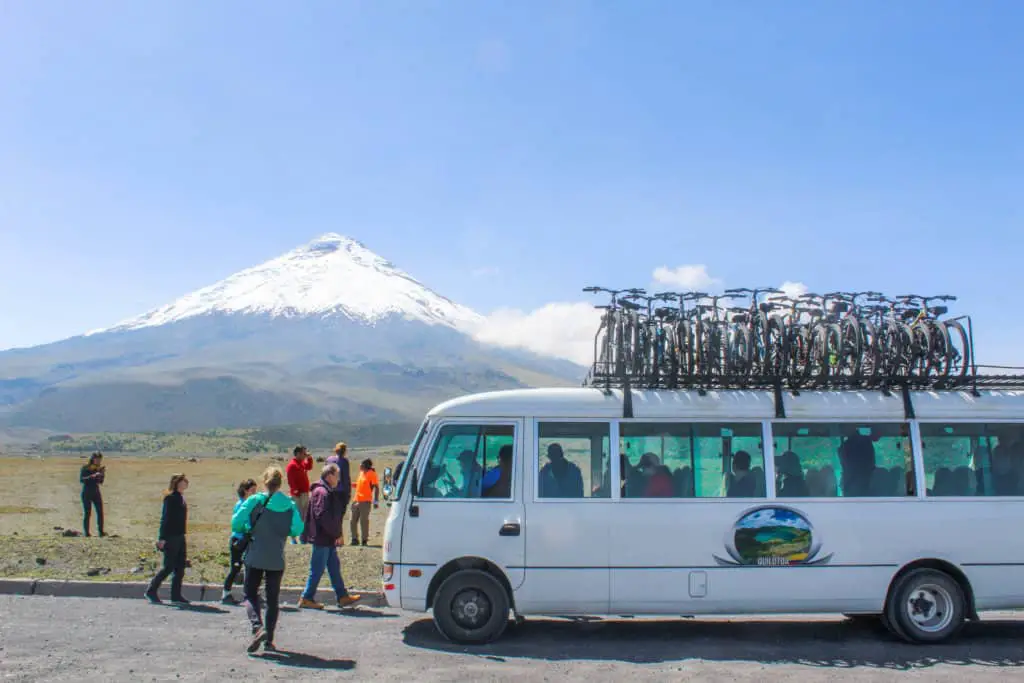 Cotopaxi volcano is located just 30 miles south of Quito. In fact, on a clear day, it can easily be seen from higher points in the city. I caught my first glimpse of the perfect cone shaped top of Cotopaxi volcano as I descended from my first volcanic hike on Pichincha in Quito.
Since Cotopaxi is so close to Quito, it makes for a pretty easy day trip. It seemed like no time had passed before we stopped for breakfast. I was surprised by the quality and quantity of the meal. A tiny restaurant just off of the Pan American highway served us pancakes, eggs and fruit. Most meals provided by tours are seriously lacking. With full bellies to fuel us for our climb, we drove on to Cotopaxi National Park.
It was such a beautiful morning. We had clear blue skies and excellent views of the entire volcano, which is often times obscured by clouds. Our driver pulled over at a perfect vantage point for some photo ops.
At our snack stop, I picked up some peanut m&ms for a treat at the top and some coca candies, which allegedly alleviate symptoms of altitude sickness. I'm still unsure of this, but I sucked on a few anyway.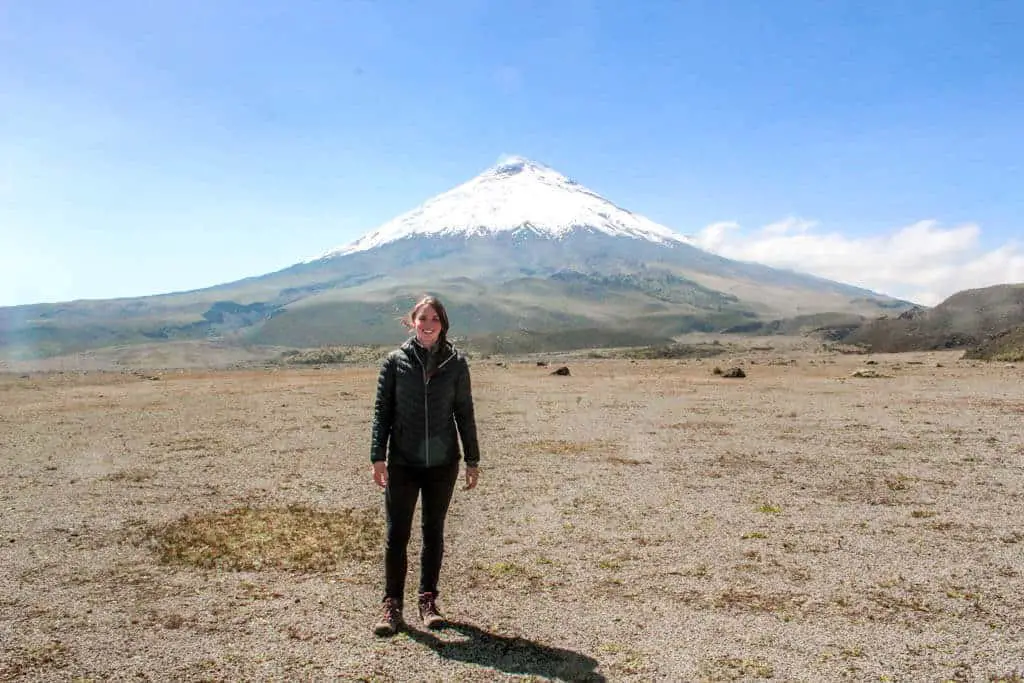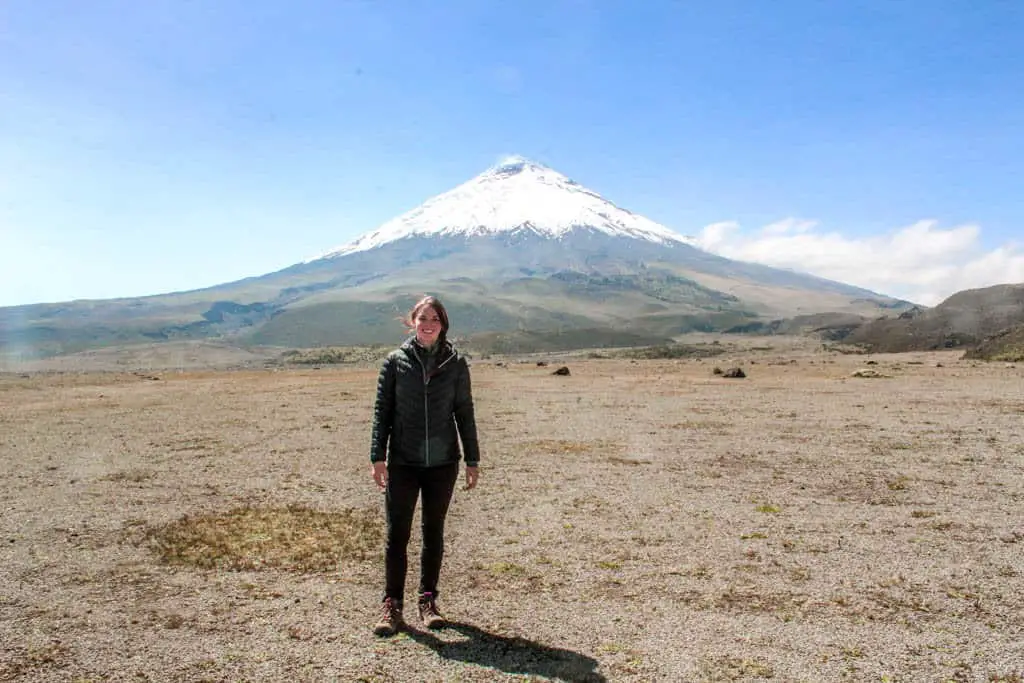 Cotopaxi Day Hike
We reached the parking lot and climbed out of the van, greeted with a chilly breeze. Thankful for my layers, gloves, and beanie we started walking.
This was a much more difficult climb than I'd anticipated.
I'd been living at altitude for about a month and was fairly active. Doing yoga at least once per day and wandering about town. But on this hike, I found it difficult to catch my breath and had to take frequent rest breaks.
I hadn't even gone out the night before!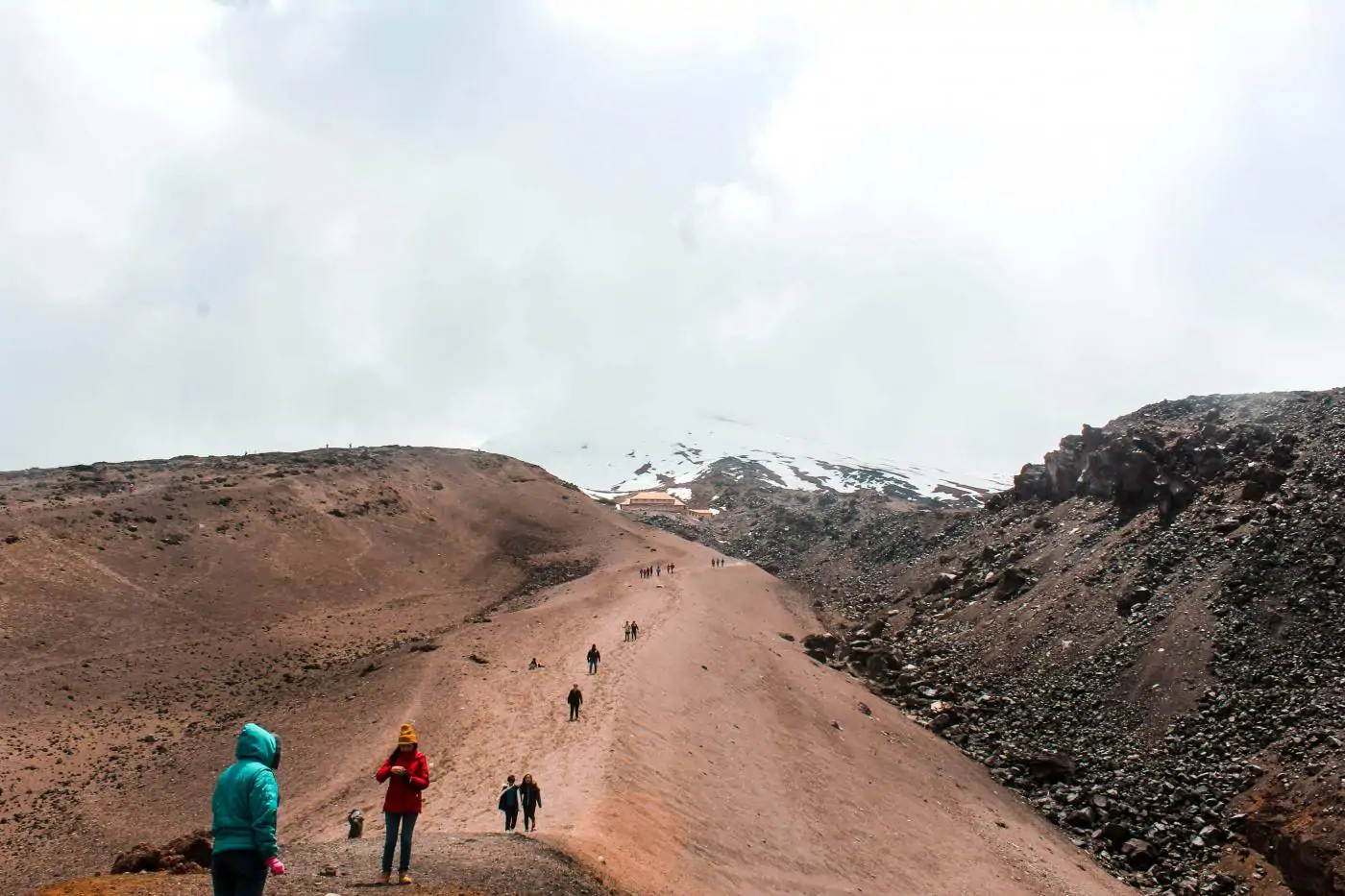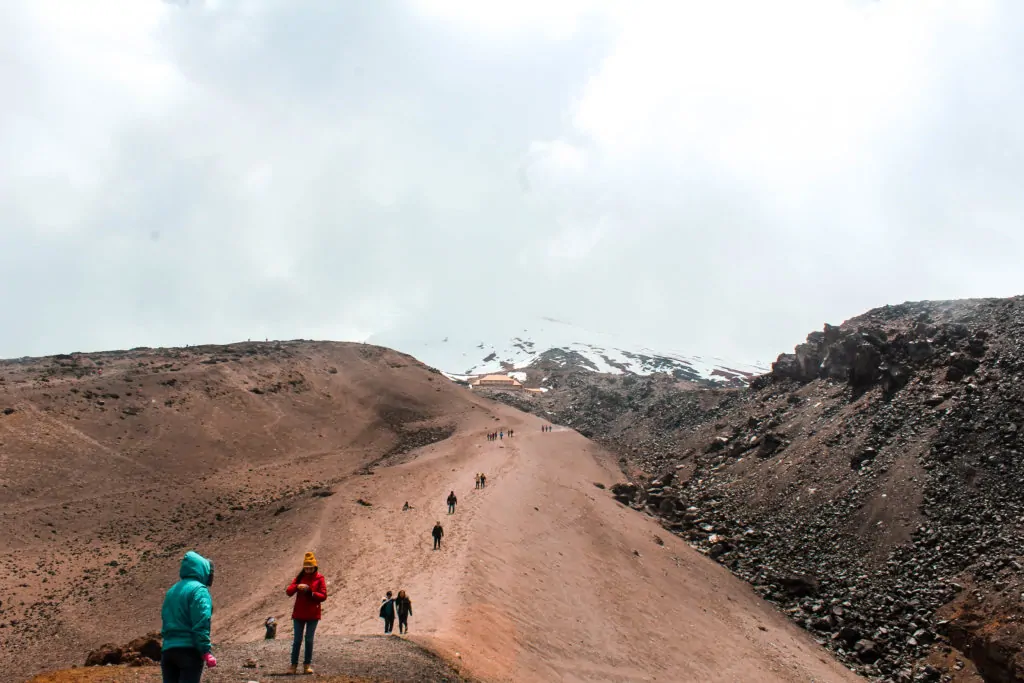 Our guides were very patient. There was one leading the pack and one bringing up the rear. I was somewhere in the middle chatting with a chef from somewhere in Europe (I can't remember where!) who was working as a chef in Peru! How cool! I hadn't been to Peru yet so I peppered her with questions and she told me to absolutely go to Huacachina and do the Pisco tasting and sandboarding. Which I did!
Anyway, back to the hike.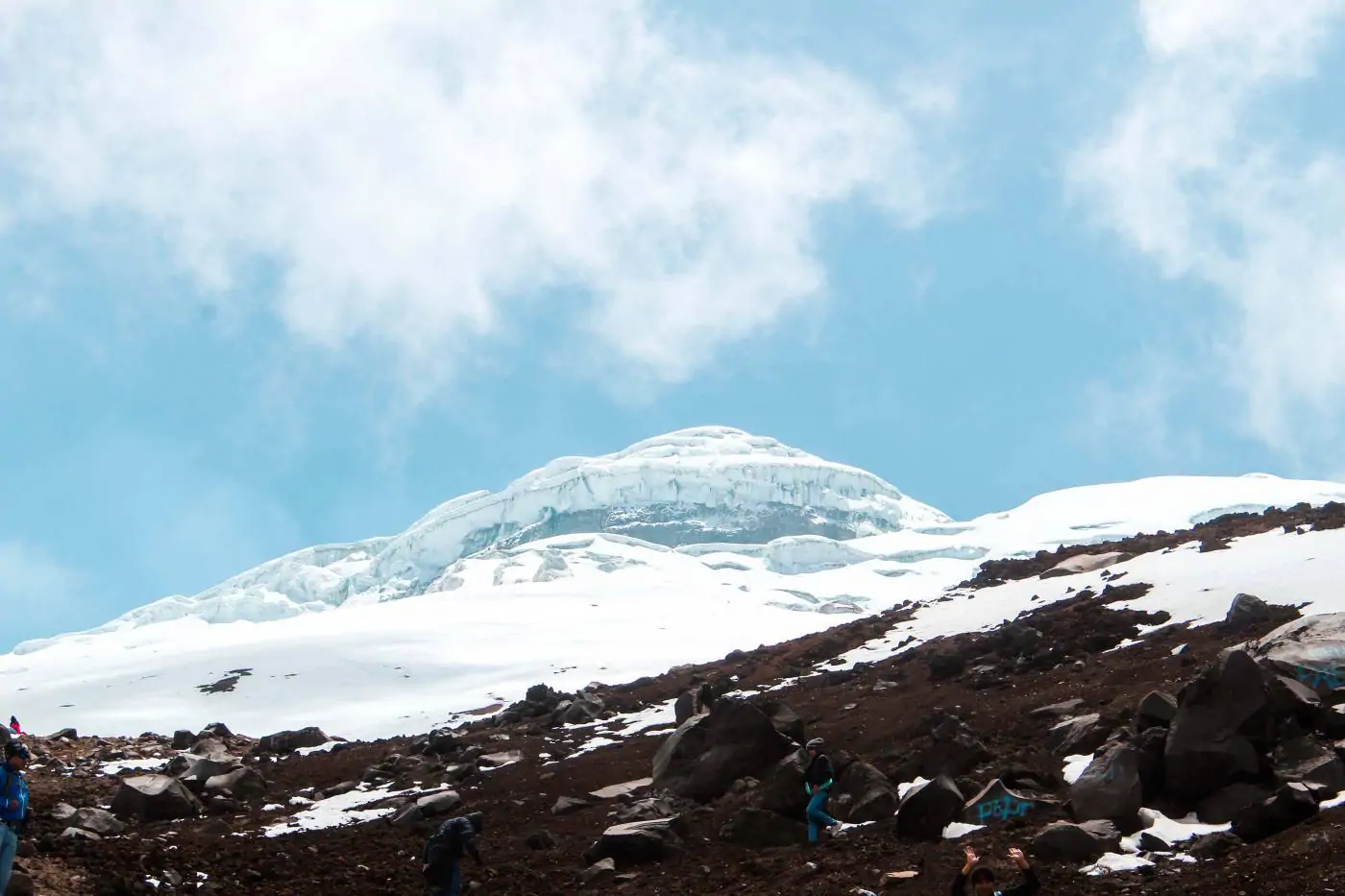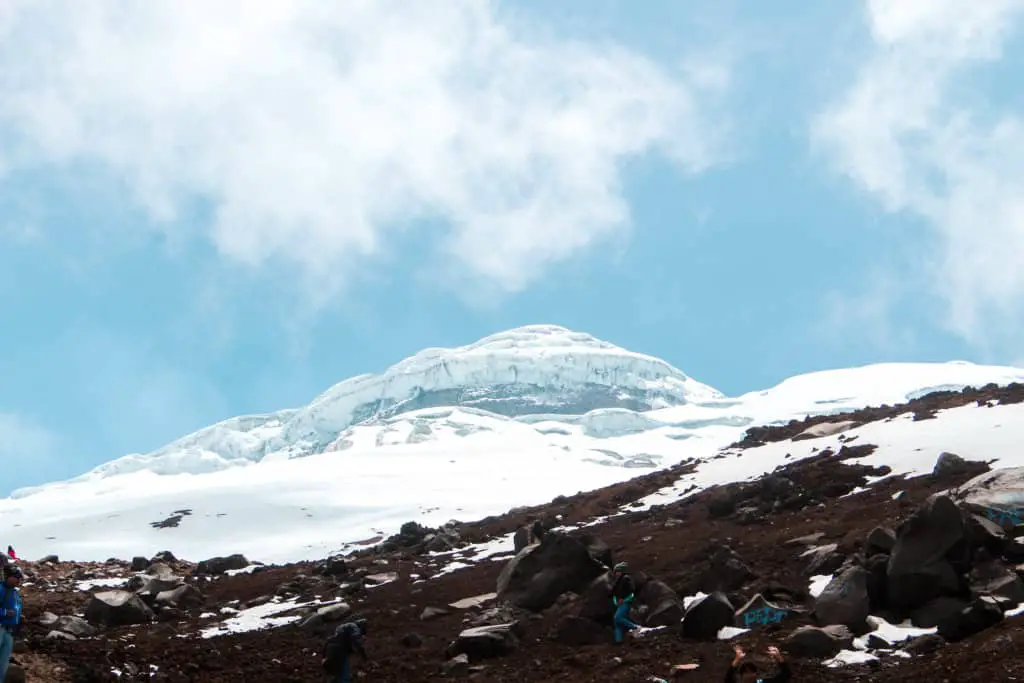 It took about an hour and a half to reach the refuge from the parking lot. There is food and drink at the refuge, but it's pricey. I did pay $5 for a hot chocolate because for some reason everywhere I went in Ecuador I just had to try the hot chocolate.
The snow was lower than normal so our guides weren't going to take us any further up. Usually, they take groups to the beginning of the glacier. So we turned back down and met up with the van to get our mountain bikes!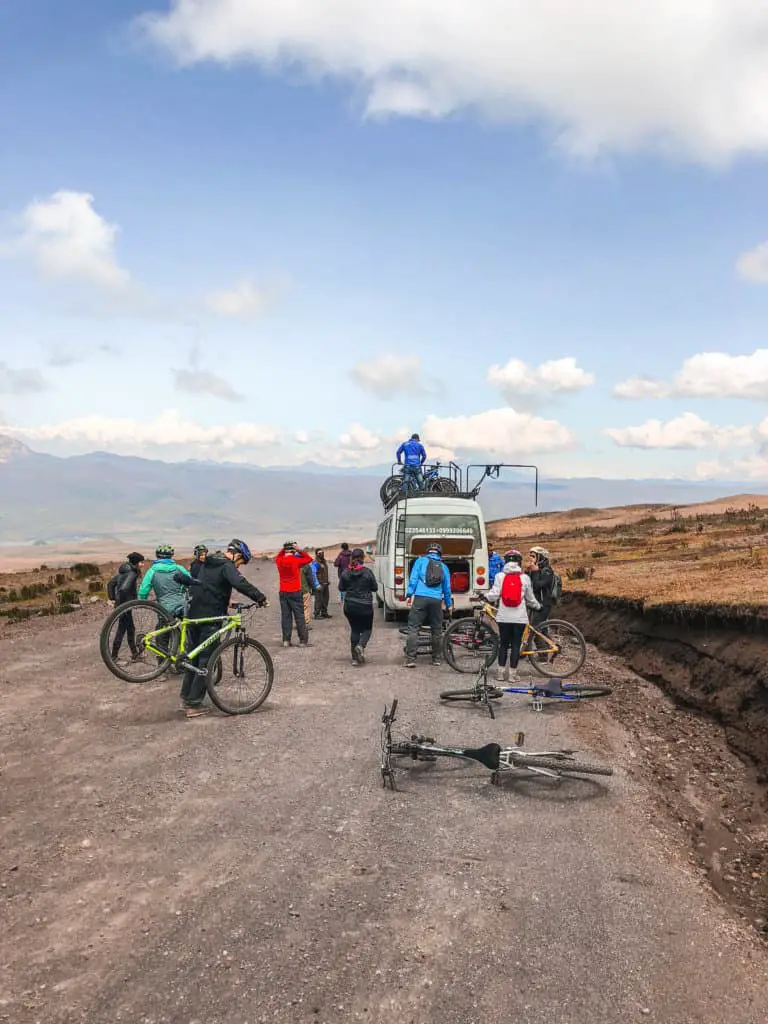 Cotopaxi Mountain Biking
We biked the remainder of the way down the hill.
Which, sounds epic. And it was good fun.
I just don't think I get it.
I mean, the terrain is pretty rough, so my eyes were focused on the road and not going too fast so I wouldn't fly over the handles and break something. Although it would've been nice to see how that World Nomad's travel insurance (that I always pay for and have yet to use) actually worked.
So, I feel like I didn't really see too much of the scenery or roaming wild horses as we careened down the volcano.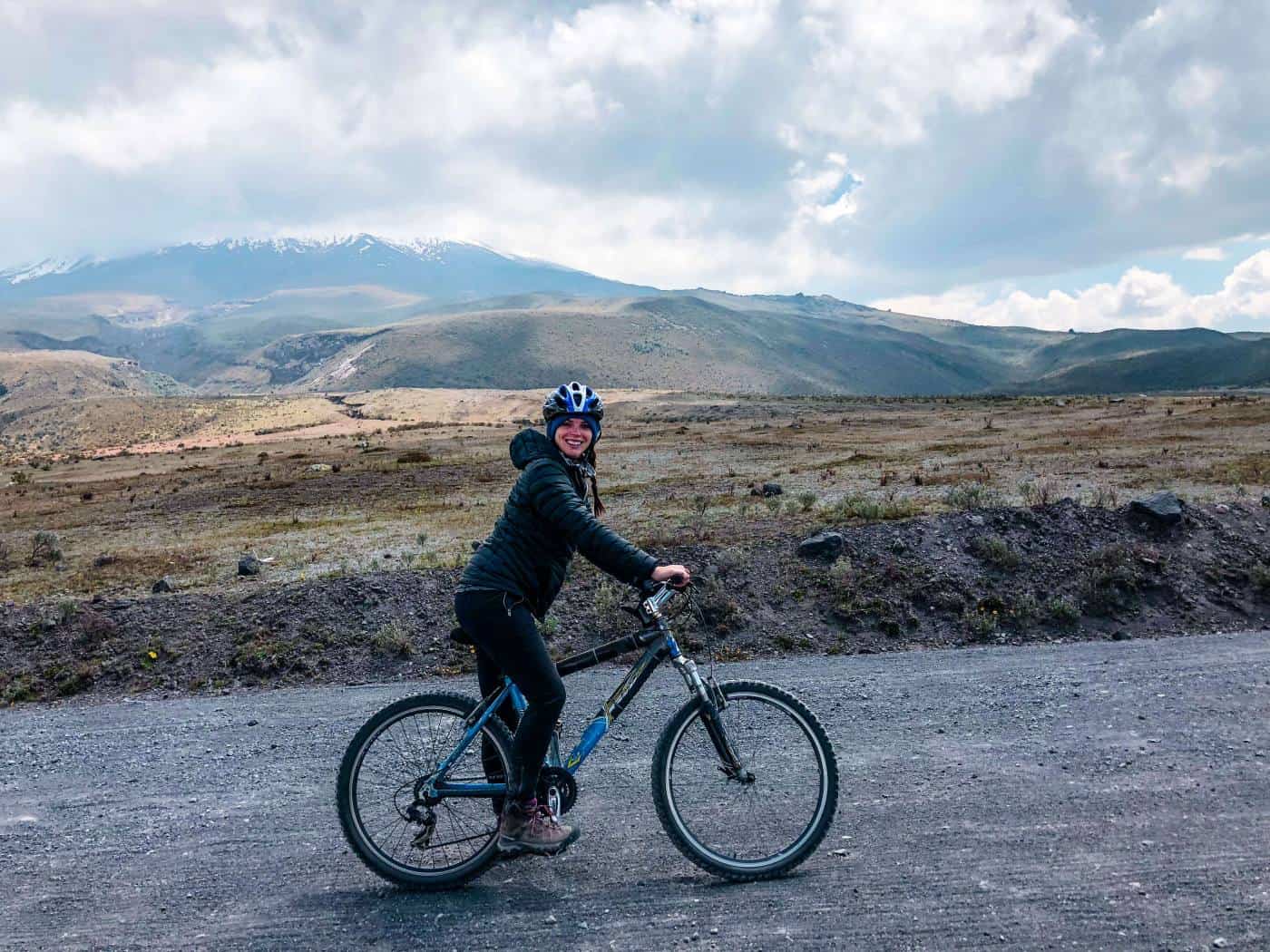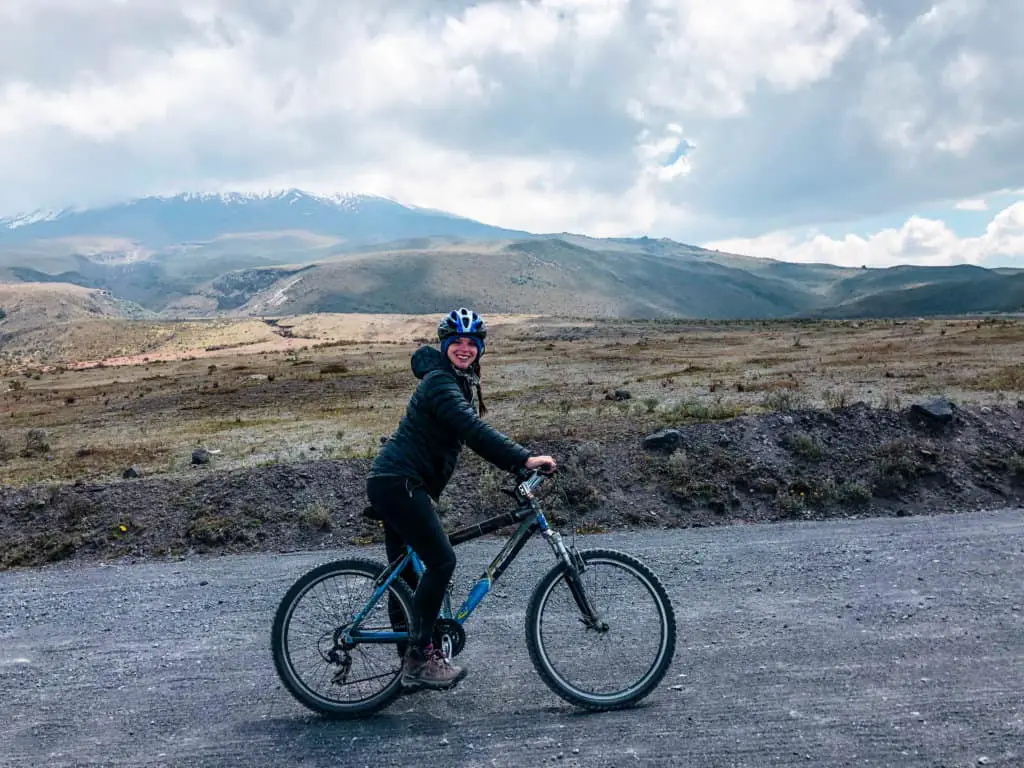 Also by this time, the clouds had rolled in and we could barely even see the snow on the top of Cotopaxi, let alone its peak.
At a small lake, our bike ride came to an end. We climbed back into the van and returned to Quito.
I'm glad I did the Cotopaxi day trip, but I also still wish I'd gotten my act together to spend a few days in the park on my own. The Secret Garden hostel looks fabulous and I met many other travelers who really enjoyed their stay and other activities offered such as horseback riding.
A Few Fun Facts About Cotopaxi
It's perfect. If you were to draw a volcano, it would look like Cotopaxi. It comes to a point, has snow at the top. It's beautiful.
It rests at a mere 5897m above sea level.
And by rest, I actually mean the exact opposite. It's an active volcano. It last erupted in 2016 which forced closure until the end of 2017.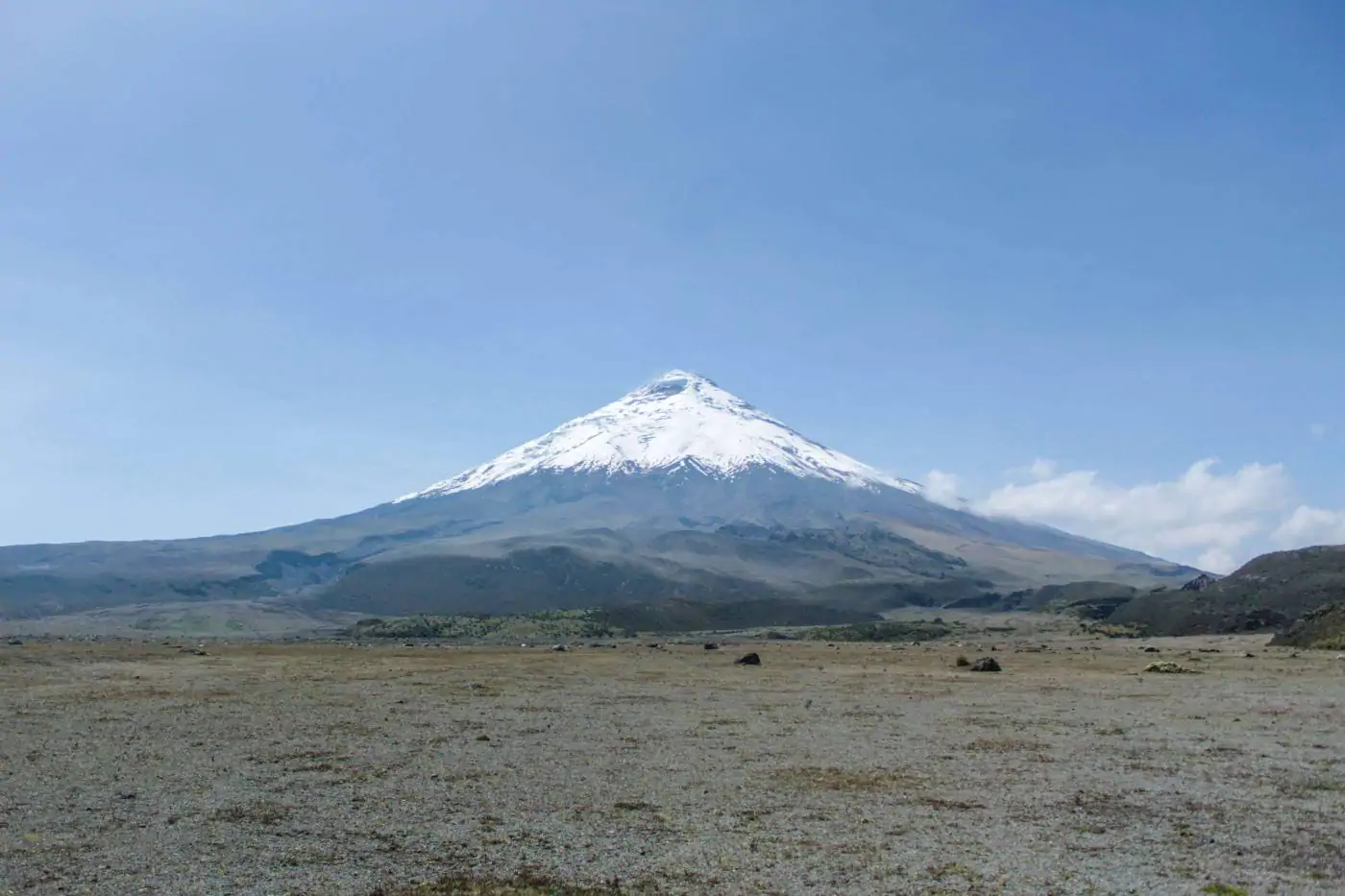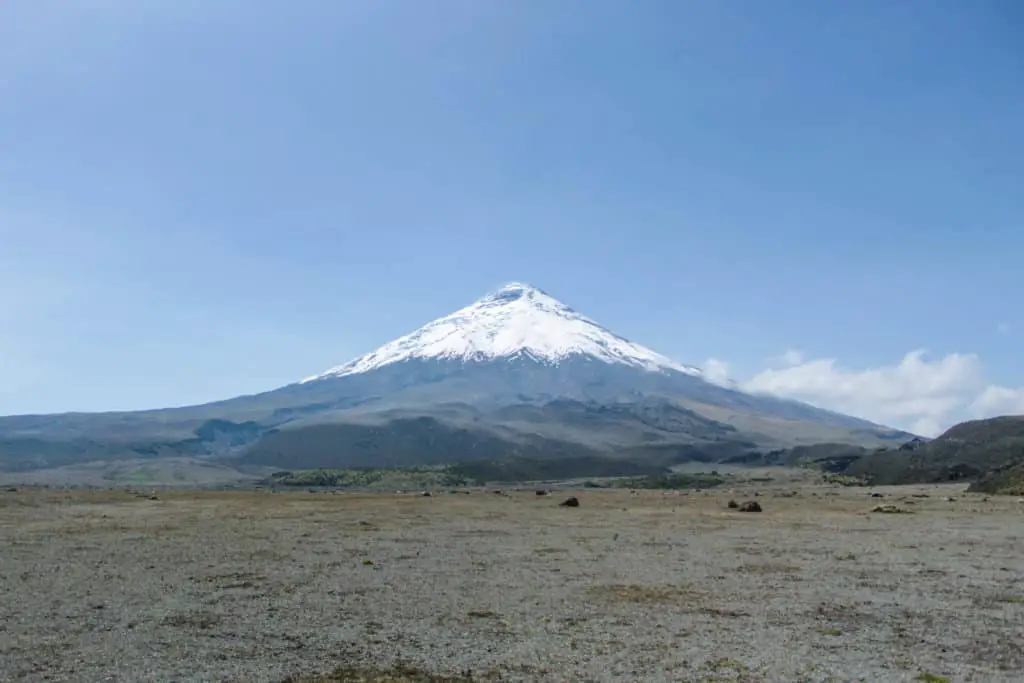 It is possible to summit the volcano, but it requires training, special equipment, and a guide.
For any ascents over 5000m, hikers must be accompanied by a local, trained guide.
There are no restrooms until you reach the refuge. And in those restrooms, there is no toilet paper. In fact, this is where I learned that to flush the toilets here there is a bucket of water outside. Fill the bucket of water up. Bring it with you inside the toilet. When you're done. Pour the water down the toilet and it "flushes".
Moment of gratitude for running water and efficient plumbing systems.
What to Bring on your Cotopaxi Day Trip
First, confirm with your tour company what is provided and fill in the blanks around that.
Bring a water bottle and snacks for sure. The tour company I used had a huge 10 gallon jug of filtered water for us to fill up our bottles. They also let us stop for snacks in case you forget!
They do have a passport stamp at the refuge if that interests you.
Don't forget to protect yourself at these altitudes with travel insurance
What to Wear for a Cotopaxi Day Hike
Layers! It's cold at that altitude. Here's what I wore:
On the bottom:

REI brand midweight thermal pants under my Athleta hiking pants.

On top

I wore a tank top, long sleeve, t-shirt, thermal pullover, puffer coat.

I packed my REI brand raincoat just in case.

My feet stayed warm and dry with

my waterproof hiking boots and the best hiking socks out there.
I also wore gloves and a beanie as it's chilly up at the top.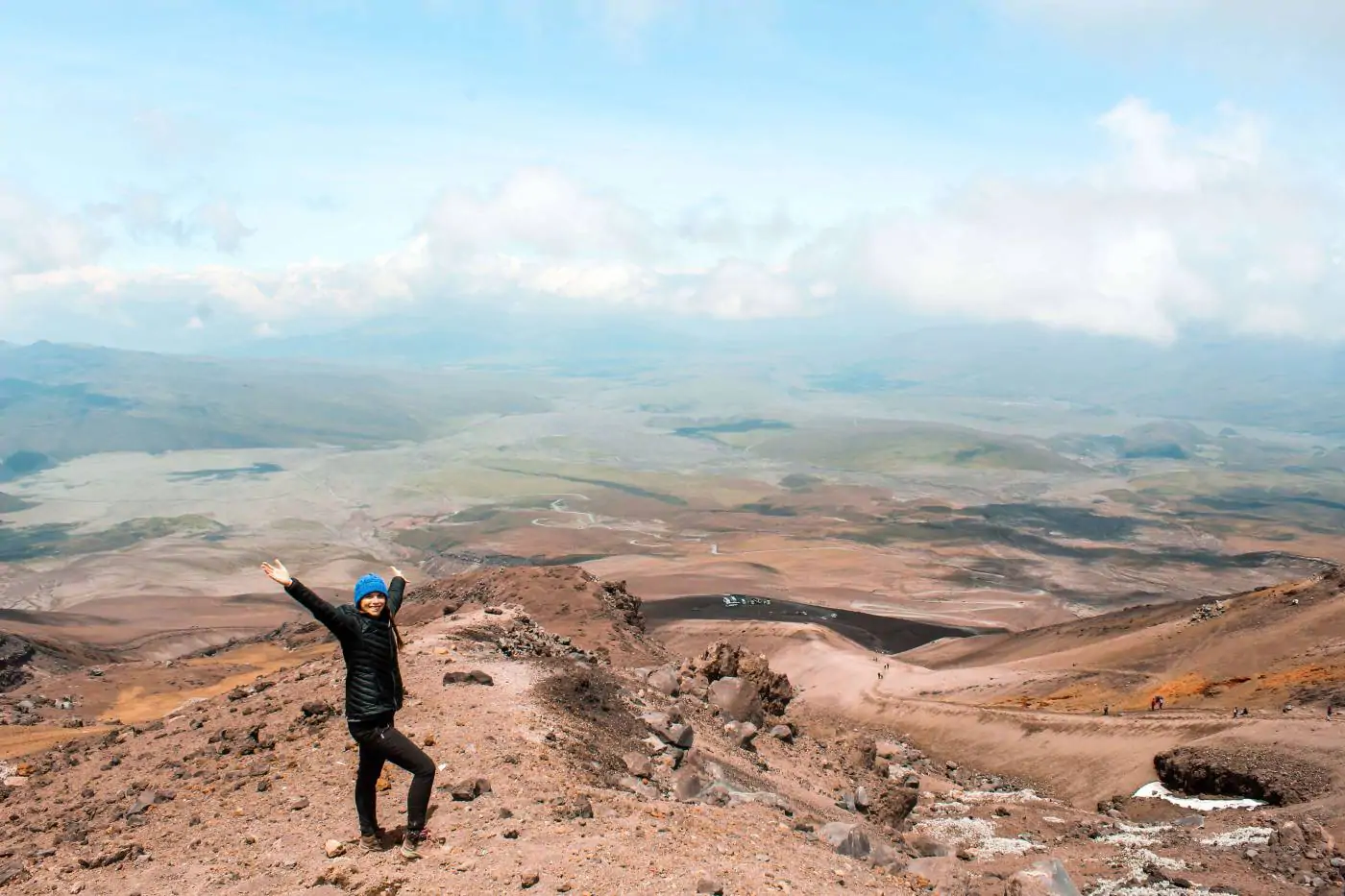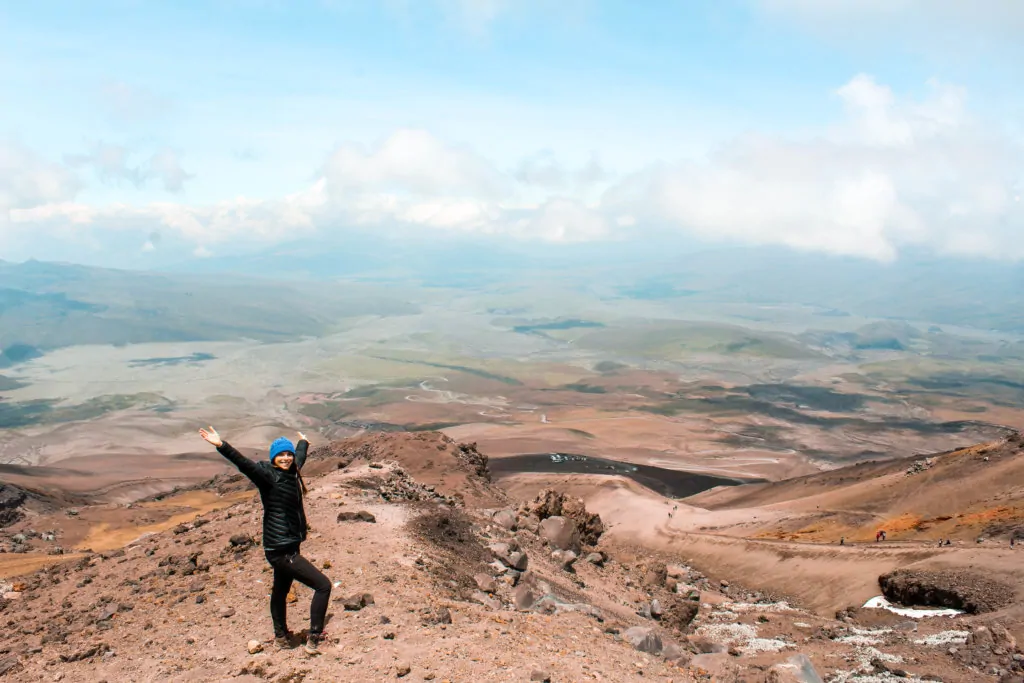 Where to Stay in Quito
If you're looking for a fun place to stay, I, of course, recommend Community Hostel, where I lived for two months. It's well located, they have lots of activities, free yoga, and great staff.
Book your stay at Community Hostel in Quito
I'd love to hear about your experience at Cotopaxi. Leave me a comment below about it!
Like this post? Pin for later!