I landed in Ecuador, the first destination on my year of travel, with just a carry on and no clue of how the next year of travel would unfold. I definitely had no idea if my Ecuador packing list was correct – having never been there, or South America in general, before and definitely never having packed in ONLY a carry on bag. 
Before this trip, I read all of the "what to pack for Ecuador" blogs I could in hopes that I could pack efficiently and effectively. Which I'm guessing is exactly where you're at right now since you've landed on this post.
I'm excited to tell you that this packing list for Ecuador is based on my experience living in this gorgeous country for two months. I went to the Galapagos, Mindo cloud forest, spent quite a bit of time in Quito, and completed single and multi-day hikes. The only activities I did not do in Ecuador are go to the Amazon (a major regret) or spend time on the coast. After doing almost everything there is to do in Ecuador and learning from other travels I determined exactly what was absolutely necessary to pack for traveling in this gorgeous country, what was just nice to have, and what should be left at home.
This post contains affiliate links, which means that, at no additional cost to you, I will earn a tiny bit of income if you decide to make a purchase.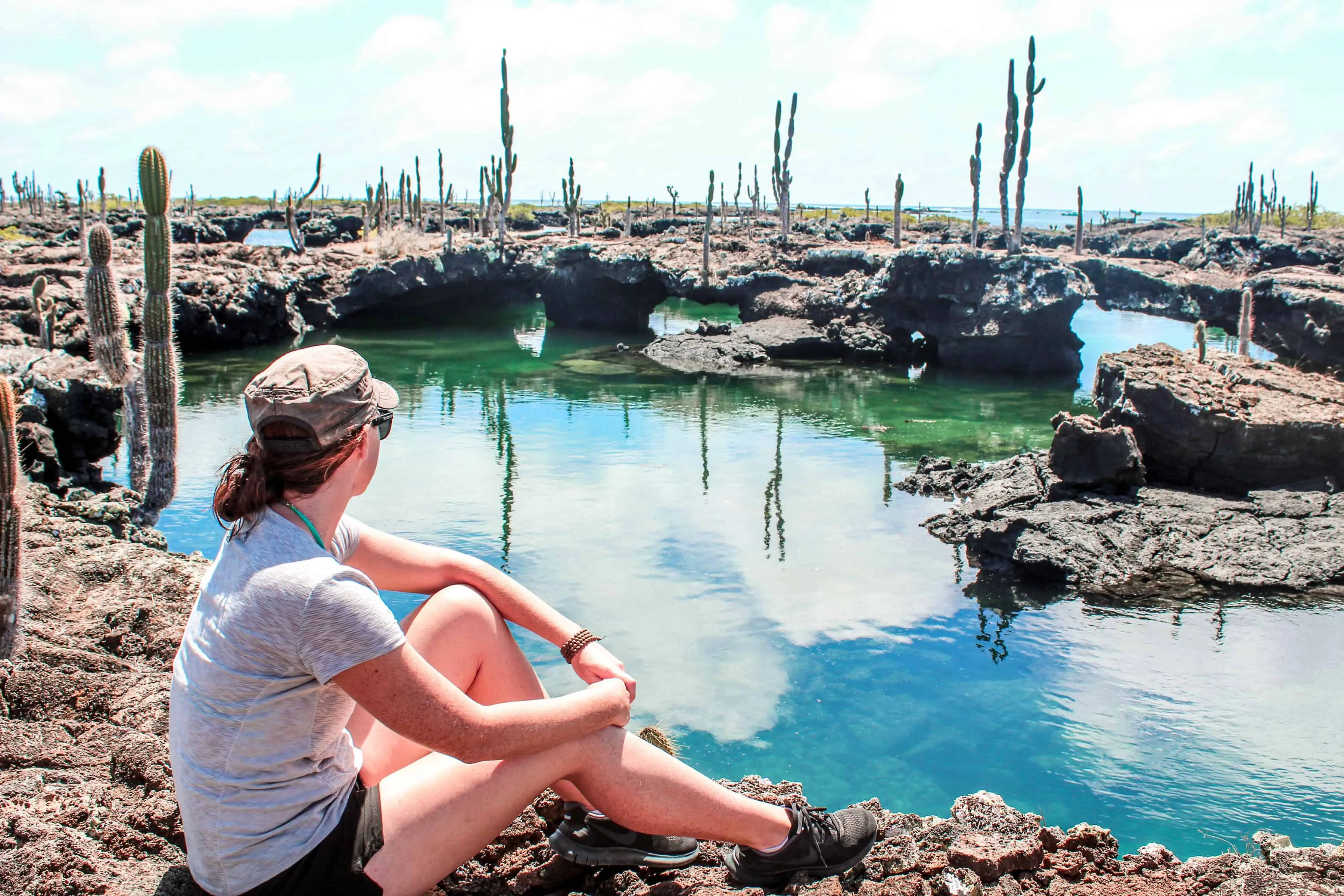 4 Packing Tips for Ecuador
Before we dive into must-haves for your Ecuador packing list let's first discuss some practical tips when it comes to packing for Ecuador.
Tip 1: Pack for Your Planned Activities
As I mentioned above, there are such a wide variety of things to do in Ecuador. For such a small country, you could spend months there and not cross everything off of your list (ahem – talking 'bout me there). So before you start packing, know what activities you plan to pursue while you're there. For instance, if you're city-hopping then you don't need hiking boots and if you're going to the jungle you'll need some mosquito repellent!
Tip 2: Pack for One Week
As a general rule of thumb when it comes to packing – I always recommend packing as if you were traveling for a week. This helps decrease the tendency to overpack. It's pretty easy to find a laundromat in Ecuador, and it's really cheap. For about $2.50 I was able to clean all of my clothes every week. And it was returned to me nicely folded. 
Tip 3: Check the Weather
The weather in Ecuador is fairly predictable thanks to its equatorial coordinates, however, the climate does vary by location. For instance, you can expect Quito to get warm during the day, but due to its altitude, it gets cool enough in the evening to require a jacket. However, if you head to the coast or the Amazon, you'll find the weather hotter and more humid. There is a rainy season in Ecuador that generally runs from October to May. Make sure to consider the type of weather you'll be experiencing for the majority of your trip when you're making your Ecuador packing list.
Tip 4: Packing for Galapagos?
If you're planning to skip the majority of mainland Ecuador and head straight to the Galapagos Islands then please head to my Galapagos packing list where we can chat about some unique items needed for the Galapagos in more detail than we will here.
What Type of Luggage to Use for Ecuador
Hands down, a backpack is your best option. Here's why:
When traveling by bus in Ecuador, it's not recommended to put your backpack in the overhead compartment or at your feet, so it's easy to hold on your lap. Alternatively, you can store it safely underneath the bus, locked shut with your TSA luggage lock.

It will keep your hands free to use as needed

Many small-town roads in Ecuador are dirt or very uneven. Dragging a wheeled suitcase is just that – a DRAG!
I traveled throughout South America and Europe with the Osprey 50L Farpoint. If I were to do it again – I'd only use a 40L!
No matter what luggage you choose for your trip to Ecuador – make sure it's carry-on size to avoid overpacking and facilitate easier movement throughout the country. Check with your airline as their carry on size varies amongst carriers. 
And as always, use packing cubes and the "roll" method to maximize space!
Alright, now that we've got those items taken care of, let's get into what you need to pack for Ecuador.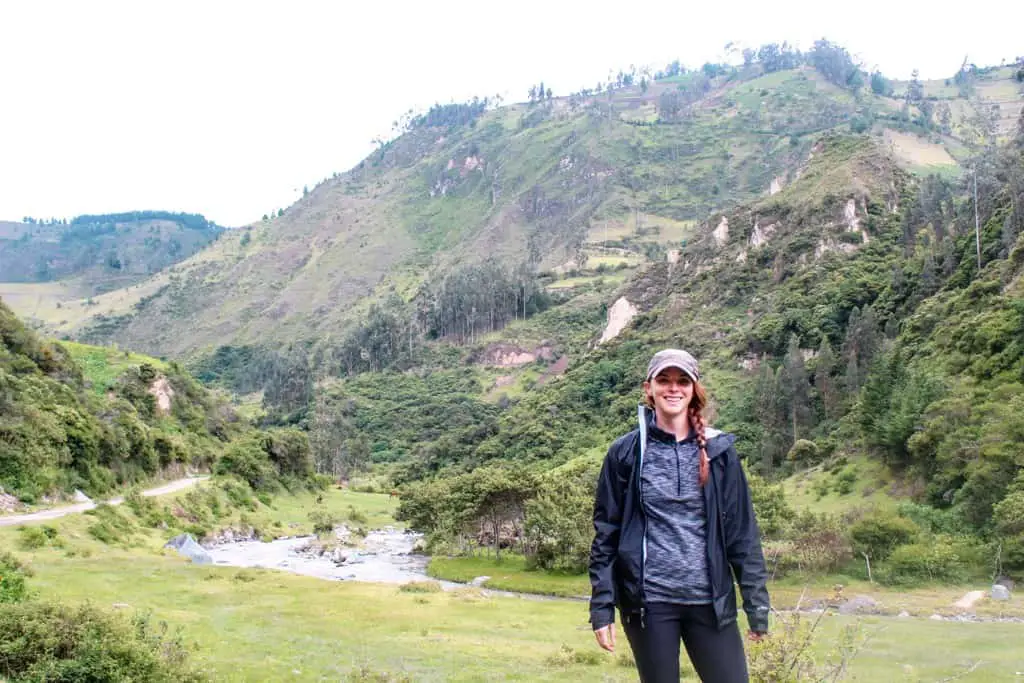 Ecuador Packing List: Clothing
The clothing items below are perfect for a mix of hiking (I highly recommend the Quilotoa loop), city life, and a trip to the Galapagos. When you're thinking about what to wear in Ecuador make sure the items are versatile so they can be worn in multiple settings.
1 rain jacket: especially if you're going to the Amazon or spending a weekend in Mindo

1 down jacket (unnecessary if going to the coast – opt for a lightweight fleece instead)

1 pair of Skinny jeans: essential for city walks or a night out

1 pair of leggings: can be used to replace jeans or for a

hike up Cotopaxi

. My favorites are from Athleta because they have pockets.

1 pair of joggers: perfect for sleeping or relaxing in your hostel

1 pair of hiking pants: if you're not planning to do too much hiking these can be left behind in favor of the leggings. Although, the hiking pants I use from Athleta can also be worn off the trails and could take the place of jeans. This is something to consider especially when packing carry on only. 

4 t-shirts: 2 active and UV blocking for hikes or the beach and 2 for city wear

2 tanks: 1 that can be dressed up (Quito has a good nightlife scene) and 1 for layering

1 long sleeve UV blocking shirt: absolutely necessary on the Galapagos or on a hike in the sun

1 dress or romper: these are always easy to pack and a great way to look put together with little effort

1 pair of shorts: especially for trips to the coast or for a muggy waterfall hike in Mindo

1 swimsuit: for an impromptu hot springs trip and definitely if you're going to the Amazon, coast or the Galapagos

Underwear: 5-7 pairs – ex officio are my favorite undies! A dark pair can be used in place of a swimsuit when in a pinch!

Socks: 3 pair, plus one pair of Darn Tough hiking socks to ensure you never get a blister

Bra: 1-2 sports bras and 1 regular bra or bralette

Warm Hat & Gloves: you'll need them at the top of a volcano

Wide Brim Hat: perfect for keeping the sun off of your face while exploring the cities

1 scarf: used to jazz up an outfit or for warmth. You could always wait and pick one up from Otavalo Market on a

day trip from Quito.
Ecuador Packing List: Shoes
Hiking shoes/boots: a must for any hiking in Ecuador

Sandals: I broke my Birkenstocks in on the Galapagos which is not something I recommend but once they were broken in they became my favorite travel sandal. They are a little clunky and can't go in the water, so Keens, Chacos, or Tevas are definitely more practical for the Galapagos where many beaches are very rocky.

Sneakers: a stylish pair can be worn with skinny jeans in the city or on a country sidewalk

Flip flops: always on my hostel packing list to protect my feet in the showers
Ecuador Packing List: Toiletries
Pack all of your normal toiletries and know that if you forget anything you can always purchase it there. Two items I want to highlight here are sunscreen and bug repellent, among a few other notable toiletries.
Sunscreen: that equatorial sun is no joke. Wear it daily – even if it's cloudy

Bug repellent: necessary if you're going into the Amazon. They make these awesome wipes now that are perfect for carry-on travel

Shampoo/Conditioner/Dry Shampoo/Hairbrush: whatever you use for your hair

Dr. Bronner's Soap: can be used as soap or laundry detergent, 

Toothbrush & toothpaste 

Diva Cup: necessary for long bus rides and hikes!

Glasses/Contacts/Solution/Sunglasses

Earplugs and eye masks for noisy hostels
Ecuador Packing List: Medication
Always make sure you have more than enough of any medications you take on a regular basis. Also, be sure to travel with them in their original bottle and with a written prescription just in case you need to get a refill or explain to a doctor what medications you take. A few other important items to take with you
Hydration tablets: to keep your electrolytes balances on long hikes or hot days in the Galapagos. These Nuun tablets are my favorite. 

Anti Malaria pills: talk to a travel nurse about whether or not these are necessary for your trip – I did not take any because I didn't go to the Amazon.
I always travel with vitamins and supplements to keep my immune system strong. Some of my favorites include:
Immune intel AHCC: harness the power of functional mushrooms with two tablets per day

Ritual daily multivitamin: your not so basic multivitamin

Probiotic: gut health is clutch when traveling and keeping things going smoothly

Wellness Formula: I take these any time I start to feel a sore throat coming on
Ecuador Packing List: Electronics
Your electronic needs may be very different from mine – but I guarantee you will want to document many aspects of your Ecuadorian adventure. These items will help you do just that.
Portable charger: necessary to keep your phone charged on the go. I bought one in Peru that lasted maybe 10 minutes, but I recently purchased this Anker power bank and it will charge all of my gadgets at least three times. 

All chargers for that matter

Phone: decide if you'll use an international phone plan or get a SIM card upon arrival

Laptop & case: only necessary if you need to do work on the road

GoPro & accessories: you'll use it a lot on the Galapagos to get underwater footage of those silly seals.

Camera: I traveled with a much too bulky DSLR but that's what I've got and what I need for now for my blog. If you have your GoPro and your phone and you're not too concerned with DSLR photos then leave it behind

Tripod: a necessary for solo travelers who want

epic photos of themselves

Kindle: load up as many books as you want for bus rides and beach reads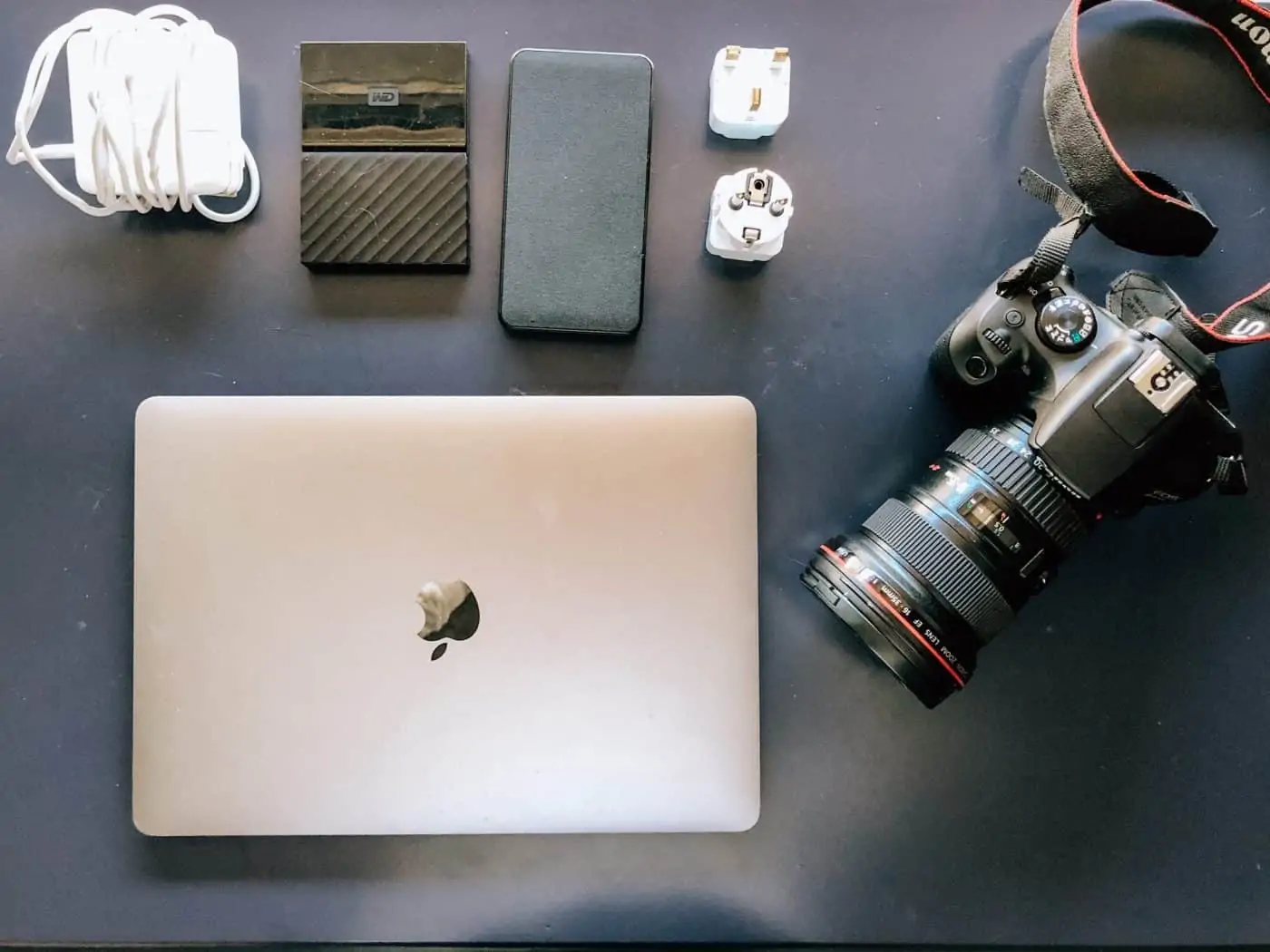 Ecuador Packing List: Paperwork
Do not forget these items at home!
Visa: if required

Passport: definitely required

Immunization Card: I was never asked to show this, but they could turn you away without it

Proof of departure: they likely won't ask for this at immigration, but good to have just in case.

Cash: Ecuador currency is the US dollar and having cash on hand is, well, handy.
Ecuador Packing List: Miscellaneous
These are items that don't fit neat and tidy in any other category, but I found helpful additions to have in Ecuador.
Reusable water bottle: I used my Hydroflask religiously

Steri-Pen: I never used this – instead I filled up at the hostel before going out for the day and at restaurants when necessary

Dry bag: definitely needed on the Galapagos to keep your valuables dry on the boats

Day Pack: for day hikes

Water reservoir: I preferred using this over my water bottle for hikes

Cross Body Purse: perfect for exploring the cities

Travel Towel: I used one of these all the time on beaches and in hostels

Luggage Lock: essential to lock your items up in a hostel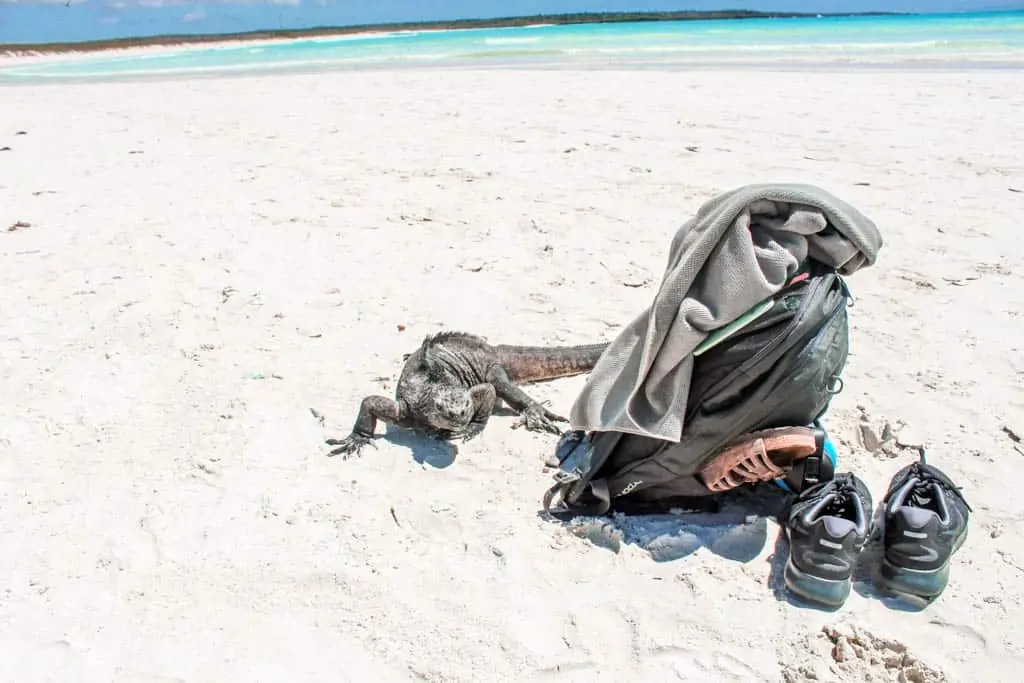 Ecuador Packing List: What NOT to Pack for Ecuador
Headlamp: I never used mine, my cell phone flashlight worked just fine

Hairdryer: let your natural hair shine through!

Iodine Tablets/Steripen: Again I didn't use mine at all because filtered water was readily available – perhaps a LifeStraw would be a better option. That being said, they're small enough to pack – just in case.

Extras of anything: remember, laundry is readily available. And if you're doing any multi-day treks like the Quilotoa Loop, you'll just wear the same clothes every day! 

Expensive jewelry: This will just attract unwanted attention
One final tip before we part ways, do a trial packing. Make sure you can get everything you need fit in your carry on, while leaving space for some souvenirs. One of my biggest travel regrets is not buying one quality souvenir from each of my destinations to decorate my house with – and Ecuador is a great place to find high quality, handmade items that will last long after your trip. 
What am I missing from this packing list? Are there any Ecuador packing list essentials I forgot? Let me know in the comments!
Like this post? Share on Pinterest!