On a clear morning, from the communal dining table at Community Hostel, I could see the summit of the Pichincha volcano that serves as the backdrop to Ecuador's capital city, Quito. In 1999 this volcano erupted, covering the city filled with 2.5 million inhabitants in ash. Although it is still an active volcano, it is also a very popular acclimatization hike for those planning to climb higher volcanoes in the area. Now, I wasn't planning on summiting any other volcanoes but I believed that completing the Rucu Pichincha hike would show my capabilities for my upcoming Salkantay trek to Machu Picchu.
Prepping for the Rucu Pichincha Volcano Hike
But before I could climb it, I let my body acclimatize to Quito's elevation of 2850m (9,350ft) while exploring all of the things to do in Quito and gathering information about the hike from other travelers who had recently completed it. I learned that it should take me about two hours to reach Pichincha's summit that rests at an uncomfortable altitude of 4,784m (15,695ft). I also learned that it's best to begin the hike before 11:00 am as each afternoon clouds tend to roll in which could make it difficult to see where I'm walking, let alone the views of the city below.
Now, I'm not much of a hiker, but I am in fairly decent physical shape, so two hours sounded incredibly doable. I decided to wait for a clear Sunday morning so I could get an early start. Figuring if I started the hike by 9:00 am I would be back in town for a late lunch.
The morning of the hike I ate a hearty breakfast at the hostel, filled up my water bottle, packed my backpack with layers and my DSLR camera, and hailed a cab for the Telefériqo. I should note here, that I did not pack any snacks. A mistake I will never make again.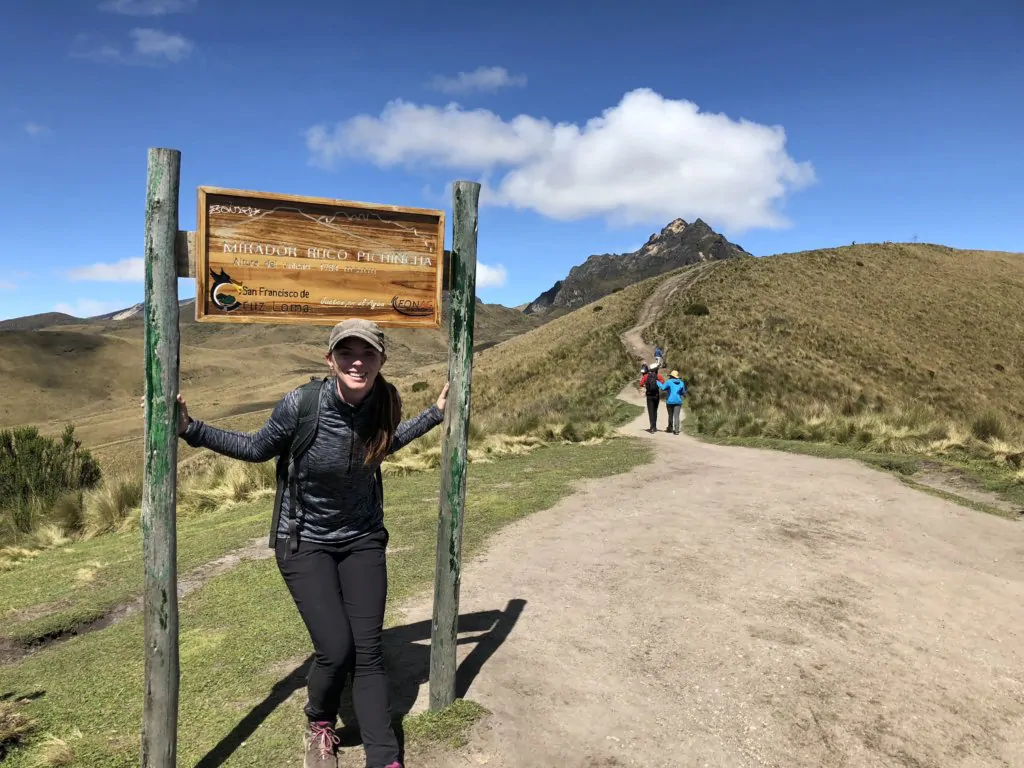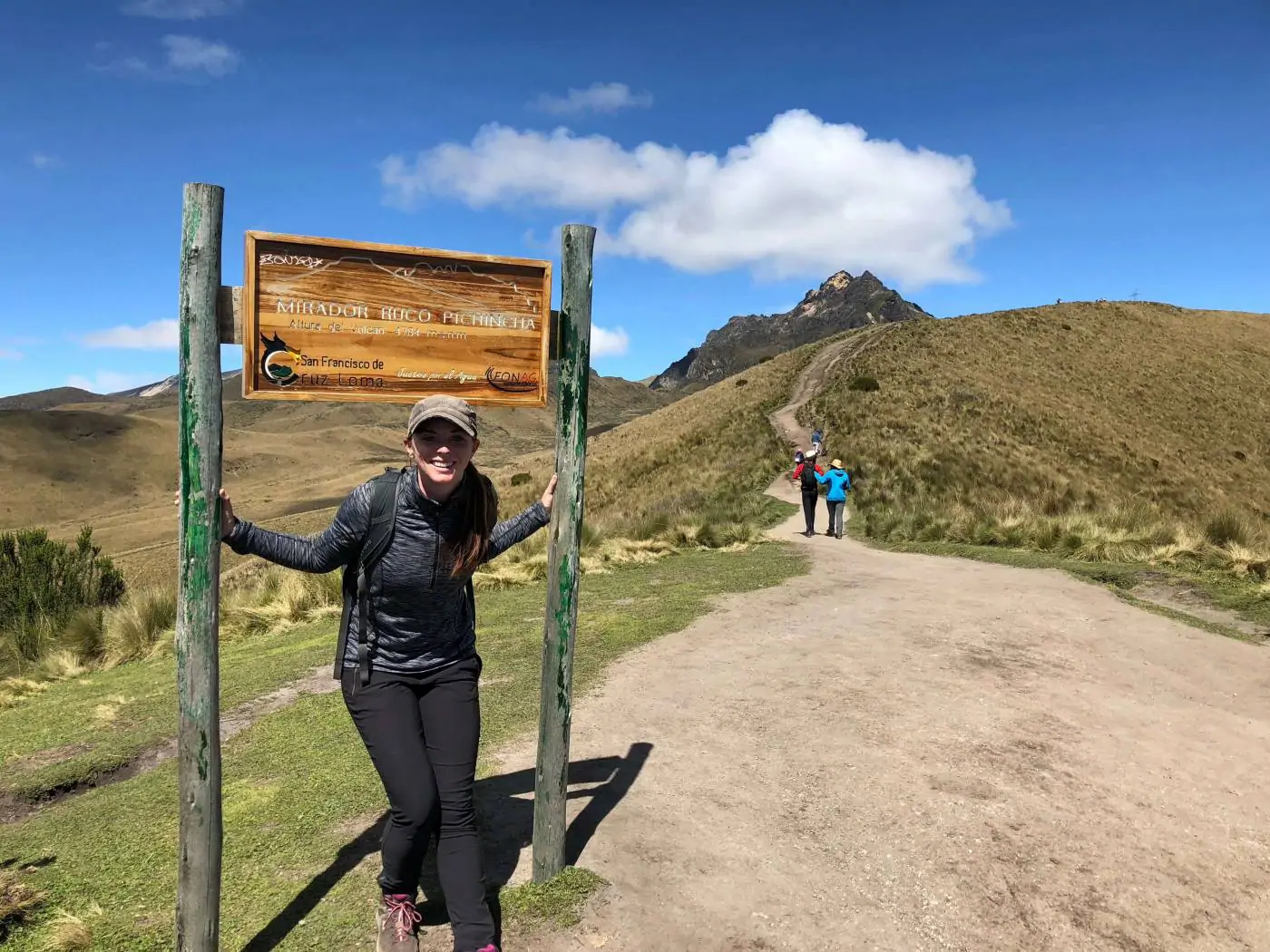 The Telefériqo Ride
The Telerfériqo is the cable car that takes you to the base of the hike. A round trip ticket costs $8.50 for tourists and $4.50 for locals. And on that beautifully sunny morning in Quito, the Telefériqo was crowded with tourists and locals alike. But, don't let this line fool you, the Telefériqo is a popular tourist attraction in itself and not everyone who takes it will be doing the hike!
I shared the cable car with six Spanish speaking gentlemen who were avid hikers planning to summit the volcano as well. As I glanced at their large hiking backpacks and hiking poles, I began to get nervous that this hike was going to be more challenging than my friends let on.
Should I have at least brought a banana?
Nonetheless, I was determined to make it to the top! So we hopped out of the cable car, bidding each other good luck as they started immediately towards the path and I took my time taking some photos of the city, where the Telefériqo ends. Honestly, I stayed for the photos because I didn't want to try to keep up with them.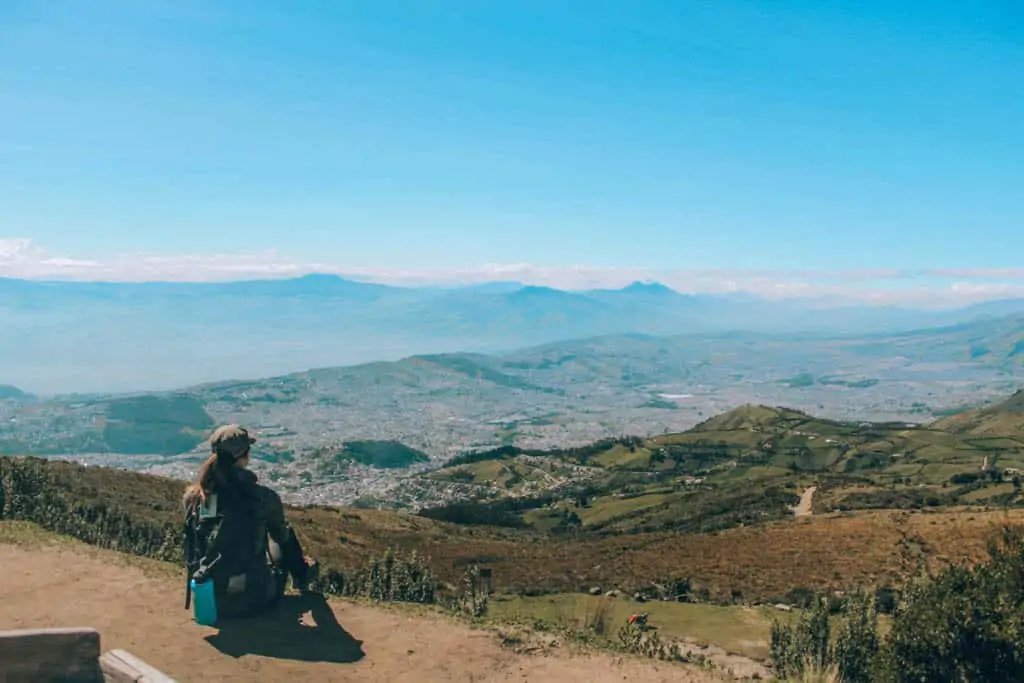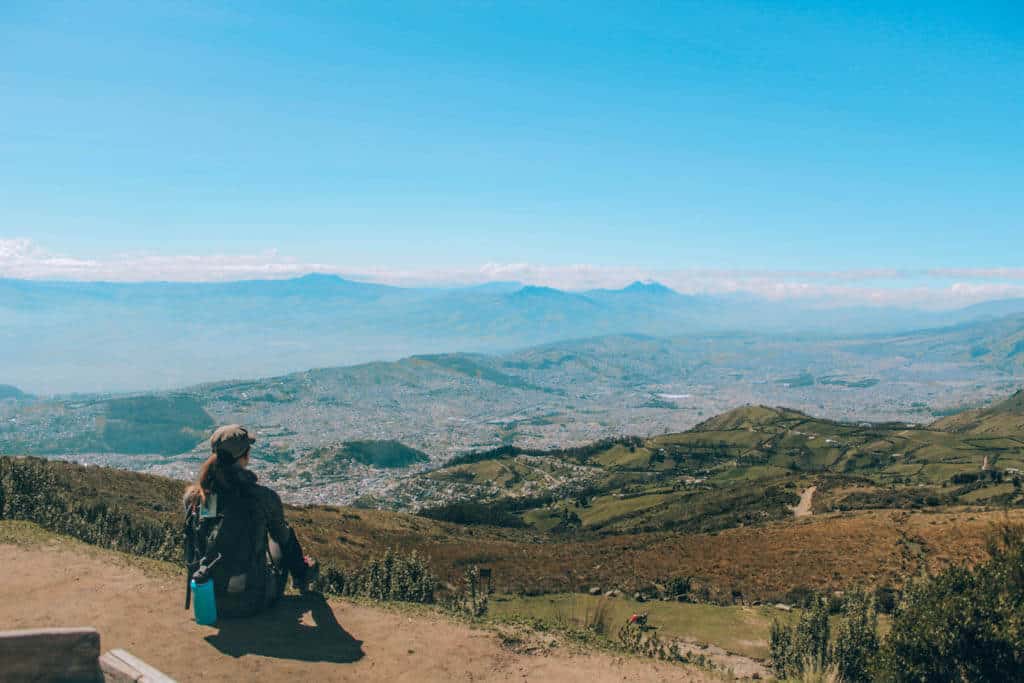 The Pichincha Volcano Hike Begins
The path is very clear to the summit and starts off quite flat which made me feel pretty good about myself. Until I came to the first incline that I attempted to walk straight up. That proved to be incredibly difficult until a friendly hiker noticed my struggle and told me it was easier to zig zag. Even zigging and zagging left me breathless and it was becoming increasingly evident, that not much about this hike would be easy.
I continued on, determined to prove to myself that I could do this. My hike to Machu Picchu would be around the same elevation and I needed to know that I could handle it. So, I moved onward along some more gentle inclines and declines, pausing often to "take in the view below" aka catch my escaping breath.
Hiking at altitude is no joke!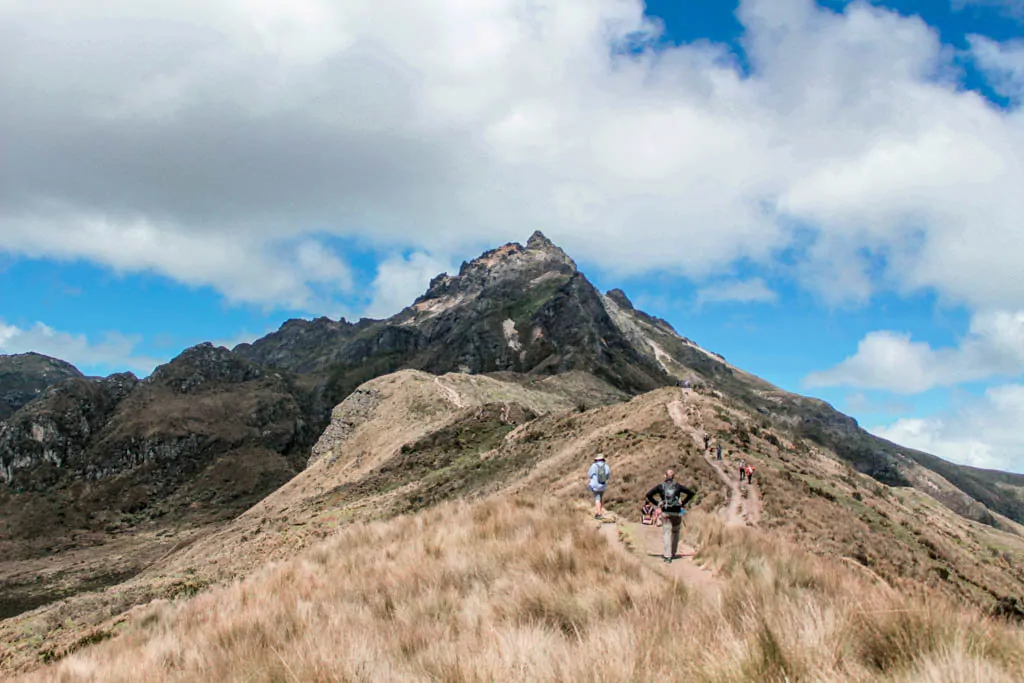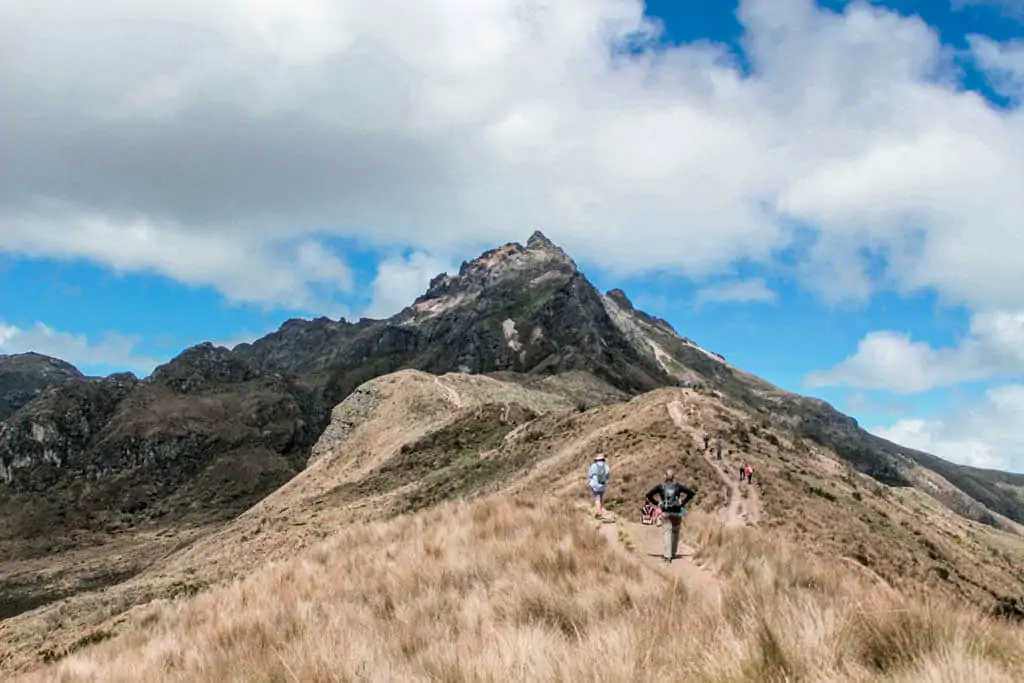 The Struggle Gets Real
Then I came around a bend and saw something that no one warned me about. Right in the middle of the path was a rock face with nothing but cliff side below. I watched in amazement and fear as the people ahead of me scaled it. I made a half-assed attempt at climbing across it before giving up and letting others pass me.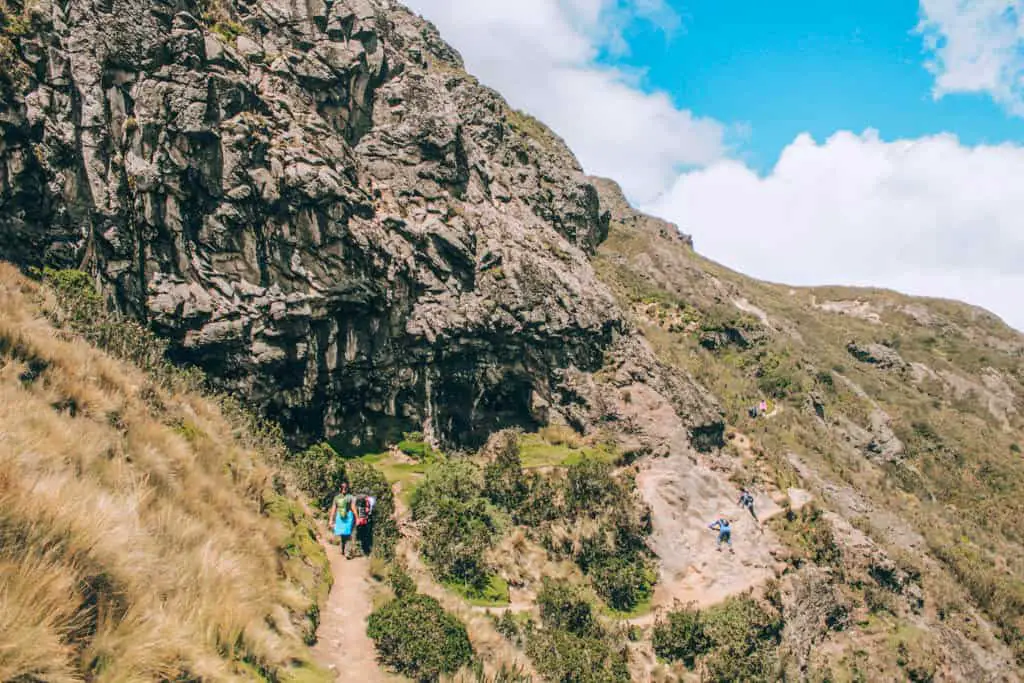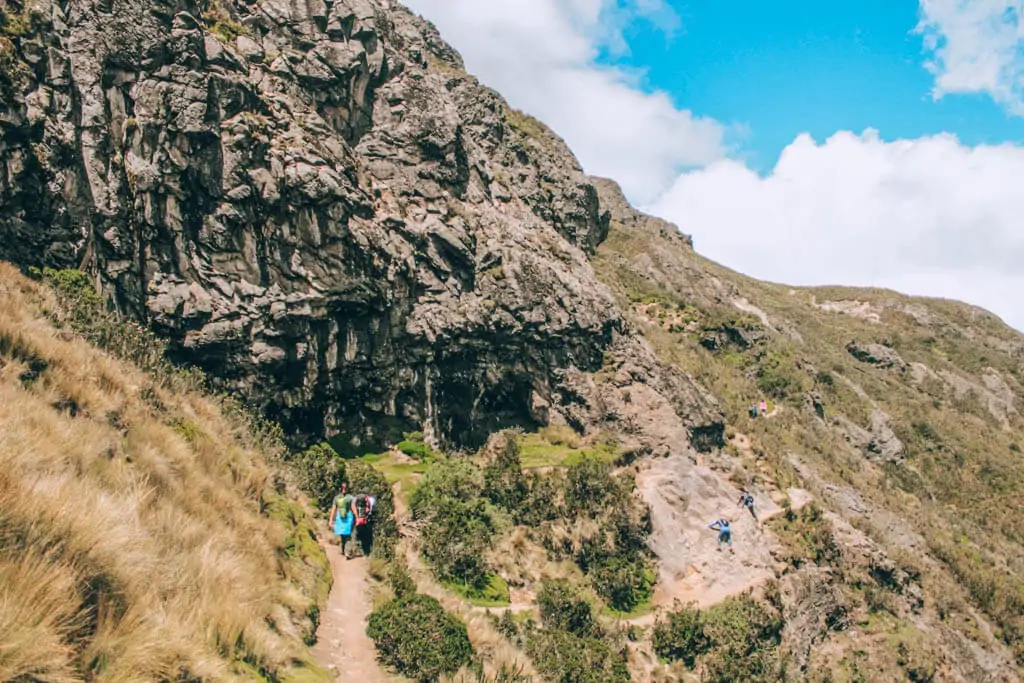 I told someone who arrived behind me that it might be my time to turn around. She replied that if I'd come this far, I might as well keep going. And as I watched a group of people climb across it, I decided to go for it. One of those people hung back, reached out his hand, and helped pull me across.
The other hikers so far had been my saving grace in the toughest parts of this hike. Even though I was technically hiking alone, I did not feel alone.
The next section of the route was much rockier, but doable. Then I came to the second steep incline. This incline was mostly sand with some rocks covered in greenery. A gentleman coming down the volcano advised me to go along the rocks and that I was almost to the top.
Keep going!
The Final Push to the Top
So I began again.
I crossed over the open sandy area to the rocks. You know how difficult it is to walk on the plush sand of a beach. Well, imagine walking on that at a 45* incline at altitude. Each step you take it feels like you actually move backward a little!
At this point, it was three hours into the hike. I was hungry and cursing myself for not bringing any snacks. The temperature dropped quite a bit the closer I got to the top and the clouds began to move in and out. At one point during one of my many rests, the clouds came in so thick that I could no longer see the top of the mountain.
That seemed fairly unsafe to me.
For the second time, I thought – should I turn back?
I waited a bit longer and another solo female hiker was making her way towards me. She asked if I was planning to continue, I told her I was unsure and she sat down beside me.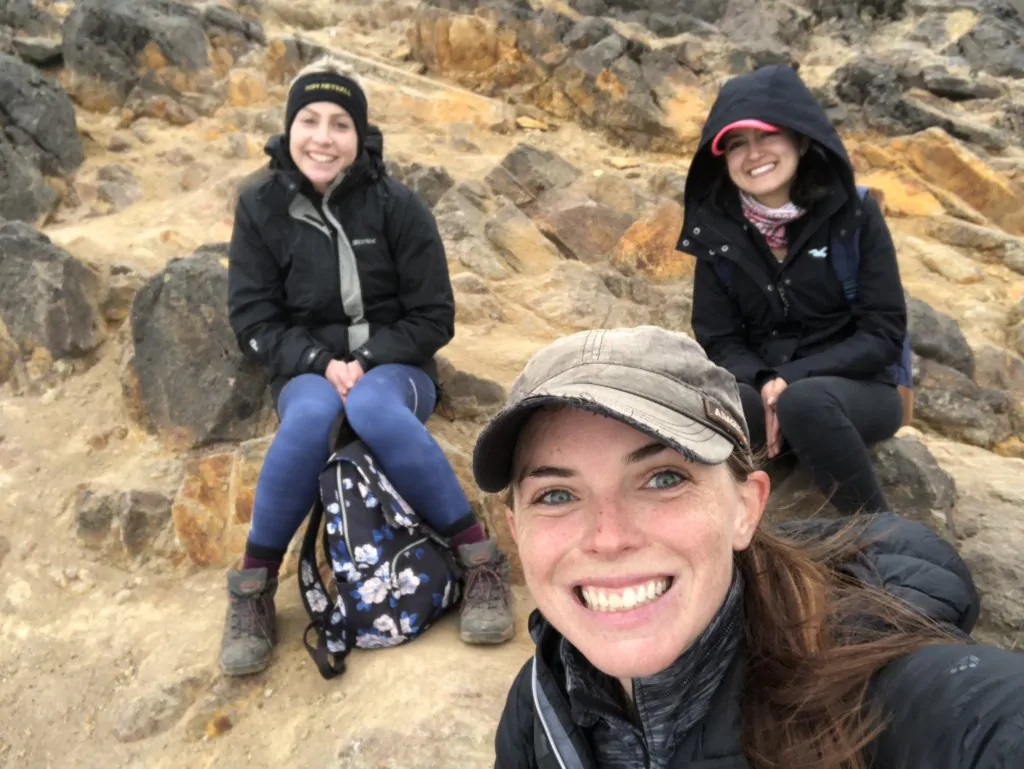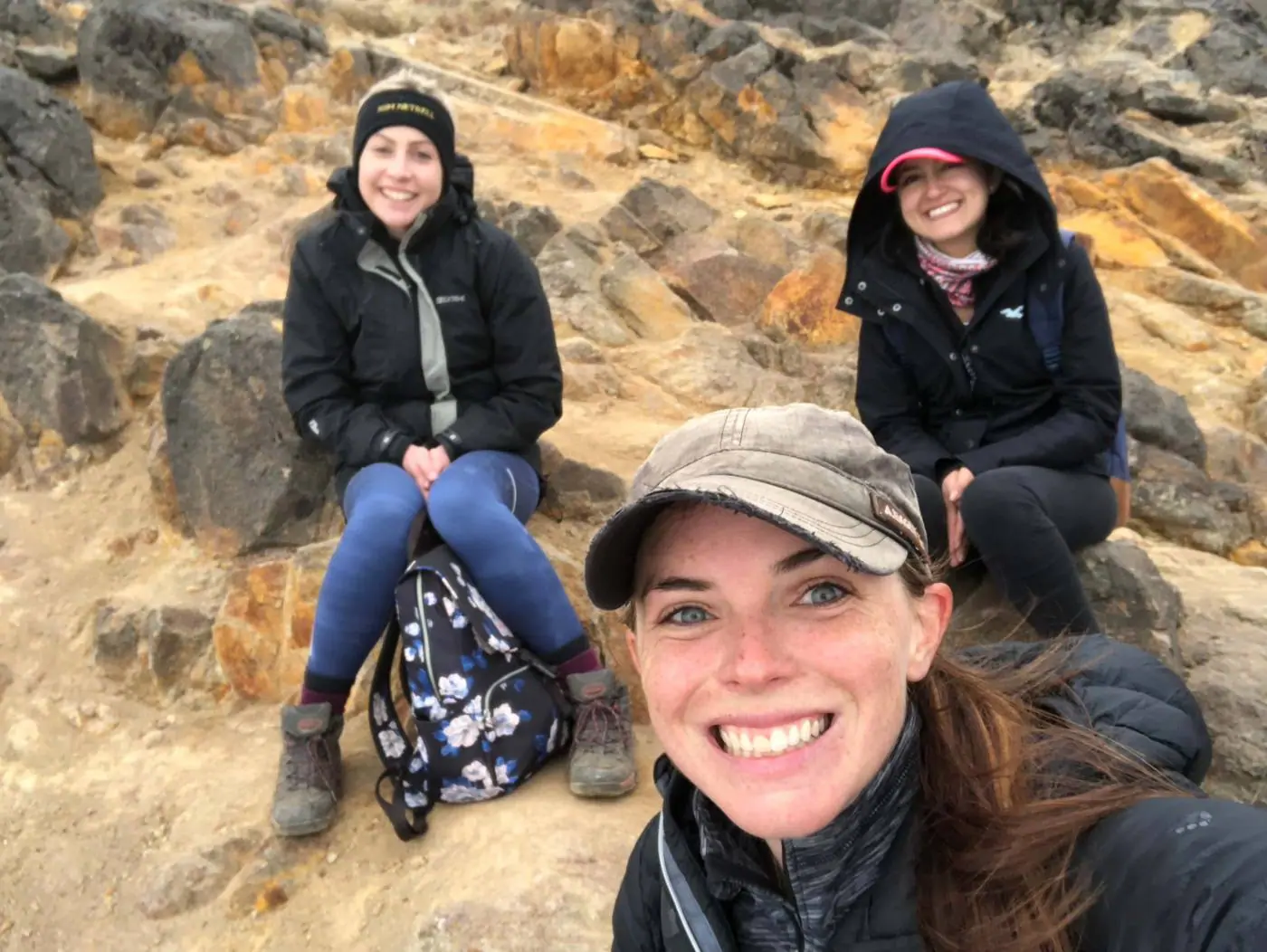 Turned out she studied volcanoes and hikes like these were her forte. I explained to her that it was my first time attempting anything like this and didn't realize how intense it would be. I told her I didn't even bring any snacks!
She unzipped her backpack, handed me a banana, and told me when I'd finished eating it, we would get to the top together.
Are you freaking kidding me?!
A complete stranger giving me a banana and offering to help me reach the summit. This was unreal!
Once I finished my snack, we began again. Together.
Another surprise no one warned me about was at the top it's basically rock climbing to cross over the crest. The rocks are jagged, lava, and often unstable. Looking down, just wasn't an option. The only option was to keep moving up, take my time finding my footing, and trust in those going before me.
After about 30 minutes of navigating these jagged lava rocks, we made it to the top. Thick clouds obscured our view, but as we caught our breath they began to move out. As the clouds parted the city of Quito spread wide in front of us. And behind us, the crater of the volcano.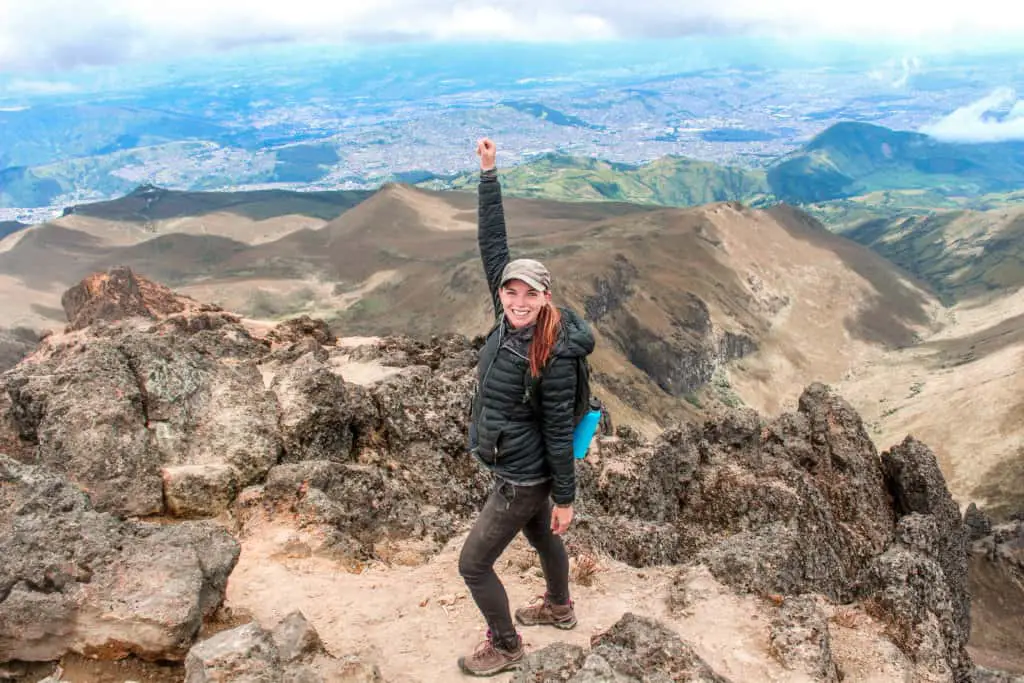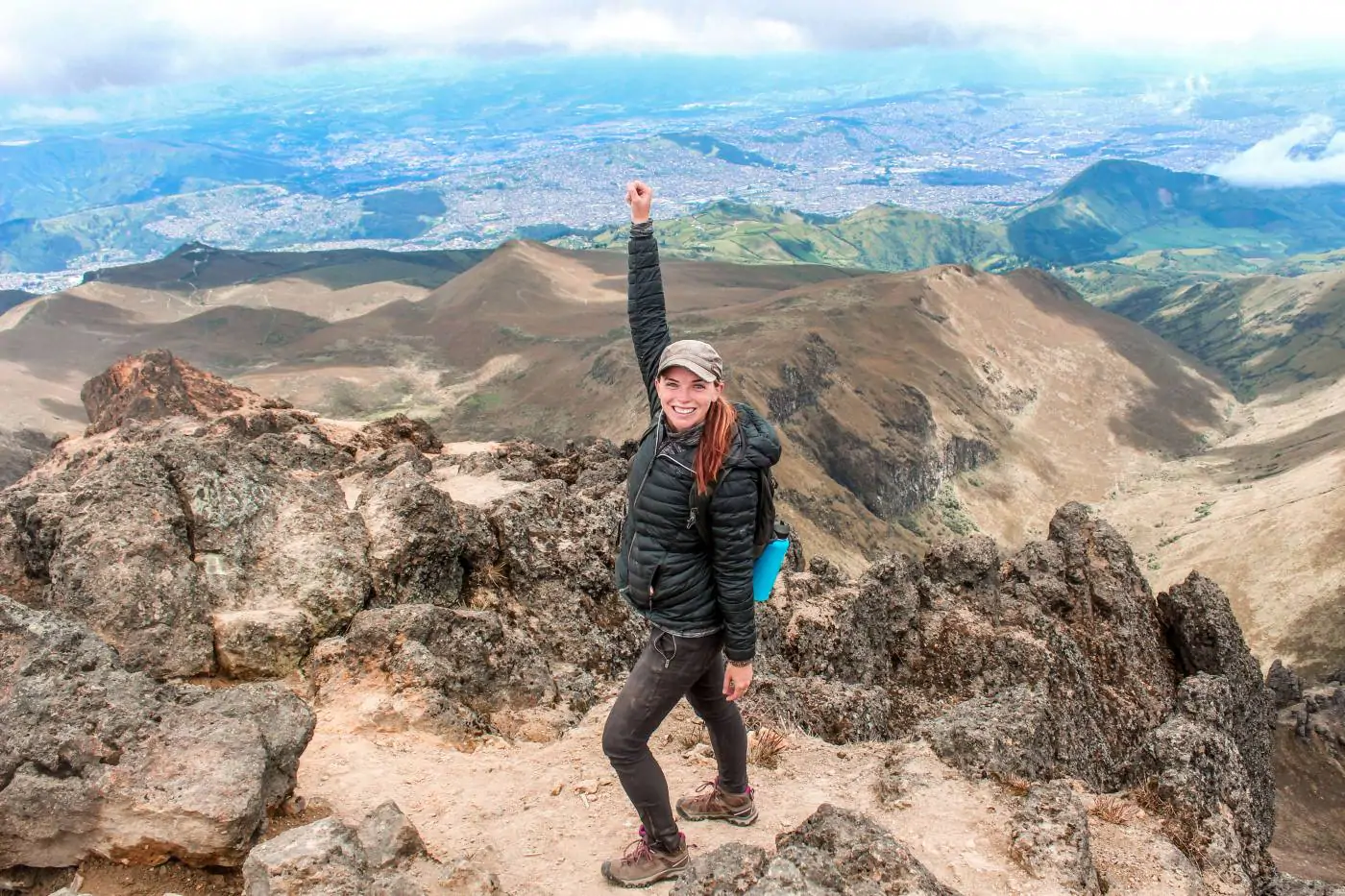 Feeling Proud & Grateful at the Top of the Pichincha Volcano
As I sat there taking in the views I reveled in the fact that I'd accomplished what I'd set out to that morning. It took twice as long as I anticipated and was four times as difficult as I expected. Yet, through the kindness and support of strangers, I'd made it to the top of my very first, active, volcano.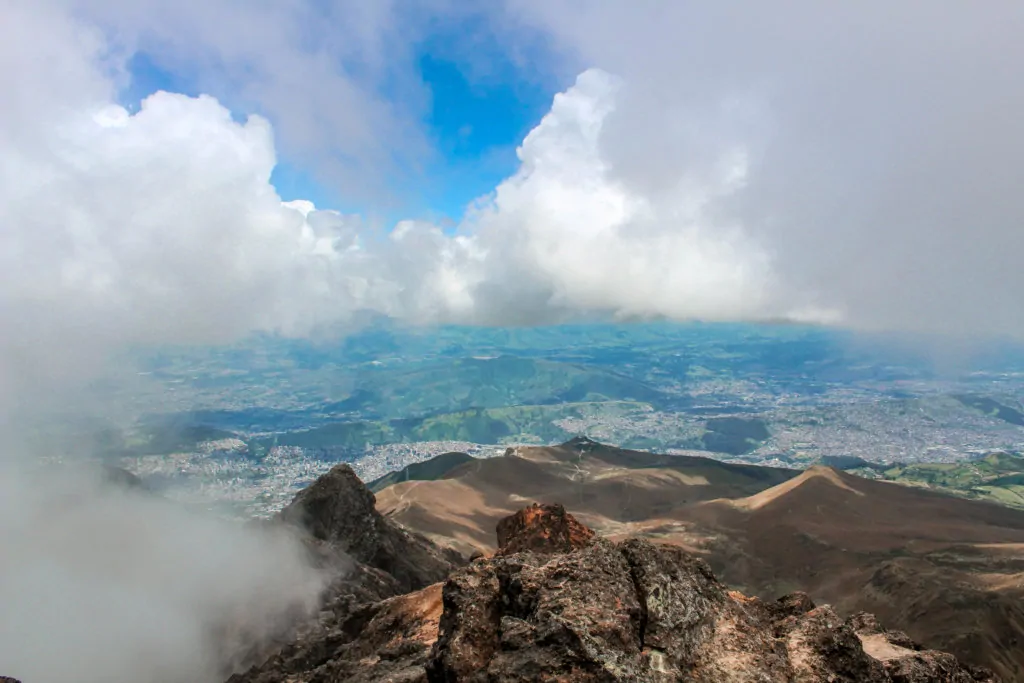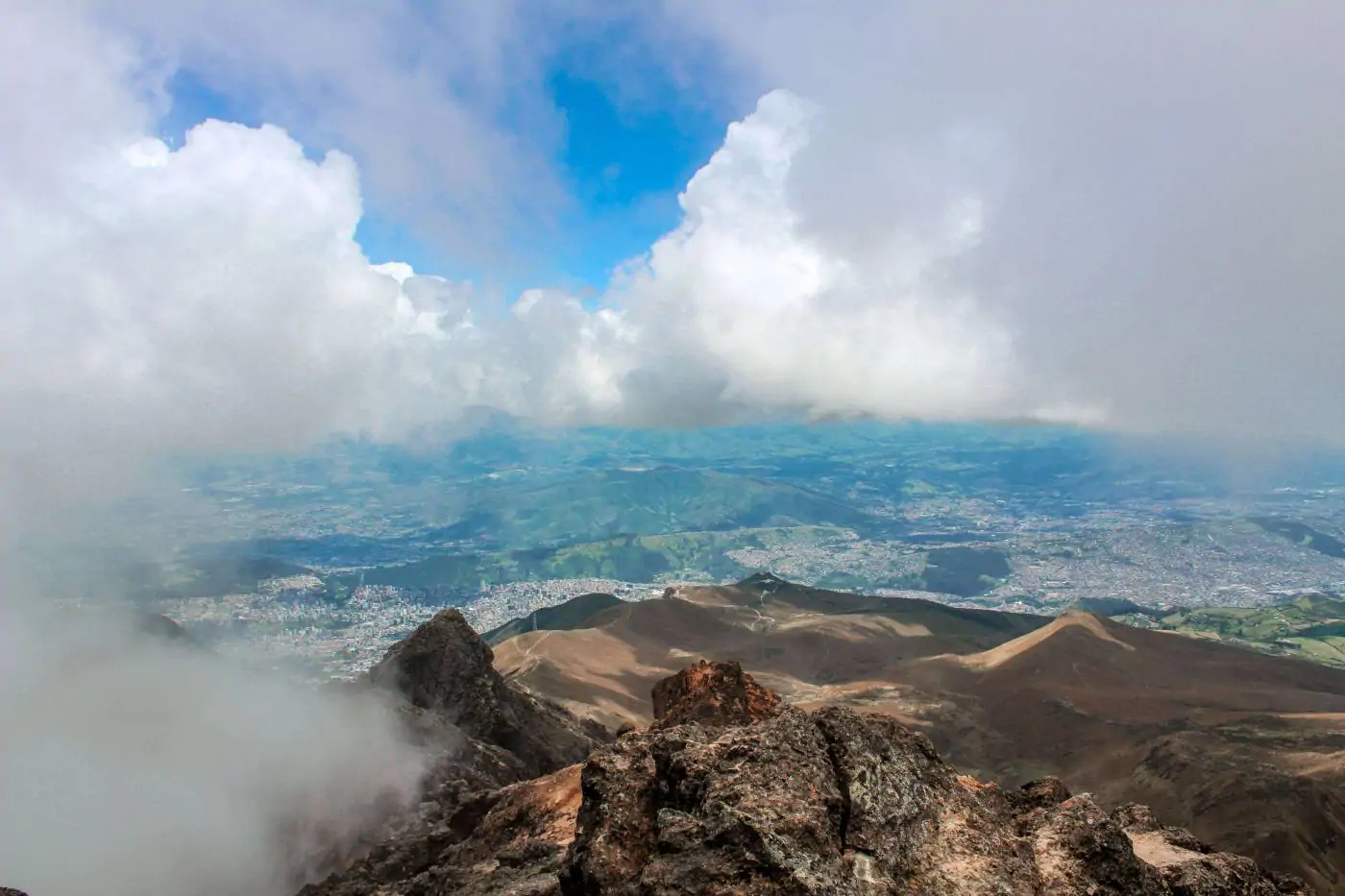 Even though I was hiking alone, I rarely felt alone. Those individuals appeared at times when I was struggling the most and on the brink of giving up. debating turning back. I know without meeting those individuals at critical points along the way, I would've turned around. It was one of the most physically and mentally challenging things I've ever done, and with the support of strangers, I reached my first summit.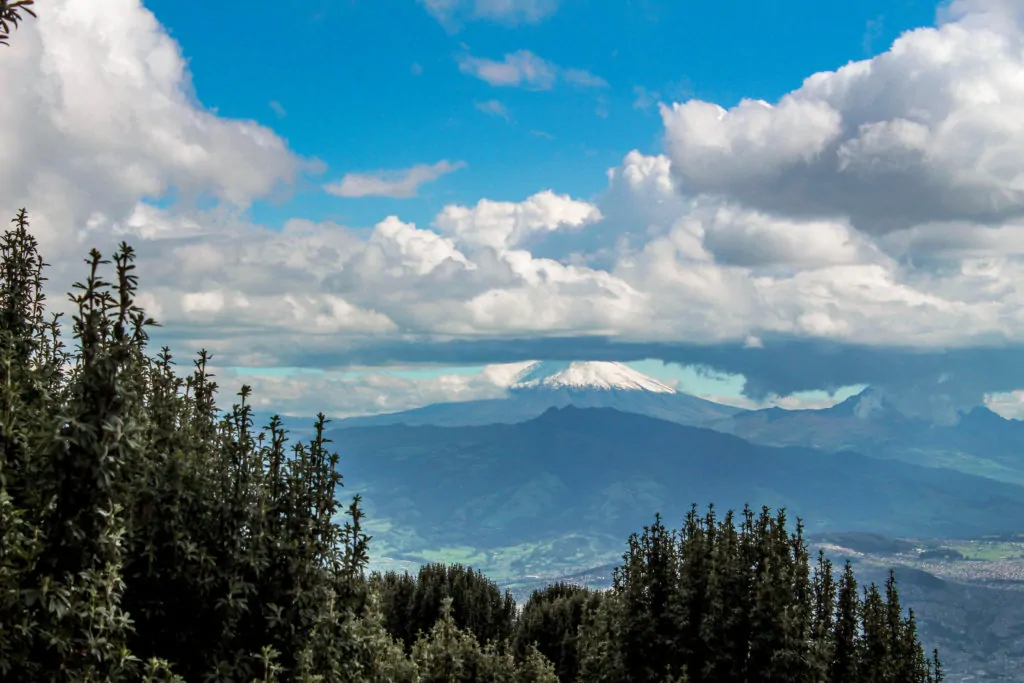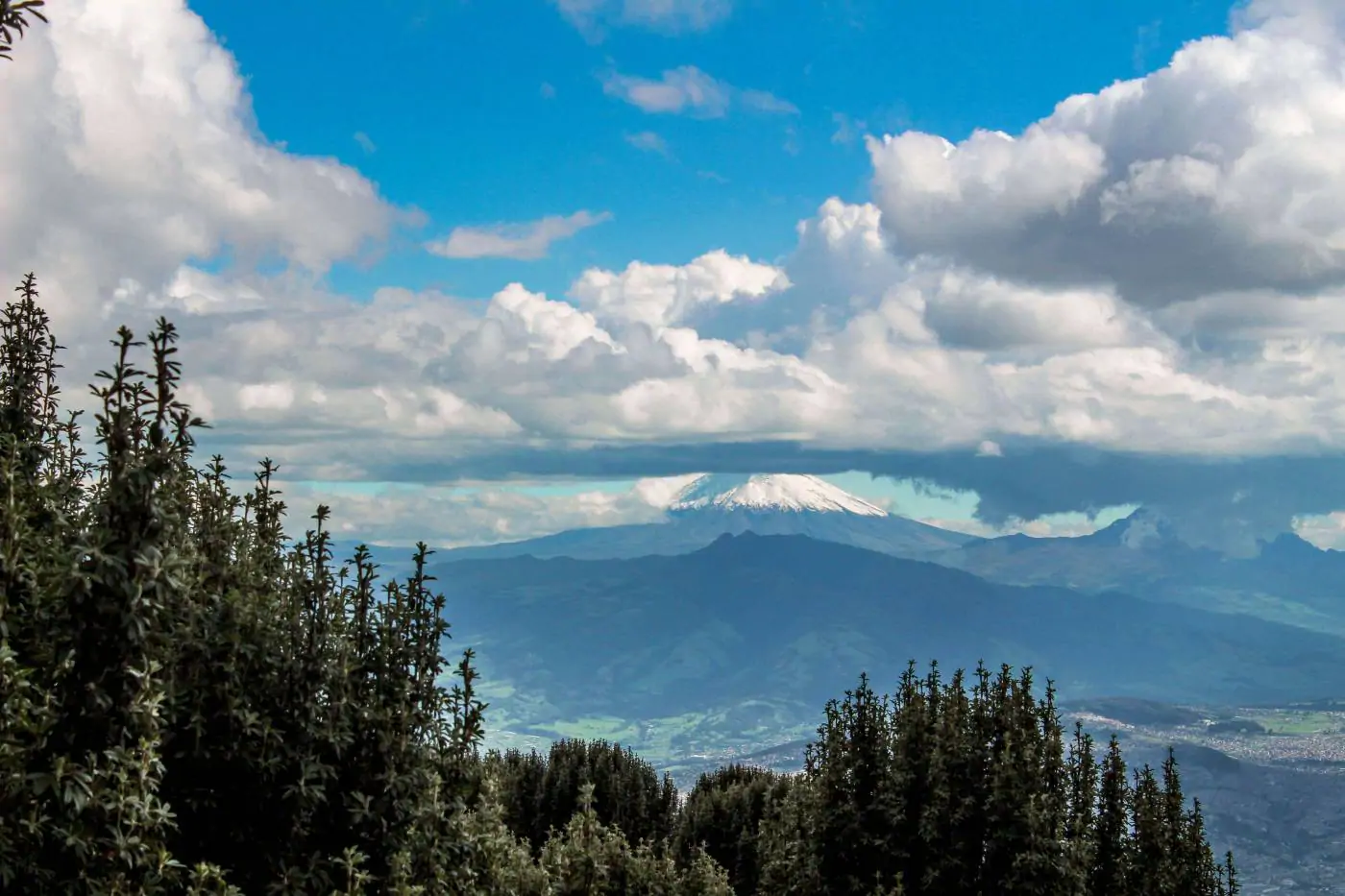 And on the way back down I caught a glimpse of the perfectly symmetrical Cotopaxi volcano and knew this wouldn't be my last volcano hike.
FAQ for Climbing the Pichincha Volcano
How to Get There?
Take a taxi from your accommodation to the Telefériqo. The taxi ride will cost around $5.00. And as stated above, the Telefériqo is a 20-minute cable car ride to the start of the trail. It will cost $8.50 for tourists and $4.50 for local residents.
When to Start the Hike?
As early as possible. The Telefériqo opens at 9:00 am and closes at 8:00 pm. Remember the clouds roll in in the afternoon so you'll want to reach the summit by noon.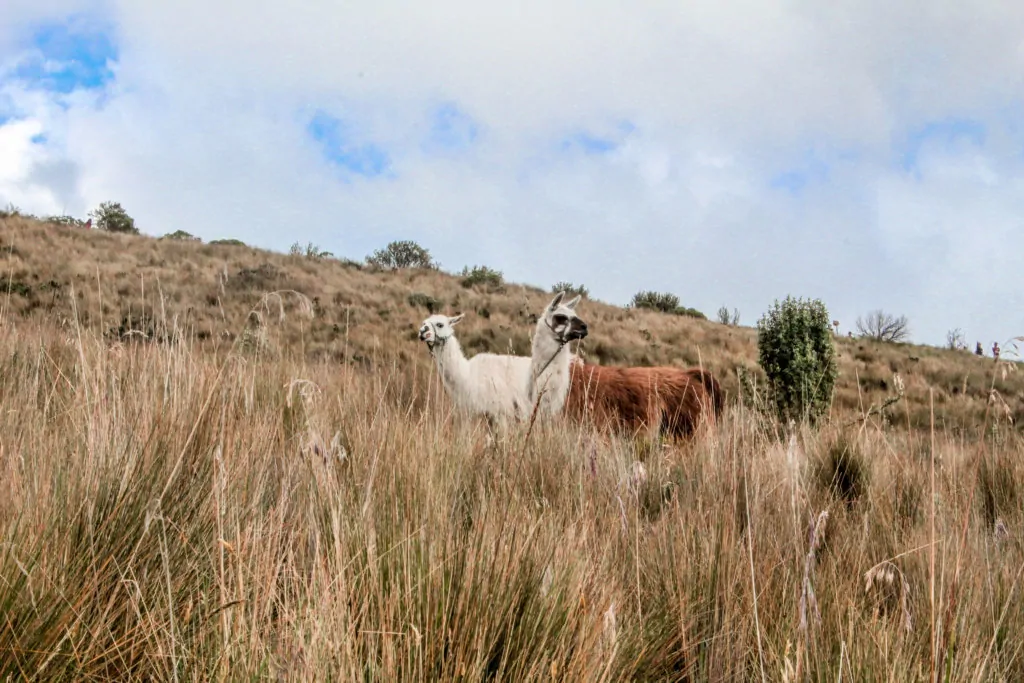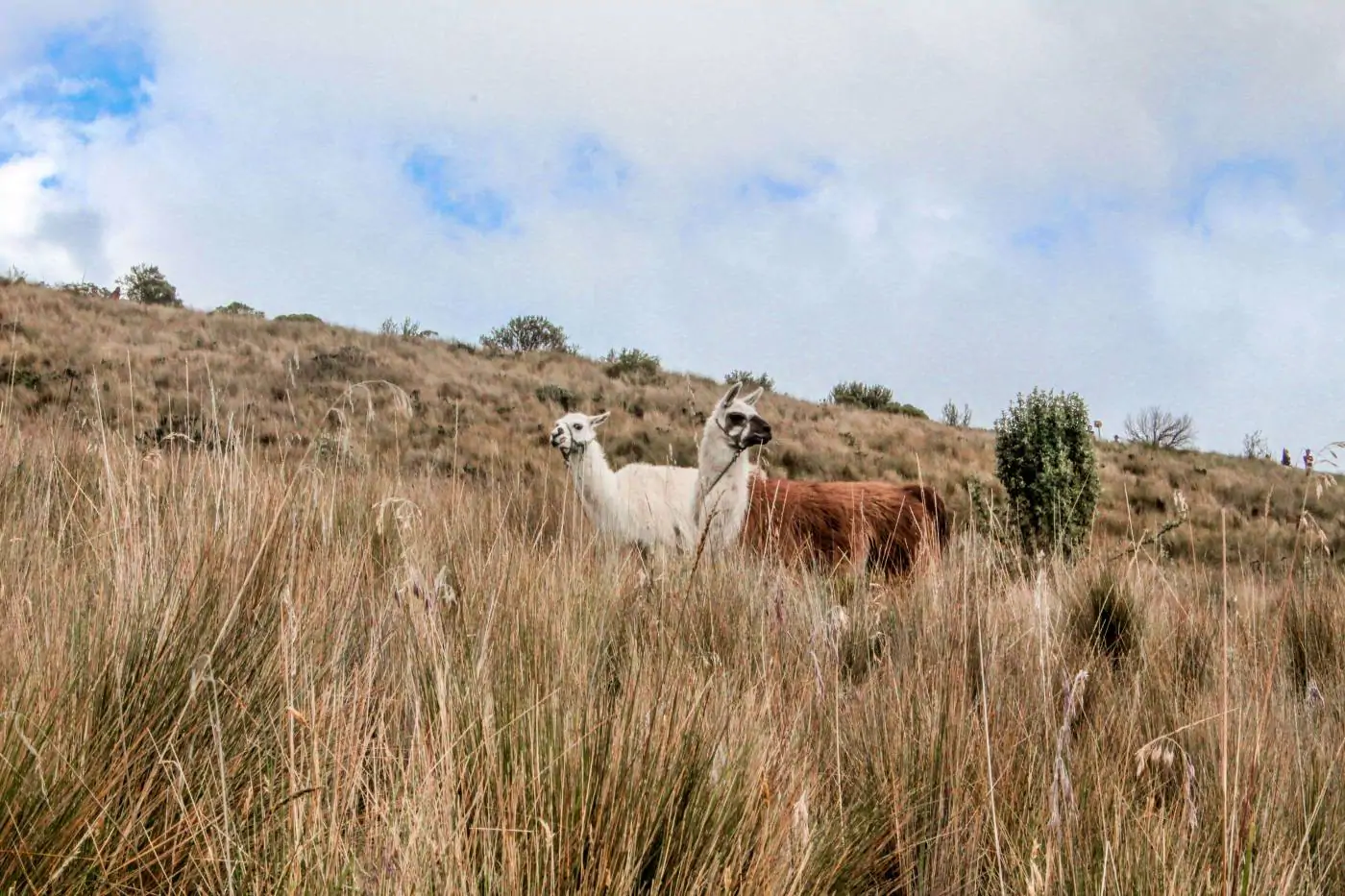 What are the Trail Conditions?
The trail is fairly well trodden in the beginning. After you pass the rock wall where you have to scramble a bit, it becomes slightly less clear as it's rockier. That being said, you won't get lost. After the rocky portion, you'll come to the steep sand hill on the left. Climb up along the right side where the sand is a bit more stable and you can use the rocks for leverage.
What to Bring?
SNACKS!!! Bring a few snacks and plenty of water for this hike. There is a concession stand and cafe near the Teleferiqo at the top. But after that, there's nowhere to fill up water or buy food.
If you have hiking poles I would suggest bringing them. I didn't have any but they could be helpful and I saw others using them.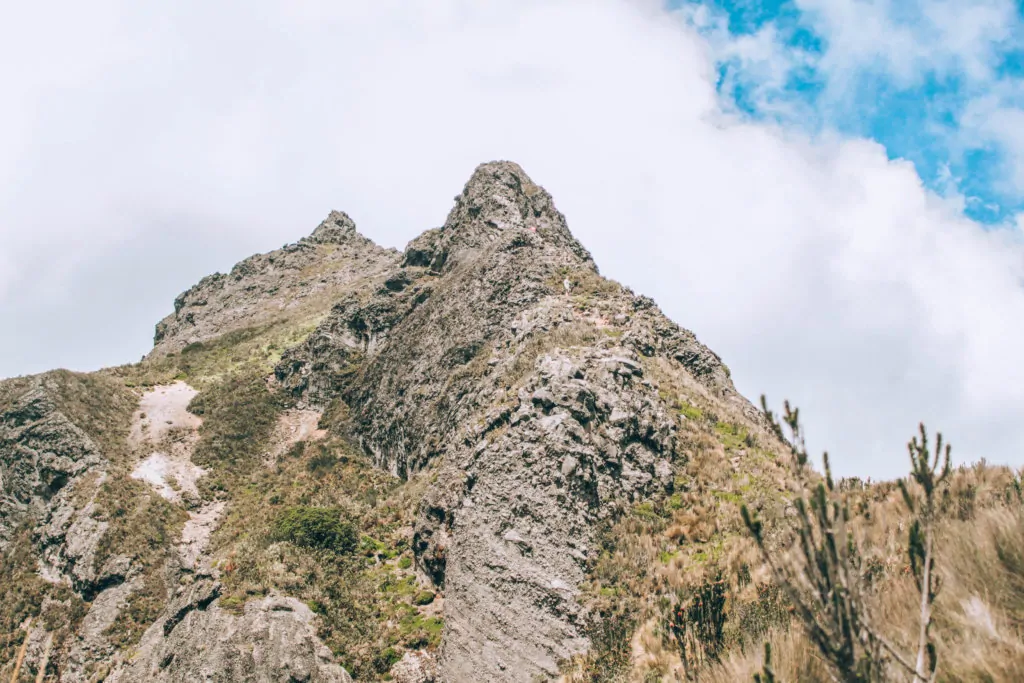 What to Wear?
Layers! It gets very cold at the top. A hat, beanie, and gloves are crucial. The gloves won't just keep your hands warm but will provide some protection when you climb the lava rocks at the end. Wear good hiking boots. Be prepared to get dirty and sandy. Also, be sure to wear sunscreen, the sun is strong here!
Like this post? Pin it for later!