Ecuador is a small country in between Colombia and Peru, most well known for the Galapagos Islands. However, there is so much more that this tiny country has to offer. If you're into colonial cities, hikes, waterfalls, small towns and shopping, then add Ecuador to your list. Your visit to Ecuador should start in Quito where there are plenty of things to do! But if you need to escape the bustle of the city, these are 5 awesome day trips from Quito.These 5 day trips from Quito are easily accessible by public buses but many tour companies also offer day trips. So depending on your time availability and budget, there is something for everyone!
I am a participant in the Amazon Services LLC Associates Program, an affiliate advertising program designed to provide a means for me to earn fees by linking to Amazon.com and affiliated sites. For more, check out my disclosure. 
Straddle the Equator at Mitad del Mundo
Can you go to Quito and not visit the center of the world? I mean, no. Supposedly there are two centers of the world, a real one and one that is close enough. I went to the one with the huge monument and museum. It's easily accessible by public bus.Hire a taxi to take you to La Ofelia bus station and find signs for Mitad del Mundo. Hop in line and pay $1.00 for the ride. It will drop you off in front of Mitad del Mundo. This was my first Ecuador public bus experience. Be sure to keep your belongings visible and enjoy the wild ride as the bus barely stops as people hop on and off and vendors sell their goods.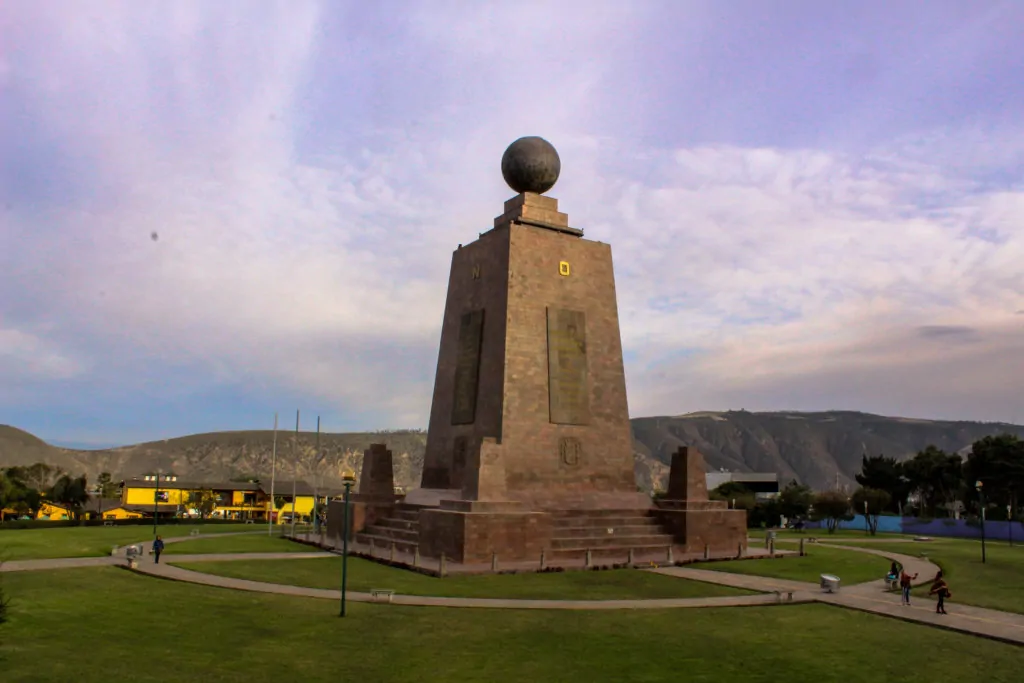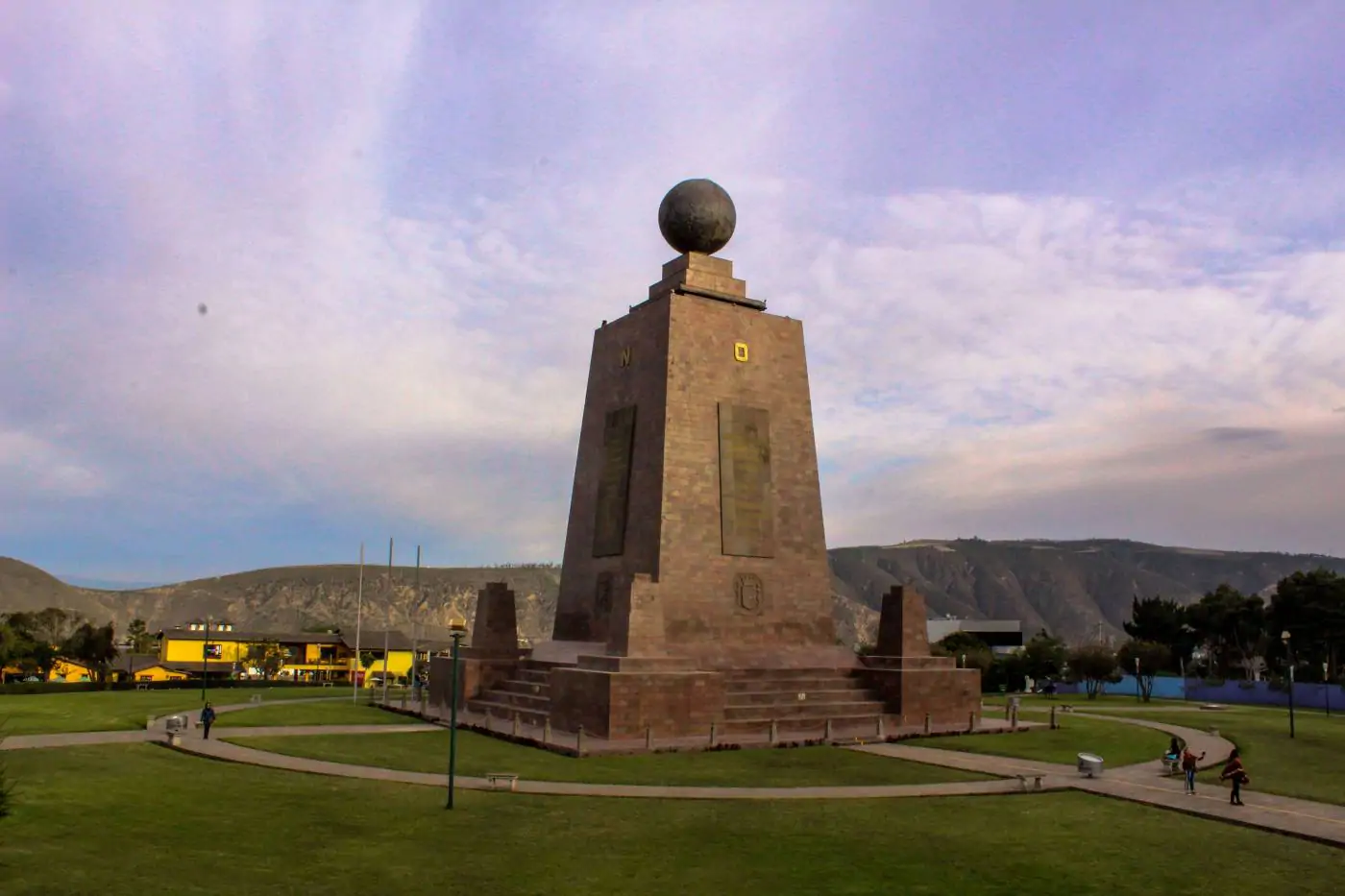 It took about two hours one way to arrive as there was quite a bit of traffic leaving the city, but it's only 20km away!Once there, it costs $5 to enter. Visit the monument which is a museum filled with trippy things that happen at the center of the world, and a history of the area. There are also shops, a planetarium, and a craft beer museum. And of course, make sure to take a photo of you straddling the line dividing the earth. I failed at that one…too many people and I was impatient.
Hike Waterfalls in the Mindo Cloud Forest
Mindo is easily one of my favorite places in Ecuador. It's a lovely escape from the noise of Quito. As soon as I stepped foot on the quiet dirt roads of Mindo on a rainy day, I was hooked. And, well, most days in Mindo are at least a little bit rainy, because you're in the cloud forest! Which means lush vegetation, sounds of nature, adventure activities, and waterfalls.Mindo makes a great weekend getaway, but for only one day, I highly recommend the waterfall hike.To get to Mindo by public bus, head to La Ofelia bus station. There are three companies that take you to the town of Mindo starting at 6:30 am. I was misled and told that one left earlier than that. When I arrived, there was no bus! But another company told me they would take me on their way to Los Bancos. I trusted them and hopped on.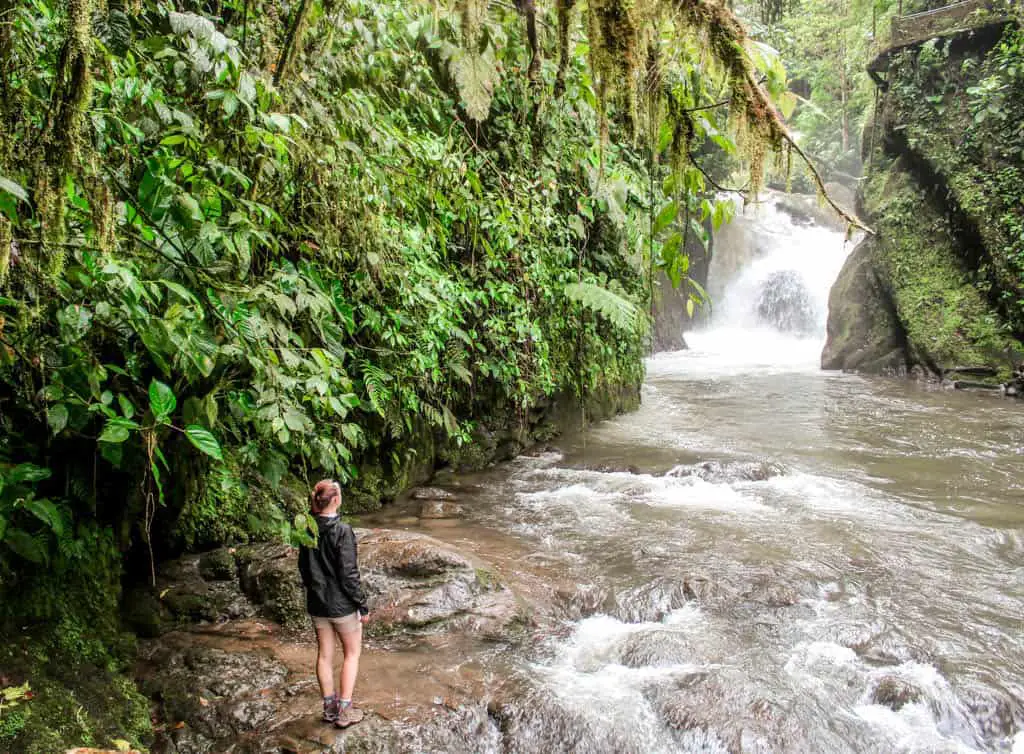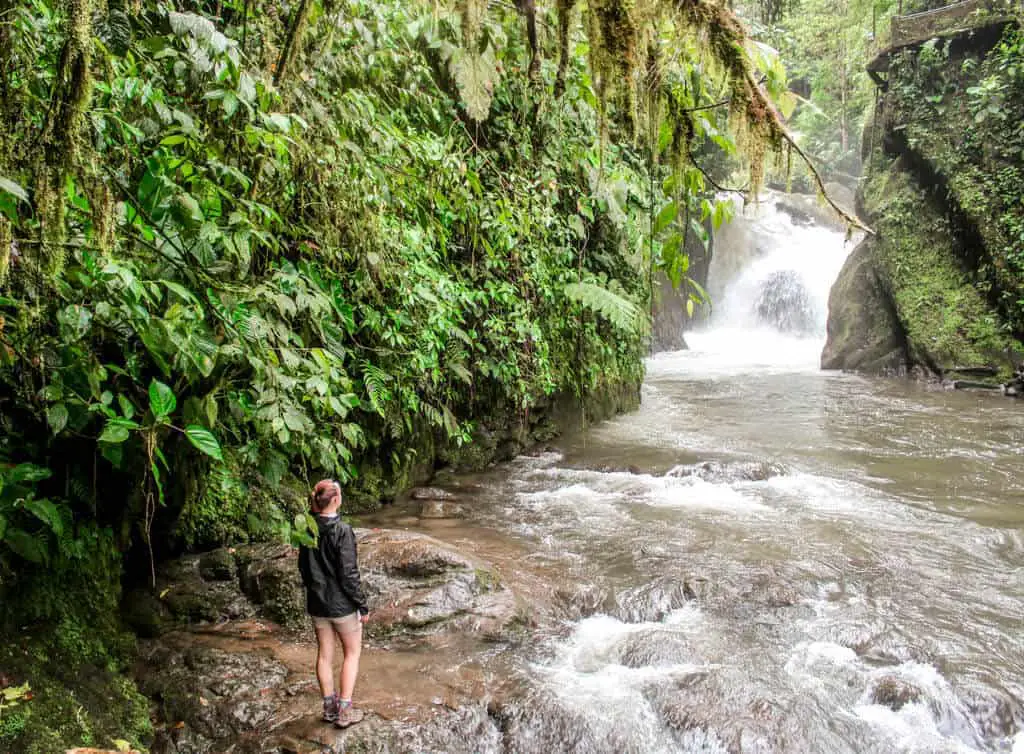 They remembered to inform me of where to get off the bus, which is on the side of the road. Across the road, there were pickup trucks waiting to take me to the center of Mindo. Either way, it's really easy to get to Mindo and takes 2 hours and costs about $5.00.Once in town, grab some breakfast at one of the many restaurants. There are vegan, Italian, and of course Ecuadorian options. I also recommend stopping by the bus station to check the timetables for the return to Quito and to purchase your ticket. Then hire a taxi to take you to the cable car for Nambilla Cascades. It cost $10 for a round trip taxi ride. I was unsure that my driver would be there when I returned from my hike…but he was!After a somewhat sketchy cable car ride across the cloud forest, the hike begins.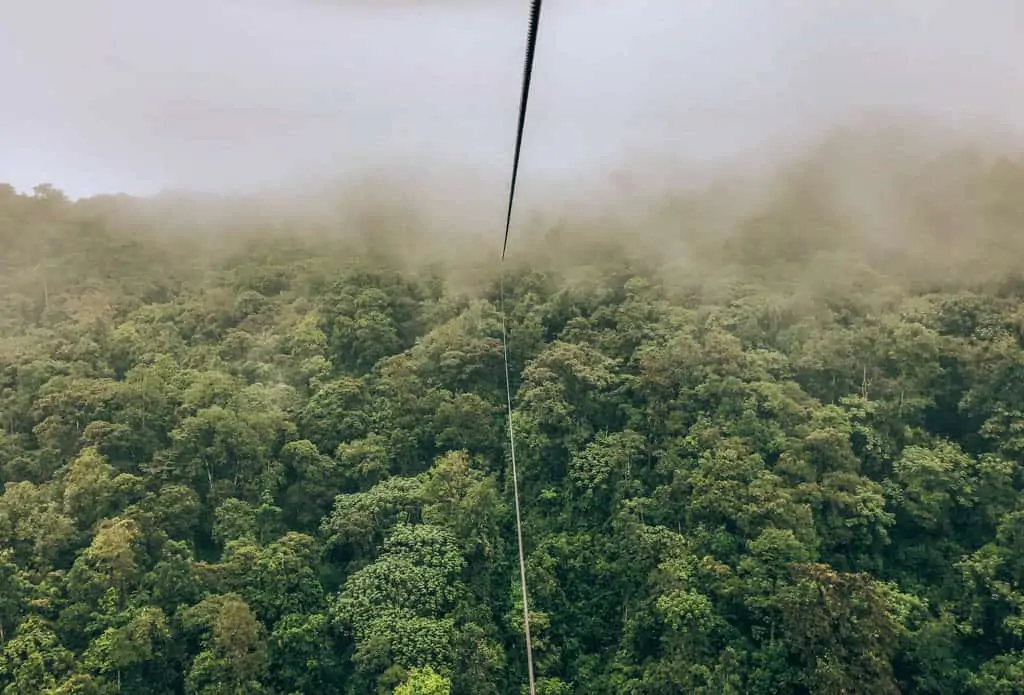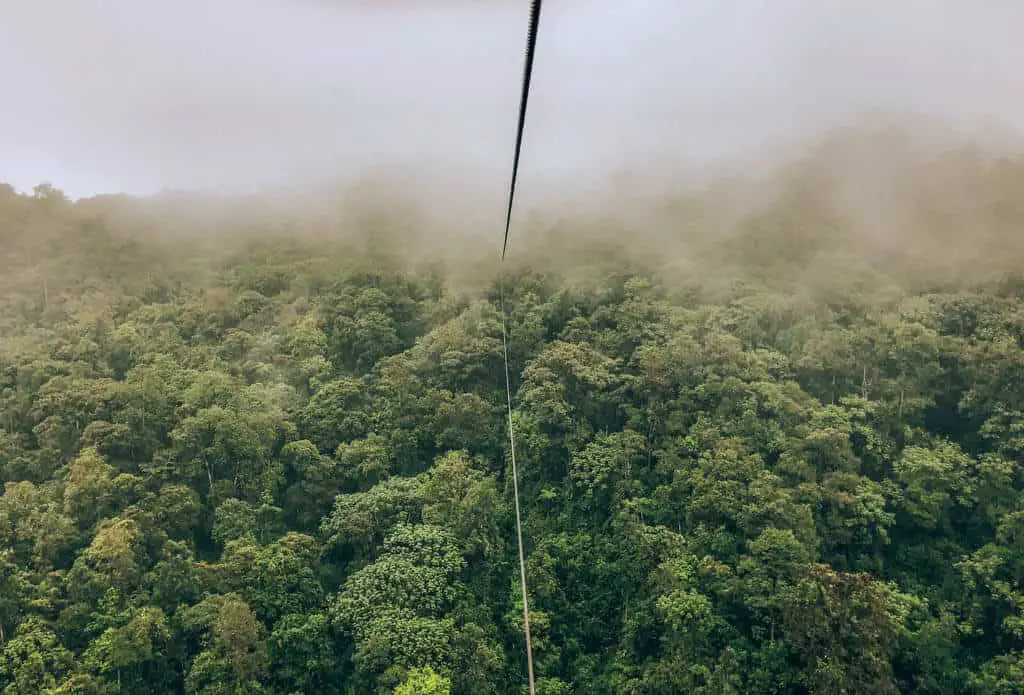 There are a series of 6 waterfalls and the trail is well marked. It takes about 3-4 hours depending on if you decide to jump into one, swim, or take lots of photos. There are dogs along the trail who are harmless and just walk with you like little trail guides. It will be rainy, but muggy. Gotta love that jungle weather. I wore a raincoat over a tank top, shorts, and my waterproof hiking boots that came in handy when crossing streams. If you plan to swim or jump wear your swimsuit underneath your clothes.
Hike Cotopaxi
Cotopaxi is perhaps the most well-known volcano in Ecuador. If you were to draw a volcano, you would draw Cotopaxi as it comes to a  perfectly symmetrical snow-capped peak. It's also an active volcano, in fact until the end of 2017 it was closed due to its increased activity. Located just 30 miles south of Quito on the Panamerican highway, it makes for a perfect day trip.You can DIY this by taking a local bus towards Latacunga and then a taxi to the parking lot where the hike begins. Then returning in the same way. I didn't do this, so, unfortunately, I don't have too much information about it. At this point, I still wasn't confident enough in my travel skills to handle this alone.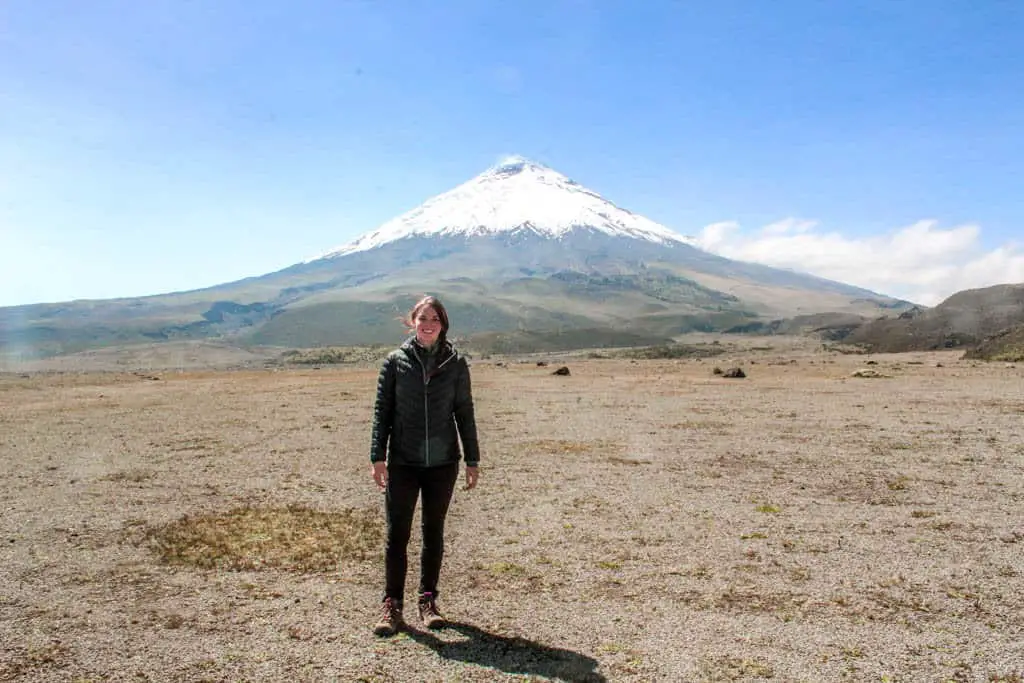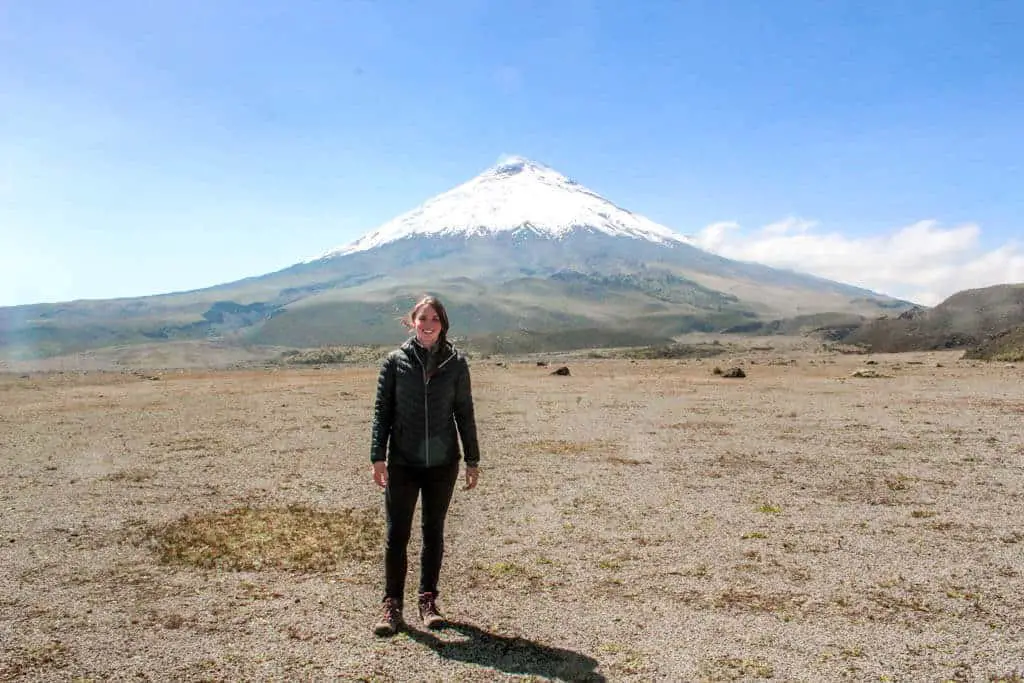 Instead, I paid for a day trip to Cotopaxi that included round-trip transportation, two guides, filtered water, breakfast, and mountain bikes to ride down the volcano after the hike. We had great weather in the morning with clear skies to view Cotopaxi's peak and for the hike up. When we reached the refuge the fog began to roll in and hung around for the bike ride down the volcano. It was a pretty epic day.
Otavalo Market
Otavalo is known for its bustling Saturday market. There is a market every day, but all of the action takes place on Saturday. I did this as a day trip, which meant I missed the 6:00 am animal market, which I've been told is quite a site to see. I imagine the treatment of animals here is in stark contrast to the treatment on the Galapagos Islands. If you'd like to witness the animal market, arrive on Friday night and rise early so you don't miss it. But for all the day-trippers out there, head to the north bus terminal, Carcelen, early on Saturday morning. It's a very popular destination for tourists on Saturday mornings, so just look for the long line under a sign that says Otavalo to buy your bus ticket. Then head to your bus. Buses to Otavalo leave every 20 minutes, cost $2-3, and take about two hours to get to Otavalo. The earliest bus leaves at 5:00 am.The bus drops you off one block away from the market. It's very hard to miss, but just ask one of the bus drivers where the market is and they'll point you in the correct direction.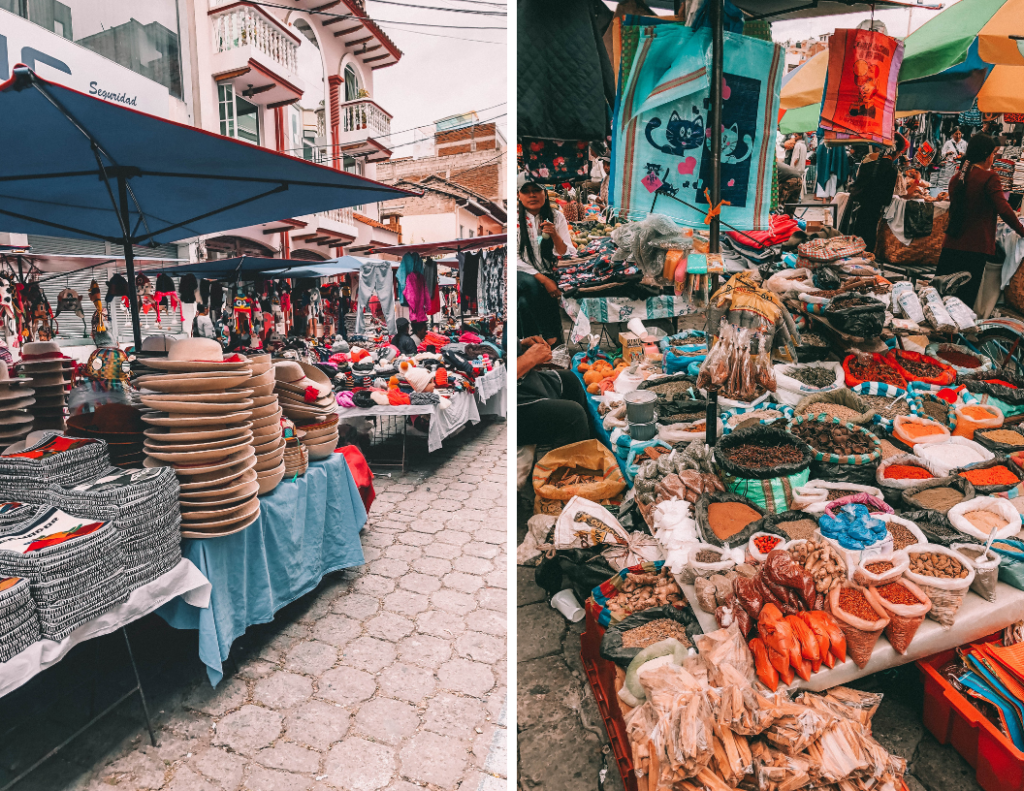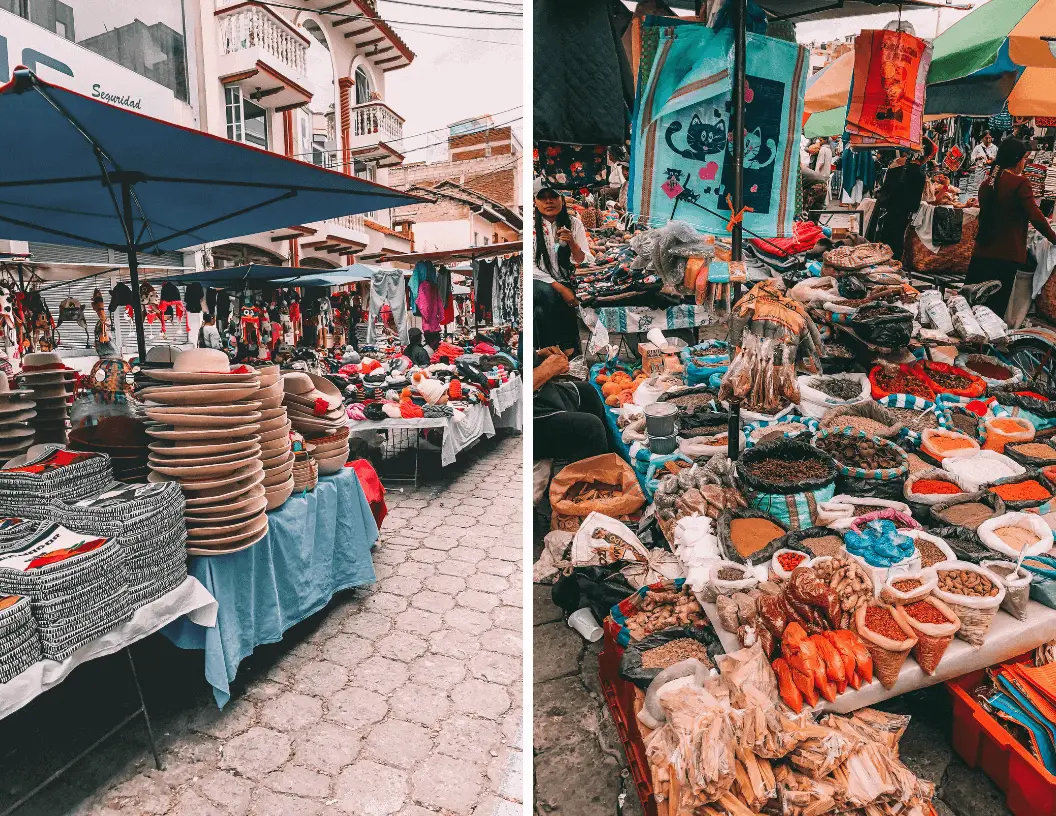 At the market, you'll find food stalls cooking up local delicacies, clothing stalls, artists selling their goods. You'll find stalls filled with sacks of spices, fruits, and veggies. The center of the market sells lots of ponchos, scarves, and other clothing items. Try your bargaining out here, but definitely explore stalls further away from the center to get a better price and higher quality items. When you've eaten and shopped to your heart's content, return to the bus station and hop on any bus headed for Quito. You will pay the driver on board. Make sure to carry plenty of cash. There are ATMs around if you just need to get one more sweater.
Witness Quilotoa Crater Lake
Quilotoa crater lake is a beautiful turquoise blue lake in the crater of a formerly active volcano. It's a breathtaking site and one not to be left off of your Ecuador itinerary. Visitors usually arrive at Quilotoa crater lake after a 3-day hike through the Andes. However, if you're pressed for time or just not into hiking, this would make for a good day trip, or overnight, from Quito.It's a bit further away than the other day trips but easily accessible by public bus. From the south bus terminal, Quitumbe, in Quito, hop on a bus to Latacunga. It should cost about $2.00 and will take an hour. From Latacunga you can take a bus directly to Quilotoa or to Zumbahua. This bus journey is roughly $2-3 and will take two hours. If you go to Zumbahua a truck will take you to Quilotoa for $5.00.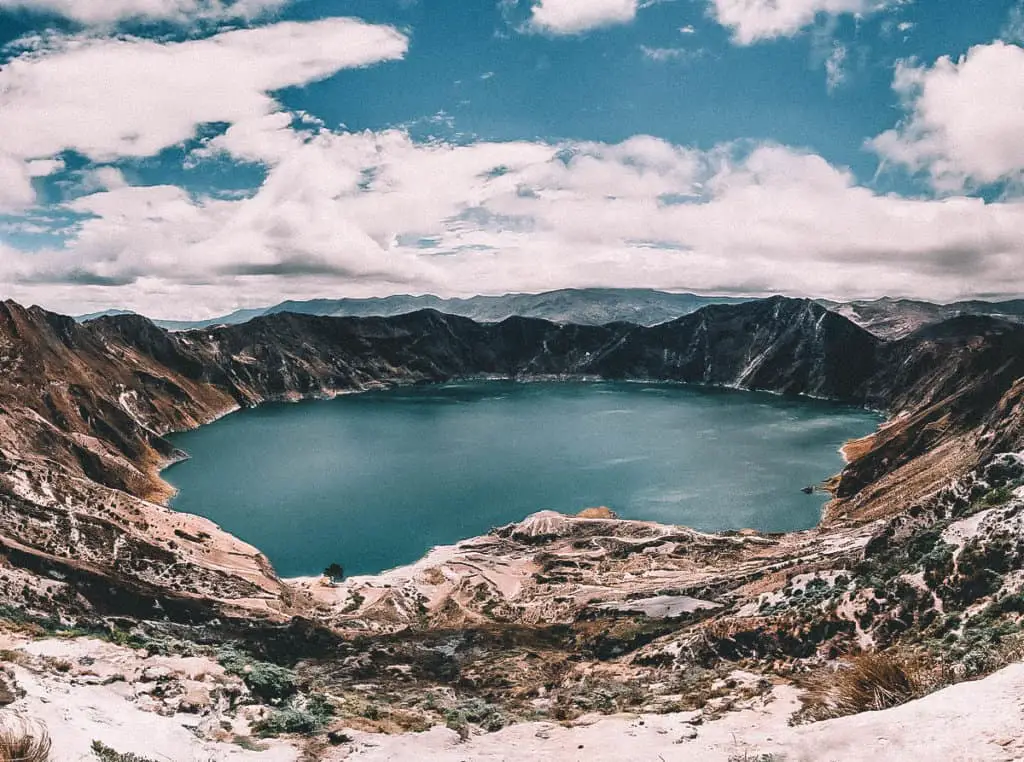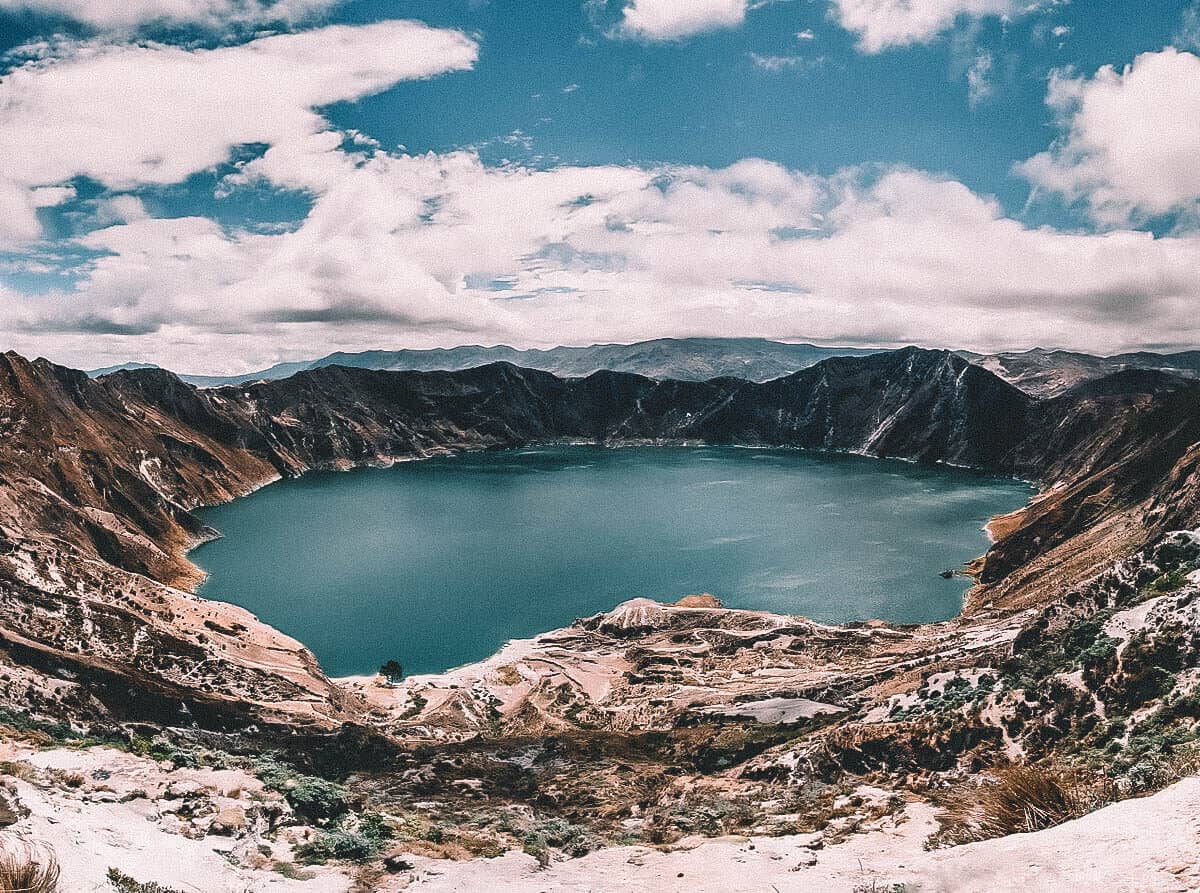 Once in Quilotoa, you will have incredible vistas of the crater lake. You can walk down to the water, and while swimming is not an option, kayak rentals are. I didn't rent one, as I did the three-day trek, but it sounds like a fun day activity. It's a steep climb back up, so a great opportunity to work in some exercise or there are mules you can rent to take up. To return to Quito, just do the reverse. As it is later in the day, buses directly to Latacunga may not be available. So you'll have to go back to Zumbahua and then hop on a bus to Latacunga. From Latacunga you will change to Quito.Honestly, this is a lot for one day. I'd recommend staying in either Latacunga or Quilotoa for the night so you're not rushed.Book your stay at Hostel Tiana at Latacunga.If you truly have only one day to do this, then a good option could be to book a day tour. This takes out all of the switching buses and ensures reliable transportation to and from Quito. It likely also includes a meal!
A Day Trip I Wish I Made Time for is Papallacta Hot Springs
My roommate went and said it was a great way to spend the day, soaking in hot springs and escaping the chaos of Quito. She went by public bus and said it took about 2 hours. If you have an extra day to fill, why not relax in hot springs?And for me, another reason to go back!Ecuador is a small but mighty country and there are so many great places to explore. But if you're short on time, these day trips will give you a great taste of the various activities and experiences Ecuador offers!
Like this post? Pin for later!