A friend of mine who'd recently visited Ecuador highly suggested I go to the Mindo cloud forest to hike the waterfalls. I love advice from people I know, their recommendations tend to be spot on. So one weekend, I escaped from Ecuador's busy capital city, Quito, for a wander in Mindo.
Mindo cloud forest is located two hours north of Quito by bus. A bit of misinformation surrounding the bus schedule led me to La Ofelia bus station incredibly early one Saturday morning – only to learn the first bus scheduled for Mindo was in three hours. But another bus company headed for Los Bancos told me they could take me on the way, at least that's what I thought I'd gathered from my limited Spanish speaking abilities. Deciding to trust him, I paid $4.50 and hopped on the bus.  
I obsessively checked the maps on my phone on the windy two-hour bus journey to ensure I didn't miss it! Turns out I didn't have to worry as the driver remembered to tell me to get off at the right stop! And by stop, I mean side of the road. This must be common as across the road, pick up trucks waited to take people down the hill to Mindo. Seeing no other option as it was pouring rain, I paid $3.00 for the taxi into Mindo. As soon as we pulled into the center of this small town, I felt a relaxed smile forming on my face.
A sense of calm washed over me as the taxi made its way toward my hostel. I looked out the window at the cobblestone main street lined with shops, restaurants, and tour companies as it gave way to dirt side streets, muddy from the rain. I realized I felt calm and relaxed – a stark contrast to the tension I felt consistently in Quito.
My taxi driver dropped me off at La Casa de Cecilia, a hostel recommended by friends in Quito. It was charming and looked like a tree house surrounded by lush greenery on the banks of a Rio Mindo. I was too early to check in, yet just in time for breakfast. Sitting alone at a table for four facing the river in the hostel's outdoor dining space I set about figuring out things to do in Mindo.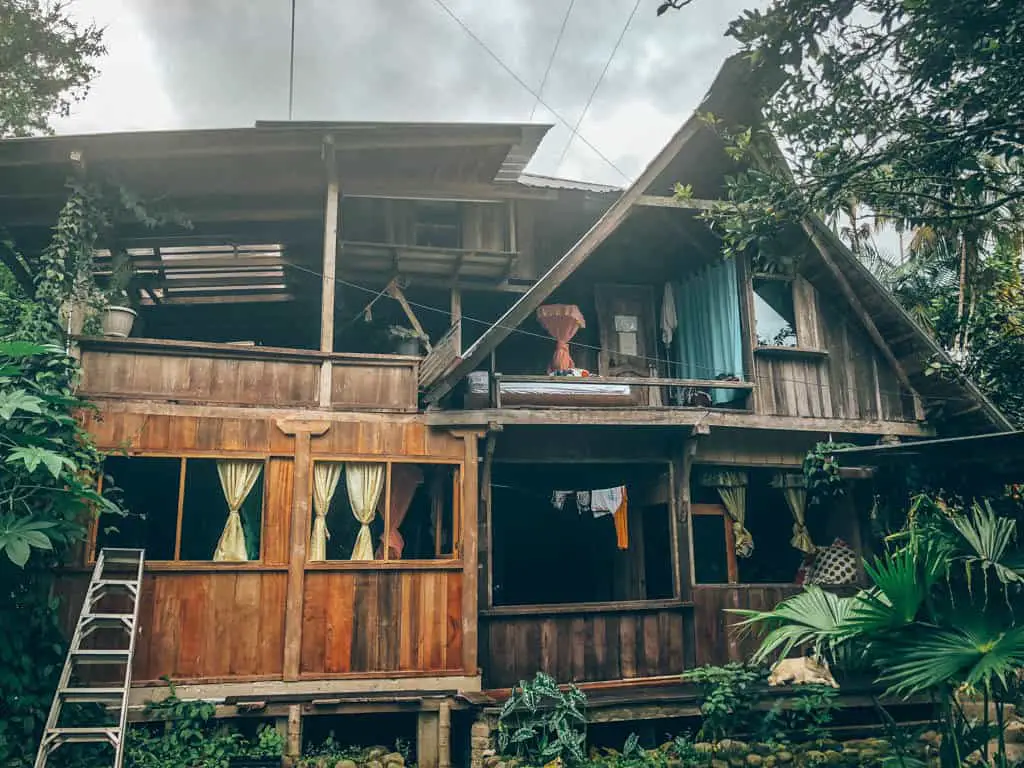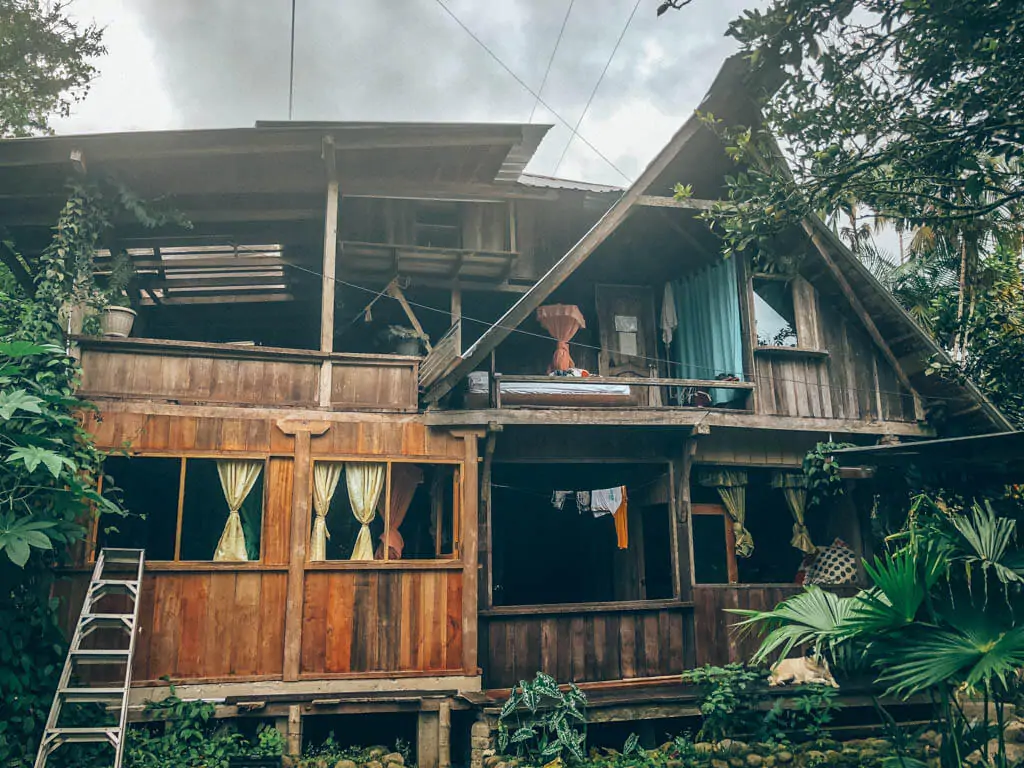 Nambilla Waterfall Hike
After a healthy portion of eggs, bread, and fresh fruit, I checked in to my private room at La Casa de Cecilia (only $1 more than a dorm). I threw on my hiking clothes and walked the dirt road to town to find a taxi to take me to the Tarabita. 
The Tarabita is about 15 minutes outside the small town center of Mindo. I paid $10 for a round trip ride. What is a Tarabita you ask? Well, it is a rickety man powered cable car system that takes you across the cloud forest at a dizzying height to the start of the waterfall hike.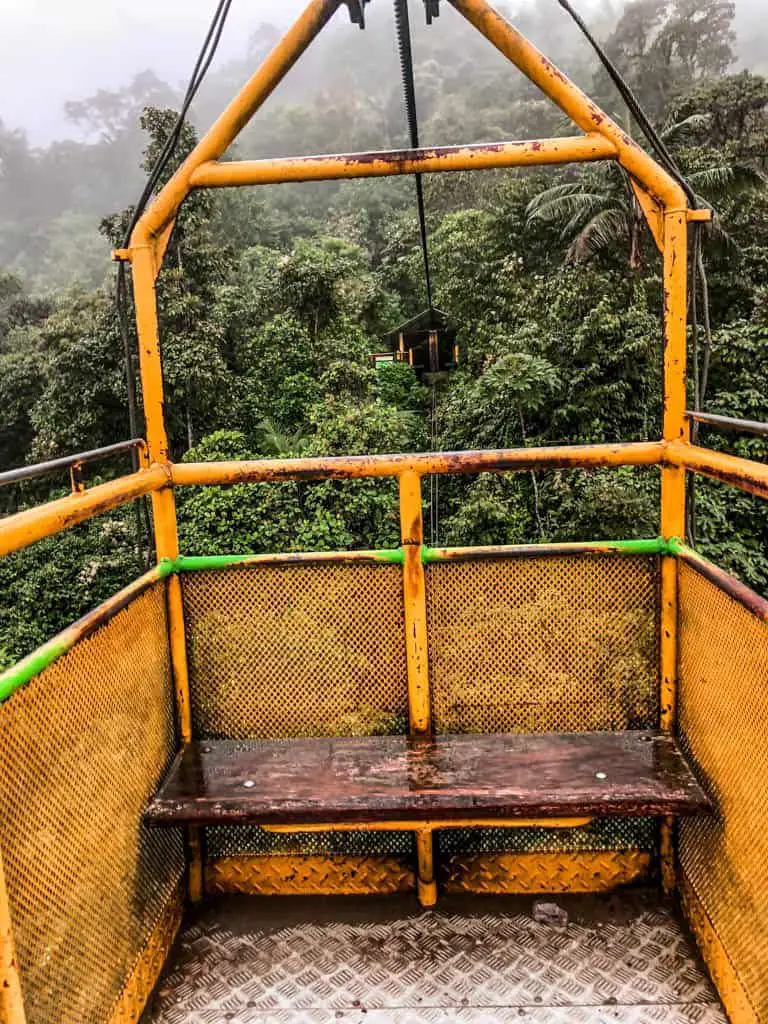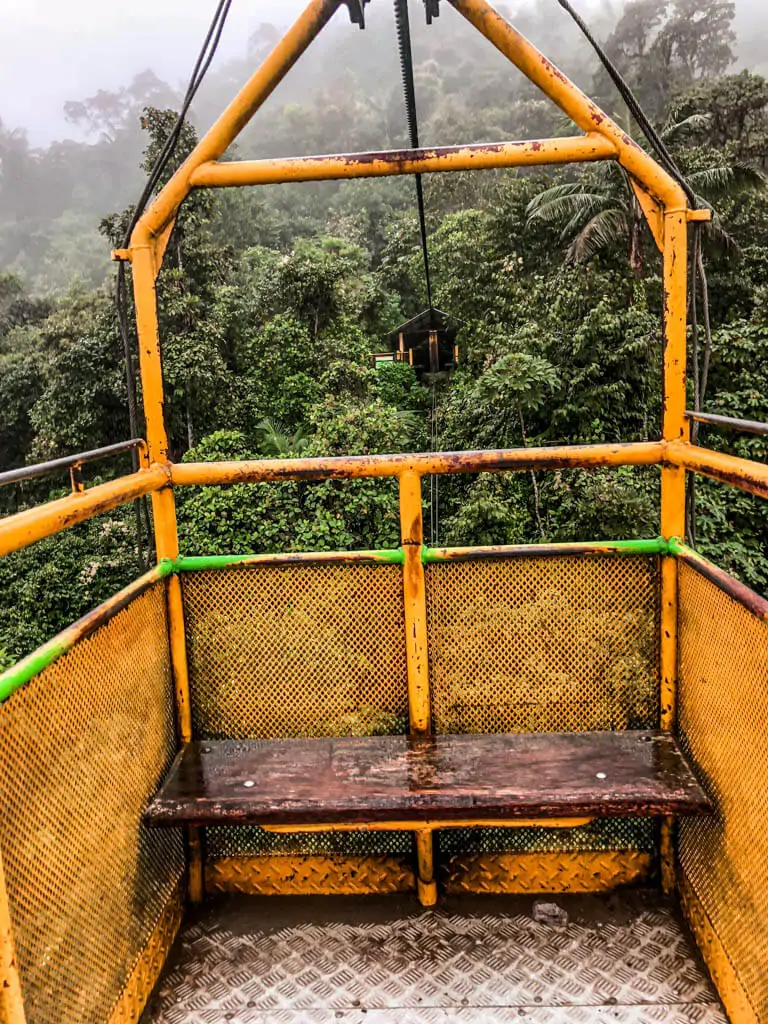 It's definitely a questionable transport system, but I could not stop grinning at the fact that I was in Mindo, on my way to the waterfalls.
First, I hiked down to the Nambilla waterfall, which is the main attraction. Here you can pay $3.00 to a man who will harness you into a rope, and take a video of you jumping 12m into the turbulent water below. It had been raining quite heavily the night prior making the waterfall more powerful than it looked on the videos he showed me of others jumping off.  I chickened out. Didn't jump. Perhaps had I been with someone else I might have, but I couldn't convince myself!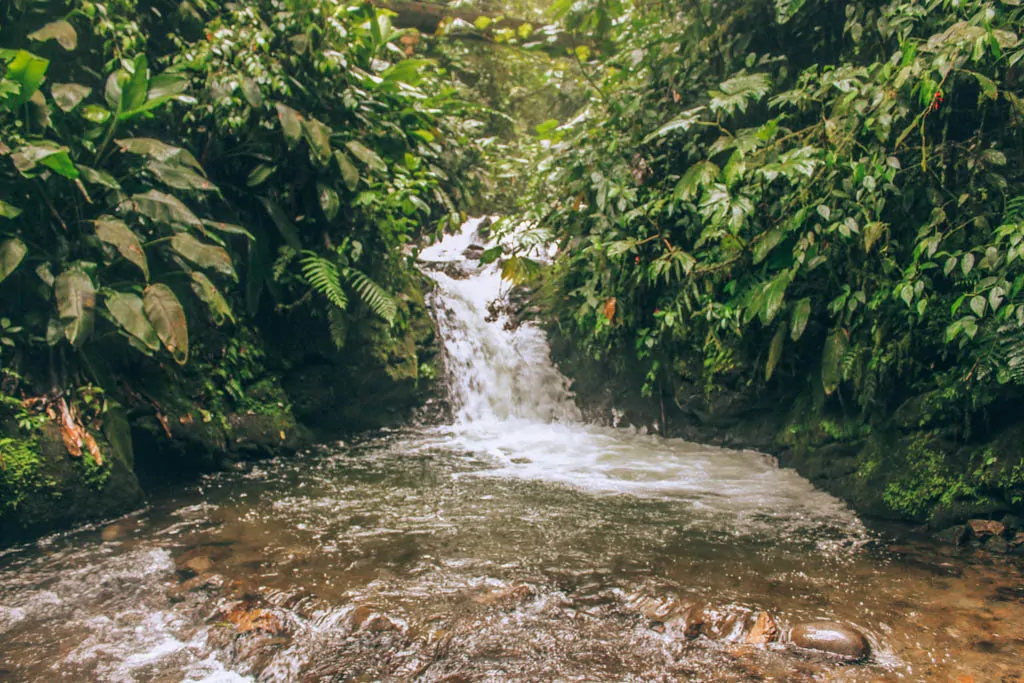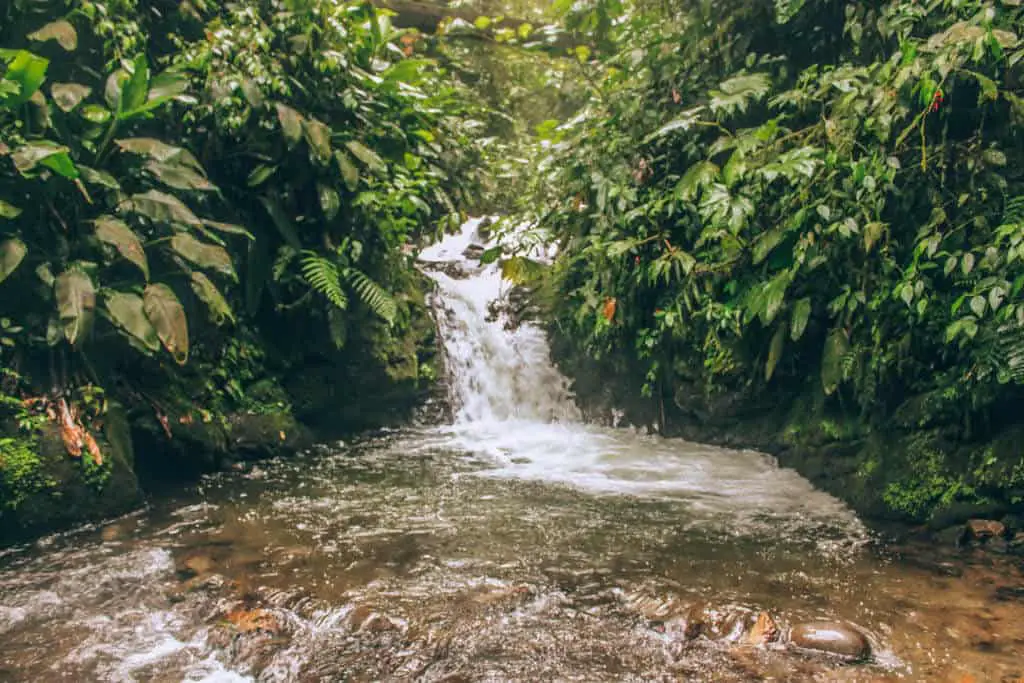 Instead, I walked on beneath the cover of the cloud forest, light rain falling, and the echo of the waterfalls following me toward the next falls. There are a total of 6 waterfalls you can hike to and I wanted to see them all as I relished the quiet noises of nature compared to the chaotic noise of Quito. Hot and sweaty, I arrived at the third waterfall, which had an easily accessible pool for swimming. I dropped my backpack, stripped down to my swimsuit, and jumped into the freezing, yet refreshing waters.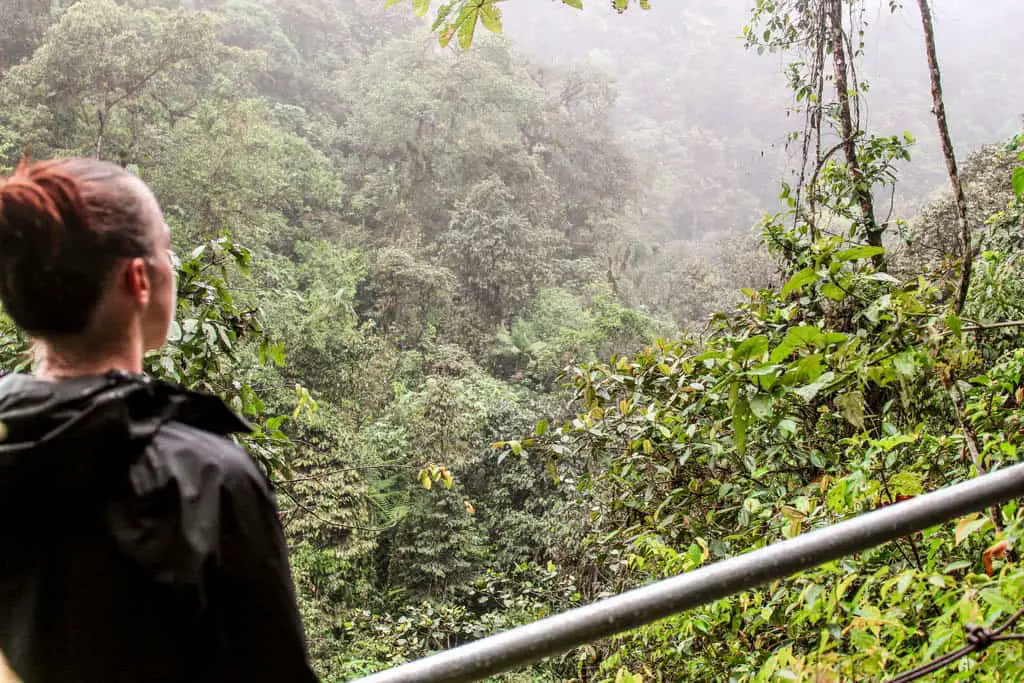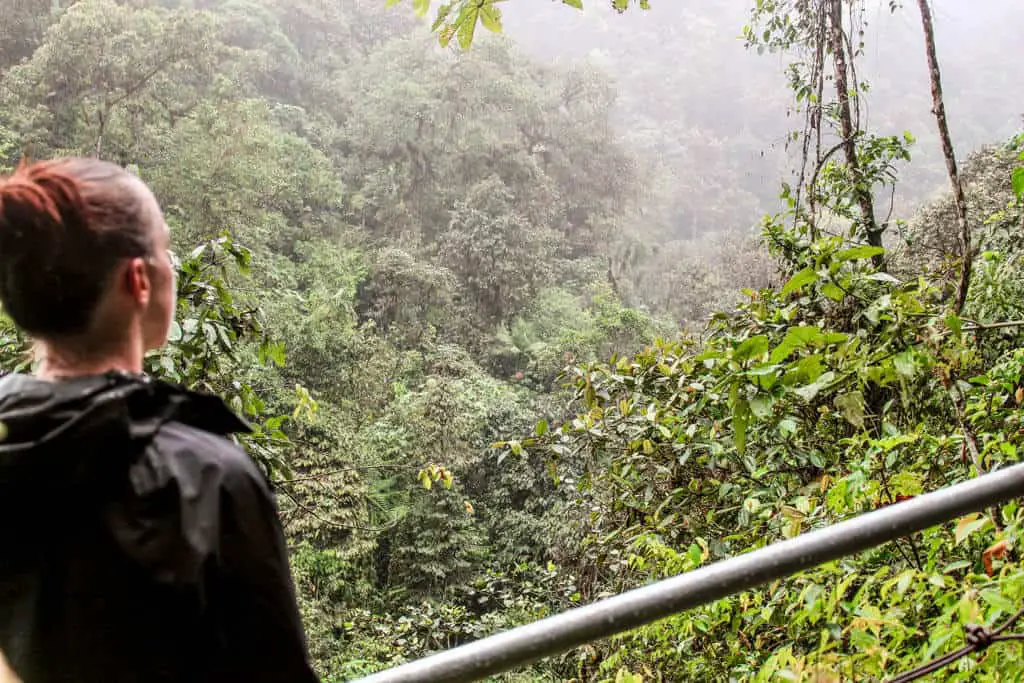 The fourth waterfall had a rope to climb to get closer to it, but nowhere to leave my belongings, so i didn't linger there. A pup had joined me on my quest for all 6 waterfalls at this point. Together we arrived at the fifth waterfall where I noticed the path disappeared under a rush of water.
I watched a group ahead of me struggle to cross what can really only be called a river. I contemplated crossing to meet my goal of all six waterfalls, but as I watched one ahead of me fall in, I opted to turn back. My hiking boots were doing an awesome job at keeping my feet dry up to this point. But, I knew as soon as the water entered from the top of the boot, I'd have to manage soaking wet feet the remainder of the hike. That's just no fun.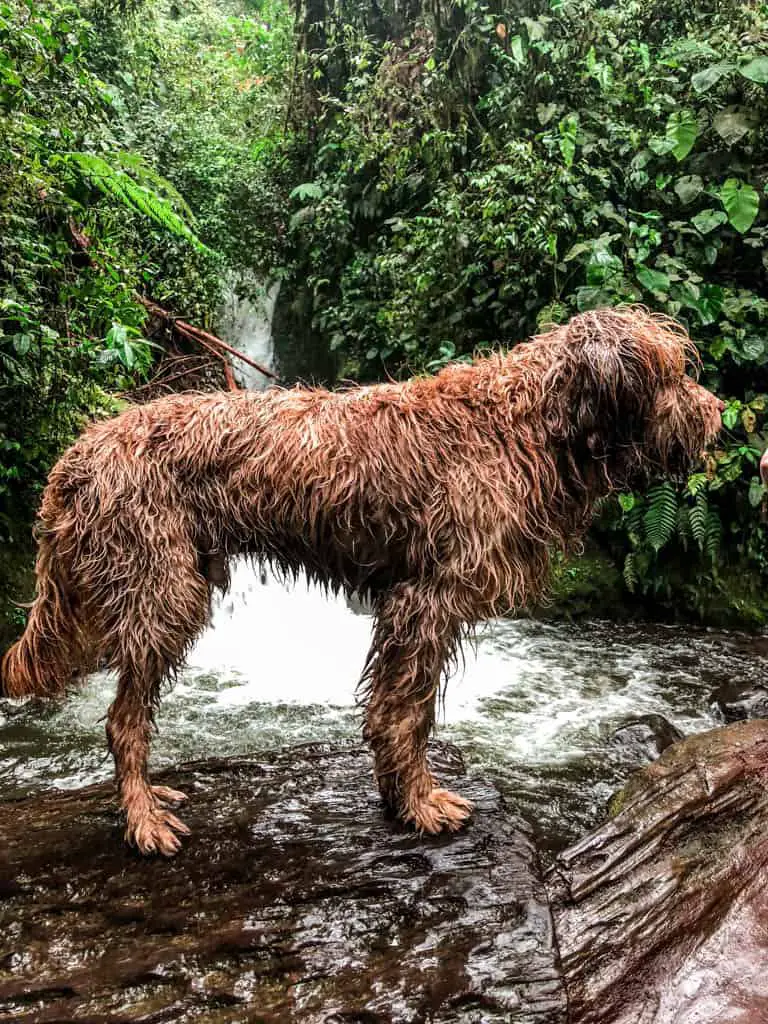 Hiking back to the Tarabita to make the beautifully terrifying cable car ride back into town, I noticed my stomach rumbling. It was a good time for lunch.
Try Unique Food
Mindo is home to some very unique restaurants. There are, of course, traditional locations, but I also found a vegetarian restaurant that used quinoa as its main ingredient in every dish. Next to it was a crepe place and across the street, there was an Italian restaurant. On the other side of it was a German place, I believe. I actually just tried to find it on Google Maps and you know the street view? Well, it won't let me walk down the street it's on! I've never had that happen before!
That being said, I had the Quinoa burger and Quinoa ice cream at Mishqui Quinde. And both were delicious.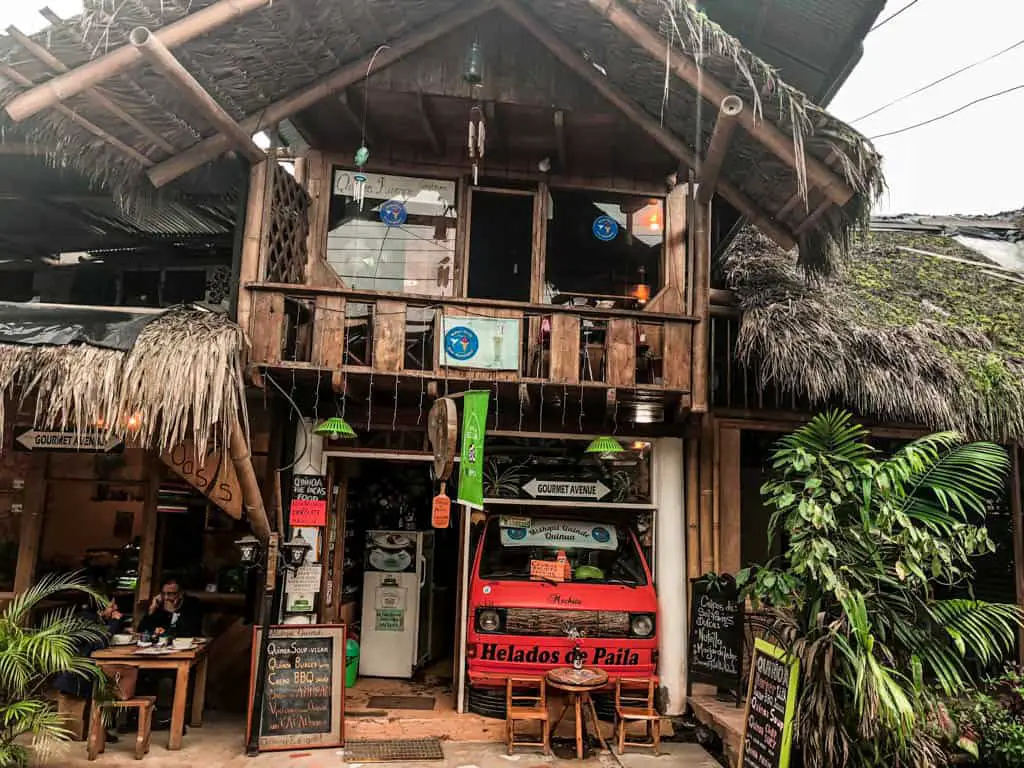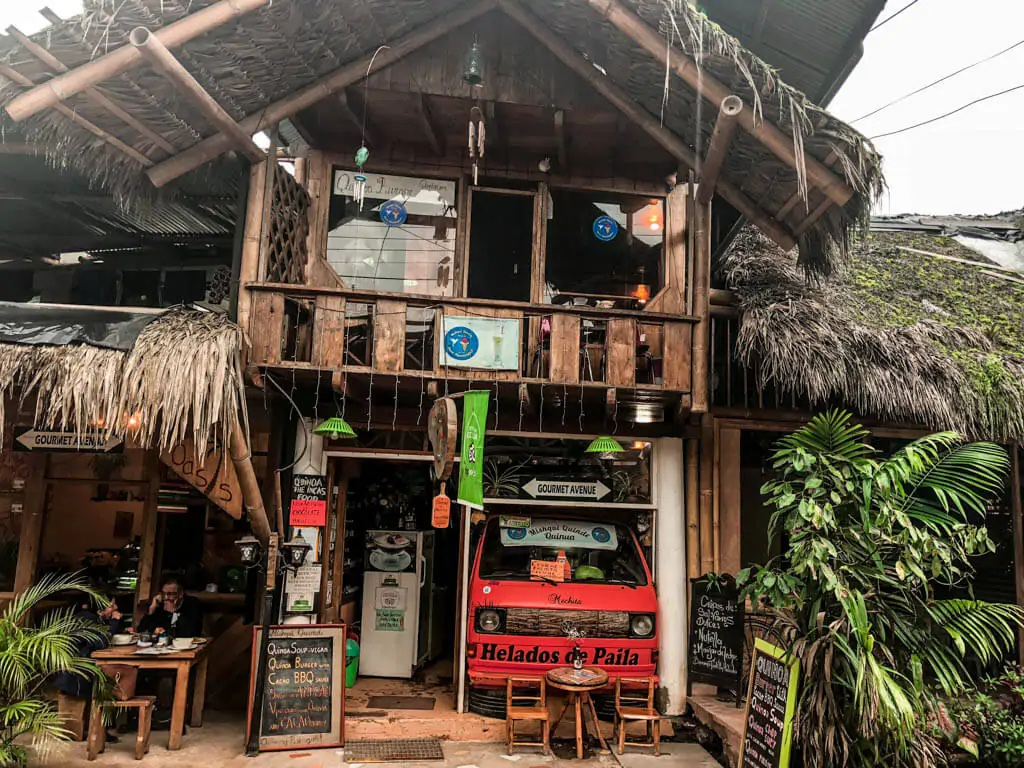 Relax in a hammock!
I returned to La Casa de Cecilia to change into dry clothes and figure out what to do with my afternoon. Mindo is kind of like a mini Baños. It's filled with adventurous activities like ziplining and tubing, but all I really wanted to do was yoga and read a book in a hammock.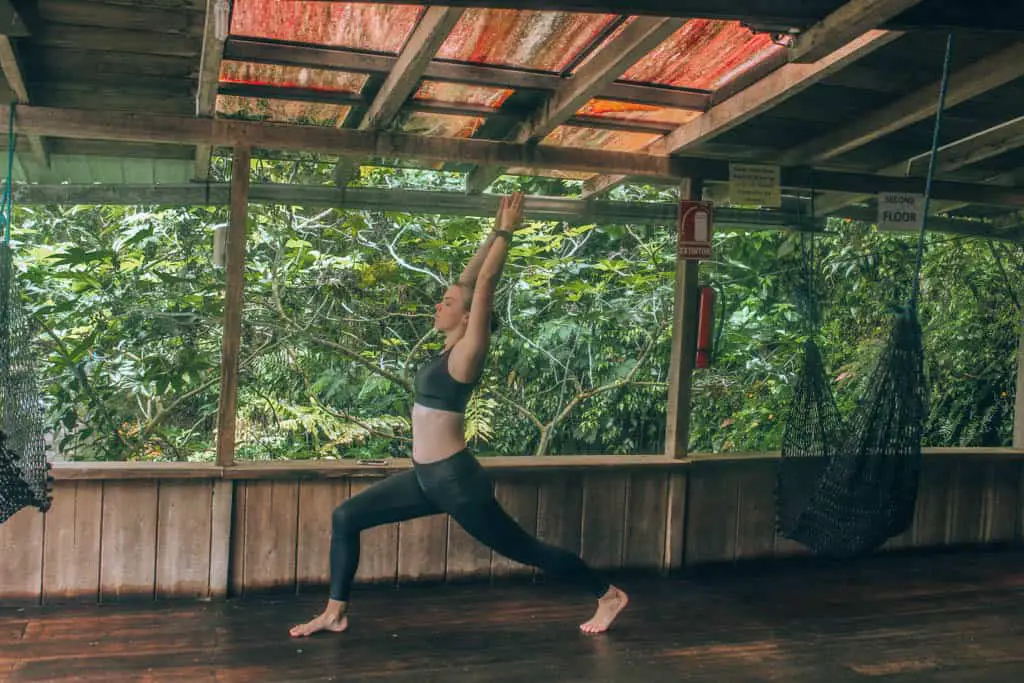 After being in the chaos and noise of Quito for a few weeks, my body was requesting calm and quiet – not ziplining. So I honored that and after a great yoga sesh, I found a hammock next to the river at my hostel. There I finished a book and napped. That's the beauty of solo travel. I was able to pay attention to my own needs and not feel pressured to do something else!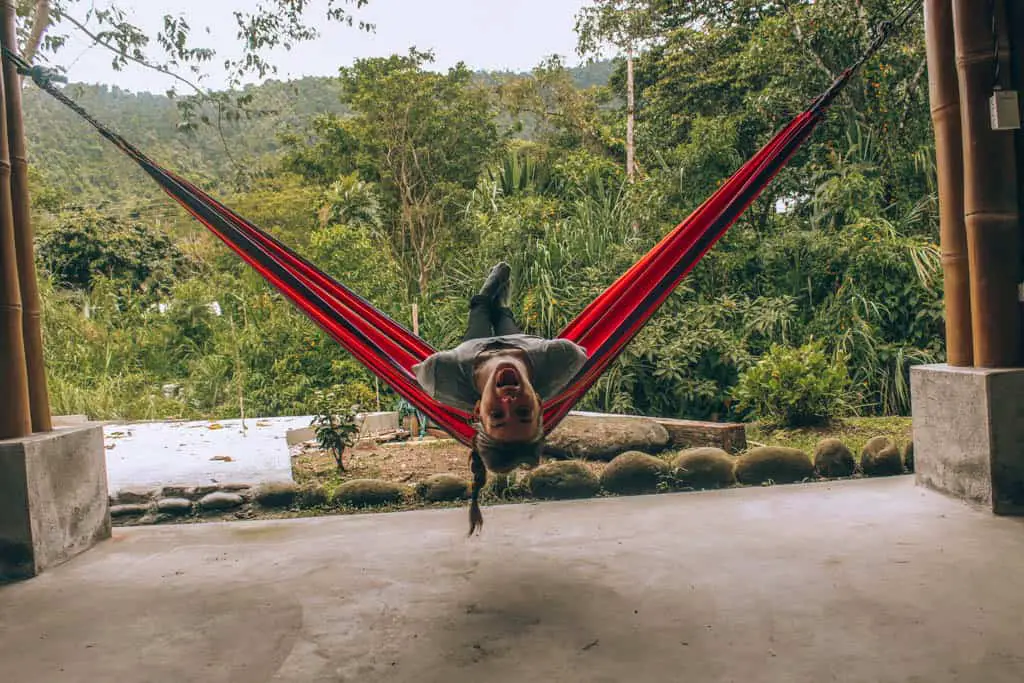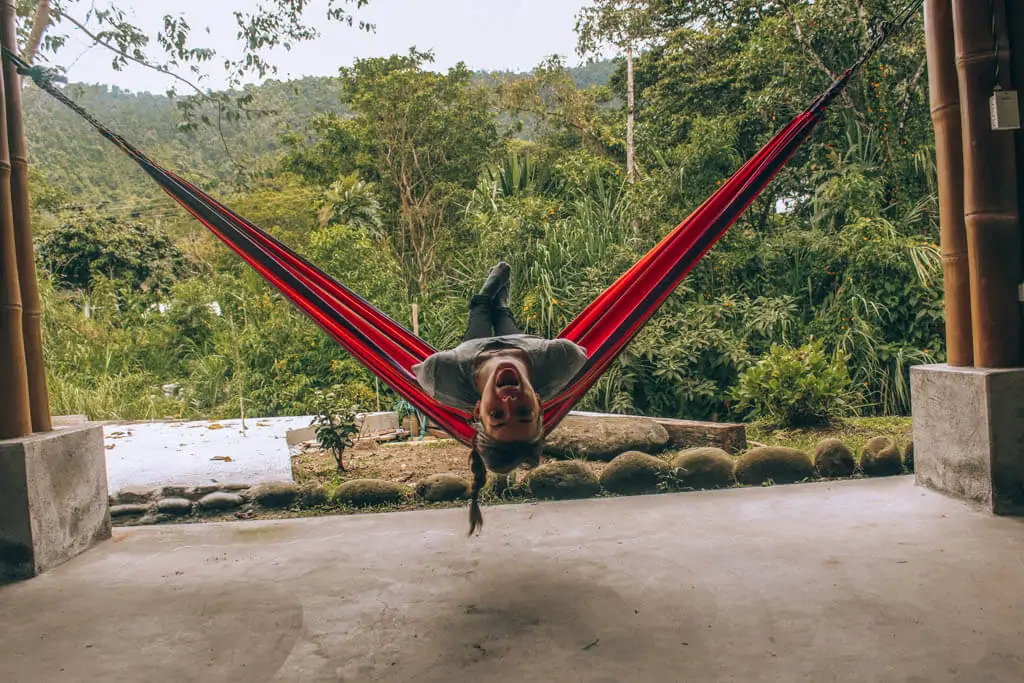 El Quetzal Chocolate Tour
The next morning, after a lush sleep in until 8:00 am! I know that doesn't sound like much, but in Quito, my daily alarm clock was honking horns at 6:00 am! After another yoga practice, I meandered to El Quetzal for a chocolate tour. According to the website, tours take place every hour from 10:00 am to 5:00 pm for $10. I was lucky enough to get a private tour as no one else showed up for my hour! I got to see the entire process of chocolate production – from cacao bean to my lips! At the end, they let you taste cacao in different forms, including cacao tea, which is amazing. You should go to Mindo and try it!
Other Things to Do in Mindo, Ecuador
The chocolate tour ended my trip to Mindo. So, I didn't get to see the Mariposa farm (butterflies!) and I didn't zipline, tube, or go birdwatching (all things recommended to do in Mindo). But I did take the opportunity to relax and get back to nature. Something I didn't realize I'd been needing while in Quito.
So if you happen to be in Quito for a while and need a break I highly suggest escaping to Mindo. Even writing this now makes me smile. I'm sure that the small town nestled in the cloud forest will bring a smile to your face.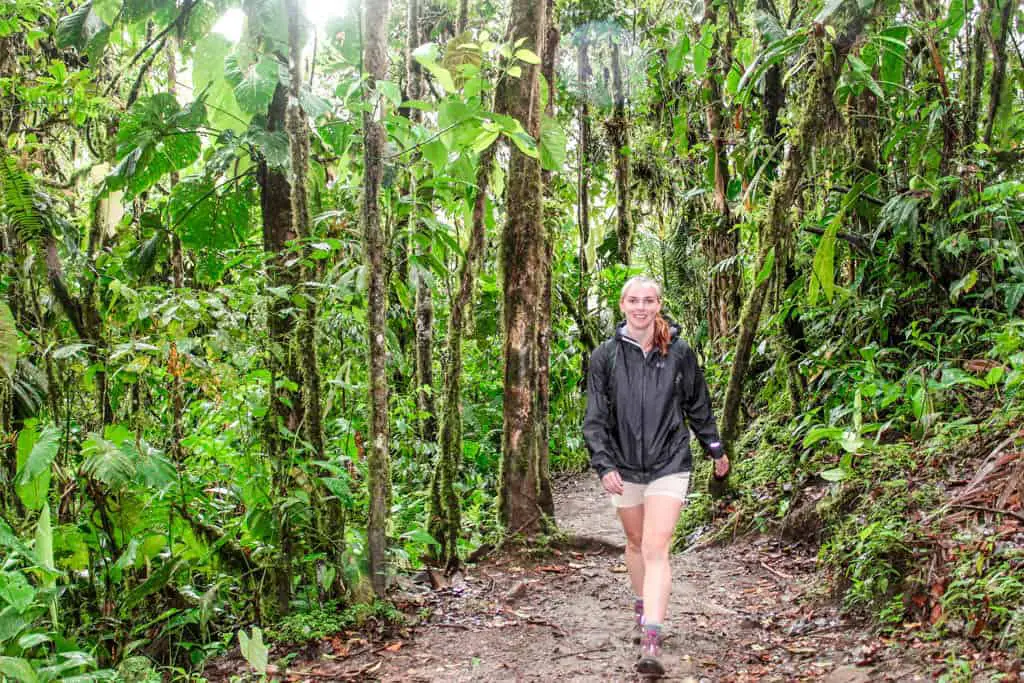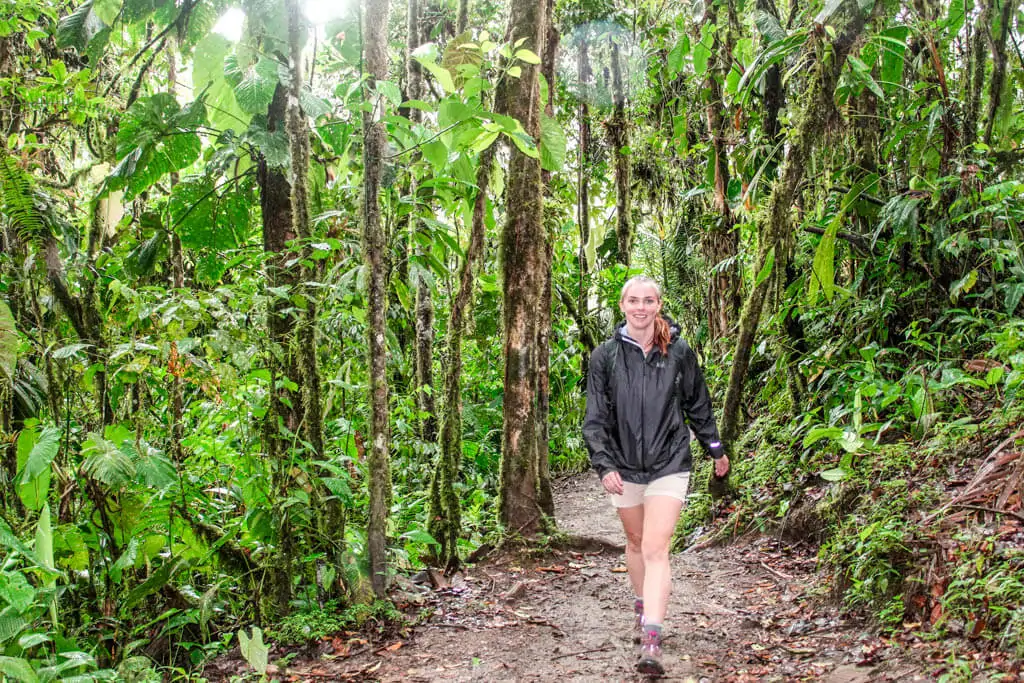 FAQ
How to Get to Mindo
From Quito city center, a taxi will cost $10 to take you to La Ofelia bus station in the north. You can also take a local bus for about $1. Flor de Valle bus company takes you directly into Mindo (instead of getting dropped on the side of the road, like me!). Here is the actual bus schedule for Flor del Valle.
I recommend purchasing your return bus ticket in advance if you're on a tight schedule as it can sell out in high season. Bus tickets cost about $4.50.
Exercise caution with your belongings on all buses in Ecuador. If you stow your bag underneath the bus it should be fine. But anything you bring on board keep securely on your person. Don't place anything on the floor or overhead.=
Where to Stay
I stayed at La Casa de Cecilia and really loved the setting and the price. Although, it's just wood walls between the rooms, so be prepared to hear your neighbors conversations.
If you're looking for a more upscale spot there are plenty! The Dragonfly Inn looked really charming and is decently priced as well! There are also tons of eco-lodges if that's more your style.
What to Pack
Since you're in a cloud forest, expect the weather to be humid and wet. There was a soft drizzle the entire time I was there in February. Waterproof hiking boots and good socks are a must. For the hike, I wore khaki shorts, a hiking shirt, and my rain shell with my swimsuit underneath. At night, it does get chilly so I recommend leggings or jeans and a light sweater. Also, as it's in the cloud forest be sure to bring bug spray. A day pack for snacks and a refillable water bottle and you're good to go!
Like this Post? Pin for later!