Although I'd read a number of blogs about planning a trip to the Galapagos a few important details still surprised me upon arrival for my DIY trip to the islands. So, to help you get to the Galapagos with very few surprises, besides the amazing animals you'll encounter, I've compiled a few practical bits of information into one spot. Get ready to see sea lions, swim with sharks…and know where to get cash!
How to Get to the Galapagos Islands
The only way to get to the Galapagos Islands is by flying. Most people fly there from Quito, Ecuador, with a layover in Guayaquil. The layover in Guayaquil is typically short, I didn't even have to get off of the plane. Three airlines fly from Quito to the Galapagos: LATAM, Aviance, and TAME. Prices and baggage allowances vary by carrier. I always suggest booking directly with the airline  
There are two major airports are on Baltra (Santa Cruz) and San Cristobal islands.
The Baltra airport requires a bit more travel time to reach the main town of Santa Cruz, Puerto Ayora. If you fly into Baltra, you will take a free bus to a ferry about 10 minutes away. These buses are crowded with all of the people on the same flight and their luggage. I waited for two busloads before hopping on one. Once at the ferry, your bags are placed on top of the boat and it costs $1 to cross the channel to Santa Cruz. You will disembark on the other side, grab your luggage and have two options for the 30-45 minute drive to Puerto Ayora. You can take a taxi for $20-25, or another bus which will let you off at the edge of town, so you walk the rest of the way. I opted for a taxi to take me straight to my hotel!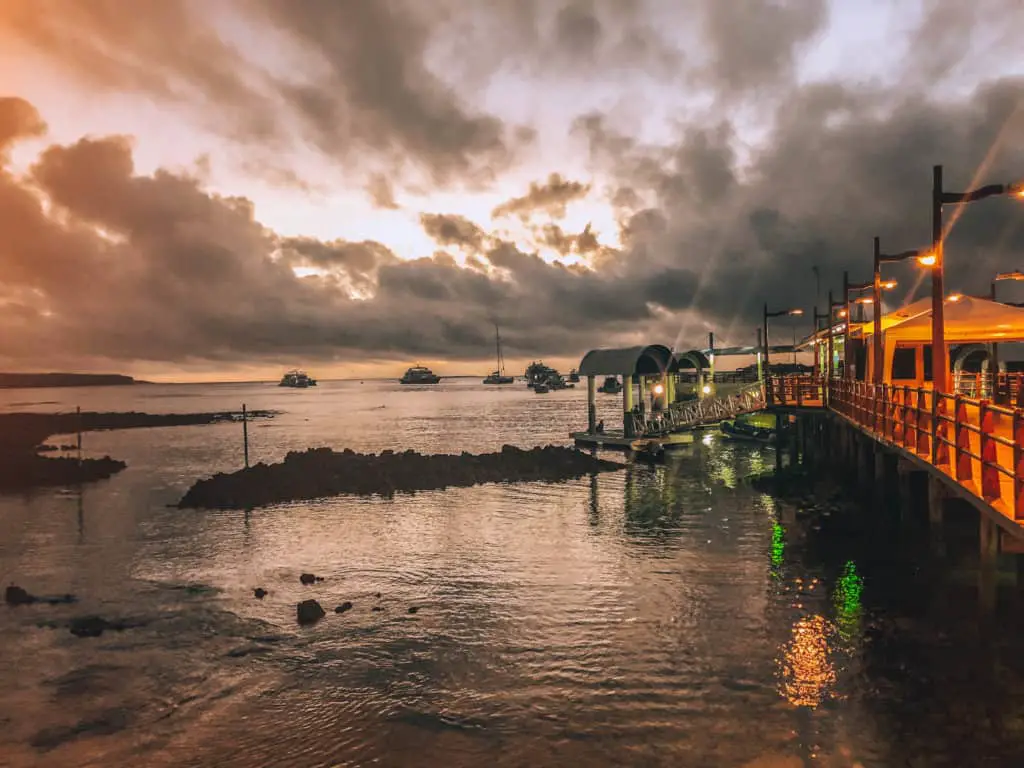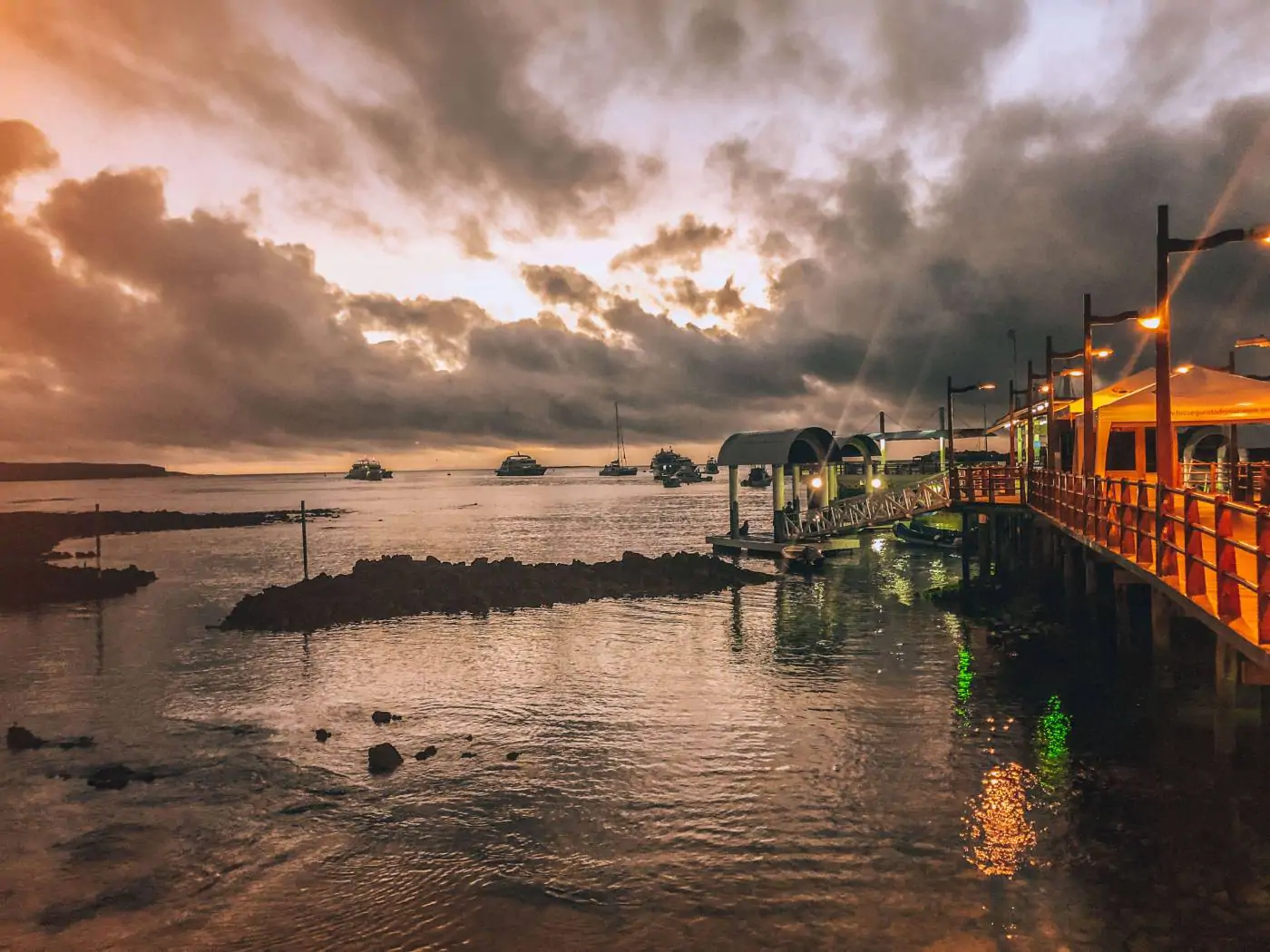 Side Note: Along the way into town you'll pass El Chato Tortoise Reserve, which you could visit on the way. Just ask your taxi driver to wait for you.
The San Cristobal airport is much easier to access as it's right in town. I paid $2 for a 5-minute taxi ride to the airport. Although you could walk, I suppose!
I suggest flying into one airport and out of the other. For instance, I flew into Baltra and out of San Cristobal. This allowed me to move through the islands without having to backtrack too much.
Isabela Island also has a small airport as well and there is a company on Santa Cruz that sets up inter-island flights if you don't want to take a ferry.

Entrance Fees to the Galapagos Islands
A $20 visa is required to enter the Galapagos. You can purchase this at the airport in Quito before entering security. There is a separate security entrance for people traveling to the Galapagos and the kiosk for the visa is just outside.
Upon arrival to the islands, there is a $100 entrance fee. Additionally, Isabela island requires a $10 entrance fee as well.
All of these fees must be paid in cash only.
So, let's chat money on the Galapagos.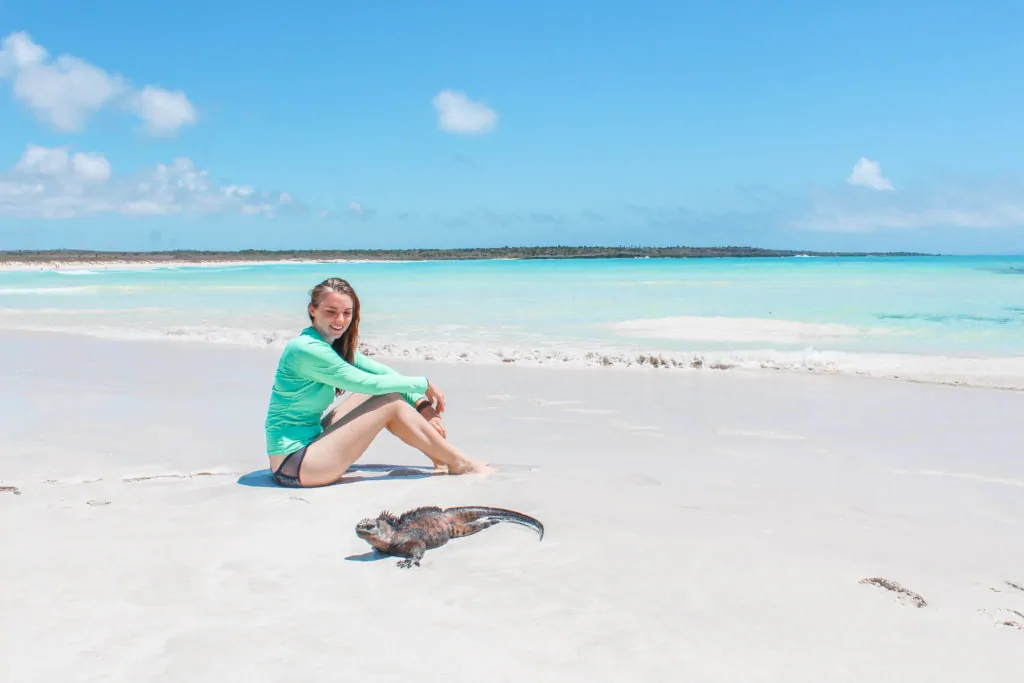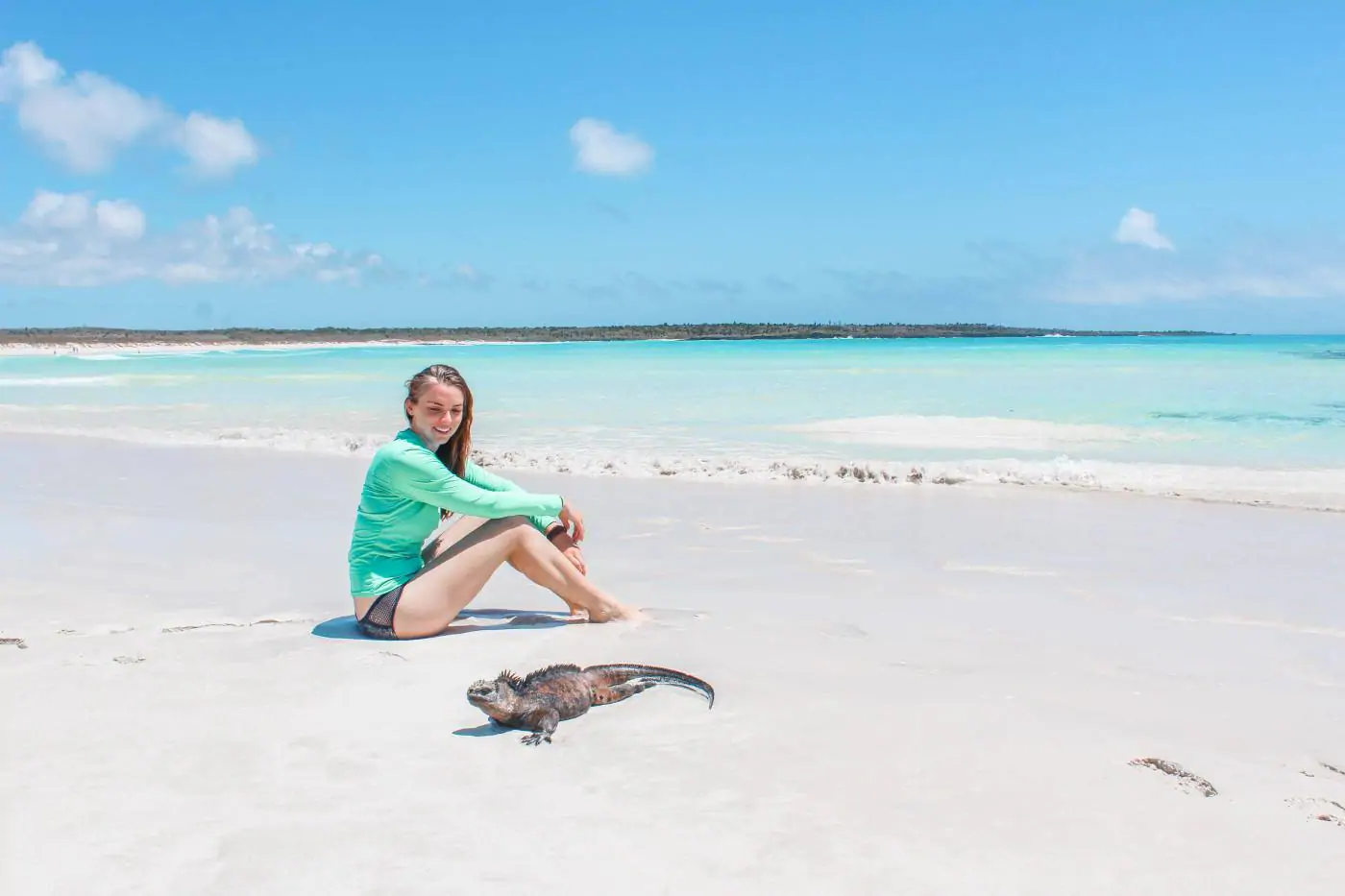 Money on the Galapagos Islands
Ecuador's currency is the US dollar and the majority of places in the country are cash only, including the Galapagos. There are only ATMs on Santa Cruz and San Cristobal. So stock up on cash either prior to arrival on the islands or before you leave these two main islands.
Some companies will accept credit card payments, but there is typically a hefty fee associated with this. Be sure to clarify before swiping.

Inter-Island Transportation
The easiest way to move between islands is via ferry Santa Cruz Island and San Cristobal Island are the main ports for the smaller islands of the archipelago. Ferries run between Santa Cruz, Isabela, and San Cristobal every day at 6:30 am and 2:30 pm. Ferries to Floreana from Santa Cruz do not run daily. Check with a local agent for specifics as I heard different information each time I inquired about schedules.
Each of the ferries cost $30 one way. No need to shop around for a cheaper price. It's $30. You need to book your ticket prior to departure. You can do this all at once, or as you go. I highly recommend booking as you go, unless you have a set schedule. You may want to stay longer on one island!
When you arrive at the pier for your ferry, you first check-in with a kiosk outside of the pier. The person will confirm your ticket and give you a boarding pass for the ferry. Then you proceed to a security checkpoint where they may search your luggage and ask if you have any fruit. The pier is marked by numbers and signs indicating the boat's destination. A police officer will call the name of your boat, you show them your pass and walk down the ramp to a water taxi. The water taxi costs 80 cents.
They will load your luggage for you onto the water taxi and ferry.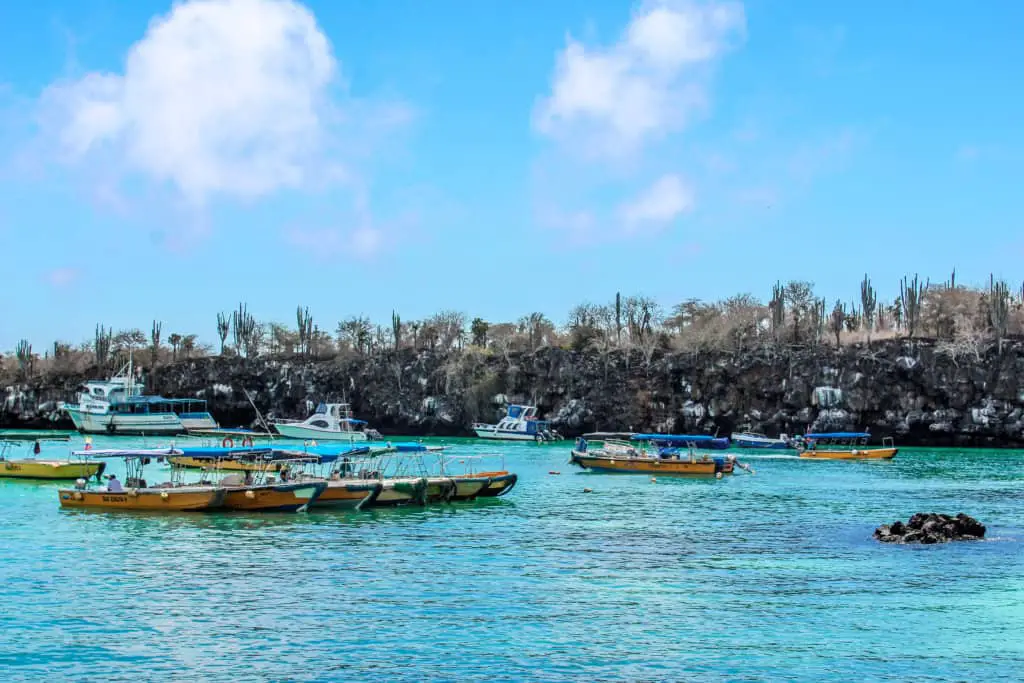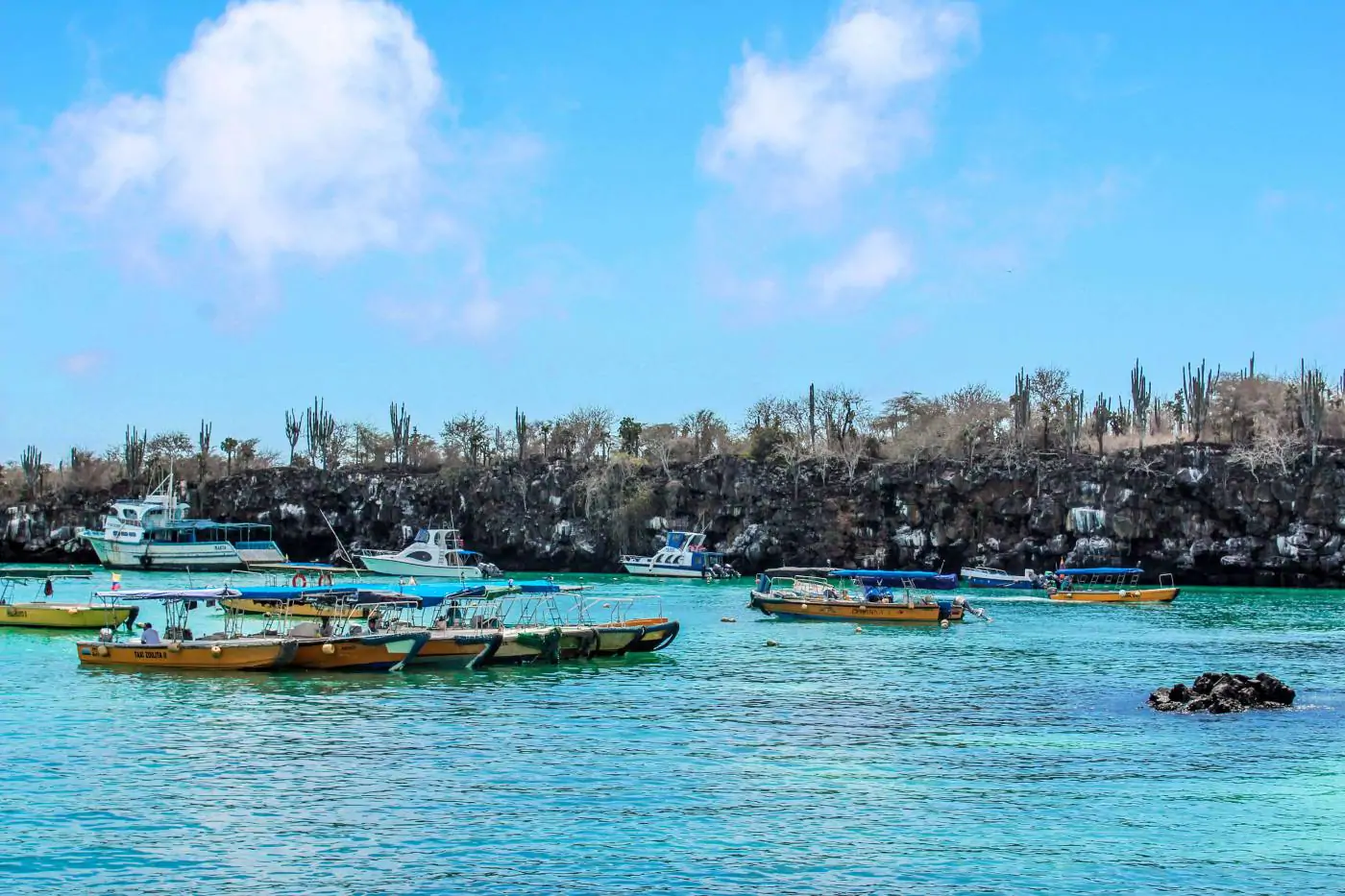 To reach the smaller islands, it might be easiest to take a day tour from San Cristobal or Santa Cruz. You could book these upon arrival for cheaper rates.
Again, there are inter-island flights, however, I am unsure of the cost or timetable. This site has the most up to date information.
Ground Transportation on the Island
There are buses that service Santa Cruz and San Cristobal, however, taxis are the most common and convenient modes of transportation. Taxis are white pick-up trucks and they have standard rates for common stops. Many act like mini tour guides and will give you a daily or multiple hour rates if you'd like to see multiple places on the island.
Taxis are also boats! You can take water taxis to various places on Santa Cruz. For instance, from town, you can take a water taxi to go snorkeling at Las Grietas. It generally costs 80 cents. But could cost $1 or $1.50.
If you get tired of walking and don't want to pay for taxis, bicycles can be rented by the hour or day on Santa Cruz, San Cristobal, and Isabela. It's usually around $10 for a rental.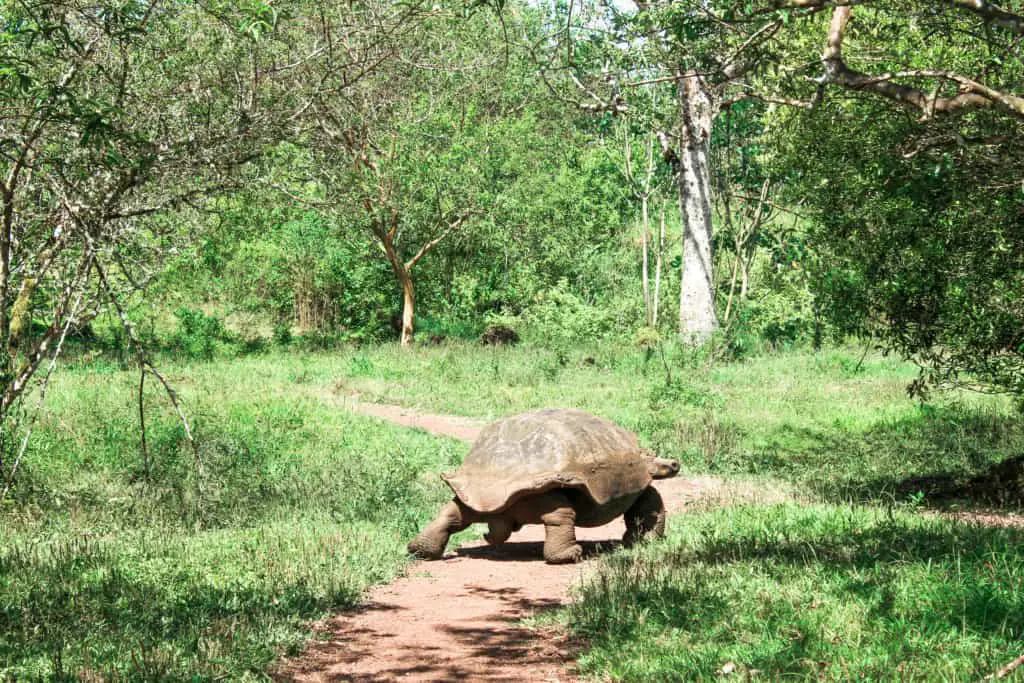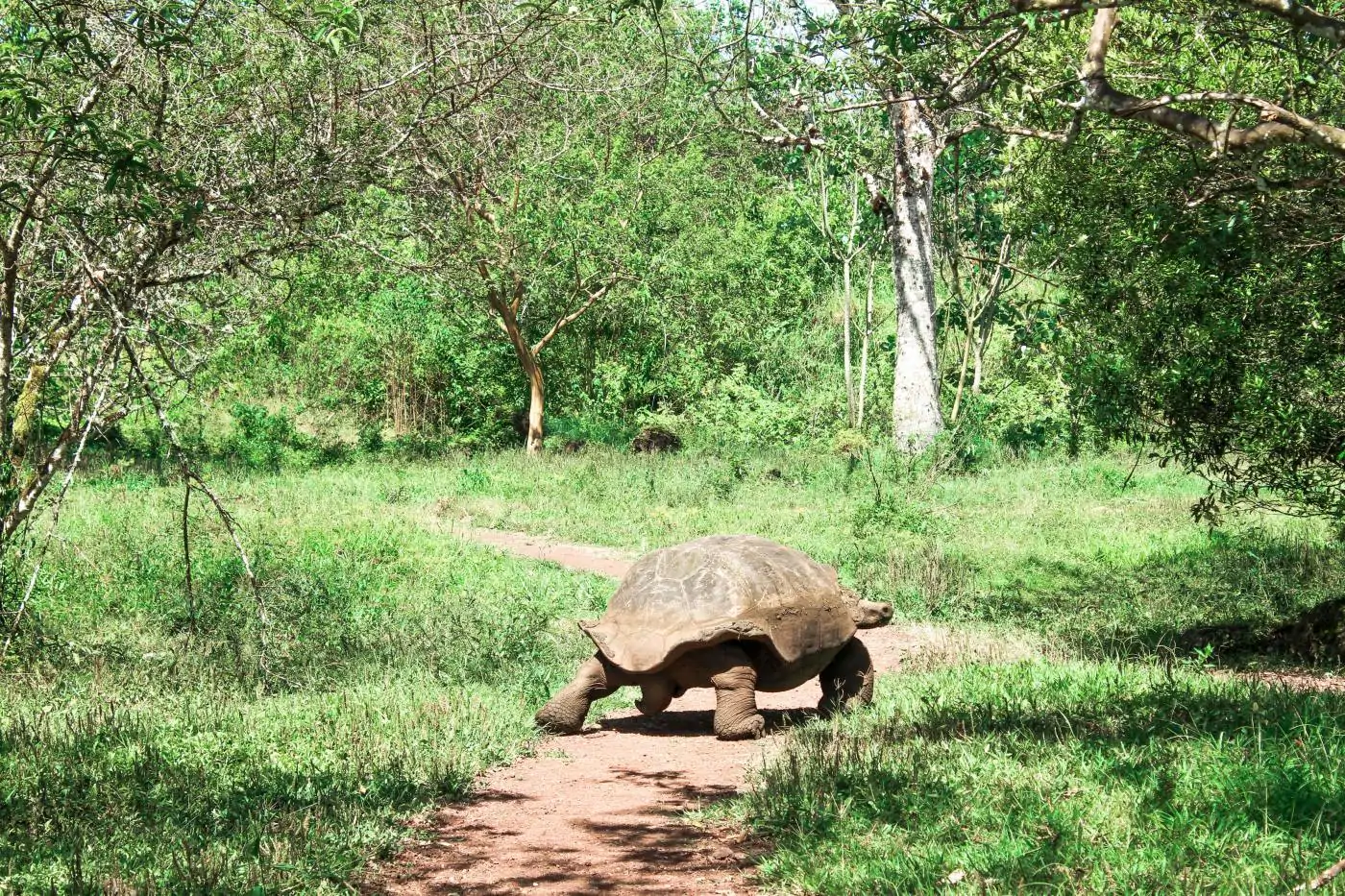 Accommodation on the Galapagos Islands
The Galapagos Islands offers a wide variety of accommodation options for every budget. There are hostels, mid-range hotels, and, of course, 5-star hotels. Many of the hostels come with a kitchen, free breakfast, and are centrally located to ferries. Honestly, you'll be out of your room for the majority of the day enjoying all of the wildlife, so might as well save some money on your accommodation so you can splurge on tours!

Galapagos Islands Infrastructure
Santa Cruz Island and San Cristobal are much more developed than I anticipated. I was actually quite agitated by this when I  first arrived on Santa Cruz. I was expecting sandy roads and palm trees, not tour companies and cell phone shops on the corner.
That being said, the smaller islands are much less developed. Isabela Island had the vibe I was looking for with its sandy roads and beachfront restaurants.
My visit to the Galapagos Islands was an experience I don't quite have the words to describe. I've called it fantastic, amazing, incredible, surreal but none of them actually describe how I feel about this special place. There are so many wonderful experiences to have here. For a long time, I considered the Galapagos a place that would be a dream to see, but unrealistic. However, with a little bit of planning a visit to this magical place is definitely within reach!
Like this post? Pin for later!