Since I was traveling through the Galapagos Islands on a budget, I had specific bucket list items for each island I visited, snorkeling at Kicker Rock from San Cristobal island was high on my list. There is a popular tour on San Cristobal called the 360 Tour, which is exactly as it sounds. You board a boat in the morning and make a variety of stops as you complete a full circle around San Cristobal. The highlight of this tour is snorkeling at Kicker Rock, where you have the possibility of seeing hammerhead sharks! A friend from California disembarked from his live-aboard cruise at the same time of my arrival on the island so we planned to do the 360 tour together, but first, we had to get prices from various tour companies on the island. 
This post contains affiliate links, which means that, at no additional cost to you, I will earn a tiny bit of income if you decide to make a purchase or booking.
360 Tour with Galapagos Eco Fishing
We ended up booking with a company called Galapagos Eco Fishing. The tour cost $130 and included a wetsuit, snorkel gear, lunch, snacks, and a fun crew! I'd recommend booking with them, as other companies offer the EXACT SAME TOUR for $150. I'm serious. When I arrived on the boat for the tour, I learned that other visitors booked with a different company for $150, yet we were on the same boat! These prices are what I paid in January 2018 and are subject to change.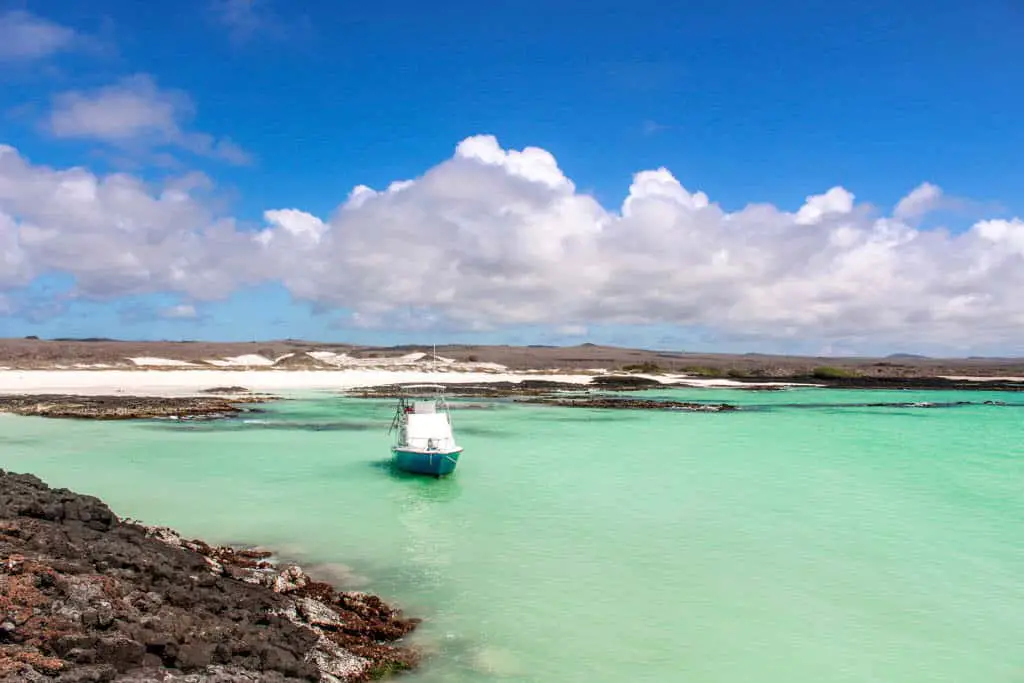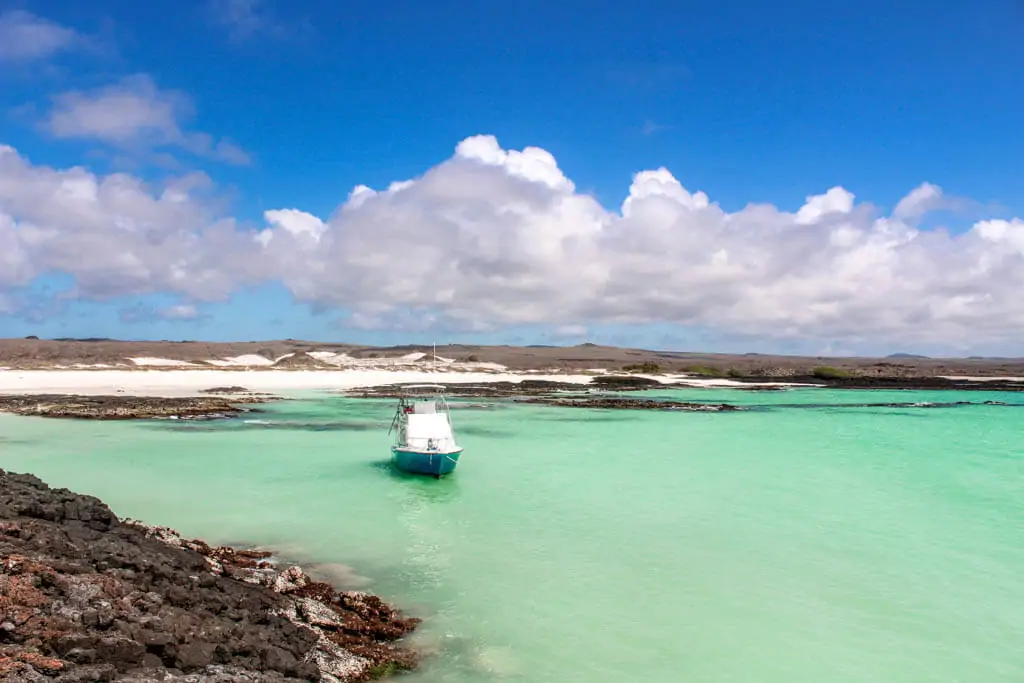 What to Bring
There are a few items that you must bring on this trip to make it the most of it! You should already have all of these items from your Galapagos packing list.
The company will provide you with all of the other gear you'll need like a wetsuit (the water is cold here), fins, a snorkel, and a mask. Plus they'll provide you with a delicious fish lunch and fresh fruit to snack on.
The 360 Kicker Rock Day Tour Itinerary
The tour began at 7:30 am and we returned around 4:30 pm making it's the longest day tour I took on the Galapagos. The stops may change depending on currents and government restrictions, but this is the route my tour took.
Bahia de Rosa Blanca
Bahia de Rosa Blanca was our first snorkel stop of the day. We climbed across lava rocks to a bay that, due to low tide, became two bays. One bay had fairly poor visibility although we still spotted a sea turtle and some sharks. The second bay, actually had four sharks in it. They'd gotten stuck there as the tide went out and were patiently waiting for the tide to rise again for their return to the ocean.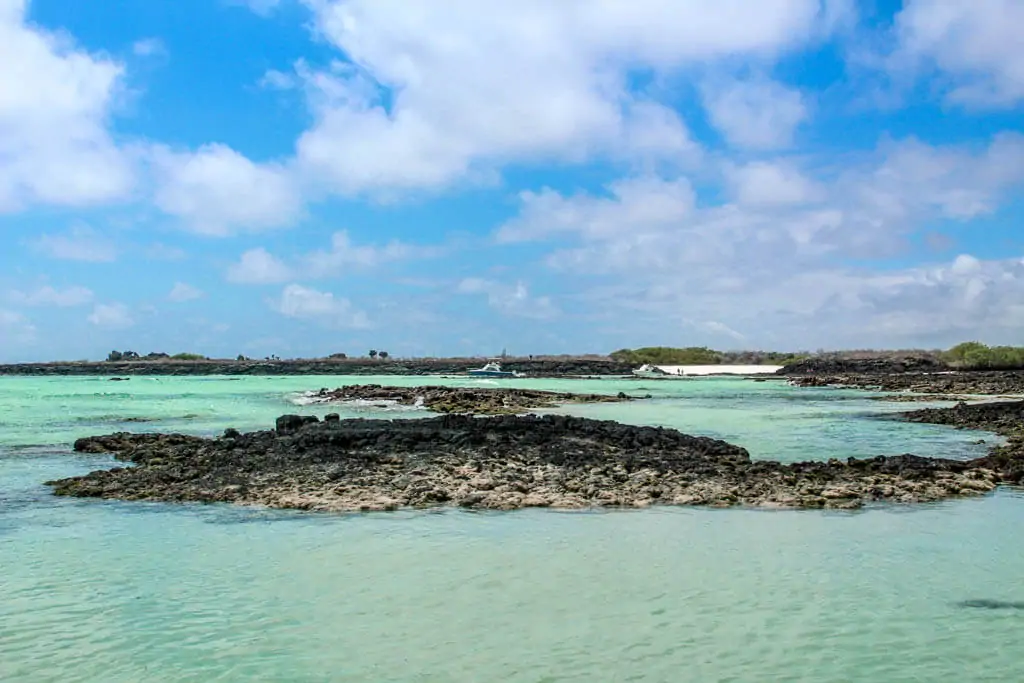 After the snorkel in the bay, we had more time to continue snorkeling in the ocean near the boat, walk along the beach, or simply relax in the sun. After snorkeling a bit near the boat, I opted to wander along the white sandy beaches and black lava rocks. Be careful on the rocks, there are bugs that like to bite! Other than that, it was quite relaxing. When we returned to the boat, we were greeted with freshly sliced pineapple and croissants!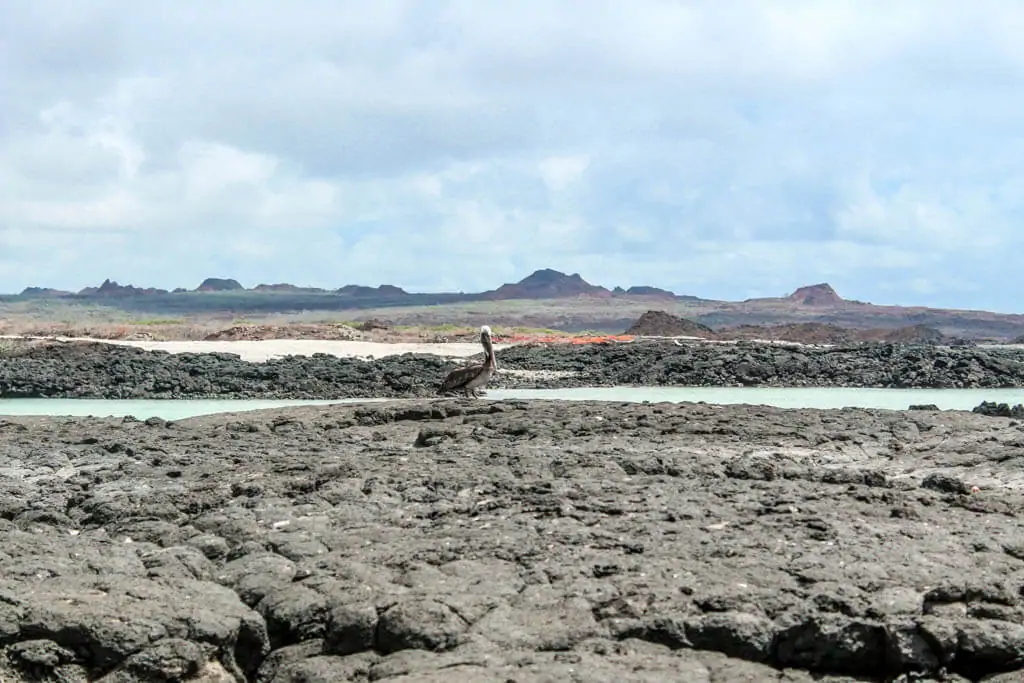 Punta Pitt
Punta Pitt was our second "stop" for open sea fishing! Our crew put the fishing lines out as we slowly moved throughout the water. As we waited patiently to discover if fishing luck was on our sides, we each took turns sitting on top of the boat. From this vantage point, we spotted sea turtles swimming by and a variety of birds, including red footed boobies, flying overhead!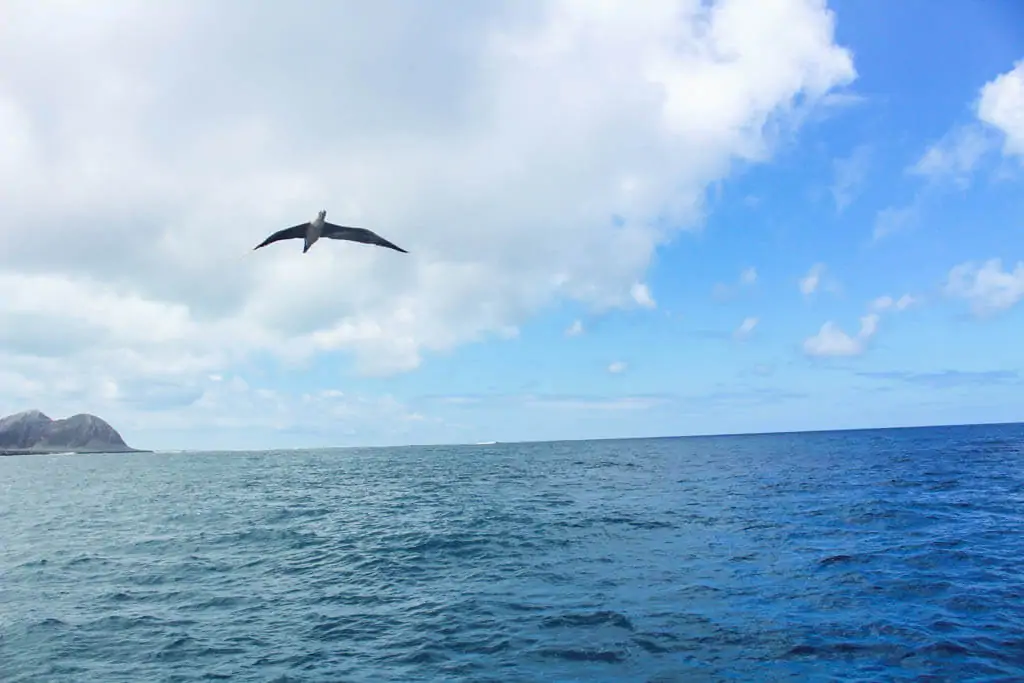 Unfortunately, after about 30 minutes of fishing, we came up empty-handed. Thankfully our captain had a backup plan for lunch. We dined on a generous portion of fish, veggies, and rice. After lunch, we continued on to our next stop – Puerto Grande. 
Puerto Grande
Puerto Grande is a gorgeous white sandy beach with no one on it except for those from my tour! Here we had the same options: we could snorkel, swim, or simply relax. I meandered along the beach, discovering an amazing viewpoint for Kicker Rock! If it's low tide when you arrive, walk to the left (facing the beach) and you'll see that beautiful lava rock in the middle of the ocean. This viewpoint really got the anticipation building as my friend and I goofed around taking photos. Perhaps we took a bit too long as when we came back to the main part of the beach, everyone was on the boat waiting for us. Whoops!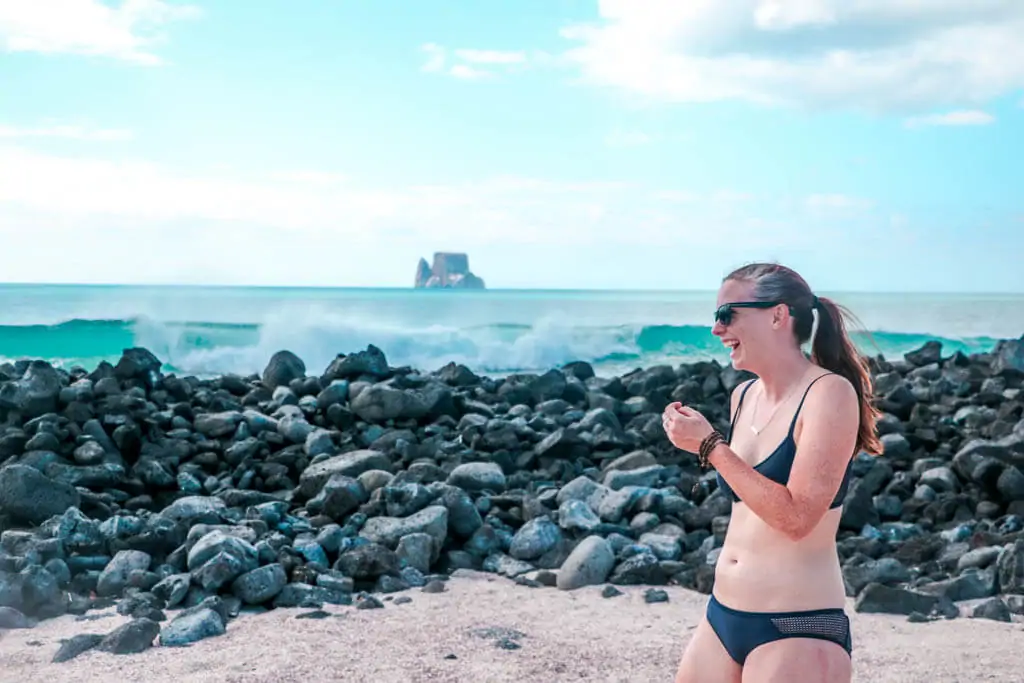 Kicker Rock Galapagos
We began our journey to the ultimate stop on this tour – Kicker Rock. On our way, the captain slowed the boat and allowed three of us to sit on the bow. If offered, always say yes to sitting on the bow of the boat!  It was from this vantage point that I caught the view of Kicker Rock from Darwin's Window. I still can't get over the beauty of this lava rock in the middle of the ocean. Above Darwin's window, we spotted Nazca Boobies preening themselves in between fishing.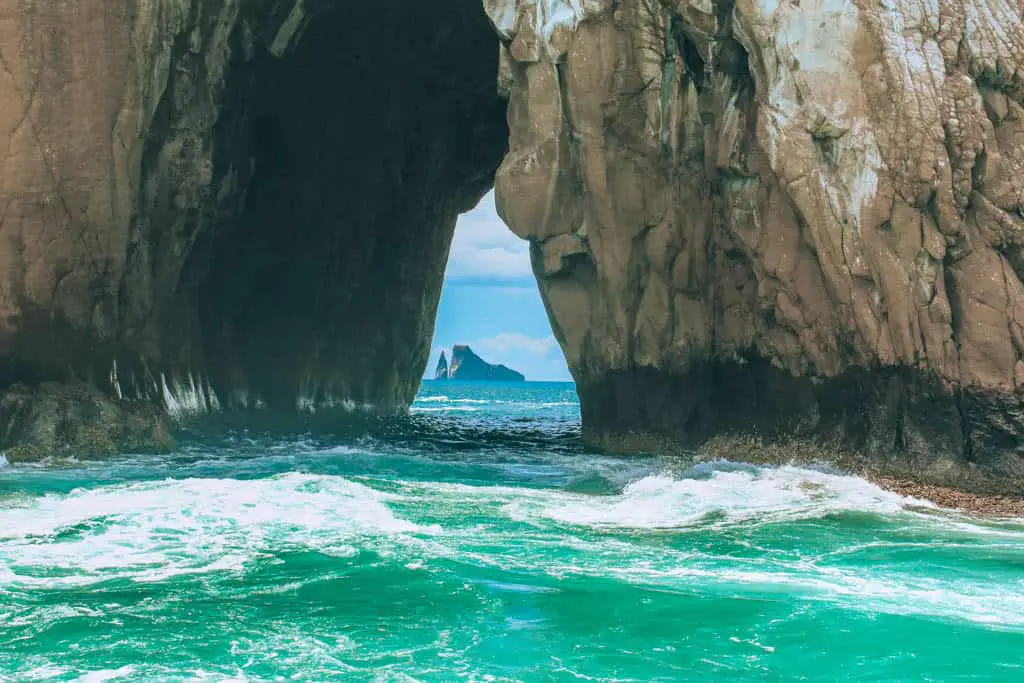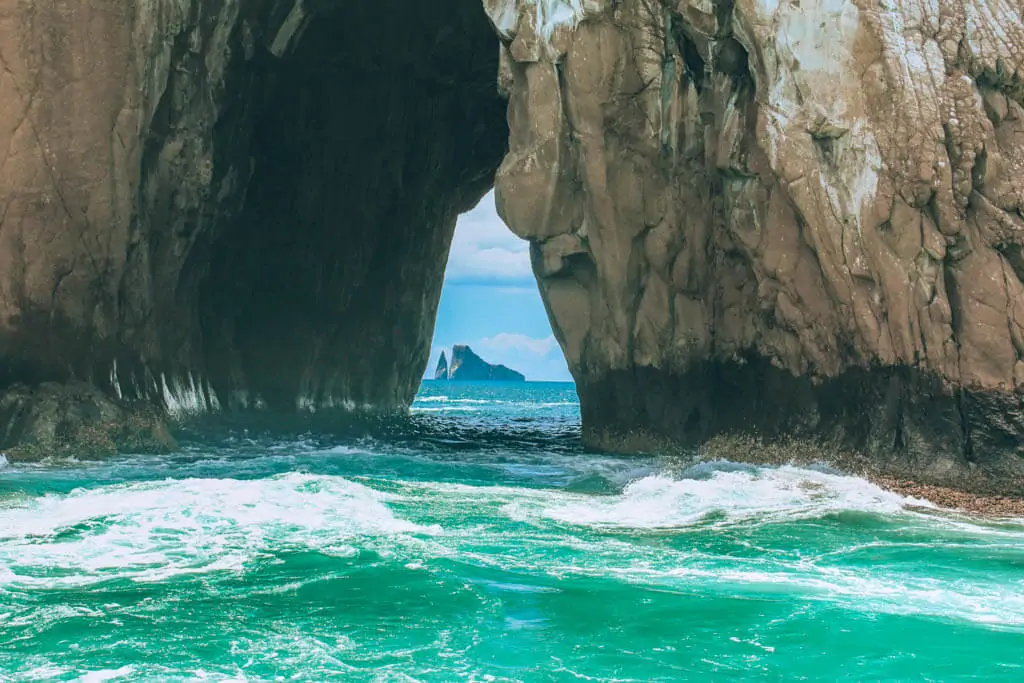 Eventually, we came to the starting point for our Kicker Rock snorkeling adventure. If you notice in the photos of Kicker Rock, it's two rocks separated by a channel, which is where we snorkeled through.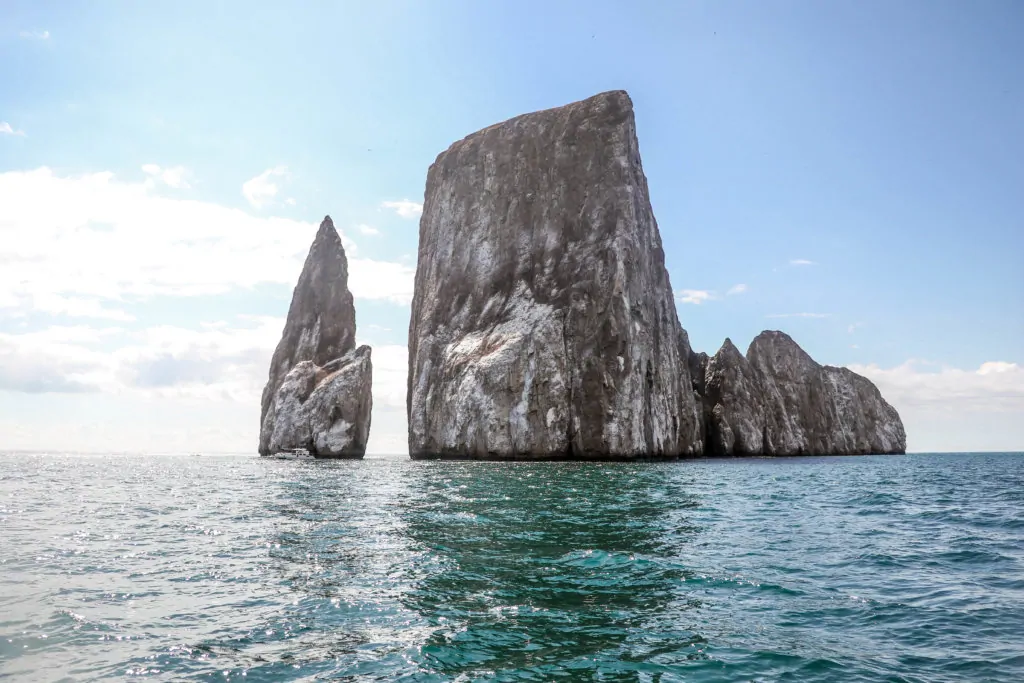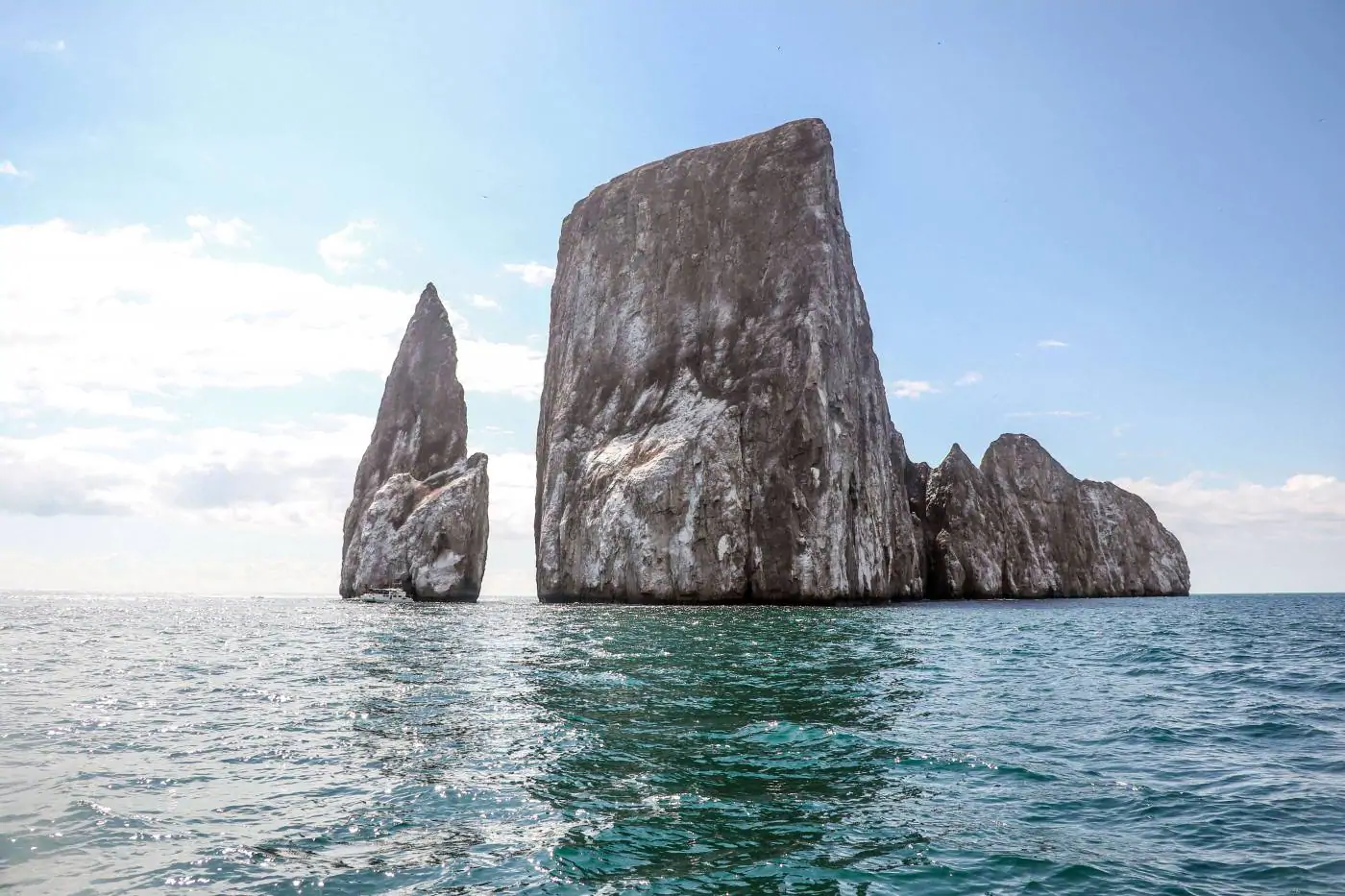 The strong current moved us through the channel with little effort on our part. I kept my eyes below the water the entire time and am so glad I did! Looking down into the deep blue nothing, suddenly a hammerhead swam by, then a sea lion, and then another hammerhead. It was stunning to watch these creatures move together through the water together. Check it out in the video around the 1:05 mark to the right of the screen you'll see a shadow figure of a shark, that's hammerhead one!
The current pushed us through quite swiftly and after 40 minutes, we emerged on the other side of the channel where our boat awaited us. We put off getting back into that boat as long as we could. We wanted to keep swimming and snorkeling! However, there are strict government restrictions on how long each boat can stay at Kicker Rock. So it was out of the water for us! We were greeted once again by sliced pineapple and croissants that we enjoyed on the ride back home.
Snorkeling with Wild Animals
I didn't think snorkeling on the Galapagos could get any better after my experience seeing sharks mating on Isla Isabela. I certainly didn't think I would ever snorkel with Hammerhead sharks. Leaving the pier that morning I didn't even know it was a possibility.
My entire time on the Galapagos, I did my best to keep my expectations of tours low. Why? Because these tours are with wild animals in the open ocean with ever-changing conditions. Nothing is guaranteed with these tours. Case in point – we didn't catch anything fishing! But I'll take snorkeling with Hammerhead sharks any day!
Like this post? Pin for later!