Landing in Dublin International Airport marks the start of your great Irish adventure and if it's your first time in Ireland you're probably going to kick it off with a day or two in Dublin. Luckily, getting from the Dublin Airport to the city center is incredibly easy as there are a number of Dublin Airport transportation options to suit your budget and time frame. In this post we are going to dive into all of your options for how to get from the Dublin Airport to the city center, but first a few quick tips for arriving in Dublin Airport. 
Which Dublin Airport Terminal will You Arrive in?
There are two terminals in the Dublin airport, super simply named, T1 and T2. Terminal 2 is the International terminal so If you're arriving from overseas you'll likely arrive in T2 and go through passport control there. Airlines that land at Terminal 2 are: Aer Lingus, American Airlines, Delta, and Emirates, to name a few.
Terminal 1 is the "Domestic" terminal. Most European airlines will land at T1 including British Airways, Air Canada, Cathay Pacific, and Ryanair among many others. 
You can find which terminal you'll arrive in at this website. 
There are no public transportation options available in between terminals, but that's OK, because it's only a 5-minute walk from Terminal 2 to Terminal 1.
How Far is Dublin Airport from the City Center?
The distance from Dublin Airport to Dublin is 6 miles or 12 km. Your journey time from the airport to Dublin city center is roughly 20-30 minutes, depending on your Dublin Airport transport choice, traffic, and your ultimate destination in Dublin.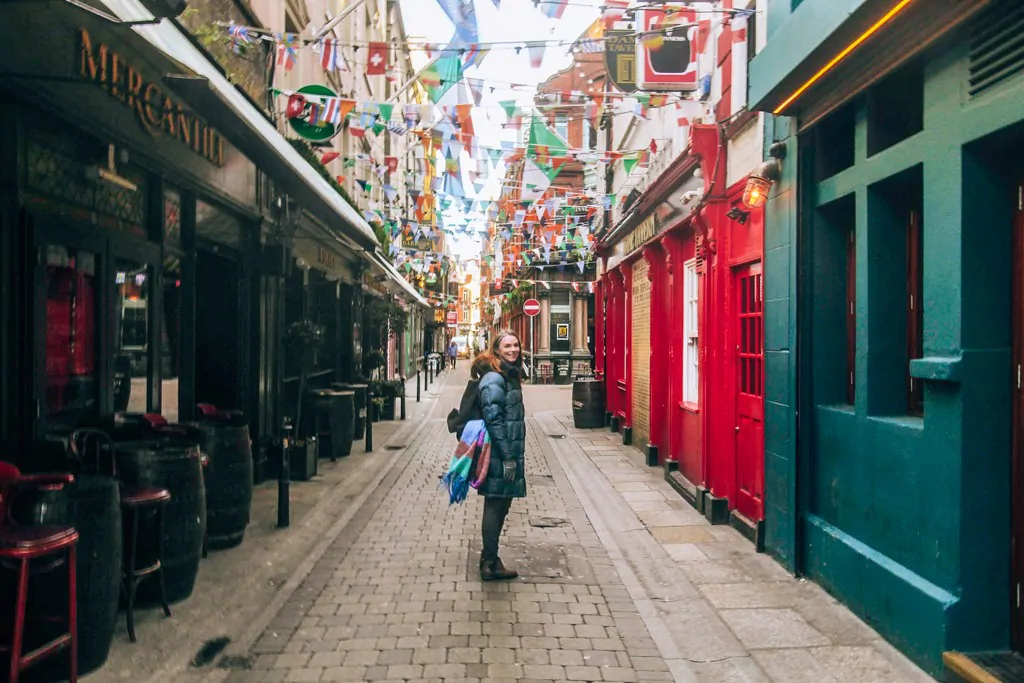 How to get from Dublin Airport to the City Center
Take a Dublin Airport Bus to the City Center
My recommendation for Dublin Airport transport to the city center is to take one of the many bus services from Dublin Airport. I've never rented a car in Ireland – which means I've taken multiple buses from Dublin Airport to various destinations in the country, including my favorite Irish city – Galway and I have zero complaints about Ireland's bus services.
I've personally taken the Airlink and the Aircoach bus from the Dublin Airport to Dublin city center and have found them convenient, comfortable, and cost-efficient. Plus, they usually have WiFi onboard and charging ports for my phone – essentials after a long haul flight!
Airlink Bus from Dublin Airport to Dublin City Center
The Airlink bus is my preferred bus from Dublin Airport to the city because it's super easy to navigate, it's fast, and the drivers are super helpful in making sure you get off at the right stop.
The Airlink bus offers two routes from Dublin Airport to the city center: Airlink 747 and Airlink 757. Route 747 has more stops near Temple Bar, a popular tourist location, while 757 has more stops near Merrion Square and St. Stephen's Green. To choose the best route option for you, plot your accommodation on the map and see which stop is closest. Or, ask your accommodation!
Airlink is especially excellent because it has stops at other Dublin transportation locations such as the Heuston Train Station and DART. So if you're not staying in Dublin, but need to connect to a train, the Airlink will get you to your connection. 
You can purchase a one-way ticket for €7 or a return ticket for €12. You can also buy your ticket online and save €1! 
The Airlink Bus stop at the Dublin Airport is located outside of both T1 and T2 arrivals and it operates 24/7 with departures every 10 minutes during peak travel times. 
Note: Due to COVID-19, Airlink services are suspended until further notice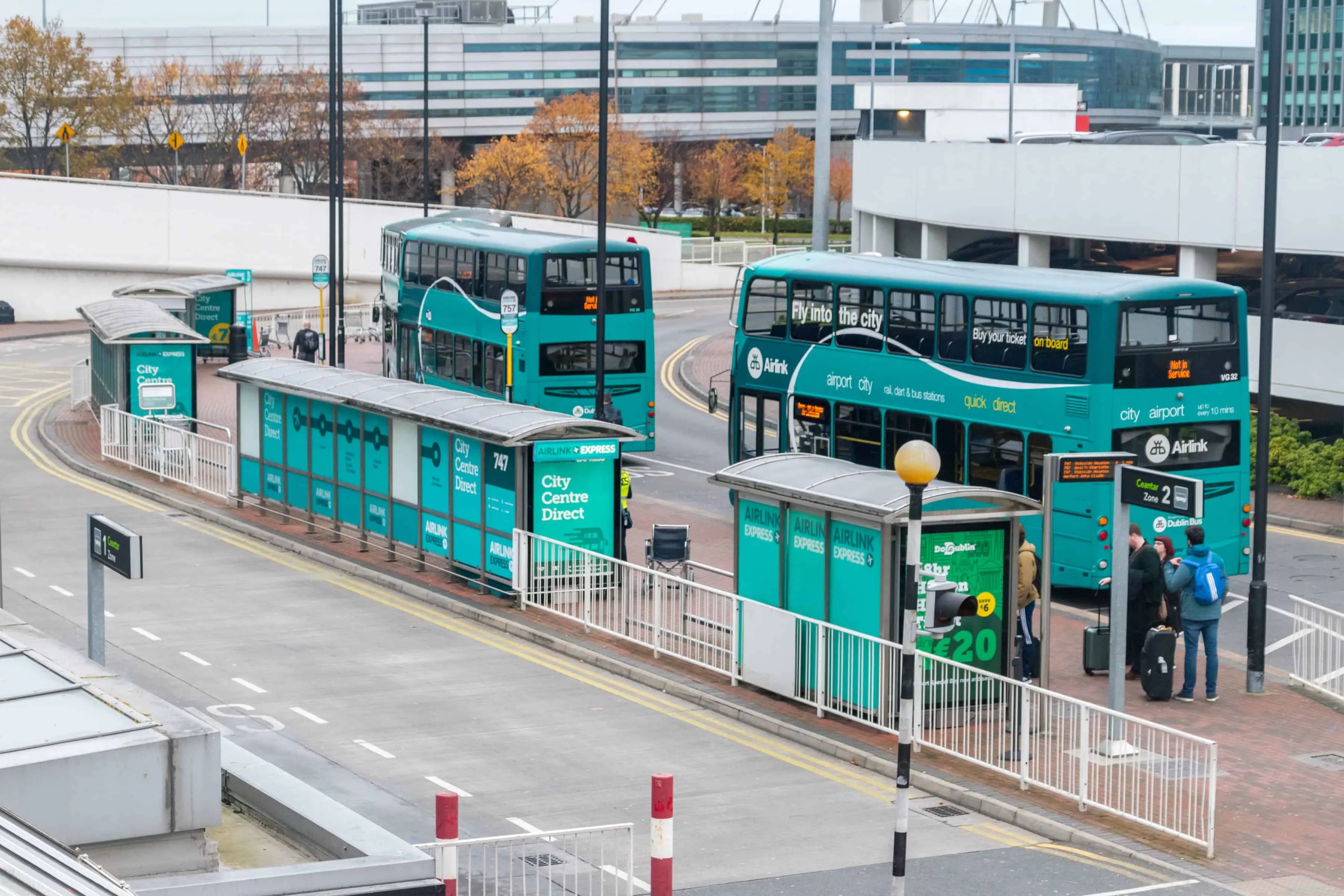 Aircoach Bus from Dublin Airport to Dublin City Center
The Aircoach Bus is another great option for transport from Dublin Airport to Dublin as there are fewer stops between you and your first pint of Guinness. The Aircoach bus has more comfortable seats than the Airlink as these buses are also used for travel throughout the country. 
The Dublin Airport to City Center bus route is #700 and it departs every 30 minutes from T2 arrivals. 
A return Aircoach ticket costs €8 which is awesome!
Note: Due to COVID-19, Aircoach services are suspended until further notice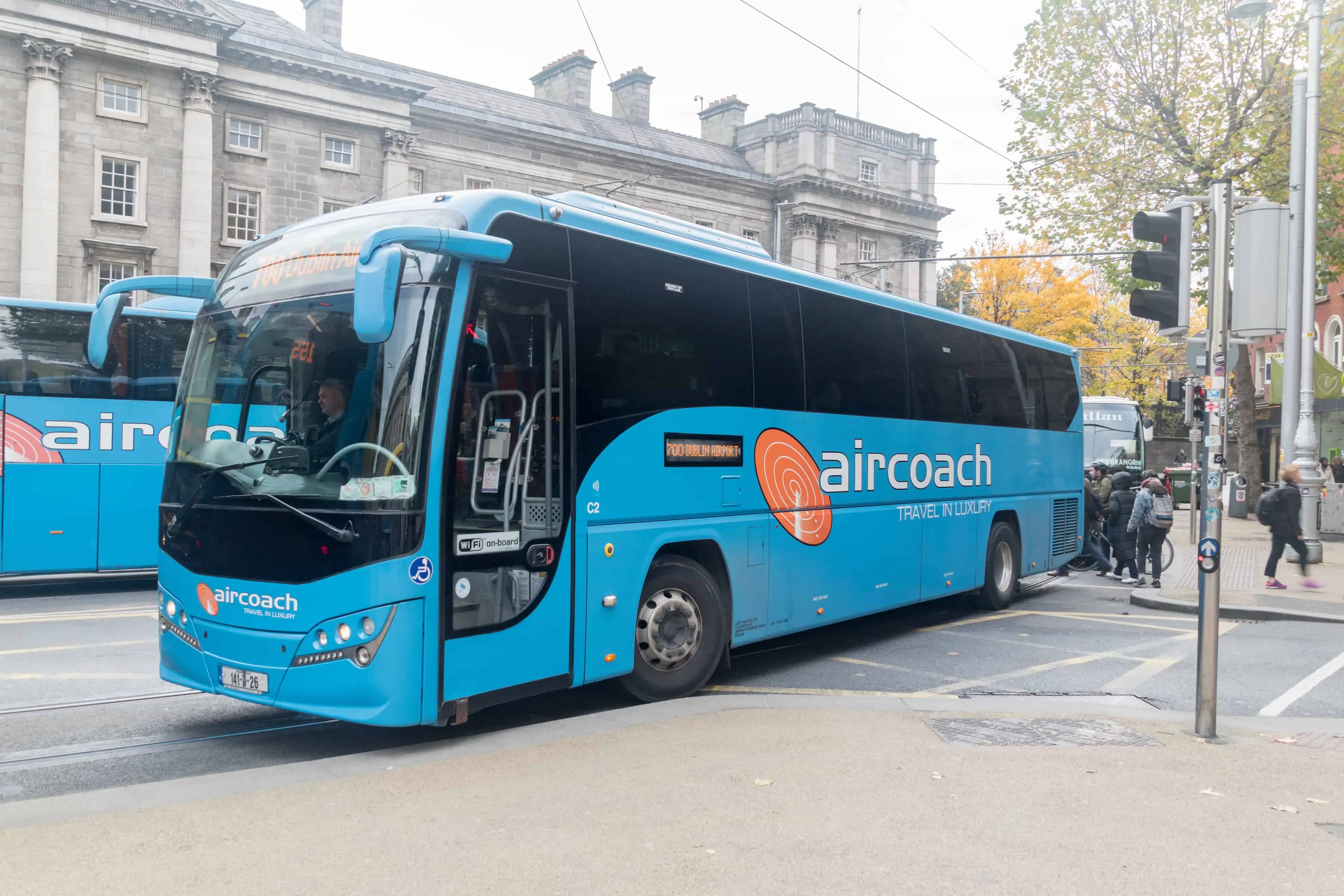 Hop in a Taxi from Dublin Airport to the City Center
If you're looking for door to door convenience after a long international flight, then hop in a taxi from the Dublin airport to the city. 
You'll find Taxi stands located outside of both Terminal 1 and Terminal 2. The cost of a taxi from Dublin Airport to the city center is approximately €25-30 depending on traffic. While you'll definitely be paying more than you would with a bus ride to the city center, you'll probably get there faster!
Taxis in Dublin are required to turn on their meter and provide a printed receipt. There will be a taxi attendant at either stand to answer any questions about the distance to your destination and the estimated cost at the time of your arrival.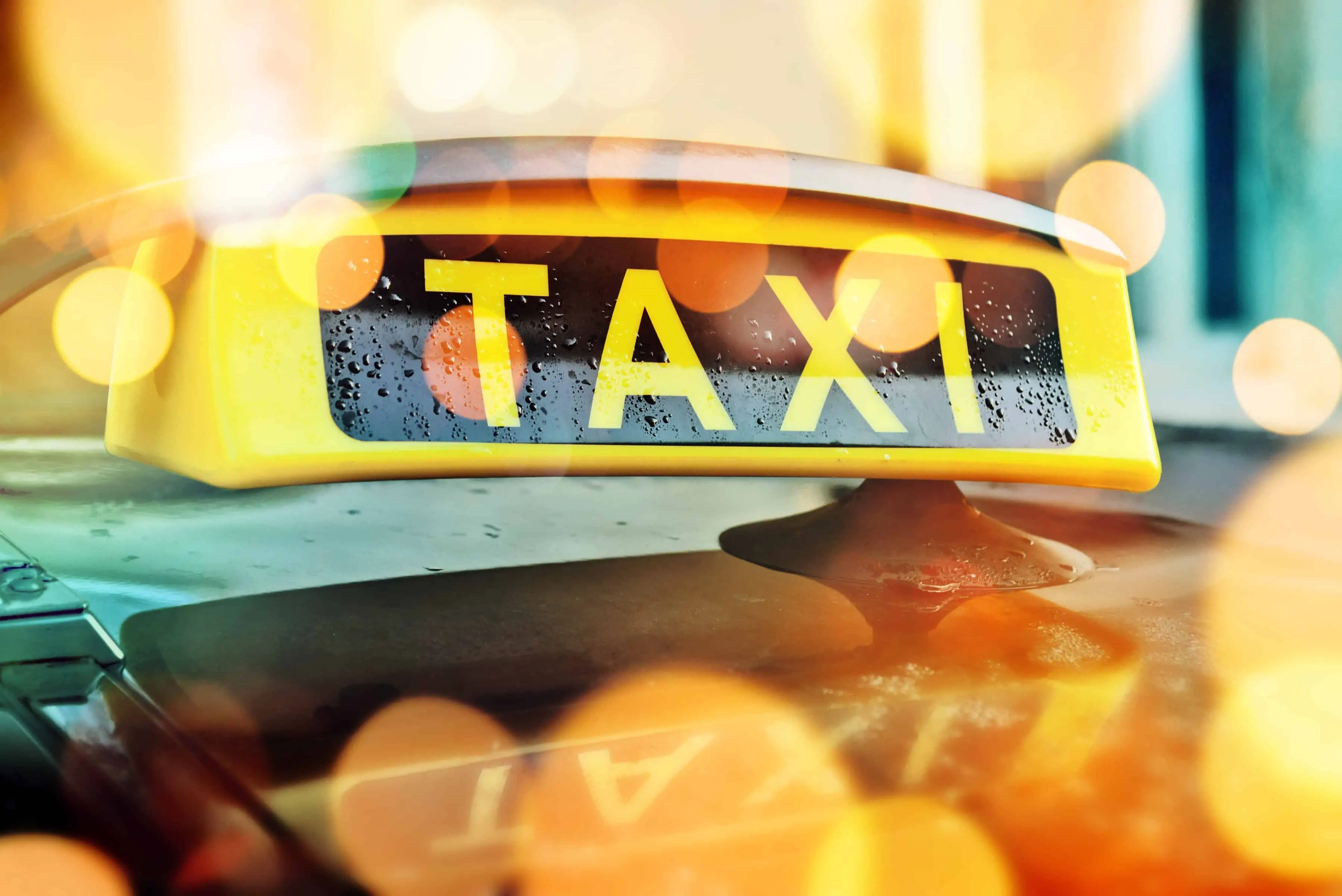 Ride the Dublin Airport Train to the City Center
Just kidding – there is no Dublin Airport train. If you need access to the train station, you can either take a taxi to the train station or use Airlink route 747 to Connolly or Heuston Stations. 
Dublin Airport Shuttle Services
Just like the train, there is no shuttle bus from Dublin Airport to the city. However, if you arrive late and are staying in one of the Dublin Airport hotels, Maldron or Raddison, for some rest before your Ireland itinerary kicks off, there is a shuttle bus located at T1 and T2 arrivals to take you from the airport to your hotel. 
Make Your Ireland Transportation Easier with the Leap Card
The Leap Visitor Card is a convenient card that allows unlimited travel on public transportation in Dublin and surrounding areas. Want to take a day trip to Howth? Your leap card will pay for your DART ride. Are your feet tired of walking around Dublin's cobblestone streets? Hop on the LUAS tram to take your back to your hostel with the Leap Card. It also includes transport on the Airlink bus from Dublin Airport to the city center – and back!
Purchase a card for the length of your stay in Dublin or top up as you go as this card can also be used throughout the country. Initial prices and top up prices are below. You can add value to your Visitor Card up to 5 times.
1 day (24 hours) – €10.00

3 days (72 hours) – €19.50

7 days (168 hours) – €40.00
Purchase your Leap Visitor Card at the Dublin Airport from the Spar located outside of T2 arrivals or the Bus & Travel Information Desk at T1 Arrivals. You can also purchase a leap card form various locations in Dublin city center such as Visit Dublin Centre and Discover Ireland Centre.
What Dublin Airport Transportation Option Should You Choose?
The two most important things to consider when deciding how to get from Dublin Airport to the city center are budget and time. If you're on a tight budget, then taking the bus is the way to go. If the cost of a taxi from Dublin airport to city center won't break the bank, then enjoy the door to door convenience.
If you're only in Dublin for one day, you might want to store your luggage at the airport and hop in a taxi so you can make the most of your time in Dublin. Or if you have more time then a leisurely bus ride to the city center may be right up your alley. 
That being said, even if I had the money to splurge on a taxi, I'd still take the bus and save the money for a good meal or other Irish adventure. I will, however, recommend that you take a taxi if you have a ton of luggage as being on a bus with more than one large suitcase or backpack is just a pain!
No matter how you choose to get to Dublin city center from Dublin Airport, you're guaranteed to have a fantastic time!
Like this post? Pin for later!