Can I be honest with you? When I arrived in Edinburgh, I did not vibe with it. After hearing everyone rave about it and seeing moody videos of Scotland's capital all over social media, I was so pumped to visit. However, when I arrived, it was blue skies and sunshine. Admittedly, I was going into this trip processing a traumatic loss and the decision to live with my Dad again (at 36 years old). I was craving gray, rainy, and cozy vibes where all I did was sit at the milkman and drink matcha.
The first two days of my trip to Edinburgh Scotland were spent sweating, walking up the steep alleyways, and feeling guilty for not relishing the stunning weather. I also stayed right on the Royal Mile which meant anytime I wanted to go anywhere I had to contend with crowds of people to get there.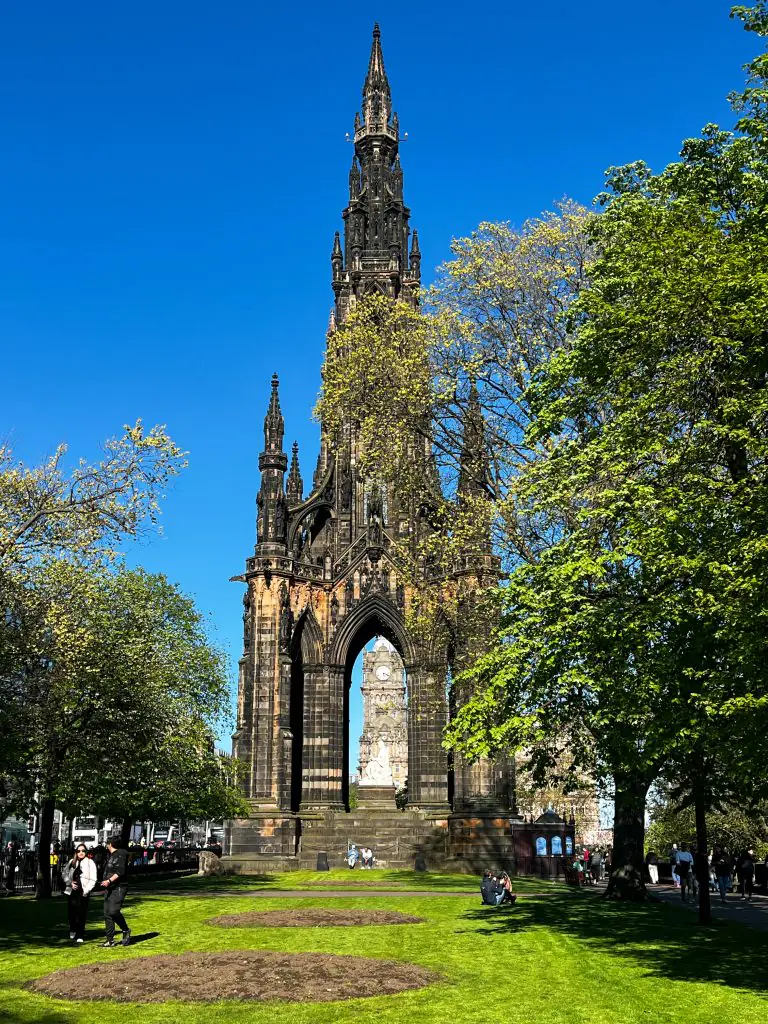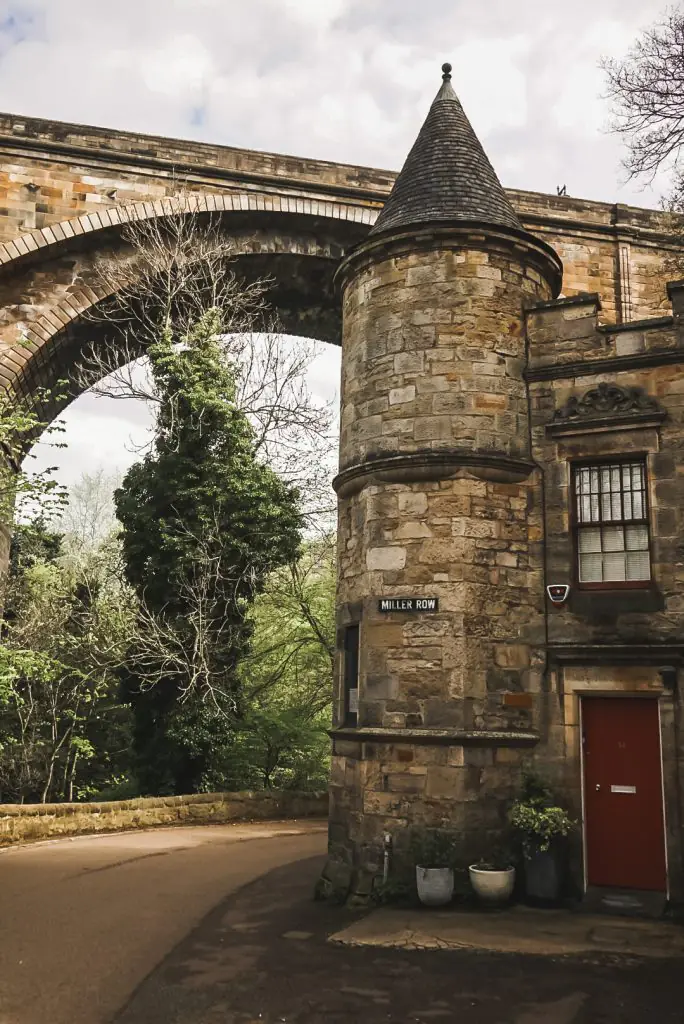 After two days of trying to force a connection with Edinburgh, I headed out on my road trip through Glencoe and the Isle of Skye. While driving I seriously debated not returning to Edinburgh at the end of the trip like I'd originally planned.
However, after falling in love with the rest of Scotland, I decided to stick with my itinerary and give Edinburgh another chance with fresher eyes and a better attitude. 
I am so glad that I did.
When I returned, Edinburgh welcomed me with gray skies and misty rain. My new hostel was in a different part of the city on a quiet street, but still close enough to all of the best things to do in Edinburgh.
Speaking of things to do in Edinburgh, I stopped trying to do all of them and settled into a slower pace of travel.
My final two days in Edinburgh were perfect and I've distilled my favorite things about them into an itinerary for one epic day in Edinburgh. And by epic, I mean a slow pace of getting to do a little bit of everything. 
Before we dive into this Edinburgh itinerary, let's discuss a few logistics about visiting the Scottish capital.
This post contains affiliate links, which means that, at no additional cost to you, I will earn a tiny bit of income if you decide to make a purchase or booking. For more, check out my disclosure. 
solo female Travel Resources
Best Time of Year to Visit Edinburgh
I visited Edinburgh in mid-May and found it to be a beautiful time of year. However, before this trip, I was also looking into a winter visit to see their Christmas markets and Edinburgh in the snow. I don't think there is a bad time of year to visit Edinburgh as each season offers unique activities and attractions. It all just depends on what type of experience you want to have. As long as you're prepared for the weather, any time of year is a good time for a trip to Edinburgh.
Spring (March to May): 
As I mentioned, I visited Edinburgh in the Spring and was shocked at the blooming flowers in the city's ample parks and gardens. Princes Street is lined with Cherry Blossom trees that were in peak bloom and made Edinburgh Castle look even more like a fairytale. This is the best time of year to visit the Royal Botanic Garden if you have time. 
The weather in Spring can be a bit tricky to predict. I had gorgeous sunny days with 60o temperatures followed by cool gray and misty days. When you're packing for Edinburgh in the spring, layers are essential as well as moisture-wicking clothing and a lightweight waterproof jacket. 
One thing I loved about my May visit is the sun stayed out until well past 9:00 pm!
Summer (June to August): 
Summer in Edinburgh is a bustling and vibrant time, with even longer days and a lively atmosphere. The city's most famous festival, the Edinburgh Fringe Festival, takes place in August. During this time, the streets are filled with performers, artists, and musicians from all over the globe. The Fringe Festival coincides with the Royal Edinburgh Military Tattoo which is a spectacular showcase of music, dance, and military pageantry set against the backdrop of the iconic Edinburgh Castle. If you're planning a visit for August, be prepared for higher than normal accommodation prices and a very busy Royal Mile.
During July and August, you'll likely see the hottest temperatures with highs hovering around 70os. Pack your sundresses and tank tops. But always remember a light rain jacket or umbrella. If you're not a fan of cold and rainy weather, the summer months are the best time for you to visit Edinburgh.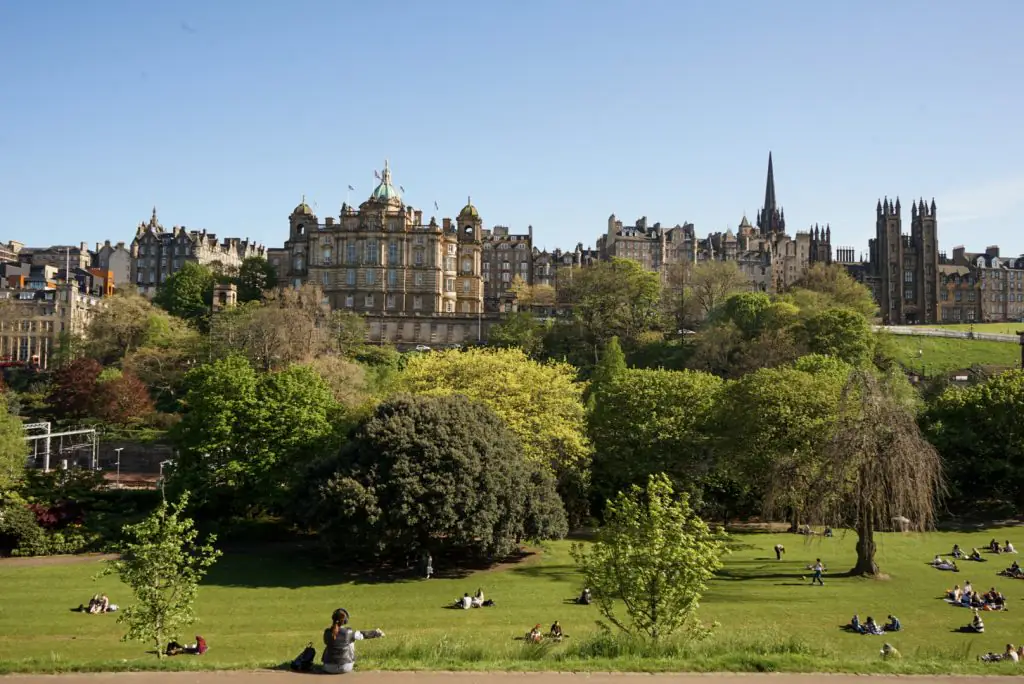 Fall (September to November): 
If Spring in Edinburgh was bursting with color, I can only imagine that Fall does as well. The trees lining the cobblestoned streets turn gorgeous shades of amber and gold. October is my favorite time to visit Ireland and I'm sure Edinburgh is similar. Fall is the perfect time to explore the city's rich history with a visit to the Royal Yacht Britannia or the hauntingly beautiful Holyrood Palace. 
The weather during the fall months will turn a bit chillier and rain, while to be expected year-round, will increase. 
Winter (December to February): 
Winter in Edinburgh seems like a dream. Christmas markets of course take center stage and Princes Street Gardens is decorated with festive lights. This is a great time of year to indulge in Edinburgh's cafe scene and take leisurely strolls through the city's free museums. Don't forget about the three-day Hogmanay celebrations, Scotland's famous New Year's Eve festival. This is a great time of year to cozy up in one of Edinburgh's cafes or pubs. It's also a great time for leisurely strolls through the city's free museums. 
What to Pack for Edinburgh
What you pack for Edinburgh will greatly depend on the time of year you visit. However, there are some essential items for every Scotland packing list.
Waterproof Jacket & Umbrella: In the winter months, you'll likely want a heavier waterproof jacket like this, and in the summer months a rain shell like this is perfect for layering. Also, don't forget an umbrella for those unpredictable rain showers.
Comfortable Walking Shoes: You will be doing a lot of walking in Edinburgh. It's also a fairly hilly city with its fair share of cobblestone streets. Keep your feet as happy as can be with comfortable, well-broken in shoes. I wore a pair of Hokas, which admittedly aren't the cutest pair of shoes, but they are very comfortable.
Waterproof Boots: I also recommend packing a pair of waterproof boots that you can dress up for dinner and are also comfortable enough to wear around the city. I loved Blundstones for this trip!
Layers: In regards to the type of clothing you pack, that's a personal preference. But just remember that layers are key. You'll likely be taking jackets on and off as you go in and out of restaurants or a rain shower pops up. Edinburgh is a laid-back city, so a nice pair of jeans is perfect. You can also get away with wearing leggings. I loved these fleece-lined leggings from Amazon. 
Camera: Whether you're using your phone camera or a mirrorless camera, you're going to want to take photos and videos of this stunning city. The architecture in both Edinburgh's Old Town and New Town is amazing as are the views from the top of the city's hills. There's no wonder the city's skyline is protected as part of the UNESCO World Heritage site designation. You can find my favorite camera gear and learn how I take photos while traveling solo in this post.
Portable Charger: You'll be out exploring all day and plugs may be hard to come by. Keep a fully charged power bank in your day bag with a cord to charge your devices on the go. I've used this portable charger for years and one full charge allows for multiple phone and camera charges. 
Reusable Water Bottle: You can drink Edinburgh's tap water so bring a reusable water bottle with you. I like these collapsible ones to save space or you can travel with your favorite emotional support Hydro Flask. Stay hydrated friends!
Travel Adapter: If you're visiting from outside of the UK, you'll need a travel adapter. This universal travel adapter is perfect as it has a regular plug and USB charging options.
Hat: I recommend bringing both a beanie and a baseball hat (which are in style to wear casually!). A beanie will keep you nice and warm on cool windy days and on those sunny days, a baseball hat will keep the sun off of your face while still looking cute!
 Sunglasses: As someone with sensitive blue eyes, sunglasses are a must year-round.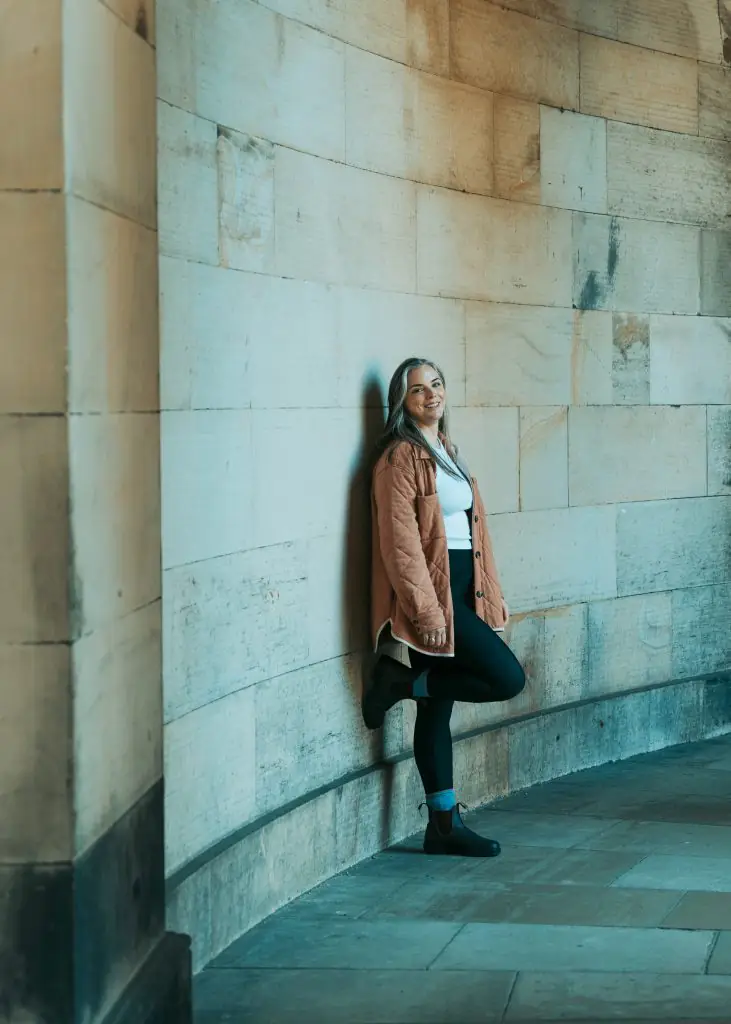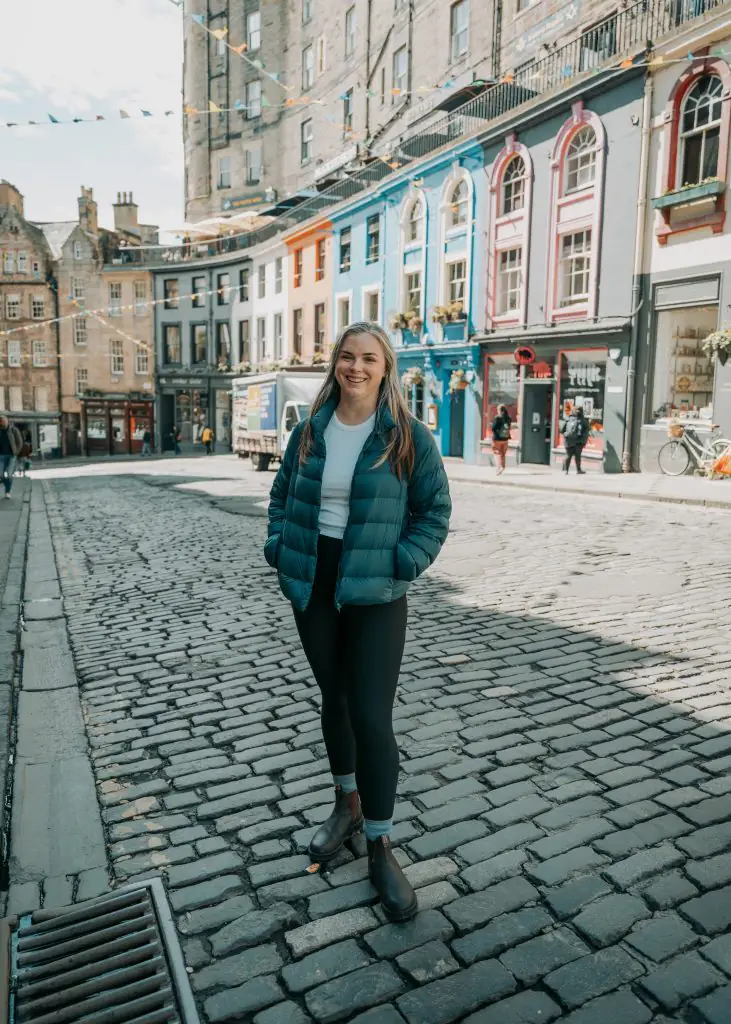 How Many Days in Edinburgh
When planning your Scotland itinerary, you may be wondering how many days to spend in Edinburgh?
I spent a total of 5 days in Edinburgh during my 15-day trip to Scotland and I still feel like I barely scratched the surface. Admittedly, I was very grumpy and under the weather the first three days that I was in Edinburgh. I know that not everyone can make a 15-day itinerary to Scotland happen and you'll likely be a bit more crunched for time in Edinburgh.
I recommend having at least one full day in Edinburgh where you wake up and go to bed in the city before moving on to the rest of your Scotland itinerary. If you can make it two days, do it! The Edinburgh itinerary I provide below is perfect for one full day, however, I'll also provide ideas for things to do if you have extra time so you can build your own two-day Edinburgh itinerary from this one!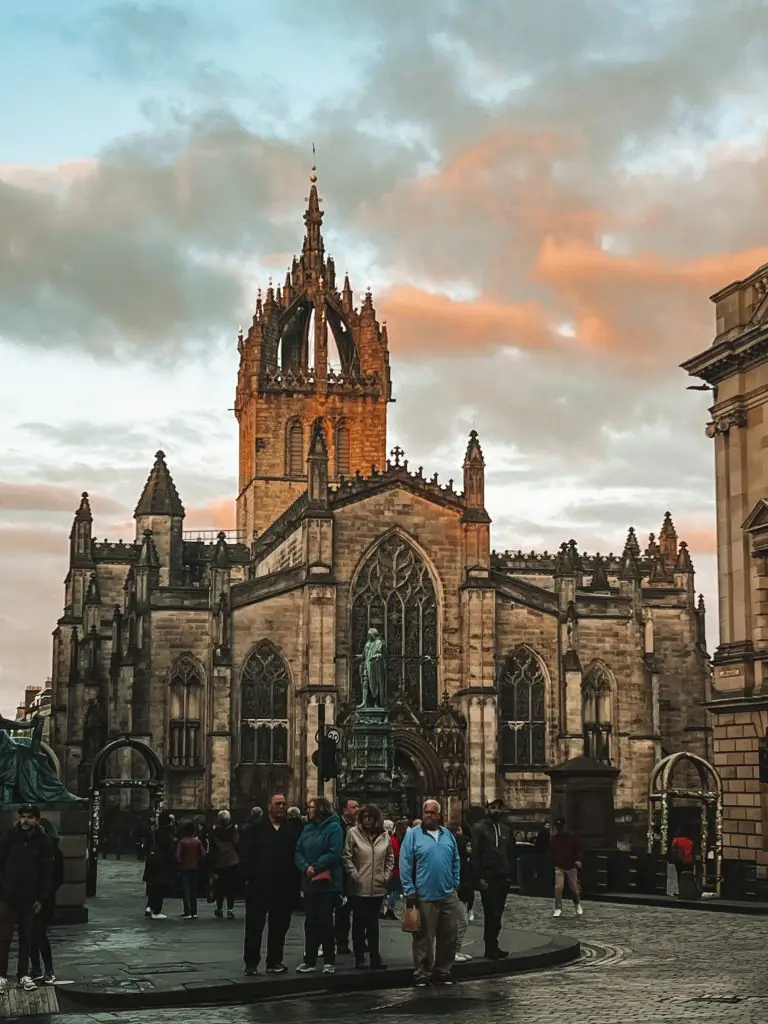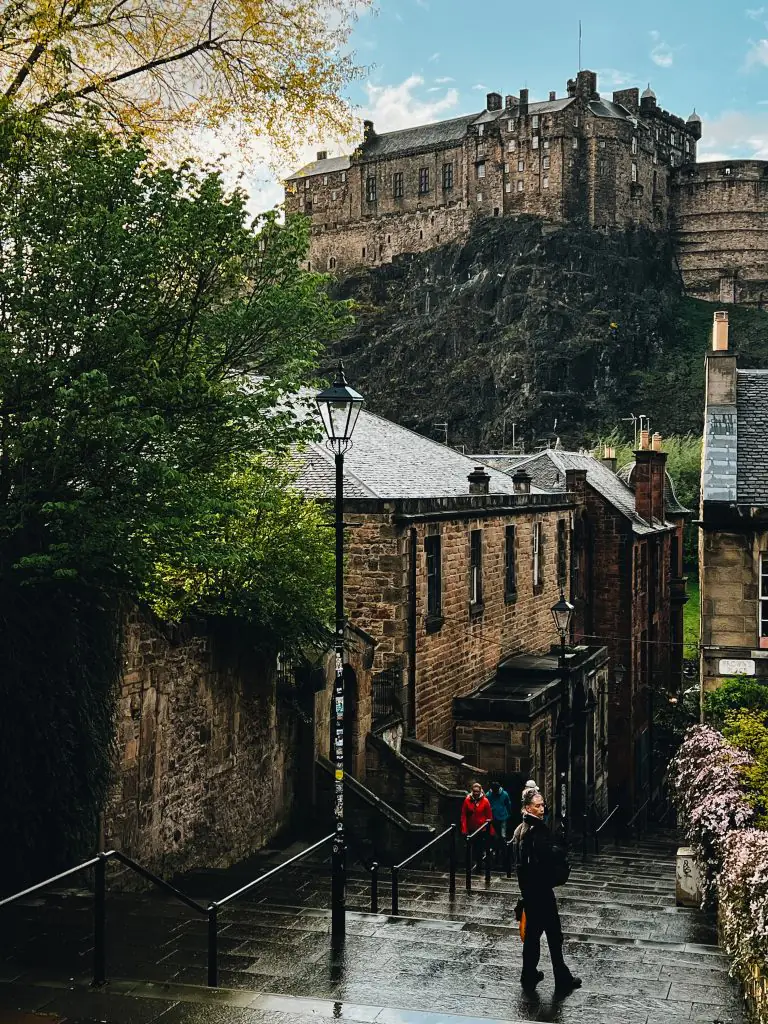 How to Get to Edinburgh City Center from the Airport
Before you can start your day in Edinburgh, you'll need to get there, most likely from the airport. There are multiple ways to get to and from the city center. How you do it depends on your budget and travel style. Here are a few options:
Edinburgh Airport to City Center by Taxi
I took a taxi from Edinburgh airport to the city center upon arrival. Funnily enough, a former boss of mine was on the same flight from the States as me so we shared the cab ride to town and he paid for it. That was a win as it cost about $30 to get from the airport to my hotel for the first night. It's really simple to do, you'll follow the signs for a Taxi from the airport and sign in on a kiosk. The taxi that's yours will pull up within a few minutes and you'll be off. There is also someone there to help you figure out how it all works. Depending on the traffic and where you're going, a taxi ride will take around 30 minutes.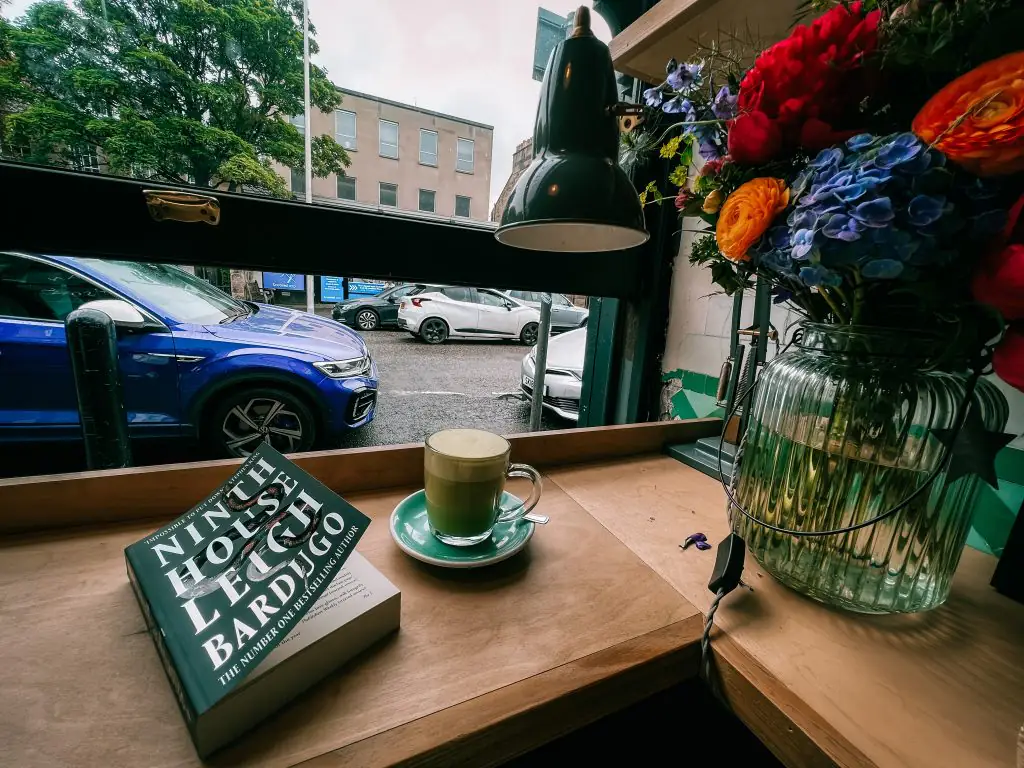 Edinburgh Airport to City Center By Tram
This is the most budget-friendly option to get to the airport and it's how I left the city center for my flight home. A one-way ticket costs 7.50. Trams depart every 7 minutes. To decide which stop to get off in the city center, pull out your Google Maps and find your accommodation. Then search tram stops. The stops you'll likely get off at are West End, Princes St, or St. Andrew's Square. You don't need to buy a ticket in advance, there are kiosks at each stop. The tram ride will take approximately 30 minutes.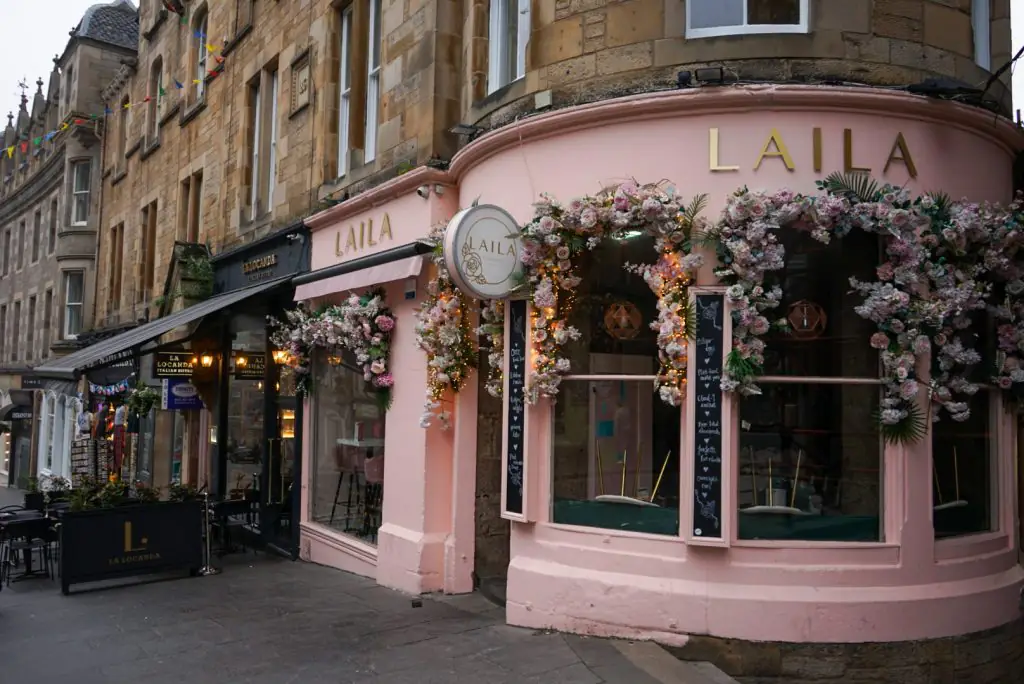 Solo Female Travel in Edinburgh, Scotland
Is Edinburgh safe for solo female travelers? Yes! Edinburgh, and Scotland as a whole, is a safe destination for solo female travelers! 
There is little petty theft or street harassment. The locals are friendly and helpful. Also, no one seems to care what you're doing! So use common sense, relax, and enjoy!
One Day in Edinburgh
Now that you know when you're planning your trip to Edinburgh and have all of the logistics figured out it's time to plan your epic one day in Edinburgh itinerary. 
Indulge at Breakfast
To start the day off right, you're heading out for breakfast! You have two options for breakfast, the first is Urban Angel and the second is the Pantry.
Urban Angel is a cozy bistro located on the corner of Hanover St. and Queen St in Edinburgh's New Town. Get there before they open to hop in line or make a reservation in advance. I got there just as they opened and was able to snag a seat at the window – my favorite way to eat as a solo traveler. Their menu offers a wide selection of drinks, smoothies, and brunch dishes. I had a matcha latte (of course), the raw chocolate smoothie, and one of their eggs on toast dishes. However, they get amazing reviews for their eggs benedict and french toast if that's something you're craving!
Your second breakfast option is The Pantry. I saw this brunch spot on someone's TikTok and knew I had to try it. It did not disappoint. The Pantry is located in the incredibly charming Stockbridge neighborhood and near the Dean Village walk. This makes it a great location to start the rest of this itinerary.
Similarly to Urban Angel, get there early to avoid lines (especially on the weekend). However, I got there shortly after it opened and was seated quickly. This is a bright and buzzing place with the best French toast I've ever had. Seriously – get the French toast. Their matcha was one of my favorites in Edinburgh as well. 
Explore the Stockbridge Neighborhood
After breakfast, it's time to explore the charming neighborhood of Stockbridge. This was one of my favorite areas in Edinburgh. It's a bustling area but has a more local vibe. And Raeburn Place (the main road through town) is filled with unique cafes, independent bookstores, and a great Sunday market. Here are a few must-sees in Stockbridge: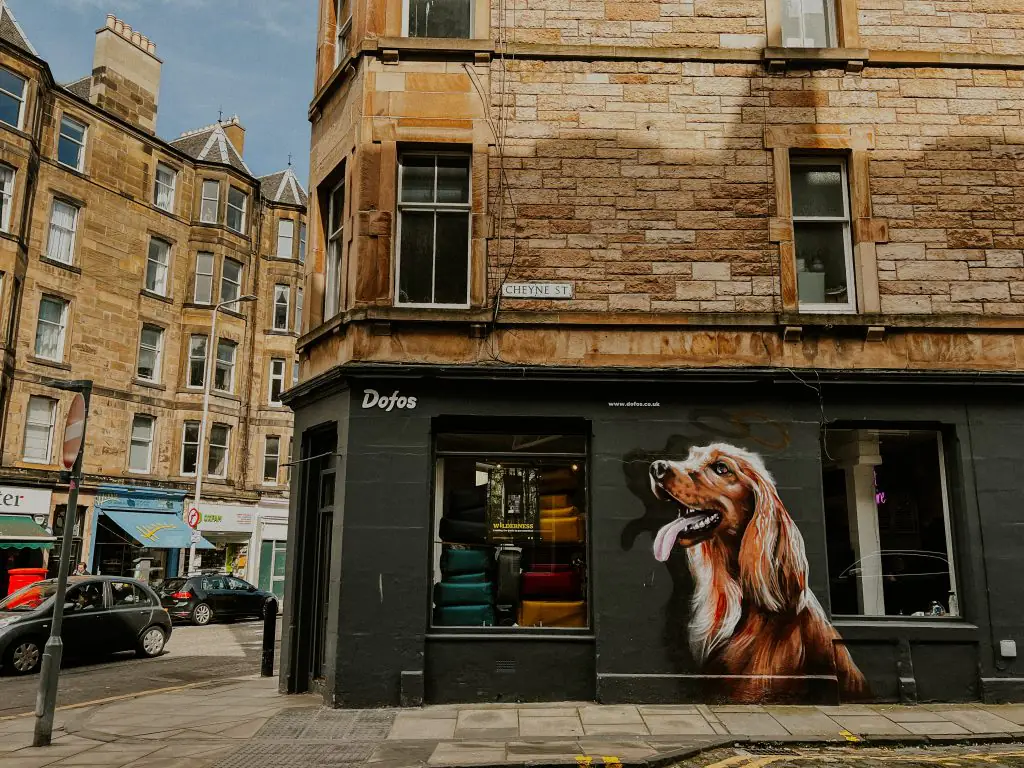 Circus Lane
Circus Lane may be one of the most picturesque streets in Edinburgh. It's a narrow cobblestone street lined with cute homes and blooming flowers (especially in the Spring). It's a lovely place for a stroll and of course a few photo ops!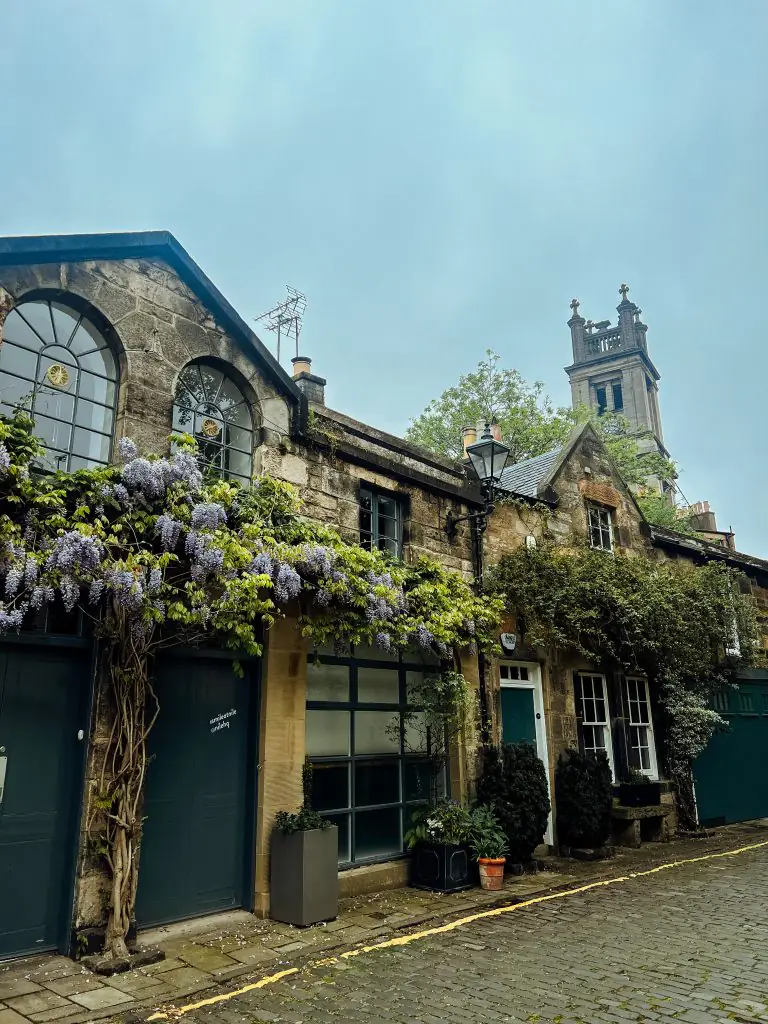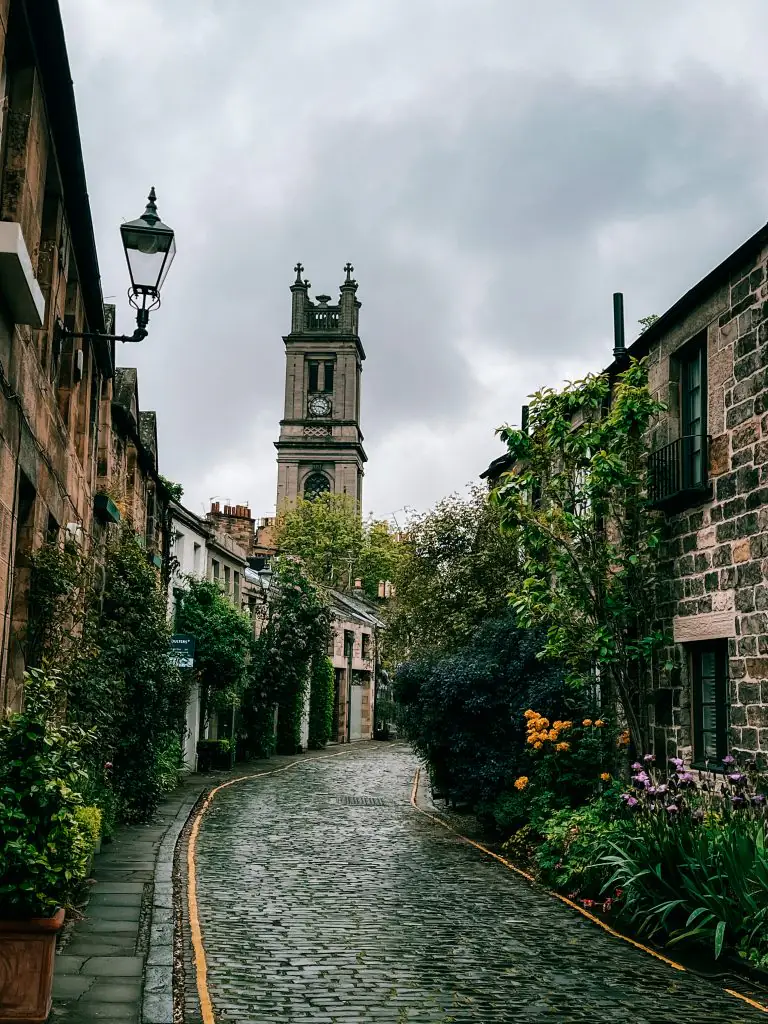 Bookstores & Shops in Stockbridge
One of my favorite things to do in new cities is visit a local bookshop and pick up a new book by a local author. Thankfully, Edinburgh, and Stockbridge in particular, has plenty of bookshops to choose from. Here are two that are worth the visit.
Golden Hare Books
The shelves of Golden Hare Books offer the latest fiction and nonfiction for your next great read. They also had a full table of Scottish writers and Scotland-inspired books. I picked up The People's City by Alexander McCall Smith which is a series of short stories that take place in Edinburgh.
Rare Birds Bookshop
Rare Birds Bookshop is amazing and I didn't even realize it. I actually passed right by it the first time I walked around Stockbridge. The second time I went in I learned that not only is it a woman-owned bookshop, but all of the books inside are by female writers. Their mission is to champion female authors and help us find books we might not have otherwise.
So you can not only get your ACOTAR by Sara J Mass here, but something a little bit more unique. I picked up The Ninth House and finished it the same day!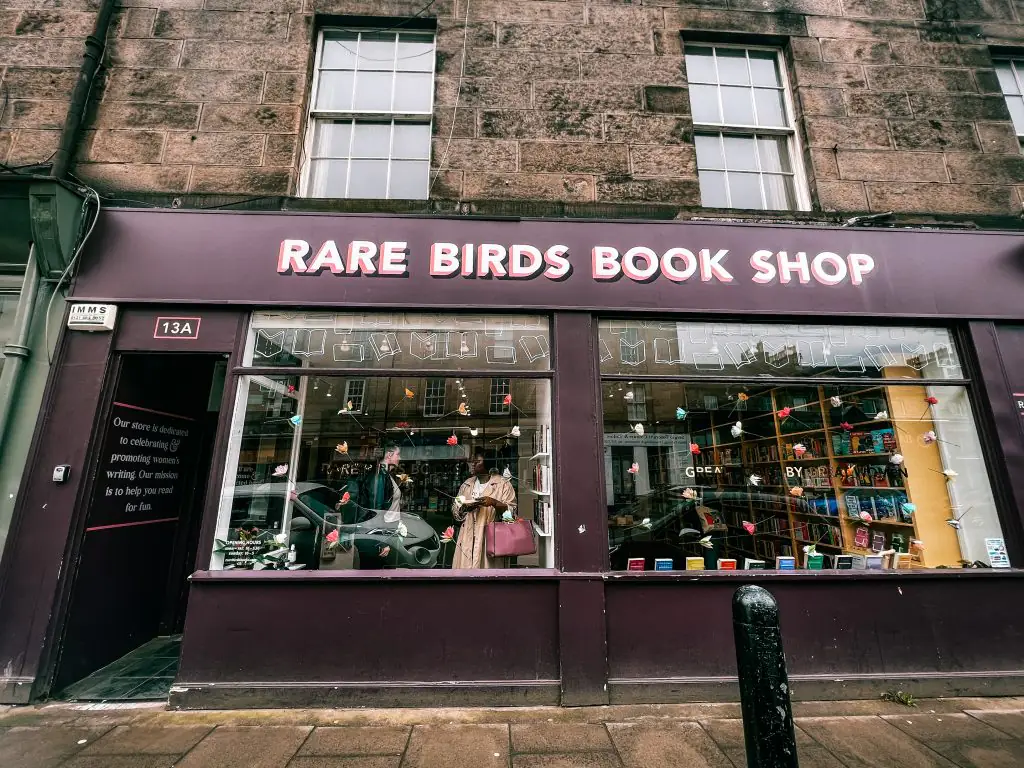 An Independent Zebra
The Independent Zebra is a bright and quirky shop that sells everything from your new favorite reading chair to cocktail mixes, and clothing. It's a great shop to find a unique gift, new wall art, piece of jewelry, and more.
Cafes in Stockbridge
One thing about me is if there is a local cafe, I'm stopping in. I'm usually on the hunt for the city's best matcha, but if matcha isn't on the menu, then I'm all about a nice chai while reading one of my new books from the local bookstore. Here are a few cafes worth stopping into in Stockbridge.
Cowan and Sons
I adore this cafe. From the white and green subway tiles to the unique artwork on the walls, and the huge window to sit in front of. I wished I'd come in hungry because their food also looked delicious. As it was, I'd just stuffed myself full at the Pantry, so I settled in at a window seat with a hot matcha latte and my book for more people watching than reading. 
Cowan and Sons is first come first serve, but you can order takeaway from the front window if there's a long wait.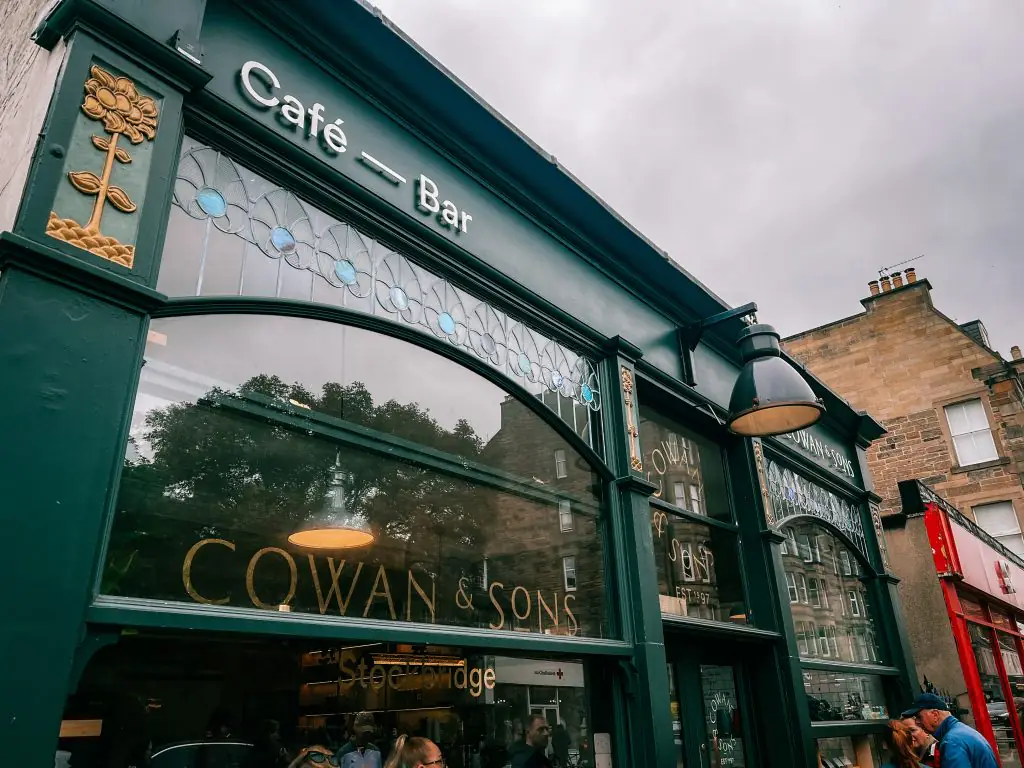 Artisan Roast
Artisan Roast is an incredibly cozy cafe to stop into on a rainy day. They have larger tables for groups and a couple of couches for a cozy reading session. While they don't have matcha on the menu, they do have a wide variety of loose-leaf teas and a nice food menu if you've started to get hungry and need a pick-me-up.
Stroll through Dean's Village 
Now that you've explored a little bit of Stockbridge and are well caffeinated, it's time to check out the small, quaint, and (you've guessed it) picturesque Dean's Village. While Dean's Village is slightly out of the way from other touristy areas of Edinburgh, it's well worth the visit. Especially since you're right in the area.
From the Stockbridge market walk up India Place until you see the entrance for St. Bernard's Well and the Water of Leith Walkway. The walk is so peaceful and in the spring you'll see bluebonnets. 
You'll pass under Dean Bridge and then you're entering Dean Village. Follow the road to Bell's Brae Bridge and cross over for great views of the Village. Then walk through the little village and cross back over the Water of Leith Walkway bridge. Walk back towards Bells Brae Bridge to complete the loop and then head back to the city center via Lynedoch Place.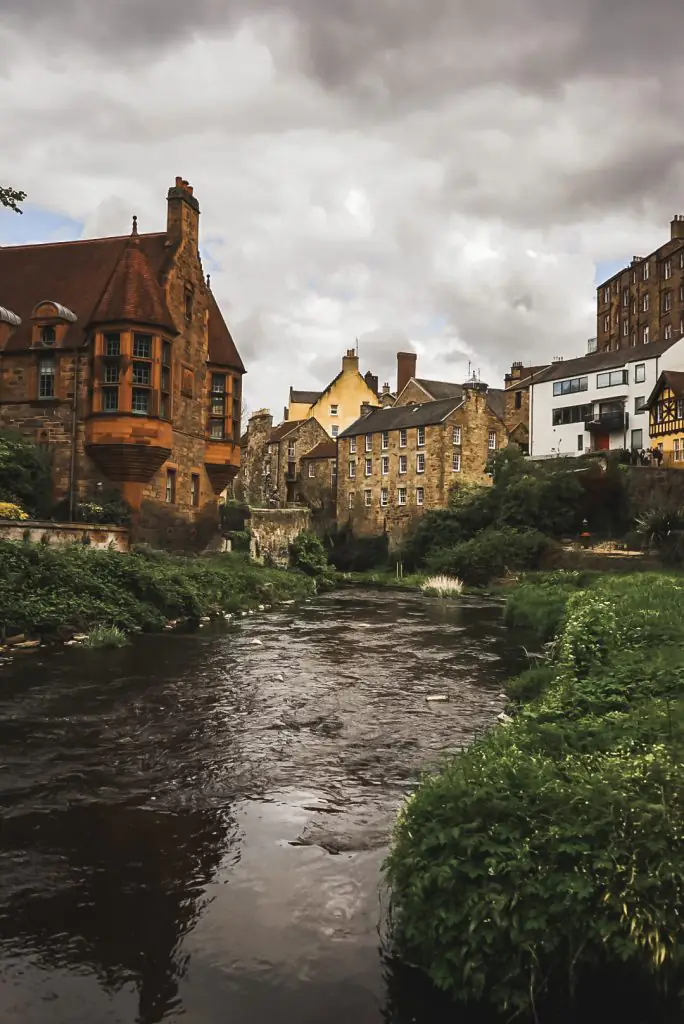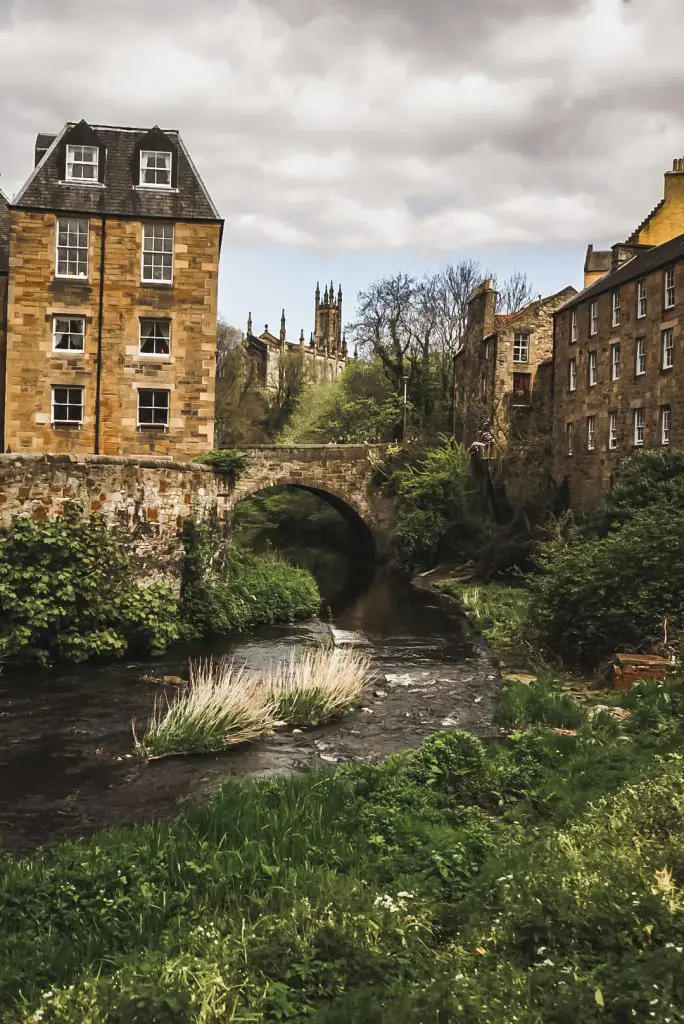 Visit Princes Street Gardens
As we head back into the city center and prepare to cross from New Town to Old Town Edinburgh we are going to check another item off your Edinburgh bucket list, Princes Street Gardens.
Princes Street Gardens is a 37-acre park that was created by draining the Nor Loch that was once there in the 1700s. In the park, you'll find of course beautiful flowers in the spring and fall colors in the fall. But there are also other unique things to see in the gardens.
Ross Fountain is a beautiful fountain with direct views of Edinburgh Castle. 
Scott Monument is an iconic landmark in Edinburgh. The monument is dedicated to Sir Walter Scott, a prolific Scottish writer who had a profound impact on Scottish culture. It's the largest monument to a writer in the world. You can pay ($8 for an adult) to enter and climb the stairs to the top of the monument!
The Scottish National Gallery is a museum housed in a gorgeous building. Inside you'll find a variety of fine art from European artists from the 16th-19th centuries. Some of those artists include Van Gogh, Monet, and Rembrandt.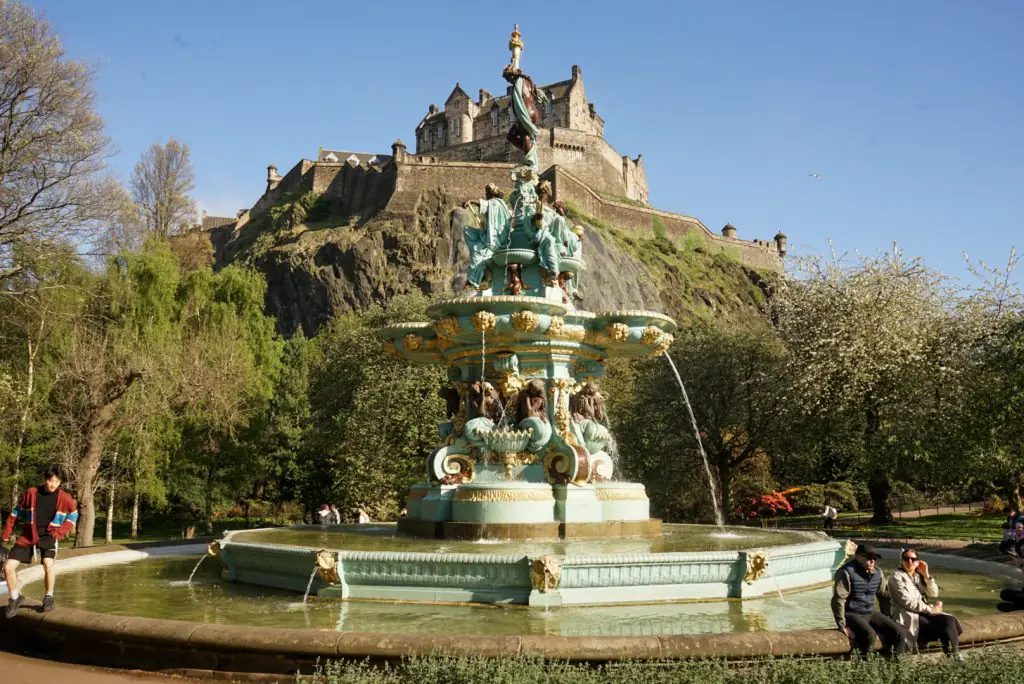 Of course, throughout the gardens, there are ample benches to sit on, and people watch and enjoy the views of Edinburgh Castle. Edinburgh Castle sits on top of Castle Hill which is actually an extinct volcano!
Lunch at The Devil's Advocate
At this point, you're likely quite hungry. It's time for lunch at The Devil's Advocate located in Old Town hidden away on Advocate's Close. TikTok came through again with this recommendation.
I highly recommend getting a reservation here. I stopped by for dinner the night prior and it was completely full. Unfortunately, they don't do bar seating. So I booked a reservation for lunch the next day and as I enjoyed my meal I noticed people were being told it was booked up!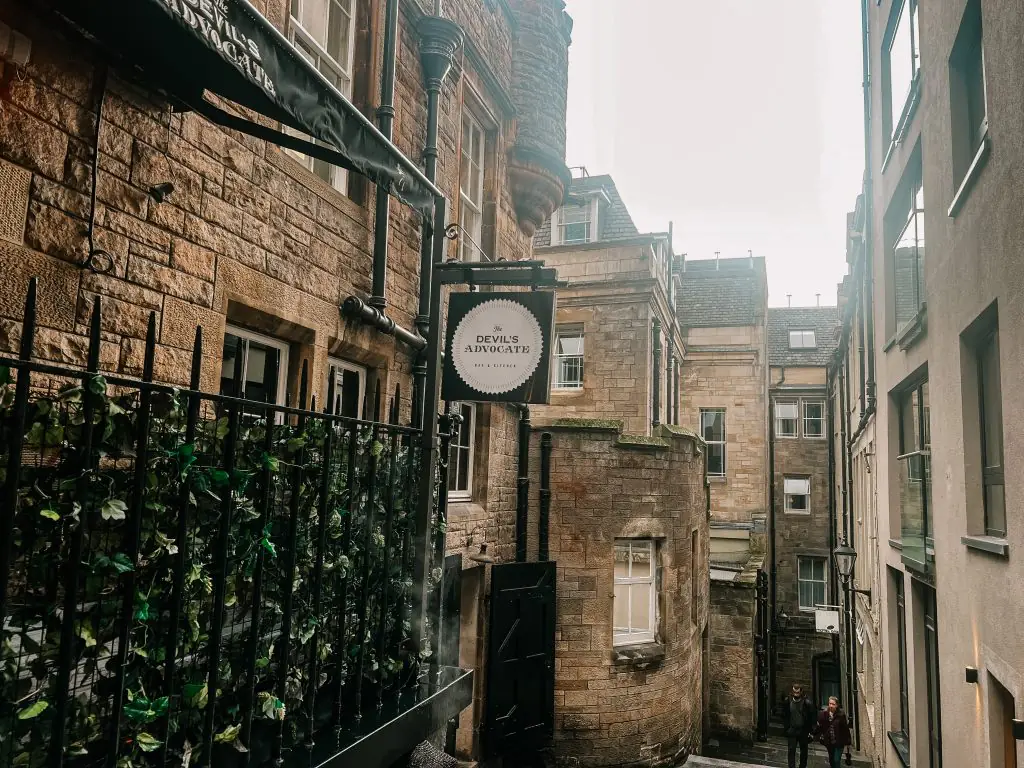 The Devil's Advocate has over 300 whiskys to choose from or you can do a whisky flight to find one that you like. If whisky isn't your thing, then let their bartenders mix up a tasty cocktail. For lunch, I had a hearty pork belly dish, which was delish! Everything on the menu looked really tasty, I don't think you can go wrong here!
Sip Matcha from the Milkman
Need a pick-me-up after lunch? Head to the Insta famous Milkman. There are two locations both located on Cockburn St. The main Milkman cafe that you've likely seen on social media with the cozy window seat is located closer to High Street while the other Milkman is located near Market Street. 
I had both their hot and iced matcha lattes and both were perfect. In terms of ambiance, I preferred the Milkman near Market Street a bit better for its dark brick interiors.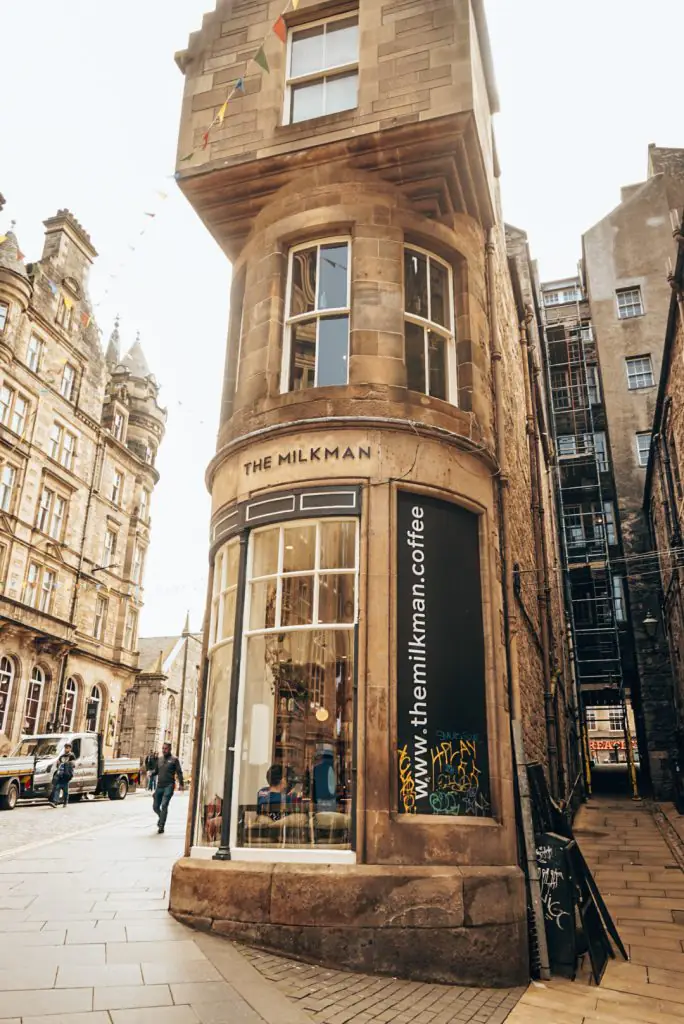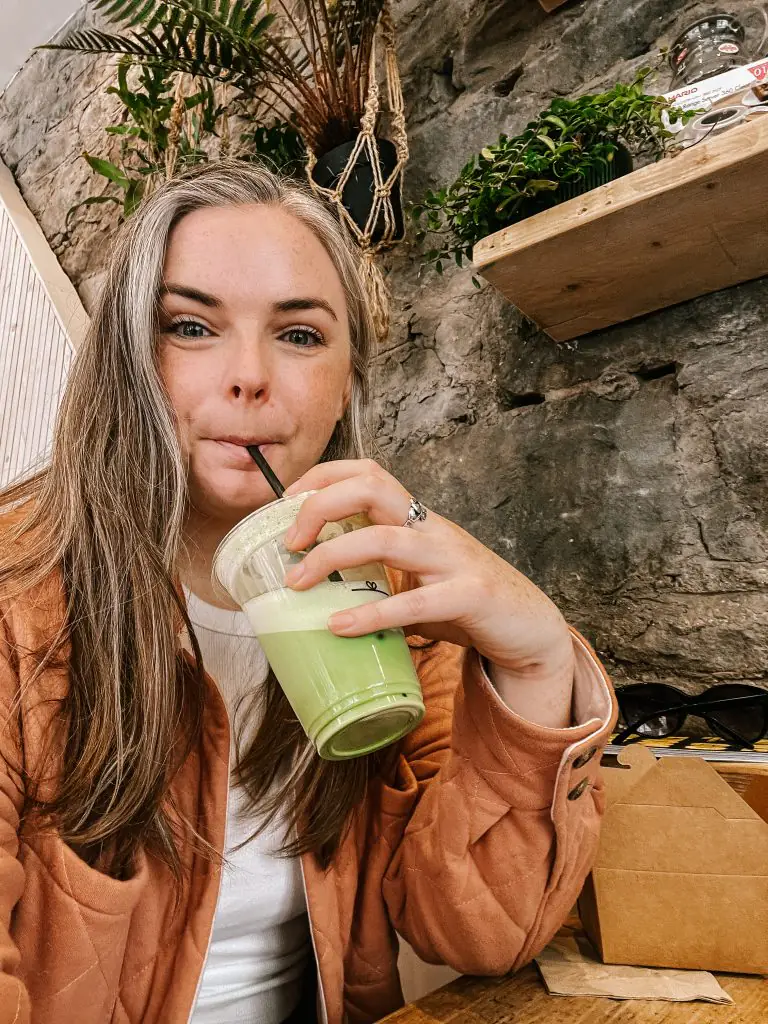 Visit the Writers Museum
There are multiple museums to visit in Edinburgh, but with only one day, the National Museum of Scotland may be a bit of an undertaking. My recommendation is to visit the Writers Museum. Like the other Edinburgh museums, entry is free! You only need about 30 minutes for this museum as well, so it won't take up too much of your time.
The Writers Museum, located in Lady Stairs Close, is dedicated to three Scottish literary heroes, Sir Walter Scott, Robert Louis Stevenson, and Robert Burns. Each of the writers has an area of the museum dedicated to their life and works. I haven't read any of their works, but it was still interesting to learn about how they created some of their most notable contributions.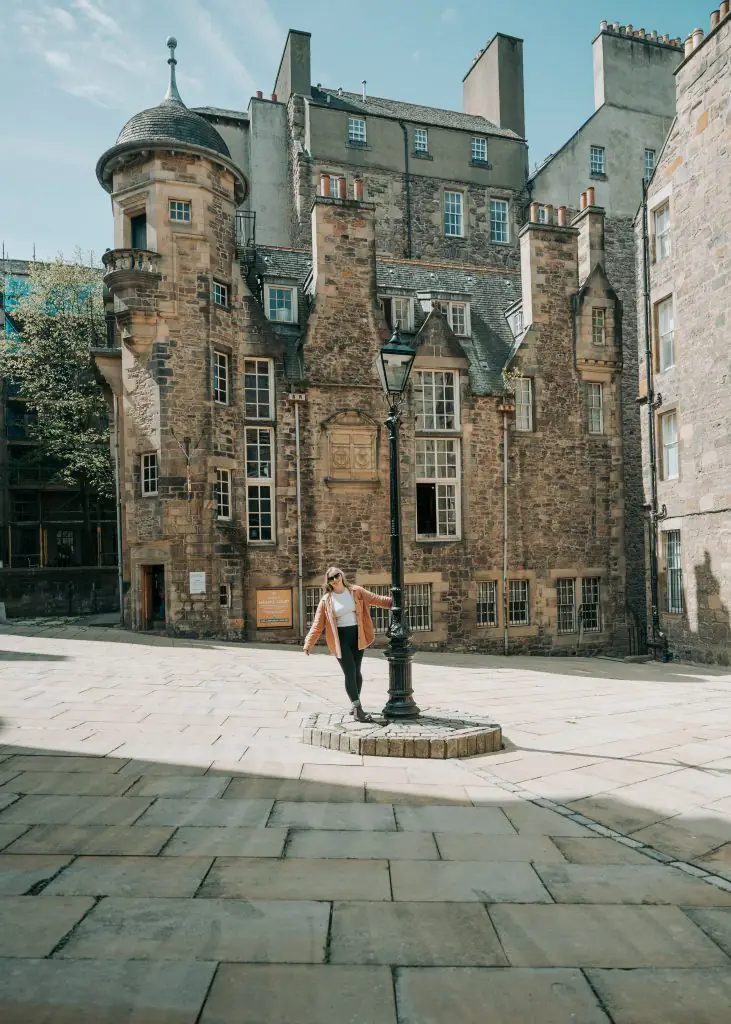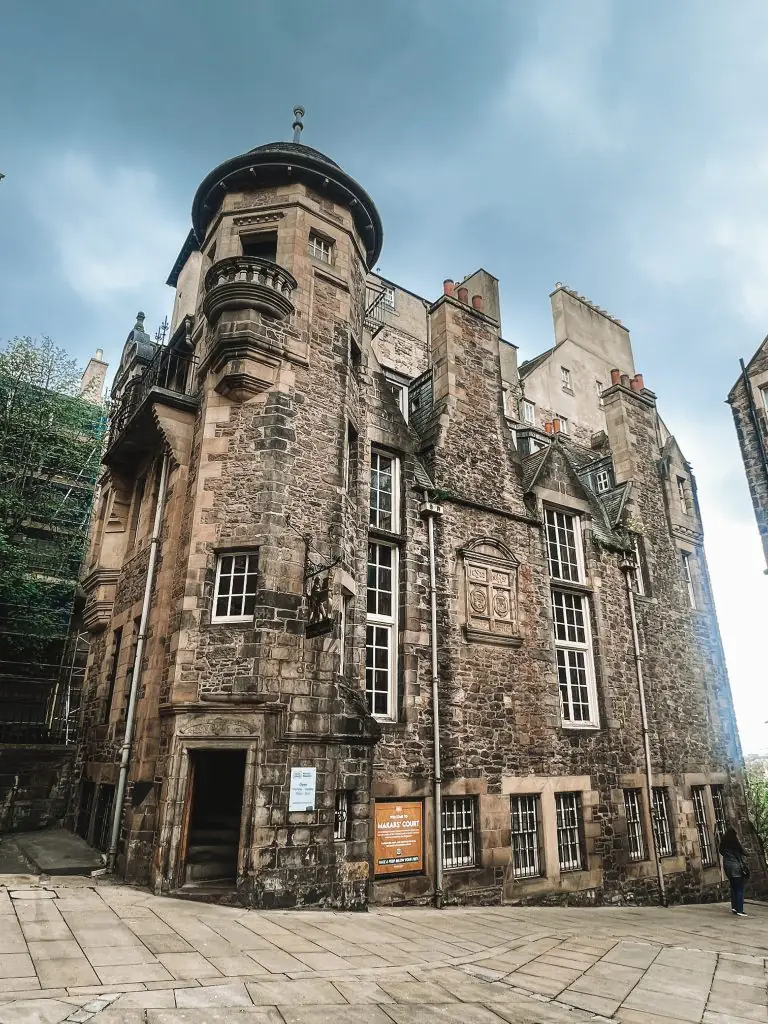 Take an Old Town Walking Tour
An absolute must-do in Edinburgh is an Old Town walking tour. There are several free Edinburgh walking tours that you could take and they're a great way to learn about Scottish history, past and present.
The Old Town walking tour (which is the one I did), takes you throughout Old Town, down into Grassmarket, and through Greyfriars Kirkyard. This tour is excellent for an overview of Edinburgh's history (including some of its dark past and some light Harry Potter insights). There are multiple departure times each day.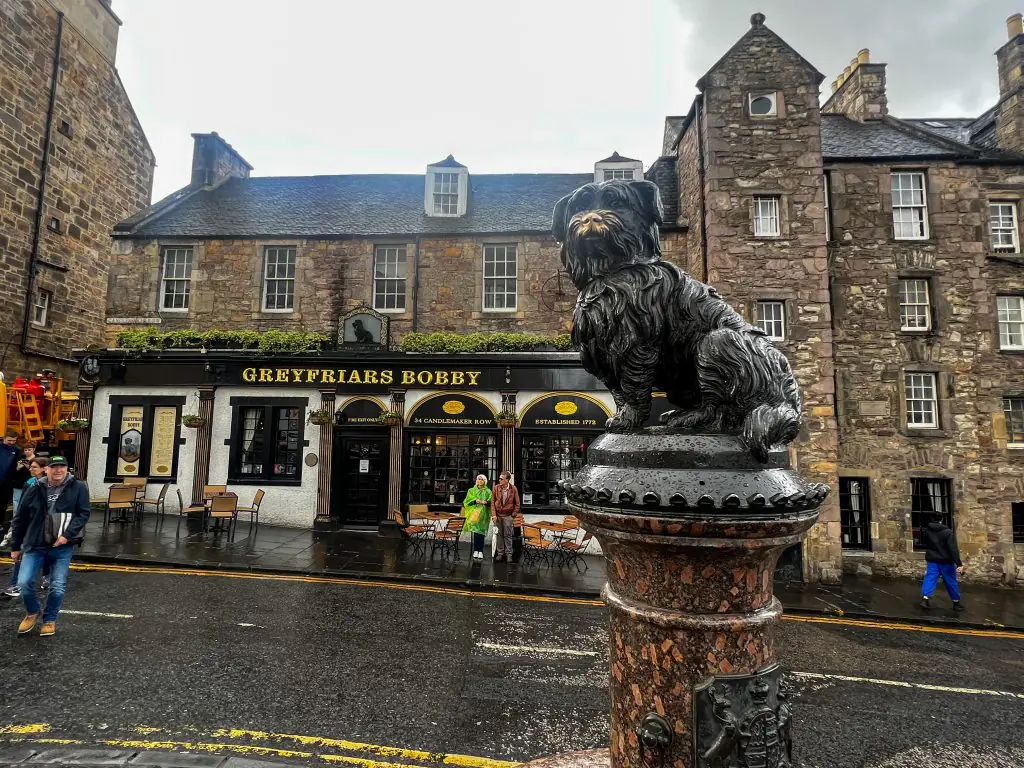 If you want to dive deeper into Edinburgh's dark past, take the free Ghost Tour that runs every night at 7:00 pm. Or, if you're a Harry Potter fan, you can take their free Harry Potter walking tour which will show you the inspiration for Diagon Alley, Hogwarts, and more.
Explore Victoria Street + Grassmarket
Since you're in Old Town for your walking tour, Victoria Street is an absolute must-see (and photograph). This windy cobblestone street is filled with colorful restaurants and shops. 
Once you've taken your photographs and wandered the street head into Grassmarket (where they used to have public hangings) for dinner and drinks!
Eat Dinner at the Last Drop
The Last Drop located in Grassmarket is a good spot for Scottish food and drink. I love how the walls of the pub have history written on them and the lamps in the window are nooses. Supposedly, those who were sentenced would have one final meal and whisky while waiting for the gallows. The pub gets its name from the last execution that took place here in 1864. 
Of course, they have a nice selection of whisky, but I opted for rose and had one of the pies!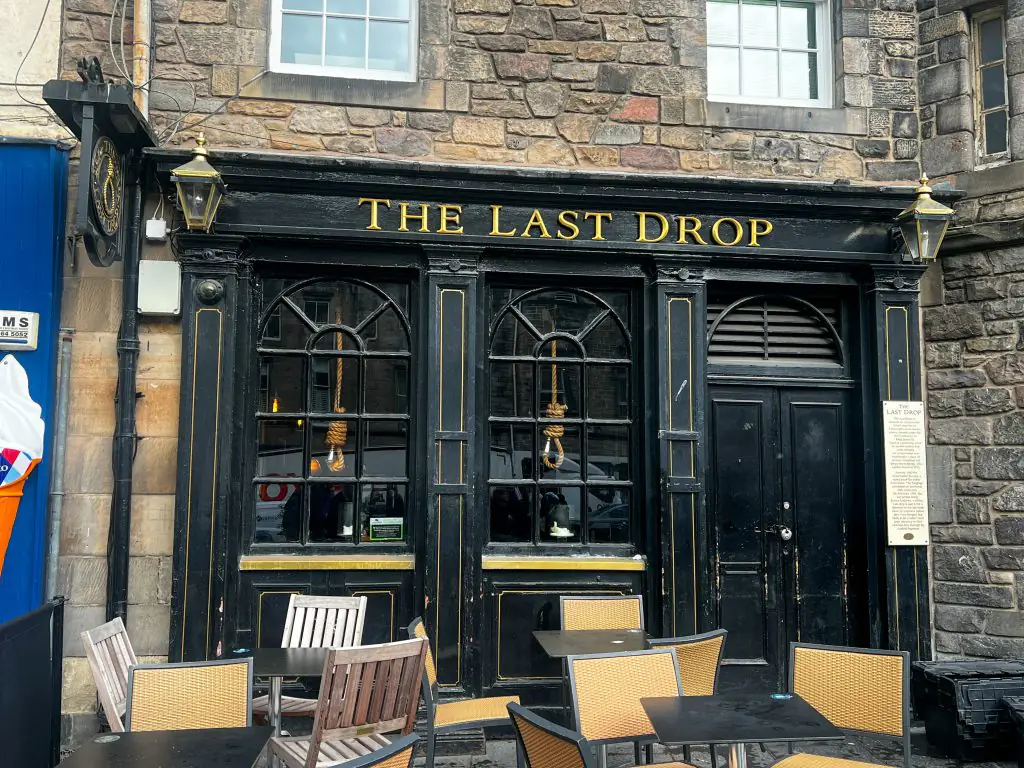 Enjoy Drinks at the World's End
It's not a day in Edinburgh without ending the night with a few drinks! There are more than enough pubs to choose from. You can stay at the Last Drop or try another pub in the Grassmarket area, Maggie Dicksons is a great option for a few drinks and live music.
Alternatively, walk off your dinner with a stroll to the pub at World's End. In the 16th century, Edinburgh was a walled city. The Flodden Wall encircled the city, you can still see a portion of it in Greyfriars Kirkyard, and two of the pub's walls.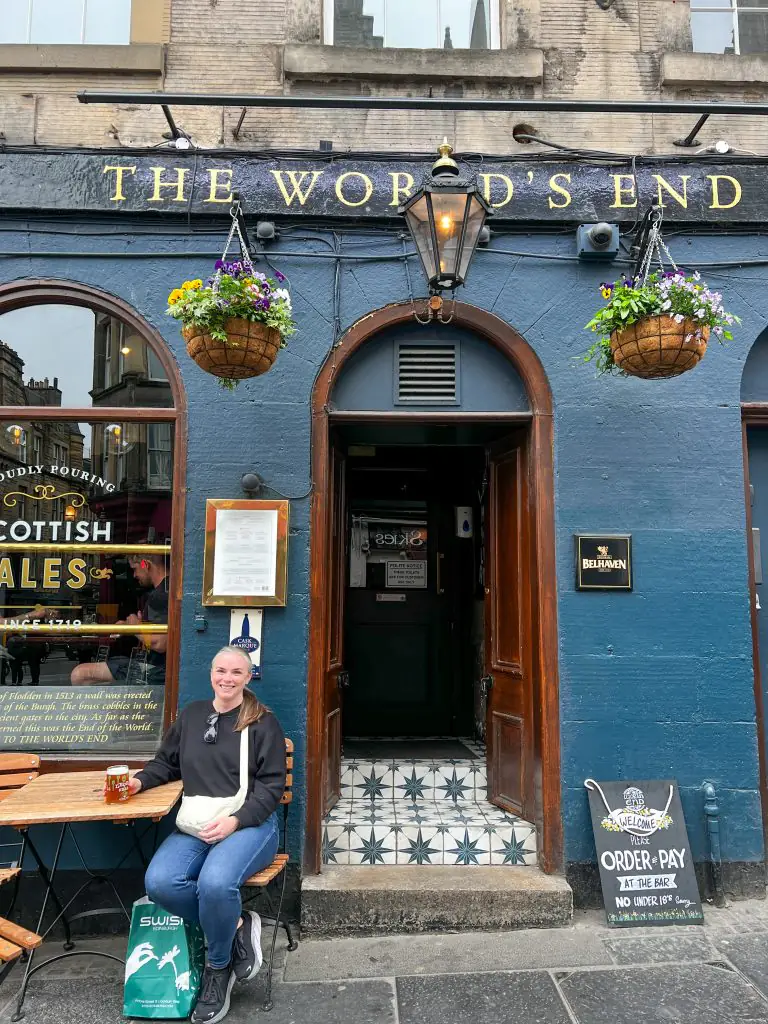 The gates to the city were just outside the Worlds End pub. Residents at the time believed anything beyond the gates was not part of their world – hence the name of the pub!
Once you enter you'll be welcomed into dark, cozy interiors and a round bar with a few stools as well as a seating area for dinner. They have whiskys on special that help expand your palate and the bartenders are very willing to help you find your favorite.
There is also live music some nights which adds to the ambiance!
More Things to Do in Edinburgh – If you have Extra Time
This one-day in Edinburgh itinerary gives you a little taste of everything Edinburgh has to offer. It's packed quite full of activities that will help you understand Edinburgh and Scotland's history and will take you to some delicious places to eat and drink.
If you have more time, here are a few other fun things to do in Edinburgh. 
Watch Sunset from Calton Hill
Calton Hill is accessible from the east end of Princes Street. The Scottish Parliament Building and the Palace of Holyrood House sit at the base of the hill while on top of the hill, you'll find the National Monument (seek out the Greek-inspired columns), the Nelson Monument, and the Dugald Stewart Monument.
Aside from the monuments, the main reason to make the climb to the top of Calton Hill is to enjoy some of the best views of the city. If you can, time it for sunset! While the walk to the Hill includes steep stairs, the hill itself is close to the city center making it easy to add to your itinerary.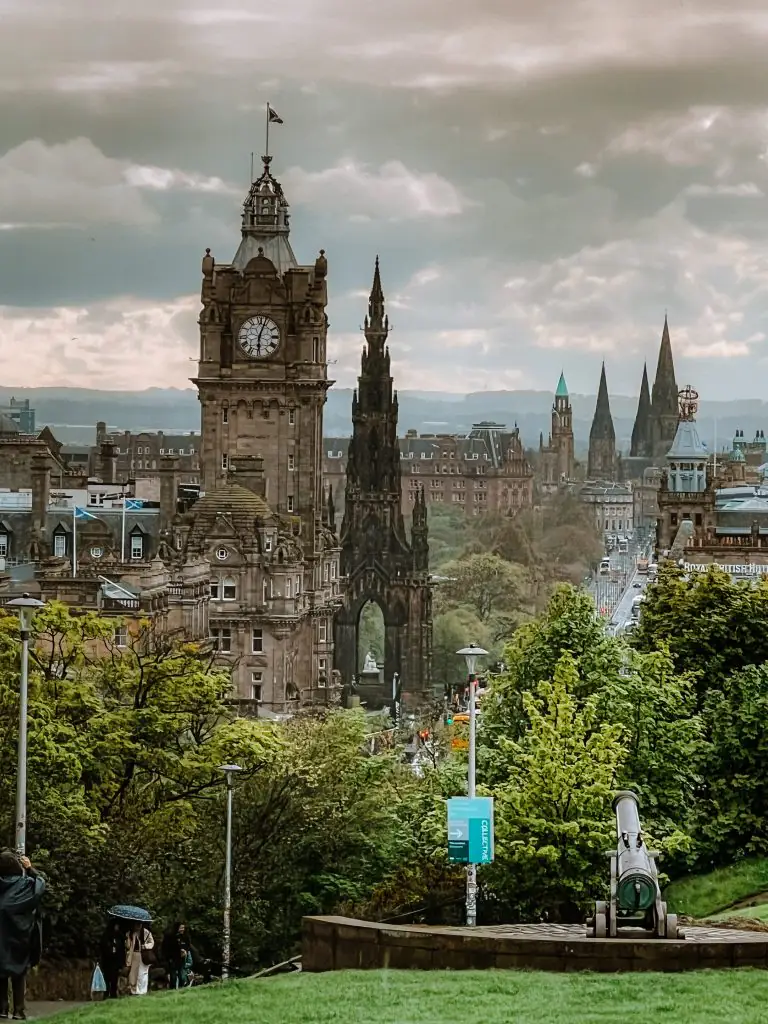 Sunrise Hike Arthur's Seat
Interested in more panoramic views of the city? Start your day with a morning climb up to Arthur's Seat. 
This extinct volcano takes up a vast majority of Holyrood Park at the end of the Royal Mile. There are several paths to take to the top with varying degrees of difficulty. 
The Yellow route is the fastest (although least scenic) route to the top. The most popular hiking path to the panoramic views at the top is the Green route which is a steady climb to the top!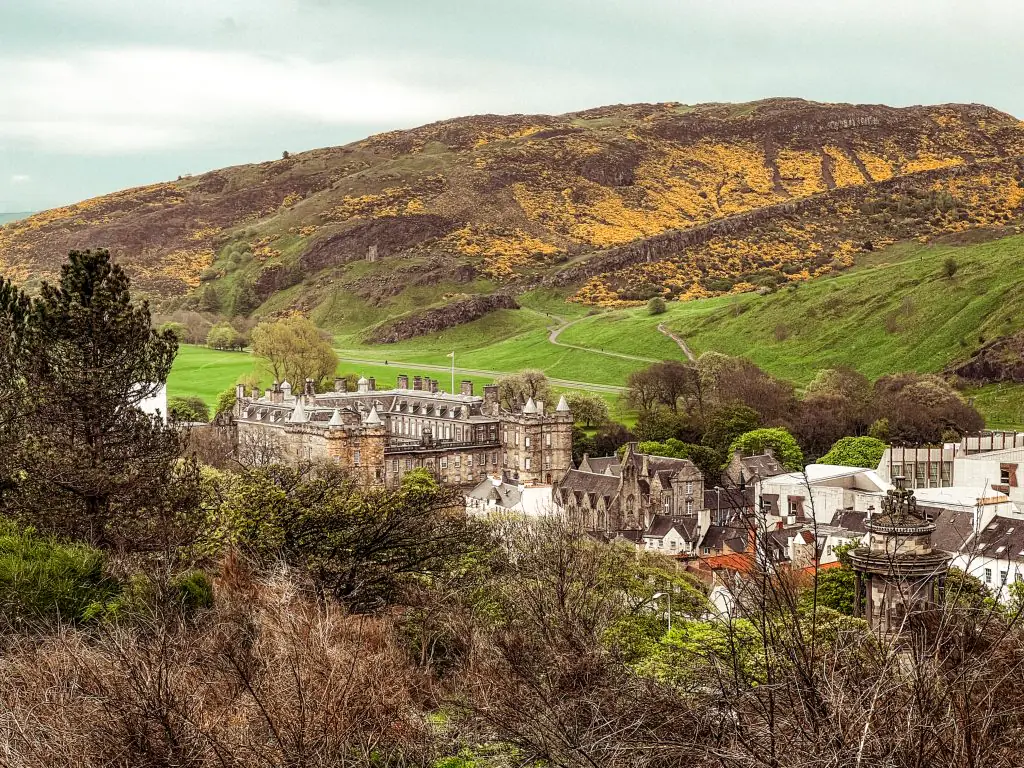 Walk the Royal Mile
You could easily spend a morning just walking the Royal Mile from Edinburgh Castle to Holyrood Palace. 
Holyrood Palace is located at the end of the Royal Mile and is still a Royal residence. This means it might be closed during your visit if someone is in residence (as it was when I visited). 
That being said even if it is closed you can still see it from the gate and enjoy the unique gift shop that has royal jewels. 
Visit Edinburgh Castle
Edinburgh Castle is one of the main attractions in Edinburgh. While I did enter the castle on my trip, it wasn't necessarily a highlight of my time in Edinburgh which is why it didn't make it to the main one-day itinerary.
However, if you do have time and want to learn more about the role of the castle (and who lived here), your entrance fee does come with an informative audio guide! Most of the interesting aspects of the tour are centered in Crown Square, the heart of the castle.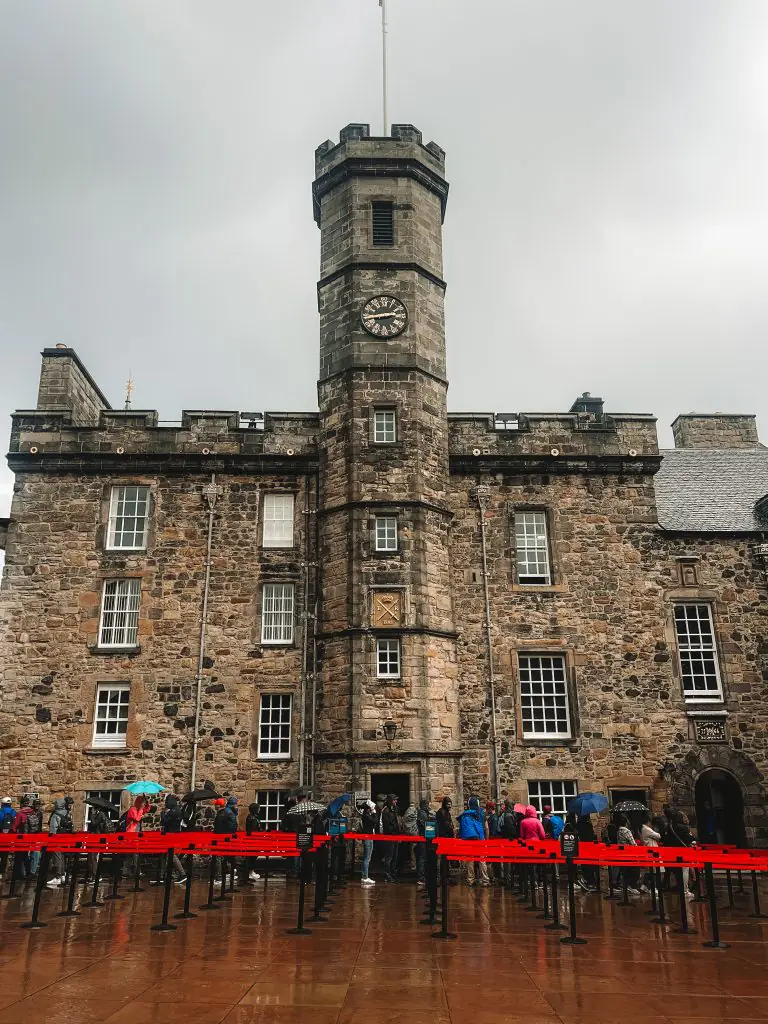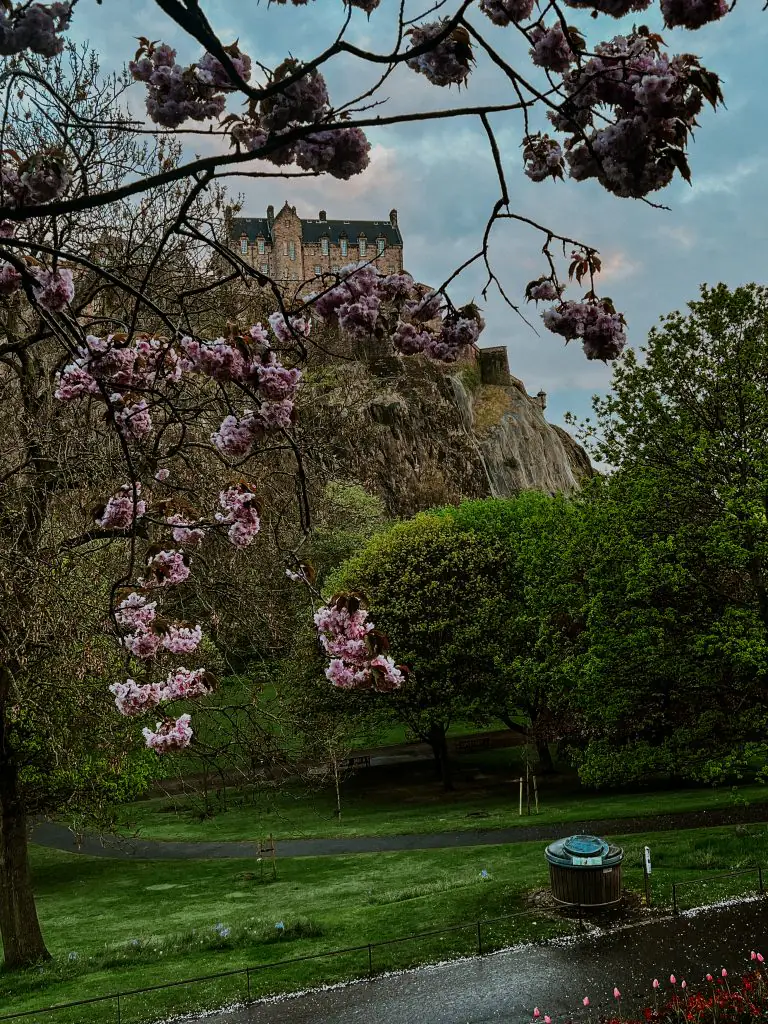 On one end you'll be to walk into the Great Hall and imagine the banquets held here before it was turned into a military barracks. On the other corner is the Royal Palace where you can see the room where Mary Queen of Scots gave birth to James VI. Another attraction in the Royal Palace is the Scottish Crown Jewels, the oldest in Britain. The crown is made of gold, silver, and precious gems along with a scepter and sword of state. No photos are allowed of the jewels, so take your time looking at them!
Purchase your Edinburgh Castle Tickets Here.
If you don't want to go into the castle, there are a few great places to see it from afar including Princes Gardens, Vennel Steps, and Arthur's Seat. 
Where to Stay in Edinburgh
An amazing thing about Edinburgh is that you're sure to find accommodation that suits your budget and travel style. During my time I stayed in two hotels and two hostels. It was a true bougie on a budget trip, splurging on a night at the Waldorf Astoria and then paying 20 per night to share a room with strangers!
Best Hostels in Edinburgh
There are so many hostels in Edinburgh! I'm going to share the two I stayed at here, however, if you want to check out them all, see the full list here.
Castle Rock Hostel
Castle Rock Hostel is regularly voted one of the best hostels in Edinburgh. It's easy to see why! This large hostel is located right next to Edinburgh Castle, and just up the hill from Grassmarket and Victoria Street. 
It's a HUGE hostel as well and somewhat easy to get lost in. Even though there are so many rooms, there are ample restrooms and showers – you rarely have to wait.
They have events every night of the week, a cheap breakfast spread in the morning, and a well-stocked kitchen. I felt very safe staying here and would recommend it if you want to be in the center of the action.
You can also sign up for tours and day trips to other places in Scotland from the front desk. 
Check rates and availability here.
Princes Street Hostel
When I returned to Edinburgh, on the back end of my trip, I stayed at Princes Street Hostel. 
I preferred this hostel over Castle Rock because it was located on a quiet street, but still in the heart of New Town, and the people who worked there were so welcoming. When I arrived I realized my lock did not fit into the locker and they let me borrow one for the trip without paying (even though I offered). And when I left, the owner carried my bag down the four flights of stairs!
That is the one drawback of this hostel. It is located on the very top floor of a building that has two other hostels in it. If you decide to stay here, be prepared to climb up four flights of stairs each time you return. 
Check rates and availability here.
Best Hotels in Edinburgh
If you're not a hostel girlie, don't worry I get it. To be honest, I think I'm getting over them as well. I stayed in two hotels during my time in Edinburgh – the Waldorf Astoria and the Doubletree by the Airport. 
I won't get into the Doubletree, because it was simply a good place for me to sleep, repack my bags, and eat before flying out on a 6:00 am flight! However, if you want a place near the airport this is an excellent choice! There is a shuttle that will take you to the airport or it's a 10-minute walk.
Waldorf Astoria – The Caledonian
The Waldorf Astoria is definitely a treat-yourself moment. I had Hilton points that I used to pay for a portion of the cost. I stayed there the first night that I landed so I could shower and sleep in a cozy bed. It was 100% worth it.
There are two and two bars restaurants on site, a pool and sauna overlooking the castle, and amazing amenity kits in the room. 
Check rates and availability here.
Kimpton Hotel – Charlotte Square
A second hotel I was considering and walked by on my first morning in Edinburgh is the Kimpton Hotel. If I ever visit Edinburgh again, this is actually where I'd likely stay. 
There is a gorgeous spa, pool, and fitness center. The rooms also look luxurious!
Check rates and availability here.