If you're visiting June Lake or Mammoth Lakes and looking for a relatively short and moderate hike, you've got to check out  the Parker Lake Trail. This 4 mile out and back trail takes you along a creek to a stunning Alpine Lake with turquoise waters and the Eastern Sierra Nevada mountain range as the backdrop. Lace up those hiking boots and let's go!
This post contains affiliate links, which means that, at no additional cost to you, I will earn a tiny bit of income if you decide to make a purchase or booking. For more, check out my disclosure. 
My Favorite hiking Resources
Where is the Parker Lake Trail Located?
The Parker Lake Trail is located in the Inyo National Forest, also referred to as Ansel Adams Wilderness.  It's about a 15 minute drive from the town of June Lake and xxx minutes from downtown Mammoth Lakes.
Off of Highway 395 you'll turn on to the north end of the June Lake Loop. After approximately 2 miles you'll then see a turn off for Parker Lake road. The Parker Lake Trailhead is located about 1 mile down this road. 
The road is unpaved gravel and has a few potholes along the way. Take it slow. I saw a few sedans in the parking area, so you should be OK. However, if your vehicle is VERY low clearance it could be a problem.
The trailhead parking area is small, but if you get there early enough (before 9:00am) you should be able to find a spot. Alternatively, you can park on the side of the dirt road.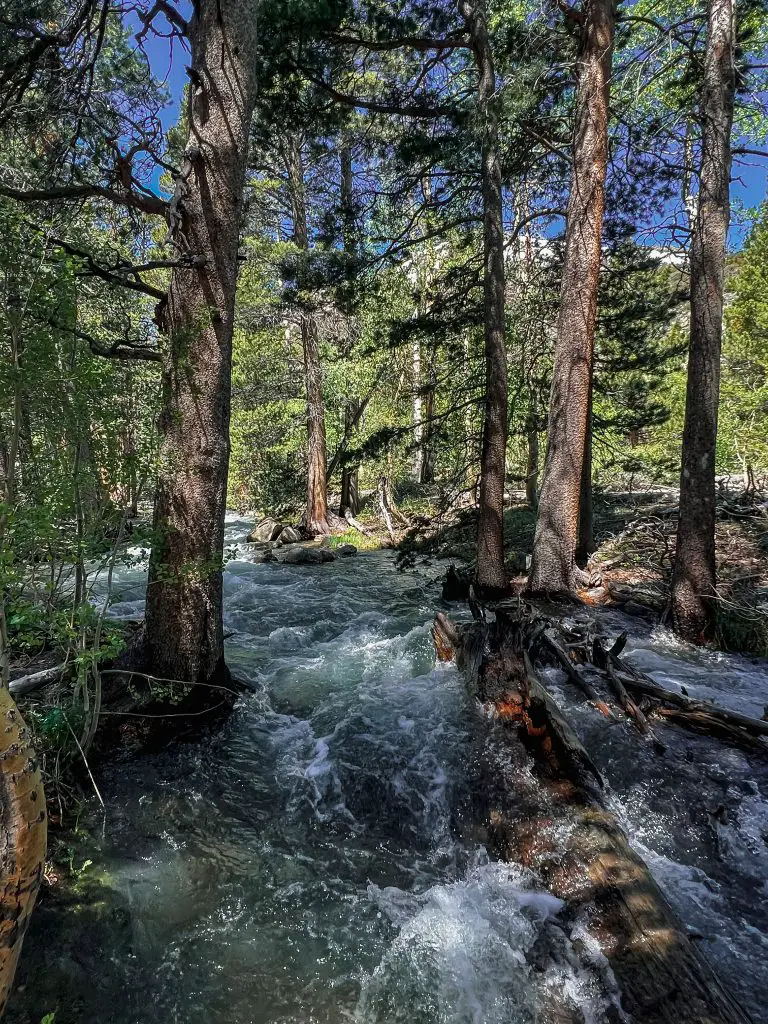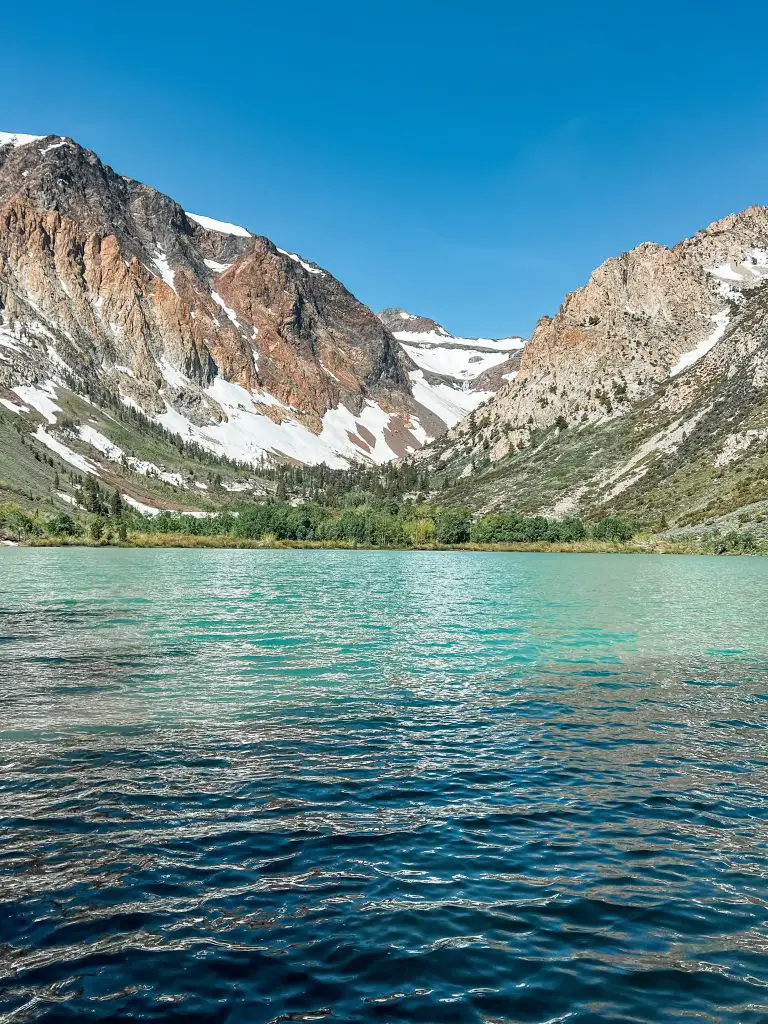 What to Bring on the Parker Lake Hike
Make sure you have everything in your day bag that is on this short hike essentials packing list, including the following:
Water: Pack at least 2-3 liters of water for the out and back trip. I also recommend keeping extra water in your car to refill after the hike. I like using a hydration pack to easily keep me hydrated.
Water purifier: I started carrying this water bottle filter, for just in case moments
Map: Download Google Maps and an All Trails map offline as service will be intermittent at best.
Sunscreen: Most of the trail is unshaded, be prepared with sunscreen. I love Sun Bum sunscreen.
Insect Repellent: In the summer months, mosquitos are really annoying! Especially later in the day. I love these mosquito repellent wipes.
First Aid Kit: Always keep a well stocked first aid kit with you! You can get a premade first aid kit here.
Snacks: There's nothing better than a mid hike snack on a log overlooking a beautiful place in California
Camera: Even if you're using your phone, you'll definitely want to snap some photos of this gorgeous location.
Portable Charger: Since you'll be using your phone as a camera and map, make sure you have backup power. I love this charger!'
You can shop all of my favorite hiking gear here!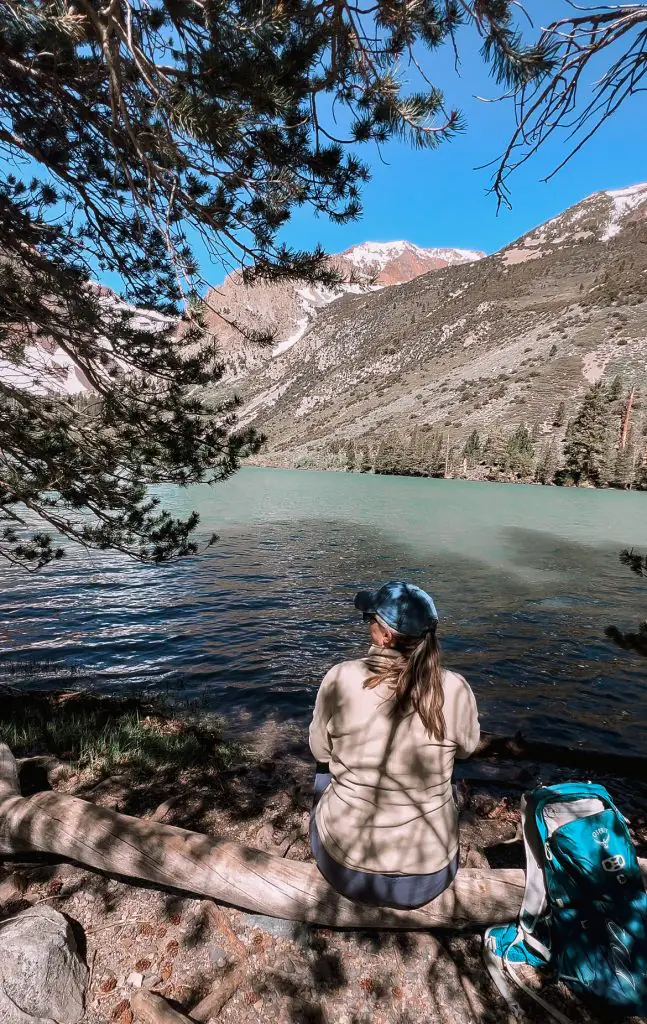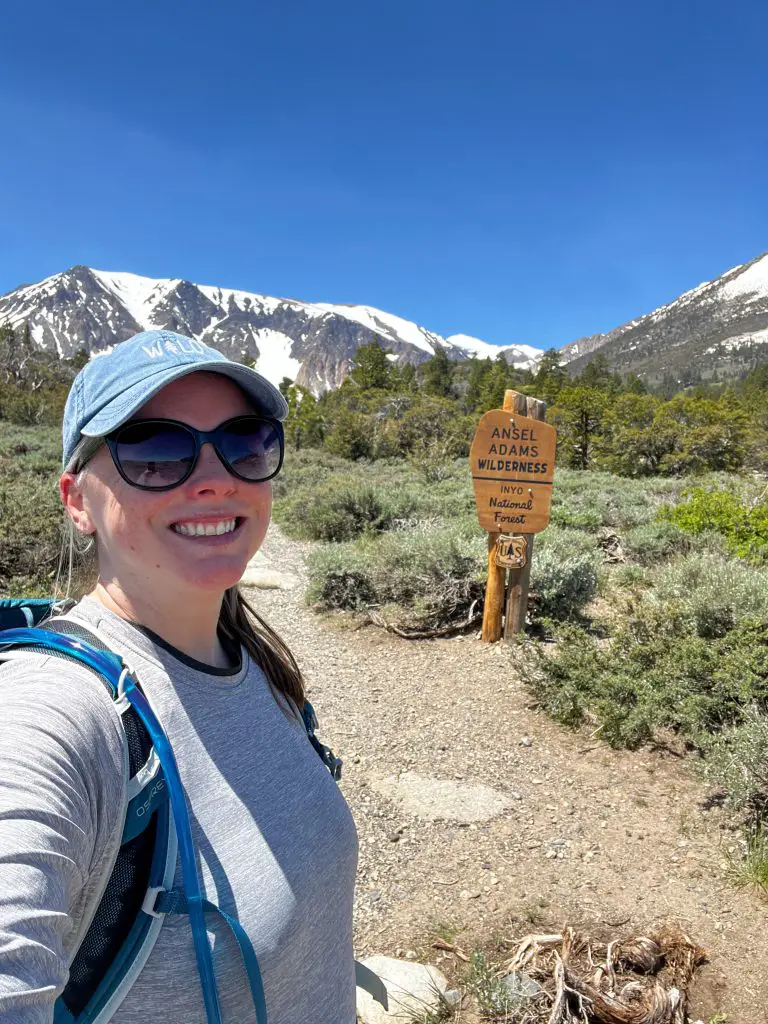 Hiking the Parker Lake Trail
I'll break down what to expect throughout the hike to Parker Lake, however, here are a few quick things to know before you go!
Starting Elevation: 7,600 ft
Elevation Gain: 650 ft
Miles: 4 miles round trip.
Difficulty: moderate
Time to Complete: 2-3 hours
Permit Required: No permit required for day hikes. A permit is required for overnight trips.
Facilities: There is no restroom, plan accordingly and follow leave no trace principles
Now that you know the basics, let's get into it.
All Trails will tell you that this is an easy hike and that the first third of the hike is incline that levels out. However, the altitude is definitely a factor if you're not used to the elevation and I'd argue that the first half of the hike is an incline. There's a section that appears flat but I noticed was still an incline and felt it with the altitude.
That being said, as you start the hike you'll have noticeable incline that includes navigating stepping up and around granite rocks. You'll then reach the "flat" part but I think it truly becomes flat once the trail hugs the banks of Parker Creek.
I hiked this trail in early June of 2023, after a winter with record amount of snowfall and the creek was more like a river! It was flowing strong and swift, so take caution near the banks.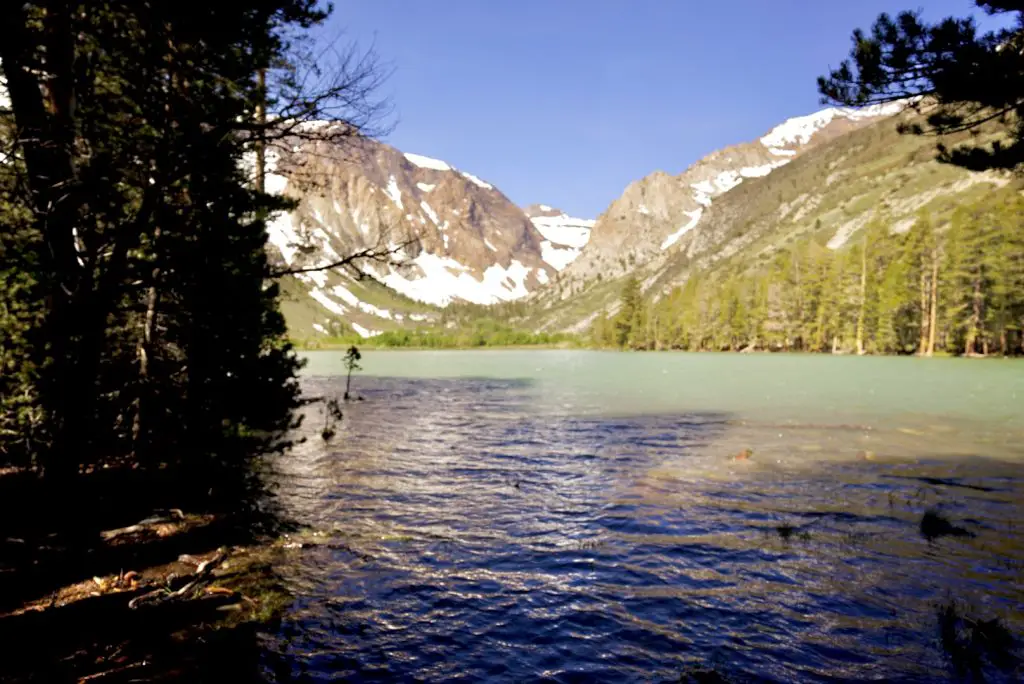 Once you reach the shade of the pine groves and aspen trees it's an easy and flat walk to the stunningly turquoise blue Parker Lake. When you reach Parker Lake, follow the path to the left of the lake. You'll see logs and rocks on the banks of the lake that are perfect for sitting on to enjoy a mid hike snack.
You could also swim here if you're up for it! When I hiked it was quite cold and windy at the lake so I simply enjoyed the views! There was even a waterfall in between the peaks of the Sierra mountains from the snow melt!
You may see people fishing in the lake as it's a good fishing spot for trout.
When you're rested and ready to head home, simply follow the trail back down to the parking lot. Along the way back you'll have a great view of Mono Lake!
This would also be an excellent hike to do in the fall as well to enjoy the scenic views with peak foliage season. 
Once you're finished with the hike head into Silver Lake for breakfast at the Silver Lake Resort and have a fun afternoon exploring other fun things to do in June Lake!