Are you including Fort William and Glencoe on your Scotland road trip itinerary? If you're planning a trip to Fort William and Glencoe in Scotland, get ready for an incredible experience. These destinations are nestled in the stunning Western Scottish Highlands, offering a wide range of activities for outdoor enthusiasts, cultural explorers, and those seeking a peaceful retreat. In this blog post, I'll share a hand-picked list of things to do in Fort William and Glencoe, ensuring that you have a great time exploring the outdoor capital of the UK. So, grab your backpack, and let's dive into the wonders that await you in this Scottish paradise!
This post contains affiliate links, which means that, at no additional cost to you, I will earn a tiny bit of income if you decide to make a purchase or booking. For more, check out my disclosure. 
solo female Travel Resources
Best Time of Year to Visit the Scottish Highlands
The best time to visit Fort William and Glencoe depends on your preferences, with each season offering unique activities.
Winter (December to February):
Fort William and Glencoe offer a unique charm. The mountains show off snow-capped peaks and frozen waterfalls, creating a picturesque setting. Skiing and snowboarding enthusiasts hit the slopes at Nevis Range or Glencoe Mountain Resort. Pack warm layers and check weather conditions and road closures.
Summer (June-August):
The summer months are the peak tourist season in Fort William and Glencoe. The milder weather and longer days bring outdoor enthusiasts who want to hike the stunning trails of Ben Nevis or cycle throughout Glencoe. The more favorable weather also brings midge season (pesky mosquitoes). Bring your insect repellent if you're traveling through this area in the summer. As this is the high season, accommodation prices may be higher and harder to come by, so plan accordingly. Parking lots may also fill up early for popular hikes!
Spring (March to May):
Spring brings a burst of bright colors and fresh beginnings to Fort William and Glencoe. The snow starts to melt, and the landscapes come alive with vibrant wildflowers. Spring is a quieter time to visit, with fewer crowds and more affordable accommodations. It's an excellent season for nature walks, wildlife spotting, and discovering hidden gems. I visited in the Spring and found the weather perfect for hiking!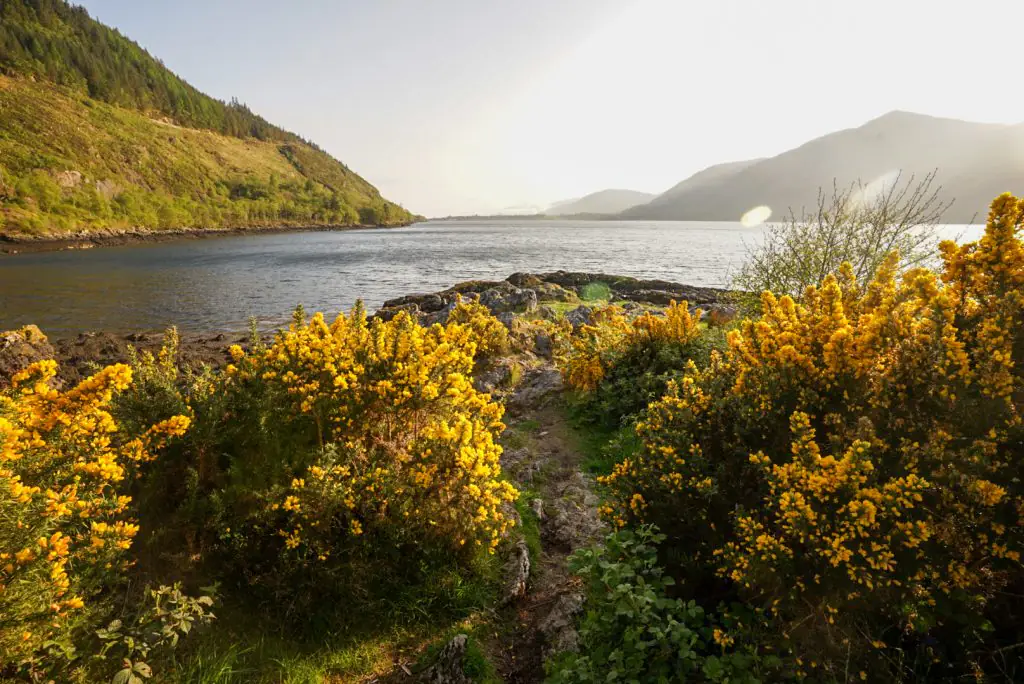 Fall (September to November):
Autumn is a magnificent time to visit Fort William and Glencoe. The foliage transforms into a tapestry of golden hues, creating a breathtaking backdrop for outdoor activities. The weather is generally mild, and you'll have a chance to witness the stunning Highland scenery in all its autumn glory. It's a fantastic time for hiking, photography, and enjoying the peacefulness of the Highlands before winter arrives.
Whether you're seeking vibrant summer adventures, snowy winter escapes, blossoming spring landscapes, or the magical colors of autumn, each season has a unique appeal in this gorgeous region of Scotland.
How to Get to Fort William and Glencoe, Scotland
Fort William and Glencoe are easily accessible by car or public transportation from Edinburgh, Glasgow, and Inverness. However, if you're coming to Fort William and Glencoe by public transit after exploring the best things to do in Edinburgh, you'll first have to go to Glasgow and then take a train or bus to the Highlands!
Most of the transit leads to Fort William. If you don't have a car, you'll have to utilize the local Shiel bus to reach your destination in Glencoe from Fort William.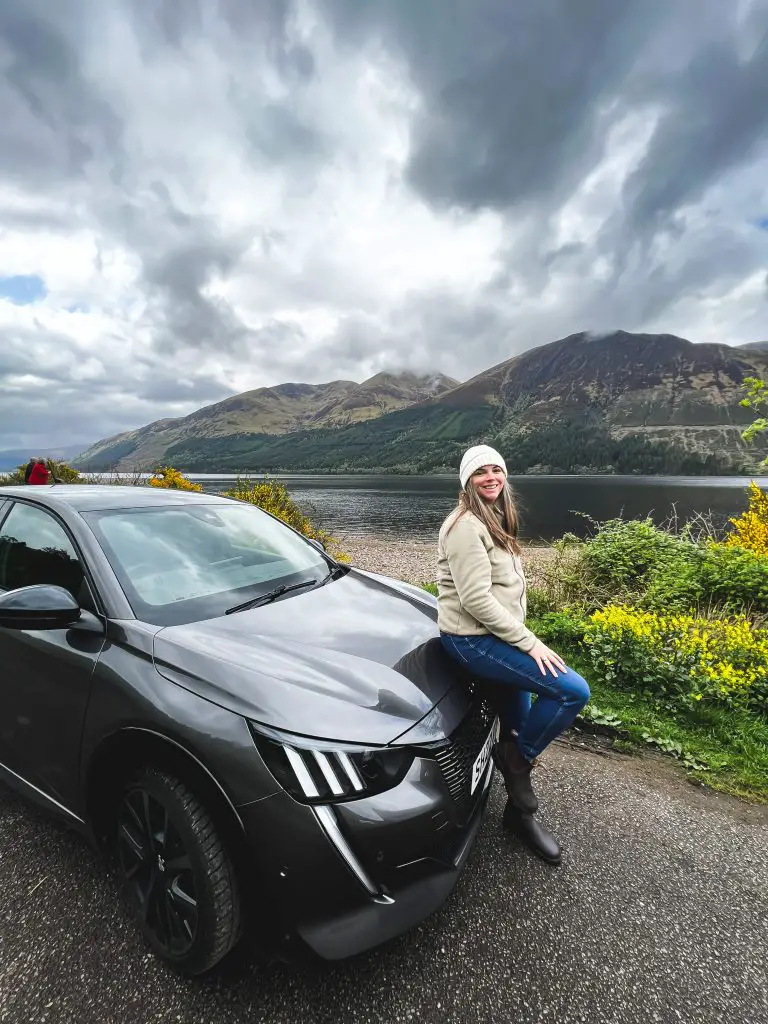 Fort William and Glencoe by Bus:
Citylink bus offers multiple stops from Glasgow throughout Glencoe, including Glencoe Visitor Center, Glencoe Crossroads (near Glencoe Village), and Onich (where there's a great hotel), ultimately ending in Fort William. If you're unsure where to get off for your destination, ask the bus driver when you board. 
There are multiple departure times throughout the day from Glasgow, with the journey to Fort William taking a little over 3 hours. A one-way ticket costs about $30 and should be purchased in advance online. You can store one bag in the hold. 
Citylink offers direct service to Fort William if you're coming from Inverness. The journey is a little over two hours, costing roughly $13 for a single ticket. 
To continue to Glencoe, you'll have to change buses in Fort William.
The Fort William bus station is located across from Morrisons Supermarket if you need to pick up any hiking snacks!
Fort William and Glencoe by Train:
There is a direct train from Glasgow Queen Street to Fort William, with multiple departures daily. The journey is a bit longer, taking approximately 4 hours to reach Fort William, and it is slightly more expensive, with the average ticket costing $36. 
While the train does not stop in Glencoe, the journey through the highlands is supposed to be one of the most beautiful train rides in the world. So grab a window seat and enjoy. 
Side note: If you're traveling to Fort William from London, hop on the Caledonian Sleeper train for a luxurious journey to the Scottish Highlands.
There is no direct train from Inverness to Fort William. You'd actually have to go all the way to Glasgow. So this is not a good option if you're coming from that direction.
Fort William and Glencoe by Car:
One of the best ways to get to Fort William and Glencoe is by car. I rented a car from Edinburgh and drove to Fort William via Glencoe, and it was one of the best road trips I've ever done. I stopped in Stirling to see the Wallace Monument and stretched my legs on the shores of Loch Lubnaig before joining Highway A82 through Glencoe and into Fort William.
Alternatively, if you're driving from Glasgow, you'll be on A82 the entire way, passing Loch Lomond.
The drive takes approximately 3 hours from Glasgow or Edinburgh with no stops. But you will be stopping, so allow for a full day.
If you're traveling to Fort William and Glencoe from Inverness, you'll take the A82 along the shores of the famous Loch Ness, passing Urquhart Castle. The drive is about an hour and 45 minutes without stopping!
Check out my full Scotland road trip itinerary here.
I rented my car from Arnold Clark and had such a great experience with them, they were a little more expensive than other rental car companies, but Edinburgh airport has the majority of major car rental companies. 
Check out car rental prices and availability here.
Fort William and Glencoe by Tour:
If you're like Katie, this is too much. You can also take an organized tour from Edinburgh or Glasgow. One-day and multi-day tours will help you see the best of the highlands.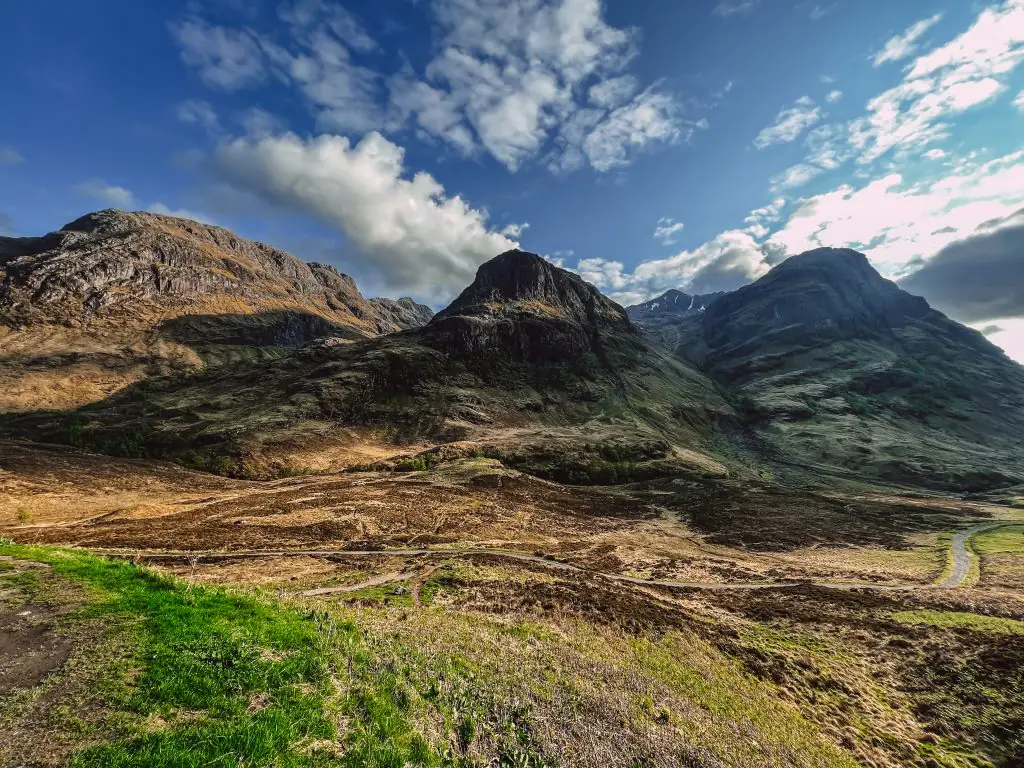 What to Pack for the Scottish Highlands
To pack for the Scottish Highlands, you'll first want to follow this packing list for Scotland to ensure you have the basics for your trip to Scotland. Then, add or remove items based on the activities you have planned for the Highlands and the time of year you plan to visit. 
Here is a quick overview of 9 essentials to pack for Scotland, no matter the activity or time of the year:
Good walking shoes: even if you're not planning a hike, you'll likely be doing a lot of walking, so well-broken-in, waterproof if possible, and comfortable shoes are necessary. For hikes, I love the Keen Targhee Boots; for leisurely strolls, I loved these Blundstones; and for a lighter option, I went with Hokas. 
Your favorite outdoor activity outfit: Whatever that looks like for you! Wear your favorite hiking or hot girl walk outfit, and you'll be ready. Just make sure it's suitable for the weather.
Swimsuit: Wild swimming is a huge activity in Scotland, and there are some great places to do it in Glencoe and Fort William. If you're not into wild swimming, your hotel may have a hot tub to soak in after a day of hiking!
Sunscreen: No matter the season or weather, wear your sunscreen. I'm a SunBum fan for the body and Supergoop for my face. 
Waterproof jacket: The heaviness of the jacket will depend on the season, but you will need some sort of waterproof jacket as rain happens year-round. I traveled with this jacket and found it suitable for Spring. I was able to fit a light sweater underneath for colder days.
Camera: Glencoe and Fort William are truly beautiful. You will want to capture it! Your camera may be your phone, or it may be a mirrorless camera. Learn how to use it and take awesome travel photos to bring the beauty home!
Portable charger: You'll likely be out all day exploring, so bring a portable charger with you (that is fully charged.) If you have a car, make sure you have a cord to plug into the vehicle. Most have USB charging ports. This is the charger I use – you get about three full phone charges from it!
Offline maps: Service is in and out throughout the Highlands. Download a Google Map offline, and you'll still be able to navigate.
A change of socks: Although your boots are waterproof, your feet may get wet. Bring an extra pair of socks. I love Darn Tough socks!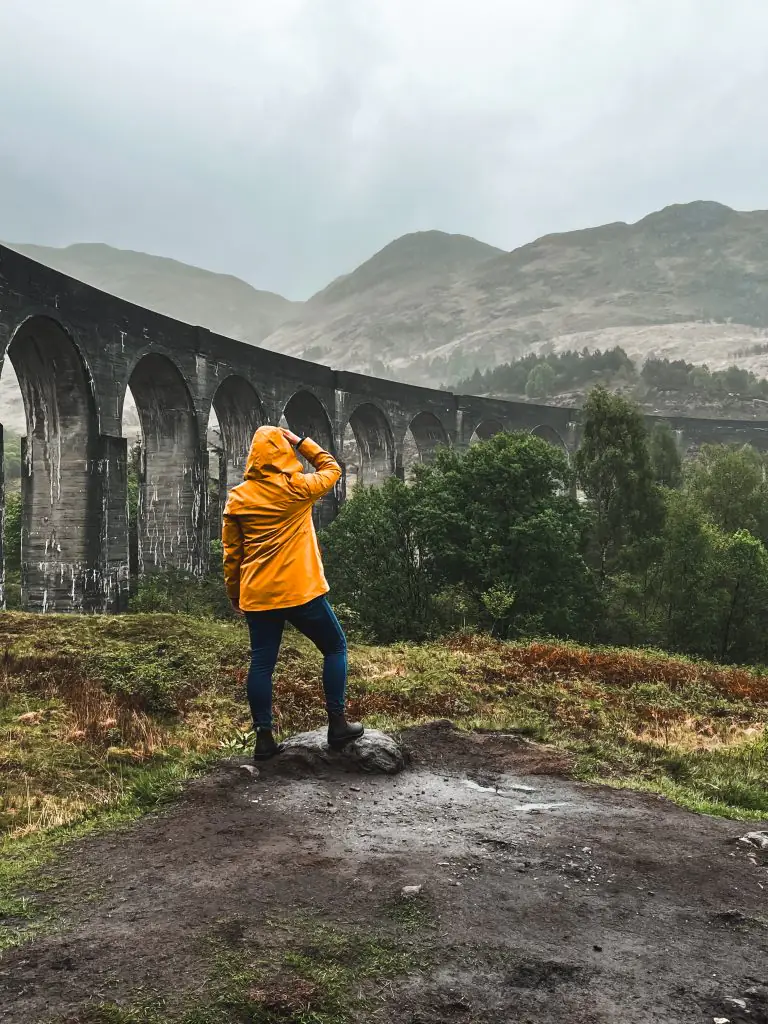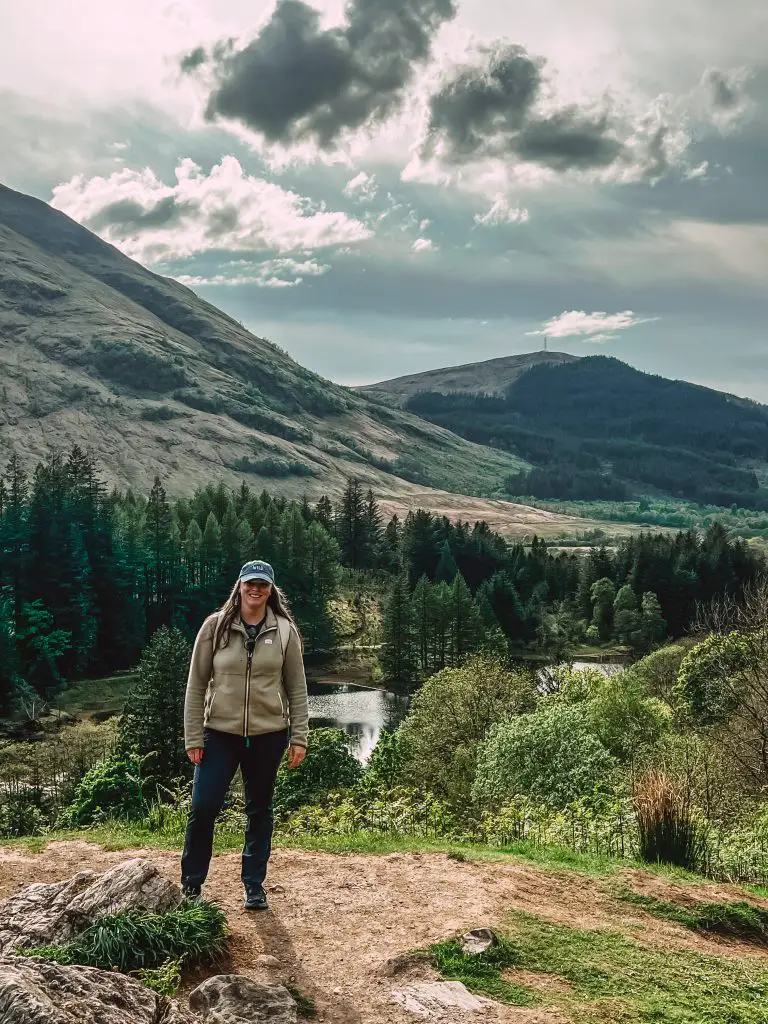 How Many Days to Spend in Fort William and Glencoe, Scotland
You could easily spend a week in Glencoe and Fort William without seeing all the fantastic places and hikes here. However, most of us don't have that opportunity and must make time for the Scottish Highlands in a more extensive Scotland itinerary.
I recommend spending at least two nights here. You can base yourself in either Glencoe or Fort William. You can explore the best things to do in the Scottish Highlands from each location. At the end of this post, I'll share the best places to stay in Fort William and Glencoe.
Things to Do in Fort William and Glencoe Scotland
Stop by the Glencoe Visitor Center
Before you embark on the rest of your Glencoe adventure, stop by the Glencoe Visitor Center. This might just be your first experience with the famous Highland Hospitality. Inside, you'll find interactive exhibits that delve into Glencoe's fascinating past and showcase its geological marvels. The center's knowledgeable staff can also provide the necessary knowledge to explore the surrounding mountains, glens, and trails. The Glencoe Visitor Center is the perfect starting point to discover the Scottish Highlands.
Go Hiking in Glencoe
One of the most popular things to do in Glencoe is go hiking. Whether you're planning to summit Ben Nevis, the highest peak in the UK, or are looking for something a bit more relaxed, like a stroll around Glencoe Lochan, there is a hike in the Highlands for you!
While you're out on the trails, keep your eyes open for some of Scotland's famed wildlife, like the red deer and golden eagles. Unfortunately, I did not see any, but maybe you will!
I saved eight hikes on my Glencoe and Fort William wishlist but could only make time for three. I chose to do Steall Falls, Signal Point, and Glencoe Lochan.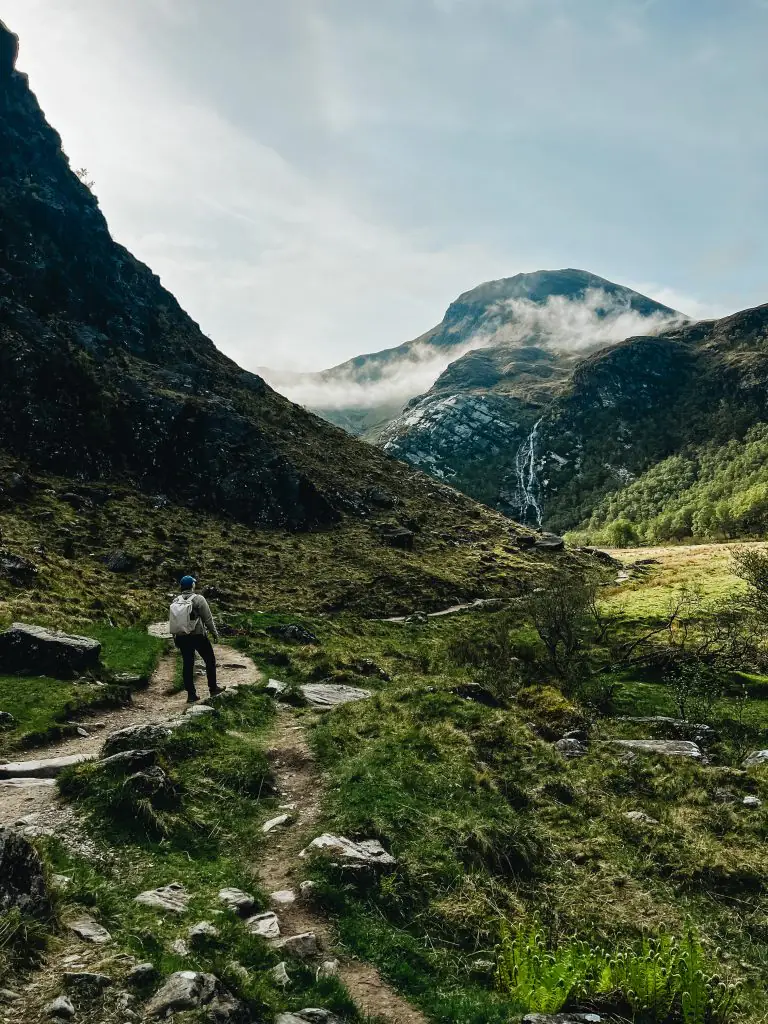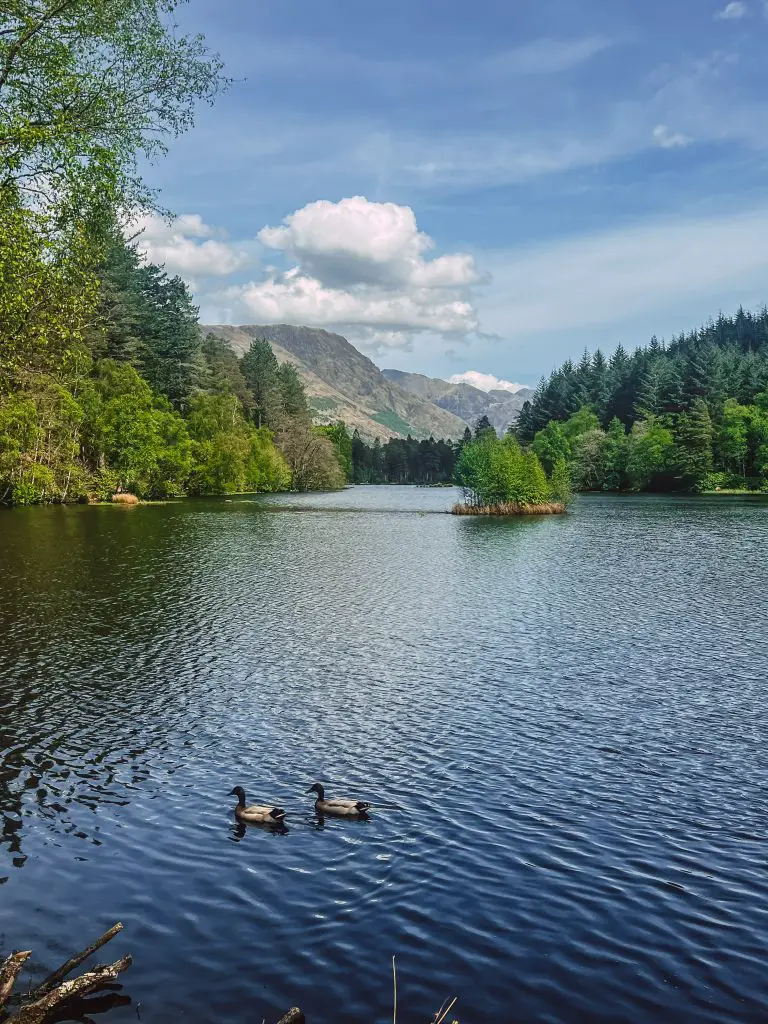 Hike to Steall Falls
Steall Falls is one of the more popular hikes in Fort William and Glencoe. The trailhead is nearer to Fort William, where I stayed. This 2.5-mile out-and-back trail takes you through the gorgeous Nevis Gorge to the second-highest waterfall in the UK, Steall Falls.
Along the way to the 120 ft falls, you'll be rewarded with panoramic views of towering mountains and cascading streams. As you near Steall Waterfall, you'll likely see campers in the field, and there is a wire bridge that can be used to cross River Nevis. I was too nervous to use the wire bridge solo, so I simply crossed through the river. Did my feet get soaked? Yes, even though I was wearing waterproof hiking boots – once the water goes inside them, it's game over.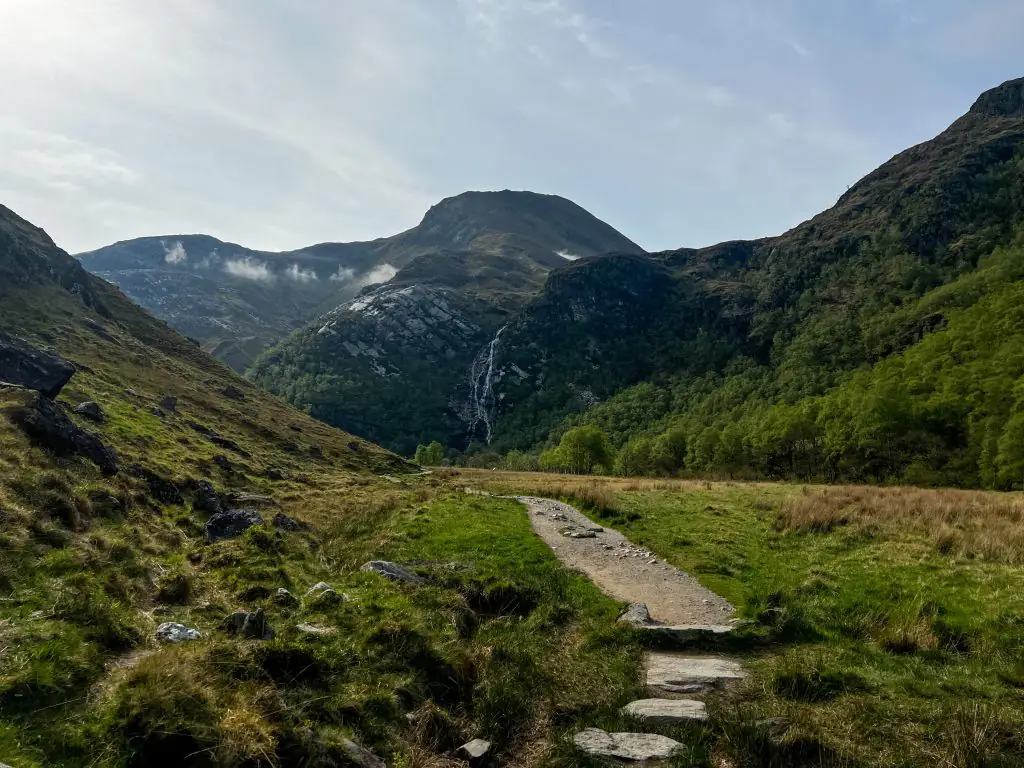 You can also opt not to cross the river and simply enjoy the view of the waterfall and perhaps a snack from the field. 
Supposedly, this waterfall makes an appearance in multiple  Harry Potter films! I'm not a Harry Potter fan, but if you are, this hike can help check a Harry Potter site off your list.
I'd rate this hike as moderately challenging.
Hike to Signal Point
The second hike I did was to Signal Point, which is an easy hike in Glencoe. This short hike will take you across a rushing river, through the forest, to a huge rock that was the site where the Campbells signaled a massacre of the McDonald clan. Known today as the Glencoe massacre, this is a storied tale that is still discussed among highlanders.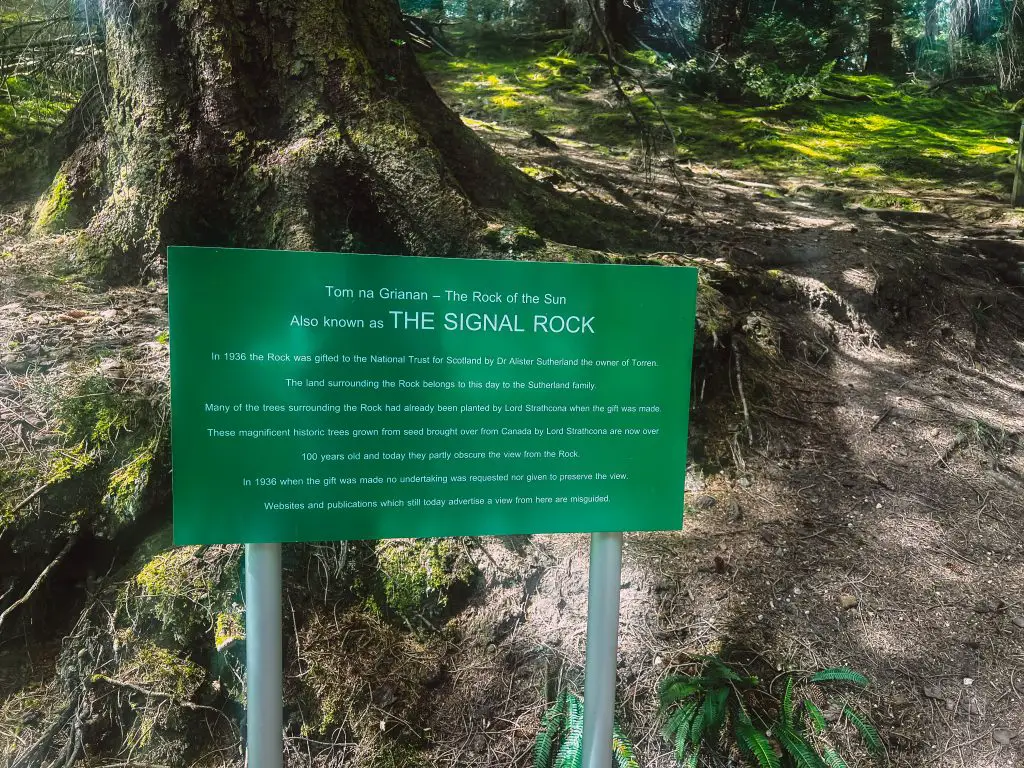 This hike is a solid option if you're looking for a beautiful place to stretch your legs on your road trip through Glencoe. It will take you approximately an hour.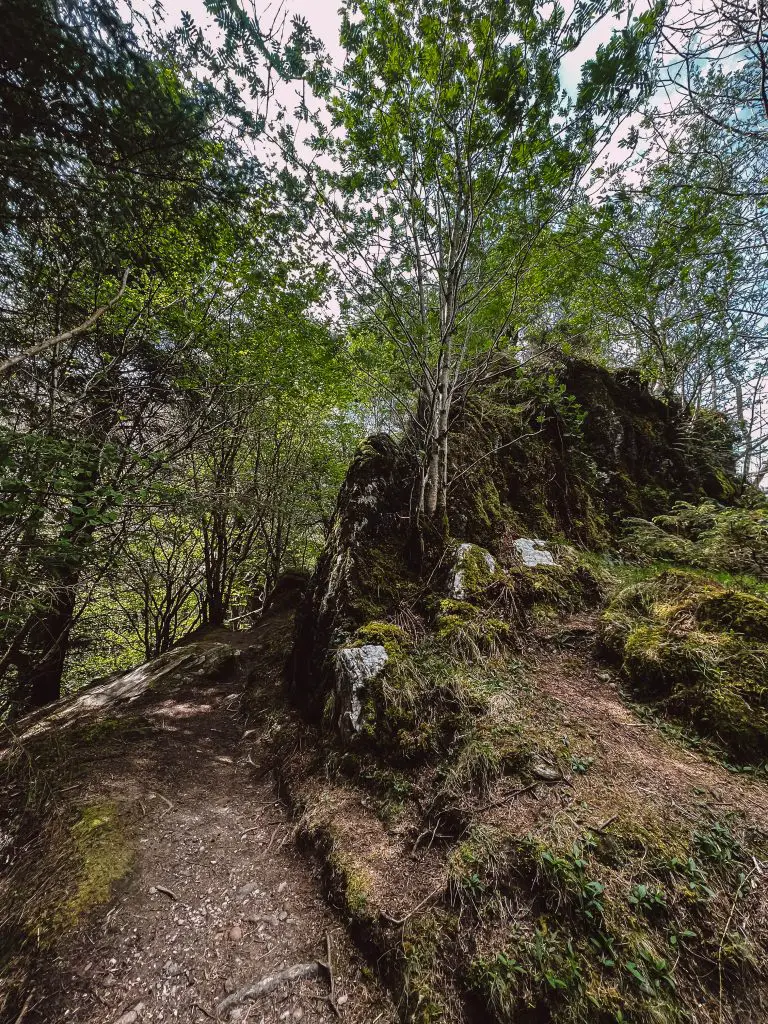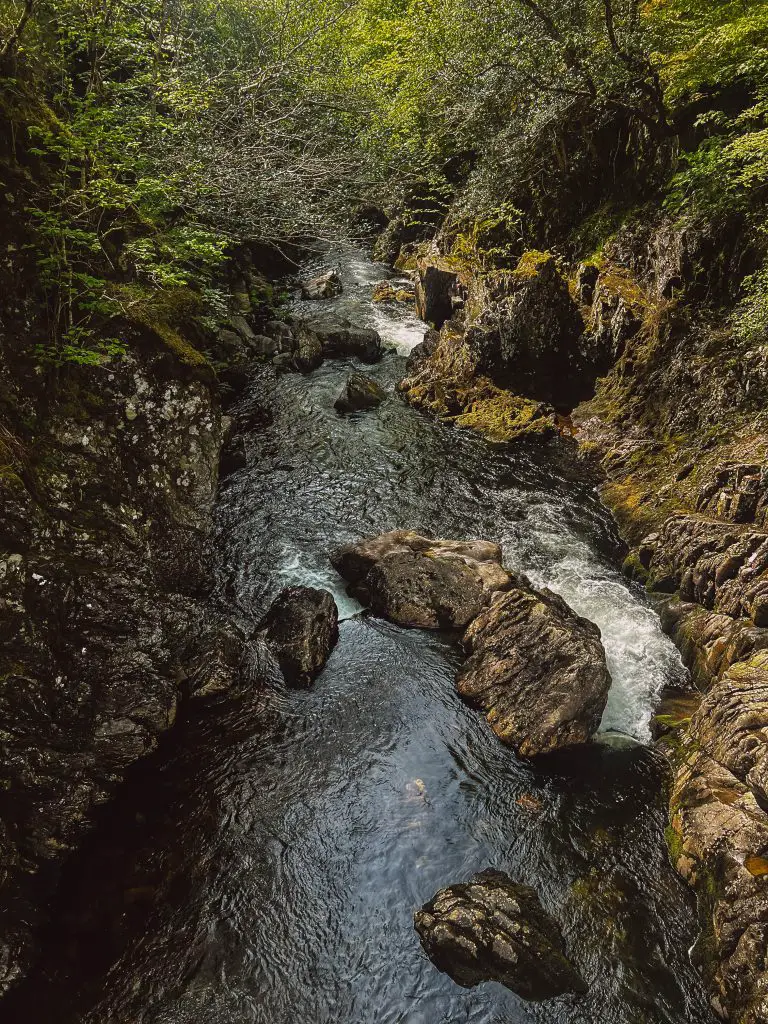 Stroll around Glencoe Lochan
The 1-mile hike around Glencoe Lochan offers a peaceful stroll with amazing views of the mountains. There are more trailheads here, but I recommend choosing the easiest one that circles the small lake. Bring your camera because you'll want to take photos of the mountain's reflection in the lake's calm waters. Also, bring a snack because there are plenty of benches to sit, snack, and relax.
This trailhead is near the tiny Glencoe Village. You can stop in to check out the Glencoe Folk Museum.
If you have more time or are visiting for a second (third or fourth etc.) time, consider adding Hidden Valley Trail or the Devil's Staircase to your Glencoe hiking bucket list.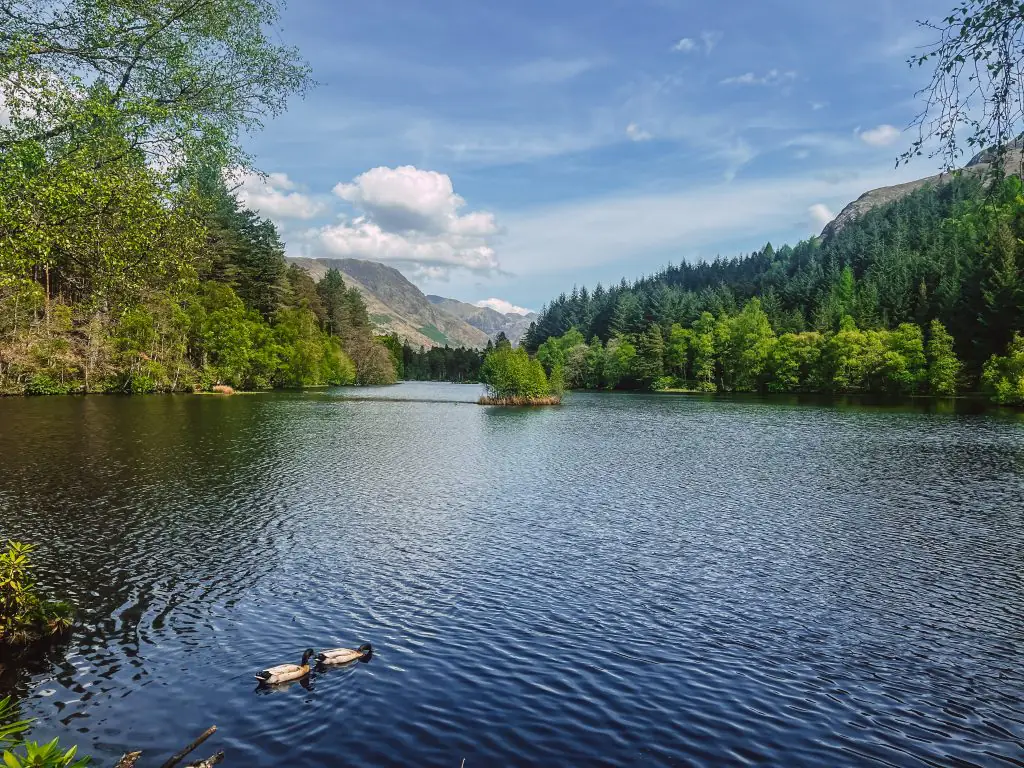 See or Ride the Jacobite Steam Train
I almost skipped visiting the Glenfinnan Viaduct and watching the Jacobite Steam Train chug through the Scottish Highlands. It seemed like something fun for Harry Potter fans (which I am not), but I decided I'd stop from Fort William to the Isle of Skye if I got up and on the road in time. I'm so glad I did!
The Jacobite steam train (the real-life Hogwarts Express) route is considered one of the most scenic train rides in the world. The 84-mile round-trip ride is along the West Highland Line from Fort William to Mallaig. 
You can ride the train to enjoy views of lochs, mountains, and waterfalls. Or, you can watch the train pass by on the Glenfinnan Viaduct from the ground below – which is what I did!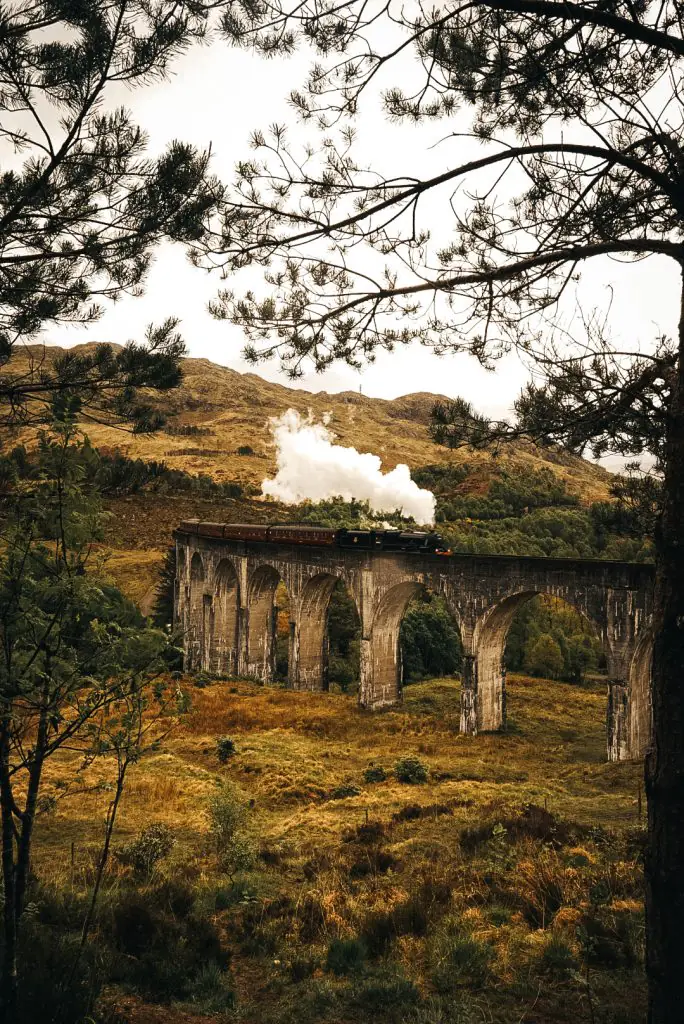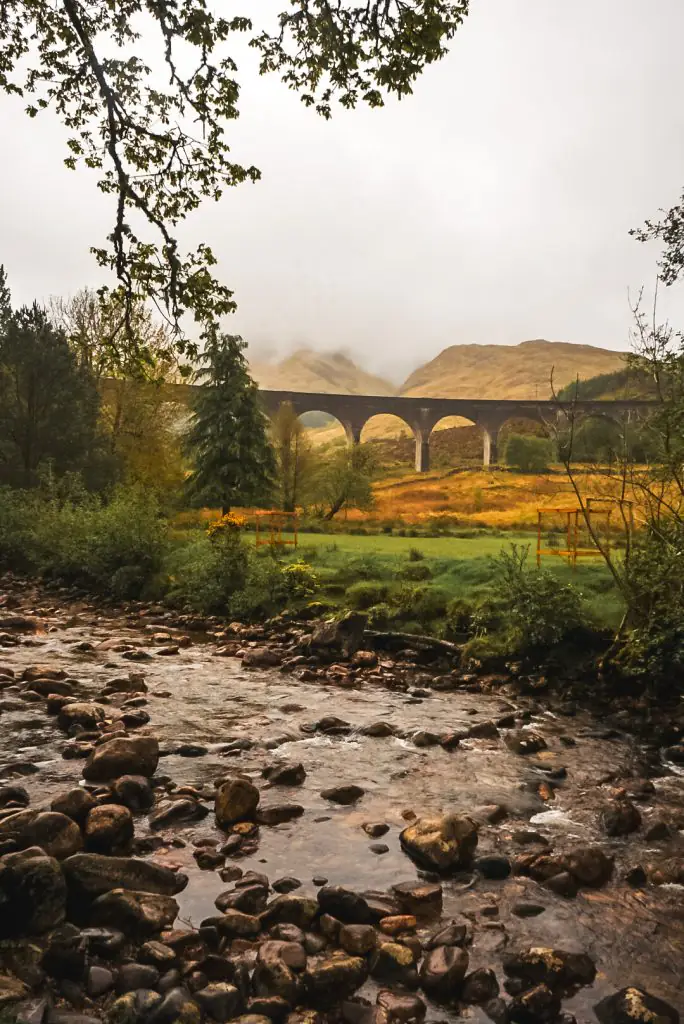 I arrived about an hour before the Jacobite steam train passed over the viaduct towards Mallaig. I had plenty of time to quickly secure a parking spot and stroll under the viaduct, stopping for photos along the way.
You'll notice the main viewpoint for the steam train just beyond the viaduct, high on a hill to the left. This area gets really crowded, and even if you get there early to secure your spot, the gathering crowds may overwhelm you.
Instead, I recommend walking to the right of this area and finding your unique vantage point below the trees. Bonus point: the trees will provide some cover if it's raining!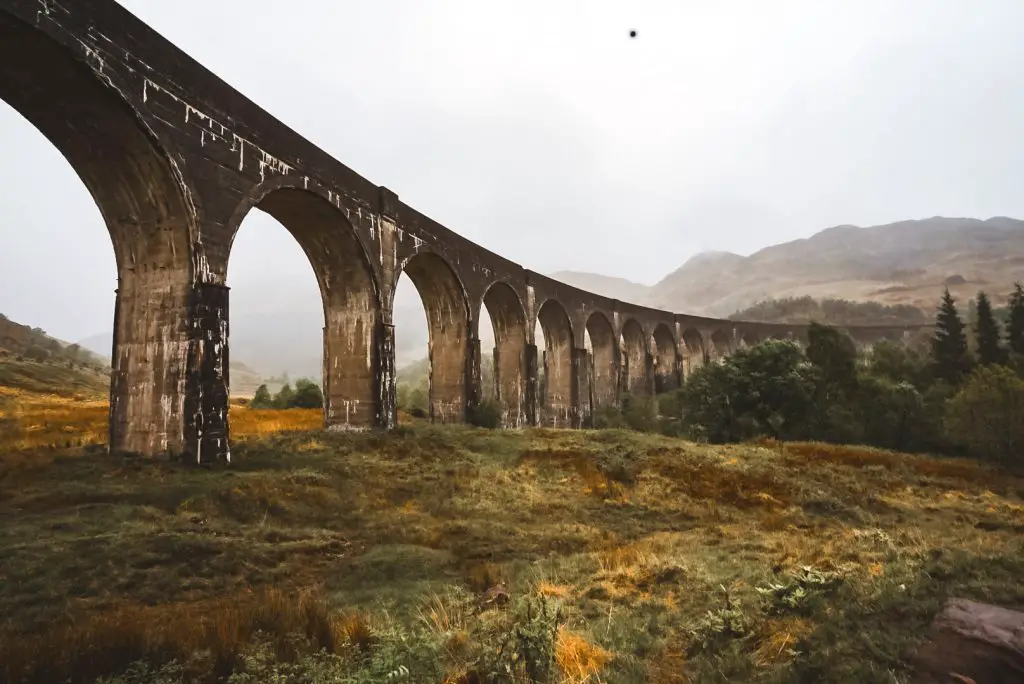 Timing for the Jacobite Steam Train Passing over the Viaduct
The train passed over the viaduct toward the viewpoint (from Fort William to Mallaig) in the morning, around 10:45-11:00 am. In the afternoon, you'll catch it moving away from the viewpoint on its return journey to Fort William around 1:20-1:45 pm.
Glenfinnan National Monument and Loch Shiel Viewpoint
One pleasant surprise is the Glenfinnan Monument, located on the banks of the stunning Loch Shiel across the street from the viaduct. While breathtakingly beautiful, this location is also of great historical importance.
Eight months before the Battle of Culloden, the Jacobite army gathered here to pledge their allegiance to Prince Charles Edward Stuart, also known as Bonnie Prince Charlie. 
The lone highlander atop the monument is a reminder of the many clansmen who gave their lives for Scotland. There is an exhibit across the street at the visitor center detailing the impact of the Jacobite rising over the last three centuries.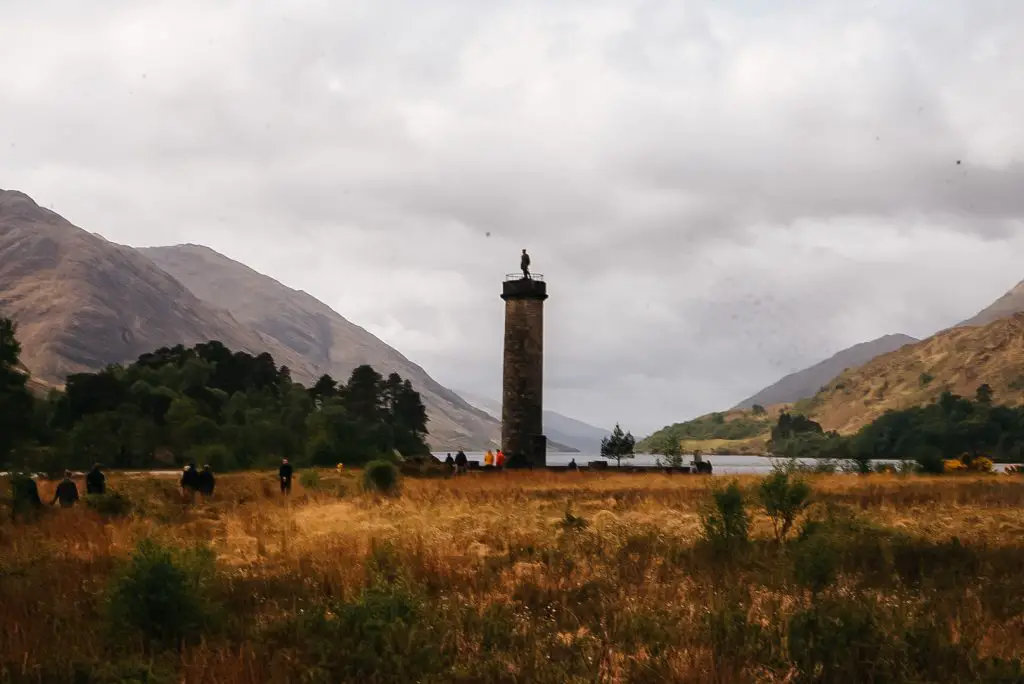 Have a Drink at Glenfinnan Coffee Co.
Before continuing your highland adventure, walk or drive up the road to the Glenfinnan Coffee Co coffee cart. It's located just in front of Saint Mary and Saint Finnan Church. The coffee cart offers a variety of coffee and teas in addition to paninis. 
While you wait for your panini, take your hot beverage with you on a stroll through the beautiful ground of the church.
There is a tiny parking lot in front.
Use the restrooms at the visitor center before hitting the road!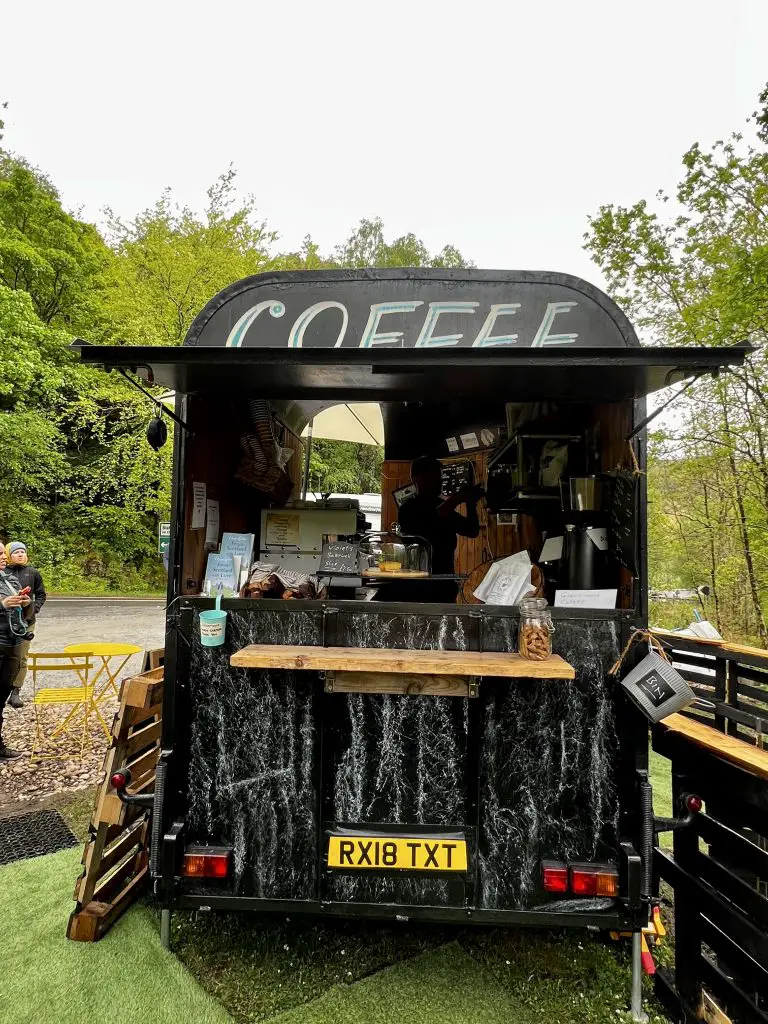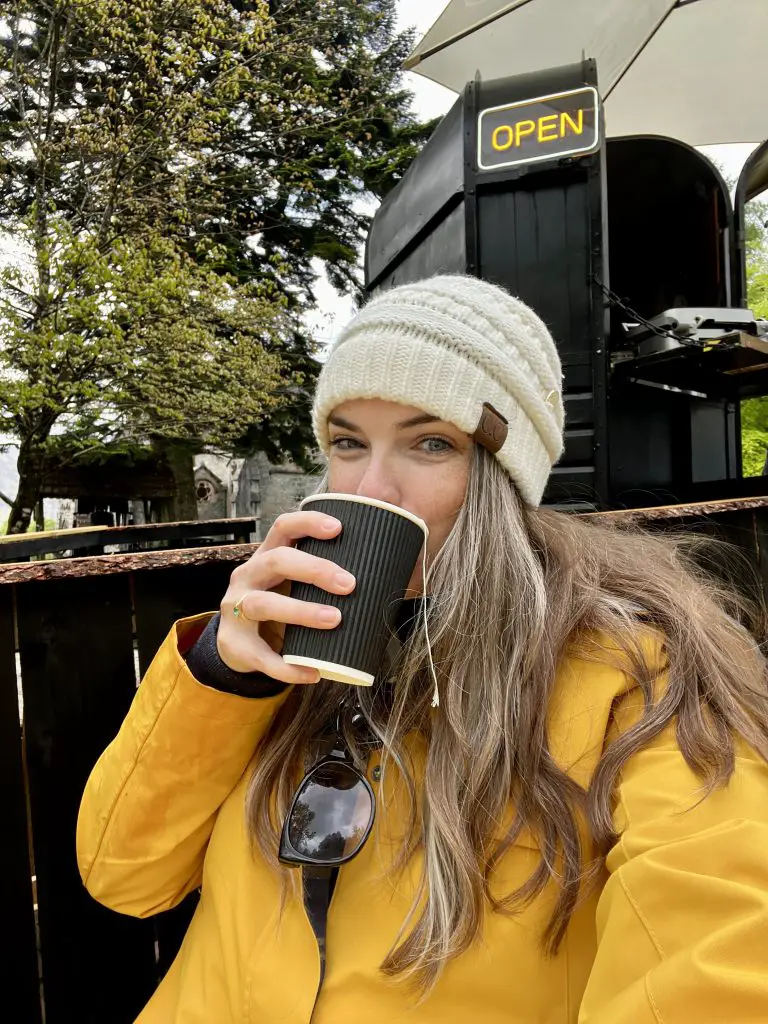 Eat and Drink at the Clachaig Inn
In the heart of Glencoe is the historic Clachaig Inn, a hotel with 23 modern rooms if you'd like to stay here. But that's not why I'm mentioning it! I highly recommend stopping by to visit Boots Bar for food and drink. The bar offers a traditional Scottish cuisine menu and a great selection of local whiskies and beer.
This pub is the perfect place to sample your first bit of Haggis, as I did with the traditional dish Haggis Neeps and Tatties. 
There is live music in the evenings, and the bar becomes a place for tourists and locals to gather, swapping stories by the fire. The atmosphere here is quintessential Highland hospitality and is not to be missed.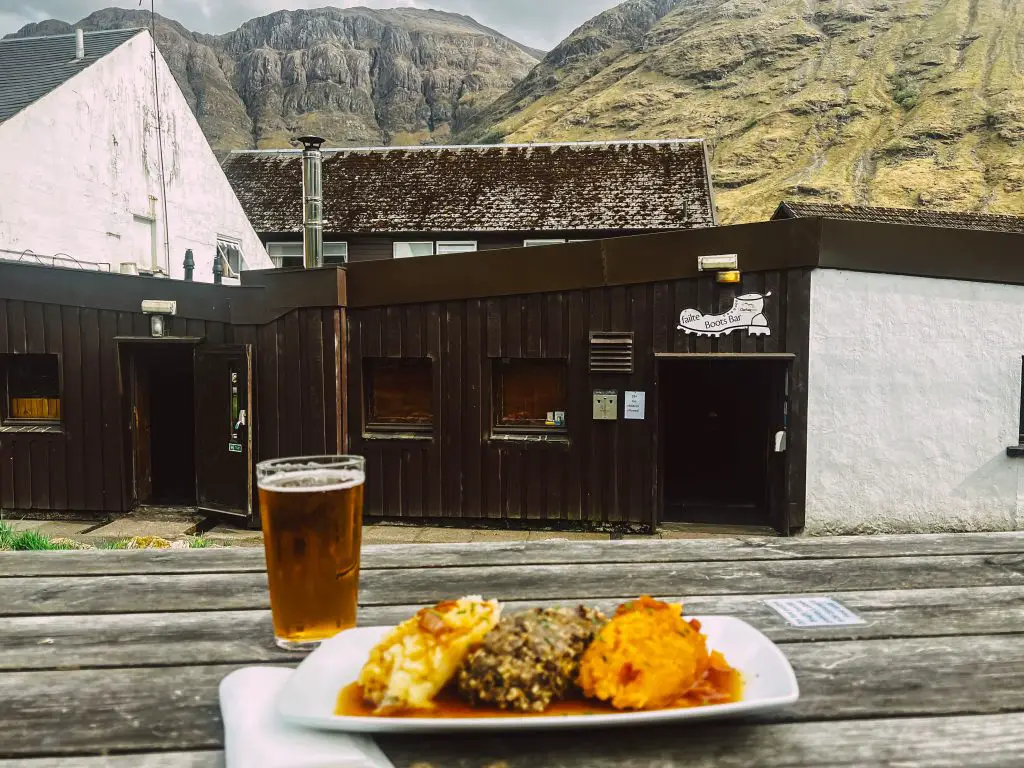 Photograph Lagangarbh Hut below Buachaille Etive Mor 
This stop in Glencoe is really for the photographers out there. The white building is at the base of the iconic Buachaille Etive Mor mountain, a simple accommodation for hikers and backpackers. Unfortunately, applications to stay here are only accepted by Hillwalking or Mountaineering clubs. However, that's not why we are stopping.
This is an iconic photograph to take in the Scottish Highlands.  There is something about the small white structure beneath the towering mountains that almost perfectly captures the highlands.
There is a small parking lot off of A82, and it's right near the James Bond Skyfall Road, making it an excellent place to stop before or after you drive the road.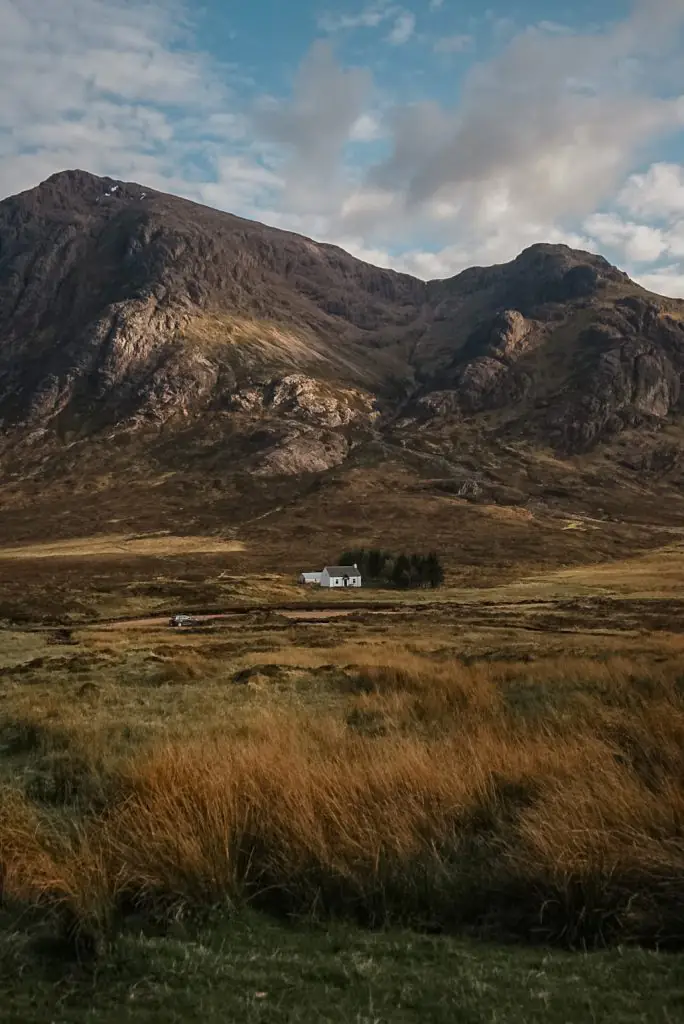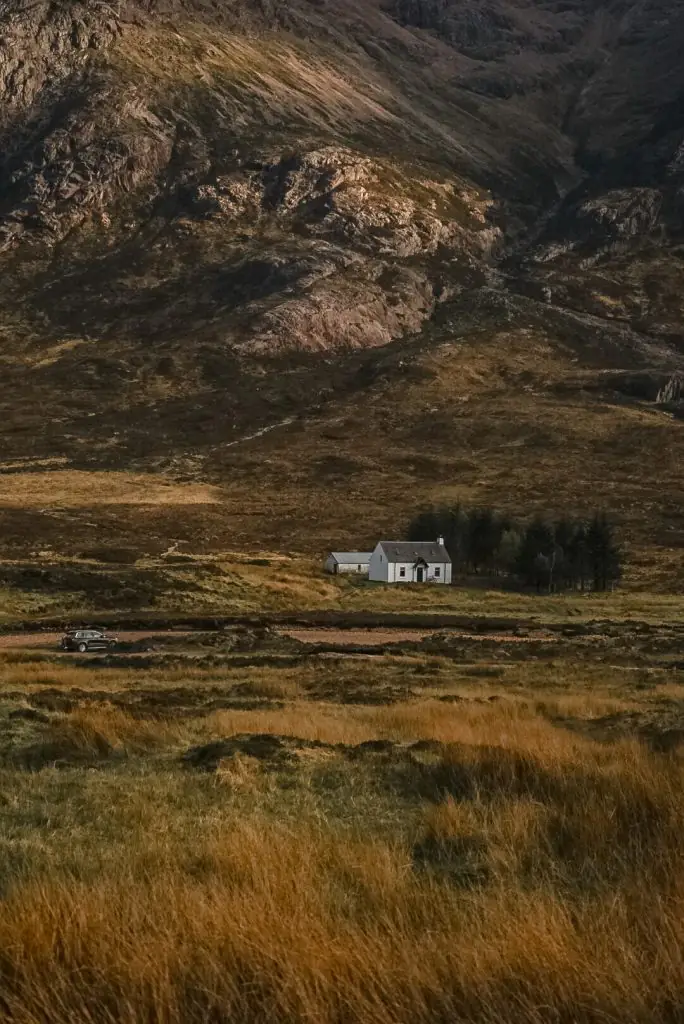 Check Out the West Highland Museum
Located in the town of Fort William, the West Highland Museum is a great place to learn more about Scottish history and culture of the Scottish Highlands. Inside the charming building, you'll see a variety of artifacts, photographs, and exhibits that tell the story of the area's beautiful and tumultuous past.
You can learn about the Highland clans, better understand the Jacobite cause, and more about the importance of Fort William as a military outpost.
Bonus points: it's free to enter! There is also a great gift shop that helps keep the museum free.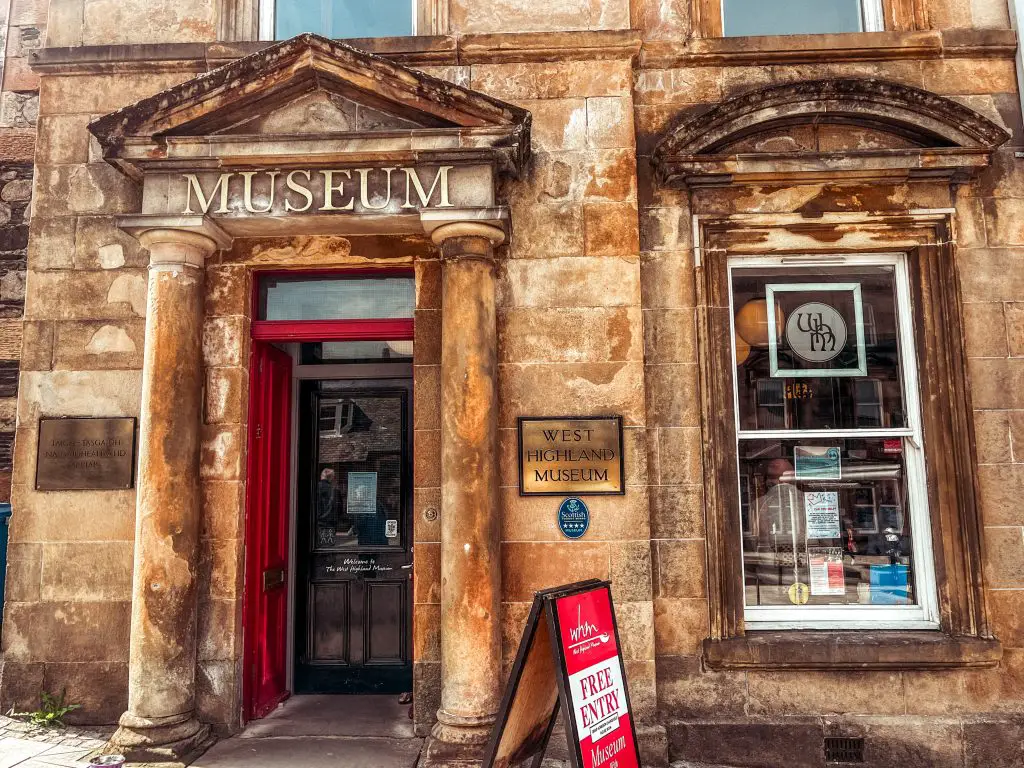 Shop at the Highland Bookshop
Another must in Fort William is visiting The Highland Bookshop, an independent bookstore with a diverse collection of books. You'll find the newest bestseller, books about Scotland, an extensive collection of outdoor books, and more. There is something for every reader in this cozy bookshop.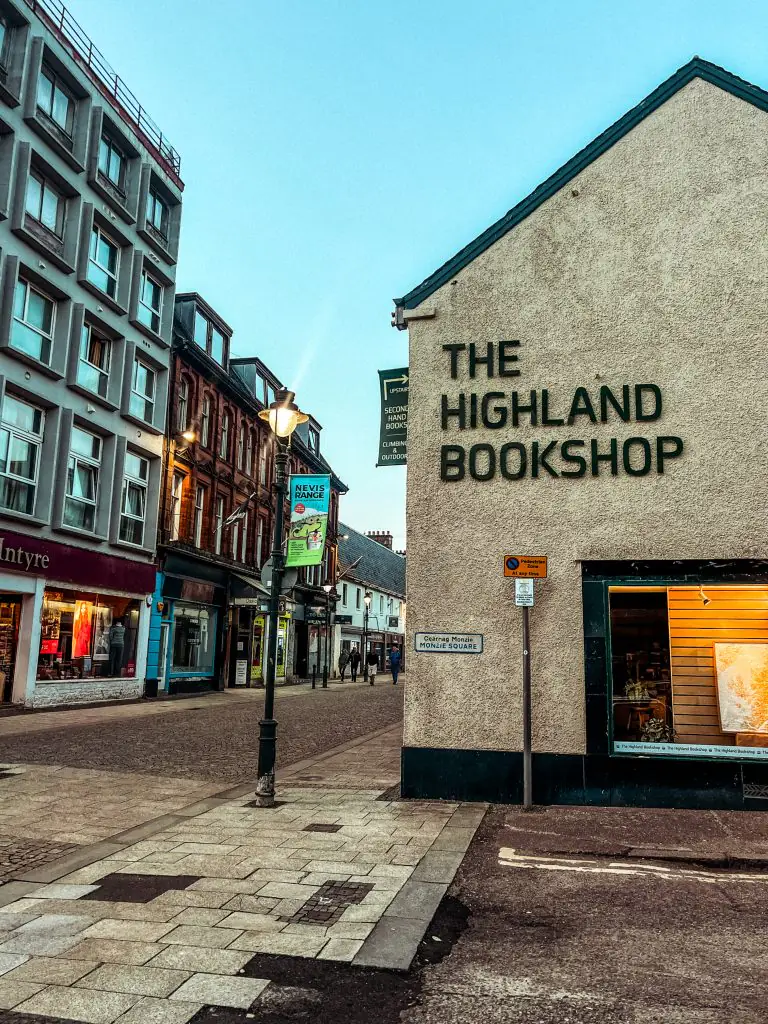 Taste Whisky at Ben Nevis Distillery
I did not have a chance to visit the Ben Nevis Distillery as I was in town on the weekend during the off-season! This means the distillery was closed on the weekend! However, I would have been there if I had planned better.
The Ben Nevis Distillery is a whisky distillery located at the foot of Ben Nevis in Fort William. It is one of the oldest licensed distilleries in Scotland, making whisky since 1825, and draws its water from a stream that cascades down Ben Nevis. You can take a guided tour of the distiller to learn how their single malts are made. Or, you can enjoy a tasting surrounded by the beautiful scenery of the highlands.
Eat at Wildcat Cafe
After all of this hiking and whisky tasting, you're probably hungry. I recommend the Wildcat Cafe, a vegan restaurant with matcha! I'm not a vegan, but I am a matcha fanatic, which drew me to this cafe.
I stayed for the excellent atmosphere and delicious breakfast sandwich. Grab a spot at the window for some people watching while you enjoy your meal.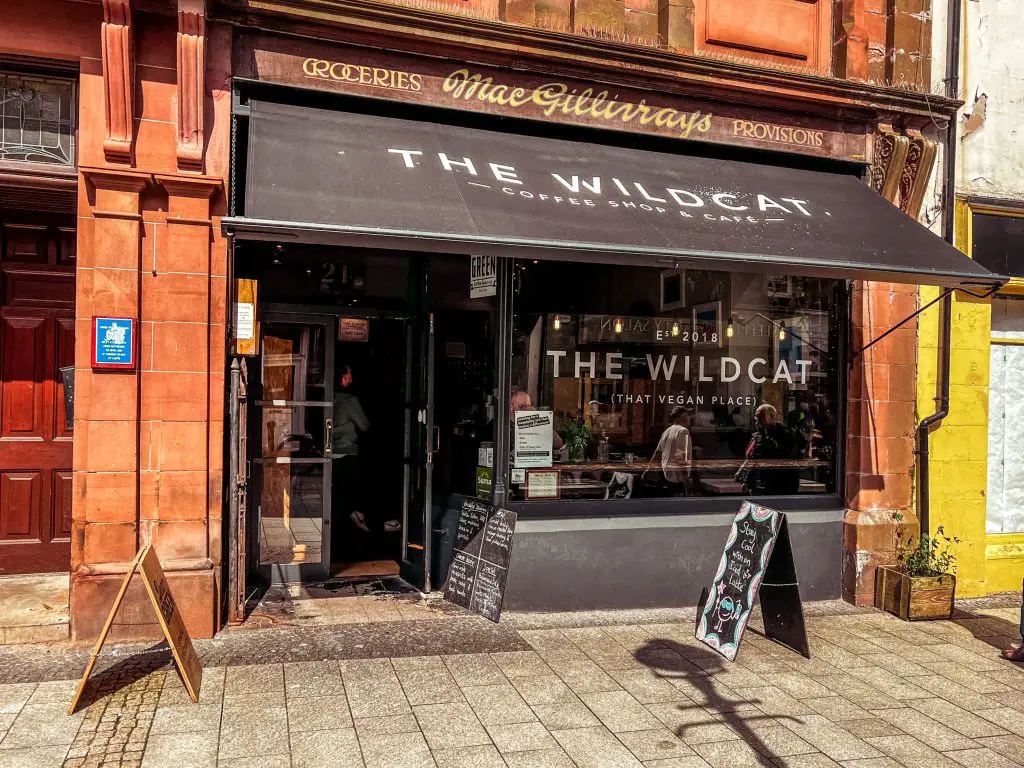 Where to Stay in Fort William, Scotland
If you plan to base yourself in Fort William, here are a few accommodation options: 
Fort William Backpackers
I stayed at Fort William Backpackers because I liked how close it was to downtown Fort William and that it was inexpensive. It's a hostel with amazing views of the surrounding area, a room to dry your clothes, and powerful (and clean) showers.
Check prices and availability here.
Glen Nevis Youth Hostel
I passed Glen Nevis Hostel on my way to the Steall Falls trailhead and wished I'd known about it before arriving. The outside was incredibly charming, and I've researched it since returning. The pictures show a boutique hostel aesthetic, and it's literally steps away from the best hikes in the area. It's also on a Shiel bus route if you don't have a car!
Check prices and availability here.
Lime Tree An Ealdhain Hotel
If you want more traditional accommodation, check out the Lime Tree Hotel in downtown Fort William. This hotel allows easy access to the restaurants and shops downtown and is a short drive away from the activities in Glencoe.
Check prices and availability here.
Where to Stay in Glencoe, Scotland
If you're planning to base yourself in Glencoe, here are a few accommodation options:
Kingshouse Hotel
If you're hiking the West Highland Way, consider staying at the Kingshouse Hotel located in the heart of Glencoe. There are dorm rooms, modern hotel rooms, laundry, and a restaurant on site. 
Check prices and availability here.
Onich Hotel
I passed by the Onich glamping pods multiple times, and each time I thought, what a great spot to stay! They have beach pods located directly on Loch Linnhe, with immediate access to the beach and stunning views. There is also a traditional hotel on the property, and it's dog friendly. Plus, it's budget-friendly.
Check prices and availability here.
Seabeds Luxury Lookout Lodges
If you're looking for a treat-yo-self moment in the Highlands, definitely check out the luxury lodges of Woodlands. They offer riverbed lodges surrounded by trees and seabed lodges with sweeping views of the loch and mountain. Each lodge has a private hot tub, kitchenette, and en-suite bathroom. The lodges are pet friendly as well! Honestly, I will be saving up to spend a few days here!
Check prices and availability here.