I recently returned from my first trip to Scotland, where I spent two weeks road-tripping around the country. I spent six days exploring Edinburgh; the rest was on the road, driving through the Scottish Highlands, the Isle of Skye, and a less touristy area in Aberdeenshire. This 7-day Scotland road trip itinerary, combines bucket list destinations with a couple of off-the-beaten-track locations throughout Scotland. 
I've done my best to condense my 14-day Scotland itinerary into one jam-packed week of stunning landscapes, city adventures, and relaxed countryside strolls. As such, when planning your week in Scotland, you'll have to prioritize what you want to do and see so you're spending your well-deserved time off wisely. 
Before we get into this 7-day Scotland itinerary, you'll get a quick overview of what it will look like and some of my best Scotland travel tips, followed by a detailed Scotland road trip itinerary.
If you're ready for a great adventure, keep reading to plan your Scotland trip!
Scotland Itinerary for 7 Days Overview
Day 1: Edinburgh (one night) 
Day 2: Edinburgh to Stirling to Fort William (two nights)
Day 3: Fort William + Glencoe
Day 4: Glencoe to the Isle of Skye (two nights)
Day 5: Isle of Skye
Day 6: Isle of Skye to Inverness to Banff (one night)
Day 7: Banff to Fyvie to Falkland to Edinburgh (one night)
How to Get to Scotland
The best way to get to Scotland depends on where you're coming from. If you're traveling from the States like me, you'll likely be arriving by air to London and then connecting to Edinburgh. However, a train may be better if you're starting in the United Kingdom. No matter how you get there, your Scotland journey begins and ends in Edinburgh, so I'll be using Scotland's capital city as the arriving destination.
Let's break down how to get to Scotland.   
Getting to Scotland By Air
Scotland has four International airports: Edinburgh, Aberdeen, Glasgow Prestwick, and Glasgow. Most likely, you'll be flying into Edinburgh. A handful of direct flights from New York on United Airlines and Delta Airlines to Edinburgh exist. Alternatively, you can connect through Heathrow. 
From Heathrow, there are multiple departures to Edinburgh daily, and the flight takes approximately an hour and a half. 
I 've recently been using WayAway to find cheap flights, create price alerts, and even get cash back on flights.
Find your flight to Scotland here.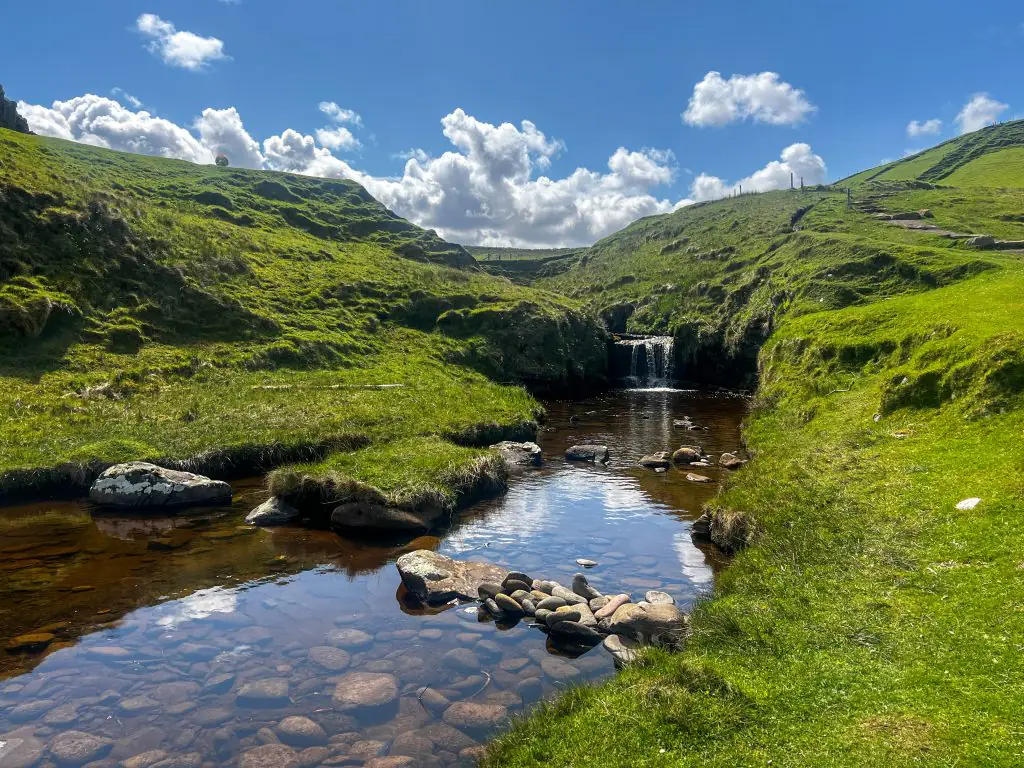 Getting to Scotland By Train
A train ride into Scotland is a potentially budget-friendly and (most definitely) a beautiful way to get to Scotland. There are multiple departures from London Kings Cross Station to Edinburgh Waverley Station daily. The trip takes approximately 4 hours and 20 minutes.
Book your train from London to Edinburgh here.
If you want to treat yourself, consider taking the Caledonian Sleeper train for a luxury experience and to start your trip to Edinburgh off on the right foot! 
d longer daylight hours. Although rain is still possible, you'll have the best chance of experiencing sunny and dry weather.
The summer is the perfect time of year for hiking, exploring the Highlands, and enjoying outdoor activities. However, summer is also midge season, so be prepared with bug spray. 
As this is the most popular time of year, many tourist destinations will be crowded. Get to them for sunrise or sunset to beat the crowds if you can 
August also brings the world-renowned Fringe festival in Scotland's capital city. If you're planning an August trip, be prepared for massive crowds and difficulty finding accommodation. 
How to Get Around Scotland
This itinerary is based on renting a car. You can also get to most places by bus or train; however, it may take longer than you like. 
Scotland by Train
One of the highlights of traveling by train in Scotland is soaking in the stunning scenery from your window seat. Keep your camera handy and enjoy the views of rolling hills, lochs, and historic sites.
Scotland's main cities, like Edinburgh, Glasgow, Aberdeen, and Inverness, are well-connected by train. 
ScotRail is Scotland's main train service; however, there are also the LNER (for transit to Edinburgh from London), the CrossCountry train service (various destinations), and the Caledonian Sleeper (for a luxury train experience). 
ScotRail offers various ticket options, including one-way, return, and day passes. Make sure to choose the one that suits your travel plans. You can also explore rail passes, like the Spirit of Scotland or the Highland Rover, that allow train travel over several days.
Check out ScotRail's website to see the variety of ticket options and purchase yours. 
Pro Tip: To get to the Highlands via train, you'll have to make your way to Glasgow, so make sure to factor in time to get from Edinburgh to Glasgow via train.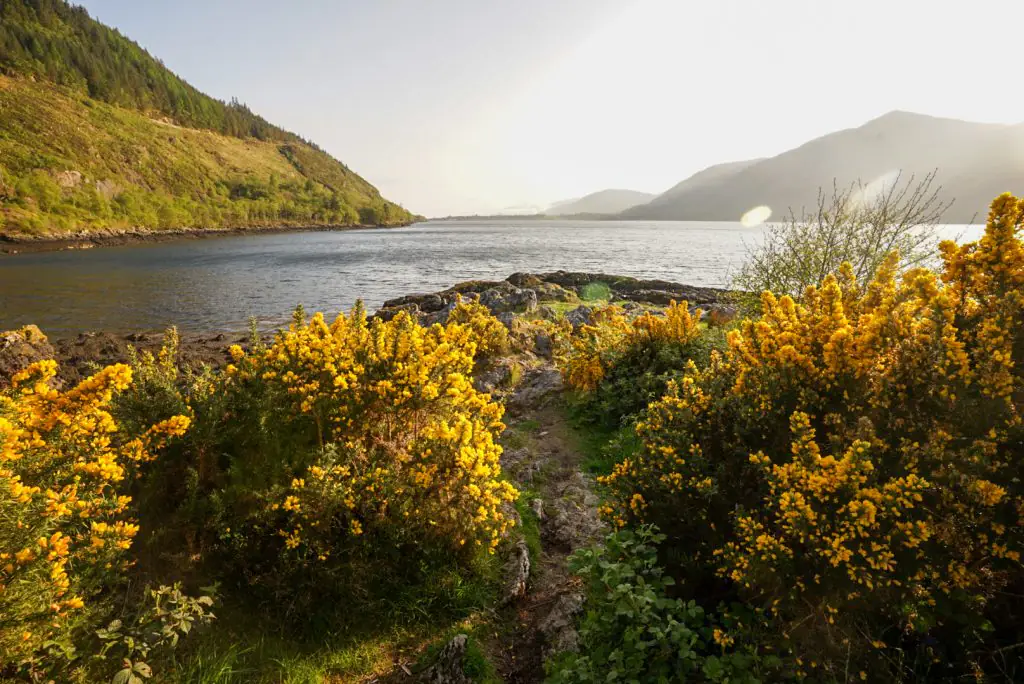 Scotland by Bus
Traveling around Scotland by bus can be a cost-effective way to get around Scotland, but it will take up quite a bit of time in your itinerary, so it may not be best for seven days.
Scotland has several bus companies operating within the country, including Citylink, Megabus, FlixBus, and local operators. You may need to book with multiple bus companies to complete this itinerary, as they all have different routes. 
Consider booking your tickets in advance, especially during peak travel times. If you don't book your ticket in advance, you can typically purchase one directly from the driver if seats are available. 
Scotland by Car
This itinerary is based on a Scotland road trip, as it offers the most flexibility and ability to visit more remote areas. It may be more expensive than other transportation options mentioned here, but I promise it's worth the cost. 
If this isn't your first trip to Scotland and you've already hit all the destinations mentioned here, consider driving the North Coast 500 route. It looks epic!
You'll pick up your car from Edinburgh Airport, which has most major car rental companies. If you have a preferred rental company, check here to see if it's available. 
I booked with Arnold Clark and can not recommend them enough. They offered pick-up from the airport and the tram, the check-in and check-out process was easy, and they were incredibly encouraging about driving on the left! 
The only drawback was the yellow Arnold Clark sticker on the car that screamed "tourist." But that's OK, as it helps alert other drivers that I may not get the roundabout right on the first go around! 
I recommend reserving your car before your arrival for the best price and ensuring they have the type of vehicle you need. For instance, manual transmission cars are the default in Scotland. It does cost more for an automatic. If you need an automatic (like me!), you must reserve in advance because there is a limited number of automatic vehicles.
When you pick up your vehicle, have a valid driver's license, passport, and credit card. Even though my credit card offers rental car coverage and I had travel insurance, I still purchased the additional coverage provided by Arnold Clark. You do you. 
Book your rental car with Arnold Clark here.
Scotland Driving Tips
If you're coming from the US or somewhere else that drives on the right-hand side of the road, let me put your mind at ease. You will get used to it within 30-45 minutes of driving. Just follow the person ahead of you, and you'll be OK. Remember to breathe!
Here are a few other helpful tips for your Scotland driving itinerary that I picked up:
Keep your gas tank FULL, especially when traveling through remote areas.
Be aware of parking regulations in cities and towns. Make sure to park in designated parking areas and take advantage of parking lots at tourist destinations.
Check your speed! The roads are well marked, with highways being about 70 mph (113 km/hr) and 30 mph (48 km/hr) in towns (or slower). Rural areas were insane to me, with speed limits of 60mph (97 km/hr) on one-lane roads!
When passing a car on one-lane roads, pull to the LEFT. There will be outlets; whichever car is closer to the outlet should pull into it.
Sing Beyonce's "To the Left to the Left" until you get the hang of it.
Use your turn signal on roundabouts so the cars around you understand what you're trying to do.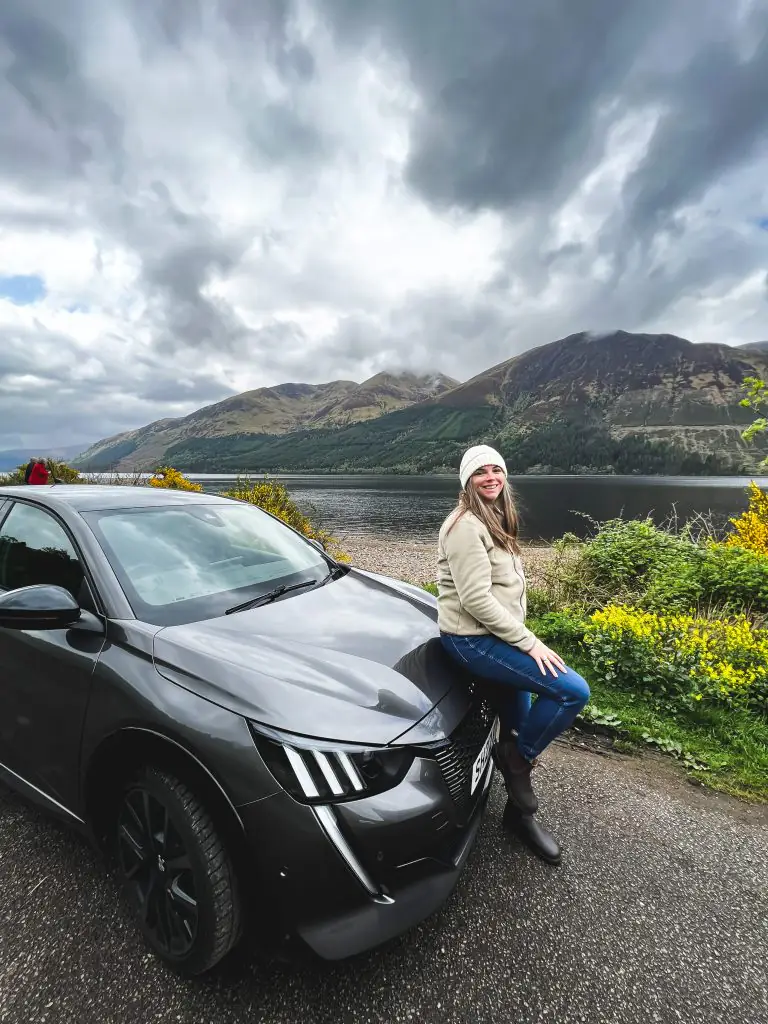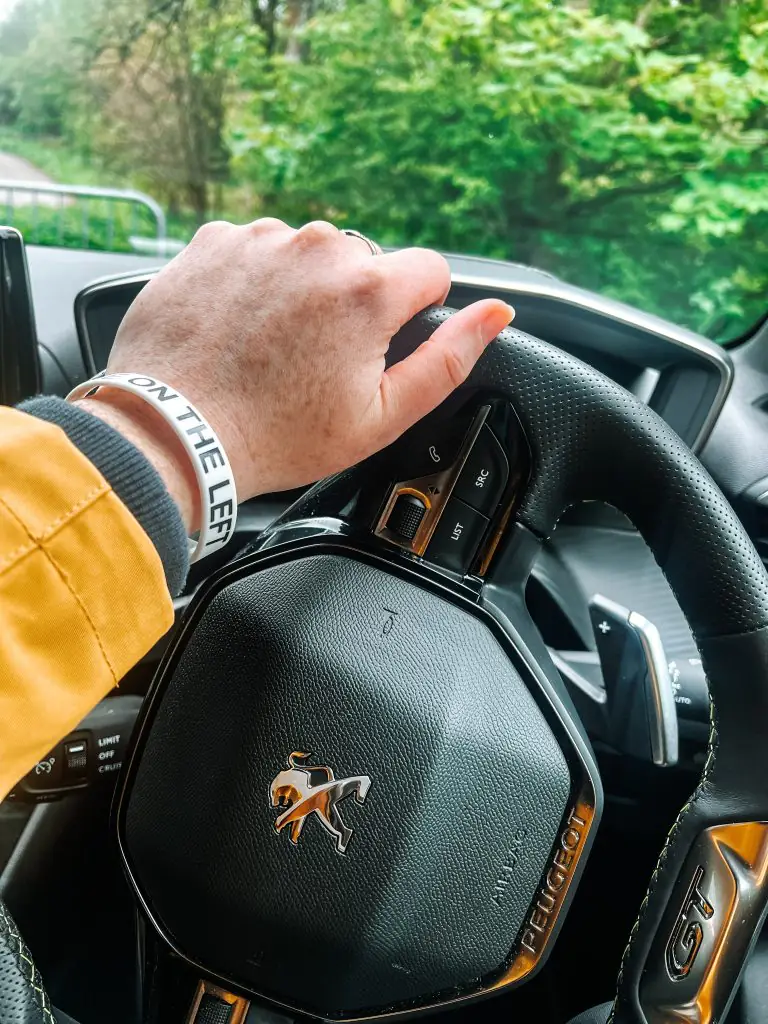 Best Time to Road Trip Scotland
Road-tripping through Scotland is a dream. My road trip took place in mid-May, and the longer days allowed me to maximize my time and see so many beautiful places without feeling rushed. Here are a few things to consider for each season when planning your Scotland road trip itinerary.
Scotland in Spring
In the Spring, Scotland will start to see longer days and milder weather. Sure, it'll likely still rain quite a bit, but you'll also probably see a few sunny days. Scotland breaks into a stunning bloom in the Spring, with Cherry Blossom trees blooming along Princes Street and yellow gorse lining the roads in the highlands. 
It also begins to stay lighter out later, until 9:00 pm! This will allow you to see more of this beautiful country as you can fit in an evening hike without worrying about getting back in the dark.
Spring is also the shoulder season for tourism in Scotland. While you'll still see crowds, they'll be far fewer than the summer months. Accommodation will also be cheaper in the Spring.
For all these reasons, Spring is the perfect time to visit Scotland.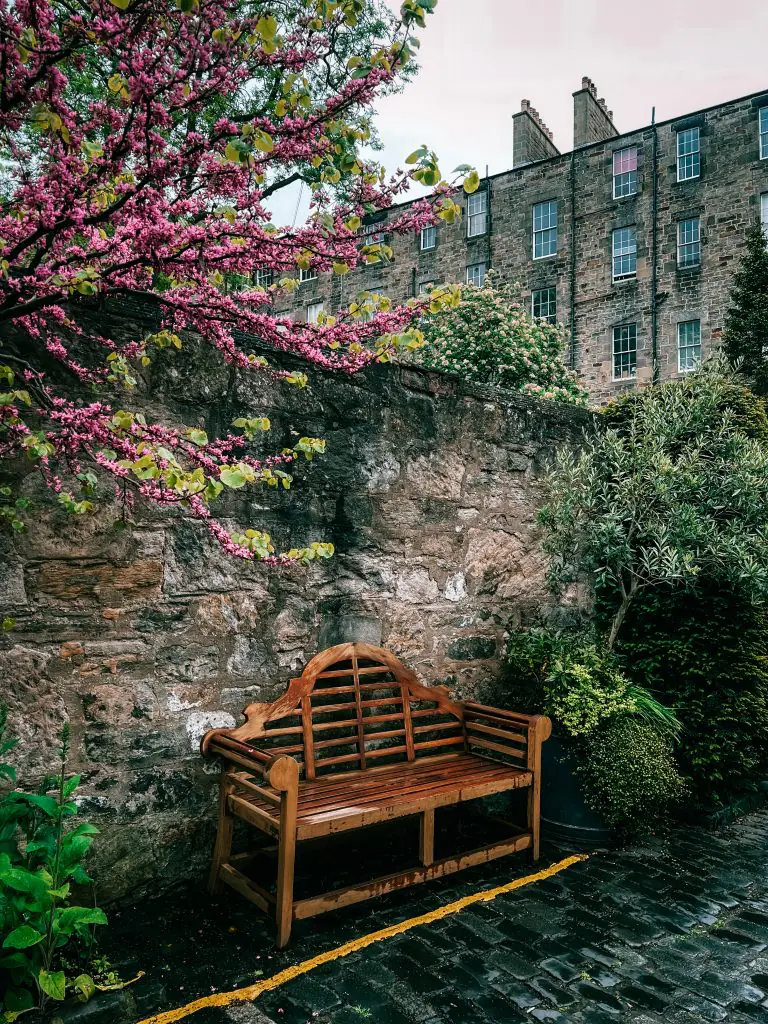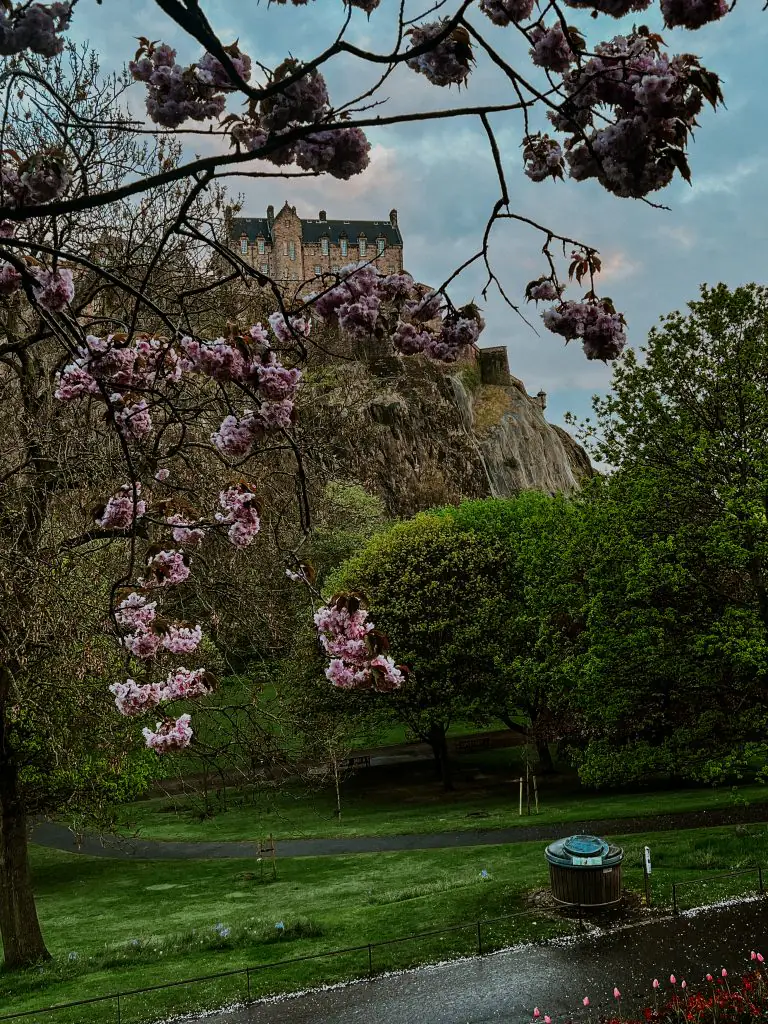 Scotland in Summer
Summer is the most popular time for road trips in Scotland due to milder weather and longer daylight hours. Although rain is still possible, you'll have the best chance of experiencing sunny and dry weather.
The summer is the perfect time of year for hiking, exploring the Highlands, and enjoying outdoor activities. However, summer is also midge season, so be prepared with bug spray. 
As this is the most popular time of year, many tourist destinations will be crowded. Get to them for sunrise or sunset to beat the crowds if you can 
August also brings the world-renowned Fringe festival in Scotland's capital city. If you're planning an August trip, be prepared for massive crowds and difficulty finding accommodation. 
Scotland in Fall
Fall, or Autumn, would be the second best time of the year to visit Scotland. You'll miss the crowds of summer while still benefiting from the mild weather. Although, it will likely rain a bit more.
Plus, the leaves will change color, creating magnificent scenery as you navigate the narrow roads of the Highlands.
As this is shoulder season as well, accommodations will be more budget-friendly.
Scotland in Winter
Winter can be a magical time to visit Scotland if you're prepared for colder and wetter weather. The Scottish Highlands transform into a winter wonderland with snow-capped mountains. Some roads in remote areas may be closed due to weather conditions, so check conditions in advance.
There are some fun celebrations in the winter, with Hogmanay (New Year's Eve) celebrations in Edinburgh.
Ultimately, the best time for a road trip in Scotland depends on your interests and tolerance for different weather conditions. Check the weather forecast and road conditions before your trip, regardless of the season.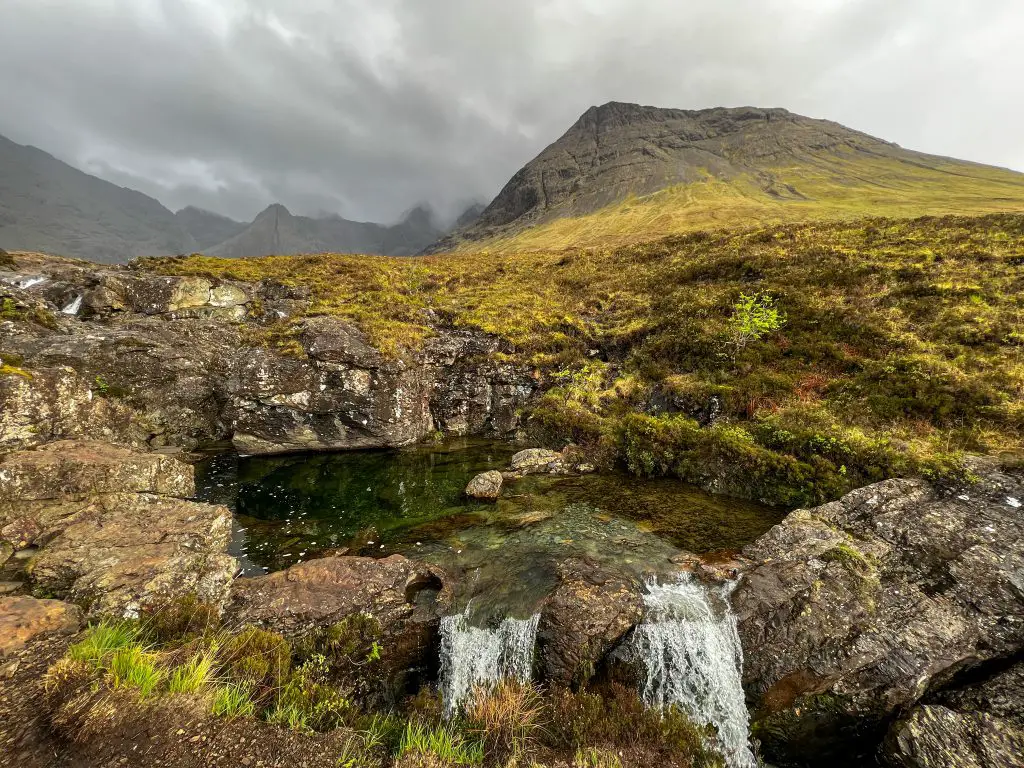 What to Pack for Scotland
Let's review the essentials you need to pack for your trip to Scotland. For more in-depth details about everything you need to bring to Scotland, check out my complete Scotland packing list.
What to Wear in Scotland
I noticed Scotland is a fairly casual country, and you'll see all kinds of fashion choices. A nice pair of jeans is acceptable for a nice restaurant. Layers are essential for Scotland as the weather will change constantly. You'll want a waterproof jacket, a sweater, a pair of jeans, a pair of leggings, a couple of T-shirts, and a tank top or two. If you're traveling in the winter, you'll want to pack much warmer layers and a winter jacket. 
Don't forget your socks, undies, and something comfy to sleep in!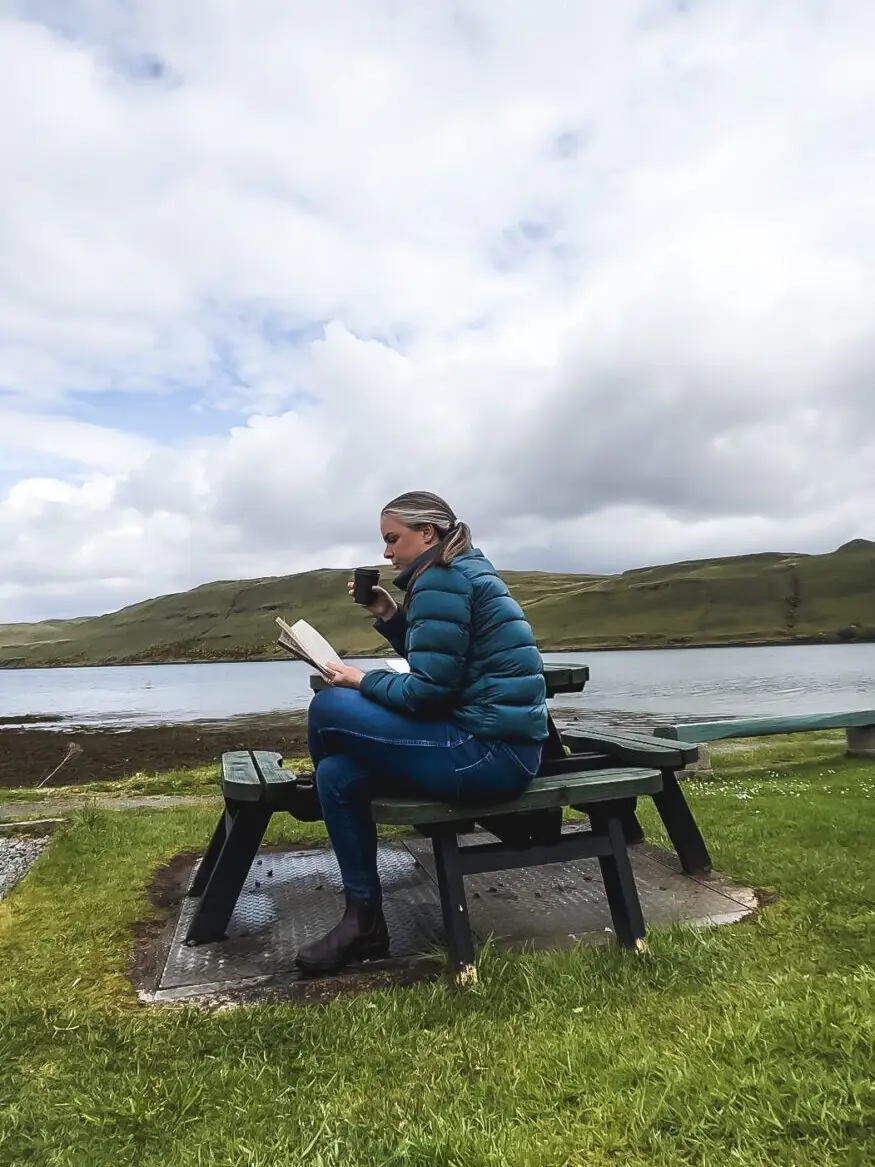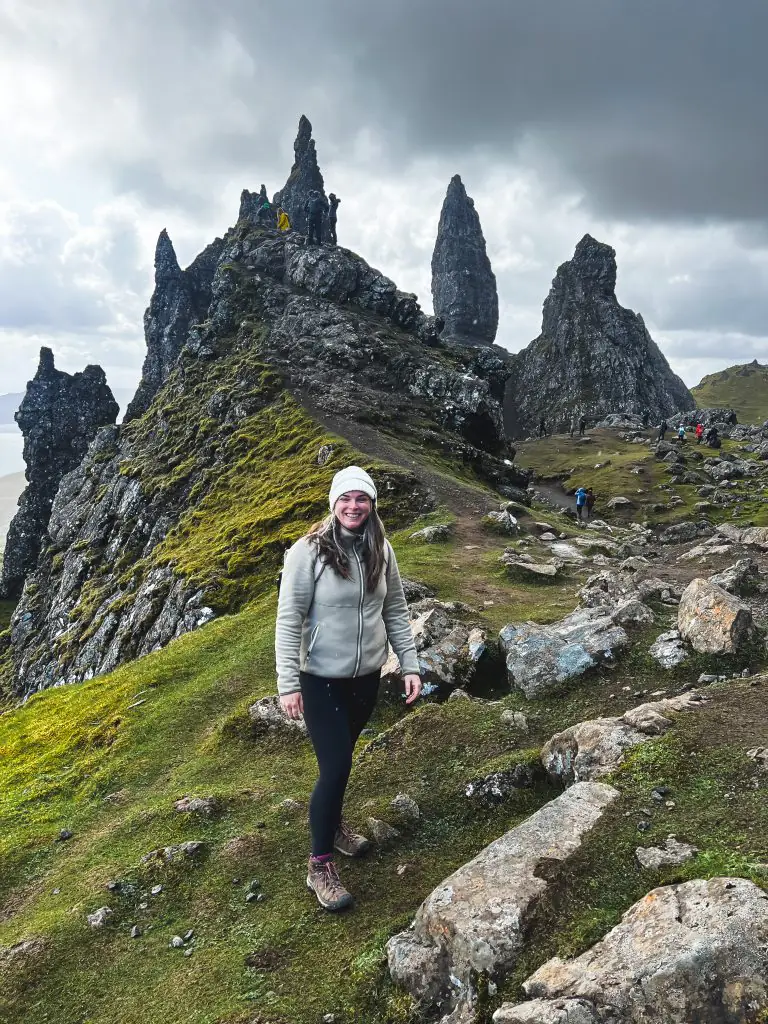 What Shoes to Wear in Scotland
The types of shoes you bring or don't bring will depend on your activities. If you're planning to go on lots of hikes, then a well-broken in pair of waterproof hiking boots are necessary. If you're mainly doing city exploring and some light coastal walks, then a good pair of walking shoes is essential (even better if they can be waterproof!). Sandals are good if you go to the beach and want to dip your toes in the freezing water!
Electronics to Bring to Scotland
Camera: Whether you use your phone as a camera or want to bring a separate camera, you'll need one to capture the beautiful landscapes and gothic architecture. 
Portable Charger: I've used this Mophie portable charger for years, and it still charges my devices quickly! A full charge allows for about three full charges! You will need it because you'll be taking so many photos and using your phone for GPS.
Type of Bags to Bring to Scotland 
Backpack/Daybag
In addition to your carry-on luggage, bring a smaller backpack to carry extra layers, your water bottle, camera, and any fun souvenirs you'll buy. 
Your Seven-Day Scotland Itinerary
Now that we've got all the logistics out of the way, let's get into how to spend each day in Scotland. At the end of each location, I'll share accommodation options that suit any budget. Ready? Let's go!
Day 1 Edinburgh
Your adventure starts in Scotland's capital city, Edinburgh. Edinburgh is known for its charming cobblestone streets, often moody weather, and stunning architecture. Edinburgh also has a slightly macabre history and a haunting atmosphere.
If you're a Harry Potter fan, you'll have fun exploring the streets of Edinburgh and finding all the places that inspired the novel. I'm not exactly a Harry Potter fan, but I'll share a few cool places to check out.
However, since you only have one day in Edinburgh, you must choose your activities wisely. Make sure you pick things that you enjoy! So, if you're not a Harry Potter fan, skip it!
Or ride the hop-on, hop-off bus to see it all in a short time!
Walk the Royal Mile
The Royal Mile is located in the Old Town section of Edinburgh and is considered a UNESCO World Heritage Site. It is jam-packed with things to see, cute cafes and pubs, and plenty of history.
The Royal Mile connects Edinburgh Castle and Holyrood Palace, which is still a royal residence. Along the way, you'll also pass St. Giles Cathedral, which has been a working church for 900 years! You'll also pass the Flodden Wall (near the Worlds End Pub), which once encircled all of Edinburgh.
To ensure you see all of the historically significant spots and hidden gems on the Royal Mile, I highly recommend booking a free Old Town walking tour!
If you do this without a tour, use this audio guide that includes 14 Scottish stories about Dr. Jekyl and Mr. Hyde, John Knox, and Marty Queen of Scots. Get your audio guide here.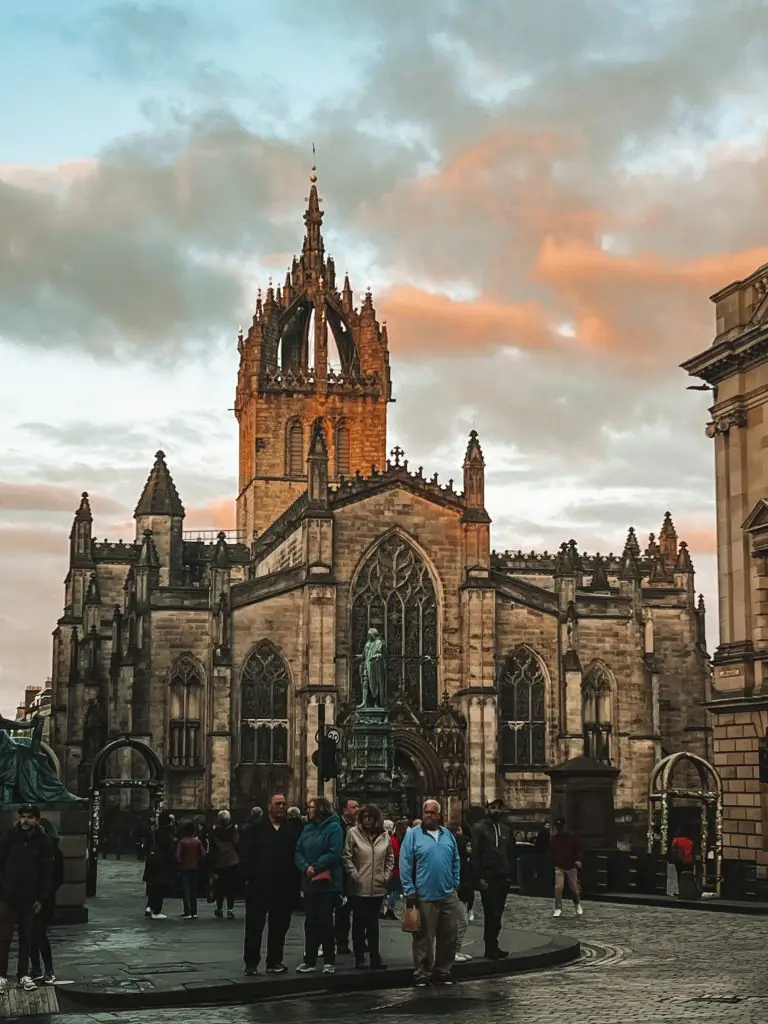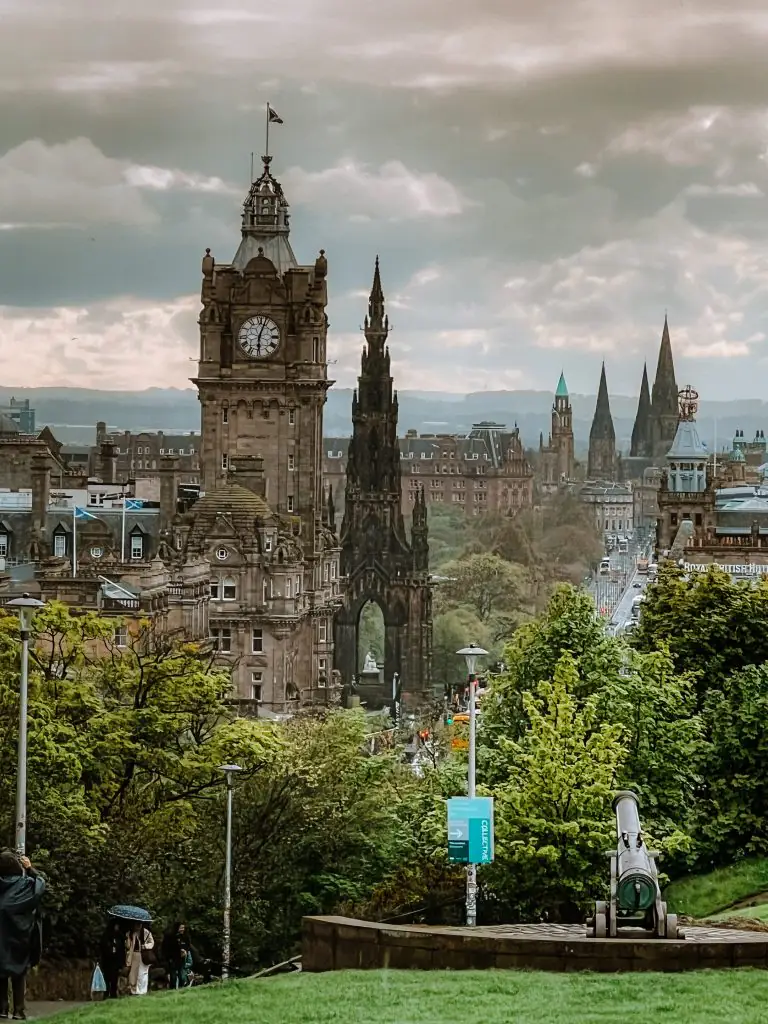 Explore Grassmarket
Just down the hill from the Royal Mile and Edinburgh Castle is the Grassmarket area of Edinburgh. If you've been doing any social media research for your trip to Edinburgh, you likely know Grassmarket because it's where you'll find Victoria Street's colorful and picturesque shops. I recommend checking out the unique shops on this street for a fun souvenir.
The main square of Grassmarket is where public executions took place. There is a pub across the street called the Last Drop with nooses hanging in the windows. Those awaiting their death would stop for one last drop of Scottish whisky. This pub is an excellent place to eat if you're getting hungry.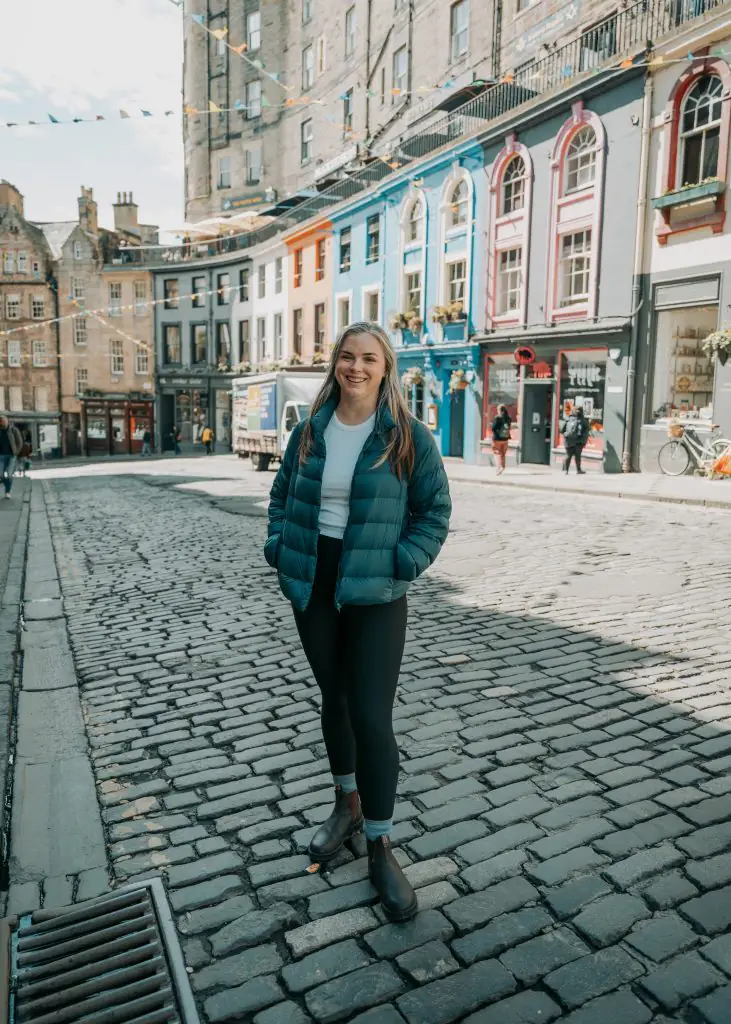 Also in Grassmarket is the now world-famous Greyfriars Kirkyard. It's famous for inspiring characters in Harry Potter. Here, you'll find the tombstones of Thomas Riddle, William McGonagall, and Elizabeth Moodie.
For a bit more local lore, stop by Greyfriars Bobby Memorial for a pup that guarded its owner's grave for 14 years after its owner's death. Residents would feed it and ensure it was well cared for until the puppy himself passed. They erected the bronze statue a year after he passed in 1872.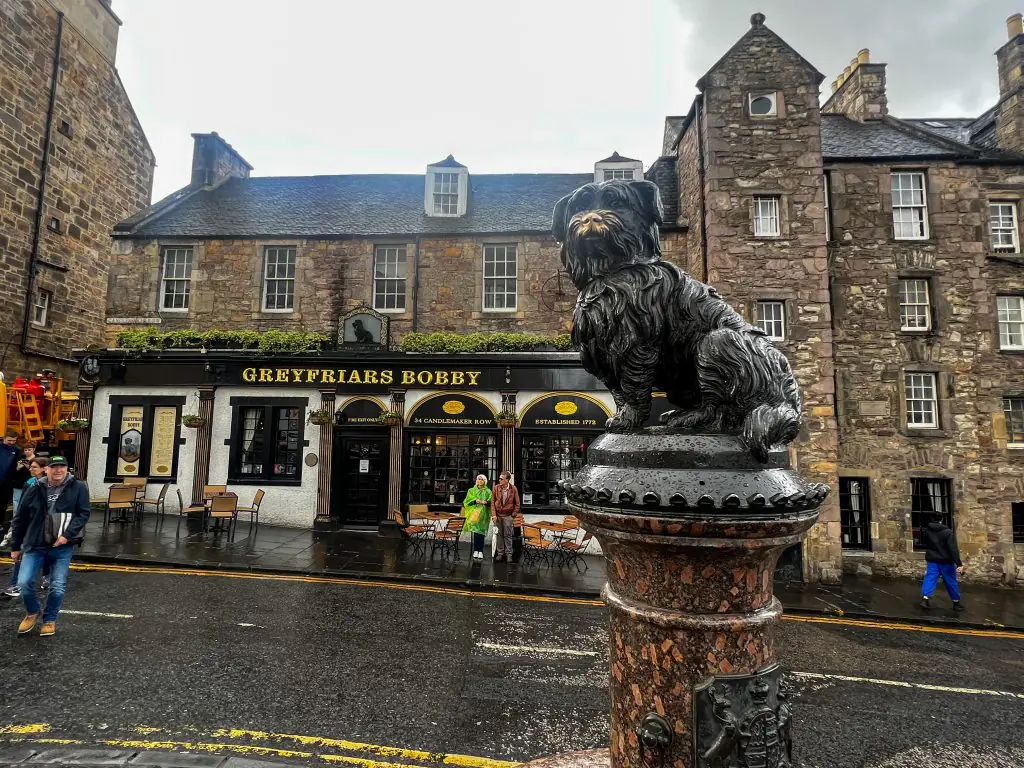 Visit a Museum
Did you know that Edinburgh's museums are FREE?! And there are quite a few to choose from! 
The National Museum of Scotland may be too much of an undertaking for one day in Edinburgh, so I suggest you visit the Writer's Museum to better understand Scotland's literary history. 
The Writer's Museum is dedicated to three Scottish literary heroes, Sir Walter Scott, Robert Louis Stevenson, and Robert Burns. Each writer has an area of the museum dedicated to their life and work. Plus, the museum is in a gorgeous building in a charming little square called Lady Stairs Close.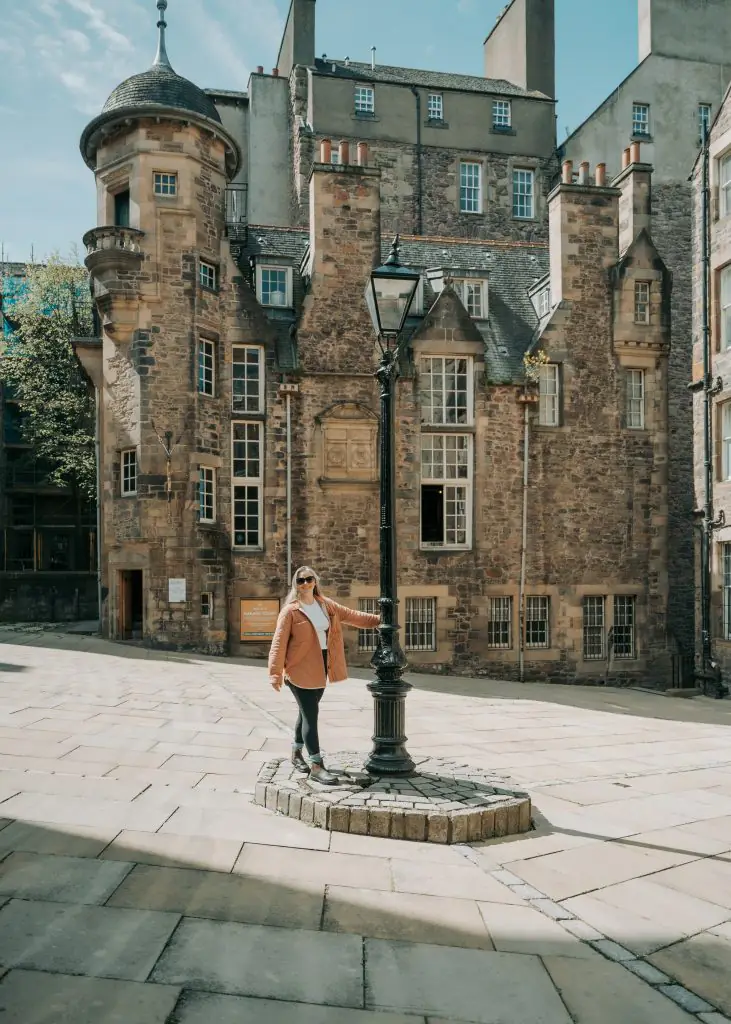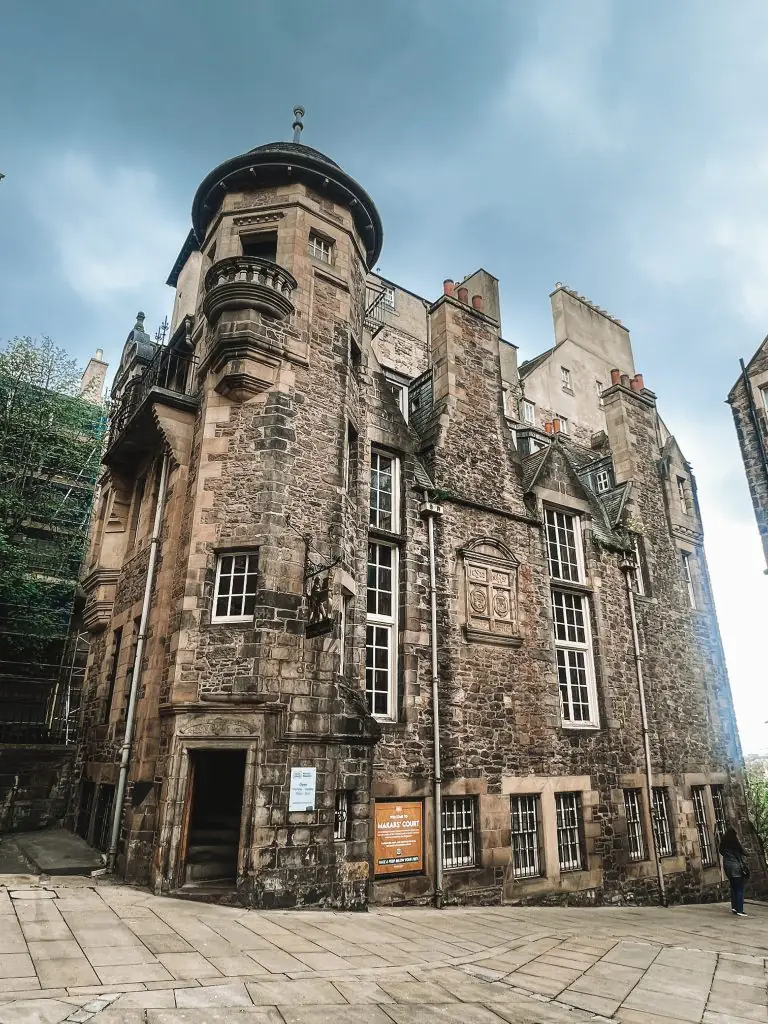 Take a Walking Tour
Free walking tours are among my favorite things to do in new cities. They help me understand the city's layout, teach me about its history, and show me the highlights quickly.
I highly recommend taking a free walking tour to maximize your time and understanding of how Edinburgh became the city we know and love today. There are walking tours for every interest. You can take one in Old Town, New Town, a Haunted Walking Tour, or a Harry Potter walking tour, to name a few.
Check out all of the options here. 
If you want to do an underground walking tour, that's a fun option, but they aren't free.
You can book an Underground Vault tour here. 
See the Sunset from Calton Hill
If you're not too tired from all of the sightseeing in Edinburgh, walk up Calton Hill for sunset. At the top of Calton Hill, you'll have panoramic views of the skyline below with the Scott Monument and the Balmoral Hotel Clock Tower. On Calton Hill itself is the National Monument, which was inspired by the Parthenon in Athens. 
Visit a Local Bookshop
Dive into Edinburgh's literary past in one of its many independent bookshops. Armchair Books is a used bookstore in Grassmarket, Golden Hare Books, and Rare Bird Bookshop in Stockbridge. Plus, there's always Waterstones across from Princes St. Gardens, which has epic views of the castle and a cafe on site.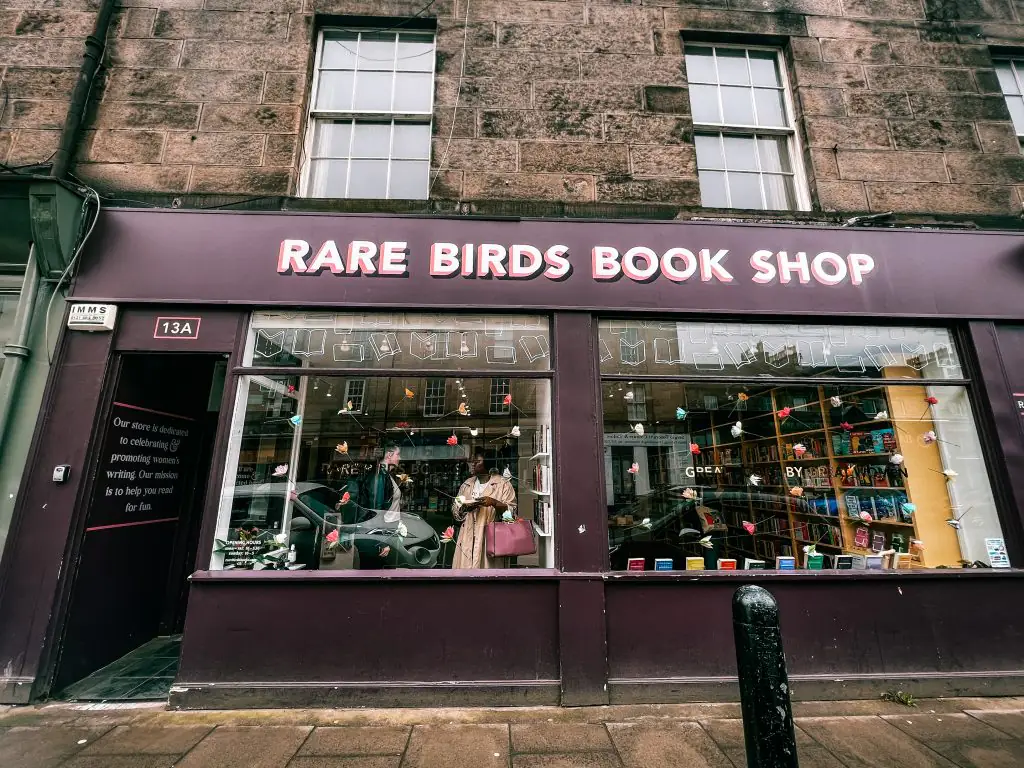 Enjoy Your New Book in a Cafe
If you need a quick break from all of the sightseeing, take your book to one of Edinburgh's many cafes. The Milkman on Cockburn St. is such a must-stop that there are two! I also recommend Cowan and Sons in Stockbridge or Burr & Co in New Town.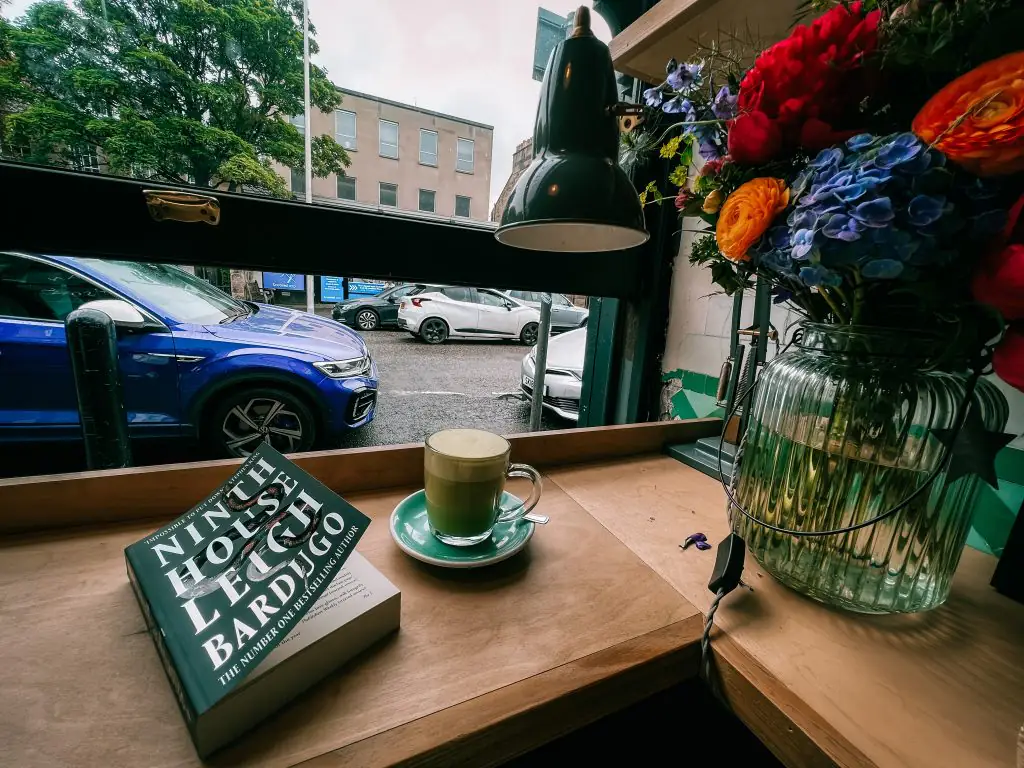 If You Have an Extra Day in Edinburgh
If you do everything I mentioned above, that's enough to fill a one-day itinerary in Edinburgh. However, you can check out a few other fun things in Edinburgh if you have more time.
Hike Arthur's Seat: I could not fit this into my itinerary, but this would be an incredible sunrise or sunset activity in Edinburgh. There are multiple routes to the top of Arthur's Seat, a long extinct volcano, and 360o views of Edinburgh when you reach the top!
Holyrood Palace: If you're interested in the royal family, you can tour Holyrood Palace. Remember that this will not be an option if someone is in residence, as there was when I visited. However, the gift shop and cafe will remain open.
Book your ticket to Holyrood Palace here.
Edinburgh Castle: If you're interested in learning more about Mary Queen of Scots, Scotland's military history, and seeing the Crown Jewels, then add Edinburgh Castle to your itinerary. You'd need about 2 hours to see if all or you can focus your time in the heart of the castle, Crown Square.
Alternatively, book a guided tour of the Castle!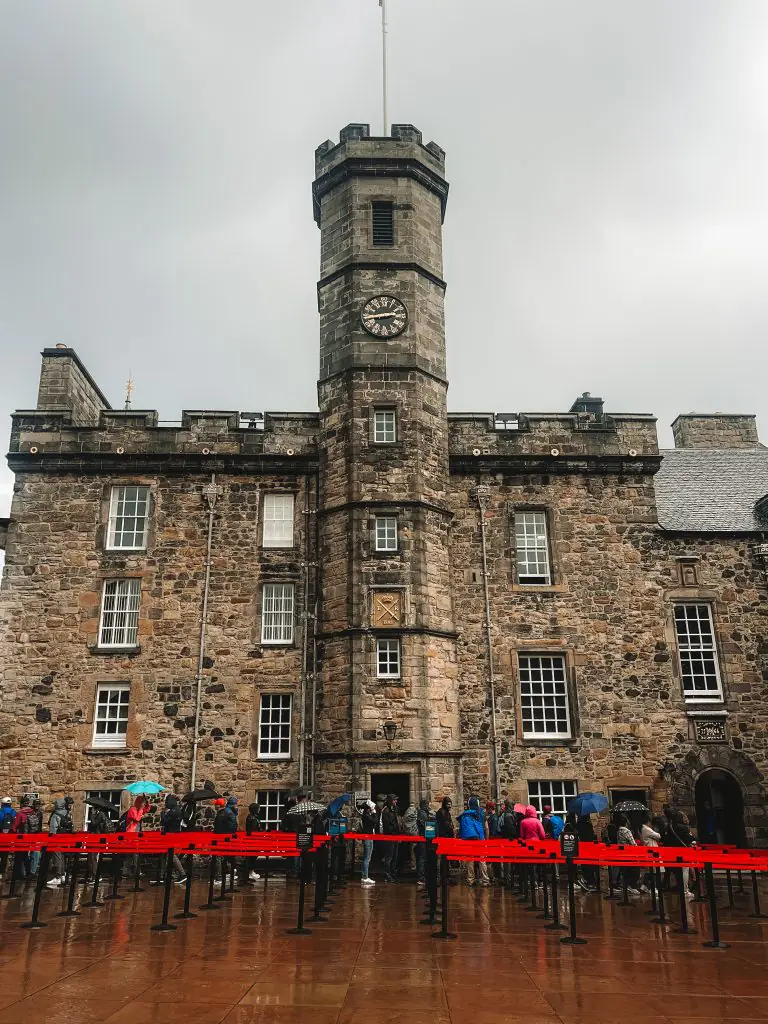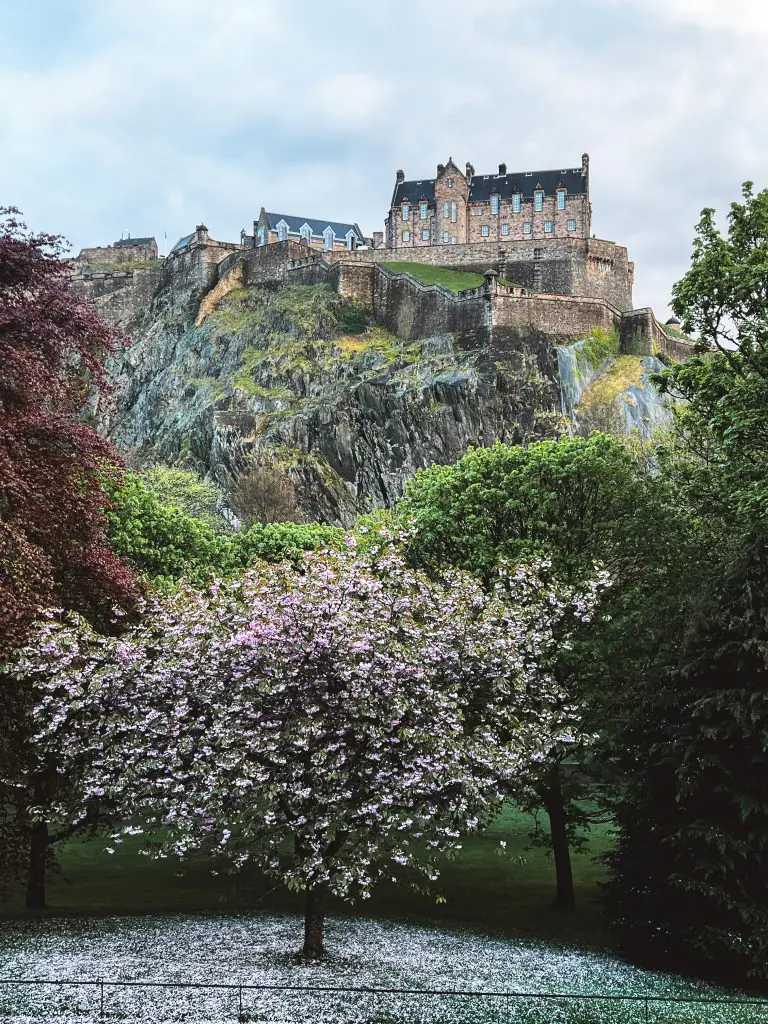 Dean's Village & Stockbridge: This was my favorite part of Edinburgh. Even though it was my favorite, I didn't put it in the main part of the itinerary because it's a bit of a walk from the main attractions in Edinburgh. That being said, if you want more of a local vibe, delicious food, and excellent cafes, please spend a morning or afternoon in Stockbridge. 
Dean's Village is a quaint, picturesque neighborhood with a beautiful walk along the Water of Leith. 
The walk will take you to the heart of Stockbridge, home to great independent bookstores like The Golden Hare and Rare Birds Bookshop. It's also where you'll find the charming street, Circus Lane, perfect for a photo op. No matter where you are in Edinburgh, you'll be close to a cozy cafe to rest and recharge for the rest of the day.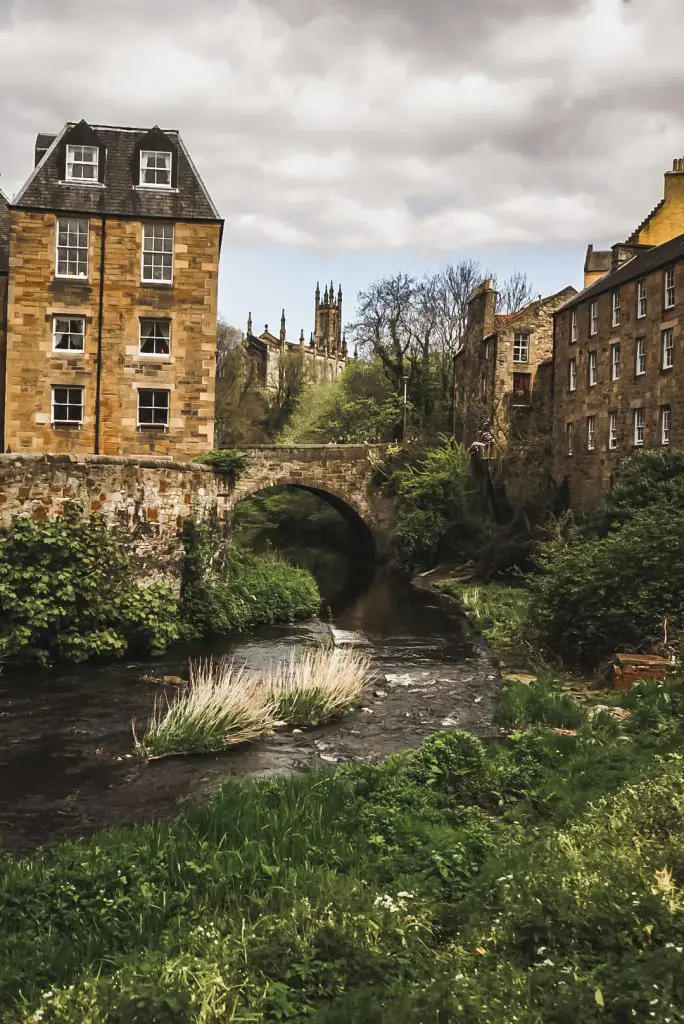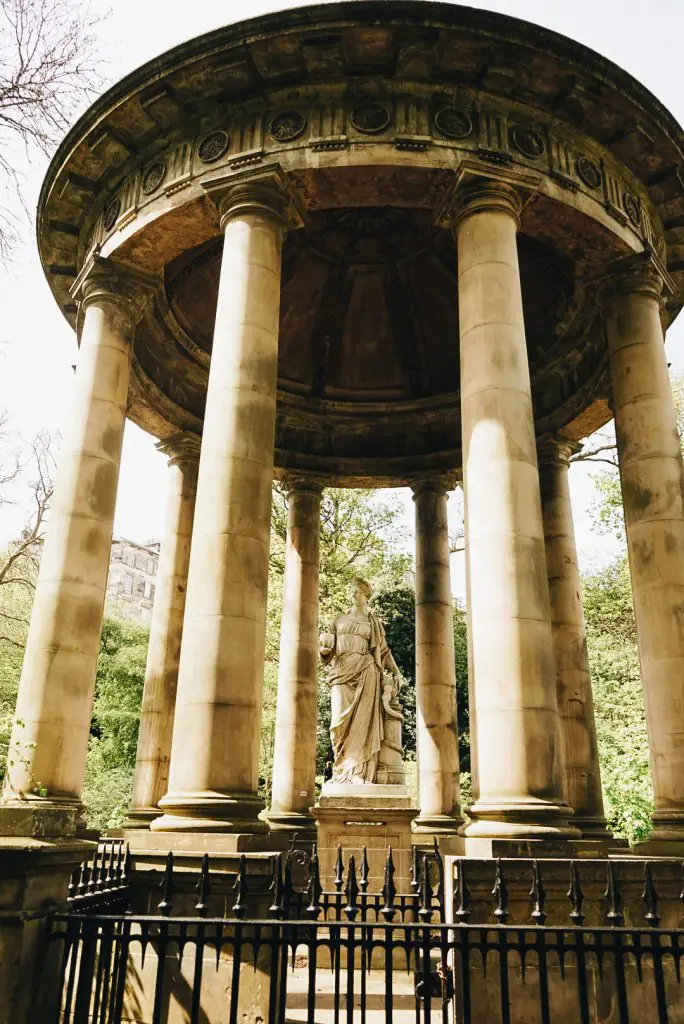 Where to Eat & Drink in Edinburgh
Edinburgh has so many great places to eat that suit any budget. I do recommend booking reservations in advance during peak travel season. Are there more places to eat in Edinburgh than I've listed below? Of course, there are! But I'm trying to make the decision less overwhelming when you only have one day to spend! 
Where to Eat Breakfast in Edinburgh
I treated myself to a good brunch twice in Edinburgh and went with The Pantry in Stockbridge and Urban Angel in New Town. Both offered delicious, fresh food, a great matcha latte, and incredibly friendly staff. 
At The Pantry, I had some of the best French toast of my life. And Urban Angel offered up a unique variation of eggs on toast and a delicious smoothie!
They get busy quickly, so get there early or reserve a table!
Where to Eat Lunch/Dinner in Edinburgh
There are literally pubs and restaurants on every street and close in Edinburgh. Honestly, you can't go wrong with most of them. Two of my favorites were Arcade Bar Haggis and Whisky House and The Devil's Advocate.
Arcade is located on Cockburn Street and offers a variety of Haggis options if you want to try this Scottish delicacy. They also make delicious whisky sours. The interior is charming, too, and if you can get a seat at the window, it's a great people-watching spot.
The Devil's Advocate is located in Devil's Advocate close. They have a vast whisky collection, among other things, and a well-rounded menu. I had a whisky flight, and the pork belly dish was delicious. The interior has a dark and cozy vibe that fits well with a rainy afternoon in Edinburgh.
Where to Stay in Edinburgh
Edinburgh has plenty of hostels and hotels to choose from! I recommend picking an accommodation that fits your budget and is close to the activities you'd like to do so you're not wasting time on transportation.
Budget Accommodation in Edinburgh
Are you ballin' on a budget? Edinburgh has so many hostels! If you prefer to avoid sharing space, many offer private rooms with ensuite bathrooms. If you're unsure about the hostel life, check out my complete guide to staying in a hostel. 
Castle Rock Hostel: Castle Rock Hostel is excellently located next to Edinburgh Castle on the Royal Mile. There are a wide range of room options. It's budget-friendly and very safe. Plus, the views are epic.
Check rates and availability here.
Code Pod Hostel: Also located on the Royal Mile, The Court Code Pod is a boutique hostel with bunks that offer more privacy than a typical hostel. If this is your first time staying in a hostel, I'd recommend this hostel. Book your stay here.
Check rates and availability here.
Princes St Hostel: Prince St Hostel is located in New Town on a quiet cobblestone street. It's a three-story climb to the hostel, but the people who work there are so helpful and friendly. Book your stay here.
Check rates and availability here.
Check out more Edinburgh hostels here!
Mid Range Accommodation in Edinburgh
If you're a hotel girlie, there are plenty of mid-range options.
Kimpton Charlotte Square: The Kimpton is located in a Georgian Townhouse on the super cute and quiet Charlotte Square. It's two blocks from Princes St. Gardens, the Ross Fountain, and the tram!
Check rates and availability here.
Sonder: I recently learned about Sonder, which offers apartment-style accommodation in various cities worldwide and is a super cute one located just steps from the Scottish National Gallery.
Check rates and availability here.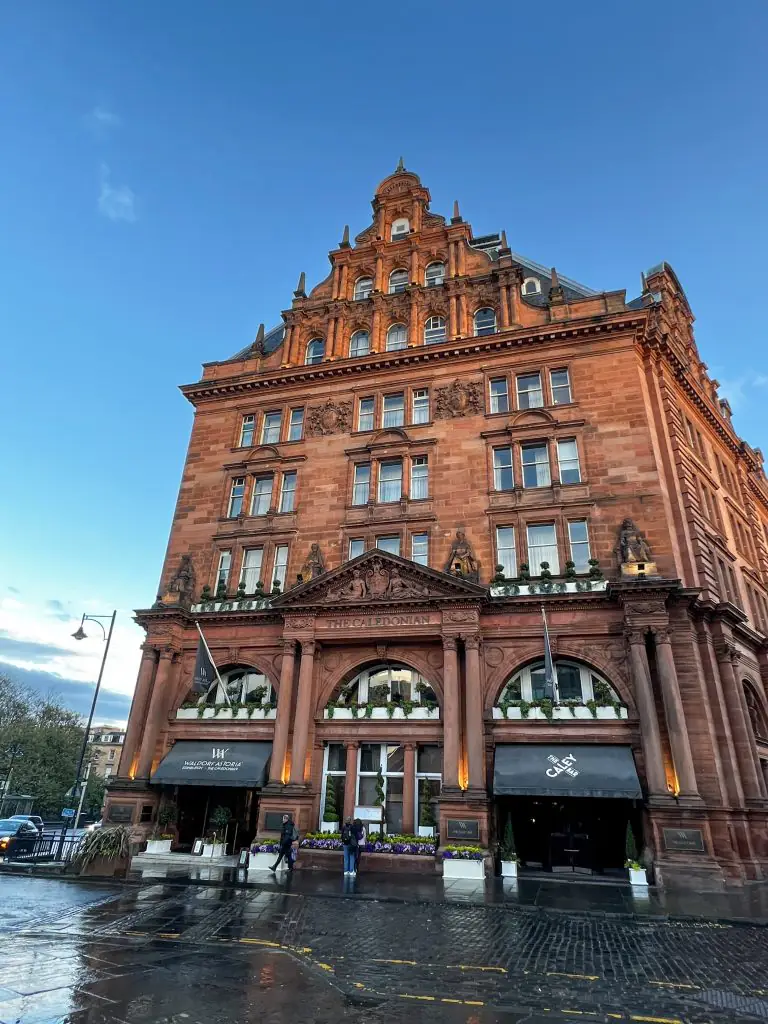 Bougie Accommodation in Edinburgh
Waldorf Astoria: I stayed at the Waldorf Astoria my first night in Edinburgh before moving on to a hostel and loved it. It's located across the street from Princes St Gardens and is close to many restaurants. The room was perfect after an international flight when I needed a hot shower and a comfortable bed!
Check rates and availability here.
Balmoral Hotel: The Balmoral Hotel is a five-star luxury hotel next to Waverly Station. If you're traveling to Edinburgh for a special occasion or want a treat-yourself experience – consider staying here!
Check rates and availability here.
Check out other hotels in Edinburgh here!
Day 2 Edinburgh to Stirling to Fort William/Glencoe
In the morning, you'll take the tram back to the airport to pick up your rental car to start your epic Scotland road trip. Today's itinerary includes historical castles, monuments, and stunning scenery as you make your way into the Scottish Highlands. 
There is a lot of driving from here on out, so pick up some road trip snacks and have your road trip playlist ready!
Midhope Castle
Calling all Outlander Fans! Made famous for being the home of the one and only Jamie Fraser, Midhope Castle (Lallybroch for Outlander fans) is a small castle with pretty grounds. You cannot enter the castle itself, so this is a quick pit stop for a photo op before you're on your way to the next castle of the day.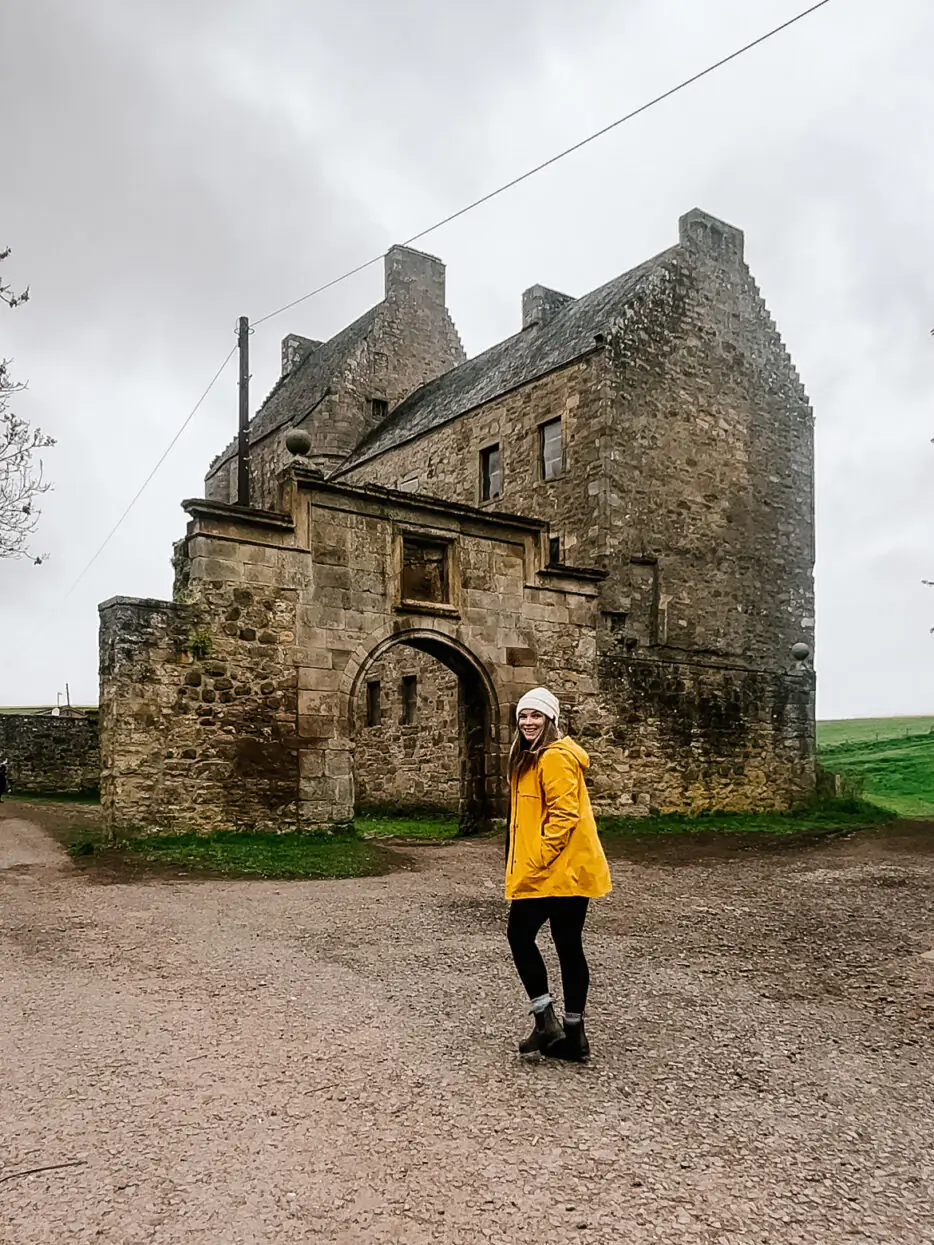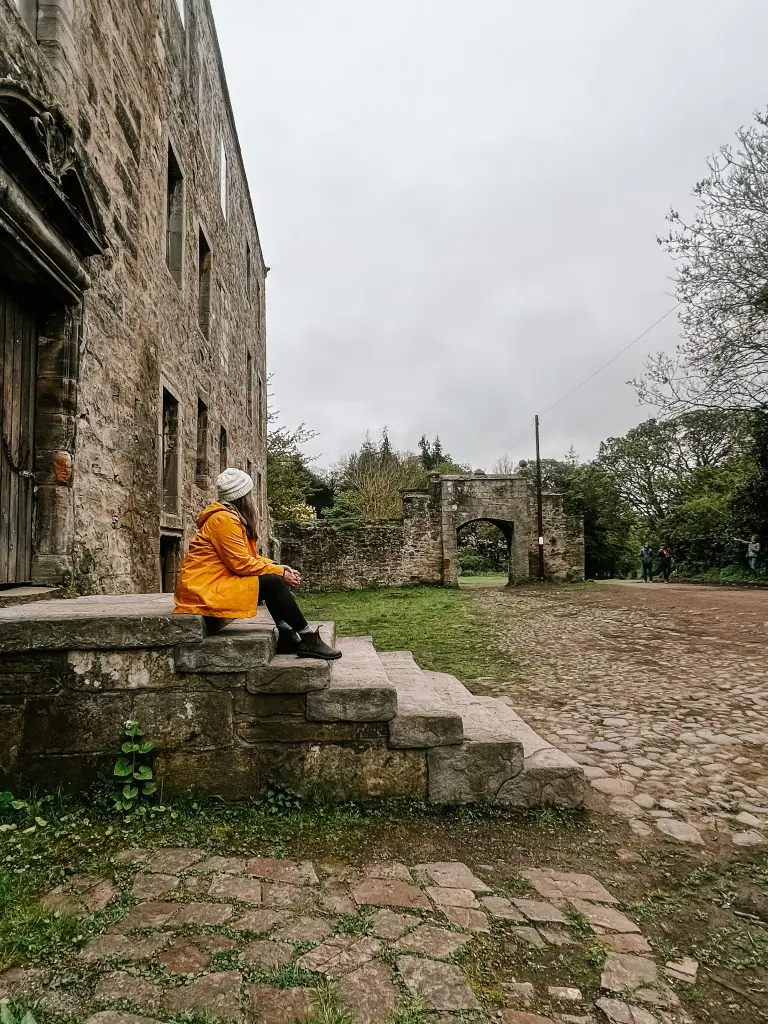 Blackness Castle
Blackness Castle also makes a few appearances in Outlander as Fort William prison. The disturbing scene of Jamie's flogging took place in the courtyard. Now outside of Outlander, Blackness is a 15th-century fortress that was used as a prison, a residence of the Scottish monarch, and, of course, a military stronghold. 
You can walk the grounds and the castle's interior, including seeing the great hall. It will take you approximately 1.5 hours to see the castle and take some photos.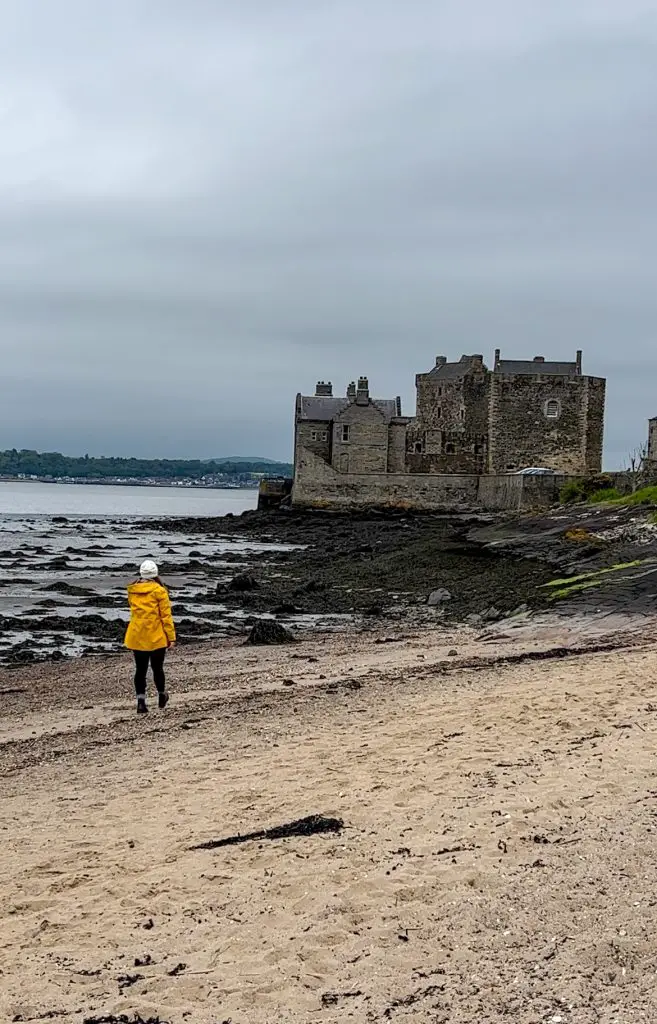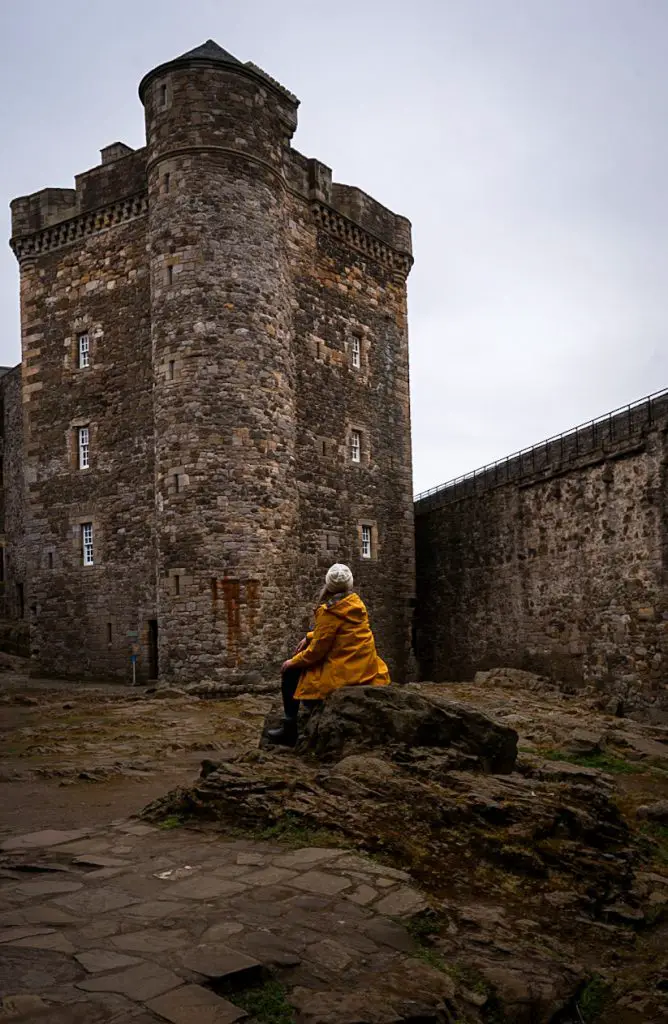 Optional Stop: The Kelpies at Falkirk
The Kelpies are two 30-meter-high metal structures of horse heads that tower over a grassy park and canal that connects to the River Forth. Kelpies are mythical water horses that have the strength and endurance of 10 horses. They also represent the role that horses played in the development of Scottish industry and economy.
You can see them from the highway if you decide not to stop. 
The National Wallace Monument
The Wallace Monument is located in Stirling above the fields where Scottish hero William Wallace brought his troops to victory against the English. Visiting the monument is not for the faint of heart, however, as it requires a 246-step climb up a spiral staircase to see the various rooms that detail the story of William Wallace.
At the monument's top, you'll be rewarded with amazing views of Stirling, the river, and even Stirling Castle.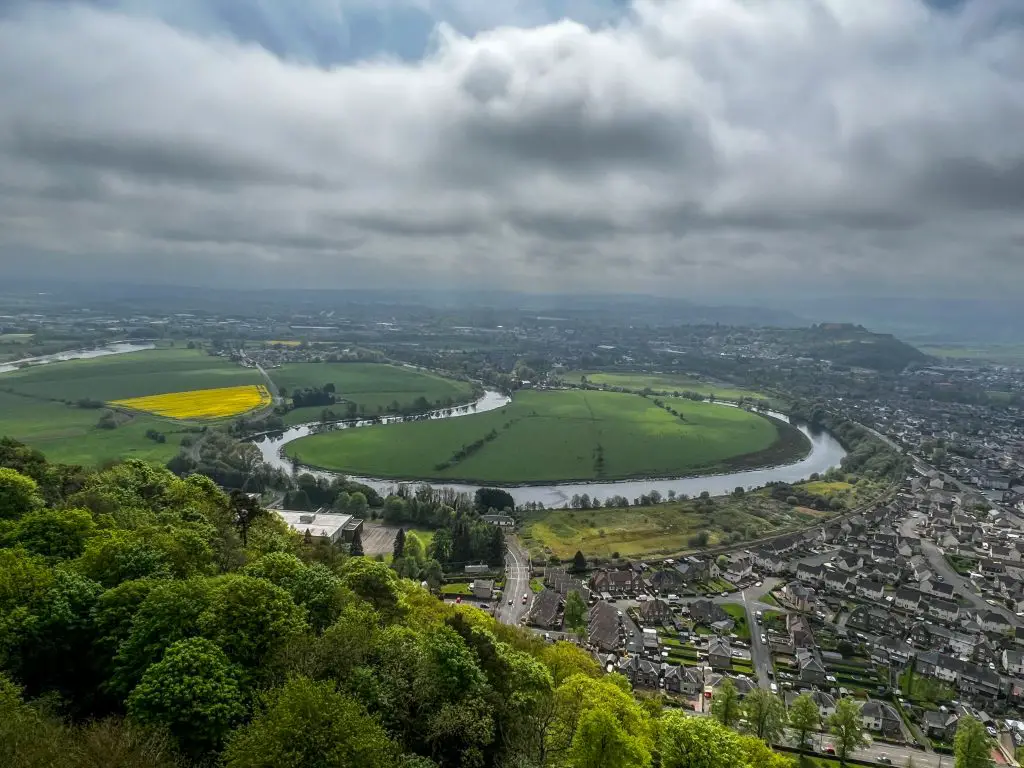 Lunch: The Wallace Monument
At this point, you're probably ready for lunch. I recommend eating at the Wallace Monument cafe. The brie and cheese panini was one of the best sandwiches I've had, and the butternut squash soup was delicious. Plus, it's one of the cheaper meals I had in Scotland!
Alternative Activity in Stirling: Stirling Castle
If you'd like, you can instead visit Stirling Castle. Stirling Castle is one of Scotland's largest and most historically and architecturally significant castles. The castle served as a palace and royal residence to many royal Scots, including Mary Queen of Scots.
Visiting the castle would require 2-3 hours of your day, so make sure you factor that in as you consider the drive time to get to your accommodation in Fort William or Glencoe.
Drive through Glencoe
After you finish your activities in Stirling, the rest of the day is devoted to an epic drive through Glencoe. There won't be any hiking today, but there are scenic places to pull over, like Three Sisters Viewpoint, to take in the breathtaking scenery. 
This part of the journey is your time to settle into driving in Scotland and appreciate this country's natural beauty.
Enjoy the ride.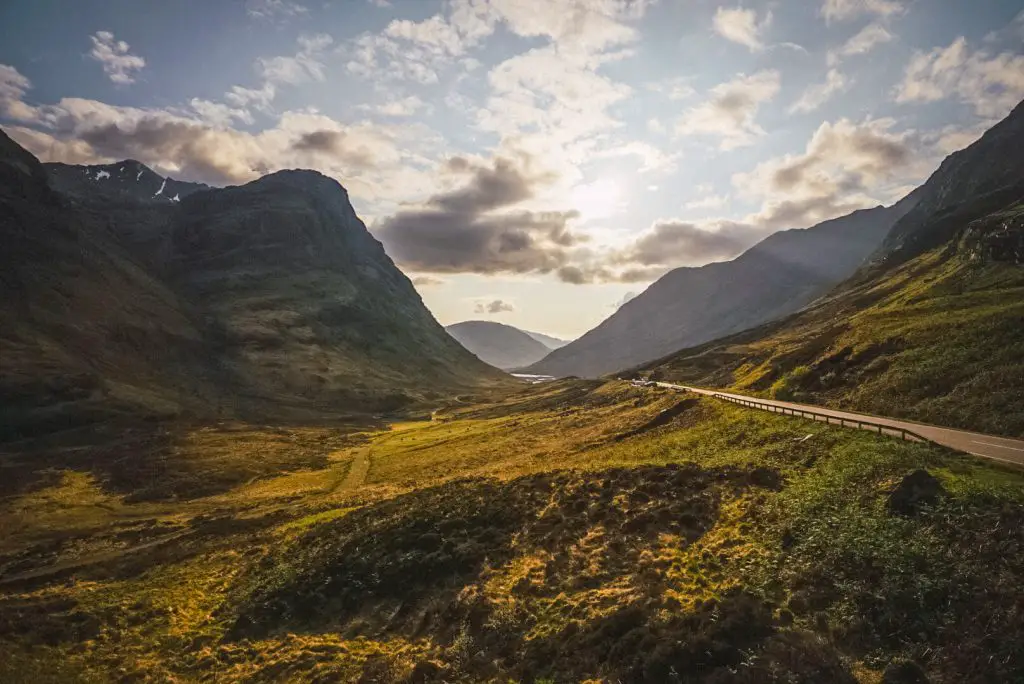 Dinner at Clachaig Inn
Clachaig Inn is a must for dinner! This historic inn offers traditional Scottish fare, has a wide range of whiskies and gin to sample, and often has live music.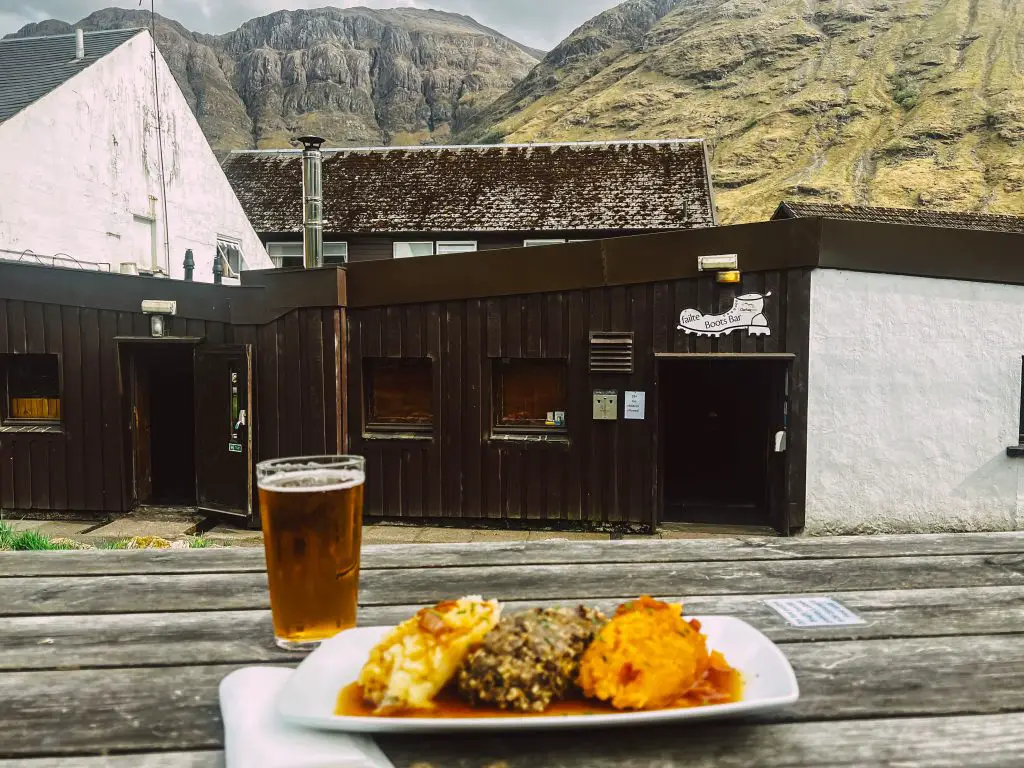 Where to Stay in Fort William or Glencoe
Today was a big day. You've gotten used to driving in Scotland, learned more about Scottish history, and seen beautiful landscapes. It's time to rest up at your accommodation. You can stay in Fort William or Glencoe for the next two nights. Either is a good base for tomorrow's full day of activities.  
Below are a few accommodation recommendations for either Fort William or Glencoe. 
Budget Accommodation in Fort William/Glencoe
Fort William Backpackers: I stayed here because I liked how close it was to downtown Fort William and that it was inexpensive. It's a hostel with amazing views of the surrounding area, a room to dry your clothes, and powerful (and clean) showers.
Check rates and availability here.
Glen Nevis Youth Hostel: I passed this hostel on my way to the Steall Falls trailhead and wished I'd known about it before arriving. The outside was incredibly charming, and I've researched it since returning. The pictures show a boutique hostel aesthetic, steps away from the best hikes in the area.
Check rates and availability here.
Check out other hostels in Fort William and Glencoe here.
Mid Range Accommodation in Fort William/Glencoe
Onich Hotel: I passed by the Onich Glamping Pods multiple times, and each time, I thought, what a great spot to stay! They have beach pods located directly on Loch Linnhe, with immediate access to the beach and stunning views. There is also a traditional hotel on the property, and it's dog-friendly. Plus, it's budget-friendly.
Check rates and availability here.
Lime Tree An Ealdhain Hotel: If you want more traditional accommodation, check out the Lime Tree Hotel in downtown Fort William. This hotel allows easy access to the restaurants and shops downtown and is a short drive away from the activities in Glencoe.
Check rates and availability here.
Bougie Accommodation in Fort William/Glencoe
Seabeds Luxury Lookout Lodges: If you're looking for a treat-yo-self moment in the Highlands, definitely check out the luxury lodges of Woodlands. They offer riverbed lodges surrounded by trees and seabed lodges with sweeping views of the Loch and mountain. Each lodge has a private hot tub, kitchenette, and ensuite bathroom. The lodges are pet-friendly as well! I will be saving up to spend a few days here!
Check rates and availability here.
Kingshouse Hotel: If you're hiking the West Highland Way, consider staying at the Kingshouse Hotel in the heart of Glencoe. There are dorm rooms, modern hotel rooms, laundry, and a restaurant on site. 
Check rates and availability here.
Check out other hotels in Fort William and Glencoe here.
Day 3: Fort William + Glencoe
Are you ready for your first full day exploring the best things to do in Fort William and Glencoe? Today includes a short hike, your first whisky distillery visit, and watching the Jacobite Steam Train go by!
Steall Falls Hike
The hike to Steall Falls is the perfect hike for your one day in Glencoe! Why? It is short enough to do in the morning, challenging enough to feel like you got an actual hike in, and it includes a waterful and the gorgeous landscapes this area is known for. 
This 2.5-mile out-and-back trail takes you through the gorgeous Nevis Gorge to the second-highest waterfall in the UK, Steall Falls.
As you near Steall Waterfall, you'll likely see campers in the field, and a wire bridge can be used to cross River Nevis. Alternatively, you can cross through the river if it's calm enough. Another option is to skip crossing the river and find a spot in the field to enjoy a snack and soak in the views.
Supposedly, Steall Falls appears in a couple of Harry Potter films.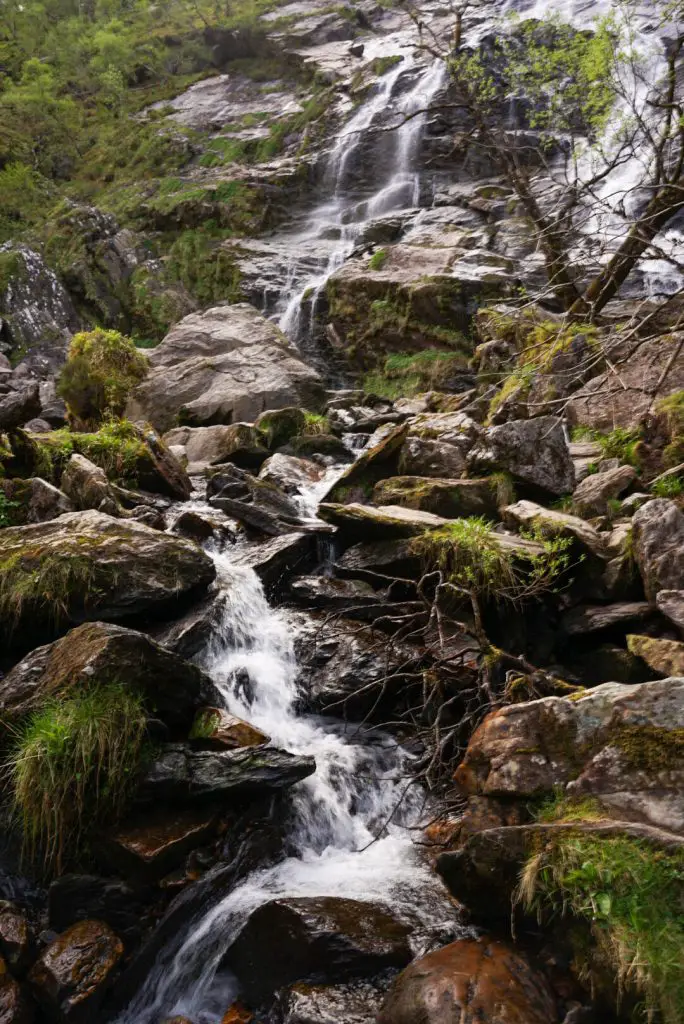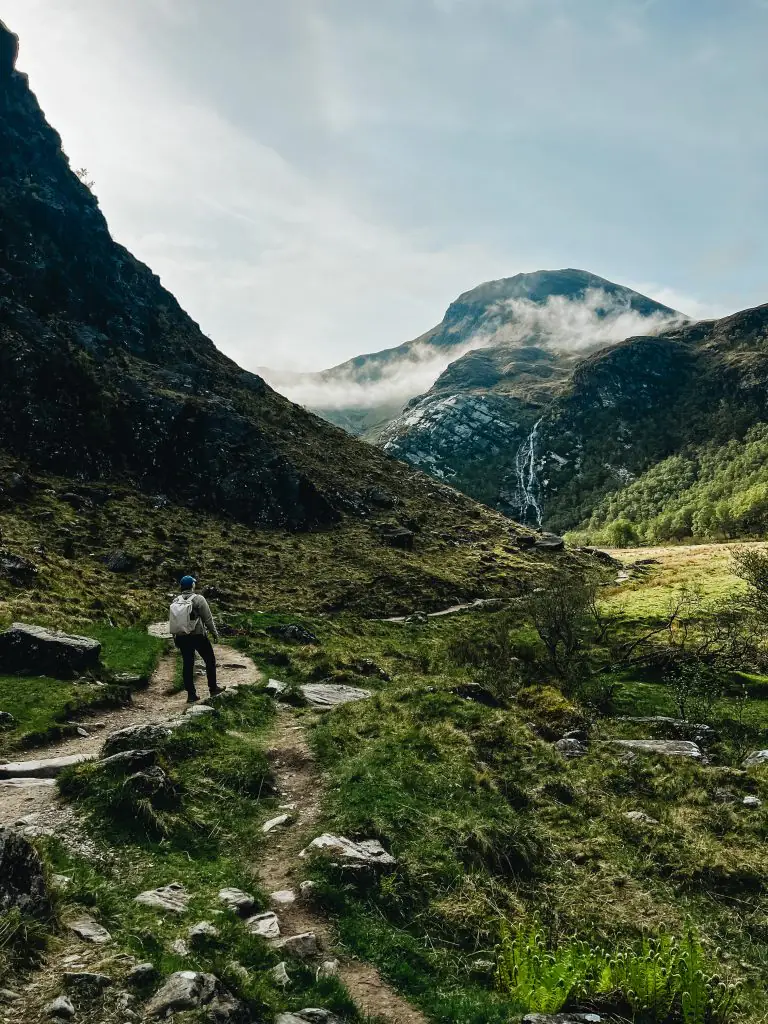 Alternative Hikes in Glencoe and Fort William
If you've got more time and love hiking, there are plenty of other hiking trails to check out in Glencoe. Of course, there is the multi-day journey along the famous West Highland Way. If you're looking for a one-day challenge, you can summit Ben Nevis, the highest mountain in Scotland, Britain, and the British Isles. For a more leisurely stroll, check out the beautiful Glencoe Lochan.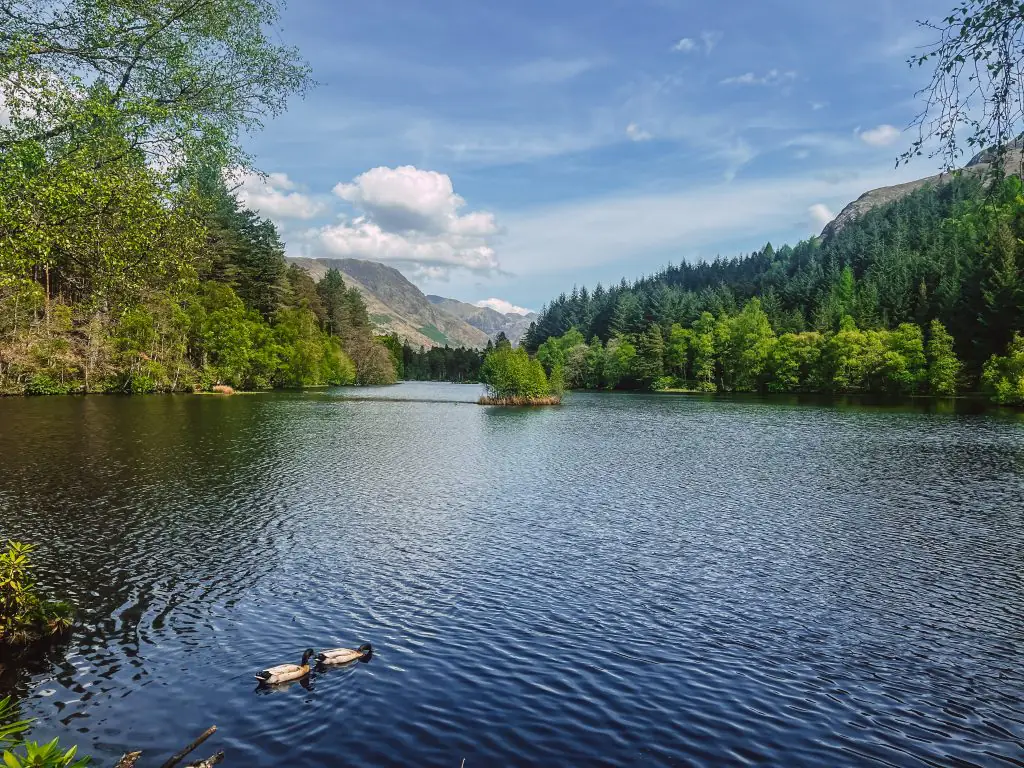 Ben Nevis Distillery
Ready for your first distillery visit in Scotland? Ben Nevis Distillery is one of the oldest licensed distilleries in Scotland, crafting malt whisky from the water cascading off the highest mountain in Britain.
You can take a tour of the distillery, which includes a tasting at the end. There is also a cafe on sight if you need a light bite. 
While the distillery is open year-round, its operating hours vary depending on the season. 
Opening Hours
Jun-Aug Mon-Fri 9am-6pm; Sat 10am-6pm; Sun 12pm-6pm
Sep-May Mon-Fri 9am-5pm
Tour Cost
Standard Tour £12 per person: guided tour and tasting of two whiskies
Under-18s £5 per person: guided tour only
Lunch & Stroll Through in Fort William
After the morning activities, you're likely famished! Head into Fort William to check out the pedestrian-friendly town, enjoy lunch, and check out the West Highland Museum.
Parking in Fort William: There are a couple of parking lots in town. I recommend parking in this one. Make sure to pay!
The Wildcat Cafe: Whether or not you're vegan, I highly recommend The Wildcat Cafe for a healthy and hearty lunch. Plus, they make a great matcha latte. 
If you're really not into the vegan menu, there are plenty of other cafes and restaurants on the High Street. Find one that suits your appetite.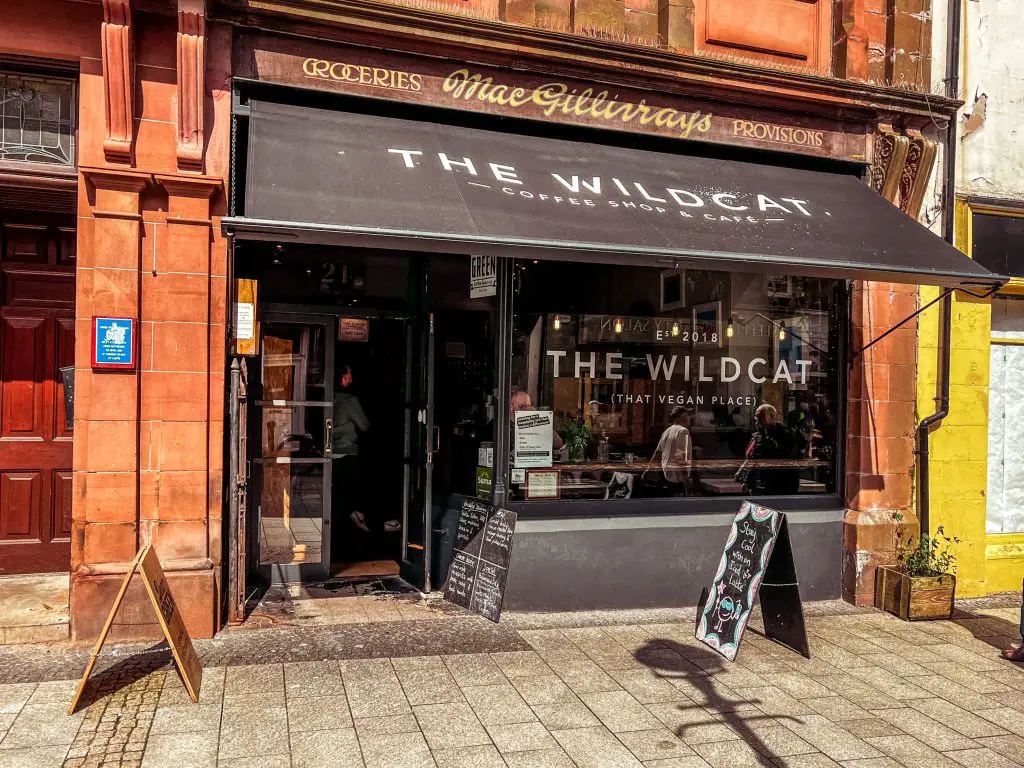 The West Highland Museum
The West Highland Museum is a free museum that shares the history and culture of the Scottish Highlands. You can learn about the Highland clans, better understand the Jacobite cause, and more about the importance of Fort William as a military outpost.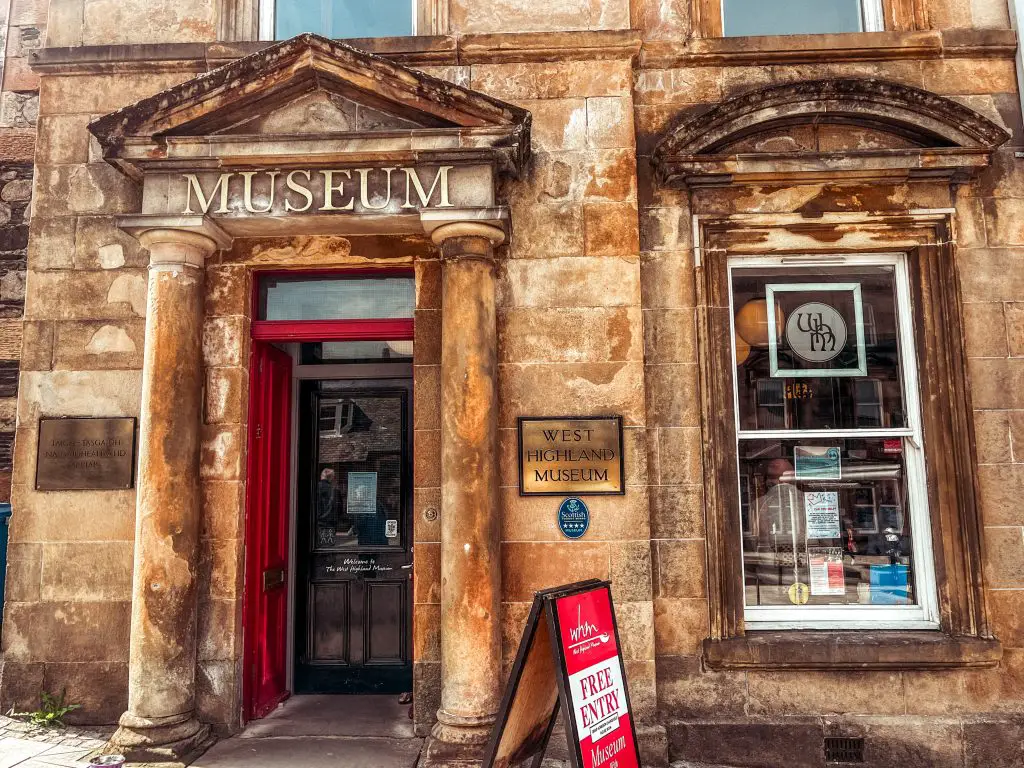 Pop into the Highland Bookshop
​​Another essential stop on your Fort William itinerary is a visit to The Highland Bookshop. In this charming independent bookstore, you can discover the latest bestsellers, books on Scotland's history, and an expansive selection of outdoor literature, among other literary gems. Regardless of your reading preferences, this cozy bookshop promises to have something for you.
Glenfinnan Viaduct + Jacobite Steam Train
The Jacobite steam train, known as the real-life Hogwarts Express, embarks on a route known as one of the most picturesque train rides across the globe. This 84-mile round-trip excursion takes you along the West Highland Line, a mesmerizing journey from Fort William to Mallaig.
You can ride the train, enjoying views of lochs, mountains, and cascading waterfalls. Alternatively, you can watch the train traverse the Glenfinnan Viaduct from the many vantage points below – and that's precisely what I chose to do.
The train passes over the viaduct toward the viewpoint (from Fort William to Mallaig) in the morning, around 10:45-11:00 am. In the afternoon, you'll catch it moving away from the viewpoint on its return journey to Fort William around 1:20-1:45 pm.
While you're there, head across the street (carefully) to see the Jacobite standing atop the Glennfinnan National Monument and see the views of Loch Shiel.
If you want to see it pass toward the viewpoint, do this first thing in the morning, swapping it with the Steall Falls Hike.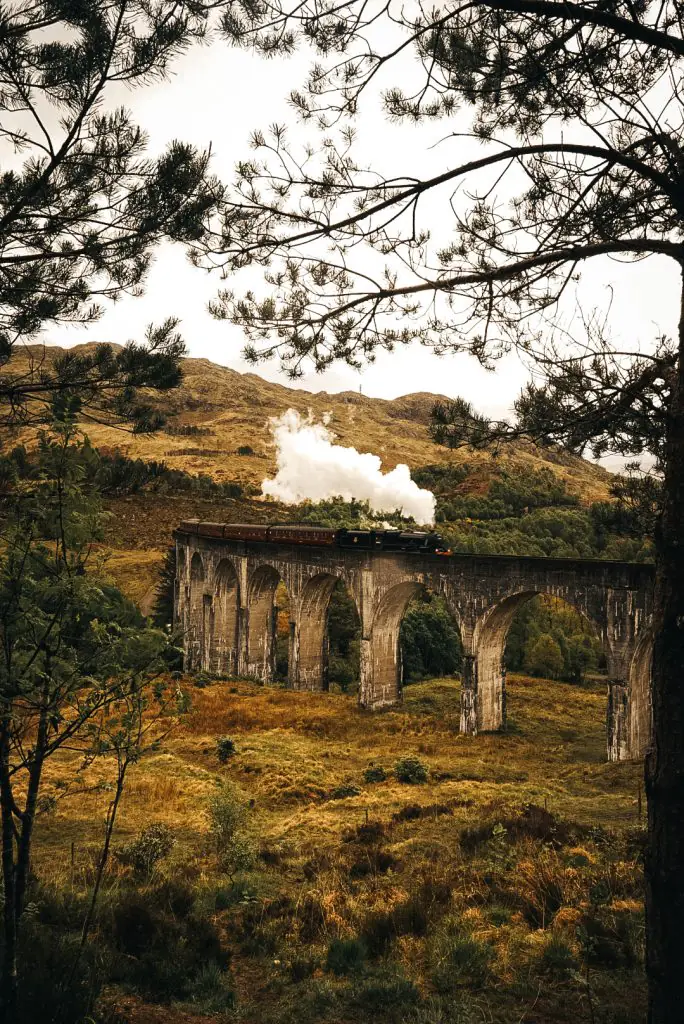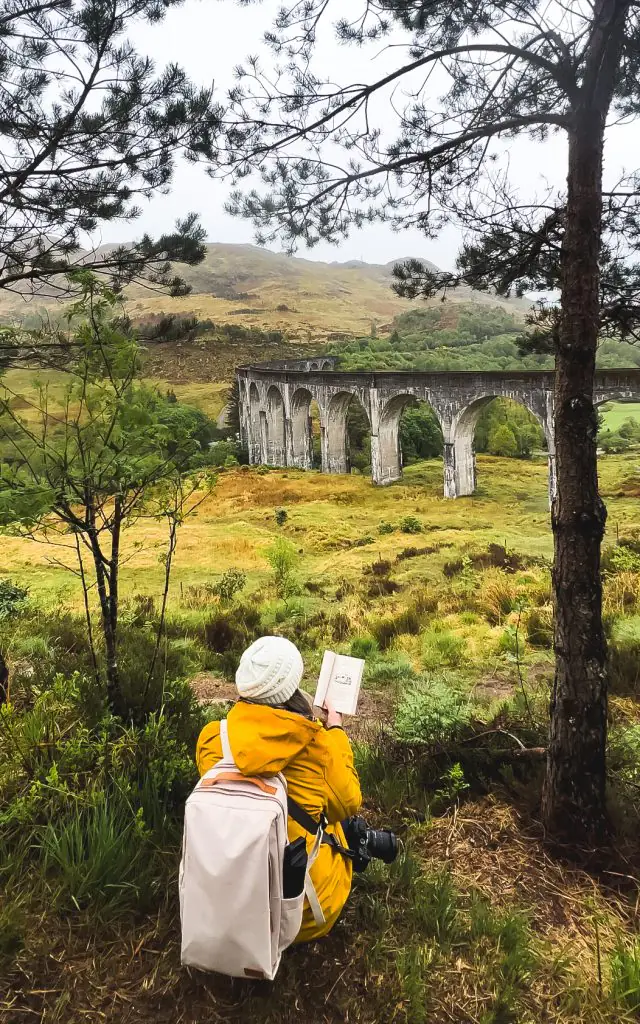 Coffee at Glenfinnan Coffee Co.
Stop for a caffeine refuel up the road at the cutest little coffee truck located in the parking lot of Saint Mary and Saint Finnan Church. They have a variety of specialty coffee and tea drinks, along with delicious paninis. The vows from the church are worth checking out as well.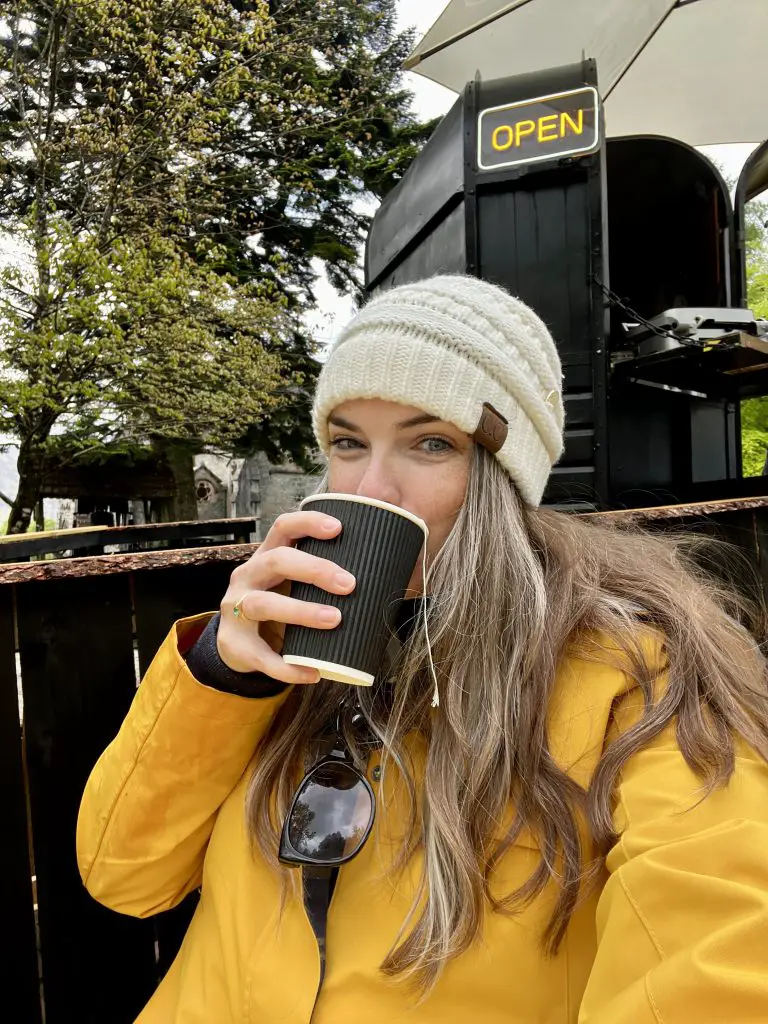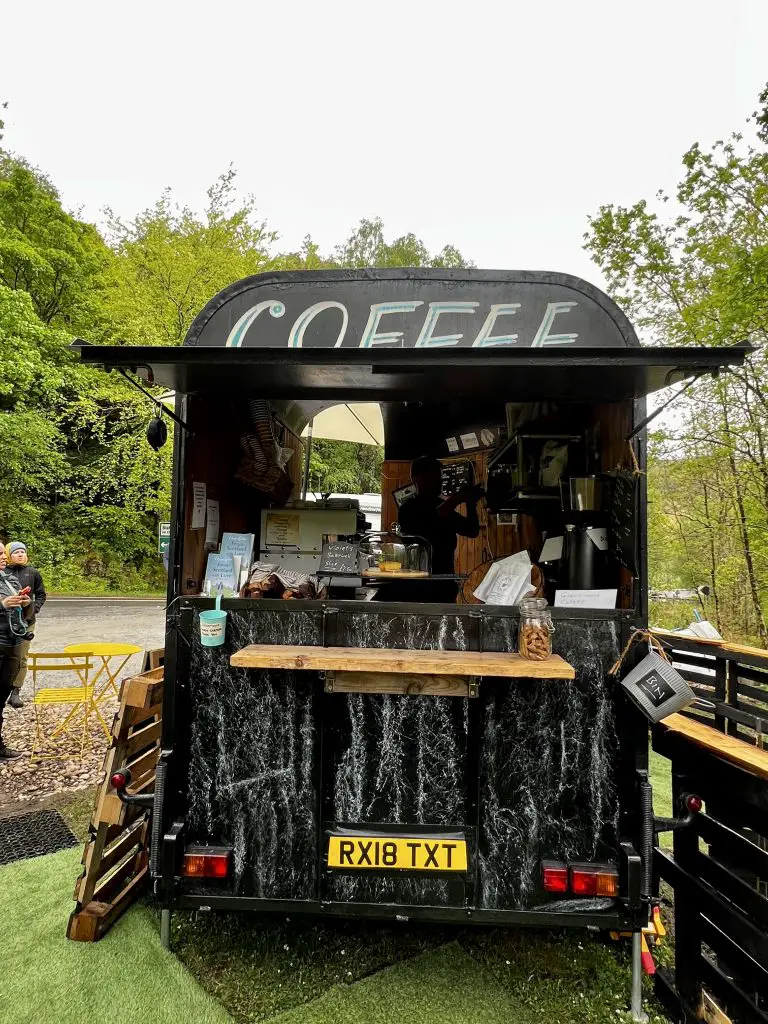 Dinner in Fort William
I ate dinner at the Ben Nevis Bar and ordered a burger. It wasn't one of the best meals I had in Scotland, but it wasn't terrible either. I still wouldn't recommend it. Instead, check out the Geographer, The Stables, or get some Indian takeaway from Spice Tandoori to enjoy in your room.
It's time to rest up for another big day of driving!
Day 4: Glencoe to the Isle of Skye
Today, the journey begins to the Isle of Skye! The drive time from Fort William to Isle of Skye is about 2.5 hours non-stop! However, you will be making one planned stop on the way at Eilean Donan Castle. You will likely want to pull off (when safe) at other viewpoints along the way. 
Side note: If you weren't able to see the Jacobite Steam Train yesterday and still want to, I recommend stopping there on your way out in the morning!
Eilean Donan Castle
Eilean Donan Castle is a 13th-century castle that sits on an island where three lochs meet. It was mostly destroyed during the Jacobite rising in 1719 and lay in ruin for 200 years before the Macrae family purchased the island in 1911 and spent 20 years restoring it. It opened to the public in the 1950s and has starred in films like Maid of Honor and James Bond – The World is Not Enough.
You can enter the castle and explore the entirety of it. Admittedly, I did not. I took the advice of the Scottish man I met in the parking lot and spent a couple of hours taking photos of it from various vantage points. 
There is a parking lot and visitor center with a cafe and restrooms.
Now, it's time to cross the bridge and enter the Isle of Skye.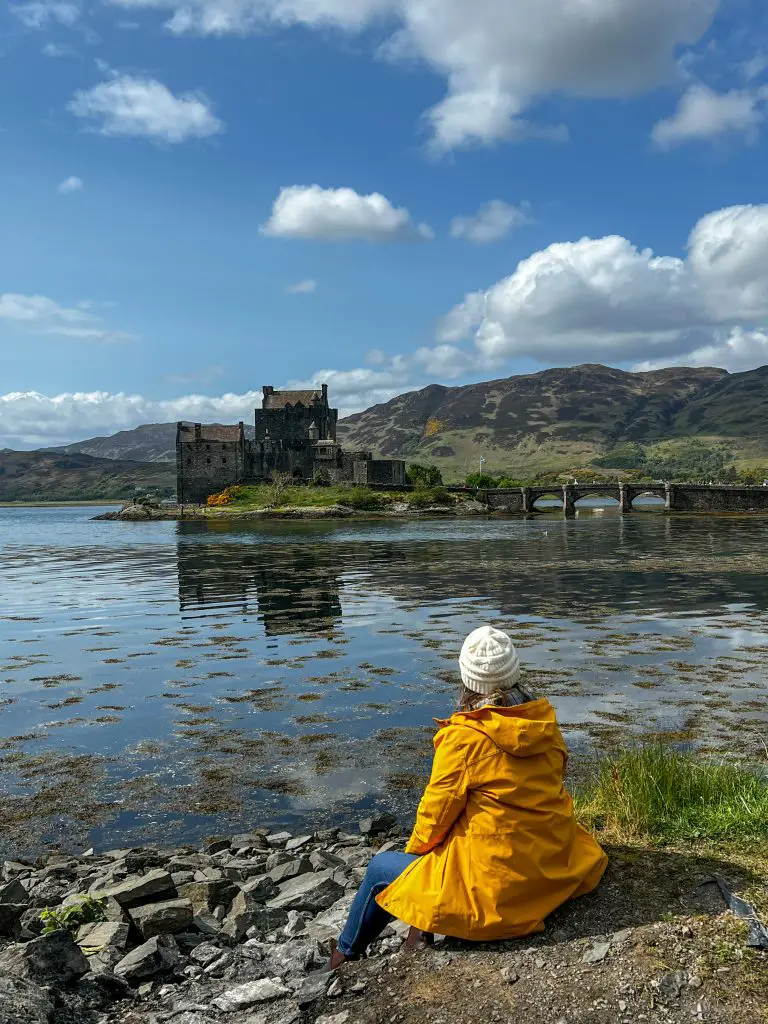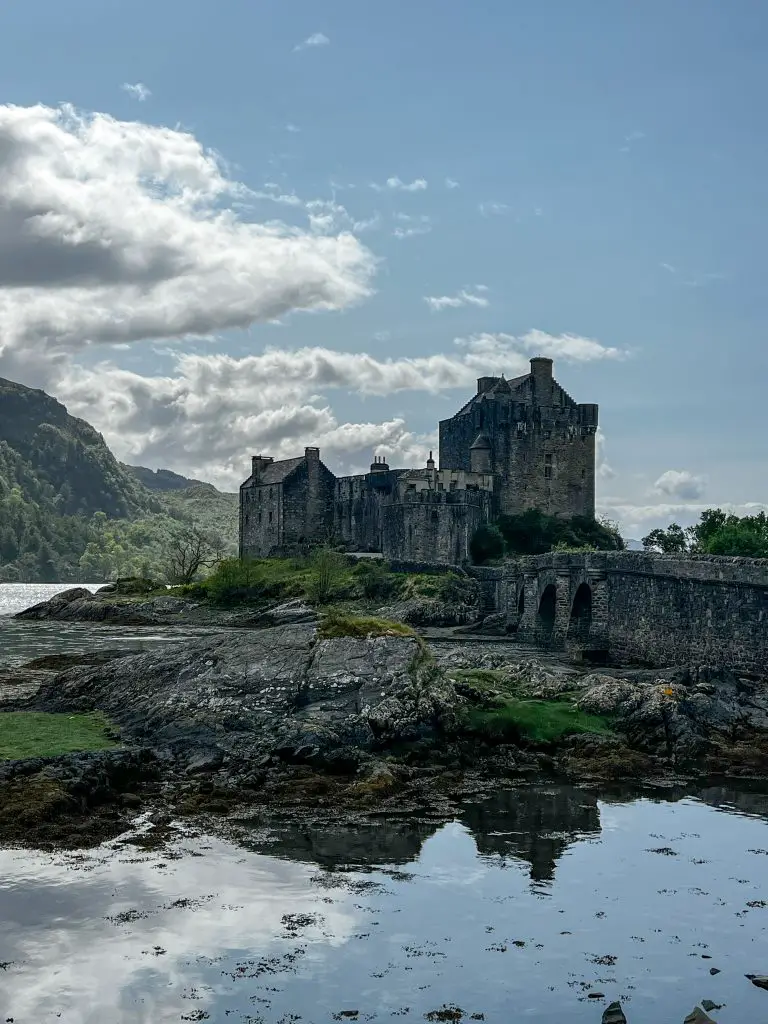 Old Man of Storr
Your first stop on the Isle of Skye is heading to the Old Man of Storr for a hike! The Old Man of Storr is one of the most popular places to visit on the Isle of Skye. During peak tourist season, expect the parking lot at the trailhead to fill up early. However, as you're going later in the day, you should be able to find a spot from someone leaving!
The hike itself is intense as it's a steep climb up a gravel path that leads to stairs before you reach the Old Man of Storr viewpoint. I, along with other hikers, definitely underestimated the incline!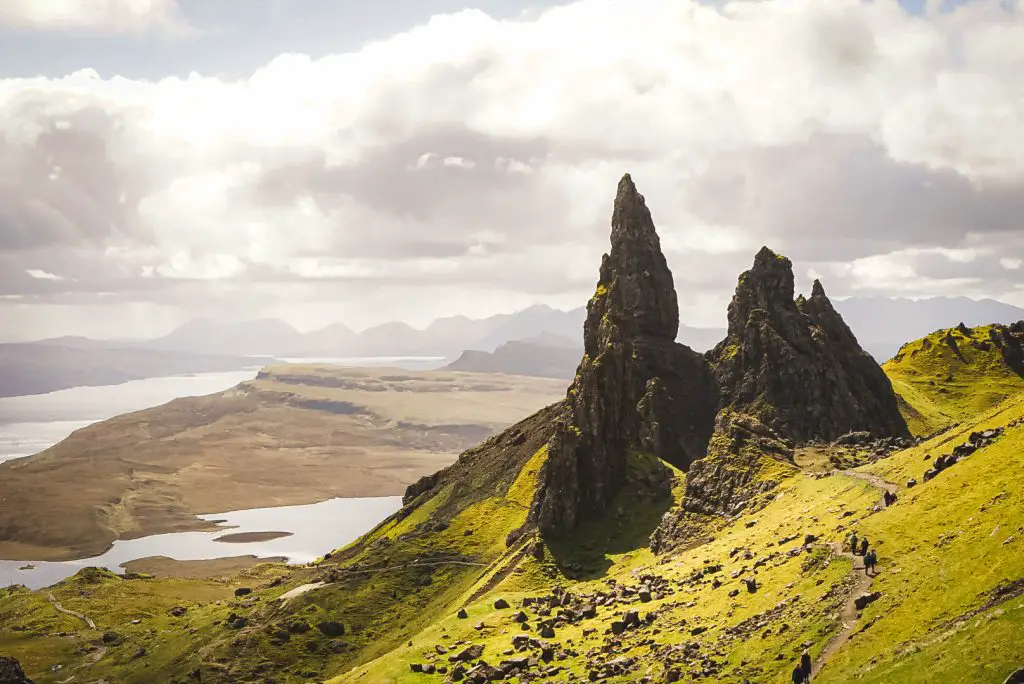 Dinner in Portree
Now that you've had a solid hike, return to the capital of Skye, Portree for dinner. Portree has a variety of restaurants for any budget.
Places to Eat in Portree: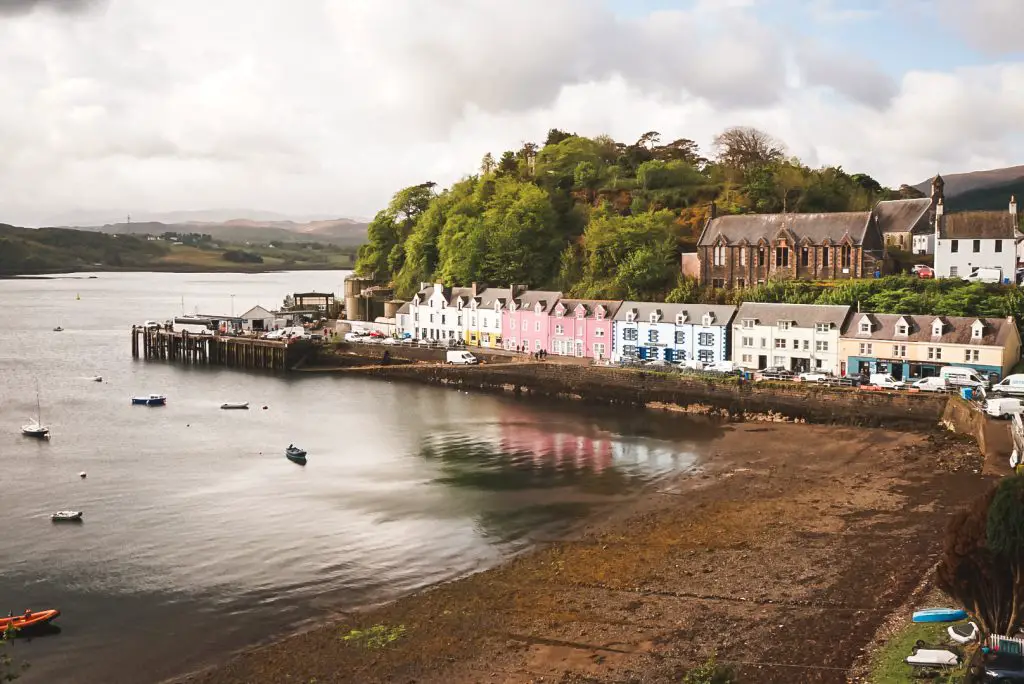 Where to Stay on the Isle of Skye
There are many traditional and unique places to stay on the Isle of Skye. There is something for everyone here, from shepherd's huts to glamping pods to typical hotels. Pick a location near(ish) to the main things you want to do on the Isle of Skye. You have two nights here!
Budget Accommodation in the Isle of Skye
Skye Backpackers: In the fishing village of Kyleakin, Skye Backpackers is an excellent base for exploring the island. I stayed here and I found it clean, comfortable and the staff super helpful. The village has two restaurants and a pub if you need a spot to eat!
Check rates and availability here.
Portree Youth Hostel: Located in Portree, the capital of Skye, this hostel looked cute from the outside and had fantastic harbor views. The parking lot is the main parking lot for the village. Staying here would allow super easy access to all of the destinations on Skye.
Check rates and availability here.
Check out other hostels in the Isle of Skye here.
Mid Range Accommodation in the Isle of Skye
Cowshed Boutique Bunkhouse: This is a boutique hostel with traditional bunks and unique pod-style accommodation. Located in the village of Uig, there is a brewery, a grocery store, and a pub in town. Plus, you're close to the area's top attractions. It was fully booked when I visited, otherwise, I would've 100% stayed here!
Check rates and availability here.
Sligachan Hotel: Located next to Sligachan Old Bridge, with an onsite restaurant and bar, this Sligachan hotel offers a variety of rooms from single to family suites. There's wifi available, and all rooms are ensuite!
Check rates and availability here.
Bougie Accommodation in the Isle of Skye
Hillstone Lodge: Each of the three rooms in this luxury bed and breakfast has stunning views of Loch Dunvegan. Breakfast is included in your stay; you'll have everything you need to start and end your day right. It looks like a total dream accommodation.
Check rates and availability here.
Cuillin Hills Hotel: Located in Portree with views of the colorful Portree Harbor, the Cuillin Hills Hotel is a great place to base yourself for adventure and return to luxury. Multiple room options are available, free parking, wifi, and excellent customer service.
Check rates and availability here.
Check out other hotels on the Isle of Skye here.
Day 5: Isle of Skye
Today is your one full day on the Isle of Skye, so let's get to it! You could easily spend an entire week on Skye and not see all the beautiful places and hidden gems. But with limited time, we will tick off this beautiful island's highlights!
Today's activities are grouped by location, as many of the Isle of Skye attractions require a lot of driving!
Breakfast at Birch
For breakfast, head to the super cute Birch Cafe located in Portree. They have excellent coffee, tea, and delicious toast! Plus, their cafe is charming and has a lovely minimalist aesthetic.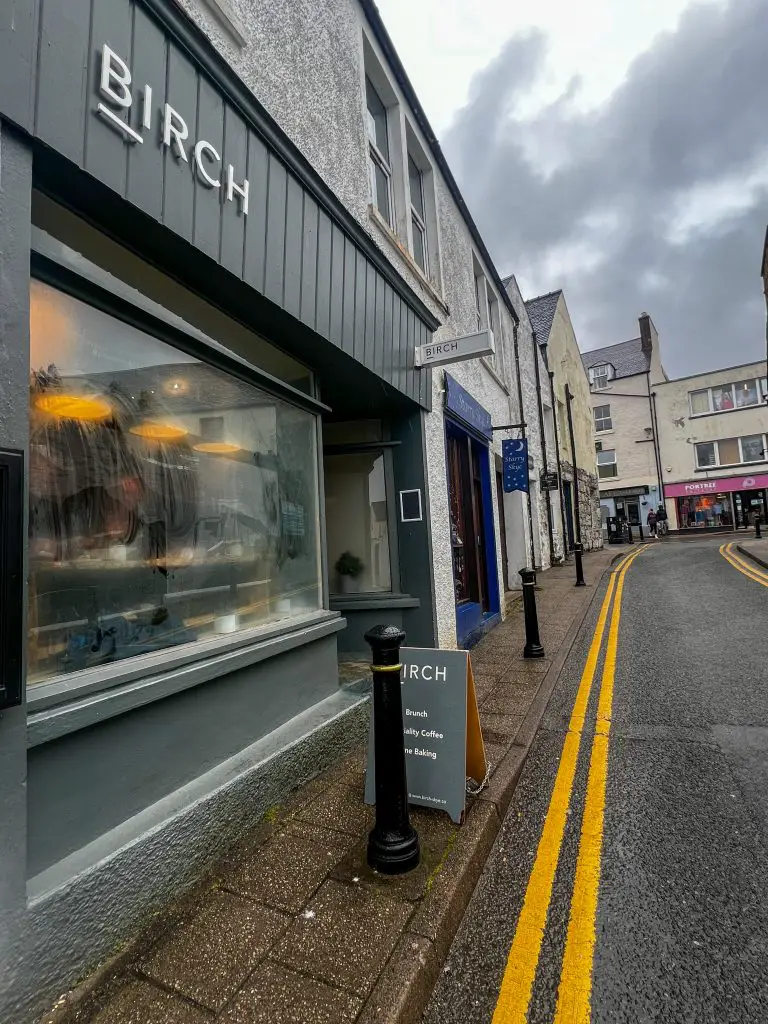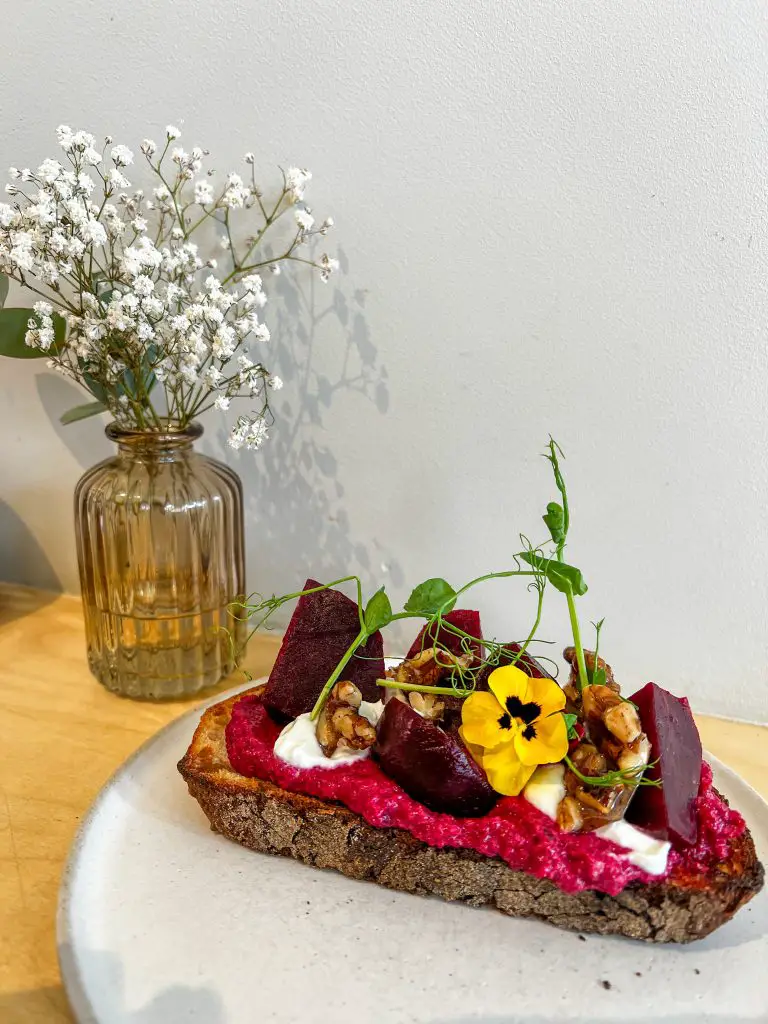 Fairy Pools
Once you're full, head to the Fairy Pools! The Fairy Pools are about a 30-minute drive from Portree.
The Fairy Pools is a series of waterfalls and the crystal blue pools they create along the River Brittle located at the foot of the Black Cuilin mountains. This is a popular place for wild swimming if you're up for it!
The walk will take about an hour without stopping, so plan for at least two hours because you'll want to take photos along the way! If it's recently rained, the path will be muddy, so proceed with caution.
The parking lot is across the single-track road, so be careful crossing the street to the start of the path. It'll be about a 20-minute walk to the first waterfall, then follow the path to the top and return the same way you came once you're done!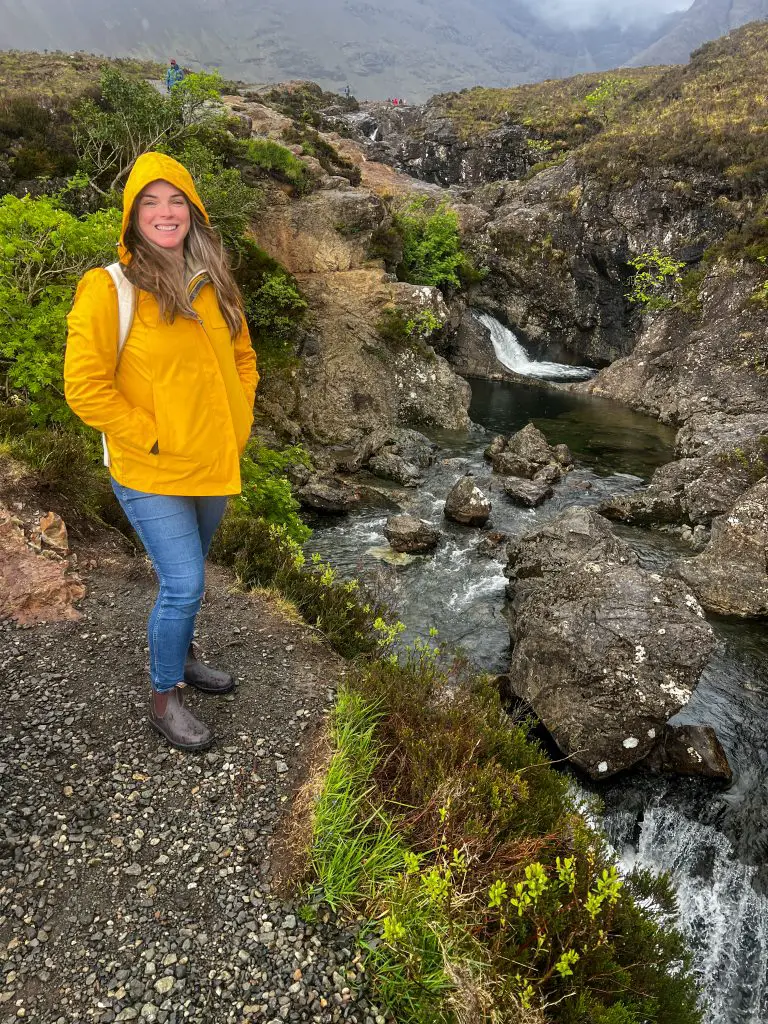 Talisker Distillery
If you've gone wild swimming in the pools, it's been a rainy day, or you're simply ready for a dram, head over to Talisker Distillery in the nearby town of Carbost. Talisker is the oldest working distillery on the Isle of Skye, is located across from the beautiful Loch Harport, and offers excellent views of the Cuilins.
You can take an hour-long tour of the distillery, which includes a tasting of their single malt scotch whisky. Or, if you're like me, you can enjoy any tasting you choose by the warm fireplace. I happened to find my favorite whisky here, one that I can actually enjoy sipping!
Caora Dhubh Coffee Company
Before continuing your journey, head across the street from the distillery to the Caora Dhubh Coffee Company. They make an excellent chai latte and have some yummy pastries. There isn't any seating inside, but there are some benches in front and around the back on the shores of the Loch. It's a good spot to relax before lunch!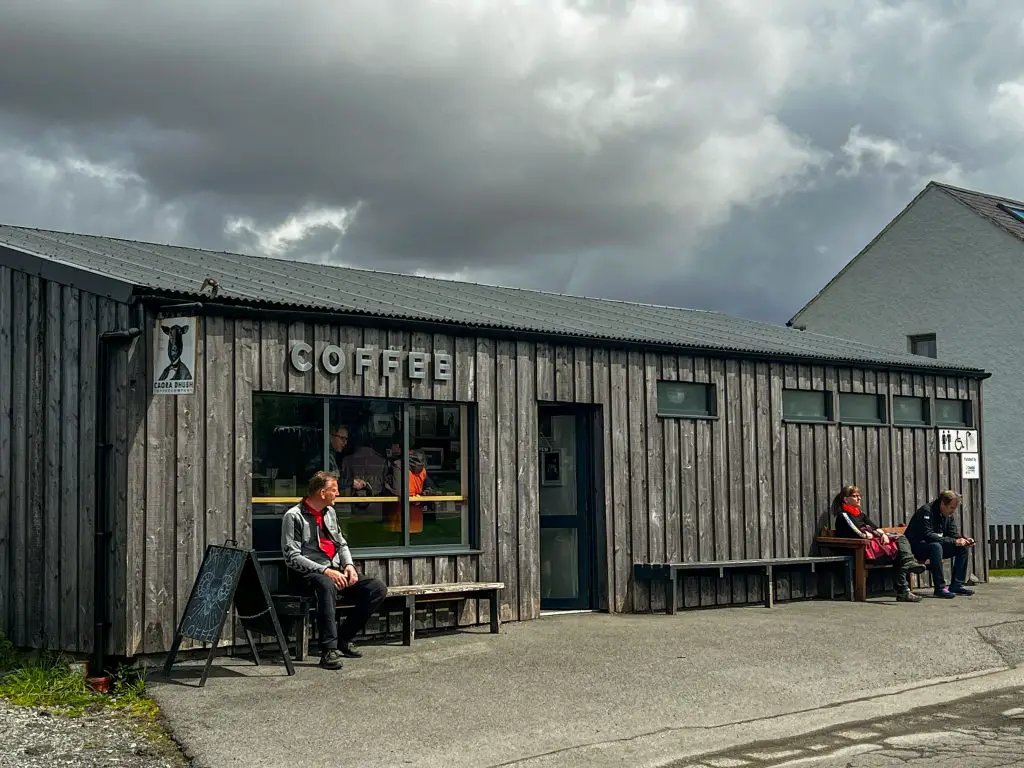 Lunch at the Oyster Shed
The Oyster Shed is an absolute must-eat on the Isle of Skye. It's just up the road from Talisker Distillery and has fantastic views of the valley below. There is a tiny car park and no parking on the single-track road to get there, so be patient if it's busy.
Once you park, enter the shop on the right to place your order. Then, find a picnic table or whiskey barrel to enjoy your meal. I recommend the oysters, of course, and the crab. The fish and chips also looked delicious!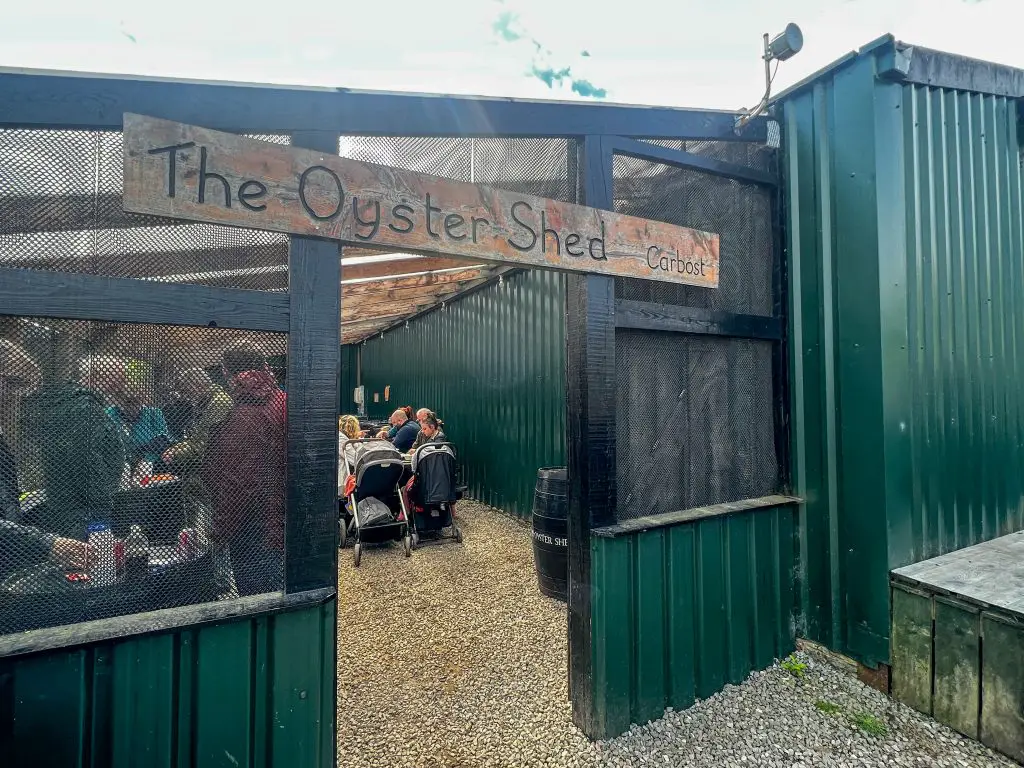 Afternoon Hike: Fairy Glen or Quirianh
In the afternoon, you have two options for a hike: the Quiriang or the Fairy Glen. If it's the summer, you may have the opportunity to do both as it will stay light out quite late.
Both are located on the Trotternish Peninsula near the town of Uig. From Carbost, Fairy Glen is on the way to Quiriang. It will take about an hour to reach the Fairy Glen and an hour and a half to reach the parking lot for the Quiriang trailhead.
Fairy Glen
The Fairy Glen isn't much of a hike, but it does feel like you've stepped into another world. From the parking lot, it's a 20-minute walk up a short hill into the Fairy Glen, which is lush green, has roaming sheep, and mystical peaks. 
Spend about an hour roaming around the area, climbing up the peaks (carefully), and taking in the scenery. One of the peaks has been dubbed Castle Ewan, and you can climb to the top to enjoy the view of the area below.
There is an area where tourists have been making circles with rocks, but please don't. Locals remove the stones to keep the Glen in its natural state.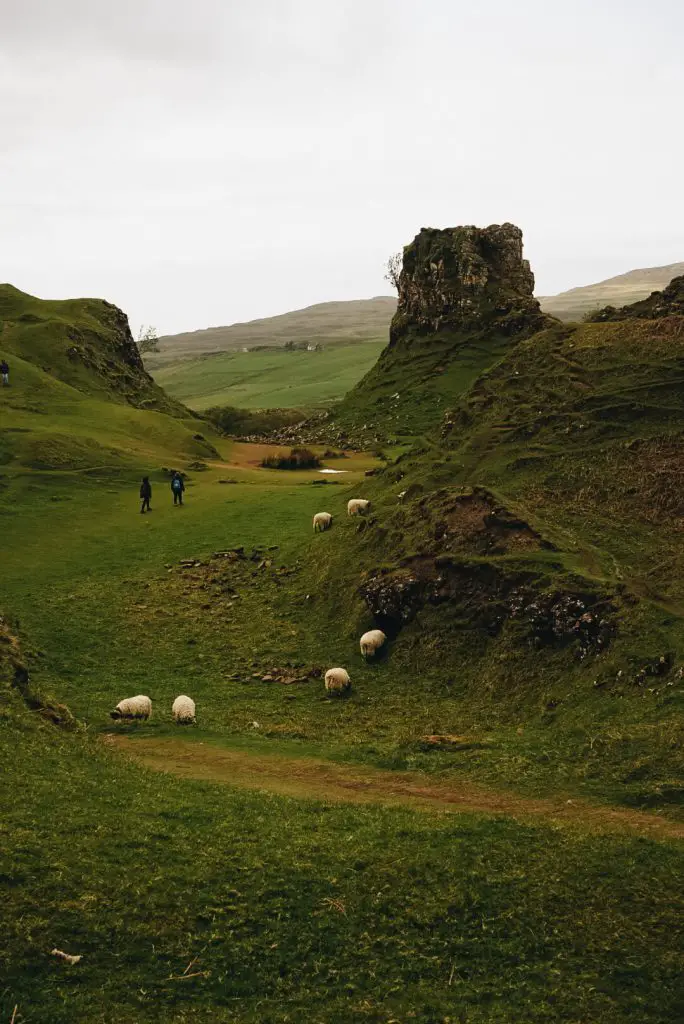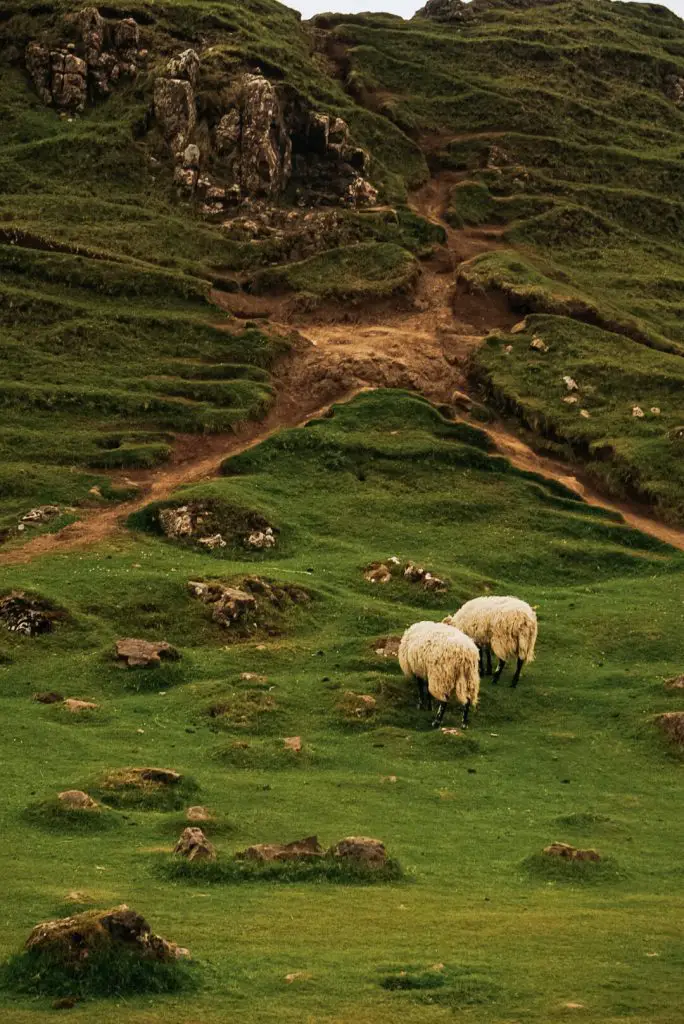 The Quiriang
Admittedly, I did not do the Quiriang hike as I was dealing with severe plantar fasciitis and was still recovering from the Old Man of Storr hike. However, this is a bucket list hike on the Isle of Skye, so if you're up for it, go for it! Who knows when you'll be back, right?!
It's a 4-mile loop hike with steep inclines and trails near cliff edges. As such, it's not suitable for all weather and should not be attempted in rainy conditions! However, on a sunny day, you'll be rewarded with iconic views of the unique Skye landscape – a photographer's dream!
An Corran Beach
On your way back to Portree for the night, stop by An Corran Beach, where you might find dinosaur footprints (when the tide is out). I did my best to find them in the limestone rocks, but unfortunately, I was unsuccessful. If you find them, send me a photo!
Dinner in Portree
It's time for your final night on the Isle of Skye. Return to Portree for dinner somewhere that you didn't eat last night!
If you have extra time on the Isle of Skye
As mentioned in the intro of this section – there is so much to see on the Isle of Skye that this only scratches the surface. If you have extra time, there are a few other places to check out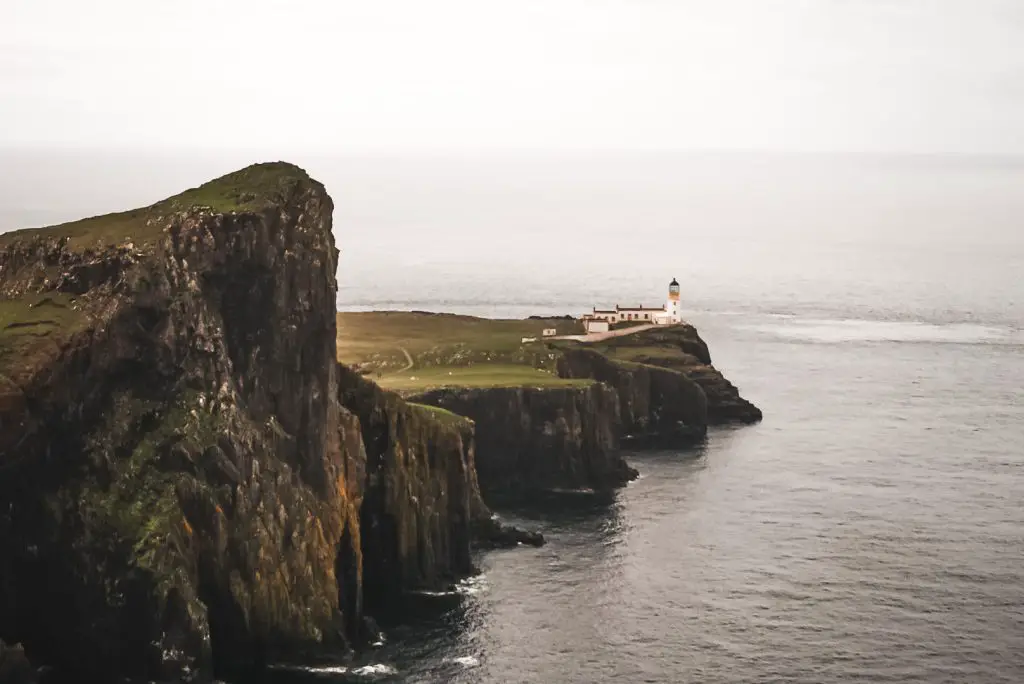 Day 6: Isle of Skye to Inverness to Aberdeenshire
Today, you'll leave the Isle of Skye for a quieter corner of Scotland in Aberdeenshire, with a quick stop in Inverness. You'll pass Urquhart Castle and Loch Ness along the way if you want to visit.
Loch Ness
I know, I know, this itinerary does not include spending time at the famous Loch Ness. You will drive alongside Loch Ness and the small town of Drumnadrochit, where, if you'd like, you can take a cruise on the Loch.
You can book this cruise along Loch Ness which includes a stop at Urquhart Castle. Book it here.
Otherwise, you'll continue to Inverness.
Lunch in Inverness
Today, you're stopping in Inverness for lunch, a stroll through town, and a visit to the famous Leaky's Bookshop. I didn't vibe with Inverness, but that doesn't mean you won't!
In terms of where to eat in Inverness, you have your pick of just about any cuisine. To be honest, I picked a cafe that I can't recall the name of and can't seem to find on Google Maps! In writing this post, I did some research and found a spot called Coyote Burger, which I 100% should have eaten at – it looks delicious and has excellent reviews.
However, I remember treating myself to matcha and a donut at Perk Coffee and Doughnuts. The matcha was delicious, and the donut was huge; I couldn't finish it!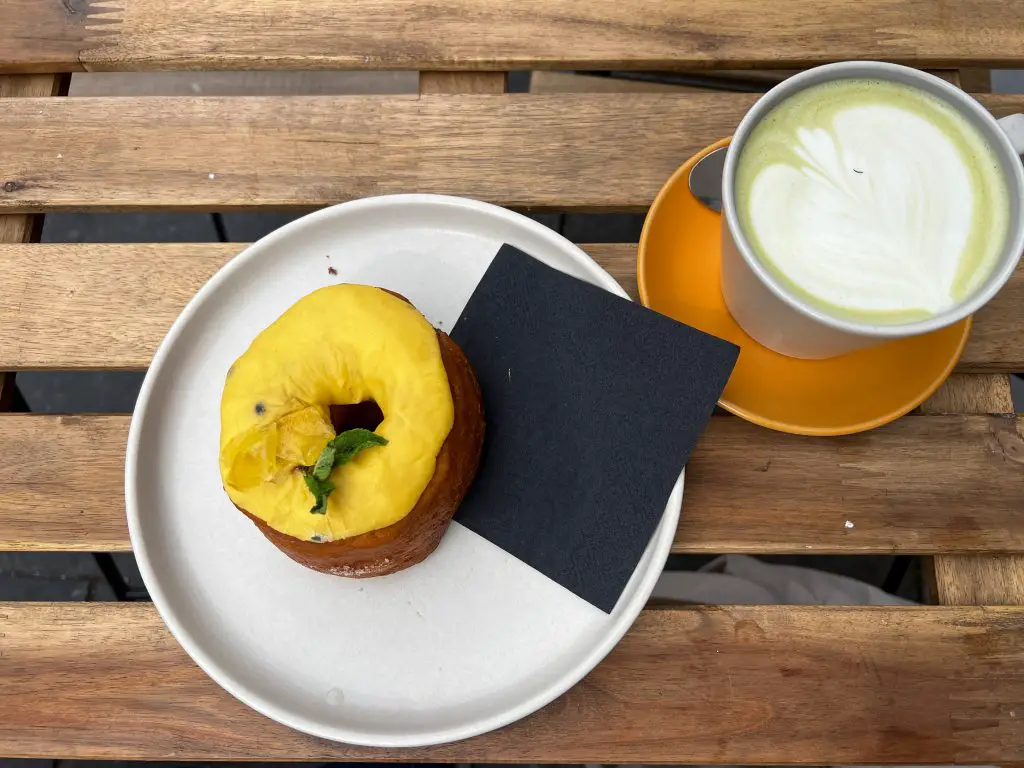 Leaky's Bookshop
Leaky's Bookshop is a family-owned business that has been around for four decades, selling used books and unique prints. I loved flipping through all of the prints! There are some wildlife, old maps, and people from Scottish history. It's worth strolling through here; you may find a unique souvenir.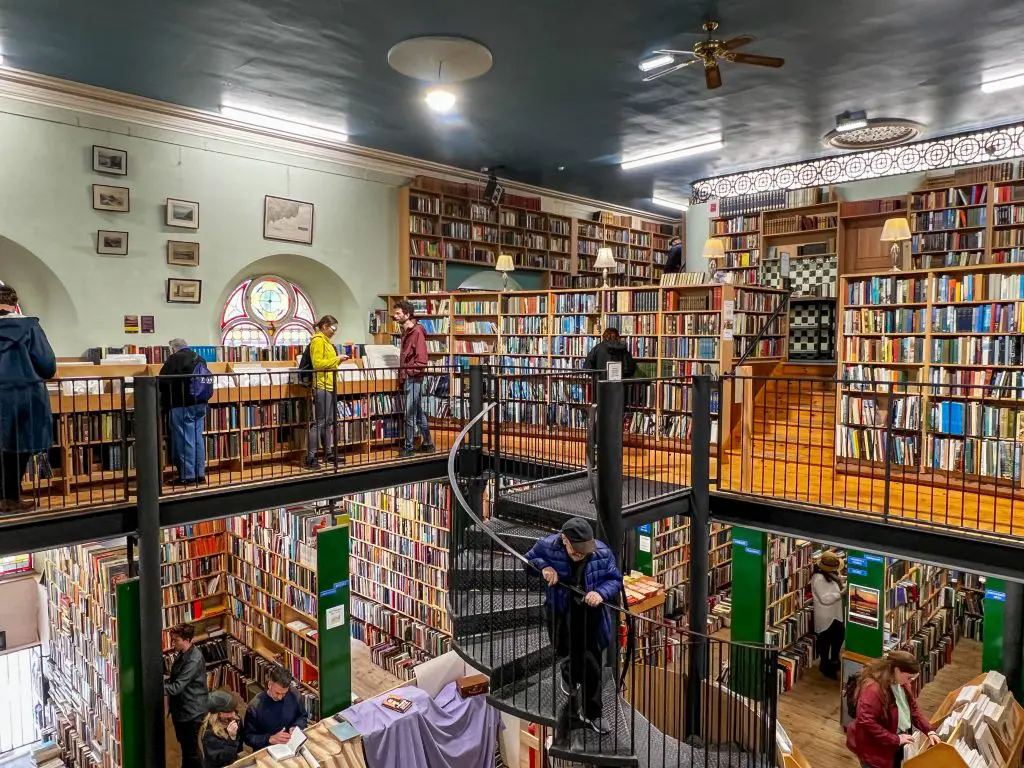 Culloden Battlefield
Up next, make your way to Culloden Battlefield, where the 1745 Jacobite uprising came to a tragic end and changed the course of Scotland's history.
In 1746, the Jacobites fought the final battle on British soil, resulting in 1,600 men dying…1,500 were Jacobites.
On this site, you can visit the museum detailing the background of the conflict and see artifacts from both sides. You can walk up to the roof garden to see the battlefield from above and where each army stood.
From there, head down to the battlefield, where you can walk through the battlelines and see the graves of soldiers and clans next to the memorial cairn. 
When visiting Culloden, remember this is a place of great importance to Scotland. Please treat it respectfully, including only walking on marked paths and not taking anything with you.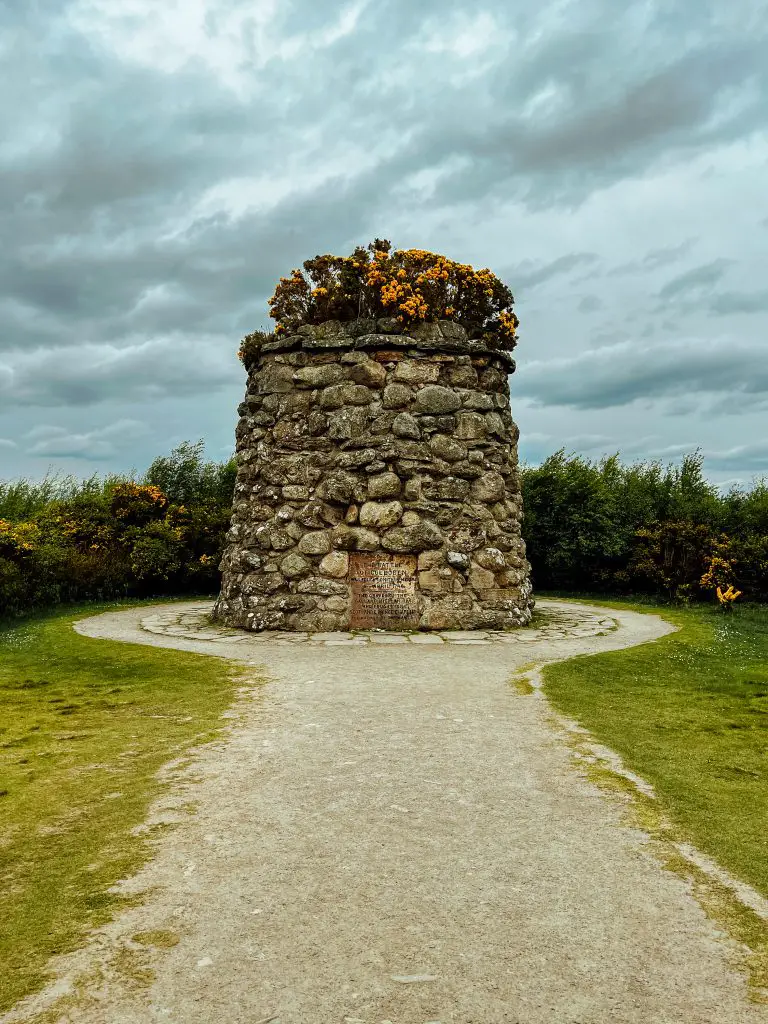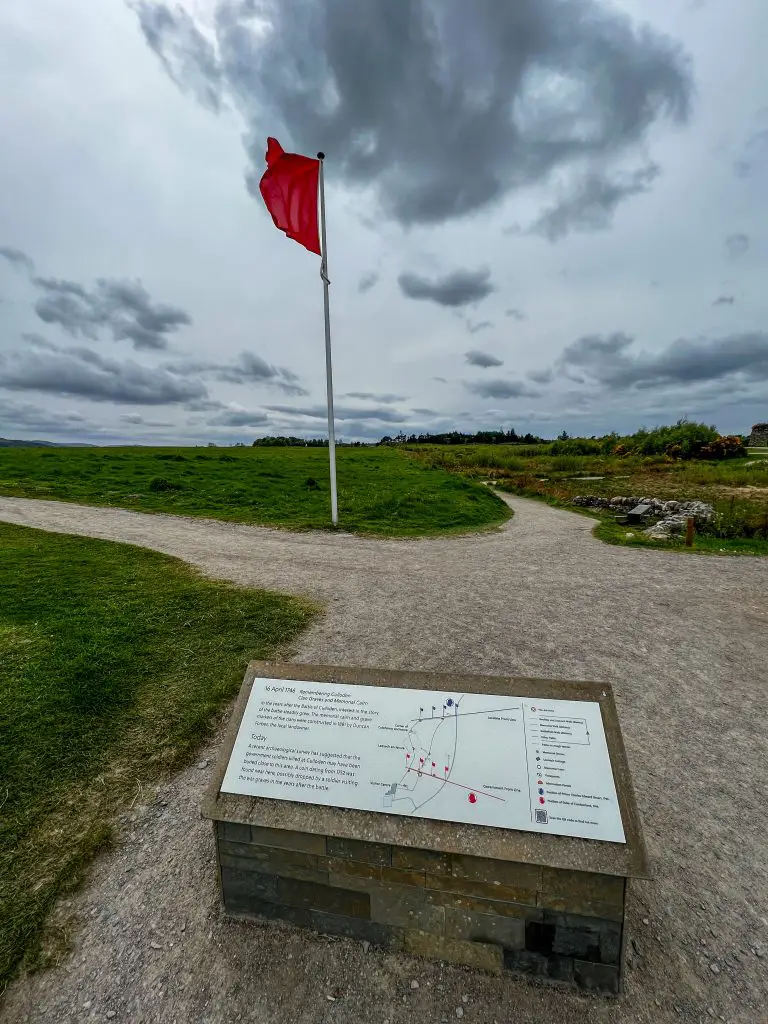 Clava Cairns
This next stop is for my Outlander fans. If you want to see if you have the power to time travel, head to Clava Cairns. While it was made famous in Outlander, the Clava Cairns is a burial place from the bronze age. During the winter solstice, two cairns line up with the sun, making it an even more mystical place to visit.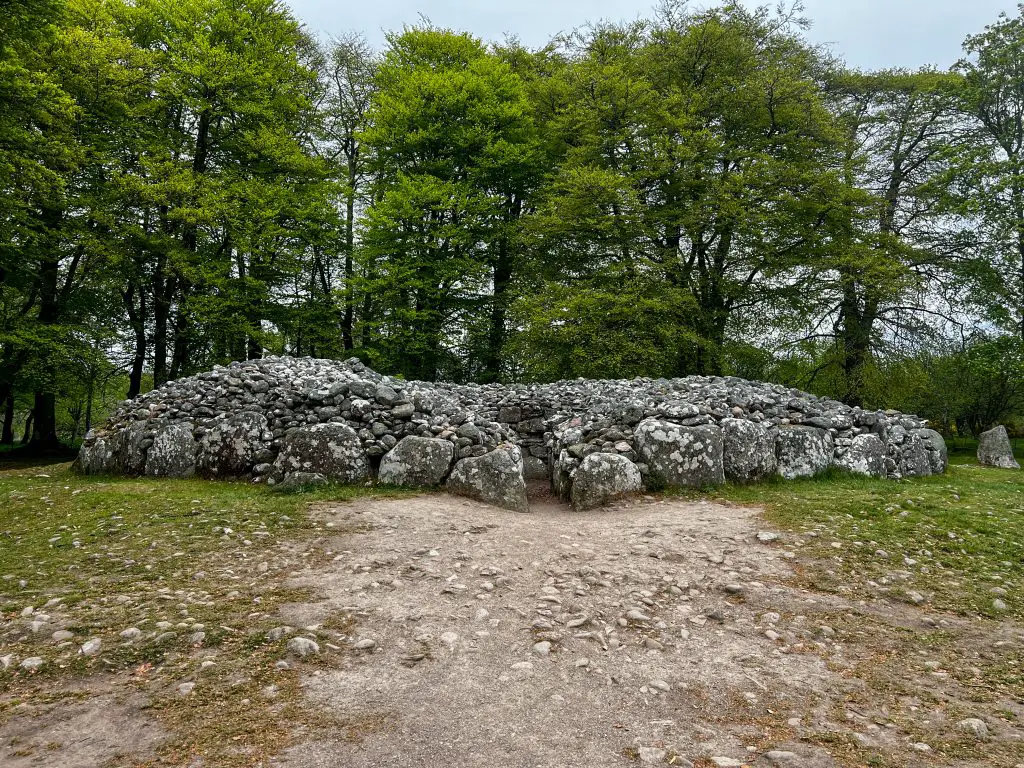 Visit Cullen and Findlater Castle
Cullen
Cullen is a charming seaside village on the Moray Coast. The village has lovely cottages, a sandy beachfront, yummy food, and gorgeous coastal walks. There is a viaduct that acts as a backdrop and excellent framing for photos. You can also walk along the viaduct if you choose to!
Cullen is also known for a fish soup called the Cullen Sink, which you can try at the Rockpool Cafe.  
Spend some time wandering around town before heading to Findlater Castle.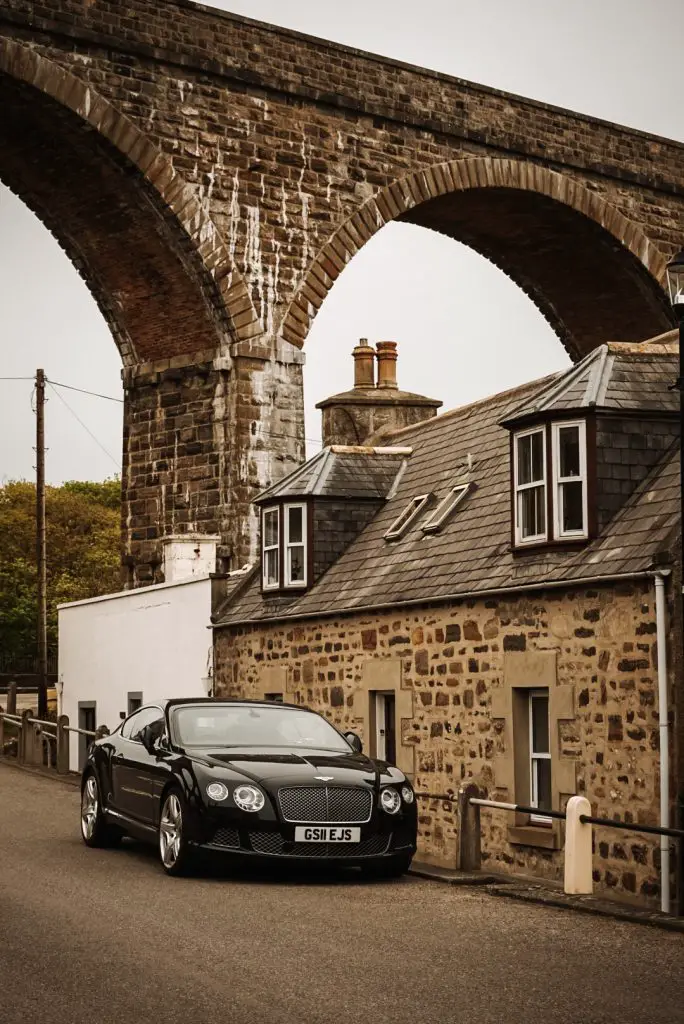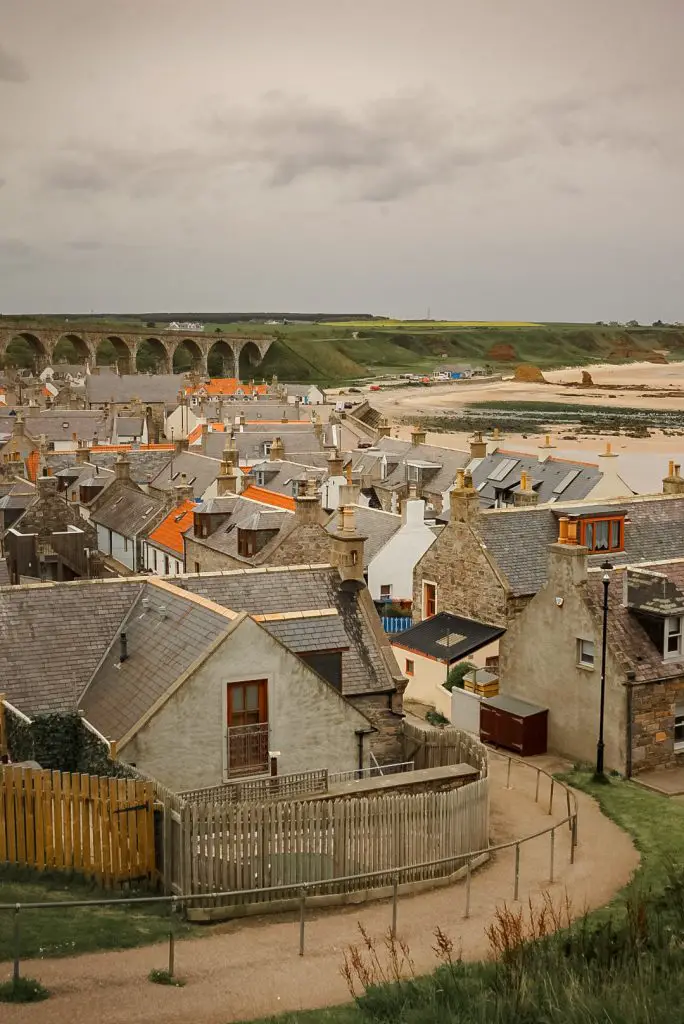 Findlater Castle
Findlater Castle is a stony ruin built into the cliff overlooking the sea. It's incredible to think that people once lived there! The castle was first recorded in 1246 but has been vacant since the 1600s, and nature has since reclaimed it. You can follow the path to the castle and walk through it or enjoy the view from its top.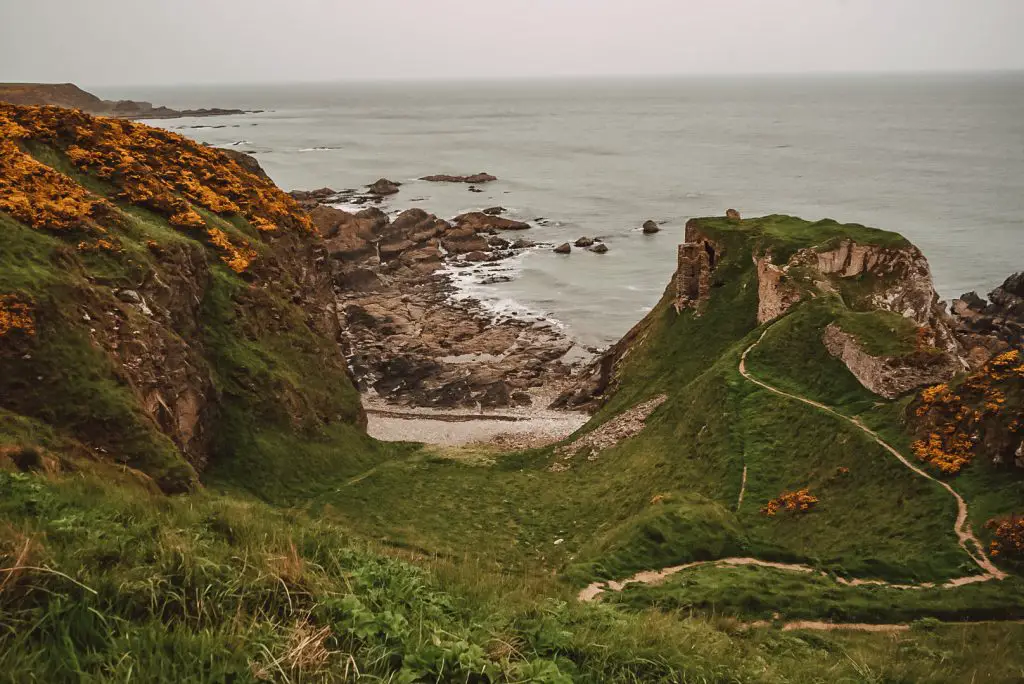 Where to Stay in Aberdeenshire
Budget Accommodation in Aberdeenshire
South Cross Slacks Farmhouse: This is a super cozy farmhouse is located in Crovie that is the perfect vacation home. It has two bedrooms, a full kitchen, and free wifi. 
Check rates and availability here.
Mid Range Accommodation in Aberdeenshire
Rustic Hollow Cabin: I stayed here for two nights and absolutely loved it! It is located in Banff and just a short drive away from the things mentioned to do in this corner of Scotland. The outdoor tub, fireplace, and welcome basket all made my stay lovely! I cannot recommend it enough!
Check rates and availability here.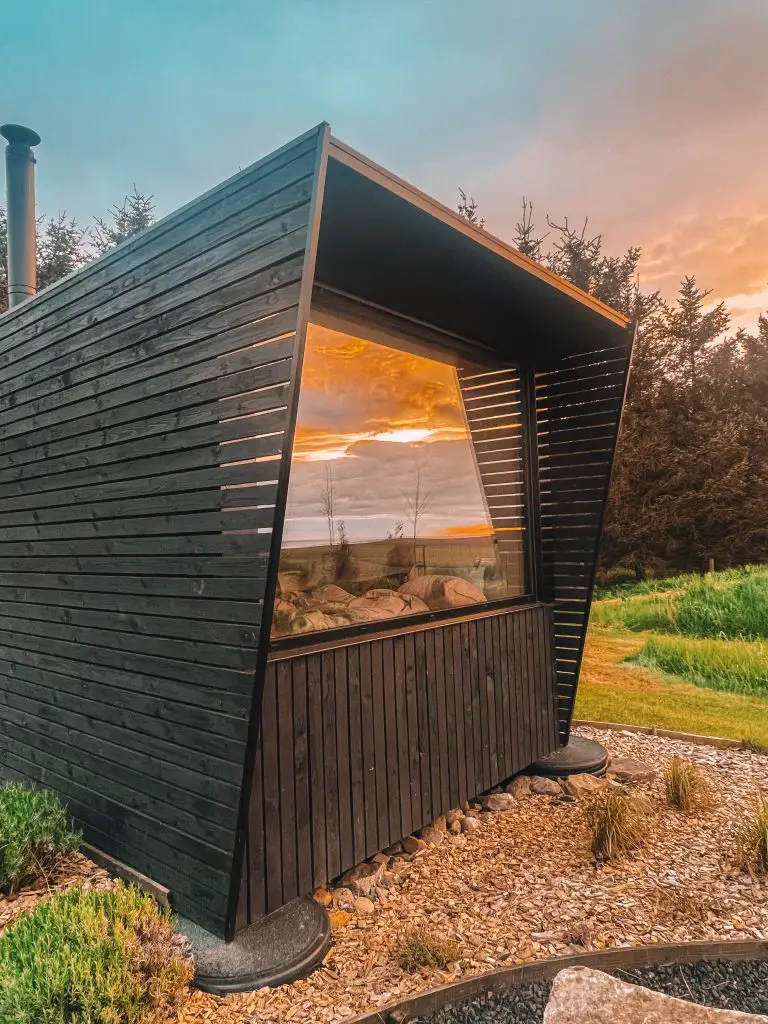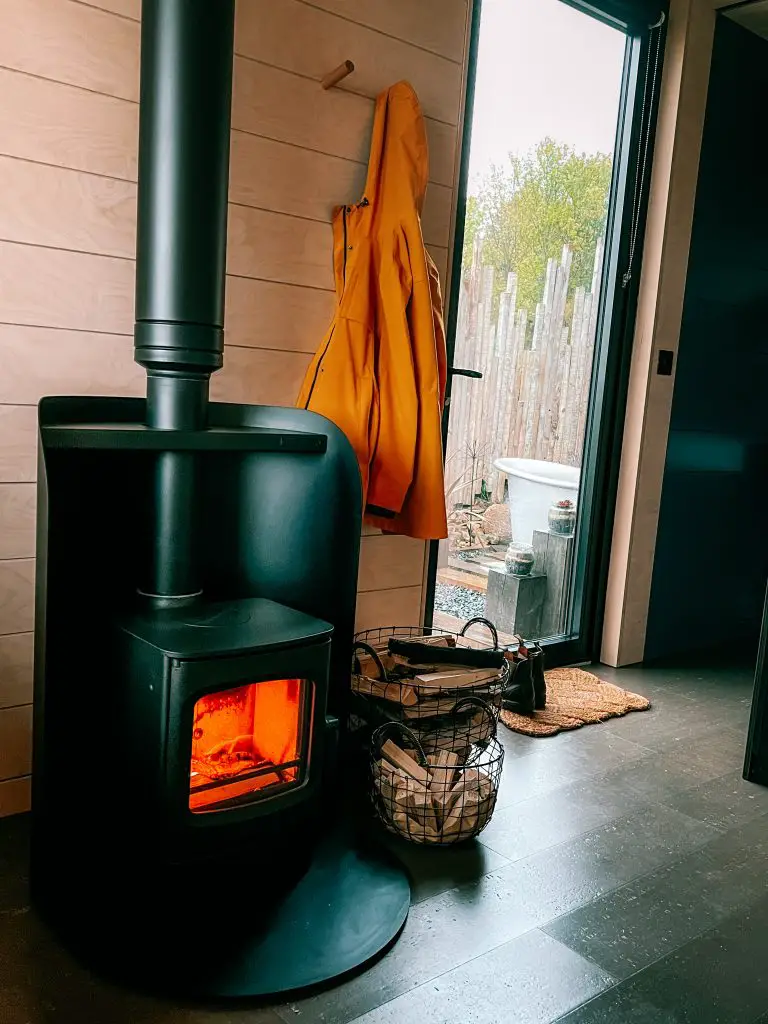 Bougie Accommodation in Aberdeenshire
Banff Springs Hotel: Located in the village of Banff between Portsoy and Crovie, this luxury hotel has everything you need for a comfortable stay. Their bathrooms look fantastic! There is a bar and restaurant onsite and free parking. 
Check rates and availability here.
Day 7: Banff to Fyvie Castle to Falkland to Edinburgh
This morning, you'll make your way back to Edinburgh. But don't worry, the adventure isn't over yet! There are a few stops along the way to round out your Scotland itinerary. You'll spend the night in Edinburgh before your flight home in the morning.
Morning Walk from Crovie to Gardenstown
Before leaving Scotland's quiet and relaxing area, take a unique coastal walk from Crovie to Gardenstown. Crovie is a tiny fishing village that does not allow vehicle access. It is connected via a coastal footpath to another super cute seaside village called Gardenstown.
Park your vehicle at the Crovie car park and follow the road down into Crovie. The walk to the end of Crovie is about 15 minutes, and there are a bunch of cute cottages (some of which you can rent!).
Once you're done in Crovie, follow the coastal trail to Gardenstown, where you can have breakfast at Eli's Crafts, Cakes, and Coffee. Stroll through Gardenstown and then follow the path either through Gardenstown to return via the cliff path or go back the way you came to your car,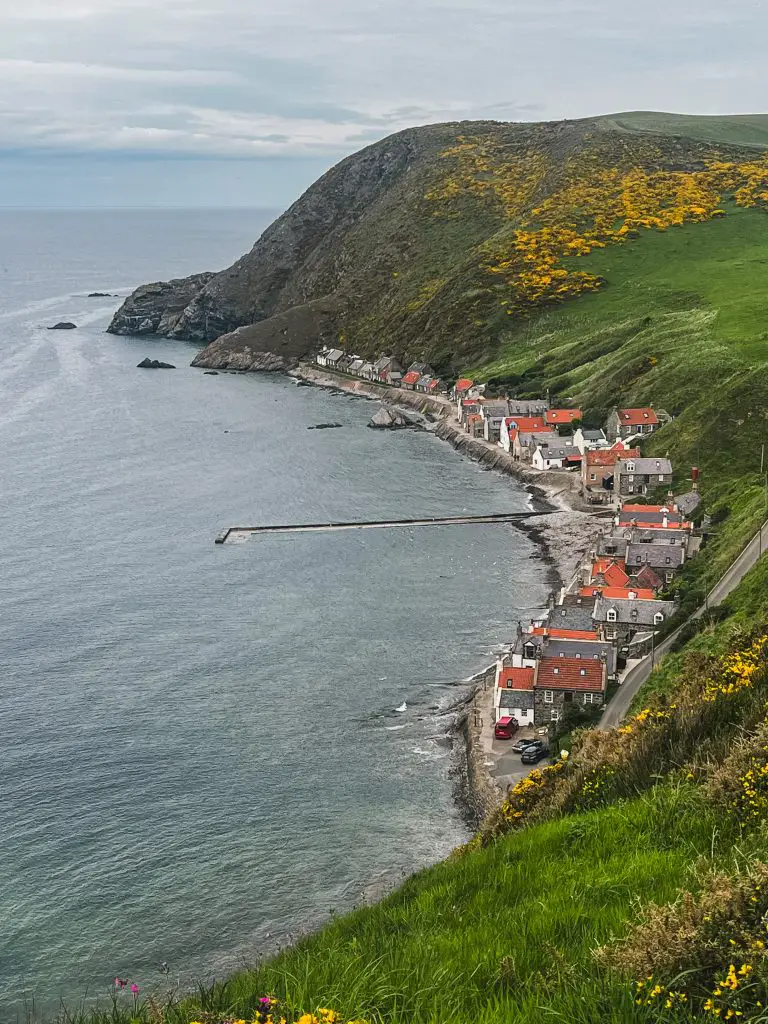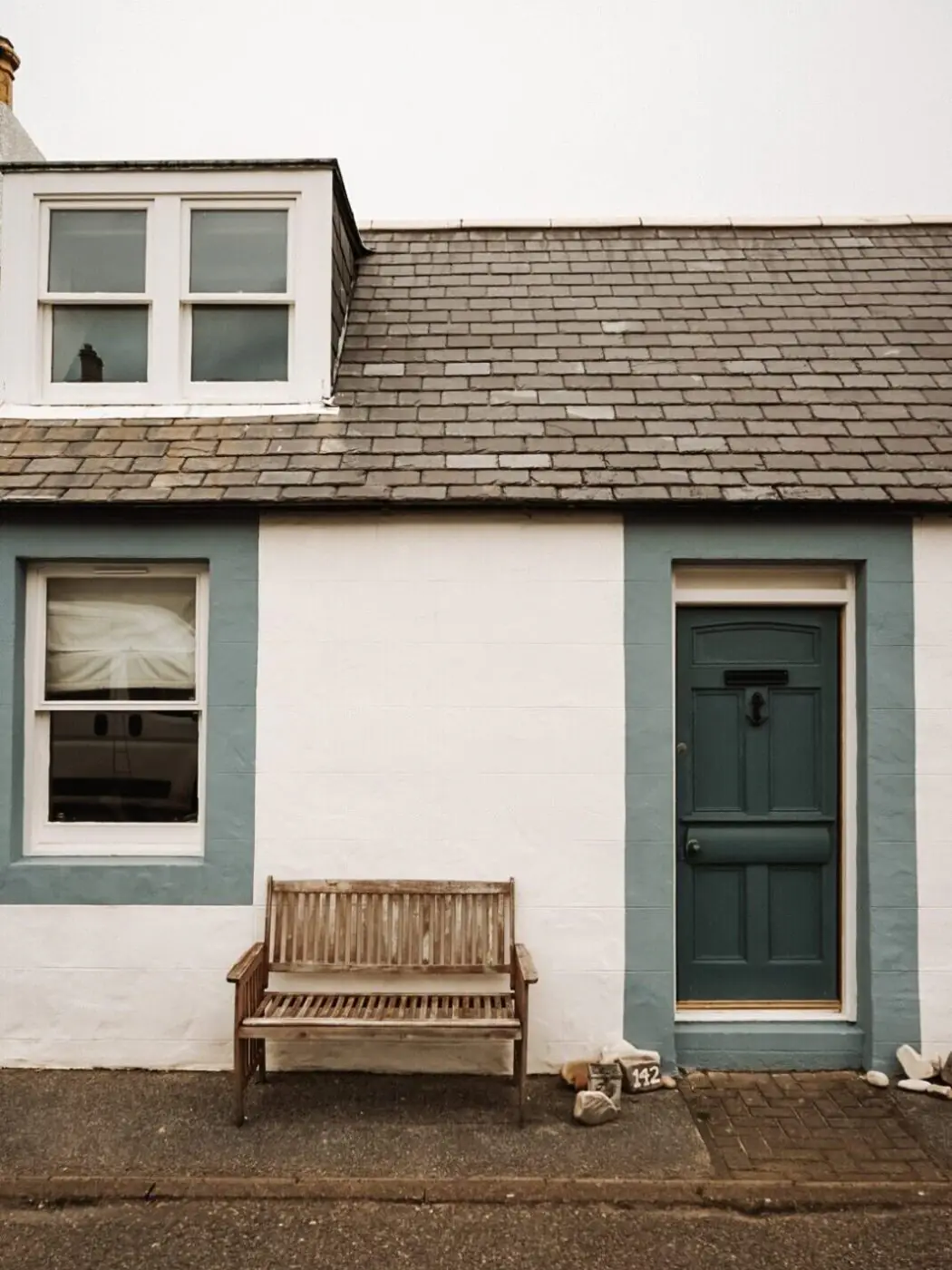 Fyvie Castle
Fyvie Castle is the last and final castle on your Scotland itinerary. Most castles you've seen have been ancient, ruined, and uninhabited for centuries. While the Fyvie castle is 800 years old, I love that it's still fully furnished and has lavish oil paintings on the walls, ghost stories, and more.
Taking this tour, you get a glimpse of what it would be like to live in a castle! I highly recommend it!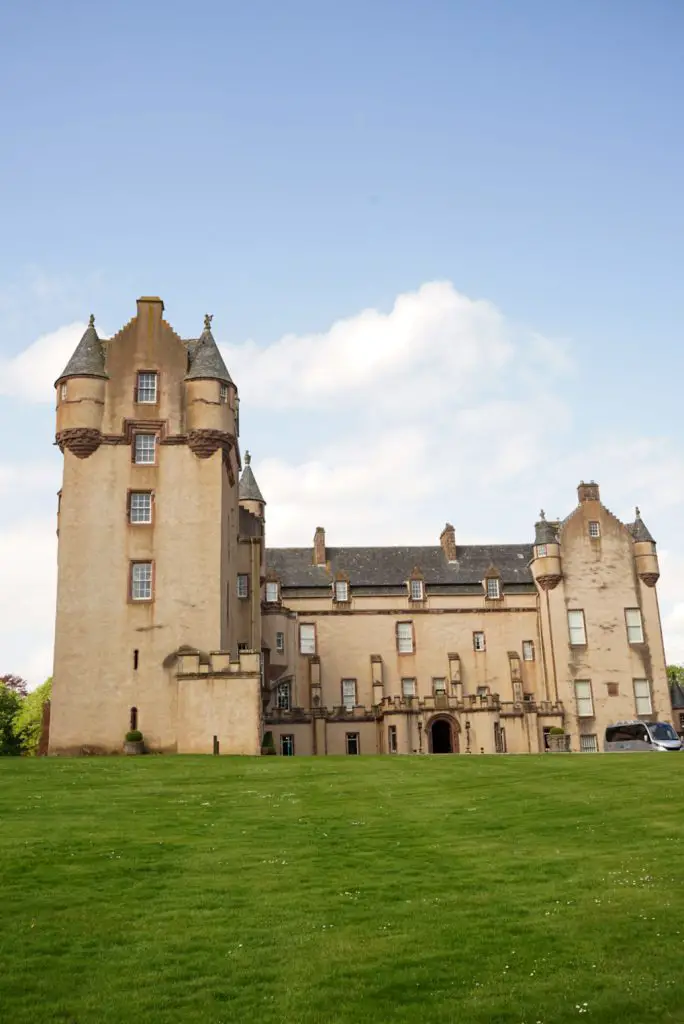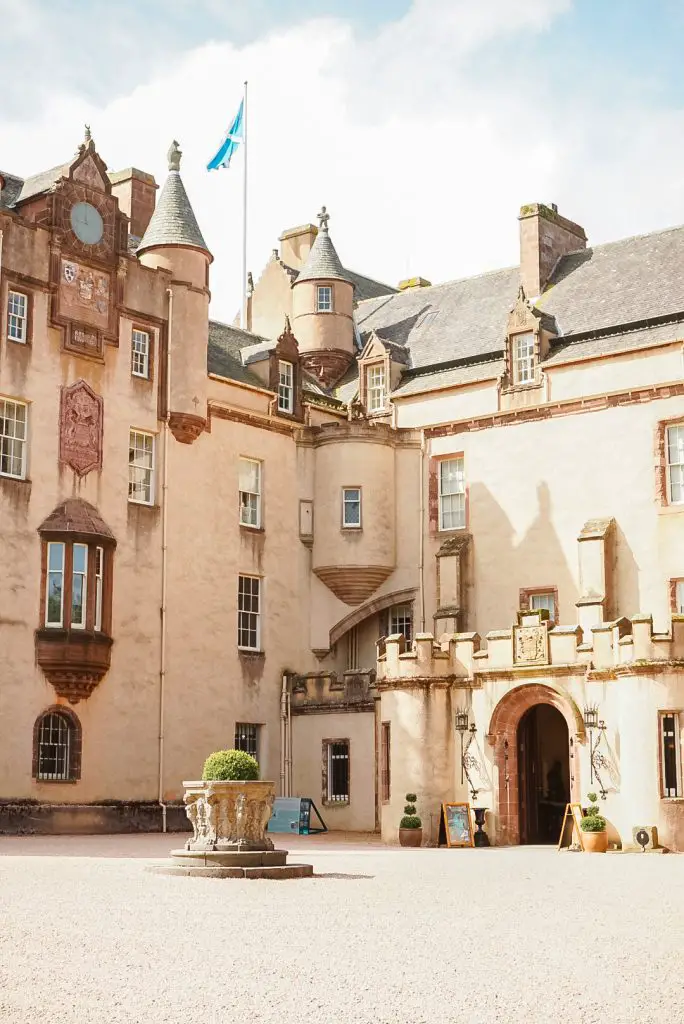 Falkland
Another stop for my Outlander fans, and even if you're not an Outlander fan, Falkland is a charming place to stop before returning your car to Edinburgh.
Falkland is the setting for Inverness in Outlander. This is likely why I didn't vibe with actual Inverness because I expected it to look like Falkland. Naturally, I was quite happy in Falkland!
The village of Falkland is located in Fife, about an hour outside of Edinburgh. High Street is dominated by church spires and dotted with cute houses, flower baskets, and colorful doors.  
In the center of Falkland, you can see Bruce Fountain, where Frank sees Jamie's ghost watching Claire get ready for bed in the hotel window. That hotel window is from Covenanters Hotel, where you can enjoy a pub lunch.
I recommend walking around this charming village. This picturesque village has plenty of photo opportunities, cute gift shops, and cobblestone streets.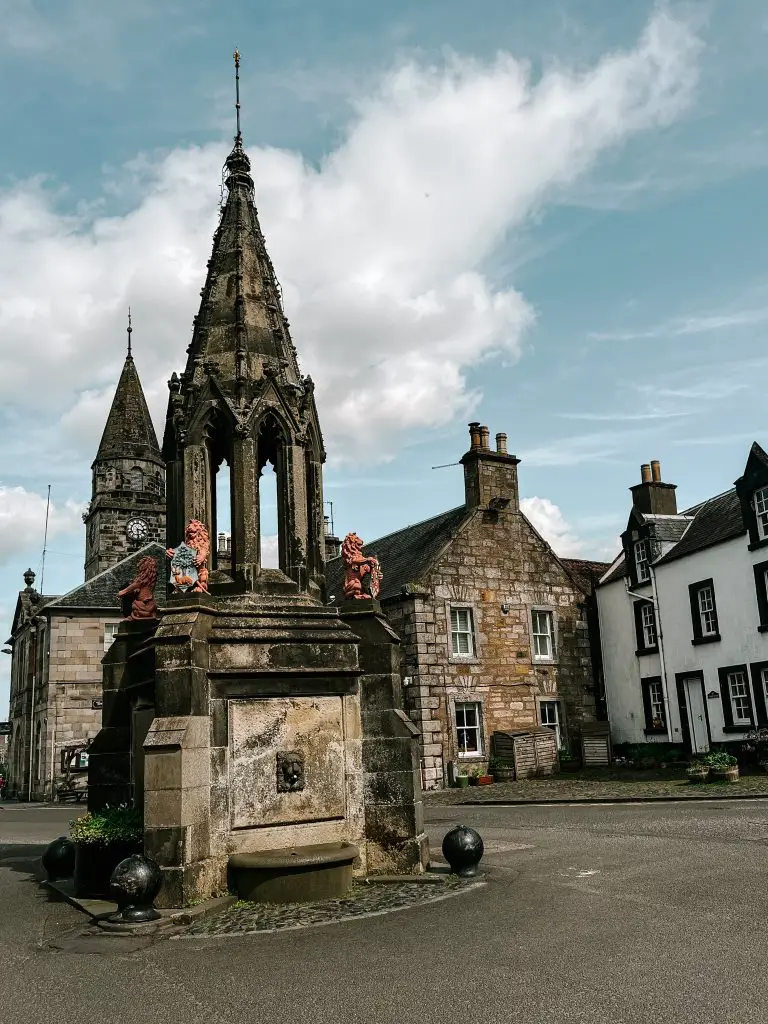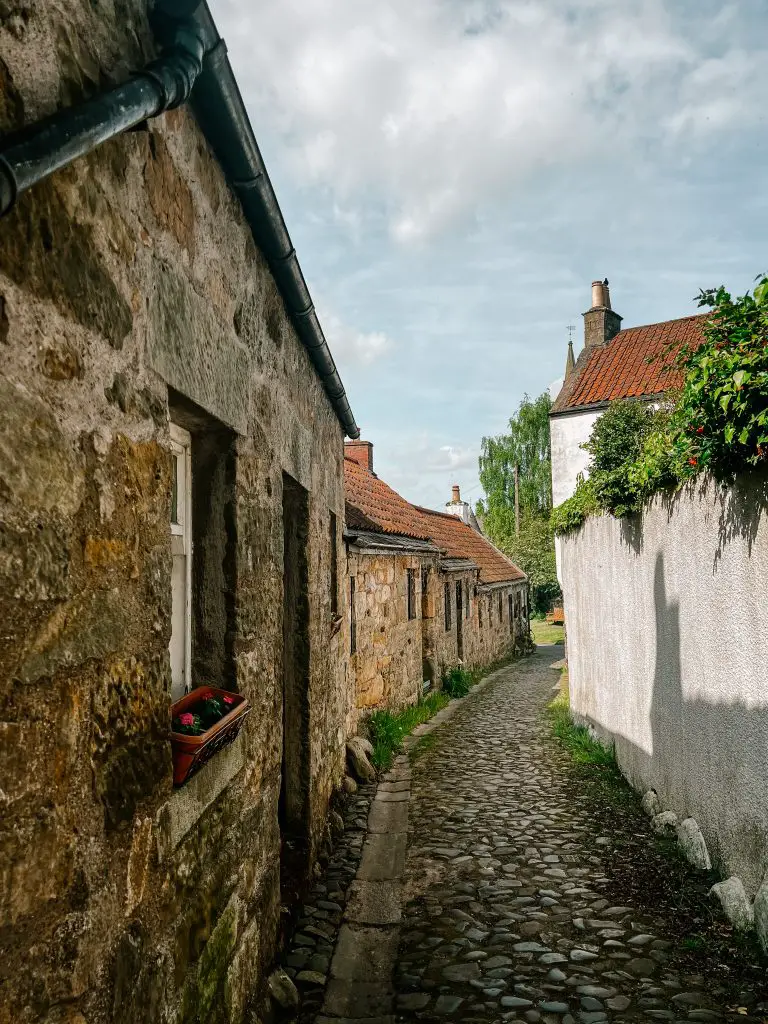 Return Car in Edinburgh
The stop in Falkland concludes your Scotland travel itinerary. Return your car to the rental car agency in Edinburgh and check in to your Edinburgh airport hotel for a good night's rest before your flight home.
Over the last seven days in Scotland, you've seen historic castles and stunning landscapes, tasted yummy food, drank drams of whisky, and perhaps even overcame your fear of driving in a foreign country. I sincerely hope this itinerary helped you plan an epic Scotland road trip from start to finish. I did my best to share the top attractions in Scotland and a few hidden gems along the way.
Reach out if you have any questions about planning your trip to Scotland!