I recently returned from my first solo trip to Scotland. After spending two weeks exploring the moody streets of Edinburgh, road tripping to mystical castles, and hiking to waterfalls, I've learned a few lessons about what to include on a Scotland packing list. Perhaps more importantly I've learned what not to pack for Scotland – especially if the trip is in the Spring. If you're wondering what to pack for Scotland in May, keep reading.
This packing list for Scotland is perfect for a well rounded trip that includes a few day hikes as well as city exploring during May. Of course, I'll also include items to pack throughout the year so that you can have a comfortable and memorable trip to Scotland! If you're planning to hike the West Highland Way, check out this specific Highland Way packing list.
This post contains affiliate links, which means that, at no additional cost to you, I will earn a tiny bit of income if you decide to make a purchase or booking. For more, check out my disclosure. 
solo female Travel Resources
Reasons to Pack in a Carry-On for Scotland
The first part of having a comfortable trip to Scotland is by packing lightly. I highly recommend doing your very best to pack in a carry on only.
Edinburgh is filled with hilly streets and steep and narrow alleys (called closes). If you are taking the tram into the city from the airport you may have to contend with carrying your luggage up those streets and steps to your accommodation. Don't hurt yourself by over-packing.
If you'll be traveling the country via train or bus, you'll then have to carry the luggage to the train or bus station. And there is limited space on trains and buses to store huge bags! Make it easier on yourself by minimizing what you're carrying.
Road tripping around Scotland is a must. You may think that by having your own vehicle you can just throw your luggage in the trunk and go. If that's your plan, make sure you know it will actually fit in the trunk of the car before you pack it! 
My only exception to this rule is if you're planning to stay in one place for your entire trip, and using a taxi to drop you off directly at your accommodation. If that's the case, then fill that suitcase with whatever you'd like!
Otherwise, this Scotland packing list is based around packing in a carry on!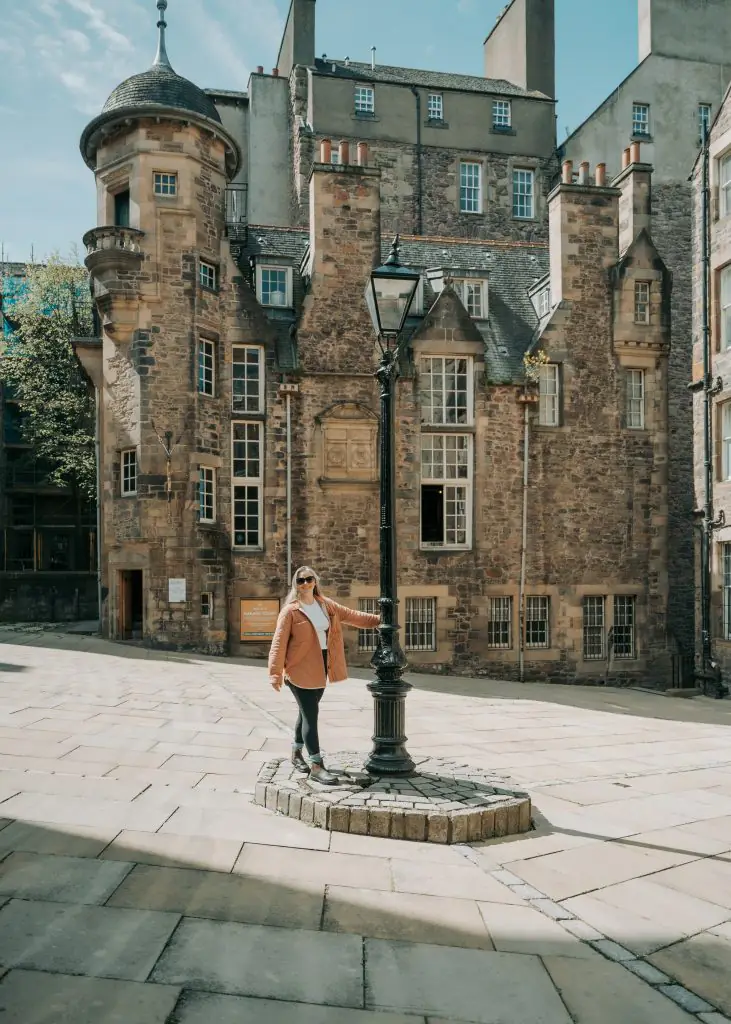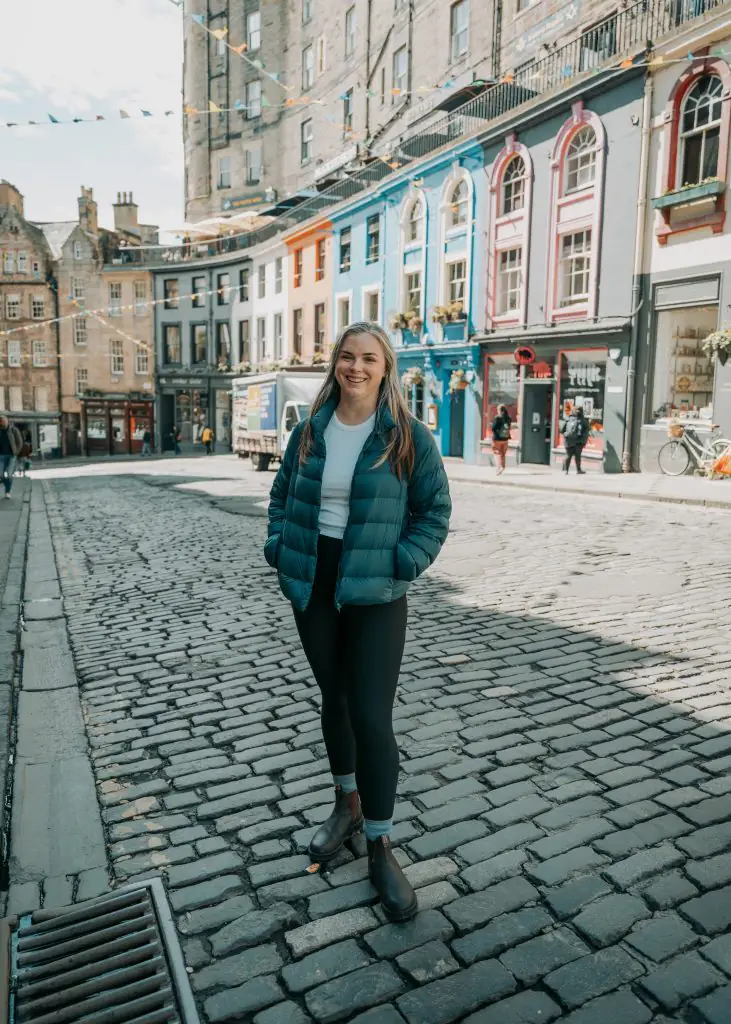 Type of Luggage to Bring for Your Scotland Trip
Typically, I pack for international trips using two backpacks. I use a 40L Osprey travel backpack for all of my clothing, toiletries, and footwear. I traveled for over a year with this bag and absolutely love it!
The secondary backpack, I carry on my front and use it for my most important items like my wallet, passport, and electronics. Plus snacks!
However, on this trip, I wanted to try packing in a carry-on suitcase, along with a backpack for a day bag. I used a TravelPro as my luggage, which I got from work. I think my Monos carry on is actually too small for longer than a weekend. 
For this trip, I upgraded my backpack to the Nordace Siena bag which I absolutely adore. It has so many pockets! It was also comfortable enough for a couple of day hikes as well as walking around the city.
The only drawback to using each of these items for Scotland is that neither of them were waterproof. The TravelPro is fabric and the Nordace is as well. However, you can get a rain cover for the Nordace backpack.
I will say that I don't think it would've been much easier moving about with the double backpack route. Either way you're going to have to heft your items up stairs and hills. Even many accommodations don't have an elevator! So no matter what you decide to pack your items in, make sure it's light enough for you to carry!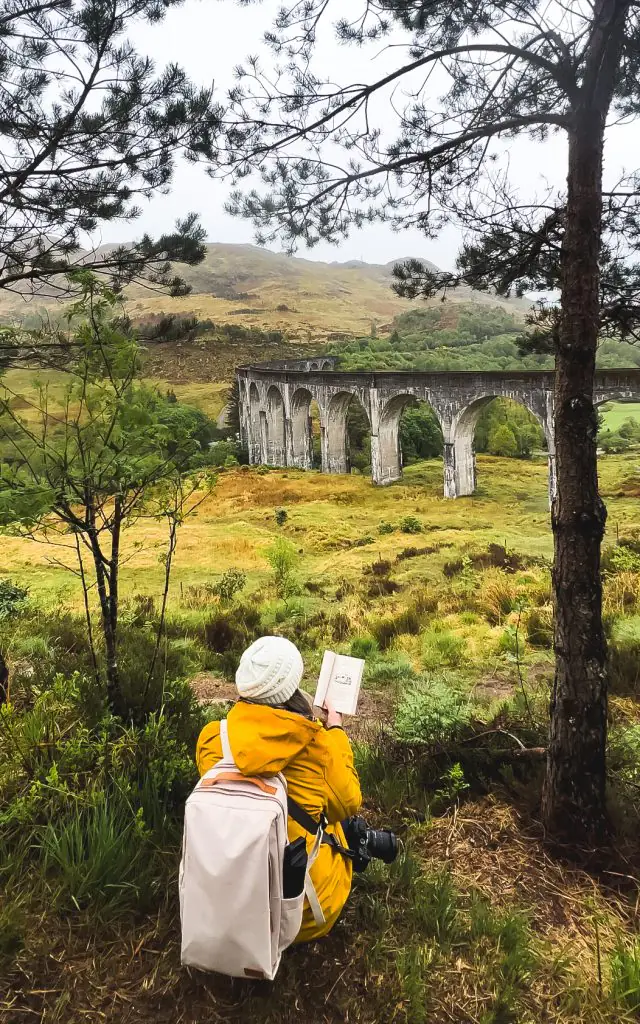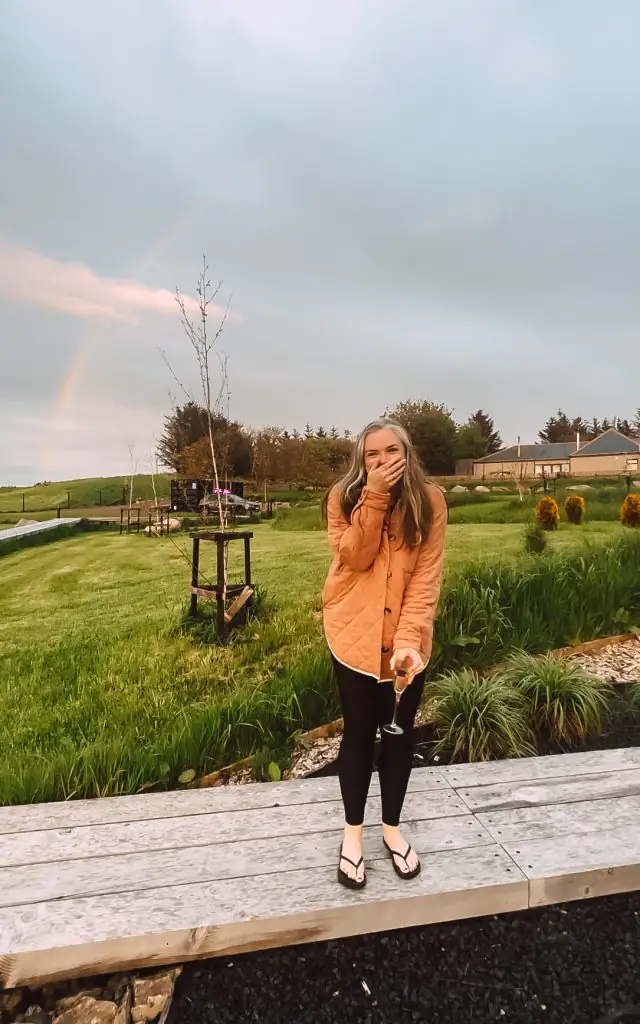 3 Quick Tips for Packing in a Carry-On Only
I've got a full blog post that goes into detail about how to pack in a carry-on only. But I'm going to highlight three of my biggest tips.
Use Packing Cubes: Packing cubes are a great way to keep your items organized! I upgraded to these compression packing cubes from Amazon for this trip and found I was able to fit a few extra items than I could otherwise. I like to keep the kinds of clothes needed together. For instance, all hiking clothes went in one packing cube, and other clothes went in a second. Alternatively, you could pack all pants in one and all tops in another. 
Plan Outfits in Advance: This will ensure that you actually know what you'll wear and probably re-wear. Remember, laundry is available in hotels and hostels!
Pack for One Week: With the exception of underwear, pack your clothes as if you were going for only one week. Use Febreze to keep things fresh for re-wearing. Let's be honest, we all wear the same 5-7 things at home anyway! And if you are going for a week – then you're set.
I also have a TikTok video of my actual packing process for this trip if you want to see how I used the packing cubes and what I packed. You can watch it here.
Essential Items on Your Scotland Packing List
We'll get to what to wear in Scotland soon, but first there are a few things that you absolutely must travel with to Scotland that are not influenced by the weather (or fashion trends).
I recommend packing these items in your personal item or backpack. You'll want them for the flight over to Scotland and they're small enough to fit!
Backpack: As noted above, you'll need a backpack, or some sort of day bag to keep your portable charger, water bottle, camera, extra layers, and anything else you may need for a day of exploring. If you're planning on a few day hikes, make sure it will be comfortable enough for those as well. I also used the Uniqlo fanny pack that is all the rage on TikTok when I was going out just for a few hours and didn't need much!
Travel Insurance: I never leave for an international trip without travel insurance. In the past I've used World Nomads, but for this trip I went with SafetyWing as it was a better price point. No matter what travel insurance company you choose, make sure it will cover the activities on your itinerary.
Camera: Another item I never travel without is my mirrorless camera. I used this trip to reignite my passion for photography and let me tell you – it worked! Scotland is filled with fantastic landscapes and cityscapes just begging to be photographed. I found that I used my Tamron 17-28mm wide-angle lens for most of the shots I took. 
Portable Battery Pack: You will be out all day using your phone for photos, directions, and restaurant reviews. Make sure that you start the day with both a full phone battery and fully charged portable charger. I've traveled with this one for years and it can recharge my phone and camera multiple times with one charge. Unfortunately, I left it in the hotel the morning of my return flight home so I'll be re-purchasing this!
UK Adapter: On my first solo trip I traveled with multiple adapters. Talk about bulky! Thankfully, they've come out with adapters that will fit multiple countries and have USB ports. I got this one off of Amazon and love it for easy charging of all of my devices at once.
Umbrella: The only thing predictable about the rain in Scotland is that it can be unpredictable! I would plan for rain any time of year, so bring a compact umbrella like this for unexpected showers. Yes, it's Nordace. I bundled it when I purchased my backpack and am so glad that I did!
Reusable Water Bottle: You can drink the tap water in Scotland. Bring a reusable water bottle to stay hydrated and reduce plastic usage. You may want to bring a collapsible water bottle to save space when it's not in use. I simply traveled with my Hydro Flask.
Sunglasses: No matter what time of year, you'll want to have sunglasses on standby for the rare sunny days you'll encounter. As someone with sensitive eyes. I even wear mine on cloudy days to help with squinting! 
Hat: I recommend packing both a baseball style hat and a beanie. Baseball hats are in style now and are an easy accessory to an outfit while a beanie will keep your head and ears nice and warm on colder days. 
Rain Jacket: The type of rain jacket you bring will depend on the season you visit, but no matter what you'll want a water repellent jacket year round. In the summer a lightweight waterproof shell jacket that packs down small will be perfect. However, in the winter you'll definitely need a jacket with some lining (or use the shell to layer over a down jacket). I love this yellow one for a pop of color in your photos!
Febreze: You will likely be re-wearing a shirt or two. Keep your clothing smelling fresh with Febreze. They make a small travel size you can purchase here! I never travel without it.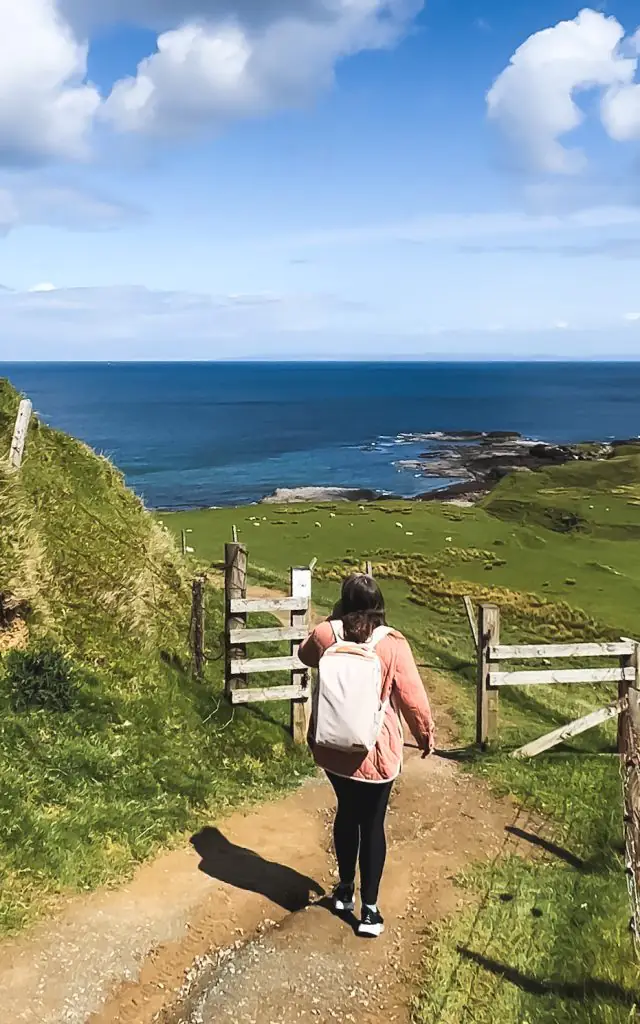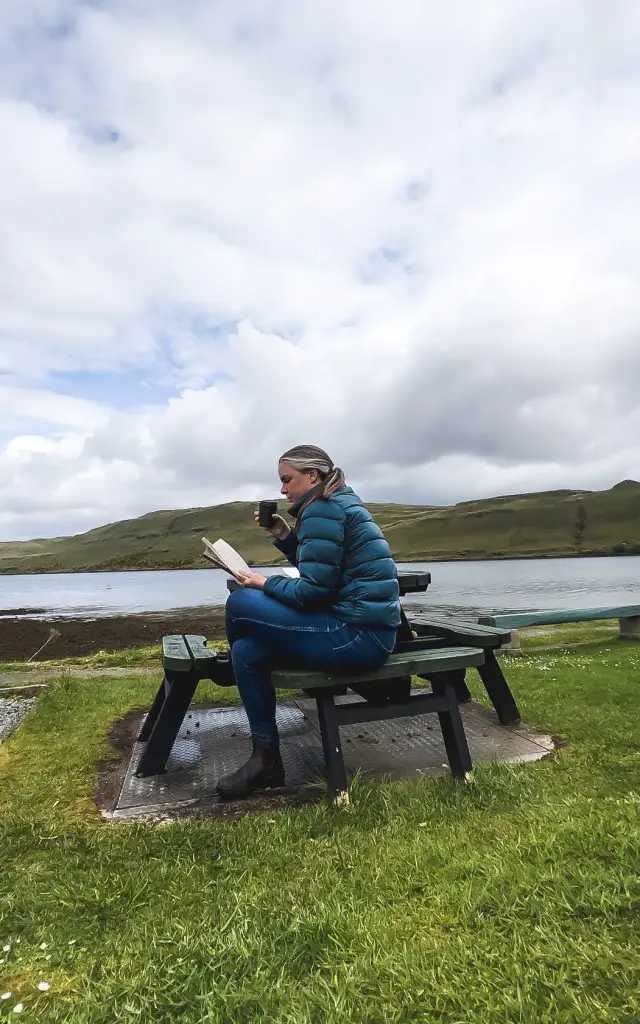 What to Pack for Scotland in May
May can see some warmer temperatures. When I was in Edinburgh there were multiple 60o days with cloudless blue skies. Then there were days where it would be pouring rain and then 15 minutes later it was sunny! You'll likely encounter all types of weather in May! When packing your clothes, think in terms of light layers that can easily be removed or added as needed.
Clothing to Pack for Scotland in May
I found that Scotland overall is a laid back country when it comes to attire. Jeans are acceptable for day and night. You'll see everything from outdoorsy attire to the latest trend in Edinburgh. As a millennial who is finding it difficult to let go of my skinny jeans, I appreciated this about Scotland. 
T-Shirts: 2-4 short sleeve shirts (make sure they're NOT cotton).
Workout/Hiking Shirts: 2 hiking shirts that are moisture wicking.
Long Sleeve Shirt: Long sleeves are great for layering or worn alone. You'll need 1-2 long sleeve shirts, one that could be used for hiking.
Tank Top: You only need 1-2. One could be a dressier tank top for a nice dinner at one of Edinburgh's fancier restaurants worn under a jacket.
Lightweight Jacket/Fleece: A fleece is great for hiking or a chilly night out. Alternatively, pack a leather jacket for a night out in the city if you're not planning on hiking.
Rain Jacket: A lightweight, packable rain jacket is sufficient for May.
Ultra Light Down Jacket: I love this Uniqlo jacket. It packs down super small and is plenty warm enough with a long sleeve shirt underneath.
Leggings: 1 pair of leggings is sufficient (unless you aren't packing jeans, then two pairs!) I recommend these fleece lined leggings. They were super flattering, comfortable for hiking, and great for rainy days in Edinburgh.
Jeans: You only need one pair of jeans.The type of jeans you pack are 100% a personal preference. I'm working on getting away from skinny jeans, but it's hard! So I packed my skinnies. Any jeans you like that go well with the shoes you're packing and the rest of your clothing. 
Hiking Pants: I fell in love with these REI Trailmade hiking pants. They're not only a good price point, but are lightweight and very comfortable. While not waterproof pants, they do dry very quickly.
PJs: A pair of shorts and a t-shirt should do the trick. I packed thermals to sleep in, but found them to be way too warm and ended up sleeping in a t-shirt I bought and my undies (yes even in a hostel!). Anything cozy you can snuggle into after a full day of exploring.
Undies: Undies are where you can overpack! Pack enough for each day of the trip if you prefer.
Bra: 2 sports bras and one regular bra should do the trick here!
Socks: You know I love my Darn Tough socks for hiking. I packed 3 pairs and am glad I did because one pair got soaked on a hike. Also pack 5-6 pairs of regular socks.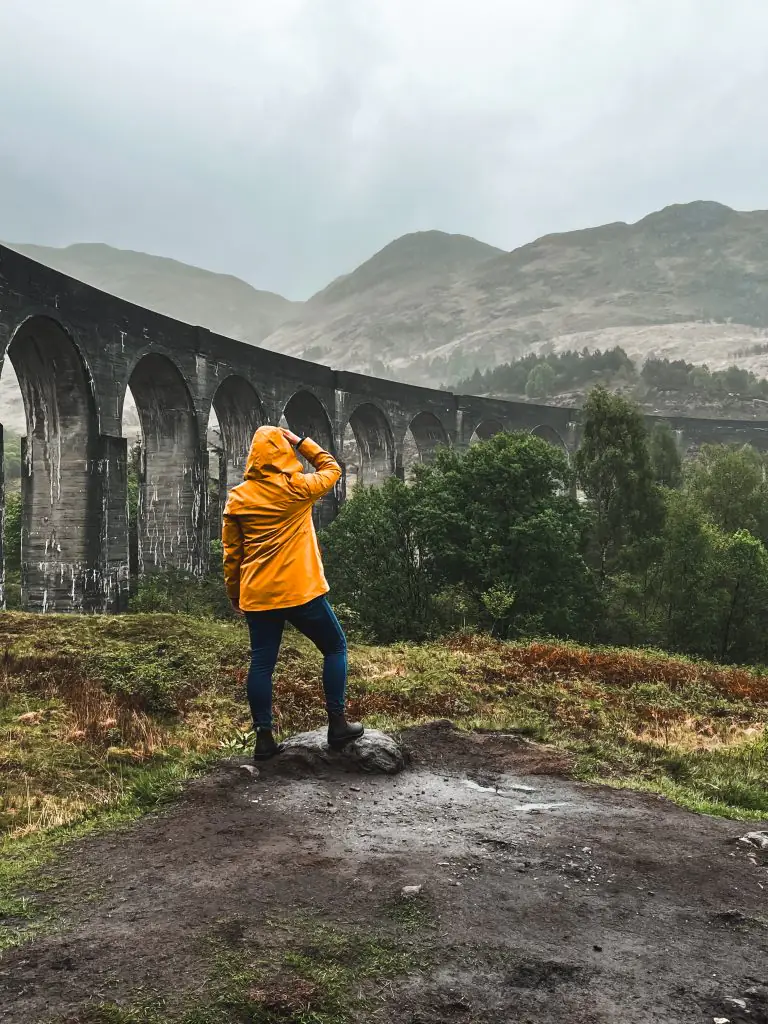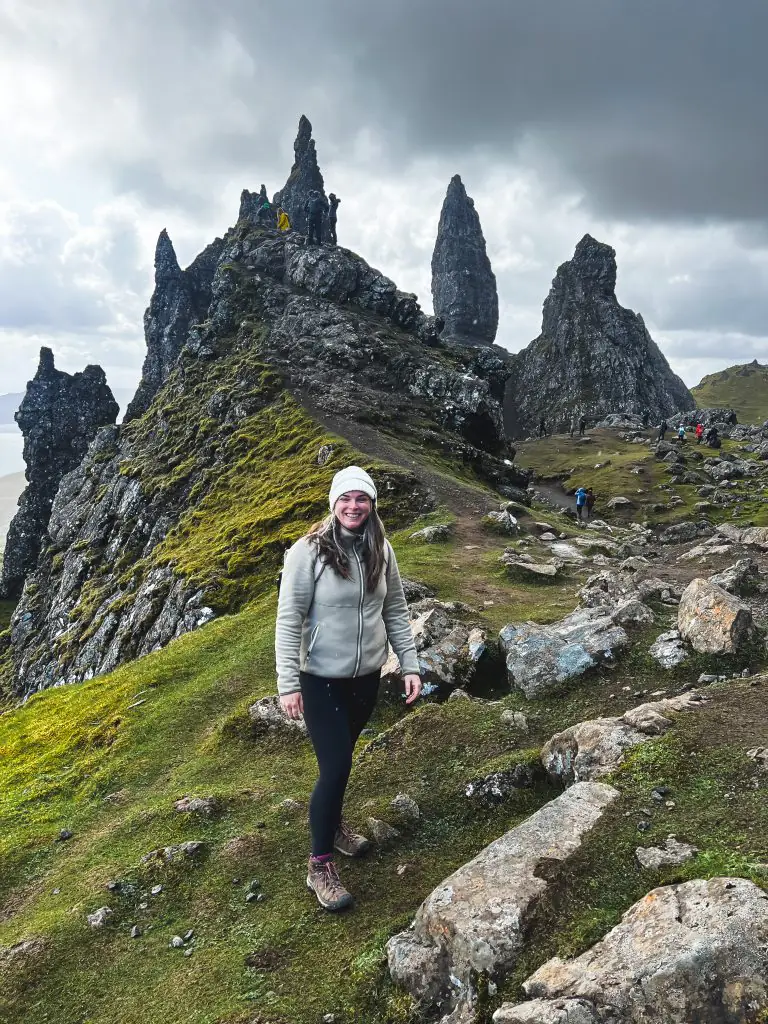 What Shoes to Pack for Scotland
How many pairs of shoes do you need to pack for Scotland? I recommend two to three. You'll wear your bulkiest pair of shoes on the flight, and pack the other one or two. The type of shoes you pack should allow you to comfortably walk for hours everyday. Now, the exact style or brand of shoe will depend on your personal style and any outdoor activities on your itinerary. 
Comfortable Walking Shoes: From your Edinburgh itinerary to your Scottish Highlands road trip, you'll be doing lots of walking. Pack comfortable walking shoes that are well broken in. I wore a pair of Hokas for city exploring and easy walks in the highlands. Admittedly, they aren't the cutest shoes for the city but thankfully Edinburgh's dress code is relaxed so they worked!
Waterproof Boots: I packed two pairs of boots for this trip; Blundstones and my well loved Keen hiking boots. If you're not planning on doing any hiking leave your hiking boots at home. Blundstones are great ankle boots for city exploring and easy 1-2 mile trail walks. No matter what type of boots you pack, make sure they're waterproof!
Sandals: This is up to your discretion. I packed flip flops to use in hostel showers, but otherwise I didn't need them. If you want a nice pair of sandals for dinner, and they'll fit in your bag, go ahead and pack them.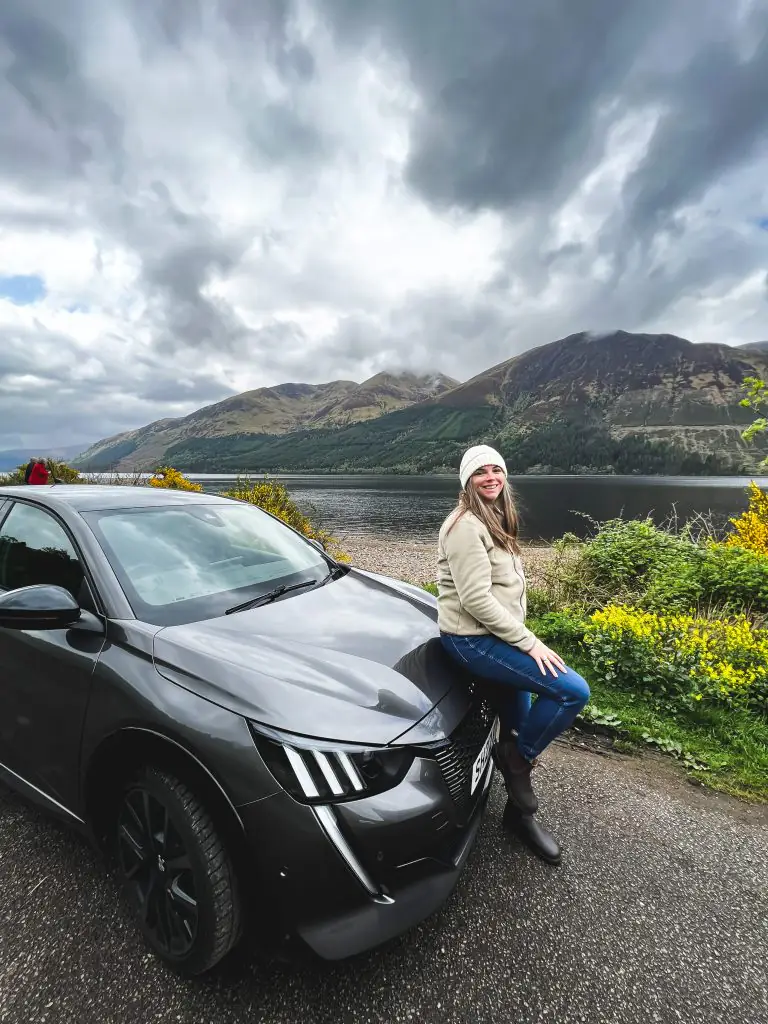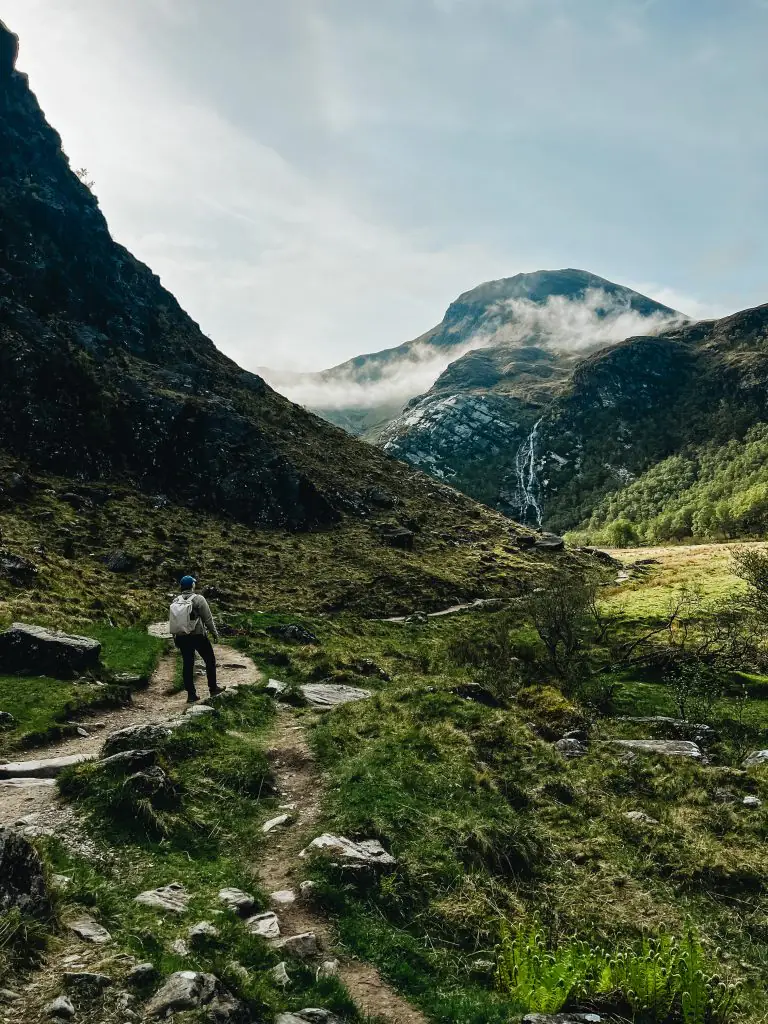 What Not to Pack for Scotland
There were a few items I packed that were completely unnecessary and actually quite uncomfortable. Here are a few things to leave behind.
Towel: I packed a sand cloud towel which I love and is light. But it did take up more room than I liked and each hostel I stayed in offered towels for $2.00. Hotels and hostels will have towels, leave yours behind.
Cotton shirts: I didn't realize the four basic t-shirts I packed were 100% cotton. I now understand what people say when cotton doesn't breathe! When I was sweating walking the hills in Edinburgh it had nowhere to go and was so uncomfortable. Check your clothing labels and make sure you leave the cotton at home!
Anything you're not comfortable in: If there is anything that you don't absolutely love and feel great in When you trial pack and try on your outfits, leave it behind (and maybe donate it!). I packed a couple of turtlenecks because they looked cute, but I actually HATE wearing things on my neck. I never wore them. Save the space for something you actually love or a purchase in Scotland.
What to Pack for Scotland in Each Season
Scotland is a stunning place to visit throughout the year, with each season offering something unique. Whether you're drawn to the vibrant blooms of summer, the golden hues of fall, the snowy wonderland of winter, or the blossoming landscapes of spring, Scotland has it all.
While this blog post focused on packing for Scotland in May, let's explore what to expect in Scotland throughout the year, along with the unique items for each season to pack for a comfortable and enjoyable journey.
Summer (June – August)
Scotland in the summer offers longer and warmer days. The lush green landscapes are at their peak, and it's the perfect time for outdoor adventures. When packing for a summer trip to Scotland, consider including lightweight clothing like shorts, dresses, and t-shirts for warm days. 
No matter the time of year, expect rain in Scotland. A lightweight waterproof jacket like this will keep you dry during unexpected rain. 
The summer months also bring in midge season, you'll need to include insect repellent in your toiletry bag to help ward off the pesky bugs. I really like these mosquito repellent wipes. If you forget this don't worry, many local shops will sell repellent.
Fall (September – November)
Scotland bursts into even more color in the fall as the trees change to vibrant shades of red, orange, and gold, creating a truly magical ambiance. To contend with increasingly unpredictable weather, layers are essential. Pack a few more long sleeve shirts, a light sweater, and a warm jacket. You may want to include scarves, gloves, and a warm hat for chilly mornings and evenings. 
Winter (December – February): 
Winter in Scotland is a wonderland, with snow-capped mountains and cozy, festive vibes. If you're planning a solo trip during this season, pack warm layers. Add thermal base layers and a winter coat to your packing list. 
If you're doing winter hiking, make sure you have sturdy waterproof boots with good traction. 
Consider adding hand warmers to your carry-on. These take up minimal room and can provide extra warmth during chilly adventures. 
Of course, a hat, scarf, and gloves are essential this time of year.
Spring (March – May): 
Springtime in Scotland is absolutely stunning. Cherry blossoms bloom around Edinburgh Castle, bright yellow gorse line the roads to the highlands, and there are lambs and baby highland cows everywhere! It's the best time of year to visit Scotland!
Scotland blooms brightly in the spring. If you're prone to allergies, consider bringing allergy medication to prevent congestion. You can also pick this up when you get there if needed. However, I found my allergies actually improved in Scotland compared to San Francisco.
If you follow this packing list for Scotland, you'll have everything you need for a fun and comfortable trip to this gorgeous country. The beauty of this somewhat minimalist packing list is that you'll have plenty of space in your bag for souvenirs! Let me know if there's anything that you packed for Scotland that you found absolutely essential, that's not on this list so I can add it to further help others planning their solo trip to Scotland!