Two summers ago I visited Mammoth Lakes for a backpacking trip in the Eastern Sierras. I grew up in California and never knew that such beauty existed just a few hours from my front door. I've been itching to get back to explore the lakes and hiking trails of Mono County. Thankfully, a campsite opened at June Lake so I jumped on the opportunity to find the best things to do in June Lake, California. 
June Lake is often referred to as the Switzerland of California. While I haven't been to Switzerland yet, and only know it through photos, I can see why. 
The town is nestled below snow capped peaks of the Eastern Sierras and dotted with Alpine Lakes. Add in the rustic cottages and A frame cabins and you do in fact have a slice of Alpine bliss.
Aside from the stunning scenery, the other thing that I loved about June Lake were the people, I met here are some of the friendliest I've ever met in California. I asked multiple people for route advice on the hike and many of the people who work in the restaurants are happy to help you. Honestly, there was so much good energy in June Lake! It must be all of the fresh mountain air and easy access to the outdoors!
My Favorite hiking Resources
The Four Lakes of June Lake
June Lake area is made up of four lakes. You can fish, boat, and swim in all of the lakes!
Its namesake is of course June Lake which boasts crystal clear water and great views of Carson's Peak. 
Also in June Lake town is Gull Lake which has a relatively easy hiking trail all around the lake. 
Silver Lake is directly across from the Historic silver lake settlement and is  popular for paddle boarding and kayaking.
Grant Lake is the largest lake in the area. It's more "remote" than the other three but still a quick drive from Silver Lake resort and the amenities there.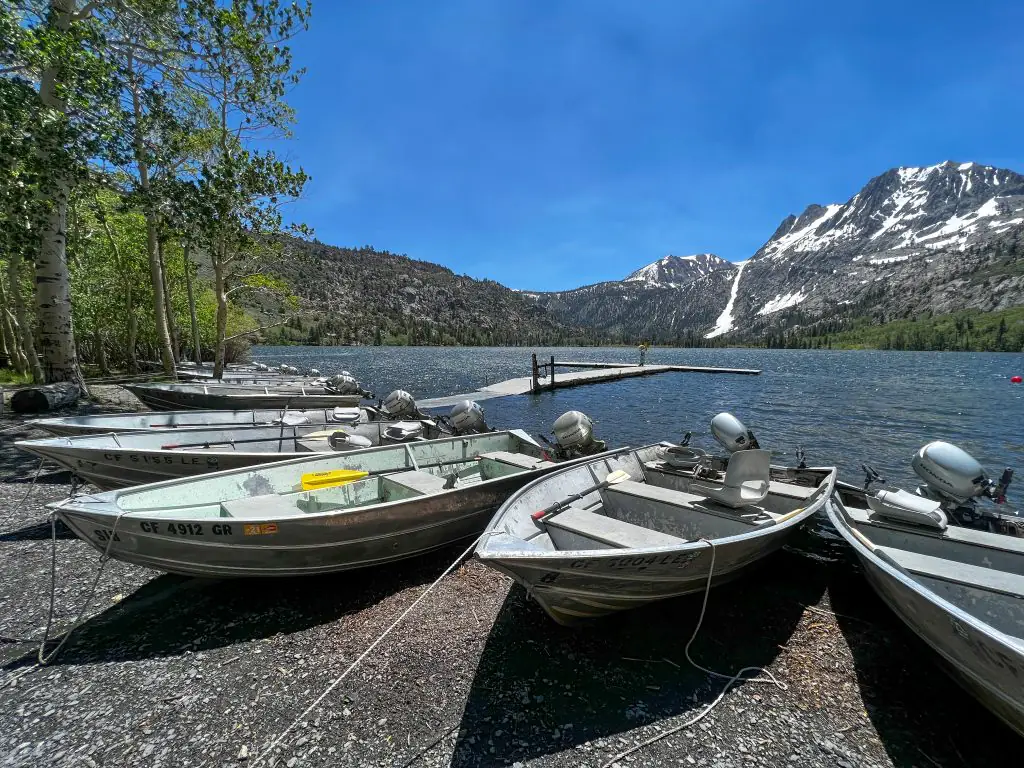 Best Time of Year to Visit June Lake
Whether you're a nature enthusiast, an adventure seeker, or simply seeking tranquility, June Lake has something to offer in every season.
I visited on the cusp of summer (literally finished my trip on Summer Solstice) so this post focuses on things to do in June Lake in the summer months. However, let's quickly go over what to expect in all four seasons. 
Winter (December to February):
Winter is when June Lake shines with a layer (or more) of snow, creating a picturesque wonderland for winter sports enthusiasts. Average temperatures range from 20°F to 40°F (-6°C to 4°C). 
The surrounding mountains offer excellent opportunities for downhill skiing, snowboarding, and cross-country skiing at the nearby June Mountain Ski Area. Snowshoeing and snowmobiling are also popular activities for exploring the serene winter landscape. 
If you're seeking a cozy winter escape, relax with a book next to a crackling fireplace in one of the rustic cabins or lodges dotting the area.
Spring (March to May): 
As the snow slowly melts, June Lake awakens with blooming wildflowers and cascading waterfalls. The temperatures in spring range from 50°F to 70°F (10°C to 21°C), creating a pleasant environment for outdoor exploration. 
Witness the magical transformation of the landscape by embarking on a photography expedition or hiking through the Ansel Adams Wilderness (dependent on the amount of snow in winter). 
Additionally, fishing enthusiasts can cast their lines in the lakes, as the season brings ample trout fishing opportunities.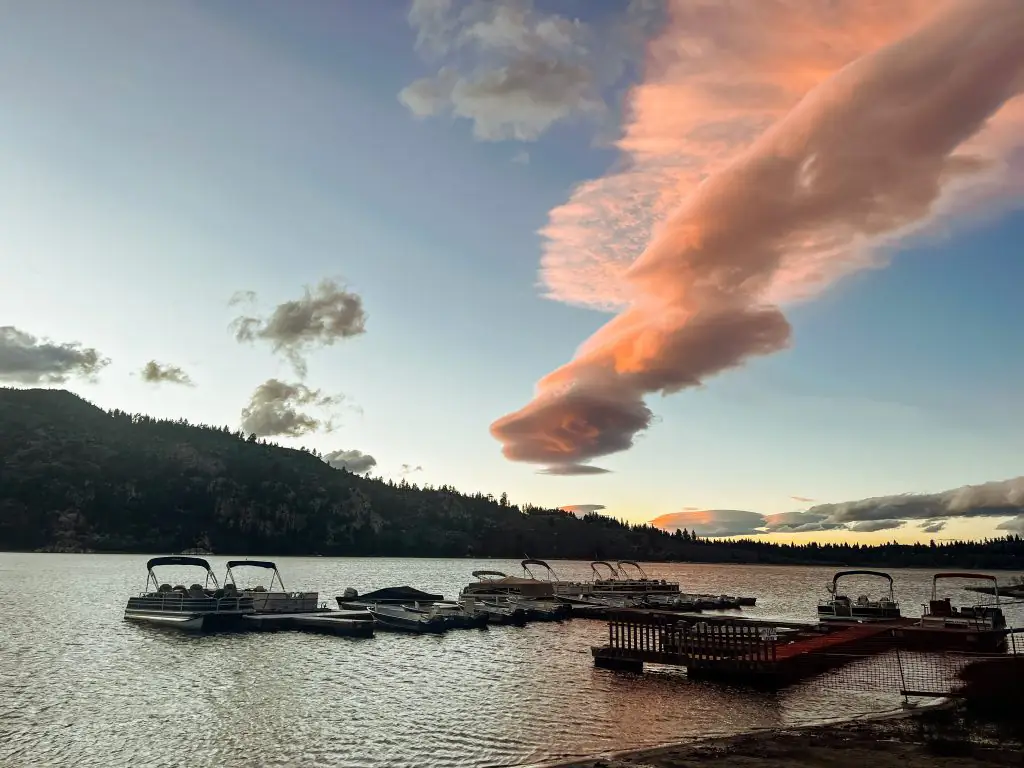 Summer (June to August): 
During the summer months, June Lake is in its full glory with warm weather, and an abundance of outdoor activities. Average temperatures range from 70°F to 80°F (21°C to 27°C), making it perfect for hiking, fishing, boating, and swimming in the crystal-clear waters. 
You can explore the numerous hiking trails, including the popular Parker Lake Trail or the Fern Lake Trail, which offer spectacular vistas of the surrounding mountains and sparkling lakes. 
Fall (September to November): 
Fall is an amazing time of the year to visit June Lake as it explodes with color. The temperatures during fall range from 40°F to 60°F (4°C to 15°C). 
Immerse yourself in the stunning fall foliage by hiking along trails like the Rush Creek Trail, where you can witness the breathtaking blend of red, orange, and yellow leaves. Fishing remains popular, as the lakes are teeming with trout. 
Don't forget to capture the awe-inspiring reflections of the changing colors mirrored on the calm lake waters. Of course, driving the June Lake loop is a must for fall foliage peeping. I can't wait to see this!
How to Get to June Lake
As mentioned above, June Lake is nestled in the Eastern Sierra Mountain Range off of Highway 395.
It's approximately 280 miles east of San Francisco, 320 miles northeast of Los Angeles, and 220 miles southeast of Sacramento.
The best way to get to June Lake is by car and it makes a great stop on a California road trip. There are multiple National Parks nearby, with Yosemite National Park being one of them. 
Tioga Pass through Yosemite is a popular route to get to Mono County and June Lake. However, it closes often due to weather (it was during my mid-June trip). As always, check traffic and weather conditions prior to your trip.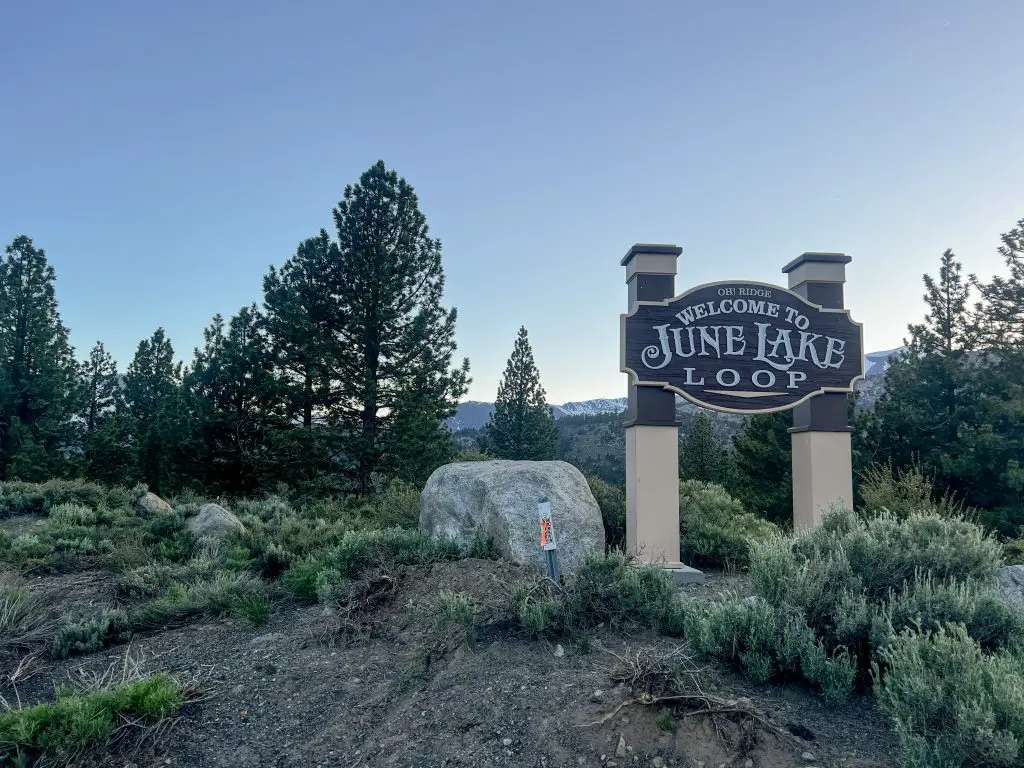 Things to Do in June Lake
June Lake Loop
The June Lake Loop is a 16 mile scenic drive through the gorgeous landscape of this mountain town. If you're going to drive the loop without stopping it will probably take you 20-30 minutes depending on road conditions. 
However, it's not something you need to exclusively set aside time for. Driving the scenic June Lake Loop is something that will naturally happen as you explore the area. The majority of June Lake's hiking trails, lakes, and accommodations are on the loop.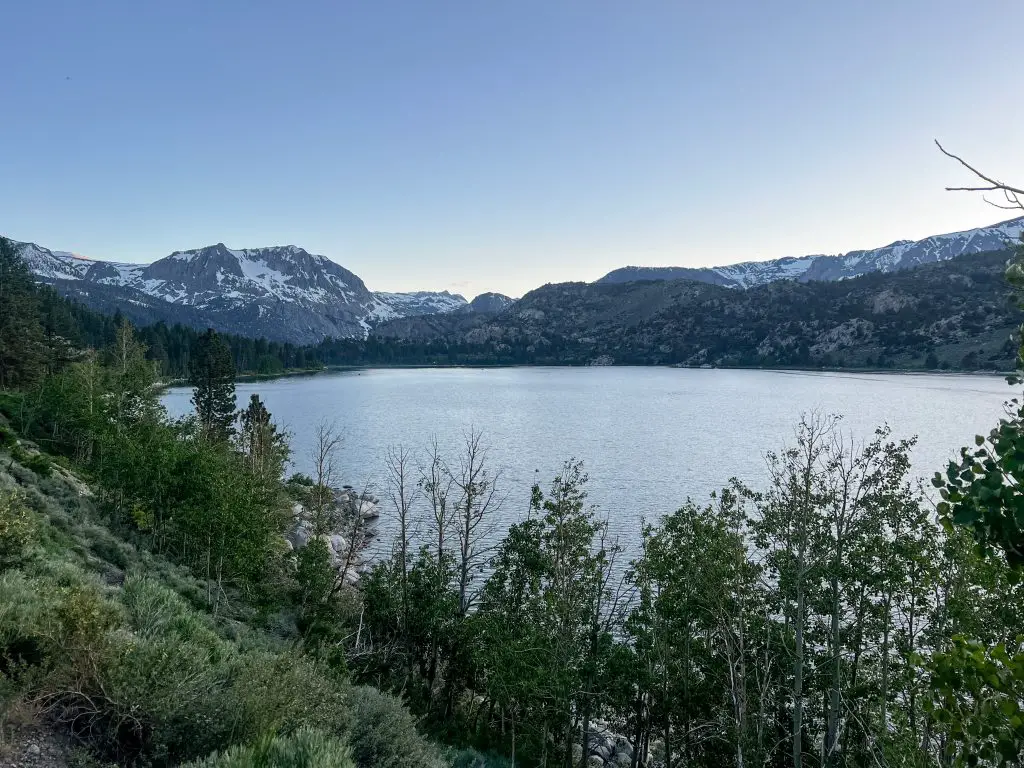 As you tick off the other things to do in June Lake mentioned in this post, you'll be driving on the June Lake Loop!
Side note: this is an excellent drive to see fall colors. 
Go Paddle Boarding or Kayaking
I was so pumped to go paddle boarding on the turquoise alpine lakes that I rented a paddle board for the weekend so I'd be able to go whenever, and wherever, I wanted. Unfortunately, it was incredibly windy my entire trip. I'm talking 30 mph gusts of wind. So I did not get the opportunity to hit the water.
However, if the weather is in your favor head to Silver Lake or June Lake to rent a kayak or paddle board. Silver Lake is smaller than June so it's (likely) easier to paddle all the way around. You can rent a kayak ($15/hr) or paddle board ($25/hr) at the June Lake Marina or June Lake Beach. At Silver Lake Beach, a kayak rental is $25/hr and $10 for each additional hour.
Take a Swim in an Alpine Lake
You have four excellent options for a refreshing Alpine lake swim. However, the best one is June Lake. There is easy access to the water from the beach. You can easily wade in or run and jump in so the cold temperatures don't make you run out!
Eat Breakfast at Silver Lake Resort
Across the street from Silver Lake is the Silver Lake Cafe which is a part of the historic Silver Lake Resort. This is a cozy and quaint mountain town diner which is famous for its 3 egg omelets. They only serve breakfast until about 11:30 am before they switch over to lunch. Don't worry if you miss it though (like I did), because their lunch is just as good. It's the perfect place to fuel up (or refuel) from your mountain adventure.
While you're waiting for your hearty meal, check out the photos on the wall from Carson's Camp, the first private resort on June Lake Loop founded in 1916. The cafe and store are the original building from 1921!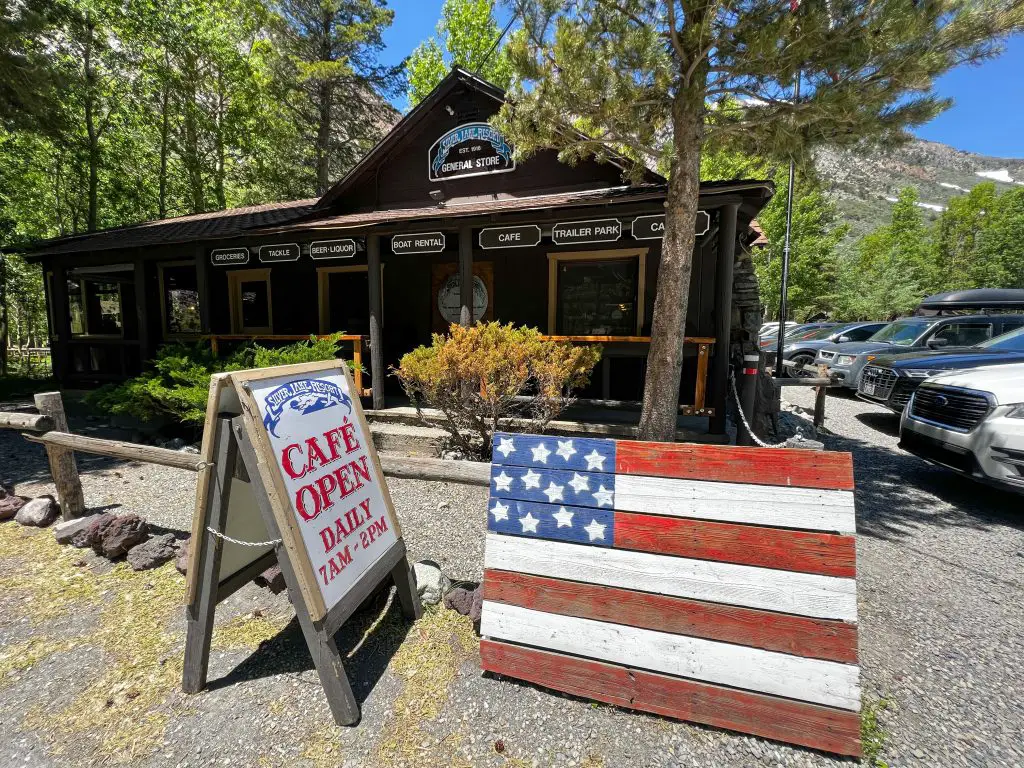 Drink at June Lake Brewing
There's nothing better on a sunny afternoon than a post hike beer. If this sounds good to you, head to June Lake Brewing for a flight of craft beers. They're known for their Alpers Trout Pale Ale and Lil'Walker IPA. I recommend getting a flight of four beers so you can find your favorite. I tried the two mentioned above, their Amber Ale and the Deer Brown Pale Ale. I think the Alpers Pale Ale was the best, followed by the Lil' Walker IPA.
Take your flight to one of the picnic tables outside and grab food from one of the food trucks. La Parilla (tacos) is open every day and Ohana 395 (poke) is open Thursday – Sunday.
Eat Breakfast at the Lift
I was super stoked to try this place because they have a matcha latte on the menu and their food looks delish. However, maybe I wasn't stoked enough because I didn't check their hours! Coming from San Francisco, I assumed places are open throughout the week. I didn't account for June being a mountain town just barely opening up for the summer!
With more forethought, I could've gone on the Monday morning before my hike but I was planning to have breakfast after my hike at the Silver Lake Resort cafe. 
So on Tuesday morning when I got up, craving a matcha latte, I was supremely disappointed to arrive at the Lift only to find out they're closed Tuesday and Wednesday!
Looks like I'll be saving it for the next trip. If you go, let me know how it is!
Have Lunch at Epic Cafe
Known for their deserts, Epic Cafe is also a great spot for lunch. They have a nice menu of paninis, healthy salads, and homemade soups. Enjoy your lunch outside on the patio or take it to go for a lakeside picnic. If you decide to stay, head back inside for a piece of pie or other baked treat.
I had the tuna melt with zucchini soup and homemade garlic croutons. I went back for a slice of strawberry and peach pie. It was delicious!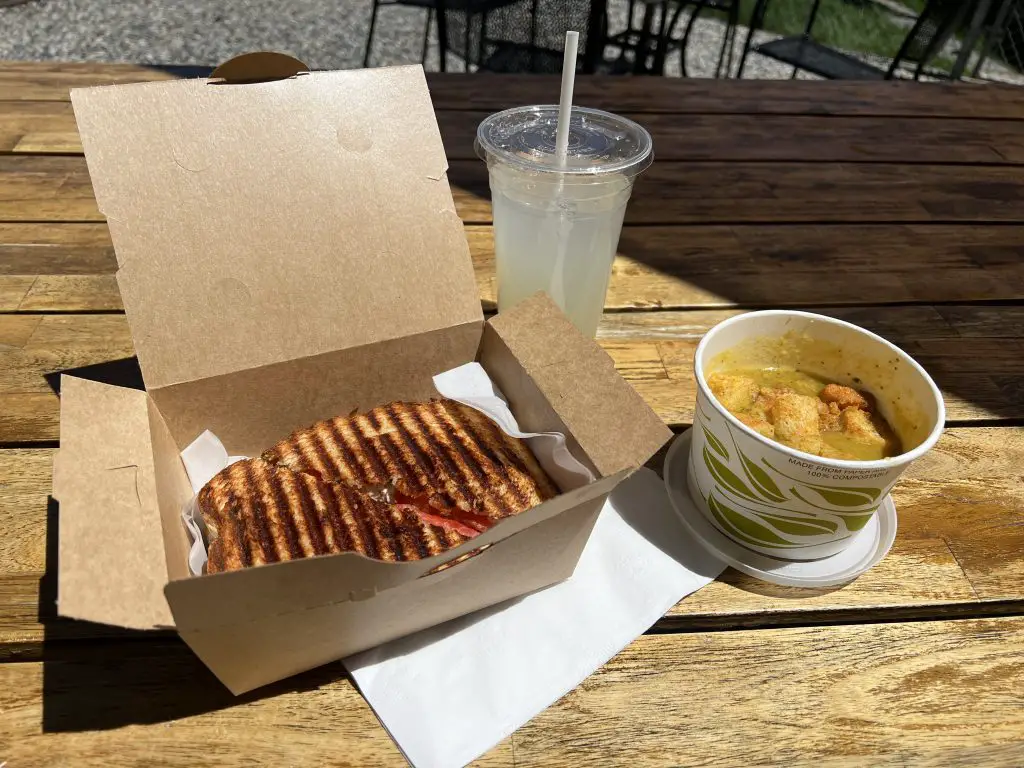 Enjoy a Smoothie from Hermitage Organic Cafe & Juicery
As I'm writing this I'm realizing just how much I ate in 3 short days in June! Anyway, if you need a light snack before dinner or pre-hike, check out the Hermitage Cafe. In addition to yummy looking toasts they have a large menu of smoothies and fresh pressed juice. They're happy to make any substitutions to the smoothies and make recommendations as well.
I had the Nutty Date smoothie but subbed Cacao Nibs for dates because she said the dates weren't blending well. This spot is a great option for a healthy treat in June.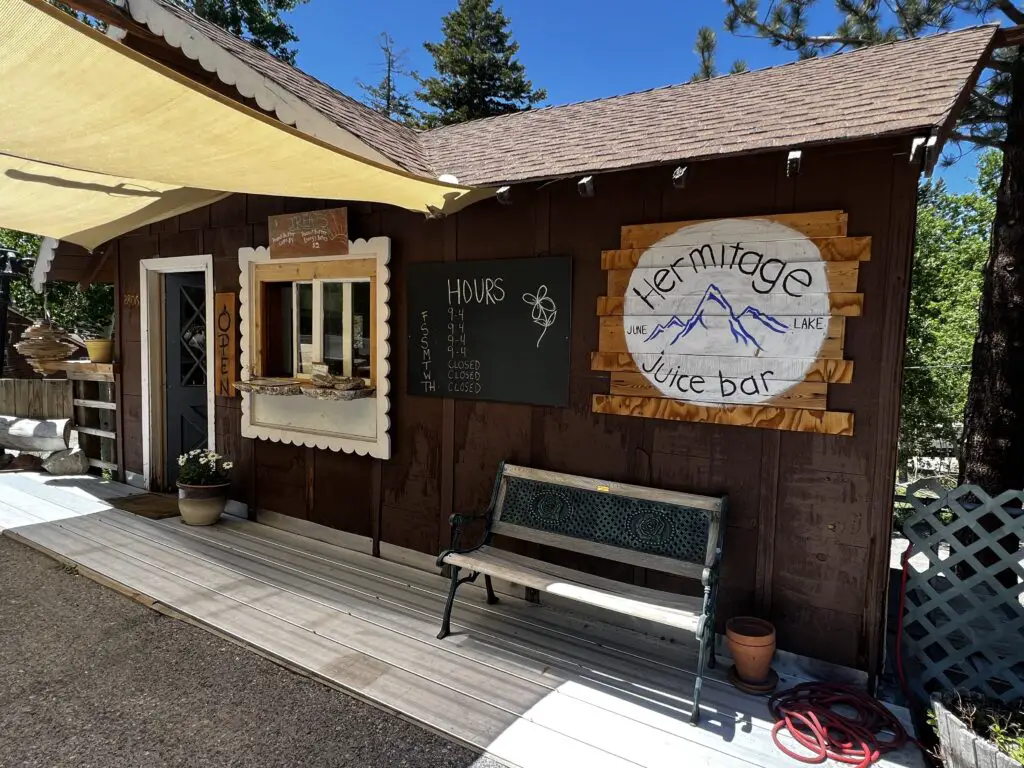 Relax in a Hot Spring
Ever since my first trip to Mammoth two years ago I've wanted to try the natural hot springs in this area. While the weather might've been a bust for paddle boarding, it was excellent hot spring weather. 
There are multiple hot springs in the area and I tried both Wild Willys and Travertine. If you're looking to connect with nature and relax in the midst of stunning landscapes, these two hot springs are a must on your June Lake itinerary.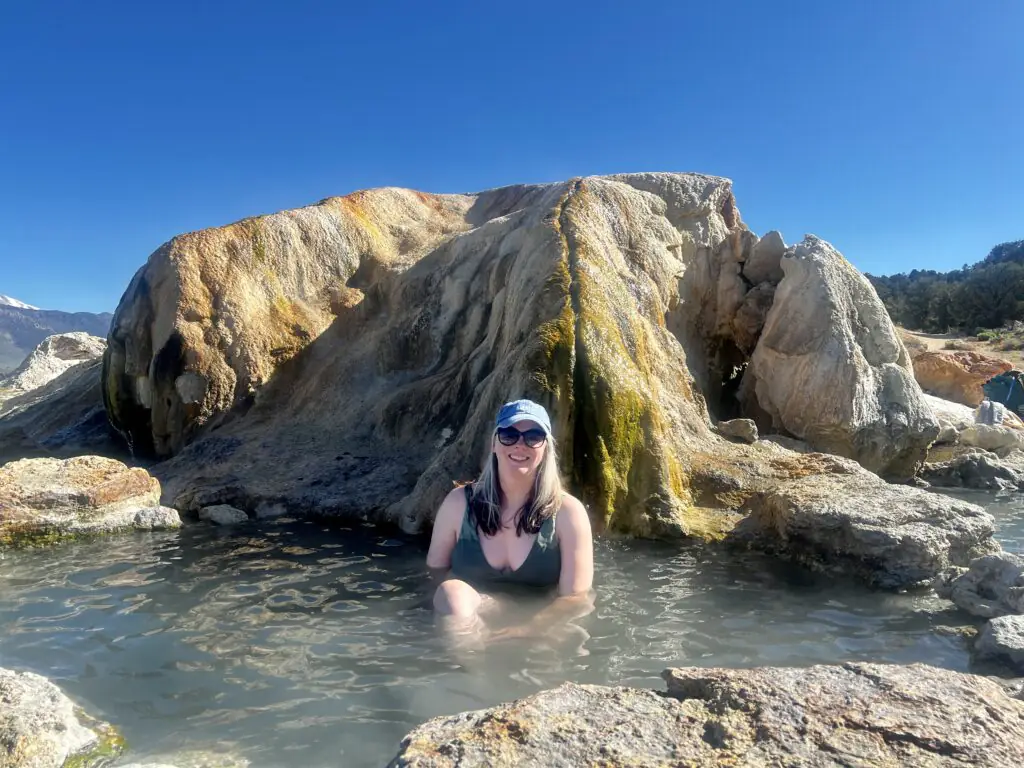 Wild Willy Hot Springs
About a 35 minute drive south from June Lake you'll find Wild Willy's Hot Spring! To reach Wild Willy's there is about a mile drive down an unpaved road to reach the parking lot. To be honest, the road here was better than the road to Travertine, so if you have a low clearance car I recommend opting for Wild Willy's.
Once you park, follow the boardwalk path to a series of hot springs. To the left of the path you'll find the Insta-famous heart shaped pool that is quite large, deep, and hot! To the right of the path you'll see a series of 5-6 pools each with varying temperatures. The top ones tend to be the hottest. The water cools as it flows down. 
Wild Willy's has a reputation for getting wild on weekend nights, so if you're interested in relaxing more than partying go in the morning or during the week.
During your visit, don't be surprised if you see other bathers enjoying nature in the nude as these hot springs are clothing optional!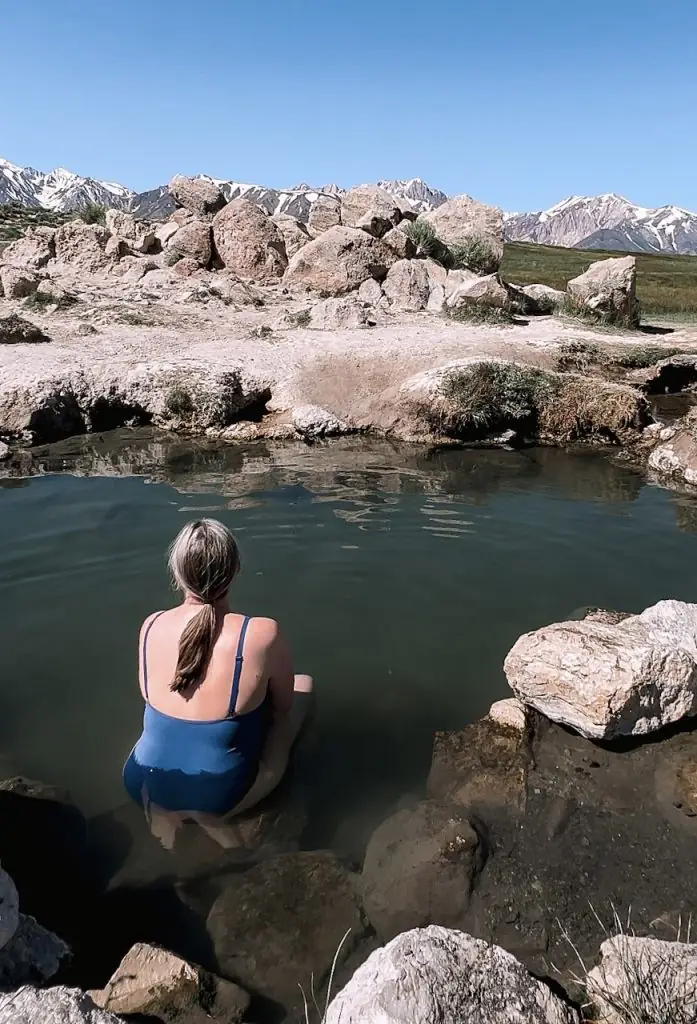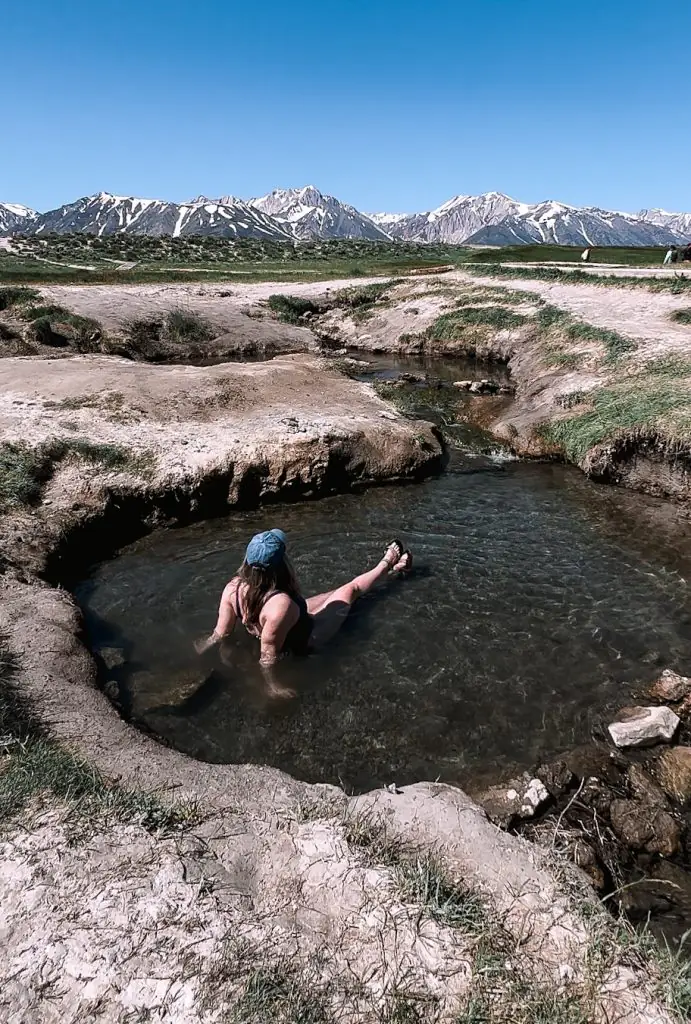 Travertine Hot Springs
In the opposite direction, about 30 minutes north of June Lake lies the picturesque Travertine Hot Springs. Once you turn off of Highway 395, you have a VERY bumpy, dirt road to the hot springs parking lot. But once you arrive, you'll be rewarded with at least 8 hot springs to choose from.
You'll see the first from the parking lot as it's a cement tub. I love that this allows those who may not be able to walk to the others the opportunity for a soak. Just past the cement tub you'll find four other tubs with varying temperatures, one of which was too hot to sit in for longer than a quick photo.
However, my two favorite hot springs here are located down the hill from these. Follow the trail through the rocks and down the hill. You'll see two springs side by side, one is deep enough to cover your shoulders and is quite warm (but tolerable). The second is wider but shallower and a bit cooler. Both have amazing, unobstructed views of the snow capped mountains and meadows. This is a perfectly peaceful way to start or end the day.
As with Wild Willy's clothing is optional here.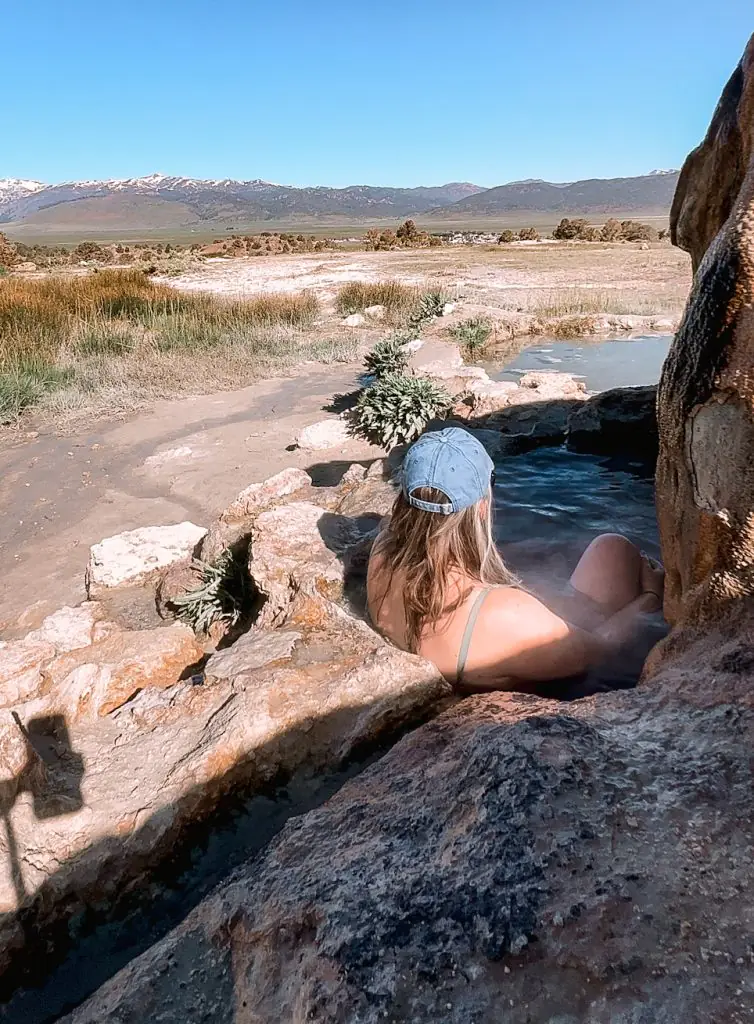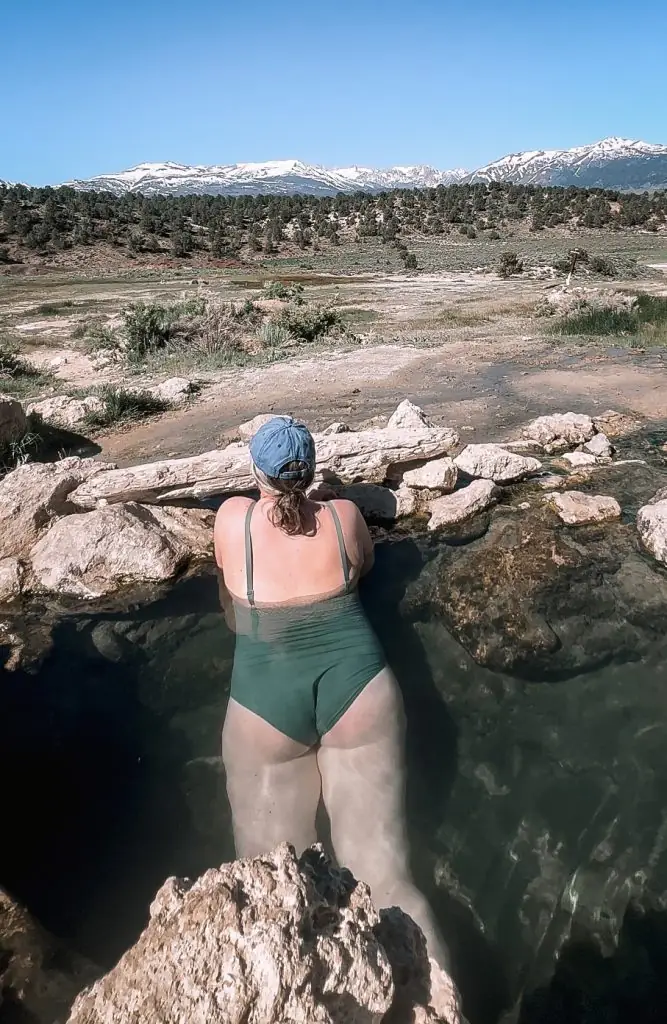 No matter which hot spring you choose to visit, you're sure to have a relaxing and rejuvenating experience.
Remember to follow Leave No Trace Principles and pack out any trash to preserve this gorgeous place for future visitors.
Indulge in a Spa Treatment at Double Eagle Resort & Spa
It might seem strange to get a massage while camping, but it was absolutely the right decision for me. The Creekside Spa located in Double Eagle Resort & Spa offers a wide range of spa treatments. I opted for a Swedish massage and my masseuse was excellent. I've been struggling with plantar fasciitis and he really worked on my calves and feet which felt excellent post hike! I also quite enjoyed using the amenities (steam room and hot tub) and getting a shower! I left feeling refreshed and relaxed.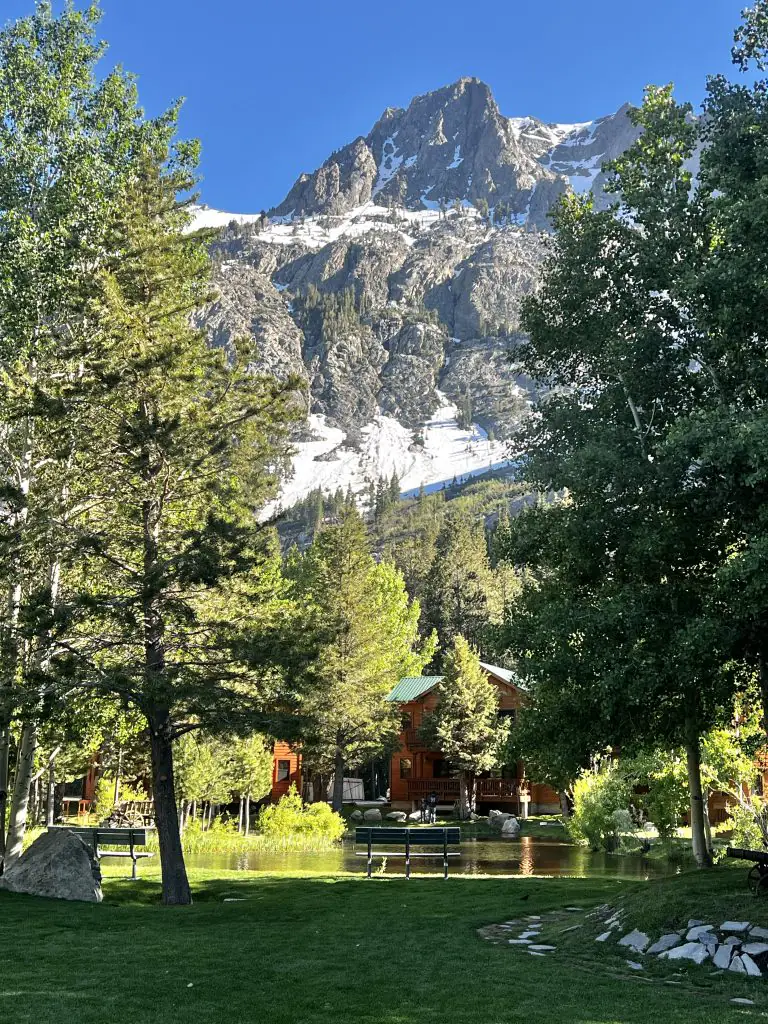 Stroll Around the Gull Lake Shore Nature Trail
If you're not much of a hiker but want to get out and stretch your legs for a bit, the Gull Lake trail is a solid option for an easy hike.It's roughly two miles long and brings you completely around Gull Lake.
I recommend going in the counterclockwise direction so you have better views of Carson Peak and the Sierras as you walk. To do this, park near the Community Center. You'll see a trail leading away from the playground. It looks steep, I know. But it turns left before the steep part begins!
The marsh was washed out when I went due to the heavy snows the previous winter. If that's the case when you go, no worries. There is a trail that leads you around the big rock. You'll lose some views of the lake, but will keep your feet dry and not fall in! 
This hike will probably take you an hour to complete, including photo stops!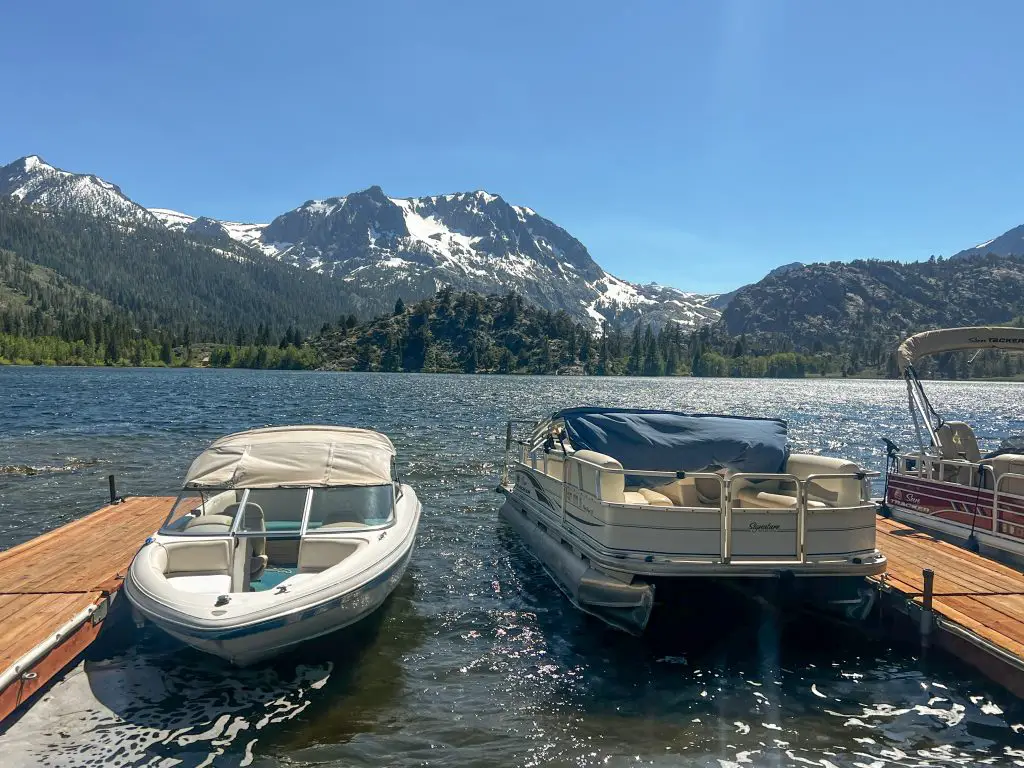 Hike the Parker Lake Trail
If you're looking for a more challenging hike, but not one that will take all day or require you to be in peak athletic fitness, the Parker Lake Trail is an absolute must. 
The trailhead parking lot is located off the north side of the June Lake Loop loop. Once you turn off of the loop, the road becomes gravel with a few potholes for the last mile. 
If you take your time you should be ok. I saw some sedans in the parking lot.
The hike starts off with a moderate climb up a gravel path. The altitude can pose an additional challenge here, so take your time. There is very little shade for the first half of the hike, but once you reach the creek you'll have a flat path with tree cover until you reach Parker Lake.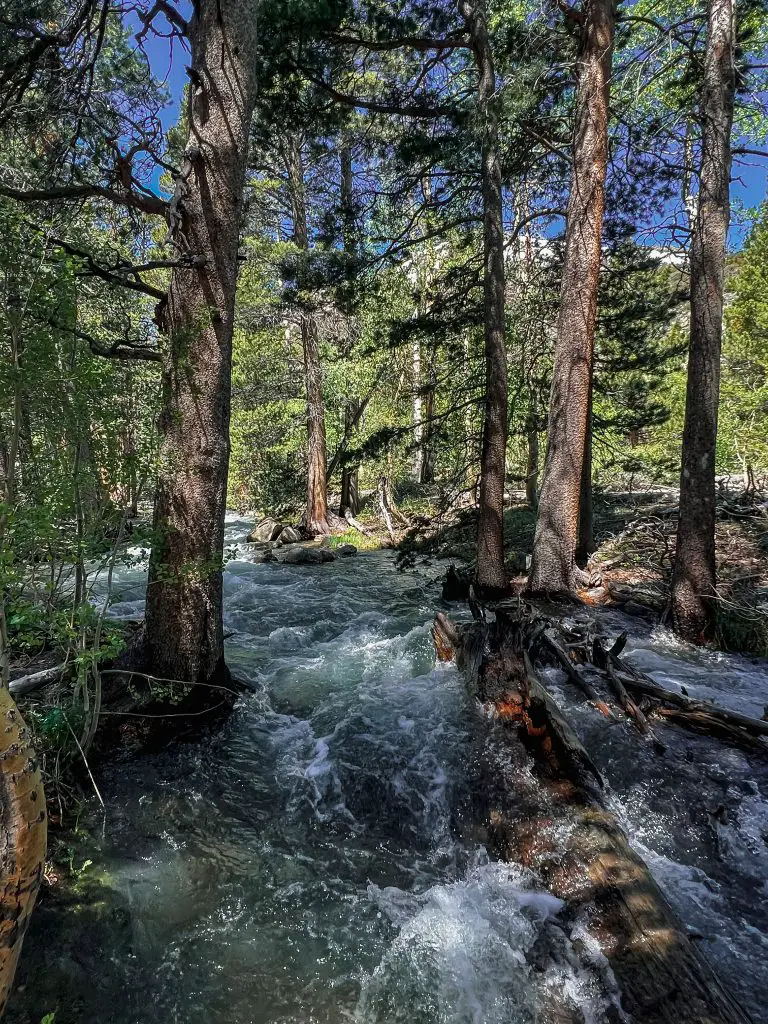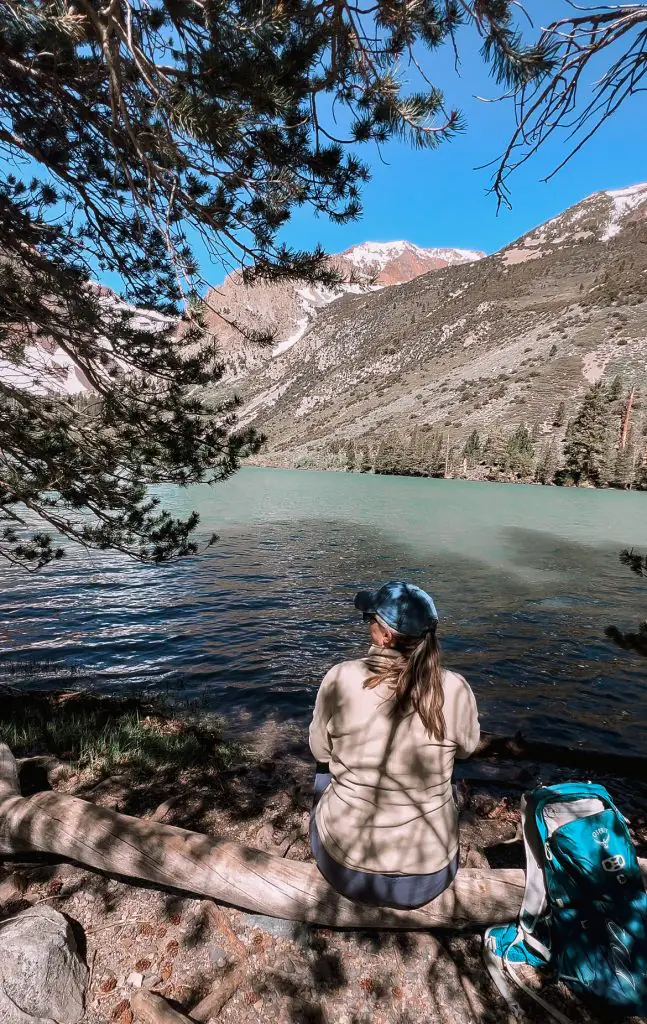 The creek was raging the year I visited, it was flowing as fast and wild as a river. It was so cool to see!
However, the real gem of this hike is the turquoise water of Parker Lake framed by the Sierras. You can walk to the left of the lake to find a perfect spot to relax for a bit and have a snack. You may even see a waterfall in the distance from the snow melt depending on the time of year!
This hike will probably take about 2.5 hrs including a rest at the lake and a few photo ops.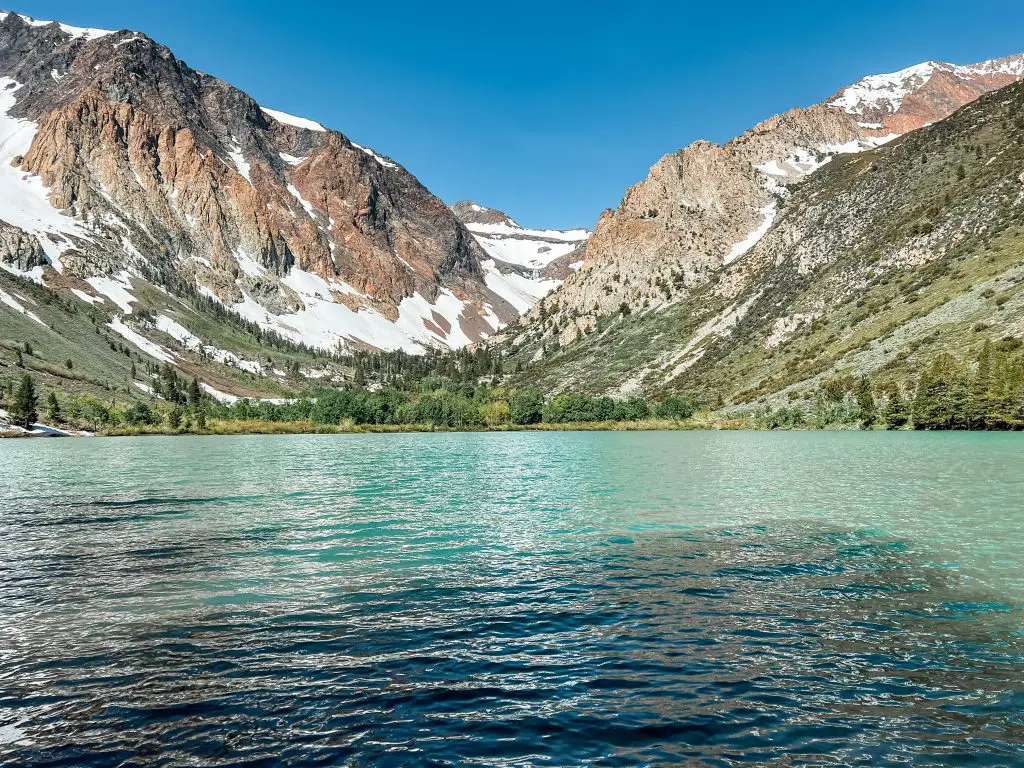 Shop in the General Store
June Lake General Store has everything you need! From quirky souvenirs to camping gear to lake floaties. You can stop in here for snacks or a drink for your road trip and will likely walk out with something random to remind you of your journey!
One Perfect Day in June Lake
If you're planning to spend one full day in June Lake on a greater California road trip or as a day trip from nearby Mammoth Mountain here's how I'd recommend you spend it. This June Lake itinerary will ensure that you drive the entire June Lake Loop. 
7:00 am: Get an early start to the day and be at the Parker Lake trailhead by 7:00 am.
10:00 am: Refuel with breakfast at Silver Lake Resort.
11:30 am – 12:30 pm: Enjoy more crisp mountain air while kayaking on Silver Lake
1:00 pm: Relax with a massage at Double Eagle Resort. And make use of the showers to freshen up from the morning's activities.
2:30 pm: Stroll around Gull Lake.
3:30 pm: Enjoy craft beers at June Lake Brewery and snacks from a food truck. Have a wander around the small town of June.
5:00: Order a pizza from June Pie Pizza and…
5:30: Enjoy a pizza picnic on June Lake beach. There are picnic tables or throw down a blanket and watch the sunset from the beach.
Where to Stay in June Lake
June Lake has multiple accommodation options that will suit any budget and desired experience. From campsites to luxurious A-frame cabins, I'm sure you'll find a place that works for you.
June Lake Camping
If you're looking for a very budget friendly place to stay, there is no shortage of campgrounds in the area, some of which have amazing views!
June Lake Campground: I stayed at the June Lake campground which has around 20 campsites, flush toilets, and direct access to the lake! It was only a 5 minute walk from the campsite to June Lake village. 
Gull Lake Campground: I found this campground while doing the Gull Lake loop and there are campsites directly on the water! Absolutely stunning. I'd try to snag a campsite here if that's what you're into!
Oh Ridge Campground: Located above June Lake Beach is Oh Ridge Campground. While it appeared to lack shade and cater to RVs and van lifers, the views of June Lake and the Sierra Nevada mountains.
Book your June Lake campsite here.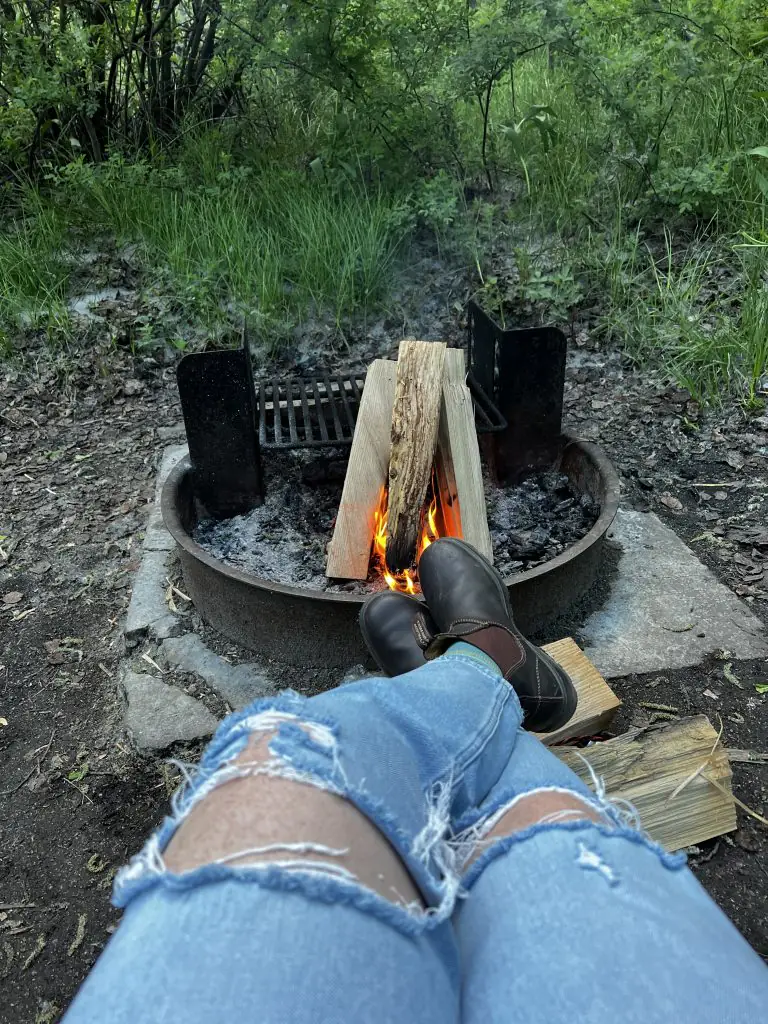 Hotels and Resorts in June Lake
June Lake has multiple accommodations from motels to hotels steeped in history. I'll highlight a few that are well reviewed here, but check out all of your options for places to stay in June Lake here.
Budget Friendly Accommodations
June Lake Motel: A cozy and affordable motel offering comfortable rooms with basic amenities. It's conveniently located near the June Lake Marina and a short walk to restaurants and shops.
Check current rates and availability here.
Gull Lake Lodge: This budget-friendly lodge provides rustic cabins and motel-style rooms with beautiful lake views. It offers a peaceful atmosphere and easy access to outdoor activities.
Check current rates and availability here.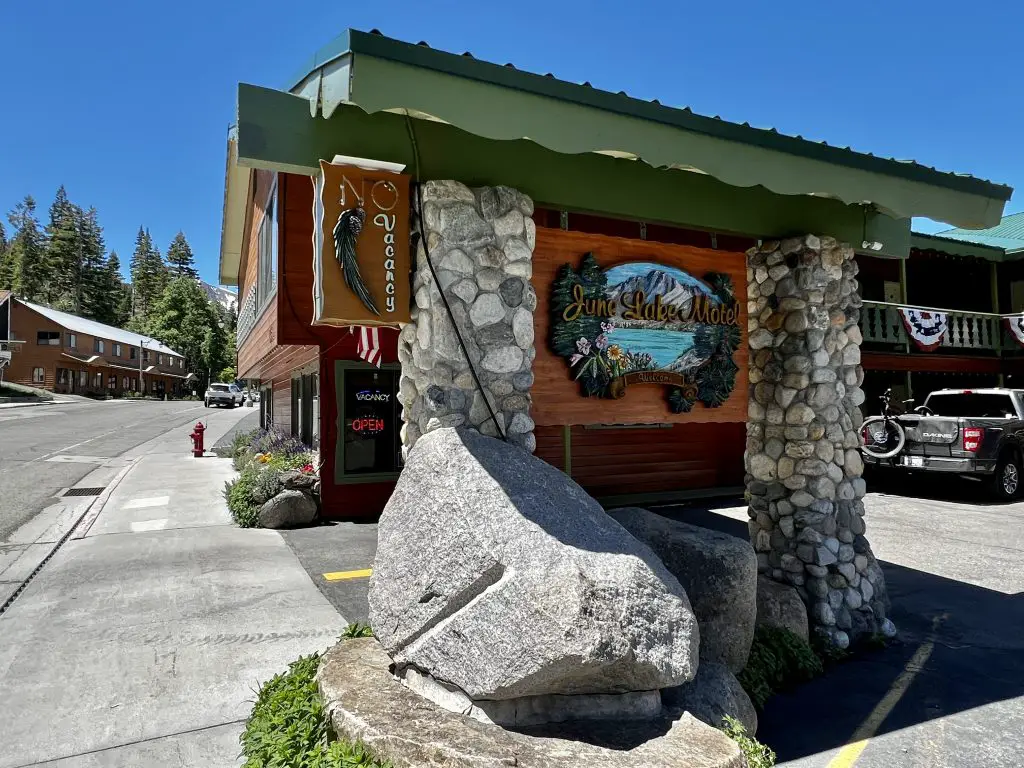 Mid Range Accommodations
Heidelberg Inn: This historic lodge that has welcomed the likes of Charlie Chaplan and Clark Gable. Inside you'll find 24 well-appointed rooms and suites, an on-site restaurant, and a hot tub which is the perfect place to relax your muscles after a day exploring.
Check current rates and availability here.
Reverse Creek Lodge: Looking for an A-Frame on a budget? Check out Reverse Creek Lodge. Located in the town of June Lake, this rustic lodge has everything you need for a home base!
Check current rates and availability here.
Luxury Stays
Double Eagle Resort & Spa: The grounds of Double Eagle Resort are stunning! It's like a man-made oasis in the midst of such natural beauty. There's also an on-site spa and restaurant to make your stay even more luxurious.
Check current rates and availability here.
Silver Lake Resort: Stay at the historic Silver Lake Resort in one of their 17 fully equipped cabins. Their cabins can accommodate up to 14 people if you have a big group or they have ones cozy enough for 1-2 people. Plus you'll be right next to the cafe to be first in line for breakfast!
Check current rates and availability here.
I hope this helps you plan an amazing trip to June Lake. These are some of my favorite spots that I found on my adventure, I'm sure you'll find yours as well! Let me know in the comments any places I should check out when I go back in the fall!