My first solo trip was also the very first time I ever stayed in a hostel. I remember being completely freaked out about the idea of staying in a dorm room with a bunch of strangers. Couple that with having no clue about what to look for in a hostel, I booked a private room at a pretty crappy place. By the end of that trip, I was staying in mixed gender dorm rooms at much better hostels! I wish I had this guide to hostels to help ease my fears about staying in them and help me figure out what the heck I should be looking for when booking!So, after countless hostel stays, and living in one for two months, I've put together this complete guide to hostels for the solo female traveler. 'Cause they're not that scary and if you know how to book, you can have a pretty epic experience!And just a heads up, there are some affiliate links in this post, which means if you decide to make a purchase, I will earn a bit of income, at no additional cost to you!
Why Should You Stay in a Hostel?
Stay on Budget
The most obvious reason to stay in a hostel is that they're budget friendly accommodations! Generally, even a private room with a private bathroom is much cheaper than a budget hotel. This means you can spend more on activities, a good meal out, or even extra nights in your location!Even though hostels are a budget accommodation option, many don't feel budget. Hostels have really upped their design game, added worthwhile amenities, and cleanliness is a major priority. I've stayed in hostels that felt like hotels for $20 per night. Yes, there are still a few bad ones out there (that I've also stayed at), but I'm here to show you how to avoid those!
Meet New Friends
Another great reason to stay in hostels as a solo traveler is to meet people! Travelers in hostels are usually down to make new friends or at least have a chat over breakfast. Those chats could lead to discovering insider tips on activities in the area, an invitation to spend the day together, or simply just a nice conversation. At the Black Sheep Hostel in Killarney, Ireland someone lent me his bike so I didn't have to rent one for my ride through Killarney National Park and at the Falling Lakes Hostel in Plitvice, Croatia I met two other solo female travelers to explore the lakes with! Don't be shy, say hi!
And just to ease your fears about being a solo female in a hostel, I've found that the majority of solo travelers I meet are women. Most of the men I've met traveling are with a friend, girlfriend, or a group. This is purely anecdotal evidence, but from my experience, we outnumber the guys! Hell yea ladies!
What Type of Hostel is Best for You?
I'm sure that there are multiple classifications for hostels out there, but these are the four most common ones I'm familiar with. Some hostels might even fit into more than one category, but knowing these descriptions will help you narrow down your choices when it comes to booking. I do my best to avoid the party hostel and usually book the budget or boutique options.
The Party Hostel
This is pretty self-explanatory, but a party hostel is just that, a place to party. Party hostels usually cater to a younger crowd, on a gap year, just out for a good time, that doesn't care about nursing a hangover all day to just do it again the next night. Not that we all haven't been there at some point!
There's usually a bar on site, an emphasis on socializing over culture, and not much sleep occurring. This could be fun if you're up for it and know what you're getting into. Or it could lead to a few miserable days if you're not a partier. This information is usually disclosed in the hostel's description or in the reviews.
The Budget Hostel
Does the term budget hostel conjure up dirty bathrooms and bed bugs? Thankfully, things have improved in the budget hostel world! (But be sure to check reviews about those things before you book). A budget hostel will give you just what you need with no frills. There may not be many private room options, but there is usually a kitchen where you can cook your meals and a common area to meet people. This is really all you need, unless you want to spend all of your time in an exotic destination in the hostel. The crowd in a budget hostel is usually long-term travelers, groups, or even people staying long term.
The Boutique Hostel
I love a good boutique hostel, especially when they're only a few dollars more than the budget option. Boutique hostels come with all of the design and amenities of a hotel, but for a much more wallet friendly price. They usually have amazingly large kitchens, perhaps a cafe, beautifully designed common areas, stylish rooms and bathrooms, and sometimes even a pool! Since they're a bit more expensive they're nice for the odd weekend or when you want a bit more coziness in the middle of long-term travel.A boutique hostel would be an excellent option for a first-time hostel stay. It's a good way to ease into hostel life.
Top 4 Considerations When Choosing a Hostel
Location
The closer you can stay to where you'd like to visit, the better! Find the address to the hostel of interest and plot in on maps to see where it is in relation to the attractions. It's much more convenient to just walk out of your hostel door into the action. The Yak Lake House hostel where I stayed in Bacalar was right on the lake!Don't totally rule out hostels a bit further away, sometimes you'll find a gem. When I visited Croatia, I picked a hostel 45 minutes south of Split. The hostel was in a tiny town, had a huge kitchen and the back patio had a diving board directly into the Adriatic sea. It was amazing doing morning yoga and then jumping into the water for a morning swim! I was so glad I didn't stay in Split! If you decide to stay further out, make sure it is close to public transportation.
Reviews
Always check the hostel reviews! I spend most of my time in the reviews section of booking sites. Specifically, I look for reviews from fellow solo ladies. Sure, sometimes there's just a disgruntled guest who wants to complain, so I check to see if the management responds. To me, this shows that they're attentive and committed to improving. However, if there are any mentions of bed bugs or security issues I remove that hostel from consideration. TripAdvisor is a good place to find honest reviews.
Ratings
On booking sites the hostels are rated, usually out of 10. I always filter for this to be above an 8.0 before searching. This allows for some negative reviews but means that it's overall a good place to stay.
Size
I tend to lean toward smaller sized hostels and avoid the 200-bed ones (oh they exist!). I feel safer in the smaller hostels, the staff cares more about my experience, and there's just less commotion. You can try them both and decide for yourself which size you prefer.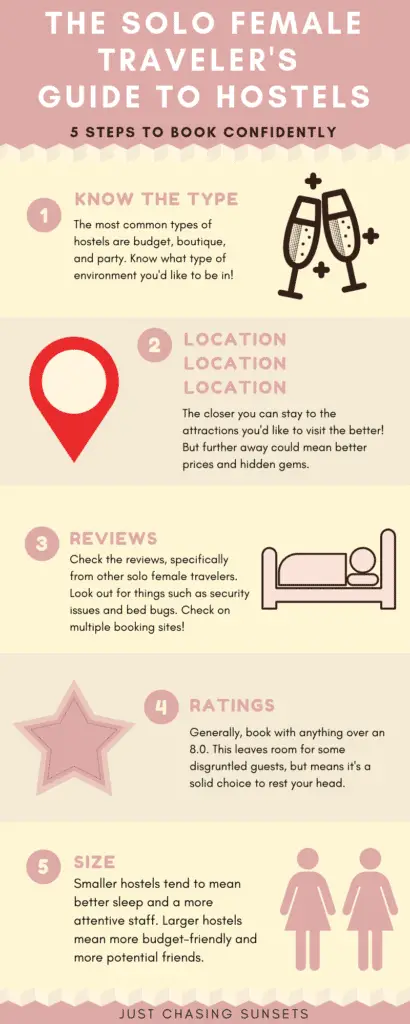 Essential Hostel Amenities
There are some essential travel items that I always have on my hostel packing list to ensure that I am safe and comfortable.  However, a good hostel will also provide certain amenities, like bed sheets and perhaps a towel for rent, which means I don't have to carry a sheet with me and even though I travel with a travel towel, I always rent one if it's available because I miss real towels on the road!
Lockers & Linens
Both of these are non-negotiable for me. Lockers allow me to safely store my valuables while I sleep or go out for the day. Lockers are either stacked against a wall or some bunk beds have them underneath the bed. MAke sure to bring a lock to lock them up! Linens should also be provided, it not, I don't stay. Towels usually aren't included, but could be rented for a fee.
WiFi
Most hostels have WiFi, although its strength is questionable. This becomes a struggle if you want to teach English online (or stream Netflix) as the signal may not be strong enough. Especially when sharing the same WiFi with an entire hostel. The best way to ensure a strong WiFi connection to work, Skype with friends, or plan your next destination is by bringing your own. This portable WiFi works well!
Security
You may not know how secure a hostel is until arrival, but you can get an idea from reviews. Often times, if you're staying in a dorm room, there isn't a key for the room. Which makes those lockers even more essential. Sometimes there is a keypad lock on the door. I've stayed in places where the door doesn't lock and there hasn't been an issue. However, if you feel unsafe at all, just leave. Forget the deposit, or ask for a refund due to you feeling unsafe and leave. Then please write a review so we can avoid it!
Not so Essential, but Still Priority Hostel Amenities
Kitchen
Some hostels have kitchens, some don't. Depending on your plans for your trip, you may or may not need one. I know, super specific here right? But basically, if you're on a budget, cooking for yourself is a great way to save money. But if you don't mind eating out, then maybe a kitchen isn't necessary.
Breakfast
Not all hostel breakfasts are created equal. Some offer just toast and butter. Others have a full buffet for free! I've stayed at a few that have a chef cooking breakfast and dinner for an additional fee, but it was better (and cheaper) than the restaurants!
Bed with Privacy Curtain & Outlets
I love it when bunk beds come with a privacy curtain that I can pull shut. It's like my own little cocoon of space in the midst of a dorm room. Even better when the beds have their own plugs and lamps. I don't like leaving my electronics charging across the room while I sleep or "fighting" for a plug. Added bonus if there is a shelf to put my electronics on so they don't fall down to the bed below me (it's happened…more than once…)
Laundry
Laundry facilities typically aren't necessary for a short trip. For long trips, I usually do sink laundry for undies and some shirts. I am also the queen of Febreeze. But after a few weeks of that, it's nice to have a backpack filled with clean clothes. Hostels with laundry facilities are clutch. Usually, it costs $6-10 to do one load of laundry. But I've also stayed where it's free. It doesn't hurt to ask.
Bonus Amenities
Yoga
Yoga is being offered more and more in hostels, usually for free. I was able to teach yoga at a hostel in Ecuador for two months and the guests really enjoyed it. If it's free, I highly suggest you tip your yoga teacher or buy them a drink!
Pool
This is a total luxury, but an awesome one when you can find it. I stayed at a hostel in Paracas, Peru that had a pool and it only cost $15 per night. Totally worth it!
Bar
Having a bar onsite does not necessarily make it a party hostel. It can be intimidating as a solo traveler to walk into a bar by yourself, but a hostel bar decreases that anxiety. They're a good place to have a drink and friendly conversation with a fellow traveler and perhaps find a buddy to explore the local nightlife with. Usually, if there is a bar on site, they don't allow you to bring your own alcohol in to the hostel. 
Airport Transfers
If there isn't safe or reliable public transportation at your destination, it might be worth it to see if the hostel offers an airport transfer service. I used the one for Community Hostel in Ecuador as I was arriving at night and it was about the same price as a taxi.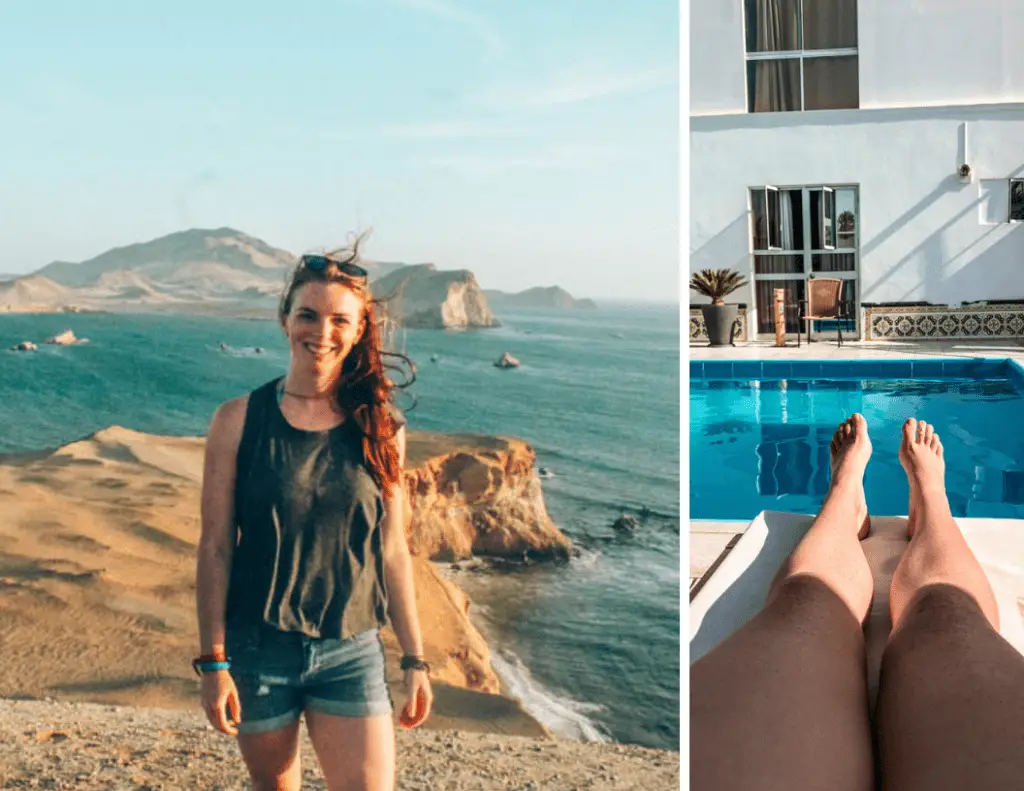 Booking Tours Through the Hostel
Most hostels allow you to book tours through them. They have contacts with local tour companies and can set it up for you. This saves bouncing from tour company to tour company to set one up!
Types of Room Options fo Book
Now that you know the types of hostels and what amenities are a priority for you, it's time to choose a room!
Private
Private rooms are a great option if you're just starting out with hostel life or want a bit of privacy without the hotel room price tag. At a Casa De Cecilia hostel in Mindo Ecuador, a private room was only one dollar more than a 6-bed dorm, so yea, I splurged on that one! A private room doesn't necessarily mean a private restroom. Be sure to double check before reserving! 
Dorms
Dorms come in all sizes. They usually start at 4-bed and the largest I've seen (and stayed in) is a 16-bed dorm. The larger the dorm, the cheaper the price. But also with more people comes more opportunity for a poor night of sleep. It's more likely that someone will be coming in late (…and drunk) and then someone else will have an early morning departure. I found a 6-bed dorm to be my sweet spot. Enough people to make friends, but not so many to totally ruin my sleep!
All Female or Mixed Dorm
More and more hostels are offering all female dorms for the same price as a mixed dorm. This totally depends on your comfort level, but I honestly prefer mixed dorms. Here's why: since I prefer 6-bed dorms, I find that groups of girls also prefer 6-bed dorms. And groups of girls are usually not that welcoming to another girl joining their journey. But in mixed dorms, I've found more solo travelers, both male and female, who are open to new friends! This totally depends on your comfort level though and I totally understand wanting to stay in a female dorm.
How to Book Hostel
At this point in the process, you should know the hostel you want to stay at and the type of room. It's time to book it! These are four of my tried and true methods when it comes to booking a hostel.  I usually go with Hostelworld, but I explore other options to find the best bang for my buck (and time!).
I generally start my search with Hostelworld. They have the largest inventory of hostels and even some B&Bs. Their website and app are very user friendly as well. Just type in your destination, dates, and number of guests and it will populate a list of hostels. Just a heads up, the ones at the top of the search results are usually paying to be there. Then I add my 8.0 rating filter and I bring the price filter down to the highest I'm willing to pay. Hit search!
Once I have my filtered search results, I click into each property, read the reviews, look at the photos, see what amenities are offered, and its location. Now that I've got a small list narrowed down, I'll double check them on booking.com.
The prices are generally the same on Booking.com although since I use it so often, I get a 10% discount at some properties. So if a property I'm interested in offers that, I'll book through them. Another reason I prefer to book with Booking.com is they don't charge any reservation fee up front. I've had to cancel last minute through Booking.com and after getting the OK from the property, they were super helpful with canceling, meaning I didn't lose any money! I also double check the reviews here.
Another perk of using Booking.com is it lists all types of accommodation. So you might find an interesting B&B for your price range or even hostels not listed on Hostelworld (since Hostelworld charges hostels to be listed on their site).
Book Directly with the Hostel
The last place I'll look online is the hostel's website. If the hostel website is poorly designed, I will just book through Hostelworld or Booking.com for fear that something might go wrong with my reservation. I've even clicked on "reserve" only to be redirected back to Hostelworld! However, some hostels have awesome websites and offer discounts if you book directly through them. The boutique hostel where I stayed in Galway gave me a 5% discount per night for booking directly with them. So it's worth a check!
The Wander Approach
I've met travelers who have no idea where they will stay upon arrival to a destination. They wander until they find one that suits their budget. I tried that one time and hated it. Having to carry my things in and out of places was annoying and it honestly made me feel like a target. I much prefer to book at least one night at a hostel. This way I know I have a place to sleep and if it's not up to par, I can spend some time wandering to find a new one without carrying all of my bags.
Make the Booking
Once you've decided on the hostel and room type, go ahead and book with your preferred site.Then save the confirmation and put the location in a note on your phone. I also save it in my Google maps because I generally walk to the hostel. This helps me plot how I will get to the hostel and if there are any questions, I reach out about the best way to safely arrive.
Hostel Safety Concerns
These are things to note when checking into a hostel and ways to feel safe and comfortable during your stay. 
The room should have a locker that locks or that you can use your own lock on. I stayed at a hostel in Croatia that had locks with a key, but they didn't have the key. They also thought it was weird that I was concerned about the safety my belongings. People just don't steal stuff in Croatia I guess?

Put all valuables in the locker! I put all of my electronics and medications in the locker.

Lock up your other bag. Yep, once my valuables are locked in the locker, I also lock my backpack. (I travel with two travel locks)

Does the room have a key? It's common that keys aren't given out for dorm rooms, but if that's uncomfortable for you, request that you stay in a room that locks.

Find out if there is someone at reception 24 hours per day. Just in case something happens at night, know who to contact.

Try to arrive during the day. Things look nicer during the day and you can get a better feel for the neighborhood you're in.

If something is wrong and you feel uncomfortable, alert the staff. They should resolve the problem in a way that makes you feel safe. If they don't, request a refund because you fear for your safety. If they don't give it, just freaking leave. It's not worth it!
Check out this post for more solo female travel safety tips!
Hostel Packing Essentials
Make sure these items are on your hostel packing list for a safe and comfortable stay.
Two travel locks. One for the locker and one for your backpack.
Eye mask. Some people watch movies on their laptops or flip the lights on super early. An eye mask will help remove these distractions so you can sleep soundly.

Ear plugs. Ok, so everyone recommends ear plugs. I've used them, but I find they barely cancel out any noise and they always fall out. Maybe I just haven't found the right ones. But if it's loud I'll just put on music and fall asleep with that.

Laundry detergent and clothesline. I travel with packets of liquid detergent that I can use in the sink to wash my undies. I generally just hang them around the bed to dry, but I recently purchased a line to tie up that is much for effective. You could also use a rope.

Towel. Some hostels provide a towel, some charge extra for one, some don't even have this option. It's best to travel with a small towel. I use this one. It kind of feels like drying with a ShamWow – but it's lightweight, dries quickly, and does the trick.

Flip flops. Not all showers are cleaned equally.

A robe. Countless times I wish I'd brought my lightweight robe for after my shower. I suppose a swimsuit cover-up would work too (as long as it's not see through, but you do you boo!)

Tupperware. Making meals in the hostel kitchen is an awesome way to save money. What's not awesome –  when you've made too much and don't have anywhere to save it. I've resorted to a bowl with a plate over it numerous times. I do wish I just had a Tupperware to use. Then I could also use it to pack sandwiches in for travel days.
Hostel Etiquette
There are certain unwritten hostel rules that come with being a good hostel roomie. Basically, be a decent human being and be aware that you are sharing space with others. But here are a few specifics:
If you're leaving early in the morning, pack your bag the night before. Get ready in the bathroom, grab your bag, and leave with as little noise as possible.

Please don't paint your nails in a dorm room. It smells bad!! 

If you're going to cook in a dorm room (because the hostel doesn't have a kitchen) offer your food to the other guests!

Sex – just get a private room. Split the costs.

Listen to music, watch movies, and make phone calls with headphones.

Contain your mess!
And with that, you have what I wish I had three years ago – a complete guide to hostels for the solo female traveler. I wish I'd discovered something like this when I first started traveling. I would've felt much more confident about staying in a hostel and booking a good one! If you found this to be a quality resource that other solo female travelers could benefit from, I'd love it if you could share it with them! Now that you know how to book, it's time to figure out where to go! I've developed a 4 step process to taking the overwhelm out of deciding your first destination. Drop your email below and I'll send it to you!
Like this post? Pin for later!