Laguna Bacalar, also known as the lake of seven colors, is quite the sight to see from the pier. Its turquoise color changes to dark blue then crystal clear with a bit of purple in between. If seeing the colors from the pier was mesmerizing I imagined a boat tour of Bacalar would bring the colors to life. And what's one of the most popular things to do in Bacalar – boat tours.
This meant there were plenty of options for getting on the water. My hostel offered SUP at sunrise or sunset, companies in town offered motorboat cruises, and there were a few Bacalar sailing tours. Until this point in my life, I'd never been on a sailboat, so I chose that option. There were two times for sailing, 10:00 am and 3:00 pm. As I was the only person signed up for the 3:00 pm sail, I asked if we could leave a bit later in hopes of catching the sunset. The company agreed!
The next day I patiently waited to see my sailboat arrive on the pier. I was a bit nervous knowing that I was the only guest. I was giving my introverted self a pep talk as the boat came into view. As it turns out, the owner invited four of his friends to come along to make it more fun for me. As soon as everyone was loaded on the boat, one of them opened a cooler full of beer and passed me one.
This sail was off to a fine start.
Cenote
As we moved throughout the water, the colors changed from turquoise to purple-blue to blue to dark blue, to teal and back again. We arrived in the dark blue portion, a cenote on the side of the lake. Here we hopped out for a swim and snorkel. I didn't see anything with the snorkel, but the water is so refreshing on a warm evening, it didn't matter. The boys climbed a tree and jumped into the dark blue waters below. I considered it, but the climb up looked a bit sketchy so I opted out of that adventure.
After about 45 minutes of swimming and jumping, we continued our sail. As we moved further south, the houses along the lake grew in size. The owner of Corona owns a sizeable home next to the "China House", which sits next to the "India House" as described by the guide. The houses earned their nicknames as their architecture resembles temples in China and India.
Preserving Laguna de Bacalar
The captain of the boat described a law preventing large hotels from being built on the lakefront. In fact, a few years prior a luxury hotel was under construction, yet it was forced to shut down and now sits abandoned on the shores of the lake. Keeping large hotels at bay helps Bacalar maintain a steady, yet small, stream of tourism and preserves the health of the lake. As people discover this gem, tourism will inevitably grow, leading to more boat tours.
The captain relayed that the majority of companies use motorboats to run their tours as they can hold more people and are faster, increasing the number of tours they can run daily and improving their bottom line. More motorboats equal more pollution. Which could cause major problems for this seemingly untouched piece of earth. I felt inspired by the captain's passion for keeping pollution in the lake to a minimum.
Bird Island
We then arrived at bird island in the middle of the Laguna that is a protected habitat for birds. Various species of birds fly to this island during northern winters. Visitors are not allowed to step foot here, so we docked near it for snack time, a very important part of tours for me. I hopped off of the boat for a swim and immediately sunk knee deep into the sand as all of the boys laughed at me.
The captain said he liked to see people's reaction when they first sink into the sand. It's incredibly fine and actually was a nice exfoliant for my legs, thank you! We snacked on mangos and pineapples and shared a few more beers and stories. It was incredibly relaxing, but we had to get into position for sunset, so we sailed along.
Sunset at Pirates Canal
We arrived at Pirates Canal, a channel which gave pirates access to land from the Caribbean sea. Now there is an abandoned site that was once destined for restaurants. The captain was happy that the restaurant plans did not come to fruition as it would add to the pollution of the Laguna. Where would all of the food waste go? Listening to him talk passionately about a cause he believed in stirred something in me to keep searching for my passion.
It was a cloudy evening and he kept mentioning that it likely wouldn't be a good sunset. Which in all honesty, where the sun actually set wasn't great. But the colors it cast off in either direction made for a stark contrast to the crystal clear waters.
It made me realize, it's not just about the sunset. The colors the sun casts off in either direction and that remain for a few moments after the sun disappears is where the magic happens. It's the beautiful effects the sun has on the sky when it's not even around. A reminder that what we do each day has a ripple effect, that maybe we can't even see. Even though the captain continued apologizing for the lack of the sunset, I was quite content to be swimming in the fresh blue waters watching the sky turn all different shades of purple. It turned out to be one of my favorite ways to watch the sunset in Latin America.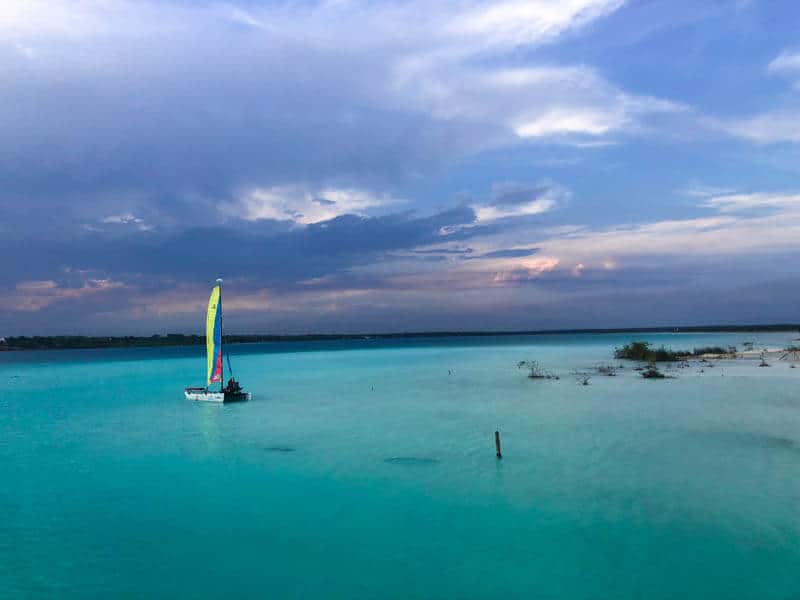 If you have the opportunity to visit Bacalar, definitely consider a sunset sail. It's more expensive than the other boat tour options in Bacalar, but a very relaxing and informative way to see the island. Plus sailing adds no pollution to the Lake and helps keep it clean. If sailing is too far out of your budget, get on a paddle board. It's a budget and eco-friendly way to see the lake, with an exercise bonus.
Like this post? Pin for later!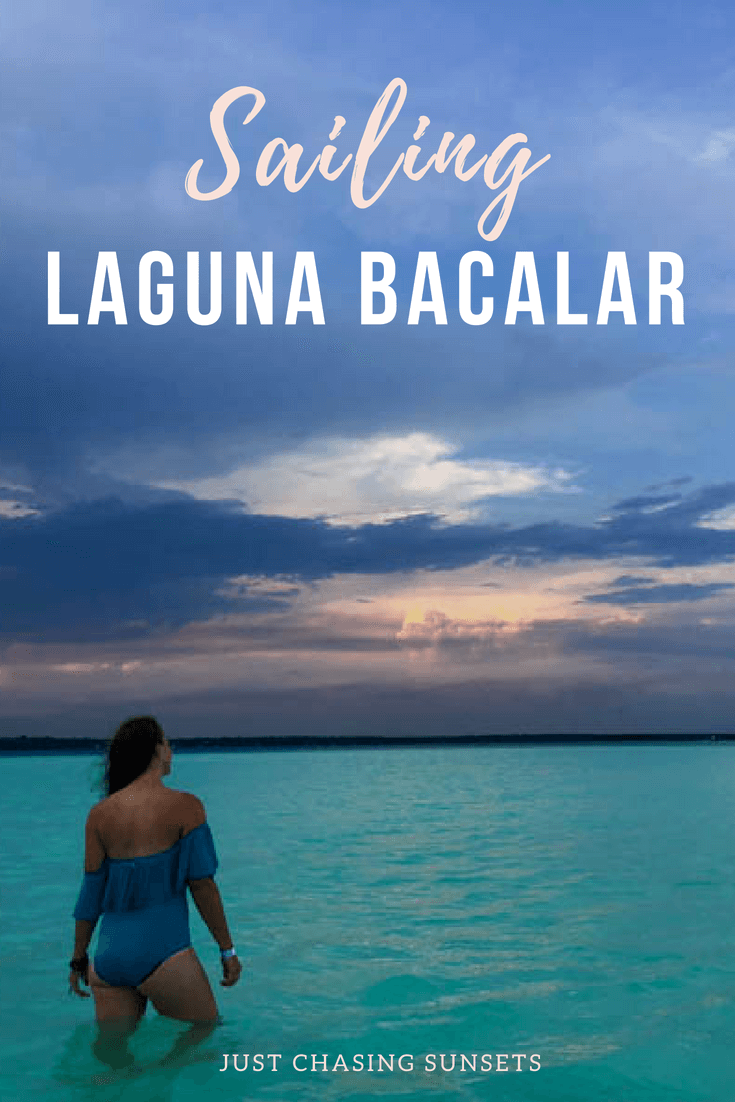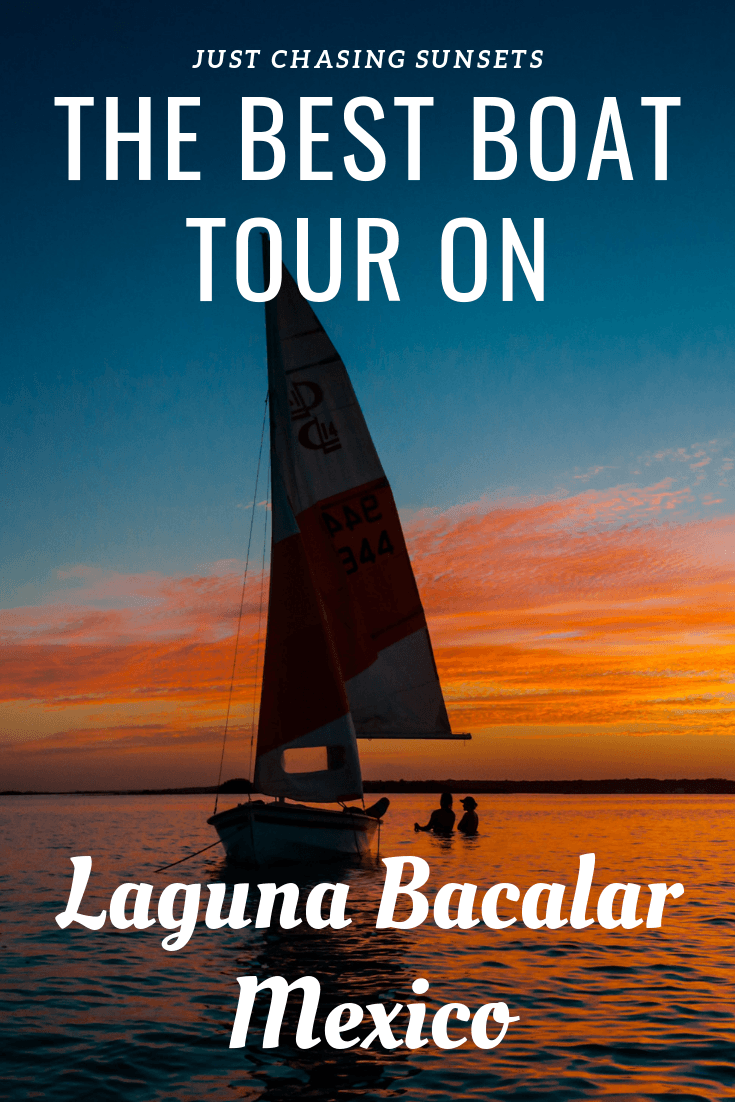 What to Know Before Quitting Your Job
In this PDF we will go over 5 things to consider BEFORE quitting your job to travel. It includes brainstorming worksheets, sample spreadsheets, and more!