Tulum, Mexico is known for its beautiful beaches and Instagram ready beach road. Since it seemed to be a blogger and influencer hotspot, I imagined Tulum to be a budget-friendly destination. After all, blogging doesn't really bring in that much money! As I got to planning my trip, it turned out I was wrong. Visiting Tulum would prove to be an expensive part of my year-long trip if I wanted to stay in a beachfront hotel and eat on Tulum's Instagram ready beach road restaurants. Instead, I found budget accommodation and of course, Tulum cheap eats! This post will detail the best cafes and restaurants to eat at if you're visiting Tulum on a budget!
Where to Stay in Tulum on a Budget
I stayed in the town of Tulum, which is much more developed and busier than I'd anticipated. In town, you'll find plenty of budget-friendly hostels to suit any style of travel.
I stayed at Mama's house for about 10 days. They offered a free hot breakfast every morning and at night they organized social events to meet other travelers. The owner is incredibly warm and welcoming and will tell you where to find the cheapest eats in Tulum. It's from him that I learned about La Eufemia.
Tulum Cheap Eats
Before I get to La Eufemia, and the other places you should eat, I must say that you'll find the cheaper places are in town. Just because they're cheaper it does not mean that they don't taste as good or the quality is worse. Actually, quite the opposite.
I went out for dinner one night with friends from Mama's home at a restaurant across the street from the beach. My fish cost $240 pesos, almost triple than what a similar dish cost in town and was lower quality.
La Eufemia
La Eufemia is a totally different story and the best place to eat with your toes in the water, ass in the sand.  La Eufemia is a backpacker and budget traveler favorite. Why? It's inexpensive, yet delicious, eats on the beach. There's no reason that eating on the beach in Tulum should totally break the bank.
You could actually spend an entire day at La Eufemia. They have mattress and lounge chairs to relax on in the sand as well as normal tables and chairs inside their restaurant if you need a break from the sun.
Grab a chair, a mattress or shade from the palm tree and get ready to eat some of the best seafood tacos! The most expensive taco on the menu was $90 pesos, but it contained, so that seemed like a fair price reasonable. There are plenty of other scrumptious options on the menu as well, if tacos, for some reason, aren't your thing. You can also order a wide variety of drinks from fresh coconuts to margaritas. They will bring your food to you, but inside is where you'll find the delicious sauces. Make sure to save your seat!
At La Eufemia you get the same treatment as the other beachfront eateries, the same beautiful view of the ocean, however, the vibe is much more laid back, and of course, the prices are on point. There really is nothing better than eating fresh fish tacos with the waves crashing in front of you surrounded the chill vibe of like-minded travelers knowing that your relaxation isn't breaking the bank. If that sounds like an ideal way to spend the day, head to La Eufemia.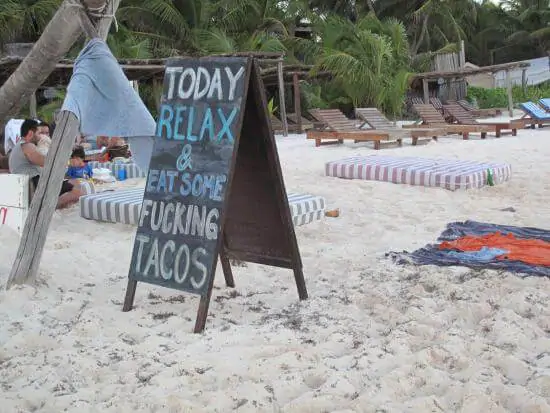 Antojitos La Chiapaneca
This corner taco spot is about one block from the ADO bus station on Avenida Tulum. You really can't miss it with the crowd of people out front and the large spigots of meat. Even though this place tends to get crowded, especially around lunch and dinner, service is quick and friendly.
You can take a seat at the counter outside to watch them make fresh tortillas and assemble the tacos. Or have a seat at one of the many tables on the sidewalk or inside. The price of their tacos is too low in my opinion. You order them a la carte, each taco costing 8 pesos. If you'd like cheese it costs 12 pesos. That's around 50 cents (USD) per taco.
I visited Antojitos twice during my stay in Tulum. The first time I picked a variety of three different types of meats with cheese and found that the al pastor tacos were the best. So, the second time I got three al pastor tacos with cheese. Al pastor is the meat that you'll see roasting on a spigot when you walk in. It is delicious.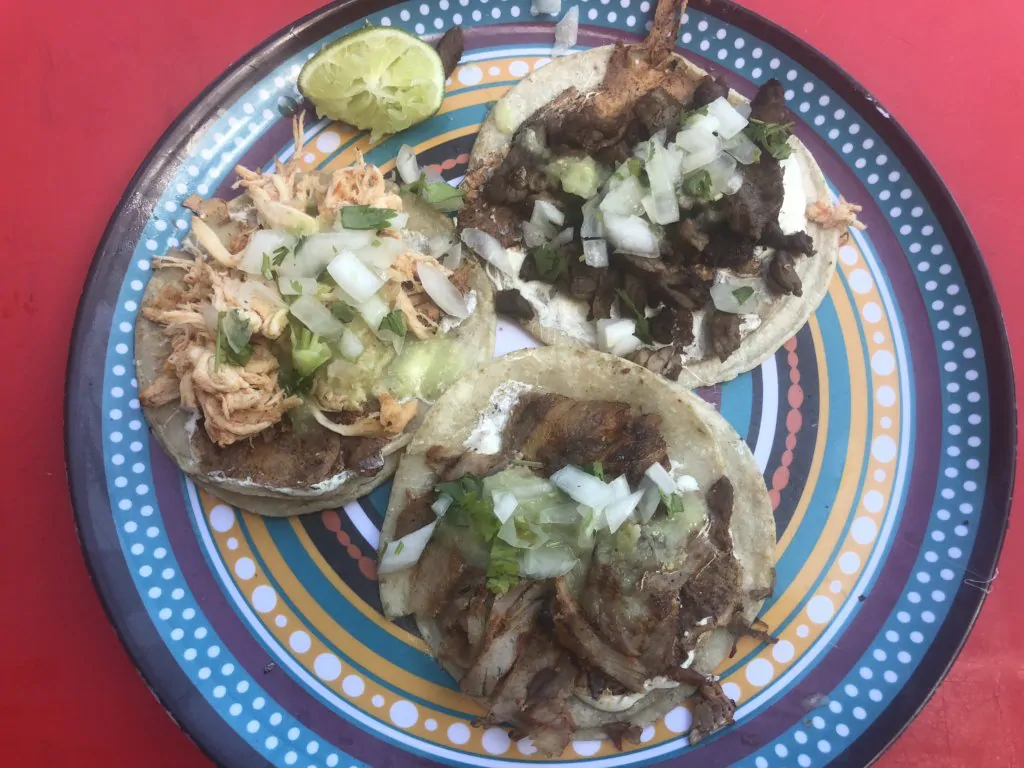 Sabor del Mar
When a friend tells me he ate at this place three times in a row, well I've got to see what it's about. Sabor del Mar is a small location on Calle Jupiter Sur, just across Avenida Tulum from Antojitos La Chiapaneca. I first attempted eating here on a Wednesday around 9:00 pm, it was packed! And there was a line of people waiting. I  was pretty hungry, borderline hangry, so I walked across the street to Antojitos for tacos.
But seeing as my friend's recommendation was backed up by the crowd of people, I tried again the next night. This time arriving a bit earlier, around 7:00 pm, and got the last available table in the tiny restaurant. Even though its description read "marinated in chipotle sauce" I ordered the fish burrito for 90 pesos I also confirmed with the water that it wasn't too spicy. He shook his head not spicy.
I should note that even a little bit of spice is too much for me. So, while it was a bit too spicy for me, it was pretty freakin' good. I added the garlic mayo sauce on top of it, dulling the spice a bit and making it taste even better.
That filled me right up, so I didn't try anything else on the menu, but the food on everyone's table looked awesome.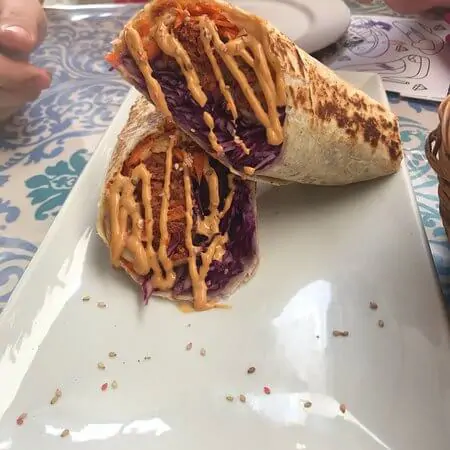 Roraima
Have you had enough of tacos yet? Is that even a thing? Well, if it is, just walk across the street from Sabor del Mar to Roraima for a good ole' fashioned American cheeseburger! These are legit cheeseburgers. It was made fresh with a delicious beef patty and real cheese. The portions were also USA sized, so be prepared to leave nice and full.
I paid 98 pesos for a cheeseburger topped with a fried egg and avocado. Since the burger was so cheap, I also ordered a side of fries and a pineapple juice. Pure heaven, especially after the morning I had exploring Coba and the Gran Cenote. Food really is my best friend.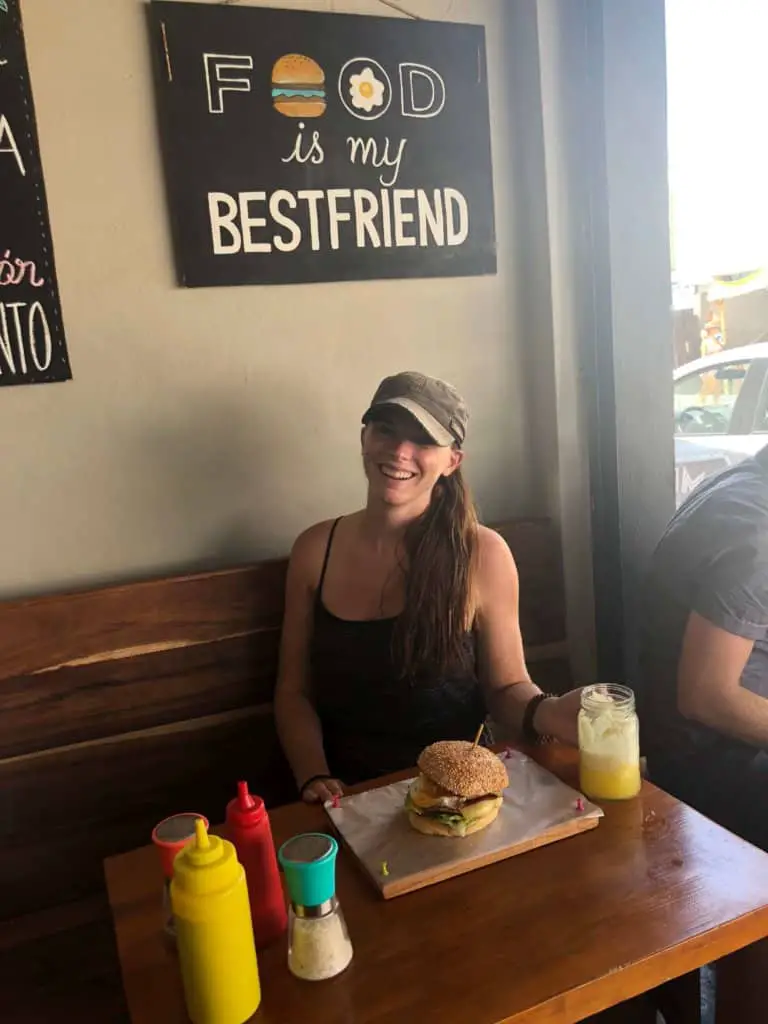 Taqueria Honorio
Many cafes and restaurants open at 8:00 am or later in Tulum. There's no 6:00 am Starbucks here, which is quite nice, until you want to get an early start to beat the crowds and heat at the ruins nearby.  I wanted to be at Coba by 8:00 am, which meant I needed to eat something when I got on the road at 7:00 am. The first trip to the Chichen Itza that I took, I opted to just skip breakfast and I didn't eat until around 2:00 pm. It was pretty rough – especially with the heat – and I didn't want to do that again.
A quick Google search showed me that just two blocks away from my Mama's home was an early bird Taqueria. Taqueria Honorio opens at 6:00 am and when I arrived at 7:00 am, they had a steady flow of locals picking up to go orders on their way into work. Score!
I ordered a 30 peso chicken quesadilla and my friends got the veggie tacos. All of which were delicious when we ate them at the entrance of Coba just a 45 minute car ride later.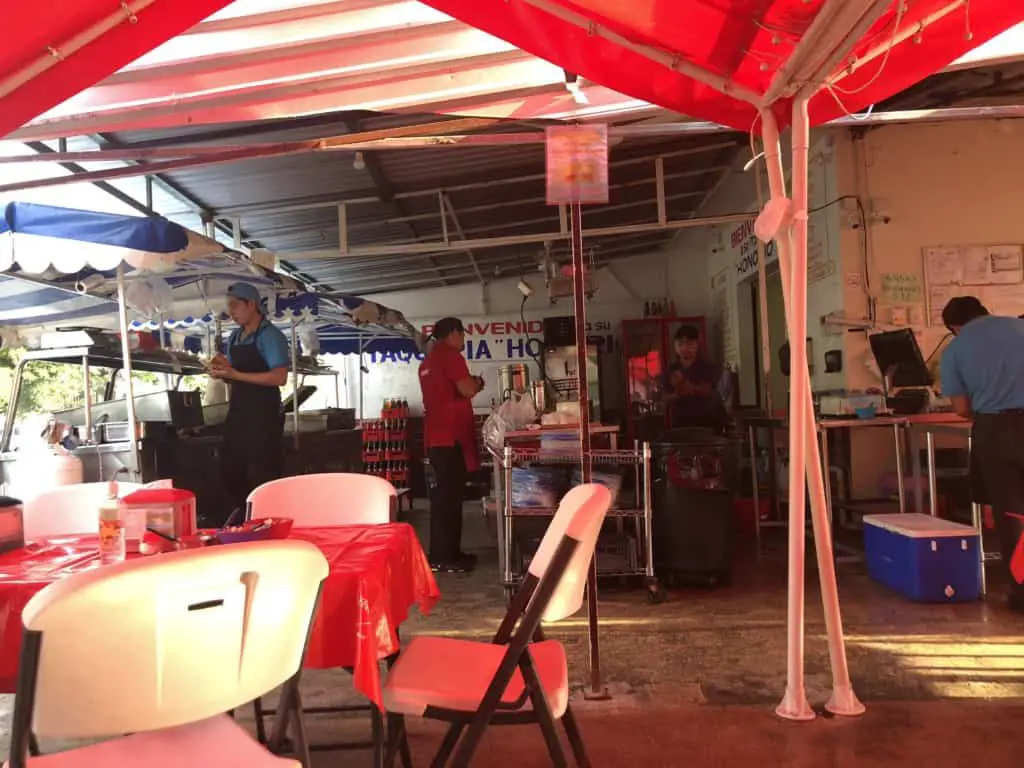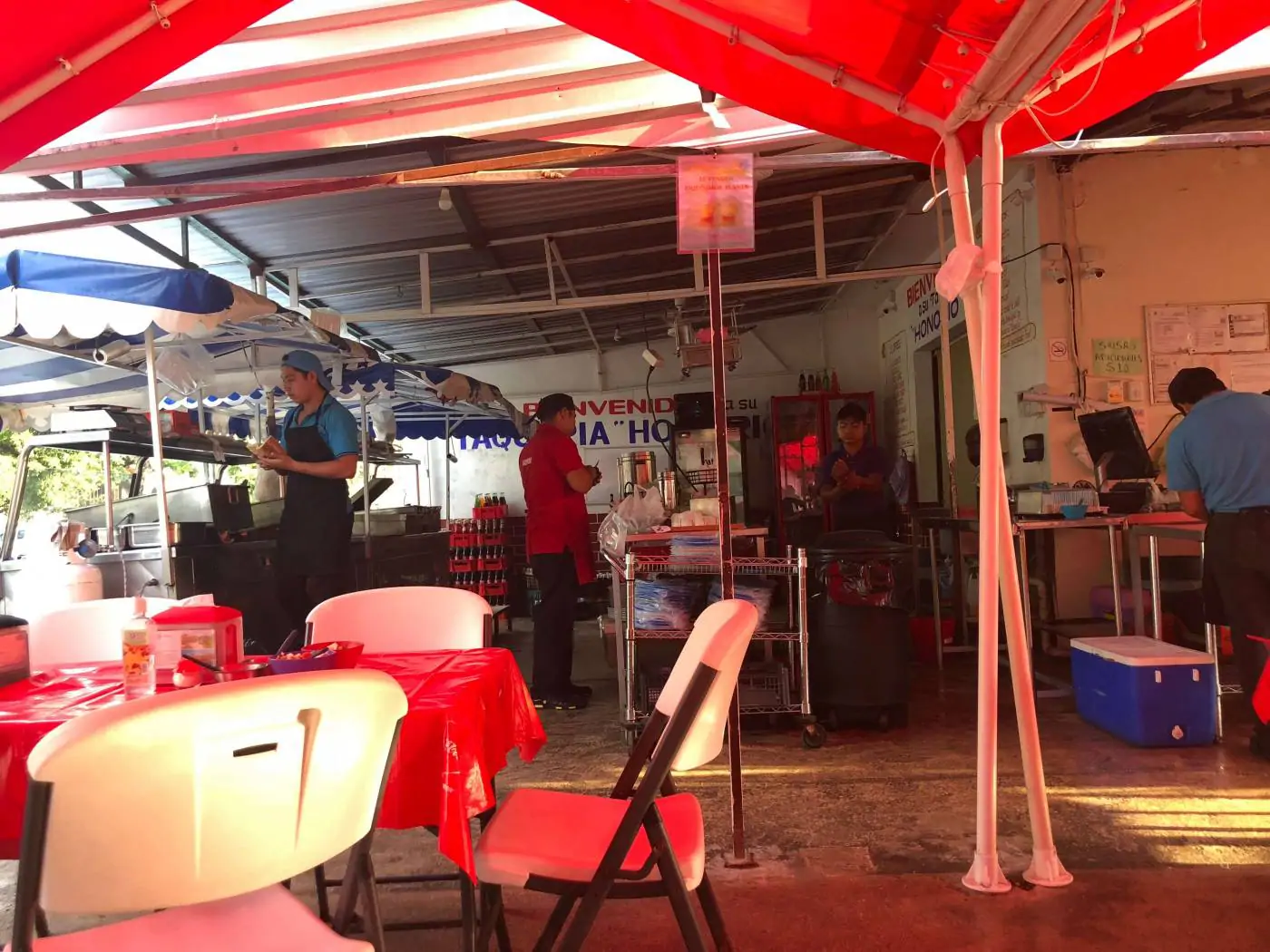 Tulum is an easy place to get caught up in the hype, I even splurging for a day at Coco Tulum. I spent around $600 pesos for a smoothie, guacamole, and a cocktail so I could relax on a beachside bed there and swing on their Instagram famous swings. However, that was not something I could do every day if I want to continue traveling! It's pretty touristy down by the beach leading to higher prices. So if you want a good meal that doesn't break the bank, take a Collectivo into town, and dine on some $8 peso tacos.
I'm sure there are plenty of other places that are good, yet inexpensive in Tulum that I missed. Do you have any to add to the list?
Like this post? Pin for later!