Deprecated
: The PSR-0 `Requests_...` class names in the Request library are deprecated. Switch to the PSR-4 `WpOrg\Requests\...` class names at your earliest convenience. in
/home/customer/www/justchasingsunsets.com/public_html/wp-includes/class-requests.php
on line
24
Thanks to the lovely world of Instagram, Tulum held a firm position on my bucket list. After spending the majority of my travels in South American cities, Instagram made it like the perfect beach retreat. I talked with people who had visited Tulum in the previous three to five years and read plenty of blogs about it, all seeming to answer my question of: is Tulum worth it? With a resounding YES!Their photos and blogs helped me picture myself on the gorgeous with the white sand beaches, wandering into the cute shops lining a dirt road, eating delicious food, and returning to my yoga practice. So, taking the advice of friends, bloggers, and Instagram, I decided to escape the cities and spend the bulk of my time in the Yucatan peninsula in Tulum.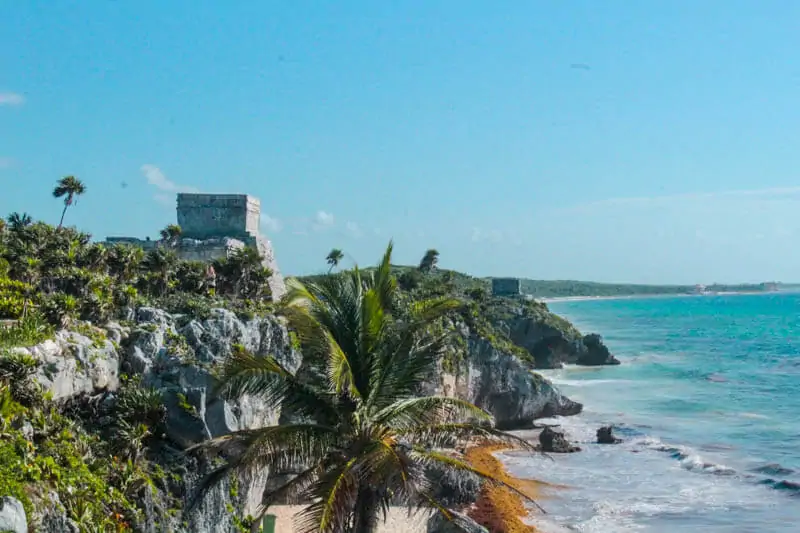 Accommodation is always the first thing I figure out after I decide my destination. The majority of blogs I read recommended staying in beachfront accommodations and perhaps staying in town for one night. Assuming that the bloggers had a similar budget to mine, I figured that I could afford a few nights beach front. However, the cheapest beachfront option I found, at the time, was $100/night. It was glamping on the beach, without WiFi or AC. Now, I can rough it, but in a tropical environment, I like to have AC for $100/night. Honestly, even if the glamping had AC, the most I'd paid for accommodations in my trip to this point was $20/night. It quickly became clear that staying beach front was just not in the budget for my stay in Tulum. So, I decided I would stay in the town of Tulum and I found an amazing hostel for $16 per night, which included free breakfast, WiFi, and AC. It's called Mama's Home and it's simply amazing. There are two little cats, the owner is super welcoming, there are hammocks to relax in and plenty of social activities.
First Impressions of Tulum
I drove from Bacalar to Tulum, and had no issues finding parking near the hostel. I loved all of the street art, small restaurants, and taco stands on the streets. This hostel is still one of my favorites that I've stayed in. The owner was incredibly welcoming, there were two cats and the people who stayed there all had a chill vibe.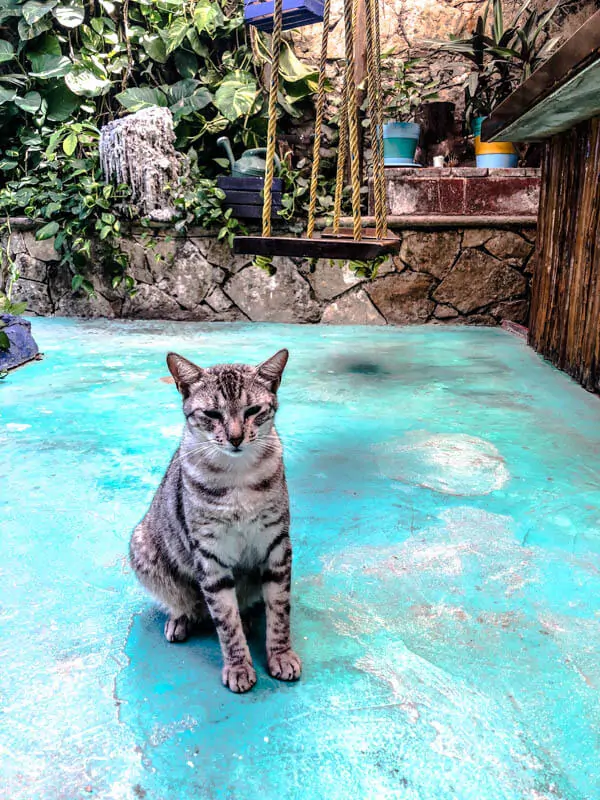 Upon checking in to Mama's Home, the owner recommended that I take the Collectivo to the beach for some tacos at La Eufemia. The Collectivo stopped just down the street from the hostel, so I paid 20 pesos and hopped on the next one to La Eufemia. At La Eufemia, I ate some of the best seafood tacos I've ever had with my toes in the sand and an epic ocean view. Happy and full, I set off to explore the beach road that I'd seen for ages on Instagram. I was in search of one specific cafe – Matcha Mama.As I wandered down the beach road that runs behind the hotels I was giddy with excitement to finally be discovering Tulum for myself! I immediately found Matcha Mama, and stopped in for my first matcha latte in months. The girls that were working there were so friendly, patiently speaking Spanish with me. They even took a photo of me in front of the shop, for the gram.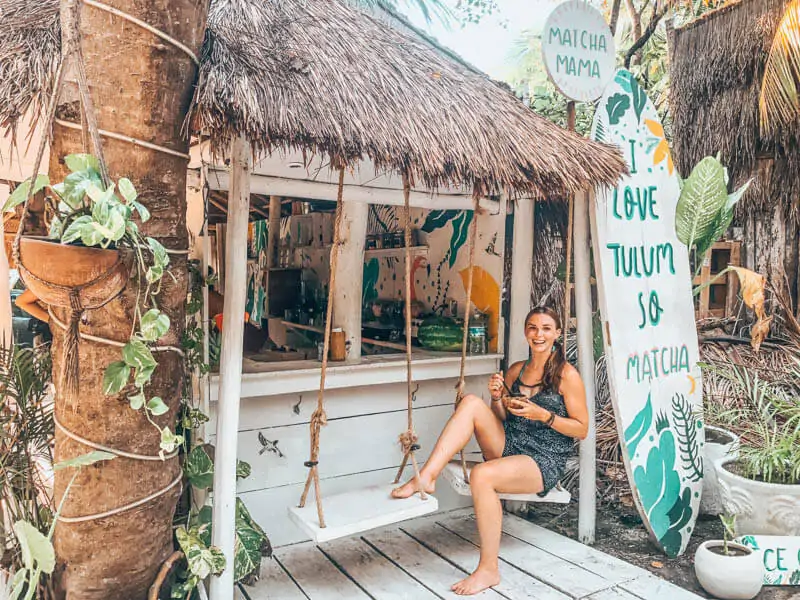 As I continued walking I spotted more places I'd seen on Instagram, from Tuk Tuks to restaurants, to hotels. I noticed street signs saying "Stay Present", "If not now, when", and "Follow your dream". It made me smile and reminded me that many people come to Tulum to heal or find themselves. This was confirmed by the majority of the hotels advertising yoga, healthy food, women's circles, and other spiritual practices. However, this was starkly contrasted to the incredibly busy road filled with cars, taxis, Collectivos, and tourists on bikes. It seemed like controlled chaos. And it was hot. I wanted to get back to the beach but I couldn't actually see the beach as each side of the road was either restaurants or hotels. I realized it was necessary to pass through the hotels to access the beach.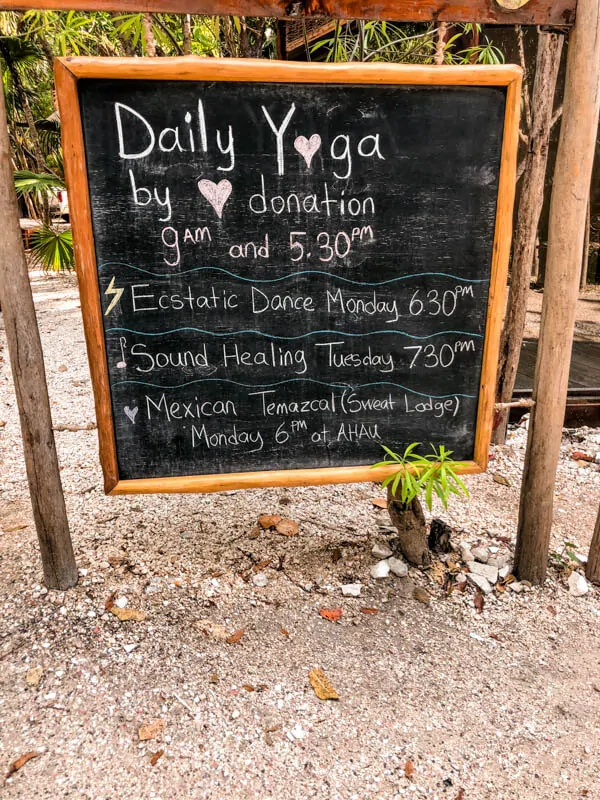 When trying to pass through one hotel to get to the beach, a staff member caught me and turned me away informing me that since I was not a paying guest, I could not go past the lobby. The majority of the other hotels had no issues with me passing through. Even at Casa Malca a few days later (one of Pablo Escobar's former residences), they opened the gate for me and allowed me to relax in their hammocks – for free!It was about to start raining so I kept walking to try to catch a Collectivo back to town., which of course were all full due to the impending rain.  Just as the skies opened up, I met two guys also trying to get back into town so we split a cab. I returned to Mama's Home thoroughly drenched, but also completely happy and content. I loved Tulum. It was my kind of place. I even inquired about staying on at the hostel as a volunteer so I could really get to know it.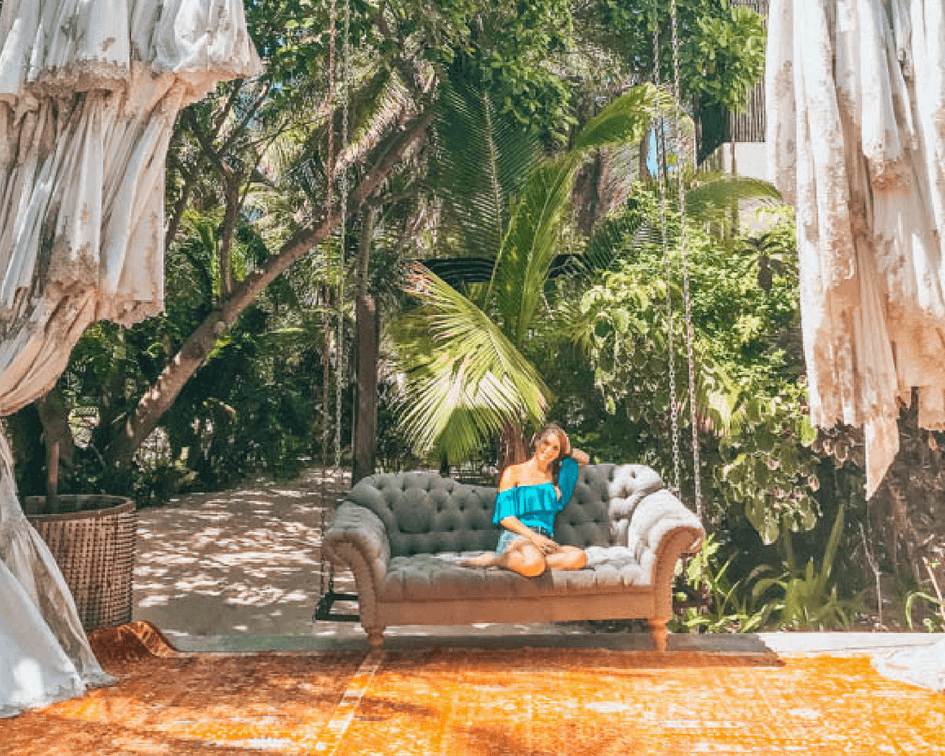 My Second Impressions of Tulum
The following day I spent exploring Chichen-Itza, Ek-Balam, and two cenotes, I returned to Tulum in search of dinner. While I was looking up restaurants nearby I stumbled upon an article about Tulum evictions that took place in 2016. The gist of it was that people who owned property, hotels or private homes along the beach were being forcibly evicted from their homes due to a question of property ownership dating back to the 1970s. You can read more of the details in various articles here, here, and here. A simple "Tulum evictions" Google search will bring you more articles. After reading this article, I felt exposed to the realities of the area and the very real problems that Tulum's popularity created for the town.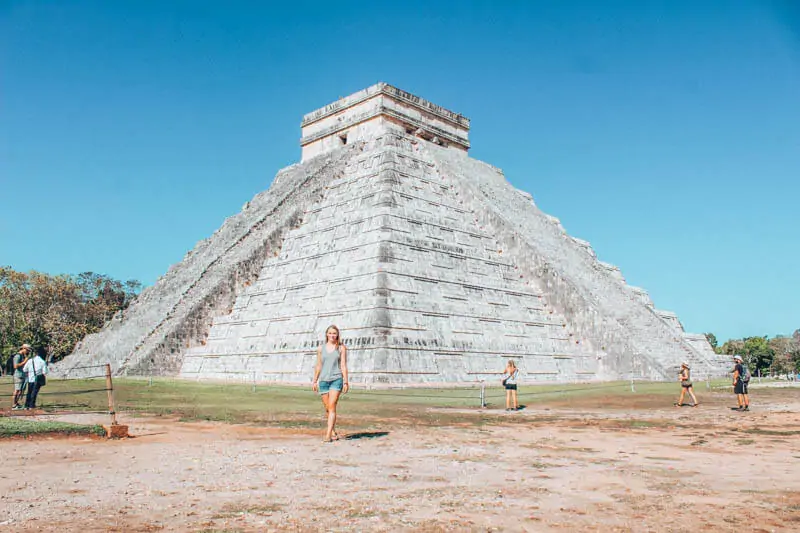 I tried to take it with a grain of salt, I wasn't going to let this article cloud my judgement. At this point, I was still enchanted by Tulum. I spent the next morning in the town working at a cafe and exploring the town. There are plenty of great, inexpensive cafes and restaurants. But I still couldn't get this eviction thing out of my head.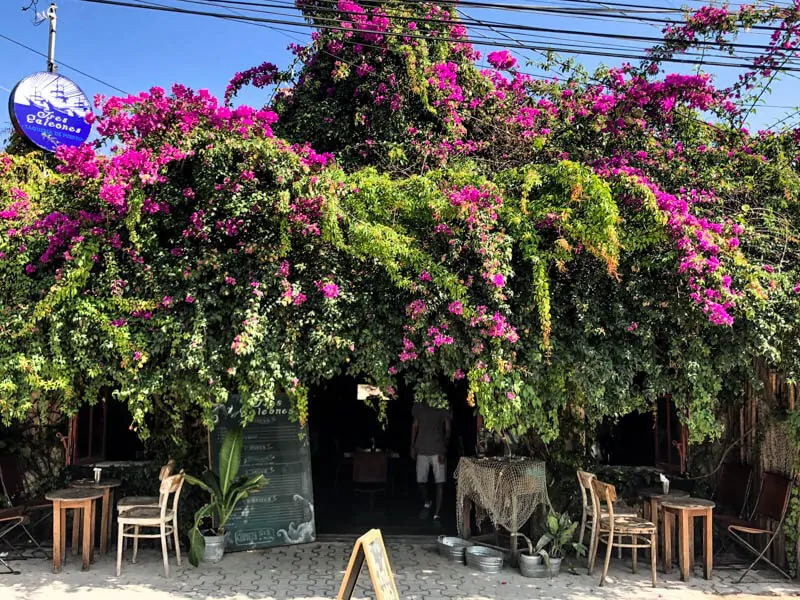 That afternoon I ran into friends I'd met in Cozumel and we decided to spend the rest of the day at the beach. I returned to the hostel to change where I ran into one of my roommates and asked her if she wanted to join. She told me no because she scuffed her knees the night before and sand and salt water would aggravate her wounds.
I'd asked if she'd fallen because the streets, while paved, have plenty of cracks and potholes. She said no, that when she was returning last night, a man grabbed her, threw her to the ground, and tried to drag her until her group of friends caught up to her and he ran off. She seemed fairly unbothered by this occurrence, but it shook me.I still met my friends and we went to a  beach in the opposite direction from the hotels, toward the Tulum Ruins. This section of beach had very few hotels, a few campsites, but it was mostly still just beach and jungle. I imagined this is what the entirety of Tulum looked like just five short years ago. Filled with lots of locals enjoying their home. Our taxi driver on the way back to the town described how five years prior, the road to the beach was one lane each way, still dirt, with the trees on either side creating a tunnel as they reached toward the opposite side of the road. Today, we drove down a paved four-lane road with very little tree cover. The following day I returned to La Eufemia and noticed I felt much differently as I walked down the street. It didn't feel authentic. It didn't feel like a local beach town, instead, it felt staged for Instagram. The stores are incredibly expensive. There weren't many locals filling the streets, except for the ones who worked there. Instead, the streets were filled beautiful people taking beautiful photos in front of places that hundreds of others had taken photos before.
One More Try
On my final day in Tulum, I decided to spend the day at Coco Hotel to see if it was worth the Instagram hype. They allow non-guests to use their beach chairs if they spend $25 on food and drinks. I had a smoothie, a margarita, and guacamole for $40 USD, not pesos. Up until that point I hadn't paid more than $5 for an entire meal in Tulum. While it was relaxing and very quiet at this hotel, I know I could've gotten a better drink and cheaper tacos in town. Even so, I thoroughly enjoyed my beach chair and finally finished a book! I even took a few photos on the Insta famous swings as did a huge group of girls who showed up to take photos on the swings and then left. Anything for the 'gram!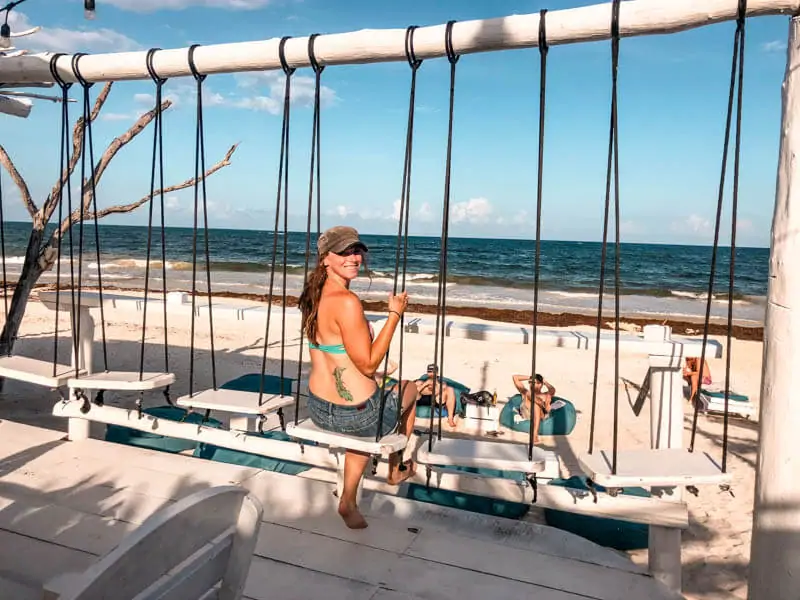 I'm still trying to wrap my head around the fact that the beach town appears designed for Instagram. I wish I'd seen Tulum 10 years ago, even 5 years ago. When it was smaller and less overrun with Instagram ready photo ops. Maybe then there were fewer street signs telling people to "Stay Present" as they were actively participating in that practice. But I don't really know, because I wasn't there five years ago. All I know is the Tulum I experienced.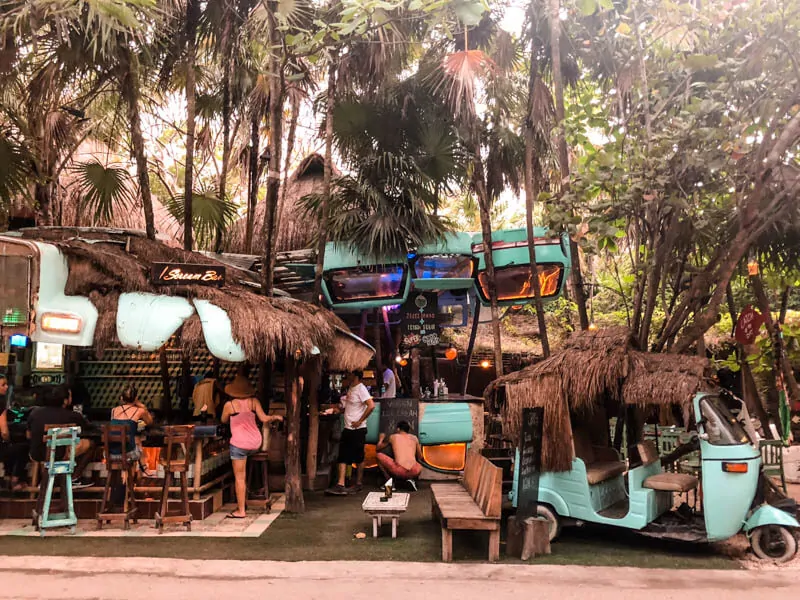 That night after telling the hostel owner I would not be returning to volunteer  I was packing my bag to leave for Isla Holbox It was just me and another girl in the room. Suddenly we heard rapid-fire gunshots, pretty much right outside our window. Then we heard the sirens, and the gunshots began moving further away. As it moved further away, it sounded like there was an exchange of gunfire. Sirens were coming and going. I could see the red lights swirling outside of my window. After living in Detroit I'm not one to let shootings deter me from enjoying a place. But this just seemed to solidify for me that there is more going on in Tulum than the Instagram worthy beach road.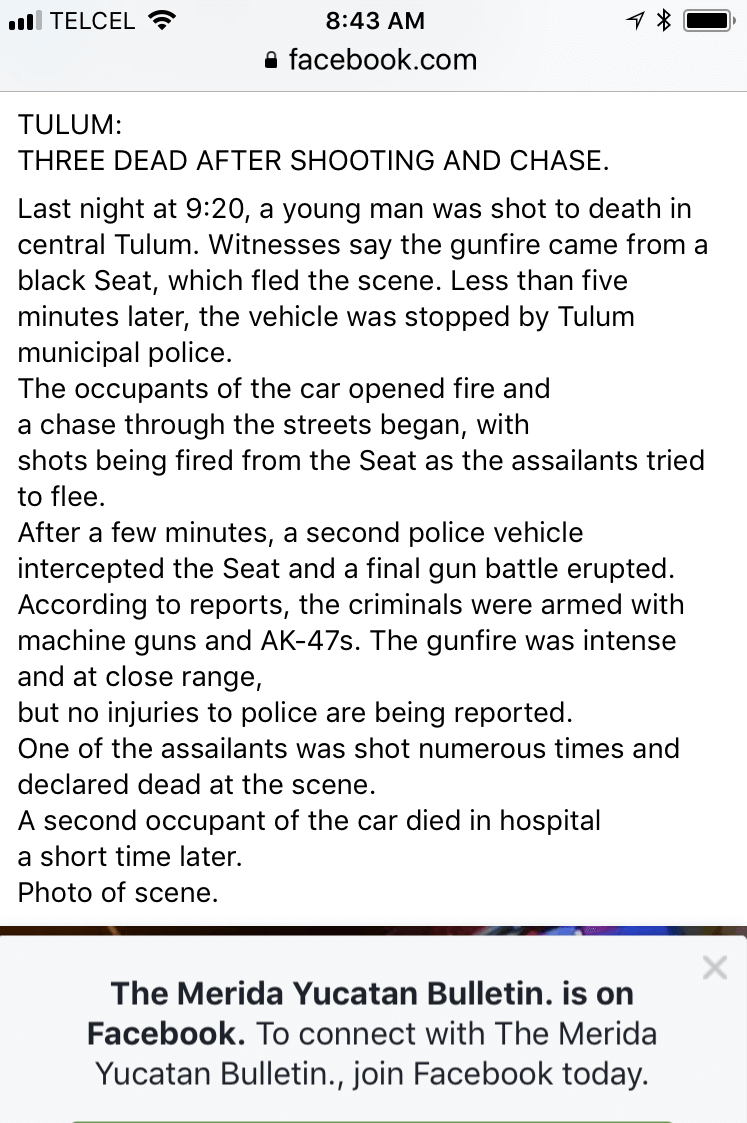 So, is Tulum worth it? I know many people absolutely love Tulum and have had beautiful experiences there. I enjoyed my time there, taking Spanish classes, and getting to know the town. The beaches are beautiful and the people I met were very welcoming and friendly. However, I think that there are equally as beautiful places to visit in Mexico and I was glad to be leaving Tulum.
Like this post? Pin for later!