Peru burnt me out on organized day tours. I didn't want to do anymore in Mexico. As a solo traveler, they are great ways to meet people, but I felt rushed at the locations and needed to slow down a bit. I planned to base myself in Tulum and found that many ruins I wanted to visit were quite far away. Since I wanted the freedom to do as I desired, I decided to turn my time in Mexico into an 8 day Yucatan road trip.
This post contains affiliate links, which means that, at no additional cost to you, I will earn a tiny bit of income if you decide to make a purchase or booking.
My Reality of Renting a Car in Mexico
You'll find lots of great deals for rental cars in Mexico online. I'd read a few horror stories about visitors booking with a third party website for a good deal, arriving at the company, and the company not being able to deliver. In order to avoid all of this, I booked directly with the company's website, which ended up giving me a 40% discount, including the required insurance. For one week this meant I would be spending roughly $15 per day on the car.
Sounds great! Submit!
When I arrived at the rental car location in Playa del Carmen, the company had my reservation, however, they recommended additional insurance. The insurance required by law only covered the other individual in case of an accident. The insurance recommended to me, would also cover me and the car.
Here's where I should've researched my credit card's coverage. At first, I decided not to get the insurance, I was signing all of the paperwork and at the last minute had a change of heart. IF something did happen, this insurance would let me just file the report and walk away without having to pay anything. That would provide the "priceless peace of mind". This brought my daily total to around $50 per day. I rented the car for 7 days, returning on the 8th.
Here's How My 8-Day Yucatan Road Trip Turned Out
Side note: I've opted to not include the cost of admission to the sites I visited for one reason. They are changing rapidly as their popularity increases. Instead, I've included links where you can find the most accurate admission prices.
Day 1: Playa del Carmen to Bacalar
I started in Playa del Carmen because I'd previously spent four days at an all-inclusive resort close by. This resort experience was quite a nice break and something that I'd earned as a result of my work as an online health coach. Couldn't pass it up!
From Playa del Carmen, I headed south towards Bacalar. On the way I intended to stop at Dos Ojos and Cenote Azul for swimming and snorkeling, however, I didn't have enough cash on me and they didn't accept credit cards. Instead, I stopped in Akumal, a tiny beach town where the main attraction is swimming with Tortugas. I opted out of this as I was starving. I found a free parking spot in front of a beachfront restaurant, La Buena Vida, for lunch. It was the healthiest meal I'd had in some time. A fresh red juice (beets and other deliciousness) and a quinoa salad.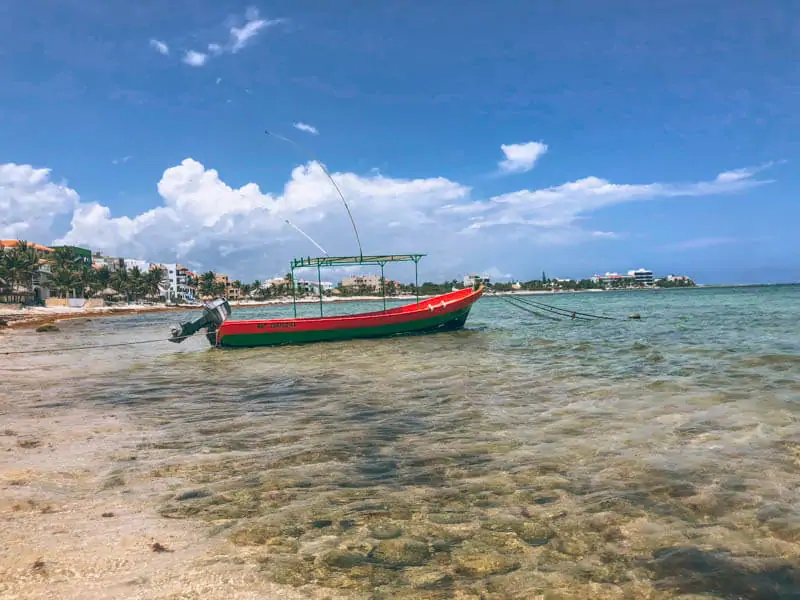 Considering it was getting late, and I still had about two hours until Bacalar, I headed back to the car and resumed driving. I didn't really want to be driving through Mexico alone at night.
After four months of not driving, being behind the wheel felt good. There's such freedom in driving that you can't get from a tour.
Until a cop pulls you over. Well, four cops.
I'd been following the posted speed limit signs as other cars whizzed past me. Cars don't honk here and if you're going slow you just move over to the right and they'll go around you. It's all very civilized.
I was just coming out of a tiny town and beginning to speed up when I hit two speed bumps that I didn't see in advance. There were no signs and no markings on them. All of the other speed bumps I'd passed had yellow or white lines on them. I hit them pretty hard as a police truck was driving the opposite the direction.
They got me.
The cops wanted to take my license and have me return to this small town the following day. At least an hour drive to Bacalar was left and I did not want to drive without my license. I also had no idea where I was and they couldn't give me directions to this "office" where I'd go to pay my fine.
I asked them if I could just pay it on the spot. And they gave me a number in pesos. I only had 20 pesos on me. And they laughed at my counter offer.
Side note: I'd planned to stop along the way at a bank to get more cash. That never actually happened.
Then I remembered I had some USD in my backpack, which I told them. I ended up paying $160 to get my license back and drive on toward Bacalar. To be honest, I didn't realize until about 20 minutes down the road what had just happened.
I drove extra slowly and felt much less relaxed than I had before this. I wished I could just turn that car back in. Then I arrived in Bacalar.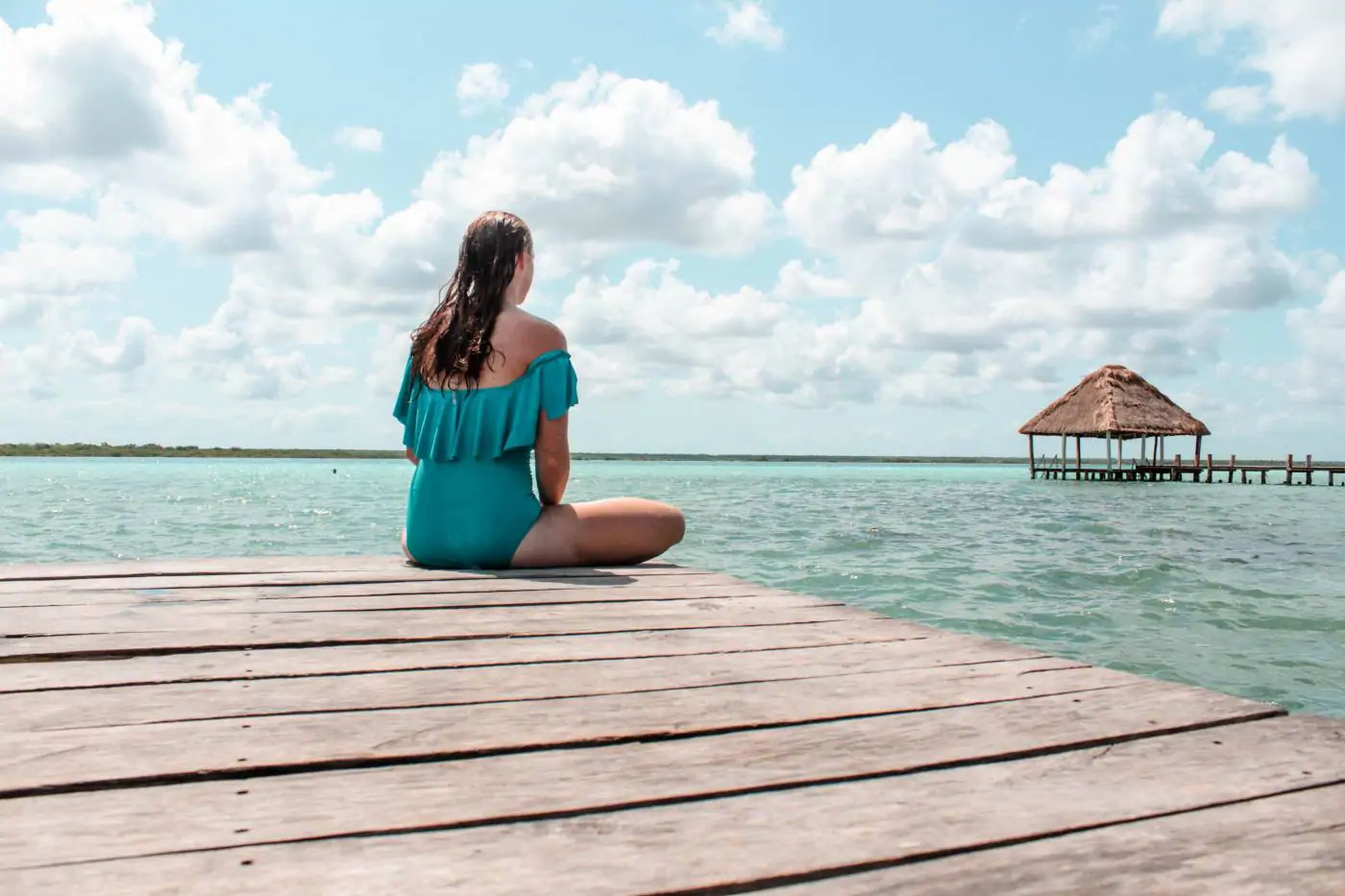 Bacalar is the best place to arrive after an incident like that. I immediately felt a bit calmer upon checking into the Yak Lake House Hostel. I was only supposed to stay for one night, but I ended up staying for two. Bacalar is absolutely stunning and a great place to spend a few nights, but the main reason I booked an extra night: I wasn't ready to drive again.
Bacalar has one stand-alone ATM where I replenished my cash. I went back the second day to withdraw more. I knew using a stand-alone ATM was highly dangerous in terms of my card information getting stolen – but I really had no other option at this point.
BOOK your stay at the Yak Lake House – stunning sunrises, direct lake access, and great showers!
Day 2: A Day Spent Relaxing in Bacalar
I spent the most relaxing day in Bacalar. I got up for a beautiful sunrise. Went for a run through town and then a swim in the lake. I discovered an Ashtanga yoga studio in town and took a class. Then I ended the day with a sunset sail on the lake. I ate some deliciously cheap tacos in town and shared some drinks with new friends in the hostel.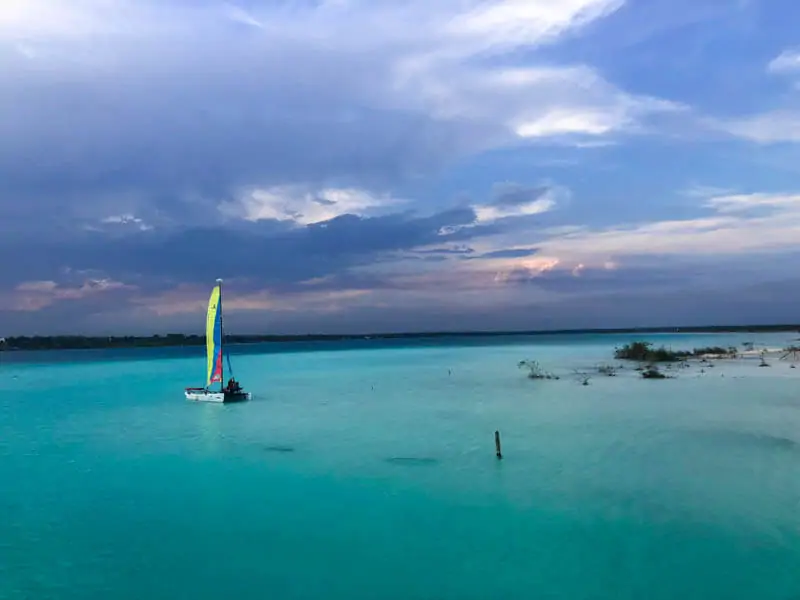 I debated staying a third night in Bacalar. The Yake Lake House is just too good not to enjoy as long as possible. Yet I realized the car was very expensive to just be sitting in a parking lot. So after another sunrise swim and some free breakfast, I packed it up and headed to Tulum.
Day 3: Bacalar to Tulum
Driving the posted speed limits, and keeping an eye out for speed bumps. I arrived in Tulum, about a three-hour drive from Bacalar, without any incidents! I was a bit tense upon my arrival but found free street parking directly in front of my hostel, Mama's Home, in Tulum.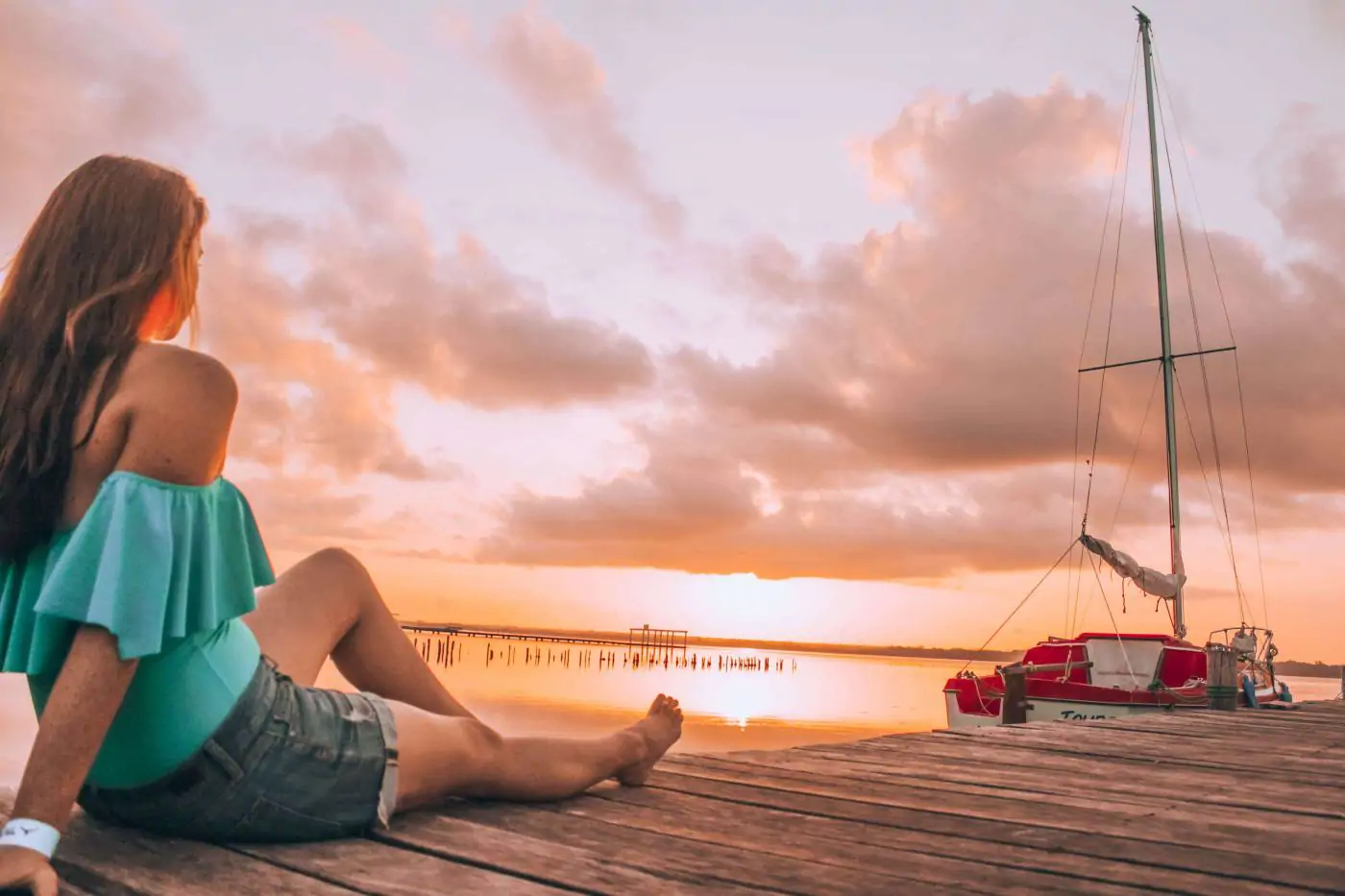 The hostel owner recommended I take the collectivo down to the beach for tacos. Sounded great to me! The collectivo departed just down the street from the hostel and it took about 20 minutes to reach the Instagrammable beach road of Tulum.
I wandered up and down the beach front a bit trying to find the beach entrance only to realize the only way to get to the beach was through one of the many beachfront hotels. Not sure I could actually just waltzed through a hotel, I went to the recommended beach front taco spot, La Eufemia.
La Eufemia is an excellent spot for backpackers and budget travelers. There is no cost to use their beach front chairs. But you should definitely order all varieties of their seafood tacos and margaritas. So delicious. They'll bring them to your chair too, so you don't lose your spot.
BOOK your stay at Mama's home – a great place to make new friends and eat a delicious free daily breakfast.
Day 4: Mayan Ruins and Cenotes
Chichen Itza & Suytun Cenote
The main reason I wanted to rent a car was to avoid having to take tours to the Mayan ruins. Since my confidence was slightly restored after a day driving without incident, I decided to head off early to Chichen Itza. Chichen Itza is approximately two and a half hours from Tulum. Another option for visiting Chichen Itza without a car or a tour is to stay the night in Valladolid to take a local bus to this new wonder of the world.
I left Tulum around 6:00 am and arrived at 8:30 am, about 30 minutes after opening. My goal was to beat the tours and the heat! I found a parking spot on the street leading into the parking lot… free parking!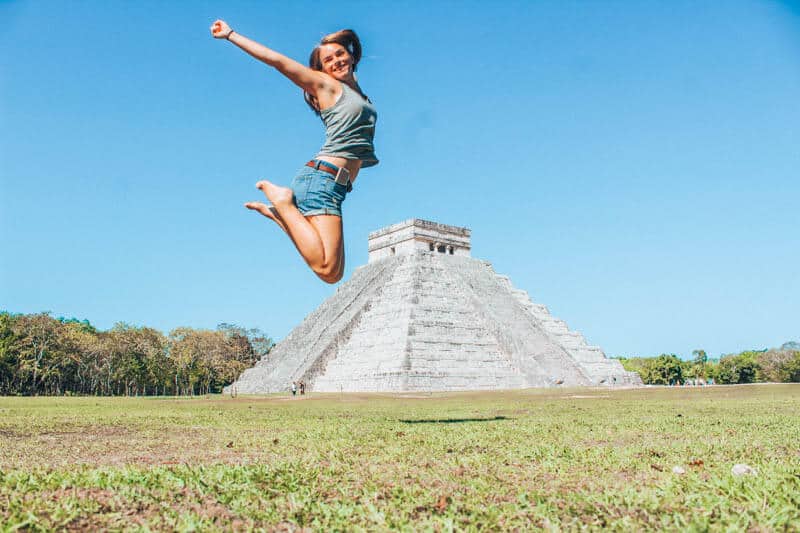 The site was fairly empty, the parking lot only had three tour buses parked, but no other cars. Vendors were just arriving to set up their stalls. And there were plenty of tour guides offering their services as I walked to the parking lot.
You can enter Chichen Itza without a guide, but I wanted to learn the backstory of it, as I didn't really know much about this wonder. To be honest, I don't remember the price I paid for the tour, but I believe I overpaid. I didn't try to bargain with him and took the first guide who offered his services. It didn't include the cost of admission to Chichen Itza.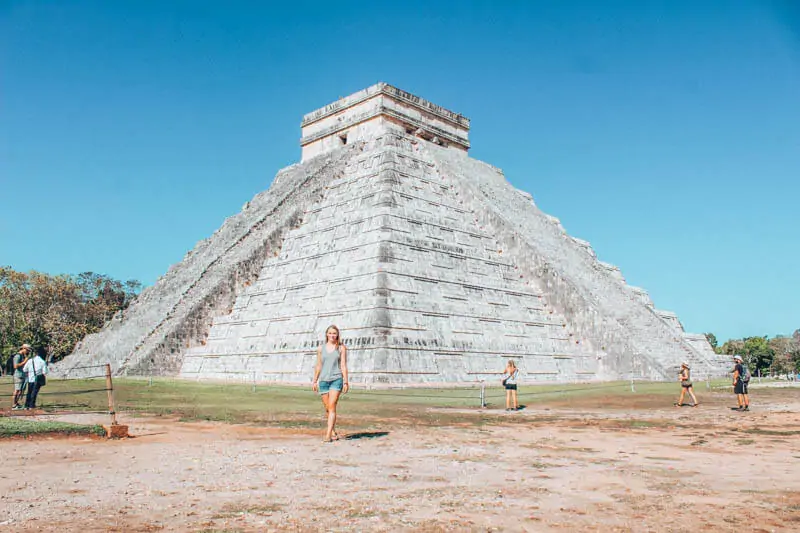 It turned out to be well worth the money. I had a private tour of the entire complex, he took as many photos of me as I wanted, and he gave me insight into other ruins that I should add to my list.
About two hours later, the sun really starting to get strong, I left Chichen Itza and noticed the parking lot was packed with cars! I'd successfully witness this new Wonder of the World without crowds and in minimal Mexico heat. Success!
MORE INFO:
There is a lot of conflicting information about admission prices for Chichen Itza. However,
this article
shows that the government decided to double the cost of admission in 2019.
My Chichen-Itza guide recommended I go to Ek Balam in the afternoon since I had a car. It was about 45 minutes away and another great Mayan ruin site where I could climb the pyramids. SOLD!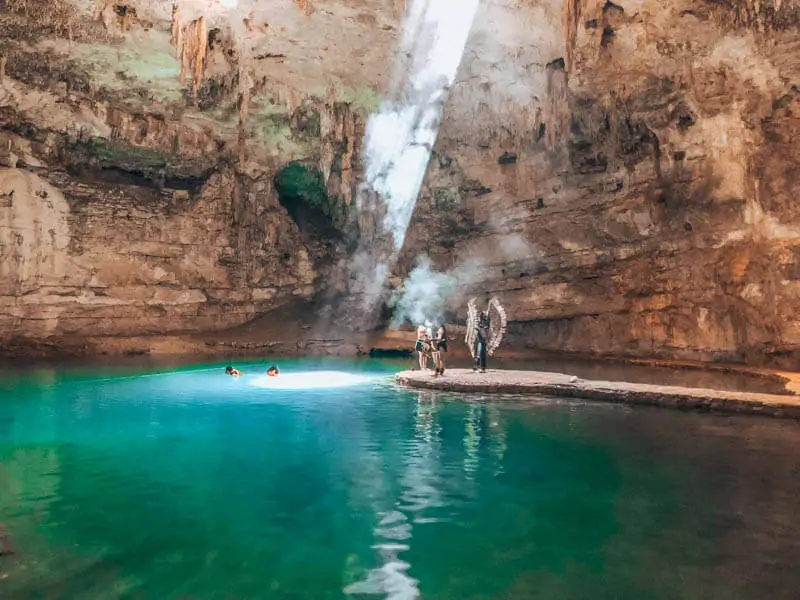 But first – I headed to Suytun Cenote. It was only 10:30 am, but it was hot! It took about 45 minutes to arrive, it's on the outskirts of Valladolid. I arrived just as two tour buses were unloading. Before paying for my entrance I made sure that the tours weren't in the Cenote yet. I paid my ticket and made a beeline for the Cenote, where I was able to happily swim with a handful of other visitors for about 30 minutes. As the goosebumps felt they were making a permanent home, the water is quite cold, I decided to get out, the two tour groups were coming down the stairs.
I seriously felt like I was winning the day with my timing!
Ek-Balam & Cenote Xcanche
I hopped back on the two-lane highway for Ek-Balam, at the recommendation of my tour guide. I passed through a couple of really cute towns, with people selling fruit and food on the side of the road. It was approaching 1:00 pm, and I hadn't eaten anything yet. All I wanted was some pineapple, but they only had mangos! That's the beauty of driving your own car – if you want to slow down to buy food on the side of the road, you can!
It took about 30 minutes to arrive at Ek-Balam from Suytun Cenote. Parking is free and safe here, but there are a few enterprising kids who will offer to ensure your car's safety for a few pesos.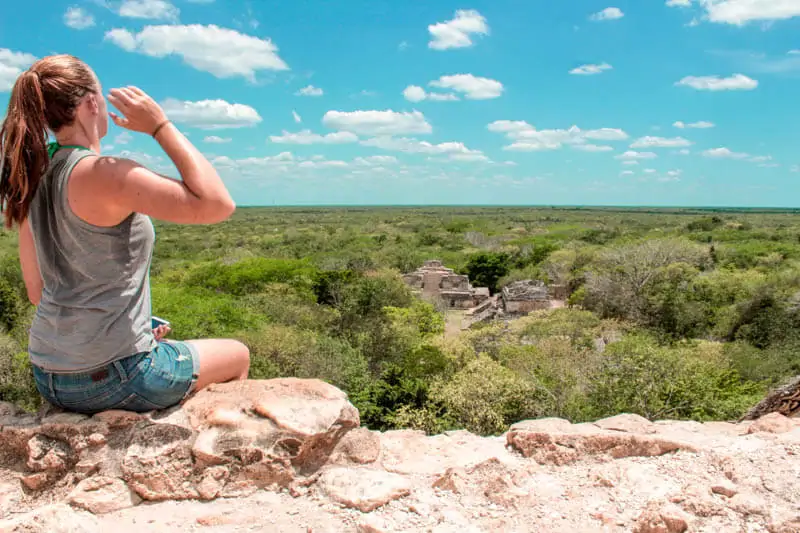 Ek-Balam is a large complex of buildings and you can climb to the top of them if you're so inclined. I opted out of a guide here, mostly by default as I didn't see any guides offering their services. After exploring the ruins, that were basically empty compared to Chichen-Itza, it was time to jump in the Xcanche Cenote, which is on the same site as the ruins. However, you have to pay for each separately.
It's a long walk to the Cenote, about 1.5km, down a gravel path with minimal shade. They offer bike rentals or a pedi-cab ride to help you get there faster. For some reason, I decided to walk. I highly recommend taking a ride! At the cenote, you can rope swing into the water and jump in from above. It's much less restricted than Suytun – no life jackets required. There's also a rope in the middle of the water you can rest on.
After about 45 minutes of swimming and jumping into the water, I ate some much needed tacos and the cafe next to the cenote and headed back to Tulum.
When I returned to my hostel that night, I told people I'd gone to Ek-Balam and it seemed that no one had heard of it. It was nice having my car so I could explore two ruins and two cenotes in one day when a tour would usually do just one. It made for a long day, but it was worth it!
Day 5: A Day in Tulum
After a busy day exploring ruins and cenotes, I opted for a relaxed day in Tulum. I checked out a few cafes in town where I met up with friends I'd made on Cozumel. We spent the remainder of the day together at the beach. Instead of going towards the touristy part of the Tulum beachfront, we took a taxi to the more local beach. There we watched the sunset and made plans to visit Coba and the Gran Cenote the following day.
Day 6: Coba & Gran Cenote
Today, my friends and I piled into my car around 7:00 am to head to Coba. Coba is the closest Mayan ruins site to Tulum, only taking about an hour to arrive. It cost 50 pesos to park the car in the very empty parking lot at 8:00 am. After exploring the ruins and taking our climb up the 120ish pyramid steps we left the site around 10:00 am. The parking lot was packed!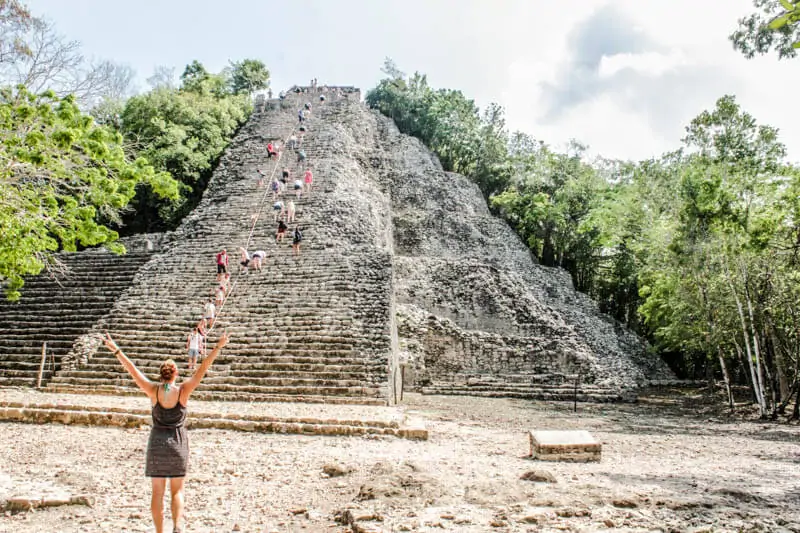 Gran Cenote is on the way back to Tulum, so we stopped there, but not before checking out an artisanal market where my friend was able to bargain with the owner for a towel. The owner agreed as our car was his first business of the day! A win for the car! Then we parked at Gran Cenote, for free, and enjoyed a refreshing swim in a beautiful place.
I'm going to reference the expert vagabond for the details on Coba and this cenote site for information on the Gran Cenote.
Day 7: Learning Spanish & Enjoying the Beach in Tulum
I started Spanish classes today, I could've driven, but it was a quick 10-minute walk. Afterward, I paid 20 pesos to take the collectivo to the beach. I figured this was cheaper than paying for parking and gas. Plus if I decided to have a drink I could do so without worry of cop problems.
I returned to La Eufemia which was quickly becoming my favorite place in Tulum. While at the beach, I ran into friends from Mama's home hostel who offered me a ride back to town, as they did drive their rental car.
Day 8: Casa Malca & Return to Playa del Carmen
On my final day with the car, my friend from the hostel and I drove to Casa Malca. Casa Malca is a beautiful hotel, formerly Pablo Escobar's home. you are not able to park on the side of the beach road as it's quite narrow and very busy. Yet, Casa Malca is quite far from the main area, so I could park outside, in the shade for free! We enjoyed a relaxing afternoon in the hammocks of Casa Malca for free on the beach.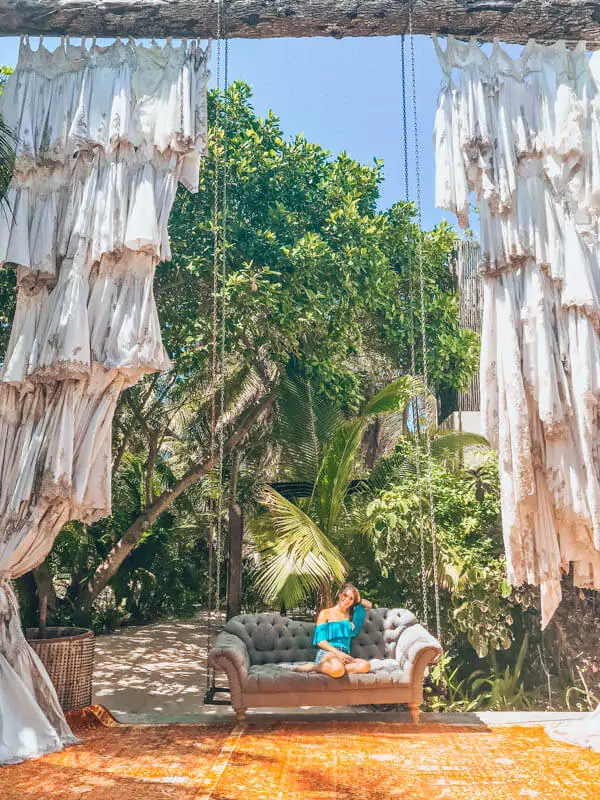 When I was driving the car back to Playa del Carmen, I received a phone call from my bank asking me to confirm a withdrawal in Belize. I hadn't been to Belize. But it is just over the border from Bacalar. Someone had gotten my ATM card information from that stand-alone ATM.
I couldn't wait to get rid of that car, returning it without a full tank of gas, which she thankfully let slide after I told her my story.
From Playa del Carmen, I took an ADO bus back to Tulum. Effectively ending my road trip in the Yucatan.
Why did I return to Tulum instead of staying in Playa del Carmen? I really liked Tulum at first and had signed up for a week of Spanish classes, which I didn't originally intend to do when I rented the car.
Was Renting a Car in Mexico Worth It?
I quite enjoyed having the freedom to move about as I liked. I was able to visit many of the distant ruins and cenotes, even getting to see two in one day, without being confined to a tour company's schedule. Beating the crowds, and the heat, was one of my main goals with the car, which I accomplished! Yet, after the ticket, I never quite felt relaxed while driving. I always felt that a cop was going to find some reason to pull me over, even though I was going the posted speed limits as cars whizzed by me.
Also, the car did just sit parked for three of the eight days that I had it. This is poor planning on my part. I could've condensed the trip, doing all of the site seeing of ruins, even adding in Tulum Ruins. Yet, I'd paid for the car in advance and wouldn't get any money back if I returned it early.
So all in all, with gas, the ticket, and cost of the car I paid around $500 for 8 days, 5 of those days the car actually got used. If I were to do this again, I wouldn't do a road trip.
What I Would Do Differently
I would take the ADO bus from Playa del Carmen to Bacalar, then use the same bus company to take me to Tulum. Once in Tulum, I would rent a car for three days. One day to see Chichen-Itza, Ek-Balam, and the cenotes. The next day I would see Coba and Gran Cenote. The final day to see Tulum ruins and then return the car in the evening. This would make it much more convenient as I wouldn't have had to drive back to Playa del Carmen, then take a bus back to Tulum. It also would've been cheaper in the long run.
Alternatively, I could've stayed a few days in Valladolid which I'm sorry I overlooked. I've since heard excellent things about this town and I simply drove right by it. Just a reason to go back, right?!
Have you ever rented a car in a foreign country? What was your experience?
Like this post? Pin for later!
.