The Tomales Point Trail is one of the most popular hiking trails in Point Reyes National Seashore. If you only have time for one long hike in Point Reyes, make it this one. The Tomales Point hike perfectly captures the windswept beauty of the Northern California Coast. In addition to providing dramatic views of the Pacific Ocean, Tomales Bay, and Bodega Bay, this 10 mile out and back trail comes with unique wildlife sightings and spring blooms. 
The best part about this hike is you don't even need to walk all the way out to Tomales Point to capture the essence of this landscape. Walk as far as you'd like, find a spot for a picnic, and turn back. You'll still get a few miles under your belt and enjoy this beautiful area.
If you're ready to see what all the fuss is about the Tomales Point Hike, read on for everything you need to know to plan your own Tomales Bay hike.
How To Get To The Tomales Point Trailhead
The Tomales Point Trailhead is located at the very end of Pierce Point Road as its the northernmost section of Point Reyes National Seashore. The trailhead is a 30 minute drive from Point Reyes Station, 30 minutes from Bear Valley Visitor Center in Olema, and a 1.5 hour drive from San Francisco.
After turning onto Pierce Point Road from Sir Francis Drake you'll pass Abbot's Lagoon and Kehoe Beach as the road winds through farmland. Pierce Point Road is not the best paved road so take your time to avoid potholes. 
As you enter the Tule Elk reserve please slow down as the Elk will cross the road with little warning! 
Tomales Point trail parking is at a small lot at Pierce Point Ranch, where the trailhead begins. If you arrive early enough, you'll be able to snag a spot. However, if early starts aren't your thing you can park on the road, making sure you're completely off the road. Be careful if it's recently rained to not get your car stuck in the mud.
I suppose you could also park down the hill at the McClures Beach parking lot if you prefer. 
Best Time To Hike Tomales Point Trail
Throughout the year, Tomales Point weather doesn't change too drastically. Expect cool temperatures in the morning that rise to mid 60os, maybe even 70o, during the day (depending on the time of year). Besides the temperature, the type of weather; sunny and clear, or gray and foggy, or incredibly windy, could impact your experience on this Tomales Bay hike.
While Tomales Point hike is completely exposed, it is best hiked on a clear day as you'll be able to see the great views, jagged coast line, and maybe even a whale spouting off (depending on the time of year).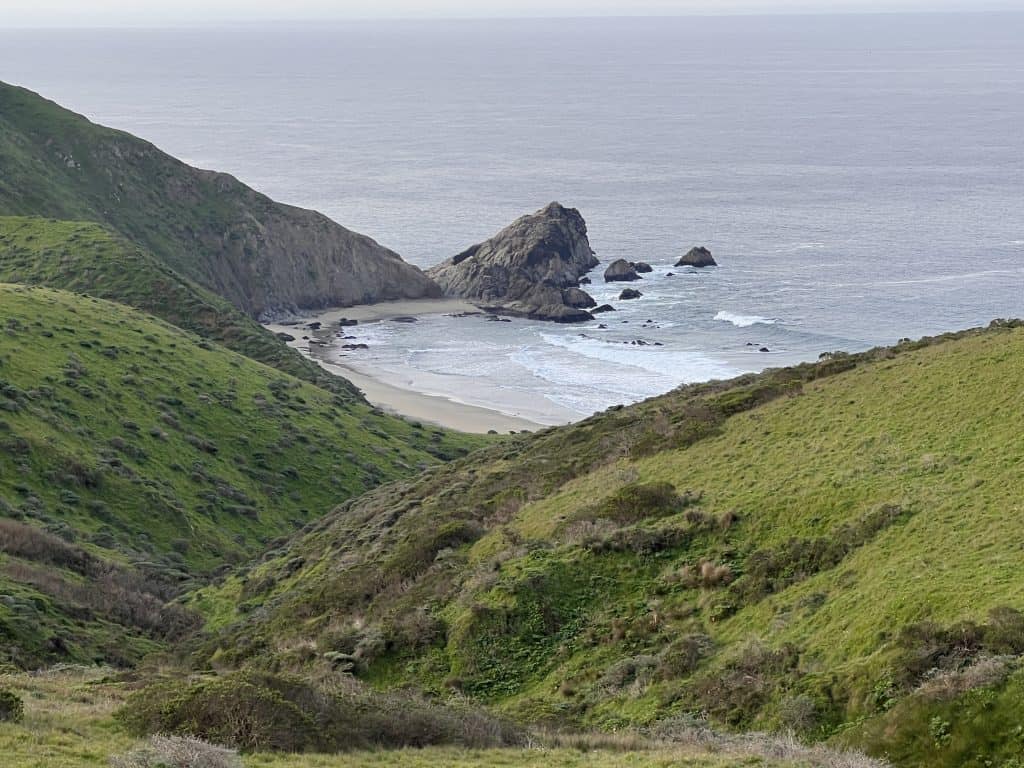 That being said, even a foggy day could make this Point Reyes hike magical. You may not be able to see the waves, but you'll hear them crashing below and I imagine seeing the Tule Elk amidst the foggy mist would be quite spectacular.
The only time I would probably avoid this hike would be on a particularly windy day as there is nothing blocking the wind. Or after a heavy rain as it would make the ground very muddy.
Tomales Point gets incredibly busy on the weekends, so it's best to start the hike early in the morning or late in the afternoon. I arrived at the parking lot around 8:15 am and there were only about 4 other cars there and I had the majority of the hike out to the point to myself. 
However, as I made my return the volume of people starting the hike increased drastically and by the time I reached the parking lot it was completely full with cars parked on Pierce Point road. 
If you don't mind contending with crowds, then this might not be a problem for you, but if you're anything like me and prefer to hike without them, get an early start. Plus, you'll avoid the intensity of the sun for the first half of the hike!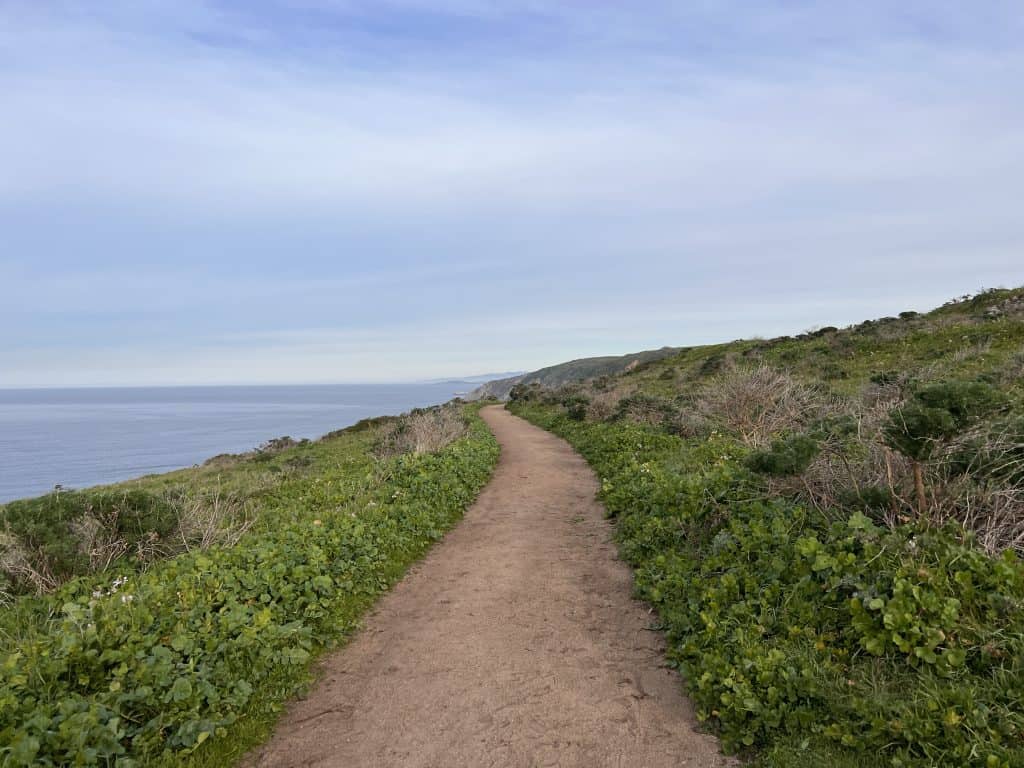 How Long Does it Take to Hike Tomales Point Trail
I recommend budgeting at least 5 hours for the entire hike, especially if it's your first time hiking it as you'll want to stop frequently to take pictures. Along the way you may also pass herds of Tule Elk which are nice to sit and watch for a bit.
Once you reach Tomales Point, you can find a spot to sit, away from the cliff edge, to have a snack and rest before heading back.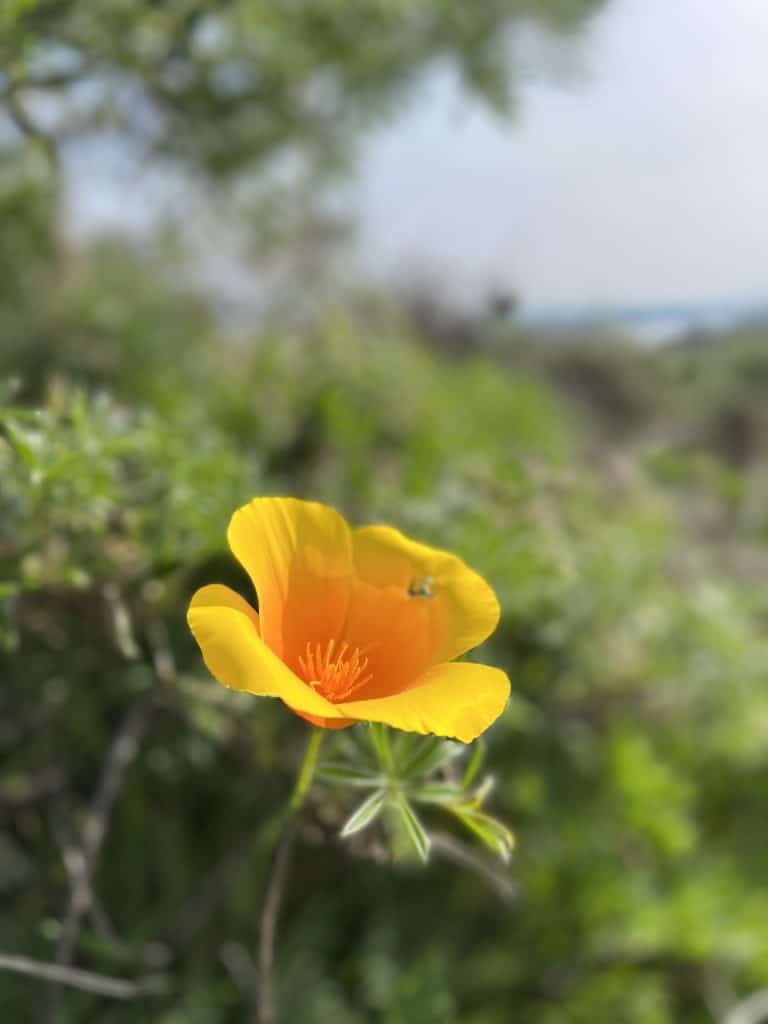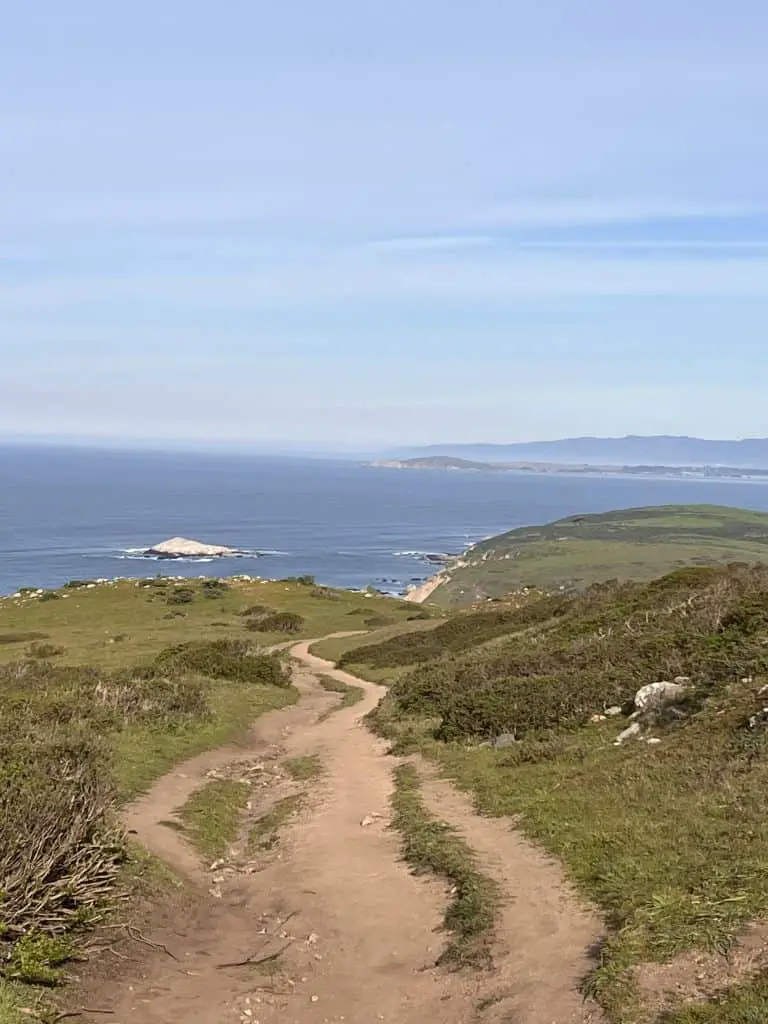 How Difficult is the Point Reyes Tomales Point Hike?
Similar to another incredible hike in Point Reyes, Alamere Falls, the Tomales Point hike's difficulty comes not from intense elevation gain, but from length.
If you're not accustomed to hiking long miles, this could prove challenging. 
While there isn't much of an elevation gain, only 1,200 feet, it all comes at once on the return. While not terribly steep, it is a steady incline back to the top of the ridge. To be honest, I didn't realize I'd gone downhill so much on the way out! Your glutes and hamstrings will be feeling it.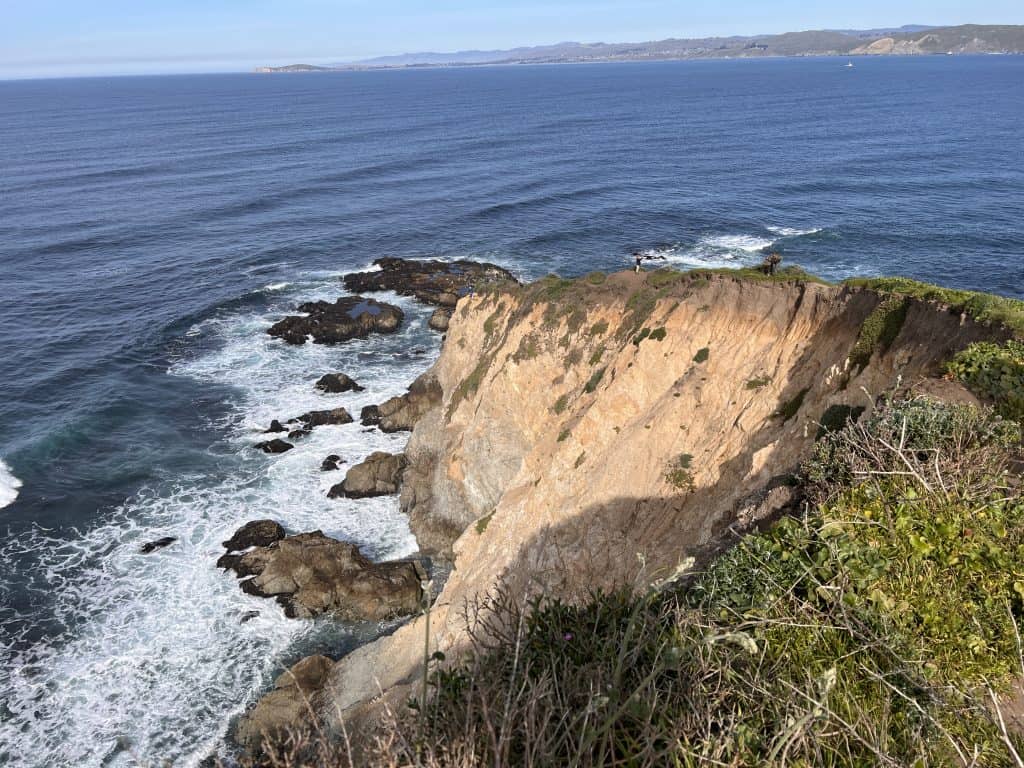 Point Reyes Tomales Point Trail Details
The Tomales Point Hike is a 4.7 mile, one way, hike to the tip of the Point Reyes Peninsula. Round trip, this hike is approximately 10 miles.
The first mile of the hike is a mostly flat and wide trail that overlooks the Pacific Ocean. You'll be able to peak down to see secluded beaches far below. If you're hiking the trail later in the day, be sure to be at this section for sunset as you'll have excellent views of the sun setting into the ocean. And only a mile left to get back to your car with some light!
After this mile you'll climb up to the ridge, the highest point of the hike. This would be a good stopping point, as from here, the trail descends the other side of the ridge. So if you don't think you'll feel like climbing back up after reaching the point, turn around here. 
If you do continue on, you'll descend to lower Pierce Point ranch and begin seeing views of Tomales Bay and Bodega Bay.
You'll then enter the unmaintained section of the trail, which begins with a sandy uphill climb. To be honest, this part kind of sucks, but it's totally worth it I promise.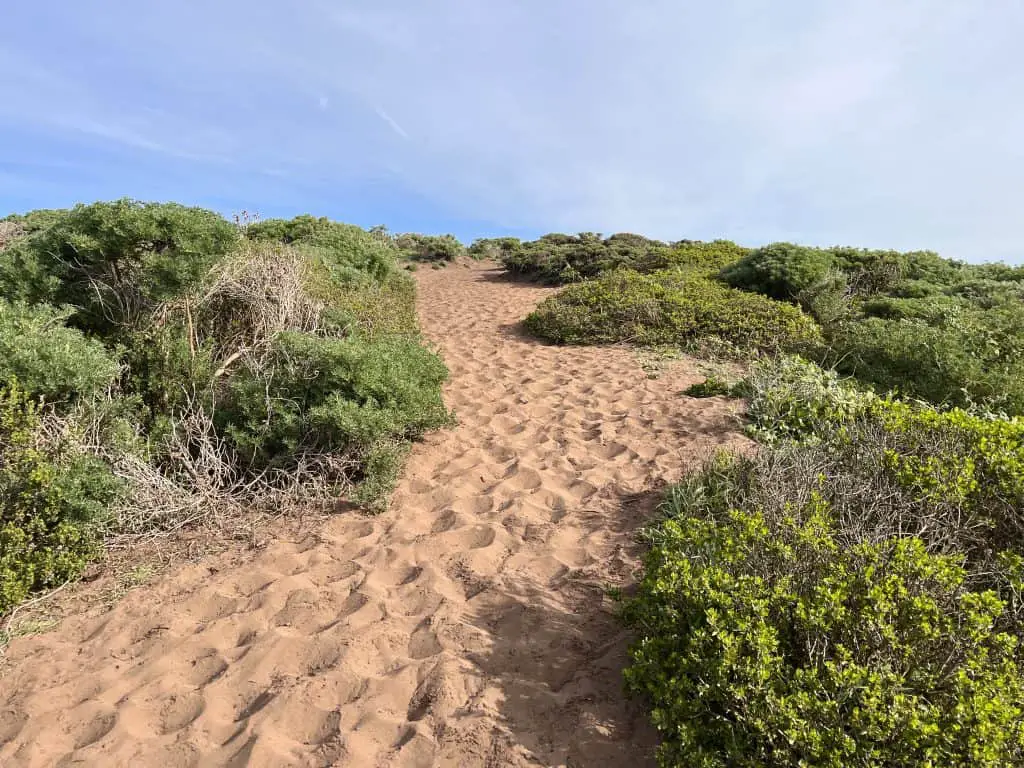 Although it's unmaintained, you'll find your way easily enough to the point as there are small trails leading there.
Please stay away from the edges of the cliffs as the ground is known to crumble below you!
Once you reach the point, have a seat in the dirt, away from the cliff's edge, to enjoy a snack and a break before making the return trip.
You'll see elk at various places along the trail. You may also see coyotes and mountain lions are present here as well. 
What to Wear on the Tomales Point Hike
Layers are the name of the game with the Tomales Point Hike. If you're starting early in the morning, you may want a beanie and gloves to keep your ears and hands warm. As the day progresses you'll want to switch to a hat with sunglasses.
Bring a jacket and/or fleece to keep you warm. When you take a break from hiking, the wind can be chilly so you'll want to put a jacket on while you rest. 
I also suggest wearing long pants and a long sleeve shirt for the unmaintained section of the trail. The vegetation is thick and this will help avoid scratches and abrasions from branches.
While the terrain isn't terribly rocky, you'll want sturdy hiking shoes, especially for the sandy part. 
Also wear plenty of sunscreen and bring more to reapply! Chapstick with SPF is a good idea as well. Don't forget to put the sunscreen on your hands!
Check out this post for everything that I bring on a short hike.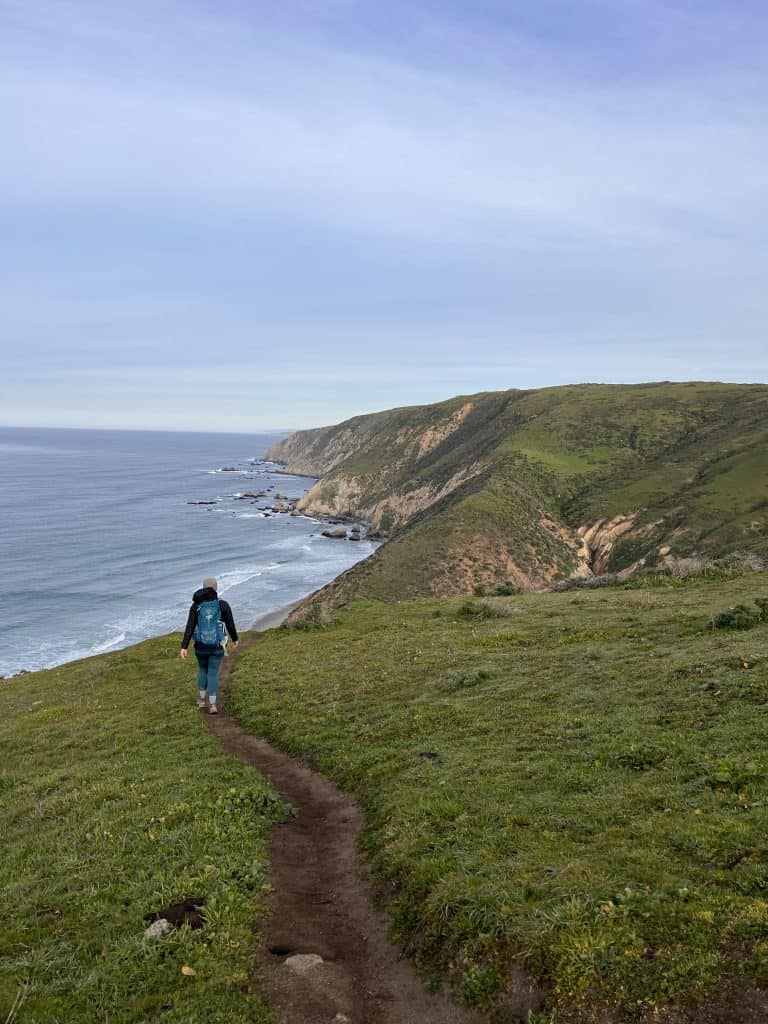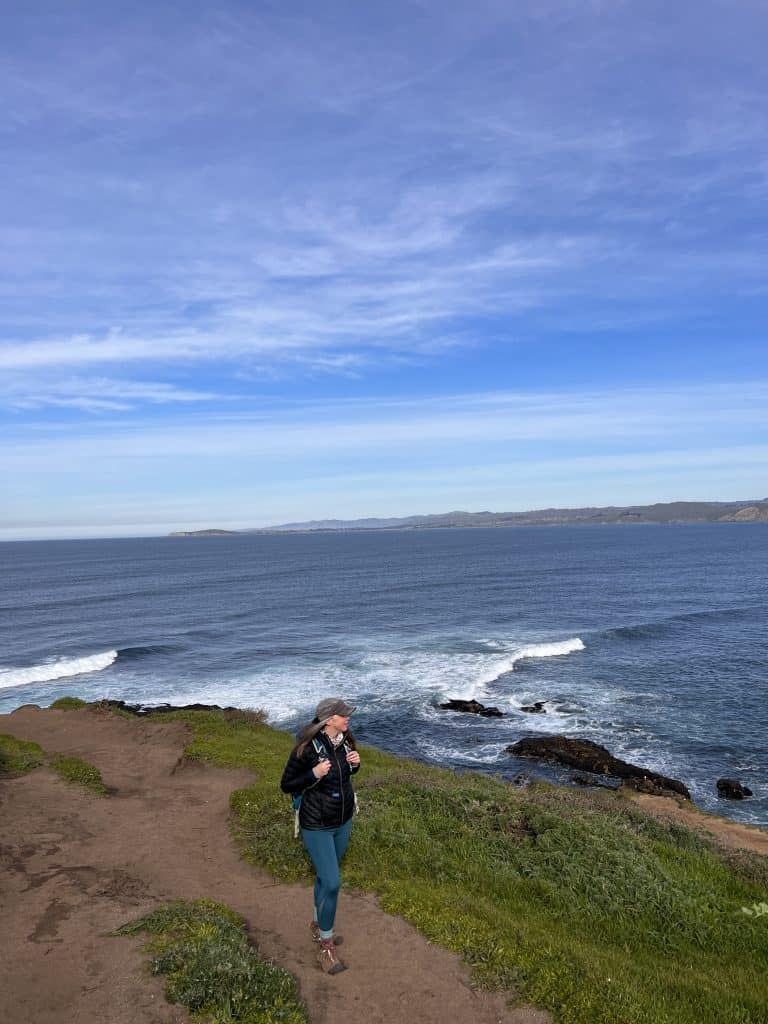 Tips for Hiking Tomales Point
Use the Bathrooms at McClures Beach
There are no bathrooms on the trail so use the bathroom at McClures beach parking lot before starting the hike as there aren't any trees or big bushes to use on the way. To be honest, on the way back I did squat behind a pile of rocks that were fairly exposed because I just didn't think I'd make it. Do what you need to do but definitely use the bathroom before starting.
Bring Water
There are no water sources on the trail or in this section of the park., Ensure that you have more than enough water on the hike and an extra supply in your car for when you return.
Bring Snacks
There is nowhere to eat out here so bring plenty of snacks and a lunch! Tomales Point is a great place to have a snack before making the return trip. You may want to bring a sandwich for when you make it back to the car. Or you'll need to be prepared for a 30 minute drive to Inverness, Point Reyes Station, or Olema for a full meal.
If you're starting the hike later in the day, you could stop at one of the delis in Point Reyes or Inverness for a sandwich or at Cowgirl Creamery for everything you need to make a picnic (if you're not hiking the entire trail).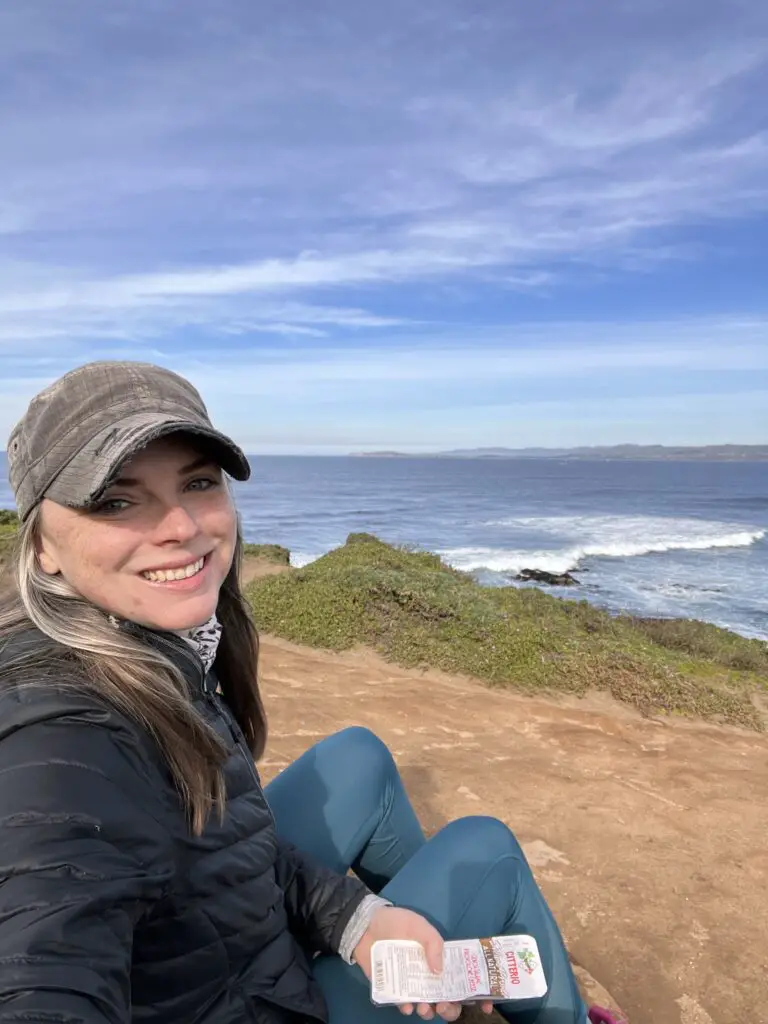 Cell Phone Reception
Cell phone reception is spotty here. Be sure to download maps offline before heading out here.
Fill Up Your Gas Tank
Ok, safe to say there is not much out here so be fully prepared. Fill up your gas tank in Point Reyes station before you start the drive to the trailhead. 
Bring a Camera & Zoom Lens
If you're into wildlife photography, this is a great place to practice it with the Tule Elk. While I only had my cell phone, I wished I'd brought my Sony and 70-300mm lens. I would've loved to capture the bull elk with their antlers more clearly. Just another reason to make a return trip!
Follow National Park Safety Rules
Please, stay away from the edge! Stay on the trails and keep your distance from wildlife. Leave your pets at home. This way we can all continue to enjoy this beautiful area.
Follow Leave No Trace Principles
Always, follow the leave no trace principles. Anything you bring in with you should be brought back out. There are trash cans at the trailhead and at McClures beach parking lot. 
Tule Elk Reserve Point Reyes
Tule Elk used to graze the grassy shores of Point Reyes until they were hunted to near extinction. In the 1970s two males and eight females were reintroduced to the area to restore their population.
Today, you'll have the chance to see hundreds of Tule Elk grazing this area. You could even call this the Point Reyes elk hike you'll have a chance to see so many.
I was able to see two bulls with gorgeous antlers on the drive in as well as a herd of around 50 grazing just off the trail. 
It appeared to me that these animals had very little fear of humans as they did not dart away like deer do. They must be used to the foot traffic crossing through their home on a daily basis. Please give these animals their space and do not approach them. 
Also drive slowly as you enter the area so as not to hit one.
As this is a Tule Elk preserve, dogs are not allowed on the trail.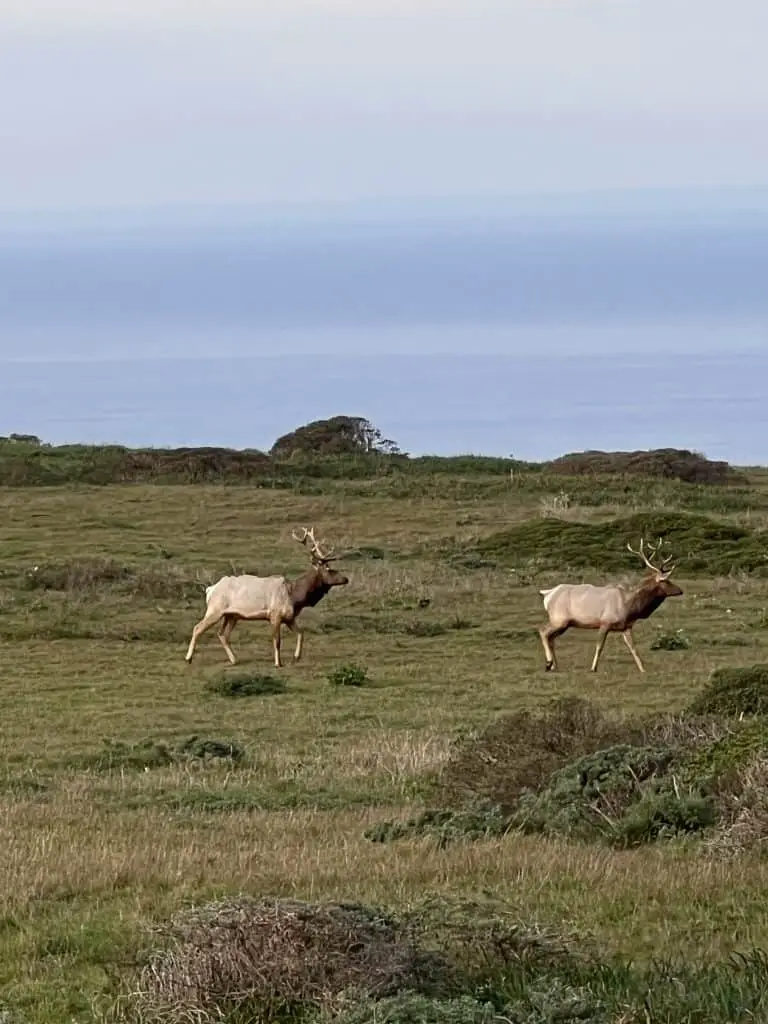 Whale Watching in Point Reyes
Gray whales migrate off the Point Reyes coast in the winter and in the summer on their way to Baja California from Alaska. The best chance you have at seeing them is in mid January or in mid March. So keep your eyes to the horizon if you're hiking around this time of year for a chance to see a whale spouting off the coast!
However, if you really want to see them, head to Chimney Rock as there's a better chance at seeing them there.
Historic Pierce Point Ranch Point Reyes
Pierce Point Ranch was considered one of the best dairy farms of the 1800s, especially when it came to the production of butter. It ceased operation in the 1970s but many of the buildings stand in good condition.
You can walk through the ranch either at the beginning or end of your hike to learn about each of the building's purpose. For instance, I thought it was interesting that there was a schoolhouse on the premises!
Once you've finished the hike, you can spend the afternoon exploring other fun things to do in Point Reyes, stop for a bite to eat in Inverness or Point Reyes Station, or simply return home as this is an easy day trip from San Francisco. Tomales Bay and Point Reyes are great places to explore, I hope you spend plenty of time experiencing this unique part of California.
Interested in more California hikes? Check out these posts!
The Best Bay Area Hiking Trails
The Best Coastal Hikes in Pacifica, California
Stunning Half Moon Bay, California Hikes
Lands End Trail in San Francisco, CA
Batteries to Bluffs Trail in San Francisco, CA
Find this post helpful? Pin it to Pinterest so others can find it too!