Point Reyes National Seashore is a bit of a hidden gem on the Northern California Coast. Located just 1.5 hours north of San Francisco, Point Reyes is filled with natural beauty and wildlife. The well preserved seashore is an area filled with miles of trails suitable for any fitness level. While you can drive through the park to get a glimpse of the beauty and wildlife here, Point Reyes hiking trails will allow you to fully immerse yourself in nature and provide an opportunity to disconnect from the pressures of everyday life.
In this post I'll share with you some of the best hiking trails in Point Reyes National Seashore that I've had the opportunity to complete. Some are certainly physically challenging, requiring an entire day devoted to them. While others are short enough to be easily incorporated into a day exploring the best things to do in Point Reyes.
This post contains affiliate links, which means that, at no additional cost to you, I will earn a tiny bit of income if you decide to make a purchase or booking. For more, check out my disclosure. 
My Favorite hiking Resources
How to Get to Point Reyes National Seashore
Located in West Marin, off of Highway 1, Point Reyes National Seashore is a perfect day trip or weekend getaway from San Francisco. The drive from San Francisco to Point Reyes Station takes approximately 1 hour. Once you cross the Golden Gate Bridge, the road winds through cute towns like San Anselmo and Fairfax. The drive will also lead you through Samuel Taylor State Park which is home to California Redwoods.
Honestly, the drive to Point Reyes is part of the adventure!
Once you reach Point Reyes Station many of the hikes in Point Reyes are about another 20-30 minute drive.
What to Bring with You Hiking in Point Reyes
All of the hikes described below are considered day hikes and will need everything on this short hike packing list. The majority of these hikes in Point Reyes do not have a water source on the trail so the most important thing to bring with you is water. There are also no places to eat once you're in the park so bring snacks!
If you forget either of these, stop in Point Reyes station where there is a grocery store that you can get supplies.
The majority of these hikes do not have good cell phone reception. Be sure to download Google Maps Offline and the AllTrails map offline so you can stay on track.
You can also stop by the Bear Valley Visitor Center to get a map of the trail you plan to hike and to seek any additional information you may need.
Bring a first aid kit, sunscreen, and layers as well. Which leads me to the next point.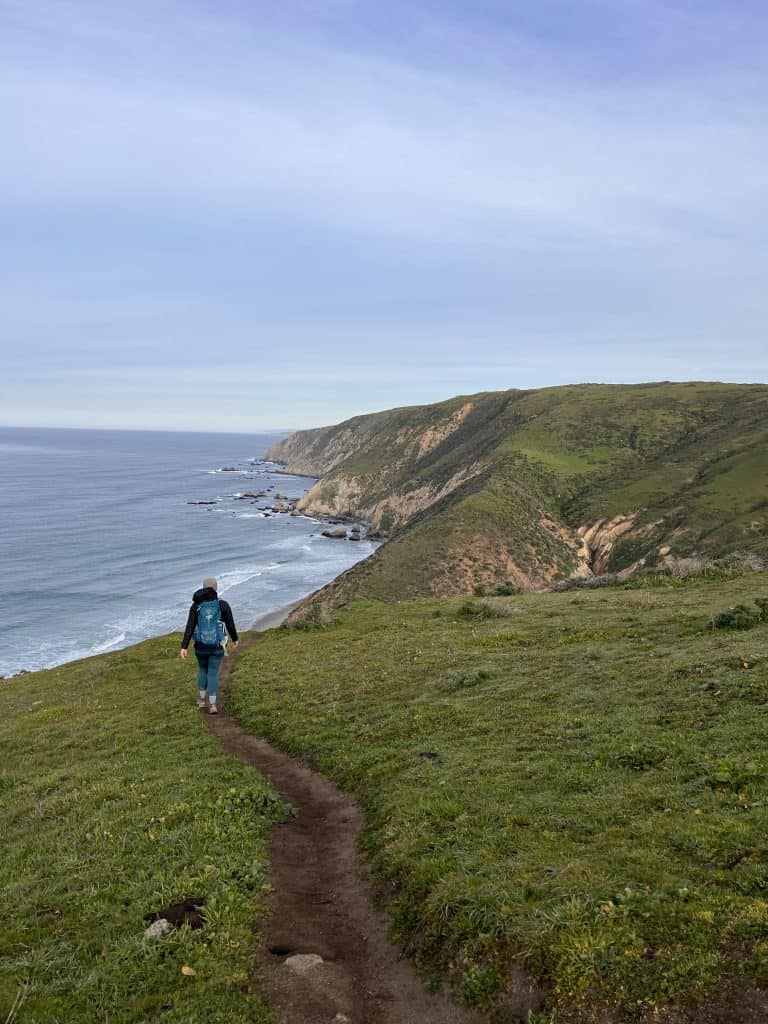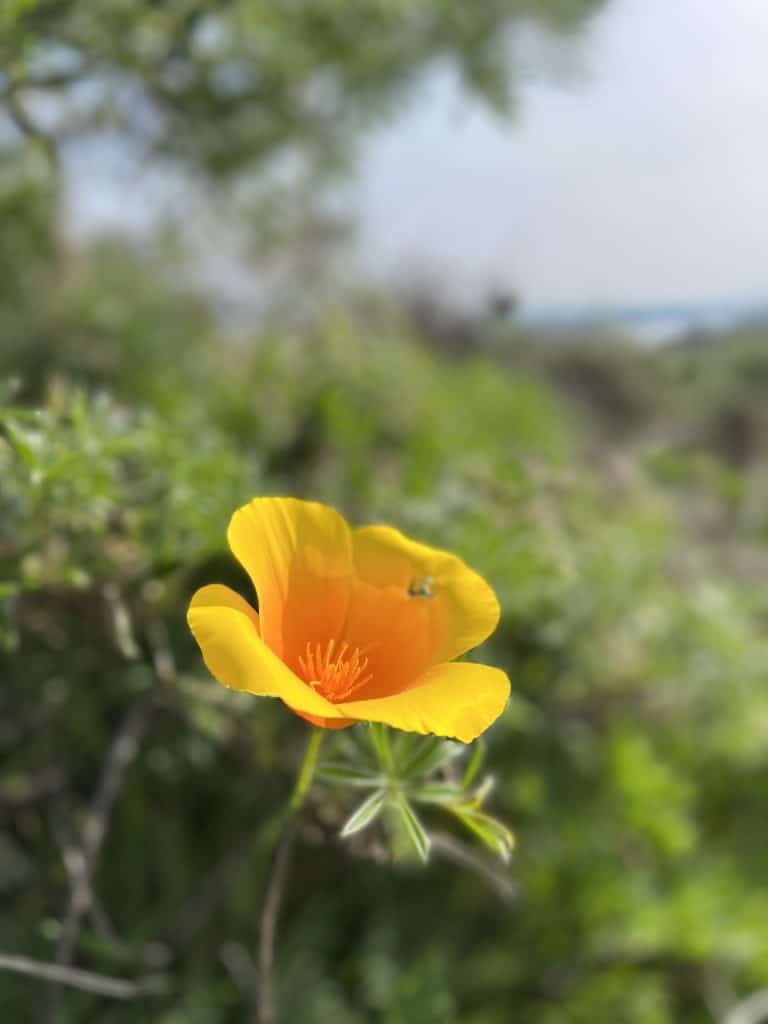 What to Wear Hiking in Point Reyes
Wear whatever athletic clothing you feel most comfortable in while hiking. It can be quite windy on the coastal trails so layers are essential. 
Many of these hikes are exposed for the entirety of the trail so be sure to wear sunscreen, a wide brimmed hat, and clothes that have UPF in them, if possible.
In regards to shoes, I prefer hiking boots, I've been wearing these Keens for years and love them. I definitely use them on the longer trails, but find that I can get away with workout shoes on the short trails.
Again wear what makes you feel the most comfortable and secure.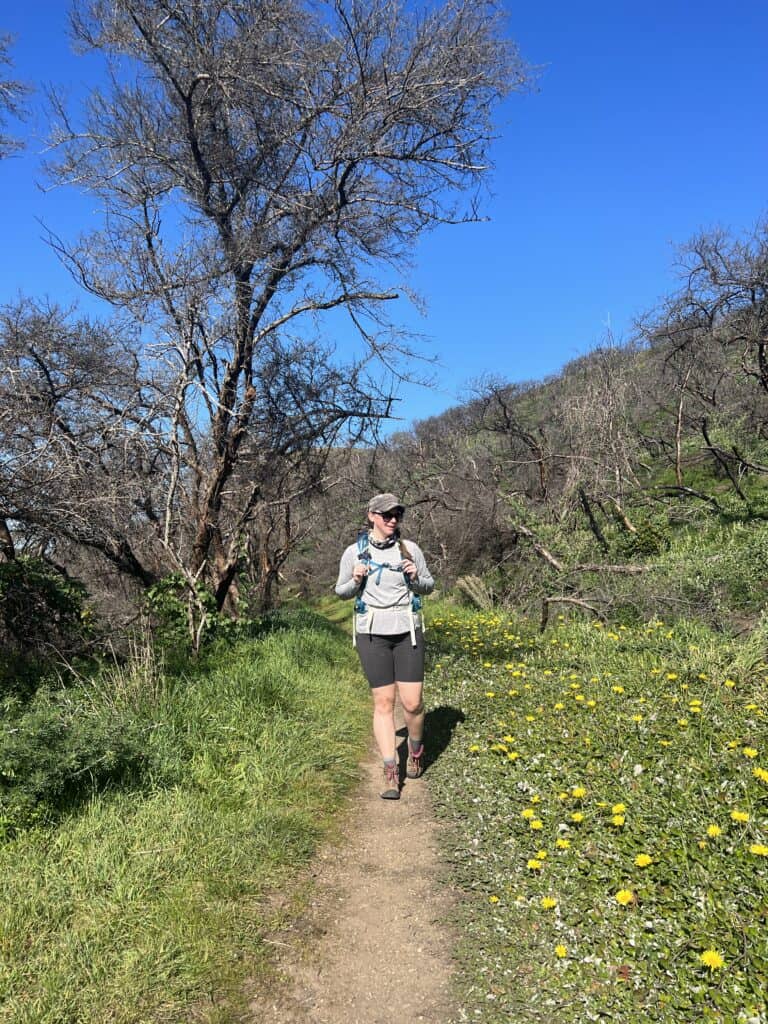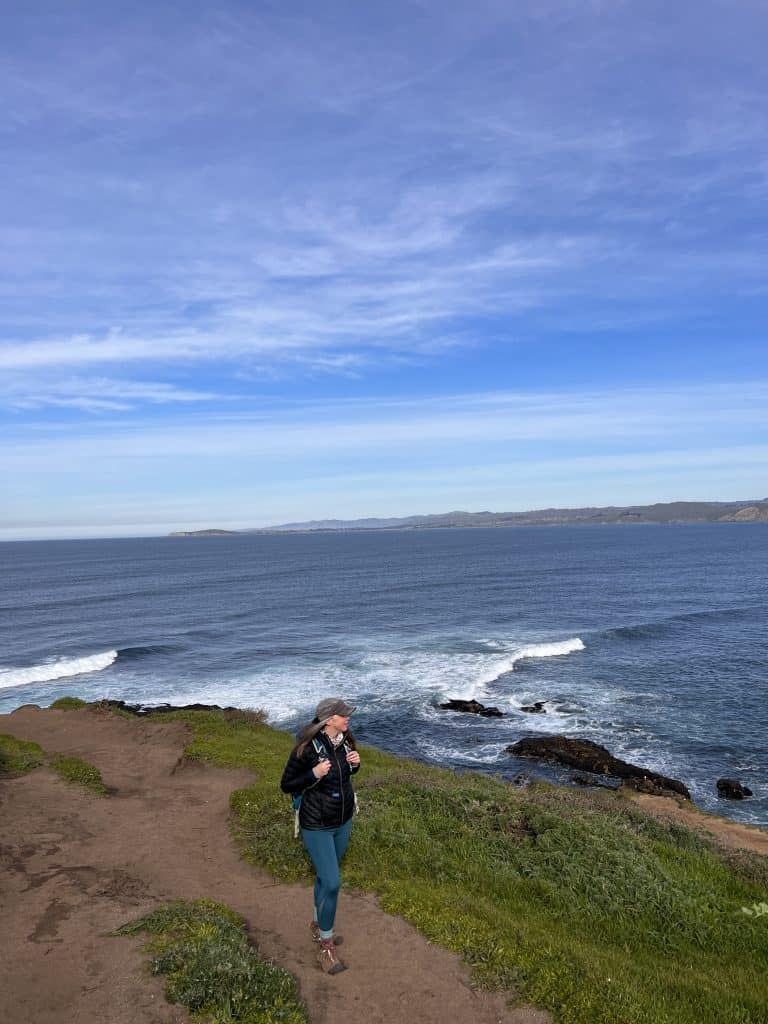 Safety Tips for Hiking in Point Reyes
Always follow the guidelines of the National Park Service when hiking in Point Reyes.
Stay away from the edges of cliffs on coast trails
Be aware of mountain lions
Let others know where you're hiking
Don't hike a trail beyond your skill level
Bring plenty of food and water
Best Hikes in Point Reyes
Now that all of the practical advice for hiking in Point Reyes is out of the way, let's get to exploring these beautiful hikes in the Bay Area.
Alamere Falls Hike
Distance: 13 miles out and back
Elevation: 1,811 feet
Difficulty: hard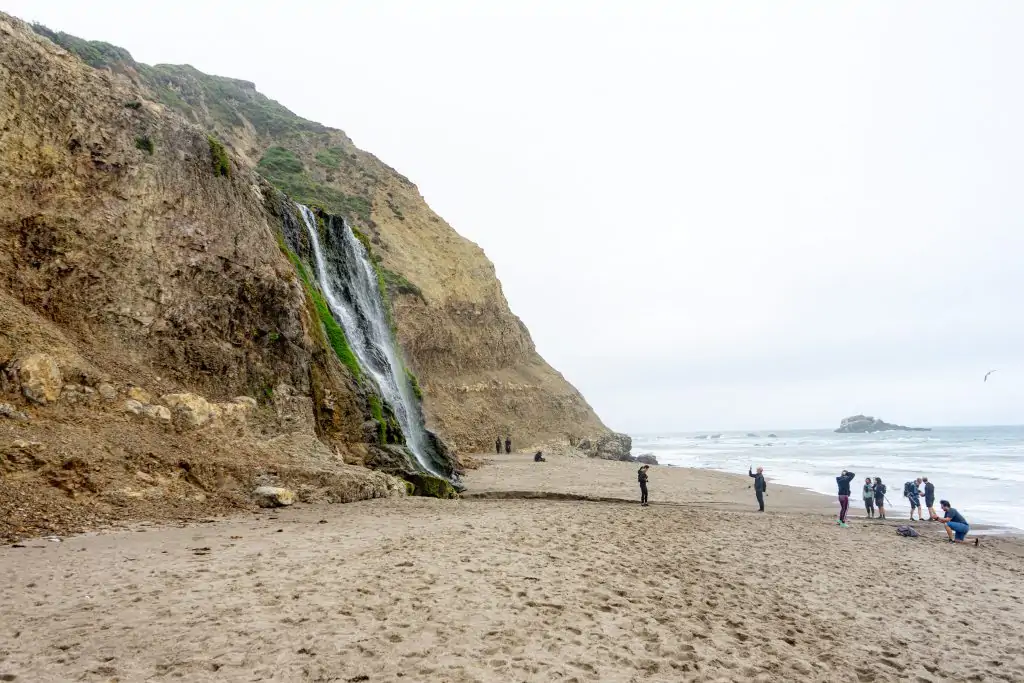 The Alamere Falls hike is one of the most popular hikes in Point Reyes National Seashore, and perhaps one of the best hikes in California. The highlight of this 13 mile round trip hike is the tidefall waterfall, Alamere Falls, that flows directly into the ocean.
There are a few trails in Point Reyes that lead to Alamere Falls, however, the shortest and most popular trail to Alamere Falls begins at the Palomarin trailhead. Along the way you'll walk through Eucalyptus groves, pass by Bass Lake, where you can swim on a hot day, and hike along the beach to reach the base of Alamere Falls.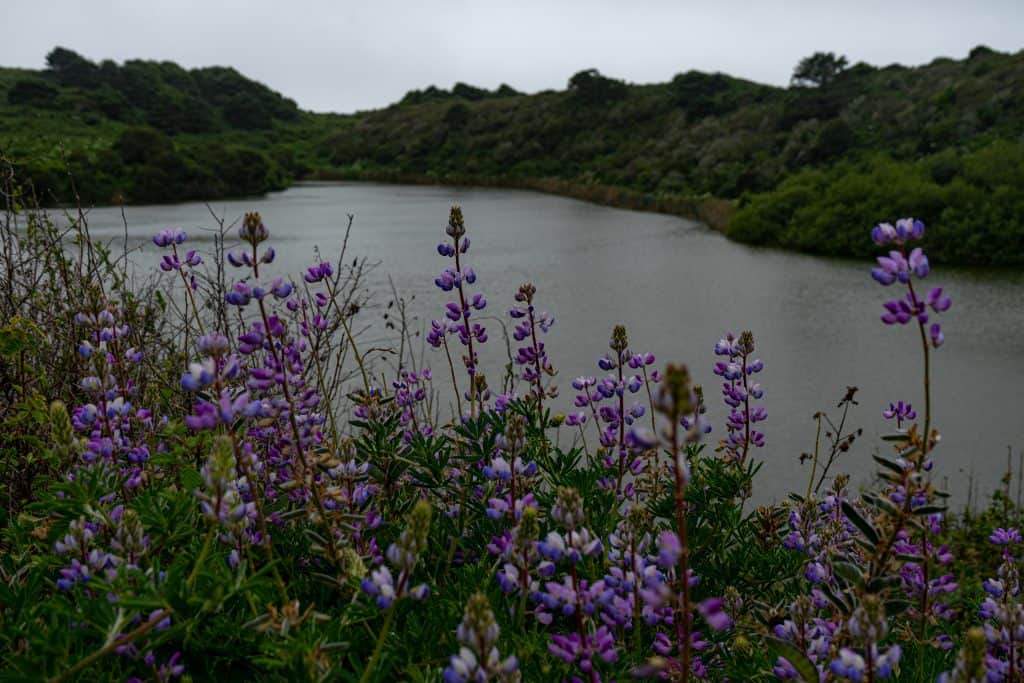 There is an unofficial shortcut that would make this 13 mile hike, 8 miles, and cut off the beach portion. However, it is fairly sketchy on the way down. I recommend taking the official trail and arriving at the falls via the beach as it's quite a special way to see them for the first time.
Once at the falls, you can decide if you want to take the shortcut back or not. Either way, above Alamere Falls is a series of other waterfalls that are quite spectacular and should be seen.
There is another option if you'd prefer a shorter hike while still seeing waterfalls. Take the shortcut both ways without making the potentially very dangerous rocky scramble to the beach and simply view series of waterfalls that lead to the tidalfall.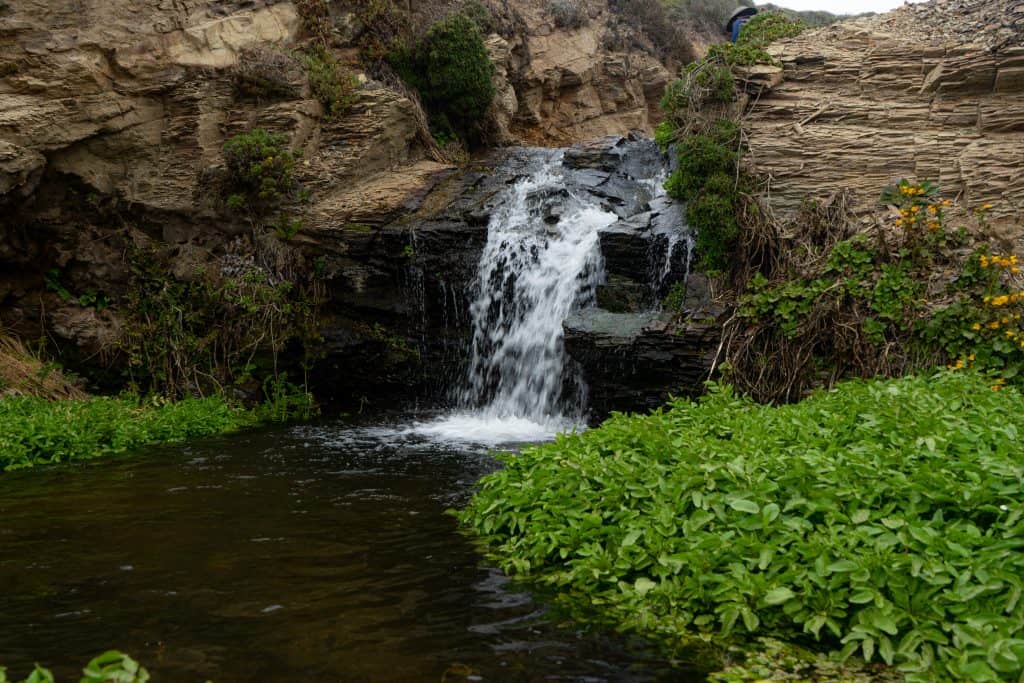 The power of the falls will depend on the time of year you complete this hike and the amount of rain the area has had over the last few months. As California has been in a drought recently, it may be more of a trickle.
Avoid hiking the beach section of the trail during high tide as rogue waves can drag hikers into the ocean.
In my opinion, this is a fairly difficult hike simply due to the length. There is about an 1,800 foot elevation gain, but really the hardest part is the last mile on the return when you just want to get back to the car. 
There are parts of the trail that are fairly rocky and you'll hike on sand for at least a mile so sturdy hiking shoes are a must.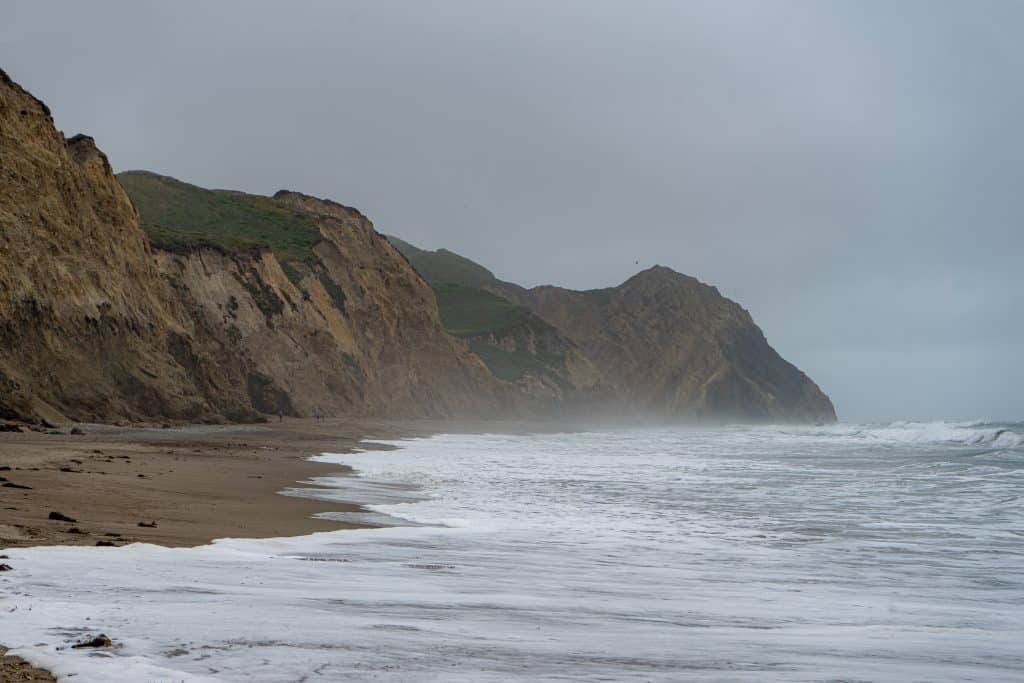 A bathroom is located at the Palomarin Trailhead and Wildcat Campground. There are also a few picnic tables at Wildcat Campground which makes it a great place to rest and have a snack before hiking the beach portion.
There is not a water source on the trail so be sure to bring more than enough water. Sunscreen, a hat, and UPF blocking clothing are a good idea as well as the trail is very exposed.
The Alamere Falls hike is incredibly popular so it's best to start this hike before 9:00 am as the parking lot will fill up.
Tomales Point Trail
Distance: 10 miles out and back
Elevation: 1,177
Difficulty: moderate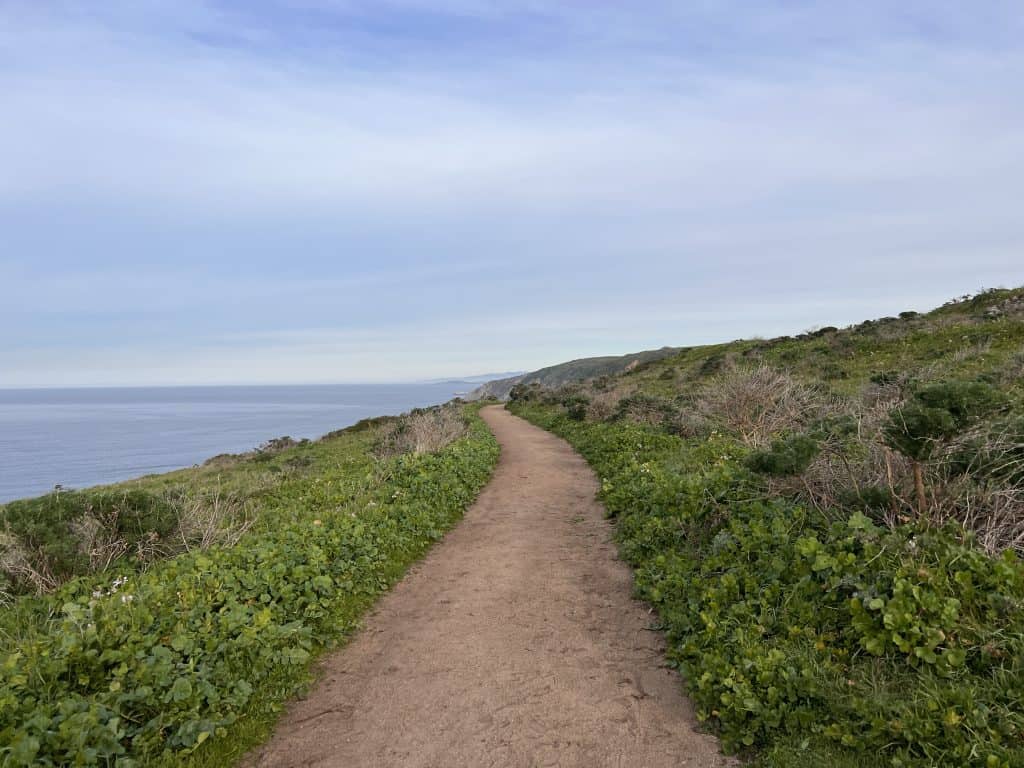 Perhaps the second most popular hikes in Point Reyes is the Tomales Point Trail. The Tomales Point hike provides great views of the Pacific Ocean, Tomales Bay and Bodega Bay. Along with the chance to spot stunning wildlife.
While the Tomales Point hike is a 10 mile round trip hike to the point and back to the trailhead, you could hike as far as you'd like, find a spot for a picnic, and then turn around.
This area of Point Reyes is home to a Tule Elk reserve which means that you have a very good chance at seeing them grazing in the open grassland. On my drive in I saw two bulls with huge antlers and at various points throughout the hike there were small herds of Tule Elk grazing just off the trail. They appeared unbothered by the humans taking their photos, but please maintain a safe distance.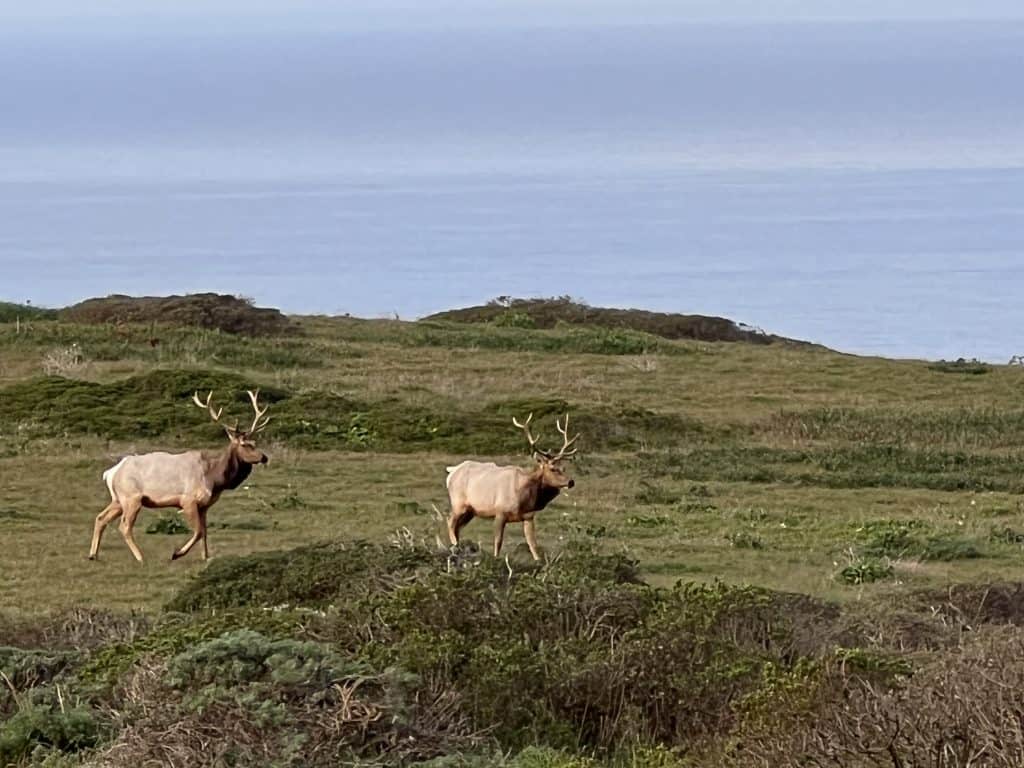 The Tomales Point trailhead is at the historic Pierce Point Ranch and follows the coast for about 3 miles. After you reach the ridge, the trail descends to an unmaintained portion of the trail. This is the last 1.5 mile section to Tomales Point.
Tomales Point is a great place to relax with a snack. On a clear day you can see across to Bodega Bay, perhaps see a migrating whale, or simply recover and watch the waves crash below.
Be sure to stay away from the cliff's edge as this area is known to crumble and collapse.
If you're hiking to Tomales Point during the weekend, plan to get there early as the parking area at Pierce Point Ranch is limited. I recommend starting the hike before 8:00 am if possible.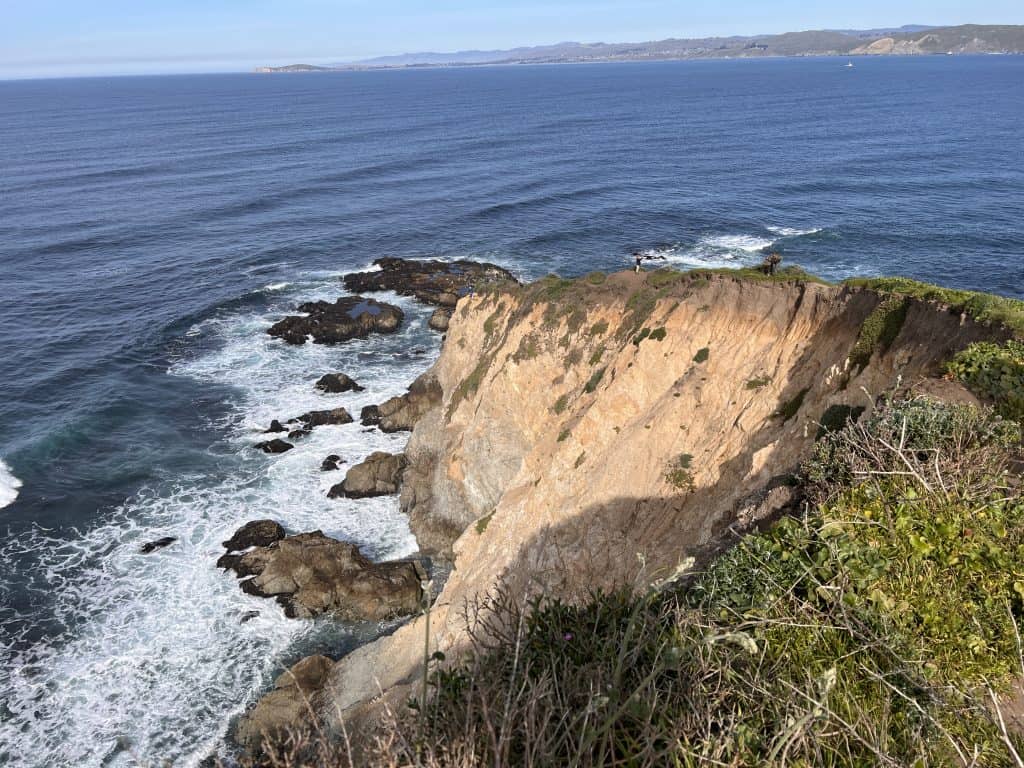 The only bathrooms are located at the nearby McClure's beach parking lot. There are a few rocks you could hide behind in an emergency, although they're still exposed and close to the trail.
Water is not available in this area of the park, be sure to bring more than enough for the entire duration of the hike and the drive back to town.
The Tomales Point hike is completely exposed so sunscreen, a wide brimmed hat, and UPF blocking clothing is a must. The unmaintained portion of the hike also introduces narrow trails through vegetation so long pants will decrease the risk of abrasion.
Coast Trail from Limantour Beach to Sculptured beach
Distance: 8 miles out and back
Elevation: 577 ft
Difficulty: moderate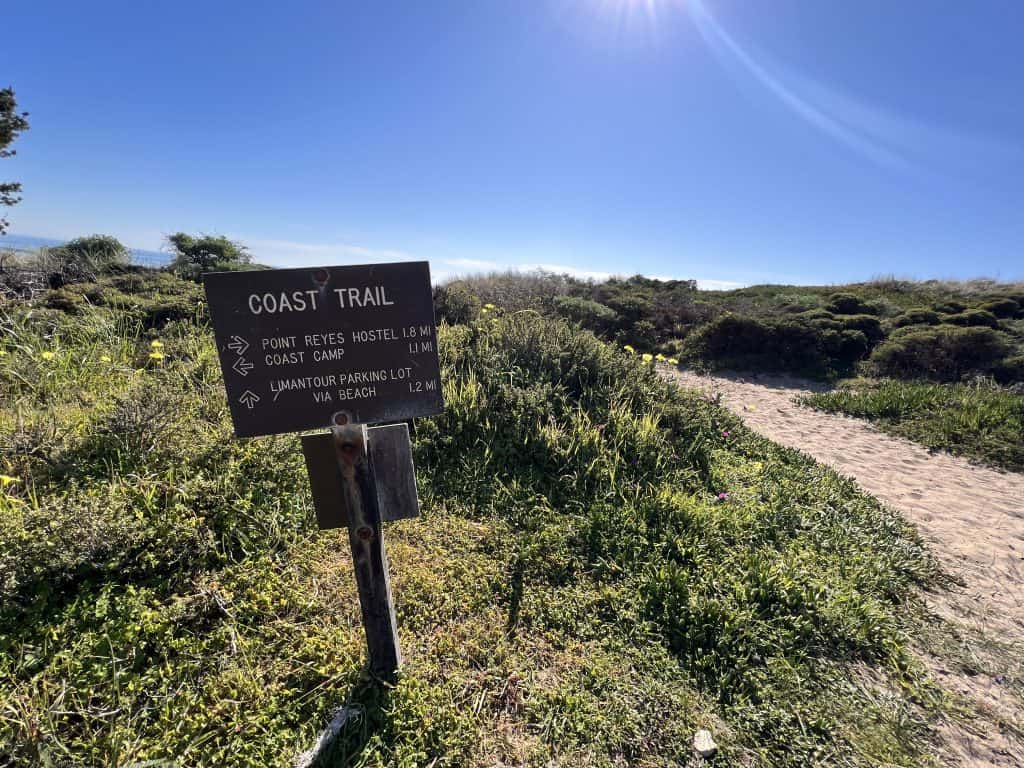 Perhaps not as popular as the other Point Reyes hiking trails listed here, the coastal trail from Limantour Beach to Sculptured Beach is still one of my favorites as it includes two pristine beaches! 
As it's not as popular, it's not as crowded, especially on the weekends. So as the crowds head to Alamere Falls or Tomales Point, you're heading here!
The trail begins at the Limantour Beach parking lot, of which there are two. If possible park at the paved lot closest to the street. If you can't no biggie, you'll just add a bit more sand hiking to the trail. There are vault toilets at each parking lot.
This Point Reyes hike begins on the sand at Limantour Beach. To make this easier, walk on the wet portion of the sand if possible. Keep your eyes on the ocean as you may see dolphins, seals, or maybe even a whale! I spotted two dolphins and a seal on my hike!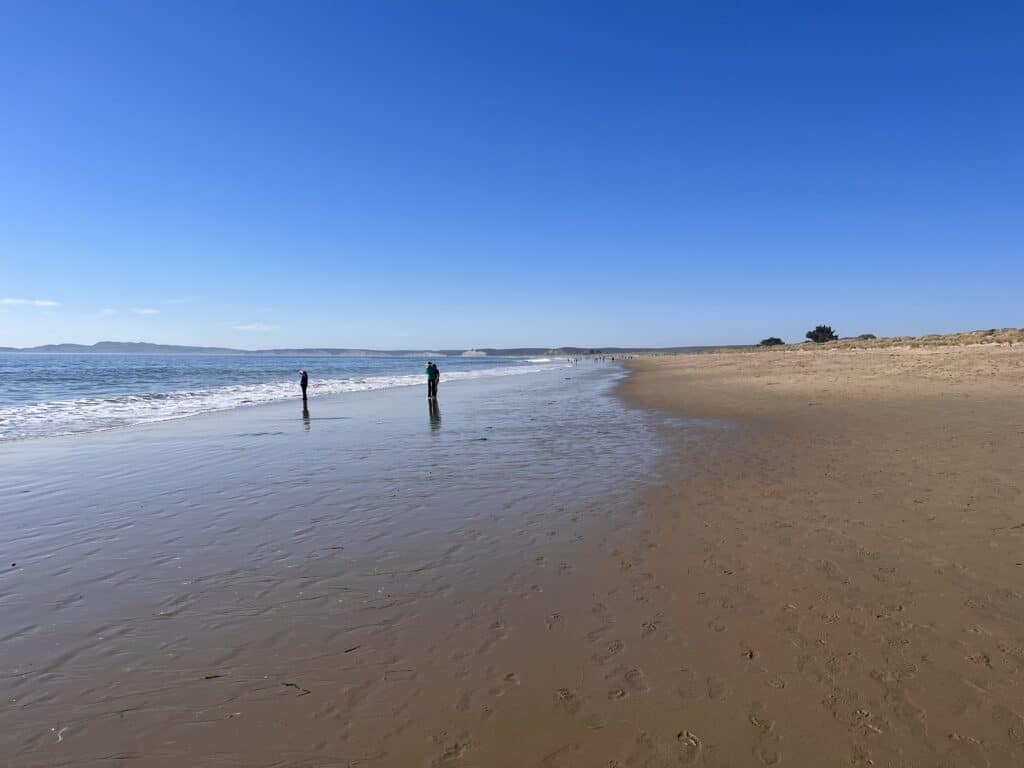 After almost a mile along the beach, you'll join up with a packed dirt trail. Download the trail map for offline use using AllTrails so you don't miss it (it's not obvious on Google Maps).
Once on the coastal trail you'll have a birds eye view of the ocean until it winds a bit inward to the Coast Campground. The campground is about 3 miles in and there are vault toilets here as well.
After you pass through the campground it's 1 mile to Sculptured Beach. On this section of the trail you'll see evidence of a recent wildfire that swept through the area.
Once you meet the Sculptured Beach turn off, it's a short (0.2 mile) and narrow trail downhill to a staircase leading to the beach.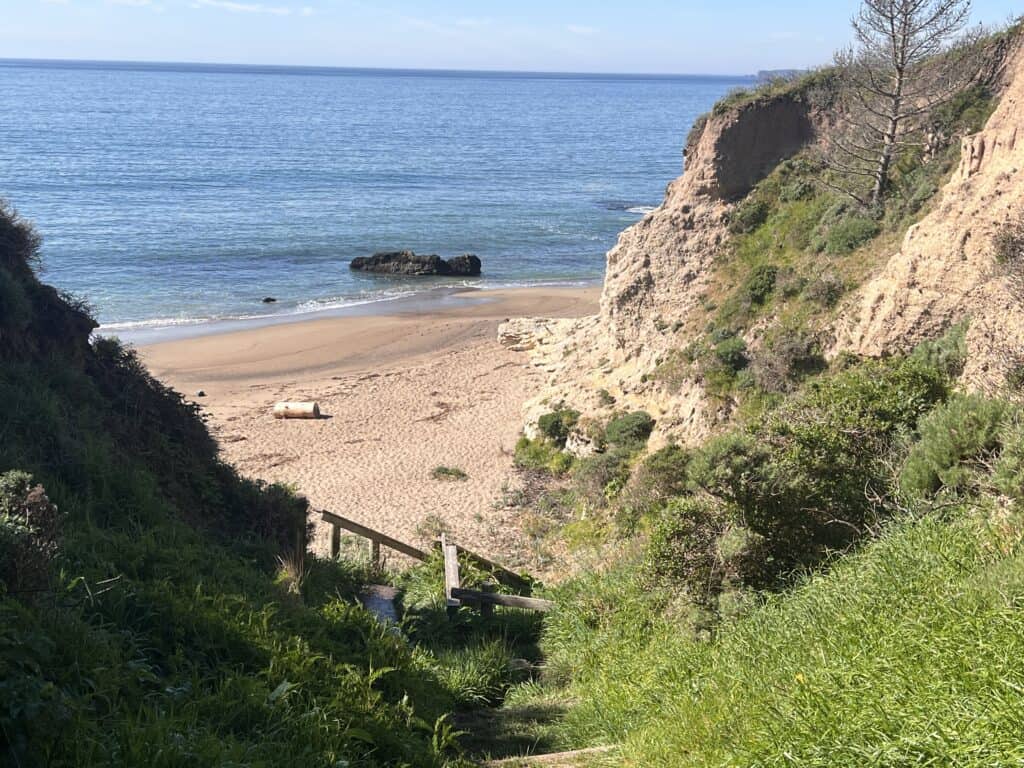 Sculptured Beach is sheltered by large cliffs and at low tide you'll be able to climb over the rocks to other beaches. There are also tide pools here you can explore. You may have the entire beach to yourself if you get there early in the day!
Sculptured beach is a great place to have lunch and relax before making the return journey back to Limantour Beach. 
Chimney Rock Trail
Distance: 4 miles out and back
Elevation: 269 ft
Difficulty: easy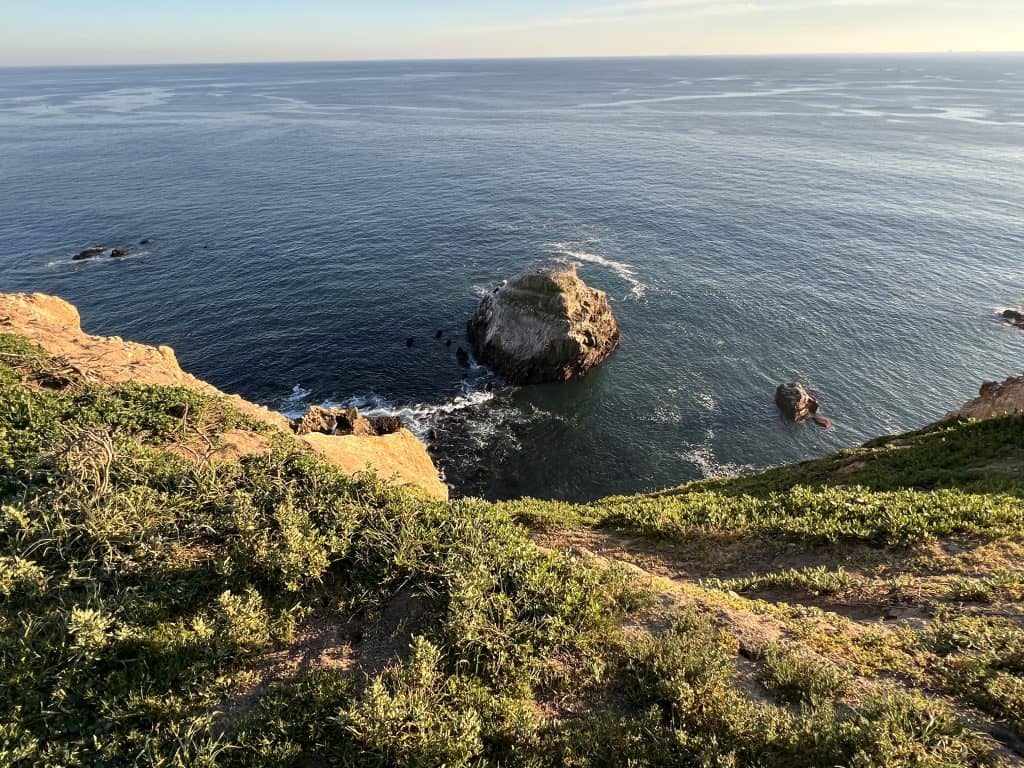 Chimney Rock is a short 4 mile out and back hike in Point Reyes that leads to an awesome overlook where you may be able to see grey whales migrating. The parking lot for this hike is shared with the elephant seal overlook. I highly recommend checking that out before stating the Chimney Rock Trail.
You'll find the trailhead for Chimney Rock just behind the vault toilets.
The dirt path to the overlook is along the cliffs, so be sure to stay away from the edge. However, if you do peak over, there are sandy beaches below with elephant seals!
Once you reach the point there are a couple of benches overlooking Chimney Rock. If they're taken there are plenty of places to sit off the trail, just be wary of getting too close to the edge.
The great thing about Chimney Rock is it's a short hike, with one incline. This allows people with a variety of skill levels to be able to soak in the beauty of the Point Reyes Peninsula without too much effort.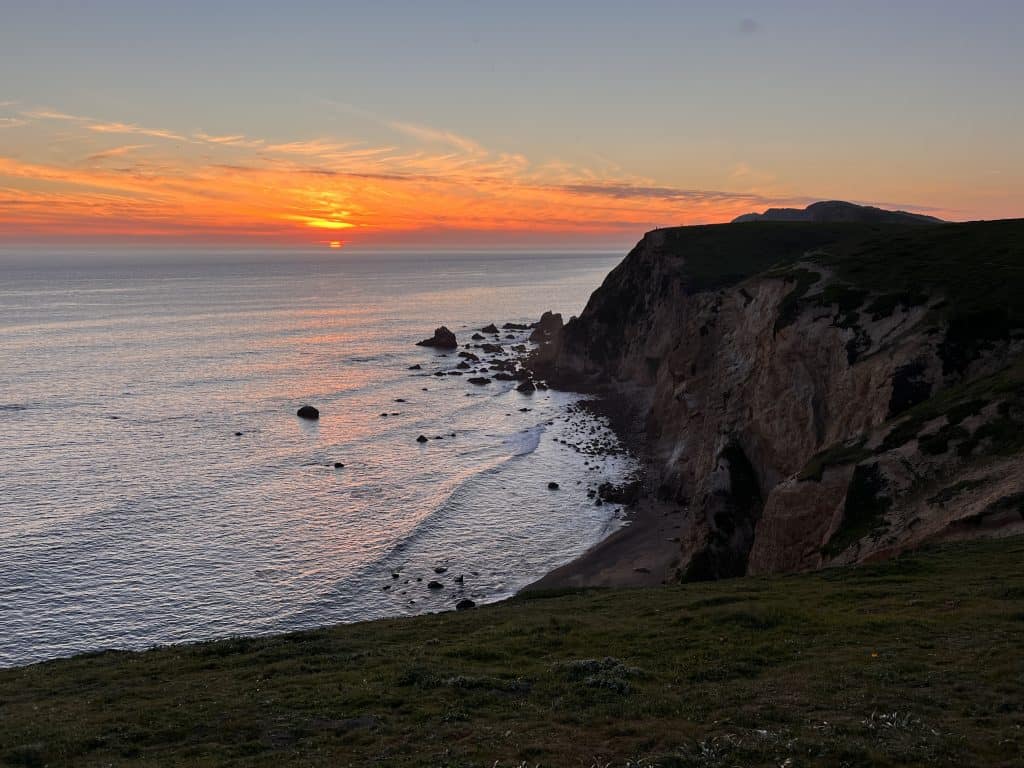 Chimney Rock is an excellent hike to do just before sunset and it's not too busy (at least it wasn't when I went on a 75o sunny Saturday in February). 
Be warned, the road to get here is very narrow, take it slow and pull to the side when you can for passing cars. It reminds me of narrow country roads in Ireland. 
Abbotts Lagoon Trail
Distance: 3.3 miles out and back
Elevation: 187 ft
Difficulty: easy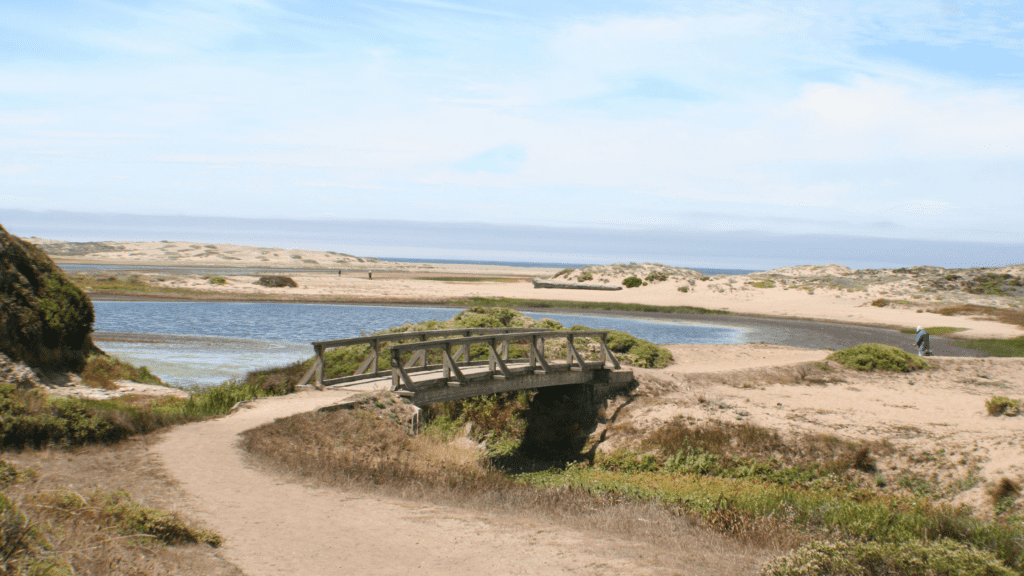 The Abbotts Lagoon Trail was my first hiking experience in Point Reyes. I'd intended to do a hike in nearby Mt.Tam, but there just so happened to be a marathon that day so the mountain was closed.
I continued driving up the coast, ending up in Point Reyes.
With very little cell service and, at the time, not sure of what to do there, I pulled over at Abbotts Lagoon trailhead to use the restroom and realized there was a short trail here!
The Abbotts Lagoon trail is the perfect trail to stretch your legs.
Abbott's Lagoon is a short and mostly flat 3.3 mile hike passing by two lagoons, farms and ultimately leads to Point Reyes beach.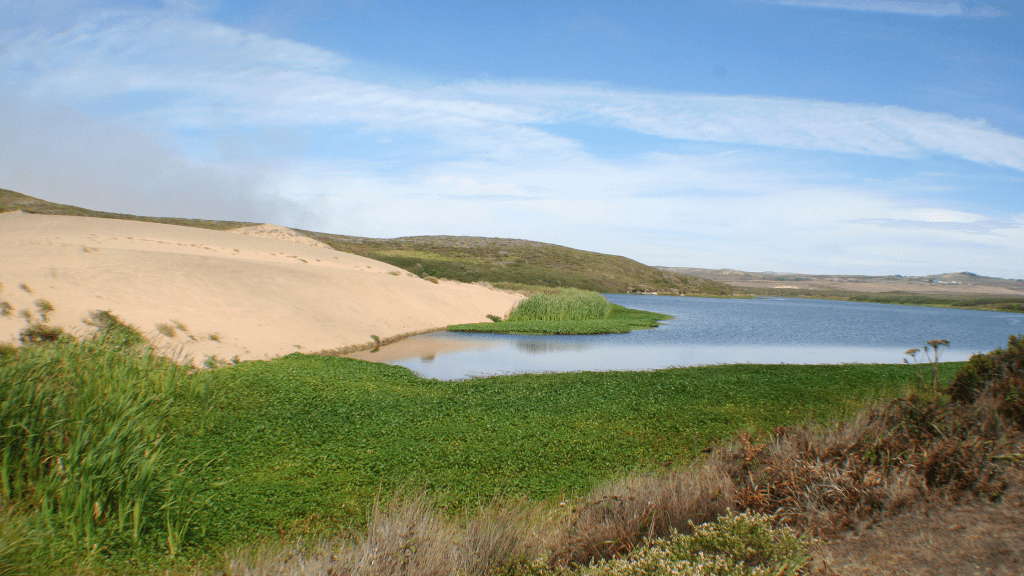 The hike is a combination of dirt trails, wooden bridges, and wooden walkways with various lookout points over the lagoons. 
In the Spring the coastal shrub is filled with colorful blooms. 
Around 1 mile in you'll cross the final wooden bridge on the other side of which is a sandy trail that hugs Abbotts lagoon where you'll see plenty of wildlife. Keep your eyes open for river otters, ducks, and even snowy plovers.
You can continue following the trail over the dunes and down to Point Reyes Beach.
Point Reyes Beach is an 11 mile long stretch of sand that you could walk as far as you like before turning back around.
Personally, I like to find a good place to sit for a bit and watch the waves crash
It's not advised to swim at this beach as there are rip tides and an incredibly strong current.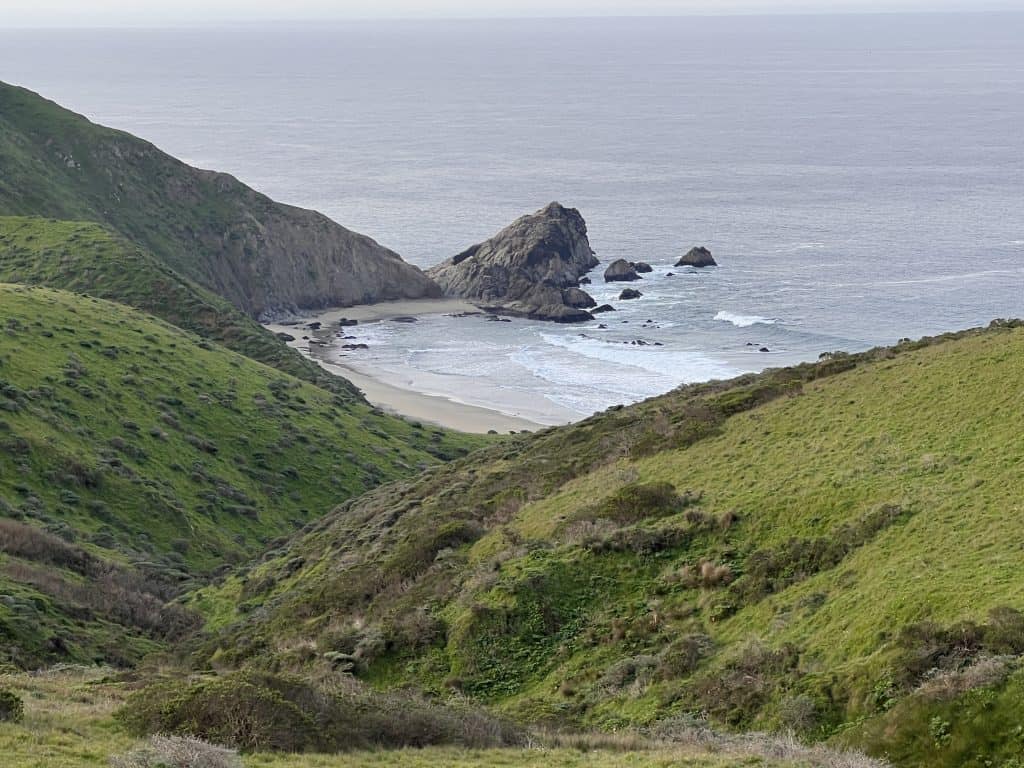 There are plenty more hiking trails in Point Reyes such as the Bear Valley Trail, Kehoe Beach Trail, Drakes Bay Trail, and Laguna Coast Loop. However, the 5 Point Reyes hikes described above are a great starting point for your Point Reyes outdoor adventures! Which one will you hike?
Like this post? Pin it for later!