Galway, Ireland located on the west coast and a stop on the wild Atlantic way makes an excellent city to base yourself for day trips to experience some of the most beautiful places in Ireland. Not only is Galway a great base for exploration of the emerald isles west coast, but at the end of the day, there are plenty of things to do in Galway.
So you really get the best of both worlds. A vibrant and lively city in the evenings after beautiful days spent in the Irish countryside on day trips from Galway.
These three day trips from Galway can be accomplished in a variety of ways. A day tour may be a great option if you don't have a car and want to check off multiple sites in one day. For example, a day tour to Kylemore Abbey also includes stops in Connemara and at the Killary fjord.
If you're up for an adventure, you can DIY these trips with public transportation. And for the most flexibility rent a car to turn these day trips into stops on a wild Atlantic way road trip!
This post contains affiliate links, which means that, at no additional cost to you, I will earn a tiny bit of income if you decide to make a purchase or booking. This is the sixth post in the Ireland Travel Series. Here is the complete 6 part series:
Ireland Travel Series
Ireland Itinerary: Discover the Best of Ireland with this 7 Day Ireland Itinerary without a Car
Travel Tips: What Not To Do In Ireland: Avoid These Tourists Mistakes in Ireland
Packing Tips: The Only Ireland Packing List You Need for Any Season
Dublin: The Ultimate Guide to 2 Days in Dublin
Cliff Walks: A Day Trip from Dublin: The Bray to Greystones Walk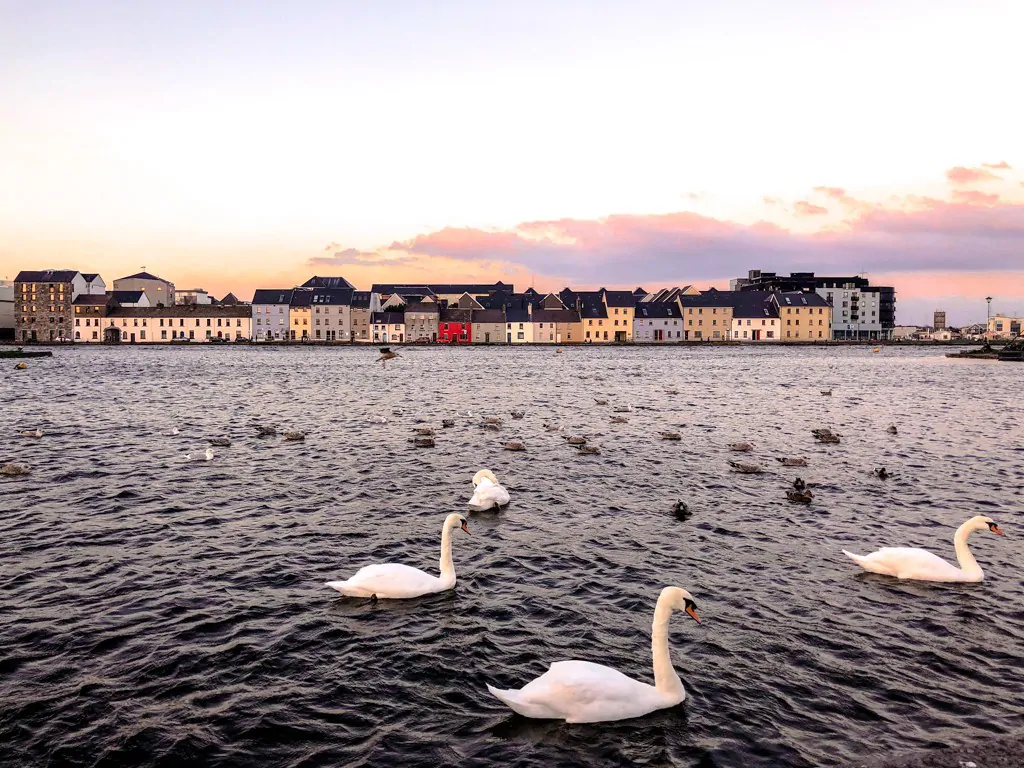 3 Day Trips from Galway
Marvel at Cliffs of Moher
I usually don't tell people they have to do something on their trips, but I will say that you have to go to the Cliffs of Moher, they're really a can't miss, or easily forget, destination in Ireland.
They're highest peak of 702 feet lays just beyond O'Brien's Tower and on a clear day, you can see all the way to the Aran Islands.
To be totally honest the biggest downside of the Cliffs is that it's very possible that you don't get a clear day. You might get a foggy day where can barely see in front of you let alone the Aran Islands. But you should still go. Be prepared for windy conditions and dress accordingly. Also, stay away from the edges of the cliff!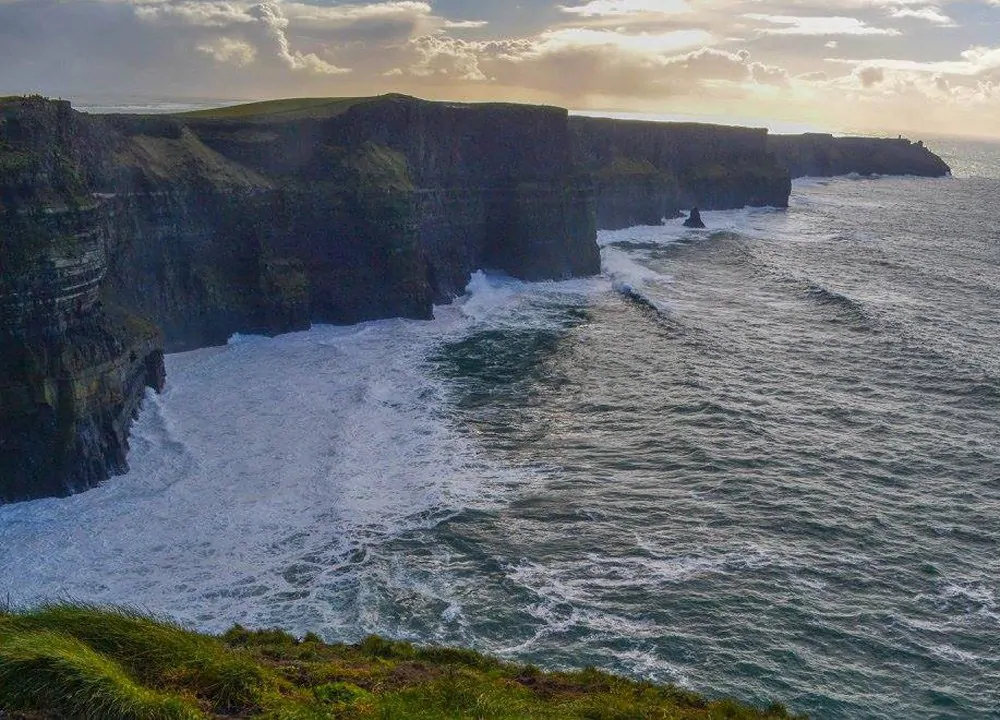 There are many ways to make the Cliffs of Moher happen on a day trip from Galway. The first and easiest way is to book a day tour from Galway. The day tour will not only provide transportation to and from the Cliffs but will also include other interesting stops like the unique limestone landscape of the Burren and lunch in the charming town of Doolin. The downside of this is that you're on someone else's schedule and you only get two hours to spend at the Cliffs.
The second option is to DIY your trip to the Cliffs of Moher. To accomplish this you'd take the two and a half hours bus ride with Bus Eireean on the 350 route from Galway bus station to the Cliffs of Moher car park. DIY-ing this day trip allows you to spend more time walking along the cliffs – away from the tourists – at your own pace.
You could even time it so you're there for sunset, which I did on my most recent trip, it was epic.
The cost of these options is roughly the same. A day tour will cost around €40 while adding on extra sites. The return bus journey costs €30. You'll be on your own either way for food, drinks, and the €8 ticket to the Cliffs of Moher. For more information, visit the Cliffs of Moher website.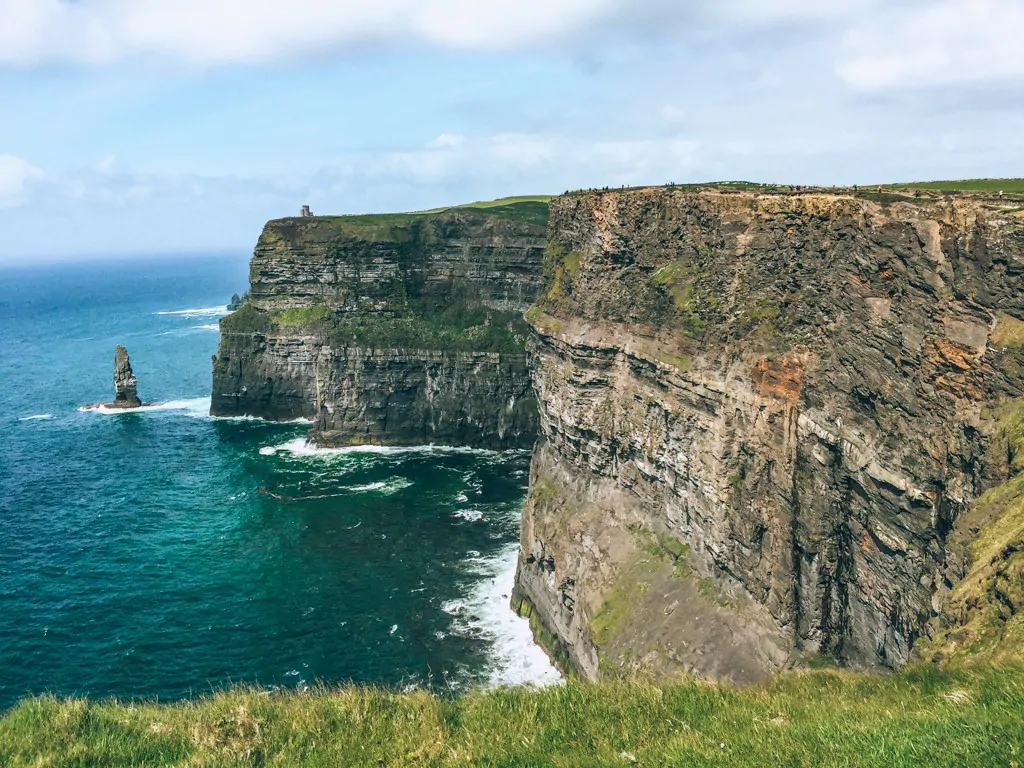 Step Back in Time on the Aran Islands
Visiting the Aran Islands is like stepping back to a much simpler time. A time where farming was a way of life, Irish was the main language spoken, and people were nice. Well people are generally nice everywhere you go in Ireland, but it's just different on the islands.
When I rented my bike to ride around Inisheer, I asked the owner of the shop for a lock, she chuckled and said "you don't need that here".And when I was done with my bike ride for the day, the shop was locked up, so I just left the bike outside.
That's what the Aran Islands are like. Plus those lush green hills, dotted with stone walls that sweep into the Atlantic, pure white sandy beaches, forts on hills, a shipwreck, and sheep. Yea, you should go.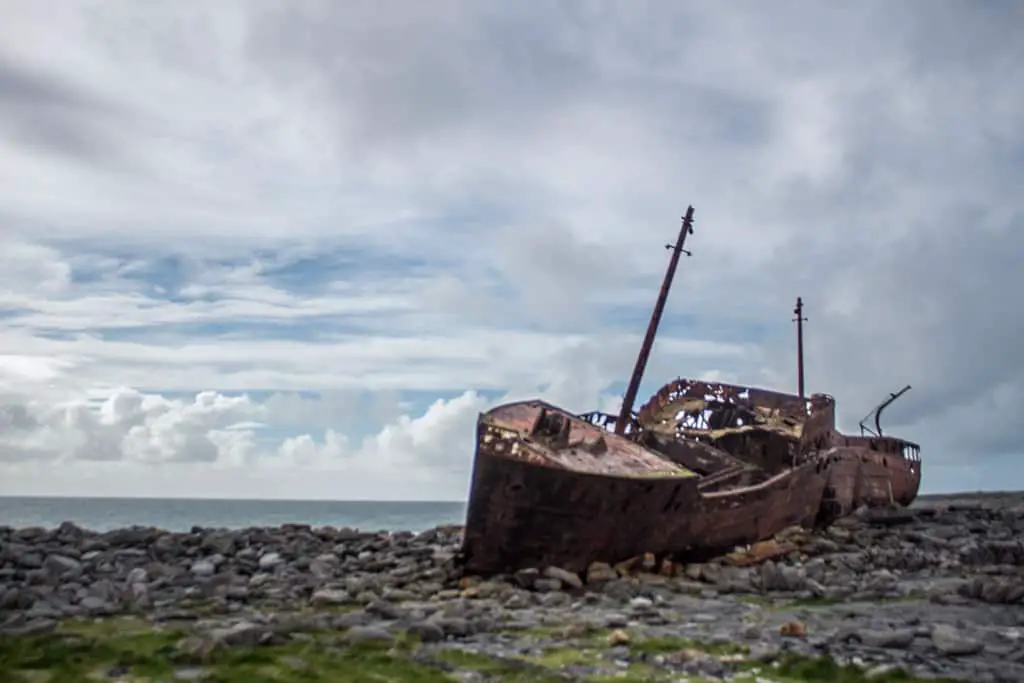 The only downside of visiting these islands is you can only choose one of the three for your day trip. I suggest visiting Inisheer, which is the smallest of the three because that's where the shipwreck is and it's really freakin' cool.
And you don't have to feel bad about gawking at it because everyone survived. It just sits there, rusting, as a testament to the grit of the crew and islanders who helped save its passengers.
That being said, Inishmore is pretty legit for a day trip too. You can see the ring fort high on a cliff and listen to music at Joe Watty's pub.
No matter which Aran Island you choose to visit, your trip starts with Aran Island Ferries. Stop by their office just opposite Galway's new coach station. With the purchase of your ferry ticket across to the islands, you'll also get return transportation from Galway City Center to Rosaveal (the dock). A round trip ticket costs €30. On the islands, rent a bike for €10 to see all of the sites. For more information, visit the Aran Islands Ferries website.
See What Love Made in Connemara at Kylemore Abbey
Picture a 33 bedroom stone grey castle built by a wealthy man for the love of his life and his family during the Irish famine set on the side of a lush green mountain overlooking a lake, surrounded by 1,000 more acres of wild Irish countryside in Connemara. This is Kylemore Abbey.
The Abbey began as a home for the Henry family and provided work and sustenance for the locals as they recovered from the famine years. In the 1920s the Benedictine nuns settled here and started a school for girls. Today, it is still run by the Benedictine nuns.
Also on the land is a stunning Victorian Walled Garden and a short walk from the Abbey is a gorgeous Gothic church the inside of which holds the remains of Mitchel and Margaret Henry – the couple who built the castle.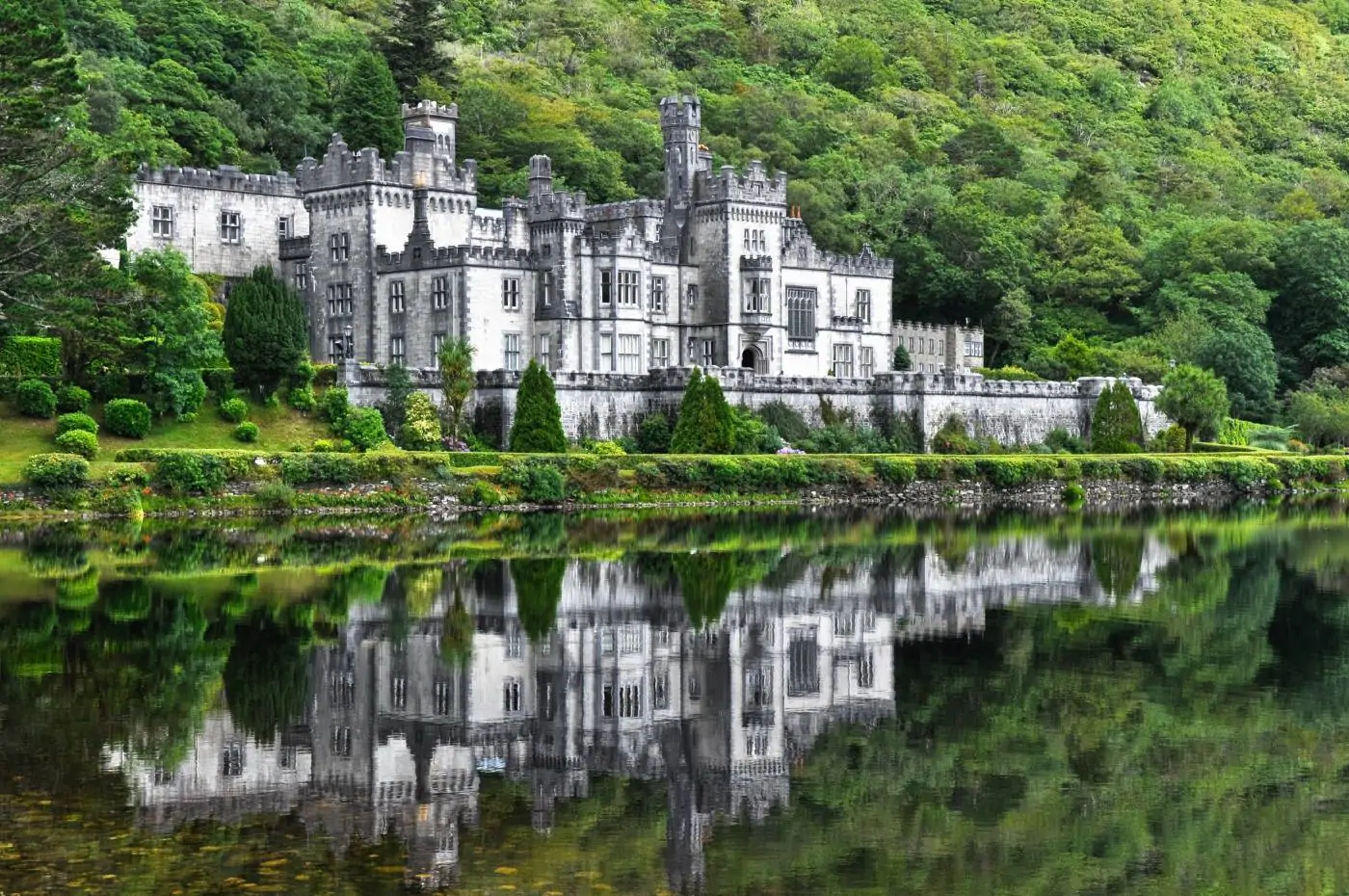 In all honesty, the best way to accomplish seeing Kylemore Abbey is with a day tour from Galway. There are a number of companies that run Connemara day tours all of which include a couple hours stop at the Abbey – which is all of the time you need. Along with the stop at Kylemore, you'll get to see the rugged and wild landscape of Connemara National Park, Killary fjord, and stop at smaller towns to get a feel for life in Connemara.
If you really don't want to do a day tour, you would have to take a bus from Galway to either Clifden or Letterfrack Village the two closest towns to the Abbey. If you go to Clifden, there is a company called Love Connemara Tours that operates a hop on hop off bus you could take to get to Kylemore Abbey and other beautiful spots in Connemara. Letterfrack Village is only two miles from Kylemore Abbey so you could walk the rest of the way if it's a nice day. I highly suggest visiting the bus station to inquire about routes and timetables.
Whether you get there by day tour or you DIY it, I suggest starting your visit with tea and a treat from the Tea House. Afterward, make your way to the Victorian Walled Gardens and visit the small house where the Garden keeper (is that a thing) once lived. The Gardens are still so beautiful! The inside of the Abbey is beautiful and placards provide details of its history, but you're only allowed on one floor as it is still very much in use by the Benedictine nuns. Stop by the small, but gorgeous Gothic church and then just marvel at the beauty of the Abbey's surroundings.
It costs €13 to visit the entirety of Kylemore Abbey. A day tour will cost around €25-50 and a DIY trip will likely be similar once you add in taxi costs. For more information visit Kylemore Abbey's website.
The Cliffs of Moher, the Aran Islands, and Kylemore Abbey in Connemara are the top three day trips from Galway that you should add to your Ireland itinerary. Basing yourself in Galway provides an excellent jumping-off point to witness the varied landscape of the Wild Atlantic Way and return to a beautiful and lively city at the end of each day!
Like this post? Pin for later!