Located on Ireland's west coast, Galway is an excellent city to base yourself in for day trips to experience some of the most beautiful places in Ireland. Galway is a part of Ireland's Wild Atlantic Way as are many of the main attraction of these day tours. On these day tours from Galway you'll see the dramatic Cliffs of Moher, the rugged Aran Islands, and the wild Connemara landscape.
Plus, with Galway as your base, you'll return from your adventures to a lively city filled with plenty of fun things to do.
These day trips from Galway can be accomplished in a variety of ways. A day tour may be a great option if you don't have a car and want to check off multiple sites in one day. For example, a day tour to Kylemore Abbey also includes stops in Connemara and at the Killary fjord.
If you're up for an adventure, you can DIY these trips with public transportation.
For even more flexibility, rent a car to turn these day trips into stops on a Wild Atlantic Way road trip!
This post contains affiliate links, which means that, at no additional cost to you, I will earn a tiny bit of income if you decide to make a purchase or booking.
This is the sixth post in the Ireland Travel Series. Here is the complete 6 part series:
Ireland Travel Series
Ireland Itinerary: Discover the Best of Ireland with this 7 Day Ireland Itinerary without a Car
Travel Tips: What Not To Do In Ireland: Avoid These Tourists Mistakes in Ireland
Packing Tips: The Only Ireland Packing List You Need for Any Season
Dublin: The Ultimate Guide to 2 Days in Dublin
Cliff Walks: A Day Trip from Dublin: The Bray to Greystones Walk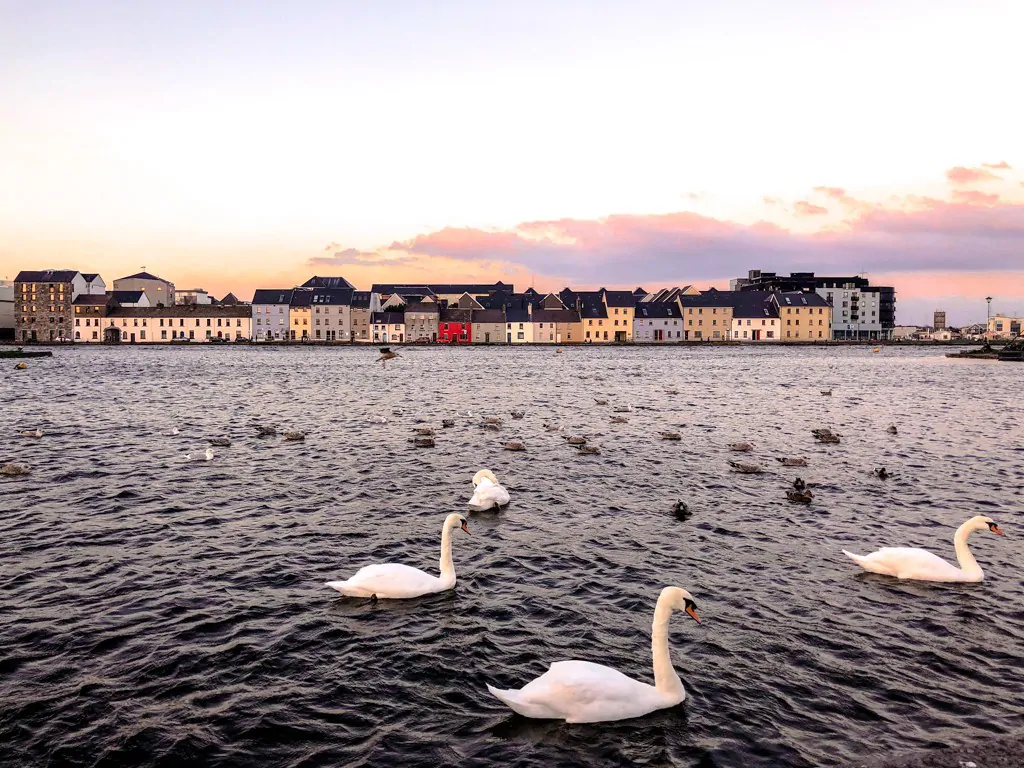 Top Day Tours from Galway
Marvel at Cliffs of Moher
I usually don't tell people they have to do something on their trips, but I will say that you have to go to the Cliffs of Moher. The Cliffs of Moher are one of the most popular tourist attractions in Ireland with over 1 million visitors per year.
Located in County Clare, the Cliffs of Moher rise out of the Atlantic Ocean to the dramatic height of 702 ft just beyond O'Brien's Tower. From the highest point and in good weather, you'll have spectacular views across the Atlantic all the way to the Aran Islands, .
To be totally honest the biggest downside of visiting the Cliffs of Moher is that it's very possible you'll get a foggy day with poor visibility.
But you should still go! Just be prepared for windy conditions and dress accordingly.
Also, stay away from the edges of the cliff!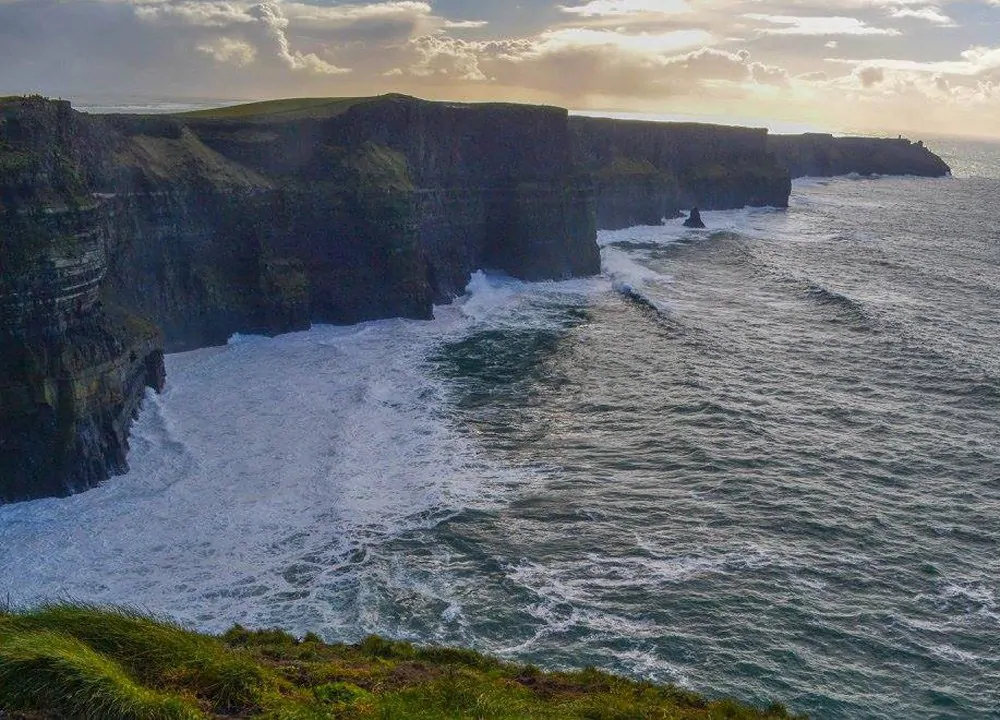 Cliffs of Moher Tour
There are many ways to make the Cliffs of Moher happen on a day trip from Galway. The first and easiest way is to book a guided tour from Galway. The day tour will provide transportation to and from the Cliffs as well as interesting stops like the unique limestone landscape of the Burren and lunch in the charming town of Doolin.
The downside of this is that you're on someone else's schedule and you may not have enough time at the Cliffs of Moher, the main attraction in my opinion.
Here's my recommendation for a guided tour: Full Day Tour to Cliffs of Moher from Galway. It also stops at Dunguaire Castle which I've yet to see!
Cliffs of Moher via Public Transport
The second option is to take public transit to the Cliffs of Moher. There are multiple departures on Bus Eireann to the Cliffs of Moher daily. Take the 350 route on Bus Eireann which leaves the coach station near Eyre Square to the stop for the Cliffs of Moher car park.
Visiting the Cliffs of Moher via public transit allows you to spend more time walking along the Cliffs – away from the tourists – at your own pace.
You could even time it so you catch sunset at the Cliffs of Moher! I highly recommend this if possible, just make sure you don't miss the bus back to Galway.
The cost of these options is roughly the same as food is not included in either option nor is the cost of admission to the Cliffs of Moher.
A day tour will cost around €40 while adding on extra sites.

The return bus journey costs €30.

€8 ticket to the Cliffs of Moher.
Visit this website for more information about planning your trip to the Cliffs of Moher.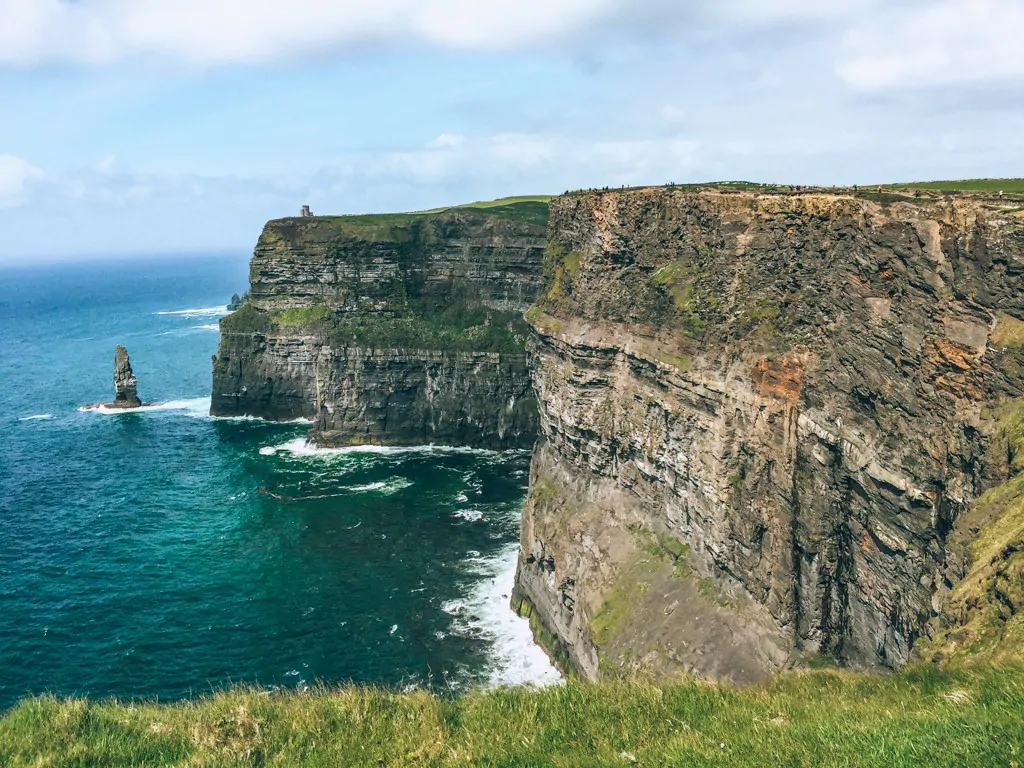 Experience Traditional Irish Culture on the Aran Islands
The Aran Islands are a group of three islands located in Galway Bay. From largest to smallest the islands are: Inishmore (Inis Mor), Inishmaan (Inis Meain), and Inisheer (Inis Oirr). The islands are a place where you'll get a true glimpse at Irish culture as the Irish language is still spoken by many islanders and you'll receive a warm welcome and generous hospitality.
The landscape on the islands is also quite spectacular and very unique to the west coast of Ireland.
In my opinion, these are the best day trips you could take from Galway.
The only downside is that you'll likely only be able to fit a trip to one of the islands into your itinerary. So which should you choose?
Here's a quick breakdown of what you'll find on each island and how long the ferry will take you to reach the island. No matter which island you choose to visit, renting a bike is the best way to see it!
Inishmore – Inis Mor
The most popular Aran Island for a day trip from Galway as it's the closest and has over 50 historically significant sites. Plus spectacular scenery, dramatic cliffs, and puffins!
Sail Time: 40 minutes
Kilronan Village: The main port and small town of Inishmore. Here you'll find bike rentals, shops, restaurants, and accommodation.
Dun Eochla: Stone ring fort located at the highest point in Inishmore. It offers 360o views of the island.
Dun Angus: Ancient ruins of a stone fort on the southern side of the island that shows human activity dating back over 2.5 thousand years
Worm Hole: Rectangular shaped pool that Irish people use as a swimming pool when tides are right. And that Red Bull has used in the past for their events.
Inishmore was my first experience on the Aran Islands and I spent one of the best days in Ireland cycling around. If you only have time for one island, let this be it. And stop in to Joe Watty's pub for a pint and to have chat with the local Irish people.
Inishmaan – Inis Meain
Perhaps the least visited of the three islands, Inishmaan has held on to its Irish traditions well. If you really want to get away from it all and experience traditional culture, then Inishmaan may be right for you.
Sail time: 50 minutes
Dun Chonchuir: An oval fortress with sweeping views of Inishmaan and neighboring islands.
Church of St. Mary Immaculate: A church built in the 1930s famous for its stained glass windows. to replace a 15th century church
Inisheer – Inis Oirr
While Inisheer may be the smallest of the three islands, it should certainly not be discounted. It's honestly, my favorite over Inishmore because it's so small you could easily see all of it in a day and truly relax into a slower pace of life.
Sail time: 55 minutes
Plassey Shipwreck: Local islanders saved all those aboard the ship when it crashed into the rocky shoreline in 1960. The ship remains there today.
O'Brien's Castle: Ruins of a castle that once stood watch over the islands.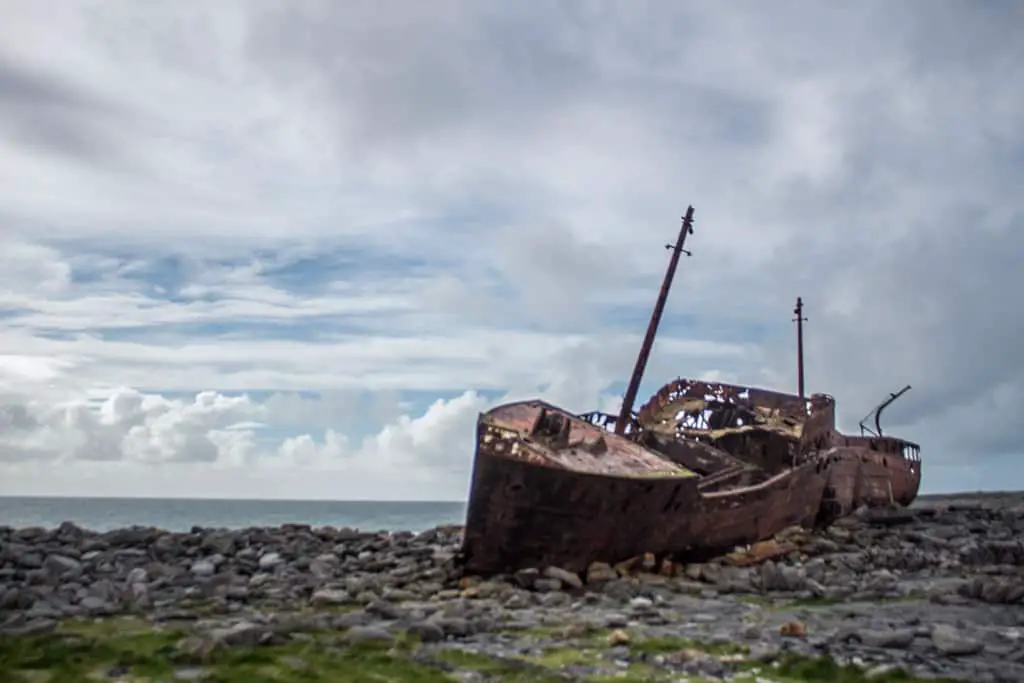 No matter which Aran Island you choose to visit, your trip starts with Aran Island Ferries.
Stop by their office just opposite Galway's new coach station.
With the purchase of your ferry ticket across to the islands, you'll also get transportation to and from Galway City Center to Rosaveal (the dock). A return ferry ticket costs €30. On the islands, rent a bike for €10 to see all of the sites.
For more information, visit the Aran Islands Ferries website.
Visit Kylemore Abbey
Kylemore Abbey is a 33 bedroom stone grey castle built by a wealthy man for the love of his life and his family during the Irish famine. The estate is set on the side of a lush green mountain overlooking a lake, surrounded by 1,000 more acres of beautiful scenery in Connemara.
The Abbey began as a home for the Henry family and provided work and sustenance for the locals as they recovered from the famine years. In the 1920s a group of Benedictine nuns settled here and started a school for girls. Today, it is still run by the Benedictine nuns.
Also on the land is a stunning 6 acre Victorian Walled Garden and a short walk from the Abbey is a gorgeous Gothic church the inside of which holds the remains of Mitchel and Margaret Henry – the couple who built the castle.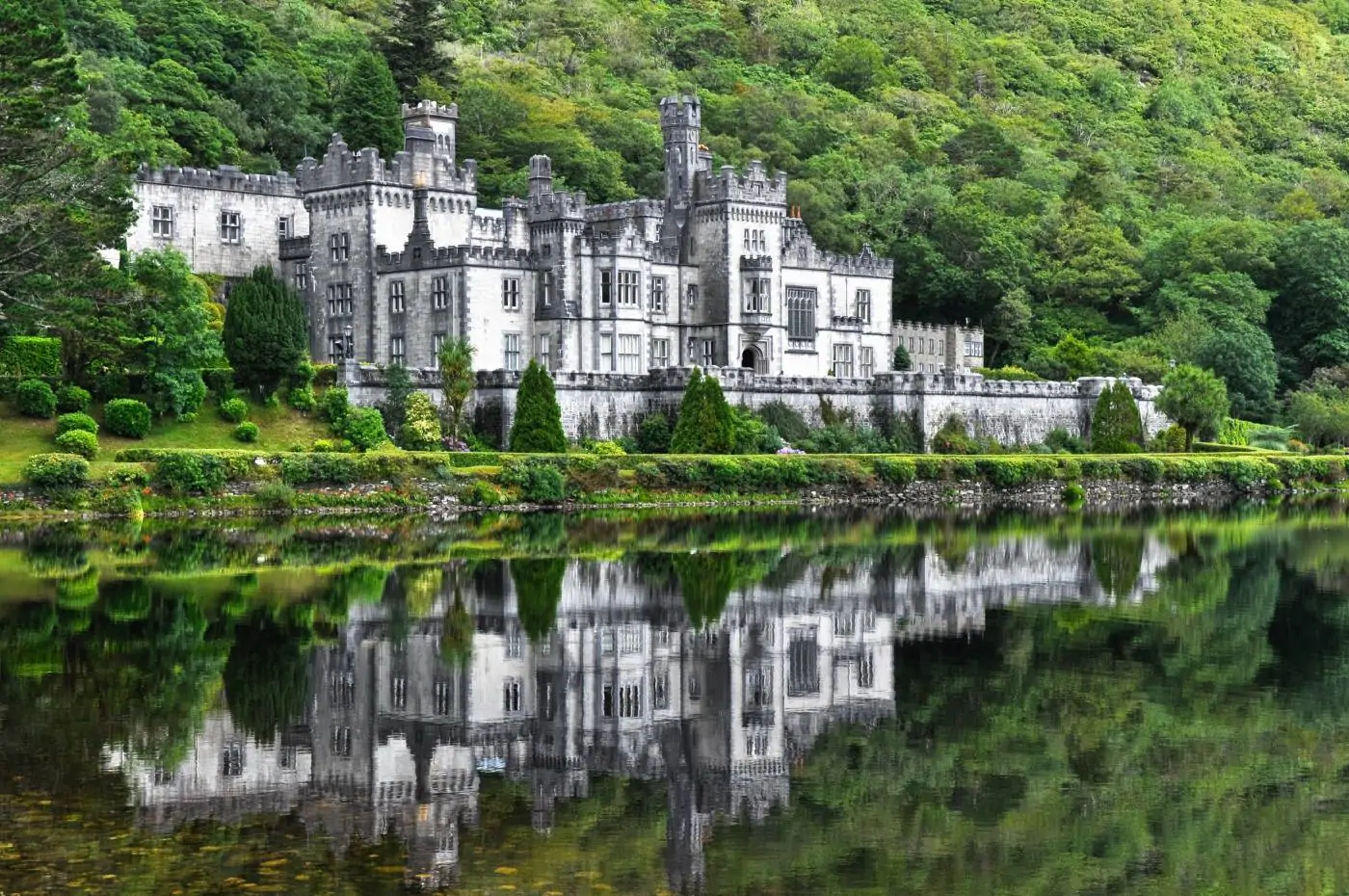 In all honesty, the best way to accomplish seeing Kylemore Abbey is with a day tour from Galway. There are a number of companies that run Connemara day tours all of which include a couple hours stop at the Abbey – which is all of the time you need.
Along with the stop at Kylemore, you'll get to see the rugged and wild landscape of Connemara National Park, Killary fjord, and stop at smaller towns like Cong to get a feel for life in Connemara.
If you really don't want to do a day tour, you would have to take a bus from Galway to either Clifden or Letterfrack Village, route 923 on CityLink. Once in Clifden or Letterfrack, connect to the 423 bus which has a bus stop at the entrance of Kylemore Abbey.
Letterfrack Village is only two miles from Kylemore Abbey so you could walk the rest of the way if it's a nice day.
I highly suggest visiting the bus station to inquire about routes and timetables.
Whether you get there by day tour or you DIY it, I suggest starting your visit with tea and a treat from the tea room. Afterward, make your way to the Victorian Walled Gardens and visit the small house where the head gardener once lived. The Gardens are still so beautiful!
The inside of the Abbey is beautiful and placards provide details of its history, but you're only allowed on one floor as it is still in use by the Benedictine nuns. Stop by the small, but gorgeous Gothic church and then just marvel at the beauty of the Abbey's surroundings.
It costs €13 to visit the entirety of Kylemore Abbey. A day tour will cost around €25-50 and a DIY trip will likely be similar as a single from Galway to Clifden is €16.
Here's my day tour recommendation: Kylemore Abbey, Connemara + Cong from Galway
For more information visit Kylemore Abbey's website.
The Cliffs of Moher, the Aran Islands, and Kylemore Abbey in Connemara are the top three day tours from Galway that you should add to your Ireland itinerary. Basing yourself in Galway provides an excellent jumping-off point to witness the varied landscape of Ireland's Wild Atlantic Way and return to a beautiful and lively city at the end of each day! 
Like this post? Pin for later!