Point Reyes National Seashore is somewhat of a hidden gem on the Northern California coast. Just 1.5 hours north of San Francisco you'll find lush rolling green hills dotted with grazing elk, deer, and cows that lead to white sandy beaches that elephant seals call home. An outdoor enthusiast's dream and there are plenty of fun things to do in Point Reyes from hiking, to kayaking, to eating the best oysters around.
What I love about Point Reyes is it still has a wild and untouched charm to it. Tourists typically overlook Point Reyes for other sites like Muir Woods, Napa, or Lake Tahoe. To be honest, I grew up in the Bay Area and only recently learned of Point Reyes. 
However, since I did, I have been escaping to this beautiful stretch of coastline any chance I get. Whether it's to hike to a coastal waterfall, relax at Heart Desire's Beach, or indulge my inner foodie, I love exploring Point Reyes.
Plus, the landscape reminds me of Ireland, which if you've been following along, you know is my absolute favorite place. Since I haven't been able to travel there recently, Point Reyes fills the void.
In this post, I'll share with you the best things to do in Point Reyes and provide you with my perfect itinerary to make it a day trip from San Francisco and still see all of the best sites!
How to Get to Point Reyes National Seashore
Point Reyes National Seashore is located on the famous Highway 1 in West Marin about an hour north of San Francisco. Point Reyes great day trip or weekend getaway from San Francisco.
Honestly, the drive to Point Reyes is part of the fun! You'll cross over the Golden Gate Bridge, pass through cute towns such as San Anselmo and Fairfax in Marin County, and wind through the Redwoods of Samuel Taylor State Park. This makes the drive to Point Reyes half of the fun!
Once you arrive in Point Reyes Station, all of the best things to do in Point Reyes are another 20 – 30 minute drive. The main road in Point Reyes is Sir Francis Drake Boulevard.
Many of the roads in Point Reyes National Seashore, including Sir Francis Drake, are windy, there might be cattle crossing, and a few potholes. Take your time, you'll get to your destination when you get there. It's time to slow down a bit!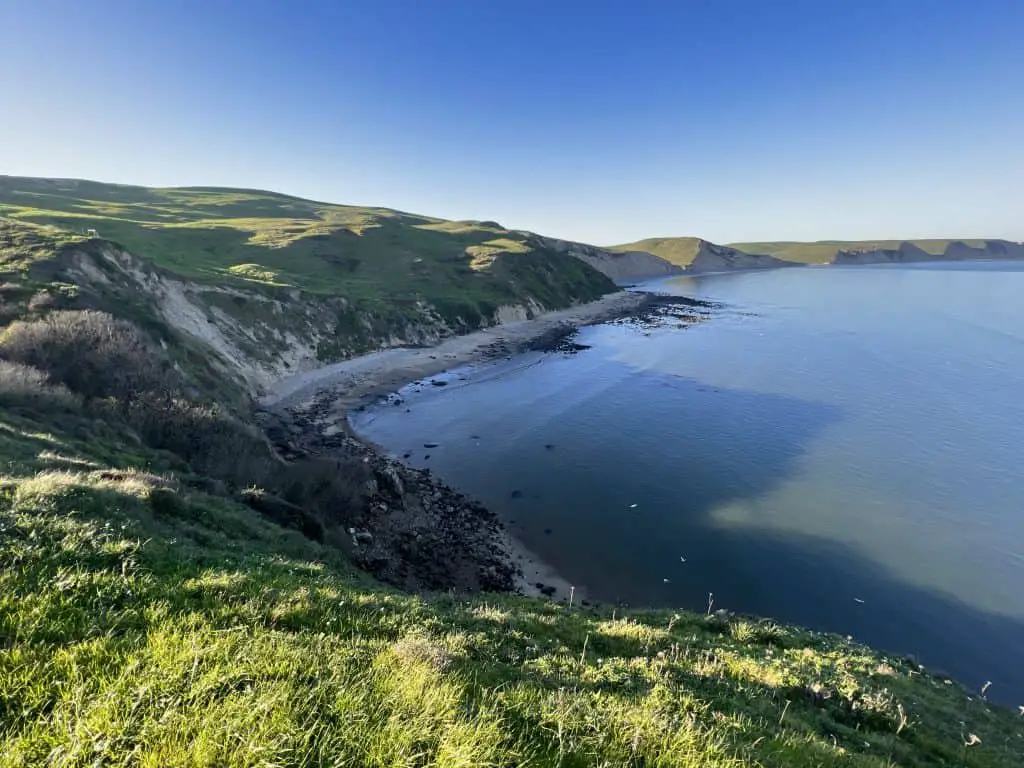 Weather in Point Reyes National Seashore
While the weather in Point Reyes does not change too drastically throughout the year, be sure to check the weather forecast before you head out. 
Throughout the year, the temperature ranges between 40o and 60os. Due to its location, windy conditions can be particularly brutal especially on the coastal hiking trails.
While California is having difficulty with rain, double check whether or not rain is in the forecast. Since many of the things to do in Point Reyes are outdoor activities, rain may make your day here a bit less than optimal.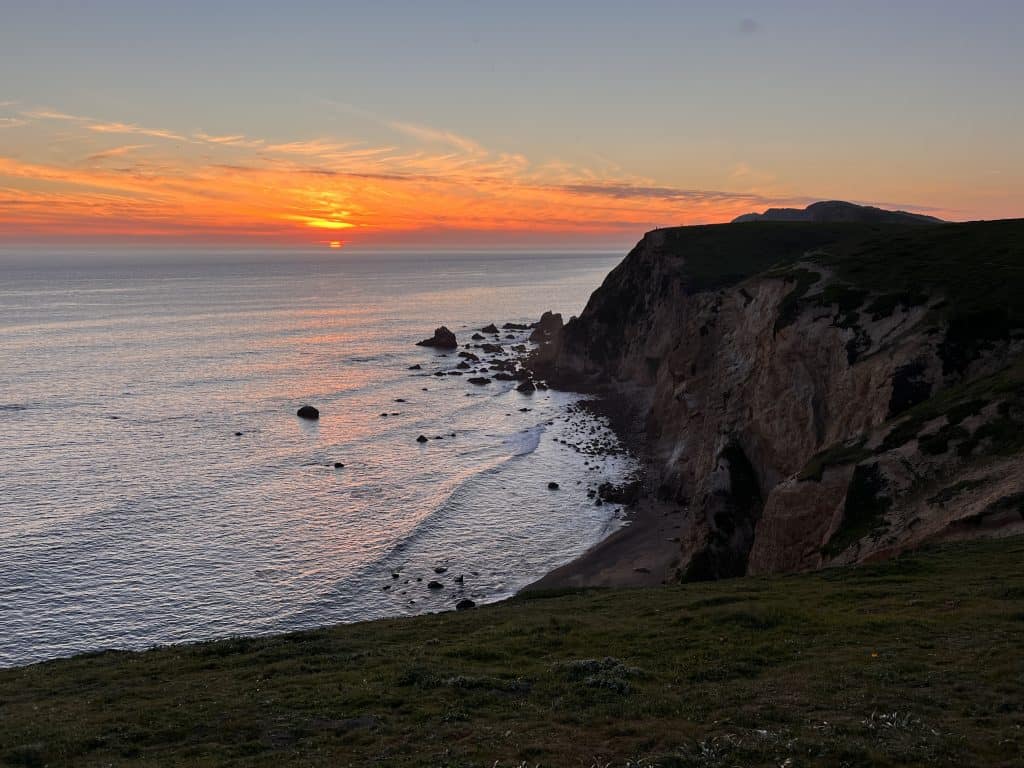 Practical Tips for Visiting Point Reyes National Seashore
Gas: There is a gas station in Point Reyes station. If you are even questioning if your gas tank will get you through the day, fill up. You don't want to get to the end of the road in Point Reyes and run out of gas, especially because cell phone reception is spotty.
Cell Phone Reception: Speaking of cell phone reception in Point Reyes, I wouldn't count on it and be pleasantly surprised if your phone does work. Since you may not have reception, download Google Maps offline and any trail map offline using All Trails. You can also stop by Bear Valley Visitor Center for a map of Point Reyes.
Food: Once you leave Point Reyes Station, Olema, and Inverness there are no places to stop for food. Be sure to bring plenty of snacks or grab a sandwich from town to bring with you.
Water: Water is accessible at certain locations throughout Point Reyes, however, not all hiking trails have potable water. Make sure you double check before you start any hike, bring more than enough water with you, and have some extra water in the car for when you get back.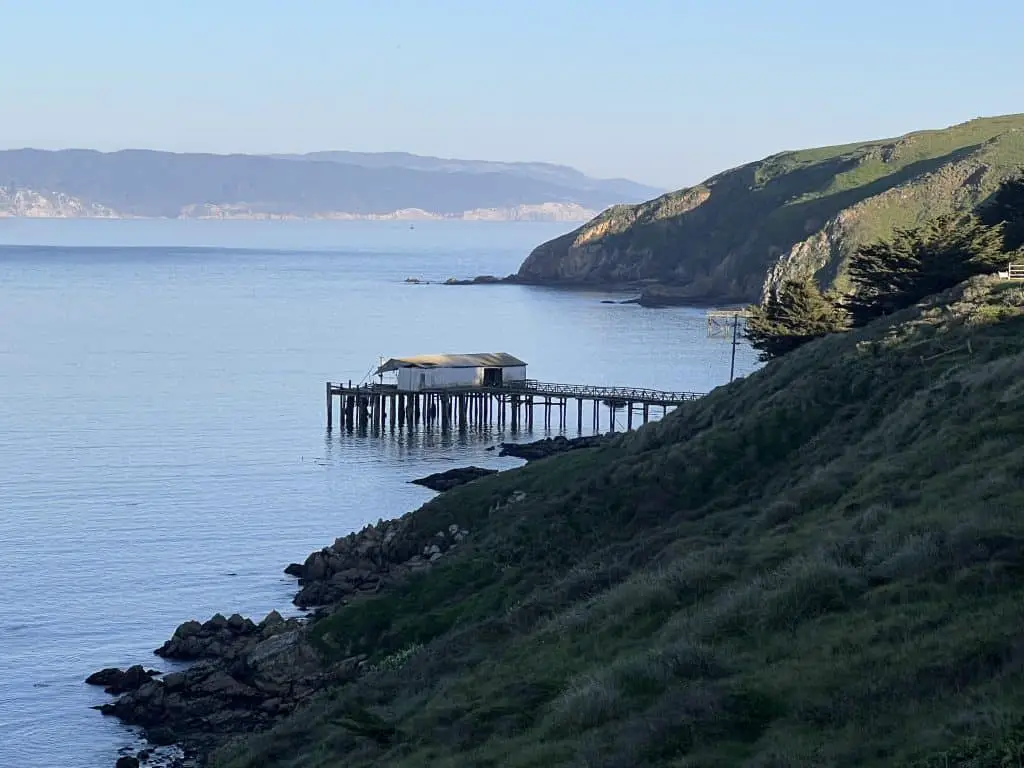 What to Wear in Point Reyes National Seashore
What you wear during your trip to Point Reyes completely depends on your planned activities for the day.
If you're heading to Point Reyes to eat and take fun photos at the top photo spots throughout the Point Reyes Peninsula then your clothing will be completely different from someone who is planning to do a 10 mile hike!
That being said, my number one recommendation is to bring layers. Even if it's not particularly windy inland, once you reach the lighthouse and other spots along the coast, the wind can pick up!
For those who are hiking in Point Reyes, be sure you have everything on this day hike packing list.
Also be sure to wear plenty of sunscreen, bring a hat, and perhaps opt for outerwear with UPF.
Now that we've gotten all of the practical advice out of the way, it's time to dive into the fun things to do in Point Reyes!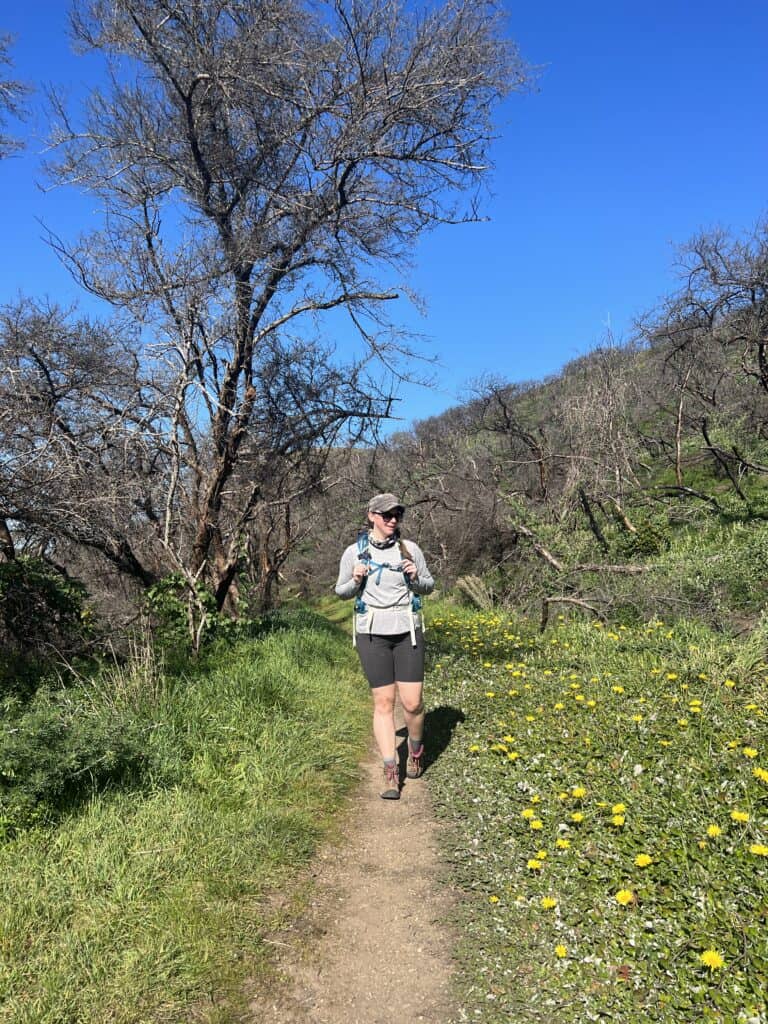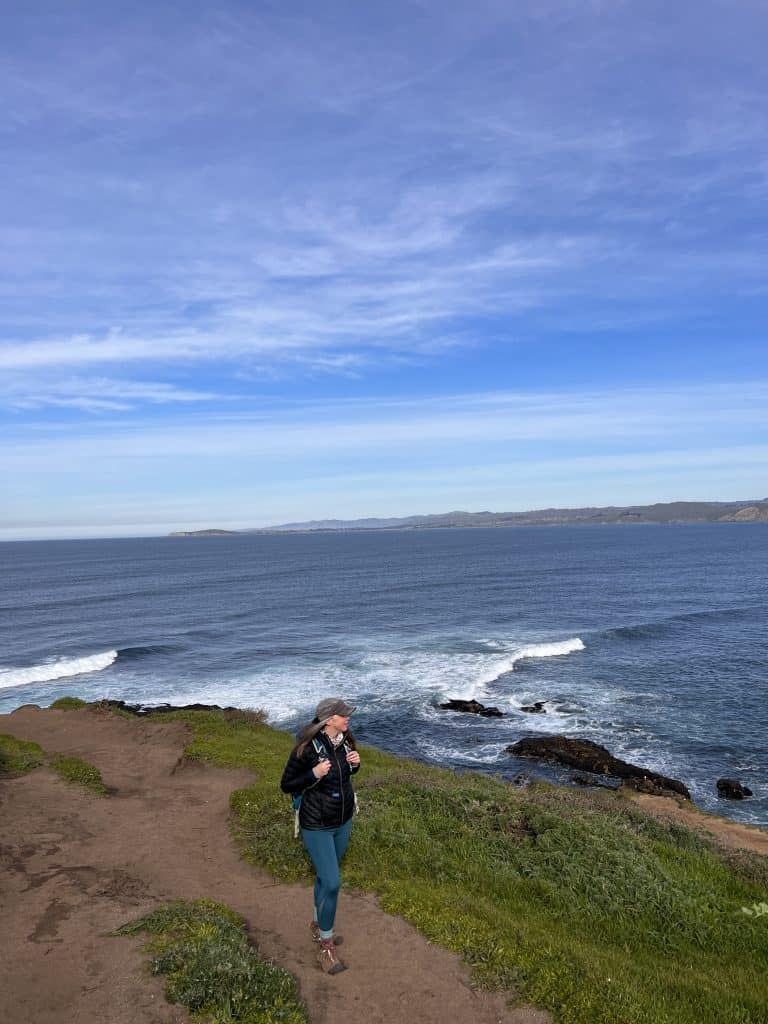 Explore Point Reyes Station
Point Reyes Station is a small town that serves as the gateway to Point Reyes National Seashore. And while it's small, it's filled with delicious places to eat, an independent bookstore, and cute boutiques. Plus you'll find the nearest gas station and grocery store if you need to fill up on gas or snacks before heading into the park. 
Places to Eat in Point Reyes Station
If you're not into hiking, don't worry, Point Reyes is a low key foodie destination. You can get local mead from Heidrun Meadery, farm fresh cheese, and local oysters all within a 5 mile radius.
Bovine Bakery
Bovine Bakery is a bakery in Point Reyes station that serves everything from cookies and scones to pizza and pie. This popular spot has called Point Reyes station home for 25 years and is a great place to get a pastry on your way in to explore the park. They have a chalkboard menu outside describing the daily scone and muffin as well as other unique menu items. There will likely be a line outside, but hop on in. It moves quickly!
During the week they're open from 7am-1:30pm and on Saturday from 8am-2pm.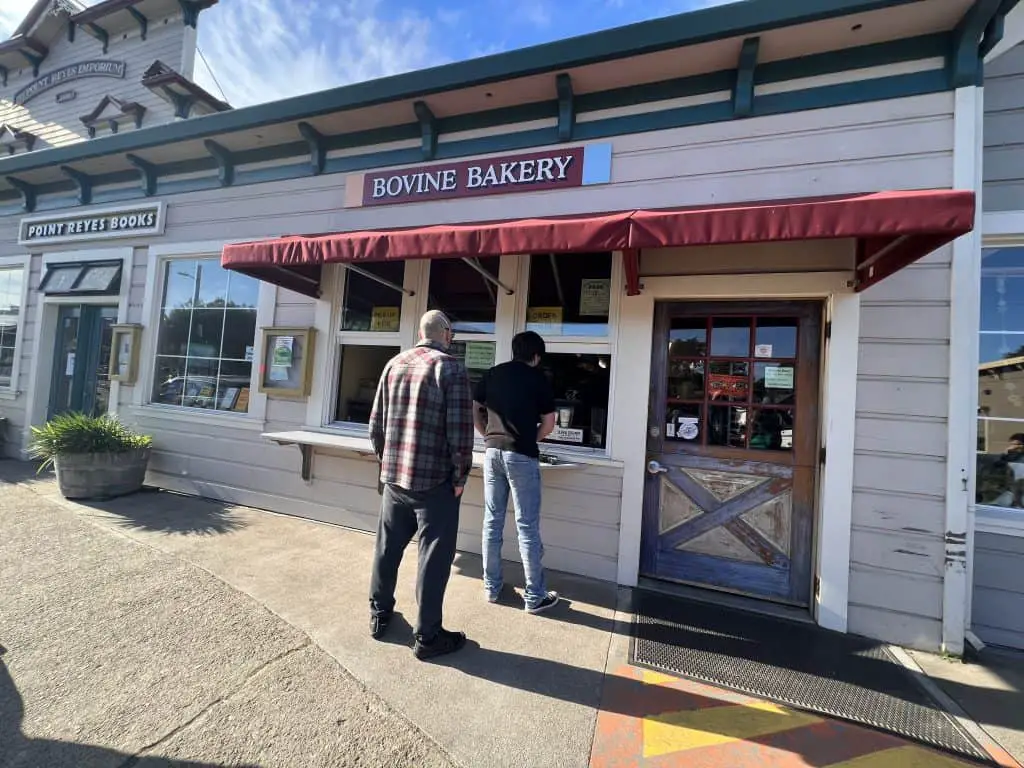 Toby's Coffee Bar
Toby's Coffee Bar came to my rescue as I arrived in Point Reyes Station at 7:30 am only to realize I'd forgotten my overnight oats breakfast at home. This cash only spot is located inside Toby's Feed Barn and offers a wide selection of pastries, coffee, teas, and matcha! Yes, I was just hoping for a pastry to fuel my Tomales Point hike, but Toby's surprised me by offering matcha.
(If you've been following me on Instagram, you've likely caught on to my matcha obsession).
I quickly counted my cash and had just enough for a matcha latte with oat milk (my favorite) and an almond date bar. Both were excellent.
Toby's is open all day from 6:30 am – 5:00 pm. 
Let me reiterate that it is cash only. There is a Wells Fargo on the corner if you need to get your matcha fix early in the day and forgot your cash!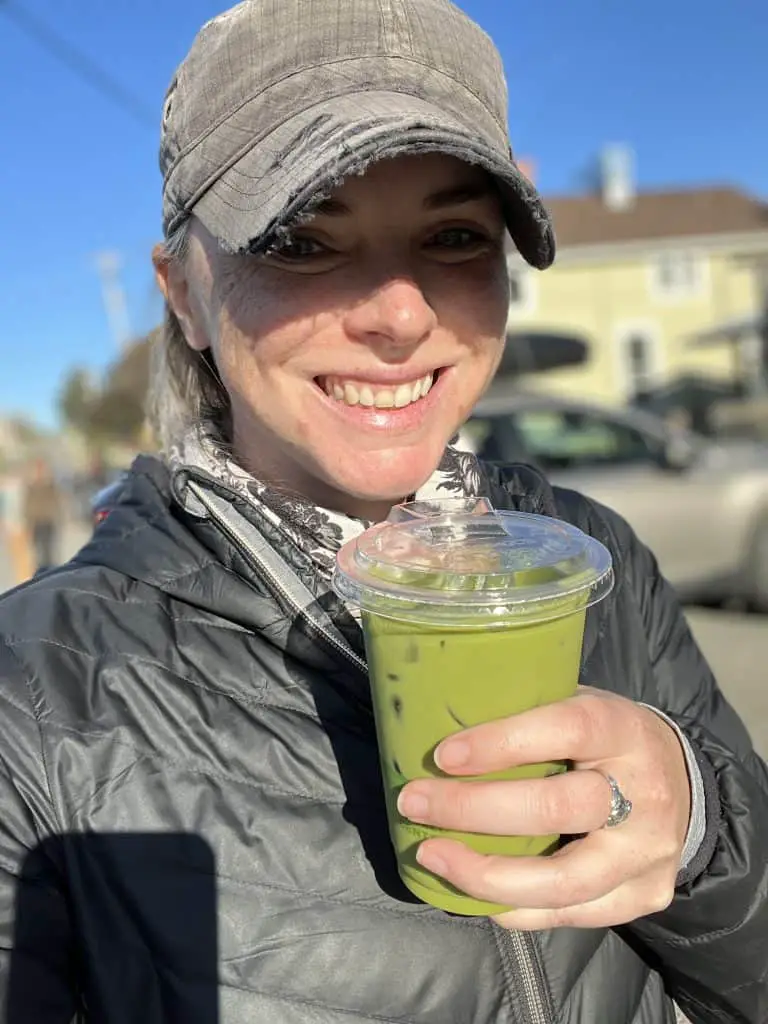 Brickmaiden Breads
On the same day, I returned to Point Reyes Station after my Tomales Point hike and needed a little pick me up for the drive back to San Francisco.
I noticed a line of people at this small window front and they were all walking away with delicious looking beverages.
I hopped in line, noticed immediately the matcha latte on the menu, and promptly ordered an iced version. This is truly one of the best matcha lattes I've ever had.
Technically, Brickmaiden Breads is an artisan bakery offering rustic sourdough loaves, scones, croissants, and more.
Brickmaiden is open from 8am-2pm during the week and 8am-4pm on weekends. Their pastries and breads sell out fast so get in line early!
Cowgirl Creamery
If you like cheese, then stopping by Cowgirl Creamery's flagship location in Point Reyes Station is a must. Their cheesemongers will help you pick out the perfect local, organic cheese. Their shop is not just filled with their famous cheese, but it offers everything you need to create the perfect charcuterie board or Point Reyes picnic.
However, if you're looking for the perfect post hike lunch, order a grilled cheese from their cantina. Once the melty sandwich with perfect toasted sourdough bread is ready, take it to their lawn out back for a picnic before continuing on your Point Reyes adventures.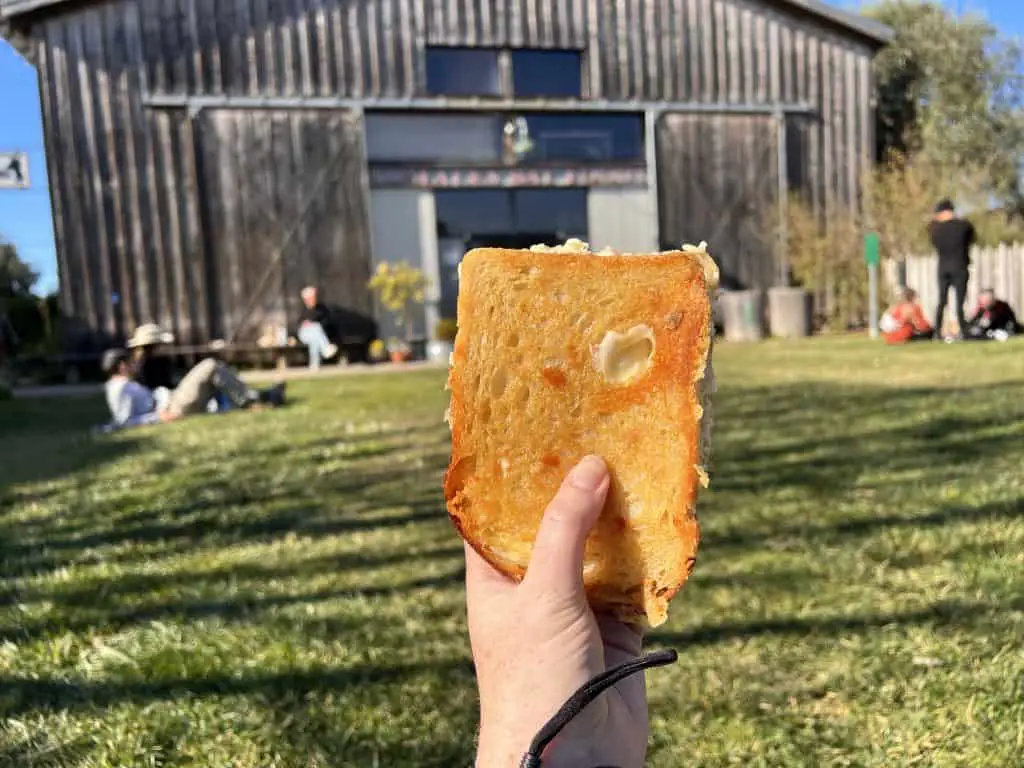 Shop in Point Reyes Station
Besides delicious food, there are also cute boutiques in Point Reyes Station.
Stop into Point Reyes Books to peruse the carefully curated selection of books about coastal California flora and fauna, wildlife, and conservation efforts. Don't worry, this charming bookstore also carries our favorite best selling fiction as well.
There are also cute boutiques carrying coastal inspired home goods, clothing and more,
I love spending an hour or two perusing the shops in Point Reyes station before heading into the park.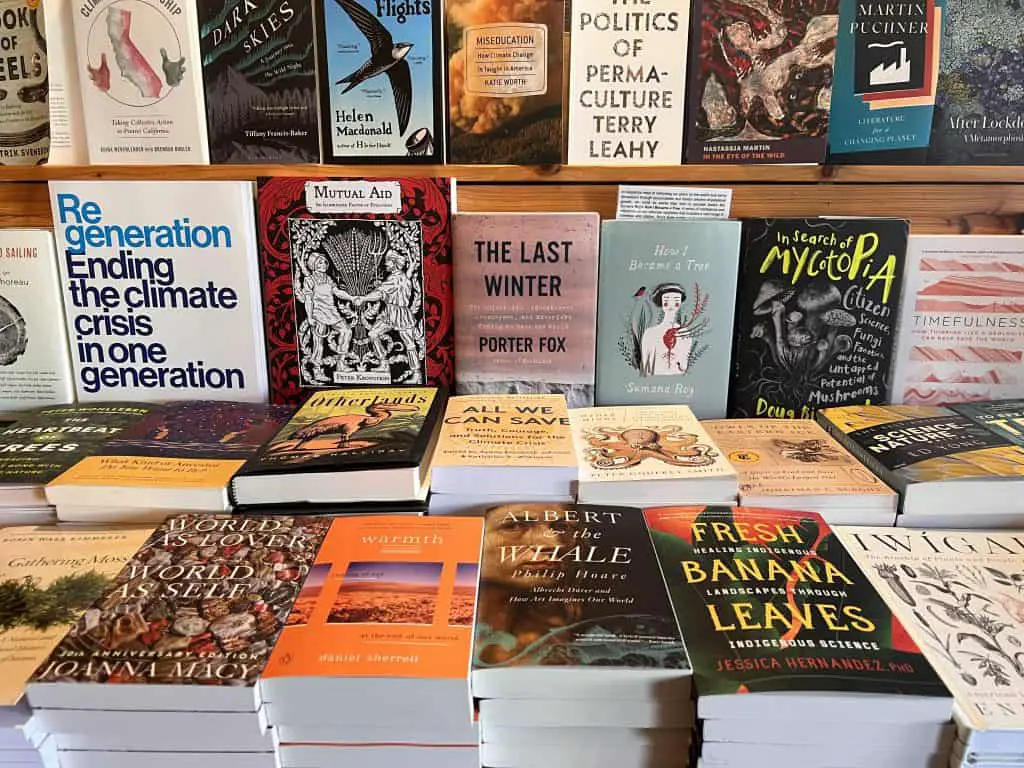 Eat Oysters
If you like Oysters then a visit to Point Reyes is a must do. Thanks to Tomales Bay which separates a portion of Point Reyes Seashore from the rest of Marin, this area is a hotspot for oysters. Just about every restaurant in the area has oysters on the menu, but there are a few well known establishments that you should add to your list.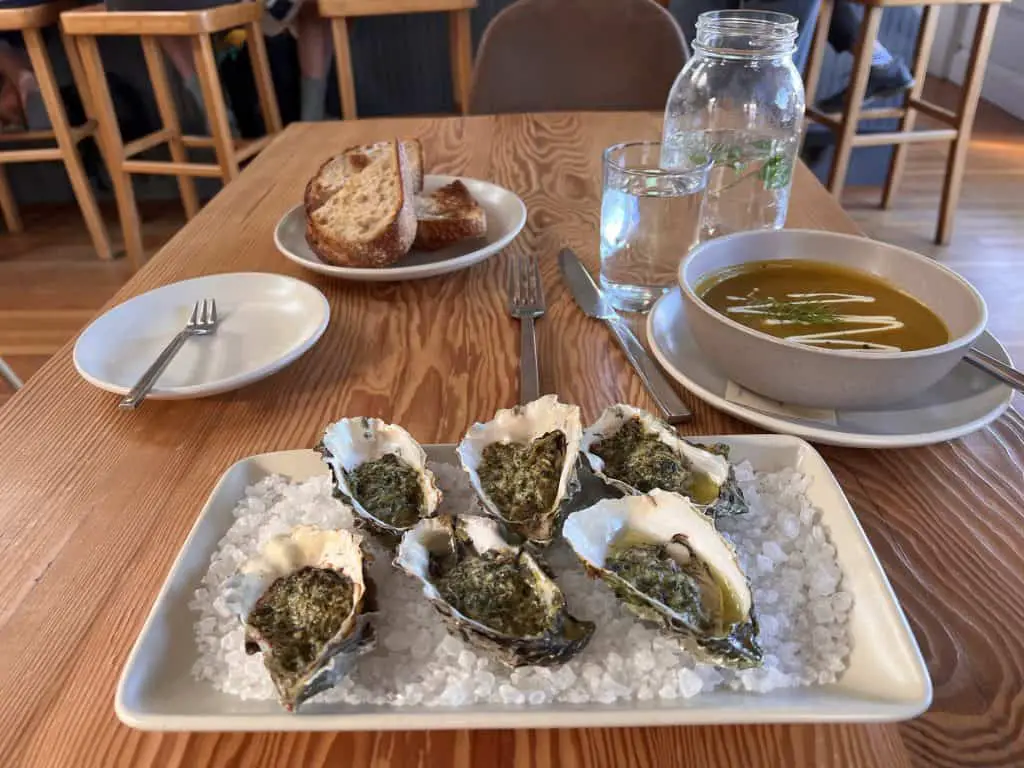 Tomales Bay Oyster Co
Founded in the early 1900s, Tomales Bay Oyster Co is the longest operating oyster farm in California. You can pick up unshucked oysters from Tomales Bay Oyster Co every weekend. They provide you with ice to take your oysters on a picnic in the area. And if you need shucking materials, lemons, or hot sauce you can purchase them here as well. It's cash only but there is an ATM on site.
Hog Island Oyster Co
Hog Island has been harvesting and farming oysters in Tomales Bay since 1983. They have multiple locations in Tomales Bay and throughout the Bay Area where you can try their oysters. 
Stop by the Hog Shack located at the front of the Hog Island Oyster Farm to pick up live and unshucked oysters! If you want someone else to do the shucking for you, then head to the Boat Oyster Bar (reservations required) or Tony's Seafood. 
Go Hiking in Point Reyes
Hiking in Point Reyes is simply stunning. There are miles of trails with views of the Pacific Ocean beyond rolling green hills. There will be wildflowers blooming in the spring. A chance to spot whales migrating in the winter. And even a waterfall that falls directly into the Pacific Ocean.
Here are a few of my favorite Point Reyes hiking trails.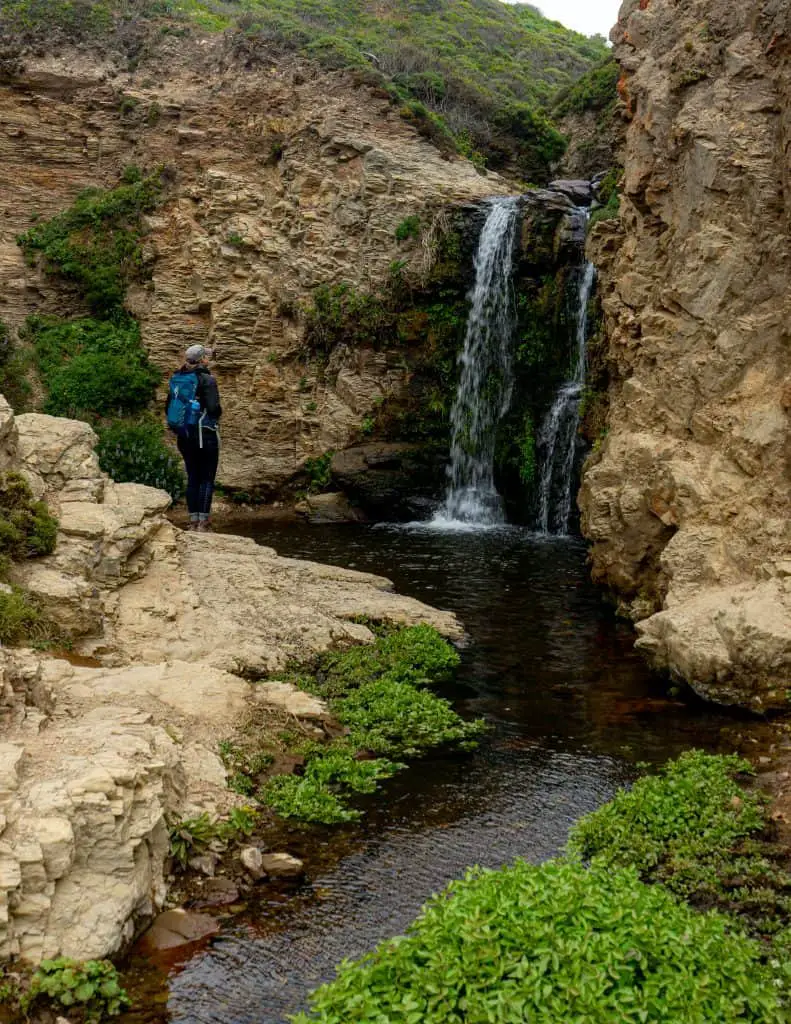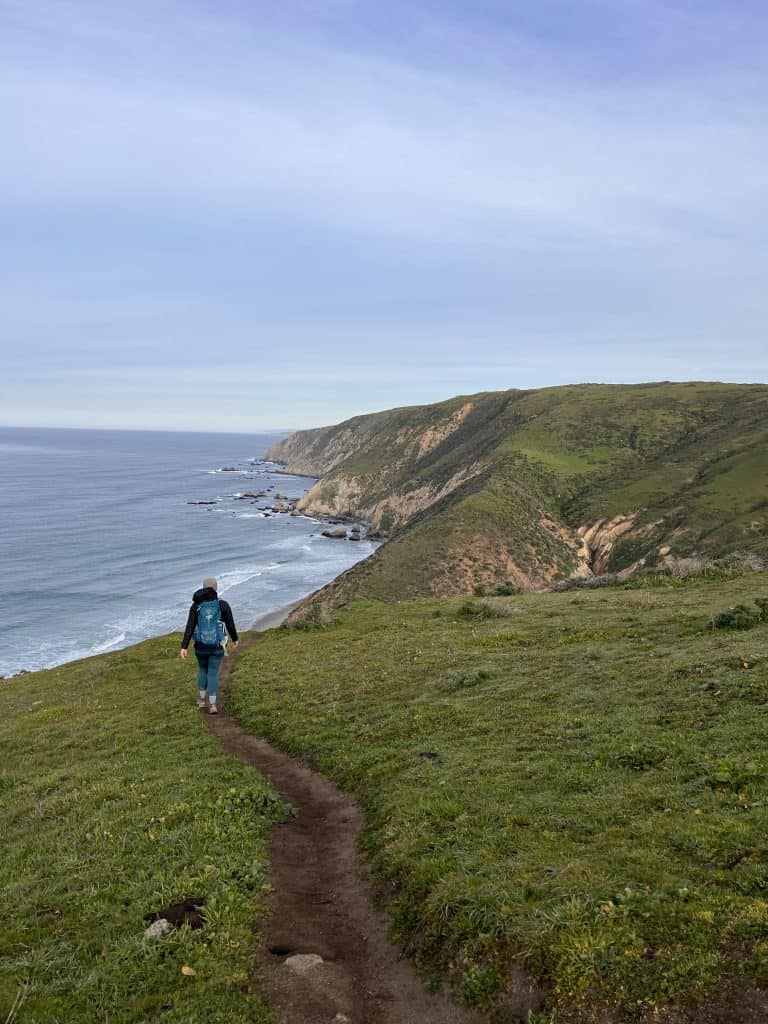 Alamere Falls Trail
One of the top things to do in Point Reyes is hike 13 miles, round trip, to see Alamere Falls. This is one of only a few tidal falls in the world. If there's been rain recently the waterfall will be incredibly powerful. Even if there hasn't been rain, it's still beautiful. Plus there is a series of waterfalls above Alamere Falls that feed into it.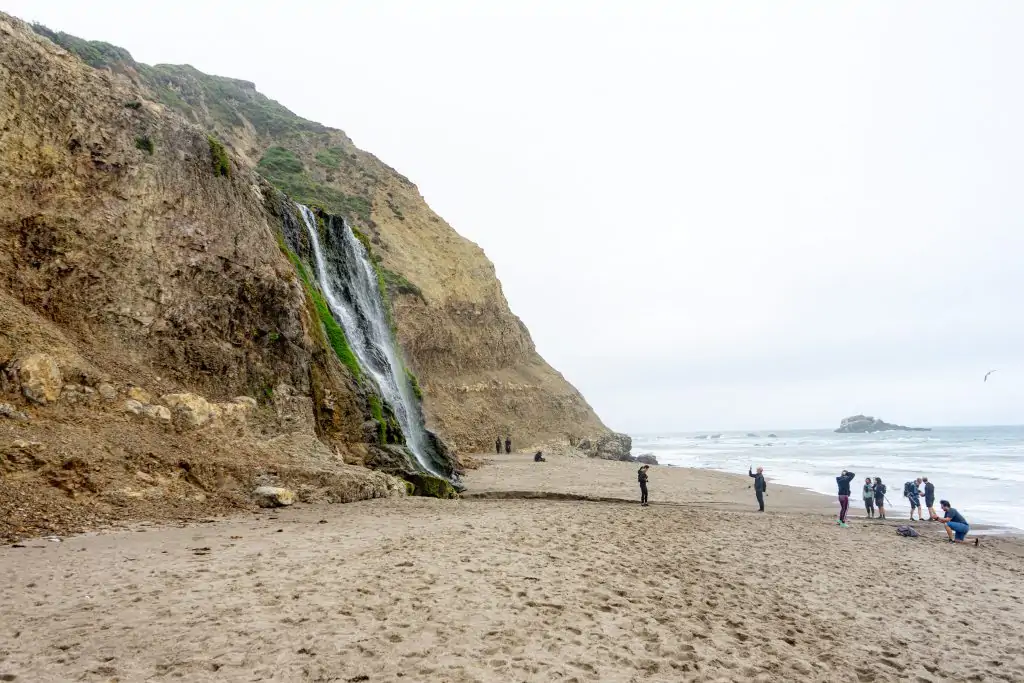 There are multiple routes to reach Alamere Falls, but the most popular and shortest starts at the Palomarin Trailhead. From the Palomarin Trailhead to Alamere Falls, you'll follow the coastal trail to Wildcat Campground. Once you reach the campground there are restrooms and picnic tables. It's the perfect place to rest before tackling the final walk along Wildcat Beach to the falls.
Yes, there is a shortcut to reach the falls. If you want to take it, do so at your own risk. It's marked on the trail by a post that people have stuck lost sandals, water bottles, and honestly other trash to.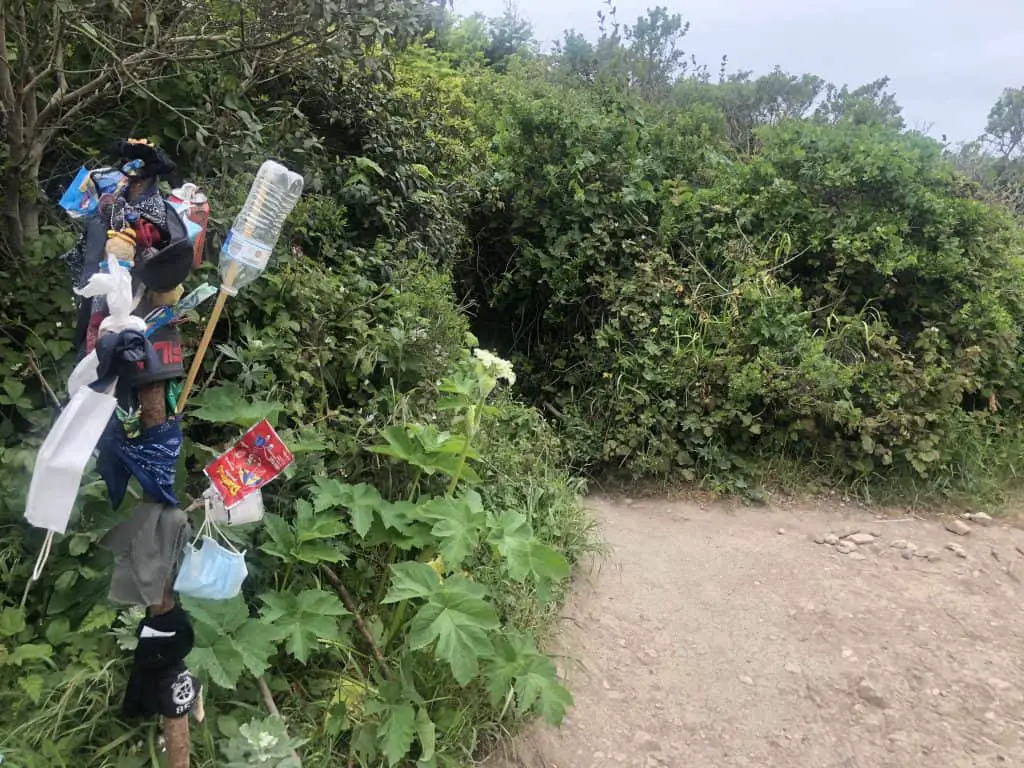 I suggest taking the long way out and evaluating when you get to the falls if it's worth shaving off a few miles by taking the shortcut back. Ultimately, that's what I did. 
Alternatively, you can take the shortcut and see the upper falls without making the sketchy climb down to the beach. 
There are restrooms at the trailhead and at Wildcat campground but no water sources. Be sure to bring plenty of water, snacks, wear sunscreen, and layers!
It's a challenging hike due to the mileage required, the mile in the sand, and a bit of elevation gain. But it is 100% worth it.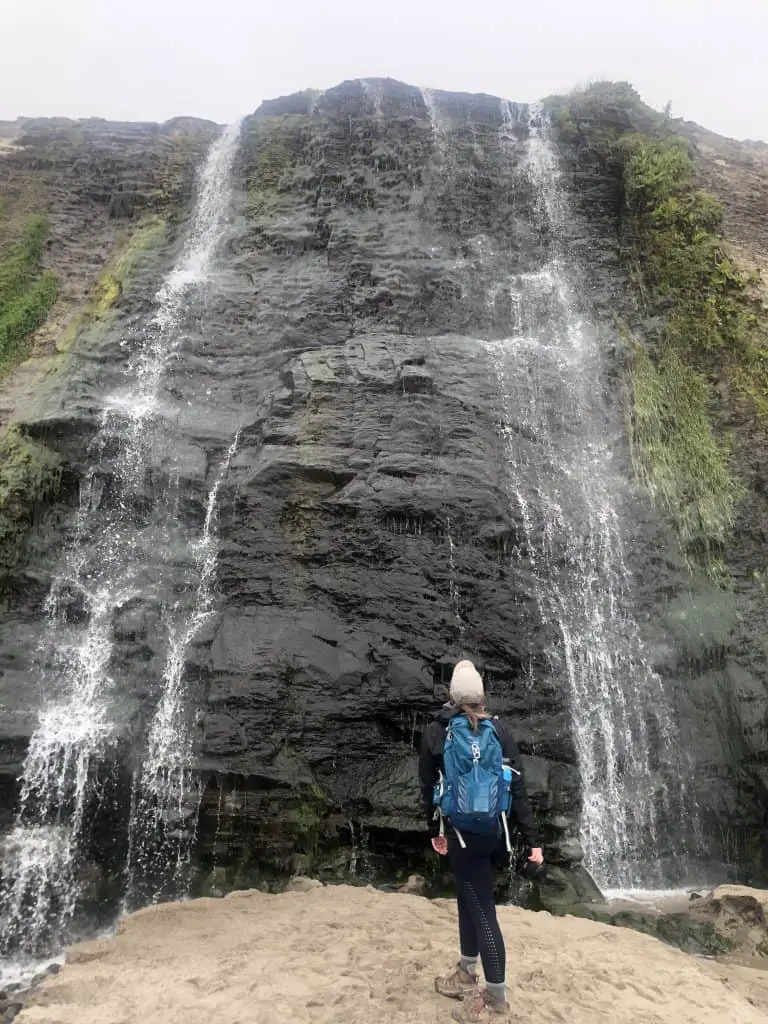 Tomales Point Trail
Another long Point Reyes hike clocking in at 10 miles round trip is the Tomales Point Trail. This trail leads to the northernmost point in Point Reyes. This area of Point Reyes is home to a Tule Elk reserve which has helped restore the population of the native Tule Elk.
You'll likely see them on your drive in as well as at various points on the trail. They don't seem very skittish, but maintain your distance!
The parking area for this hike is at the Historic Pierce Point Ranch, which you can walk around as well to learn about the history of this once successful dairy farm.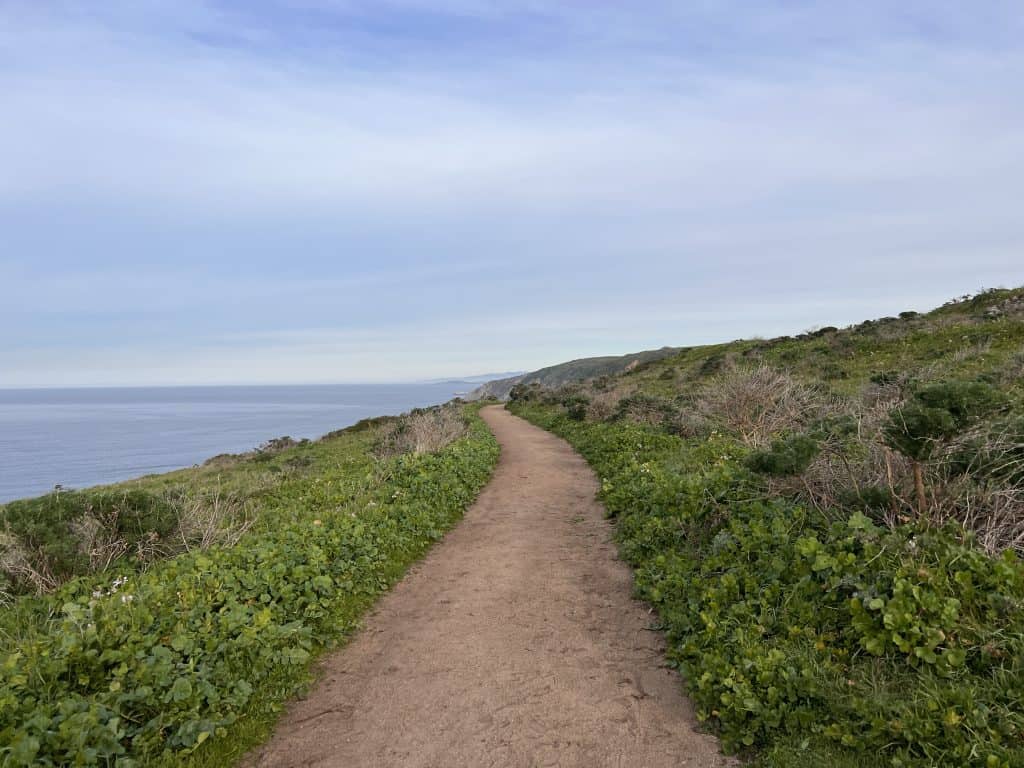 The trail then follows the coastline for about 3 miles before joining an unmaintained portion of the trail. From there it's a sandy uphill climb to reach the crest before descending to Tomales Point.
Once you reach the point, take a break with a snack, sitting far enough away from the cliff's edge. 
This trail is completely exposed so be sure to wear plenty of layers and sunscreen. It can get windy here as well! There are no bathrooms or water sources on the trail. Your best bet is to use the restroom at McClures beach and bring more than enough water.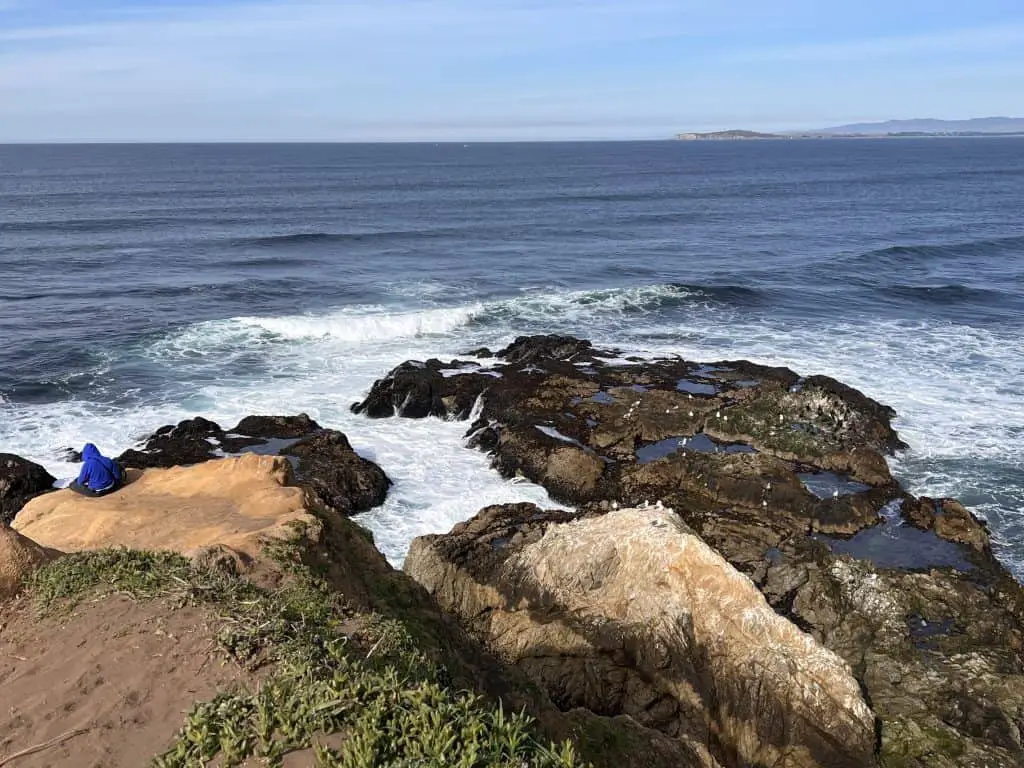 Chimney Rock Trail
Chimney Rock is a relatively easy hike in Point Reyes that most people will be able to complete. It's a short 2 mile walk out to the point that overlooks Chimney Rock. Along the way you can peak down to see elephant seals resting on the beaches below. Take caution here and stay away from the cliff's edge!
Once you reach the point there are a couple of benches overlooking Chimney Rock. Don't worry though, there are plenty of places to sit for a snack break off the trail. 
Chimney Rock is a great place for whale watching in the winter, a sunset any time of day, and on a clear day you can see all the way out to the Farallon Islands.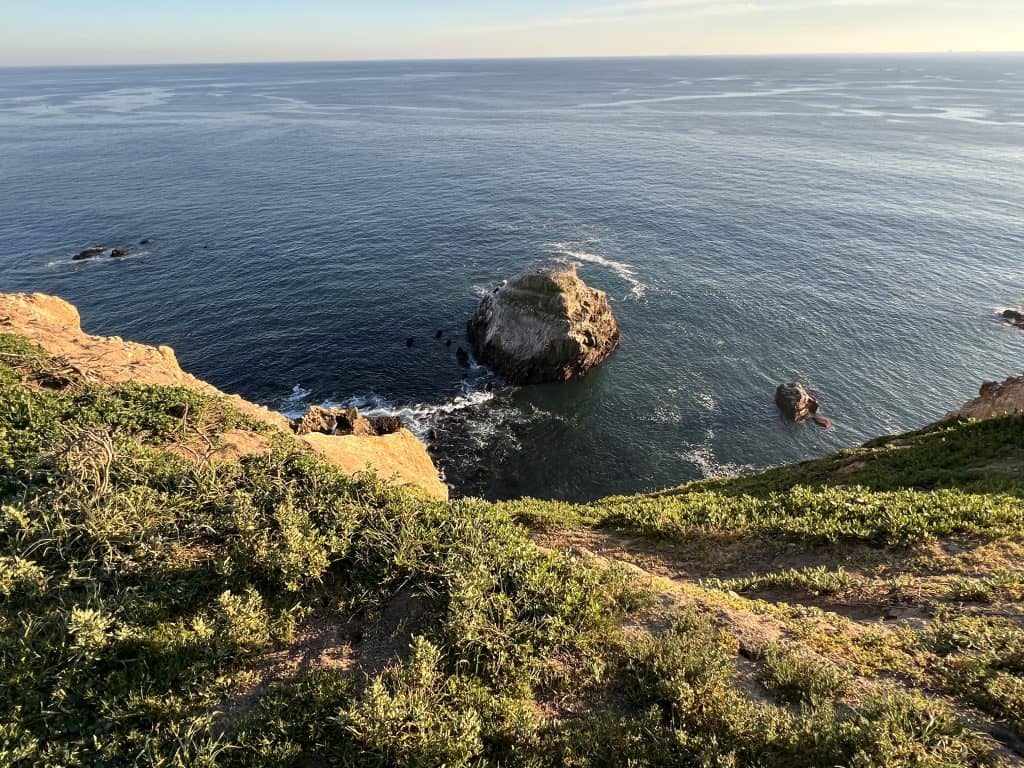 Take Photos at Point Reyes' Top Photo Spots
Point Reyes is absolutely one of the most photogenic places on the west coast. Beyond the rolling green hills and sandy beaches there are streets lined with cypress trees, a shipwreck, and an incredibly photogenic lighthouse. Grab your camera and start photographing Point Reyes!
Cypress Tree Tunnel
The Cypress Tree Tunnel is a hotspot amongst professional, amateur, and Instagram photographers. Monterey Cypress line a short road off of Sir Francis Drake Boulevard on the way to the Lighthouse.
The best time to photograph the Cypress Tree tunnel is at sunrise or sunset. The weekends are definitely busy here as this photo spot grows in popularity, so if you want an uncrowded shot underneath the Cypress trees, try to visit during the week.
You can park on the shoulder of Sir Francis Drake Blvd, but make sure your car is pulled all of the way off of the road.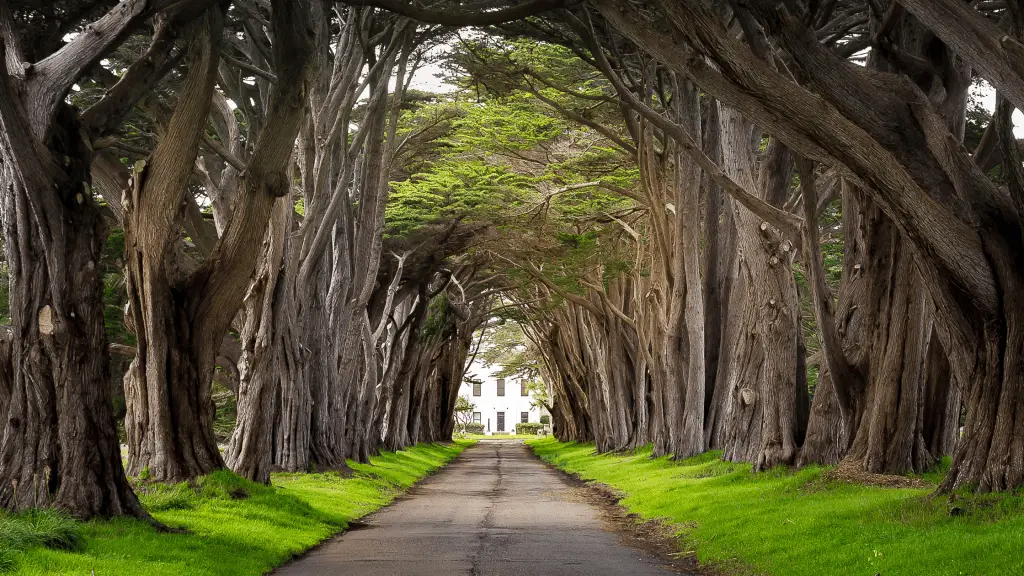 S.S. Point Reyes Shipwreck
The small S.S. Point Reyes cargo ship made contact with land over 100 years ago. It's stuck on a sandbar behind the Inverness Store. The shipwreck was almost removed as the wetlands restoration began. However, it's popularity amongst photographers is why you'll still find it there today.
You don't need much time to see the shipwreck. It's a very short walk from the Inverness Store parking lot to the shipwreck. Grab a parking spot at the Inverness Store and spend 10 minutes checking it out and getting your photo of it. 
Please do not climb on the shipwreck as it's very unstable and could lead to injury.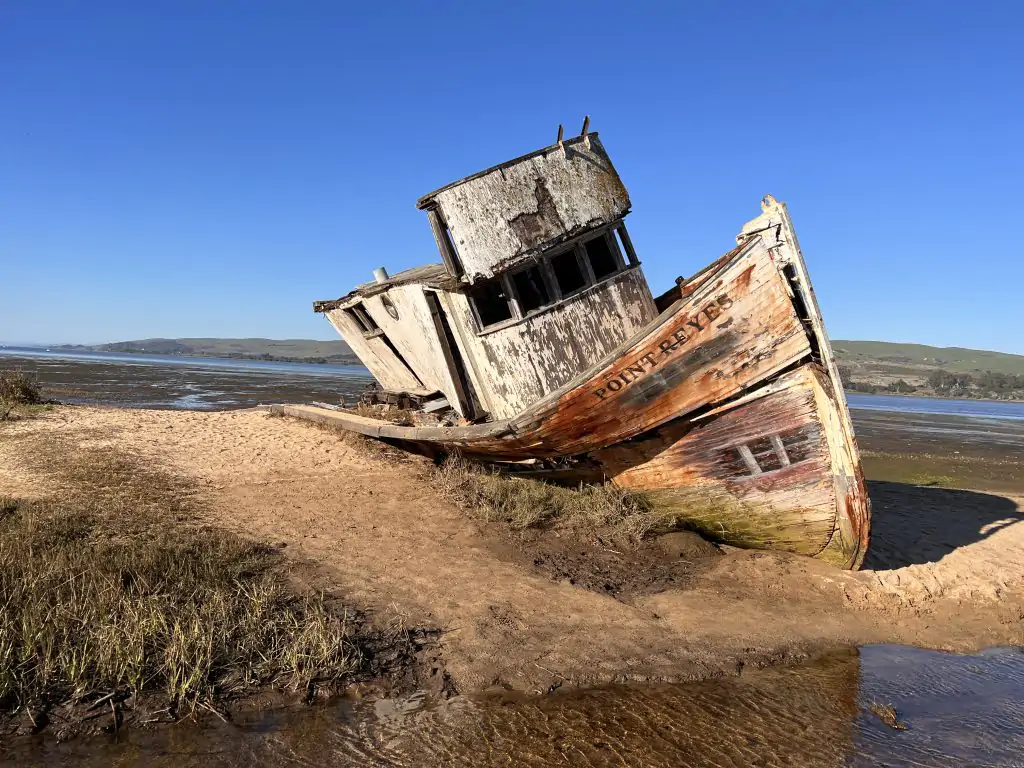 Point Reyes Lighthouse
The Point Reyes Lighthouse has been warning sailors of the Point Reyes headlands landmass for over 100 years. While it's not currently in service, it has become quite the attraction in Point Reyes National Seashore, especially amongst photographers.
There is a small parking lot near the lighthouse visitor center that fills up quickly on weekend afternoons as it only accommodates 38 vehicles. If you need to park on the road leading to the Visitor Center, please follow all no parking signs and pull your vehicle off the road so other vehicles can still pass easily. 
From the parking lot it's a half mile climb to the Visitor Center and then 313 steps down to the Lighthouse. These stairs may be closed due to high winds. 
The Visitor Center displays exhibits about the history of the lighthouse, the gray whale migration, and other information about wildlife in Point Reyes.
The Observation Deck at the top of the staircase leading to the lighthouse is a great place to catch the whale migration and enjoy sunset. 
If you're a photographer, there are ample locations here to get your shot of the lighthouse. Just be sure to stay on designated trails and don't hop any fences.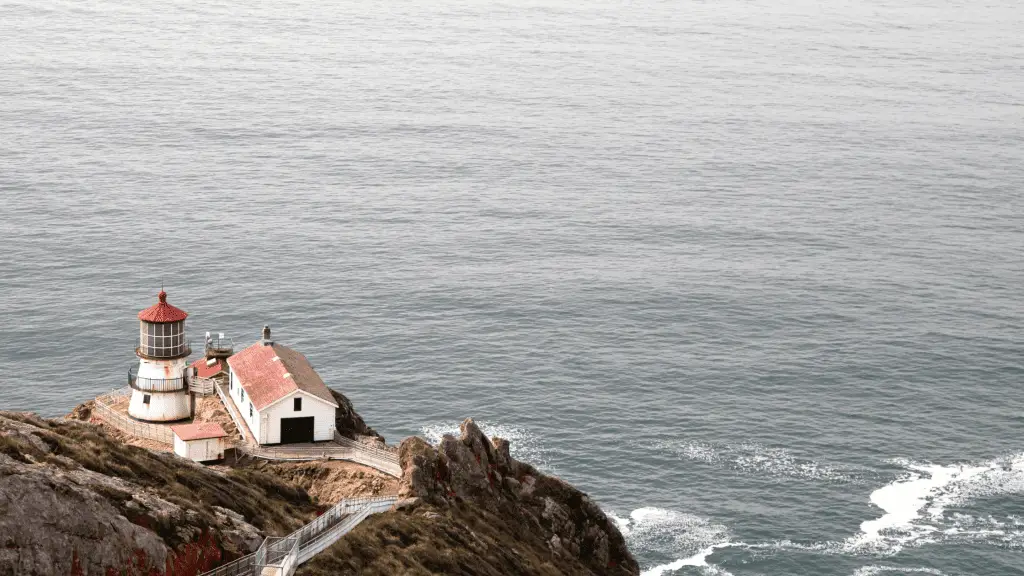 Point Reyes Wildlife
One of the best things about a visit to Point Reyes is you're almost guaranteed to see some form of unique wildlife. On my two most recent trips, I saw dolphins, elephant seals, seals, and Tule Elk. I plan to make a return trip during the gray whale migration season as I'd absolutely love to see these gorgeous creatures if possible!
Tule Elk
The northernmost point of Point Reyes, near Tomales Point trailhead, is a Tule Elk preserve. These elk were hunted to near extinction, but thanks to conservation efforts their herds now measure in the hundreds.
They also don't seem to be afraid of cars or humans, so slow down as you enter the reserve and keep your distance so these beautiful animals can continue to call this area home.
You may see elk with stunning racks or hear their mating calls from August to late December.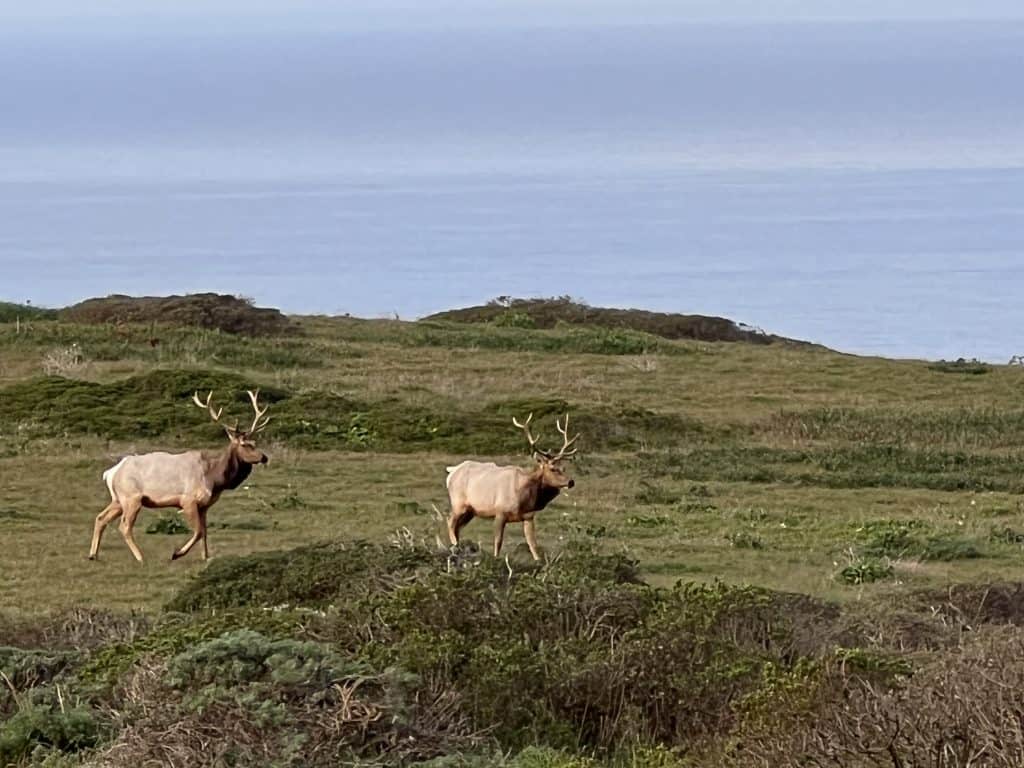 Whale Watching
Point Reyes is a great place for whale watching, specifically during the gray whale migration. The California gray whales begin their migration from Alaska to Baja California in the winter, with the peak occurring mid January. Their return journey peaks in mid March. Therefore, January and late April provide the best chances of spotting a gray whale off the coast of Point Reyes.
The best places to whale watch in Point Reyes are Chimney Rock and the Point Reyes Lighthouse.
Elephant Seal
Did you know that elephant seals call Point Reyes home? I didn't either. But in 1981 elephant seals made their return to the southern part of Point Reyes around Chimney Rock and Drakes Beach.
There is an elephant seal overlook near Chimney Rock where you can watch a colony of elephant seals swim, nap on the sand, and make all sorts of sounds. From December to March you'll find elephant seals here to mate and birth their young. They'll return in late April to molt before heading back out to sea. 
The park will close Drakes Beach when there is a large presence of elephant seals, but if you're there when it's open and see one, be sure to keep your distance.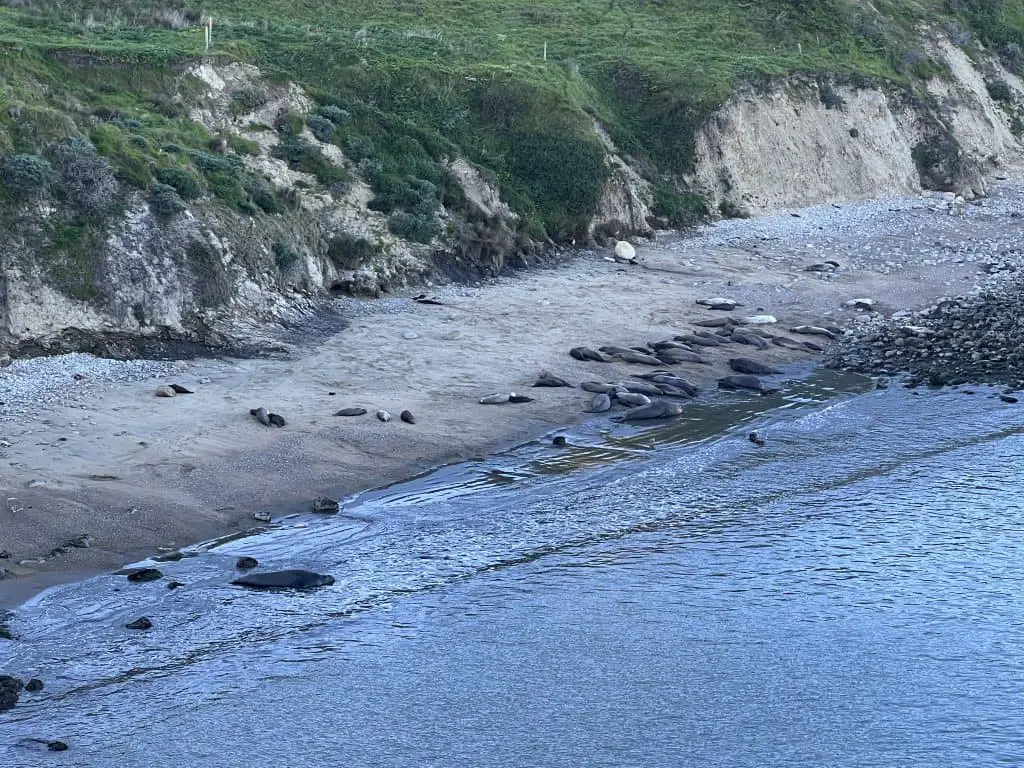 Visit Point Reyes Beaches
There are a number of great beaches in Point Reyes worthy of exploration and relaxation. Some beaches are small sandy coves sheltered by rocky cliffs that may be only accessible during low tide, while others are long stretches of white sand with calm waves perfect for swimming.
Limantour Beach
Limantour Beach is a 4 mile stretch of white sand that is family friendly with smaller waves of Drakes Bay (outside of winter storms).
You may see dolphins swimming by, seals playing in the waves, and plenty of snow plovers.
There are two parking lots for Limantour Beach. The closest one has about 10 parking spaces and fills up fast on a sunny weekend.
The second parking lot is about a 10 minute walk up the road with lots of space.
There are vault toilets at each parking lot.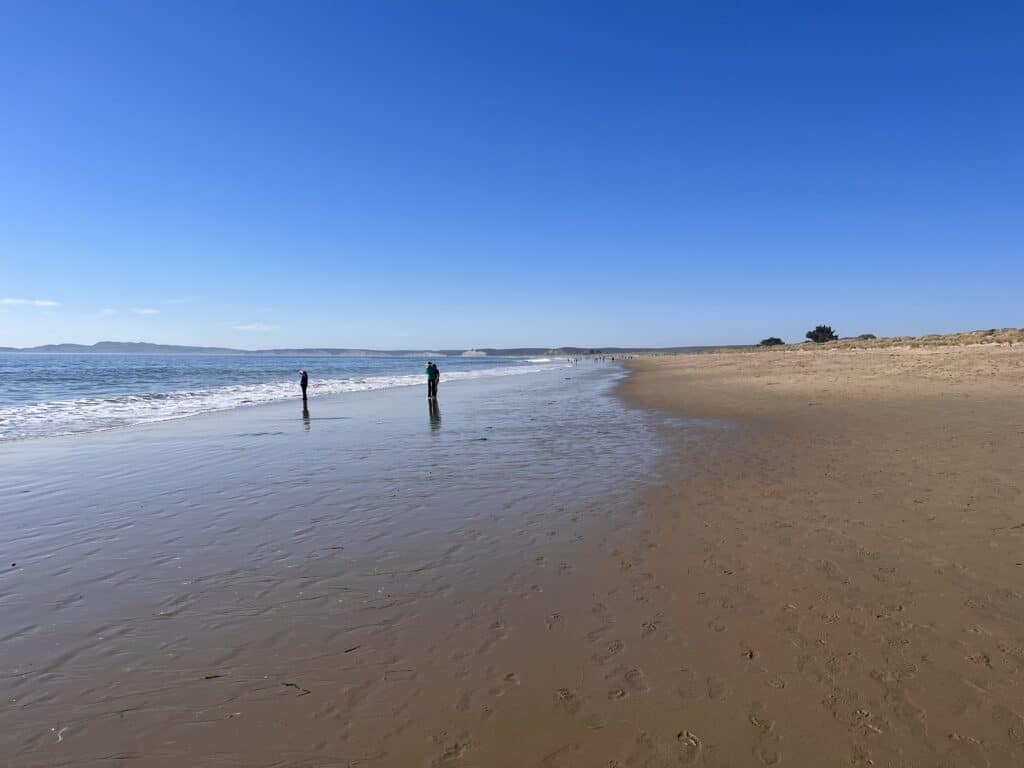 Sculptured Beach
Reaching this small, secluded beach requires a bit of effort as it's located a 4 mile hike from Limantour Beach.
But once you reach it you'll likely have most of the beach to yourself here!
When the tide is out there are tide pools you can explore and you can climb over rocks to other beaches.
I'm not sure that I'd swim here as the current is quite strong.
To access Sculptured Beach start the coastal trail hike from the Limantour Beach parking lot.
Bring snacks and plenty of water!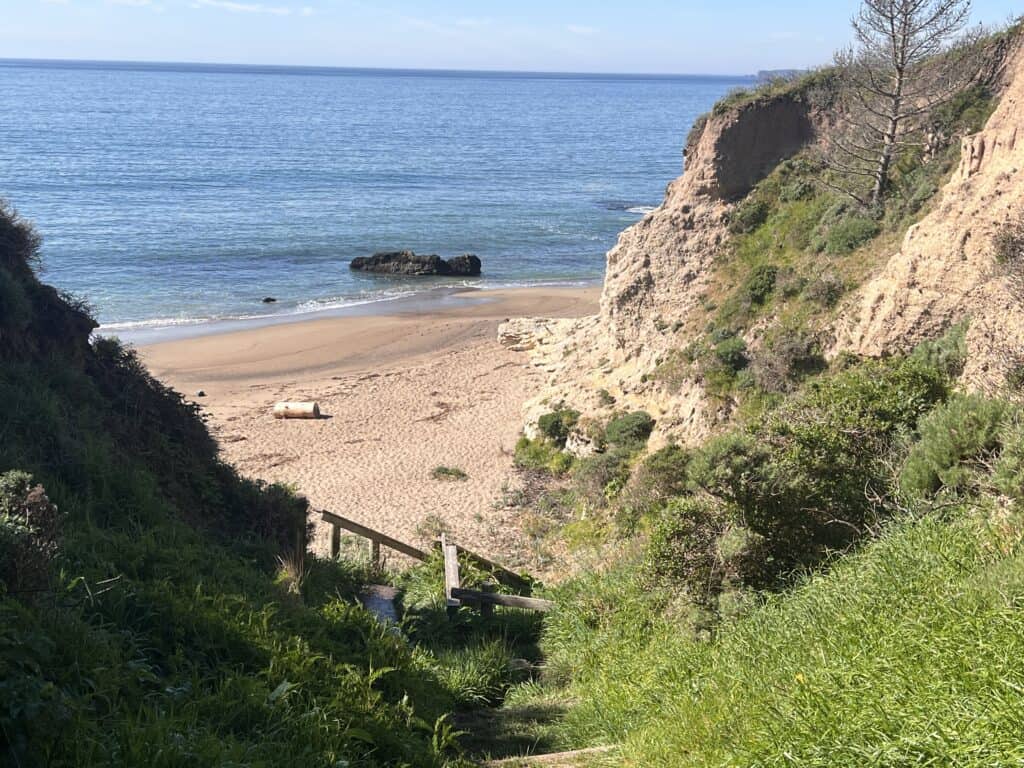 Have I thoroughly convinced you to add a visit to Point Reyes to your California bucket list? The Point Reyes area is filled with beautiful scenery, great food, and fun outdoor activities on the Pacific Coast. I truly hope that you take a day or two exploring the unique things to do here and enjoying a quiet place that still exists in Northern California.
To extend your trip in Point Reyes, check out the best places to stay nearby.
If you have any questions about planning your trip to Point Reyes National Seashore, feel free to reach out!
Find this post helpful? Pin it to Pinterest so others can find it!