Hiking in the San Francisco Bay Area is an absolute dream. The Golden Gate National Recreation area within San Francisco city limits offers a variety of hiking trails. Or you can take a short drive across the Golden Gate Bridge to the Marin Headlands or even further afield to Point Reyes National Seashore for hikes with spectacular views.
While I am trying to hike them all, my two little legs can only walk so fast! So, I enlisted the help of fellow bloggers. Together, we share our favorite hikes in the Bay Area.
Some of these hikes are more challenging than others, but I can pretty much guarantee they'll all be worth it.
The hardest part is deciding which is the best hiking trail in the Bay Area!
This blog post includes the best hikes in San Francisco and beyond. Lace up your hiking boots. Let's go.
This post contains affiliate links, which means that, at no additional cost to you, I will earn a tiny bit of income if you decide to make a purchase or booking. For more, check out my disclosure. 
My Favorite hiking Resources
What to Bring on a Short Hike
As always, it's best to be over prepared for any day hike. What you bring on a short hike can impact your experience on the trail. Here's a quick overview of what should be in your day hike backpack.
Water: The majority of these hikes do not have water available, so be sure to bring more than enough water for your hike. I use a 3L water bladder and leave a full Hydroflask in the car. I've used this amount of water on many of the longer hikes listed here and it's been sufficient.
Snacks: Always bring snacks, even on a short hike. Dried mango, nuts, tuna packets and cracker, or even a sandwich are good to bring with you. You may find a quality picnic spot along the way! But also it's good to have sustenance just in case you take a longer path than intended.
Map: Many of these hikes do not have good cell phone reception. Be sure to download Google Maps and AllTrails Map offline before starting your hike.
Sun Protection: The San Francisco Bay Area has great coastal hikes. As such, you'll be exposed to the sun on many of these hikes. Wear sunscreen, and reapply. Also consider wearing UPF blocking clothing and a wide brim hat.
The Best Hikes in San Francisco
There are a number of hikes, walking paths, and staircase climbs within San Francisco city limits that can make you feel like you're a world away.
Lands End Trail
Overview of the Lands End Trail
Length: 3.5 miles
Time to complete: 2 hours
Terrain: Dirt trails, some incline and stairs
Difficulty: Moderate
Shoes to wear: Sturdy sneakers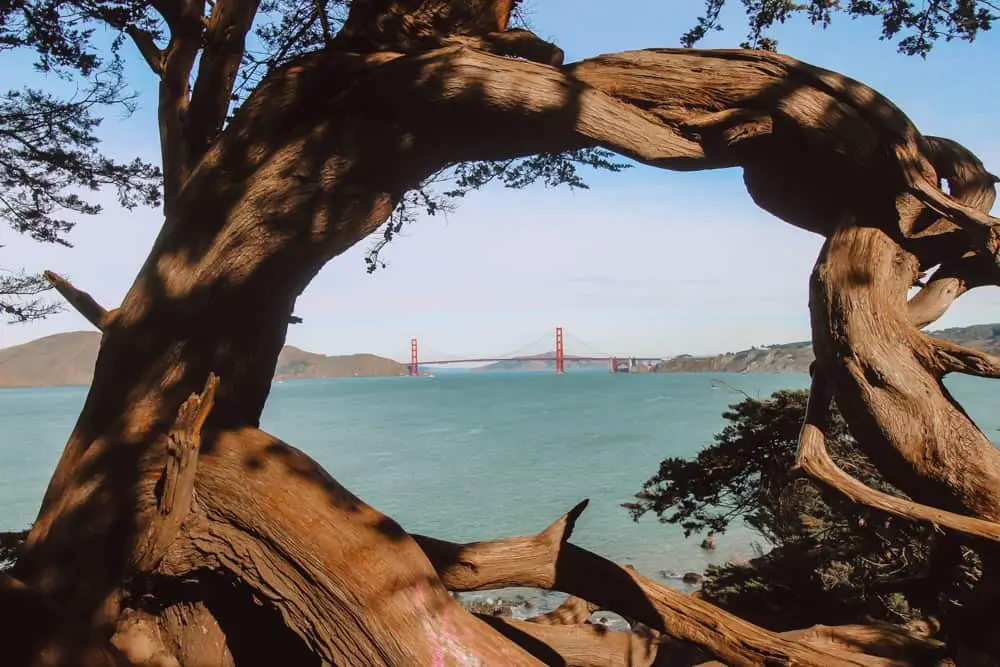 The Lands End trail makes you feel like you're away from the city, while still being within the city limits. This cliff side walk takes you through Cypress forests, over rocky bluffs, and ultimately to amazing views of the Golden Gate.
I suggest parking in the Fort Miley parking lot as there are usually more spots available, especially on the weekend. Alternatively, there is a parking lot for Sutro Baths where you'll also find restrooms if you need them before venturing off (no bathrooms on the hike). The path starts off paved near Sutro Baths, but eventually becomes dirt with a few staircases to climb.
Lands End is a fairly crowded trail, especially on weekends and extra especially during COVID.
On a clear day, you'll have fantastic views of the bay and see across to the Marin headlands. But this hike is even beautiful on a foggy day as the mist rolls through the Cypress Trees for dramatic effect.
There is also a labyrinth and a, somewhat, secluded beach. Follow the signs for Mile Rock beach, but instead of taking the stairs all the way down, continue straight onto the bluff from the first set. You'll reach an overlook to a labyrinth on the bluff.
It will take approximately two hours out and back, depending on how fast you walk. This is also a popular trail running trail.
It's definitely worth the trip if you're visiting the city! While you're in the neighborhood you can check out Ocean beach or one of the restaurants in the Richmond neighborhood.
Batteries to Bluffs Trail
Overview of the Lands End Trail
Length: 2 miles
Time to complete: 1-2 hours
Terrain: Dirt trails, some incline and stairs
Difficulty: Moderate
Shoes to wear: Sturdy sneakers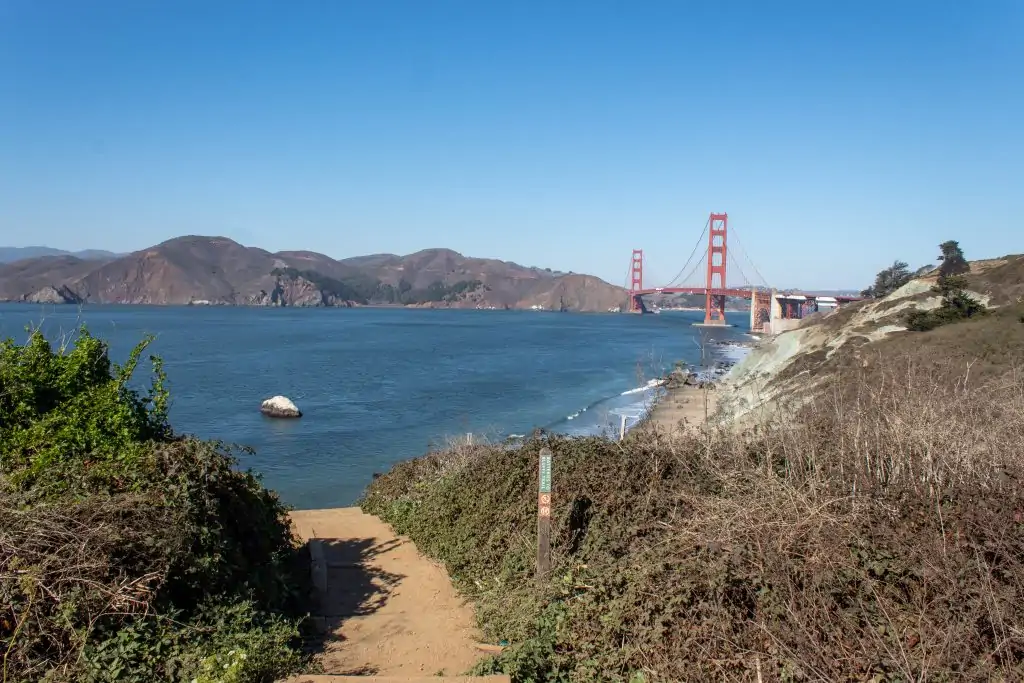 The Batteries to Bluffs trail is a coastal trail in the Presidio of San Francisco that connects Baker Beach to Marshall's Beach and the Golden Gate Bridge. Although the hike is short, it is fairly challenging as there are a number of steep staircases and an optional section on the sand at Baker Beach.
To begin this popular hike, park in the parking lot at Baker Beach. There are restrooms here should you need them. Follow the path towards the first Battery of the hike, Battery Chamberlain where there is still a canon.
After Battery Chamberlain you can choose to walk the beach to the sand ladder or follow the paved path. Either one will lead you to a narrow path alongside Lincoln Ave. Don't worry, you're only on this for a few minutes before heading back into the coastal bluffs and the second battery, Battery Crosby.
From here, a series of staircases leads you to Marshall's Beach. If the tide is out, you can walk the length of Marshall's Beach, almost directly under the Golden Gate Bridge. If the tide is in, head up to the Golden Gate Overlook. Here you'll find the classic view of the Golden Gate Bridge framed by Cypress Trees.
The Best Hikes Near San Francisco
Muir Woods
Take a roughly 45 minute drive across the Golden Gate Bridge (bucket list item ✅)to the Muir Woods National Monument for some of the best hikes near San Francisco. With a day trip to Muir Woods you can walk amongst giant redwoods that tower 250+ feet in the air and are over 800 years old!
Muir Woods recently re-opened after being closed due to the COVID pandemic. As many other places, it is operating under a few restrictions such as one way trails and discontinuing ranger talks.
Planning Tips for Muir Woods
Muir Woods is open daily from 9:00 am – 6:00 pm
Reservations are required. Make your reservation here.
There is no cell phone service, be sure to download your Google Map Offline before you go.
Muir Woods Address: 1 Muir Woods Rd, Mill Valley, CA
For more information or help planning your visit to Muir Woods, click here.
Panoramic Trail – Muir Woods
Contributed by Rob Best of Roam Yonder
Overview the Panoramic Trail
Length: 4.5 miles
Time to complete: 1.25 hours
Terrain: 287 meter elevation gain, wide & flat trails
Difficulty: Easy
Shoes to wear: Walking shoes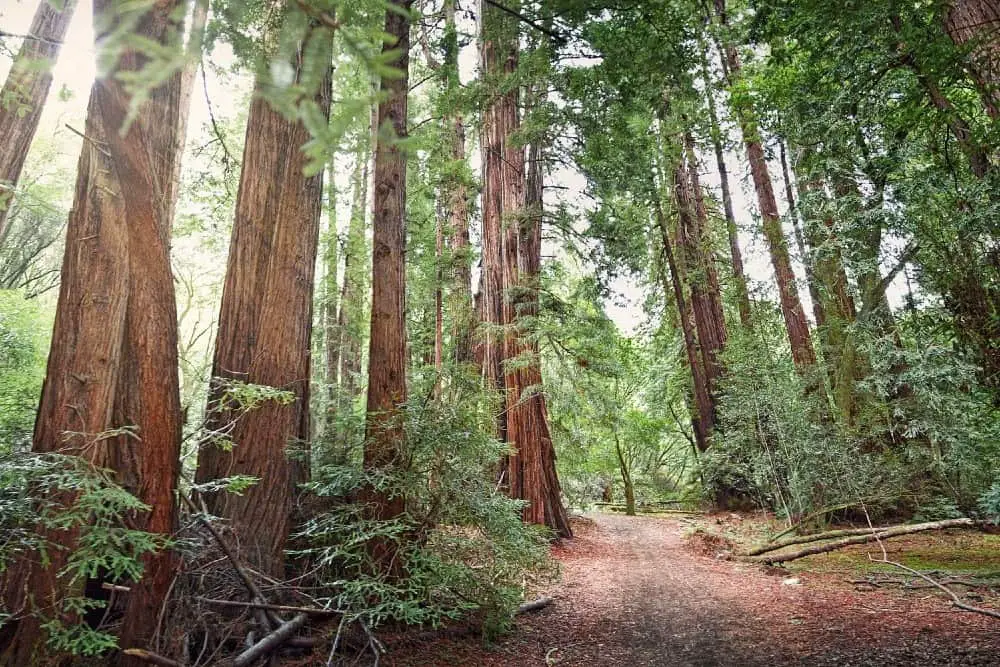 There are lots of hiking trails to choose from at Muir Woods but the Panoramic Trail is a great hike to enjoy the beauty of the area and is accessible for all types of hikers. Muir Woods is only 40 minutes away from San Francisco, making it a great day trip from the city.
At 4.5 miles the Panoramic Trail is not a highly taxing route but it's one of the prettiest in Muir Woods. The trail shows off the environment of Muir Woods and Mount Tamalpais State Park. The route starts off by following the Redwood Creek Trail, giving you a great chance to take in the stunning sight of the giant Redwoods.  
In total the climbs on the route total 287 metres and the paths are wide and mostly flat so the walk should take you around 1 hour and 15 minutes to complete. The scenery is so nice on the route that you will often stop and take in the sights. 
As you take on the climb in the middle part of the route the Redwoods will start to disappear and be replaced with meadows and then the nearby mountain tops. Although the climb can be steep in places a good pair of walking shoes will be fine to get around the Panoramic Trail.
Muir Woods National Monument is the only old-growth redwood forest located close to a major city. Because the area is so accessible it really is worth taking a few hours to visit and that is why the Panoramic Trail is such a popular route. It lets you enjoy the different sceneries of this picturesque area without being a taxing and lengthy route.
Point Reyes National Seashore
Point Reyes National Seashore is a popular day trip or weekend getaway from San Francisco and for good reason! Located in Marin county, it's only an hour drive from the city, just north of Muir Woods.
There are so many things to do in Point Reyes. You can watch the gray whale migration in winter and early spring, you can see elephant seal pups, kayak in Tomales Bay, and of course go on stunning hikes along the Point Reyes Peninsula.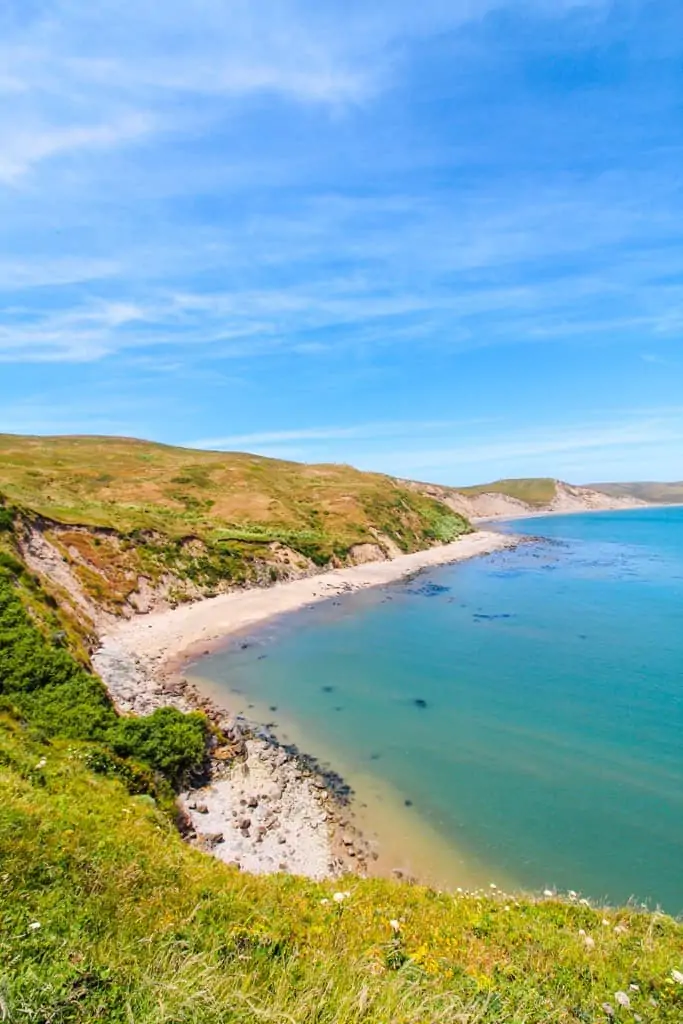 Planning Tips for Point Reyes National Seashore
There is no entrance fee!
Due to COVID many places in the park are closed. Please check their website for the most updated information.
Cell service comes and goes depending on your location in the park
Address: 1 Bear Valley Rd, Point Reyes Station, CA
(although I suggest putting in your trailhead destination on Google Maps or checking the maps page of the Point Reyes Website.
Alamere Falls
Contributed by Kristel and Gabriel Glasier from Chef Travel Guide
Overview of Alamere Falls
Length: 8.4 miles
Time to complete: 4 hours
Terrain: 1083 ft total elevation gain, moderately exposed on loose dirt with some steep scrambling to get to the beach
Difficulty: Moderate
Shoes to wear: Trail running shoes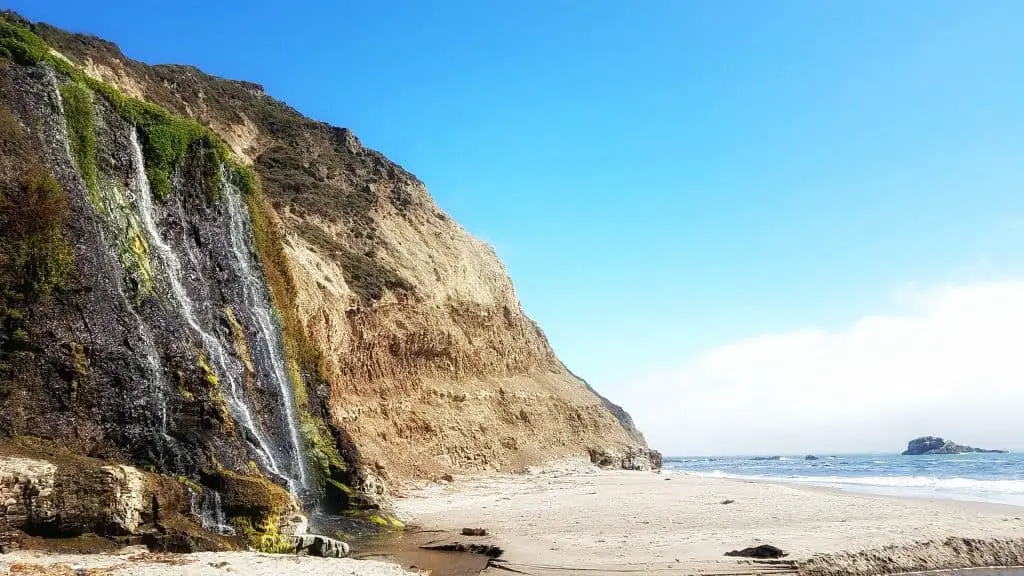 Considered as a rare tide fall, Alamere Falls is a 40-foot cascade that plummets over shale cliffs to a stunning sandy beach and on to the Pacific Ocean.
Located in Point Reyes National Seashore, this out and back 8.4-mile hike attracts a lot of visitors so it is best enjoyed on a weekday. There are several ways to get there but the most scenic one is from Palomarin Trailhead via the Coast Trail.
Once you start this dramatic hike you will be walking through towering eucalyptus trees while enjoying the sound of the waves crashing on to the rocks. The first couple miles of this moderate hike is pretty exposed so it can get warm during the summer, but you will be rewarded with expansive views of the California coastline.
You will encounter varying terrain through forested valleys, algae-covered ponds, lush coastal heather, and wildflowers as well as a series of lakes.
You will be winding through lush coastal pines that create a dark tunnel over the trail, carpets of fern, and open meadows as well as crossing through wooden bridges over trickling creeks.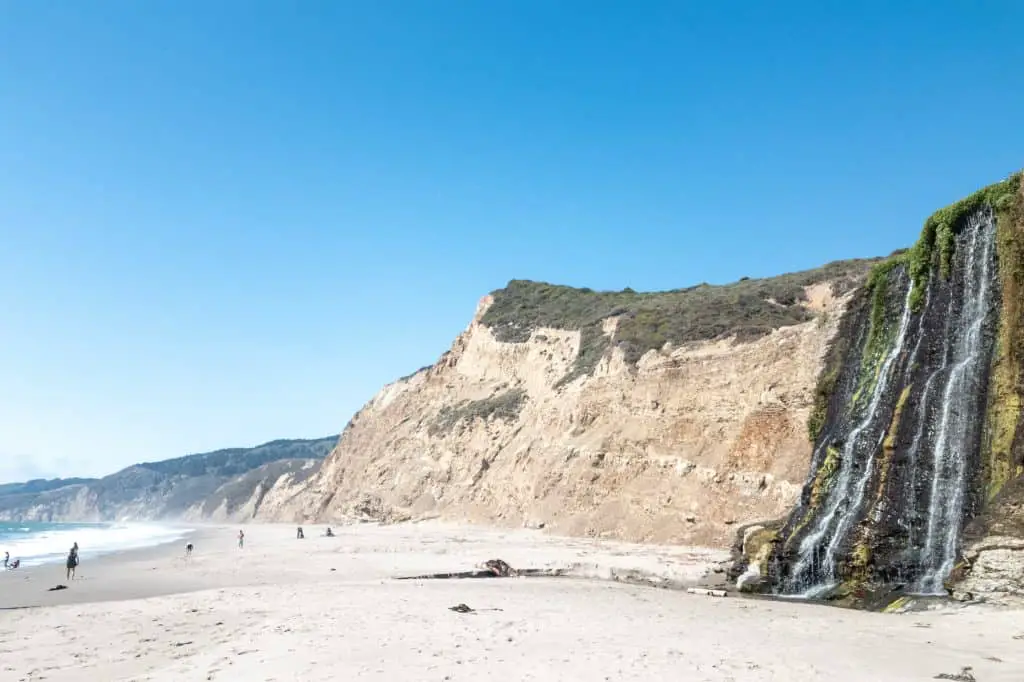 About 4 miles into the trail is an unofficial "shortcut" to the falls that is sometimes marked with a left arrow made up of small rocks. This 0.5-mile trail is not maintained and not recommended by the National Park Service as it is lined with poison oak and involves a steep climb down to the beach.
If you are feeling adventurous, make sure to wear long pants as well as shoes with a good grip as you will be scrambling down some loose rocks.
For a safer route, you can take the Coast Trail to Wildcat campground and head south for a mile along the beach to reach the falls for a total of 13.8 miles roundtrip.
Bear Valley Trail: Point Reyes National Seashore
Contributed by Noel Morata of This Hawaii Life
Overview of Bear Valley Trail
Length: 10.5 in miles round trip
Time to complete: half day to full day
Terrain: gravel and dirt paths through open sunny to forested areas
Difficulty: Easy with slight grade in elevation
Shoes to wear: comfortable tennis or hiking boots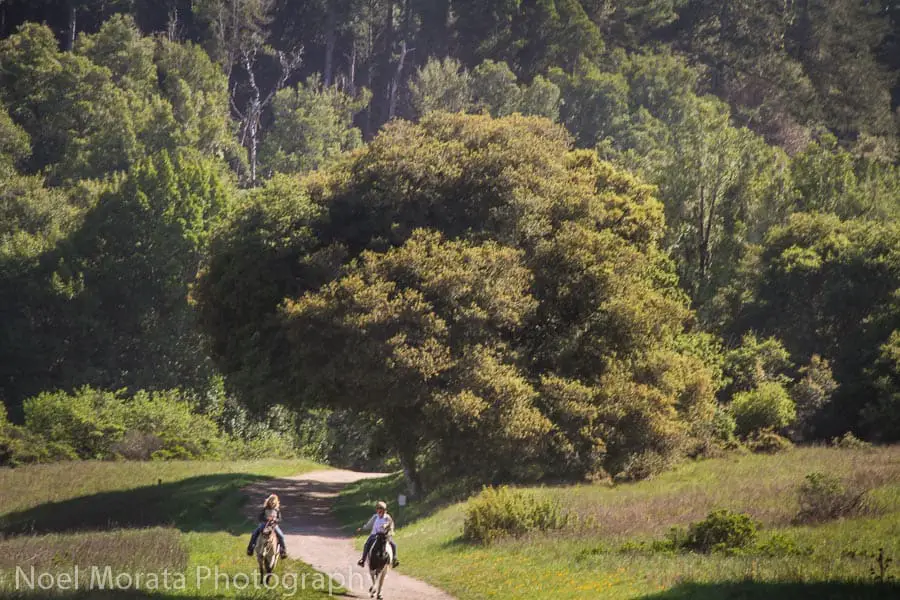 One of the best and most iconic trails to explore in the Point Reyes National Seashore is the Bear Valley trail just next to the main visitor center close to the entrance of the park. This trail really gives you a flavor of what old California is like from the ocean, inland to the coastal mountain ranges of the park.
The majority of the trail is flat with some slight incline in certain areas and then a nice slow decline once you get closer to the ocean. Covering open meadows, forested areas with babbling streams to the dramatic ocean views at the end, the Bear Valley Trail has it all and is a wonderful and easy hiking experience for beginners.
Tomales Point Trail
Overview of Tomales Point Trail
Length: 10.5 miles round trip
Time to complete: half day to full day
Terrain: dirt paths along coastal bluffs, with sandy sections
Difficulty: Moderate with slight grade in elevation
Shoes to wear: hiking boots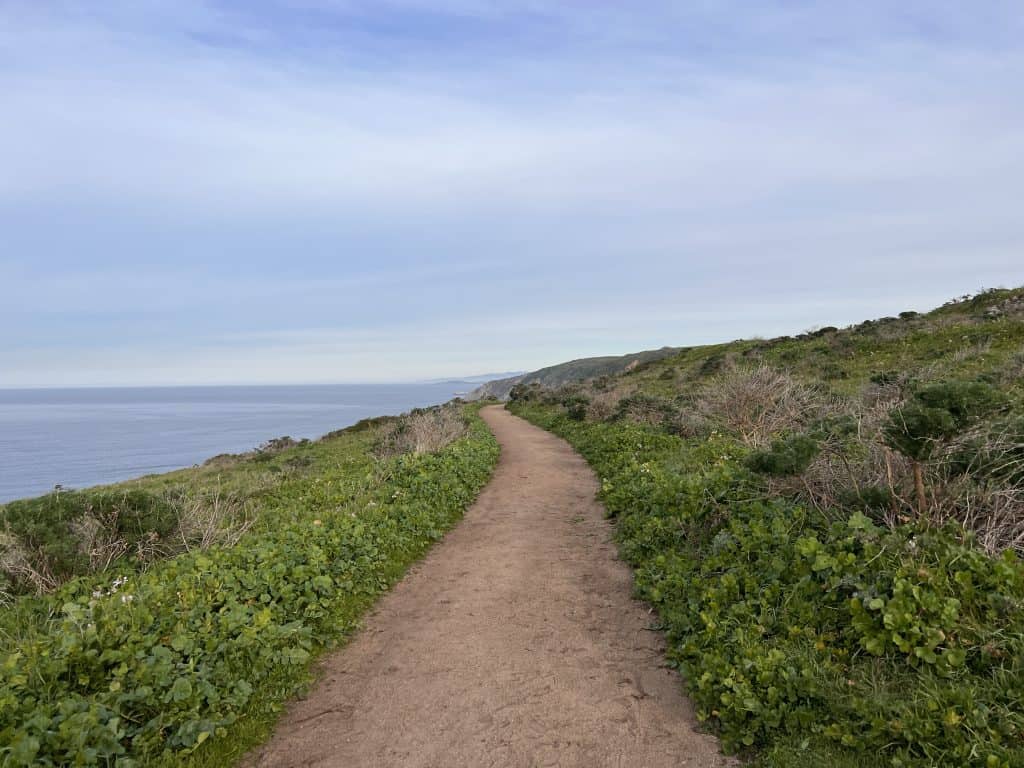 The Tomales Point trail is one of the most popular hikes in Point Reyes. Wildlife sightings are very common on this hike as this area of the peninsula is home to a Tule Elk reserve and the gray whales migrate through here each year.
The parking area for the Tomales Point trail is at the historic Pierce Point Ranch. The only restrooms nearby are down the road at the McClure Beach parking lot. As this is an extremely popular hike, the parking lot fills up fast on the weekends and the trail gets crowded. Get there early so you can hike in peace for a bit!
As the trail is completely exposed, it is best hiked on a clear day to really soak in the beauty of the Pacific coast and possibly see out to the Farallon islands.
The trail itself is very straightforward. There are a few inclines as you make your way to Tomales Point. The last mile of the trail is unmaintained and climbs up sand, so it's a bit challenging. But you'll be rewarded by reaching Tomales Point! Sit here, have a snack, and enjoy the views before turning back to your car.
The Best Half Moon Bay Hikes
From San Francisco start driving south on Highway 1, through Pacifica, where there are some great hikes as well, to Half Moon Bay. Half Moon Bay is a great place to learn how to surf, eat deliciously fresh seafood, and of course, explore some great coastal hikes in the Bay Area.
There are a number of hikes in Half Moon Bay for all fitness levels, but here I just want to highlight two.
Gray Whale Cove Trail
Overview of the Gray Whale Cove Trail
Length: 2 miles out & back
Time to complete: 30-45 mins
Terrain: Narrow dirt path
Difficulty: Easy with slight incline at the beginning
Shoes to wear: Sturdy sneakers/trail runners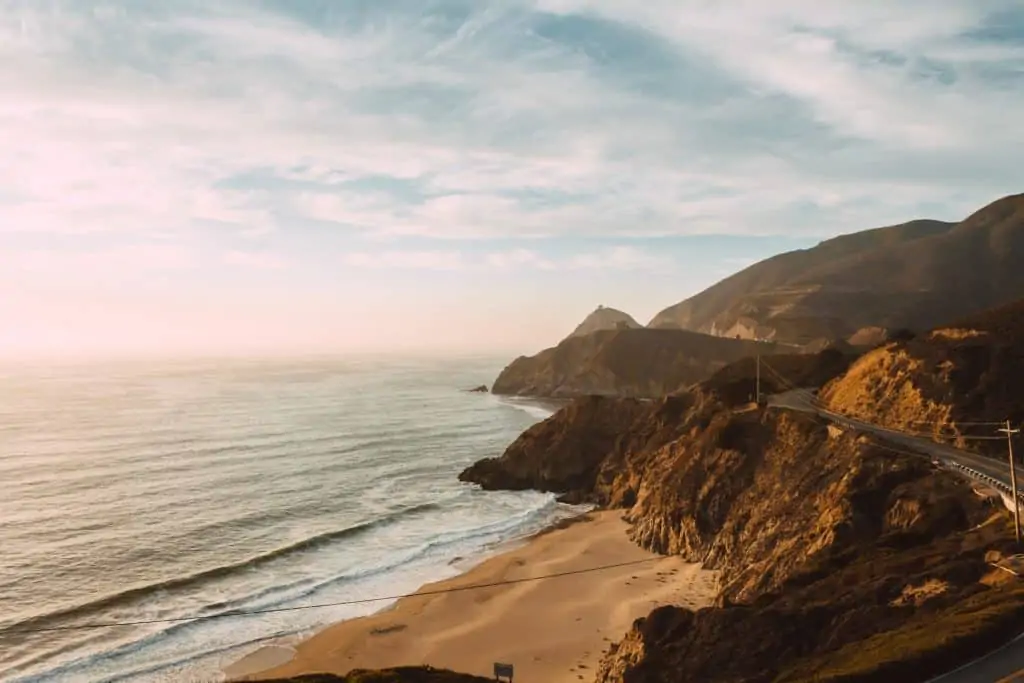 Located on Montara Mountain just south of Pacifica, the Gray Whale Cove Trail is quickly becoming one of my favorite post-work hikes as it's a short hike with spectacular views.
To access this hike there are two parking lots, I suggest parking at the lot across the street from Gray Whale Cove State Beach as it's much bigger. And the trailhead begins right at the parking lot.
You'll climb up a steep, but short incline, but after that it's a mostly flat narrow path that hugs the mountain side while offering dramatic views of the Pacific Ocean below.
There is a lookout point with two benches that would be a great sunset spot if you happen to get a clear evening.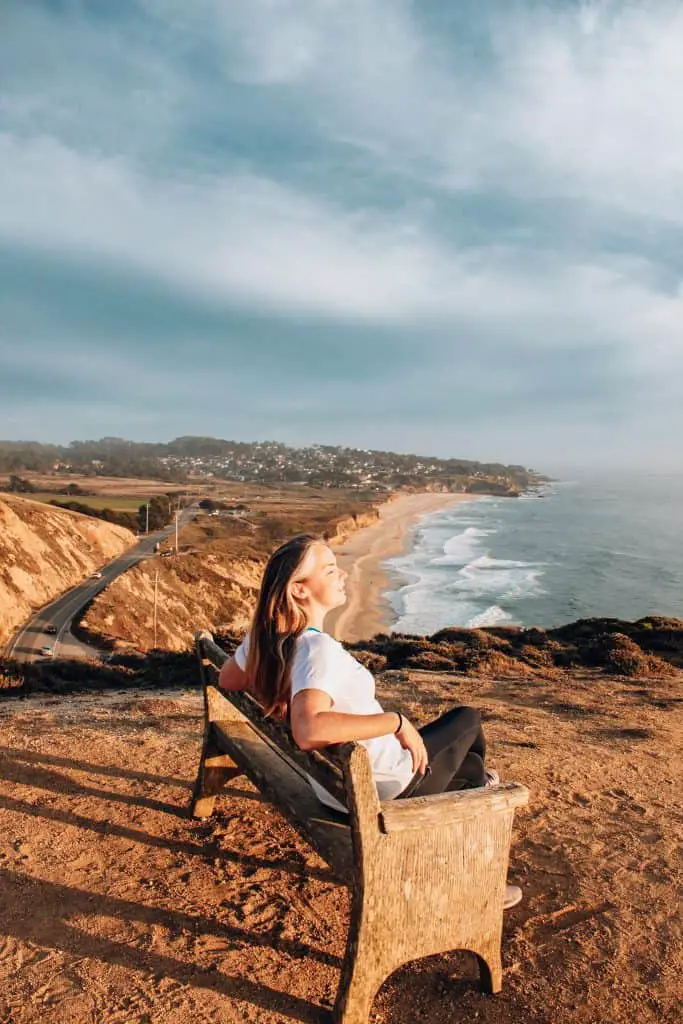 Once you reach the trail marker for Old Pedro Mountain Road, simply turn back for your car.
This mountain is incredibly popular among mountain bikers, so you may see a few, so just be ready to step out of the way. However, they're pretty good at making themselves known.
Purisma Creek Redwoods Open Space Preserve
Purisma Creek Redwoods Preserve is a great place to go hiking near San Francisco. There are a number of interconnected trails in this preserve and hikes that are suitable for all fitness levels.
You can access Purisma Creek from three locations: Highway 35, Higgins Canyon Rd or Purisma Creek Road. However, due to COVID-19, parking is limited so if you're planning to go on the weekend, go early as this is a popular hiking trail in Half Moon Bay.
Overview of the North Ridge Trail – Whittemore Gulch – Harkins Ridge 
Length: 8 miles
Time: 3-4 hours
Terrain: Narrow dirt paths
Difficulty: Hard
Shoes: Hiking boots or shoes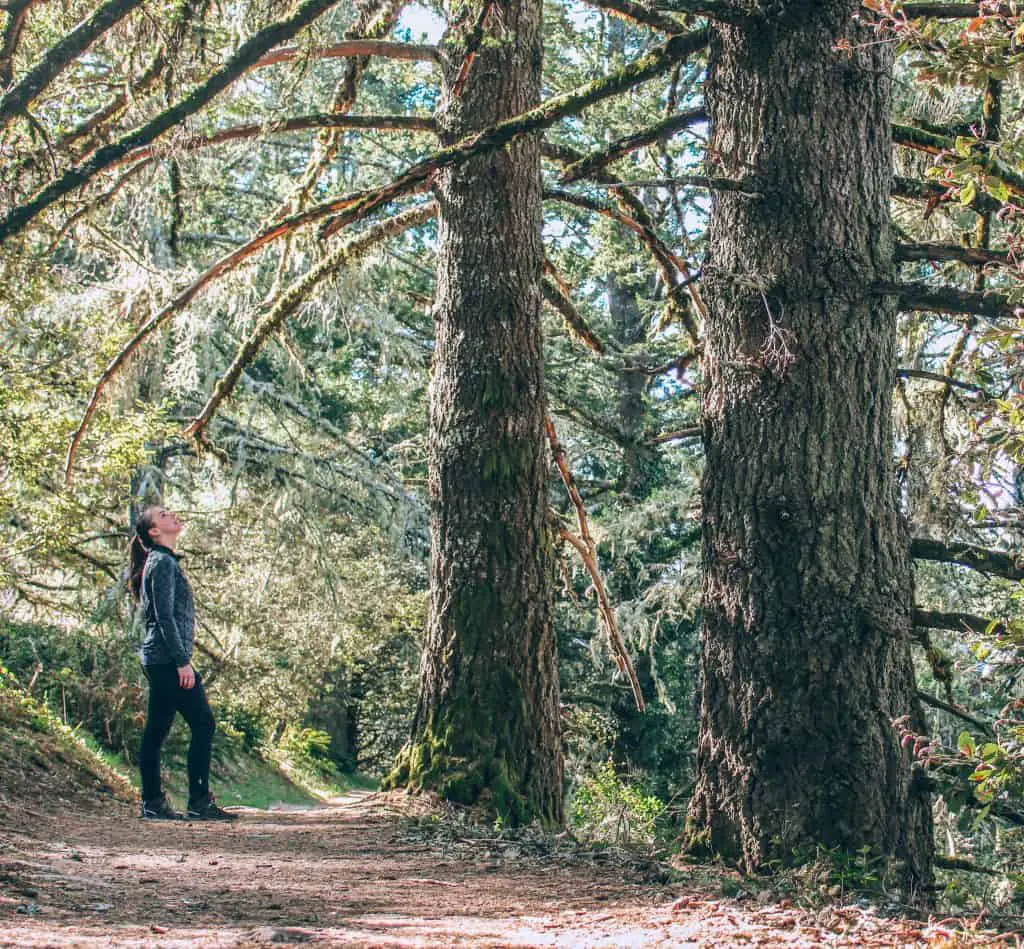 This is a tough and longer hike in Half Moon Bay that starts with views of the Pacific Ocean, climbs down along the floor of the Redwood forest, ambles along a creek, and then climbs back up again for a few more views.
To start this hike, park at the lot off of Highway 35. Start with the North Ridge Trail head, but follow the sign for the switch backs which will say hiking only. This is a bit easier on your knees on the way down and offers plenty of shade.
After about 1 mile, you'll join the Whittemore Gulch trail and follow that through a magestic Redwood forest to Purisma Creek. Here is a great place to rest amongst the shade of the dense forest. Find a stump and have a snack. There are also bathrooms you can use here.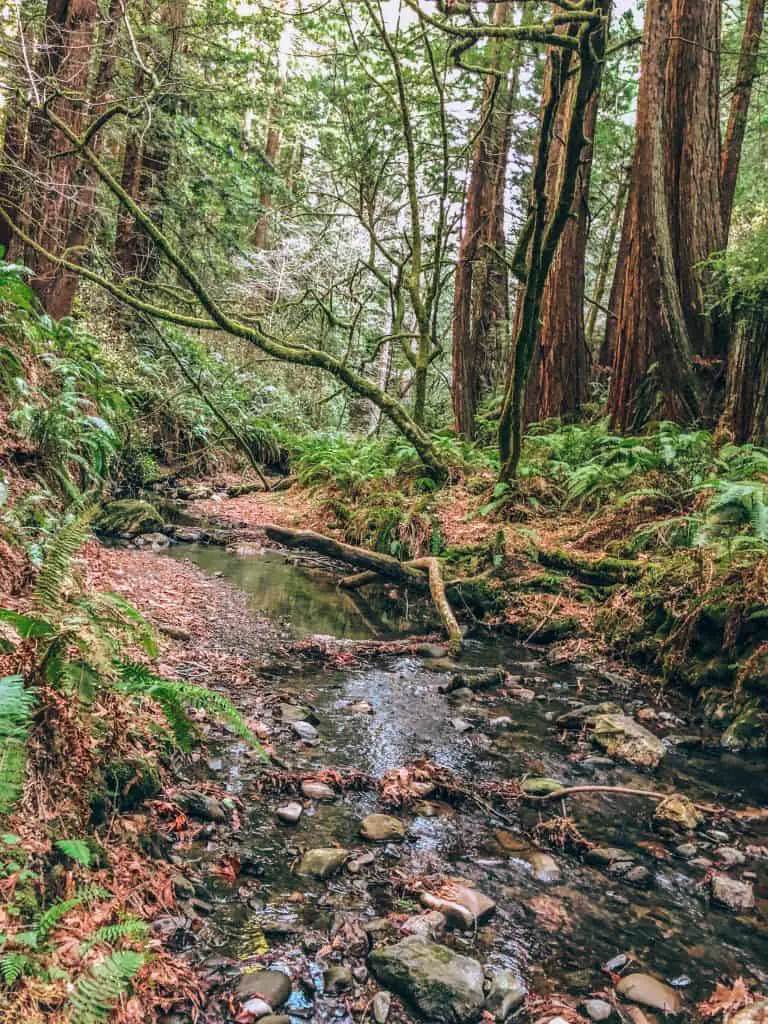 But don't rest too long, because you will now climb about 3 miles back to the highest point of the hike along the Harkins Ridge Trail, catching views across the tops of the trees to the Pacific as you go. You'll rejoin North Ridge Trail and return to your car.
Sweaty, but totally worth it!
The Best Hikes Near San Jose
Hop in your car and head South on Highway 101 or 280 to experience some awesome South Bay hikes! In about an hour (give or take depending on traffic) you'll be in for a treat with these awesome hikes near San Jose California.
Castle Rock State Park
Contributed by Monique Boatner of Flourish with Mo
Overview of Castle Rock Hikes
Length: 4.5 miles
Time to complete: Half day
Terrain: Some boulders on trails
Difficulty: Moderate
Shoes to wear: Hiking boots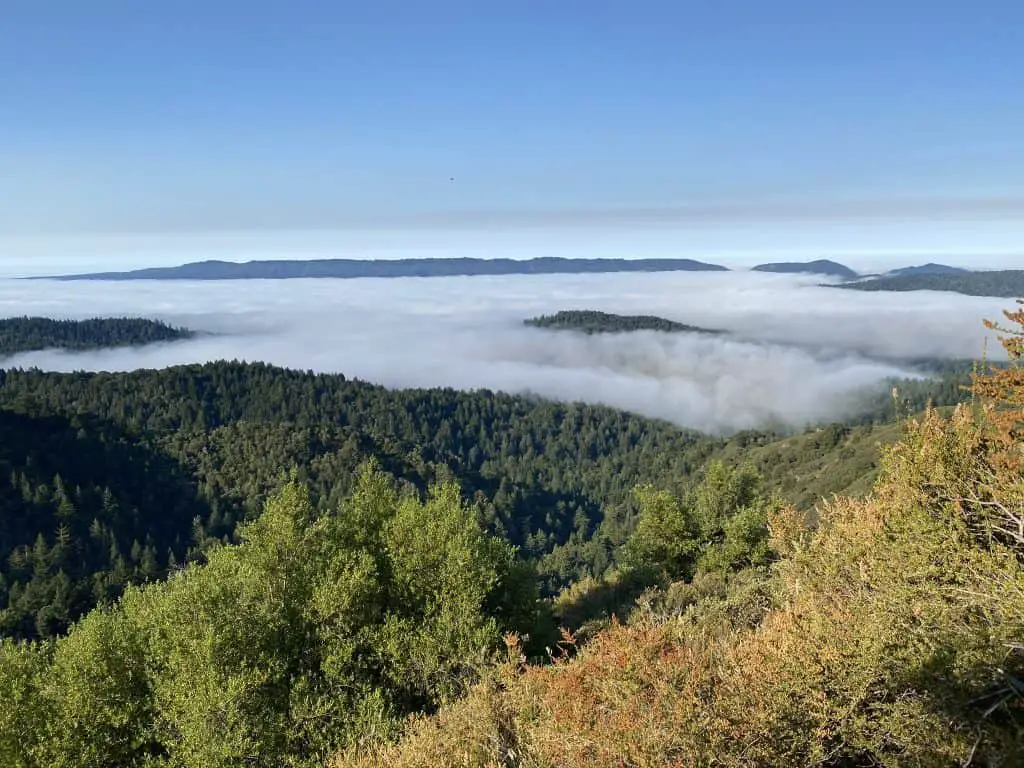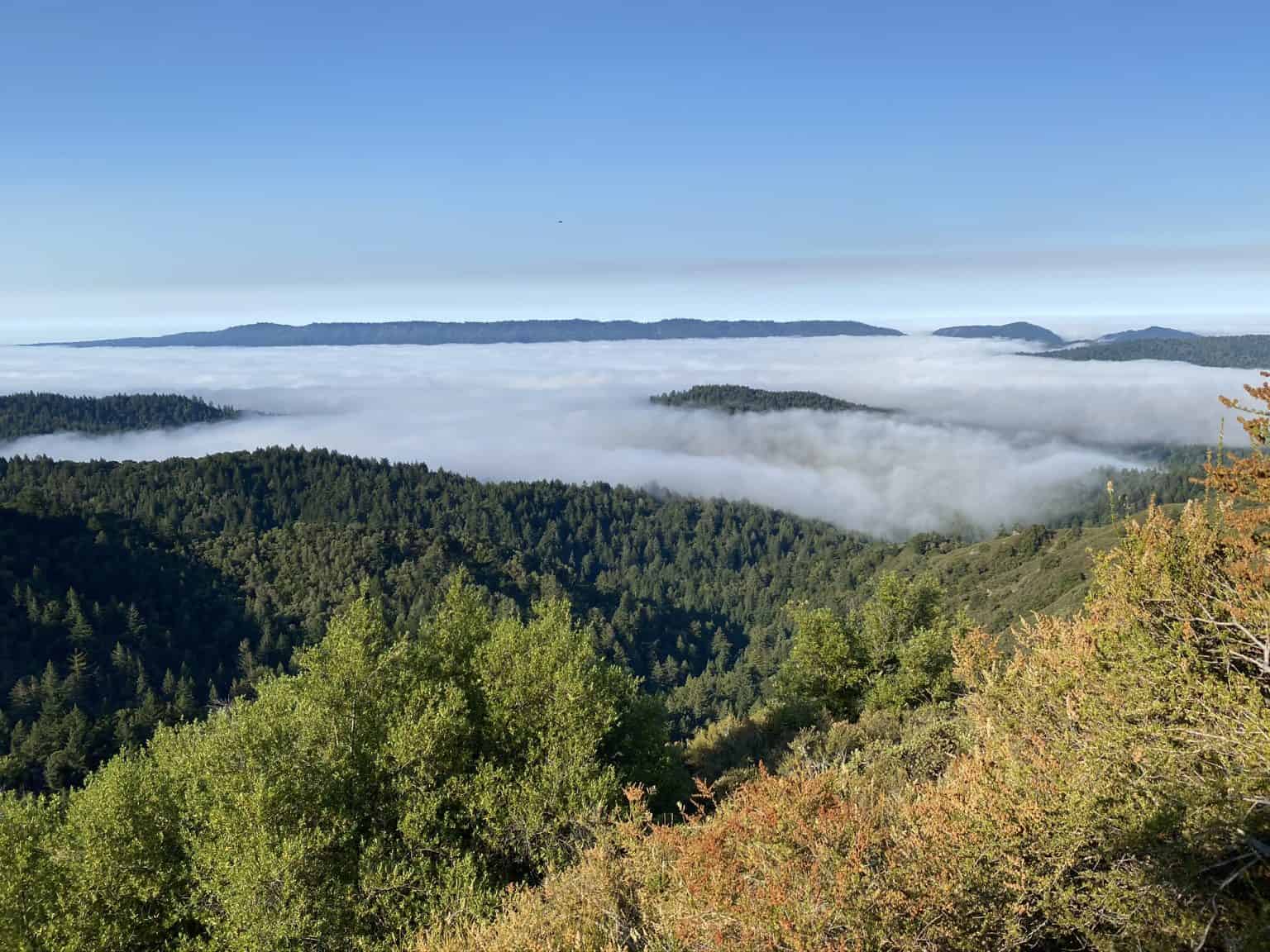 Castle Rock State Park is an amazingly beautiful park located in Los Gatos, California off of Highway 35. With views of the Santa Cruz mountains, this park is perfect for hiking, backpacking, rock climbing, camping, and horseback riding! There are 34 miles of trails that connect to the Santa Clara and San Lorenzo valleys. 
The park is open from 8 am to sunset. There is no entry fee but to park in the parking lot is $10 per car.
There is a huge emphasis on there being no water available once you're inside the park so be sure to pack appropriately. Also, there is no cell phone service but they have free wi-fi that works at the entrance of the park. 
This park has campsites available for $15 per night. Dogs are not allowed in the park. Bikes and horses are only permitted on certain trails, check here for more information.  
Saratoga Gap – Ridge – Castle Rock Trails – Castle Rock State Park
After arriving at 7:30 am and parking on the side of Highway 35 I entered the main entrance from the main parking lot. I decided to take the Saratoga Gap Trail to the Patrick Charles Allen Memorial. This was about 1 mile.
I continued on the Saratoga Gap Trail until I reached the Interconnector Trail. I took this trail to the Ridge Trail and went right towards Dan Seldow's Fraggle Rock Grove, this was almost 2 miles from the entrance.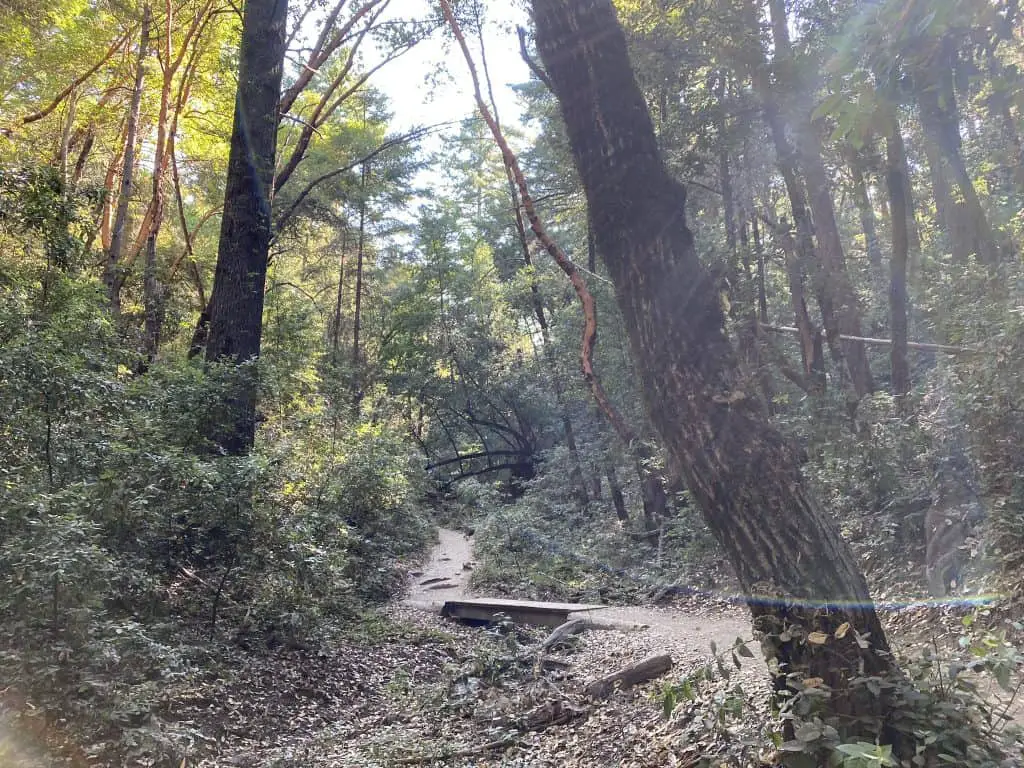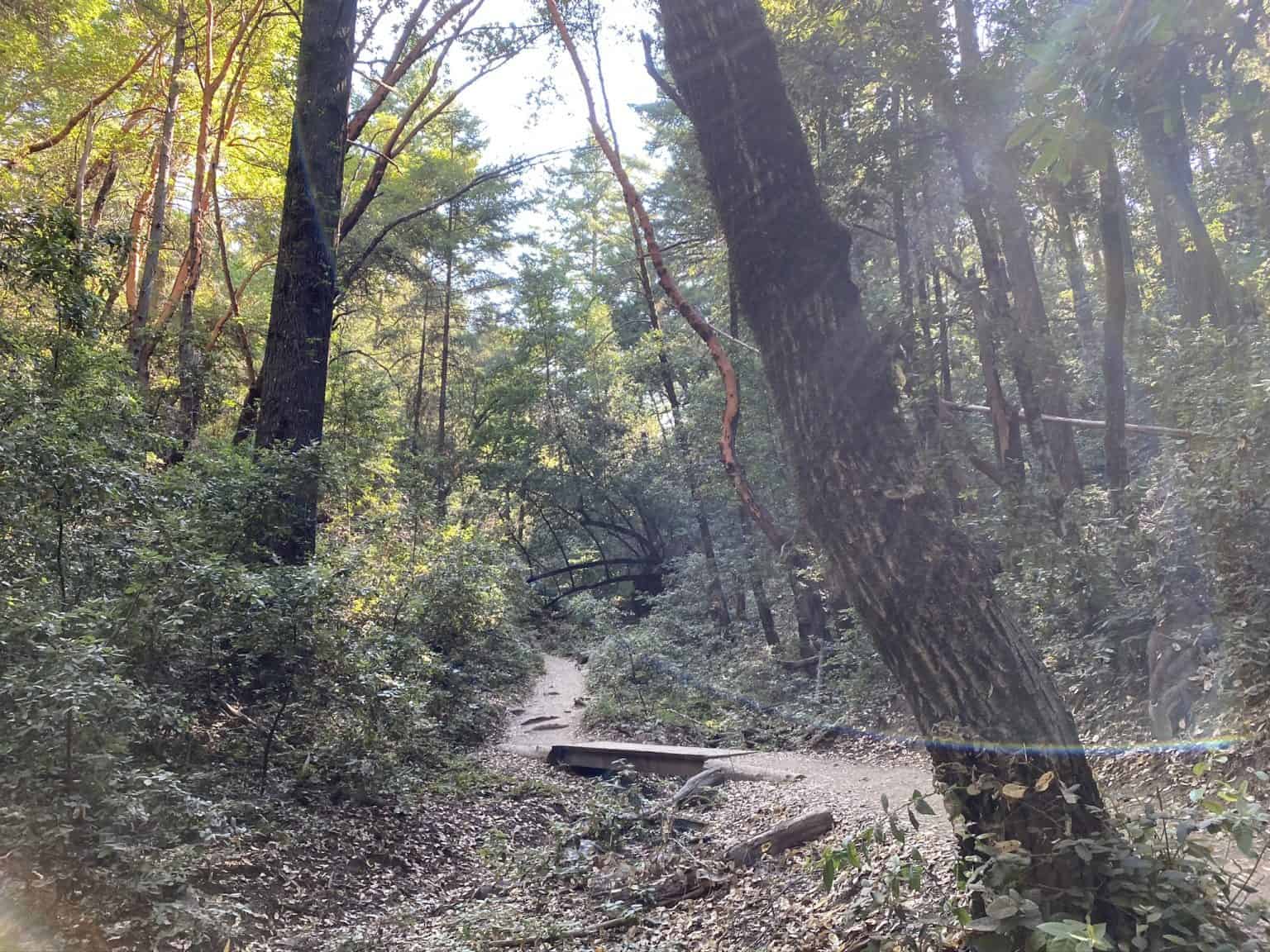 I continued along the Ridge trail, passing Goat Rock. I used the Ridge trail to take me back to the Saratoga Gap Trail. I wanted to hike some more so instead of returning to the entrance, I went right towards the Castle Rock Trail, at this point I had hiked about 2.8 miles. After finishing Castle Rock Trail, I hiked about 4.5 miles. 
Final Thoughts On Castle Rock State Park
Overall I really enjoyed my hike at this park. Here are some tips I've gathered after my experience. Needless to say, I will definitely be back! 
If hiking in the Summer, go early. It gets hot in those mountains!
If you're a new hiker or with children, stick to the Castle Rock Trail, it's the shortest loop and the trail is the widest and smoothest.
Take a picture of the map before you hike so you know where you're at! 
If you are coming from the Bay Area, the road can get windy and there are points when there is only one lane. Drive slower and be aware of your surroundings. 
When I went in July 2020, the waterfalls and creek were dry. 
Monterey Bay Hikes
If driving the famous PCH is on your California bucket list, but you don't have the time to do the entire drive, consider driving a portion of it to Monterey for these awesome hikes!
In just 2.5 hours you'll be in for a treat for these hikes in Carmel and Monterey.
Bird Island Trail – Point Lobos State Natural Reserve
Contributed by Dhara from Roadtripping California
Overview of Bird Island Trail
Length: 0.8 mile
Time to complete: About 45 minutes
Terrain: Mostly flat
Difficulty: Easy, accessible
Shoes to wear: Sturdy walking shoes or sneakers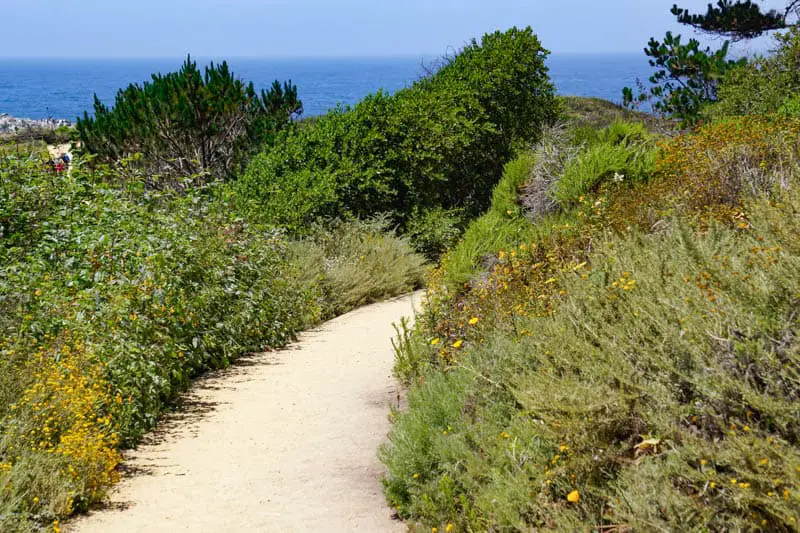 Bird Island Trail is likely the most popular trail in Point Lobos State Natural Reserve in Carmel, California. An easy and very scenic walk, this trail takes you past some of the most photogenic spots in the park to a viewing point for Bird Island, a rocky outcrop in the water.
The oceanfront trail offers beautiful views of the ocean as you walk. You have the option to go down to a beach a little ways into the trail. If not you can view the beach from the trail above. Along the way, you will also see lots of wildflowers in season, and you might be able to spot squirrels or rabbits.
Bird Island is a nesting ground for many seabirds, including cormorants and gulls, and if you visit in the spring or early summer, you may be able to see the nests via scopes that docents sometimes set up in the viewing area. You may also see otters or seals in the ocean below.
The trail is very easy for most people. There is a flight of stairs at the start, but otherwise the trail is flat. There is also a ramp if you are visiting in a wheelchair or with a stroller or walker. There are benches along the way if you want to sit and admire the views.
You can combine the Bird Island Trail with other trails in the park if you want to add more length or difficulty to your walk. Parking inside the park can be an issue, because the park is very popular. Either arrive early, or be prepared to park on the shoulder of the road outside and walk into the park. There is a fee to park inside.
Monterey Bay Coastal Recreational Trail
Contributed by Constance of The Adventures of Panda Bear
Overview of the Monterey Bay Coastal Recreational Trail
Length: 4.4 miles round trip
Time to complete: Depending upon the stops it can easily take a day, but at least 4 to 5 hours
Terrain: paved, mostly flat trail
Difficulty: easy
Shoes to wear: any comfortable shoes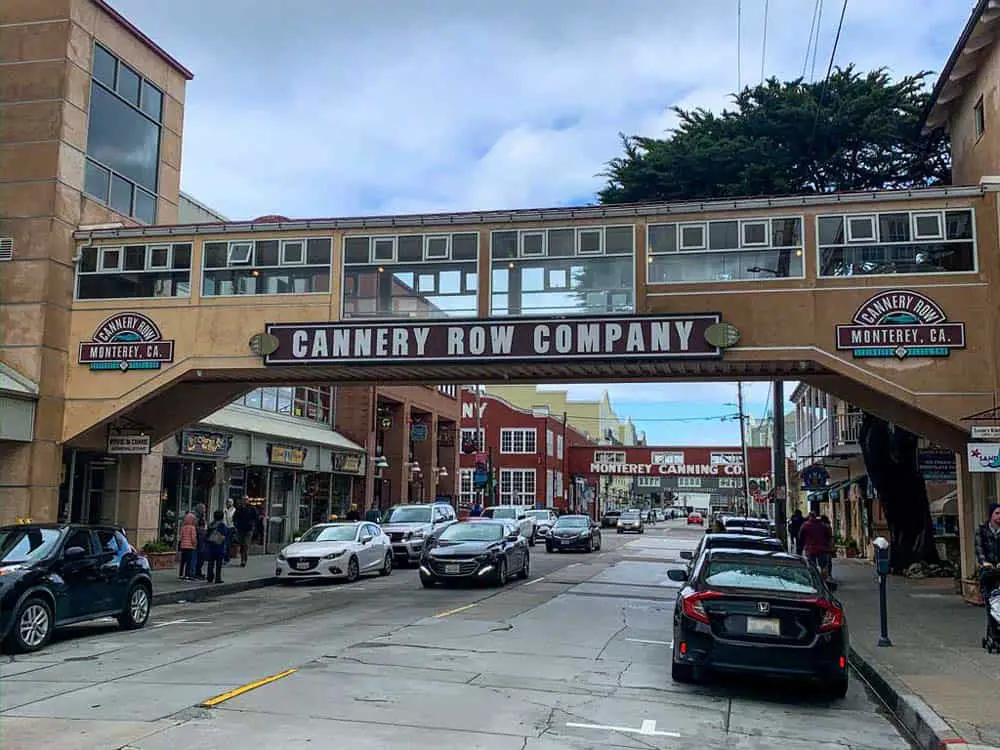 Located less than 2 hours away from San Francisco, Monterey is a quick day or weekend trip away for amazing hikes. One of the best hikes in Monterey is the Monterey Bay Coastal Recreational Trail. 
While the entire hike is quite long, an 18-mile path, stretching from Watsonville down to Pacific Grove, we typically only take it for a much shorter route from Old Fisherman's Wharf in Monterey to Lovers Point Park in Pacific Grove and back. This makes the hike 2.2 miles one way and 4.4 miles round trip. 
Along the way, you'll pass by some of the best and most famous sights to see in Monterey, including Old Fisherman's Wharf, Cannery Row, and Pacific Grove. 
At Old Fisherman's Wharf, walk along the pier and take in the view of the Monterey Bay. Here, you'll see various shops selling Monterey's best tchotchkes, delicious restaurants with local seafood, and at the end of the pier, you'll find whale watching excursions.
Across the street from Old Fisherman's Wharf is also the Old Custom House. The Custom House was once used by the Mexican government to collect tax and duties when ships entered Monterey Bay when California was a Mexican territory. 
Afterwards, stop by Cannery Row. This street was named after John Steinbeck's book Cannery Row and told the stories of the residents living on the street in the heyday of Monterey's cannery industry.
Located at the end of Cannery Row, you'll find the Monterey Bay Aquarium, one of the most renowned aquariums in the nation with its very own kelp forest. 
As you continue along the trail, you'll also find the harbor seals of Pacific Grove. The seals hang out behind the aquarium year round and you'll know you're nearby when you hear all of the barking.
End the hike at Lovers Point Park, a lush green park located beside Lovers Point Beach and the Monterey Bay. 
More Northern California Hikes
The beauty of the Bay Area is its proximity to the beautiful outdoors for which Northern California is famous. If you have extra time during your visit to the Bay Area and want to check off a few more bucket list hikes, these should definitely be on that list!
Yosemite National Park
Yosemite National Park – you've heard of it I'm sure. It's nuts to me that I've lived in the Bay Area my entire life and I have never been to Yosemite. It was on my list for 2020, but COVID changed all of that. Thankfully, another blogger has been to Yosemite and is willing to lend her expertise!
Yosemite National Park is currently open, with restrictions. Be sure to visit the Yosemite National Park website for the most current information.
Planning Tips for Yosemite National Park
Reservations are required to enter the park, including for day use. To book your reservation visit this website
Get there early to avoid peak hour congestion
Plan to have no cell service
As always, leave no trace
Half Dome
Contributed by Jenny Kotlyar of Campsite Vibes
Overview of the Half Dome Hike
Length: 16.4 miles
Time to complete: 8-16 hours
Terrain: Stairs, Cables, Heights…
Difficulty: Hard
Shoes to wear: Hiking Boots or Trail Runners – well broken in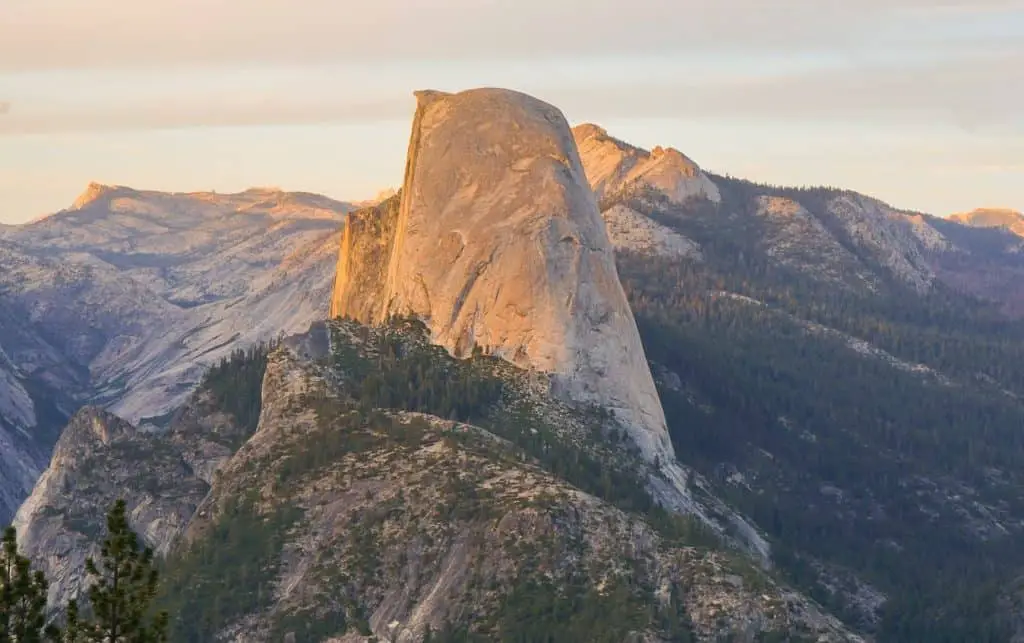 Half Dome in Yosemite National Park is one of the most iconic hikes in California. Half Dome was carved by glaciers receding down Yosemite Valley. From the top, you have beautiful 360 degree views of the valley below and the higher peaks of the Sierra Nevada Mountains.
Half Dome can be done as a weekend trip, or you can extend your adventure and explore more of Yosemite National Park and the Eastern Sierra.
The hike to the top of Half Dome is 16.4 miles round trip with 5,457 feet of elevation gain. It's not an easy hike, rightfully labeled as nature's stairmaster, but with planning and training ahead, it's completely doable as a long day hike or as a backpacking trip.
The trail starts from Happy Isles in Yosemite Valley and takes you up the Mist Trail or the John Muir Trail to where the cables start that then take you to the top of the dome. You can do the entire hike up to the cables without a permit, but if you'd like to hike to the top of Half Dome, permits are required. If you choose to backpack, you will also need to get a backpacking permit. There are several ways to get a permit, this blog post covers those details.
When hiking Half Dome, make sure to wear good hiking boots or trail runners that you've broken in before, bring a backpack with the 10 essentials required for a safe and enjoyable hike, and bring enough food and water for the entire hike. You can also filter water along the way if you run out, so bring a water filter that's designed for the wilderness.
If you're doing it as a day hike, get an early start! Depending on your hiking speed, it could take anywhere from 8 to 16 hours or more to finish. If you decide to backpack the trail, it makes it easier and gives you more time to enjoy the entire area. Most day hikers start anywhere from 1am to 5am depending on their speed. If you get an early start, you can watch sunrise from the top!
Lake Tahoe
Lake Tahoe is another natural beauty located about a 3.5 hour drive from San Francisco. While in theory you could visit Lake Tahoe as a day trip from San Francisco, a visit to Lake Tahoe requires at least an overnight stay so you can enjoy the beauty of this area without feeling rushed.
Eagle Lake Trail
Contributed by By Meg Atteberry of Fox in the Forest
Overview of Eagle Lake Trail
Length: 1.8 miles
Time to complete: 1 hour
Terrain: Steep stairs
Difficulty: Easy
Shoes to wear: Trail Runners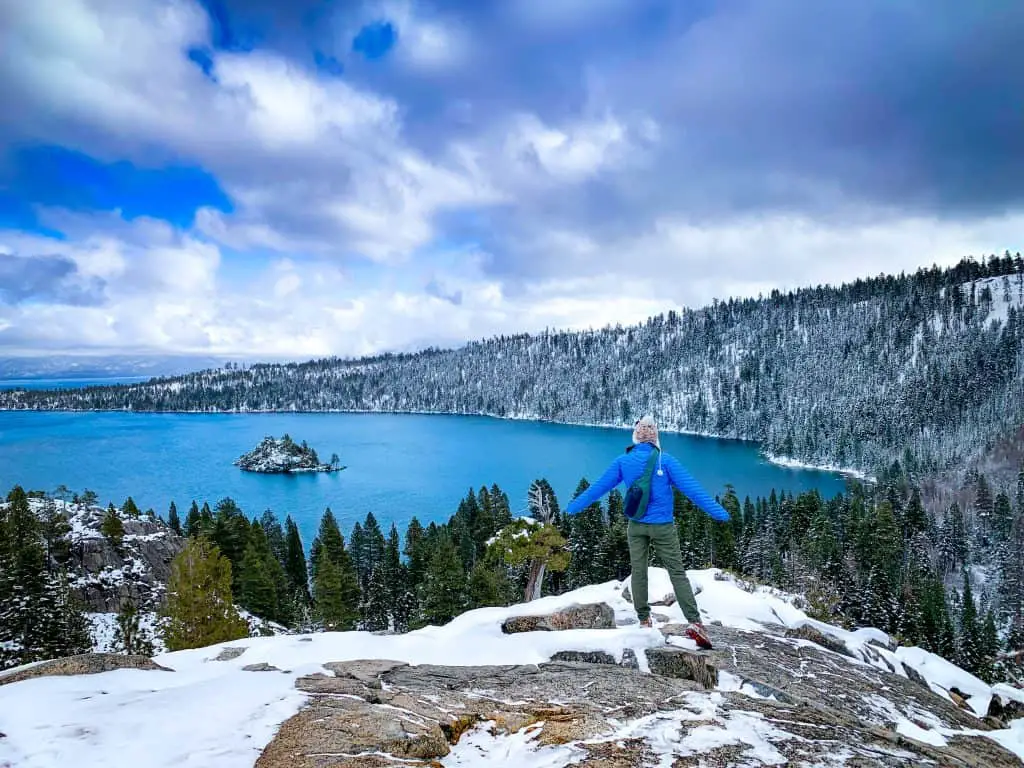 Home to jewel toned waters and towering mountains, Lake Tahoe is a must-see day trip from San Francisco. One of the best ways to experience the magic of the area is to go on a hike. The Eagle Lake Trail in California's Desolation Wilderness is one of the best hikes in Lake Tahoe. This 1.8-mile out-and-back trail offers easy hiking with amazing views.
Work your way up the hill from the parking lot until you reach a ride line. From here, you'll have incredible views of Lake Tahoe's famous Emerald Bay. Continue onwards just a few more minutes to the stunning Eagle Lake. With mountains cascading into the lake, there's plenty of amazing scenery to see. You can still continue further from here as the trail climbs out of the lake basin into the mountains. However, if you're tired, simply relax at the lake with a drink and a snack (don't forget to pick up all of your trash, and don't feed wildlife).
If you choose to park in the parking lot, you'll need to pay a $5 use fee, but there are a couple of spots along the road if you arrive early. Keep in mind, this amazing beautiful area sees quite a bit of people, so arrive early in order to have some solitude. You can hike this trail year-round, but the best times are certainly during the warmer summer months. After your hike, be sure to check out the viewpoints of Emerald Bay and Eagle Falls nearby. These short (10-minute) walks give you even more views to go ga-ga for.
These are some of the best San Francisco Bay Area hikes that should be on your Northern California hiking bucket list. I'm grateful to the fellow bloggers who helped with their contributions to this post as I can only hike so fast with my two little legs!
I'll be adding to this post as I hike new trails or as other bloggers want to add their favorite Bay Area hiking trails. So be sure to check back often and save the post so you remember!
You will no doubt have a great time enjoying these hiking trails in the Bay Area and beyond
Like this post? Pin for later!