Muir Woods has always been a popular day trip destination from San Francisco because it's just a short, and beautiful, drive across the Golden Gate Bridge to reach the famous Redwoods Forest. Pre-2020, Muir Woods National Monument would be incredibly crowded with visitors, making the visit somewhat unenjoyable. However, right now is the perfect time to plan a Muir Woods day trip because tours are not running, keeping the crowds to a minimum. 
I recently visited Muir Woods on a beautiful sunny Sunday afternoon. Initially, I was hesitant to visit such a tourist hot spot on a weekend afternoon, but my friend had never been and that was the only time that worked for both of us. So I sucked it up (so dramatic) and went to this beautiful place. 
To my surprise, I found the entire process incredibly seamless and simple. Muir Woods requires advance parking reservations, so I didn't have to struggle to find a parking spot, scoring one in the main lot. While there were a fair amount of people visiting, since tour buses aren't running, we didn't have to contend with a sudden influx of people.
Based on my recent experience, I want to share with you how to plan the perfect Muir Woods day trip for your San Francisco itinerary.
This post contains affiliate links, which means that, at no additional cost to you, I will earn a tiny bit of income if you decide to make a purchase or booking. For more, check out my disclosure. 
San Francisco Travel Resources
Tips for Visiting Muir Woods
Before we get into how to visit this popular destination, a few quick tips.
Plan transportation in advance: There is no cell phone service in Muir Woods, so if you think you can call an Uber, think again. See below for public transportation options and the best way to get to Muir Woods.
Download maps offline: Since there is no cell phone service, be sure to download maps offline using Google or AllTrails.
Pack snacks: Muir Woods Trading Company has a cafe with a pretty decent menu of sandwiches and snacks. But I always like to bring my own to save time and money!
Dress for cool temperatures: The temperature under the shade of the Redwoods rarely gets over 70 degrees.
Leave no trace: Anything you bring with you, bring back home. And don't have anything home (except for trash) that you find here.
Best Way to get from San Francisco to Muir Woods
Muir Woods is located in Mill Valley, CA within Mt. Tamalpais State Park, another popular getaway in the San Francisco Bay Area for hiking and cycling. 
The best way to get from San Francisco to Muir Woods is to drive. From Union Square in downtown San Francisco, it's an approximately 35-minute drive across the Golden Gate Bridge to Muir Woods.
On the weekends, expect traffic as you drive through Tamalpais Homestead, especially in the early afternoon as people are heading this direction for the variety of outdoor activities in the area.
It's a gorgeous, yet windy, road through Mount Tamalpais State Park. Prepare for lots of twists and turns and take your time.
If you don't have a car, I highly recommend renting one for the day. Sure, an Uber could get you to Muir Woods, but there is no cell phone service, so you will likely not be able to call one to return you to the city.
Muir Woods Reservations
To ensure a seamless visit to Muir Woods, you need to make parking and ticket reservations in advance. Parking spots are released in 30-minute increments. The earliest parking reservation is at 9:00 am and the last is at 4:30 pm.
However, once you park, you can park there all day long. There is no time limit for parking. 
To reserve your parking spot go to gomuirwoods.com
Also on that website, you can purchase your park tickets in advance. This will save you time waiting in line when you arrive.
Remember that if you have an Annual National Park Pass, the entrance fee to Muir Woods is included. The Annual Park Pass allows entry for you and up to three other adults. 
Here is the cost of visiting Muir Woods via car:
Parking Reservation: $8.50
Entrance fee: $15/adult 16 years or older
Catching the Muir Woods Shuttle
Muir Woods shuttles are up and running (weekends and holidays only) after a hiatus due to COVID. Taking the shuttle is a great alternative to driving due to parking lot limitations and especially if you don't have a car.
Shuttle Locations
Pohono Park & Ride: This is recommended for those with cars, parking reservations are not required. Reservations are for a 30-minute departure window
Sausalito: Parking is not available here, which is why it's recommended for visitors without a car. Simply take the ferry over to Sausalito from San Francisco. Reservations are booked for an exact departure time
Marin City Hub: There is no parking available here either and reservations are made for an exact departure time. 
Please Note: There is no shuttle service directly from San Francisco (unless you take an organized tour which I'll cover shortly). To get to the shuttle stop, take the ferry from San Francisco to Sausalito and catch the shuttle from the Sausalito stop. Check the ferry schedule here.
All shuttle reservations are location-specific, tickets are round trip, and you don't need a parking reservation. 
The shuttles run all weekends and holidays and during peak season (June – August).
Book your Muir Woods shuttle reservation here.
Best Time of Year to Visit Muir Woods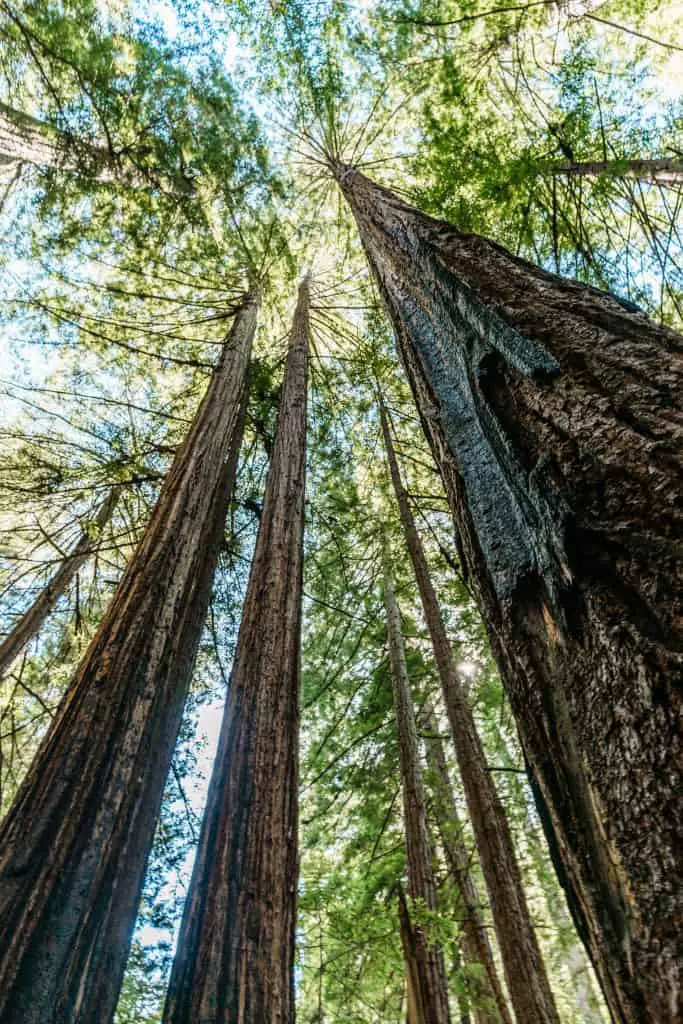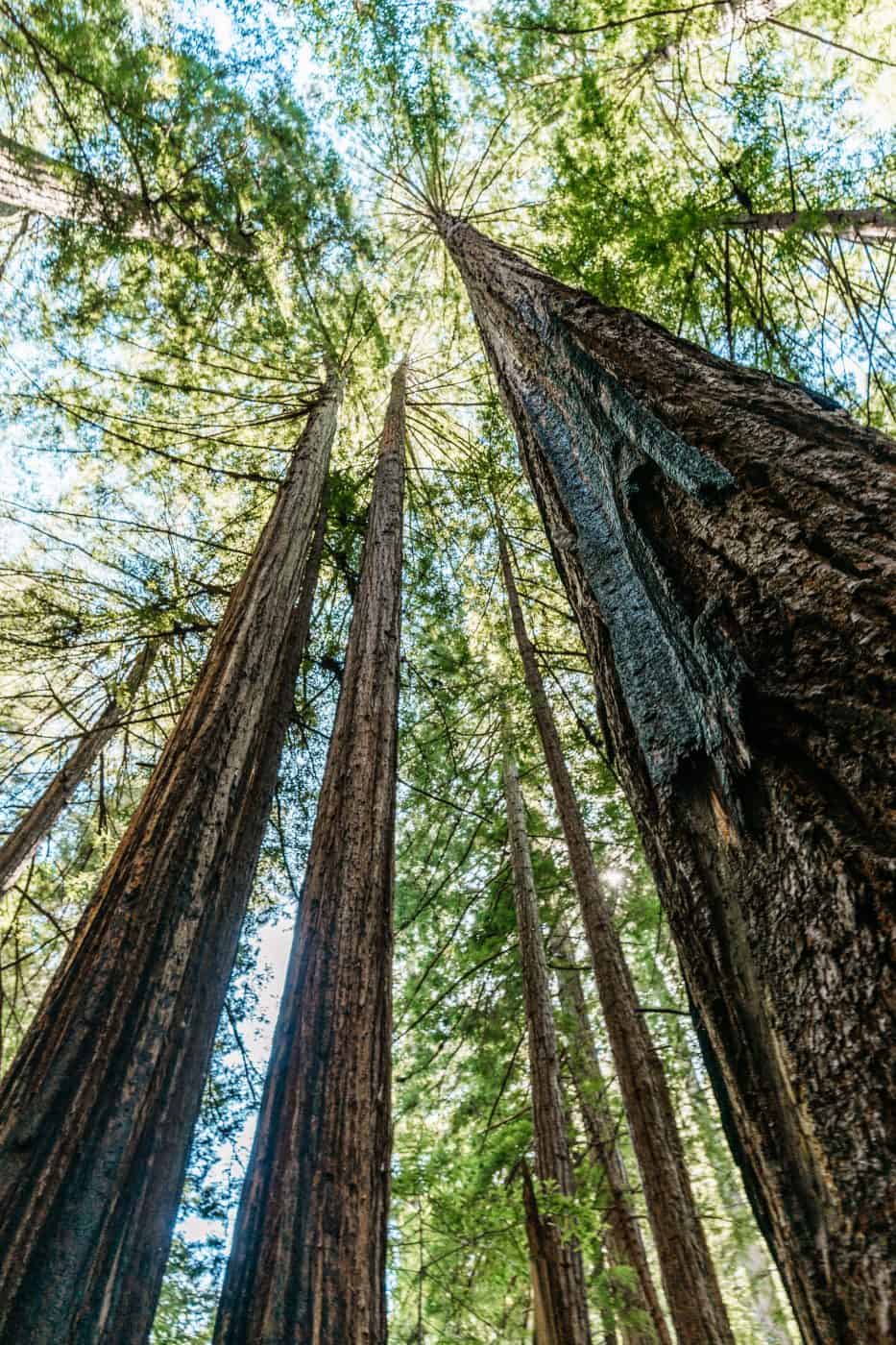 There is no bad time of year to visit Muir Woods. The weather in this part of California is pretty consistent year-round. However, the one season you should know about is the rainy season during the winter months from November to March.
October is usually our warmest month of the year, which is a great time to visit Muir Woods as you'll remain cool under the shade of the Redwood Forest.
What to Wear to Muir Woods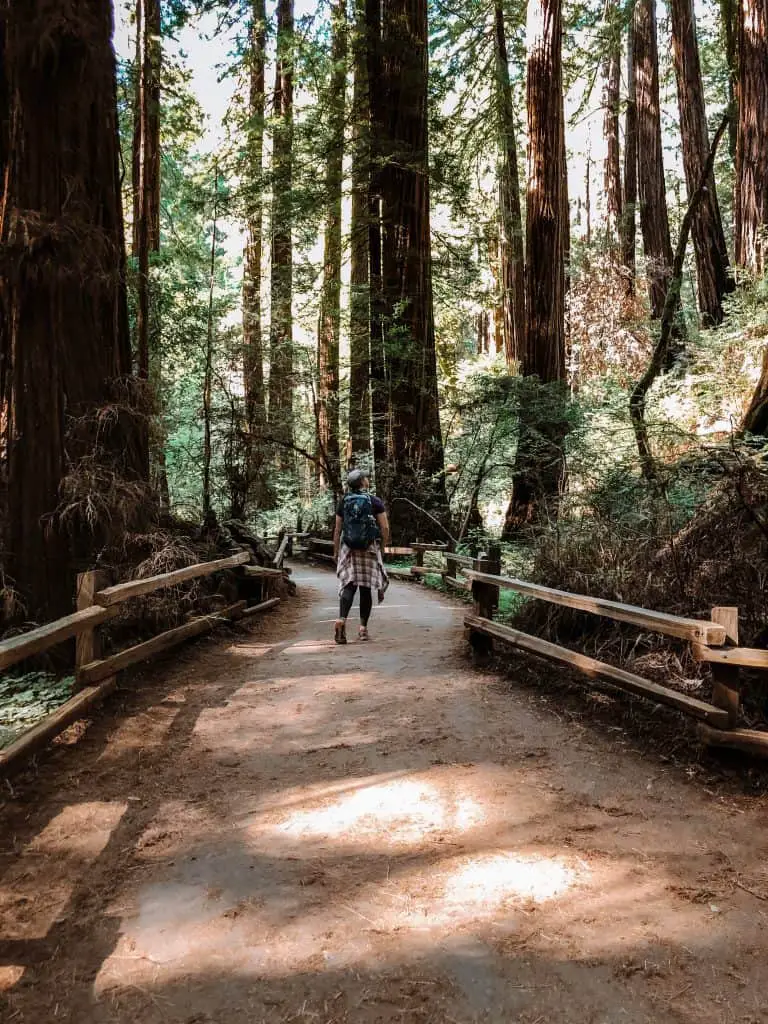 The first thing you need to know about visiting Muir Woods is the temperature underneath the Redwoods is much cooler than what your phone might say. As with the rest of what to wear in San Francisco, layers are key. They will keep you warm on the main trails and should you decide to explore a bit further you can shed layers as you warm up!
If you're planning on staying on the main trails a good pair of sneakers and comfortable activewear is suitable.
If you're planning on leaving the main trail to explore the variety of Muir Woods trails I highly recommend wearing hiking boots instead of sneakers as you'll be contending with multiple tree roots! In this case, I also suggest wearing sunscreen and packing a hat to protect your skin from the sun!
If the forecast calls for rain, I love these Sorel rain boots. They're cute, waterproof, and suitable for longer, easy walks.
If you're planning a serious hike, I suggest these Keen hiking boots . They are what I wear rain or shine along with Darn Tough socks to prevent blisters. Also, bring a rain jacket and umbrella. 
For more information on what to bring to Muir Woods check out this short hike packing list.
Things to Do in Muir Woods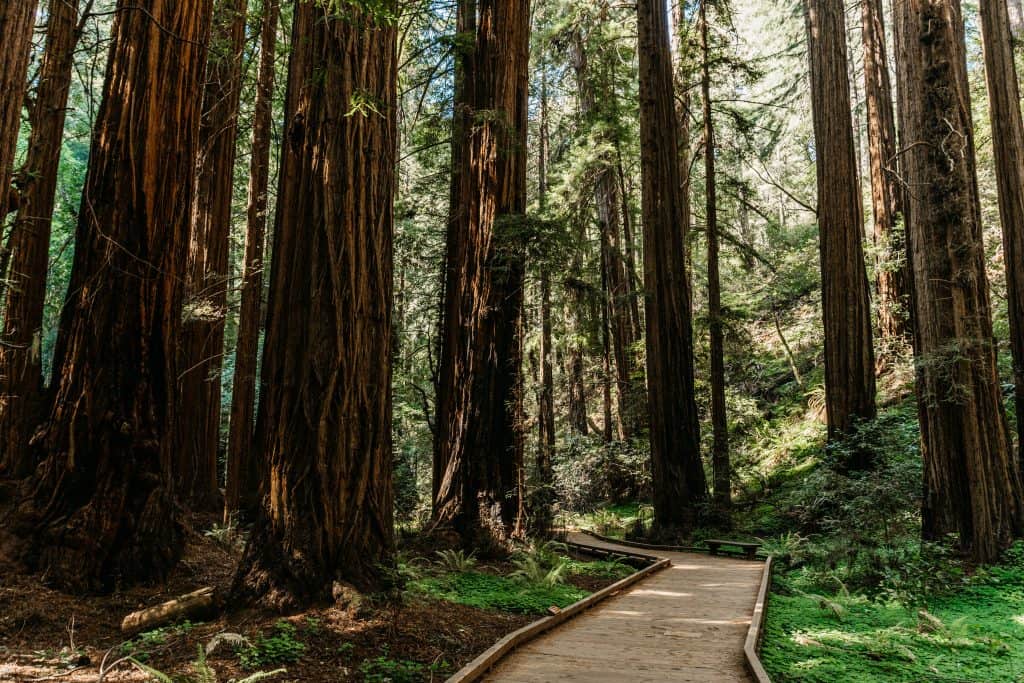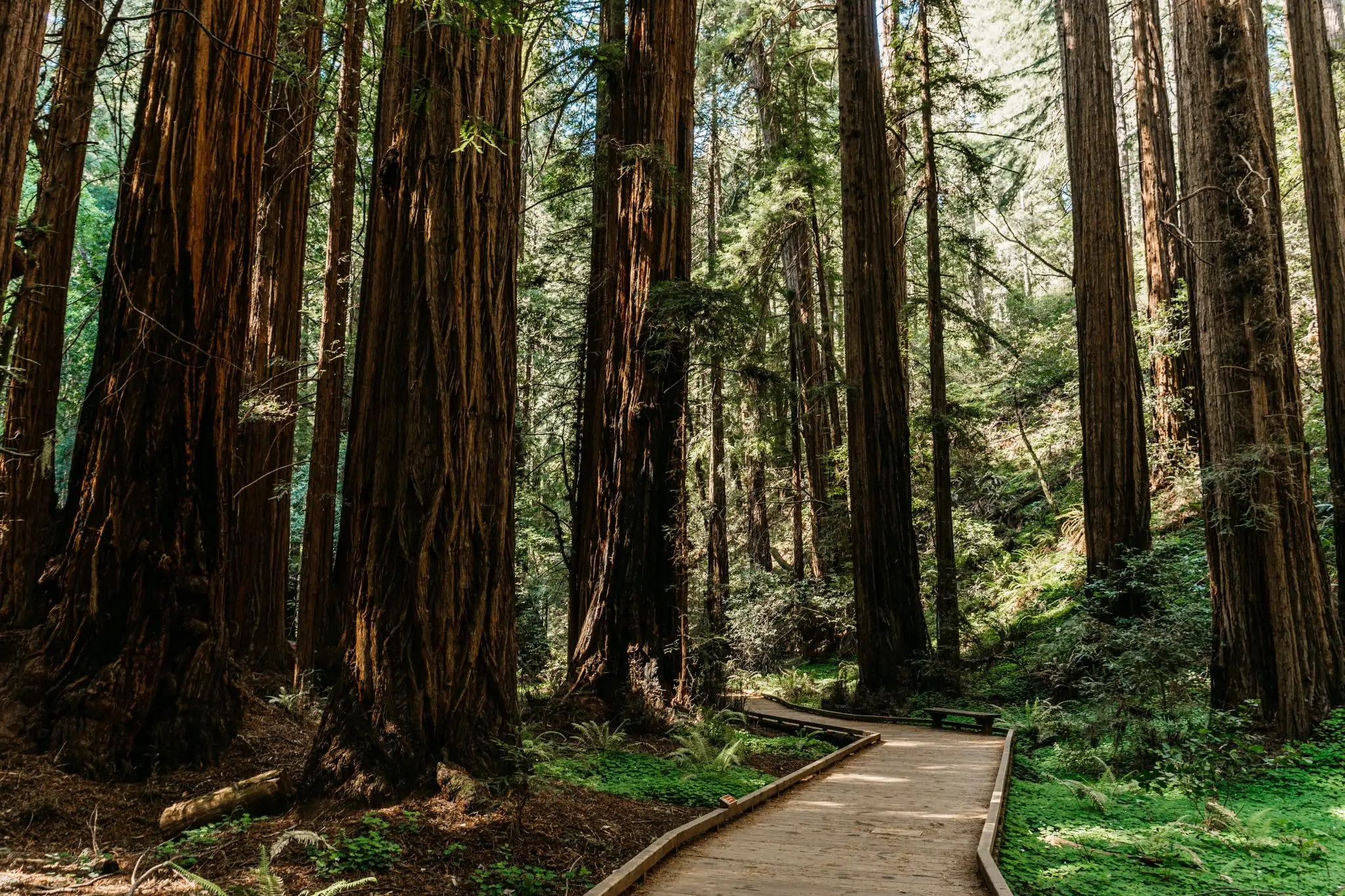 The two main things to do in Muir Woods are to admire the Redwood Trees and hike Muir Woods' miles of trails.
The beauty of these two Muir Woods activities is that you can easily do both at the same time.
Admire the Redwoods
Muir Woods is home to old growth coastal Redwoods. The most popular location to see the giant Redwoods is at Cathedral Grove. The Redwoods here are the tallest and oldest trees in Muir Woods. The trees anywhere from 600 to 800 years old, with some of the oldest trees being 1,200 years old!
There are signs in Cathedral Grove recommending silence as this is a great place to disconnect from the hustle of city life and reconnect to yourself and the natural world.
I highly recommend spending some time enjoying the quiet sounds of nature as you walk through the grove.
Muir Woods Hiking Trails
Multiple hiking trails start from the Muir Woods visitor center from a flat. 05-mile loop to a multiple-mile adventure. There are 3 loops you can do on the main trail which is a flat, boardwalk trail that meanders through Cathedral Grove and next to Redwood Creek.
Loop 1 
This is the shortest and easiest trail in Muir Woods. You'll simply follow the main trail to Bridge 2 for a total of 0.5 miles. It should take you about 30 minutes. This is great if you just want to see the Redwoods and move on with your day or head down to Muir Beach.
Loop 2
This trail is still on the flat and paved main trail, however, you'll walk to Bridge 3 to extend your time with the Redwood Forest. This is a 1-mile hike and will take about 1 hour at a leisurely pace.
Loop 3
This Loop is a bit more challenging than the other two mentioned above. You'll start on the main trail, following the Creek until you reach Bridge 4. Once you get here, the trail is no longer paved and leads uphill. It will connect to Hillside Trail which loops you back along a dirt path to Bridge 2. This Loop is a nice mix of challenging and pretty, offering a different vantage point to Loops 1 and 2.
Canopy View Trail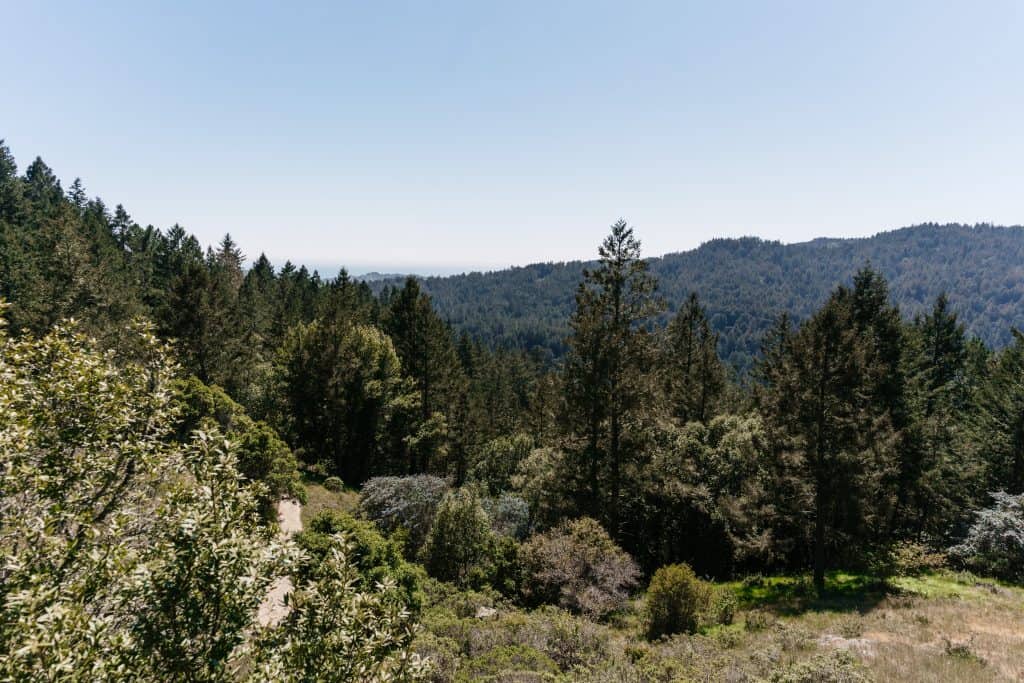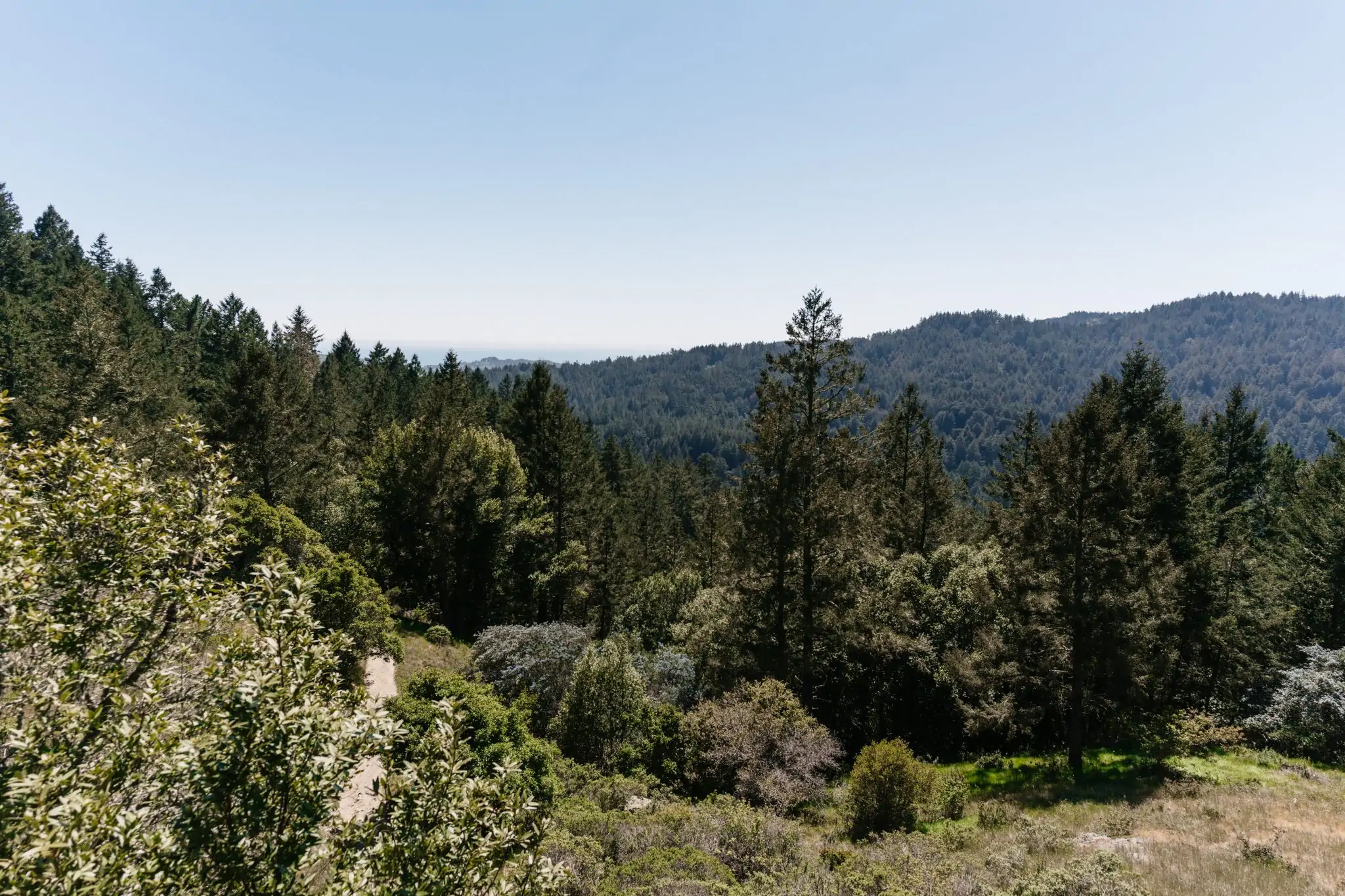 Surrounding Muir Woods is Mount Tamalpais State Park so there are some interconnecting trails, including Dipsea Trail if you're looking for something more challenging.
However, one of my favorites moderate hikes is the Canopy View Trail. Just before Bridge 2 is the Canopy View Trail which takes you gradually uphill to a view of above the tops of the Redwood Trees to the Pacific Ocean.
Once you reach the top, head back down for the Lost Trail that connects to Fern Creek Trail and will loop you back to the Muir Woods Main Trail. The Canopy View Trail is 3 miles and will take about 2 hours. 
I highly recommend this trail if you're looking for something more challenging and a way to escape any crowds on the Main Trail.
Muir Woods Tours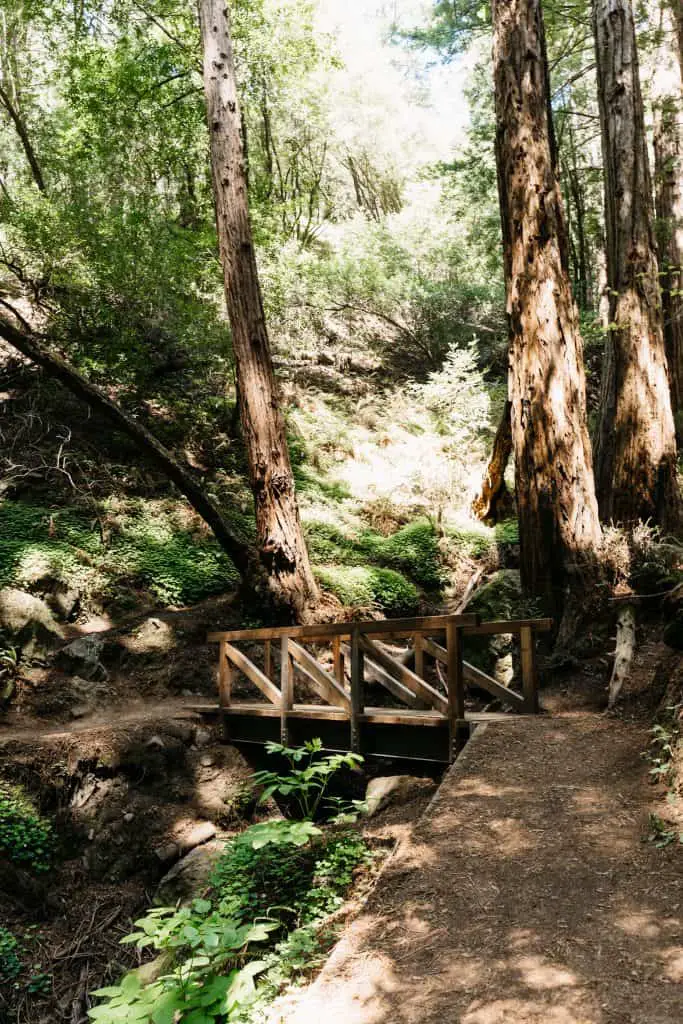 While this post is geared towards creating a DIY Muir Woods day trip, several tour companies run tours to Muir Woods. Due to COVID-19, they are not currently running at the time of this writing. 
However, they may be running again when you're able to visit and it may be the only way you can see Muir Woods. If that's the case, then I suggest checking out these Muir Woods Tours (some even include other stops that will help you check off your San Francisco bucket list!)
Muir Woods with Sonoma and Napa Wine Tour: Where are my wine lovers at?! This one is for you! You'll start your day with an hour-long hike at Muir Woods and end it by tasting local wines from Napa and Sonoma. On your way back to the city, you'll have time for Golden Gate Bridge photos! What I love about this tour is that it's a small group on an eco-friendly bus!
Muir Woods Sausalito & Alcatraz: Check two items off of your San Francisco bucket list with this tour. The tour provides transportation to Muir Woods and the ferry for Alcatraz. After your time on Alcatraz take a ferry back to the city at your leisure. I like this tour because it's the perfect combination of an organized tour and DIY since you're left to your own devices at Alcatraz. You don't need to rush through!
Where to Stay Nearby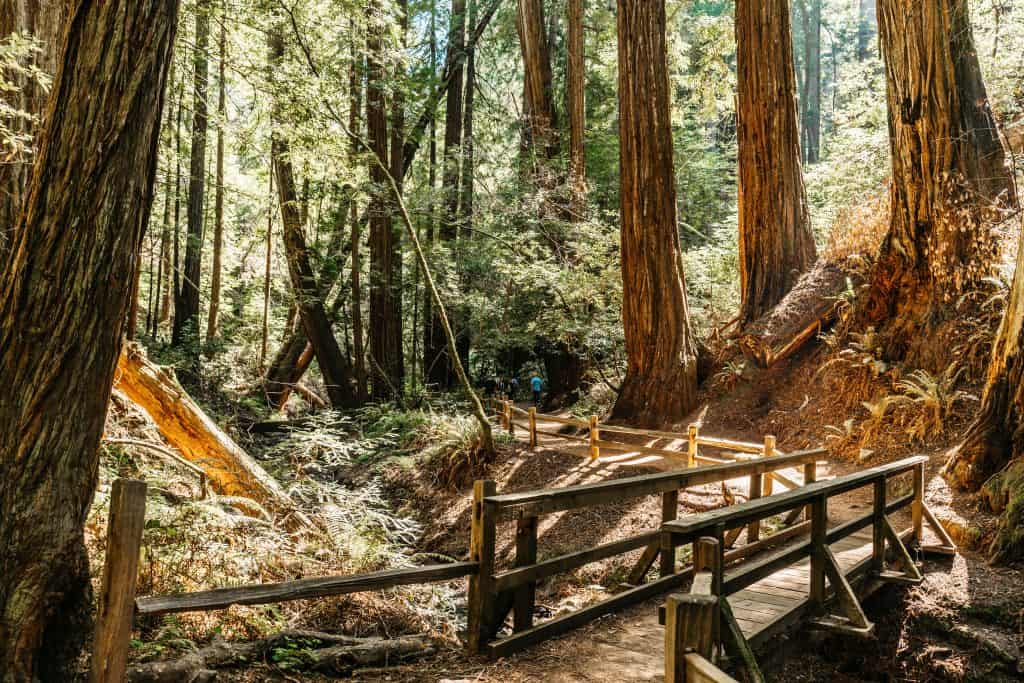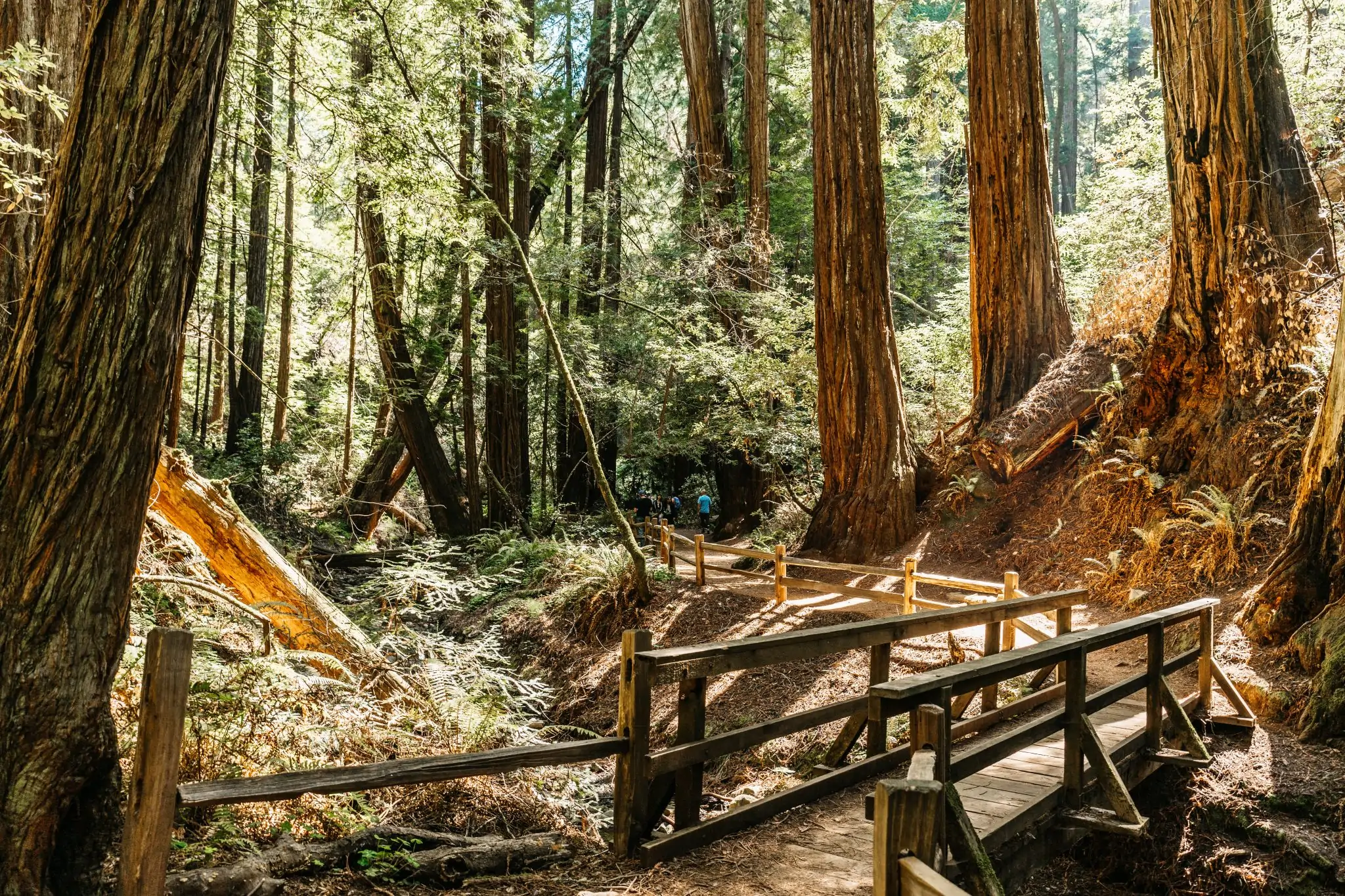 You may consider extending your stay for a night or two in Sausalito or Tiburon. This part of the Bay Area is filled with a variety of fun activities, good restaurants, and gorgeous views. Both of the hotels below are treat-yo-self-style hotels. And totally worth it IMHO.
Cavallo Point: This gorgeous hotel overlooks the Golden Gate Bridge from Fort Baker! 
Water's Edge: This hotel is located on the Tiburon waterfront, just a few minutes away from the ferry which can take you to Angel Island or back to San Francisco.
Things to Do Nearby
Muir Beach: If you're only planning to spend an hour or so at Muir Woods, consider adding on Muir Beach. This small cove beach is about 3 miles down the road. You can hike there or drive. The parking lot is very small and fills up fast, especially on a nice weekend, so be prepared to walk a bit. 
Mt. Tamalpais: as mentioned above, Mt. Tam has awesome hiking trails and views! If you're up for a good, long hike check out the Dipsea Trail or Cataract Falls.
Sausalito: After your day exploring Muir Woods, head into Sausalito for dinner. There are many excellent restaurants to choose from and epic views across the Bay to the city.
Angel Island: If you're spending some time on this side of the bridge, check out Angel Island. Angel Island is referred to as the Ellis Island of the west. You can go to learn about the immigration process here, walk the perimeter trail with epic San Francisco views, or chill out at a gorgeous beach.
Battery Spencer: On your way back to San Francisco, consider stopping at Battery Spencer for sunset. Battery Spencer offers awesome views of the Golden Gate Bridge, the Bay, Alcatraz, and the city skyline. It does tend to get windy here, though so layer up!
Find this helpful? Please share so others can find it!