I'm sorry to be the bearer of frustrating news, but it appears that Idea Pins (formerly Story Pins) on Pinterest are here to stay. This means it's time to embrace them and learn how to incorporate them into your Pinterest marketing strategy. I'm going to walk you through Pinterest Idea Pins best practices for your small business including: why you need to start using Idea Pins, how to create them an Idea Pin on Pinterest, and how to analyze if they're working for your business. There are going to be some honest realities we need to face in today's post – but if you're serious about Pinterest marketing for your business, you'll be able to overcome them.
What Are Idea Pins on Pinterest?
Idea Pins grew out of Pinterest Story Pins and they started out as Pinterest's answer to Instagram stories. After beta testing Story Pins in September of 2020 and listening to the feedback of Pinterest users, they rolled out Idea Pins.
Idea Pins allow creators to create saveable content that does not disappear within 24 hours of posting it (as an Instagram story does). You can see recently created Idea Pins from creatives you follow in the bubble at the top of your mobile smart feed. While this story lasts the same 24 hours as it does on Instagram, the content is actually saved to your profile.
Once shared, Idea Pins are the first type of content visitors will see on your profile.
For more about the evolution of Idea Pins and Pinterest's vision for how they can help both the user and the creator, check out this article.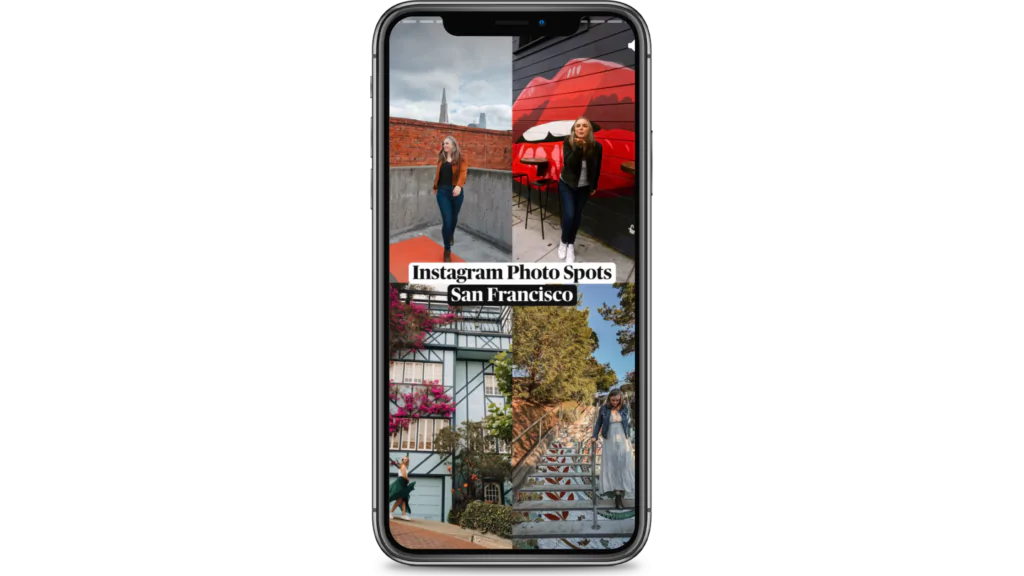 Why You Need to Be Using Idea Pins in Your Pinterest Marketing Strategy
Long answer short, Pinterest is prioritizing Idea Pins. When you go to your home feed, what do you see? Idea Pins, right? Right – so you're missing out on an opportunity to get people onto your Pinterest profile by not using them.
While views and impressions have kind of been all over the map with Pinterest recently, using Idea Pins can help boost your overall profile performance simply because you are using an element that Pinterest wants you to.
But they don't link!
I know they don't. And I'm just going to be brutally honest with you, it's time to move past that. Don't try to get around it by putting a link in the description – Pinterest doesn't like that.
Instead reframe your mindset around Idea Pins, and perhaps Pinterest as a whole.
For years we were able to drive massive amounts of traffic from Pinterest by almost spamming Pinterest with the same graphic repeatedly. Those days are long gone and it's time to adjust.
Instead of seeing the inability to link directly to a post with an Idea Pin, see the Idea Pin as a way to prove your authority on your subject, cultivate trust with your audience, and increase your Pinterest followers.
By thinking about Idea Pins in this light, we can begin to see their value for your business as a whole.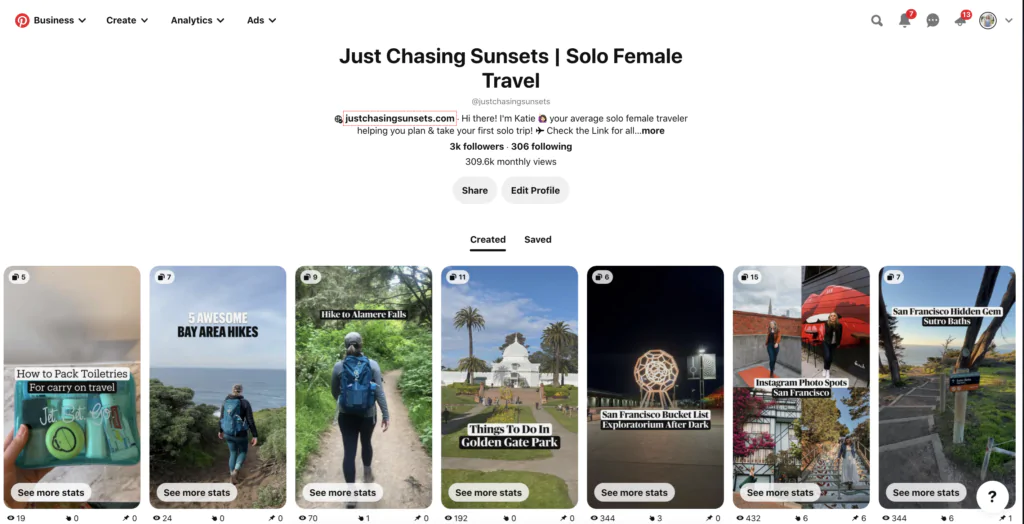 Benefits of Using Pinterest Idea Pins
Only Need to Post 1/Week
At this time, Pinterest is only recommending 1 Idea Pin per week, which to be honest, is fairly manageable. I work a full time job in addition to managing my own blog's Pinterest and my client's Pinterest account. Adding in one Idea Pin per takes maybe 30 extra minutes per week.
Compare this to Instagram and TikTok where it seems like we need to be constantly feeding the beast with content.
Perfect for Batch Creation
Idea Pins are the perfect type of content to batch create. Spend a couple of hours doing the keyword research, creating them, adding the description, and uploading them to drafts. Then once per week all you'll have to do is log in to post it.
Bonus: there's no need to hang around for 10-15 minutes before and after posting it for engagement! (Looking at you Instagram!)
Idea Pins Don't Need Trends or Music!
Perhaps the best part of Idea Pins is you don't need to fit your topic to a trend or music. In fact, I don't use any music on Pinterest as the average Pinterest user is not accustomed to having sound while scrolling through Pinterest.
Repurpose Your Instagram's and TikTok for Idea Pins for a Simplified Social Media Marketing Plan
While the crossover from Instagram and TikTok to Pinterest isn't as seamless as it is between TikTok and Instagram, you can still use your content on Pinterest. Let me explain that a little bit more.
You may notice that trends start on TikTok and then make their way to Instagram. So you could post a video on TikTok, wait a week, then post it as a Reel on Instagram, hopefully cashing in on views from both.
Idea Pins don't quite work that way. As mentioned above, there are no music or dancing trends that will help your Idea Pin gain traction. But you can use the idea of the TikTok for Pinterest, slightly tweak it so it fits the dynamics of Pinterest and post it.
For example, let's say there is a sound going viral on TikTok about hiking and you use the sound over a video of you hiking somewhere beautiful. You repurpose that exact same thing to Instagram as a Reel. Pretty seamless right?
For Pinterest, you could take that same video of you hiking, add the text "Best Hike in xyz" then add a few more slides with videos or photos of the hike. Perhaps each slide has text with a quick tip like: "5 miles", "Wear layers", etc. You get it, right? Just a few simple tweaks and it's made for Pinterest.
You Can Add Affiliate Links – Hello Monetization!
This is huge! While you can't link an Idea Pin to a blog post, you can add affiliate links (yes to Amazon). This is amazing for packing lists, gear lists, Amazon finds etc.
However, you can't do this on desktop, you have to use the mobile app. Which I recommend for uploading Idea Pins anyway – more on that later.
Approved affiliate programs for Pinterest Idea Pins are:
Amazon Associates
Rakuten Advertising
ShopStyle Collective
While you may not want to add affiliates to every single Idea Pin, this is reason enough to start creating, and monetizing, your Idea Pins.
Types of Idea Pins to Create in Your Business
Now that I've convinced you, most likely with the affiliate aspect of Idea Pins, what types of Idea Pins should you create for your travel blogging business.
Step by Step Guide: This could look like our typical 10 things to do in type blog posts. Just a bit more simplified.
Behind the scenes: show a video of you packing, planning your trip, dressing for the snow
How to guides: how to find cheap flights, how to pack in a carry on only
Tips: 6 safety tips for women traveling solo, 5 things to know about staying in hostels
Honestly, let your imagination run wild with these. Try a variety of types of Idea Pins and evaluate them to see which ones resonate the most with your audience. Then create more of those!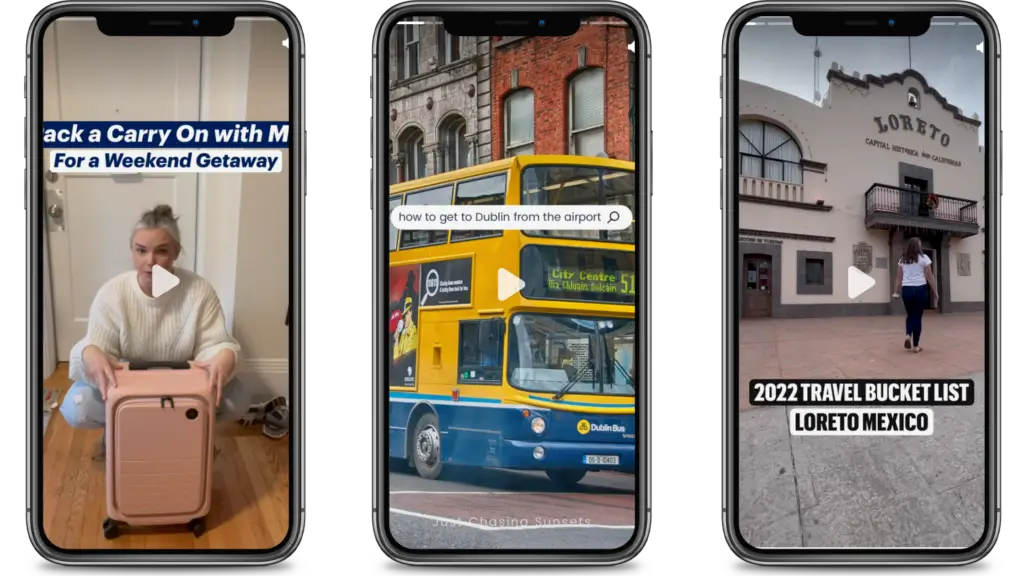 Key Elements of Idea Pin Design
Pinterest Idea Pin size is an aspect ratio of 9:16 or 1080px by1920px
You're allowed 100 characters on the title
Each slide allows text up to 250 characters.
Allowed 1-20 slides however, most Idea Pins perform well with 7-10 slides
Use video content early and often (if using photos you can animate the photo in Canva and download as an .mp4)
Step by Step Guide on How to Create Idea Pins on Pinterest
Agree to the Creator Code. You can not create an Idea Pin without doing this
Come up with your topic + keyword research. Remember that everything begins with Pinterest keyword research.
Design in Canva or simply upload directly from your phone. If you design them on Canva, download the graphics and videos to your phone.
From the mobile Pinterest app click the plus (+) sign at the bottom, then select Idea Pin.
In the bottom left corner there's a square that will take you to your camera roll photos and videos. Upload what you need.
Once uploaded you'll see the following options on the bottom of the screen:

Preview: let's you view your Idea Pin as a pinner would
Reorder: rearrange your slide order
Delete: remove a slide
Split: if you upload a long video that you want to cut into multiple slides, use Split to do this in app
Duplicate: make a copy of slide
Add page: will take you back to your camera roll to add more content
Click on each slide to edit them individually using the options at the bottom:

Clips: allows you to trim the clip
Text: add your text overlay (use keywords naturally)
Music: if you want to add music, use the music provided by Pinterest
Audio: allows you to record a voiceover
Filters: adjust the color etc of the slide
Stickers: here's where you'd add your affiliate link (under the product tag) or any sticker you may want to use
Once you finish editing your Idea Pin, select Next.
Enter the Title (use keywords)
Add a list – for travel bloggers use the notes section and add details that further explain the Idea Pin. This is another great place to incorporate keywords.
Pick your board: pin the Idea Pin to a board that is most closely related to the topic.
Add tags: you can add up to 10 tags, these are very broad.
Edit your Cover: Select the image you'd like to use for your cover photo
Publish!
If you're not ready to publish, you can save your Idea Pin to drafts and come back later to finish it up for publishing.
Pro Tip: I keep all of my month's Idea Pins in the drafts, then log in, double check the tags, text, etc, and publish once per week.
How to Edit Your Idea Pin Once It's Published
It is very important to proofread your Idea Pin because once it's published, there are very few edits that you can go back and make. As in, the only editing options are to change the board it was pinned to, turn on/off comments, or delete it!
Mistakes to Avoid with Idea Pins
There are a few key things to avoid when creating your Idea Pins.
Adding a Link in your Description: just, don't. Tell people to go to the link in your bio or visit your website. But don't just drop your link for them to copy and paste.
Overcommitting: Pinterest only wants 1 Idea Pin per week. If you have time, sure, make a second one. But this isn't Instagram. Don't burn yourself out making 1/day for a week and then never again.
InConsistency: Pick a day of the week that you'll post your Idea Pins and stick to it. Consistency and patience are key here, plus it helps with staying organized and ensuring that your Idea Pins get posted. Mine and my clients; get posted on Wednesdays and Sundays.
Deleting Underperforming Idea Pins: If your Idea Pin doesn't appear to be performing well within the first week, don't delete it! It might pick up traction in a few months. Even if it doesn't, the pinners who needs to see it, will, and you'll create raving fans.
Overcomplicating it: You don't need to rewrite your blog post, just pick the headlines of it for the slides. Then in the description write a sentence more about it and move along.
Ignoring Keywords: Keywords are everything on Pinterest, that remains true with Idea Pins.
Analyzing Your Idea Pins
How do you know if your Idea Pins are working?
It's time to check out your Pinterest statistics. You can analyze Idea Pins from a profile performance perspective or an individual Idea Pin perspective. I prefer to look at the individual Idea Pins, but I'll show you how to evaluate them each way.
General Idea Pin Performance
To understand at a high level how your Idea Pins are performing, navigate to your Pinterest profile analytics.
Across the top you'll see options for the different Pin formats, select Idea Pins.
Performance Over Time
Under Performance Over Time, filter for Saves, Engagements and Pin Clicks respectively, to see how your Idea Pins are performing as a whole. Remember Outbound Clicks don't apply here as there is no direct link.
While this is interesting information, I prefer to drill down into the individual Idea Pins to see what is working so I can replicate it.
Specific Idea Pin Performance
Scroll down the page to Pins. Filter the metric by Saves, Pin Clicks and Engagements. This will show you the type of Idea Pins that are performing well for you.
Ideally, we want people to Save our Idea Pins, so click "View" on the top performing Idea Pins in regards to Saves.
In the upper right corner, select See More Stats. This is where you'll be able to see if that Idea Pin led to Follows or Profile Visits. If the pin has a lot of saves, but not follows or profile visits, analyze why.

Did you ask them to follow at the end of the pin? Could you add a slide, next time, to tell them to go to your website (without dropping the link) for all of the details.
You could go pin by pin to see what resulted in the most amount of Profile Visits and Followers because ultimately, that's what we want people to do who interact with our Idea Pins.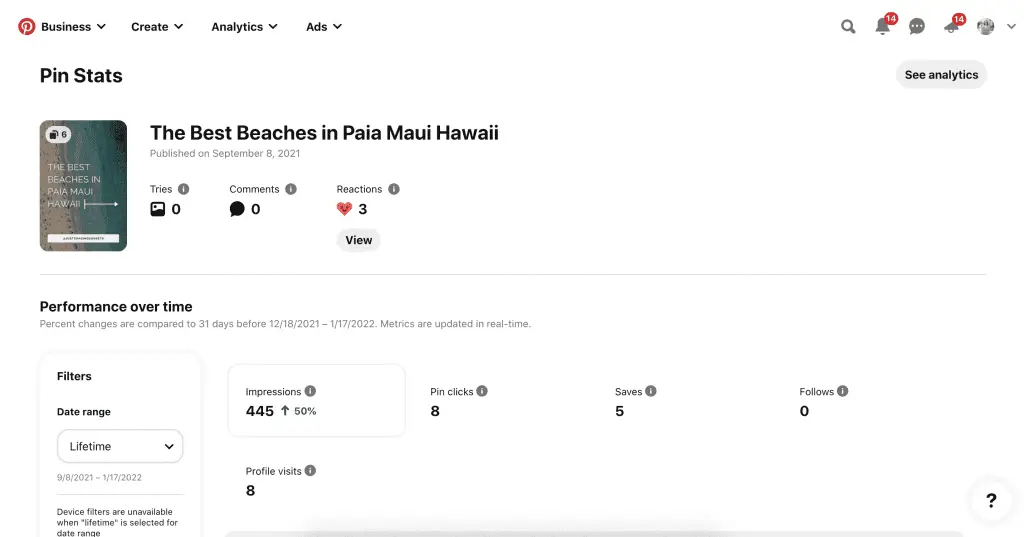 Google Analytics
On the Google Analytics side of things, you might start to see more homepage visits from Pinterest. That means that Pinterest users are visiting your Pinterest profile homepage and clicking on the link in your bio (if you claimed your website). Unfortunately, right now there is no way to track which Idea Pins led to website visit conversions. But as soon as there is, I'll let you know!
Now, are you ready to start creating Idea Pins on Pinterest. You're now armed with a fresh mindset and approach to Idea Pins, plus you know how to create high quality Idea Pins that will cultivate trust with your current audience, grow your following, and, albeit indirectly, continue to bring traffic to your website.
In the words of Adele: Don't give up, trust the process. You've got this.
If you need help creating Idea Pins or have any questions regarding your Pinterest marketing strategy, please don't hesitate to reach out. You can schedule a free call with me by visiting this link or head over to my Pinterest services page so I can take this completely off of your plate.
Interested in learning more about growing your Pinterest? Check out these resources
Why Travel Bloggers Need a Pinterest Business Account
How to Come Up With Good Pinterest Board Names
How to Schedule a Pin on Pinterest
How to Create Click Worthy Pin Images
Like this Post? Save it to Pinterest so others can find it!