Are you ready to get your freshly made, strategically keyworded, and beautifully designed pins out on Pinterest but don't want to spend all day every day pinning them? I get that. And the ability to schedule Pinterest pins in advance is just one of the many reasons I love using Pinterest to market my business. Batching my pin creation and scheduling them in advance has been instrumental in my blog's growth, and saved my sanity. Today, I'm going to share exactly how to schedule a pin on Pinterest using both free and paid Pinterest schedulers. I'll also share a bit of insight into the strategy behind how I pin. Ready? Let's dive in.
How to Schedule Pins on Pinterest for Free
The best way to schedule pins on Pinterest for free is using Pinterest's native scheduler. Pinterest allows you to schedule up to 100 pins two weeks in advance for free. If you're curious if that's enough, this would allow you to schedule about 7 pins per day in a 14 day period. That is more than enough. I'll get into the Pinning strategy later.
To take advantage of this free Pinterest scheduler and start scheduling your pins, ensure that you have a Pinterest business account setup, then follow the below steps:
In your Pinterest business account, navigate to the create tab, and select "Create Pin"
Upload your click worthy Pinterest graphic
Enter a well keyworded Title and Description
Add alt text for the image
Add the URL the pin will direct traffic to
Choose the most appropriate board
Select publish at a later date, then select the desired date and time
Hit publish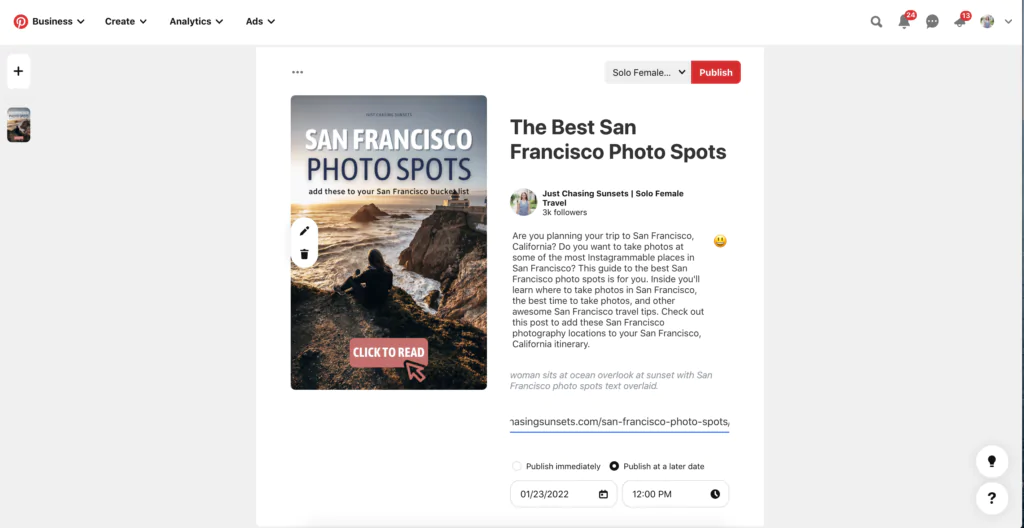 Once it's published, you can see the pins you've scheduled on your profile under the Created tab at the very top.
From there you can click on the scheduled pin to see the pin and decide to Delete or Publish Now.
Quick Pro/Con Recap of Using the Free Pinterest Pin Scheduling Tool
Pros
It's FREE
Can schedule up to 100 pins, for a 2 week period
No need to learn another tool, you already know how to use the Pinterest platform
Cons
You can't edit the Pin once it's scheduled, you can only delete or Publish Now.
You can't see the whole schedule as you create the pins. You'll have to track what you pin when so you don't double up.
Can only schedule one Pin at a time.
Can't easily schedule one pin to multiple boards
Overall, using the Pinterest native scheduler is a great option if you're just beginning your marketing efforts on Pinterest or if you don't have too much content to pin yet.
How to Schedule Pins on Tailwind
If you've been learning about Pinterest marketing enough to land on this post, then I'm sure you've heard about Tailwind. Tailwind is a batching dream. I'm writing this post on January 23, 2022 and I have my pins scheduled out until the end of February with drafts ready to go for March all thanks to Tailwind.
It takes me roughly 3 hours once per month to do this. When I think about the amount of time I spend creating one Reel or one TikTok video compared to the amount of time I spend scheduling an entire month's worth of fresh content on Pinterest – let me tell you it is time well spent! Plus it drives traffic far longer than any Reel or TikTok video.
There is a free version of Tailwind that allows you to schedule 20 posts/month, provides analytics, and access to Tailwind communities. To be completely honest the free version is fairly limited on how many pins can you schedule on Pinterest. 20 posts/month is not enough if your goal is to pin more than once per day. If that's the case and you want to continue using a free Pinterest scheduler, stick to the native Pinterest scheduling tool discussed above.
But if you want to try out Tailwind and get a feel for how great it is to batch create 20 posts for the month and be done with it, then give it a shot for free before investing in a paid plan.
How to use Tailwind to schedule Pins on Pinterest
Side note: Pinterest just changed its scheduling interface and I low key hate it. To be fair, I haven't even tried to understand how to use it, because they still allow access to the Original Publisher. So until they force me to use the new one, I'll be sharing how to use Tailwind's Original Publisher to schedule your pins.

Step 1: Set up Your Smart Schedule
One of the many aspects that I love about Tailwind is it provides you with a smart schedule of the best times to post your content. Once this is setup, you no longer have to think about what day and time to pin your content.
At the top of the Original Publisher you'll see an option for "Your Schedule". On the left hand side it will say recreate schedule and a box will pop up asking how many times per day you'd like to pin. Enter your desired number and hit Recreate Schedule. This will optimize your Pinning schedule based on when your audience is active on Pinterest.
Once your schedule is set it's time to upload your Pin graphics!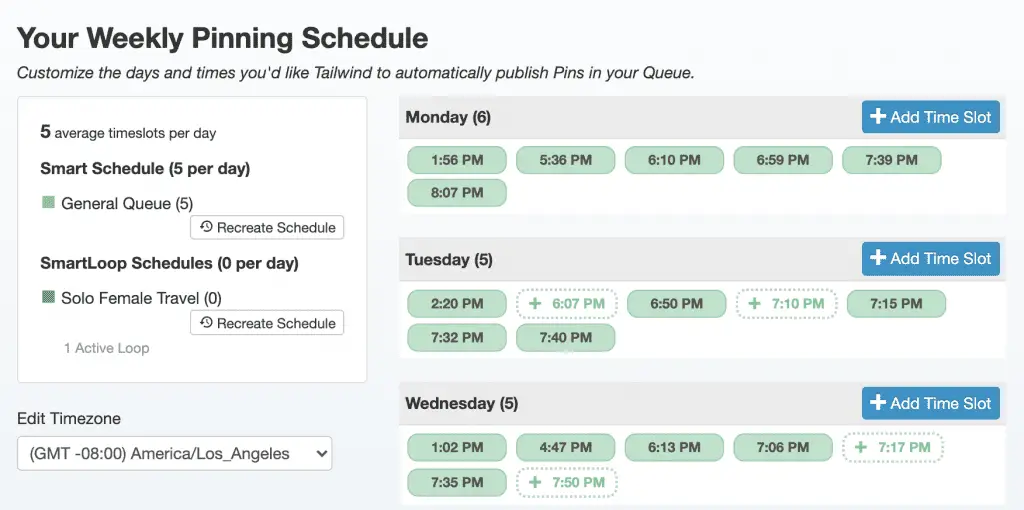 Step 2: Upload Pin Images
Navigate to the drafts tab. Here you'll see an area for your pin images in the center and on the right hand side you'll see your schedule. At the top of your schedule select Create New Pin, then Upload Photos/Videos. Select your Pin images from your files.
Your uploaded pin images will populate in the center of the dashboard.
Step 3: Add Title, Fill in Description & Add Link
For each Pin image uploaded, add the title, description and add the link. A few helpful tips here:
If you add the destination link first, your blog's title will populate the Pin title. Make sure to change this as each pin should have a unique title.
Make sure to save changes as you go. If you've written a few descriptions, then upload a new image or schedule one before saving, you'll los sll of your descriptions.
Step 4: Schedule Your Pins
Once your pin is finished, select the board(s) you want to pin it to. If pinning to more than one board, set the interval for 7 days in between pins (more on this below). Hit Schedule.
Your pin will be removed from the drafts area and show up on your schedule to the right.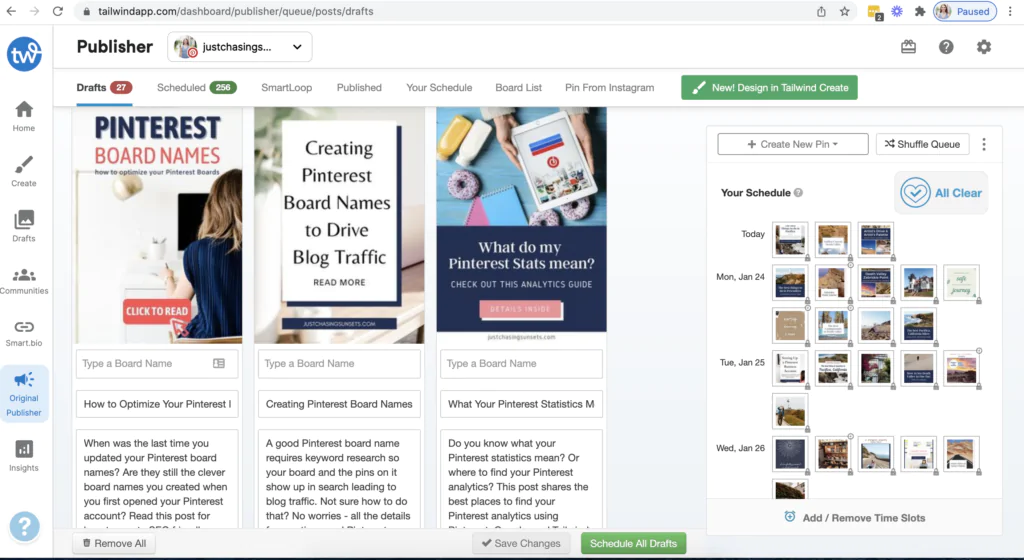 Step 5: Edit Scheduled Pins on Tailwind
Did you hit the schedule button a little too soon and realize you need to edit your pin. No problem. Navigate to the Scheduled tab and find the pin. You can edit the Pin title, description, destination URL, and the board it will pin to.
If you scheduled the pin to go to multiple boards over the course of a few weeks, you will have to fix each pin individually. This still beats having to completely delete the pin and start over again.
Quick Pro/Con Recap of Using Tailwind's Pinterest Scheduling Tool
Pros
It's FREE (albeit the free version is limited)
Easily pin the same pin to multiple boards over time with just one click
Can edit the pin once its scheduled
Optimized smart schedule
Pinterest approved scheduler
Cons
Will need to upgrade to paid version to pin more frequently
Other Pinterest Approved Schedulers
There are other Pinterest approved schedulers besides Tailwind. I have only used Tailwind and as such I can't speak to their merits. But if you want to explore your options, or perhaps you're already familiar with one of these platforms, here is a list of other Pinterest schedulers.
How to Schedule Idea Pins on Pinterest
At this time, Idea Pins can not be scheduled on Pinterest. However, you can upload them to Pinterest and save it as a draft. Then when you're ready to post it you can post it from the drafts.
This is the way I do it for myself and my clients and it's a very quick and easy way to consistently get Idea Pins on Pinterest.
For more information on how to use Idea Pins in your Pinterest marketing, check out this post.
Pinterest Pinning Strategy
Now that you know how to practically schedule a pin on Pinterest, what should your Pinterest strategy look like?
Pinterest has certainly changed over the last two years. Gone are the days when you could get away with pinning the same Pin over and over and over again to multiple boards and then share that Pin in a Pinning Facebook group. That doesn't work anymore and will quickly get your account flagged as spam.
Pin Fresh Pins
Instead, Pinterest prioritizes fresh pins. A fresh pin is a completely different graphic, with a unique title and description that links back to your blog post. Ideally, you should be sharing 1 fresh pin on Pinterest daily. I recommend pinning anywhere from 1-5 fresh pins every day. If you're pinning 5/day, make sure they link back to 5 different blog posts and it's not 5 different pins all for the same blog post. Space your content out a bit.
When you set up your smart schedule in Tailwind, it will tell you whether or not your operating under Pinterest's best practices.
How to Re-pin Pins
Even though Pinterest prioritizes fresh pins, I still re-pin pins. I also know that many Pinterest marketers still do this. But instead of spamming Pinterest all at once, we space it out about 7 days. So one Pin can still go to multiple boards over the span of a few weeks, instead of minutes. I haven't had any issues with this yet!
What Board Should You Pin to First
Your Pin should be pinned to the most closely related board first and then move outward from there. For instance, if you have a pin about Lima, Peru it would first get pinned to your Lima board, then your Peru board, then your South America board, then finally your brand board. Once the pin hits your brand board, it's done. Again all of this pinning space out about 7 days.
Pin Idea Pins
Pinterest recommends pinning at least 1 Idea Pin per week, and I think that's a great place to start if you're just beginning your Pinterest marketing journey. Once you get comfortable with creating them and learning how they work, you can increase this to 1-3/week. Don't go crazy with these though and burn yourself out on making them. Consistency is key.
There you have it, everything you need to know about how to schedule a pin on Pinterest, both free and paid, as well as exactly how you should be pinning to stay in line with Pinterest's best practices. You're ready to get out there and grow your business with Pinterest marketing.
If you're thinking, this is great, but I don't have the time for this. Don't worry, I've got you covered. Check out my Pinterest marketing services and schedule a free consultation call with me so we can discuss how I can help you grow your business with Pinterest!
Want to learn more about Pinterest marketing? Check out these resources.
Understanding Pinterest Analytics
How to Find Good Pinterest Board Names
Ultimate Guide to Finding & Using Keywords on Pinterest
How to Create Click Worthy Pin Images
Pinterest Idea Pins Best Practices
Like this post? Save it for later on Pinterest!