Pinterest is a visual search engine that has the potential to drive massive traffic to your website, store, or blog. Creating click-worthy Pinterest graphics is an essential part of your overall Pinterest marketing strategy. But what is the anatomy of a high-quality Pinterest graphic that moves people from Pinterest to your website? That's what we are discussing in today's post.
We're going to do a deep dive into the Pinterest image creation process including Static, Video, and Idea Pins. Plus we'll discuss how to use analytics to evaluate what is working and what's not. 
Tools to Create Pinterest Graphics
The first step to creating a legit Pin graphic is using the best tools. This is what I use to create Pinterest images.
Canva
If you don't have a Canva account, go there right now and sign up. It is an incredibly powerful tool for business owners to create not just Pinterest content, but logos, cover photos, e-books, freebies, and so much more. Plus, you don't need graphic design skills because there are so many templates available for you to just swap out your colors and images.
Canva offers a free and paid option. If you're just starting out, the free version is perfectly fine and will allow you to do just about everything. If you want to use any of their Premium tools you can pay for them a la carte.
I use the Canva Pro account because I use Canva almost every day and for multiple clients. It allows me to save fonts and colors into a brand design for easy access and provides immediate access to all of the premium effects. Plus, it's only $119 for the year which is pretty reasonable for such a powerful tool.
Stock Photos
Stock photos or professional photos, are an essential part of a Pinterest graphic. I resisted getting a Stock Photo subscription for quite some time because I had decent photos from my travels to use for my travel Pins. But once I made the switch – wow. My Pin designs looked so much better and my clicks improved.
You can also use the stock photos from Canva if you don't want to pay for a stock photo subscription. 
If you want to see what the stock photo hype is all about, here are two services I've used and recommend:
Deposit Photos: Deposit Photos a wide range of images at a decent price of $29/month. I used them for about a year but discontinued them during the Pandemic when no one was searching for travel content anyway.
Haute Stock: I just started using Haute Stock, and while their imagery isn't location-specific which could be a problem as a travel blogger, they do have beautiful work from home style imagery. They also have templates for social media which is why I signed up with them. They have a variety of price options.
Pin Templates
Speaking of templates, using templates is a great way to save time during the Pin graphic creation process. There are plenty of templates available in Canva that you can adjust to fit your brand. 
As you start to figure out which designs work best for your posts and brand (by looking at analytics) use those as templates for new posts!
5 Elements of a Successful Static Pin Graphic
1. Start with the Correct Image Size
Pinterest loves vertical images! If you have a gorgeous horizontal image you want to use, import it into a template using the preferred Pinterest image size and adjust. 
I remember for quite a while no one really could figure out what the right Pinterest image size was, but now we know. It's a ratio of 2×3 or 1000px x 1500px. Put those dimensions into Canva and you're good to go.
2. Use Stock Photos, Professional Images, or Videos
As mentioned above, use high-quality stock photos or professional images to convey what your post is about.
3. Use SEO Friendly Text Overlay
The words on your image are equally important! Yes, they should be keywords that you found from your Pinterest keyword research, but they should also entice someone to click on the image. 
If your topic is about the best 3 day itinerary for San Diego instead of only saying: 3 day San Diego Itinerary, add a line that makes it stand out such as filled with hidden gems or from a local.
When making the graphic, think about what would make you click on the image. If you wouldn't click on it, don't post it.
Also, make sure that the text is legible. You may have to adjust your brand fonts and colors so it's easy to read. A clear, legible title is more important than being on-brand.
4. Add a Clear Call to Action
Admittedly, not all of my Pin graphics have a call to action. This is something I'm getting better at though as it is an important part of the graphic. It can be something as simple as a line that says read more or click for the inside scoop. 
What's even better is if you have a freebie someone could download by visiting the site, then definitely highlight that. You could have a line that says free download inside or free checklist…whatever it is that they can download – make sure it's on the graphic.
5. Add Your Logo or Website
Finally, add your logo or your website to your image. This can be just the name of your website, your website's URL, or your logo. I recommend placing this at the top or bottom of the image in a smaller font than the rest of your graphic.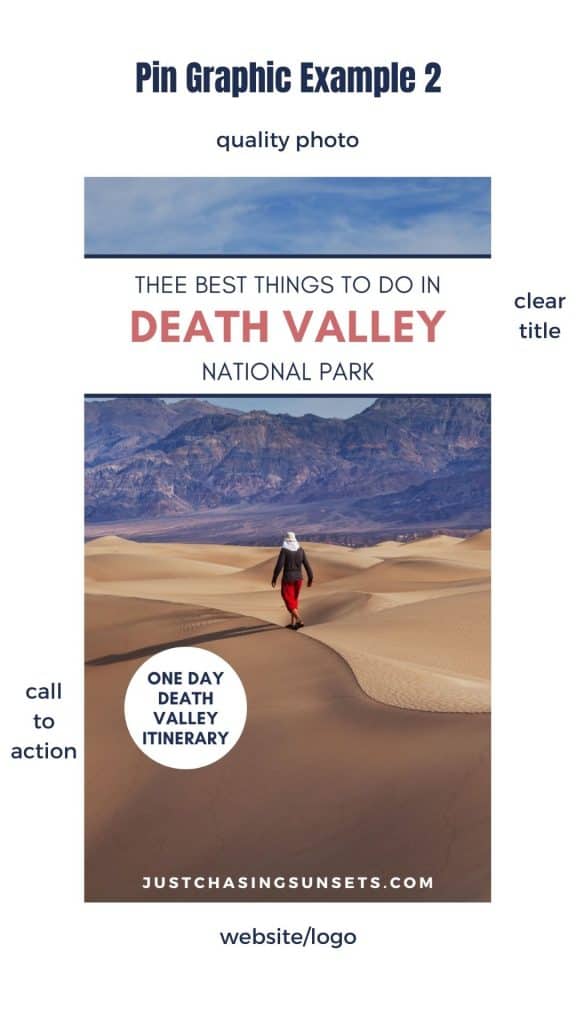 How to Make a Video Pin
Video Pins are newer to Pinterest, and to be honest, the jury is out on whether or not Pinterest is going to stick with them as they've started prioritizing Idea Pins. 
We will still go over how to make a click worthy Video Pin!
A Video Pin starts out with the same bones as a Static Pin described above. You want to use the correct image size, make sure it's SEO friendly, use high-quality video, have a call to action, and your link…all of the things.
You could even keep the design exactly the same as a successful static Pin, but replace the image with a high-quality video and change the text overlay. This is a bit of an experiment to see which does better.
If you don't have many videos, don't worry. Many stock sites now have video options as does the Canva Pro account.
If you can't find a video that makes sense for your Pin image, don't force it. Instead, animate the Pin!
This is a handy little workaround that still satisfies Pinterest's craving for video content. I honestly prefer it to using an actual video.
You can animate the entire image or select only certain texts or graphics. There are multiple animation options available in Canva. Pick whichever one you like and download the graphic as a .mp4 file.
How to Create Idea (Story) Pins
Idea Pins are the newest thing to come to Pinterest and there is a lot of chatter about them. Side note – they used to be called Story Pins, but recently changed to Idea Pins.
Anyway – this new format has the potential to reach a wider audience because Pinterest is really pushing the use of these new pins. This means that they can drive people to your Pinterest profile, increasing your engagement.
However, the downside of Idea Pins is that they don't allow an outbound link. The other negative is that they take a bit longer to make than a Static or Video Pin. 
How to make an attractive Idea Pin:
Pin size ratio is 9:16
Use at least 7 slides
Use video early, either through actual video or animation
Use the Description/Notes area to thoroughly explain your Pin
Utilize Pinterest Keywords in the graphic, graphic title, and description
While it's certainly frustrating to put a lot of work into creating a graphic that doesn't drive traffic to your website, try to think about Idea Pins differently. The benefits of Idea Pins are that they drive engagement on Pinterest which can lead to more followers and building your audience. Idea Pins will help establish you as an authority on your topic on Pinterest. 
As a solo female travel blogger, I made multiple Idea Pins related to blog posts I'd already written and they had a much greater reach and save numbers than any of the Static or even Video Pins I created for similar topics. 
I suggest creating and pinning an Idea Pin at least once a month. If you can, try to do them once per week and see what happens.
Check out my Pinterest profile for Idea Pin inspiration.
Two Essential Aspects of your Pin Graphic Strategy
There are two essential aspects of your Pinterest graphic strategy that have nothing to do with stock photos and titles.
Patience
The first is patience. It can take 3 months for a Pin image to take hold and start to really circulate on Pinterest. Be patient and consistent with Pinterest and you will see the results. If you're not seeing results, then you need to look at your statistics.
Statistics
Ok, so statistics probably do have to do with stock photos and titles, but your Pinterest statistics should be used to help you make adjustments to your Pinterest strategy. It's one thing to see that fancy monthly viewers number, but if that isn't translating into clicks to your website then something is not working. 
I've got a full blog post on how to analyze your Pinterest statistics, but the metrics that matter when it comes to your Pinterest graphics are Saves and Outbound Clicks.
Saves tell us that people are pinning your Pins
Outbound Clicks tell us that people are visiting your site from that Pin
See which Pin designs are doing well and use those as templates to create more Pins for various posts or products on your website. 
If your Pins aren't doing well consider the following
Is there a call to action?
Does the Title make someone want to click on it for more?
Is it a good image?
Would I click on it?
If the answer is no, then it's time to tweak your Pin image design.
Now, you're ready to create your own click-worthy Pinterest images! But before you do, I recommend checking into what's working and what's not. Then create new Pin Images that have all of the pieces of a great Pin graphic described above for your top 10 blog posts. I also highly encourage you to play around with Idea Pins. They're in the early stages of development and being pushed hard by Pinterest – now's the time to hop on!
If you understand the importance of Pinterest, but simply don't have the time – I gotcha. Check out my Pinterest services and I'd be happy to help you start realizing the traffic generating power of Pinterest. 
Want to learn more about Pinterest? Check out these resources!
Why Your Blog Needs a Pinterest Business Account
How to do Pinterest Keyword Research
Claim Your Website on Pinterest in 3 Easy Steps
How to Optimize Your Pinterest Boards
Pinterest Idea Pin Best Practices
Find this post helpful? Share to Pinterest so others can find it!