During my road trip along the Yucatan Peninsula in Mexico, I had to decide between two islands to visit, Isla Holbox and Isla Mujeres. Tough decision, right? After reading that Isla Mujeres, while beautiful, had become a bit overrun with tourists and was more expensive, I decided on Isla Holbox. Turns out, this little island off of the coast of Mexico is a secret paradise and the antidote to my crazy Tulum experience. Even though it's a small island, there are plenty of things to do in Holbox on a budget.
Get to Holbox before it turns into Tulum!
Just FYI, some links in this post are affiliate links. This means that, at no additional cost to you, I will earn a small commission if you decide to make a purchase through the link.
Why You Should Visit Isla Holbox
I believe the reason Isla Holbox isn't as popular with visitors as other Mexican islands like Cozumel or Isla Mujeres is that it is slightly difficult to reach. So, only those who truly want to venture away from the beaten path, and have the time, will put in the effort to figure out how to get there. Once they do, they are rewarded with colorful streets, a relaxed vibe, inexpensive food, and beautiful beaches.
There are a number of activities for every type of traveler on Holbox. During the day you can learn to kiteboard, swim with whale sharks (at the right season), or simply relax in a hammock over the sea. After a stunning sunset, you can witness the Bioluminescence or enjoy a lively atmosphere in the island's main square.
Isla Holbox is a place where you can come as you are. You can go days without washing your hair. Wear any clothes you desire. It's a place where you can still interact with locals who welcome you to their island. Isla Holbox is a little slice of paradise and I hope it remains that way.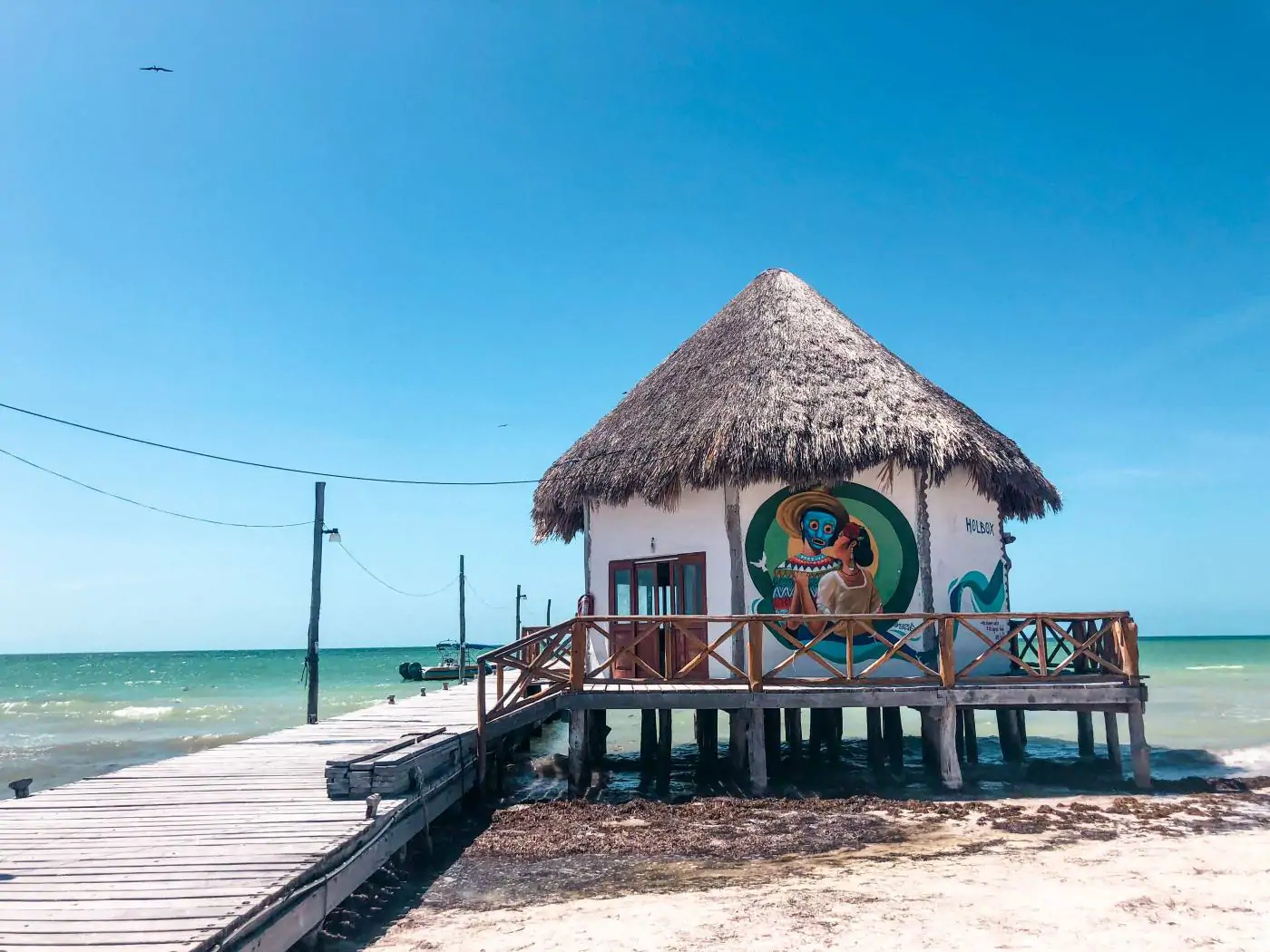 How to Get to Holbox
There are actually a number of ways to get to Isla Holbox, it just takes a little planning. No matter how you get there, all roads lead to Chiquila where a ferry will take you across the bay to Holbox.
By Bus
ADO is the bus company I took from Tulum to Chiquila. The ride was about three hours long. In Chiquila, I purchased my return bus ticket upon arrival to ensure I had a seat. Depending on the time of year you visit, you could do this the day of your departure. Just arrive early enough to secure a seat on a bus.
ADO services much of the Yucatan. For more information about the ADO bus schedule, departure cities, and prices visit their website.
Quick piece of safety advice for buses in Mexico, Put your luggage securely underneath the bus. Anything you carry on should remain on your lap.
By Car
If you've decided to rent a car (first read about my experience renting a car in Mexico) you can drive to Chiquila. In Chiquila there are parking lots for a daily fee. I can not speak to their safety or cost per day as I did not use them.
By Hired Car or Van
This is by far the most expensive option. There is a private van company, VIP Holbox, that provides door to door transportation to and from Holbox. You can find more information here: https://travelyucatan.com/getting-to-isla-holbox/
The Ferry from Chiquila to Holbox
Once you arrive in Chiquila, you will find a small port town and. There are no hotels here In Chiquila so don't plan on staying. There are two ferry companies, 9 Hermanos and Holbox Express, that whisk you across the sea to Holbox. The ferries depart every hour, however, their schedule alternates. One company leaves on the hour, the other leaves on the half-hour. So really, every half hour from 6:00 am to 8:00 pm there is a ferry available. As they both cost the same $150 pesos, I simply took the next departing ferry and 15 minutes later I stepped foot on Holbox Island.
Where to Stay in Holbox
There are a number of budget-friendly options in Holbox. I stayed at a hostel called Hotel Beach Inn run by very welcoming sisters. The rooms were large and clean, each with its own restroom. The kitchen is across the street from the hostel and just a few steps away is a fruiteria where you can pick up fresh produce and eggs for breakfast. Plus it was only a 3 block walk away from the beach.
A few other budget-friendly, read hostel, options that I considered where Be Holbox and Che Holbox (has a pool)!
If hostels aren't your jam, these two hotels are super cute and I'll likely stay at either of them next time I visit are Casa Frida Holbox and Casa Sirenas Holbox.
Of course, there's always Airbnb and here is a discount off of your booking!
That's the beauty of this island no matter where you stay, you're only minutes from the beach!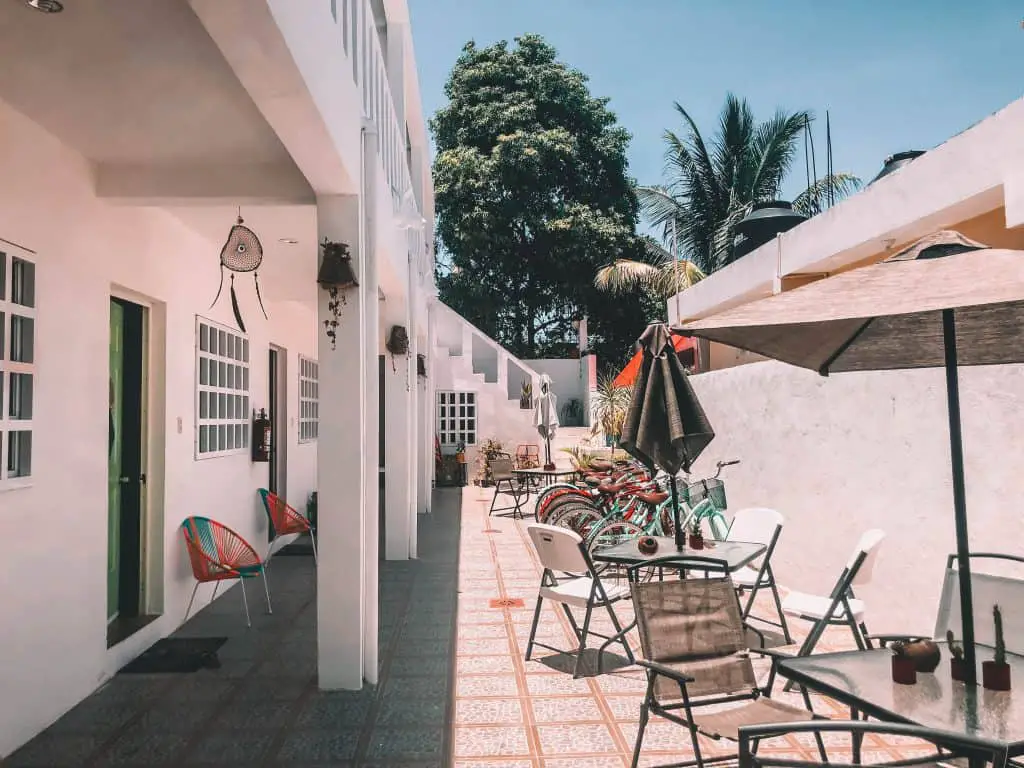 ATM Availability on Isla Holbox
Yes, there are ATMs on Holbox, although they're stand alone. Unfortunately, when I was in Mexico my travel ATM card was compromised at a similar ATM. At the time of my decision to go to Holbox, my Chase ATM card was awaiting a transfer to replenish funds so I'd have access to cash. However, the transfer would not happen prior to my arrival on Holbox. And like most islands, cash is king.
Nothing like being forced to use the cash in my pocket to keep me on a budget So I set out to discover the best things to do on Isla Holbox on a budget.
This effectively ruled out taking kiteboarding lessons, which I would've loved. It also eliminated doing any paid tours. Holbox is known as a place to swim with whale sharks, another thing I would LOVE to do and would've gladly whipped out the credit card to accomplish.
However, I visited in May, just a few weeks shy of the start of the whale shark season. All of these factors meant a budget island adventure lay ahead of me. And I was pleasantly surprised at the number budget-friendly activities in Holbox.
Things to Do in Holbox, on a Budget
Before we get into the top things to do in Holbox we need to address the fact that Holbox is home to a wildlife preserve, Yum Balam. Some of these wild animals, flamingos and whale sharks come to mind, are used for tourism. This can pose a massive problem to the environment and the well-being of the animals. It is my understanding that the companies that provide whale shark tours from Holbox do so in a way that would not alter their migratory patterns ie: they do not feed them. They do not even guarantee that you'll see them, and only two individuals are allowed in the water with them at a time with a guide. IF any tour company states they feed the animals, do not utilize their services! For other animals you see on the island – give them space. Flamingos don't like selfies as much as you'd think!
Alright, let's get to it!
Hunt for the Holbox Street Art
The small island of Holbox is quite colorful. As soon as you step off the ferry brightly colored homes will greet you. But as you venture further into the island, you'll discover beautiful street art on every corner. This street art is the result of an arts festival in 2014 that brought street artists from around the world to Holbox.
There are some very popular ones, like the young girl with her piercing eyes. Wander about town and find your own favorites.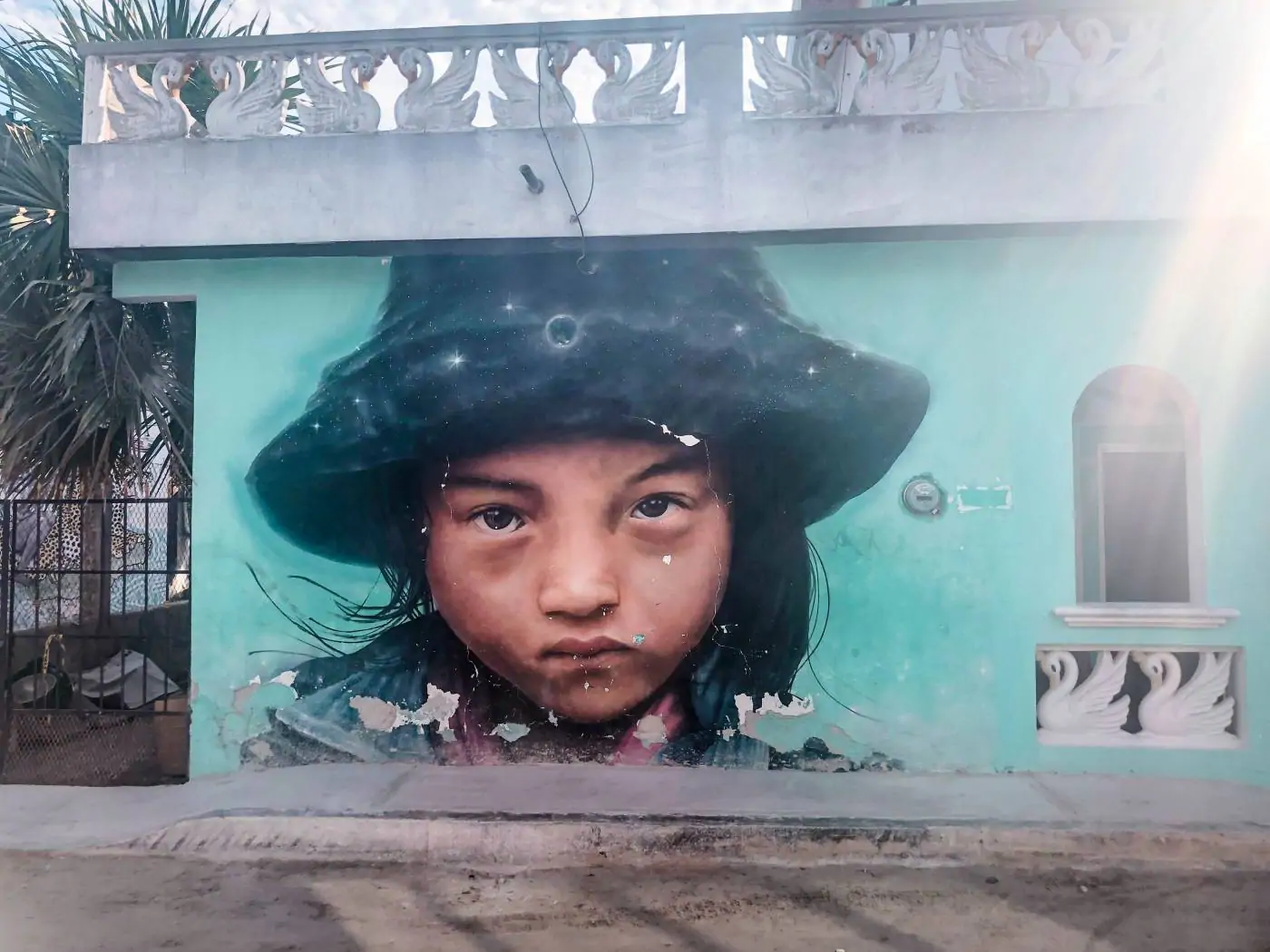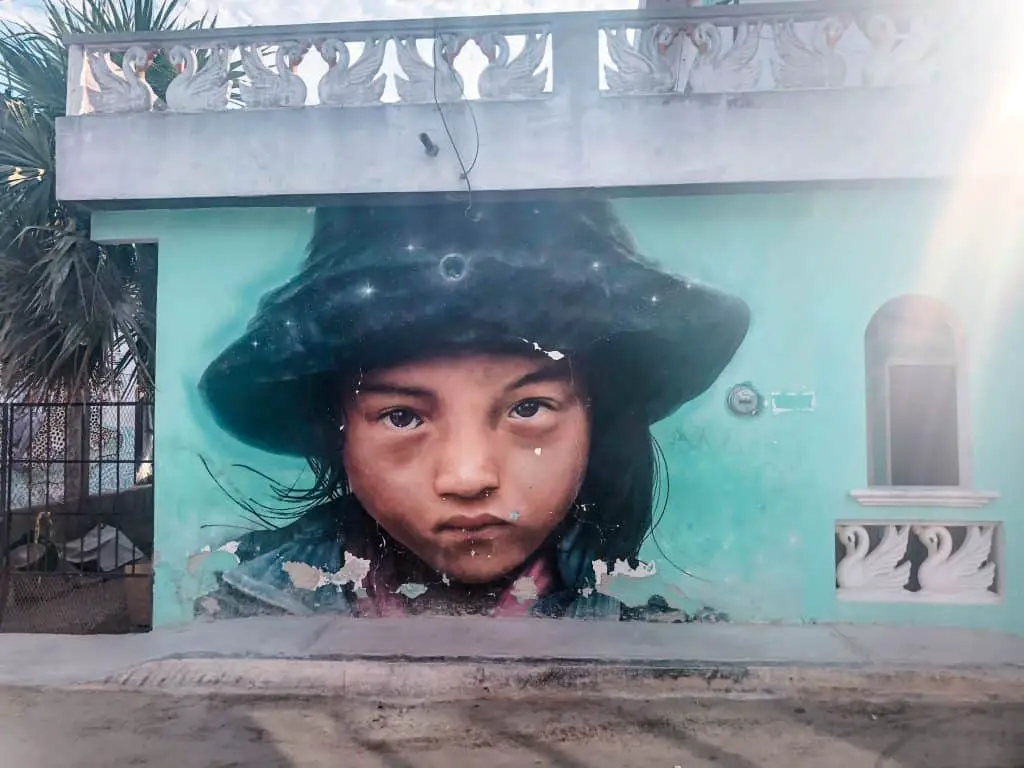 Go for a Bike Ride
No cars are allowed on the island, which is why you'll see specialized golf carts as taxis. The island is small and very walkable, but if you'd like, you can rent a bike from your accommodation or a place in town to see more of the island, faster! For a few of the activities below, I recommend renting a bike, so check around town for the rates, but it shouldn't cost more than $10 per day (always subject to change). I rented from my hostel, but Bikes Holbox has excellent reviews if your accommodation does not provide rentals.
Walk a Rescue Dog on the Beach
I learned of the Animal Refuge on Holbox from other guests at the hostel where I was staying (and highly recommend.) They told me you could walk dogs from this refuge along the beach. After being bitten by a dog in Quito I'd become newly skittish around dogs, I figured this would be a good opportunity to overcome this newfound fear.
The next morning I walked to the Animal Refuge to discover a number of animals in various stages of disability and recovery. One pup had no hind legs, but a makeshift wheelchair that allowed him to happily greet me upon my arrival. A raccoon slept soundly underneath the bench with a napping cat overhead. The owner, Morelia Montes, greeted me while feeding a baby raccoon from a bottle.
I explained, as best I could in Spanish, that I wanted to walk one of the dogs. She walked to the kennels holding the dogs. There were at most two dogs per kennel. I noticed they had plenty of space to wander about.
I can't recall the name of the pup she let me walk, but I do remember how timid she was at the beginning of the walk. The loud sound of golf carts driving by on the side of the road frightened her. So I decided to take her to the beach where she immediately perked up. She frolicked in the water and at one time even jumped up on me out of excitement.
I let her play in the water for quite some time before deciding it was time to take her home. When we reached the gate for the Refuge her body language made clear she was not ready to return. We continued to walk a bit more through the town. I got myself an ice cream and her some water before returning to the shelter. This time she happily jogged back inside.
This is such a unique way to spend your time while traveling. You will feel so good after watching a dog who has been mistreated frolicking in the gentle waves. I highly recommend paying a visit to this refuge and volunteering a bit of your time.
Watch the Sunset
Grab a beer or a coconut and join the festivities on the pier for an epic sunset. Really anywhere on the beach is a good spot for sunset, but the atmosphere on the pier is lively and fun. It's a great way to transition from a day of exploring to a night of eating!
Witness Holbox's Bioluminescence
At night, head to Punta Cocos to witness the bioluminescence. You could take a taxi here although I don't recommend it for two reasons. First, they charge more for this ride at night and the loud noise from the golf cart is disturbing on an otherwise peaceful place along the ocean. Second, they drive into the water killing those tiny micro-organisms you came to see light up.
I rented bikes from the hostel and rode there with two of my hostel roomies. The road is totally dark, so bring a flashlight. You could also walk there, but it will take around 30 minutes.
It's best to go around midnight (and when there is no moon) so you can see the light better. Don't expect to see the ocean lit up or anything. You'll have to wade in a bit and stir the water lightly to see the lights. It's definitely worth the trek out there, even if you just marvel at the starlit sky.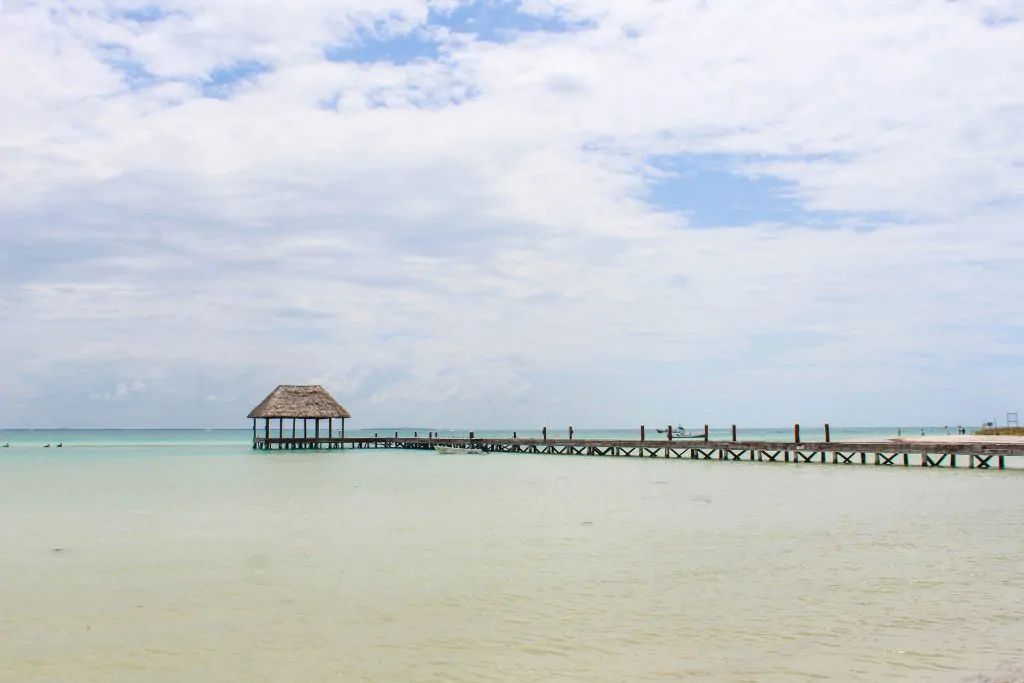 Walk Towards Punta Mosquito for Snorkeling
The water surrounding Holbox is calm and warm – perfect for snorkeling. You could really snorkel off of any beach but there are two points that were highly recommended to me. The first is Punta Cocos which is where you saw the Bioluminescence. This area is much easier to reach so there will be more people.
But if you're up for an adventure, then head the opposite direction for Punta Mosquito. It's a very long walk, so I suggest starting in the morning. Rent a bike and ride until you can't ride any further. Then walk out to the sandbar and follow it away from the kite surfers. Be careful where you step, there are small animals that look like stingrays in the water below. You'll see them scuttle away as you approach. You'll come to a river, that I crossed only to learn that's where I should've stopped. Crocodiles live here, so this is your ending point! There is a little beach here that is quite beautiful and there won't be many other people around.
I suggest bringing plenty of water and sunblock for this walk. You could also bring some snacks with you. On your walk back, the water along the sand bar will be higher. So you may have to carry your bag overhead so it doesn't get wet!
Relax in an Overwater Hammock
What's the best thing to do on an island? Relax
Where's the best place to relax on an island? An overwater hammock, obvy!
At multiple places in the water, there are hammock stands. You can lay claim to one of these hammocks and relax with your body half in and half out of the water. Or at the very least, take a fun photo with them. Heading to the left of the pier you'll find fewer crowds and a number of water hammocks. To the right, there are usually more people and fewer hammocks. But both directions are just as beautiful. Wander a bit until you find your spot.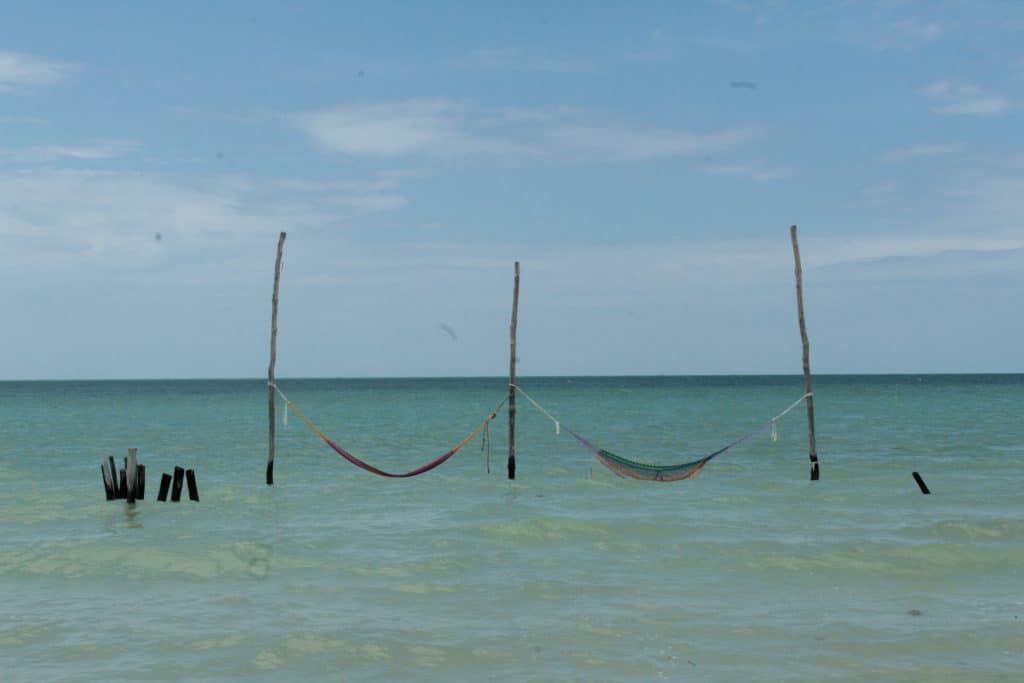 Eat the Street Food
Mexico has amazing budget eats and street food! At night, the main square in town comes alive with street vendors. You can find crepes, tacos, and other delicious treats along this square. It's all fairly inexpensive, so no worries about this. You could also check out some spots for excellent tacos such as La Panchas or Taco Queto.
Watch Kitesurfers
Since this is a post about seeing Holbox on a budget, I won't recommend actually taking kitesurfing lessons. However, if it is in your budget, then this is the place to learn! They learn from the sandbank so you have a place to rest while they instruct. My hostel roommate was taking lessons and she said the instructors were lots of fun and very knowledgeable.
If it's not in your budget, it's quite enjoyable to watch the novice kitesurfers and the pros. It seemed to be a very positive atmosphere.
Like any island, prices are a bit higher in Holbox than other parts of Mexico but there are so many budget-friendly options that make this a great place to visit while you're in Mexico. Plus, it's a bit hard to reach making this paradise less crowded with tourists! You'll feel right at home and completely relaxed in the colorful streets and on the beautiful beaches of Holbox, Mexico.
Like this post? Pin it for later!