I'm not a coffee drinker, but I love a good matcha or chai latte. Plus I enjoy the coziness of local cafes and strong WiFi so I can get some work or trip planning done. So, in each city I visit I try to find unique, cozy cafes with good matcha and strong WiFi. The cafes in Galway Ireland did not disappoint. These are six of the best cafes in Galway that are excellent places to escape from the bustle of the city, waste away a rainy morning with a pot of tea and a good book, or even catch up on a bit of work.
This post contains affiliate links, which means that, at no additional cost to you, I will earn a tiny bit of income if you decide to make a purchase or booking. For more, check out my disclosure. 
Cafes in Galway: The Secret Garden Tea Shop
The Secret Garden Tea Shop is located in the West End of Galway on a street filled with unique shops, pubs, and restaurants. Their counter is filled with a wide variety of loose leaf teas and vegan treats. A sign told me that there was no WiFi in this cafe, but that did not deter me when the next item on the sign offered a Matcha Latte. There are a number of cozy places to sit, including large armchairs and pillows on a platform surrounding a table. I ordered my matcha and settled into a cozy chair at the back of the cafe.
A group of college-aged kids smoked hookah while two girlfriends chatted on the pillows. Another guest opened up a laptop to work, I presumed, which I found strange as there wasn't any WiFi. Then I realized not having access to WiFi could actually make a more productive workday. One could write or edit photos, without the distraction of emails or social media, while enjoying a mid-afternoon treat. I opted to read a book on my kindle while enjoying quite possibly best matcha latte I've had in Europe – and I've tried quite a few.
The Secret Garden is also open late, until 11:00 pm. So if you're in the need of some caffeine before heading to The Crane or Monroe's (two great Galway pubs on the same street) this is an excellent spot to caffeinate.
Address: 4 William Street West, Galway, Ireland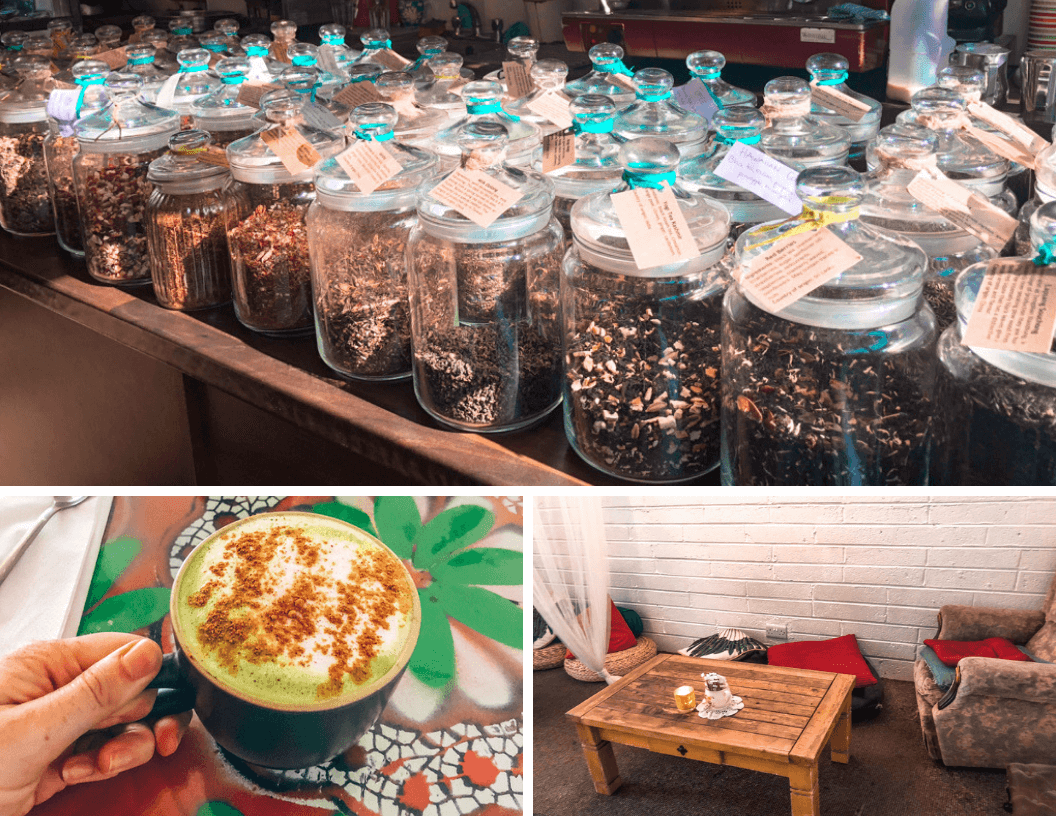 Cafes in Galway: The Little Lane Coffee Company
Located just off of the cobblestone, pedestrian Shop Street is The Little Lane Coffee Company. A chalkboard sign offering a coffee and a pastry for $4.95 is what drew me to this cafe on a sunny October afternoon in Galway.
I was welcomed by a gracious owner who apologized that most of her baked goods had been sold for the day but suggested I try the chocolate cookie. She works with two local bakers who deliver fresh baked goods throughout the week, and this specific chocolate cookie had won an award at the Dingle Food Festival the weekend prior.
I paired the chocolate cookie with a Chai latte and sat at one of the tables in front of the cafe for a bit of people watching. The owner didn't mind letting me connect to the WiFi while I relaxed there and even in front of the cafe the signal was strong!
Good chai, great chocolate cookie, good WiFi, and a welcoming owner made for a lovely afternoon treat at The Little Lane Coffee Company.
Address: 10 Abbeygate Street Upper, Galway, Ireland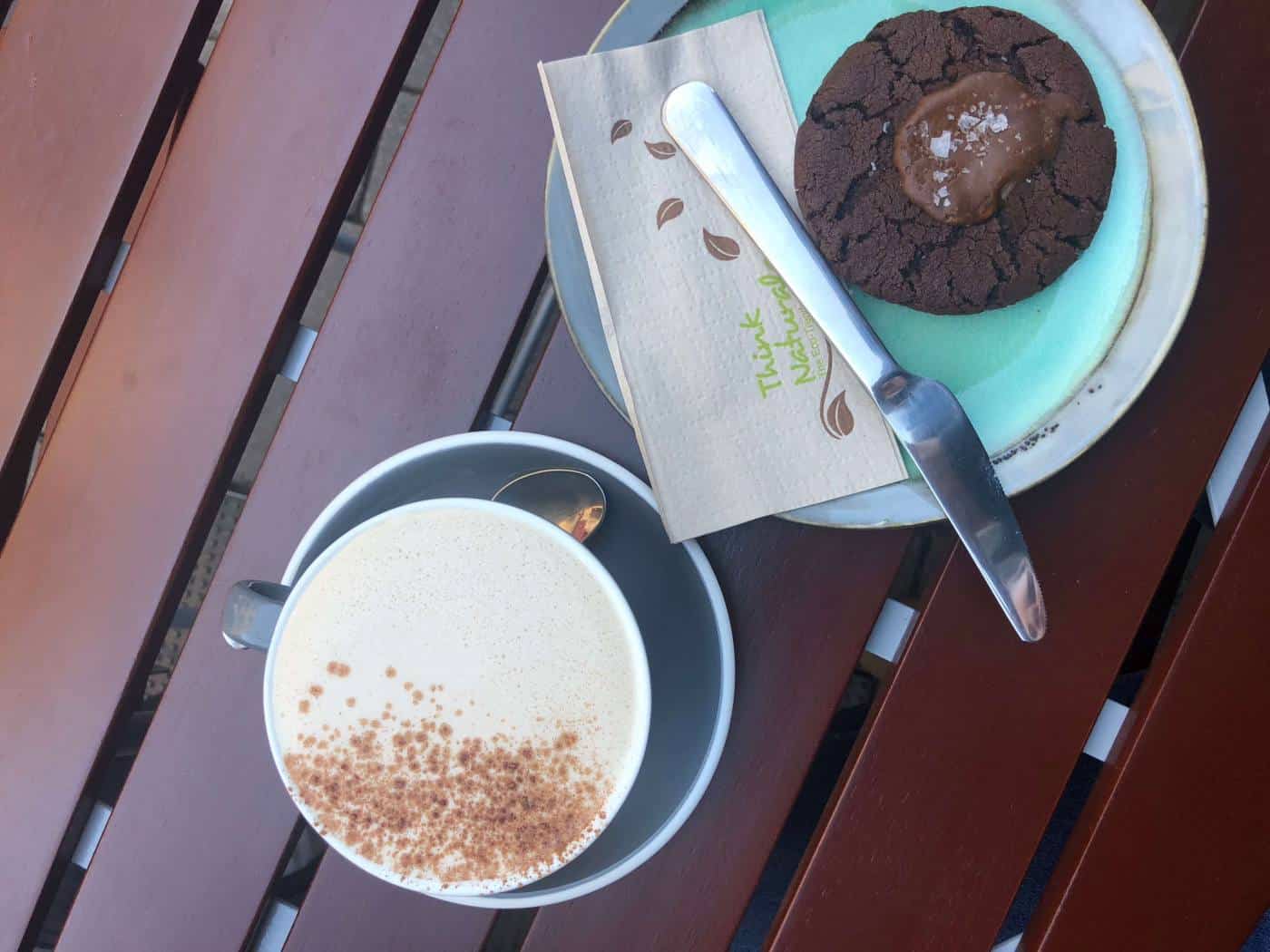 Cafes in Galway: Coffeewerk + Press
Coffeewerk + Press is in the heart of the Latin Quarter. This cafe doesn't just do drinks, it's also a print shop with a Scandinavian design aesthetic.
I was drawn into this shop on a rainy day on my way to the Galway Museum. I was cold and their winter hot chocolate warmed me up quite nicely. This coffee shop is three floors; the first floor is where you order your drink, but there is nowhere to sit.
The second floor has a cute window seat and wrap around bench seating with bookshelves filled with unique coffee table books. I spent about two hours sitting on the bench, looking out the window at the rain and reading through their coffee table books.
The third floor is where the print shop is located.
Spending a few hours in this coffee shop is one of my favorite things to do in Galway on a rainy day.
Address: 4 Quay Street, Galway, Ireland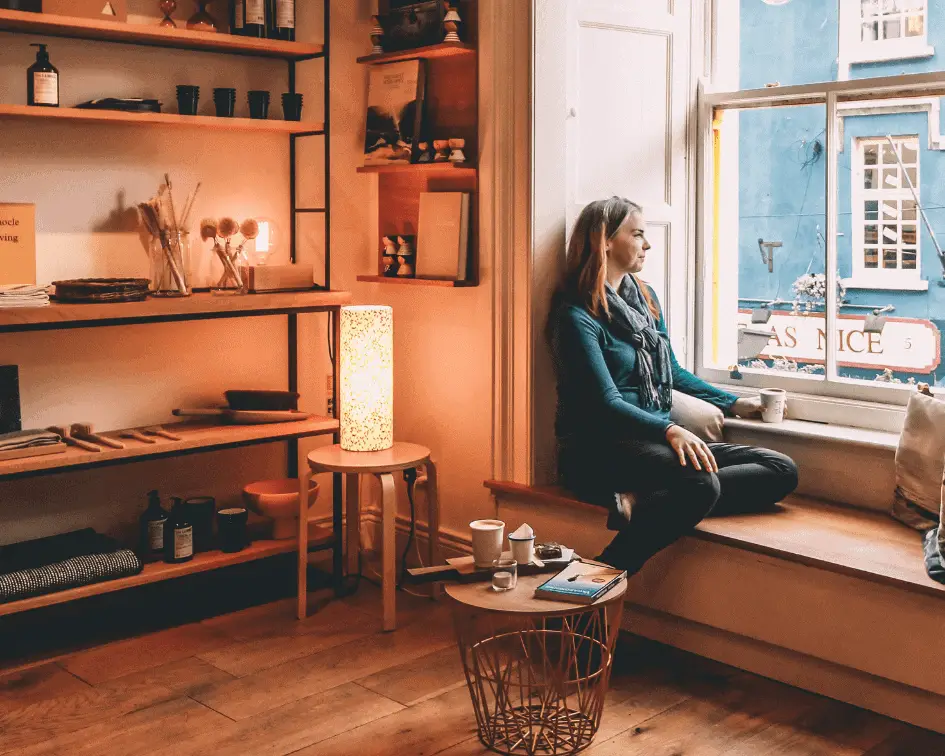 Cafes in Galway: Barista Bus
On one of my runs along Salthill Prom, I spotted an orange van sitting across the road from the Blackrock diving tower with a sign that said "Tea, Coffee, Hot chocolate!" This decidedly ended my run as I had to see what other goodies were on the menu at The Barista Bus.
Tom sets up his mobile caffeine shop on wheels daily here and offers coffee, a wide selection of teas, and treats! As it's just a van, there isn't anywhere to sit or WiFi, but take your coffee or tea with you as you walk along Galway Bay, or sit on a bench and enjoy a sunny day!
Update: Since my last visit it seems that there was a bit of trouble with the Barista Bus being allowed to park near Blackrock Diving Tower. As such, their location may have changed. Follow their Instagram account for updates.
Address: Opposite the Diving Pier on Salthill Road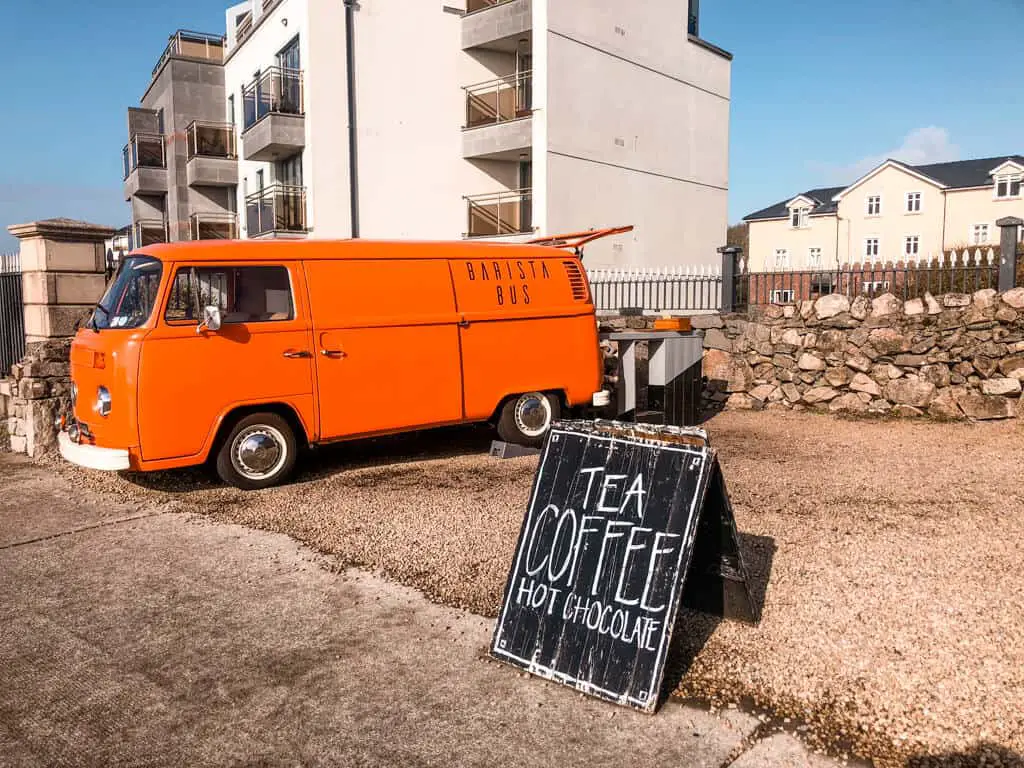 Address: 36 Lower Abbeygate Street, Galway, Ireland
Cafes in Galway: The Jungle Cafe
The Jungle Cafe came to my rescue once I finally pulled myself together after a hard night out in the Galway pubs.
I strolled in around 2:00 pm trying to order breakfast, which they stop serving at 12:00 pm. But the waitress was nice enough to ask the chef anyway, possibly sensing my dismay in all of my hangover disarray.
I quickly recovered and ordered a mixed berry smoothie and the fig and prosciutto sandwich, which cost the very fair price of €13, and took my seat at a table outside.
The majority of the seating is outside with large comfortable chairs towards the back surrounded by large green plants, you'd almost think you were in the jungle, if in fact the weather was just a tad warmer.
My food quickly arrived and I was shocked at how large my sandwich was with fresh chunks of figs, plenty of prosciutto, and melty cheese on a toasted bun. And the mixed berry smoothie was exactly what I needed to get rid of the last bits of my hangover.
Seriously, this is one of the best places to eat in Galway, especially if you're on a budget.
The Jungle Cafe is excellently located in between both bus stations near Eyre Square so it's the perfect spot if you're coming or going and need a quick bite, or of course, to bring you back to life after an epic Galway night.
Address: 29 Forster Street, Galway, Ireland
Cafes in Galway: Kai Cafe + Restaurant
This list would not be complete without mentioning Kai Cafe. Kai Cafe is an excellent cafe and restaurant located in the Galway's West End. While popular for dinner, I think this is one of the best places for lunch in Galway.
Their menu changes daily, which means they only serve what's in season.
I first visited Kai Cafe for lunch on my very first solo trip and had a lovely salad and pot of tea. I recently returned and stopped in again but only a mid afternoon dessert and tea.
Each time I was thoroughly pleased with the quality of food and the gorgeous ambiance they've cultivated.
Definitely a spot that is not to be missed in Galway!
Address: 22 Sea Road, Galway, Ireland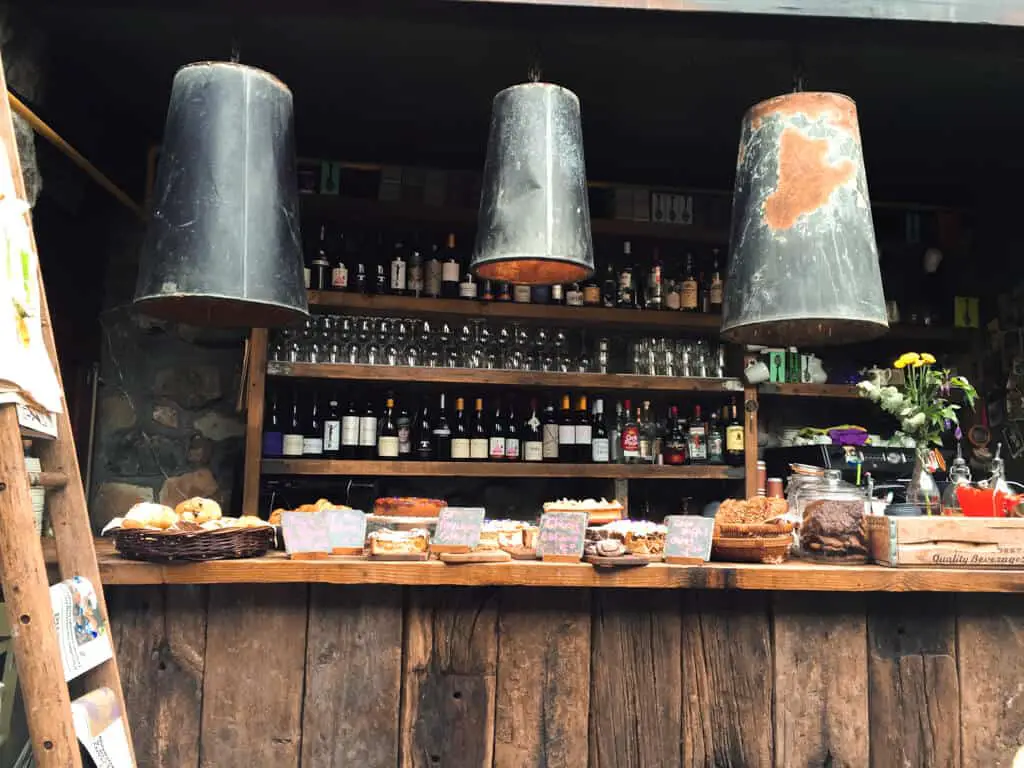 I did my best during my most recent trip to Galway to visit as many cafes as possible. Some that I visited did not make the list due to poor service and quality of the food. What I like the most about the cafes that made the cut, are they are unique establishments and not part of a chain which makes them feel a bit cozier. I hope you get an opportunity to visit a few of these cafes during your time in Galway.
Need more information about Galway? Check out these Galway posts:
16 Free Things to Do in Galway
How to Visit the Aran Islands from Galway
Like this post? Pin for later!