I've grown cautious throughout my travels when it comes to recommendations for things I should do when visiting a new place, especially from other tourists suggesting tours. I've almost completely moved away from guided tours on my trips except when it's absolutely necessary, like snorkeling in the Galapagos. So when people started to recommend that I do a helicopter tour on Kauai I was skeptical. Until a friend from college who grew up in Kauai told me that the best way to see Kauai was via a helicopter tour. That's how I found myself on the Jurassic Falls Helicopter Tour in Kauai with a stupid grin on my face the entire time.
Before I move on to raving about this tour and giving you all the tips, I must disclose that I did not pay for this tour. My friend hooked it up for me and I am forever grateful that she did because it was an unforgettable experience.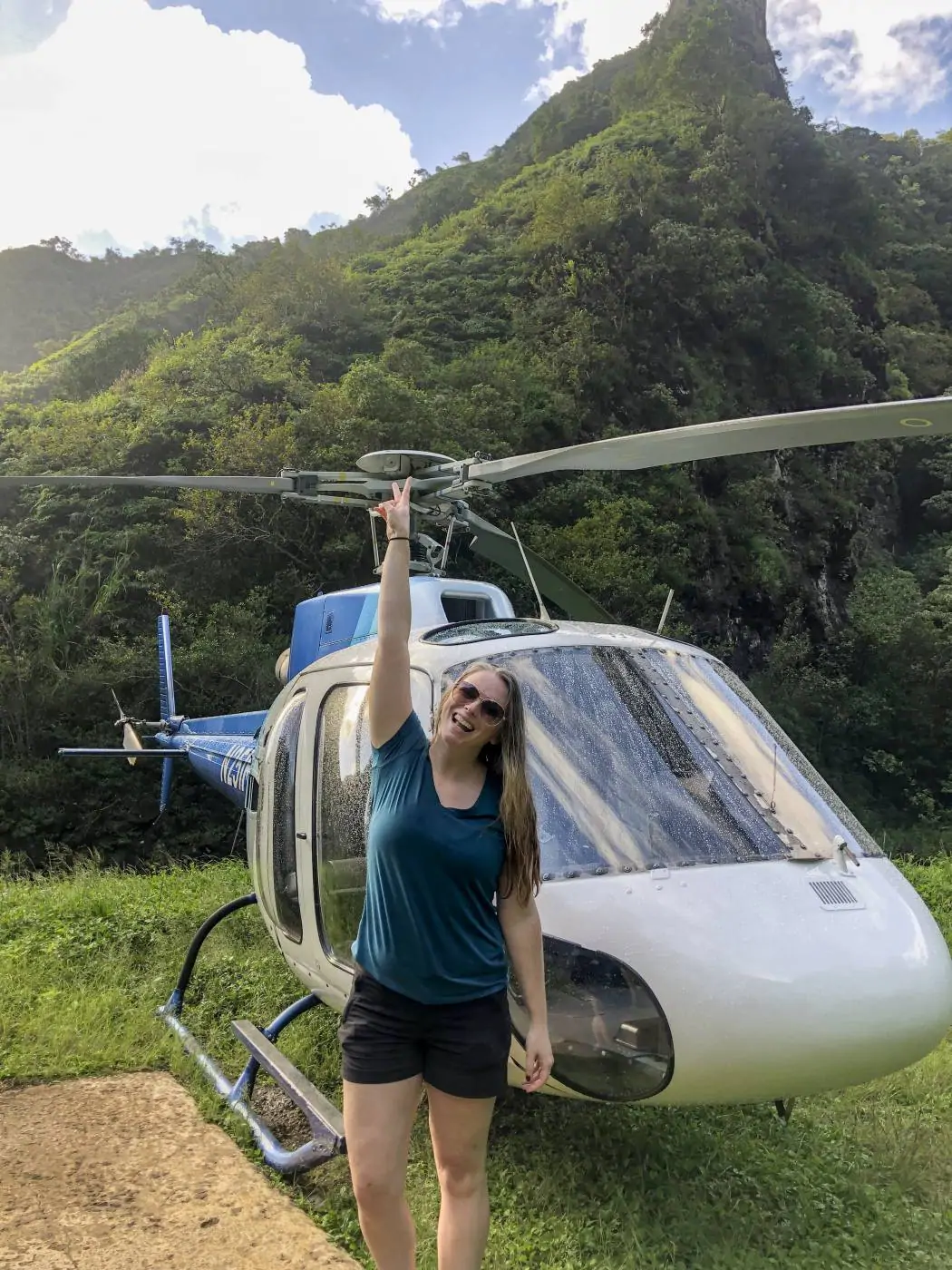 Why Taking a Helicopter Ride is the Best Way to See Kauai
Hiking, road trips, and snorkeling are great ways to enjoy the scenic beauty that Kauai has to offer. But when is the last time you saw dramatic red canyons, lush green mountain sides, and a seemingly endless royal blue ocean from a bird's eye view. Oh and don't forget about the hundreds of waterfalls you'll see. This is such a unique way to experience the variety of landscapes on this tiny island. I'm sure it will be the highlight of your trip to Kauai.
Why Fly with Island Helicopters
There are a number of helicopter tour companies on Kauai, what makes Island Helicopters special?
First, it's a family-owned and operated business and walking into their office you'll feel it. The entire staff are super friendly and accommodating to your needs. 
Second, the owners truly put your safety first. When I landed in Kauai there was a massive thunder and rain storm. Curt, the owner, was monitoring the weather situation and came out to tell us himself that they needed to cancel for safety. All while another tour company took off, but landed again about 15 minutes later.
Third, and perhaps most importantly, they're the only helicopter tour company on the island that actually lands at Manawaiopuna Falls, aka Jurassic Falls. The falls are located on privately owned land which means helicopters can't land there unless of course, you're Island Helicopters. They have a permit from the landowner which allows them to land on the property and guests to walk near the base of the falls. It's such a humbling experience to stand below a powerful 400 ft waterfall.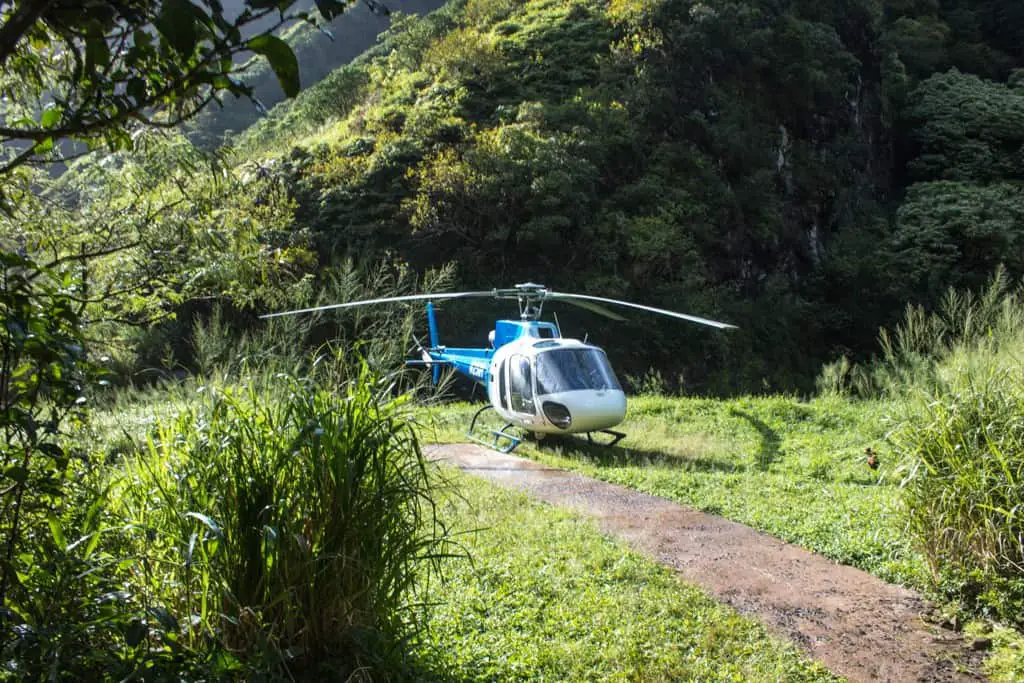 What to Know Before You Fly
When you check-in for your flight, they will weigh you. So hold anything that you're taking with you in the helicopter to get an accurate number so that they can properly seat you in the helicopter.
You won't be able to take much with you in flight, so make sure you've got pockets to hold your car keys and phone. 
I brought my camera with me, but honestly, it wasn't necessary. I ended up using my phone the entire time to quickly snap photos and videos. However, it's actually incredibly hard to take photos in a moving helicopter, so just sit back, relax, and enjoy the views.
For landing at the falls, you'll walk down a short dirt path from the helicopter to the base of the falls. You don't need hiking boots for this, but sturdy walking shoes are a must. You'll be given super cute blue booties to cover your shoes to prevent tracking anything in or out of the area.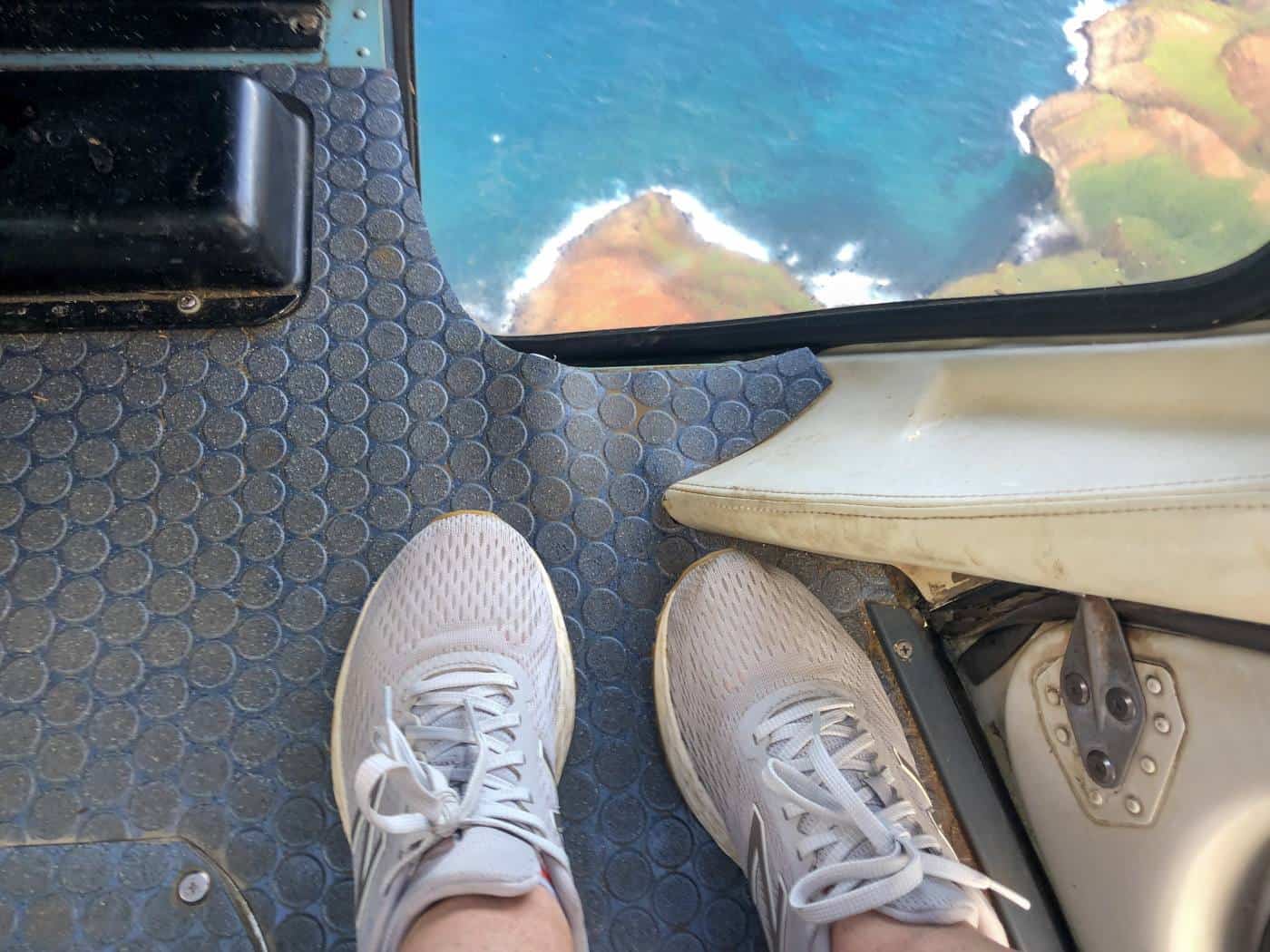 If you're prone to motion sickness, I would suggest taking something for it before you fly. While the ride is beautiful, I wouldn't describe it as smooth and towards the end I was feeling a bit uneasy, even with my front-row seat. There were two people in the back who were definitely not feeling well when we landed. 
Wear dark clothing, otherwise, you'll reflect! And if you're pale like me, I'd even suggest wearing dark leggings and a long sleeve shirt because I was reflecting all over the place even though I wore my darkest clothing. If you didn't pack anything dark, don't worry, Island Helicopters will provide you with a dark t-shirt.
Be prepared to not sit next to your travel buddy. As a solo traveler, I knew I'd be sitting next to a stranger, but the other four people in the group were couples. One of the couples was split up and the other got to sit next to each other.
The Jurassic Falls Helicopter Tour
Surprisingly, as I strapped on my life vest and put on my blue booties, I was nervous. Even as I took my front-row seat which meant totally unobstructed views in front and to my right, my stomach was filled with butterflies as I buckled in. No turning back!
The pilot gave us a quick rundown of the next 80 minutes, the blades began to twirl and just like that we lifted gently off the ground as music began to play in the headphones.
Immediately my nerves disappeared as I gazed out of the window on the east side of Kauai moving further and further away. The pilot expertly guided the helicopter through a narrow mountain pass as he pointed out his favorite white sandy beaches below.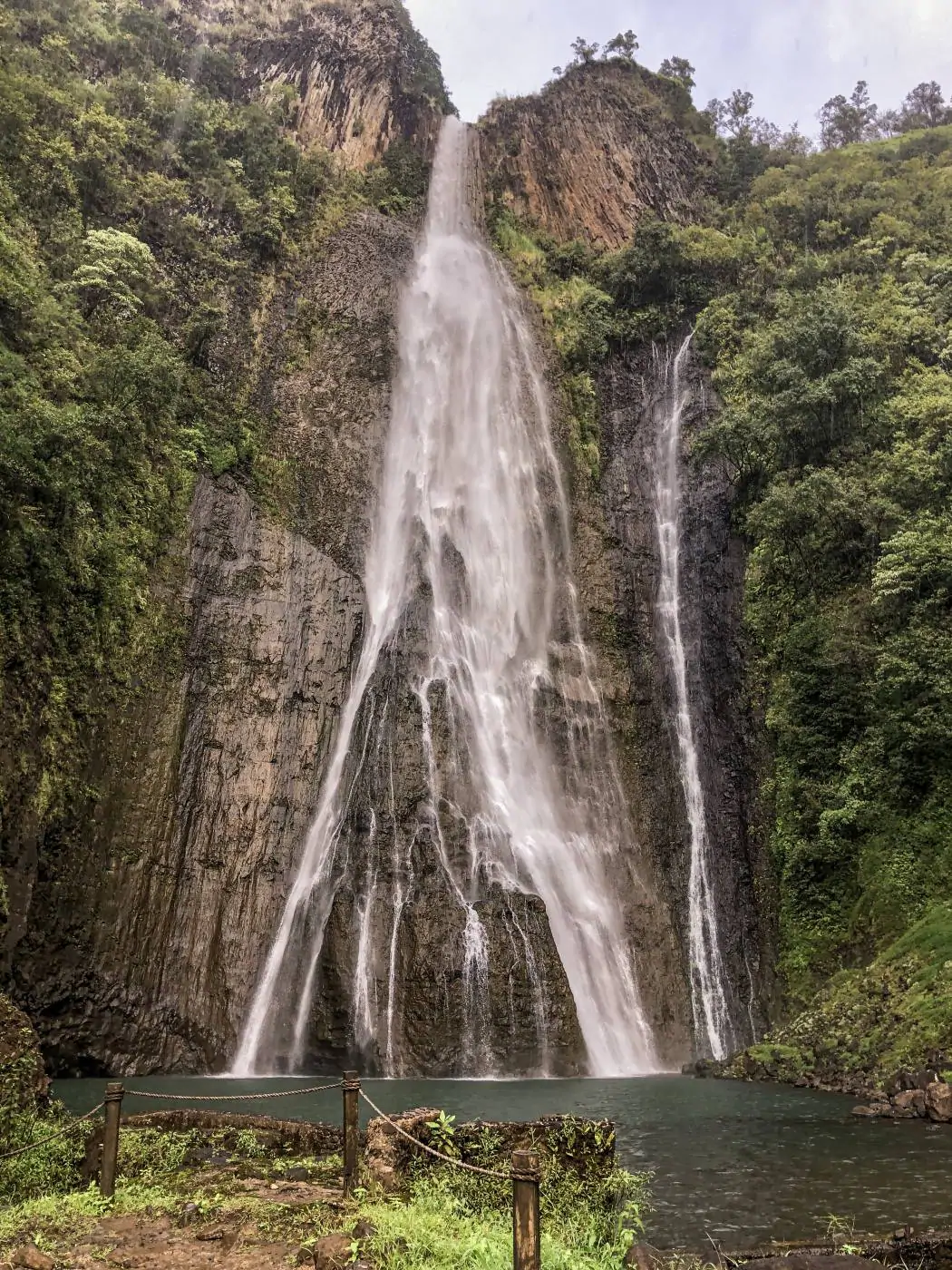 Manawaiopuna Falls aka Jurassic Falls
Suddenly, the music stopped and he came over the mic to tell us he was queuing up the perfect song and on came the Jurassic Park theme song as we moved through lush green mountains filled with waterfalls from the previous day's rain and suddenly there it was in front of us, Jurassic Falls.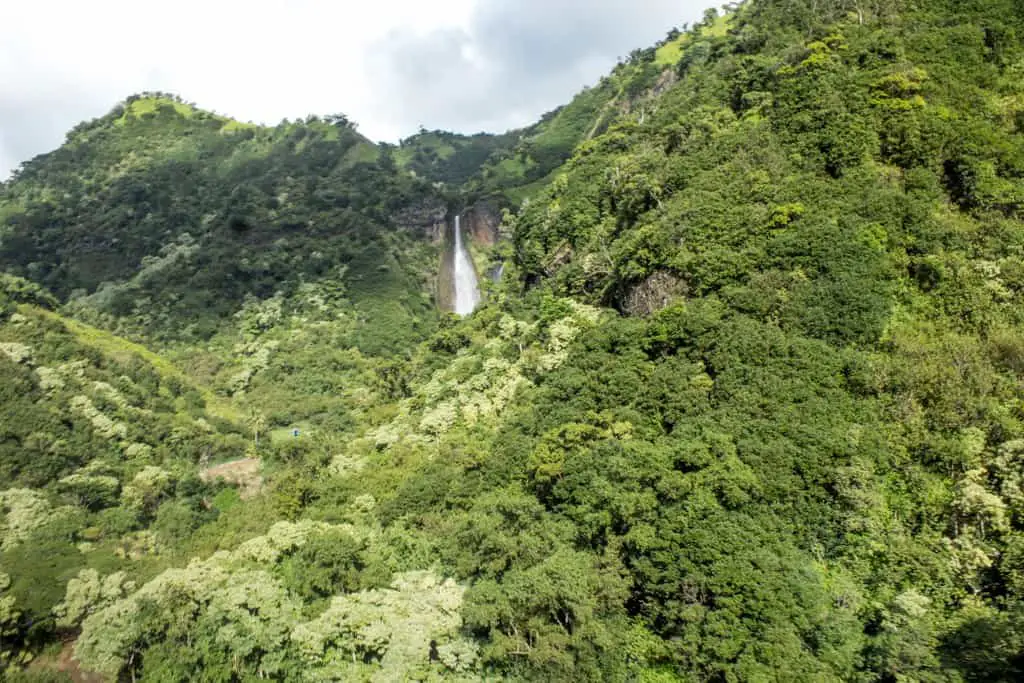 As we walked from the helicopter to the base of the falls a steady rain began to fall which made it seem as if the waterfall spray was reaching us. Just like magic, the rain disappeared, the sun returned and a rainbow appeared across the rushing water.
Island helicopters played an integral role in assisting the Jurassic Park film crew with reaching Jurassic Falls throughout their filming on Kauai. They've also helped with the filming of other popular movies such as Tropic Thunder, 50 First Dates, and King Kong!
I have to admit that out of all of the movies they've helped with – I've only ever seen 50 First Dates.
Waimea Canyon
Our pilot expertly took our photos in front of the waterfall and the helicopter. We removed our booties, said goodbye to Antonio, the rooster who has made the waterfall his home (good choice for a rooster) and made our way to Waimea Canyon.
The red dirt and deep ravine of Waimea Canyon stands in stark contrast to the lush green mountains we just left. The one commonality is the waterfall that rushes deep into the canyon, marked, of course, by a rainbow.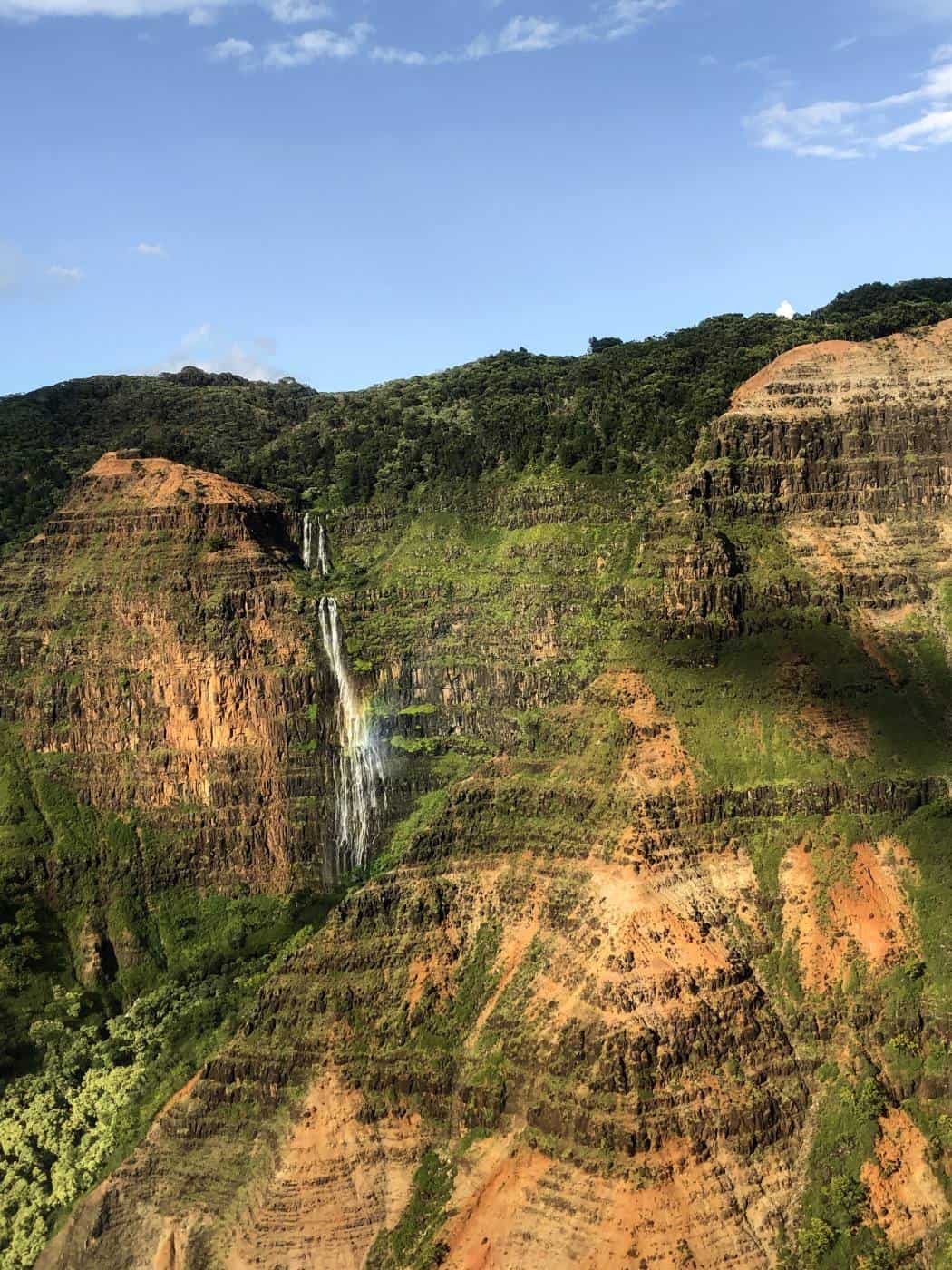 Yes, you can drive to Waimea Canyon to take in the view from specific vista points and hiking I'm sure provides an intimate experience with the canyon, but seeing it from above really provides perspective on just how vast the grand canyon of the Pacific is!
Na'Pali Coast
Then we navigated to my favorite part of the tour, the Na'Pali coast which gave me distinct Moana vibes. I kept trying to picture the form Ta Fiti in the green mountain peaks that drop into the royal blue waters. 
The Na'Pali coast is inaccessible via car which helps maintain the beauty of this rugged coastline. The only other two ways to see it are with a cruise or by hiking 11 miles into the park.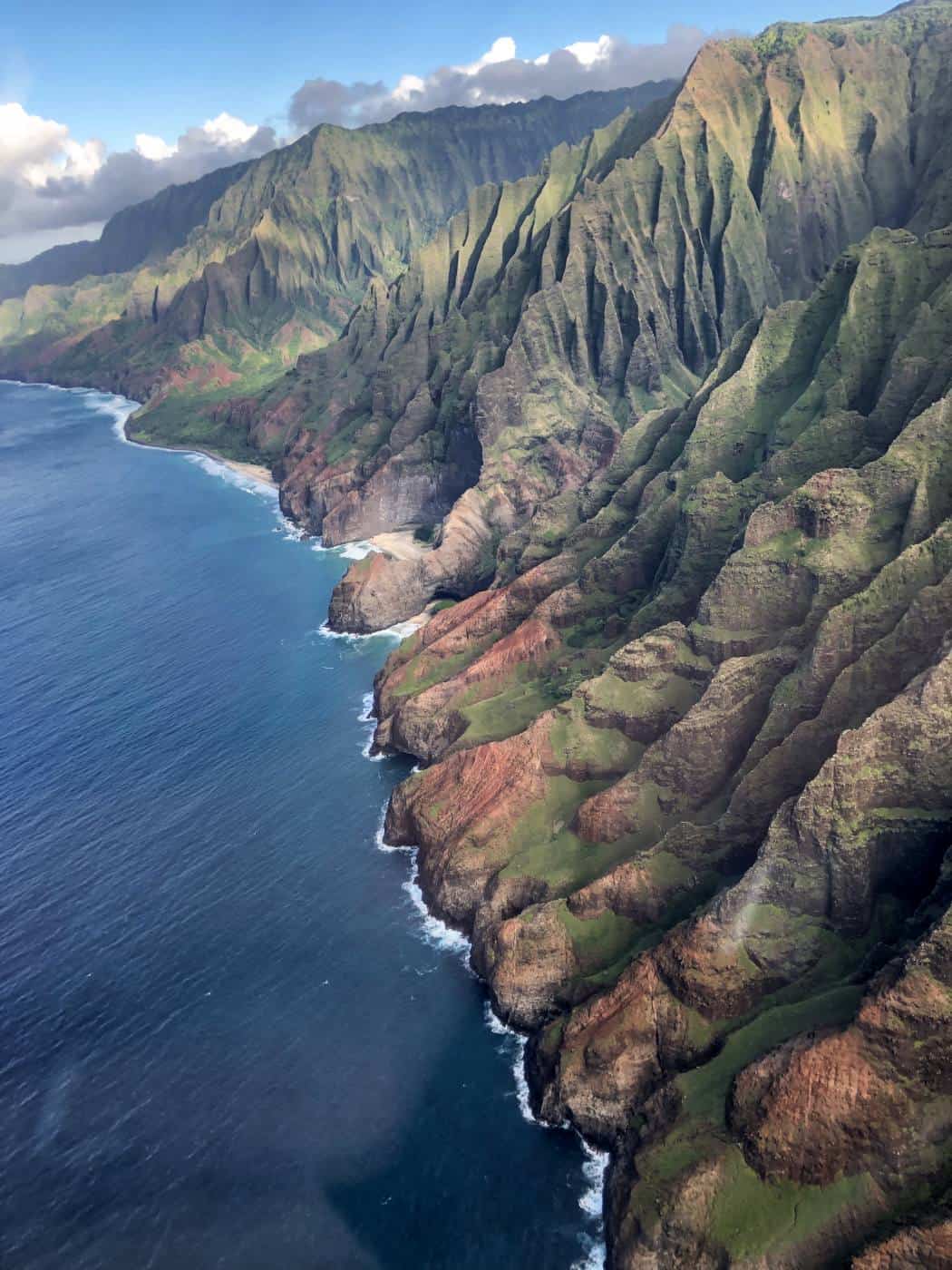 From our birds-eye view, we were able to see the beautiful beaches hiding in the crevices of the mountains as well as how much less populated the north coast of the island is. Approximately 70,000 people live on Kauai, the majority of whom reside on the east side. The north definitely had a much more remote vibe even from above.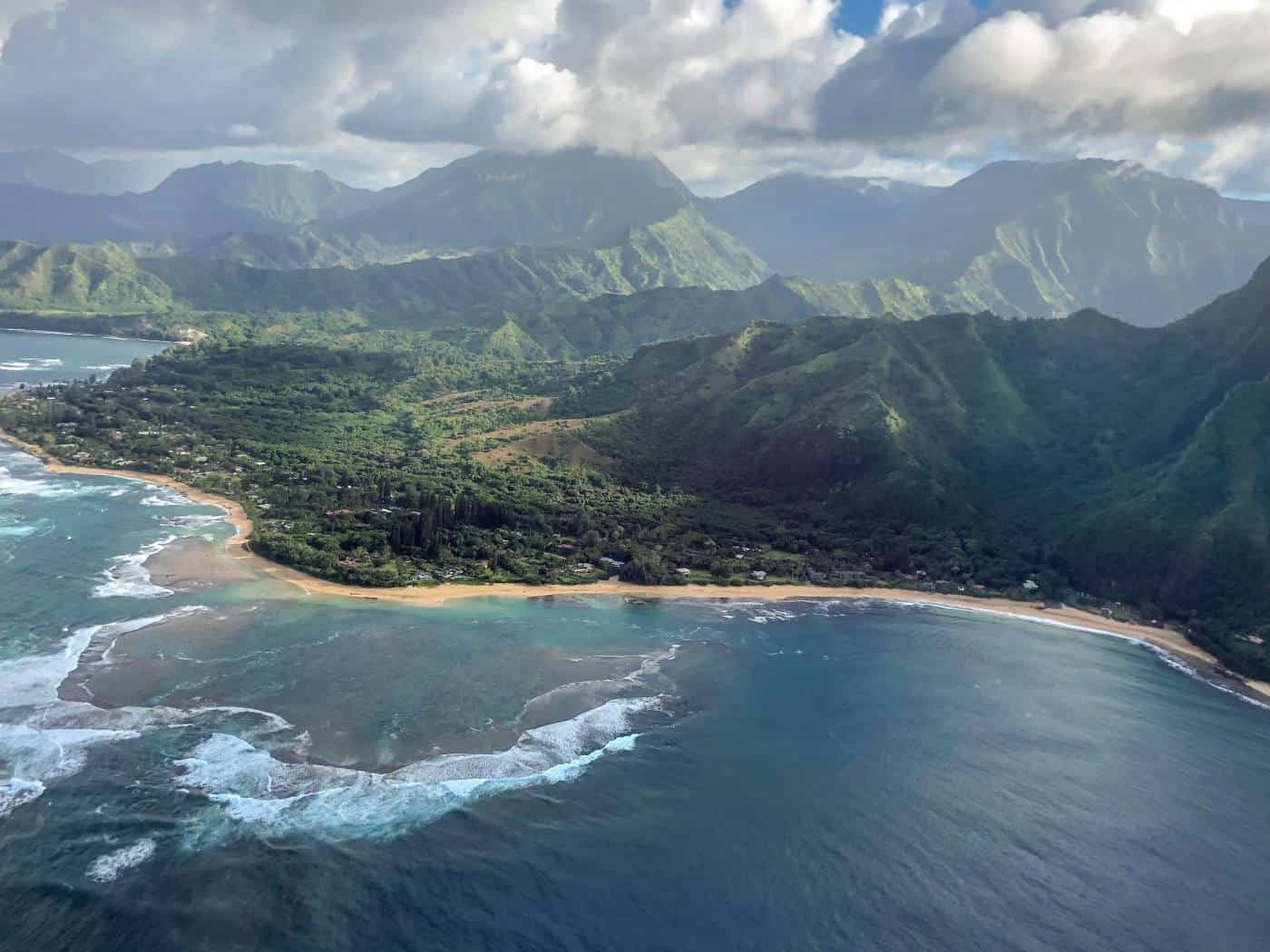 The final gem of this helicopter tour came as we moved inland once again and were up close and personal Mt Waialeale. Mt. Waialeale means "overflowing water" which makes it the perfect name for this vibrant green mountain that receives 450 inches of rain each year. It's one of the wettest places on earth! And yes, it rained while we were there and its peak was covered in a grey cloud that made it seem like the thin waterfalls running down the side of the mountain were coming directly from the cloud. So majestic.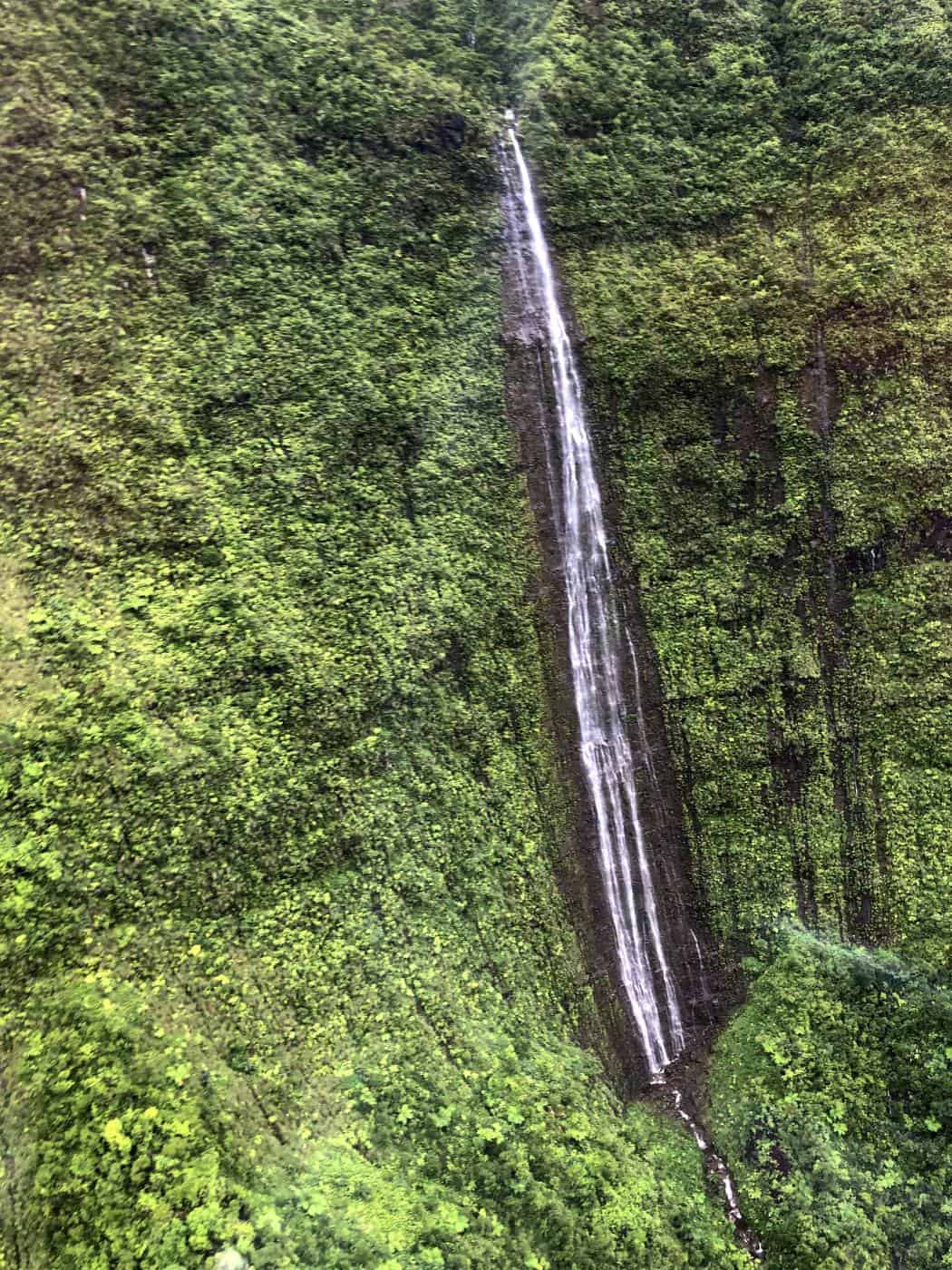 And just like that, 80 minutes flew by and we returned to the helipad in Lihue.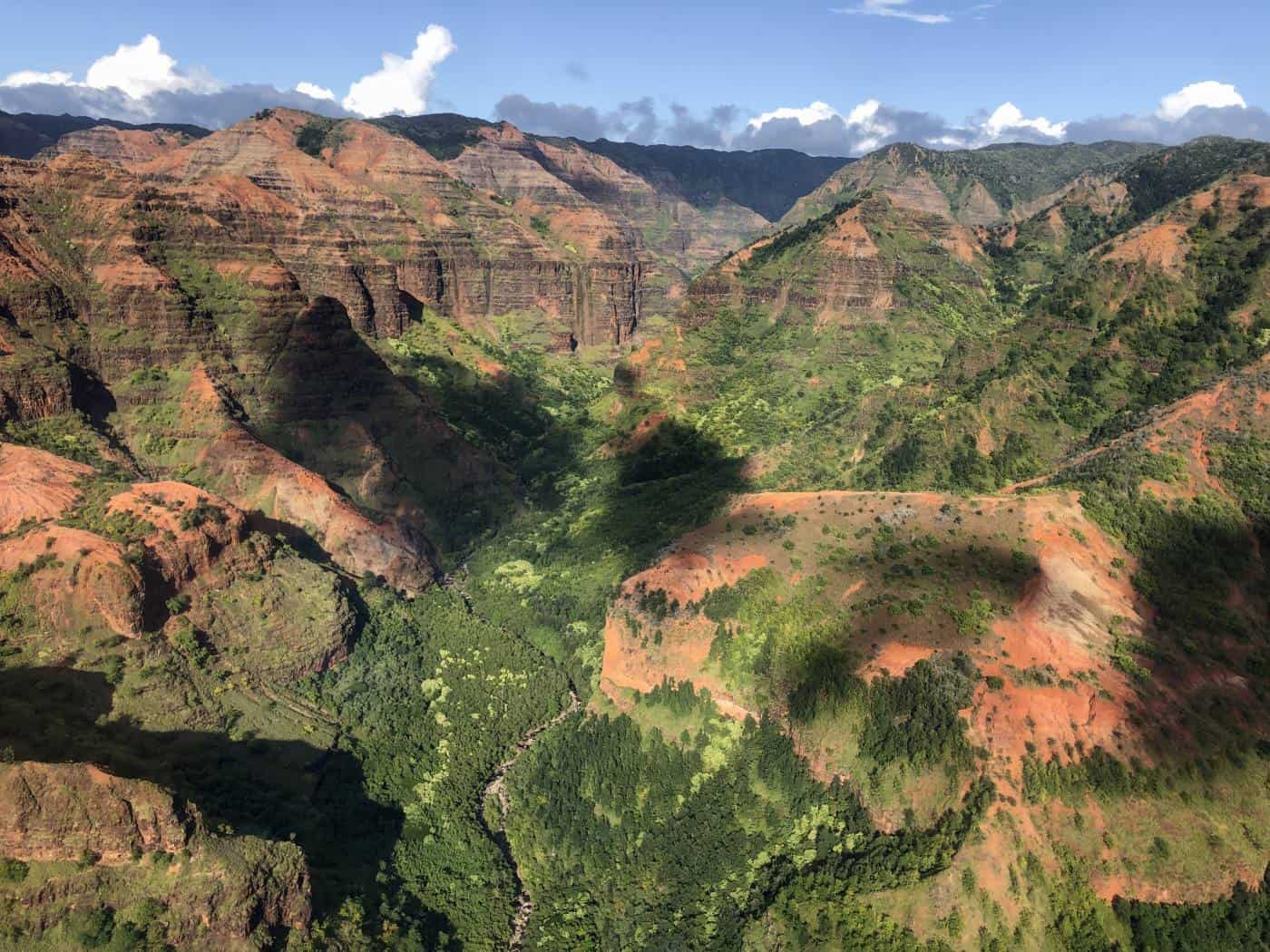 Whenever I do tours on the road, which again is rare for me these days, I always consider whether it was worth it? Was it worth not just the money, but the time investment? Could I have seen the same things on my own and enjoyed it more? The answer for this particular experience is hell yes it was worth it and there is no way in hell I could get such a great view of the island on my own. 
A helicopter tour is definitely the best way to see Kauai and I highly recommend booking with Island Helicopters. Their service from the start to the end of my entire interaction with them was nothing but positive.
I even got a recommendation from them on where to watch the sunset on the island. I didn't think the day could get better, but then I arrived at Kekaha beach and was proven wrong, all thanks to Island Helicopters.
Like this post? Pin for later!