Joshua Trees of varying heights and growth patterns fill the seemingly barren landscape which is backdropped only by large limestone rock formations and a shade of blue sky that seems to be right out of a Wiley Coyote cartoon. Entering Joshua Tree my first thought was of the ocean floor. I imagined that this is exactly what it must look like under the sea. Which is fitting as millions of years ago this area was once exactly that, an ocean. Today, however, this surprisingly beautiful landscape is located a mere one hour drive away from Palm Springs which makes a day trip to Joshua Tree an excellent addition to any Palm Springs itinerary.
Joshua Tree National Park surprised me. I am usually a sand and sea person, only being in the desert for one day during my time in Peru. So when I drove into Joshua Tree for the first time and my jaw almost hit the floor, I knew I'd been missing out on another beautiful part of this world.
There is something uniquely beautiful about the desert. For me, it was the fact that amidst some of the harshest conditions, life still grows. On your Joshua Tree day trip, you will discover trees beginning to grow in the crevices of rocks where only a small bit of earth lays. You'll see jackrabbits, regular rabbits, and lizards scurrying about. There are also quite a few birds that make Joshua Tree National Park its home.
Another beautiful aspect of Joshua Tree is its colors. Starting with a sunrise that makes the cholla cacti glow, a midday sun that enhances the beautiful combination of the limestone rock against the deep blue sky that looks like something out of a painting. And the sunsets. Oh, the sunsets are magical brushing the sky pink and purple.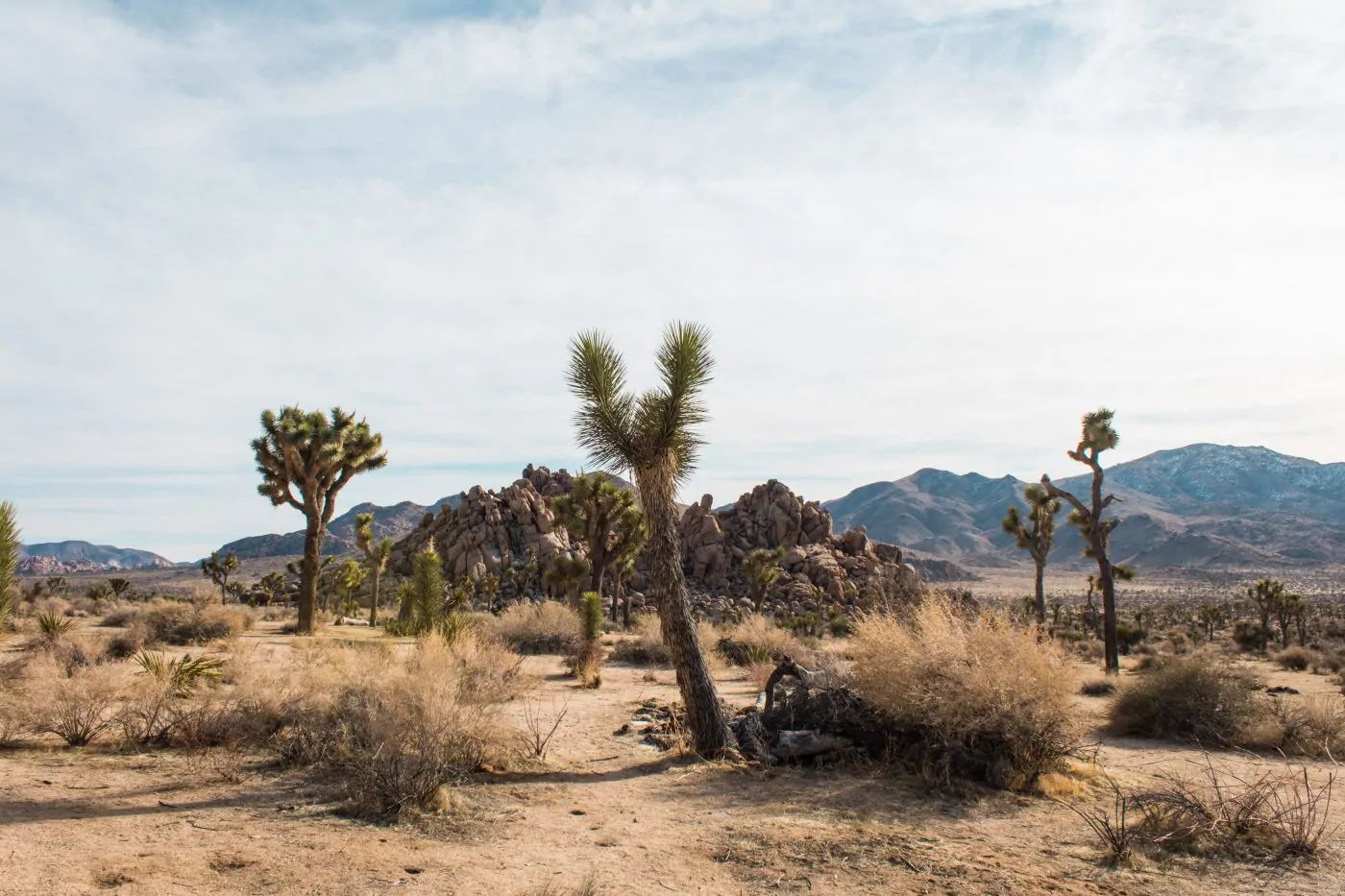 You will get to appreciate all of the beauty that Joshua Tree National Park has to offer with this Joshua Tree day trip itinerary.
I recommend staying near Joshua Tree the night before your day in the park. Staying close by means that you will not have to wake up extra early to catch the sunrise if you plan to include that in your one day in Joshua Tree itinerary. If you don't plan to include sunrise, then you can make this a true day trip from Palm Springs, but do be sure to get to the park early enough to beat the majority of the heat! 
WIthout stopping it would take you 1.5 hours to drive through Joshua Tree. But that's no fun. This itinerary for Joshua Tree will take you on a handful of short hikes and to two key places in the park for epic views while also leaving space for you to pull over whenever you feel like it to snap a couple of photos or just take in the vastness of Joshua Tree.
At the end of this itinerary, I will provide you with some key tips for your day trip including what to wear, what to pack, and other considerations for desert conditions. But for now, let's get going with your epic day trip to Joshua Tree.
This post contains affiliate links, which means that, at no additional cost to you, I will earn a tiny bit of income if you decide to make a purchase or booking.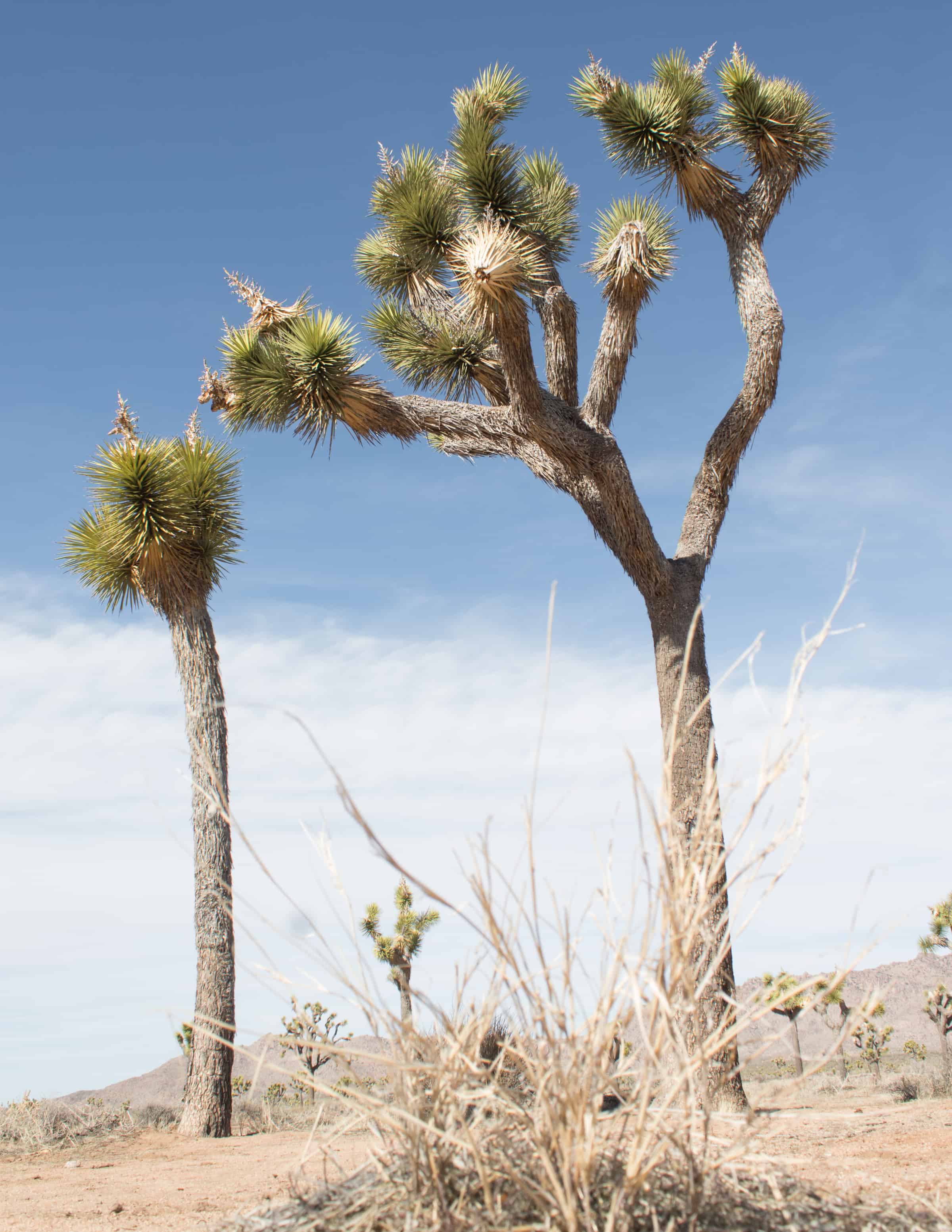 Sunrise at Cholla Cactus Garden
Upon arrival into the park, I asked the ranger for two recommendations: the best sunrise spot and the best sunset spot. For sunrise, she recommended the Cholla Cactus Garden (I'll get to sunset later), and let me tell you she was 100% correct.
The Cholla Cactus Garden is filled with short little cacti, also called Teddy Bear Cactus. But trust me when I tell you, that these are nothing like your childhood teddy bear. Make sure to keep your distance from the cacti as their needles will grab on to you and they are incredibly hard to get out. There is actually a first aid kit located at the entrance of the trail just for this reason.
I arrived at the Cholla Cactus Garden about 15 minutes before sunrise and walked the short 0.25-mile loop a few times (mostly to keep warm) while waiting for the sun to rise. I'll admit, I was hoping for more colors when the sun did finally make its appearance, but then I realized that's not why sunrise is recommended here.
When the sun comes up, the Cholla Cactus take on an ethereal appearance, seemingly glowing in the sun's rays. And it makes these dangerous little buggers so damn beautiful.
You will want to be ready with your camera to capture the glow of these little guys.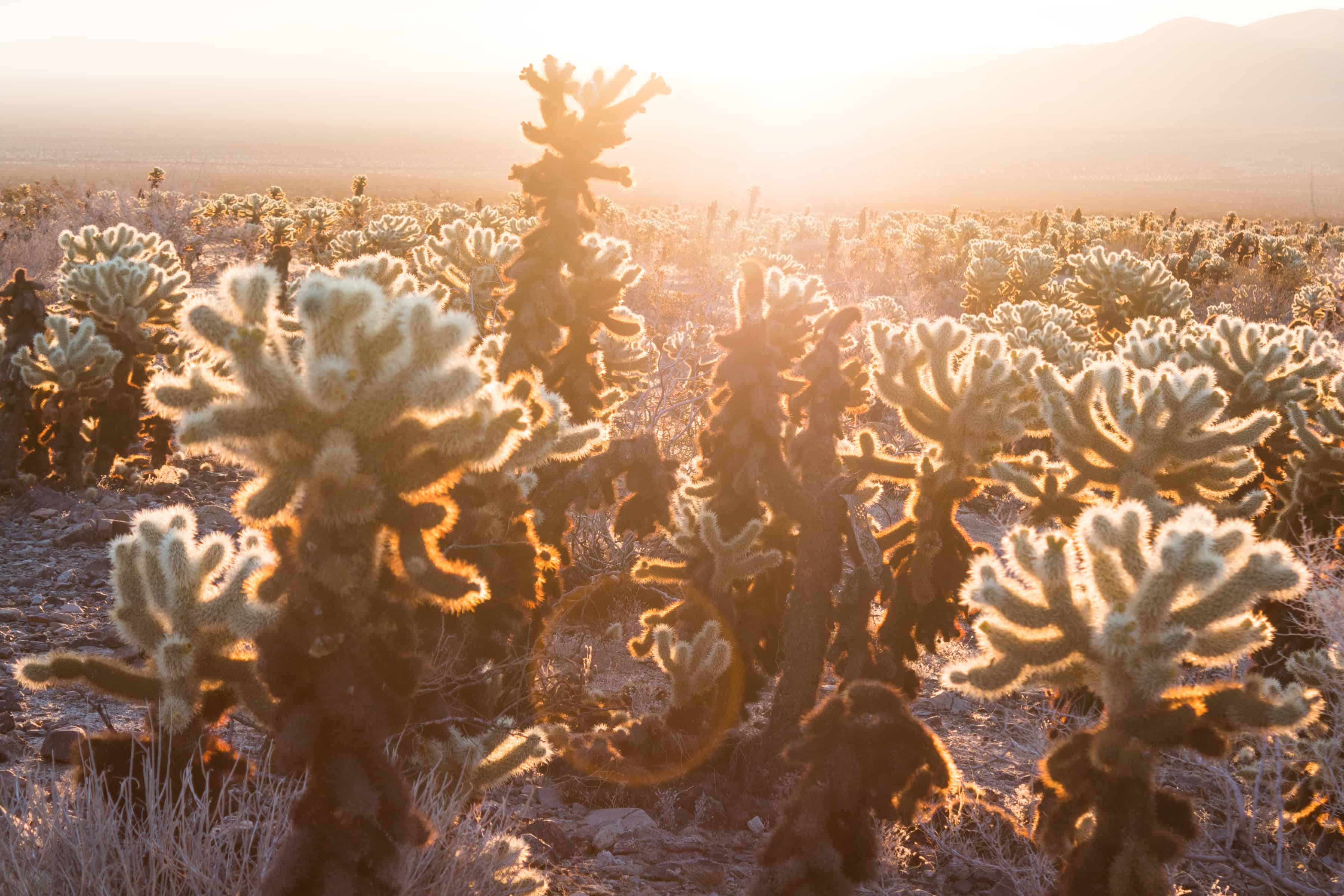 Split Rock Loop/Face Rock Hike
After sunrise, you'll drive further into the park towards Split Rock Loop. The rock giving this loop its name is actually located directly next to the parking lot. Also in this parking lot are restrooms and picnic tables, making this a great place to eat breakfast.
Once you've had your breakfast, it's time to start the mostly flat 2-mile loop. There are two trailheads, one located directly next to Split Rock and the other next to the bathrooms. This loop will take you through a variety of stunning rock formations that are a playground for climbers and, of course, quite a few Joshua Trees will make their appearance. Keep your eyes out for little bunnies, jackrabbits, and other desert wildlife on this trail.
Around the halfway point, you'll see a sign for a 0.38-mile offshoot to Face Rock. Take it. It's at most a 10-minute walk to this unique rock that takes on the appearance of a face. Can you see it?
Then return to the trail and finish the loop! 
Without stopping this loop will take you about one hour to walk, but you'll want to stop to take plenty of photos. It is also a very exposed walk, so be sure to wear sunscreen, bring plenty of water, and dress in layers.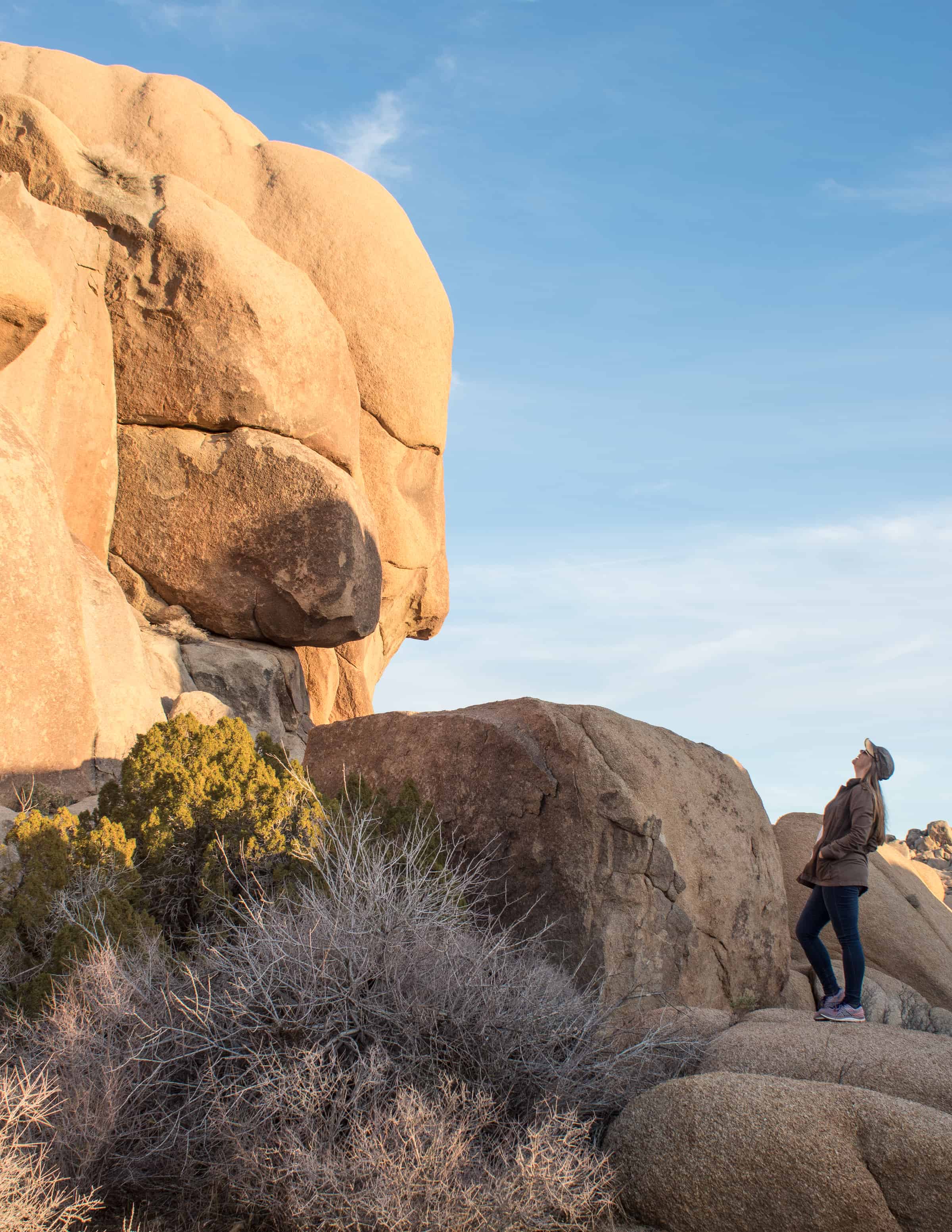 Arch Rock Trail: An Alternative Option
An alternative option to Split Rock Loop, or even an addition if you want to skip the upcoming Ryan Mountain Trail, is the Arch Rock trail.
This easy 1.3-mile trail is located in between Cholla Cactus Garden and Split Rock Loop, which makes it an excellent alternative, or addition, to this itinerary. 
I planned to hike this trail the morning of my Joshua Tree departure, after sunrise at the Cholla Cactus Garden, but after a day where I hiked the other trails mentioned here, my legs were giving me a hard no. I actually pulled into the parking lot to do this hike, but I just couldn't find the motivation to put one foot in front of the other.
So this is firmly planted on my "must hike" list for my next trip to Joshua Tree. But if you decide to do it, please tell me all about it!
Skull Rock
Skull Rock is just up the road from Split Rock and is a huge Joshua Tree attraction as it is easily accessed from the street requiring almost no hiking. Park on the side of the road here to snap your photo of this rock, but expect quite a few people.
To escape the crowds that congregate at Skull Rock, talk a walk towards Jumbo Rock Campground to marvel at all of the rock formations. quieter take some time to wander the side trails. They're really fun to walk along and watch the light play on them.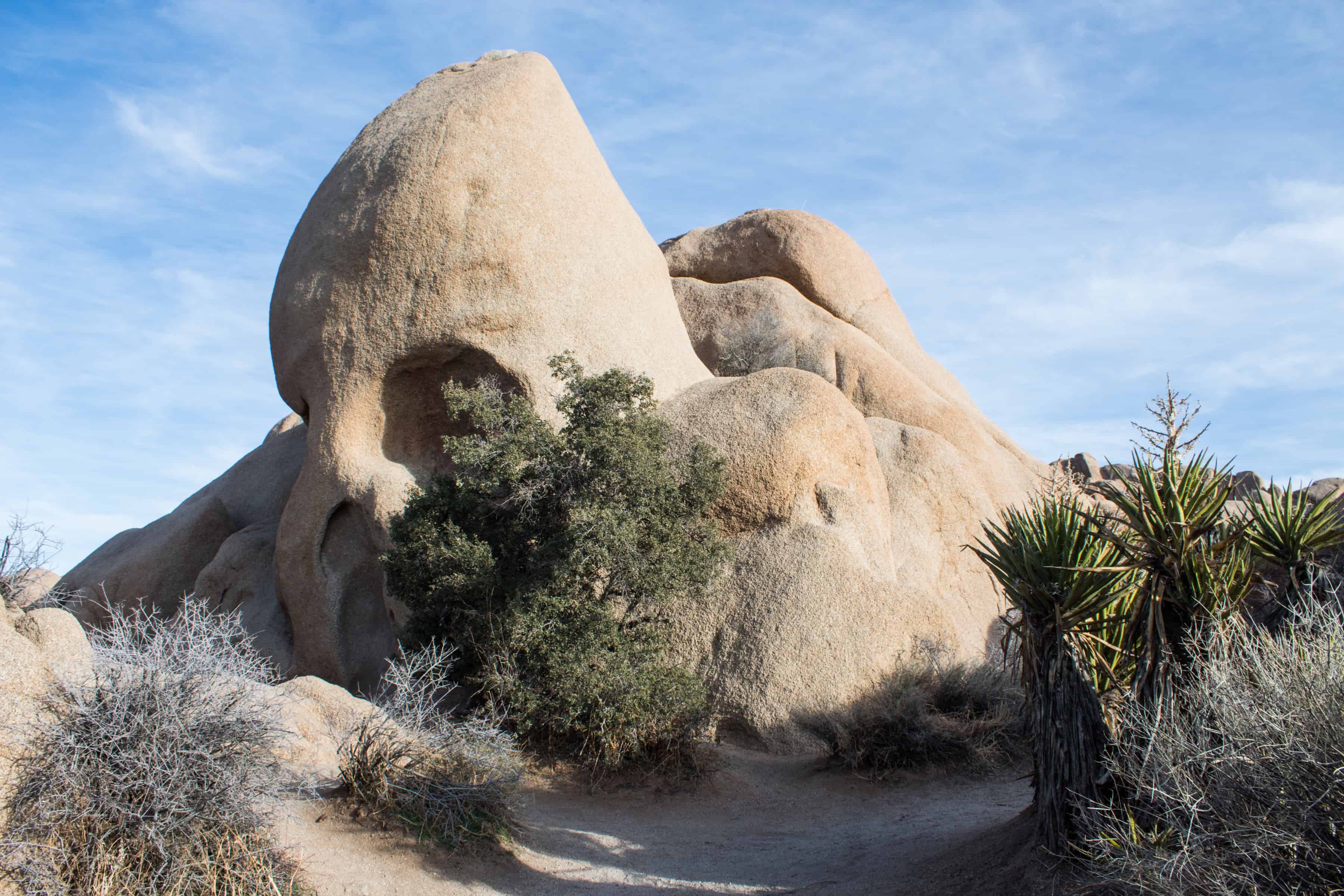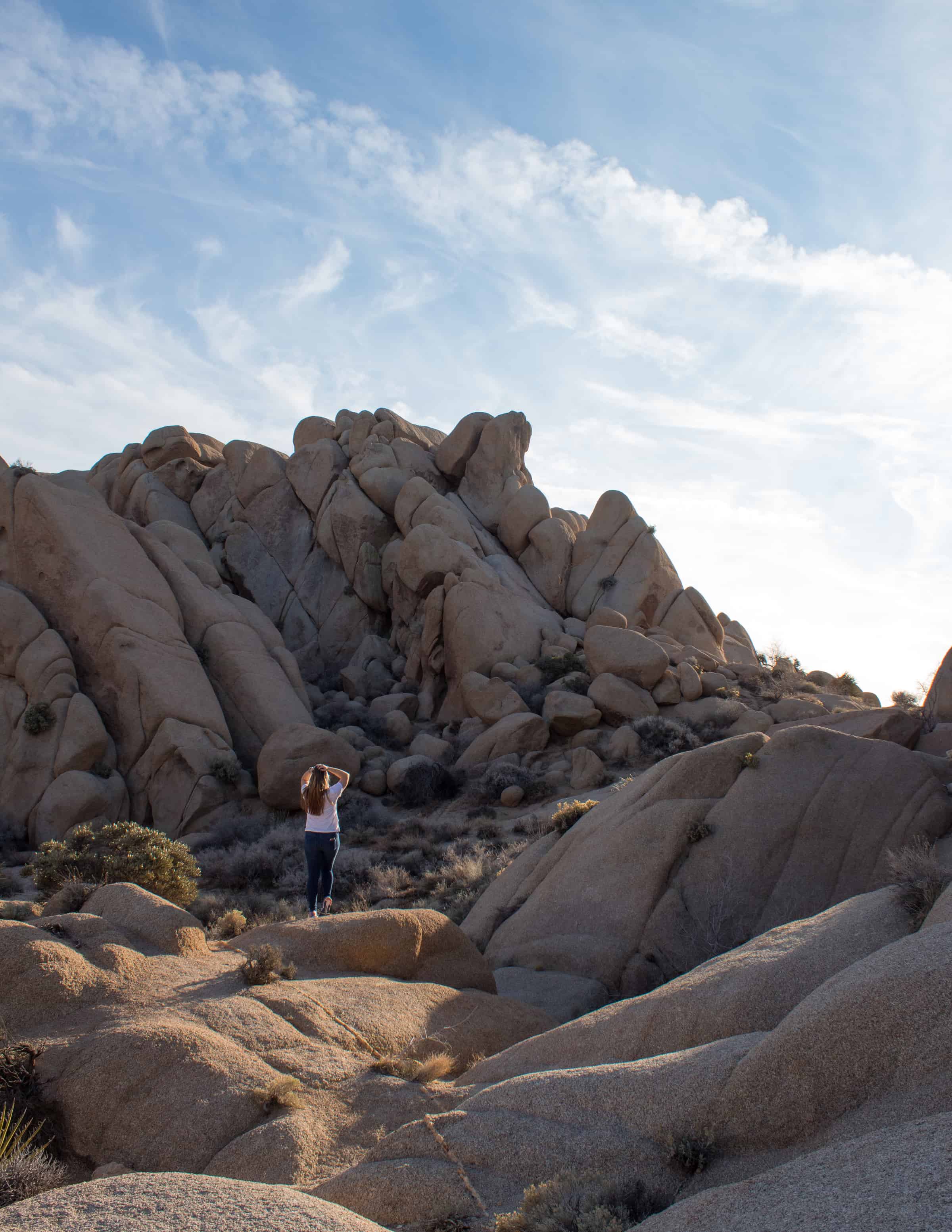 Lunch at the top of Ryan Mountain Trail
Ryan Mountain Trail is no joke. This is not an easy hike. I would not recommend this hike at midday in the summer. I hiked it in January when the temperature was hovering around 60* and found it challenging. If you're visiting Joshua Tree in the summer, please use common sense, exercise caution, and do not do this hike in midday. 
Why?
The trail seems easy on the surface, only a 3-mile trail. 1.5 miles up and 1.5 miles back. Except for the fact that the first 1.25 miles you gain an elevation of 1,000 feet on what feels like the stairs from hell. And I've climbed some crazy stairs when I hiked up Machu Picchu Mountain and that was an even higher elevation.
This felt worse because it is completely exposed to the elements.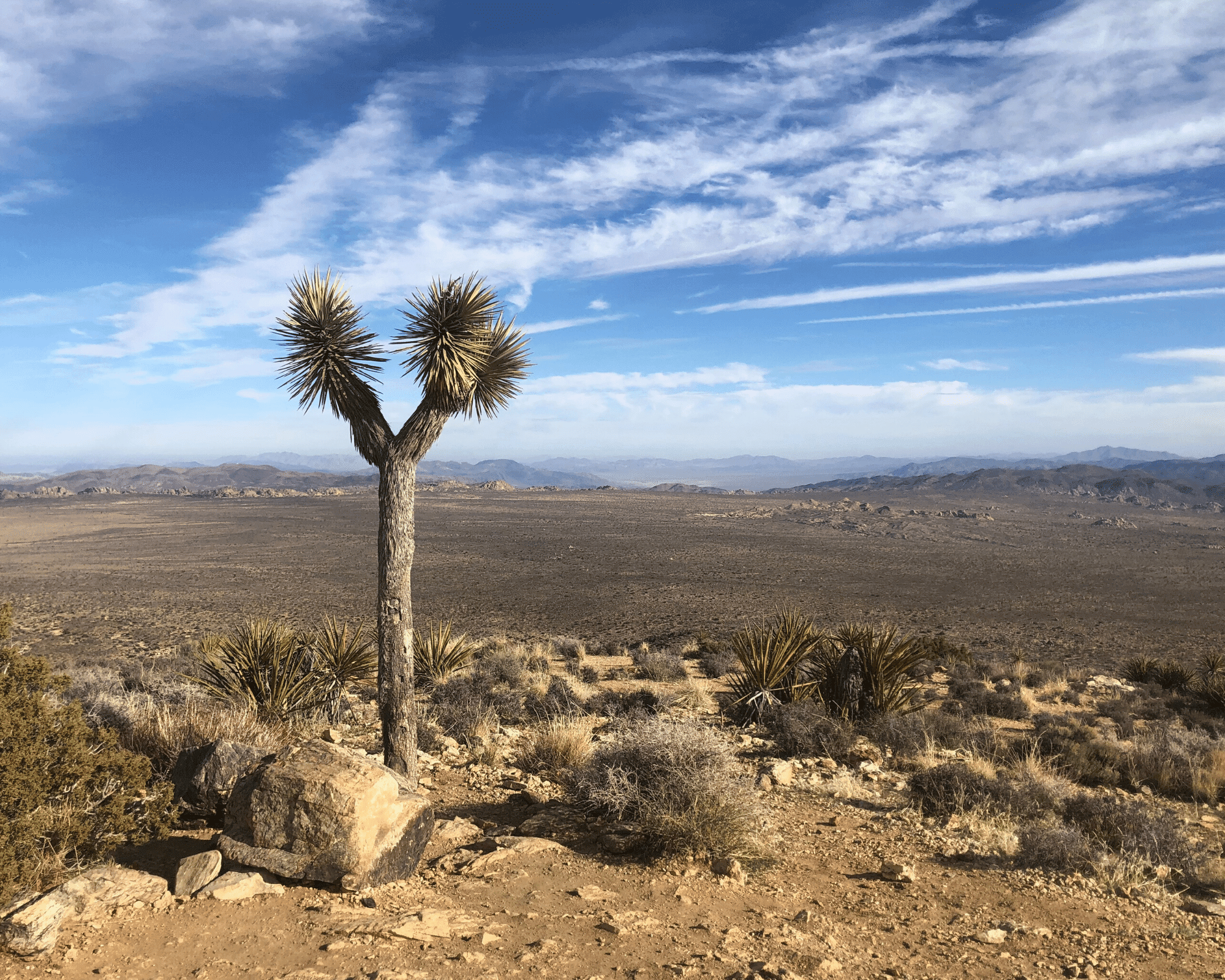 So why do it?
Your hard work will be rewarded with 360 views of both the Colorado and Mojave deserts that make up this varied landscape.

You will get a birds eye view of the jumbled rock formations, Joshua Tree forests, and even the San Bernardino mountains. In fact, since I visited in January, I could see the snow on top of the mountains.
It's quite literally breathtaking. 
Once you reach the summit, find a rock to relax on, catch your breath, and eat your lunch. You've definitely earned it.
With plenty of stops on the way up, relaxing at the top, and then going as fast as my knees would allow on the way down, this 3-mile trail took me a total of 2 hours.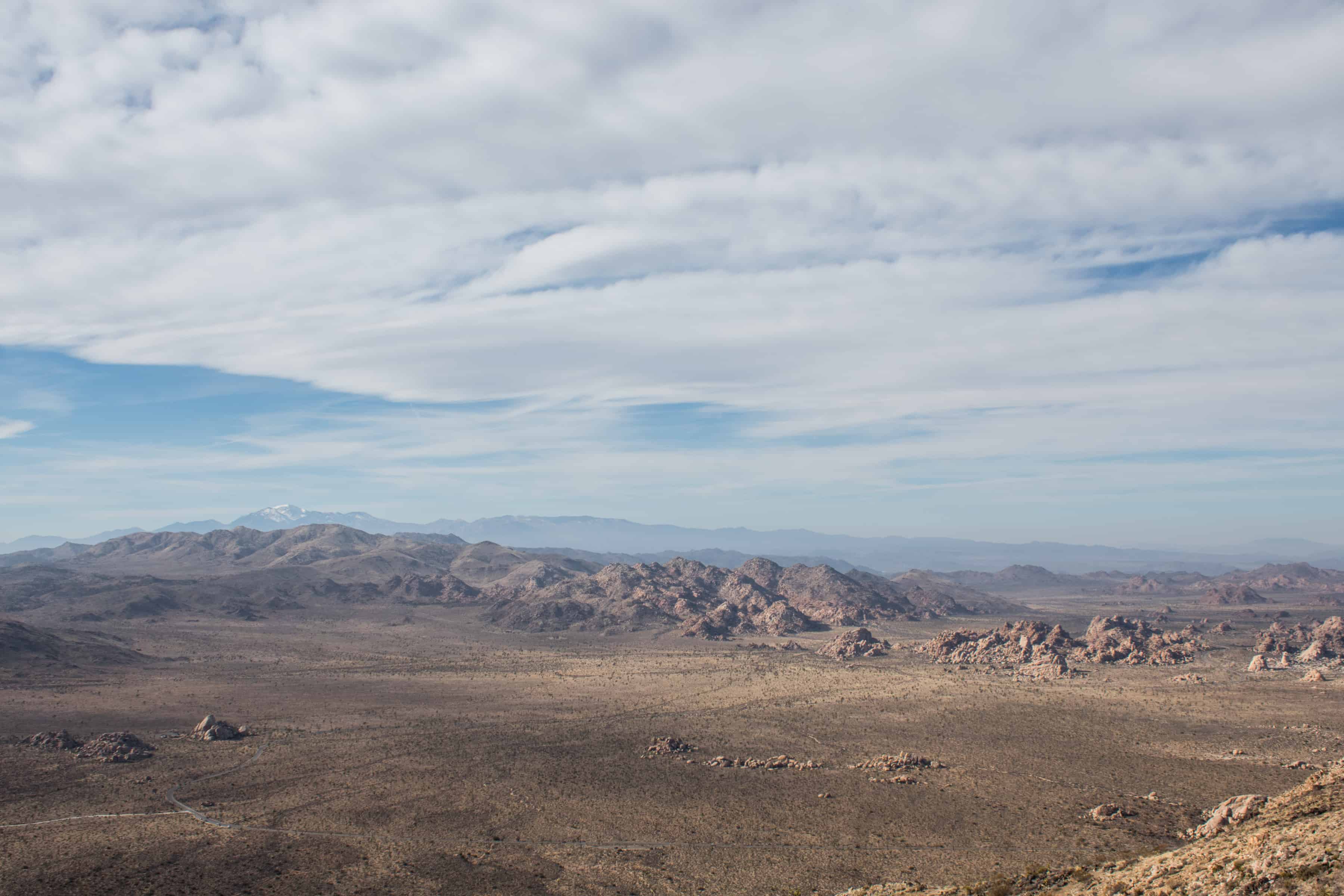 Barker Dam
I know there are quite a number of hiking trails in Joshua Tree and I've barely scratched the surface of them, but Barker Dam was my favorite during my day in Joshua Tree. 
The one thing I was craving as I drove through the park was a walk through a Joshua Tree forest. I kept pulling over to the side of the road to stand beneath them and take photos, but all that I wanted was to walk through a field of them and soak it in.
That's what the Barker Dam trail offers. You get a little bit of everything, and a surprise, with this easy one-mile loop.
The first attraction of this trail is Barker Dam. Which quite honestly, when I was there, was a bit disappointing because the water levels were quite low. But it also reminded me of the strength and resilience that the wildlife and plants must possess to not just survive, but thrive in these barren conditions.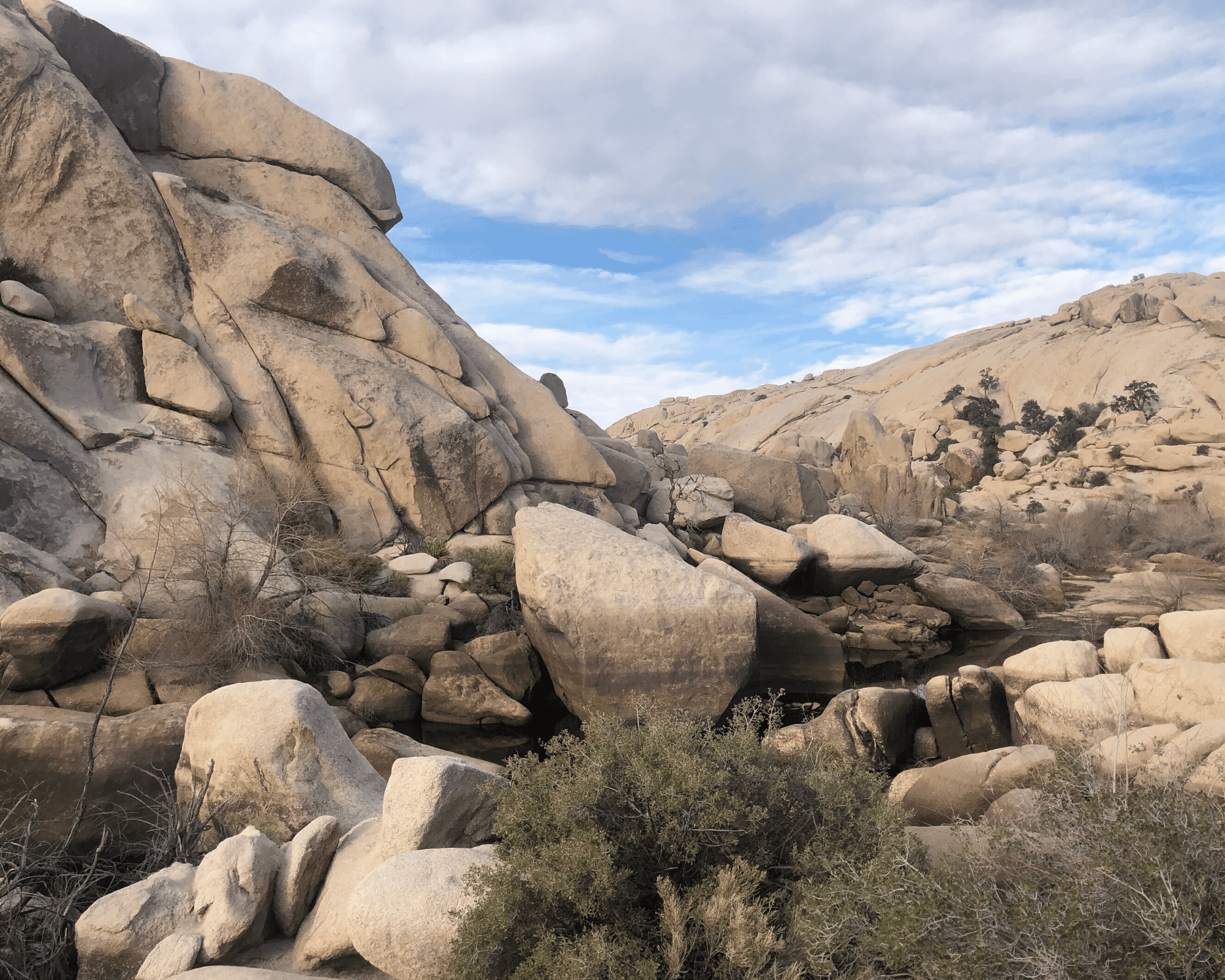 From the Dam, you'll scramble along the rocks, which is always fun, and come into the Joshua Tree forest. Joshua Trees will surround you on all sides as you wander this flat trail.
Just before sunset is a great time to walk through this portion of the trail as you can watch the colors of the trees change as the sun begins to lower.
The surprise of this trail is a small cave just steps off of the path. On the walls of this cave, you'll find petroglyphs that tribes used to communicate with each other when they lived on this land.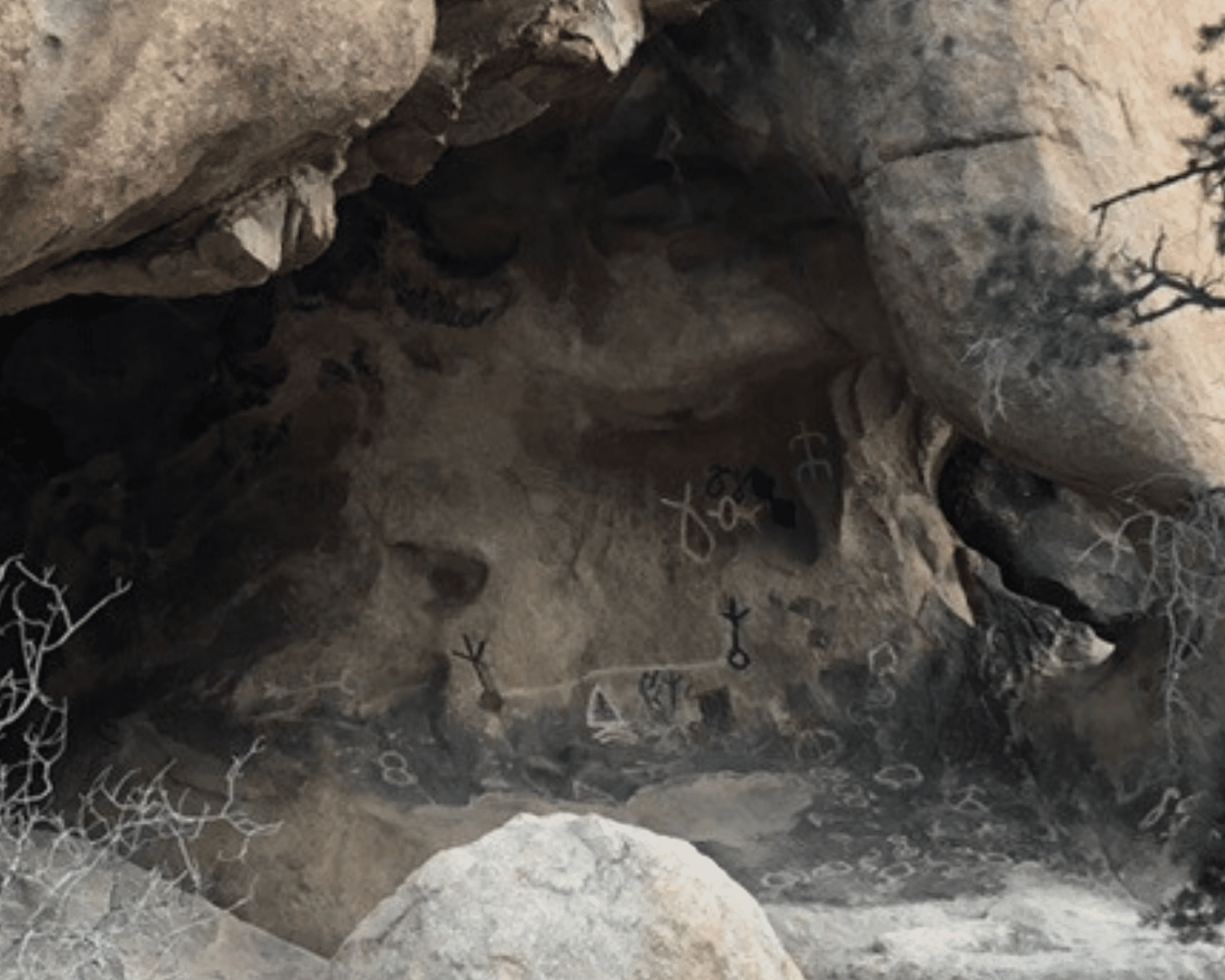 It's amazing to see their way of life still etched in stone.
From the petroglyphs you're just a hop, skip and a jump to your final stop in the park.
In total, this walk took me 35 minutes, snapping pictures as I went.
Keys View for Sunset
The first thought that will pop into your head as you step out of your car and catch your first glimpse of Keys View is WOW, that park ranger was spot on.
On a clear day, you can see Mt San Jacinto, Mt San Gorgonio, and the San Andreas fault line. I did not get a clear day which made this place even more magical.
The fog had settled into the valley below turning the mountains behind a soft shade of blue. Almost as if I stepped into a Bob Ross painting, happy clouds, and happy rocks.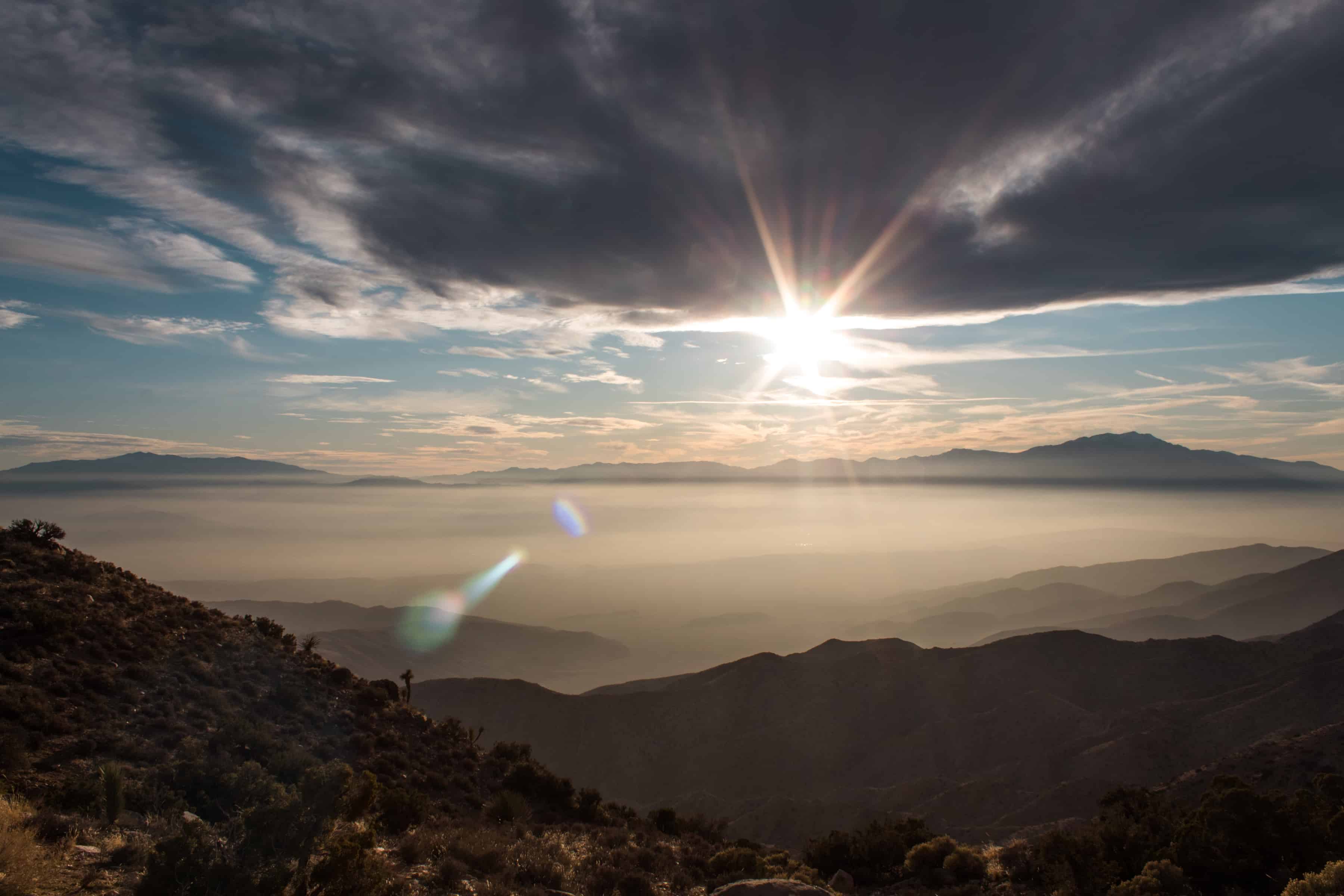 Keys View is a popular place for sunset, with many people walking the path to the left, I suggest walking into the mountain on the right of the parking lot, finding a rock, and watching the sun go down from there. It's a bit more peaceful and you will get an unobstructed sunset view that you will not soon forget.
Stay a little bit longer after the sunsets because the sky will light on fire with vibrant oranges and deep purples.
Don't worry if it's too chilly for you and you want to make your way back down the hill. You will still see stunning colors in the sky and there are plenty of pull-outs for you to take a break and witness the beautiful magic of a sunset in Joshua Tree National Park.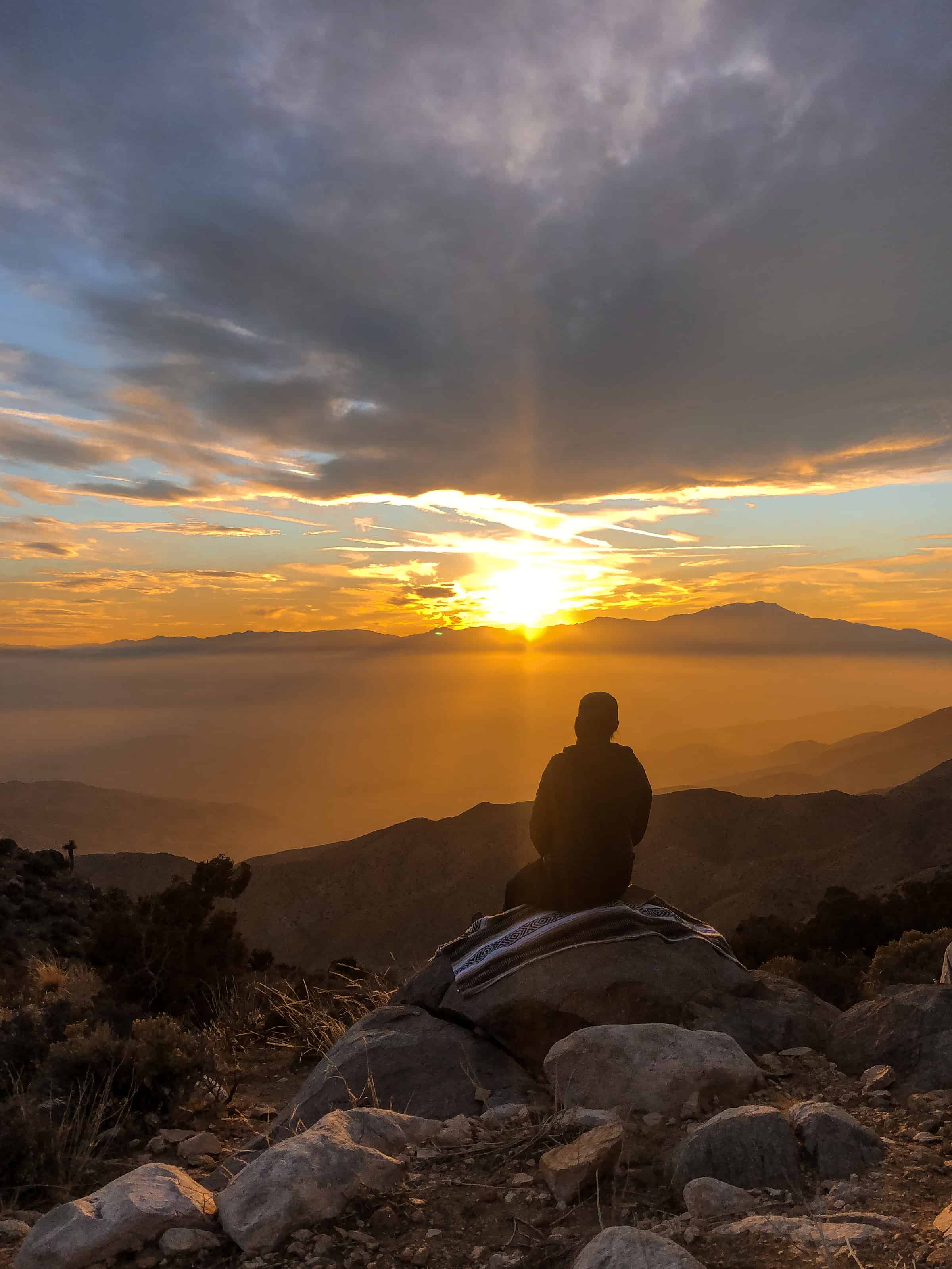 Dinner at Pappy & Harriet's
Now that the sun has set on your Joshua Tree day trip, it's time to leave the park and head for Pioneertown for dinner at Pappy & Harriet's.
Pioneertown is a former movie set where many Wild West films were shot in the 1950s and 1960s. The buildings still stand, selling various goods, but the real gem is the old school saloon, Pappy & Harriet's.
This place gets packed so be prepared for a wait, or even to be turned away if there is live music. I grabbed a spot at the bar, which is always a great place to eat as a solo traveler.
From my spot at the bar, I learned that this saloon has seen all kinds of people come through its doors. It used to be a biker bar, the type of place a solo female traveler would probably not want to find herself in the desert. A sign is still posted above the bar details a strict no fighting rule.
I chuckled at this as I looked around the bar eating my bison burger and macaroni and cheese (which was so damn good after all that hiking). On one side of me sat a gay couple and on the other sat a straight couple with bike helmets. Across the bar, at tables, I noticed large groups of families and at the back of the saloon the sound stage. 
This is a place with history, grit, delicious food, and a welcoming vibe. The perfect location to fuel up for your drive back to Palm Springs.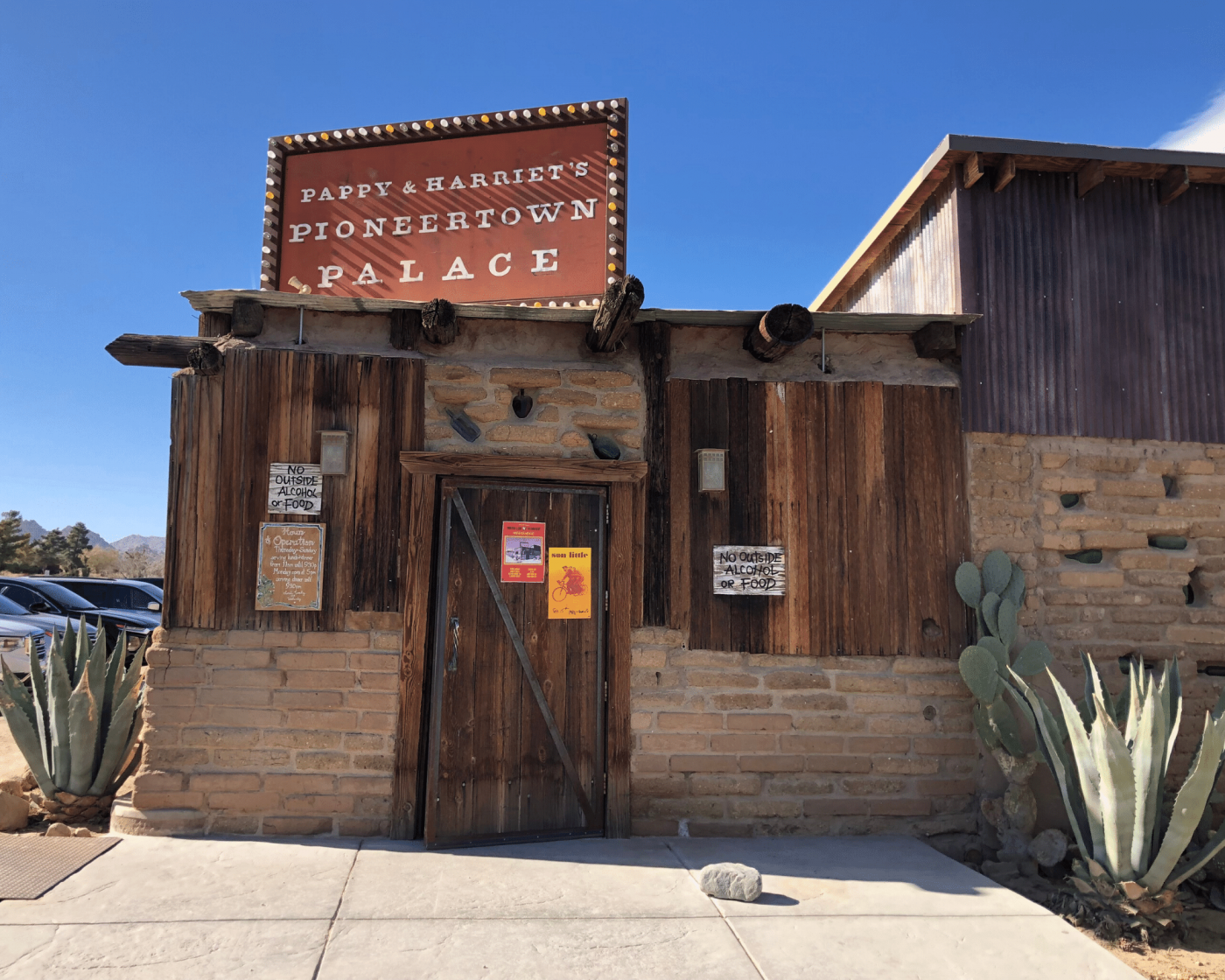 Entrance Fee for Joshua Tree National Park
You can purchase your park pass at either the visitor center or the park entrance. It costs $30 per car for 7 days.
If you plan on visiting at least 3 National Parks in a year then you might want to consider the America The Beautiful Annual Park Pass for $80. You can get one there as well! I've used mine at Joshua Tree and Pinnacles National Park so far this year!
Where to Stay Near Joshua Tree National Park
As I said, I recommend staying near Joshua Tree National Park so you don't have to get up at the crack of dawn to accomplish everything on this one-day itinerary. But, Joshua Tree is unique in that there is no "proper" lodging within the park.
You will have to stay in the neighboring towns of Indio, Joshua Tree, or Twentynine Palms. Airbnb has made this incredibly simple as there are a number of unique lodging options within close proximity to the entrance of the park.
I found an incredibly chill place located in Twentynine Palms that was only 20 minutes away from the park's North Entrance.
Check out your Airbnb options here!
If camping is more up your alley there are a number of campgrounds located in the park, most are on a first come first serve basis. Camping means you will have some excellent stargazing at night!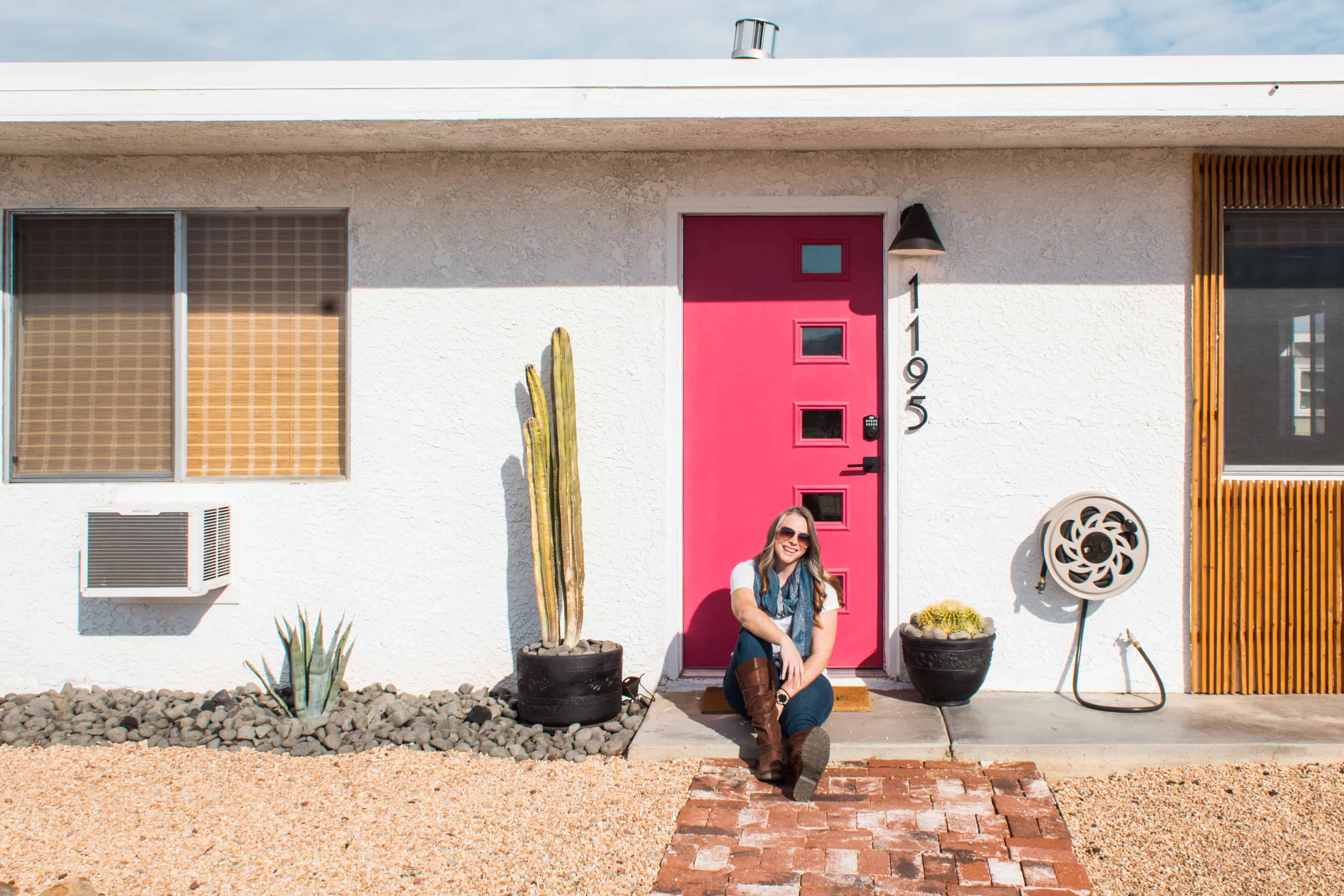 What to Eat in Joshua Tree National Park
Nothing. Just as there are no lodging options there are no food options within the park. There are also limited options for refilling water.
Make sure you come prepared with plenty of food and water – more than you'll think you need. I filled up my 2L water reservoir, a Hydroflask, and brought a Kombucha with me. I finished it all by the end of the day.
Pack extra water in your car and every time you leave the car, take water with you. Also consider taking electrolyte tablets, like these Nuun ones, to help with rehydration, especially in the summer months.
Good food options to pack with you:
Trail mix

Granola bars

Hard-boiled eggs

Nuts

Peanut butter & jelly sandwiches

Tuna on the go packs

Apples

Bananas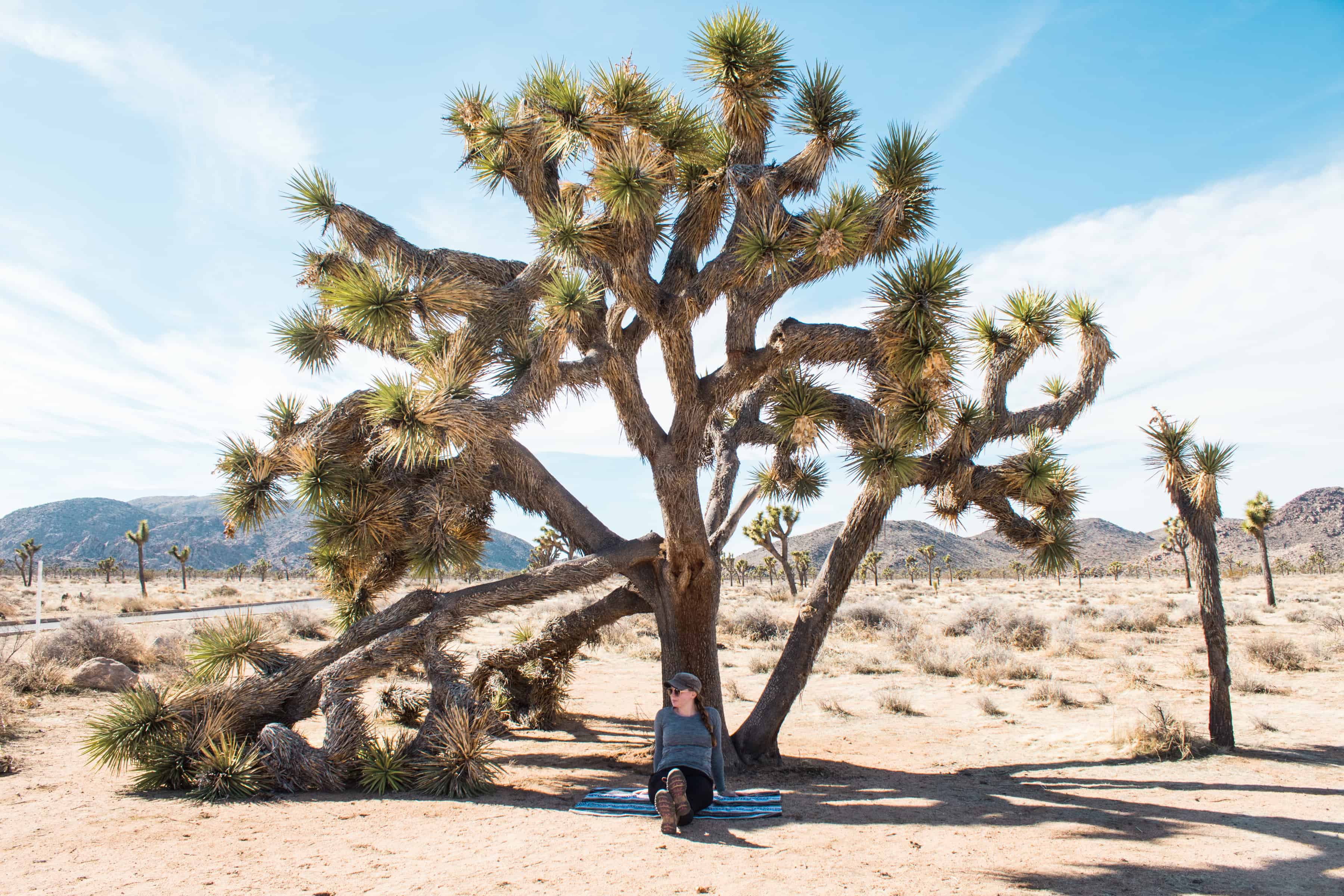 Safety Considerations in Joshua Tree
Joshua Tree is a desert, which means it is extreme. In the summer months, you'll have incredibly hot and dangerous temperatures during the day and incredibly cold and windy weather at night. The winter and spring are milder, but it is still important to know the weather conditions.

Keep water with you at all times.

The park and its trails are very well marked, be sure to stay on the trail at all times. The rocks while all unique can get confusing.

Don't attempt trails close to sunset. I did this on the Split Rock Loop my first night in the park and almost didn't make it back to my car before dark.

Tell people where you're going, share your location with people on your phone, just in case anything happens.

You will have limited to no cell phone service in the park. The only place I had it was at Key's View. Make sure to download a map of the park offline. I used Google Maps to do so.
What to Wear in Joshua Tree
Use sun protection. Lather on that sunscreen (I love SunBum), where a wide brim hat and sunglasses. When the sun is high those rocks are bright!

Dress in layers. A light long sleeve shirt will help protect your arms when you're hiking the sun-exposed trails, but at the top of the mountains the wind picks up so you'll want a jacket to pull on. I saw lots of people in shorts, but I always hike in pants because I'm weird about plants brushing my legs. Whatever you wear, make sure you have options for heat and wind!

Hiking boots, trail shoes, or sturdy sneakers. The ground is sandy and uneven, you want to support your body with a solid foundation. Darn Tough socks are my go-to hiking socks. I've never had a blister with them!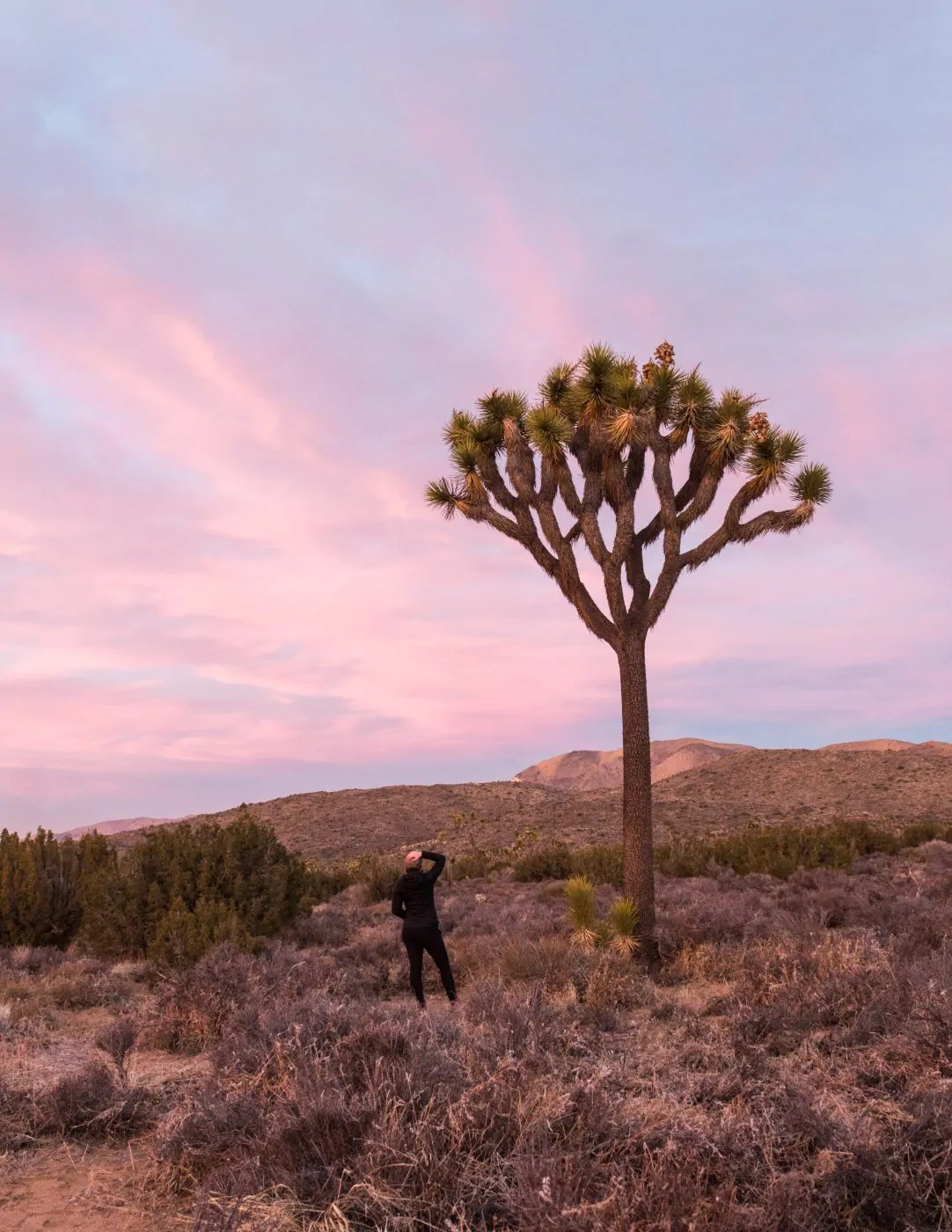 You are now well prepared for a pretty epic day trip to Joshua Tree. There is so much that this park has to offer, but this itinerary gives you a good variety of ways to experience the beauty of Joshua Tree National Park. Tell me in the comments below: what you're most looking forward to on your day trip to Joshua Tree?
Like this post? Pin for later!