After a week filled with chaos and fear surrounding the COVID-19 pandemic, I decided to take a day trip to Pinnacles National Park.Pinnacles National Park is a newcomer to the National Park scene as it was a National Monument until 2013 when President Obama changed its designation. I knew none of that at the time of my visit, all I knew was that I needed open spaces and a physical challenge to clear my head from the current news. The hikes in Pinnacles National Park became my beacon of hope. As soon as I entered Pinnacles, I immediately felt a release wash over my body, the tension alleviate slightly, and knew I made the right decision.
Over the next 4.5 hours, I walked through pitch-black caves, sat on the bank of Bear Gulch reservoir, climbed up steep rock stairs of the High Peaks Trail, and watched a California condor glide effortlessly through the rocky landscape. Hiking through Pinnacles National Park helped me release the weight I'd been carrying with me for weeks.
I hope that by the time you're reading this post, the pandemic is long behind us. But the reality is that we are all facing some sort of challenge, some sort of heaviness, that can be lifted, if only for a few hours, by stepping into the outdoors. And Pinnacles National Park is a great place to do just that.
But what hikes should you do when you get there…and how do you even get there? This post will give you all of the details so you can plan a great escape to Pinnacles National Park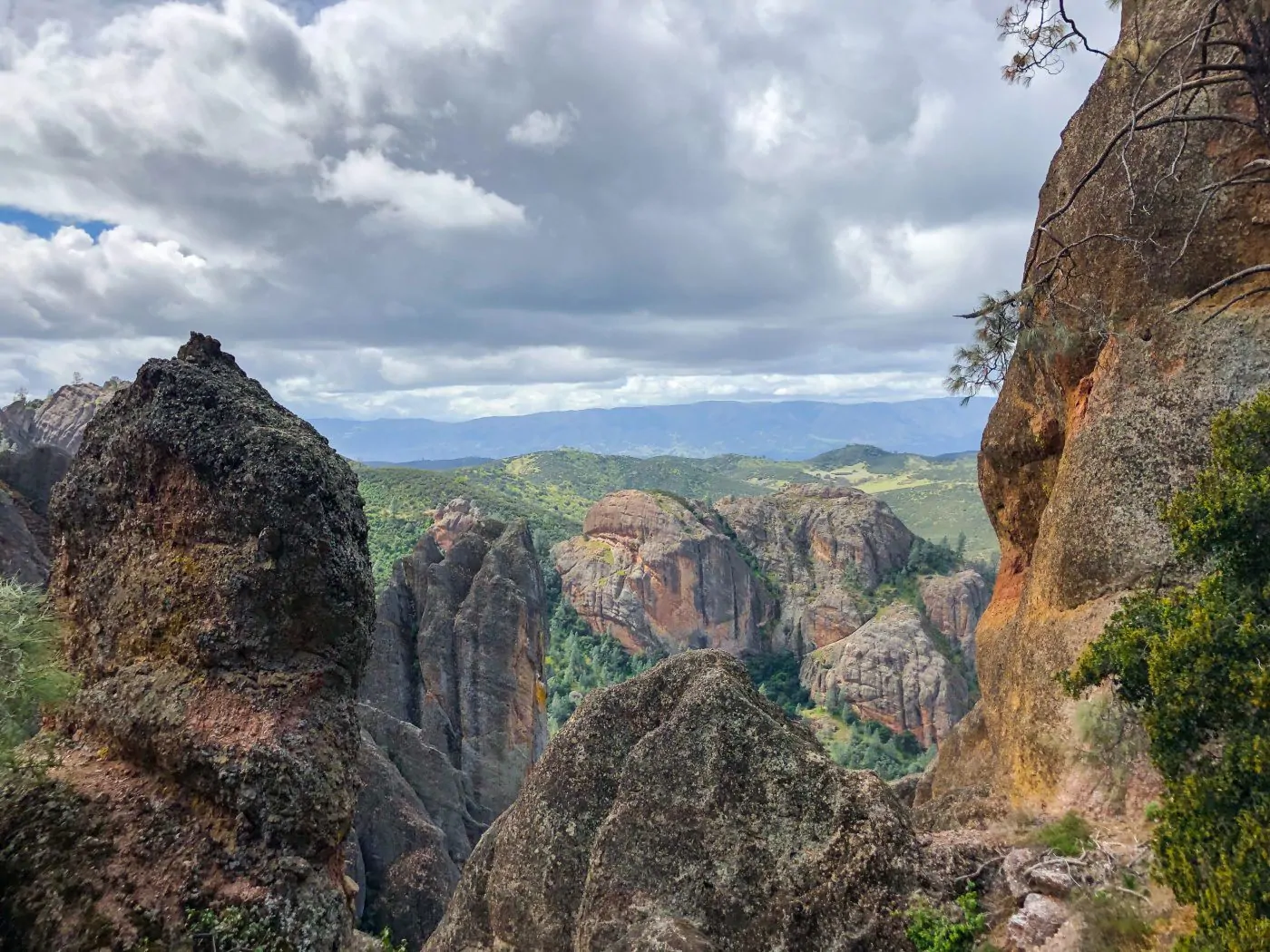 This post contains affiliate links, which means that, at no additional cost to you, I will earn a tiny bit of income if you decide to make a purchase or booking.
Planning Your Visit to Pinnacles National Park
There are a few things to consider when planning your trip to Pinnacles National Park. Do you want to camp? Will you make it a day trip or part of a larger California road trip? What should you wear and what's the best time of year to visit?
I'll answer all of those questions and more in this section. But first, a few facts about this lesser known National Park.
A Brief History of Pinnacles National Park
The rocky landscape was formed by volcanic eruptions millions of years ago.
This land was home to Indigenous people for centuries, however, their stories are hard to find today.
Amah Mutsun Tribal Band and Chalon Indian Nation members work with the park to restore native plants.
Pinnacles is a release site for the California Condor – once extinct in the wild. Now Pinnacles is their home.
2013 President Obama changed the designation from Pinnacles National Monument to Pinnacles National Park.
Directions to Pinnacles National Park
Pinnacles National Park is in an excellent location for San Francisco Bay Area residents and visitors. It's only a two hour drive from the San Francisco Airport making it a perfect day trip option.
There are two entrances to Pinnacles National Park – the East and West Entrances. You'll find the Visitor Center and the majority of the Pinnacles trails at the East entrance. I used Google Maps without any issues, inputting Pinnacles Visitor Center as my destination. Or you could use these coordinates: 36.493545, -121.146646.
Please note that there is no road connecting the East and West entrances of the park.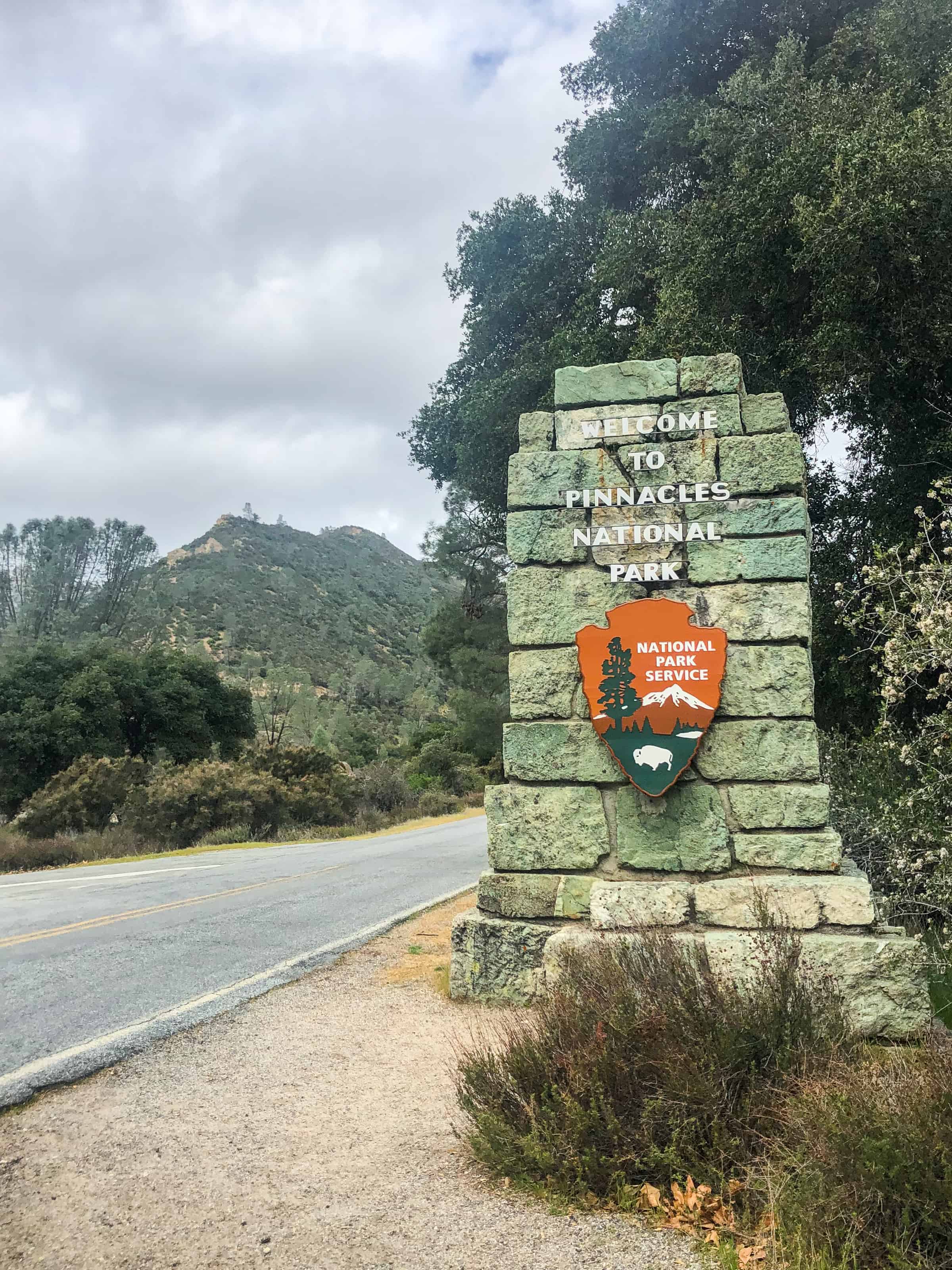 Camping in Pinnacles National Park
There is one campground within the park, Pinnacles Campground, located just beyond the Visitor Center at the East entrance of the park. On the weekend that I visited there were a number of RVs and boy scout troops camping in this area. The cost to camp ranges from $30 – $120 and you can find availability by visiting this website. 
Where to Stay Nearby
If you're looking for hotel accommodation, look into surrounding cities such as Soledad (closest to the West entrance), Salinas, or San Benito. At the time of my visit, staying in hotels was not recommended due to the Pandemic.
However, if you want to add Pinnacles National Park to a larger California vacation, instead of a day trip, consider spending the night in Monterey. Monterey is 1.5 hours away from the west entrance of the park. I think combining a day trip to Pinnacles National Park with a weekend getaway to Monterey is a great idea!
The Best Time to Visit Pinnacles National Park
During the summer months (May-Oct), temperatures have been known to reach 100* making hiking dangerous if you are unprepared. If you're planning your visit during the summer, do the bulk of your hiking first thing in the morning or in the evening. 
The summer months are an excellent time for stargazing. If you'd like to practice astrophotography or simply enjoy stargazing, book a campsite in the summer for excellent dark, and clear, sky conditions.
The spring is an excellent time to visit Pinnacles National Park as the flowers will be blooming! I went on an overcast March day and the flowers were just starting to bloom.
The late fall and winter brings cooler temperatures and the chance of rain. Be prepared for rain by dressing in layers and having rain gear available.
Always check the weather forecast before you go to ensure you're prepared!
Planning a Day Trip to Pinnacles National Park
If you're planning a day trip, please get there as early as possible. The Visitor's Center opens at 9:00 am and I highly suggest getting there before that, especially during peak months. The parking lots fill up quickly and there can be a line of cars waiting to just enter the park.
For example, I arrived at 9:45 am and entered the Visitor's Center to show my National Park Annual Pass and gain some insight on hiking in Pinnacles National Park. While the incredibly helpful ranger was highlighting my route on the map, she was notified that the Old Pinnacles parking lot was full, but there was still space at the Bear Gulch Day Use Area. Minutes later when I arrived at the lot I scored one of the last parking spots.
I left the park around 2:30 pm and found a line of about 8 cars waiting to just turn in to the Visitor's Center. And this was all on a gloomy March Saturday amidst a global pandemic. 
The website for the park recommends getting to the park around 8:00 am to secure a parking spot because the shuttle is not currently running due to the pandemic.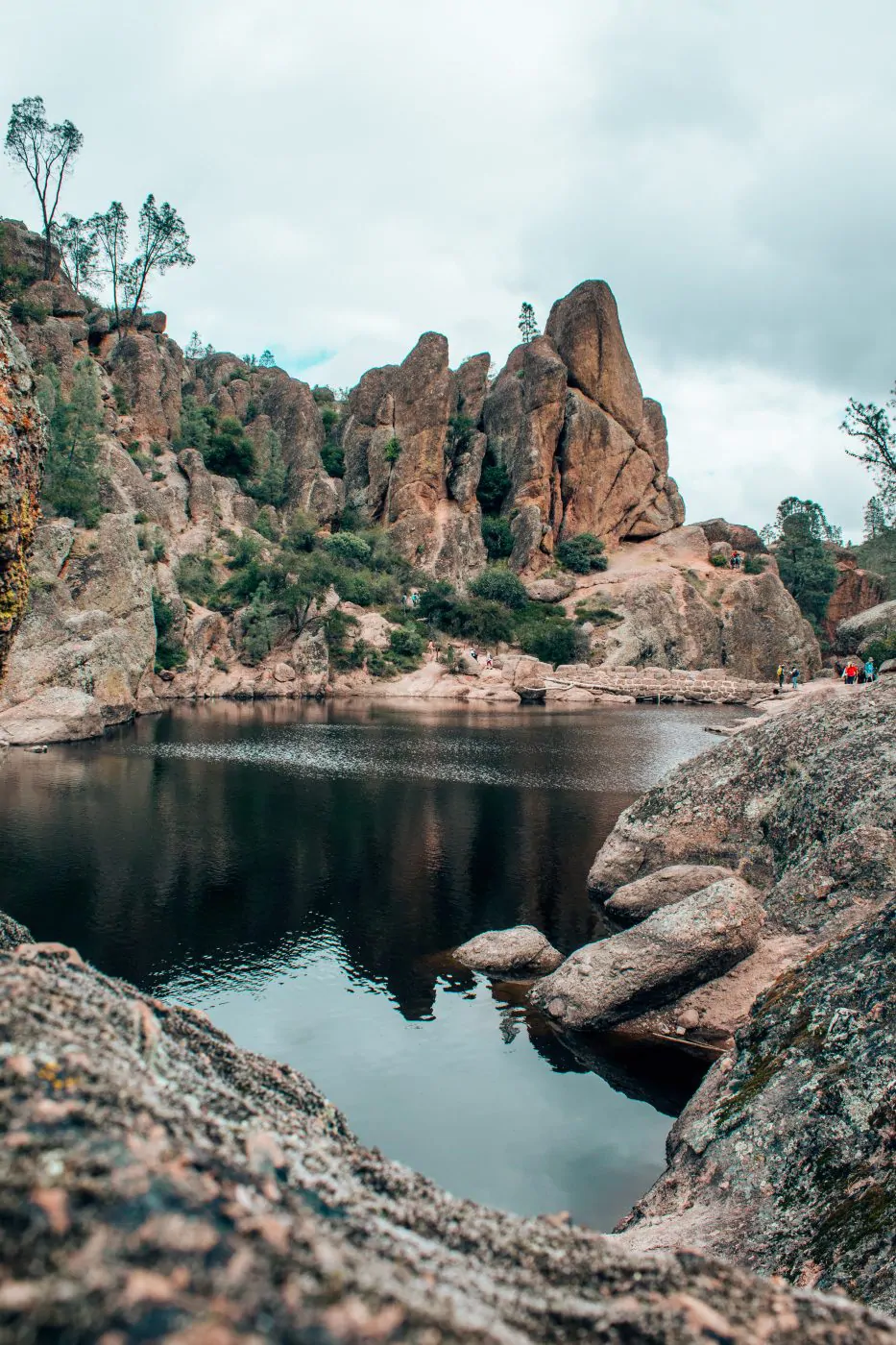 Cost to Enter Pinnacles National Park
It costs $30 per vehicle to enter the park and that pass is valid for one week. 
Or, you can purchase the America the Beautiful Annual National Park Pass for $80 (like me!). I think this is a solid option if you plan to visit three or more National Parks in one year. Pinnacles National Park is the second park where I used my pass, the first was Joshua Tree National Park.
Unfortunately, I wasn't able to use it a third time due to the pandemic, but it can also be used at Muir Woods if that's on your San Francisco itinerary.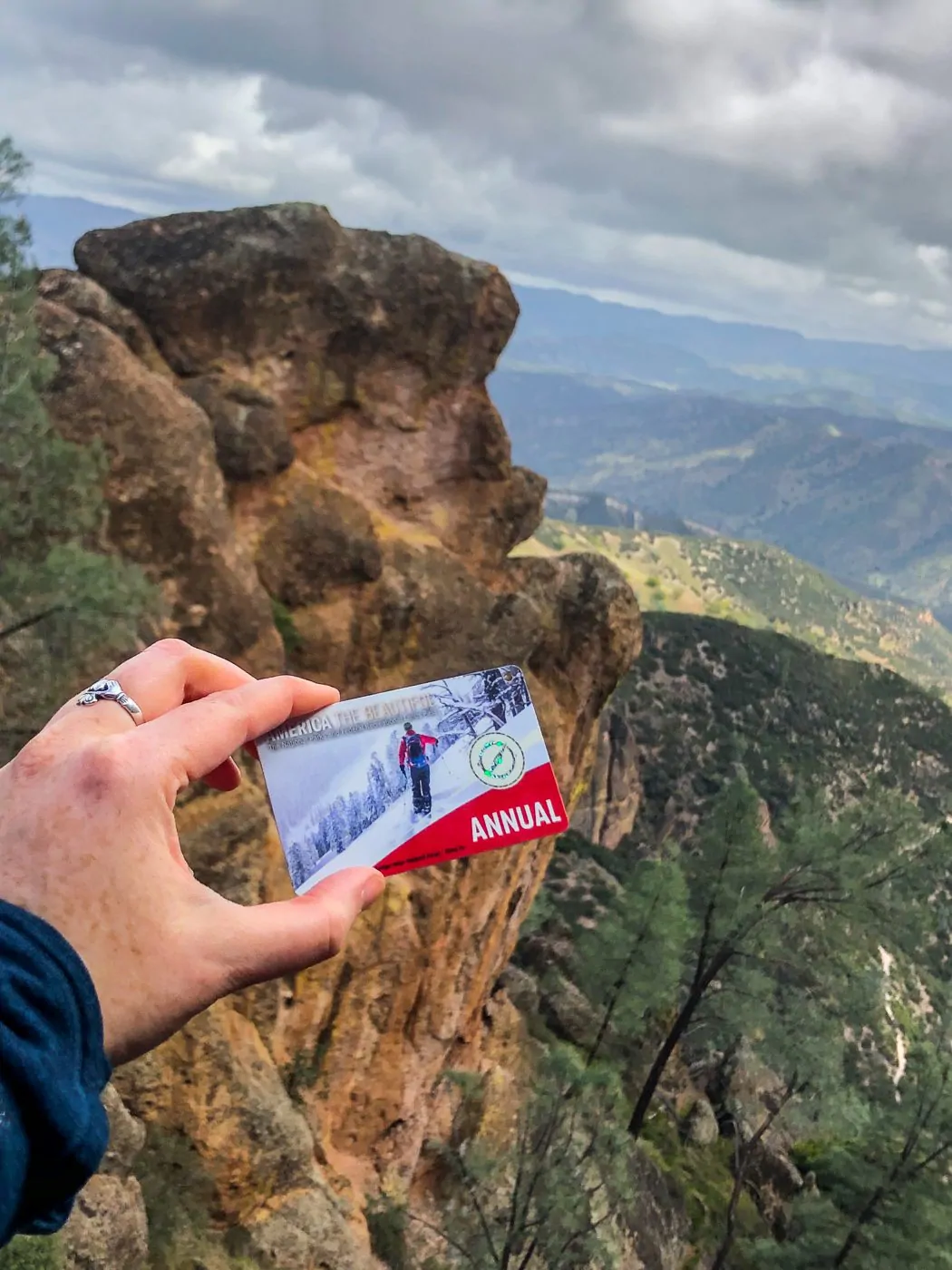 What to Wear to Pinnacles National Park
What you wear to Pinnacles National Park depends on the weather on the day of your visit.
Most of the hiking trails are completely exposed so on a hot day you'll want a sun hat, sunglasses, plenty of sunscreen, and perhaps UPF clothing. On rainy or cool days a rain jacket is a must. And always sunscreen no matter the weather!
Wear something that you can move in freely, will protect you from direct sun exposure, and allow you to breathe once you start working up a sweat! You'll also need sturdy waterproof hiking boots because the terrain is gravely and has plenty of loose rocks to contend with. 
As I said above, I went on a cool and rainy March day so I wore my typical hiking outfit, which includes a pair of Athleta pants they no longer carry (sorry). I also wore a t-shirt underneath a long-sleeved shirt, all from Athleta, in case I got too warm. I also carried a lightweight down jacket from Mountain Hardwear. And on my feet were my favorite Darn Tough hiking socks – these socks have kept my feet blister-free on hikes from Machu Picchu to Joshua Tree and now Pinnacles! I also wore my Keen waterproof hiking boots. I personally prefer hiking boots to shoes to help stabilize my ankles. 
What to Bring on Your Pinnacles National Park Hike
Plenty of water: especially in the summer and early fall. There is nowhere to refill on the trails. I went through my entire 2 L of water by the time I got back to my car.
Snacks: this is a challenging hike, I recommend packing plenty of snacks and a sandwich for lunch. My favorite hiking snacks are

Dried Mango
Trail Mix
Quest bar
PB&J sandwich

Sun protection: sunscreen, a hat, light clothing
Map: download the Google Map and the AllTrails map offline
Alright, now that all of the logistics are out of the way, let's get into what hikes you should do in Pinnacles National Park!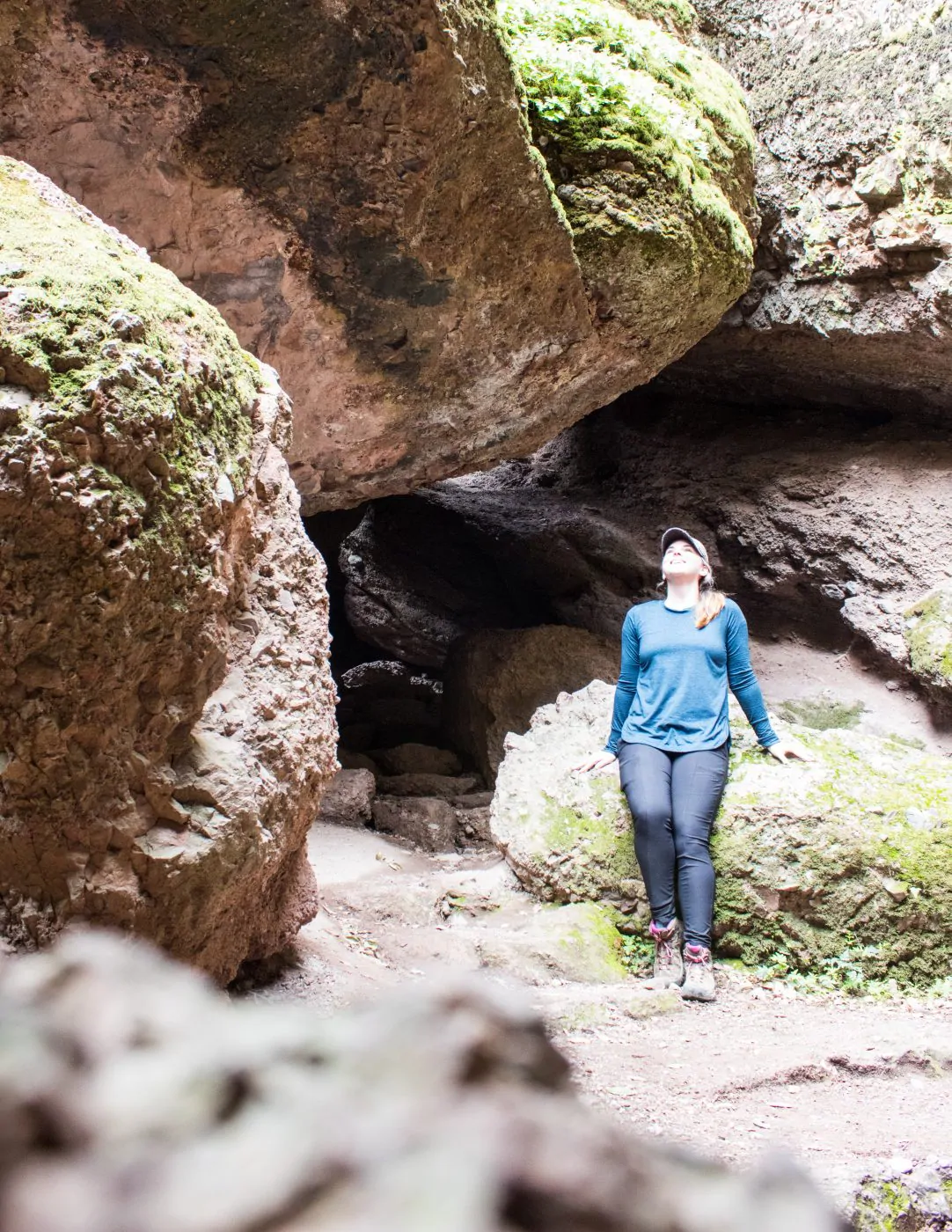 Hiking the High Peaks Trail inPinnacles National Park
The High Peaks Trail consists of a handful of smaller trails that lead to the High Peaks trail, culminating in a roughly 6.3-mile loop through the varied landscape of Pinnacles National Park. If you're not up for the entire High Peaks Trail, then you could complete any of these smaller sections as out and backs or smaller loops within the grander High Peaks Loop.
High Peaks Trail Overview
Distance: 6.3 miles
Elevation Gain: 2,570 feet
Terrain: rocky, steep and narrow sections
Difficuty: Hard
Bear Gulch Cave Trail
Bear Gulch Cave Trail is an optional part of the larger High Peaks Trail, but I highly recommend adding this to your loop. The first 3/4 of a mile you'll hike through a dense forest, studded with large boulders where rock climbers make their ascent. Then you'll scramble through talus caves home to a unique species of bats which force closure to the caves at different times throughout the year. These caves are pitch-black in sections, so be sure to bring a flashlight and watch your head. A large backpack will not fit through some of these small spaces. Finally, climb up the first of many narrow stairs into the expanse of Bear Gulch Reservoir.
Bear Gulch Reservoir is stunning. Stay here for a few minutes and take some photos. I recommend walking to the left for photos of the reservoir and the rock formations behind it.
If this is all you want to do today, then circle back taking the Moses Spring Trail, making it a loop!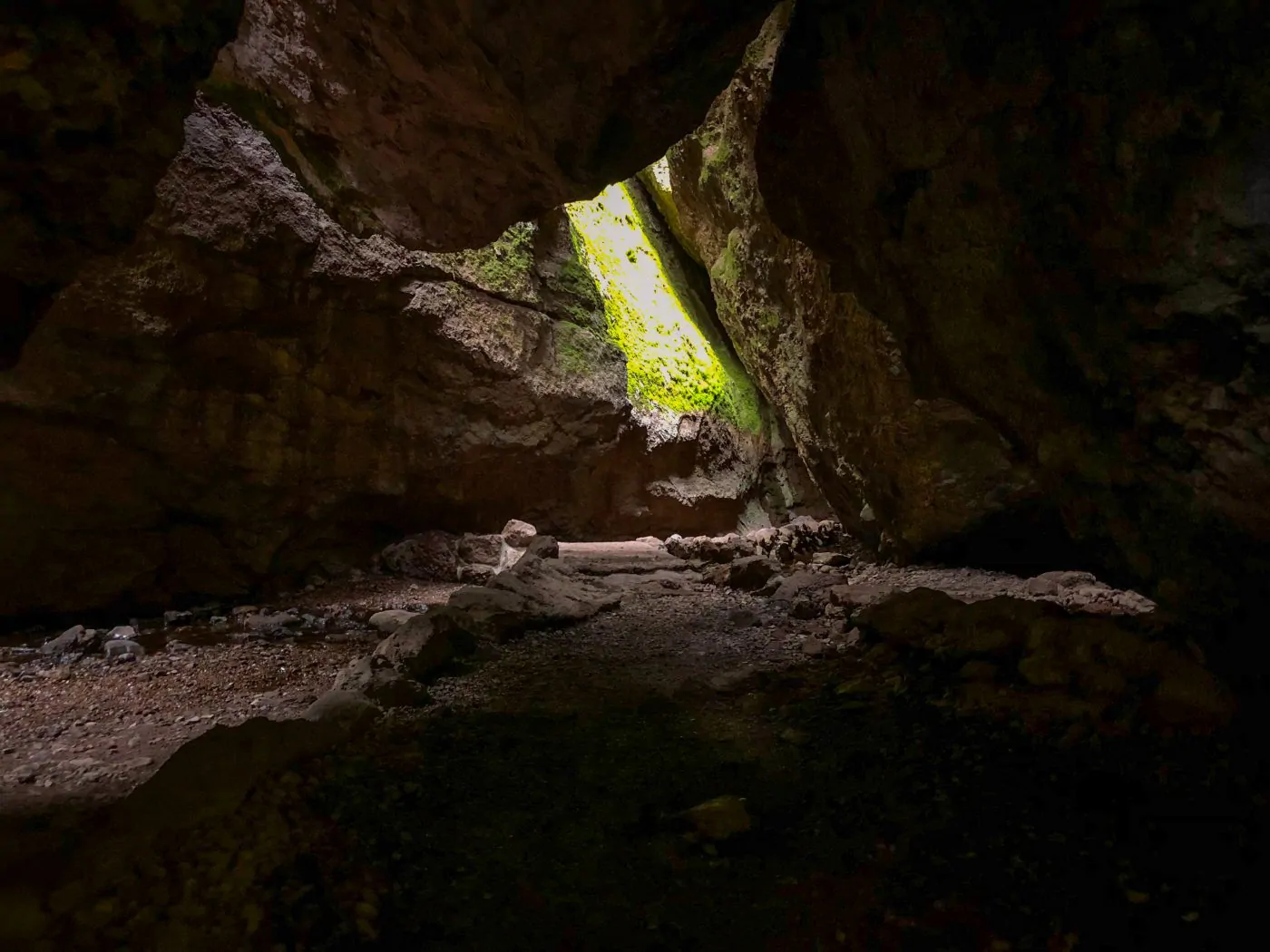 Rim Trail
After your time at Bear Gulch Reservoir follow the signs for Rim Trail which is a 0.5-mile scenic connecting trail to High Peaks. You'll reach a junction where turning left will allow you to continue on High Peaks and turning left will loop you back to Moses Spring Trail. 
High Peaks Trail
Now, you're officially on the impressive Pinnacles National Park High Peaks Trail. In the first part of the roughly 5-mile section of this trail, you'll climb at a slow and steady incline, through a set of switchbacks with those rocky spires urging you forward. Eventually, you'll come to an overlook with a bench and the only restroom on any trail in the park. Take a breather here, you'll need it for what's coming next.
This section of the trail is probably my favorite part of any trail I've hiked so far and it's appropriately named  "steep and narrow". It requires you to overcome your fear of heights and sheer cliff drop-offs as you climb up a "staircase" carved into the rock. The toe of your boot fits perfectly into the foot-shaped steps. Don't worry though, there is a solid railing for you to steady yourself.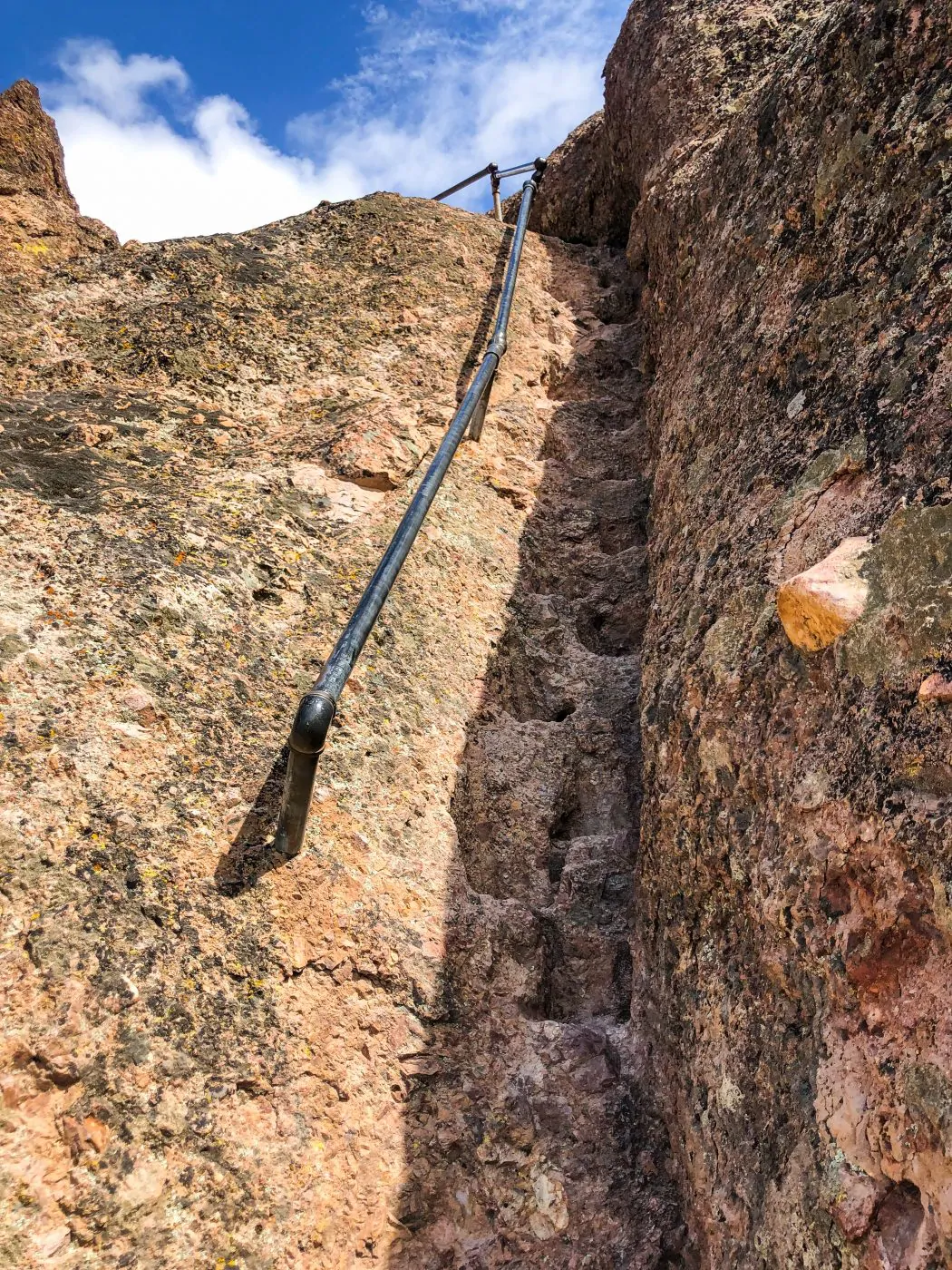 You'll climb up a series of these stairs until you reach the peak of the trail, at about 2700 ft. This is another great spot to take a break and perhaps eat a snack. Keep your eye out here for the California Condor flying overhead. Bird watchers come from all over to try to spot these rare birds, I spotted two! Don't confuse them with the large population of black crows you'll also see flying overhead. Trust me, you'll know the difference if you're lucky enough to see one!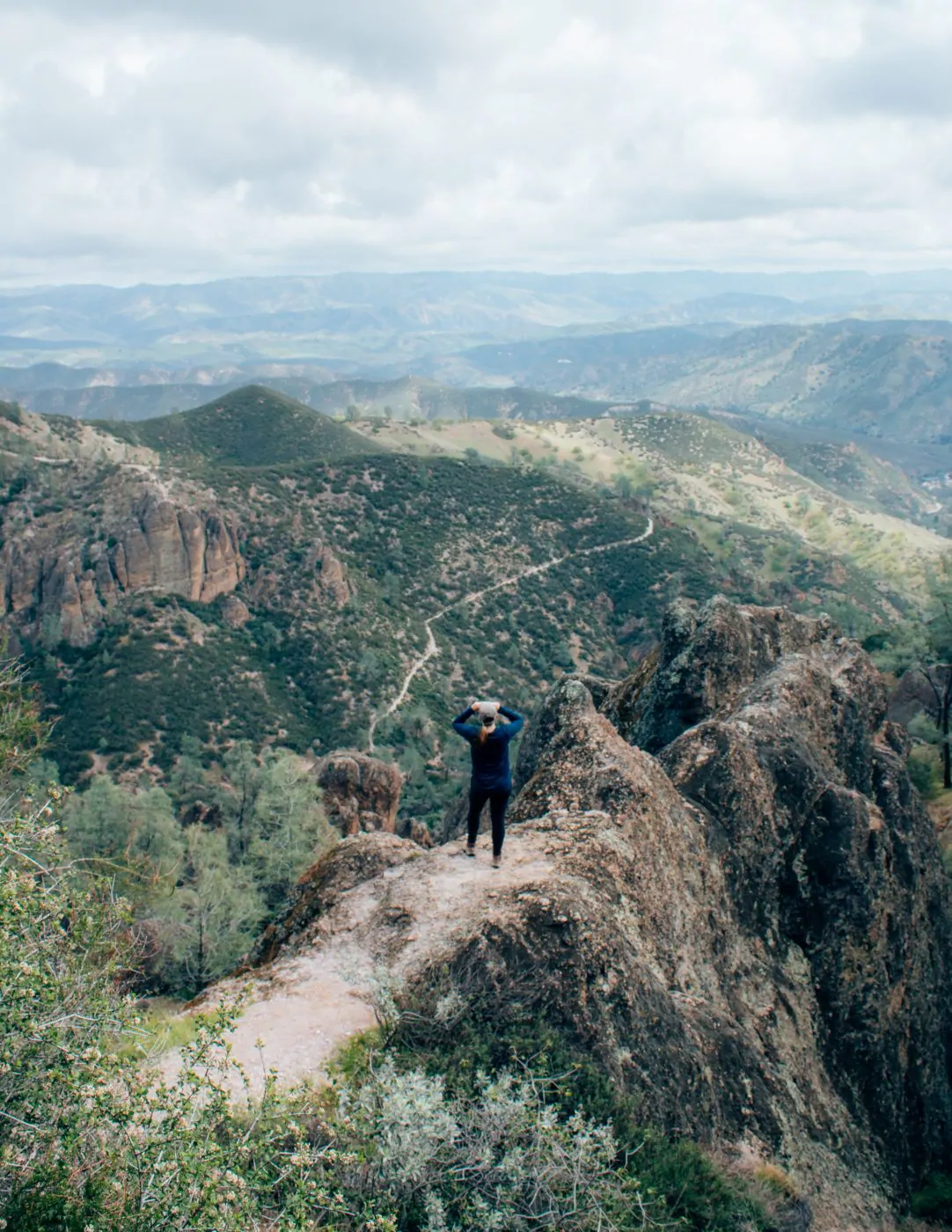 I found I could only rest here long enough to eat half of my sandwich. My legs were tired, and I knew I still had quite a bit of hiking to still do! The next sections contains 4 rocky staircases, similar to the one you just climbed up. You'll have to coordinate with people coming up as only one person can go up or down at a time. 
You'll continue to amble down High Peaks Trail, off to your left you'll notice parking lots for the West Entrance of the park. Eventually, you'll turn right on Condor Gulch Trail which is the final leg of your journey through Pinnacles National Park.
Condor Gulch Trail
The Condor Gulch Trail is noticeably wider than the narrow paths you just traversed. This trail will take you down the elevation you just gained, through a set of switchbacks, and ultimately ending back at the Bear Gulch Day Use Area. There is an overlook along the way, which, to be honest, wasn't worth the extra steps off of the trail after the views from High Peaks Trail. 
In full transparency, this part of the trail was my least favorite. Perhaps because my legs and feet were officially done walking as soon as I turned off of High Peaks Trail. I was shocked at the mental effort it took to continue as it was more than I remember feeling on the multi-day treks, like the Quilotoa Loop,  I completed on my travels. And I didn't even have significant altitude to contend with. But also, on the way down, the beautiful scenery is mostly behind you, so it really feels just like a trudge back to the car.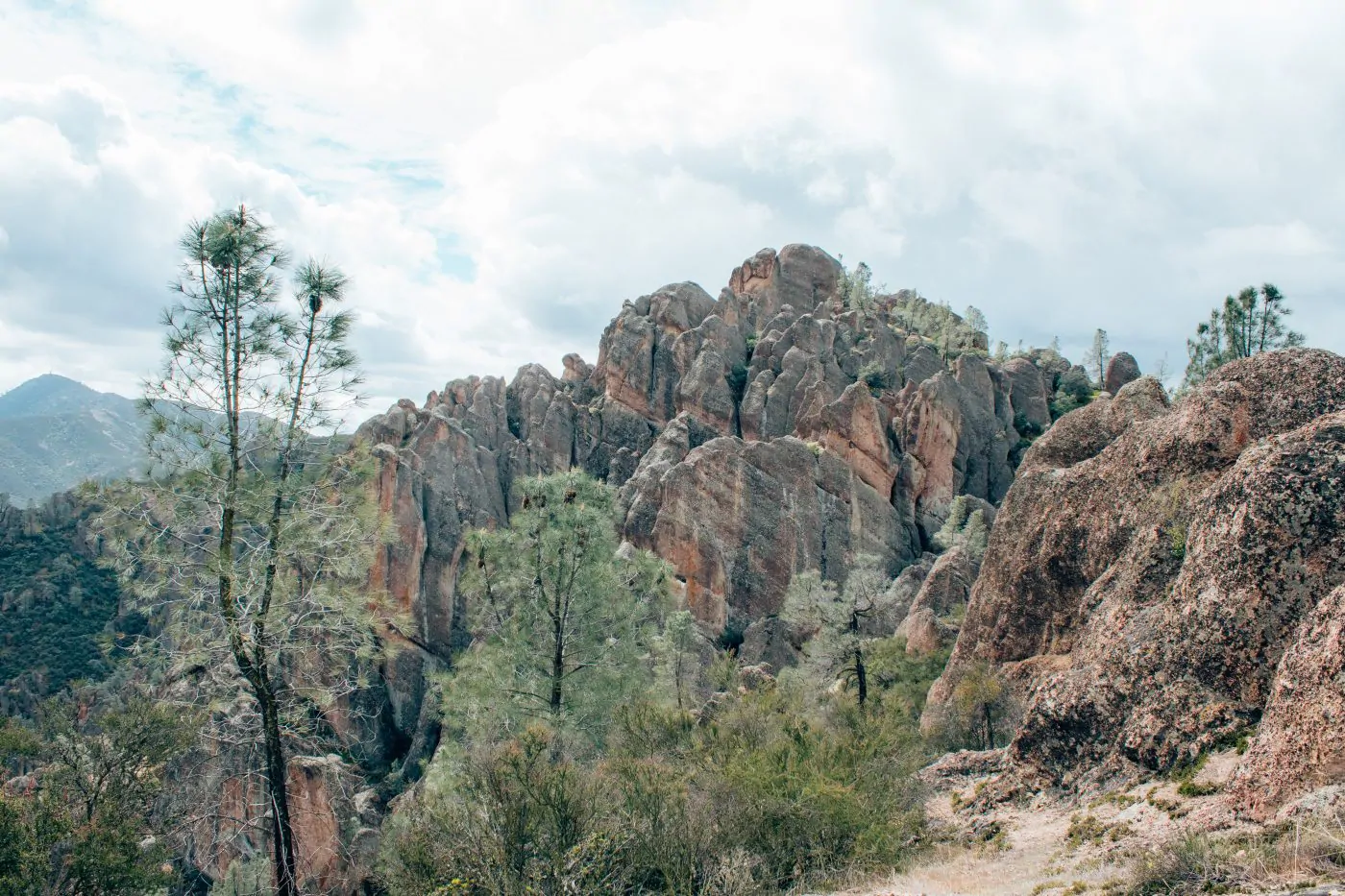 It made me think that completing High Peaks Trail in the opposite direction than described here might be a better option. Because you'd have something beautiful to look forward to the entire hike. You'd hike up Condor Gulch Trail with awesome views of the rock formations, then traverse the Steep and Narrow section of the trail, descend to Bear Gulch Reservoir and then finish through the talus caves back to your car. 
Have you hiked in Pinnacles National Park yet? The trails are currently open, however, camping is closed. I highly recommend making the day trip to this lesser known National Park. You'll leave feeling accomplished after completing the High Peaks Trail and perhaps you'll leave a bit of the weight of 2020 on the trails as well.
Check out these other awesome National Parks in California
How to Spend One Day in Joshua Tree National Park
One Day Death Valley Itinerary
How to Visit Muir Woods as a Day Trip from San Francisco
Like this Post? Pin & Save for Planning!