Joshua Tree National Park is a total gem in Southern California. It's location, just a mere one hour drive away from Palm Springs makes Joshua Tree an ideal day trip. And while you could easily drive through the park in a couple of hours, to really experience the beauty of this desert landscape, you have to get out of your car and hike. These are the best hikes in Joshua Tree for casual hikers.
And what I mean by casual hikers, it's if you're anything like the hiker version of me.
I enjoy hiking and do it occasionally, mostly when I'm on a trip. I don't really hike often at home, even though I am surrounded by beautiful Northern California hiking trails. And I've recently fallen out of shape and am not as strong as I was when I hiked the Quilotoa Loop or the Salkantay Trek.
That's the best part about many of the trails in Joshua Tree, you don't have to be an expert hiker to enjoy them. Many of the trails are flat and the distances range anywhere from .25 miles to 7 miles. 
The difficulty in these trails comes from the amount of exposure to the harsh desert elements. There is limited shade in the desert, so all of the trails I mention here are sun-exposed. If you're visiting Joshua Tree National Park in the summer it's best to do these hikes first thing in the morning to avoid the intense heat of the day.
I completed all of these hikes in January, where the daily high was around 60* and the low (at night) was high 30*. Obviously, I wasn't hiking these hikes when the temperatures were low, because hiking at night in the desert is a silly thing to do as a solo female traveler. I hiked these hikes from late morning to just before sunset and even though the temperatures were mild, I still felt the heat of the desert sun and recognized that these hikes would prove much more of a challenge, and potentially very dangerous, come summer.
This post contains affiliate links, which means that, at no additional cost to you, I will earn a tiny bit of income if you decide to make a purchase or booking.
Safety Considerations for Hiking in Joshua Tree National Park
Before we get into the three hikes I'm going to recommend in Joshua Tree, let's go over some basic safety concerns for hiking alone in the desert.
You're not really going to be totally alone. Each of these hikes I encountered other hikers and would say Hi as I passed them on the trail. If I hurt myself on the trails I am sure one of them would help me.

Make sure that you can complete the hike before sunset. I'll go into details of how I made this mistake on the Split Rock Loop, but the desert at night alone is not the place you want to be, unintentionally and unprepared.

Always bring water with you. Even if you think it's just a short .25 mile walk, bring the water with you.

Have extra water in the car. There are very few refilling stations in the park, be sure to bring extra water with you to refill as needed.

Pack food. There are no restaurants or any type of food stand located in the park. It is your responsibility to bring what you need (and bring it out).

Download an offline map. I downloaded a Google Map of Joshua Tree National Park that I could use without cell phone service so that I could still get directions as needed. Your cell phone service will be very limited.

The park and its trails are well marked, be sure to stay on the trail.

Bring a basic first aid kit. Those cacti are sneaky little buggers so if you get stuck, having a basic first aid kit will help. 

Bring hand sanitizer or wipes. I wish I had these. There are bathrooms but nowhere to wash your hands and the desert is quite dusty!
Good Hiking Snacks 
Trail mix

Granola bars

Peanut butter & jelly sandwich (or any kind of sandwich)

Tuna on the go packs

Apples

Banana

WATER
What to Wear Hiking in Joshua Tree
First and foremost layers are key. The temperature changes drastically throughout the day so you will want to be prepared.
On top, I suggest a light long sleeve shirt, tank top, a fleece, and a puffer coat. 

On bottom, I always wear hiking pants. I don't like hiking in shorts for a variety of reasons. So lightweight hiking pants are a must for me. Leggings could work too.
Also, make sure to wear appropriate footwear. Hiking boots, trail runners, or sturdy sneakers are necessary for all of these hikes. The earth here is sandy and filled with gravel, so you want to ensure you have a steady foundation. And Darn Tough hiking socks are my favorite socks to keep my feet blister-free. I can't recommend them highly enough.
Finally, sun protection is essential. This includes sunscreen (reapplied often), sunglasses, a hat, and clothing that protects your skin from the strong rays of the desert sun.
Alright, now that you are fully prepared for these Joshua Tree hikes, let's get to the hikes themselves.
Joshua Tree Entrance Fee
As all of the hikes in this post are within Joshua Tree National Park, you will have to pay the park fee to enter. It costs $30 per car for 7 days. Or, if you plan to visit more than 3 National Parks this year, consider purchasing the America the Beautiful Annual Park pass for $80.
You can purchase these either at the park's visitor center or at the ranger booth at the entrance of the park.
3 Best Hikes in Joshua Tree National Park – for the Casual Hiker
Split Rock Loop
Funny story about Split Rock Loop, I hiked it twice in less than twelve hours.
Why would I do that when there are so many other gorgeous hikes in Joshua Tree National Park?
Let me explain.
My first half day in Joshua Tree I didn't really have any plans. The person at the Visitor Center recommended hiking Skull Rock. Well, Skull Rock is only steps from the side of the road, so no hiking and super crowded. I kept driving and pulled over at Split Rock. 
The trailhead said the Split Rock Loop was 2.0 miles and as it was just after 3:00 pm, I figured I could finish it before sunset, which was around 5:00 pm, including taking pictures.
But here's the thing, my Google Maps made the loop look like an out and back, I didn't actually see a trail, so I just figured I'd go out and back. About 20 minutes in I came to a post that had an arrow to Face Rock (definitely check it out, it's only .3 miles off the loop) and then it had another arrow pointing in the direction I'd just come from and the opposite, indicating that I could get to the parking lot by going either path.
After checking out Face Rock, I decided to just continue the loop instead of turning back the way I'd come. The sun was beginning to set and cast amazing colors on the rocks – perfect for picture taking.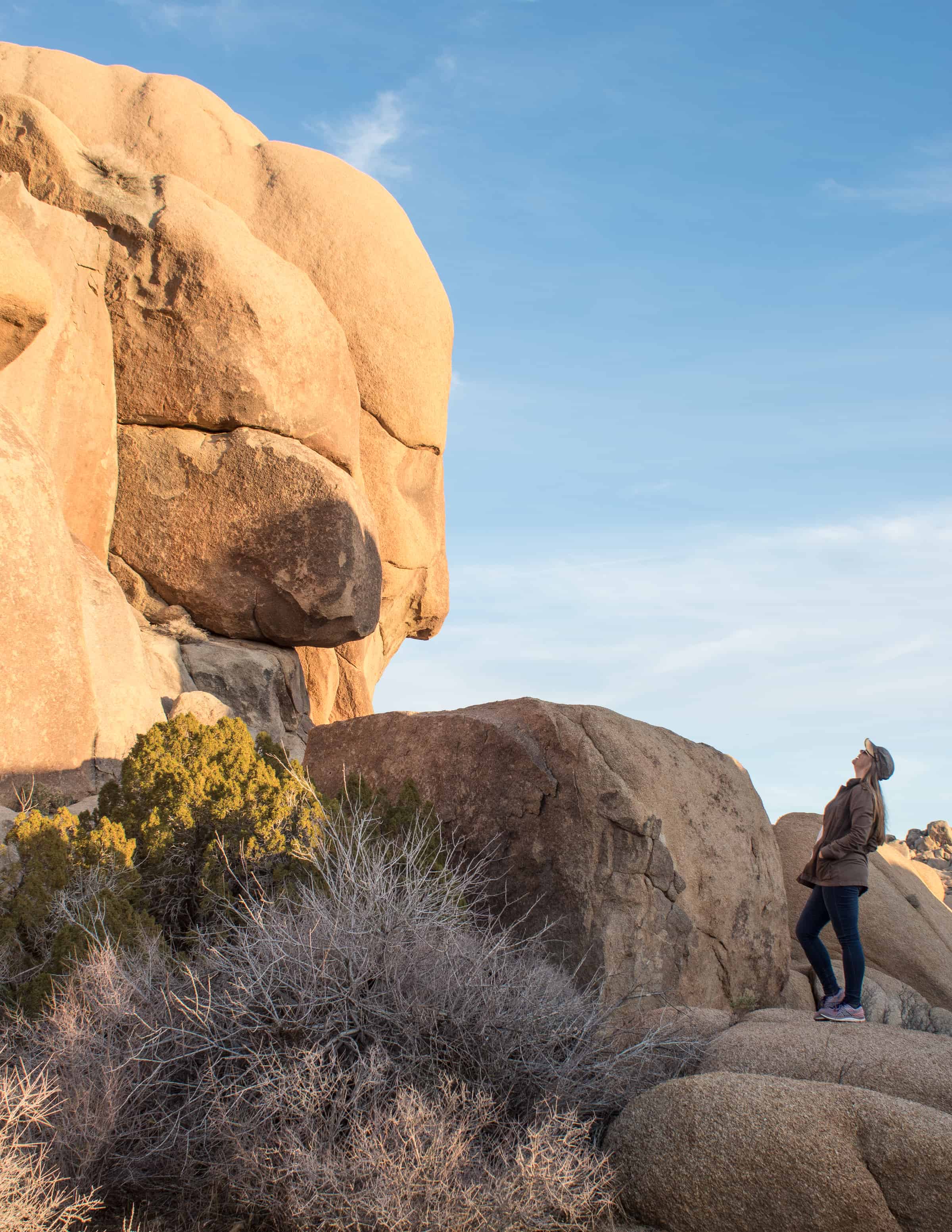 The temperature seemed to drop drastically and the wind began picking up the closer it got to sunset. I was only wearing a t-shirt and a light jacket. I had left my water in the car because I thought I'd only be gone for an hour and it wasn't hot out. All I had in my backpack was a tripod and my camera.
Realizing all of this, I figured it was time to stop stopping every 5 steps for a photo and get back to the car.
It appeared to me that the second half of the loop was taking me away from my car. I felt like I kept going further and further in the wrong direction as it kept getting darker and darker.
Fear set in.
And I went from 0 to expert trail runner in .05 seconds when I decided to double back and return to my car the way I came. I kept thinking that I must've gotten off the trail somehow and now I would die in the desert in my t-shirt. Why did I leave the water in the car?!
About 20 minutes later after sprinting for as long as I could then walking fast, reminding myself of how out of shape I am, the White Jeep came in to view and I'd never been so happy.
When I got back to my Airbnb I had a look at the trail on All Trails. It affirmed that the loop did, in fact, return to the parking lot in either direction.
But I wanted to make sure of it – and face my own fear – before sending you out with assurances that even though it seems like you're going in the wrong direction, you will end up back at your car.
Split Rock became my first stop on my first full day in the park. I started it in the opposite direction with the intention of walking to the spot where I'd turned around the night before and then just going back.
Turns out the spot where I turned back was a mere 15 minutes away from the car. Instead of turning back this time I decided to just finish the loop to see how long it would take just walking, without stopping for photos.
The answer – less than an hour.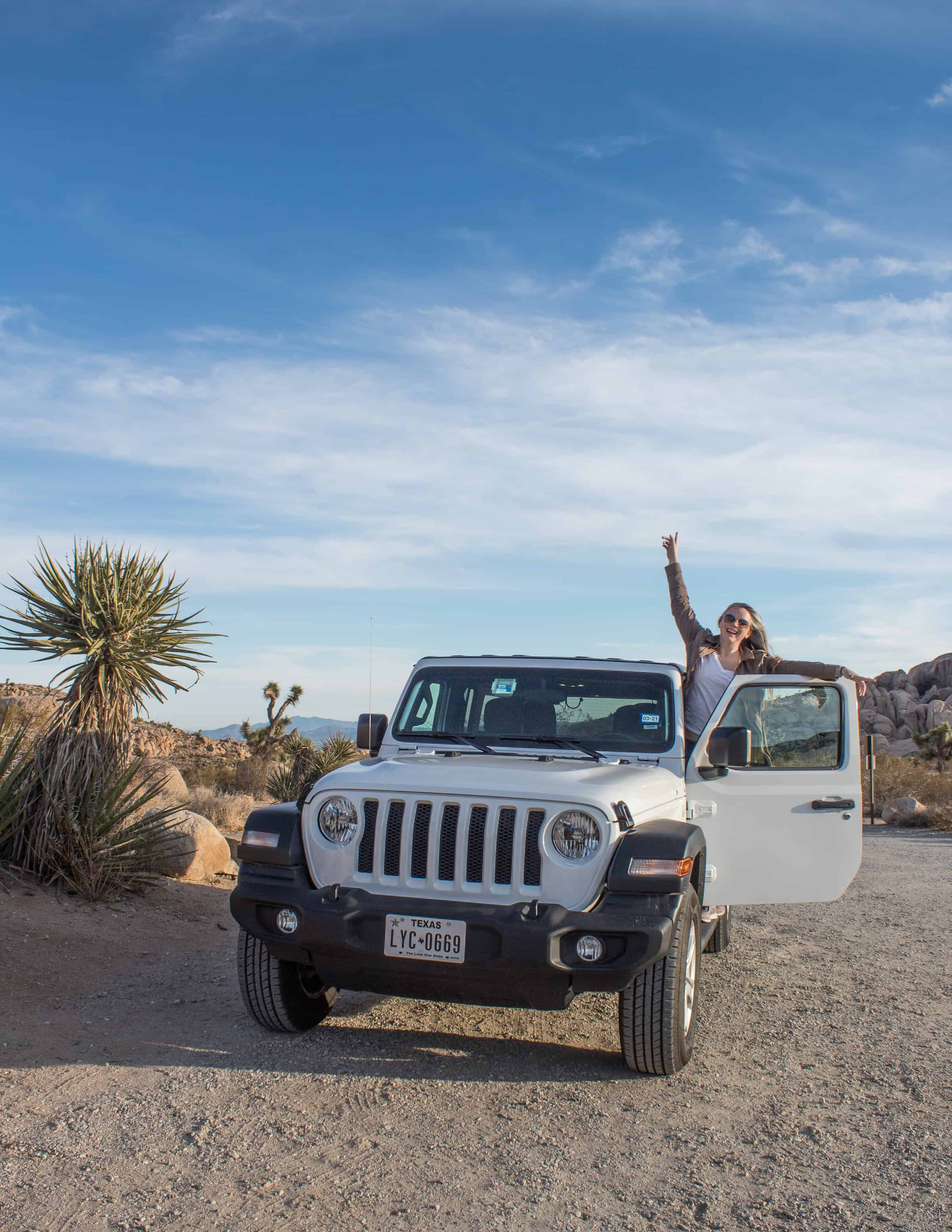 Now I can give you all of the details wholeheartedly without worrying that I am sending you out in the desert without doing my own due diligence and experiencing the complete trail for myself.
Here are the details without the horrifying I might die in the desert story.
There are two trailheads from the Split Rock parking lot. One near the restrooms and one at Split Rock. If you start at the restroom trailhead it will take you 15 minutes to reach what I'm calling the midpoint of the trail, where you'll find the signage for the trail. If you start at Split Rock it will take you 30 minutes to get to the midpoint. 
Now, this is all walking like you're on a mission to prove something. I spent close to two hours on the trail and didn't even finish it the first time, and finished it in 45 minutes the second time.
It is a lovely hike, with a number of rock formations and various desert flowers. But it is completely exposed. So be sure to wear sun protection and bring water with you. I also highly recommend taking the 10-minute walk to see the unique Face Rock.
Both times I did this hike I barely saw anyone, except for a few rock climbers!
Length of hike: 2 miles
Time to complete: 
There are restrooms and picnic tables in the parking lot.
Ryan Mountain Trail
The Ryan Mountain Hike is one of those hikes where you're questioning if all of the effort will be worth the reward at the top.
Let me tell you, it is.
The Ryan Mountain Trail is a 1.5 out and back where the first 1.25 miles are worse than the stair stepper at your local gym.
You gain an elevation of 1,000 feet in one mile.
If you're out of shape, like me, and this is your first legit hike in months, then this will be a challenge.
Any time someone passed me on the way down, I would step aside to let them pass like the kind hiker that I am, but really I just used it as an excuse to take a break.
After what seems like – and probably is an understatement – a thousand and one steps you'll reach a happily solo Joshua Tree and on a flat part of the mountain and think you've arrived.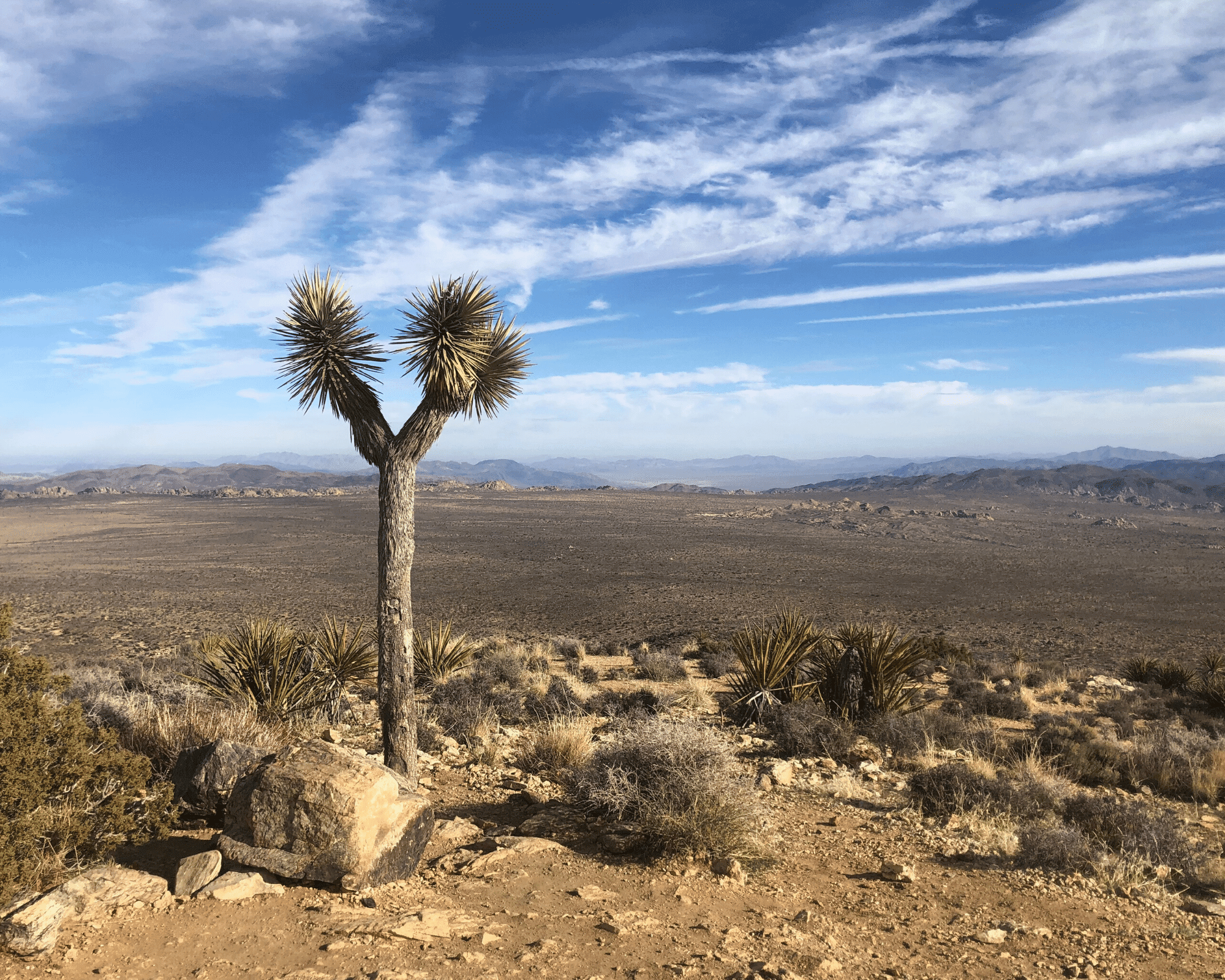 But you haven't.
Luckily, at this point, the hardest part is over and the last .25 miles is a stroll to the top which provides you with epic views of the desert below.
And you'll realize that yes, the climb was totally worth it.
There are a few rocks where you can sit and have lunch, a snack, definitely water, and take in the view.
I even took a note from the lizards and laid down on a rock to rest for a while.
It can be quite windy and it is considerably cooler at the top, so be sure to bring a jacket because once your sweat evaporates it gets chilly.
Once you've taken in the views long enough to forget about the mile-long stair stepper, it's time to head back down.
And as your knees crack and creak down every step, you'll wonder which is worse, going up or going down?
Then your car will come into view and you'll breathe a sigh of satisfaction at just what a badass hiker babe you are for hiking Ryan Mountain.
Just as with the Split Rock Loop, Ryan Mountain Trail is completely exposed. Definitely wear sun protection and bring more water than you think you'll need.
Length of hike: 3 miles round trip
Time to complete: 
Walking at a slow and steady pace with frequent breaks: 

55 minutes up, 45 minutes down
Barker Dam
This was my third and final hike of my full day in Joshua Tree. I did it just after finishing Ryan Mountain so my legs were a bit jello and my pace relaxed, but I have to say, this was my favorite hike of the day.
The Barker Dam Nature Trail is a one-mile loop that takes you to Barker Dam (shocking right), through what I can only refer to as a Joshua Tree Garden, offers and offshoot to look at Petroglyphs and then you're back to your car.
I'd seen photos of Barker Dam before coming and it looks absolutely stunning – when there is water in it. There was almost no water in the Dam which made me seriously wonder how these desert animals survive.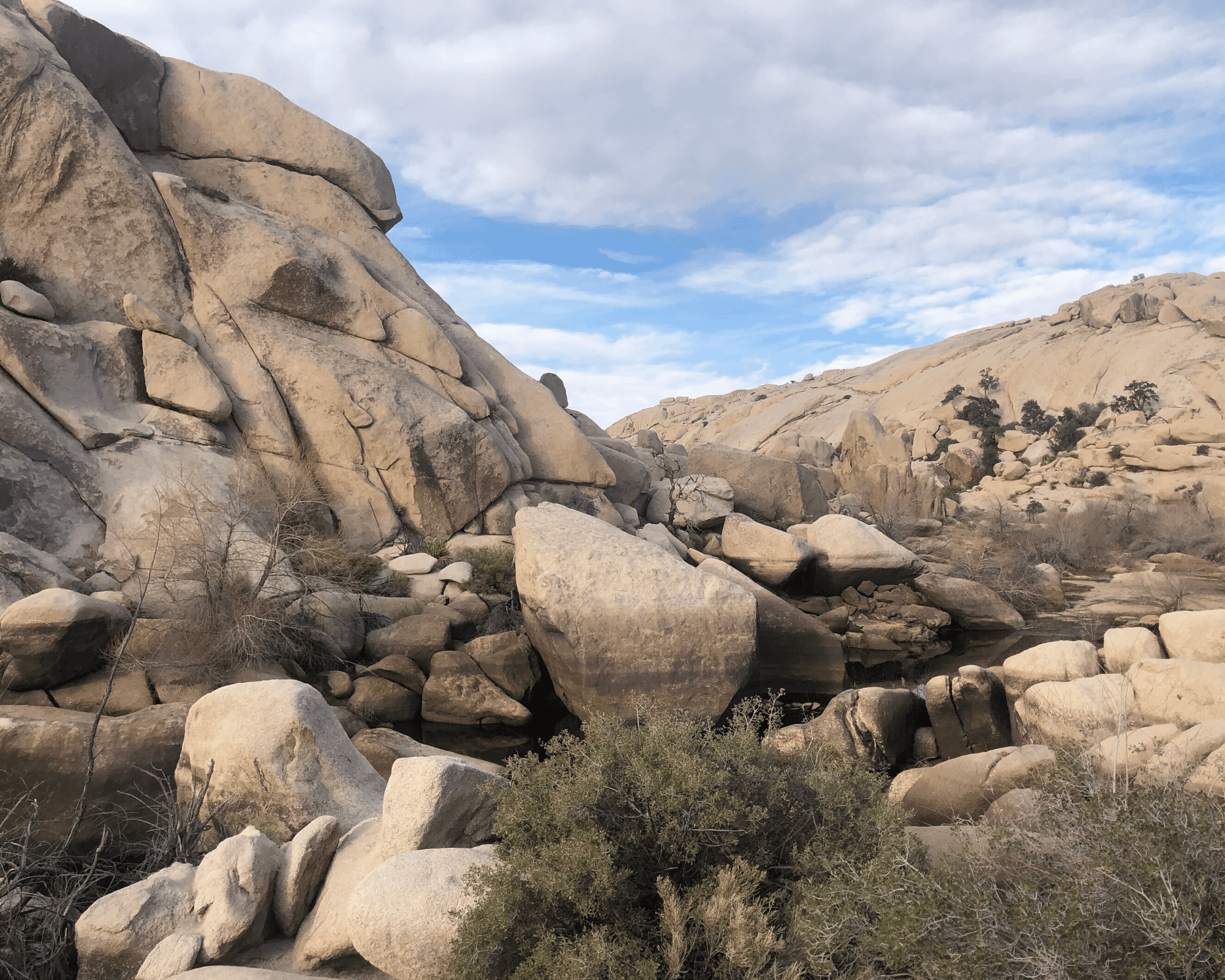 So if Barker Dam, the namesake for the trail was a disappointment, why was this my favorite trail?
The Joshua Tree forest.
All day I'd been driving through the park and gawking over these Joshua Trees. Pulling over any time I saw a cool one to snap a photo of and just stare at for a few minutes. All I wanted to do was wander through them but there was no real trail at any of the turnouts and after my "near-death experience" in the desert the night before I wasn't about to go out forging my own trail.
So when I left the dam and the trail opened up into a Joshua Tree garden I was ecstatic.
Plus the sun was just beginning to set, making them appear even more majestic.
A few steps off of the path is a cave with some Petroglyphs carved into them. Some rascals painted over a few but some originals still remain untouched. This was an interesting thing to see in real life. I remember reading about them in history class as a kid so to see them in a location they were actually used brought the history of this place to life.
After this quick stop, it's just a few more minutes and you're all done with the loop.
Length of trail: 1-mile loop
Time to complete
Relaxed walking pace, snapping a few photos here and there: 35 minutes
Joshua Tree National Park is certainly not lacking in hiking options and the hikes in this post give you a well-rounded view of the dynamic landscape. I plan to continue to expand this list with subsequent trips to Joshua Tree, so I'll be sure to let you know when I add one!
I got all of these recommendations from the park ranger as I purchased my annual National Park pass. So you can always ask the experts before you enter the park for more options as well!
Tell me one of your favorite Joshua Tree National Park hikes in the comments below!
Like this post? Pin for later!