For as vast as Death Valley National Park is, clocking in at over 3 million acres, it's surprisingly easy to see all of the top things to do with one day in Death Valley. The main road through the park, Highway 190, includes sites such as Badwater Basin, Devil's Golf Course, and Mesquite Flat Sand Dunes among other bucket list locations. So ensure you've got a full tank of gas, plenty of water, snacks, and sunscreen, and let's discuss the best Death Valley itinerary for one day in this impressive National Park.
This post contains affiliate links, which means that, at no additional cost to you, I will earn a tiny bit of income if you decide to make a purchase or booking. For more, check out my disclosure. 
solo female Travel Resources
What to Know Before You Visit Death Valley
Before we start planning your Death Valley one day itinerary, there are a few very important things to know about visiting Death Valley National Park. We'll dive deeper into some of these tips but here is a brief overview of my top tips for visiting Death Valley
Entrance Fee: $30 per vehicle for 7 days. Or you can use your Annual National Park Pass. It costs $80 for the year and provides free access to all National Parks
Avoid the heat: visit in the winter months for the best weather and avoid the mid-day heat
Food & Water: Bring at least 2 days worth of food and water for each person you're traveling with.
Alright – let's dive a bit deeper into other things you need to know to plan your day in Death Valley like where it's located, the best things to do, and where to stay if you decide to extend your visit.
Where is Death Valley National Park Located?
Death Valley is the lowest, hottest and driest part of all of North America. It's located in the Southeastern part of California, in Inyo County bordering Nevada. The Valley is in between the Panamint and Amargosa Mountain ranges. 
Because of its location, you can drive from 3000 ft above sea level to 278 below sea level within about 30 minutes. If you visit in the winter or spring, you may see snow covering Telescopic Peak, the 14,000ft+ summit of the Panamint Range. You may experience being snowed on at Dante's Peak as occurred during my visit in March of 2021.
The closest major city to Death Valley is Las Vegas if you'd like to plan a Death Valley day trip from there. It's also not too far from Los Angeles or Yosemite, if you want to include it as part of a larger California National Park road trip.
Estimated Drive Times:
From Las Vegas: 2 hours
From Los Angeles: 4 hours
From Yosemite: 3 hours
When is the Best Time to Visit Death Valley?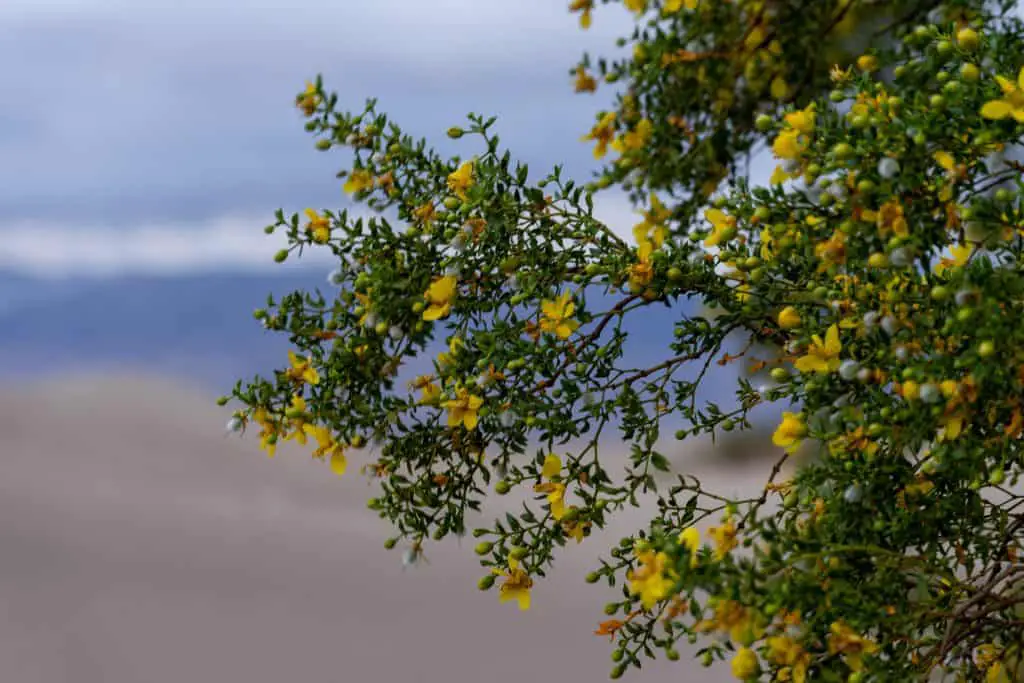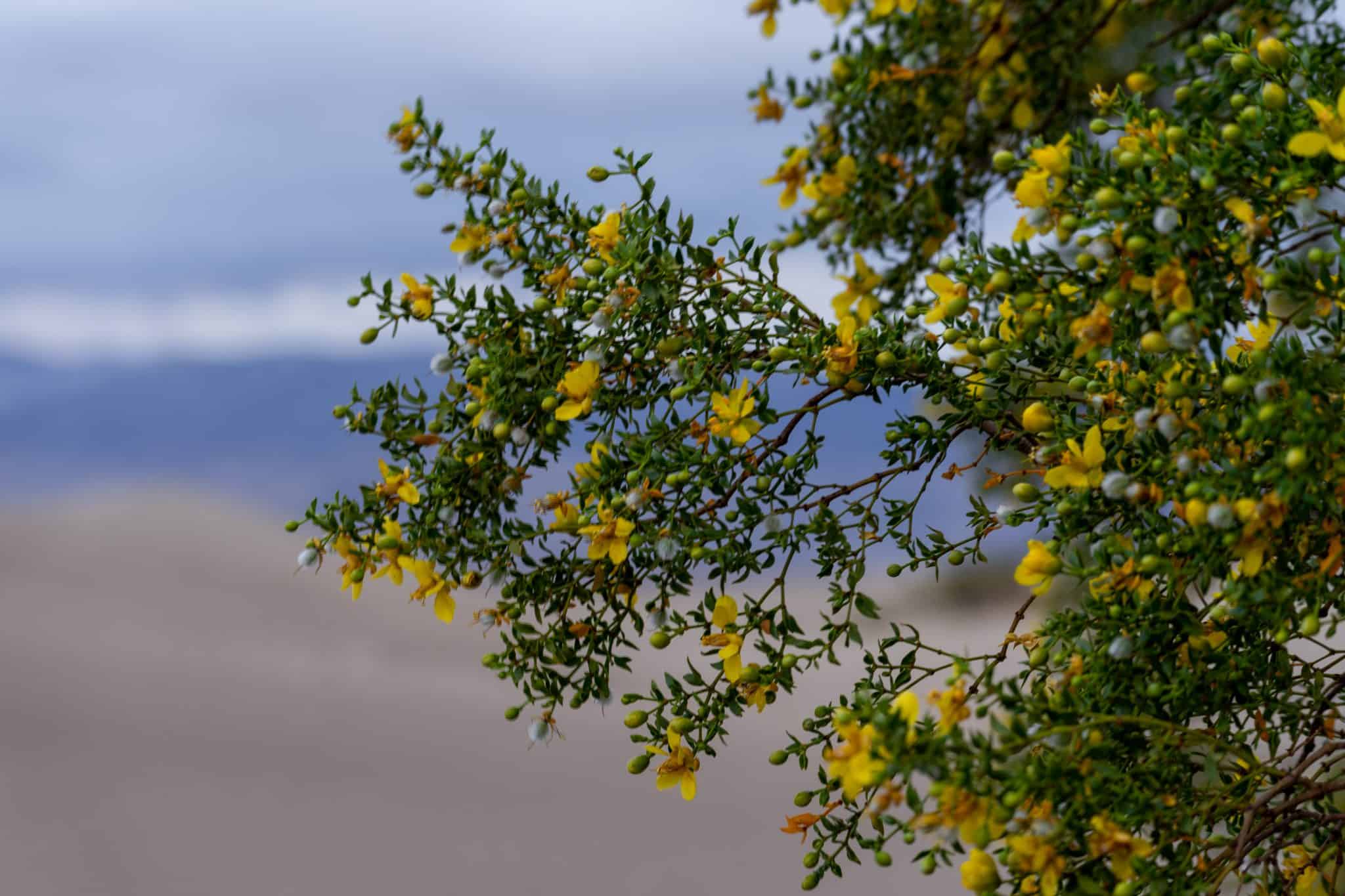 Speaking of the weather in Death Valley, you'll want to avoid visiting during the summer months as temperatures climb to 100o+. This dramatic and dangerous weather makes Death Valley the perfect place to visit in the winter. Starting from mid-October to mid-May is the best time to visit Death Valley National Park. 
When I visited in mid-March, the temperature during a morning hike was around 55o and that felt HOT. Perhaps because there was no shade on the hike and the sun reflected off of the white mountains. But I could not imagine visiting Death Valley in the summer months.
Whose Land is Death Valley?
However, there were, and are, people who call Death Valley home year-round. The Timbisha Shoshone Indians have lived here for centuries and still do today. To them, Death Valley was anything but death. They learned how to use the land's resources (springs, Mesquite Trees, rabbits) to thrive. 
Then miners arrived and used their water sources to mine for Borax, forcing their relocation. In 1932, the Timbisha Shoshone tribe was "officially" relocated when Death Valley became a National Park. In recent years, 7500 acres were returned to the tribe. A small number of the tribe still call Furnace Creek home, while the rest live in neighboring communities like Lone Pine.
This is only a small snapshot of the Timbisha Shoshone history with what we know today as Death Valley. For more information, there are resources on the web. This is a good starting point. 
Death Valley Safety Tips
I traveled to Death Valley alone, making that 8+ hour drive from San Francisco solo, arriving well past midnight. Was I nervous driving alone through the middle of nowhere in the pitch black with no cell phone service as a woman? Well, not until I was actually doing it and realized just how dark it gets there. But in reality, I was very safe and had to silence those true crime stories I've heard over the years.
However, I did decide to stay in a hotel in Death Valley upon arrival because I was unsure about the campsite situation. The last thing I wanted to do was set up camp in the middle of the night after driving for 8 hours.
When I did move to the campsite, I was surrounded by a variety of people, none of whom made me question my safety.
The following tips are applicable to any traveler, solo or otherwise, planning a trip to Death Valley
Download Google Maps Offline: Before you go to the park and somewhere with good WiFi "favorite" all of your Death Valley must dos on the Google Map then download the map offline. This will allow you to use the map as usual even without reception – which you will have almost none of in Death Valley.
Download All Trails Map Offline: All Trails is my favorite app for hiking trails because similar to Google Maps, you can download the trail map offline to use without service. A great idea to keep you safe if you're planning on hiking in Death Valley.
Bring plenty of water: I will say this throughout the post because water is so essential to a safe trip to Death Valley. Bring more than you think you'll need.
Ensure your car is healthy: By that I mean ensure that your car has a full tank of gas and that you have a spare tire, just in case. There are 2 gas stations located in the park, but this is not the place to see how long that 1/4 of a tank can last. Also have a spare tire. Many of the roads leading to Death Valley's highlights are gravel and have potholes. Again – this is not a forgiving landscape to get stranded in.
Why I Visited Death Valley Solo?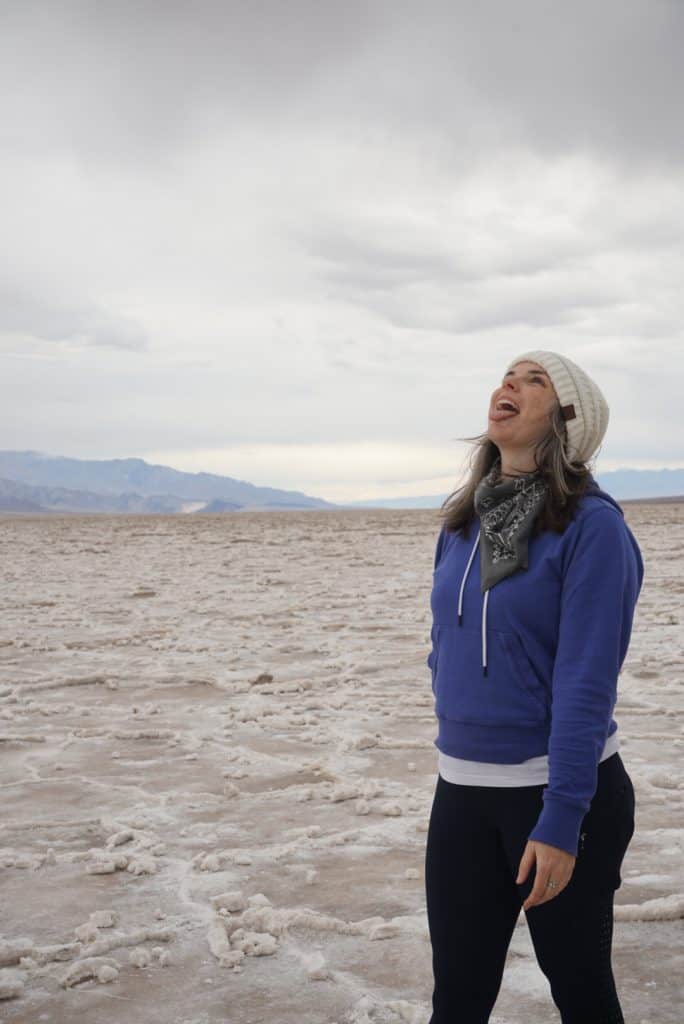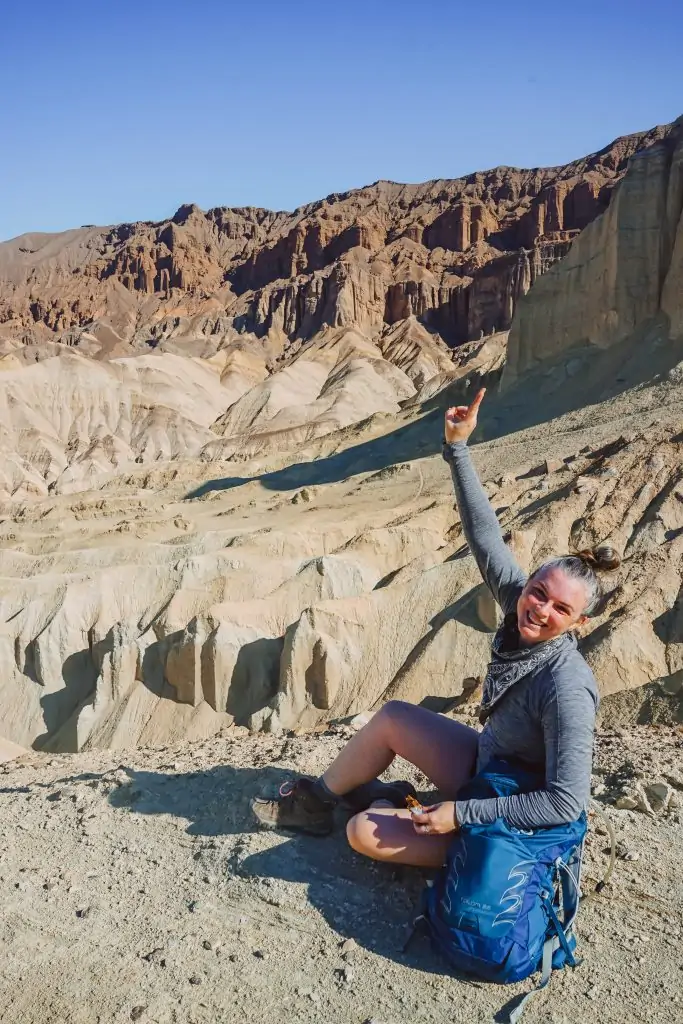 Not being able to travel for the last year has been difficult. But, I followed the rules because not traveling was more important than trying to sneak in a trip during this crazy time. However, for the last few months, I'd been feeling this urge to get out and do something new.
I'd gotten my first vaccine, COVID cases were decreasing, and California was reopening. I saw a window of opportunity and decided to take it.
But, why Death Valley?
As someone who is normally drawn to ocean escapes, I found it strange that I was being pulled to the desert. Maybe it's because I now live a 10-minute walk to the beach? I'm not entirely sure, but instead of ignoring it, I leaned in.
I'd already been to Joshua Tree National Park, so Death Valley seemed like the next logical destination. Plus, the thought of going to Death Valley alone really intimidated me. Which meant, I needed to do it.
I decided to road trip from San Francisco to Death Valley because I wanted to have everything easily accessible in my car. I considered flying to Las Vegas and driving from there, but I didn't want to rent a car. There was comfort in having my own vehicle. 
So, I loaded up plenty of water, food, and all of my camping gear and made the 8-hour trek. Arriving around midnight on Friday morning, leaving around 10 am on Sunday.
It was a long drive, but exactly what I needed. I'm glad that I listened to the voice telling me to go to the desert. Maybe it's the wide-open space, no cell phone service, or blanket of stars, but something healing happens there. 
Plus the landscape of Death Valley is so unique, I just had to photograph it!
Now, I get to share with you the best things to do in Death Valley. I hope you learn from the mistakes I made, follow my tips, and create your own awesome Death Valley experience.
Creating Your Death Valley Itinerary
After a year of not traveling, I went all-in with planning this trip. Reading all of the blogs, creating an itinerary that said exactly what I'd do from sunrise to sunset. Well, the best laid plans right?
I think we put so much effort into curating a perfect itinerary, that it takes away from being able to adjust on the road. Which is exactly what I had to do in Death Valley.
Here's an overview of my "perfect itinerary" vs my real Death Valley itinerary. 
Although Death Valley is the largest National Park in the US, it's actually quite easy to see all of the popular attractions in Death Valley in one day. As I was driving from Furnace Creek to Badwater Basin, I simply pulled over each time I saw an attraction sign!
As you can see from above, I revisited places on the second day because I wanted to spend more time there.
Use the travel planner spreadsheet templates to help plan your trip!
Things to Do in Death Valley National Park
Zabriskie Point Sunrise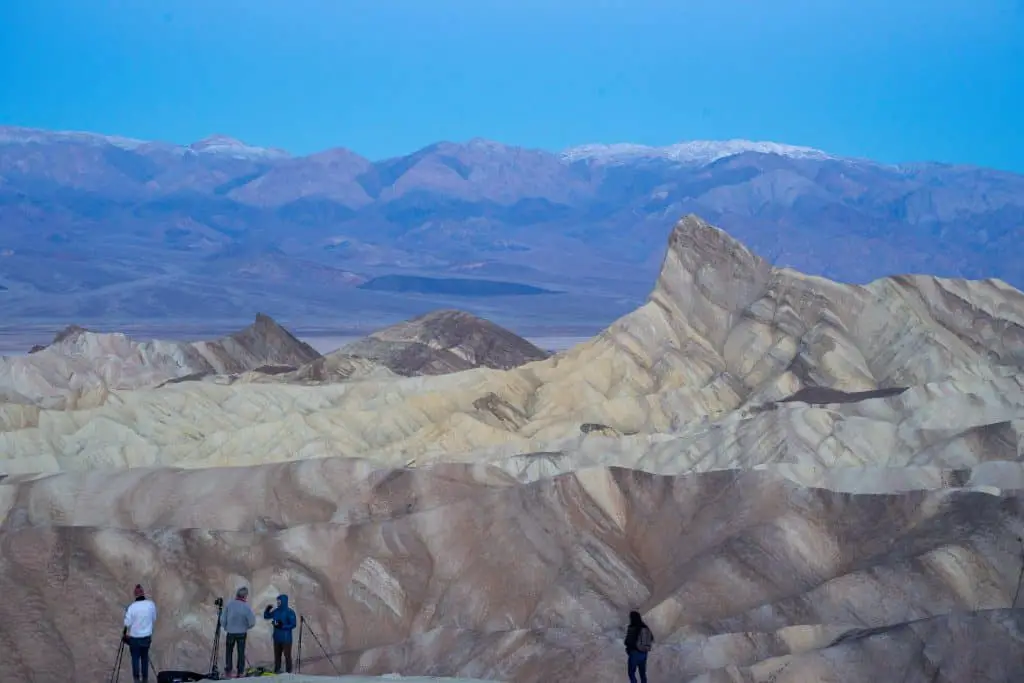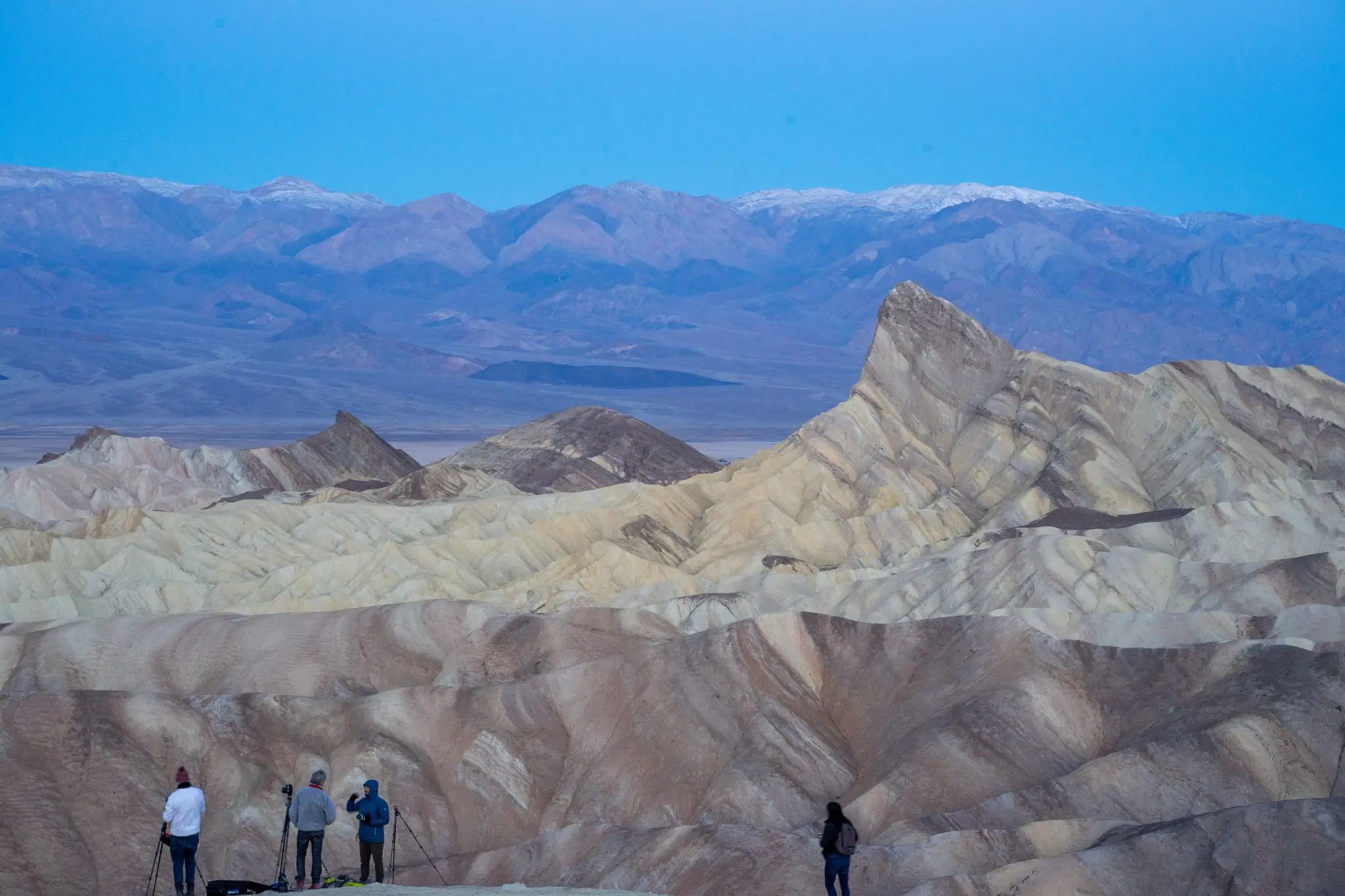 Zabriskie Point is one of the most popular places to visit in Death Valley National Park, especially at sunrise and sunset. This Zabriskie Point lookout offers views of Manly Beacon, the Badlands, and the Panamint Mountains. It's particularly beautiful at sunrise and sunset as the sun turns Manly Beacon and the badlands a warm orange.
However, it gets crowded. I arrived for sunrise at Zabriskie Point at 4:30 am, to find photographers packing up from their astrophotography session. Slowly other photographers joined me as we set up at the viewpoint. Then, one photographer crossed over the viewpoint wall and walked directly in front of us. It became hostile.
Until two more photographers joined. By 5:30 the entire ridge below was covered with people. The parking lot full and cars lined Highway 90. 
I ended up calling it quits before the sun even rose above the mountains because I didn't go to the desert to be in a crowd of people. Especially ones yelling at each other to get out of the shot. 
Instead, I started early on the Golden Canyon hike.
Yes, this is a beautiful place in the park, but I also believe that there are equally beautiful places for sunrise and sunset that are not as crowded.
Zabriskie Point Overview
Time: 30 mins
Amenities: Vault toilets
Location: Paved Parking lot off of Highway 190
Golden Canyon Hike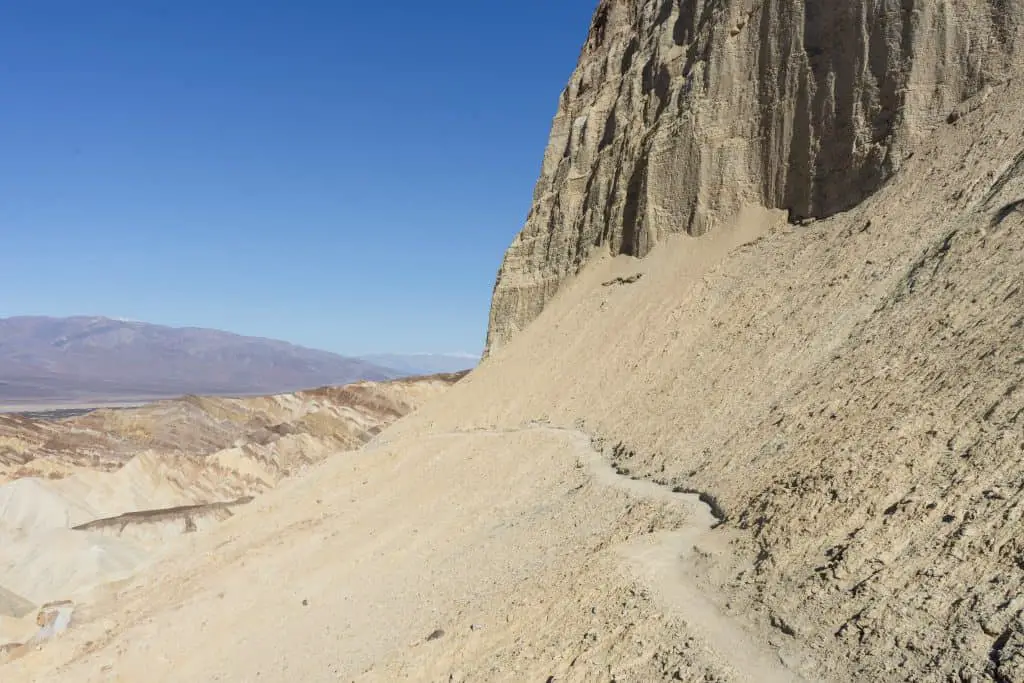 The Golden Canyon hike is a roughly six-mile, out-and-back trail that connects Zabriskie Point to the Golden Canyon. There is also a Gower Gulch loop option for the return, however, I decided just to make it a simple out and back. 
In my opinion, the most beautiful and the most challenging aspect of this trail is the section in between the Zabriskie point and the Red Cathedral. This part of the trail is all downhill along a narrow path on the edge of the cliffs. The Red Cathedral marks the halfway point for this hike and it's also a good stopping point if you're tired by the time you get there.
I decided to continue the 1.5 more miles through Golden Canyon to the Golden Canyon trailhead. This section of the trail is much wider as you're walking in between tall rock walls. While this part is quite pretty, I wish I'd just turned back at the Red Cathedral because the way back is all uphill!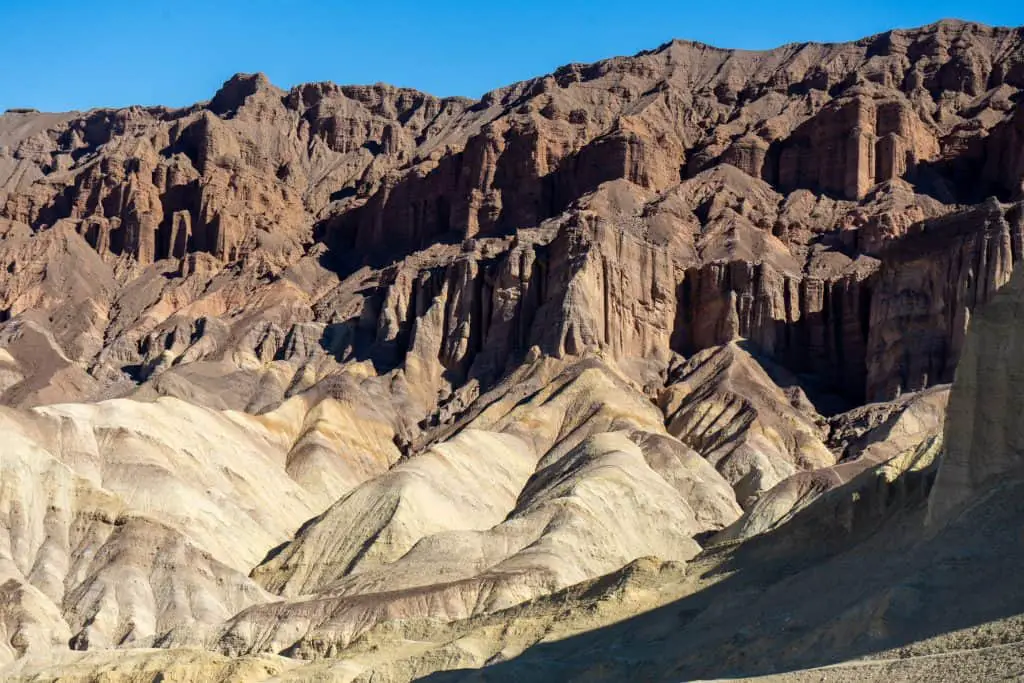 I highly recommend beginning this hike just after sunrise. The high rock walls of the canyon will provide some shade from the rising sun. However, as the sun rises higher throughout the day, those shadows disappear and there really is no shade for the entire hike. 
I do not recommend attempting this hike in the summer, or honestly, even midday in the wintertime if the temperatures rise, because there is minimal relief from the sun. I went through my entire two-liter water bladder by the time I returned to my car!
Desert mornings are cool, but the afternoons heat up. So make sure you wear layers on this trail so you can adjust as the temperature increases. Also be sure to bring sunglasses, a wide-brimmed hat. and wear plenty of sunscreen. Don't forget to bring plenty of water and some snacks. Good hiking shoes are a must as well. And if you have hiking poles, I suggest using them for this hike!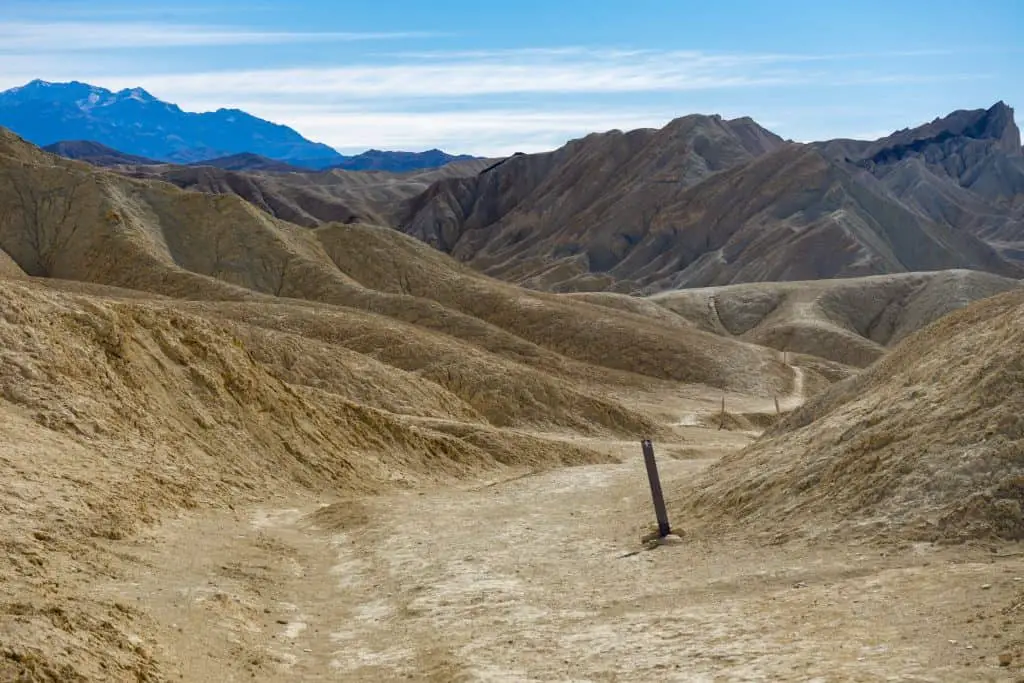 Golden Canyon Overview
Time: 3-4 hours
Amenities: Vault toilets at the Zabriskie Point and Golden Canyon trailheads
Location: Paved Parking lot off of Highway 190 (Zabriskie Trailhead) or Badwater Rd (Golden Canyon Trailhead)
Artists Drive & Artists Palette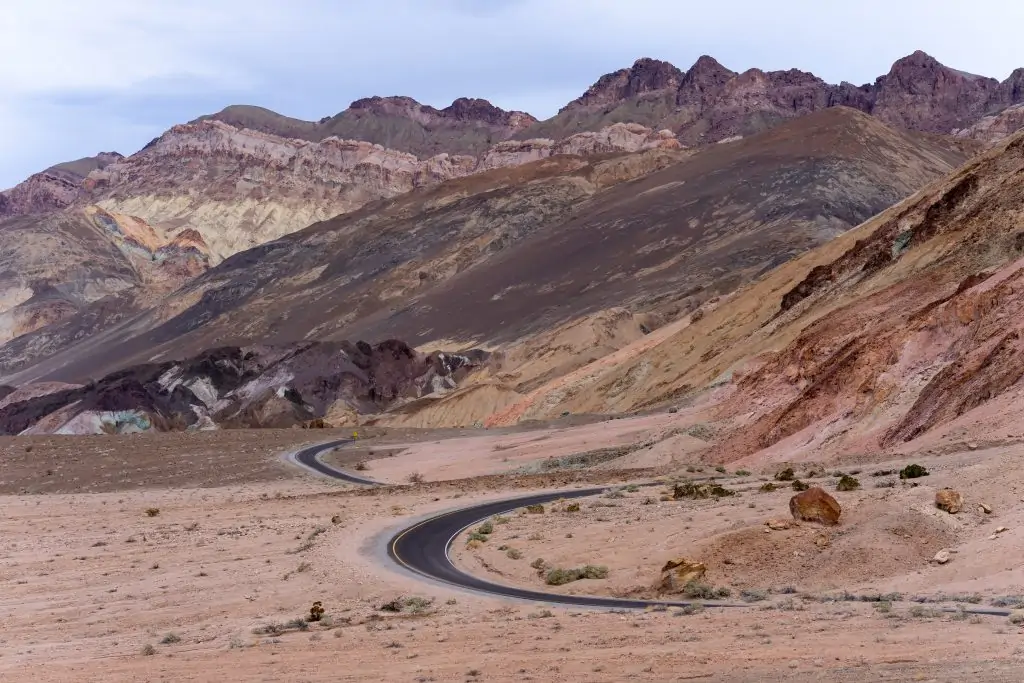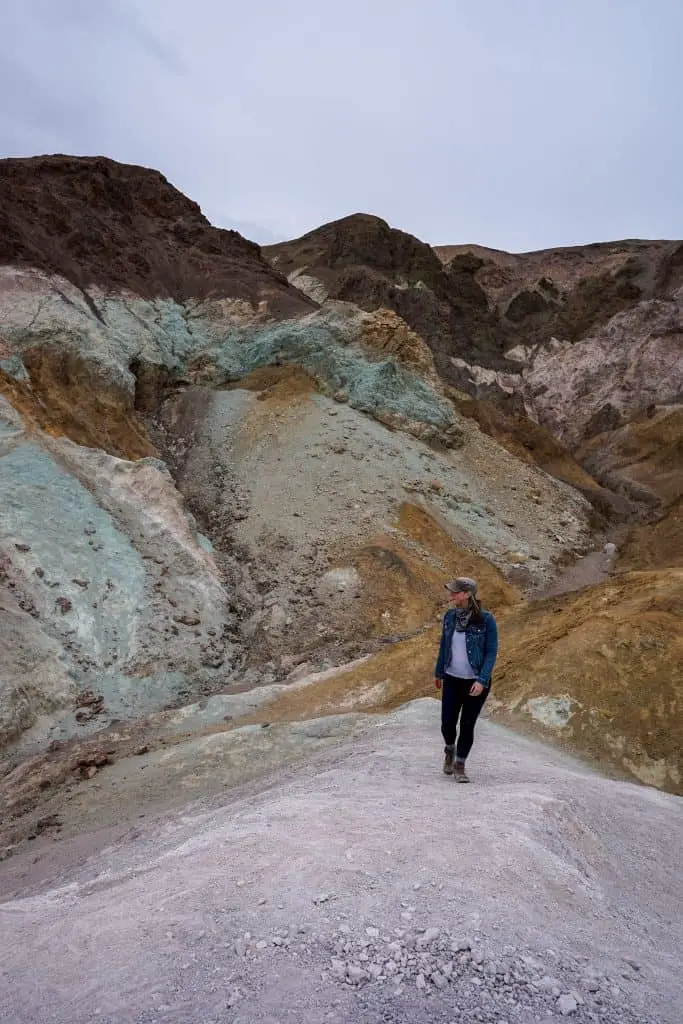 Artist's Drive is a roughly 4-mile scenic drive through colorful hills of Death Valley National Park. A one-way paved road winds through the badlands colored in yellow, blue, purple, and red.
There are several places to safely pull over and walk through the pastel hued hills. You can also park at the Artists Palette overlook and climb through the painted hills.
This is a great place to photograph! I spent two hours here wandering up and down the crevices formed by water ages ago. 
Artist's Palette & Artist's Drive Overview
Time: 30 minutes to 2 hours 
Amenities: Vault toilets
Location: Paved one-way road off of Badwater Rd. No marked trails
Mesquite Flat Sand Dunes
Wow. The Mesquite Flat Sand Dunes are amazing. I can't believe a place like this exists in California.
You can see the sand dunes from the parking lot, but I highly suggest walking into the dunes, surrounding yourself in this unique landscape.
I imagined that the dunes were going to be a sweeping shape-shifting area of sand with nothing else there. But it's actually dotted with Mesquite trees that provide a home for wildlife. When I visited these trees were blooming with beautiful yellow flowers! 
Any time of day is a good time to visit the dunes, but I suggest sunrise or sunset if you're able. I also highly recommend stargazing here. It was fantastic.
Be prepared to get sand all up in your shoes! I recommend wearing high socks, not ankle socks to prevent sand from getting between your heel and your shoe. Trust me, it doesn't feel good! 
Mesquite Flat Sand Dunes Overview
Time: 1.5-2 hours
Amenities: Vault toilets.
Location: Paved parking lot located directly off of Highway 190
Badwater Basin Salt Flats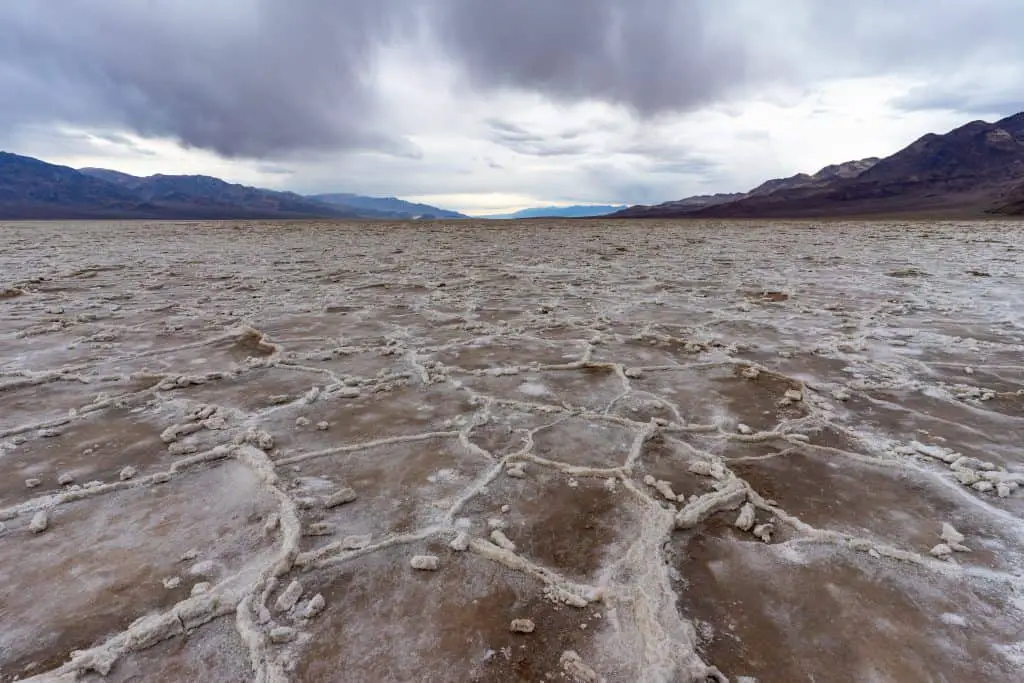 The Badwater Basin salt flats are one of those places in Death Valley you just have to go to. A check it off the list type of place, you know? I mean it's the lowest point in all of the United States!
Badwater Basin is just the quintessential Death Valley landscape.
That being said, it is incredibly busy because it's on everyone's Death Valley bucket list. It will be very busy on the weekends for sunset and sunrise, especially on a clear day. But if it's not too hot during the day, you can go check them out midday. 
To see the geometric formations of the salt flats, you'll have about a mile walk ahead of you. Once you're out there, you can pretty easily spread out from other people so you can enjoy this area at your leisure.
I visited Badwater Basin on a very cloudy Friday around sunset. It actually rained while I was in the Basin! To be 282ft below sea level, surrounded by such a vast and unique landscape while it rained on me was quite the experience.
Since it was cloudy and raining the sunset didn't really happen, but it did shoot its rays through the clouds covering Telescope Peak which was gorgeous as well! 
Badwater Basin Overview
Time:1.5-2 hours
Amenities: Vault toilets
Location: Paved parking lot directly off of Badwater Rd
20 Mule Team Canyon
On your way out to Dante's View, take a little detour along 20 Mule Team Canyon. This is 2.5 mile, one-way, unpaved road winds through eroded badlands. The rock formations look other-worldly, especially against a bright blue sky. This might be why this area of Death Valley was used for scenes in Star Wars. Admittedly, I've never seen Star Wars, but if you have, perhaps you'll recognize it!
20 Mule Team Canyon Overview
Time: 30 minutes
Amenities: None
Location: Gravel road off of Highway 190
Dante's View
Dante's View provides a bird's eye perspective of Death Valley. From this vantage point, you'll look across to Telescope Peak, which is 14,000 ft above sea level, and down to Badwater Basin 280 ft below sea level. 
If you look closely at Badwater Basin, you'll see the path you walk out into the Basin, likely dotted with people making the trek.
You'll also gain an appreciation for just how vast Death Valley is as it spreads to the North and South. 
It was very windy when I was up there and I'd heard from others in the park that it even snowed a few days prior! Dress warm and be prepared for anything! This would also be a great location for sunset or stargazing! 
Dante's View Overview
Time: 30-45 minutes
Amenities: Vault toilets
Location: Paved parking lot off of Dante's View Rd.
Natural Bridge Hike
Natural Bridge hike is a 1-mile out and back trail to see the Natural Bridge as well as dry waterfalls. I didn't know what to expect with this hike, although I thought it might be more of a delicate arch situation.
The shape of the arch reminded me of medieval doors in Europe. It's not made out of stone or manmade, but it had a high arch shape I remember from many doorways in Europe. 
After you pass through the arch, you'll see the dried waterfalls.
To be honest, this is a hike you could probably skip and not feel like you've missed anything. It's up a mile-long gravel road with lots of potholes that makes you feel like you're off-roading when you shouldn't be. 
If your car can handle that then go for it, if not, you're not missing anything amazing.
Natural Bridge Overview
Time: 30-45 minutes
Amenities: Vault Toilets
Location: Gravel road off of Highway 190
Devil's Golf Course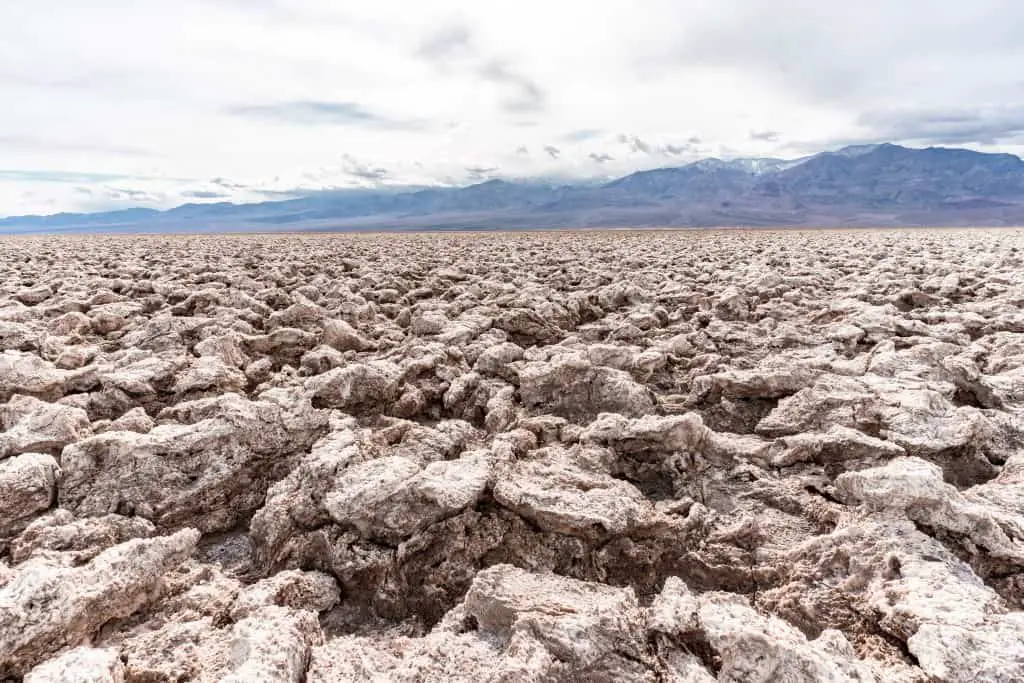 Watch your step on the Devil's Golf Course! This salt filled landscape is even more other worldly than Badwater Basin. To access the Devil's Golf Course follow the sign from Badwater Rd down a 1/2 mile gravel road to the parking lot.
I suggest walking, very carefully, out into this landscape to get up close and personal with it. If you get low, the rock salt looks like snow covered mountains.
Be very careful walking on this landscape. The salt is incredibly hard and sharp. If you trip and fall you will end up badly bruised and scraped up.
This is a great place for sunset as well because most people will be at Badwater Basin, so you'll have this amazing landscape mostly to yourself.
Devil's Golf Course Overview
Time: 20 minutes
Amenities: None
Location: Gravel road off of Badwater Rd
Salt Creek
If you would've told me that one of my favorite parts of Death Valley was a half-mile interactive loop, along a boardwalk trail, I would've thought you were crazy!
But, Salt Creek is fantastic. This creek flows during the Fall, Winter, and Spring. As you walk the trail, you'll see pools of water with little tiny pupfish that have had to evolve over the years to adapt to living in a briny salty situation. 
I visited first thing in the morning, on my way out of the park and I was the only person there. It was so serene with the sound of water flowing in the desert. While Badwater Basin and the Sand Dunes are beautiful, I found the fact that in this salty creek life flourished, equally beautiful. I mean, you have to be pretty bad-ass little fish to be able to survive in that kind of water.
Salt Creek Overview
Time: 30-45 minutes.
Amenities: Picnic Tables. Vault toilets.
Location: Gravel road off of Highway 190
Stargazing in Death Valley
One of the best things to do in Death Valley occurs once the sun goes down. Death Valley offers some of the darkest skies in North America. This makes it a great place to see the Milky Way! Visit during a new moon (no moon) to witness the vast blanket of stars above. 
While anywhere in the park will provide a great opportunity for stargazing, there are three places I recommend visiting at night.
Harmony Borax Works: This is a unique place to see at night, especially for photographers as you'll have trains to play within the foreground.
Mesquite Sand Dunes: This is the place to see the Milky Way with limited mountain interference
Badwater Basin: I didn't have the chance to scope it out, but I'm sure the stars from here are gorgeous! 
Suggested Death Valley One Day Itineraries
Based on the information above and my own experience in Death Valley, here are two suggested one day Death Valley itineraries:
One Day in Death Valley Option 1
Sunrise: Badwater Basin
Morning: Devils Golf Course & Artists Drive
Lunch: Zabriskie Point
Afternoon: 20 Mule Team Canyon Drive & Dante's Peak
Afternoon con't: Harmony Borax & Salt Creek
Sunset: Mesquite Sand Dunes
Stargazing: Mesquite Sand Dunes
(if you're entering from the West do the above in reverse)
One Day in Death Valley Option 2: 
Sunrise: Golden Canyon Hike
Morning: Zabriskie Point, 20 Team Mule Canyon 
Lunch: Dante's View
Afternoon: Mesquite Sand Dunes, Salt Creek, Harmony Borax
Sunset: Badwater Basin
Stargazing: Badwater Basin
Alternative Options for your Death Valley Day Trip
There are other things to do and see in Death Valley that I did not get a chance to explore. But they may be of interest to you!
Go Off Roading: Rent a Jeep in Furnace Creek & go off-roading (do not attempt this in a non 4×4 vehicle)
Racetrack: see the sliding rock!
Mines: There are a number of mines that look very interesting if you have time
Scotty's Castle: currently closed for flood renovations
Mosaic Canyon: This is a slot canyon style hike that looks awesome!
Where to Stay in Death Valley
Want to extend your stay? Or arrive at night so you have a true full day in the park? There are a surprising amount of places to stay in Death Valley.
I suggest trying to base yourself in Furnace Creek as this is centrally located to the park's main attractions. The Sand Dunes and Badwater Basin are a 30-minute drive in opposite directions from Furnace Creek. 
Hotels in Death Valley
There are three hotels in Death Valley: Stovepipe Wells, The Inn at Death Valley, and The Oasis of Death Valley. These hotels range in prices, but to be honest they aren't entirely budget-friendly. Stovepipe Wells is the most budget-friendly. I stayed for one night (5 hours) and paid $200.
If your budget allows and you want to experience a bit of luxury after a day of exploring, consider The Inn or The Oasis. 
Stovepipe Wells is located near the Mesquite Sand Dunes and The Inn and The Oasis are located near Furnace Creek.
You can check here for up to date pricing and booking.
Hotels in Neighboring Areas
Staying just outside Death Valley in towns such as Lone Pine (1.5 hrs), Pahrump (1.5 hrs), or Beatty (45 mins)  may be a bit more budget friendly. 
There are Airbnbs available in each of these towns as well as your traditional hotel options such as Holiday Inn and Best Western.
Check here for up to date pricing and booking.
Camping in Death Valley
There are multiple campsites available in Death Valley. I will highlight a few of them here, but you can find all of the information for camping in Death Valley here.
Campsites range from $0-22 per night. 
The majority of campsites are on a first come first serve basis
Furnace Creek Campground: this is the only campground that takes reservations. It offers a pool and showers! If you can't get a campsite here, you can pay $10 to use their facilities. You can book this campsite from mid October to mid April.
Sunset Campground: Across the street from Furnace Creek campground is Sunset, a first come first serve campground. This is a large campground that caters to RVs and campers, but there are also plenty of tent campers here. This is where I camped for two nights and have no complaints! There are restrooms and dishwashing stations. 
Texas Spring Campground: Up the road from Sunset campground is Texas Spring campground. Another first come first serve campground, this was full each night I was in the park as it doesn't have as many sites as Sunset Campground, but it caters to tent campers. There are restrooms and dishwashing stations. 
Stovepipe Wells Campground: This campground is located across the street from the hotel of the same name and is also first come first serve. There is space for RVs or tents here! It's next to the general store, near the sand dunes, and has restrooms and dishwashing stations. 
In any of the above-mentioned campsites, privacy is limited. So be prepared for that!
How to Reserve a Death Valley Campsite
To reserve a first come first serve campsite, you'll find a vacant campsite and leave your car to "claim it". Then find the kiosk, enter in the number of nights you'll be staying, and pay with a credit card. The kiosk will print out a receipt with your reservation details. You'll write in your site and license plate number and attach it to the post. 
What to Pack for Death Valley
There are a few key items you must-have for your day in Death Valley:
Plenty of water
Plenty of food
Layers of clothing
Let's break these down.
Water for Death Valley
Water is available at Furnace Creek Visitor Center, the Stovepipe Wells General Store, and campgrounds. However, I advise bringing more than enough with you.
I brought 4 gallons of water for my three days and I did not go through it all. However, the highest temperature during my visit was 70*. 
I stored this water in my car (using this collapsible container) so I always had it with me and used it to fill up my water bladder and Hydroflask.
Bring more than enough water with you, especially if you intend on hiking.
Food for Death Valley
Currently, The Inn at Death Valley and The Oasis at Death Valley are serving food to go for breakfast, lunch, and dinner. 
However, I suggest packing a cooler and bringing food with you. This will save you time and money. Plus you could enjoy your lunch while enjoying the views at Badwater Basin or Dante's View.
A few food items I packed that served me well:
Ritz crackers
Cheddar cheese
Prosciutto, Salami, Calabrese (packet from Trader Joes)
Trail mix
Dried fruit
Peanut butter stuffed pretzel
Bagel & Peanut Butter
Freeze-dried meals for campsite dinners
Bananas
Lara Bars
Peanut butter cups
What to Wear in Death Valley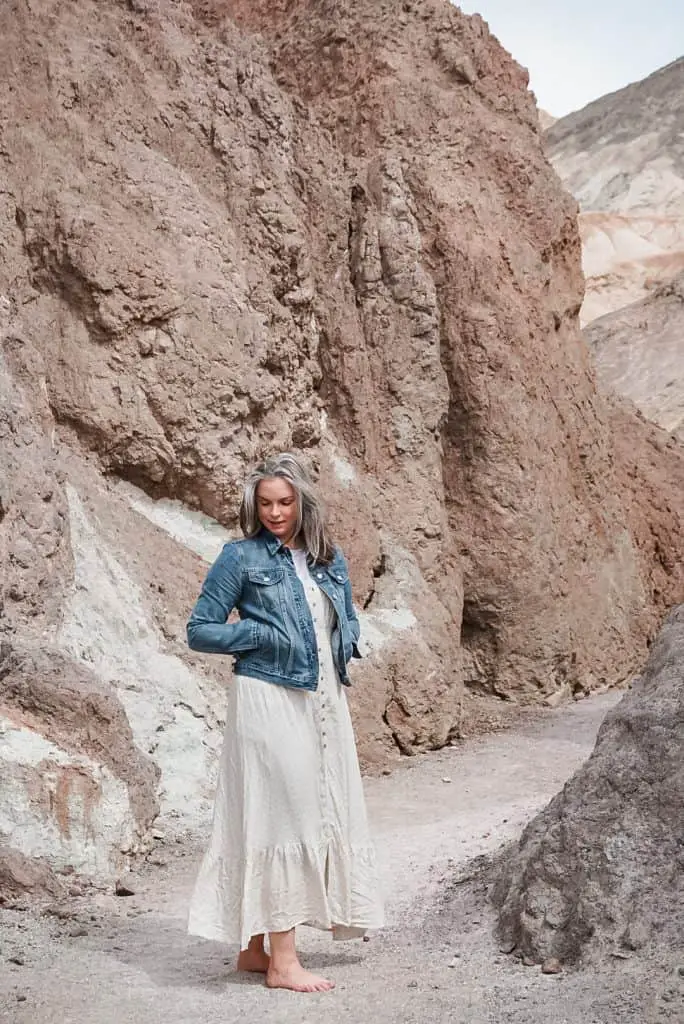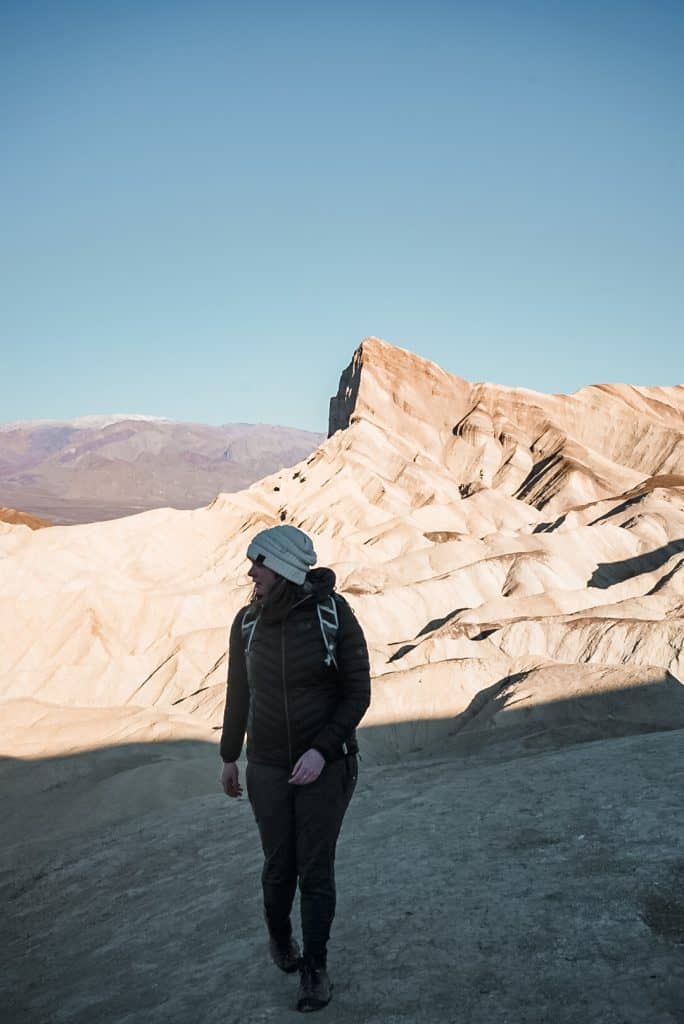 Before the sun comes up, Death Valley can actually be quite chilly (summer is the exception). You'll want to dress in layers or bring warm layers with you if you'll be out stargazing at night.
Here's my Death Valley packing list for 3 nights.
Puffy jacket
Rain jacket (didn't end up using)
Joggers
Leggings
Biker shorts
Jumpsuit (drive days)
2 long sleeves
2 t-shirts
1 fleece
1 hoodie
3 pairs of Darn Tough socks
Beanie
Baseball hat
Sunglasses
Bandana and buffs for masks
Hiking boots
Sneakers
Birkenstocks
You can tailor the above list to your specific needs. I do wish I'd brought a wide brim hat, instead of a baseball hat and one more pair of leggings. But otherwise, I was very comfortable the entire time. 
Where to Get Gas in Death Valley?
One of my biggest anxieties visiting Death Valley was running out of gas! Thankfully, there are two gas stations in Death Valley National Park, one in Furnace Creek and one in Stovepipe Wells. Both gas stations are more expensive than others outside of the park, near $5.00/gallon when I visited, with Furnace Creek being the most expensive. I recommend starting your day with a full tank of gas by filling up before you enter the park. Then when your tank hits half empty, fill up again in the park.
Ok, that was a lot of information in one post. But my goal with my destination guides is to ensure that after reading them, you feel confident enough to go explore the destination for yourself. Learn from my mistakes, follow the tips, but ultimately go see it with your own eyes!
Once you do, I'd love it if you could come back to this post, or find me on Instagram and let me know how your trip to Death Valley went for you!
Check out these other helpful articles about Death Valley
How to Visit Artist's Drive & Artist's Palette
Avoid the Crowds at Zabriskie Point Sunrise
Tips for Hiking the Golden Canyon Trail
Planning to visit more California National Parks? Check out these posts!
How to Spend One Day in Joshua Tree
The Best Hikes in Pinnacles National Park
Find this helpful? Share it with others!