Any blog you read about the best things to do in Death Valley National Park will tell you to go to Zabriskie Point for sunrise (except for mine). There's a good reason for it. As the sun rises over the Amargosa Mountain range it turns the Badlands and Zabriskie Point a beautiful amber hue. After looking at the photos of this on the blogs, I added it to my own Death Valley itinerary. 
On a Saturday morning in mid-March, I arrived at Zabriskie point a full two hours before sunrise. I found a spot to set up my photography equipment. And waited. 
The closer it got to sunrise the more people showed up. Jumping over the stone walls of the lookout point to set up their photography gear on the "mound". 
Thereby inserting themselves into everyone's image back at the lookout point. 
It got hostile.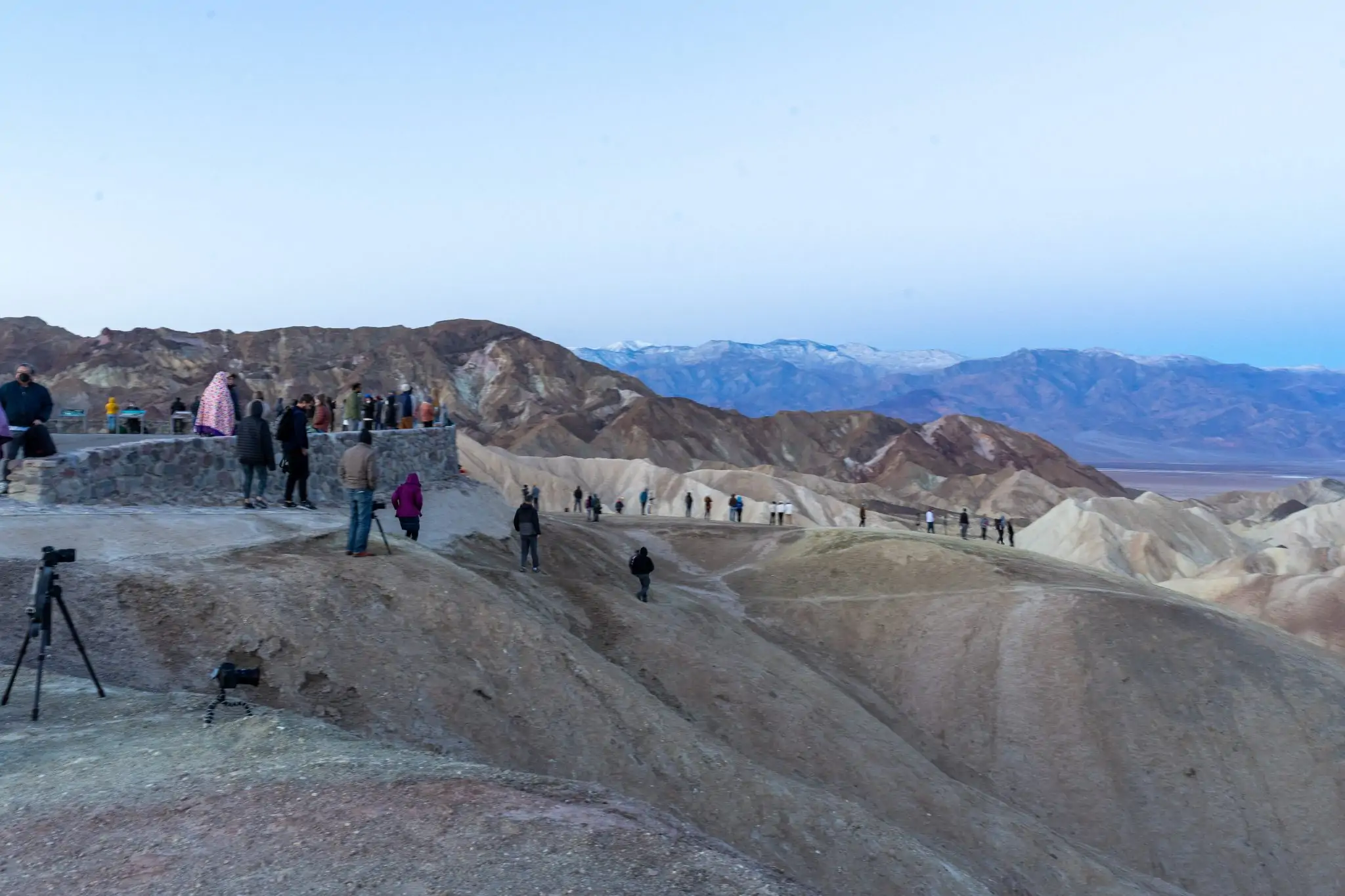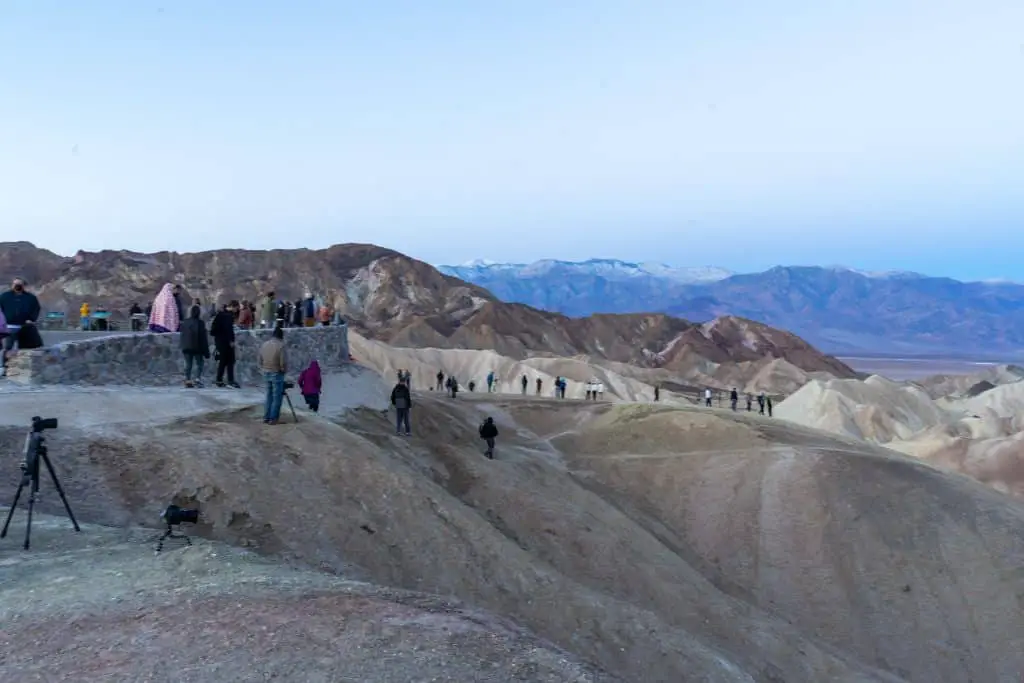 People at the lookout point started to yell at the people who crossed over. Others decided to join those who'd jumped over. Some simply gave up and left. 
I was in the third group. As I looked toward the parking lot and saw cars lining Highway 190 and a stream of people walking up, I decided to give up on getting "the shot". Instead, I decided to start the Golden Canyon hike earlier than planned. 
That's when I discovered how to see Zabriskie point at sunrise without the crowds. 
Start the Golden Canyon hike.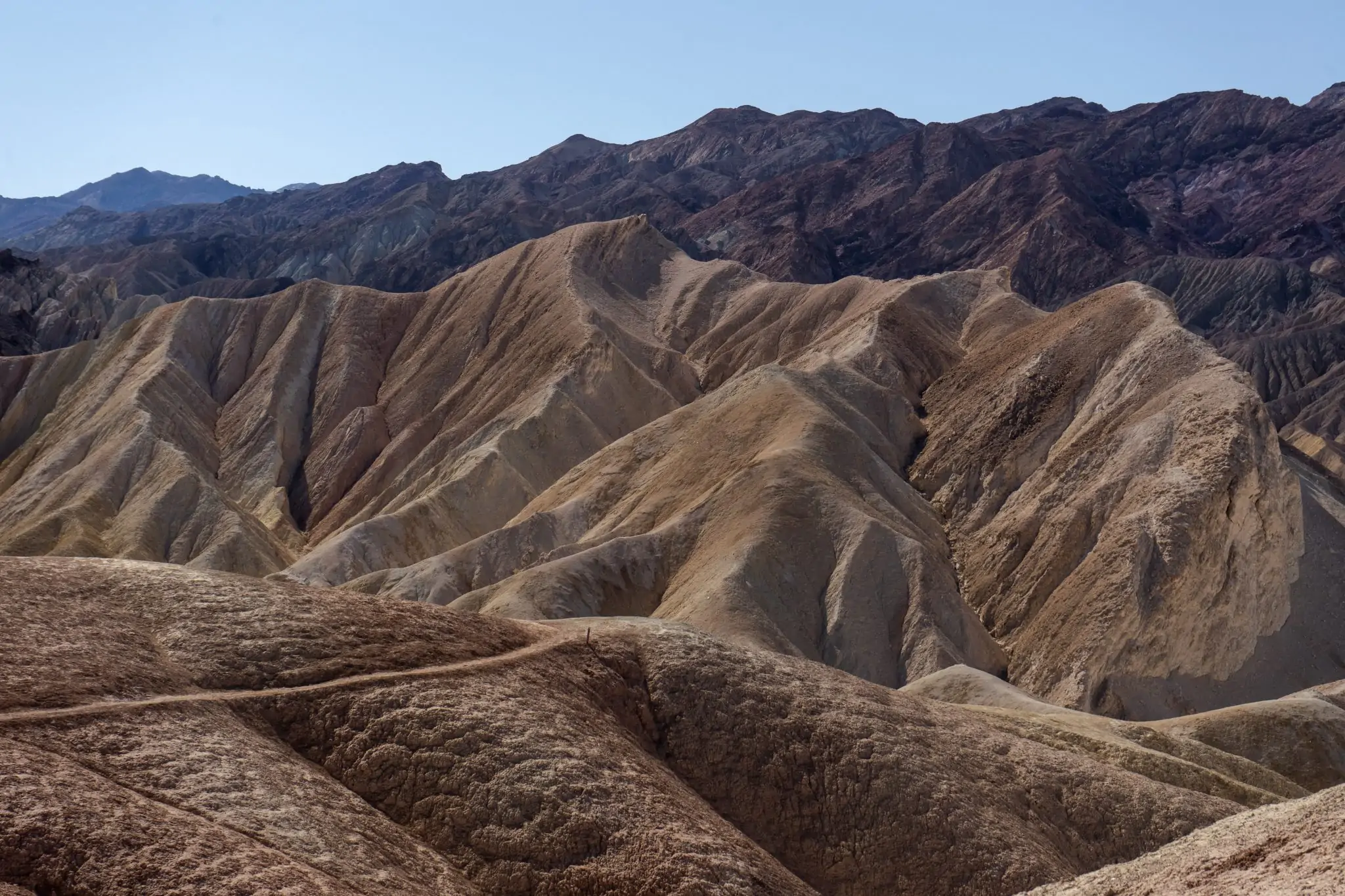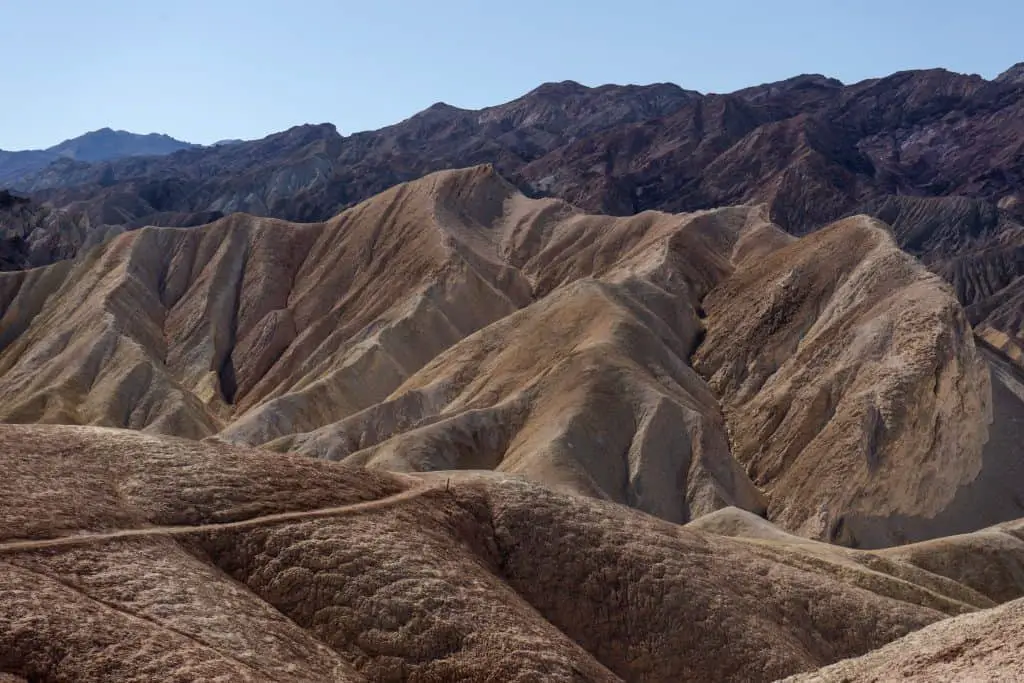 The Golden Canyon Trail is a 6 mile out and back trail that has a trailhead just to the right of Zabriskie Point. While you can do the entire hike, if all you want is to see a peaceful Zabriskie Point Sunrise, just start it!
You can simply hike about 0.5 miles to get closer to Zabriskie Point. While the trail is narrow in some parts, there are also places where there is plenty of space on top of the Badlands to set up your camera or simply lay out a blanket, drink some tea, and watch the sun turn the Badlands that amber hue. 
In peace!
Sounds good, right?
But exactly how do you accomplish this for your visit?
Let's dive into the details.
What is Zabriskie Point?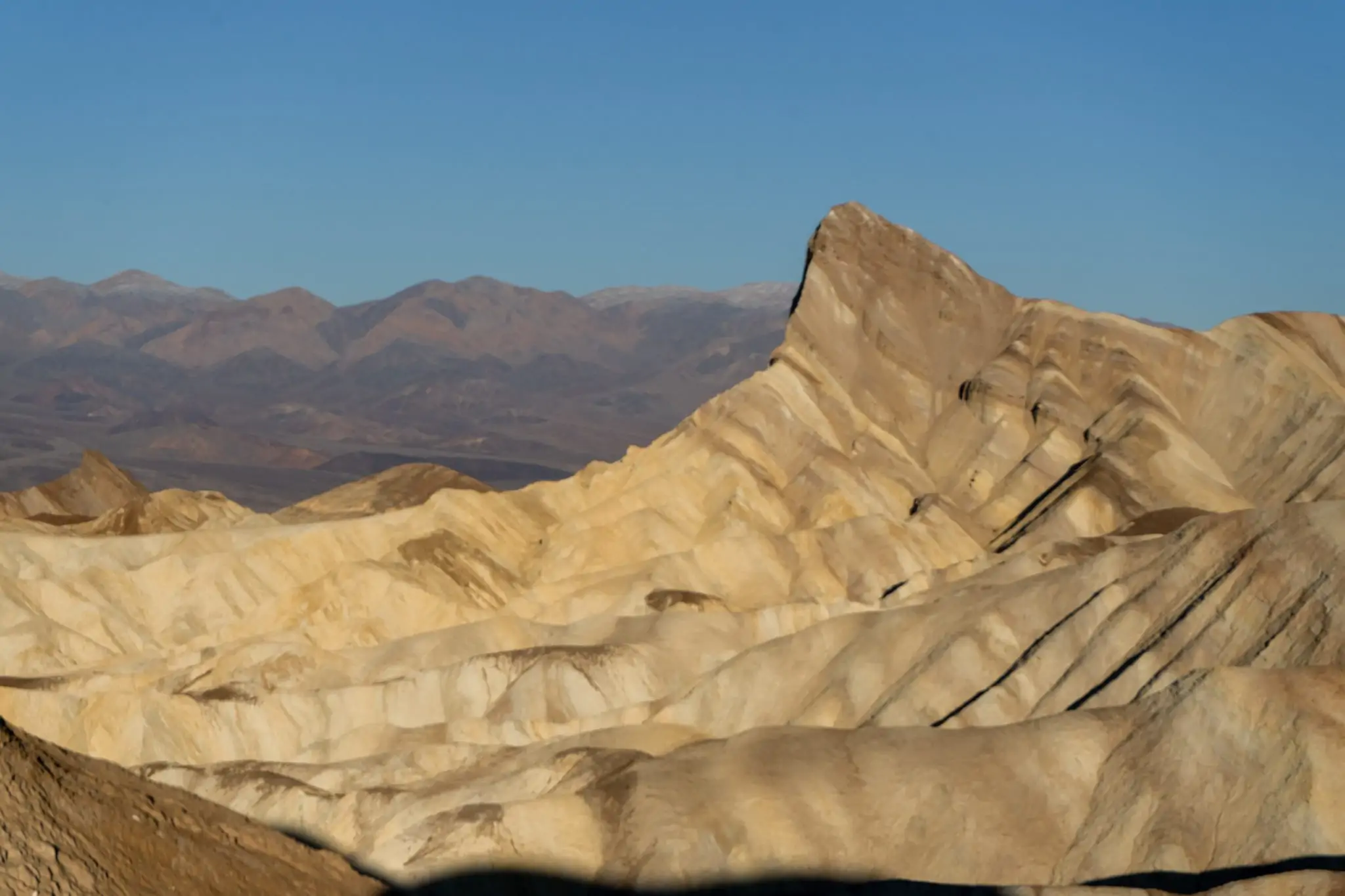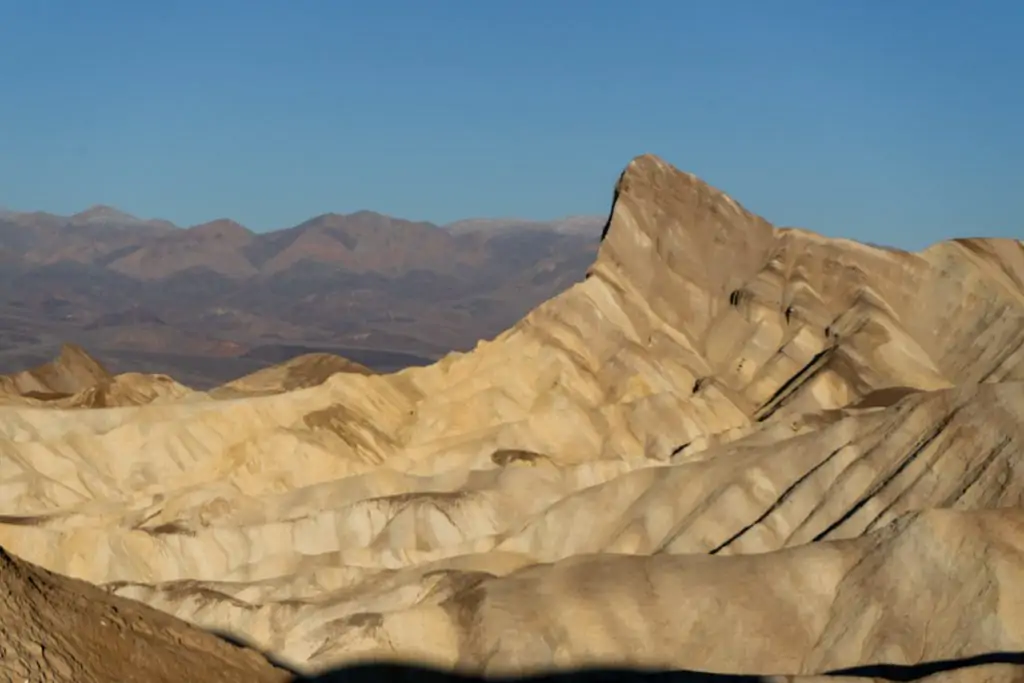 When you arrive, you'll know. But look for the mountain shaped like a shark fin. That's Zabriskie Point and you'll be getting up close and personal with it.
Where is Zabriskie Point Located?
Zabriskie Point is located on Highway 190, about a 5-minute drive from Furnace Creek, the center of Death Valley. 
There is a paved parking lot, a paved pathway up to the outlook point, and vault toilets available.
It draws people to it, due to its central location and ease of access,!
What Time to Arrive for Sunrise?
Check the weather app on your phone for the time the sun will rise. However, be mindful that the sun is rising over a mountain range. This means that while the sky will start getting lighter, the sun itself won't show exactly when your app says it does. 
Once I knew the estimated time of sunrise, I planned to get there two hours early. Is that necessary? No.
I'd say one full hour before sunrise is ideal to allow you time to hike at a leisurely pace. Also, the parking lot still had spaces available at this time, so you won't have to worry about parking on the side of the highway. 
The Golden Canyon Hike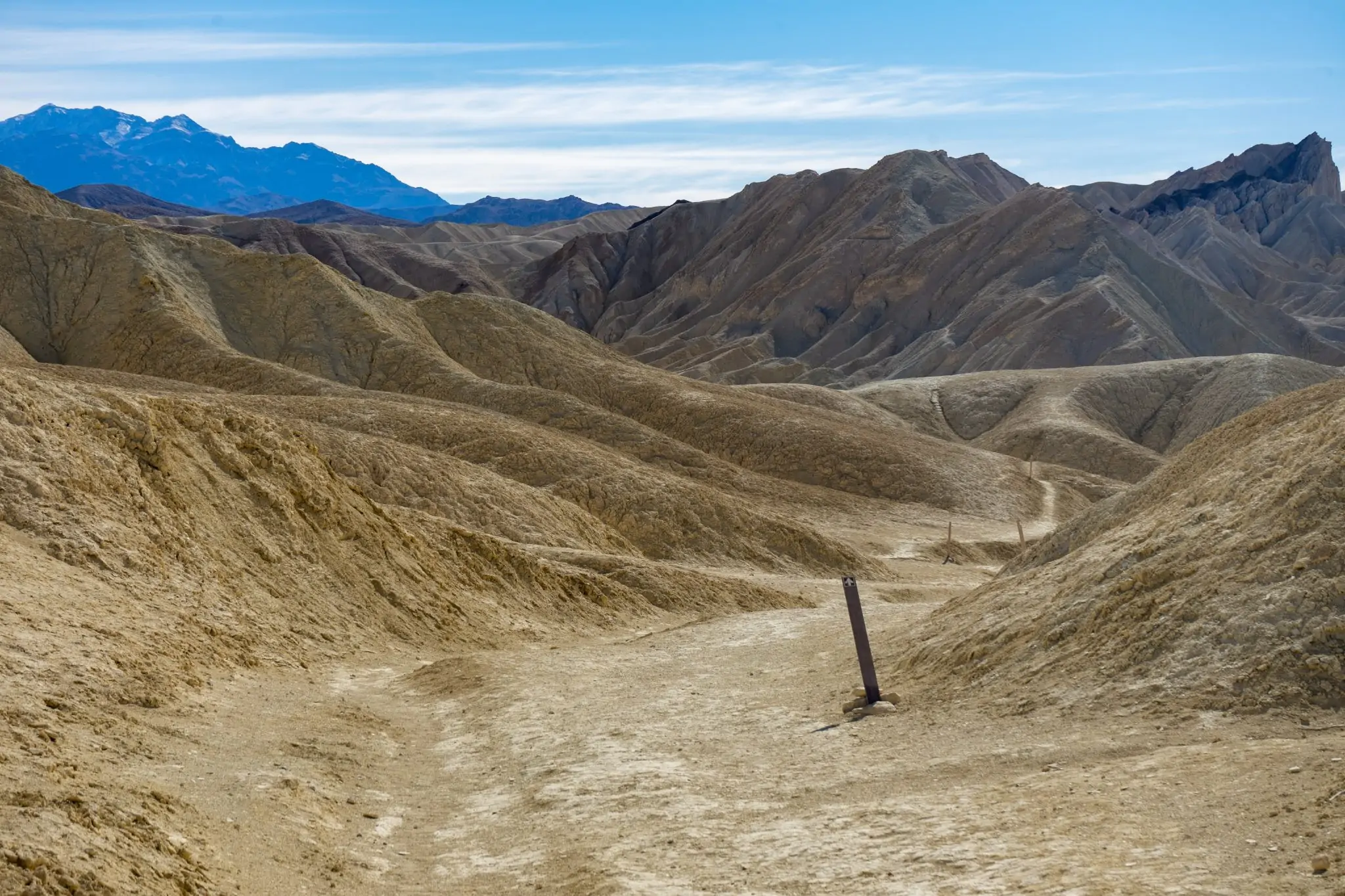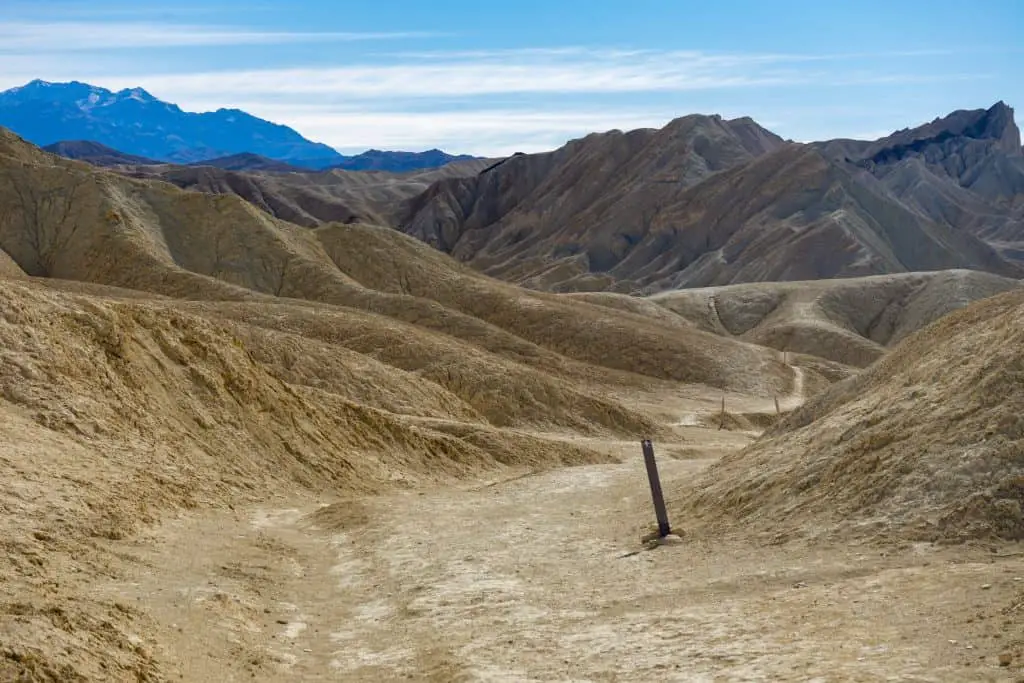 I've written a separate blog post with all of the details on how to hike the Golden Canyon trail. If you're planning to hike the entire trail, please go read that for in-depth information. For the purpose of this blog post, I'll be talking only about the first half-mile of the hike that will take you closer to the actual Zabriskie Point.
From the parking lot, look to the right of the overlook, you'll see a trail leading into the canyon. Follow that!
This is a very well-marked trail, so pay attention to the signs.
Follow the trail for about ½ a mile until you come to a location that allows you to walk on top of the badlands with Zabriskie Point in the distance. There is no marker or anything here, but check out the photo below. You'll know what I'm talking about when you see it, I promise. It's fairly obvious.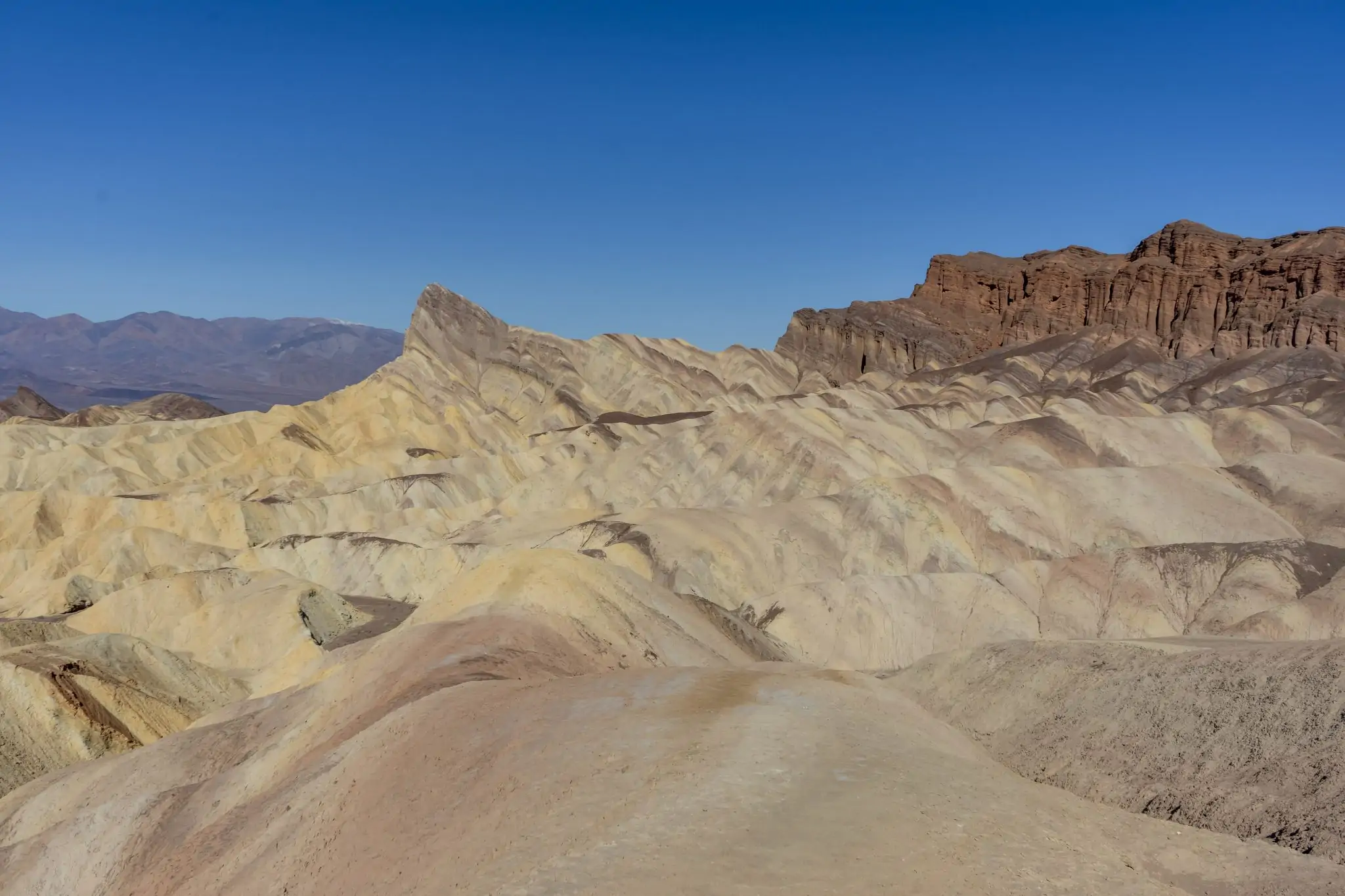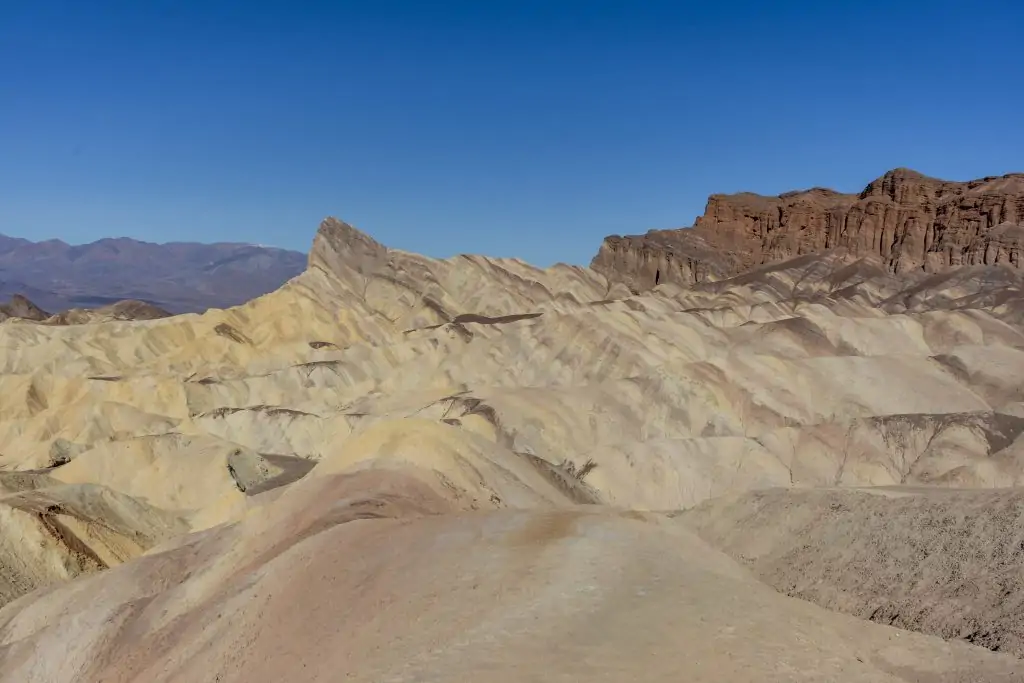 Once the sun has risen, simply follow the trail back to the Zabriskie Point overlook for a total of a 1-mile hike.
What to Bring with You?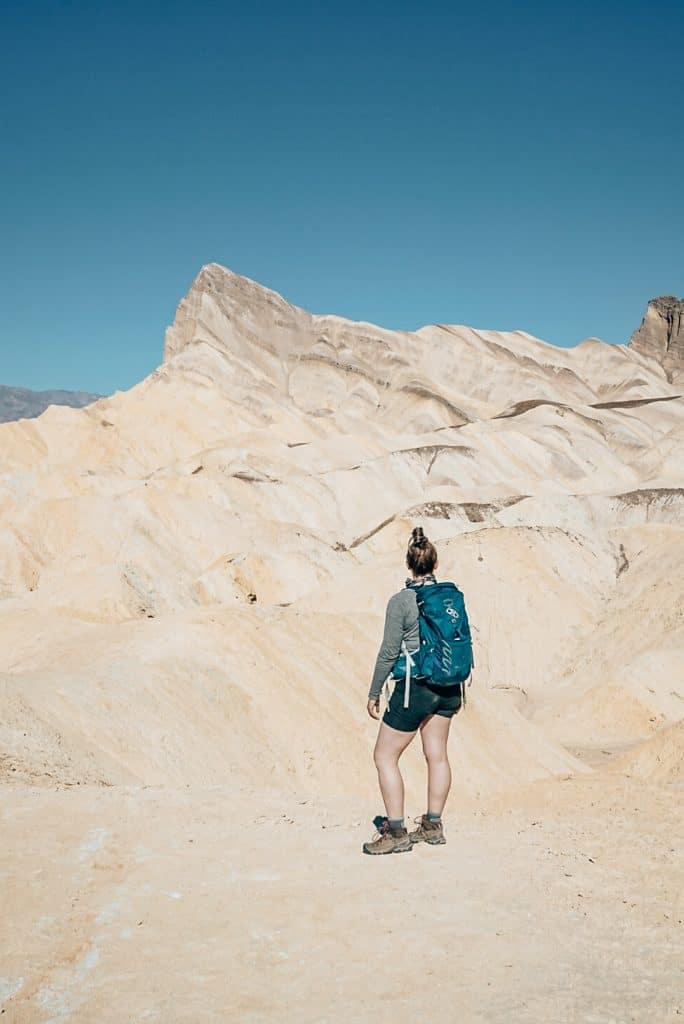 Since you'll be hiking this when it's still dark out, or just getting light, definitely bring a headlamp to light your way. There are times when the trail is narrow and you'll want to see where you're stepping.
Water. Always bring more than enough water when you're hiking in the desert.
Since it will be early in the morning, you may want to put tea or coffee in a thermos to enjoy as the sun rises. That sounds so lovely, doesn't it?
Snacks are also a good idea. Some good options are a bagel and peanut butter, your favorite dried fruit (mine is Mango), a Lara bar, etc. Now you've got breakfast, a coffee, and a sunrise in PEACE!
Check out my day hike packing list for more ideas.
What to Wear to Visit Zabriskie Point at Sunrise?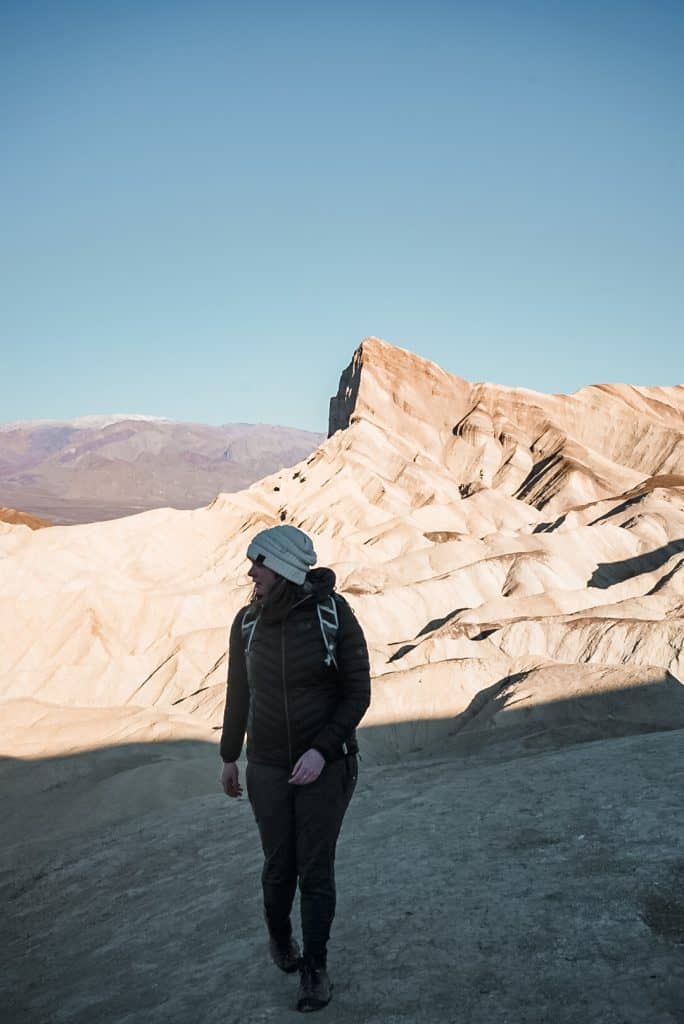 The desert at this time of the day is also quite chilly. So dress accordingly. Layers are a solid option because as the sun begins to rise it will heat up!
A beanie, gloves, leggings, long sleeve shirt or t-shirt, fleece, and puffy coat to name a few articles of clothing to wear. 
Then pack sunglasses and a wide-brimmed hat for the return hike.
I highly suggest wearing sturdy hiking shoes with quality hiking socks (my favorite are Darn Tough).
And finally, sunscreen!
Alternative Death Valley Sunrise Options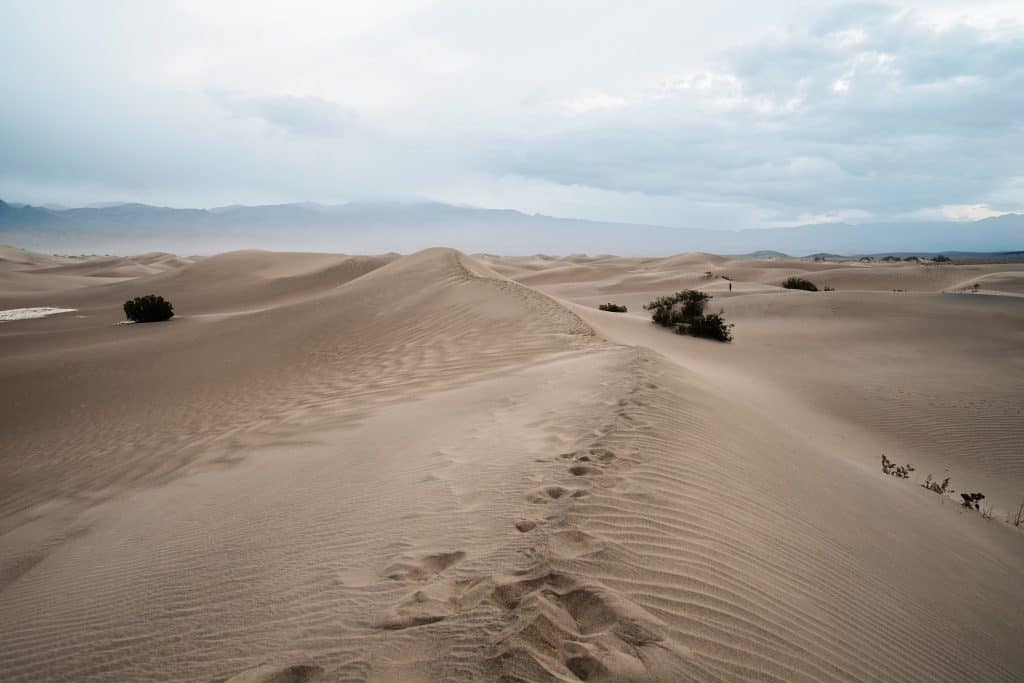 If you're reading this and thinking, Katie, this is way too much work for sunrise. I get that. 
Here are some alternatives:
Mesquite Flat Sand Dunes
Badwater Basin (this also has the potential to be very crowded, but once you're out in the flats, you can space out easier than Zabriskie)
Dante's View
Zabriskie Point at sunrise is truly beautiful, that's the reason it's mentioned in every blog post. However, one thing I'm learning though is that if every blog post mentions something, it's likely to be crowded. 
Now, I don't know if it's because I visited Zabriskie point on a Saturday during peak season that it was so busy. I wonder if I'd gone on Friday morning or during the middle of the week would it have been less crowded.
I don't have the answer to that.
I'm simply glad I found an alternative way to see the sunrise at Zabriskie Point and am able to share it with you. I wondered about sharing it because I don't want the hike to get overcrowded.
The Golden Canyon Trail is already a very popular hike in Death Valley, and most people won't put in the extra effort. But if you report back and tell me that you tried this and it's hella crowded, then I will re-evaluate sharing this!
I do hope that if you visit Zabriskie Point during your time in Death Valley that you enjoy it, no matter how you decide to see it!
Like this post? Save it for later!