Death Valley National Park is such an amazing place to explore. I still can't believe a landscape like this exists in California. As I planned my first trip to the hottest, driest, and lowest place on earth my first task was to decide where to stay in Death Valley. 
As a solo female traveler, my accommodation is always my top priority when planning a trip. I like to read the reviews, particularly from women, to figure out how far my hotel is from what I want to do, and it gives me a place to put into my GPS. Plus, on this particular trip, I was driving from San Francisco and would be arriving in Death Valley well past midnight. So, while I planned to camp, I wanted to stay in a hotel the first night for convenience and safety purposes.
I didn't want to be setting up a tent in a campsite past midnight after driving 8 hours. I knew I'd just want to crash in a bed.
So, I began my research, looking for affordable hotels in or near Death Valley as well as campsites in the park. In this post, I'll share with you where I ended up staying in Death Valley, why I chose them, as well as the other accommodation options that were contenders, but I only had 3 nights!
This post contains affiliate links, which means that, at no additional cost to you, I will earn a tiny bit of income if you decide to make a purchase or booking. For more, check out my disclosure. 
Should You Stay Inside or Outside of Death Valley National Park?
The first thing you'll need to decide when planning your trip is: Do you want to stay inside Death Valley or in a nearby town?
There are of course pros and cons to each. It's significantly cheaper to stay outside of Death Valley when it comes to the price of the room and gasoline. But you'll have to drive into the park each day adding on extra miles and time to your journey. Staying in the park can be more expensive, but you're right near the best things to do in Death Valley. Plus, if you need a midday nap, you're never too far from your room/tent.
I opted to stay in Death Valley National Park so that I could be close to the action!
Should You Stay in a Campsite or Hotel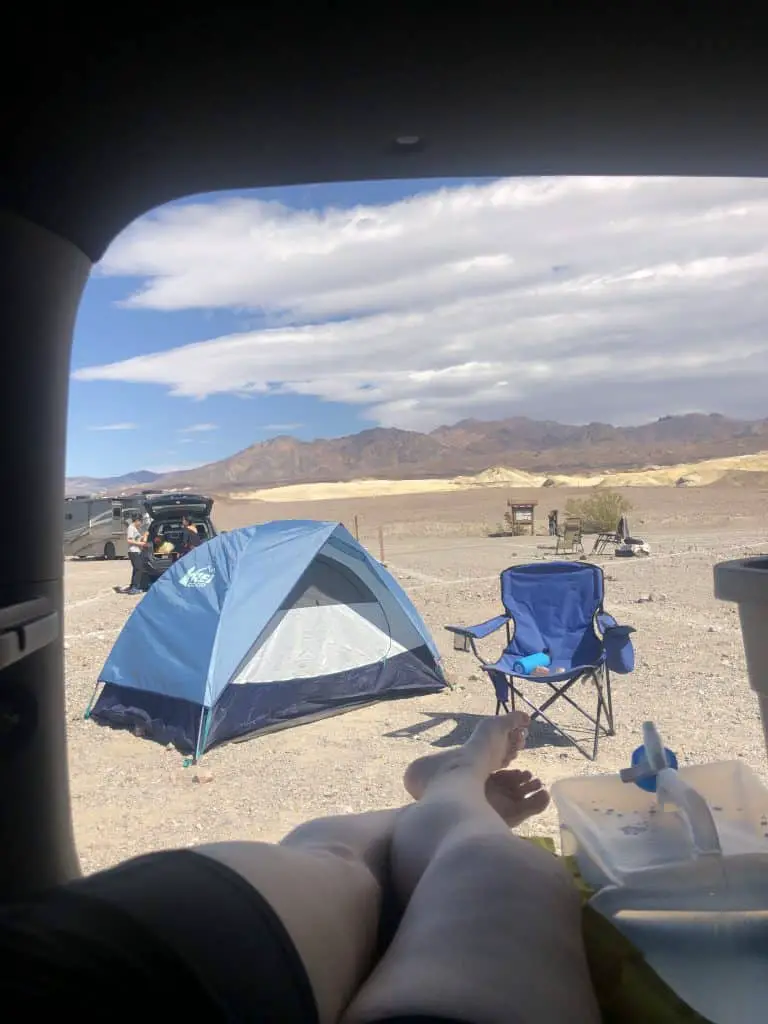 The second question you must answer is: Do you want to stay at a campsite or a hotel? Camping is the most budget-friendly option when visiting Death Valley, a great way to experience the amazing night sky and be close to the top Death Valley attractions, like the Golden Canyon Trail, Artist's Palette, and Badwater Basin. But it also is a desert and I don't know about you, but my tent does not come with air conditioning or a pool.
A hotel would be a great option if you're visiting during the hotter months (not recommended) as you'll have access to all the comforts of air conditioning, a pool, and a shower. The hotel may also offer complimentary breakfast and have a fridge in the room to keep snacks and water cold!
I stayed in both; Stovepipe Wells Hotel upon arrival and Sunset Campground the following two nights. 
With those considerations in mind, let's get into where to stay in Death Valley and where to stay nearby Death Valley. Starting with where to stay inside the park. 
Places to Stay in Death Valley National Park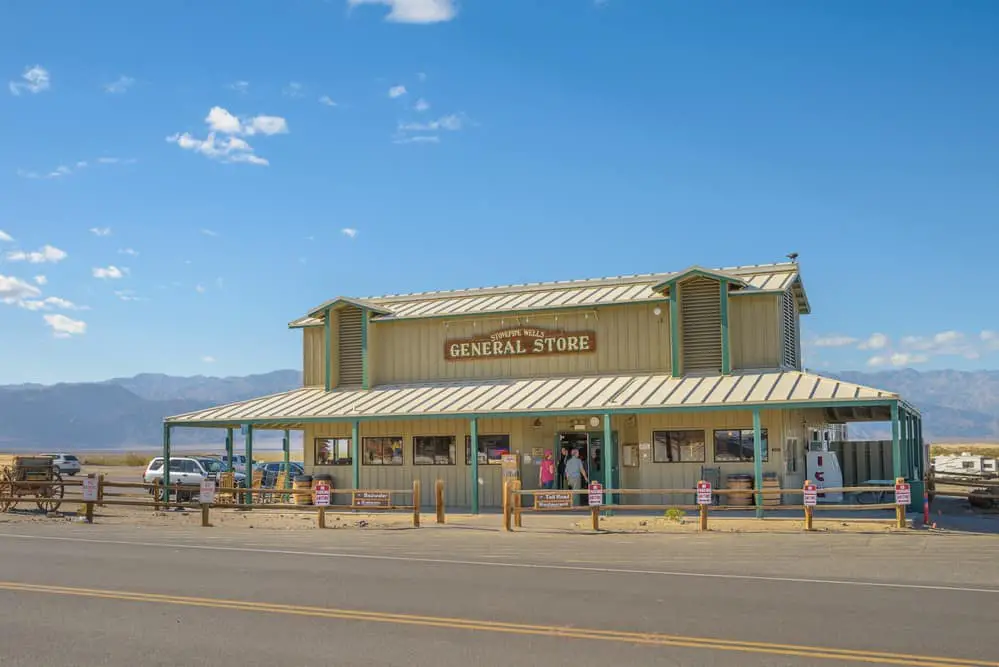 There are two types of accommodation available in Death Valley National Park: hotels and campsites. There are three hotels and several campgrounds to choose from. 
Hotels in Death Valley
Stovepipe Wells Hotel
Stovepipe Wells Hotel is located about 30 minutes from the center of Death Valley, Furnace Creek. Even though it's on the "outskirts" it is 2 miles from the Mesquite Sand Dunes, directly next to the road to Mosaic Canyon, and across the street from the General Store and a cheaper gas station. 
I stayed here my first night because it was the cheapest option during my visit and because it was the first hotel I'd pass entering Death Valley. I arrived right around midnight and a very helpful man checked me in and mentioned that someone was at the counter all night in case I needed anything.
The room itself was simple but had everything I needed for the few hours I'd be sleeping. I will say that the bed only had one sheet on it, which I found strange. But in the closet was a heavy blanket which I had to use because the desert gets cold at night! I also had to crank the heat!
I was up early the next morning for sunrise at the sand dunes then I checked out to snag a campsite before the weekend crowds arrived so I didn't check out the restaurant or gift shop.
Check current prices and book here!
The Ranch at Death Valley
The Ranch at Death Valley is located in the heart of the park, in Furnace Creek. This hotel offers a pool, beautiful rooms, and nice grounds. The cost of this hotel is in between Stovepipe Wells and the Inn at Death Valley. Which is why I put it second… see what I did there?
Honestly, this hotel looks beautiful and I'd love to return to stay one day.
Check current prices and book here!
The Inn at Death Valley
If you're looking to splurge on your accommodation in Death Valley, the Inn at Death Valley is for you. Perfectly located a 5-minute drive from Furnace Creek and Zabriskie Point, you'd return to a recently renovated room, a gorgeous pool, and a drink while stargazing. Sounds pretty nice right?
Check current prices and book here!
Panamint Springs
Panamint Springs is technically located in Death Valley, although it is an hour's drive to Furnace Creek. Panamint Springs would be a great place to stay if this is not your first trip to Death Valley and you've already ticked off the main things to do in Death Valley. Panamint Springs is located near Darwin Falls and Father Crowley Overlook, and Mosaic Canyon.
Panamint Springs Resort
Panamint Springs Resort is the accommodation option in Panamint Springs. It offers traditional lodging as well as a private campground. Three is also a restaurant on-site, a general store, and a gas station!
Campsites in Death Valley
There are many campsites in Death Valley National Park to choose from. I will be sharing four of them. Here is a great resource for all of the Death Valley campsites.
Stovepipe Wells Campground Death Valley
Directly across the street from Stovepipe Wells hotel is the Stovepipe Wells campground. This means it's close to the Dunes! 
There are 190 sites available with water and flush toilets. Stovepipe Wells campground is open from mid-Sept-mid May and is first come first serve. It costs $14/night.
Texas Springs Campground Death Valley
There are 115 sites at the Texas Spring campground and I will say that this seemed to be the most popular. I say that because it's where I wanted to camp but was full the entire time I was in the park. It is centrally located in Furnace Creek across the highway from the Inn, Texas Spring costs $16/night, does not take reservations, has water and flush toilets. It's open from mid-October to mid-April.
Side note: I also think it's the most popular because RVs don't fit well here, even if they could they can't use generators, so tent campers and van lifers like it!
Sunset Campground Death Valley
Sunset Campground is another first come first serve campground and it's where I stayed. It's right down the road from Texas Spring which means it's also centrally located in Furnace Creek! There are 270 sites, water, and flush toilets! This campground is very popular amongst RVers as well as van lifers. 
There are no tables at this campsite so bring your own or be prepared to use your trunk a lot! 
I felt perfectly safe camping here. In fact, it's the best sleep I've ever had camping. I was initially turned off by it because of the amount of RVs I saw when I pulled in, but I made a few RV friends!
This campsite is open from mid-October to mid-April.
Furnace Creek Campground Death Valley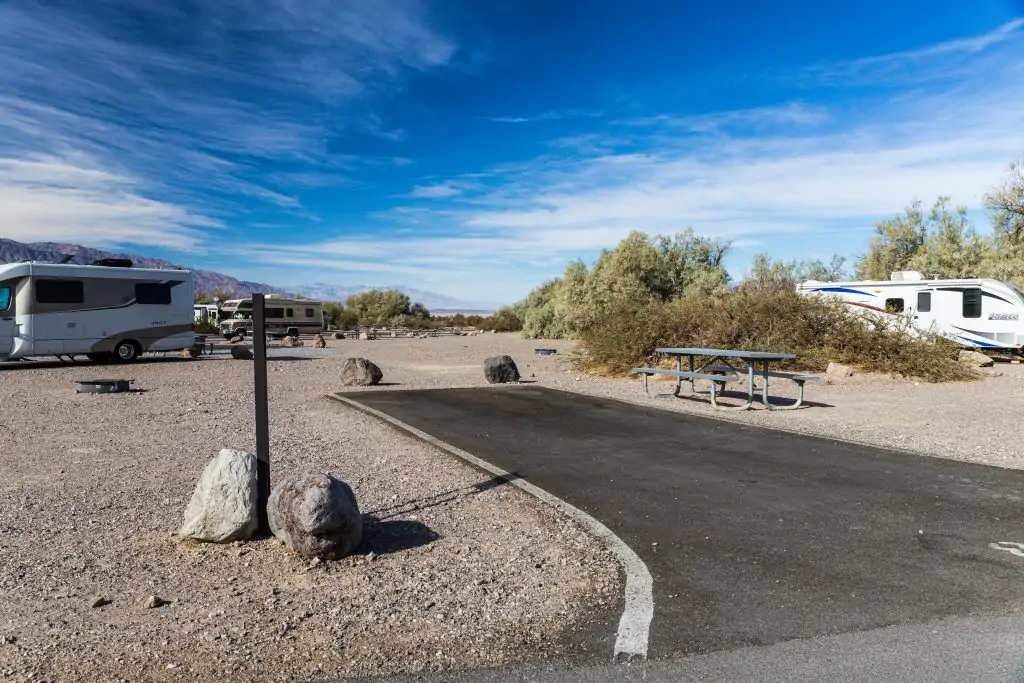 Furnace Creek campground is open year-round, taking reservations from mid-October to mid-April. You definitely need to book this campground in advance because is 136 sites fill up fast! You can book it through recreation.gov.
The perks of this campground are that it has a pool and shower, in addition to flush toilets and water. This campground will cost $22/night.
Supposedly you can pay $10 to use the showers and pool. I didn't try it, but you may be interested in seeing if that option is available during your trip.
How First Come First Serve Works
I didn't know how first come first serve works at campgrounds in Death Valley, and maybe you don't either. Here's a quick lesson.
Find an open campsite. How do you know it's open? If there is no white paper with a sharpie number on it attached to the post. The number corresponds to the date the person is checking out. So if you arrive early in the day and see a paper with that date on it, but the campsite is empty, it could be safe to assume the people left early and it's free. 
Pay at the kiosk. Once you find a campsite. Leave your car or something at the site to "claim" it. Then find the kiosk. You'll input your campsite and how many nights you're staying then pay with a credit card. 
Take the receipt. Write your campsite and license plate number where indicated on the blank lines. 
Attach the receipt to the post with the binder clip.
A camp host will come around, check the receipt to find your checkout date, write that number in sharpie on the receipt, fold it up, and put it back on the post.
Well done! You've just secured a first come first serve campsite!
Where to Stay Near Death Valley
There are a few towns with hotels near Death Valley that might be a good option for your trip. 
Pahrump, NV
Pahrump is located in Nevada, about a 1 hour and 15-minute drive from Furnace Creek. There are a handful of hotels, a grocery store, gas stations, and restaurants located here which is very convenient!
Two hotels caught my attention that I would've felt comfortable booking. 
Holiday Inn Express
While I love a boutique hotel, sometimes going with a name brand is your best bet. That's how I feel about the Holiday Inn Express, you know exactly what you're going to get there. A clean room, free breakfast, WiFi, Gym, and a pool.
The reviews on the hotel are positive as well!
Check prices, reviews, and book here.
Best Western
Another solid option is the Best Western. I know, from the exterior photos it looks a little bit suspect, but the rooms have recently been remodeled and look awesome! This hotel looks clean, also has complimentary breakfast, WiFi, and 2 pools!
Check prices, reviews, and book here.
Beatty, NV
Beatty is also located in Nevada, but a bit closer. From Beatty to Furnace Creek it's about a 45-minute drive. There are also a few restaurants and gas stations in Beatty.
Motel 6
Ok, it feels weird to recommend a Motel 6. But this place looks kind of cool. It's recently remodeled budget-friendly and 13 miles from the Death Valley entrance. Plus the reviews on it are great.
Check prices, reviews, and book here.
Ridgecrest
I drove through Ridgecrest to get to Death Valley and noticed it was a busy town with plenty of restaurants, gas stations, and grocery stores. While it is over 2 hours from Furnace creek. this might work for your budget and if Death Valley is part of a larger California Road trip. 
There are 3 name-brand hotels here: Hampton Inn & Suites, Springfield by Marriott, and Rodeway Inn. All of these hotels have great reviews and are located near each other. I don't think you can go wrong with any of them!
Airbnb Near Death Valley
There are Airbnb available in all of the towns mentioned above, however, I did not do extensive research into them. If renting an Airbnb is your preferred accommodation option, then check out what's available during your trip here.
I know that booking accommodation can be the most stressful, and sometimes the most expensive, part of travel planning. Hopefully, you now have a good idea of where you can stay inside of and near Death Valley. Now, you just have to choose an option that fits your budget and travel style, but bottom line, I recommend staying within the park if possible!
It was really nice only being a 5-30 minute drive away from the most popular destinations in Death Valley!
Like this post? Save for later!