Artist's Drive in Death Valley National Park was recommended to me by the clerk as I purchased my camping food for the trip. I love getting advice for things to do in my destinations, so I listened and on my first day in Death Valley I headed over to the Artist's Drive. The Artists Drive includes the colorful hills of the Artist's Palette, another Death Valley highlight.
I loved this drive so much I did it twice. The first time, I simply drove through in awe at the pastel-colored hills mixed in with the black and amber mountains. The second time I drove through, I pulled over at any possible turn out to take pictures and spent at least an hour walking around the colorful hills of the Artist's Palette.
I highly recommend adding Artist's Palette and Artist's Palette to your Death Valley itinerary, and here's how.
Artist's Drive Death Valley National Park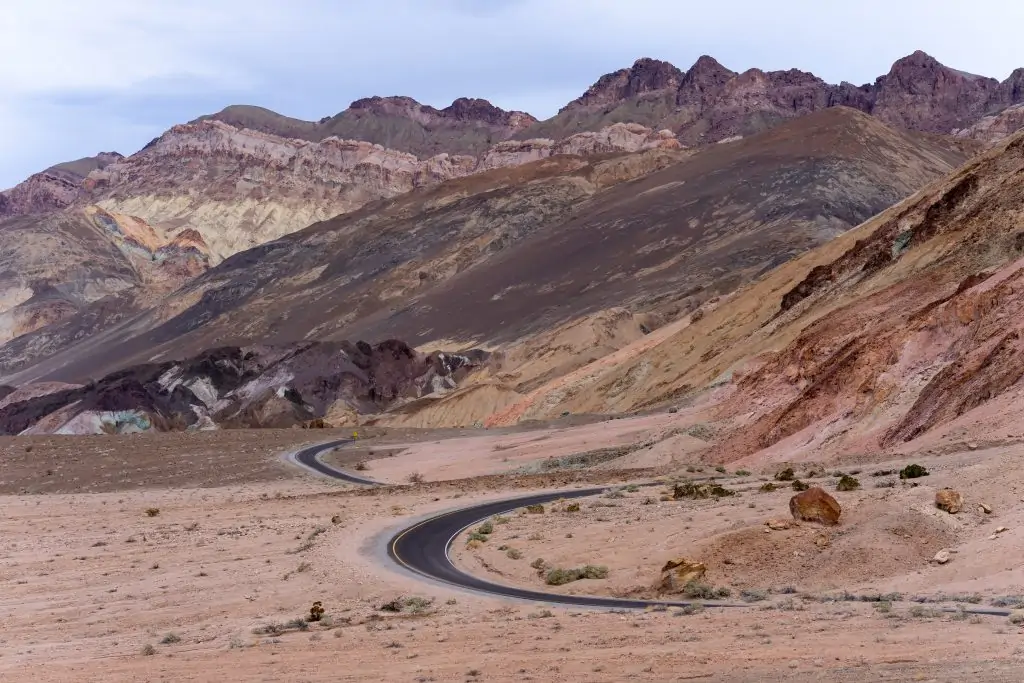 Artist's Drive is conveniently located about 15 minutes from Furnace Creek and 25 minutes from Badwater Basin Salt Flats off of Badwater Rd. This makes it incredibly easy to add to your itinerary.
Since it's 9 miles in one direction, it makes the most sense to do this drive if you're coming from Badwater Basin towards Furnace Creek.
One thing I loved about this drive is that the road is completely paved. This made for much easier driving compared to the gravel roads that lead to many of the other beautiful places in Death Valley. I didn't have to worry about popping a tire!
The road is fairly narrow with some hairpin turns, which makes for a fun drive. But if your vehicle is longer than 25ft, it won't make the turns, so take a smaller car!
There are also some rolling hills on the drive, making it feel like a roller coaster. Seriously, even the act of driving this road is fun, let alone being surrounded by such beautiful scenery.
Even though it's a narrow one-way road, there are multiple opportunities to safely pull over to the side to take a walk through the hills or snap a few photos.
The highlight of this drive, however, is the Artist's Palette.
Artist's Palette Death Valley National Park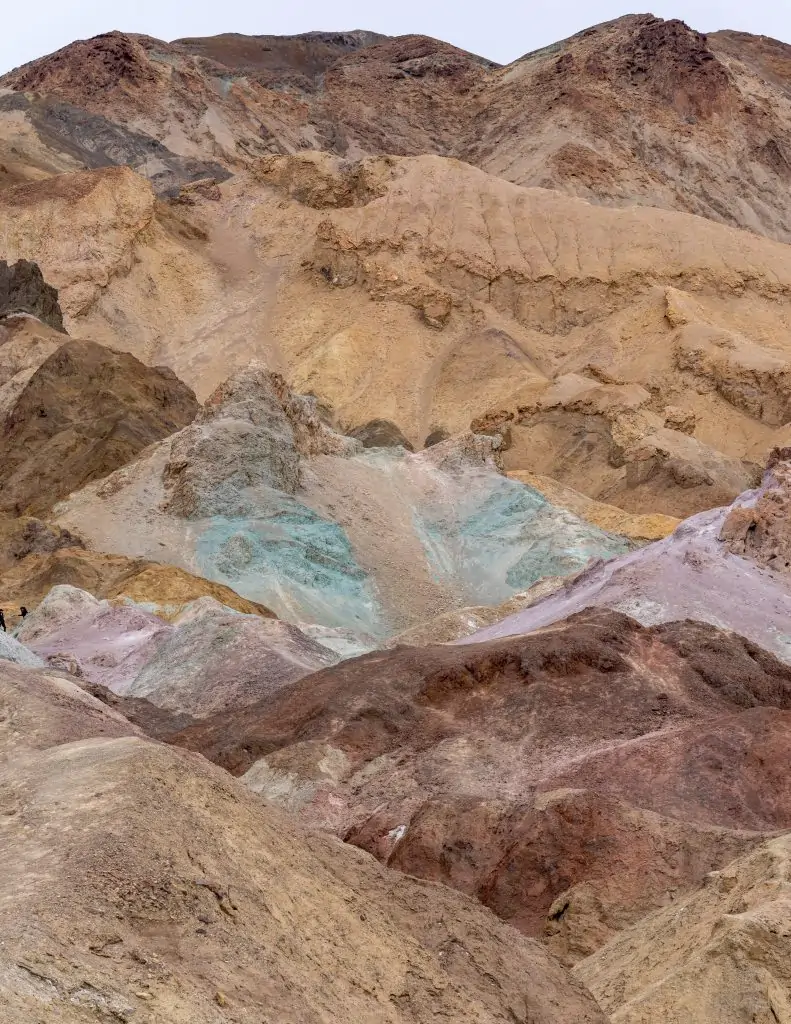 Artist's Palette is the blue, purple, and pink pastel-colored part of the black mountains in Death Valley National Park. You'll see Artist's Palette about 5 miles into the drive.
There is a small parking lot with vault toilets directly next to an access point for the colorful hills.
However, I recommend pulling over on the stretch of road just before the lookout point. This isn't marked, so as soon as you see the blues, pinks, and purples, pull over. There will likely be other cars there doing the same.
This provides a great location to get some panoramic photos of this awesome landscape. To get up close and personal to the hills from here, you'll cross over a ravine as a shortcut. Or there is a trail to the Artist's Palette Viewpoint.
If you just want to drive right up to it, then head to the parking lot!
I highly recommend spending time walking around Artist's Palette. There are so many nooks and crannies here that provide ample photo opportunities as well as some quiet if it's a busy day.
Best Time to Visit Artist's Palette/Artist's Drive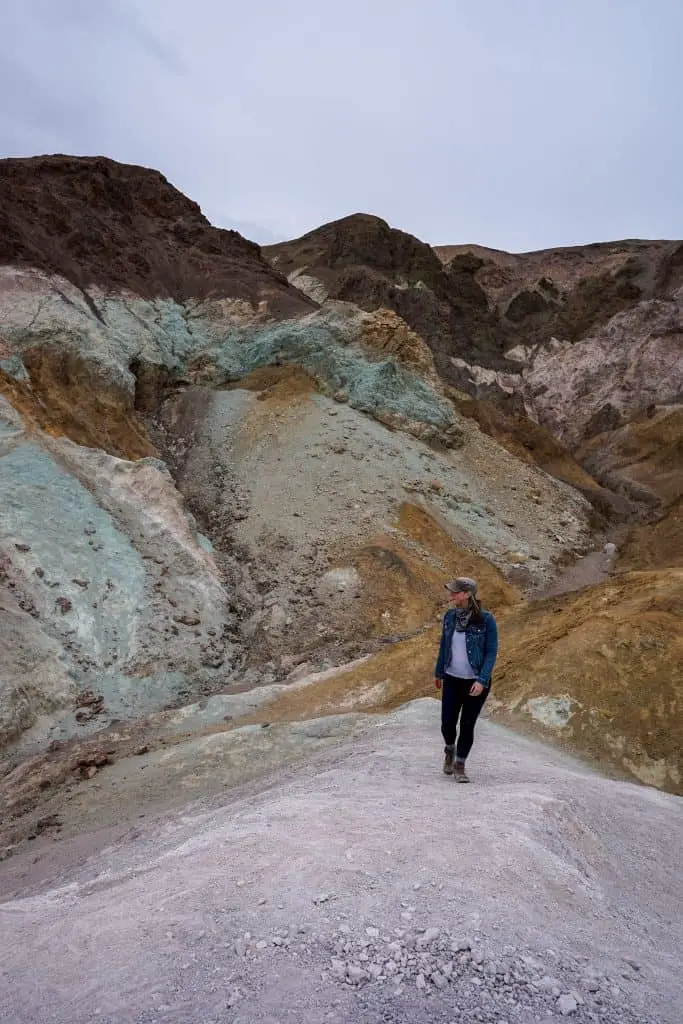 In general, the best time of the year to visit Death Valley National Park is in the fall, winter, and early Spring months when the temperatures are milder.
When planning what time of day to do the Artist's Drive, the morning and just before sunset are the best times to visit this part of Death Valley. Visiting at these times will avoid the midday desert heat. Also, when the sun is bright, it washes out the colors of the mountain.
This is also a great place to visit if it's an overcast day as the colors will still be poppin'!
What to Bring with You
All of my Death Valley posts say, to bring water. Even though it's only a 9-mile drive, you'll want to get out and explore a bit and it's better to be over-prepared in the desert. Also, bring along some snacks and your favorite road trip playlist!
What to Wear for the Artist's Drive/Artist's Palette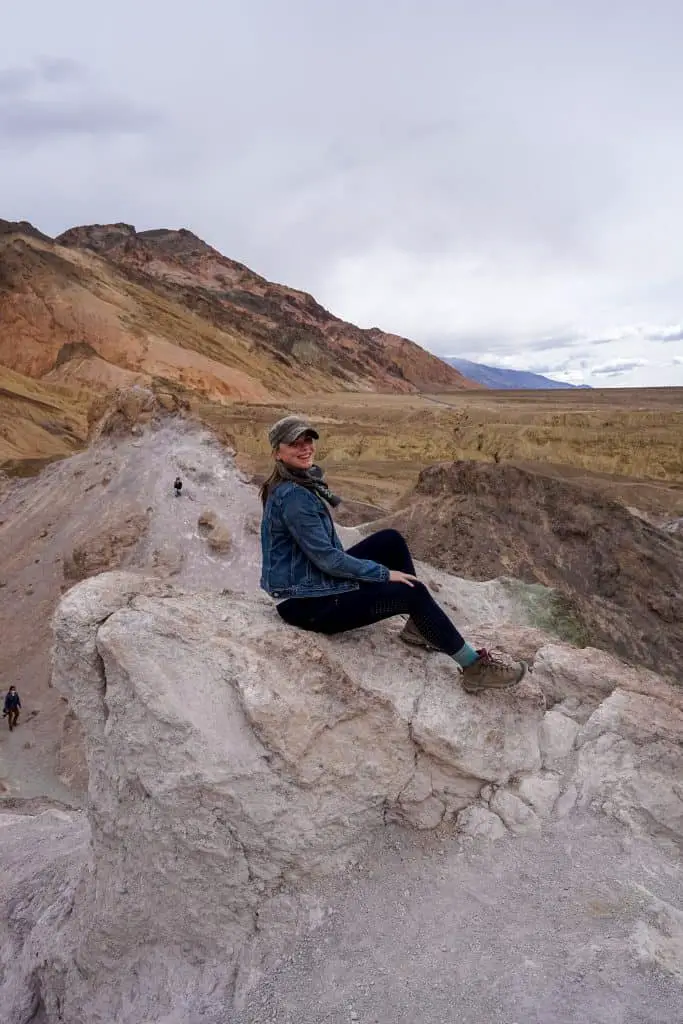 While there isn't any traditional hiking occurring, you will be walking on loose, almost sandy, hills. Wear sturdy hiking shoes and maybe pack a cute outfit if you want to take some fun photos here!
Sunglasses, sunscreen, and a wide-brimmed hat are also solid items to have on you when you get out to explore.
How Much Time to Allocate
At least one hour, and that's being really conservative. You'll want to take the drive at a leisurely pace and allow at least an hour to walk amongst the colorful hills. I spent 3 hours, most of it taking photos at the Artist's Palette and other stops along the way.
This was a short and sweet post for an awesome drive in Death Valley National Park. I highly suggest adding Artist's Drive and Artist's Palette to your Death Valley itinerary, whether it's your first or 50th visit!
Like this post? Save for later!