bitemojo is a self-guided, app-based food tour. They have food tours in 11 major cities throughout Europe, Asia, and the Middle East. Most cities have a variety of food tour options. Berlin and Jerusalem have five! The price range is from 22-35 euros depending on the city and the tour you select. Since I was heading to Budapest, I chose to do the Trendy Budapest Food Tour with bitemojo. As a big believer in being transparent, I received this tour for free, but the experience is my own and I'll keep it real!
How to Use the bitemojo App?
After downloading the app you can purchase your tour directly through the app, creating a login as you move through the process. Use that good hostel WiFi to download the tour before heading out. There is also a short video tutorial to show you how the app and tour work, which I recommend watching before you start. Your bite tour will appear under My Bite Tours in the settings of the app. When you're ready to eat, select start my tour!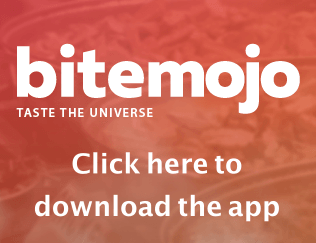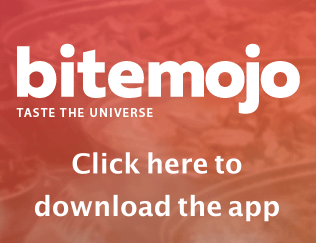 The app uses a map to guide you to the starting location and every bite stop along the way. To my surprise, not all stops along the way were food related. The food stops on the map are designated by number and stars designate points of interest along the way. When you select Discover on the location, background information pops up. This was a pleasant surprise as it helped me learn more about Budapest's Jewish Quarter like I would with an in-person guide, but I could take my time in each location.
That's the other aspect I enjoyed about this tour. There is no time limit. From the time of purchase, you have 6 months to use your bite tour. So if you get full along the way, you can pause the tour and finish the next day. Keeping this in mind, it's best to do the food tour early in your city visit, just in case you do have to pause it. You don't want those bites to go to waste!
Use Discount Code Sunsets2018 for 10% off your first bitemojo tour!
My Experience with the bitemojo Food Tour
Budapest has two options for tours. The Trendy Food tour has six bite stops and the Night and the City Food Tour has 5 (with one bite the same!). I opted for the Trendy Food tour because it had more food along the way along with drinks, instead of a heavier focus on drinks.
I was staying a bit outside of the city center at my Couchsurfing host's apartment. So I actually put the first bite stop into Google maps to figure out how to get there through public transportation. Once I arrived at the Jewish Quarter, I selected "start my tour" and to my surprise, it started with an introduction to the building I happened to be standing in front of, not the bite location itself. I selected Discover to realize the app also gave me information about the building – cool! But I was hungry, so I continued on to my first bite stop!
Passing under the gateway of Madach Ter, I walked along the cafe and restaurant-lined street. Fans blowing a bit of water were placed over the outdoor seating to keep the customers cool. It was approaching 90 degrees around 12:00pm as I began the tour, so I was thankful for a brief bit of cool air.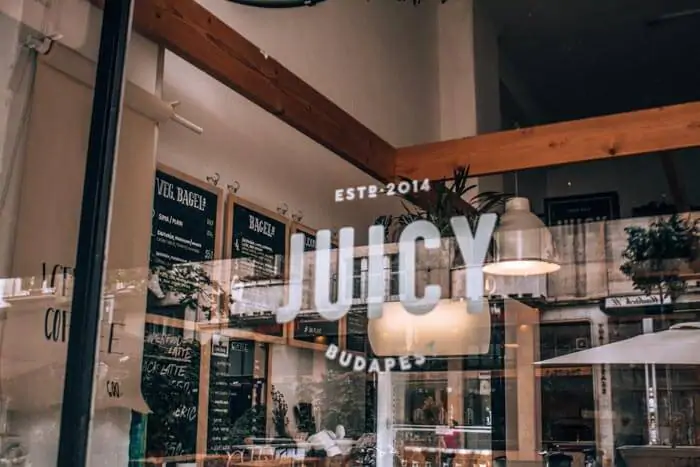 I accidentally passed Juicy & Budapest Bagel as it's a small shop and their awning covered the name. But, once I walked in I was greeted by a friendly smile and told I could select any of the cold-pressed juices in the fridge! Cold pressed juice is such a luxury and my body sorely needed those nutrients!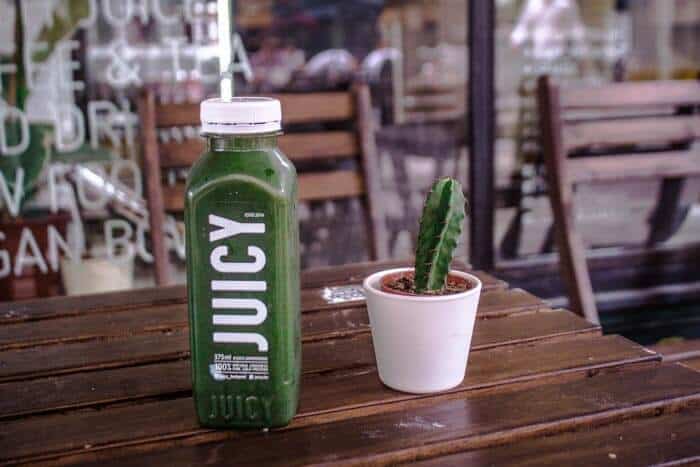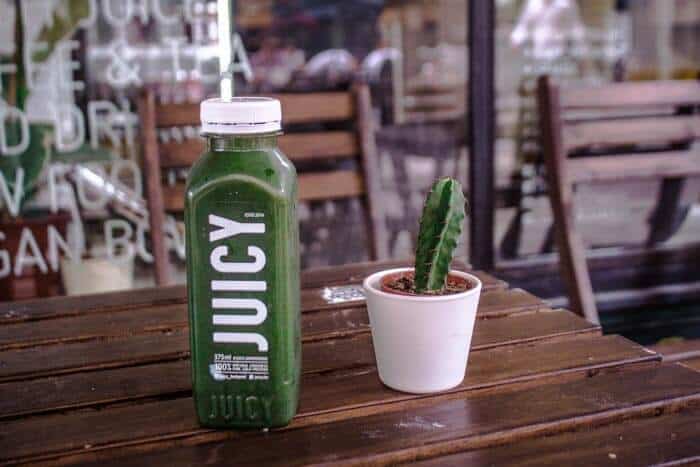 They had a wide variety, with descriptions in Hungarian and English. He gave me his favorite juices, all of which contained beets. Now, I love beets, but they do a number on my digestion (if you know what I mean) and I didn't want any issues as I was out walking around. So I opted for a green juice, which had the perfect amount of sweetness with the apple added and was incredibly refreshing. The shop inside is quite small with a cute window nook to sit, but not linger. I opted to take my green juice to one of the patio tables in the front and sip on it as I watched the people walk by, wondering how they seemed so cool as I was sweating out of every pore!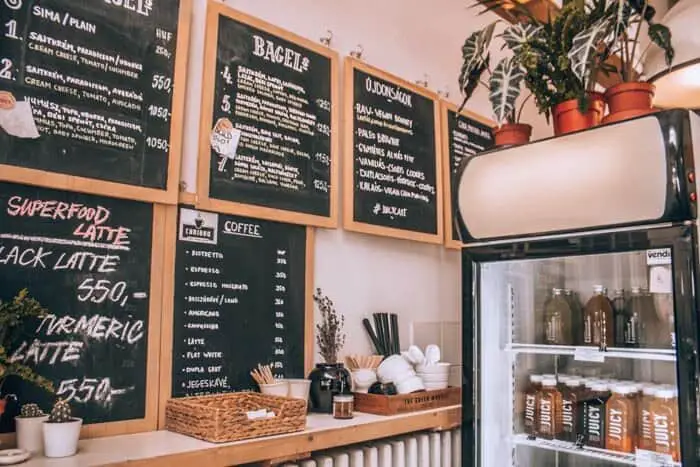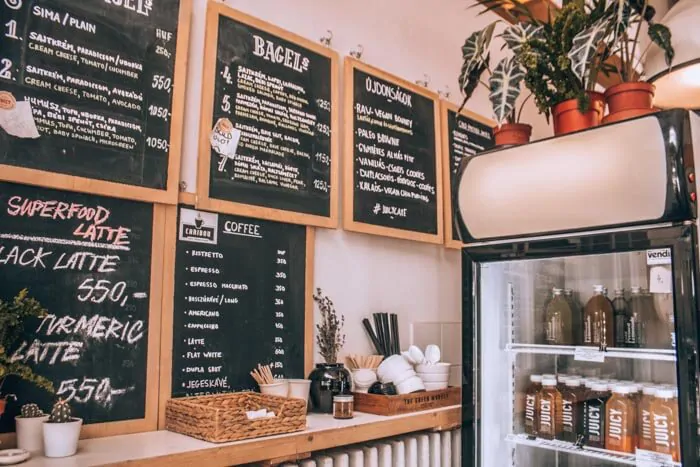 On my way to bite stop two on my Budapest food tour, the map directed me down a cute "alleyway" that was lined with restaurants, bars, and cafes on either side. From there I passed an old-school Hungarian cafe and pastry shop, Frohlich Koser Cukraszda and the Kazinczy Street Synagogue.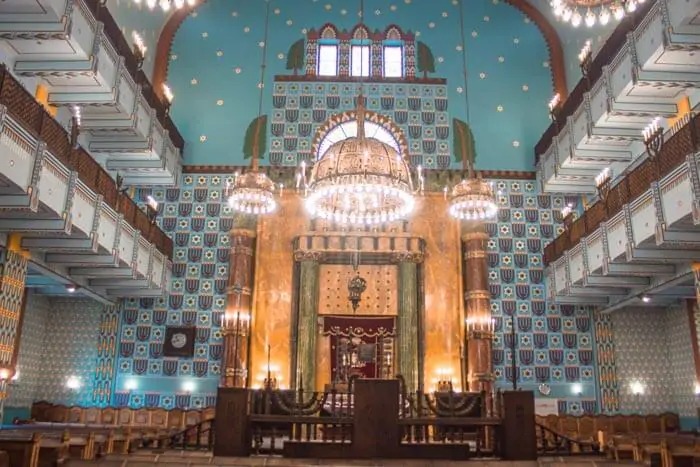 This beautiful Synagogue serves the Orthodox community. A sign posted out front asks for visitors to cover their shoulders and men to cover their heads. I fit the clothing requirement and have never been in a Synagogue, so I decided to pay $1000 Florint to take a gander on the inside.
I was in awe. It has a blue ceiling, with gorgeous chandeliers, intricate artwork on the walls, and lit menorahs on the above seating. But my stomach was rumbling so I headed just down the street to Cupakos.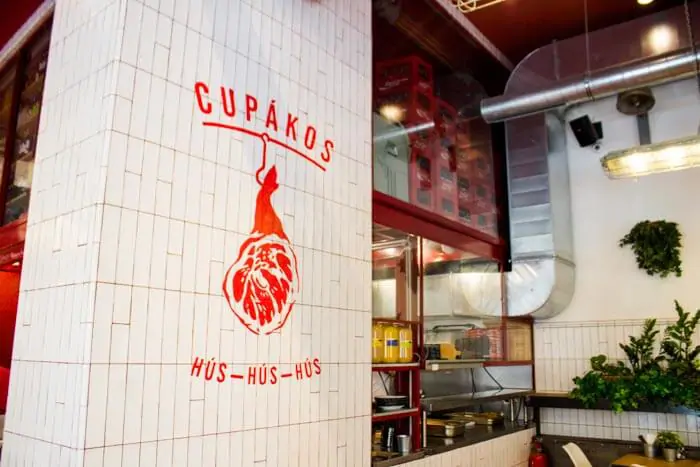 Cupakos is a meat centered restaurant located on the corner of Kazinczy and Dob streets. It has a large dining area inside, with covered seating outside. I checked in with the waiter, showed him my bitemojo app, claimed the bite and took a seat. It was fairly empty and I enjoy people watching when I eat solo, so I opted for a seat outside facing the street. He served me a small beer and I was given two options for food; sausage or liver pate. I opted for sausage and he agreed with a smile that "sausage is best". I wasn't sure if that was an innuendo of some sort. But I ignored it and cooled off with my beer.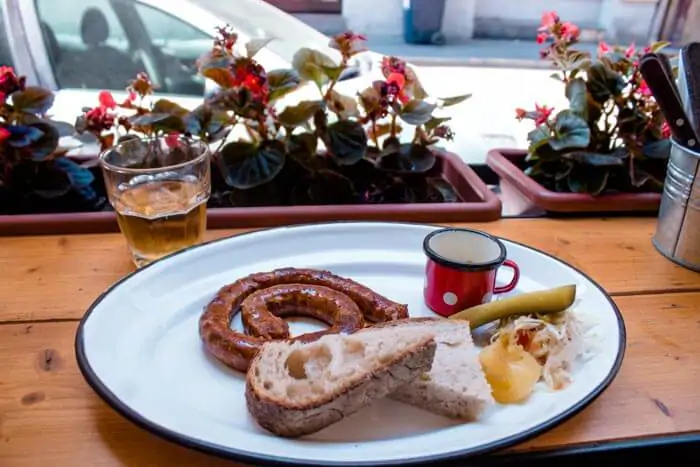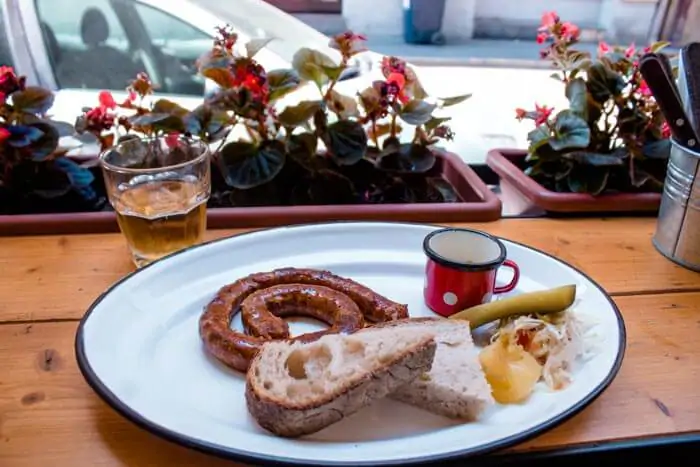 The plate arrived with the traditional sausage, a cup of mustard, pickled veggies, and two pieces of sourdough bread. This was much more than a bite! The sausage had a lovely spice that the mustard perfectly complimented. And as someone from San Francisco who knows a thing or two about sourdough bread, this bread was some of the best I've had. I could tell that its claim of being baked fresh from a local bakery was true. Although with the heat, the beer, and full belly, I felt like I could use a nap!
I took my time on my way to the third bite stop, allowing my food to digest a bit and following the map to points of interest. The tour showed me  Along the way I passed a DIY dinner spot called Budapest Makery. It's not exactly a cooking class, but they provide you with all the ingredients needed, you cook it yourself and enjoy it there. It sounds like a fun group activity.
I also passed KonyvBar & Restaurant where the menu is based on a book! Such a clever idea. After I walked through Klauzal Ter park, that was once a cemetery during WWII, but now is enjoyed by locals relaxing in the shade or playing basketball. There were even ping pong tables set up!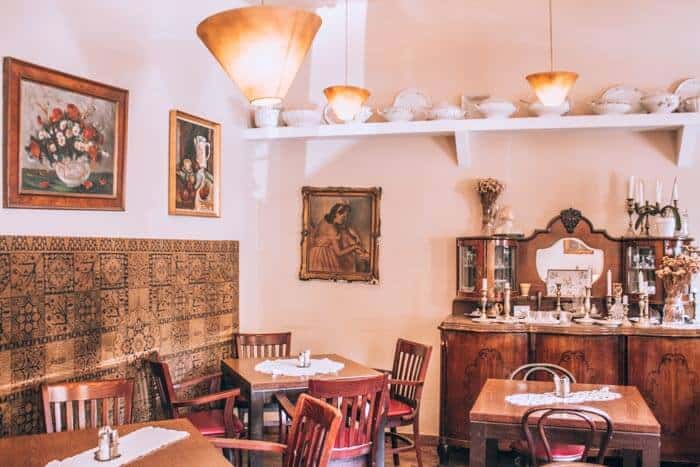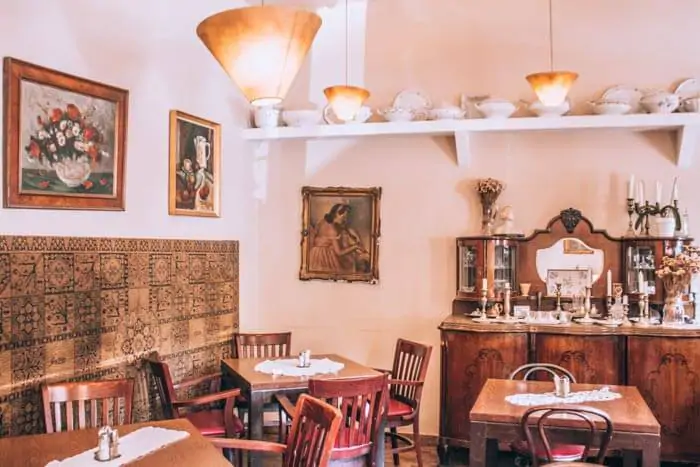 Figuring my food was digested enough, I walked into Klauzal Cafe. It felt like walking into someones home. The dark wood tables and exposed brick with a piano in the corner, antique clocks paintings and soup bowls decorating the walls give the cafe a warm and cozy vibe. Klauzal Cafe serves authentic Hungarian food such as Guylas, fish soup, which happened to be the two options for my bite.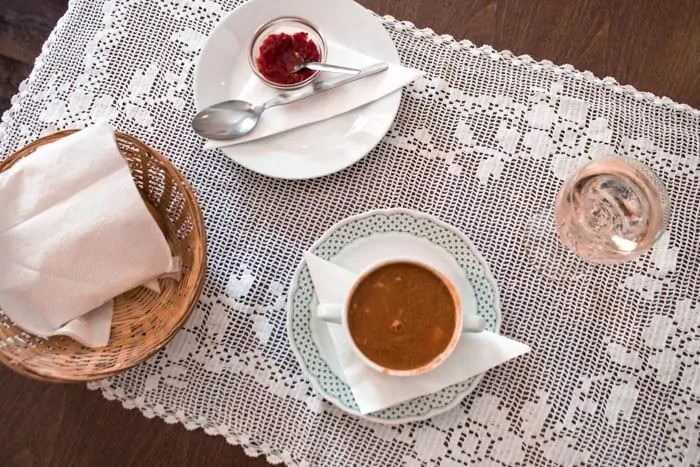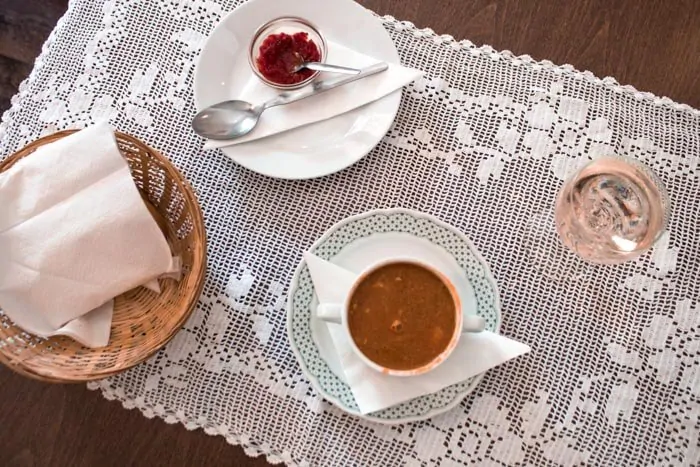 I chose the fish soup and was given a glass of cold sparkling water flavored with a fruit syrup – I think apple, but it wasn't overpowering. It was quite perfect to cool me off before heating myself up again with the soup! The soup was tasty, with large chunks of fish, but I was too hot to thoroughly enjoy it.
On the way to Veritas Wine Bar for bite 4, it started pouring rain! It was great to cool off a bit but I also wanted to stay dry-ish! Thankfully the map gave me a few locations I could duck into, I chose Antik-Bazar. Antik-Bazar has a wide variety of relics from the past including TVs, money, and photos. Definitely a worthwhile stop if you've got the time! The rain subsided and I headed back out to see the remainder of the Jewish ghetto wall. The Jewish Quarter in Budapest is filled with tragic history, I'm glad that the tour didn't skip over it.
Ok, off to wine and tapas! This was my favorite bite of the day.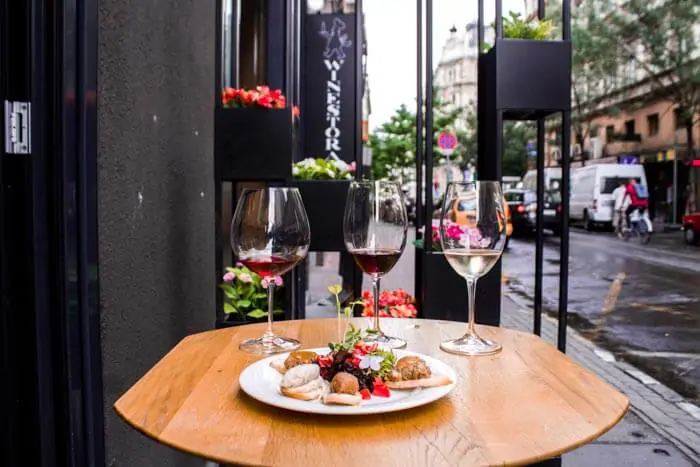 At Veritas Wine Bar, I received one glass of white wine, a red wine (I couldn't understand his description) and the third was a Pinot Noir. The wines were paired with specific tapas of beef tartar, liver pate, and fish pate (I think – his accent was too thick for me!). The tapas weren't necessarily that impressive but the Hungarian wine was delicious. The bartender was also fun to chat with as he made fun of my photo taking!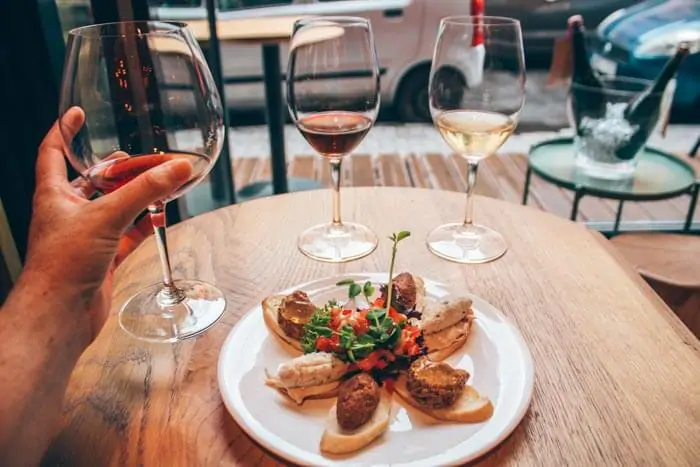 As a red wine lover, I gulped up the Pinot Noir quickly, then moved back to the white. It started to rain again as I sat there debating ordering another glass of the Pinot Noir. But I still had two more stops to get to before one of them closed. With a very full belly and a slight buzz, I headed to my fifth bite stop.
There were no points of interest along the way to my last two stops. I could have used them to help me digest! But, I could power through these last two! Strudel Hugo has a small storefront on the corner of Kertesz and Wesselenyi. All it does is strudel (some coffee and fresh bread, too). I love the specification because that means it's got to be good.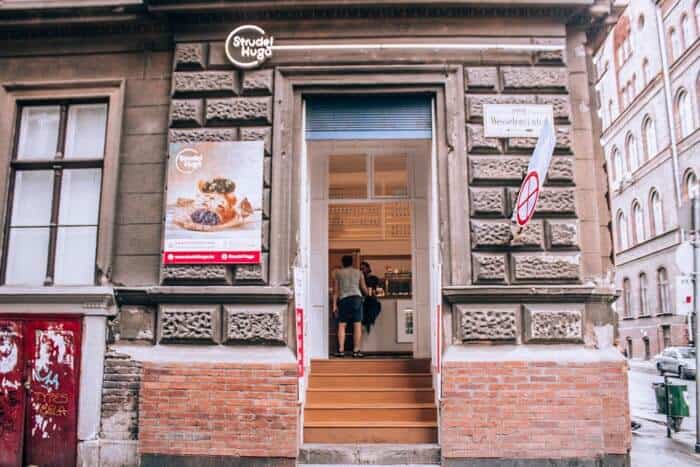 The counter display shows strudels filled with cottage cheese, poppyseed, cheery, and even a bacon one! I chose forest fruit and read the information on the app about Strudel Hugo. According to the app, the owner received the dough recipe from a woman in the Hungarian countryside. He then tweaked it ever so slightly and began filling the dough with sweet and savory ingredients.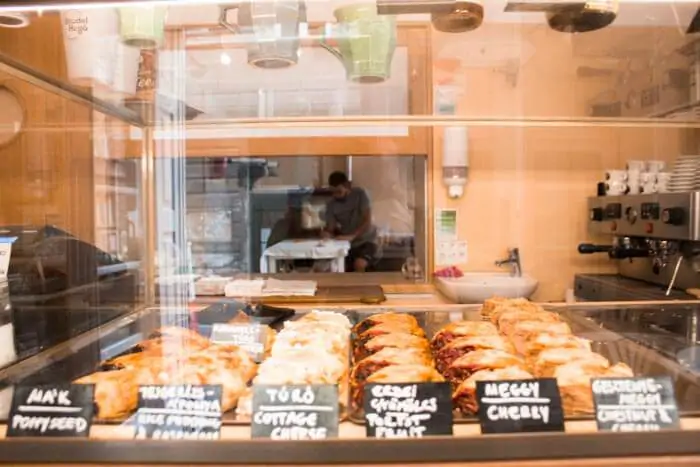 Side note – the bite also came with an espresso, and I don't drink coffee. I accidentally spilled it all over the table, which I guess solved that problem. Whoops!
Bite 6
Closed. Whomp Whomp. I arrived just after six to find closed doors. The app also showed that it was closed, it gave me the option to cash in my bites, which I did. So now, I can use that bite in any other participating bite locations!
Pros and Cons of the Trendy Budapest Food Tour with bitemojo
Pros
I quite enjoyed the bitemojo food tour. I liked that I could go at my own pace and that it had historical points of interest. Since I was solo, I could stop into many of these locations to have a look. Most of the time, food tours will talk about locations as you pass them on your way to the next restaurant, but this gave me the flexibility to explore (and time to digest). The food and drink at all of the locations were quite good, and I honestly probably would not have chosen the restaurants or bite options without this tour.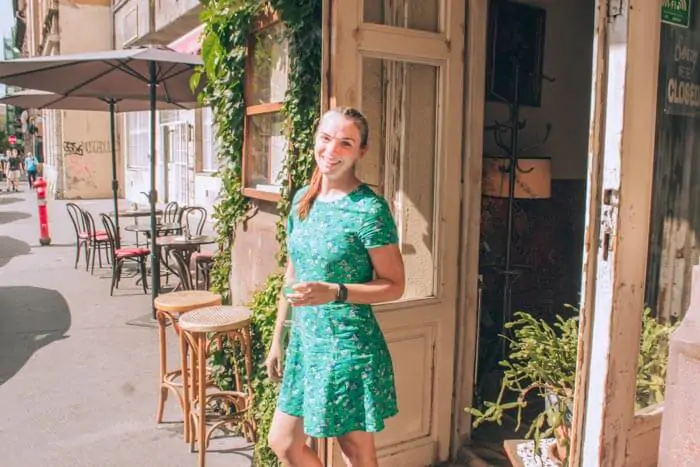 Another plus is the ability to earn bites as the tour progresses. After each bite you can review the tour and earn bites. Once you get to 1,000 bites you can claim a free one. Other ways to earn bites are to share using the #bitemojo hashtag, review the tour, suggest a bite, and of course book another one in 72 hours.
Cons
One con is that even though my phone battery had a full charge to start, it died quite quickly because I was using the app so much. Definitely bring a portable or normal charger with you. I was also looking at my phone quite a bit while walking, which has the potential to make me a target for a quick phone grab. If I were doing this at night, I'd be a bit more concerned, but overall I feel really safe in Budapest, so I didn't think too much about it. I mean, I was setting up my tripod with my DSLR to take photos with my bag right next to it and no one bothered it as they passed.
Have you ever done a self-guided tour before? Whether that's following an app or following a walking tour suggested in a guidebook? What was your experience?
Don't forget to get 10% off by using the code Sunsets2018