Best Cafes in Prague for Matcha and Working
Since I work from my computer, every city I visit, I inevitably search for a good cafe where I can get some work done. What makes a good cafe for working? Strong and free WiFi, a good Matcha, and staff that doesn't mind if I take up table space for a few hours. Why matcha? Because I don't drink coffee and I love it!
In Prague, I was able to find three such cafes, or Kavarny, that satisfied my matcha caj (tea) craving and don't mind if you set up shop for a few hours. So without further ado, here are my best cafes in Prague for matcha and productivity.
SmetanaQ is a centrally located cafe directly across from the Vlatava river and three minutes walking to the National Theater. Upon entering, you're greeted with lots of natural light from the large windows, ample seating, and a good variety of sweet, savory, and healthy options on the menu. Most importantly, there is Matcha Latte on the menu. I usually carry my laptop with me so I can squeeze in work during rest breaks. Thankfully, SmetanaQ also has strong WiFi.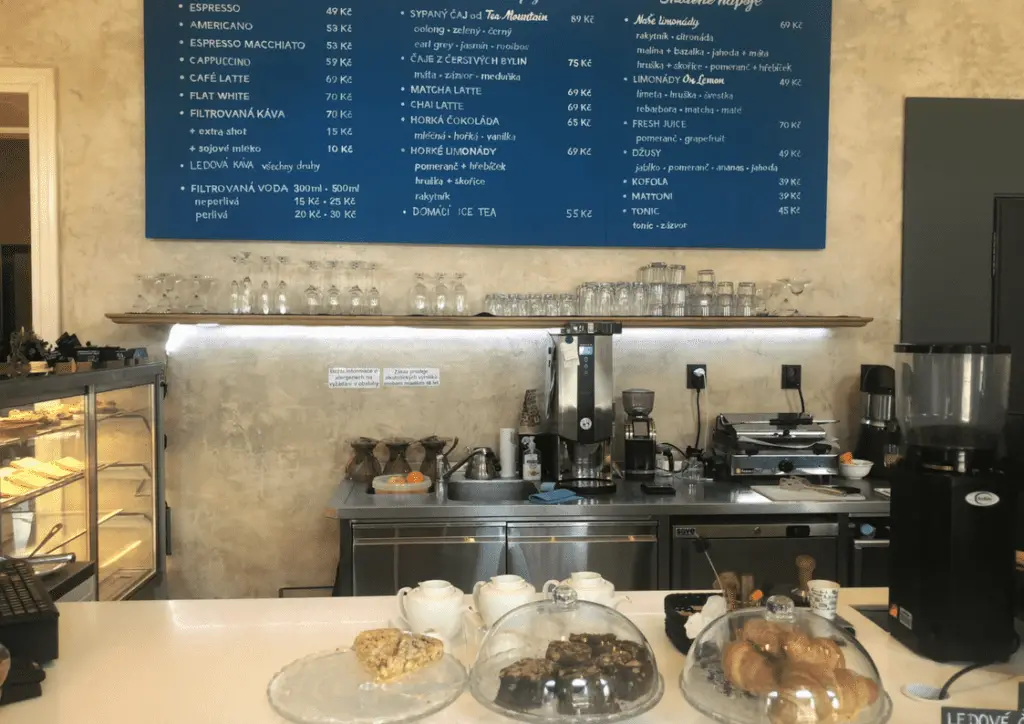 I opted for a window seat to people watch as I worked. The matcha latte was delivered quickly with a beautiful milk flower which I quickly destroyed as I satisfied my craving for matcha caj. It was the creamiest matcha I've ever had.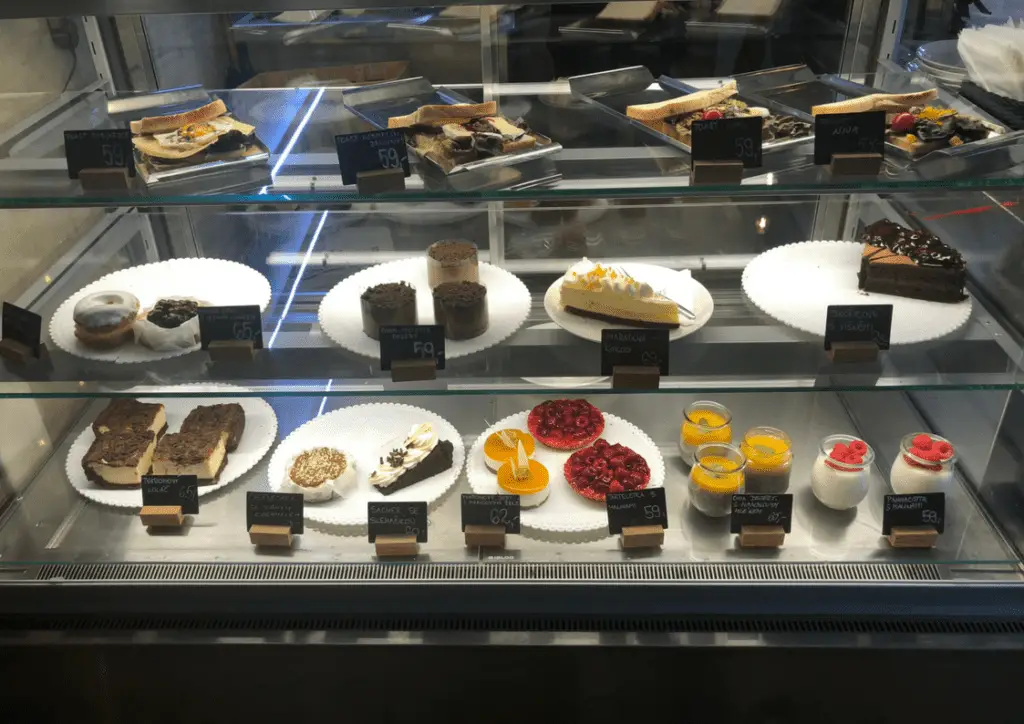 I ended up spending about four hours working at SmetanaQ that afternoon. The wait staff did not disturb me or try to rush me out. I also ordered a chia pudding and a second matcha latte while I worked. However, around the four hour mark, as it turned into a dinner service and a gentleman began playing the piano, I sensed it might be time to pack up. I was correct as the waitress came over, asking if I needed anything else. I took the hint, paid my bill and left.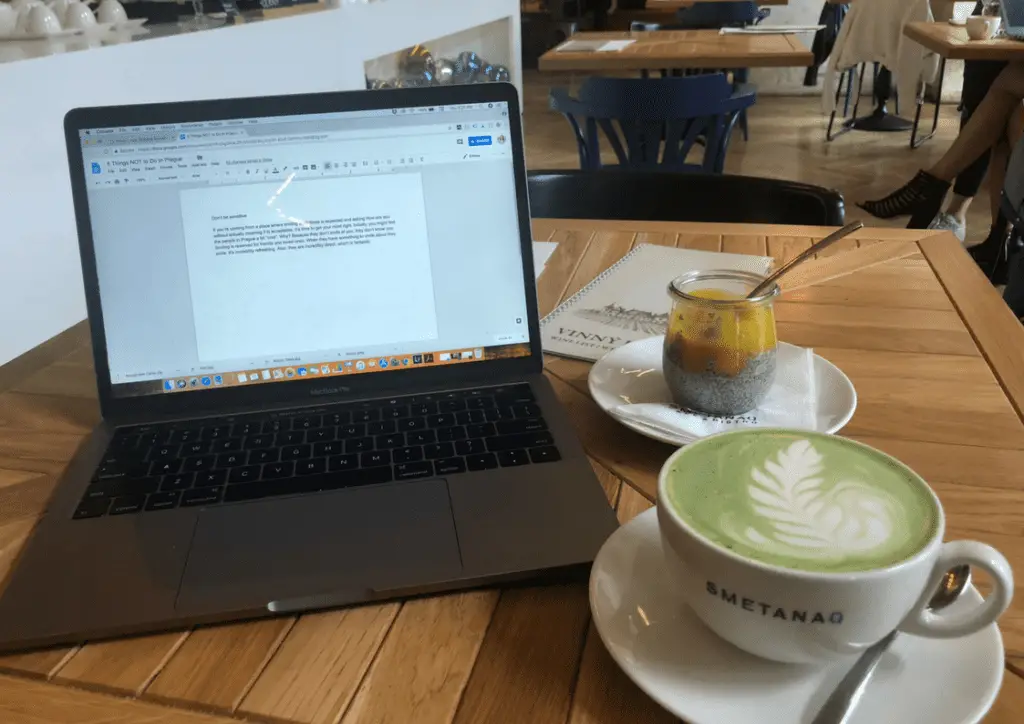 Matcha Latte Rating: 5 Stars
WiFi Rating: 5 Stars
Customer Service Rating: 5 Stars
Coffee and Riot is located on a quiet street away from the touristy part of Prague. I stumbled upon this cafe as I was in search of a vegetarian restaurant. The restaurant happened to be closed, but Coffee and Riot was open and advertised matcha iced tea on its blue door. Of course, I walked in. Coffee and Riot is a small, cozy kavárna with a few tables and friendly service.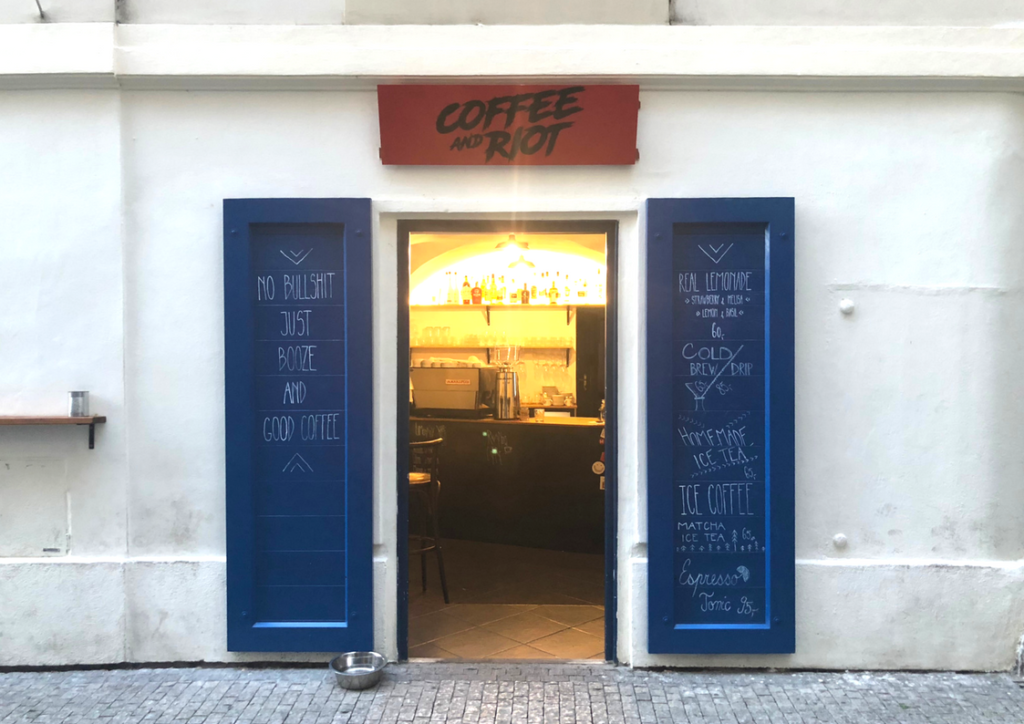 I ordered an iced matcha and logged in to the wifi to search for a new dinner spot. On a table near the front of the cafe, was a group of students huddled around a computer, presumably working. The iced matcha was good, but not exactly what I was expecting. Which is my fault, because I didn't specify I wanted it in iced latte form.
The barista was helpful in pointing out a few different places I could try for dinner and spent some time simply chatting with me. The best part of this place is it has a lovely local vibe and is on a tucked away corner of the city. 
Next time I'm in Prague, and there will be a next time, I'll stop by again and order the matcha the correct way. I'll also likely spend a bit more time there soaking in the local vibes!
Matcha Latte Rating: 3 Stars
WiFi Rating: 5 Stars
Customer Service Rating: 5 Stars
I found La Boheme from a google search. I was specifically looking for a place to spend a few hours working on my last day in Prague.  La Boheme is located on a quiet street in a local neighborhood. The tram drops you off at a lovely square, Namesti Miru, with a church and beautiful buildings to pass by as you walk to the cafe.
The cafe itself is on a street I would've likely passed by had I not had my handy google maps telling me where to turn. La Boheme is three stories of comfortable seating and bookshelves lining the walls. Even though it's so big, it has an incredibly cozy feel. I chose a spot on the first floor at the back with a plush bench and view of the bar. The bench had outlets installed which was a bonus!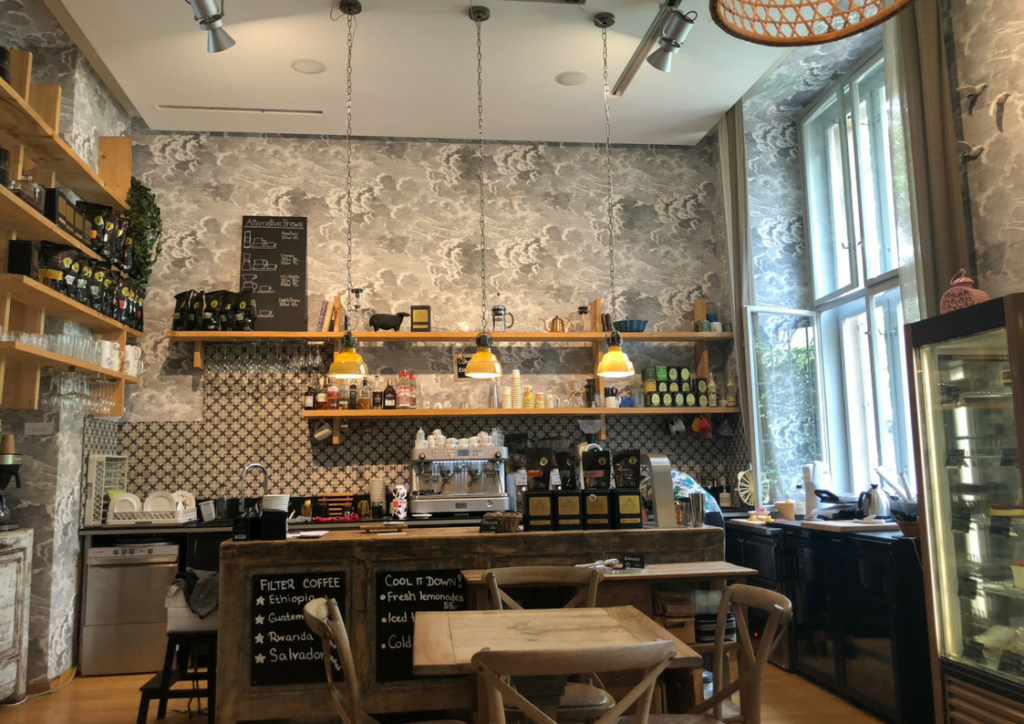 The waitress was attentive and they had matcha on the menu. I ordered an iced matcha latte, plugged in my laptop, and prepared to settle in for a few hours of productivity.
However, the internet at La Boheme had other ideas. Although the WiFi appeared on possible connections, it wouldn't connect. After multiple attempts, I finally asked the waitress who gave me a code, before telling me that if a box doesn't pop up to enter the code it likely means the internet isn't working.
No box popped up. I informed the waitress of this as she delivered my matcha latte and she didn't seem overly concerned. I opted to start a new book I'd downloaded called The Secrets of Six-Figure Women. It turned out to be quite lovely as the matcha was delicious and the book intriguing from the start. But my goal for the day was to get some blogging done, so as I finished my matcha I packed up my bag and headed to try another cafe.
So if you go to La Boheme with the intention to use the WiFi, be prepared with a backup productivity plan! Or perhaps it's an excellent place to work without the distraction of the internet!
Matcha Latte Rating: 5 stars
WiFi Rating: 0 stars
Service: 4 stars
So Many Cafes, So Little Time
There are so many little cafes on the cobblestone streets of Prague. It's difficult to try them all, even though I gave it my best effort! When you're wandering the streets, just look for a sign that says Kavarna and pop in to see what you find. Remember to check out my post for what not to do in Prague! And if you're heading to Amsterdam, I wrote about my favorite cafes (not coffee shops) there too!
Where's your favorite place to work on the road? Do you post up at a cafe or get it done in your accommodations?
Like this post? Pin for later!