I absolutely love living in the Richmond District in San Francisco. It's close to Golden Gate Park and the beach, but it's also home to some of the best food in San Francisco. In the Richmond District, there are a variety of international cuisines but you'll predominantly find restaurants with Asian influences and a few with Eastern European. While this isn't a Michelin Guide, you will find neighborhood favorites and a few local gems that will keep you making the journey to this part of San Francisco. So put on your loose pants and get ready to eat! These are the best restaurants in the Richmond District of San Francisco to add to your foodie bucket list.
This post contains affiliate links, which means that, at no additional cost to you, I will earn a tiny bit of income if you decide to make a purchase or booking. For more, check out my disclosure. 
The Best Restaurants in the Richmond District, San Francisco
You'll find many of the best restaurants on Clement street in central and Inner Richmond. But don't discount the restaurants in the Outer Richmond either. I'll break down some of my favorite places to eat throughout the Richmond neighborhood based on breakfast, lunch, and dinner. I'll of course include a few cafes for your caffeine fix. Even if I categorize a restaurant under lunch, don't let that box you in! Try any of these great places to eat in San Francisco at any time you can!  
If you're interested in spending a full day in the neighborhood, check out these other fun things to do in the Richmond.
Best Breakfast in the Richmond
Lokma
Lokma is hands down one of my favorite places for breakfast in San Francisco. This Turkish restaurant is home to delicious greek yogurt pancakes, beautifully spiced eggs, and incredibly flavorful sausage.
They're also well known for their Turkish breakfast which is best shared with another person due to the volume of food. I have not yet had the opportunity to give it a taste, but I've seen it on other tables, and those eating it look incredibly happy and satisfied.
Lokma is not just a breakfast spot though. It's also open for dinner. While I haven't eaten dinner there yet, every time I drive by in the evening the parklet is buzzing!
Location: 1801 Clement St.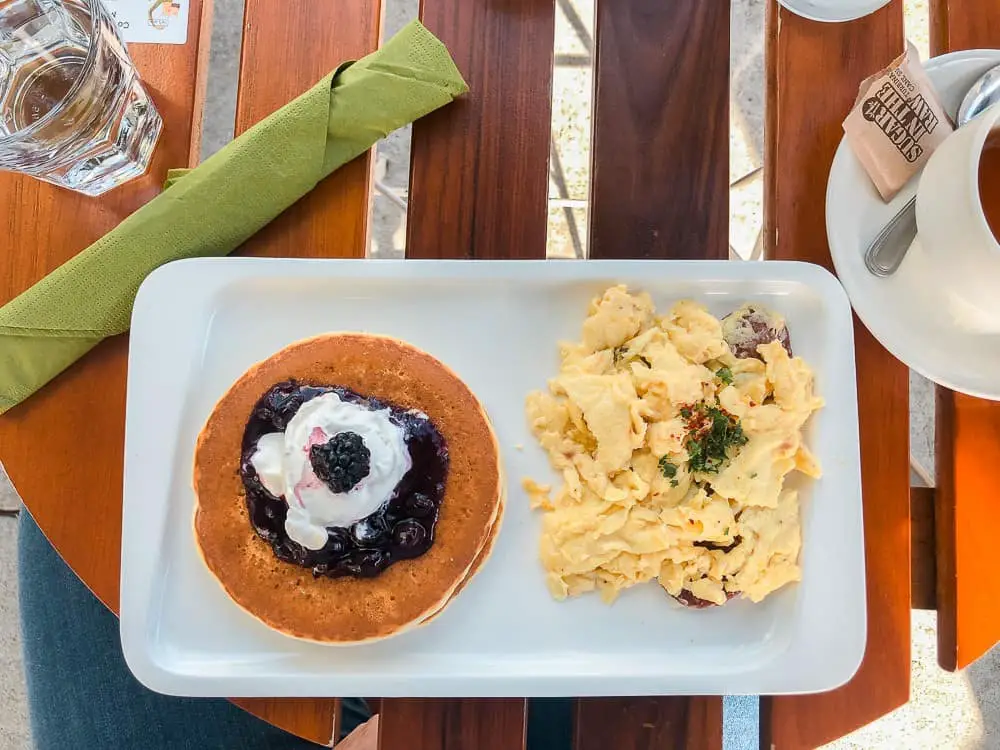 Eats
Eats is a cozy brunch spot on Clement St. from the same owners as Burma Superstar and B Star. However, the menu is quite different from their sister restaurants. Their breakfast menu offers up-leveled breakfast menu items such as avocado and lox eggs benedict and a few Mexican-inspired breakfast dishes like huevos rancheros and a few breakfast burrito options. Plus, they've got a great selection of breakfast cocktails to go with it.
If you're not feeling breakfast, no worries, there are also burgers, sandwiches, and salads.
Location: 50 Clement St.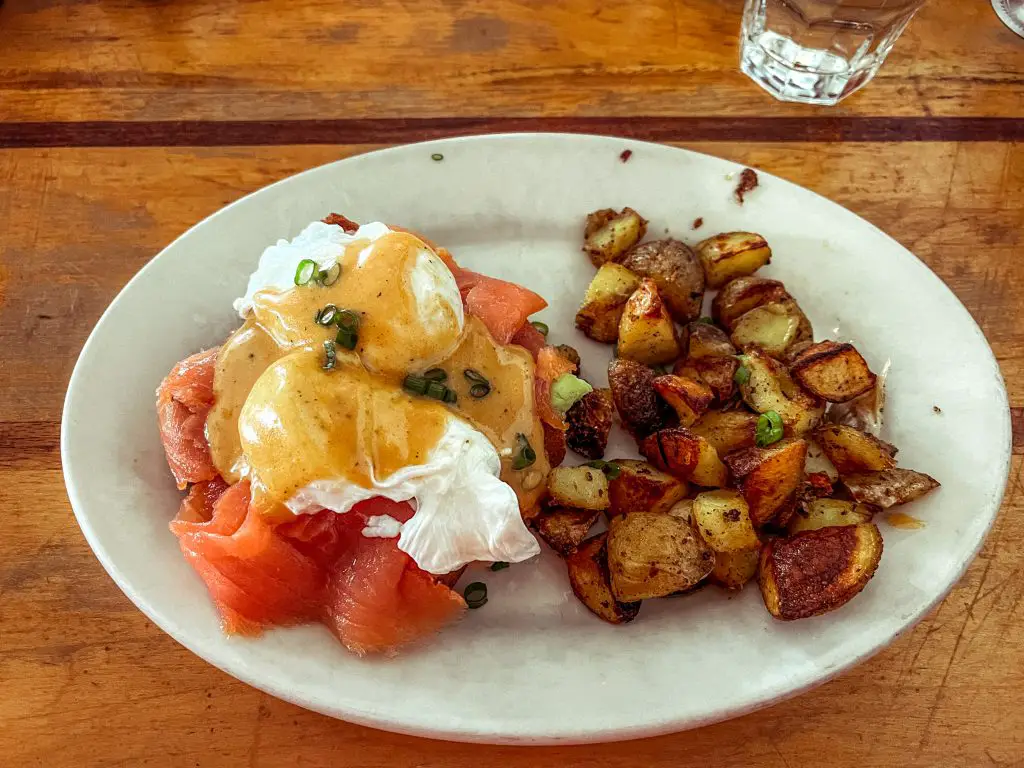 Best Lunch in the Richmond
Ham & Cheese Deli
Ham & Cheese Deli is a cute corner store with nostalgic arcade games, a unique sandwich menu, empanadas, and coffee. It's also next to an adorable plant shop that you can wander through while you wait for your sandwich.
I took a friend to Ham & Cheese Deli recently for an easy and quick lunch option and the sandwiches we ordered did not disappoint. My friend got the Praise Cheesus and I got the California St and a cookie. Can't recommend this adorable deli enough!
Location: On the corner of 17th + California at 5501 California Street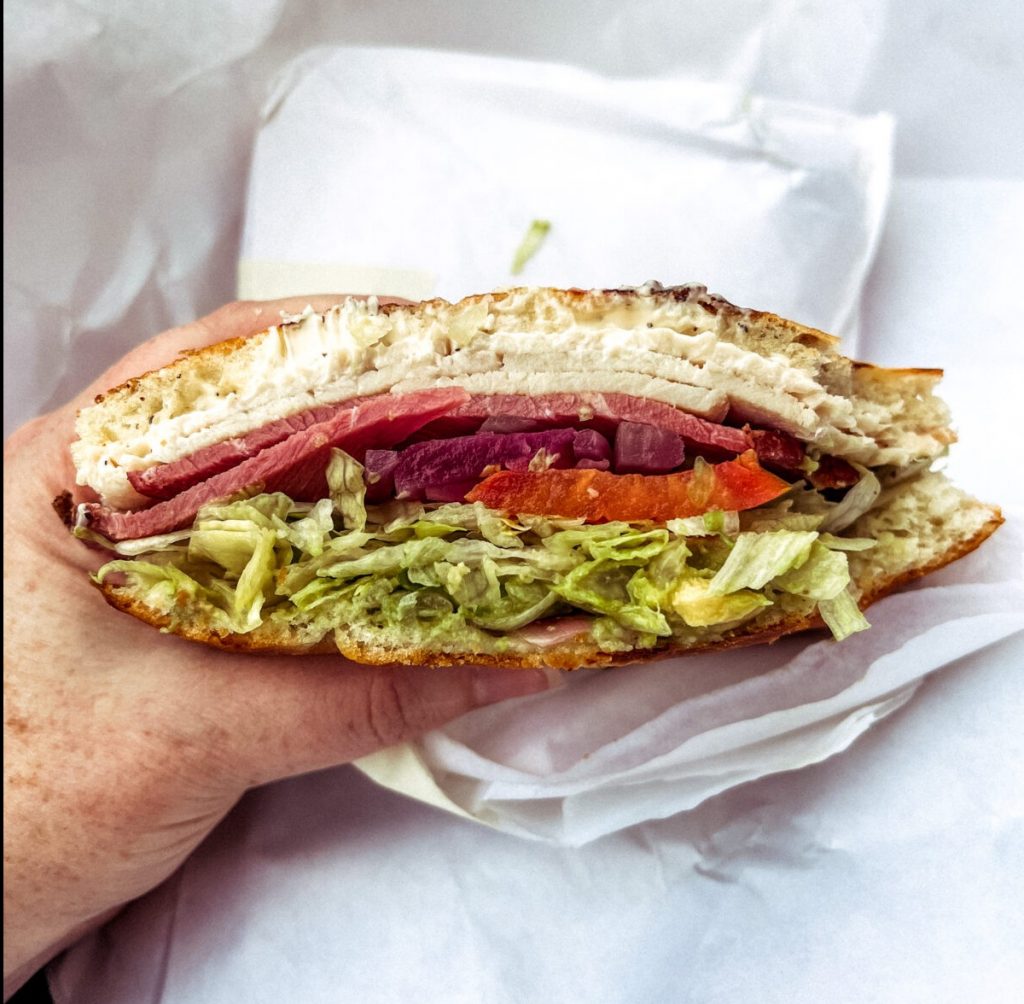 Good Luck Dim Sum
In full transparency, I am not a Dim Sum connoisseur. The first time I ever had Dim Sum was a few months ago and I embarrassed myself by eating the paper at the bottom of the pork bun.
Determined not to repeat this, I hopped in line at Good Luck Dim Sum with only two types of Dim Sum I knew to order: Siu Ma and Har Gow.
As I was called forward to order, I was overwhelmed by all of the ready-made Dim Sum options, and I wanted to try more. But I was also intimidated by the fast pace that seemed to be required to keep the line moving so I stuck with my plan.
I walked out with a bag filled with 3 pieces each of Siu Ma and Har Gow and sat on the curb to eat them while they were still hot.
They were both delicious. Although pre-made, they tasted incredibly fresh and were full of flavor.
Plus for the affordable price of $7.00 it was a very budget-friendly, and filling, lunch option. I'll expand my order next time!
PS: Good Luck Dim Sum is cash only. 
Location: 736 Clement St.
Chino's Taqueria
I know the Mission is where most people head for a good burrito, but if you're in the Richmond area, having a Mexican food craving, Chino's Taqueria will hit the spot.
This is my neighborhood burrito spot and I love their Chili Verde with all the guacamole the tortilla can handle. Plus for $10, you really can't go wrong.
I also love the guys who work there, they're incredibly friendly!
Be warned though, this is a cash-only operation! There are a few ATMs located on Balboa if needed.
Location: 3416 Balboa St.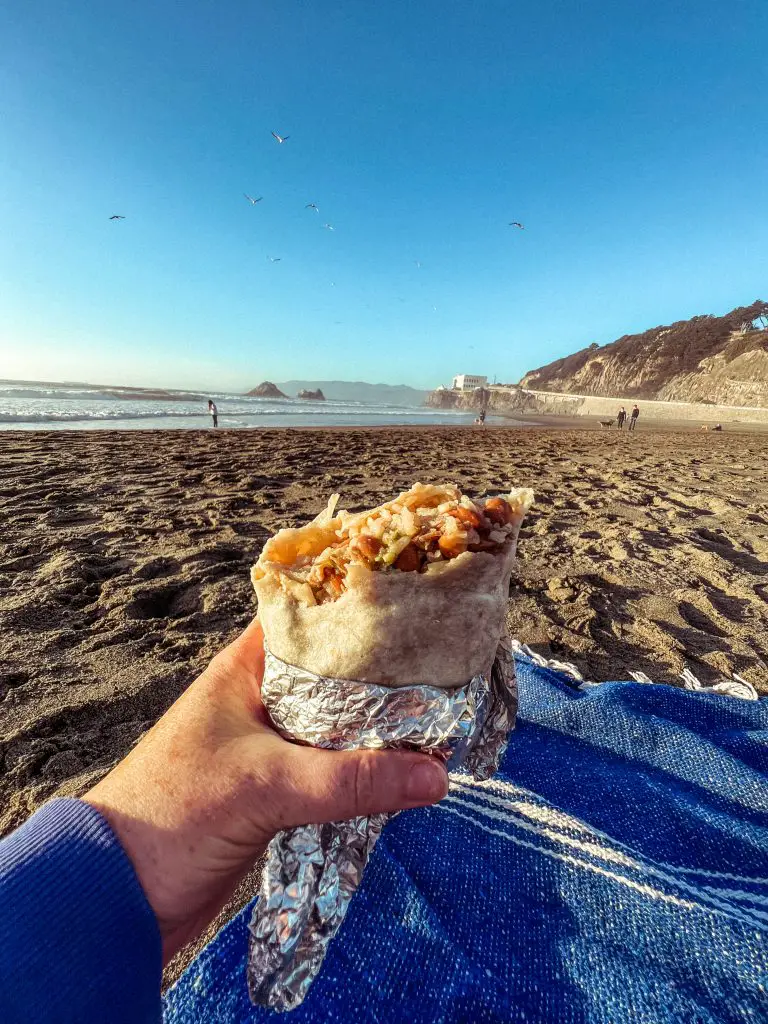 Best Dinner in the Richmond
Burma Superstar
Possibly one of the more popular inner Richmond restaurants, and the reason I now love Burmese food is Burma Superstar. This is the original and sister restaurant to Burma Love in the Mission. My first two encounters with Burmese food were both at Burma Love in the Mission and I fell in love with the cuisine. 
I recently took a visitor to Burma Superstar in the Richmond as I was having a craving for a tea leaf salad so off we went! It was a Friday night, but we were seated quickly.
Burma Superstar has a small Burmese restaurant vibe compared to the bit more trendy Burma Love. And the food is just as good!
The tea leaf salad is always a table pleaser, I also love the rainbow salad. I've gotten the lamb curry a few times and the coconut rice is a must! The servers are attentive and will help with their top suggestions as well as spice level.
I don't do spicy food and I haven't had any problems with that at either location!
Location: 309 Clement St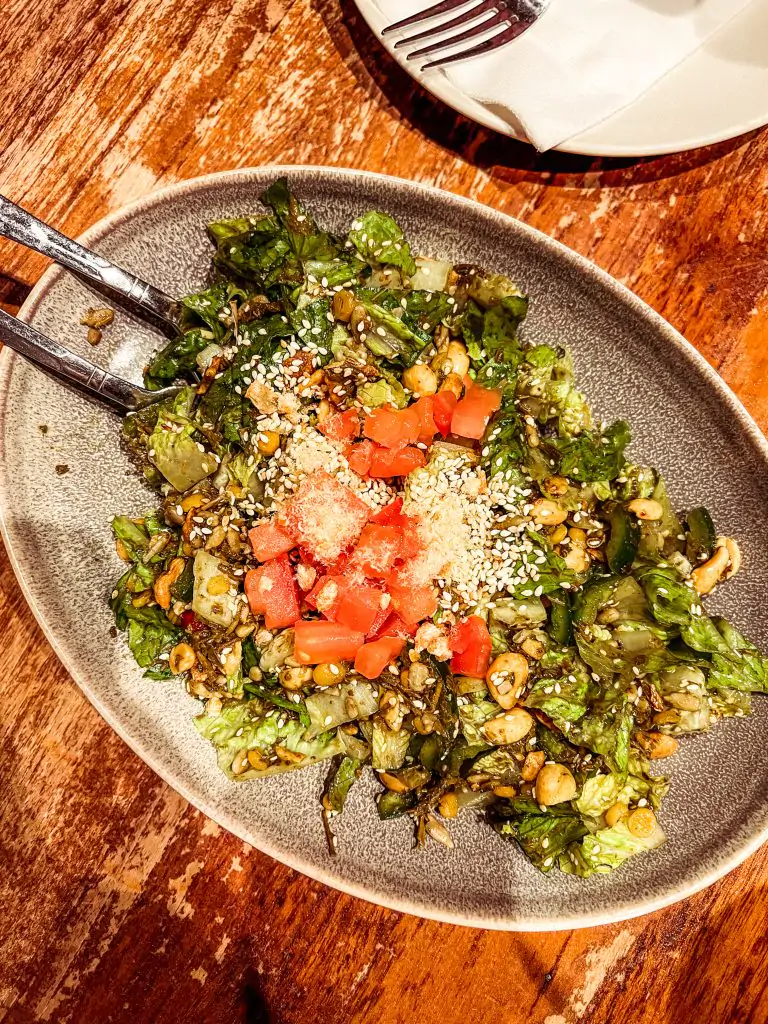 Kazoku Sushi
I was pleasantly surprised when I moved into my outer Richmond apartment that right around the corner was a delicious sushi restaurant. Kazoku sushi is a great outer Richmond restaurant. Literally, it's some of the best sushi I've had. The rolls are simple, yet delicious. And you can enjoy them in the parklet with a view of Ocean beach. 
Location: 4036 Balboa St.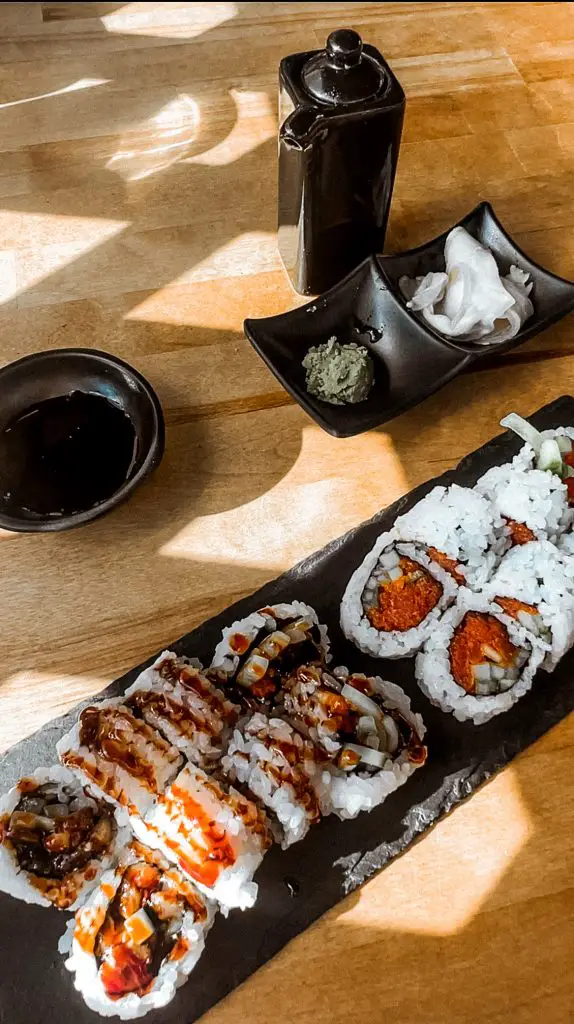 Where to Eat Pizza in the Richmond
I know what you're thinking. You're thinking, Katie, if I want pizza I'll go to North Beach. Listen, I get it, but these pizza spots are excellent options when you're in the neighborhood.
Pizzetta 211
Is it worth the wait? You decide! My first time attempting to eat at Pizzetta, they'd run out of pizza. Now, if that doesn't tell you it's good, I don't know what will (could also be poor planning amidst the pandemic but stick with me).
The second time I ordered it in advance to go because it was still the pandemic and I wanted to give it a fair shot. I ate the entire pizza in one sitting.
The third time I went, my friend and I ate in the parklet and had to wait about 30 minutes for a table, but the pie was just as tasty!
Pizzetta 211 offers a rotating menu using seasonal ingredients on their thin-crust pies. The restaurant itself is small, but the parklet has afforded them a bit more space to serve the long lines of people waiting for pizza.
I'll leave it to you to decide if it's worth the wait (it is).
Location: 211 23rd Ave.
Fiorella
Fiorella is a great place for Italian food in the Richmond neighborhood. I took my family there for my birthday so I got to sample a bit of everything. The beet salad, the clam pie, the rigatoni, and the fried chicken…all dishes were chef kiss!
The service was also very attentive and after finding out it was my birthday they put a simple candle in the delicious dark chocolate gelato.
Location: 2339 Clement St.
There are also two other locations one in the Inner Sunset and one on Polk street.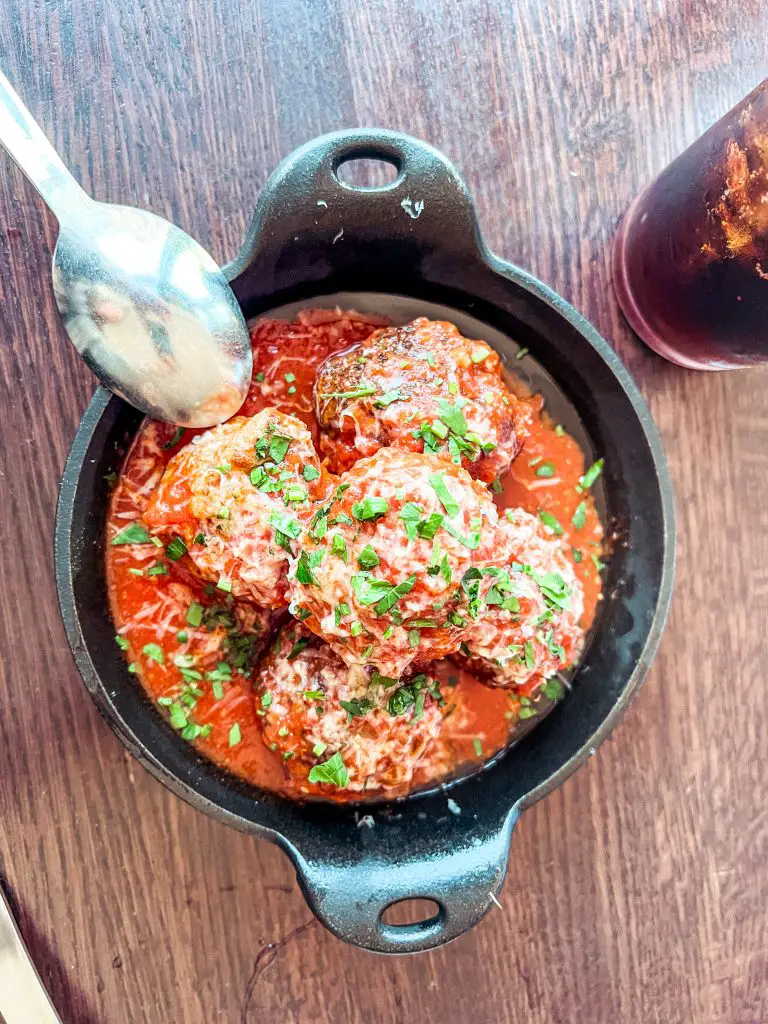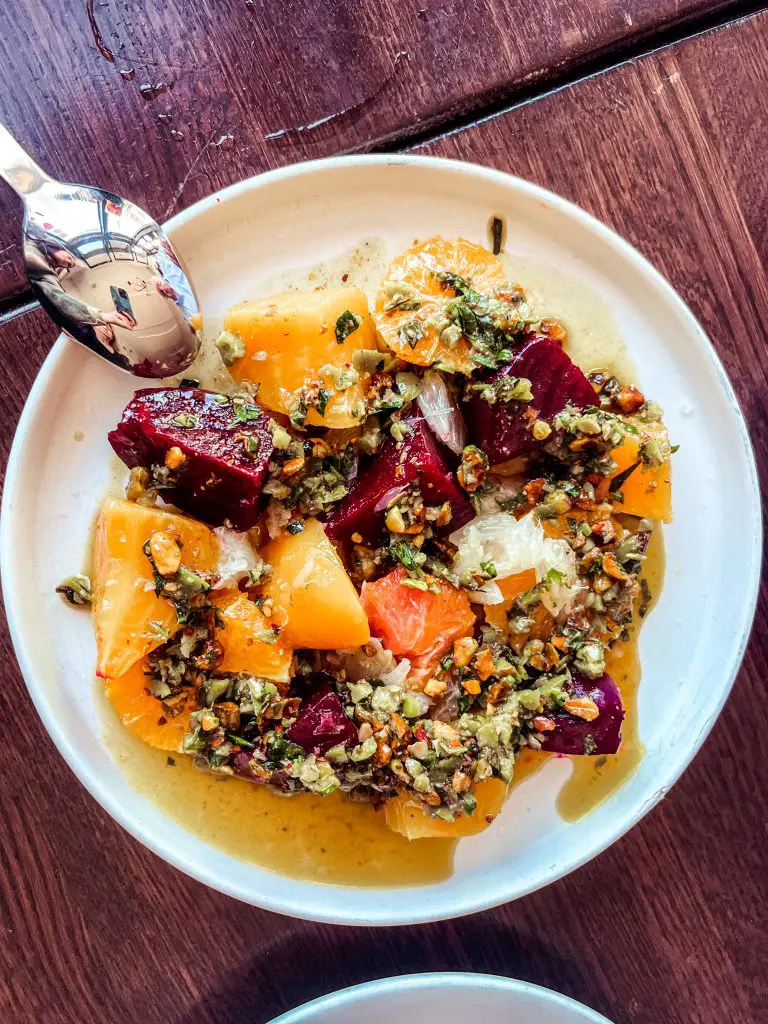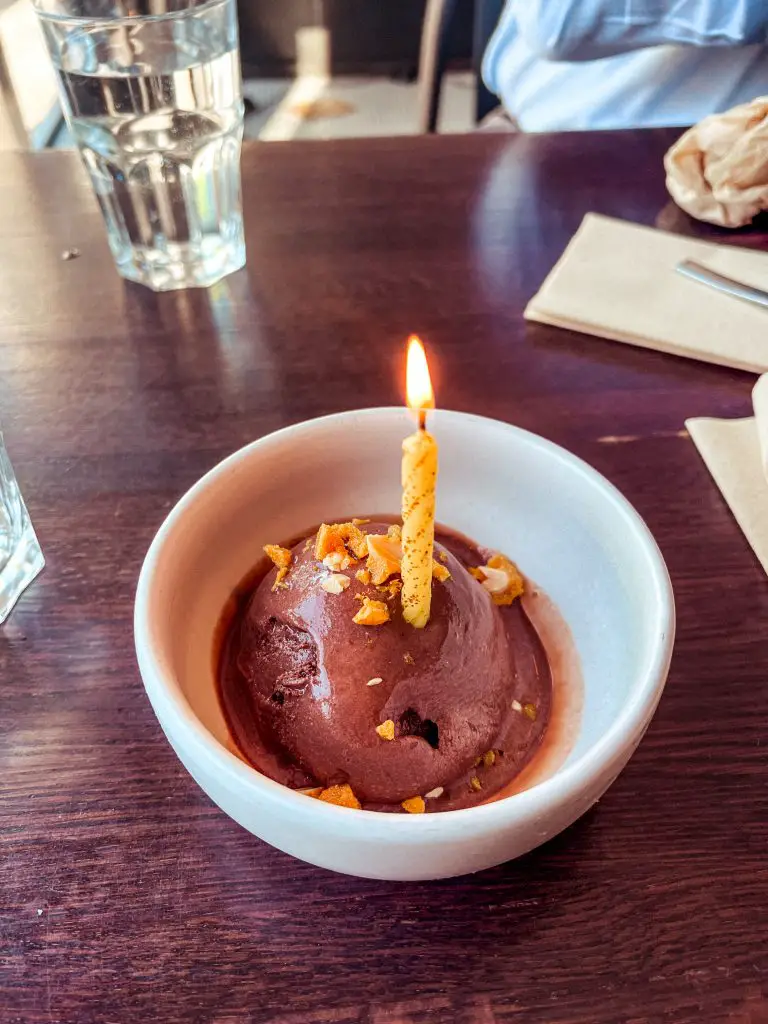 Bakeries and Coffee Shops in the Richmond
Blue Danube
Blue Danube is a chill coffee house known for its smoothies, however, they also have an extensive menu of breakfast, lunch, and snack options.
Inside is spacious with a couple of comfy couches to relax in with a new book from Green Apple Books. Alternatively, they've got a nice parklet for a sunny afternoon in the Richmond.
Blue Danube seems like it would also be a solid option to bring my laptop and get some work done.
In terms of their smoothies, I got the Funky Monkey and it tasted like a milkshake (it basically was). But it was also delicious and at a fair price of $8.00!
Location: 306 Clement St.
Home Coffee Roasters
If you know anything about me at all, you know I love matcha lattes and Home Coffee Roasters makes one of my favorite iced matcha lattes. In fact, I frequent them so much, they've started to know my order when I walk in! 
I know matcha isn't for everyone. They also have a large menu of creative coffee creations and have finally reopened indoor seating where you can enjoy their avocado toast. 
If you need a caffeine pick me up and want to try their unique coffee drinks, there's no better place than Home!
Location: 2018 Clement St.
There are also two other Home locations, one in Chinatown on Grant Ave and the other on Noriega in the Inner Sunset.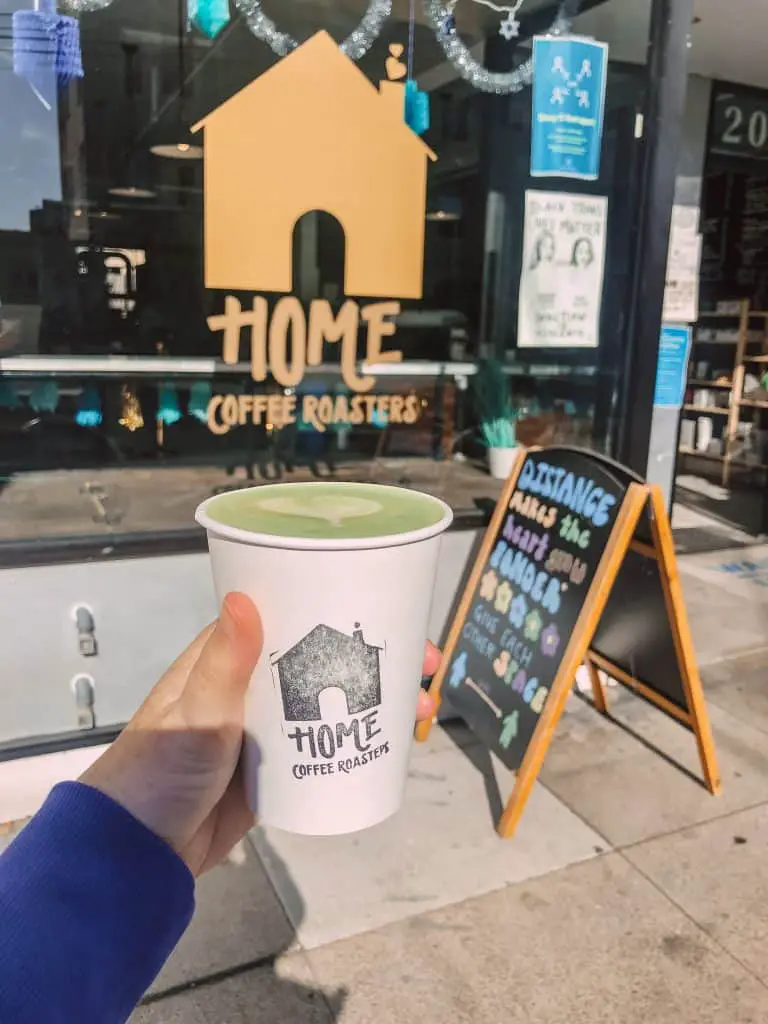 Cinderella Bakery
I'd seen Cinderella Bakery pop up on internet searches on several occasions as a great Russian Cafe and Bakery. Much to my dismay, I've never had any of their Russian specialties because when I go there I want one thing and one thing only: the strawberry turnover with cream cheese. It's so good!
They also make a very delicious matcha latte.
I promise next time I go, I'll try one of their pirogis or piroshkis!
Location: 436 Balboa St.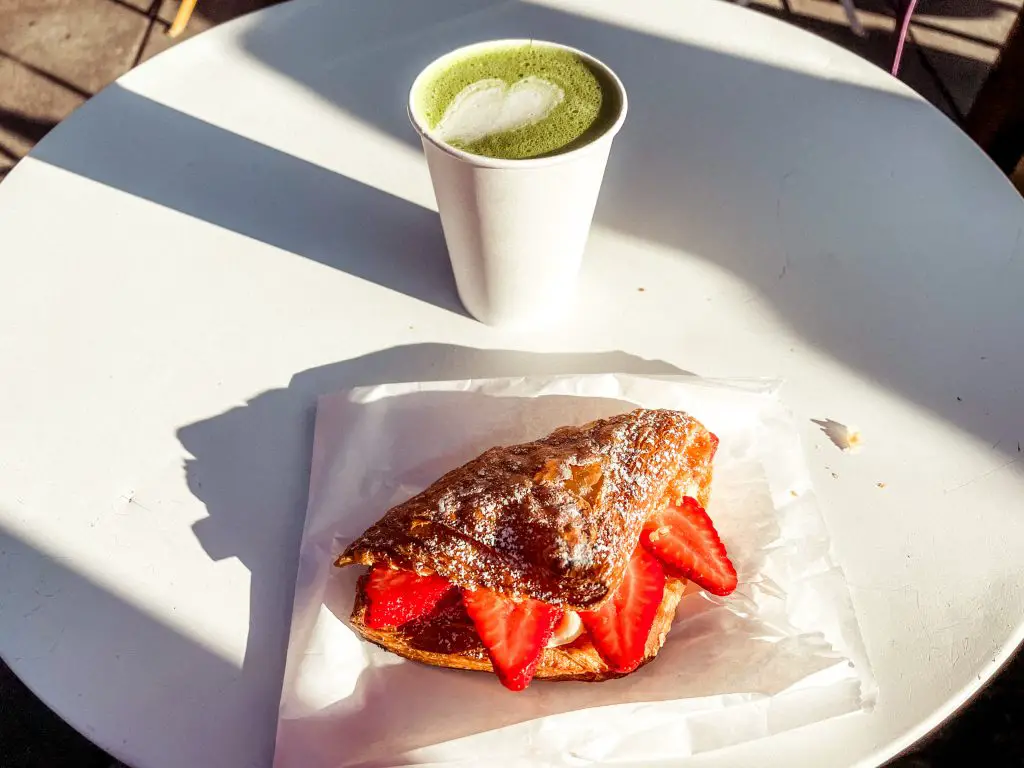 Arsicault Bakery
Want to taste the best croissant in San Francisco? Hop in line at Arsicault Bakery.
Their chocolate almond croissant is one of the best pastries I've ever tasted. The croissant is light and buttery, while the inside is a beautiful combination of chocolate and almond cream.
The ham and cheese croissant is another personal favorite of mine.
While there will likely be a long line no matter when you get there, it does move quickly and the croissants come out nice and warm from the oven each time.
Location: 397 Arguello Blvd.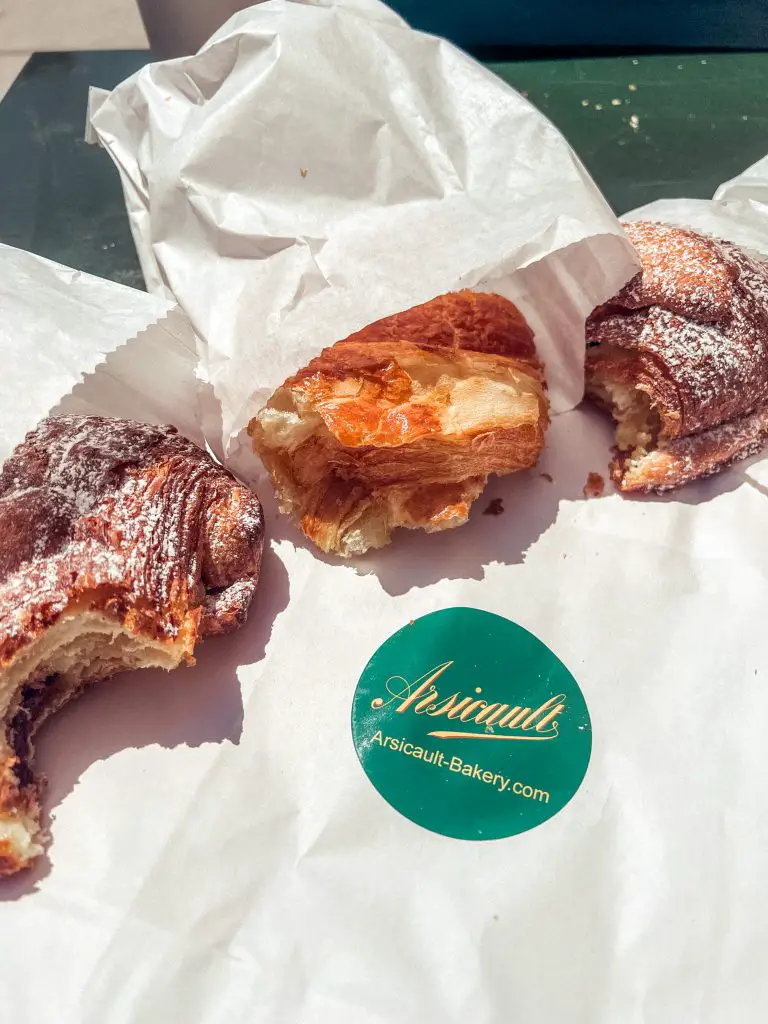 The Richmond District may be an under-the-radar neighborhood in San Francisco, but it packs a major punch when it comes to great spots to eat. You can get authentic Chinese cuisine, have drinks in an Irish bar, and sip a fancy coffee all in the same block, and at reasonable prices. I love the diversity of this neighborhood and have shared a few of my favorite places to eat here. There are certainly a few restaurants on my list of places to eat in the Richmond that I haven't tried yet. As I try them, I'll come back to update this post as I search for the best food in the Richmond!
Like this post? Save it for planning your San Francisco itinerary!