I spent most of my life living in California. I grew up here and after spending some time away, returned as an adult. Thanks to the pandemic, I've been focusing on adventuring much closer to home. Now, even though I grew up here, most of the places I've visited in California, I've only just learned existed like Burney Falls. Thankfully, I recently learned for myself the best things to do in Burney Falls, and the best thing to see is one of the most beautiful waterfalls, not just in California, but possibly the United States as a whole!
This 129-foot waterfall isn't the tallest in California, but it might be the most magical I've seen. That includes tidal waterfalls such as McWay Falls in Big Sur and Alamere Falls in Point Reyes.
The way that the water rushes over the edge surrounded by lush foliage is outstanding. It's a great place for landscape photographers, solo travelers, and those who simply want to take a break to appreciate the beauty that is in our backyards. 
In this post, I'll share with you exactly how to plan your visit to Burney Falls to you have the best experience!
This post contains affiliate links, which means that, at no additional cost to you, I will earn a tiny bit of income if you decide to make a purchase or booking. For more, check out my disclosure. 
My Favorite hiking Resources
Best Time to Visit Burney Falls
100 million gallons of water flow over Burney Falls every day, which means anytime throughout the year is a great time to visit Burney Falls. You don't have to wait for the snow melt to power this California waterfall because its water source is from underground springs.
That being said, the peak season for visiting Burney Falls is the summer. However, shoulder seasons are just as beautiful with decent weather and fewer crowds. 
Summer: June – August
During the summer months, the temperatures can reach the 90os. While there is tree cover and it is cooler at the bottom of the falls than the parking lot, starting at 90o is quite warm. Do your best to get there early in the day to avoid both high temperatures and crowds. If you can, plan your visit during the week to further minimize having to contend with crowds.
Fall: September – November
Fall is a special time of the year to visit Burney Falls. The temperatures are much more mild ranging from the mid-50os to the low 70os. The leaves will begin turning brilliant shades of gold, red, and orange which adds even more beauty to the area. 
Crowds will decrease into October as the fall colors increase. If you can, visit Burney Falls during October, do it!
Winter: December – January
Snowy conditions envelop Burney Falls in the winter, but the falls still flow. The temperature will drop into the 30-50o range. While it might be a beautiful place to witness winter, it may not be the safest. The trail to the base of the falls is steep which could lead to slips and falls. It could also be very icy! If you do decide to visit in the winter, take your time walking around. 
Spring: March – May 
Temperatures begin to rise in the spring from the 50os to the high 60os. You'll likely see a little bit of rainfall in March so make sure you're prepared with a rain jacket. As the temperatures rise throughout spring the crowds begin to return. However, this is still a great time of year to visit the falls with minimal crowds and pleasant weather.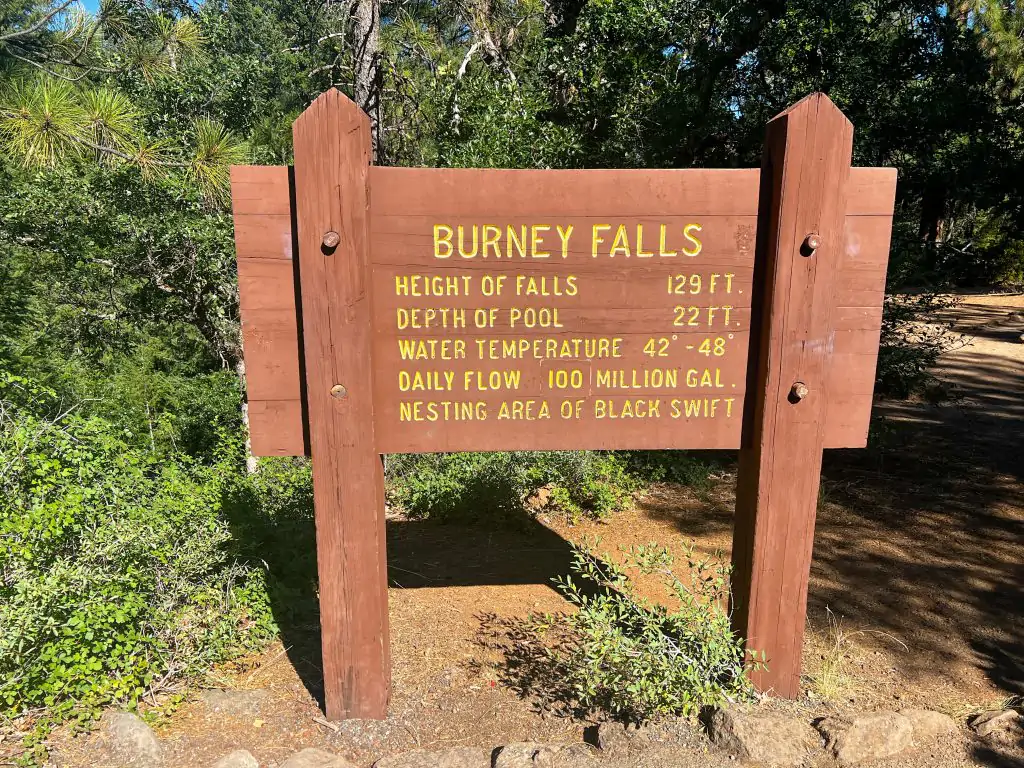 How to Get To Burney Falls
Burney Falls is located in McArthur-Burney Falls Memorial State Park off Highway 89. It's located about halfway between Lassen National Park and Mt. Shasta.
The route you take to get there will depend on where you're starting and if this is a stop on a larger California road trip. Below are the average driving times from popular locations to get to Burney Falls.
Redding to Burney Falls: 1 hr and 15 mins
Sacramento to Burney Falls: 3.5 hrs
San Francisco to Burney Falls: 4.5 hrs
Los Angeles to Burney Falls: 9.5 hrs
There is a cash-only $10 entrance fee. If there is not a ranger present, you'll need to make a cash payment by envelope at the entrance kiosk so bringing exactly $10 in cash is highly recommended.
The park is open from 8:00 am to sunset.
Solo Travel Safety Tips for Visiting Burney Falls
After camping in Lassen National Park solo for the weekend, I decided to visit Burney Falls before heading back to San Francisco. At no time, either in Lassen or at Burney Falls did I feel unsafe. I met kind and friendly people both on the trails and while camping. 
Although, I am someone who exercises a fair amount of caution when interacting with strangers. Whether that's the introvert in me or the fact that one of my top solo travel safety tips is not appearing as if I'm alone, I don't know. But it's worked!
Here are a few safety precautions I take when doing things solo like hiking and camping:
Alert my friends and family about my plans: As soon as I got reception on the drive from Lassen to Burney I sent a few text messages to let people know that I was going to be making a stop before heading home.
Share my location: While location services on our phones don't work when we have no cell phone service, I know that when service does resume, my family was expecting me to be heading toward San Francisco. If that wasn't the case, I knew they'd check in.
Have a full tank of gas: When traveling in remote areas, I always like to have a full tank of gas. Did this mean I paid nearly $8/gallon at a random gas station in the middle of nowhere? Yes, yes it did. But it was worth every penny for the peace of mind.
Keep extra food and water on hand: Since I'd been camping, I had plenty of food and water on me. If you're just heading out there for the day, make sure you have food and water in the car.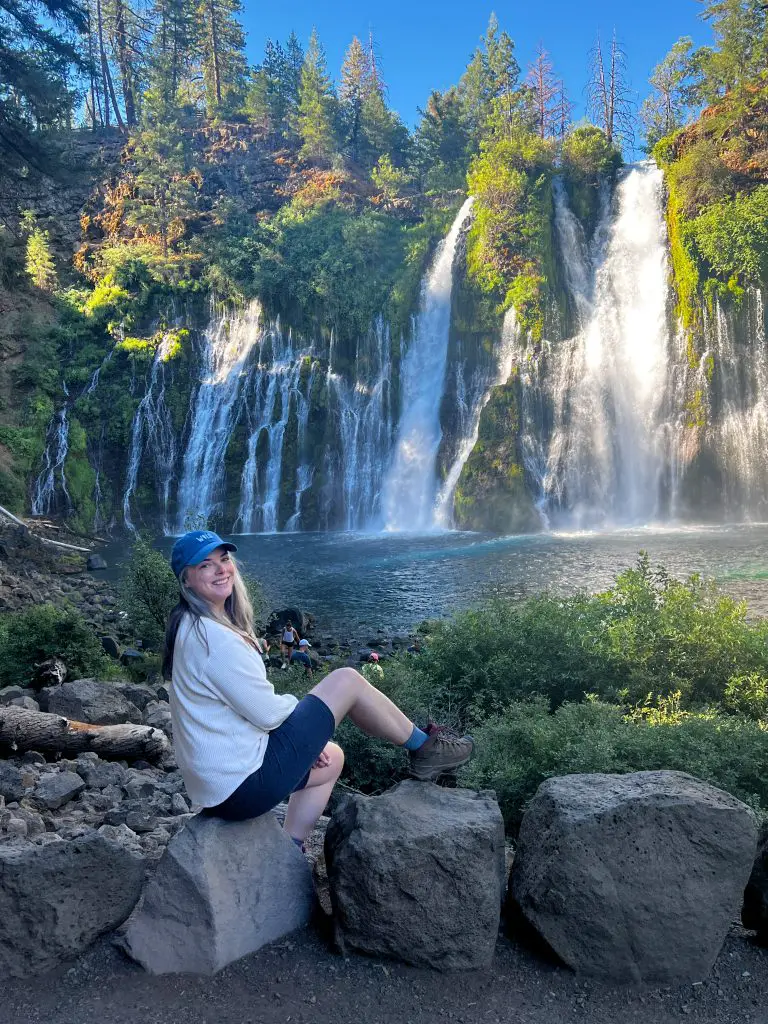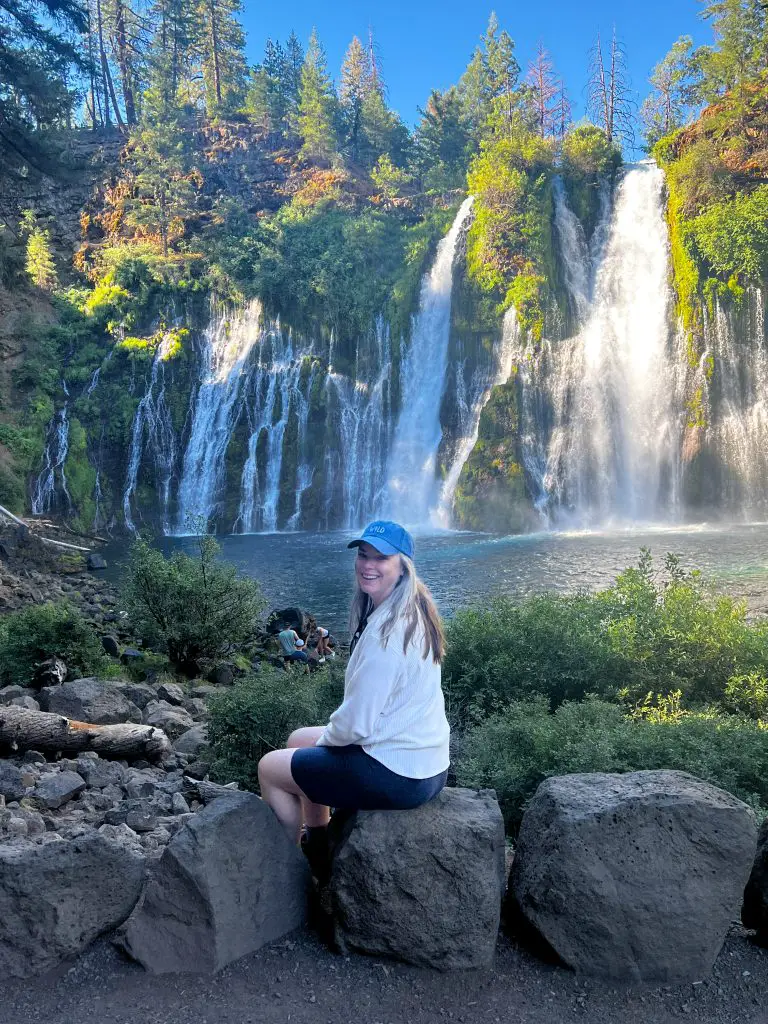 What to Wear to Burney Falls
What you wear to Burney Falls depends on the time of year you visit. But no matter what, laters are key. The temperature drops by at least 10 degrees at the base of the falls and there is quite a bit of tree cover so it will feel significantly cooler. 
In the summer months, I recommend shorts or lightweight hiking pants, a t-shirt, and a long-sleeved shirt. I love this long sleeve shirt from Patagonia for summertime hikes. It's lightweight and keeps the sun off of my arms with UPF.
A wide-brimmed hat, sunglasses, and sunscreen are also essential. 
In the spring and fall consider heavier hiking pants with a fleece and a puffy jacket. I also recommend a beanie.
Bring that beanie with you if you're bold enough to visit Burney Falls in the winter months. A thermal base layer for both tops and bottoms is recommended (here's my favorite lightweight but warm base layer). You'll also want to wear gloves and possibly bring hiking poles to assist you on the way down.
No matter what season you visit Burney Falls, proper shoes are essential. Wear your well-broken in hiking boots (these are what I wear) and a good pair of socks (Darn Tough are my favorite). If you're visiting in the winter, consider adding microspikes to your boots.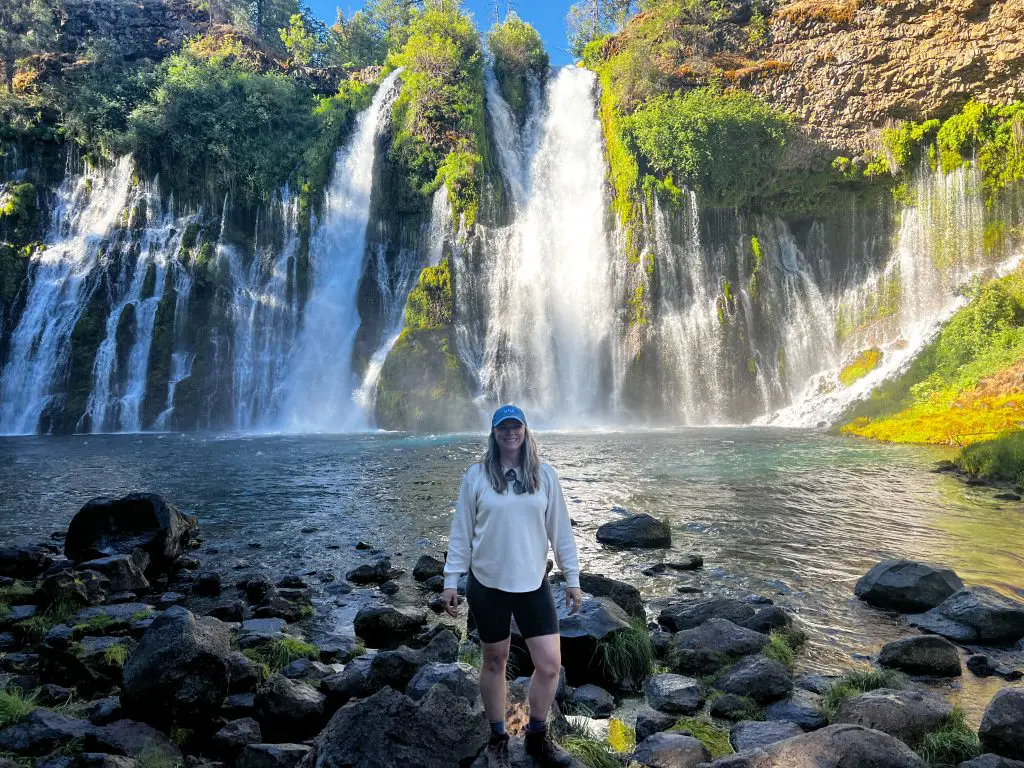 What to Pack for Hiking at Burney Falls
The hikes in McArthur-Burney Falls State Park that I mention here are all short, day hikes. This means anything on this short hike packing list should be included in your day hiking backpack. I'll provide an overview here.
Snacks: I love dried mango and a granola bar for a hike like this
Water: Always bring more than enough water. You can fill it up in the park before you start your hike. A 2L water bladder like this one will work well.
Navigation: There is no cell phone service in this area. Be sure to download the map offline. I use both AllTrails and Google Maps for this. At the very least, get a map from the ranger. 
First Aid Kit: I always keep this first aid kit in my hiking backpack. It contains a few bandaids, a pair of tweezers, and some wraps and ointment. I also added in some medications like Tylenol and ibuprofen. Make sure you have any health items you need on you (like an epi-pen or inhaler).
Sunscreen: No matter what time of year you visit, wear sunscreen!
Photography Equipment to Bring
I have to admit to you – I left my photography gear at home on my first trip here. But I will remedy that this month. Here is what I plan to bring.
Camera: I use the Sony a7II for my photography. It's a nice entry level mirrorless camera.
Lens: I'll bring a wide-angle lens for sure! This Tamron 17-28mm works great and is a bit more of a budget-friendly option.
Tripod: A tripod will steady the camera for long exposure shots. I've traveled around the world with this one!
ND Filters: I'll have to see which ones I have as I haven't used them in quite some time. I'll report back which ones worked well!
Extra Battery: Always bring an extra, fully charged, battery.
If you want more photography information I share my favorite photography gear in the guide to taking photos as a solo traveler.
Hiking in Burney Falls
5 miles of hiking trails surround Burney Falls, including a portion of the Pacific Crest Trail. Please remember that while dogs are allowed in the state park, they are not allowed on the trails.
Burney Falls Overlook
The Falls Overlook is a short walk from the parking area and provides easy access to view the falls. Once you park, just follow the signs and the sounds of rushing water. This is a seriously magical view of the falls rushing between the lush green forest. It looks like it's a scene straight out of a Disney fairytale. This view reminds me of wandering through the waterfalls of Plitvice Lakes National Park in Croatia.
The Base of the Falls
To get to the base of the falls, follow the paved walkway downhill from the overlook. It's a short trail, only 0.3 miles down, but it is fairly steep. Take your time if it's recently rained or if you're visiting in the winter. There are railings to assist you on the way down.
Burney Falls Loop Trail
The Burney Falls Loop Trail is a relatively easy 1-mile loop trail that begins at the base of the falls, crosses Burney Creek via bridge twice, and ends at the parking lot and overlook for Burney Falls. 
I say relatively easy because from the falls you follow a path that meanders along the Creek in the opposite direction of the falls until you reach Rainbow Bridge. When you cross the bridge, the trail picks up a slight incline as does the roar of the falls until you reach a "secret" overlook for Burney Falls. 
You'll continue to follow the trail, passing signs to join the PCT, until you cross a second bridge over Burney Creek and back to the original overlook and parking lot. 
Allot 30 minutes to an hour to complete this hike, depending on your fitness level and the number of photos you take. This is the most popular trail in the area so get to the park as early as possible to enjoy it, and the falls, with as much solitude as you can.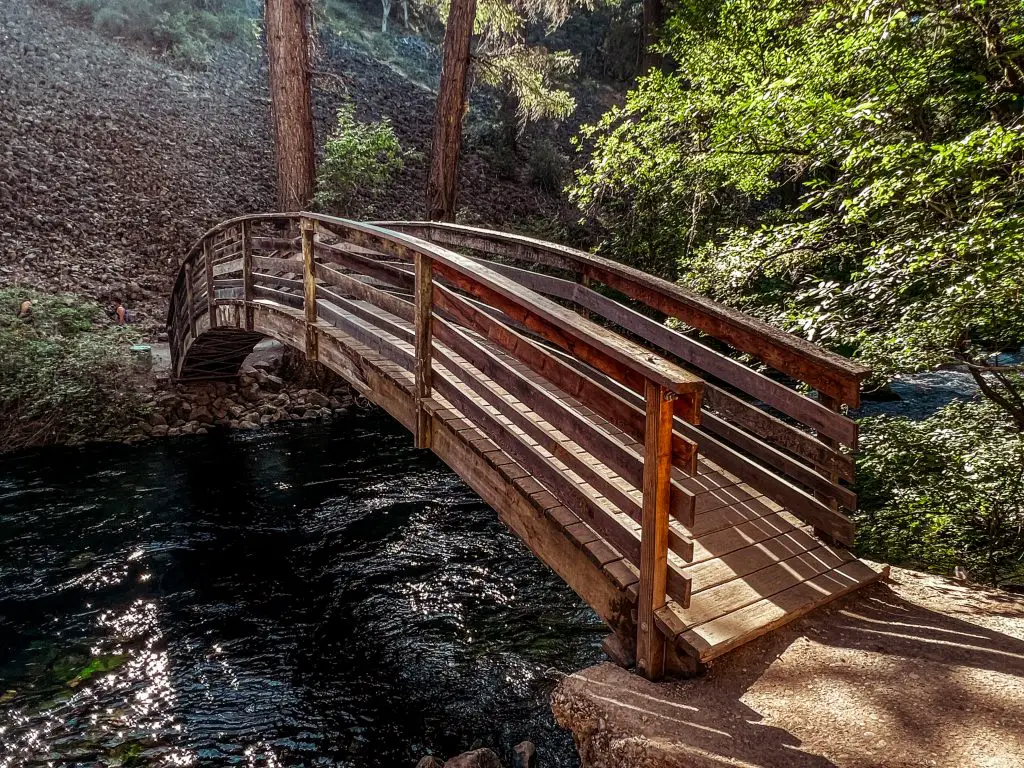 Pacific Crest Trail
Already an incredibly popular long trek from Mexico to Canada reached mainstream fame thanks to the book, Wild, the Pacific Crest Trail passes through Burney Falls. Now, I can say I've hiked a portion of it! But in all seriousness, if you're hiking the PCT, I'm sure Burney Falls is a high-priority stop on your itinerary.
If you're not hiking the PCT, you can participate in a little bit of trail magic for thru-hikers here, by providing food if you come across any. I witnessed two thru-hikers at one of the picnic tables near the parking lot already enjoying an ice cream cone from the General Store while resting their feet.
Please Note: Do not leave anything on the trail for others to find. Follow leave no trace principles at all times.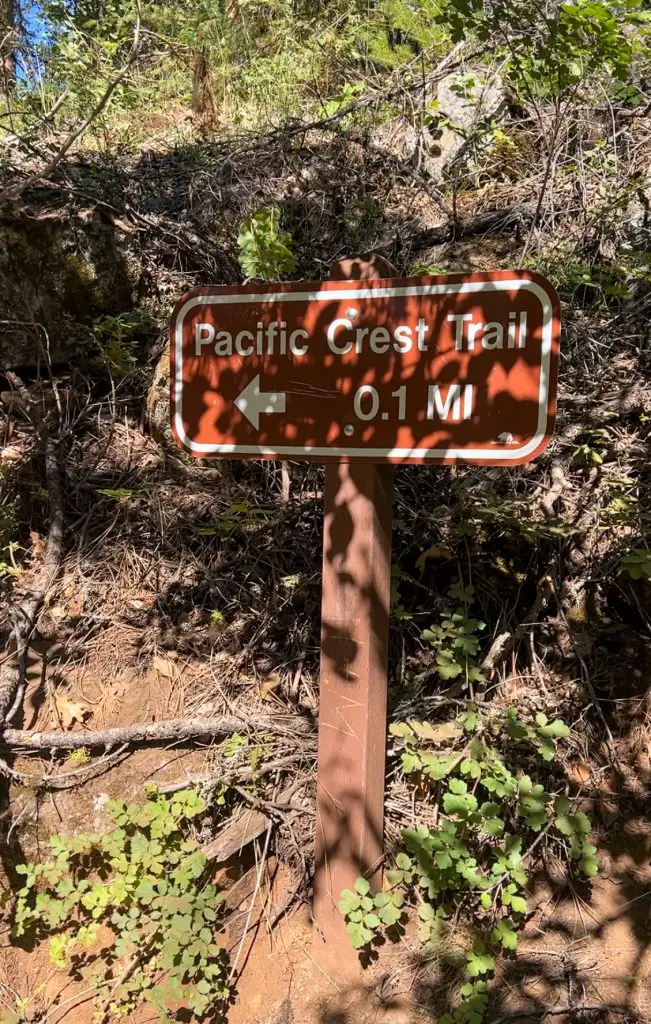 Visit the General Store
Once you're done at the falls, pop into the Burney Falls General Store. Inside, you'll find a wide variety of items from souvenirs, to frozen yogurt, to shirts and maps. I loved the frozen yogurt cone after hiking the Burney Falls loop.
If you do happen to be hiking the Pacific Crest Trail, or know someone who is, the General Store is where you can send resupplies. 
Things to Do Near Burney Falls
Burney Falls is located about halfway between Lassen Volcanic National Park and Mt. Shasta which means there are other beautiful places to visit near Burney Falls.
Lassen Volcanic National Park
Lassen Volcanic National Park is an extremely underrated National Park in California. Overshadowed by Yosemite, Lassen is worth a few days of exploration itself. The volcanic activity here shaped California and it truly does feel like you're experiencing more primitive landscapes with the Badwater Basin hike. 
Check out my favorite things to do in Lassen National Park.
Where to Stay Near Burney Falls
There are a few accommodation options within the area depending on your travel style and budget.
Camping at Burney Falls
Camping is the most budget-friendly and possibly fun way to visit Burney Falls. There are several camping options both in McArthur-Burney State Park and in surrounding areas.
There are over 100 campsites within McArthur-Burney State Park including Pioneer Camp and Rim Camp. Pioneer Camp is reservable from Mid May to the End of September while Rim Camp is available on a walk-in basis year-round. 
Pioneer Camp also offers camping cabins at a slightly higher rate than a traditional campsite. A traditional campsite costs $35.
There are showers (for a fee) available on site as well as restrooms. 
Reserve your campsite through reservecalifornia.com.
Hotels and Motels Near Burney Falls
The Town of Burney
Both Green Gables Motel and Suites and Shasta Pines Motel are located in the town of Burney which is about a 15-minute drive to the entrance of Burney Falls. They are both budget-friendly and have excellent reviews. I plan on staying at one of these when I make a return trip to see the fall colors this month and will report back!
Check prices and availability here.
Redding
Alternatively, if Burney Falls is a stop on a larger Northern California road trip, consider staying in Redding. Redding is located about an hour and 15 minutes away from Burney Falls. 
The Sheraton at the Sundial Bridge has excellent reviews, is pet friendly, has an on-site restaurant and bar, and has a pool! 
Check availability and prices here.
The Americana Modern Motel also is highly recommended and looks like an upscale American motel. Kind of like Schitt's Creek – but using the sheets from David's bed.
Check prices and availability here.
Like this post? Save it for planning your trip to Burney, CA!