The Mission District in San Francisco is one of the most vibrant, culturally diverse, and fun neighborhoods in San Francisco. You can eat at delicious restaurants that reflect the neighborhood's Latin roots, spend the day relaxing in the park, wander the streets looking at the colorful and impactful street art, or plan a fun night out. In this post, I'll share with you the fun and fascinating things to do in the Mission District San Francisco. 
This post contains affiliate links, which means that, at no additional cost to you, I will earn a tiny bit of income if you decide to make a purchase or booking. For more, check out my disclosure. 
San Francisco Travel Resources
A History of the Mission District
San Francisco's Mission District is one of the oldest neighborhoods in the city. It was settled by Spanish missionaries in 1776 when they built the Mission San Francisco de Asis, which still stands today. Prior to their arrival this was the Ohlone people's land who inhabited most of the Bay Area.
During the Gold Rush many Irish, German, and Polish immigrants moved into the neighborhood. Then in 1906 the earthquake that ruined much of San Francisco shook, but the Mission neighborhood mostly survived thanks to this one fire hydrant.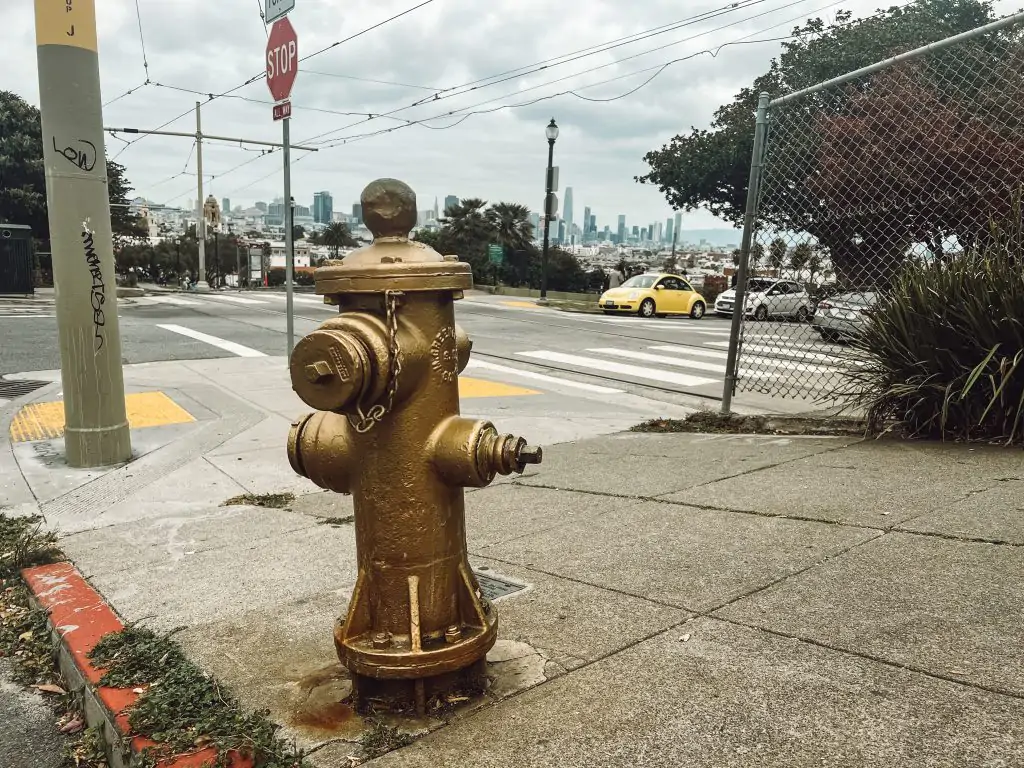 The fire hydrant was connected to an underwater spring, not a water line, so the fire brigade was able to use this hydrant to quell any fires. In the aftermath of the earthquake those who lost their homes sought refuge in Dolores Park. The park was filled with quake shacks some of which were moved to nearby streets and people still live in today (for a much higher price tag than during the quake).
Then, during the 1940s-1960s a large number of Mexican immigrants moved into the neighborhood as they were displaced from the Rincon Hill area for the development of the Bay Bridge.
Ever since, the Mission has been known for the cultural influences of the Hispanic community. 
However, another change is happening in this neighborhood, as tech companies have moved into the city, gentrification has had a huge impact on the Mission District. 
You will see all of this history as you explore this unique San Francisco neighborhood. 
Where is the Mission District Located?
The Mission District is a fairly large San Francisco neighborhood that borders Potrero Hill, the Castro, Noe Valley, and Hayes Valley. Two of the main streets where you'll find many of the bars, restaurants, and street art are on Valencia Street and 24th Street. Don't limit yourself to these two streets though as there are some cool spots and hidden gems on Mission Street and Van Ness as well as other intersecting side streets. 
Best Things to Do in the Mission
Visit Mission Dolores
Start your visit to the Mission where it all began at Mission Dolores de Asis. This is the oldest building in San Francisco. It was the 6th California mission, contains one of the few cemeteries in San Francisco where many Ohlone were buried. Additionally, there is a garden with native plants from the 1790s and a rose garden. 
Today, it stands next to the larger and relatively newer Mission Dolores Basilica and you can visit for free from Tuesday through Sunday.
Location: 3321 16th St.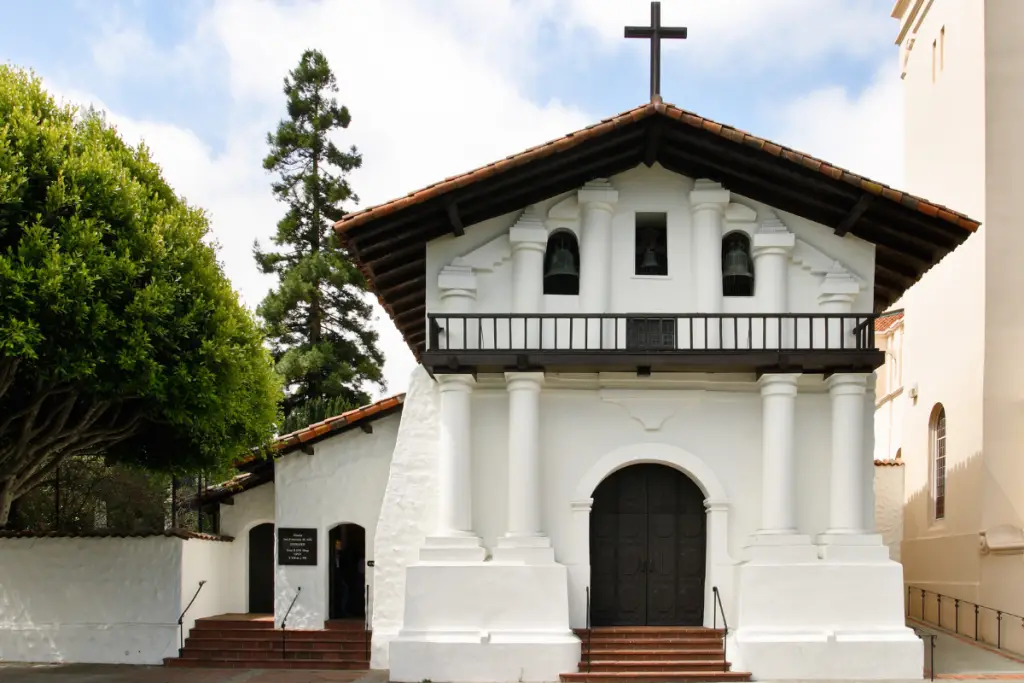 Explore the Street Art of Balmy Alley and Clarion Alley Mural Project
Balmy Alley and Clarion Alley are where you can find a large concentration of colorful murals by local artists. 
The Balmy Alley murals  started in 1972 in outrage over the human rights and political injustices faced by people in Central America. Since then, the scenes depicted have evolved with the times to reflect current political issues. More recently, murals have depicted resistance to police harassment and support of the Black Lives Matter movement. 
Clarion Alley, inspired by Balmy Alley, started in 1992 by the Clarion Alley Mural Project. While Balmy Alley has apparent political themes, Clarion Alley murals depict a variety of social, economic, and cultural challenges and celebrations. There have been over 900 murals painted in the alley since its inception. 
While Clarion and Balmy Alley are great places to find street art, the Mission is teeming with other murals on various buildings throughout the neighborhood. Here are some of my favorite Mission District Murals:
The Women's Building: 3543 18th St
Mission Pool Mural: 1 Linda St
A Sunday in Dolores Park: Guerrero & 19th St.
Eat a Burrito
There is a bit of a local debate over who has the best burrito in the Mission, however, my favorite is from La Taqueria. I usually get carnitas or carne asada depending on my craving at the moment. I also recommend ordering it El Dorado style which means they grill the burrito once it's rolled making it nice and crispy. There will definitely be a line, but it moves quickly and your burrito comes out quick once you order it as well.
There are of course plenty of other solid burrito options to choose from like Taqueria El Farolito (the true rival to La Taqueria) or Taqueria el Buen Sabor. 
See a Show at the Chapel
The Chapel SF is a live music venue that features up and coming indie artists. I recently saw the band We Three perform here. The main floor is spacious and typically standing room only. There is also a second level with excellent views of the stage. There is a bar near the main stage but you will also have access to Curio, the sister restaurant. For concerts there is a small food menu and a solid selection of cocktails. 
Curio itself also has live music throughout the week.
You can see upcoming Chapel events here and check out Curio events here.
Location: 777 Valencia St.
Indulge in Ice Cream from Bi-Rite Creamery
Having a sweet tooth craving? Head to Bi-Rite Creamery for organic homemade ice cream in a wide variety of delicious flavors. The ice cream is rich and decadent with seasonal flavors and some of our staple favorites. 
The line can get long, but it moves quickly. If you're not sure what flavor to try, you can get a flight of 4 for $10!
You can see their full menu of seasonal and signature flavors here. Plus order ahead to save standing in line!
Location: 3692 18th St.
Hop in Line at Tartine Bakery
Tartine Bakery is a San Francisco gem. Whether it's to pick up a freshly baked loaf of bread for the week, a few Saturday morning pastries, or to have lunch in the cafe San Francisco locals and visitors alike flock to Tartine Bakery. 
There are two Tartine locations in the Mission, the bakery cafe on Guerrero and the Tartine Manufactory on Alabama St. You can pick up your baked goods and eat at either location. 
As with many popular places in San Francisco, there will likely be a line in the morning, especially on the weekends. But you won't be disappointed after the relatively short wait. 
Location: 600 Guerrero St. + 595 Alabama St.
Enjoy Dinner and a Movie at the Foreign Cinema
One item on my Mission neighborhood bucket list is dinner at the Foreign Cinema. I check their daily menu more often than I care to admit. It changes daily and I love to see what the chef comes up with. While dinner is served a movie plays on the screen in the background. While the menu changes daily, you can see what the film will be as it plays for an entire month.
It definitely seems like a great place for a date, which may be why I'm intimidated by going solo. But I may just treat myself after hitting a goal I'm making my way towards. I'll keep you posted.
Reservations are 100% recommended.
And if you do happen to go, please report back to me about your experience. I'd love to hear it!
Location: 2534 Mission St.
Sample Locally Made Chocolate
Dandelion Chocolate is a local chocolate maker that specializes in bean to bar chocolate. This means one chocolate bar comes from one type of cacao bean creating single origin dark chocolate. They're also incredibly popular for making one of the best hot chocolates in the city. It actually reminds me of drinking hot chocolate in Paris because the chocolate is so thick and decadent. No watered down hot chocolates here! Plus – the homemade pillow shaped marshmallow on top just adds a little something to it.
Always try the samples they have out when visiting as well. A chocolate bar from here would make a unique gift to bring someone who loves chocolate back home.
Location: 740 Valencia St.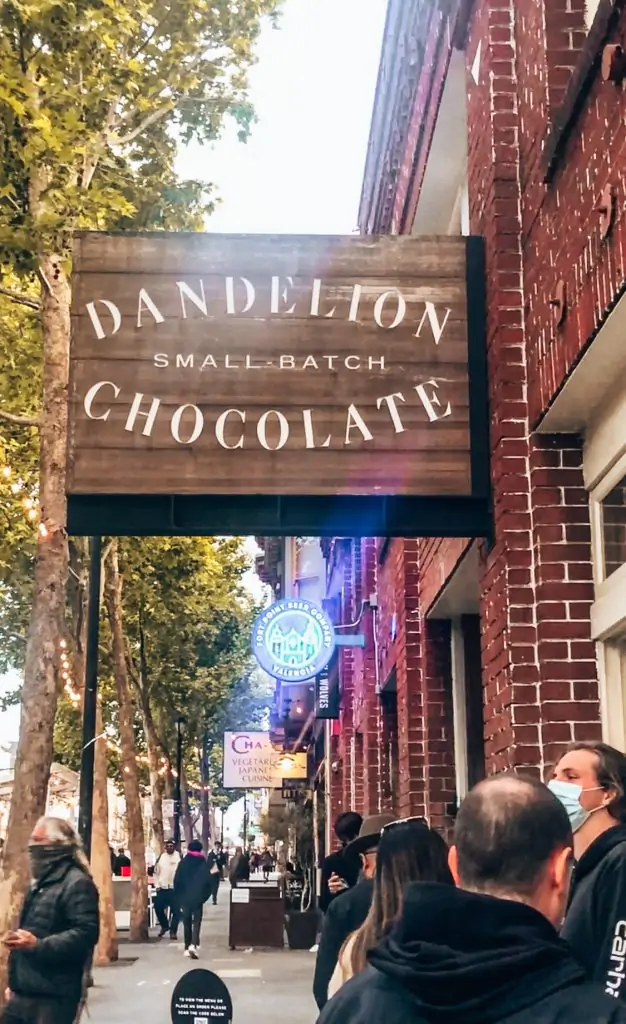 Enjoy a Sunny Day at Mission Dolores Park
Very few things beat a sunny day spent at Mission Dolores Park relaxing on the grass with a view of San Francisco's skyline and a good book. The beauty of Dolores Park is it's actually one of the sunniest places in San Francisco. So even though your neighborhood is shrouded in dense fog, Dolores Park could very well be blue skies and sunshine.
There are also things you can buy from people in the park to aid in your relaxation should you choose. The only thing I've ever bought is a rum coconut. And it was delicious on a warm San Francisco day.
I also recommend getting a burrito or sandwich from a restaurant in the Mission to bring with you, along with a few beverages, for a picnic.
Besides relaxing, there are also tennis courts located in the park where they also hold outdoor workout classes every now and then.
There are public restrooms as well that are typically very clean.
Have Pizza at Yellow Moto Pizza
Typically the wait to get into Yellow Moto Pizza is quite long, however, it must've been my lucky day because after a foggy day in Dolores Park I was craving a pizza and decided to try my luck.
They said they'd have a spot for me at the bar in about 15 minutes so I put my name on the list. I actually prefer to sit at the bar when dining alone and recommend it to anyone eating alone for the first time. Almost exactly 15 minutes later, I got a text that my seat was ready!
As the menu changes daily, what I had will likely not be on the menu for your visit. I recommend asking your server for their recommendations. 
I also highly recommend making reservations if possible! Alternatively, try visiting on a weekday for a better chance at securing a walk-in table.
Location: 702 Valencia St.
Test your Mini Golf Skills at Urban Putt
Another item on my Mission bucket list is to play golf at Urban Putt. While I don't mind doing many things solo, this is an activity I'd like to do with a group of friends or a date. So I'm holding out! 
Urban Putt is a indoor mini golf course for adults (after 8:00pm). There's drinks, food, and a 14 hole mini golf course with a San Francisco theme of course. 
It costs $14 per adult. 
Location: 1096 South Van Ness
Go Shopping and Thrifting
There are so many unique shops on Valencia St that really span the spectrum of interests (and budgets). It's so interesting to me that there will be a store selling high end coffee ware next to a thrit store, next to a baby shop. If you need a gift, or something for yourself, you'll likely find it in the Mission.
If you're into thrift shopping check out Afterlife, No Shop, and Buffalor Exchange. If you need a new candle or home goods check out Often Wander or Therapy. And if you do need that fancy pour over maker, head to Fellow.
Eat Burmese at Burma Love
Burma Love will make you fall in love with Burmese cuisine. Burma Love is the sister restaurant to the original Burma Superstar restaurant located in the Richmond neighborhood. And it definitely has younger sister vibes with its hip bar, unique cocktails, and amazing service. 
Burma Love is great for a date night, solo or otherwise, or for a group of friends. You can pretty easily get a walk in table, but reservations are recommended.
Everytime I go I always get the Tea Leaf salad. I love that they walk you through the ingredients and then mix the salad together table side. The Rainbow Salad is another solid option and they'll also mix it table side for you.
In terms of main courses, I usually switch it up each time I visit, but always get a side of coconut rice. The Lamb Curry is delicious as is the Mango Chicken. One night, I wasn't feeling well and all I wanted was chicken noodle soup. I ended up doordashing Burma Love's Coconut Chicken Noodle Soup and OMG it was everything I ever wanted in a soup. On a cold San Francisco day or when you're not feeling well – get it.
Location: 211 Valencia St.
Browse the Pirate Supply Store
I love the story behind the Pirate Supply Store. The owner wanted to open a tutoring center to help neighborhood kids, but in order to have a business here he needed a more traditional storefront. So he created the Pirate Supply Store which occupies the first quarter of the shop while the rest is tutoring space for the non-profit 826 Valencia.
The shop is closed when tutoring is in session, but if you get the chance, this is a fun and quirky place to check out. The drawers on the wall of have a label and inside the drawer is something that label describes. For example on drawer said comfort and when you pulled it open there was a blanket inside.
This is a great place for a quirky gift that supports a good cause.
Location: 826 Valencia St.
Have a Drink at a Cocktail Bar or a Dive
The Mission has a great neighborhood for nightlife with a number of bars from dives to fancy cocktail bars. While I admittedly don't go out as much as I used to, there is one cocktail bar in the Mission that has my attention: Wildhawk.
I've been there twice now, once for a date and once for a happy hour drink before seeing We Three at the Chapel. I absolutely love the cozy interior including the wallpaper and the plush chairs. They have an extensive cocktail menu as well and the staff will help you select one that suits your mood. 
They also offer some light snacks, but I'd recommend simply having a drink or two here and then eating at one of the other Mission restaurants mentioned here.
Next on my list is The Beehive!
Enjoy a Matcha and a Treat at Stonemill Matcha
In case you're new to the blog, you should know that I'm a matcha latte fanatic. Everywhere I go I have to find the cafes with matcha and rate them. As such, I've had some pretty delicious matcha lattes and I've even had some I need to throw away because they were just undrinkable.
Now, if you're going to spend $7 on a drink, you want it to be good! And let me tell you, you will not be disappointed by the matcha latte at Stonemill Matcha. In fact, it made my list for one of the best matcha lattes in San Francisco. 
I typically get their traditional matcha latte but they also have a strawberry matcha latte, hojicha latte, and black sesame latte. What I also get really hyped about are their sweet matcha treats. The matcha cream pie is an absolute must. I've also had the matcha cream puff which is a close second!
This spot is definitely worth stopping into if you have the time.
Location: 561 Valencia St.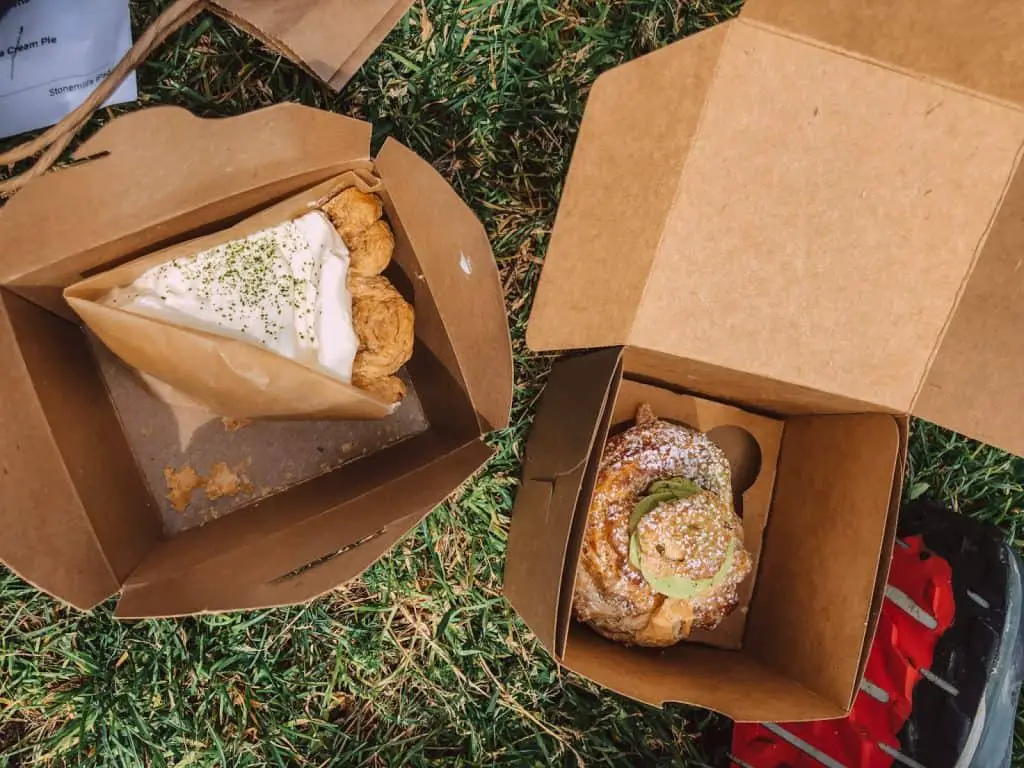 Browse a Local Bookstore
If you're in the mood for a new book to bring with you while you chill in Dolores park, check out Dog Eared Books. This relaxed San Francisco bookstore has a little bit of every genre, including a nice variety of new and used books. 
Location: 900 Valencia St.
Take a Walk Through the neighborhood
The best way to get to know the Mission is on foot and through its food.
While you can easily make a self guided walking tour of the Mission, if you're interested in  guided tour there are plenty of options as well. If you're on a budget, San Francisco City Guides offers free walking tours of the Mission every Sunday at 11:00 am. They meet at the Gold Fire Hydrant on the corner of Church and 20th. I recently joined this tour and found it really informative and fun!
Alternatively, if you'd like to splurge a bit, there's an awesome three hour guided tour focused on sharing with visitors the best food, treats, and drinks in the Mission. This is not just a food tour though, you'll also learn about the neighborhood's rich history and see the colorful murals of Clarion Alley. 
Attend a Festival
Can't get to Brazil for Carnaval? Then head to the Mission District! See the grand parade, listen to live music, and of course eat delicious food. 
How to Get to the Mission District
BART: The Mission District is quite easy to get to if you're staying in Union Square as it has two BART stops. You can get on at any stop on Market St and head to either 16th and Mission on the Northern border of the neighborhood or 24th and Mission on the Southern border. 
Bus: If you're staying near Fisherman's Wharf, the easiest, and cheapest way to get to the Mission neighborhood is the 49 bus. You can hop on at the corner of Van Ness and North Point near Fort Mason. The 49 bus route passes through Polk Gulch and Hayes Valley before crossing into the Mission. There are multiple stops on Mission St to hop off and start exploring.
Muni: Ride the J Line from the Embarcadero to Church St. There are stops at 16th, 18th, and 20th.
Car: If you have a car, you could drive to the Mission. However, street parking is a challenge in this neighborhood and it's typically only for two hours. You may just have to walk a few blocks before you reach the heart of the Mission. Alternatively, there are parking garages located in the Mission, like Mission Bartlett on the south side of the neighborhood. I use the app Spot Hero to find parking spots in lots or garages throughout the city.
Uber/Lyft: Rideshare is always an option in San Francisco and could be cheaper than a parking garage. 
Where to Stay Near the Mission District
If you really want to immerse yourself in the Mission district and avoid Union Square hotels there are two great accommodation options nearby, Noe's Bed and Breakfast and the Inn San Francisco. 
Noe's Nest Bed and Breakfast
Noe's Nest is a charming bed and breakfast in a classic Victorian home. Located on Guerrero Street, between 24th and 25th St, Noe's Nest is a perfect base for exploring the Mission and beyond. 
Noe's Nest offers a well rounded breakfast buffet (there's frittata and french toast on the weekends), fast WiFi, and it's dog friendly! 
As Noe's Nest is located in a residential area, you are subject to the same restrictions as local residents. If you need to leave your vehicle for longer than 2 hours during the week, it's best to park in a garage nearby. 
Check rates and availability here.
Inn San Francisco
The Inn San Francisco is also a perfectly cozy Bed and Breakfast in a quintessential Victorian home. Fair warning, not all of the rooms have a private bathroom so make sure you check before you book. Besides that, this is a great place to stay in San Francisco.
A generous breakfast is served each morning to get your day started right. There is a roof deck and a hot tub to enjoy the city views at night. Plus, it's pet friendly. 
One perk to the Inn San Francisco is that directly across the street is a parking garage where they have 10 spots available for an additional fee. Make sure to reserve your parking spot at the same time you make your reservation. 
Check rates and availability here.