Croatia wasn't originally on my European summer itinerary, but after its last minute addition, I discovered it's home to a gem – The Plitvice Lakes National Park. Plitvice Lakes looks amazing in photographs, but it's even more mesmerizing in person. The price of entry is a bit steep in high season, which admittedly almost deterred me from visiting. But I'm glad I made a Plitvice Lakes day trip happen; it was worth every penny.
Plitvice Lakes' location in between Zagreb and Split makes it convenient for a day trip from either city. However, when coming from those cities you'd have to get up very early to beat the crowds that flow off of tour buses. Or if you're ok with being overcrowded then take a day tour. But I will say this right now, it is a place where you will want a bit of space between you and your fellow travelers, so a DIY day trip is best.
To avoid the crowds get to Plitvice Lakes at opening, I opted to stay in the neighboring town of Korenica. When I arrived at my hostel in Korenica, my anticipation started to rise as I heard people who'd visited earlier that day buzzing about the beauty of the lakes and waterfalls. I also met two other solo female travelers at the hostel and we decided to explore the lakes together.
A public bus stops in Korenica at 6:25 am and the majority of hostel guests were on it. We made it to Entrance 1 just before the park opened at 7:00 am. Even still, we were about the 15th people in line and we watched the line grow behind us as we waited. We paid our entrance fee, excited at the thought that we'd beat the crowd.
This post contains affiliate links, which means that, at no additional cost to you, I will earn a tiny bit of income if you decide to make a purchase or booking.
Plitvice Lakes National Park:  The Lower Lakes
Upon entering, we were immediately greeted with a jaw-dropping view of a large waterfall careening down the side of the limestone mountain into teal blue waters below. The rising morning sun highlighting the rushing water.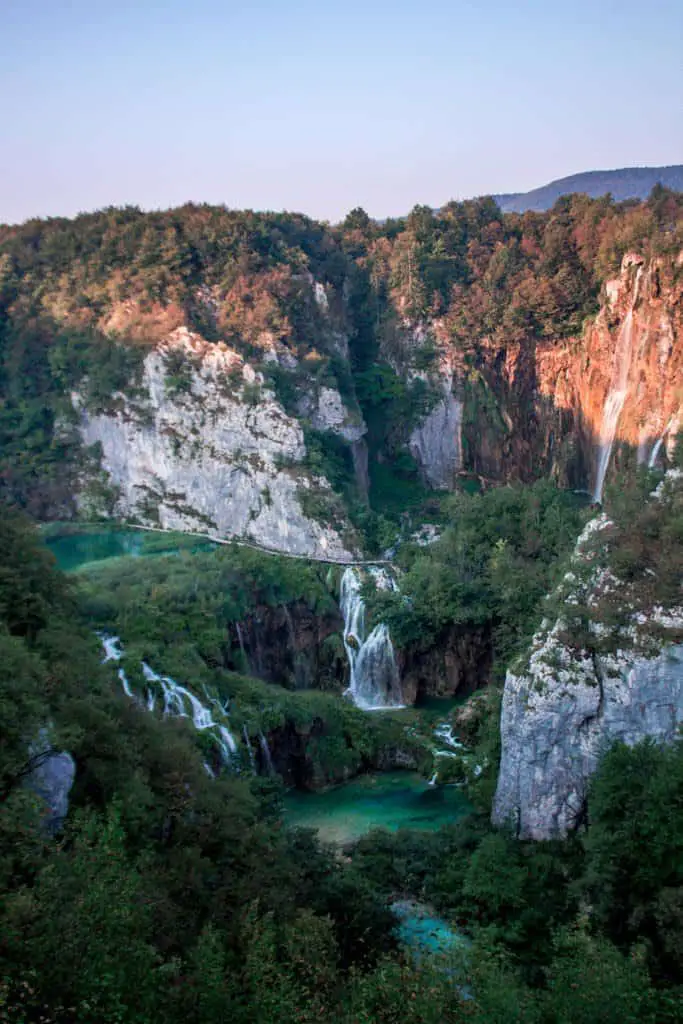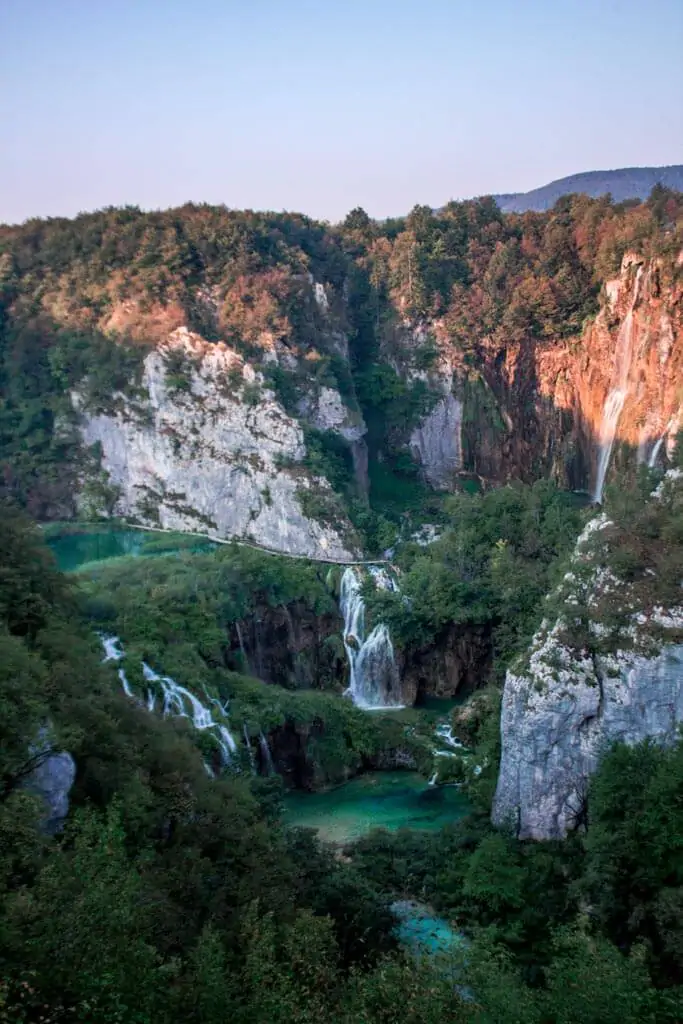 We made our way down the boardwalk, greeted with picture perfect vistas at every turn. The deep teal water contrasted beautifully with the grey and white limestone rock. As the sun rose higher it deepened the blue tones of the water. The sound of the waterfalls grew louder, promising that we were getting closer to the magic. After a final turn, we arrived at the base of the impressive waterfall we saw upon entering. The trail ended here, so we turned back to the route towards the upper lakes.
We were in search of the perfect bird's eye view. This took us out of the park and away from the gathering crowds. We followed a dirt path, crossed a wooden bridge, and finally came to this view.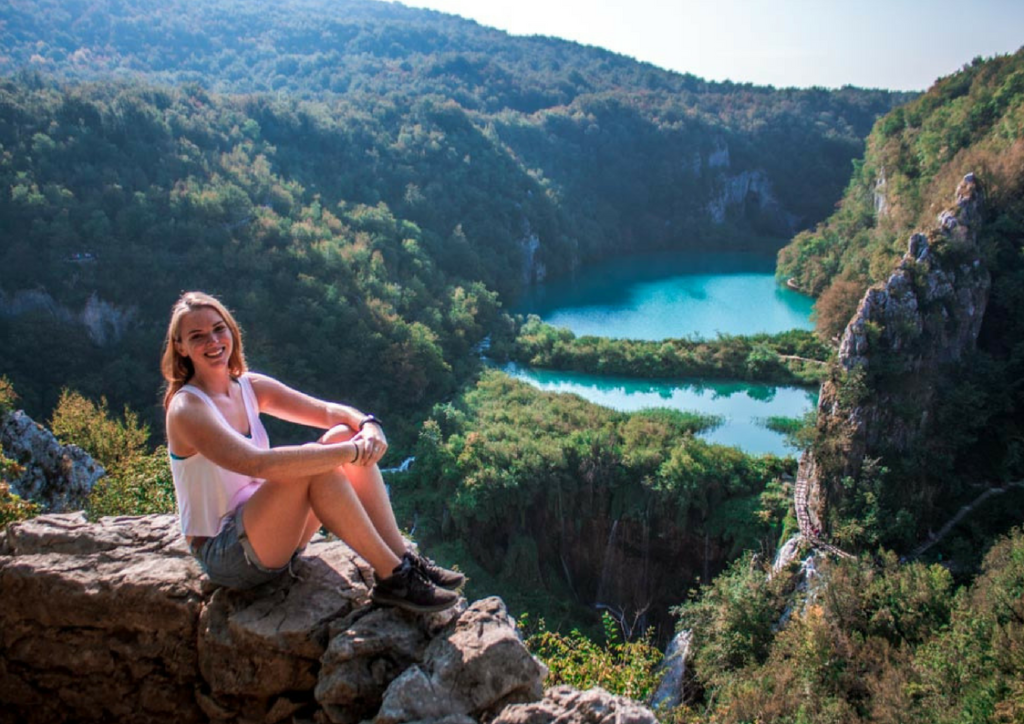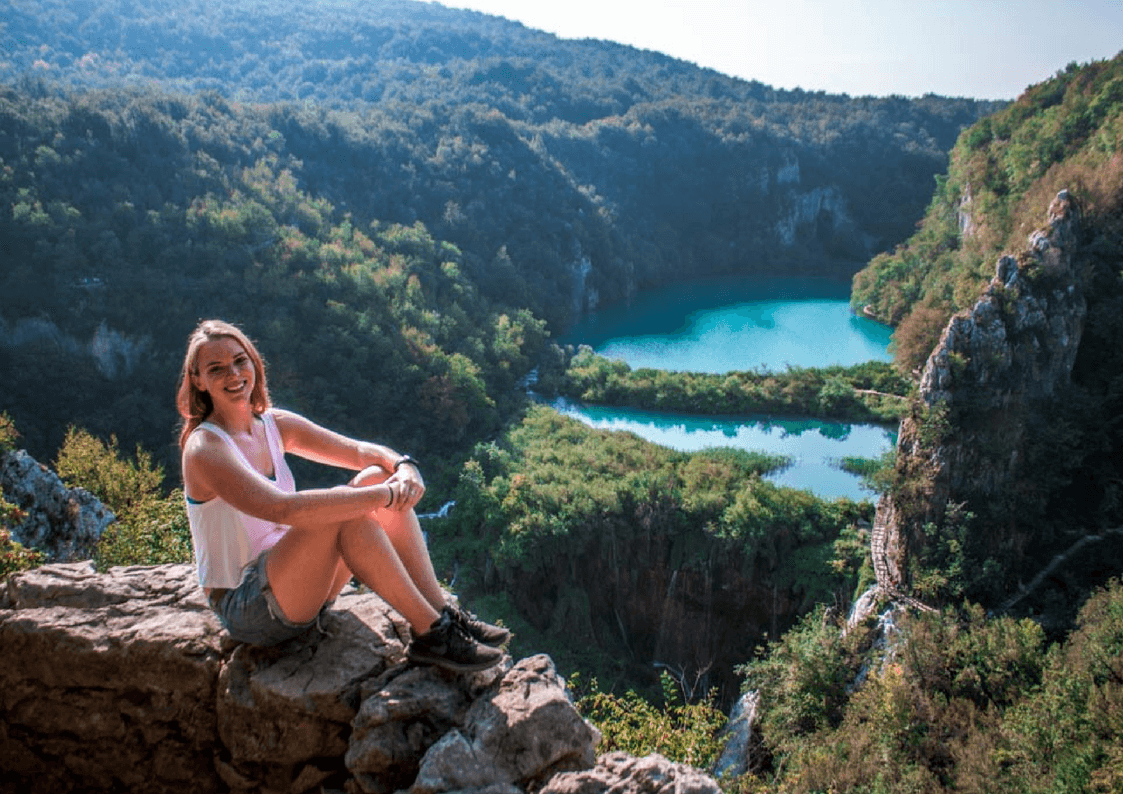 An epic spot to take a breather and appreciate that places like this still exist. That humans haven't ruined everything just yet. That nature is powerful and this place will hopefully last long after I'm gone.
Ok – enough with the philosophical stuff we were in search of a specific epic view – and this wasn't it! Just to the right of this location we discovered a small path leading to a steep cliff. To our right, that same large waterfall was still in view. I spied another wall of waterfalls racing down from the lakes, very far below.
I waited at the top, claiming to be soaking in the view. But in reality, I watched my new friends clamber down the limestone rocks to get that perfect shot. I wanted to make sure they made it safely before I followed suit. Then knees shaking and barely able to stand up straight, I took my spot for this epic photo. Don't try this at home kids.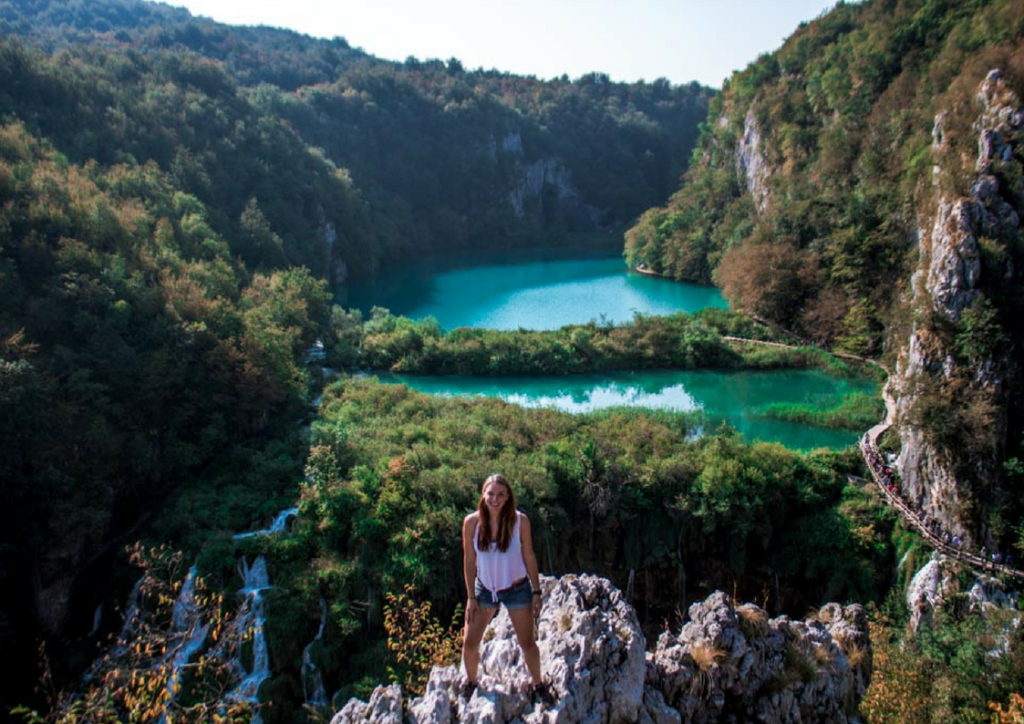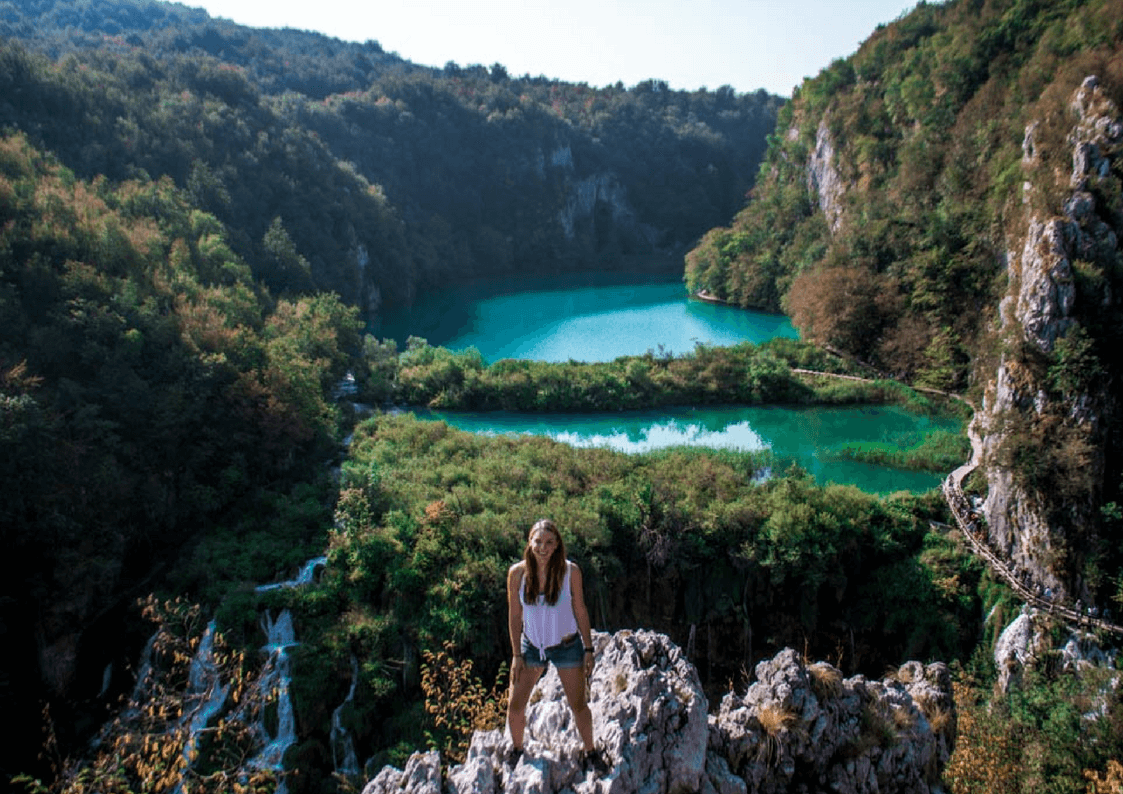 Feeling incredibly satisfied with ourselves we returned to the park, opting to skip the long line for the ferry and chose a 45-minute walk along the K route instead; a beautiful stroll along the boardwalk bordering the lower lakes. We could see the fish swimming just as if we were snorkeling with them. 
Plitvice Lakes National Park: The Upper Lakes
The path eventually took us away from the lakes and up the side of the mountain. After a steep 15 minute breathtaking (literally) climb we reached a viewpoint for another stunning wall of waterfalls and the upper lakes. I let the sound of rushing water wash over me as I promised myself I'd start doing more cardio.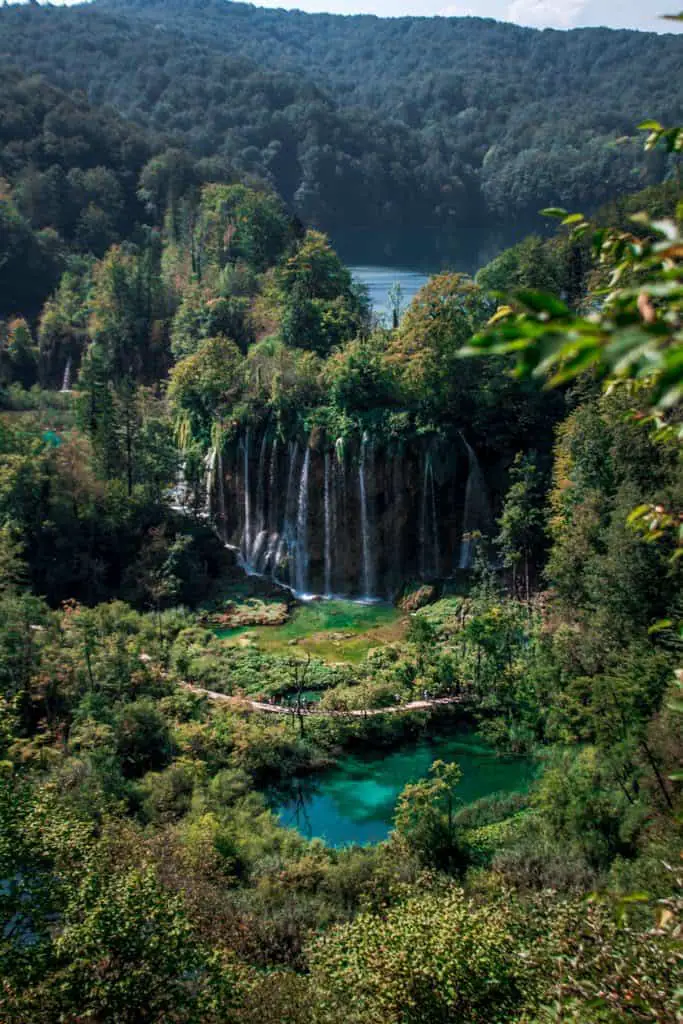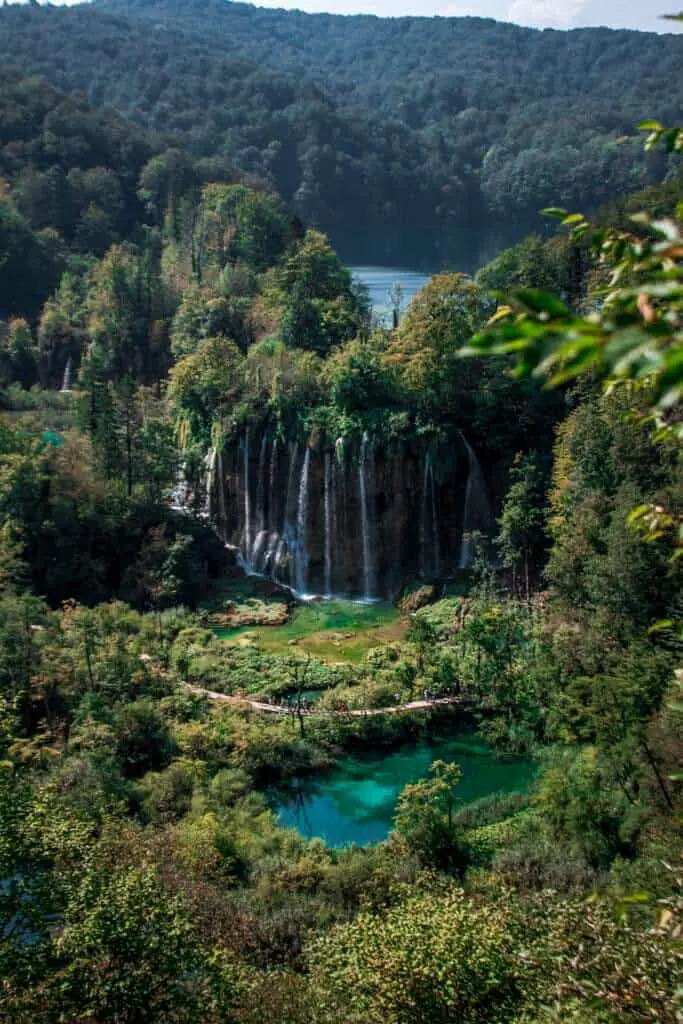 We climbed about 10 more minutes and BAM, you guessed it, another waterfall viewpoint. Plitvice Lakes National Park is out of this world! The trail then took us down the mountain – and into the crowds. For the majority of the day, we'd been lucky to explore the park relatively crowd-free – a perk of getting to the park before opening. But it was now about 12:00 pm and prime time for tour groups and day trippers.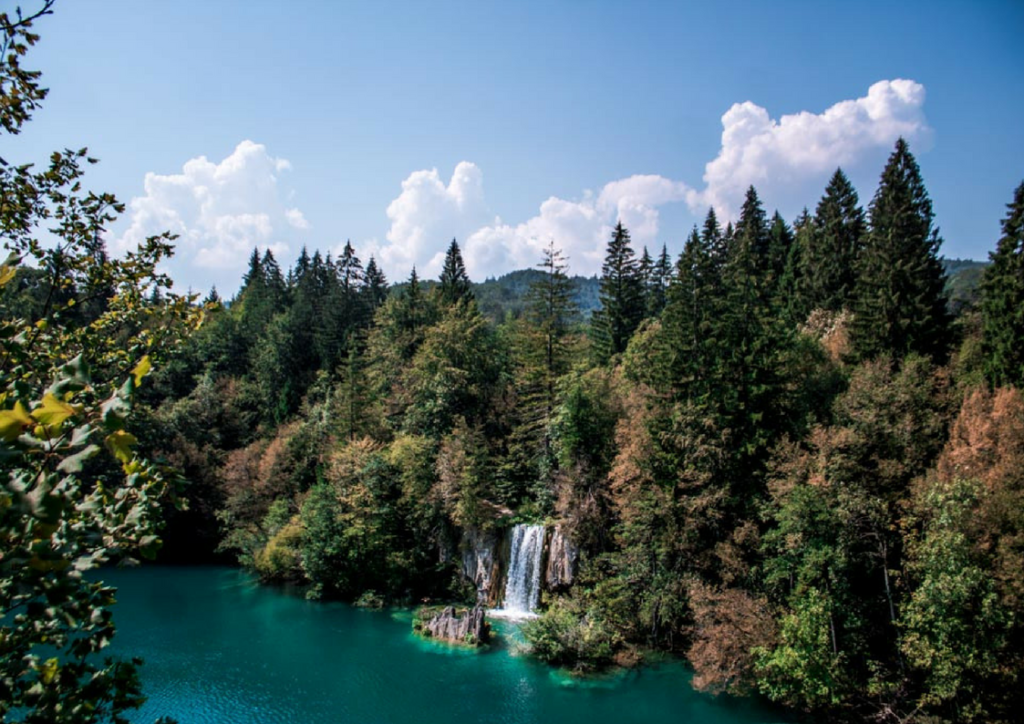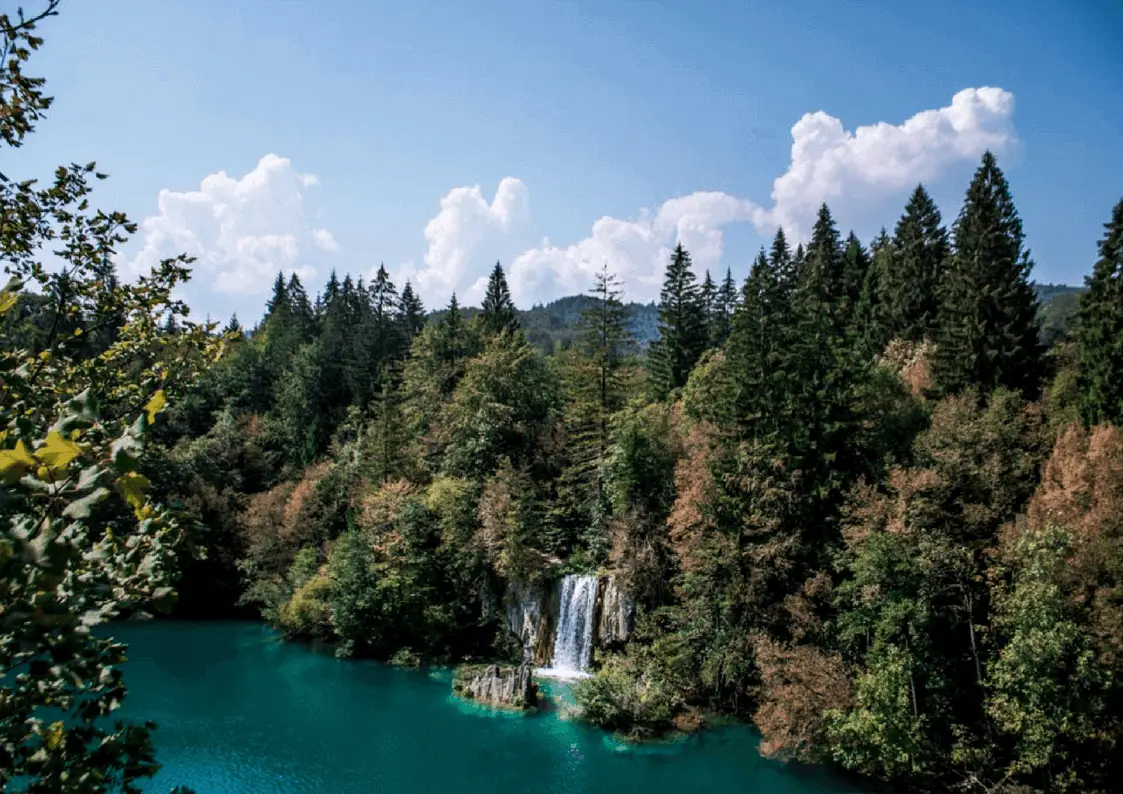 Hunger finally got the best of us so we settled in for a lake-front picnic. As we ate we watched tour group after tour group pass by. As much as we wanted to stay in that idyllic spot a little bit longer, and skip the crowds, we heard the rumble of thunder off in the distance. It was best to join the throng of people.
We tried our best to soak in the remainder of waterfalls while dodging foot traffic, but honestly, the rest of the park is a blur of waterfalls and annoyance. Visitors formed lines for photos, clogging up the boardwalk. We passed these lines, only to find plenty of space for photos, so we weren't really sure why people were lining up for 30 minutes.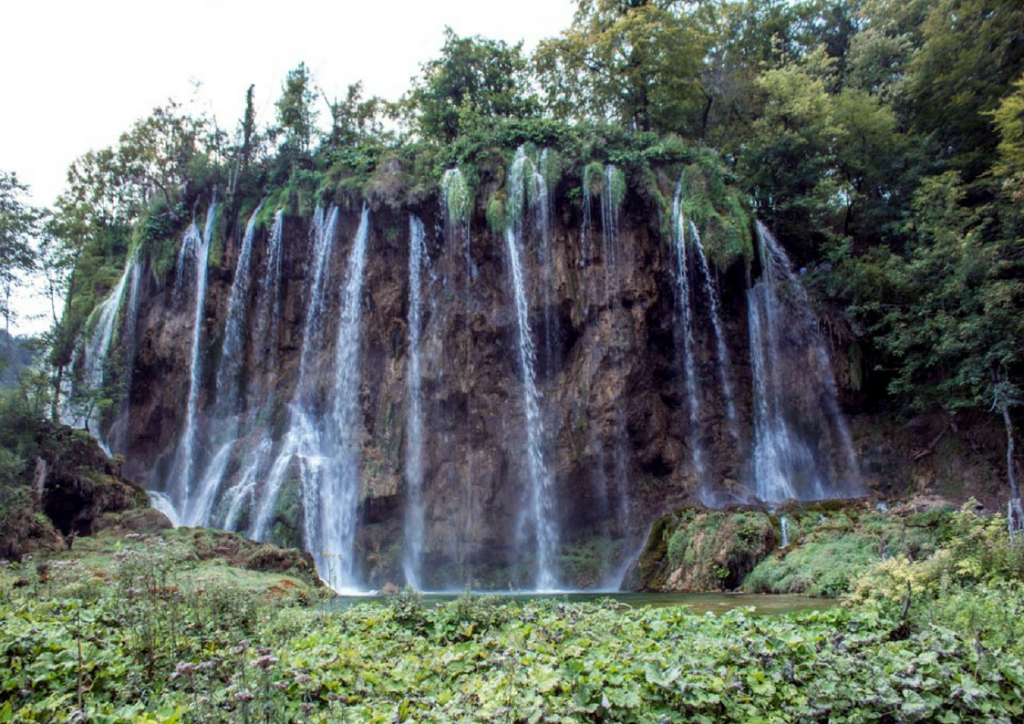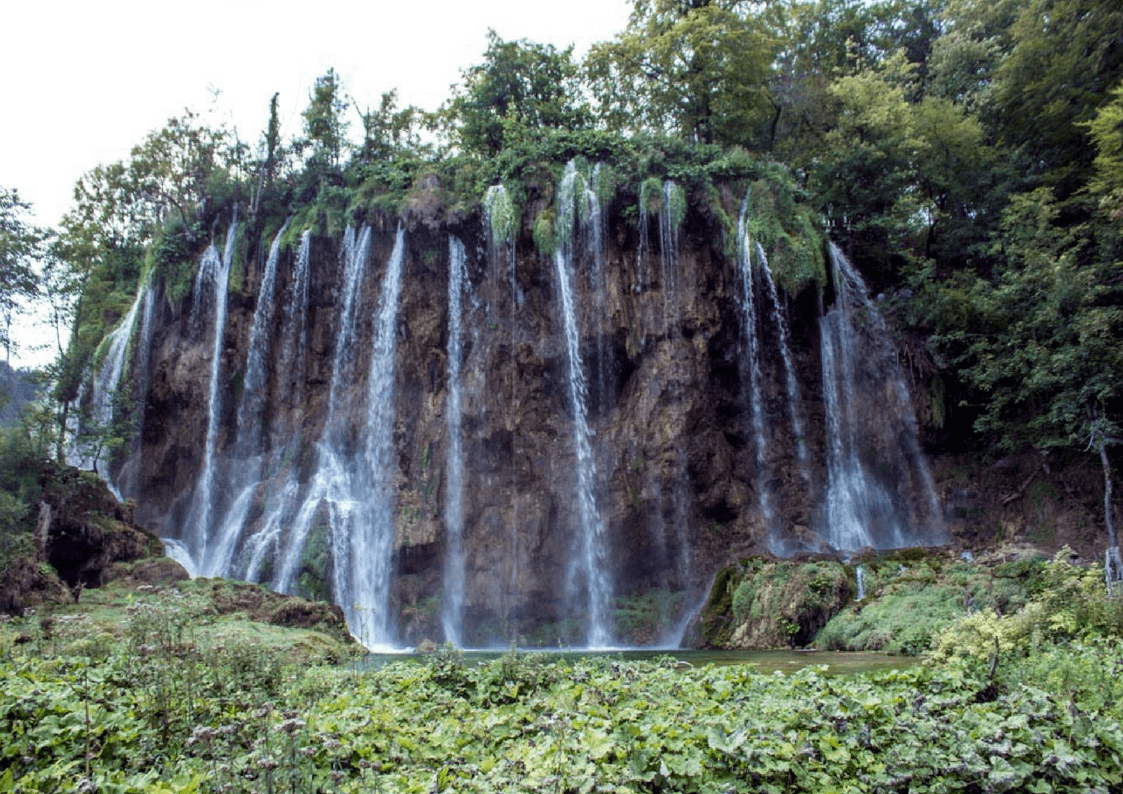 We weaved our way along the boardwalk passing waterfall after waterfall. I have never seen so many waterfalls in one place! We finally found the ferry to take us to Entrance 2 and just as we boarded the ferry the rain began to fall. Perfect timing.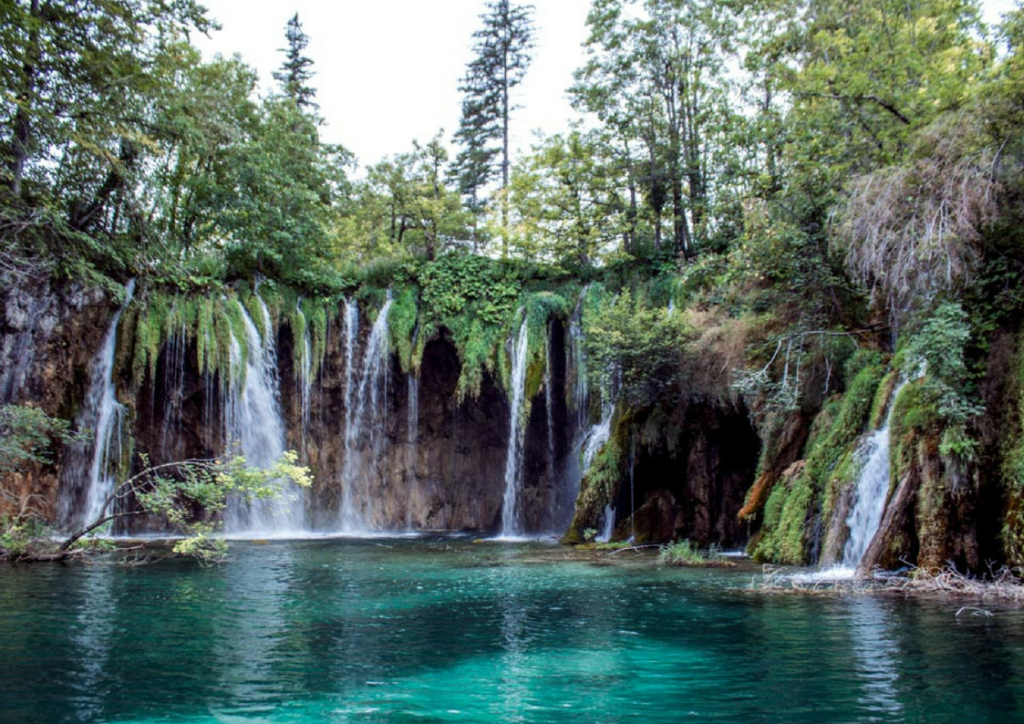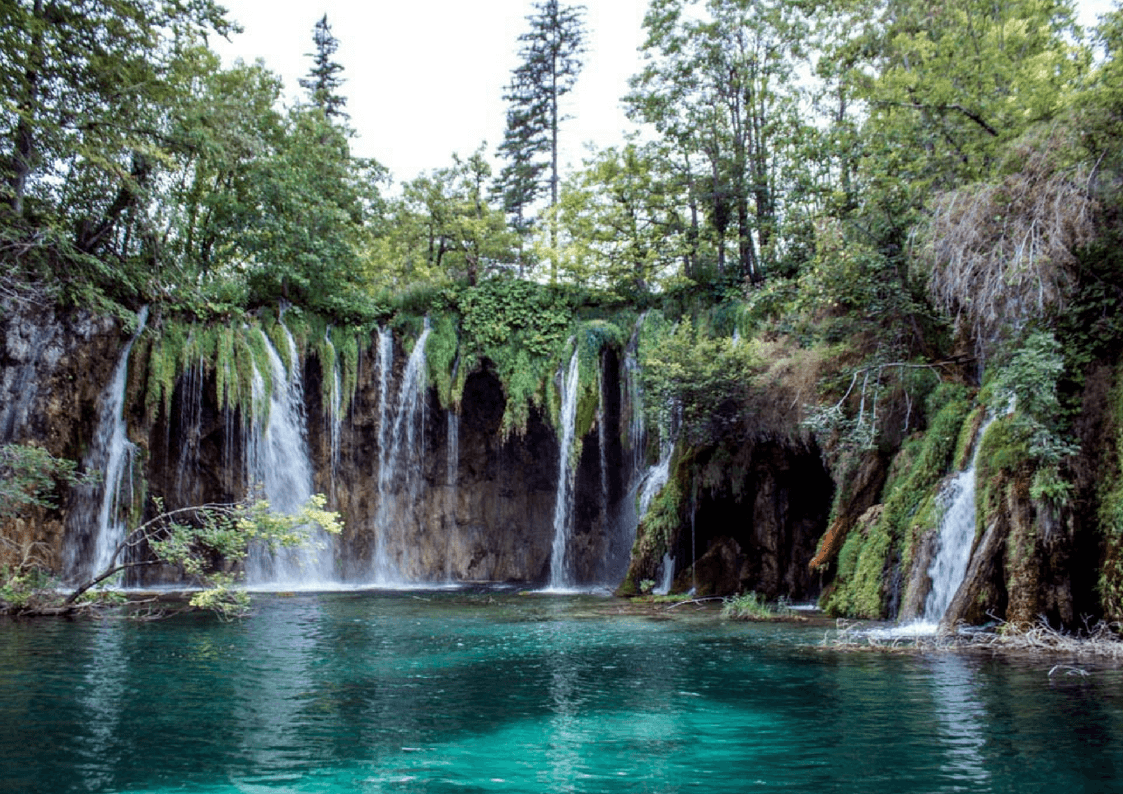 We had a bit of time to wait for the bus back to Korenica so we had a mini yoga session on the grass with a view of the waterfalls and a soft rain falling. It was a perfect end to a perfect day.
We found our bus home, climbed aboard, sweaty, happy, and with full hearts in awe of the gift of nature.
What to Know Before You Go
How to Get to Plitvice Lakes National Park
From Split to Plitvice Lakes, it's approximately 3.5 hours and from Zagreb to Plitvice Lakes, it's about 2.5 hours. You can easily take a bus to Plitvice for a day trip from either location. Additionally, if you'd like to visit on your way from one city to the next, you can leave your luggage at the lakes for the day and then continue by bus, or car, to your next destination. However, this would make for a very rushed and crowded day, so I highly recommend staying at least one night in or near Plitvice.
Plitvice Lakes Accommodation
There are hotels in Plitvice, but I loved the hostel I stayed at in Korenica, Falling Lakes Hostel. They offer other activities, hikes, and it's incredibly clean! Falling Lakes Hostel also offers shuttles to and from the park, for a fee. Or it is conveniently located near a bus stop that will have you at the park in 25 minutes.
Plitvice Lakes Hiking Trails
There are a number of incredibly well-marked hiking trails you can take. However, you should consult a park map prior to starting so you know how long the route you choose will take. The one described above was route K which encompasses the majority of the park taking roughly 6-8 hours.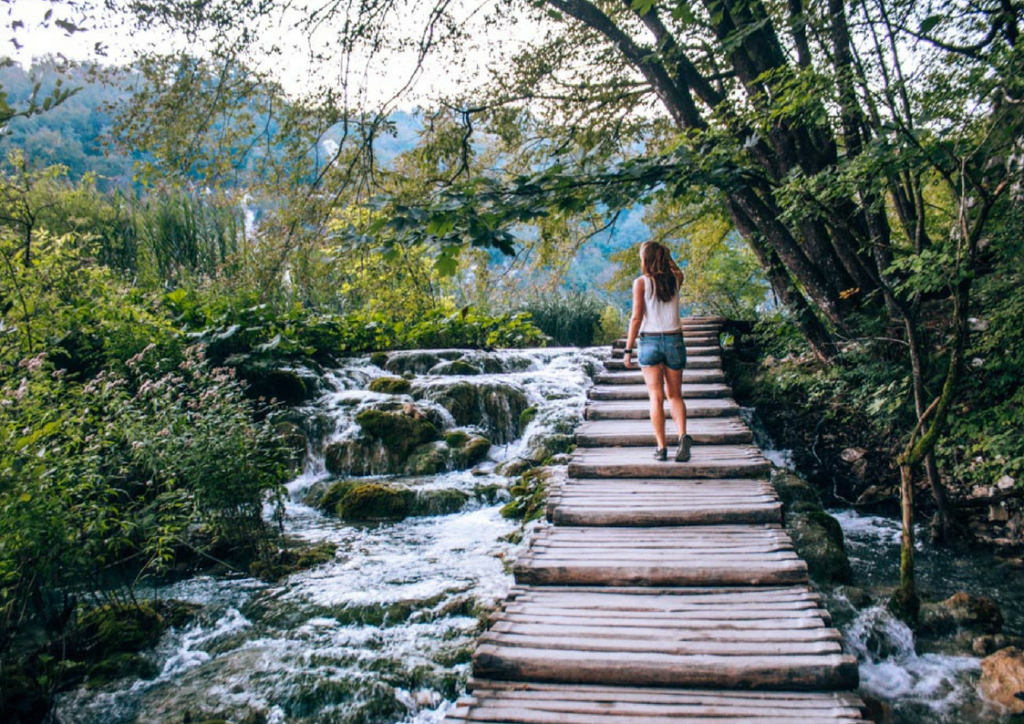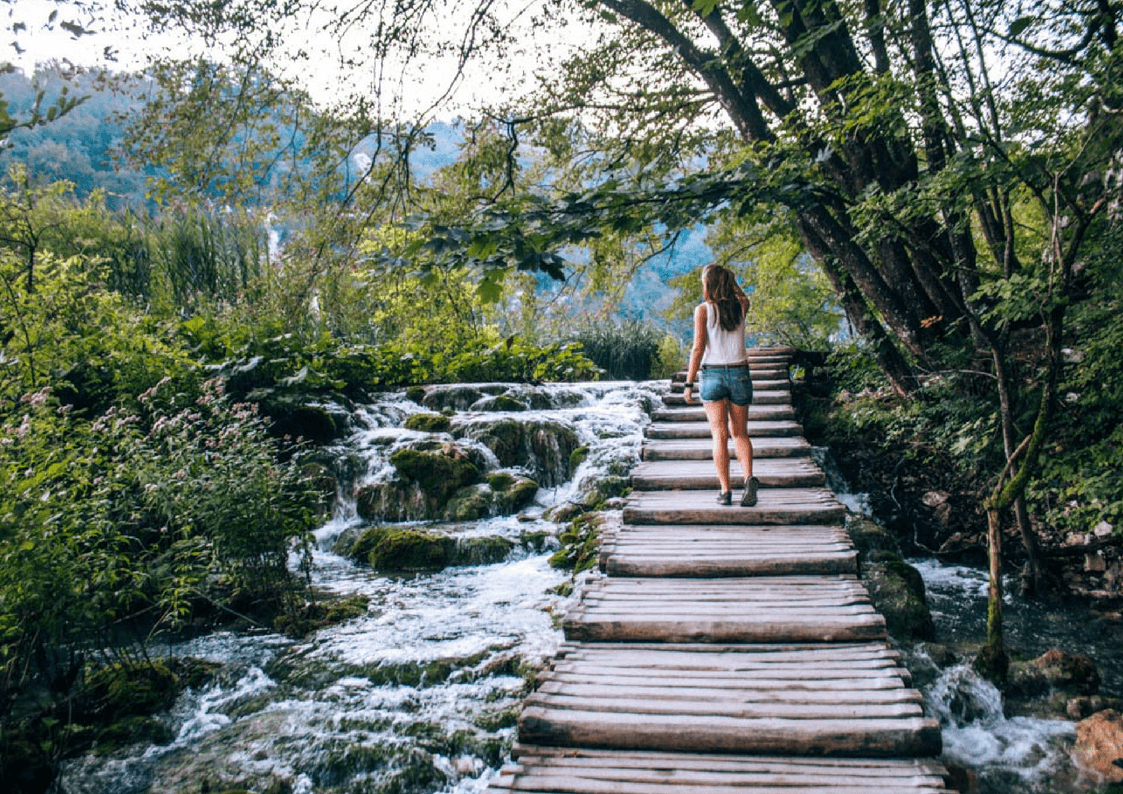 Plitvice Lakes National Park Hours
During peak season the park is open from 7:00 am to 7:00 pm. These times may change in the off-season, it's best to check here for full details.
Plitvice Lakes National Park Entrance Fee
Prices vary greatly depending on the time of the year you visit. In peak season (July-August) it costs 250 kunas before 4:00 pm and 150 kunas after 4:00 pm. From April to June and September to October it costs 150 kunas. In the off-season (January – March, and November – December) it costs 55 kunas! Be sure to double check the park's website for up to date information. The cost of admission includes the ferries and train.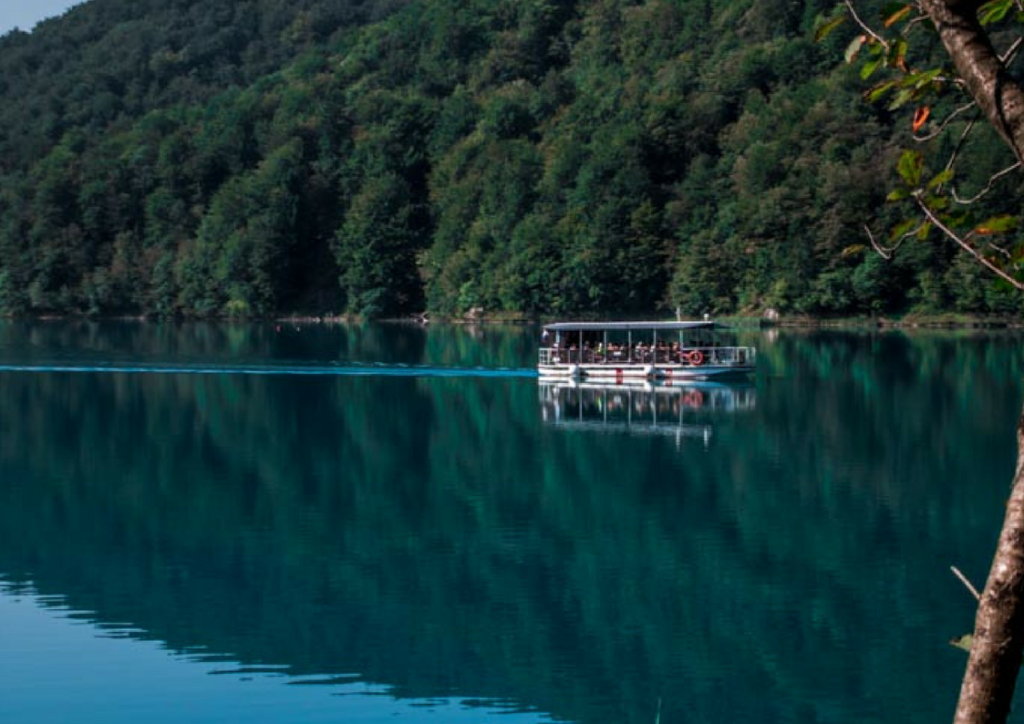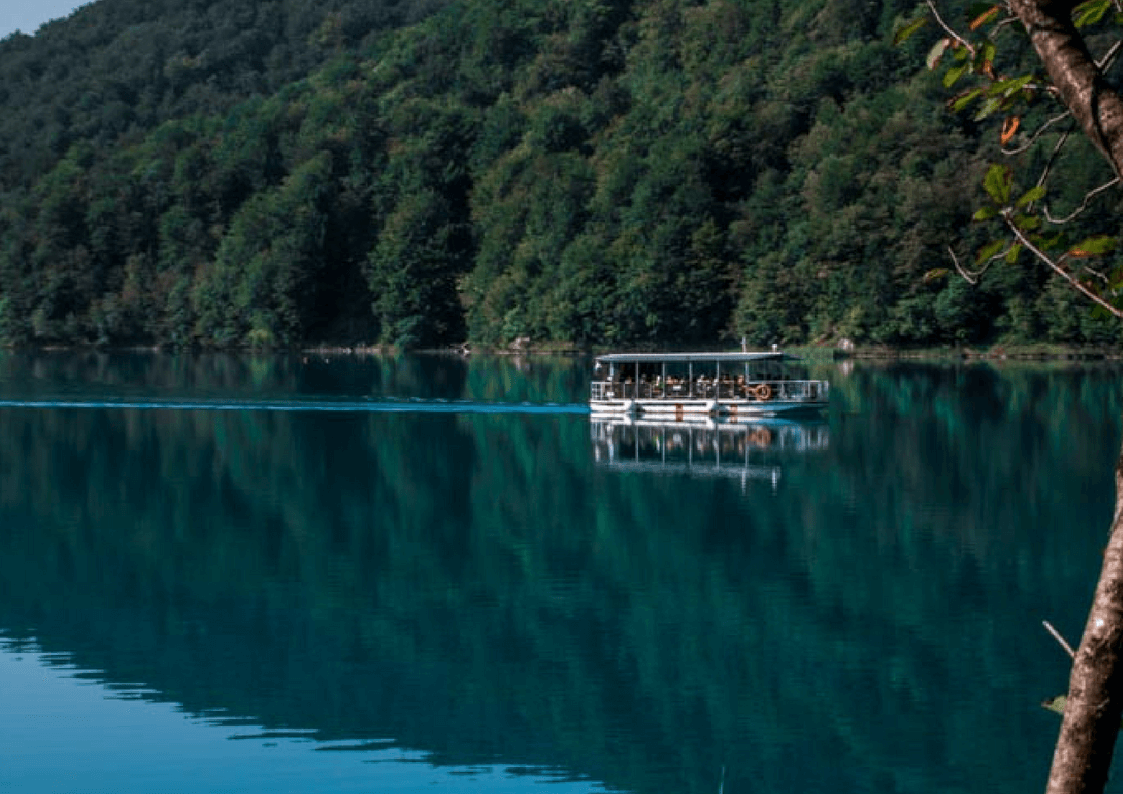 What to Bring with You
You can bring food into the park for a picnic overlooking the beautiful lakes. Just be sure to remove all of your trash. Pack plenty of water as places to refill are few and far between. A camera with an empty SD card and full battery charge is also a must! Additionally, wear sturdy walking shoes or hiking boots (if you decide to explore off the boardwalk). Don't forget sunscreen and a hat!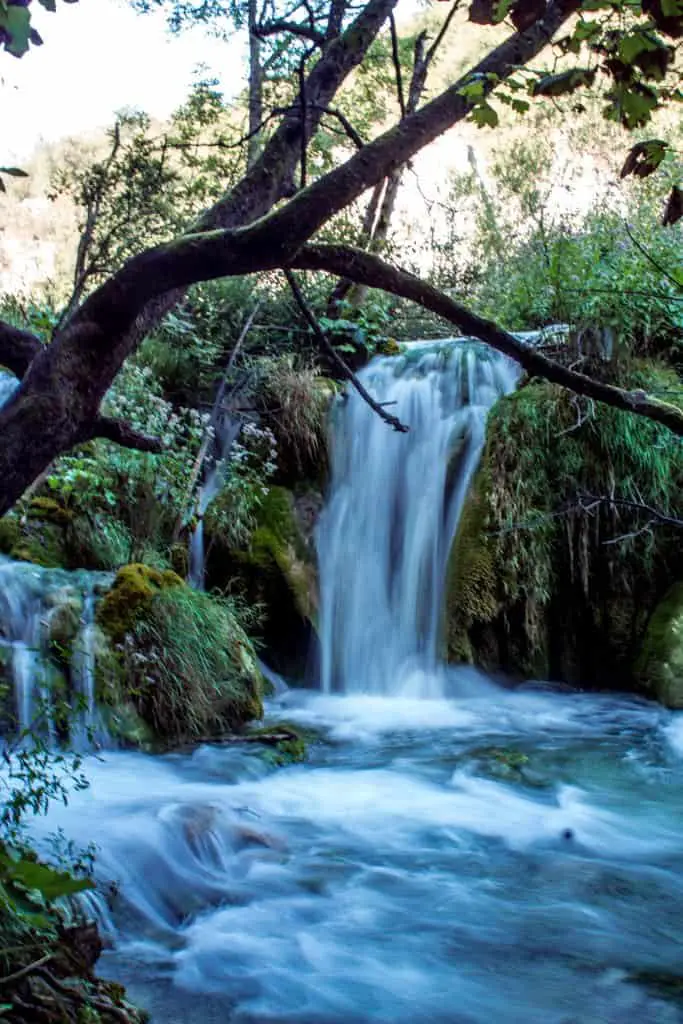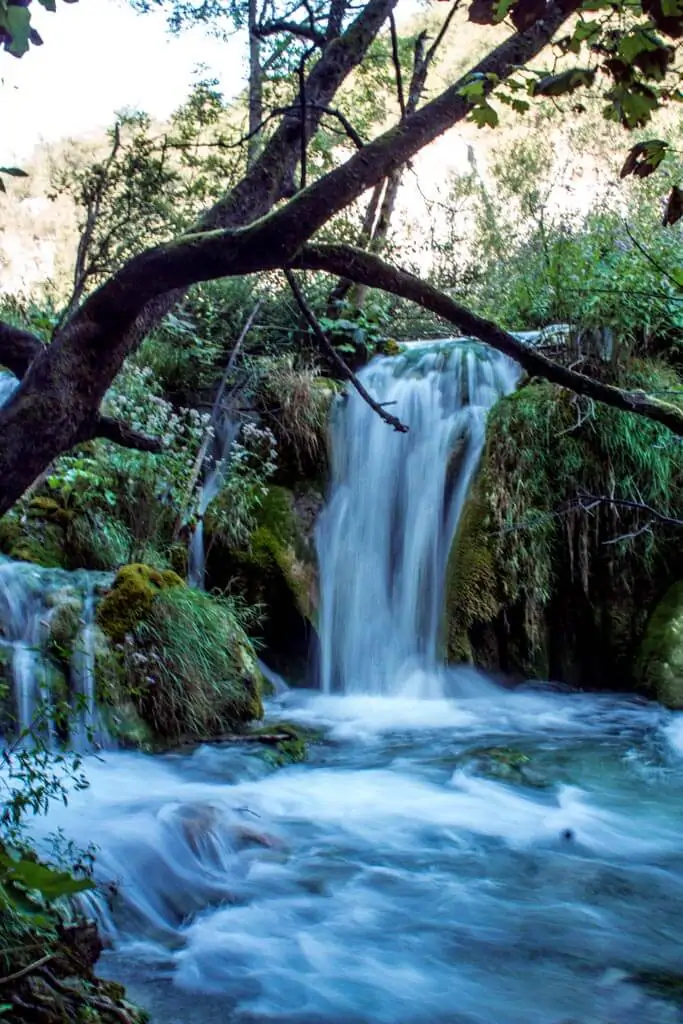 Leave the Swimsuit at Home
There is no swimming in this park.
Like this post? Pin for later!