After two days exploring Ljubljana and an active three days in Bled, I hopped on a bus to Piran for two days of relaxation. The rocky shoreline of the Adriatic Sea and warm sun greeted me as soon as I stepped off of the bus. After checking in to my hostel and a quick nap, I headed out to explore this beautiful town on the coast of Slovenia. I accomplished the majority of the traditional things to do in Piran on my first afternoon. But I'm glad I had two nights here. I was able to sleep in the second morning and still have a full day of swimming, wandering, and doing nothing! While, yes, you can spend one day in Piran and see everything, I highly suggest spending at least two days in Piran so you can take your time, relax, and soak in the atmosphere of this lively seafront town.
Piran – Day 1
Spend your first day in Piran visiting its sights in a relaxed manner. There's no rush to beat the crowds in Piran!
People Watch in Tartini Square
Tartini Square is the main square of Piran where you can see the statue of composer Giuseppe Tartini conducting from the center. There are plenty of cafes and restaurants lining this square where you can spend some time catching up on an excellent hobby; people watching. You can either relax with a tea or simply find a spot on a bench. There will be kids playing soccer, locals lively chatting with each other, and tourists taking photos. If you look up, you will likely see the bell tower of St. George's Church, which you can pay a visit to after finishing your cup of tea.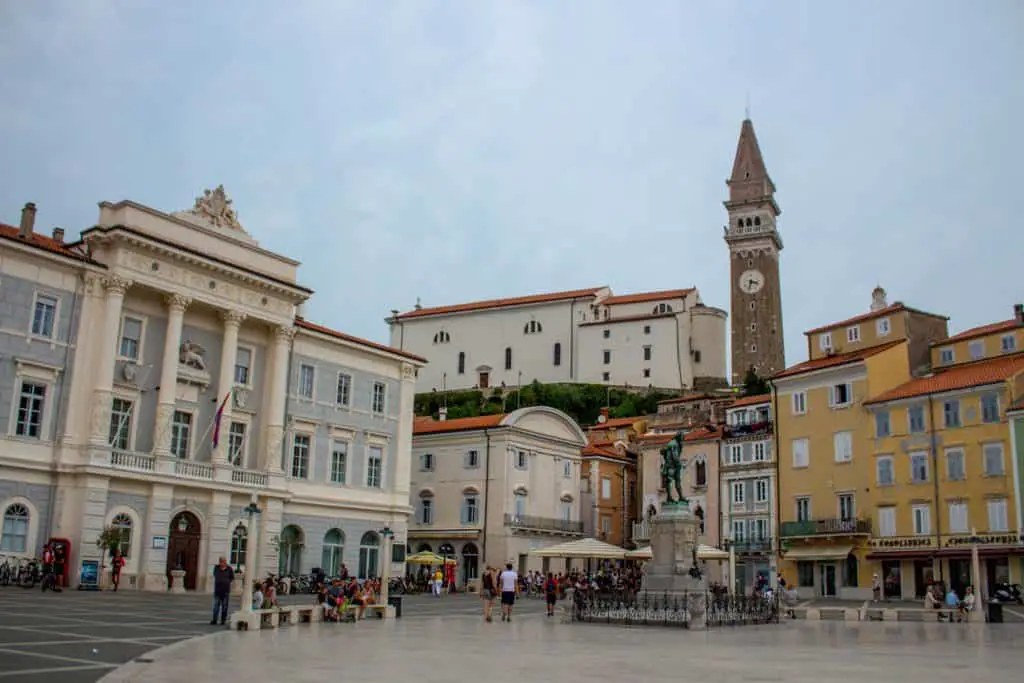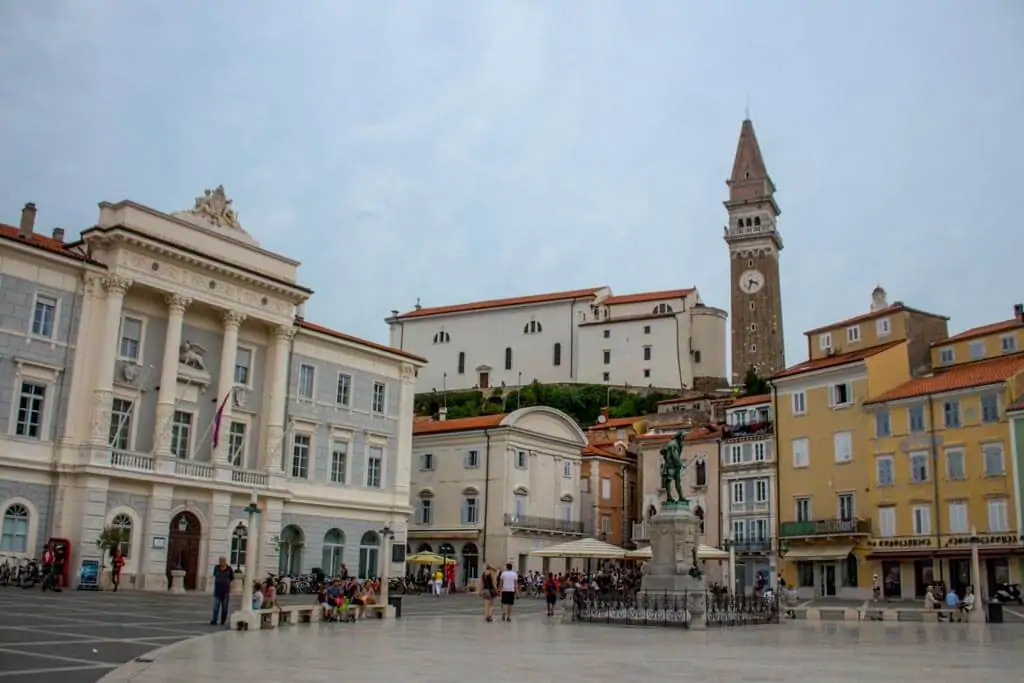 Visit St. George's Church
St. George's Church is located on a hill overlooking Piran. The unassuming exterior makes way for a beautiful interior. It was closed on my first visit, but I was able to peak in the iron gates and snap this photo.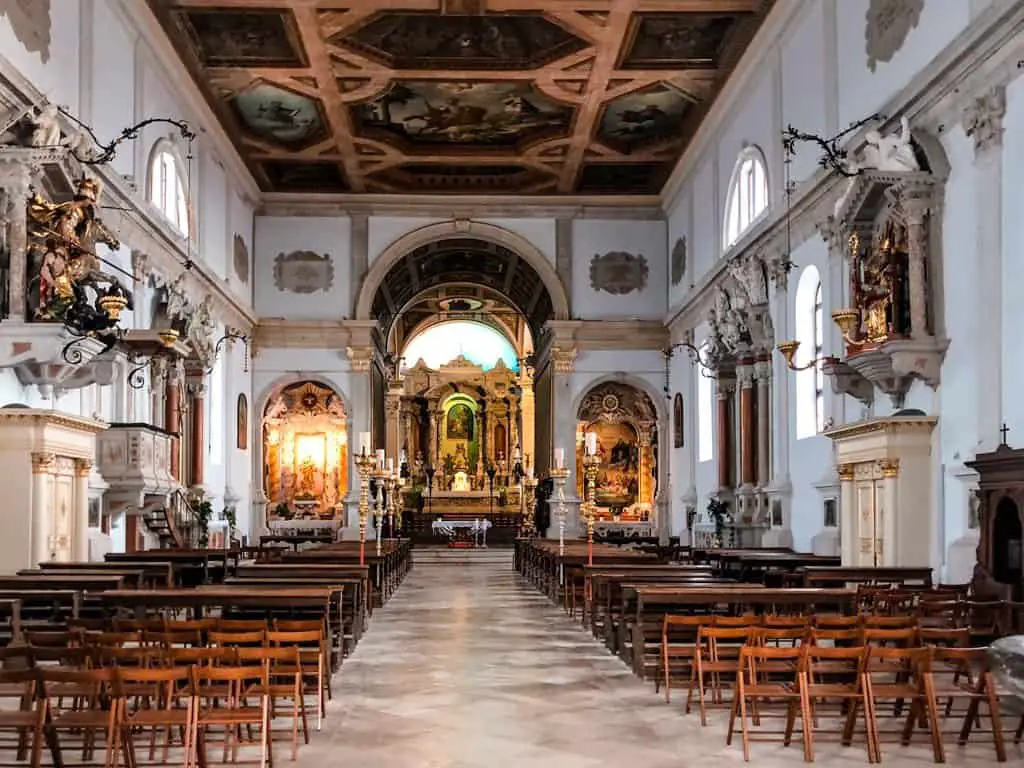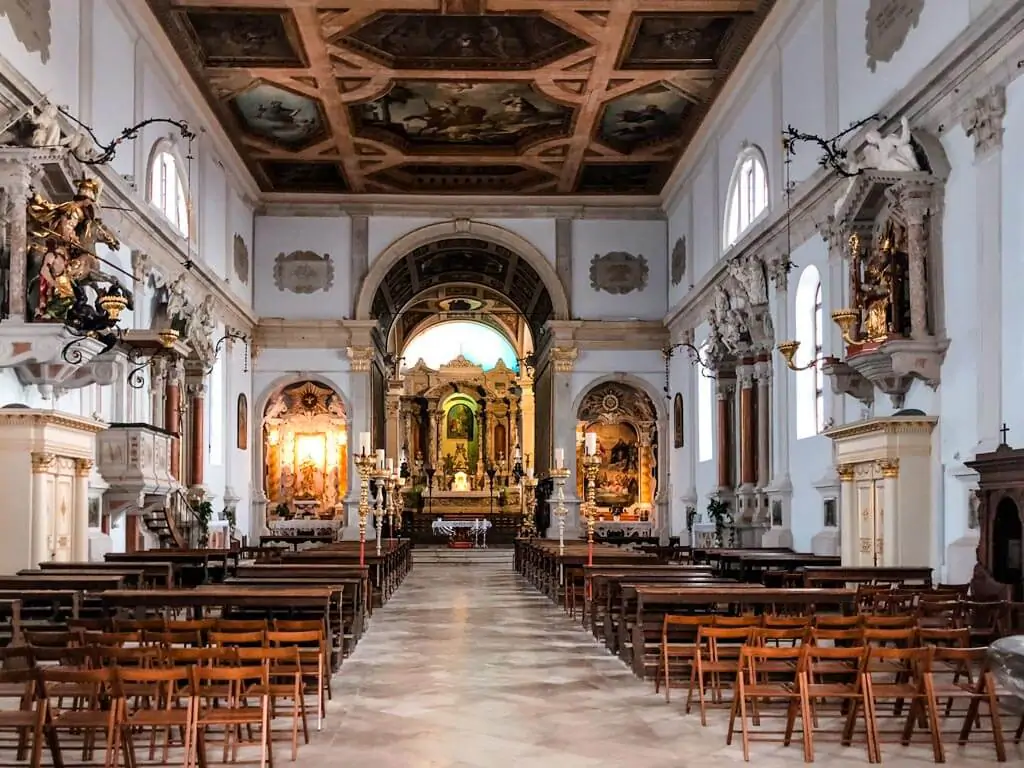 When I passed by on my way towards Fiesa on my second day, it was open for services and a beautiful choir was singing. I'm not religious in the strictest sense of the word, but it's hard to deny the beautiful sounds of a choir backed by the subtle crash of the sea below.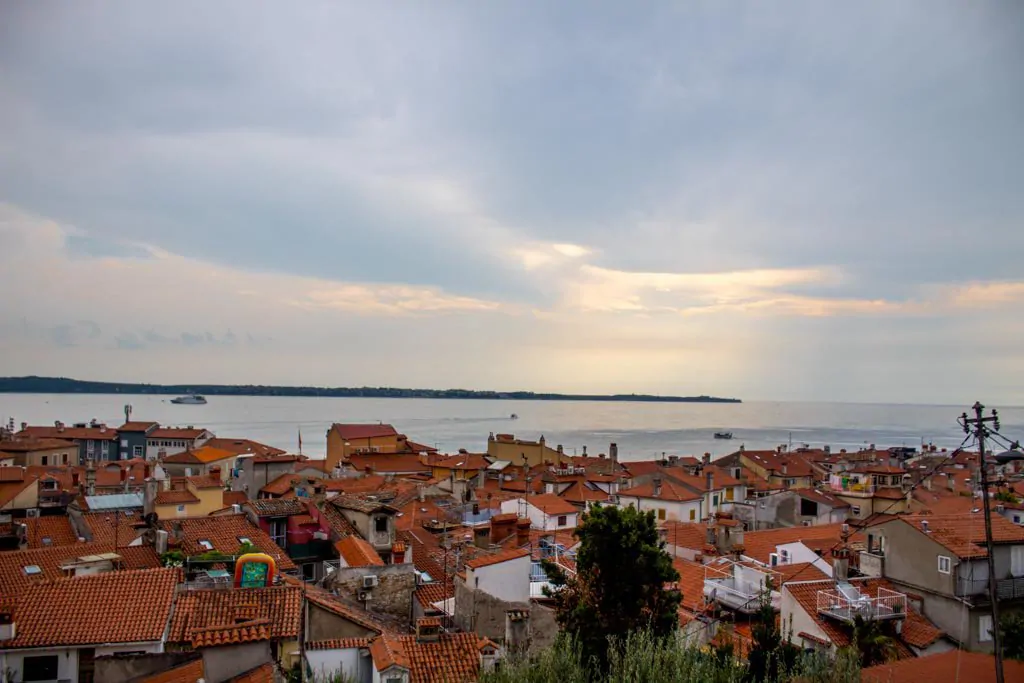 The views from the grounds of St. George's church are spectacular. From one side you can see Piran below and from the other side, you have a beautiful view of Trieste bay and even Trieste, Italy itself! If you've got a spare euro in your pocket, you can climb to the top of the bell tower for an even better vantage point.
Walk Along the Old City Walls of Piran
After visiting St. George's Church, walk about 5 more minutes uphill to visit Piran's old city walls. Piran was once surrounded by these walls, now only a small section of them remain. As I've never been to city walls before, I paid 2 euro and climbed up.
Guards must've been quite short when these walls were in use so be sure to watch your head as the ceilings are low! From the walls, you can look across to Venice and south to Croatia! Or just admire Piran's terra-cotta rooftops, winding alleyways, and Tartini Square from above. This would also be an epic spot to catch the sunset!

Eat Seafood at Fritolin Pri Cantini
Piran is a dream for seafood lovers, it is a fishing village after all! In fact, you can dine on fresh seafood on a boat in the harbor Podlanica Ladja! I was too late to the game with this, you need to book reservations in advance. By the time I wandered by it was full! But don't get disheartened, all of the seafront restaurants offer seafood, but I suggest wandering the alleys to find an option a bit more friendly on the budget.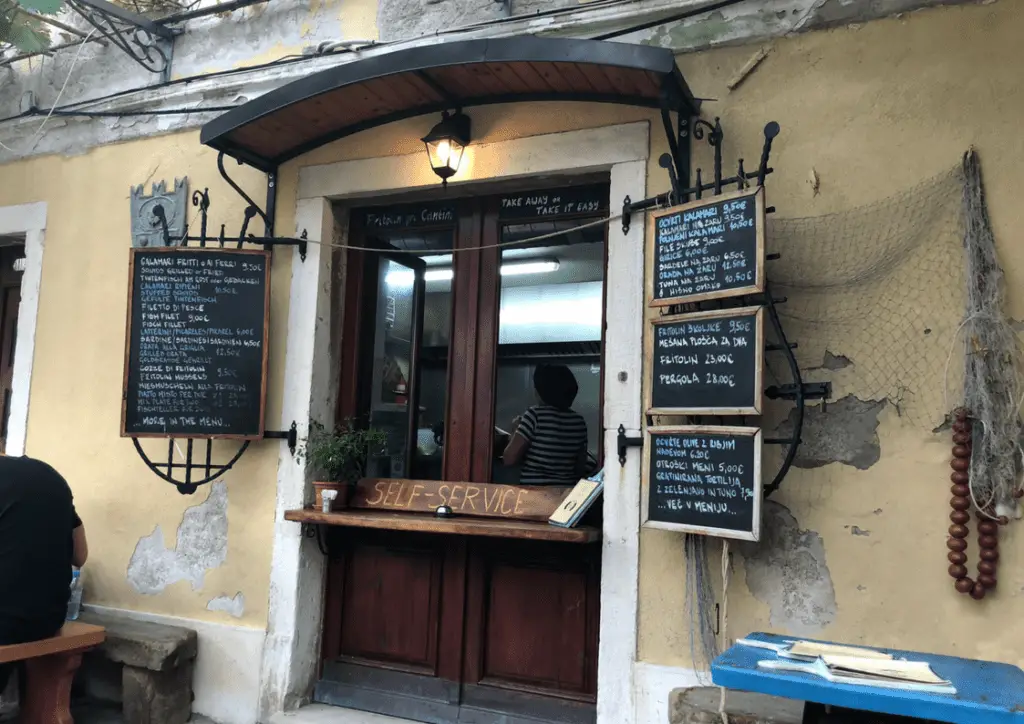 I ate at Fritolin Pri Cantini each night. Fritolin Pri Cantini is a self-service restaurant, where you place your order at the window and grab a seat. If all of the seats are taken, just ask to join a table! A waiter will take your drink order after you've had a seat, which comes from the bar next door. While I was tempted to order the seafood platter for two, I was reasonable and ordered the mussels (9.50 euro) the first night and the stuffed squid (10.50 euro) the second night. Each meal was served with freshly grilled bread and absolutely delicious! My mouth is watering just thinking of it! Oh, and the glass of wine was 1.20 euro.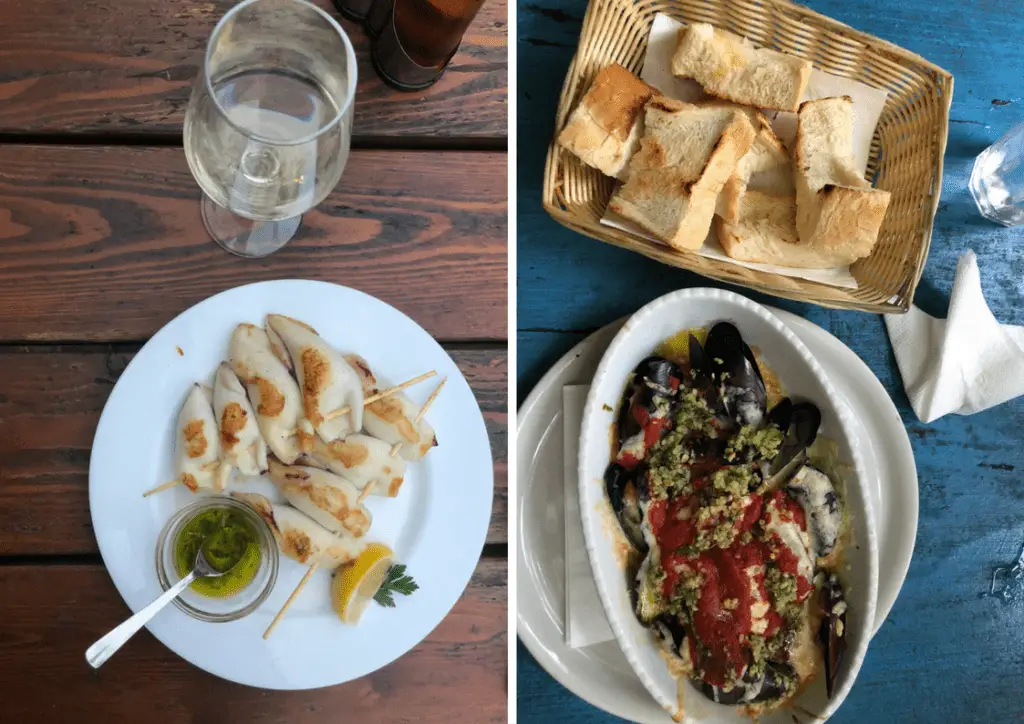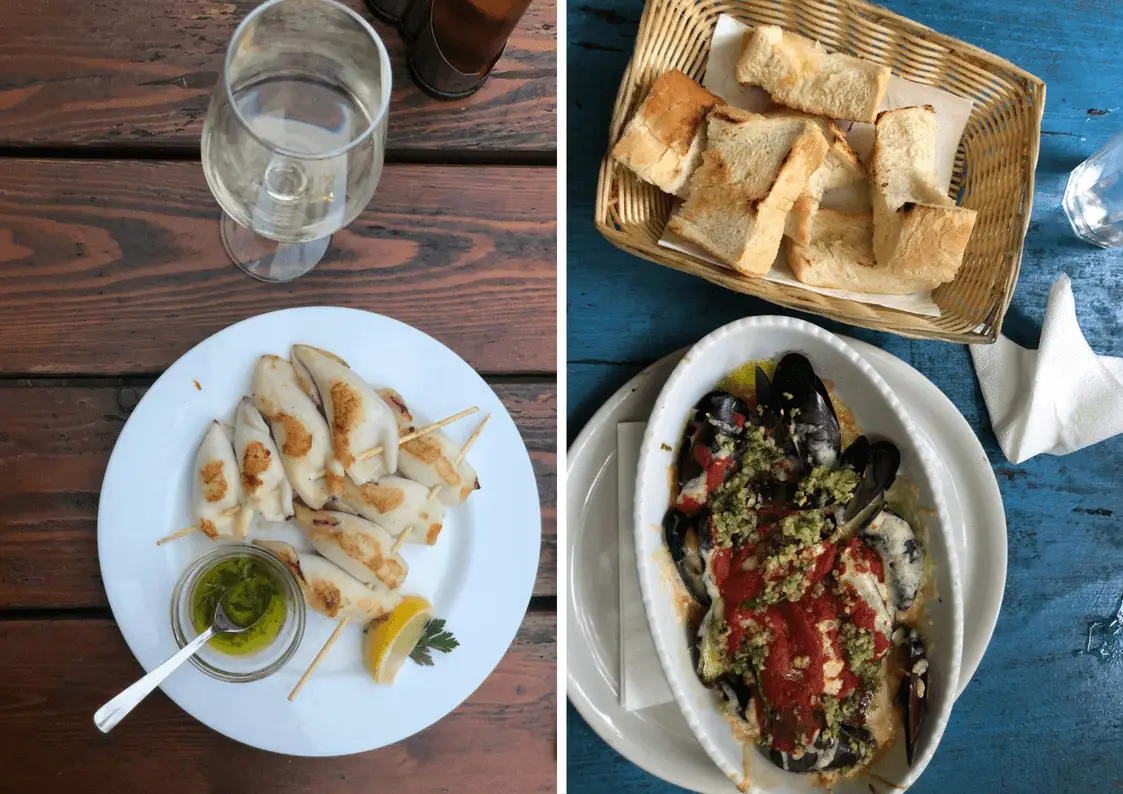 However, on my saunter back to the hostel after eating my fill of mussels the first night, I passed another restaurant that offered mussels for 7.50!! I intended to try them the second night, but they were closed which is why I returned to Fritolin Pri Cantini.
Catch the Sunset
After eating your fill of seafood, head back to the seafront and find a spot with the locals on a rock, or bench, and watch the sunset. Soak in the atmosphere of the lively seafront town and watch people walk by happily eating their gelato. You can tell yourself that you've eaten your fill of seafood, but there is always room for gelato. Go get yourself a cone and watch the rest of the sunset, gelato in hand!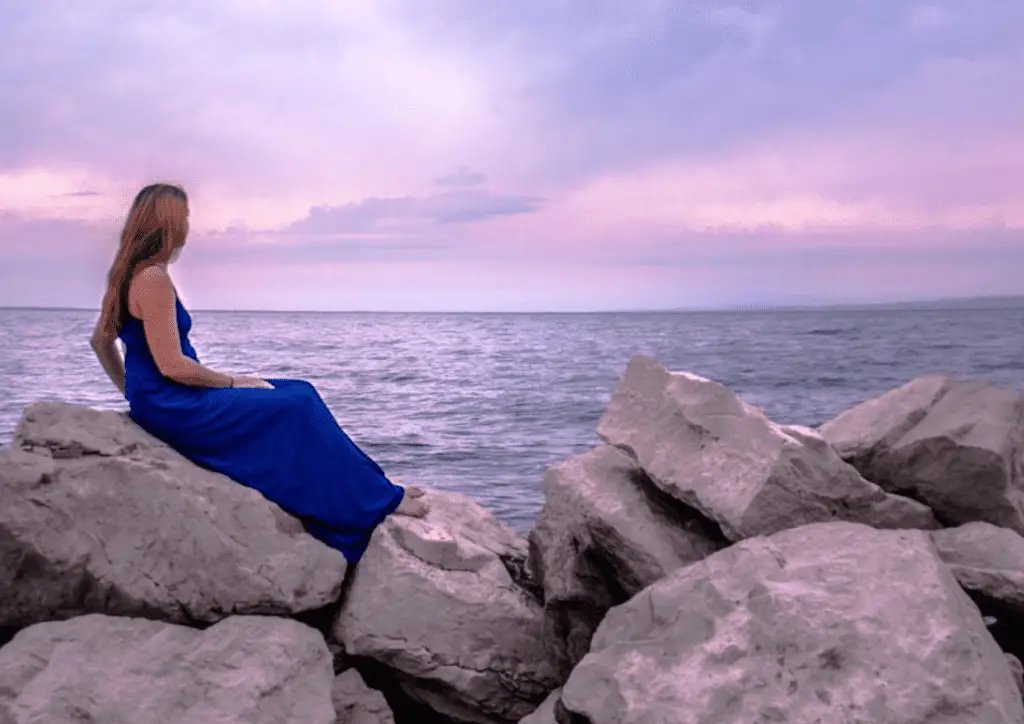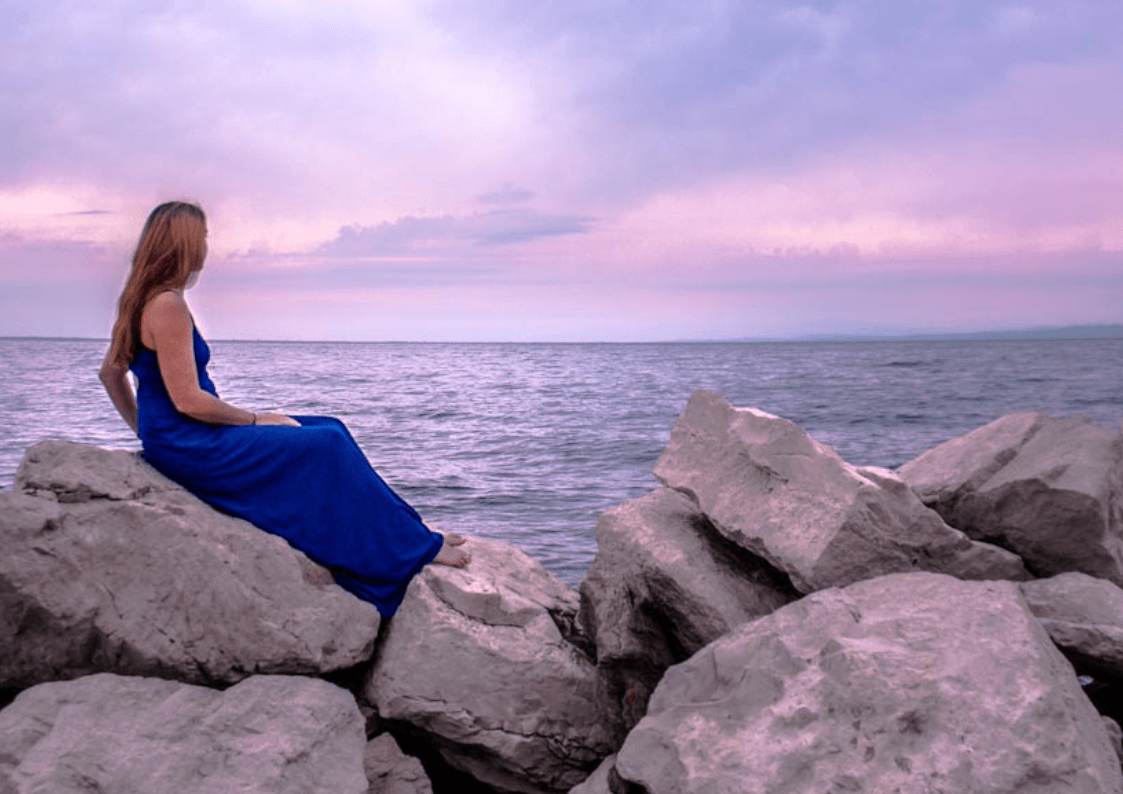 Piran – Day 2
So, yes, you've done just about everything there is "to do" in Piran, day two is a bit more chill. It's time to slow down and refresh!
Walk to Fiesa
Start your day with a walk to Fiesa. Yesterday, on your way to the Old City Walls, you passed a coastal path that you can walk to a smaller town called Fiesa. Swimming appears incredibly important to the locals, as you'll find them in the water at all times of the day, and they've built stairways leading directly into the water. So, you can walk all the way to Fiesa, or just find a spot along the rocky coast for a swim. If you forgot to pack your swimsuit, no problem. Walk along the rocks toward the old walls. I saw some nude bathers there from the walls on my first day.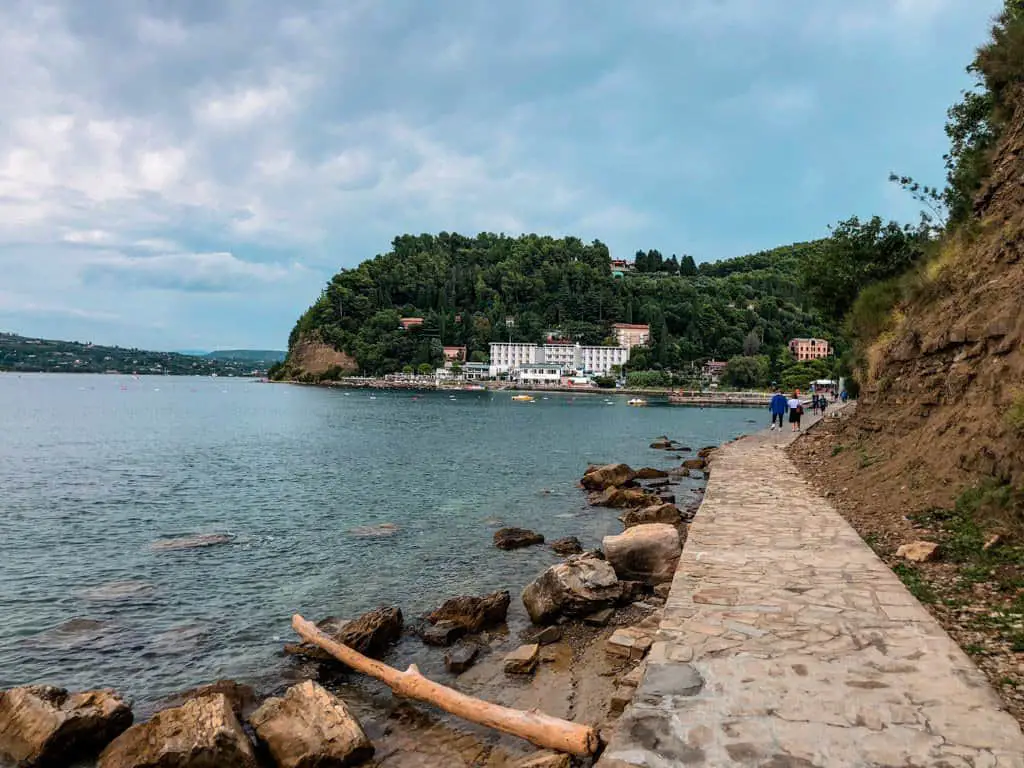 At Fiesa, there is a campground, a small restaurant, and a hotel. They also rent paddle boats if you'd like to take one out to sea!
Get Lost in the Alleys
After spending an entire summer in Europe's major cities, I noticed they all have winding cobblestone streets. Honestly, their appeal was a bit lost on me by the time I'd arrived in Piran. But Piran's narrow streets are unlike any I'd seen in Europe. You truly can get lost in these streets! They twist and turn so you end up walking in a circle, only noticing because you passed that same hanging laundry three times! The streets get so narrow that only one person can fit through them at a time. No wonder everyone seems to ride a scooter here! Piran brought back the charm of these streets!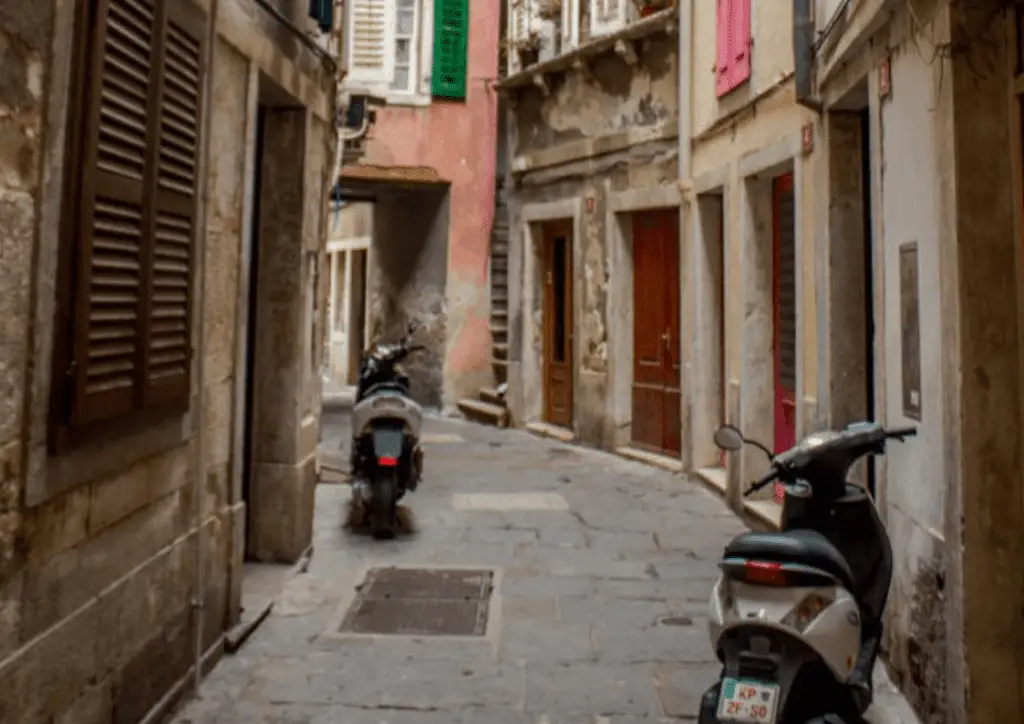 Chat with the Locals
As you get lost in the alleyways don't be intimidated to speak with the locals. An older gentleman approached me speaking in Slovene while I was taking photos in one alleyway. I told him I didn't speak Slovene and a wide smile crossed his face. Without skipping a beat he started speaking to me in perfect English. We connected over San Francisco and the fact that he has family in Monterrey. Can you imagine? An older gentleman in Slovenia, speaking perfect English who has family an hour away from me. The world is so small! He even invited me in for a drink!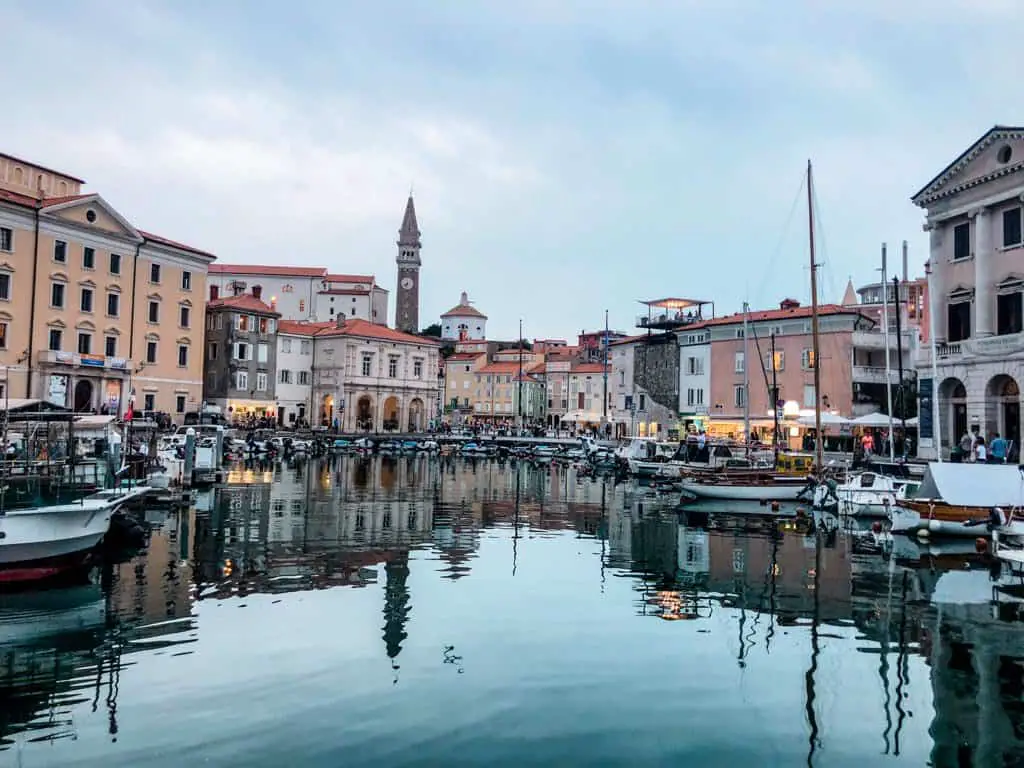 Eat More Seafood and Gelato
Do I need to explain more? Yes – then read this post about eating alone while traveling solo and get out there for some gelato!
Listen to Live Music
Piran is incredibly proud of their composer Tartini and music continues to emanate from every corner of this town. Whether it's from someone's home or a bar, there is no shortage of places to listen to live music. I stumbled upon a band playing music at Cakola Cafe and it was lovely to sit there with the locals for a bit and listen with a glass of Slovene wine. You'll notice who the locals are as they shout at their friends who pass by the bar. I imagine they were inviting their for a drink and then giving them shit when turned down.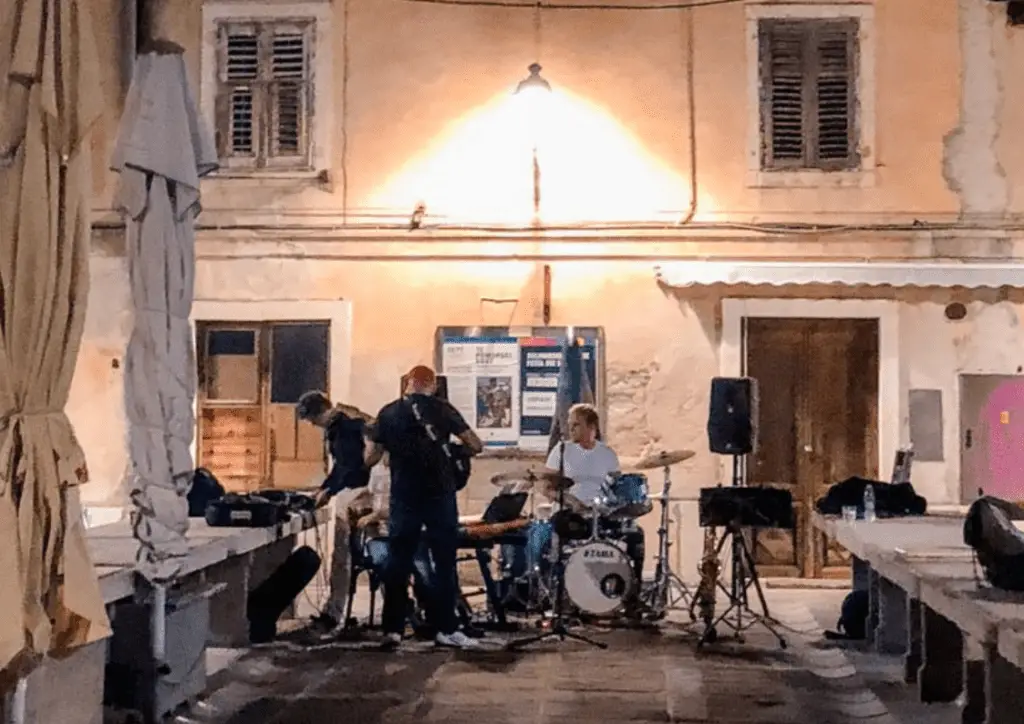 Chill Out
Do all of these things or do nothing at all and simply find a spot on the concrete beaches and relax. Hop in the water for a swim, nap, read and simply be. Sure, you can go visit neighboring Portoroz for the second day or go explore one of the caves. Which I will do the next time I'm in Slovenia. But every now and then, you just need to do nothing. Piran is a great place to remember that we don't need to fill every minute with something to do or see. That spending a day swimming and relaxing is just as, if not more, important than sightseeing.
FAQ
Where to Stay?
I stayed at a lovely hostel called Hostel Adriatica Piran. It's located on a charming street a 5-minute walk from the bus station. It has two kitchens, clean bathrooms, free laundry, comfortable beds, strong WiFI, plus it's decently priced! What more could you ask for?! To book your stay at Hostel Adriatica, click here!
How to Get to Piran?
It's a two-three hour bus ride from Ljubljana. I couldn't find a reliable schedule online, but one was leaving 30 minutes from the Ljubljana bus station as I arrived from Bled. It's best to buy a ticket from the bus station instead of online for the most reliable information.
What to Pack?
I was living out of my backpack for a few months and I honestly packed pretty poorly. But my girl Megan has a great packing list for Slovenia!
If you have any questions about Piran or Slovenia, feel free to email me!
Heading to Slovenia? Pin this Post for your planning!