If it weren't for my friend Kim suggesting we meet in Bled, Slovenia for a few days, I would've skipped not just Bled, but Slovenia all together. I'd seen the beauty of Lake Bled from photos on Instagram, but as I was nearing the end of my 10 months of traveling, I'd grown weary of chasing places just because of Instagram. However, I was also feeling pretty lonely at this time, so I decided that a few days with a friend could be the antidote. So, Kim and I set about exploring the best things to do in Lake Bled, and we discovered a charming town filled with beautiful people and views.
Here's an overview of what we discovered to do in Lake Bled. I'll go into details further down for each of these, including how to get to Lake Bled & where to stay but just in case you're the kind of person who just wants a list, which is usually what I want from blog posts – this is for you!
Overview of the Bled Bucket List
Walk around Lake Bled

Get on the water at Lake Bled

Go swimming in Lake Bled

Sunrise hike overlooking Lake Bled

Explore Bled Castle

Day trip to Lake Bohinj

Day trip to Vintgar Gorge

Bike ride through Triglav National Park

RELAX!!
This post contains affiliate links, which means that, at no additional cost to you, I will earn a tiny bit of income if you decide to make a purchase or booking.
Alright, now that we've got the overview out of the way, let's dig in shall we?
Let's Talk Logistics
When to Visit Lake Bled
We visited in early September which meant we missed high tourist season. It wasn't overly crowded when we went, but from mid-June to August expect crowds, especially on the weekends. I imagine it's incredibly pretty during the winter months with the snow covering the Julian Alps and offers a whole host of other activities to enjoy.
How to Get to Lake Bled, Slovenia
It's incredibly easy to get to Lake Bled from Slovenia's capital city of Ljubljana – and I highly recommend spending a day in Ljubljana before heading off to Bled. Buses run from the main bus station every hour and cost approximately €7 for a one-way ticket. The ride lasts about an hour and a half.
If you're flying to Slovenia, you'll fly into Ljubljana Int'l Airport. From there, you can take the bus to Bled!
For more information on bus schedules check out GetByBus
Where to Stay in Lake Bled
There are numerous options for accommodation for every budget and style of traveler. Kim and I stayed at Back Bar & Hostel, which was owned by a lovely family, reasonably priced, had strong WiFi and a good kitchen.
You can check the Booking map below to find a place that suits your taste.
Where to Eat in Lake Bled
Kim and I cooked our entire time in Bled. Yay for saving money and staying healthy. There is a small grocery store in town where you can pick up all of the essentials, including a liter of wine poured by yourself from a barrel. That being said, there are a number of restaurants in town and around Lake Bled.
9 Fun Things To Do in Lake Bled
Walk Around Lake Bled
The first thing you should do upon arrival in Lake Bled is walk the 6km path the surrounds the lake. This walk will not only stretch your legs and provide some quality exercise, but it will provide you with beautiful vantage points of Bled Island with Bled Castle standing guard on the mountain in the background. Additionally, you'll be able to pick out places to swim or lay out a towel and catch sun some. The walk around Lake Bled begins and ends in the town, it is a circle after all, so you can pick out some tasty looking restaurants or even see if live music is playing anywhere in town.
Kim and I found a restaurant playing music a few hours after we passed it and we had every intention of going back in the evening to check it out. But after a full day of hiking, swimming, and chilling by the water, we fell asleep super early instead. Don't be lame like us, go enjoy the music!
Cost: Free!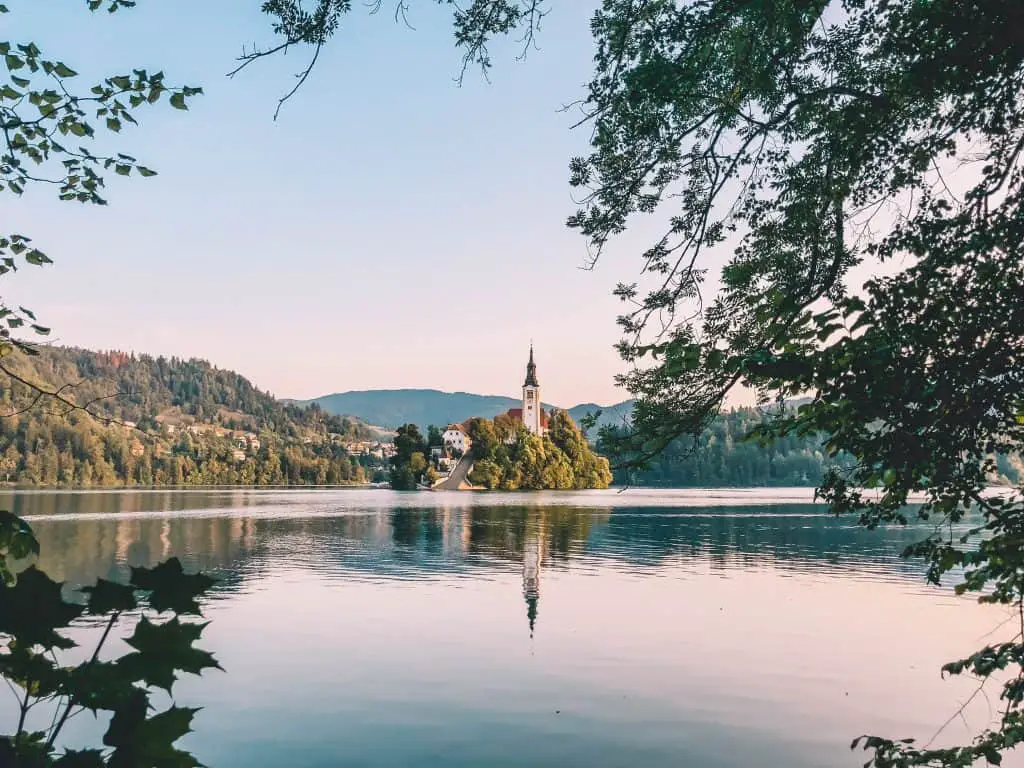 Get on Lake Bled
There's just something about being ON the water of a beautiful lake that is incredibly relaxing, don't you think? From your walk around the lake, you likely passed by multiple locations to rent some sort of watercraft to get you on the water. Options include a paddleboard, kayak, or canoe. If you're flying solo a paddleboard or kayak is the best option, but if you're traveling with a friend try the canoe. Maybe even bring snacks and a bottle of wine and totally chill out.
You can paddle to the island and explore the island if you wish, or just enjoy a few hours on the water. To be honest, I didn't go to Bled Island, I'd heard it was just all tourists and a bit of a waste of time, but if you want to get the full Lake Bled experience, then paddle over to the island and ring the church bell!
Cost: €15-€20 per hour depending on the type of watercraft you choose.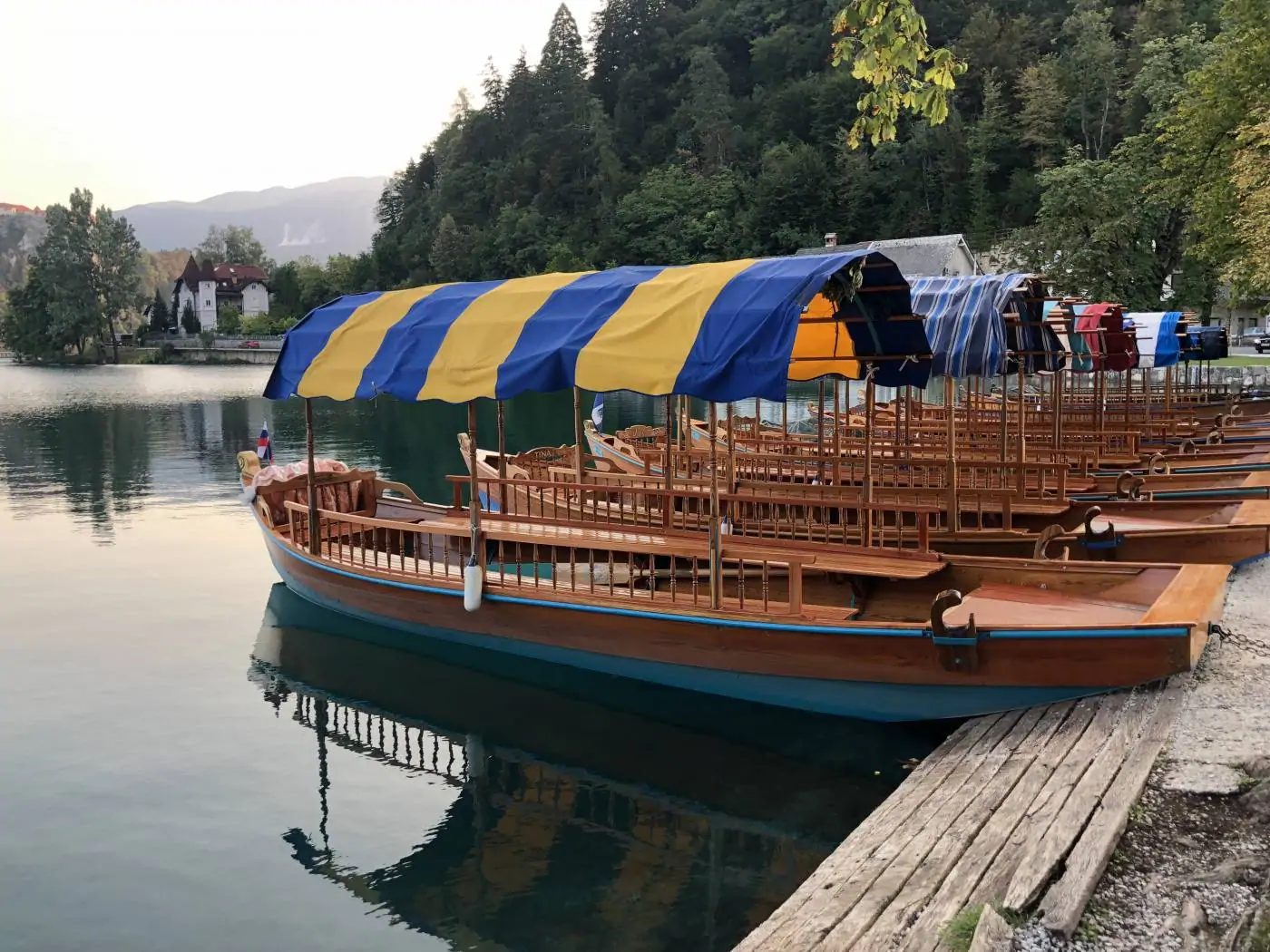 Go Swimming in Lake Bled
Obvious, right? There are a number of spots to go swimming in the lake that you scoped out on your walk. I recommend finding a spot in the sun near the wooden pier and jumping in the lake frequently to cool off. Seriously, the best thing on a hot summer day.
Cost: Free!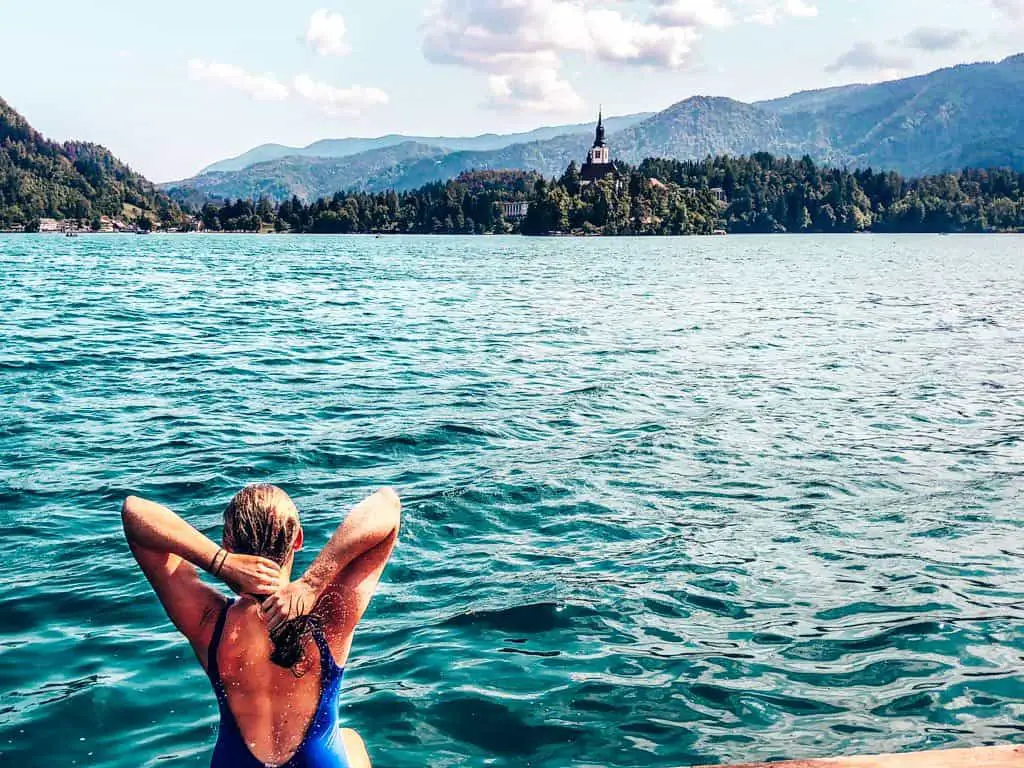 Sunrise Hike Overlooking Lake Bled
You know that photo of Lake Bled I was talking about that I'd seen plastered all over Instagram that almost made me skip over Slovenia entirely. Well, I convinced my friend to get up early one morning and scope it out. Let me tell you it's stunning. The location of the shot is from the viewpoint on Mala Ojstrica. There's also a second viewpoint a bit further up called Mala Osojnica, but we didn't get that far.
I suggest doing this hike before sunrise, so you can actually see the sunrise over lake bled. It truly is a beautiful sight to see and if you're visiting in the summer then the temperature will be a bit cooler and more manageable than the middle of the day.
To accomplish this, check your weather app for the time of sunrise, then set your alarm for AT LEAST an hour before sunrise. In all honesty, you should be starting the walk to the viewpoint an hour out but, you do you. Kim and I managed to be the first people to reach the Mala Ojstrica and we had it all to ourselves for about 15 minutes. Then people started to flow in, so get there early!
The hike begins just after the Bled Camping parking lot. You'll see small wooden signs for Mala Ojstrica and Mala Osojnica. It's a very rocky path, so be sure to wear sturdy walking shoes – no flip flops. Also, since you'll be hiking in the dark in the beginning, bring a flashlight or make sure you're phone flashlight is working.
There's a bench at the top where you can sit and enjoy the view – if you get there first that is.
Cost: Sweat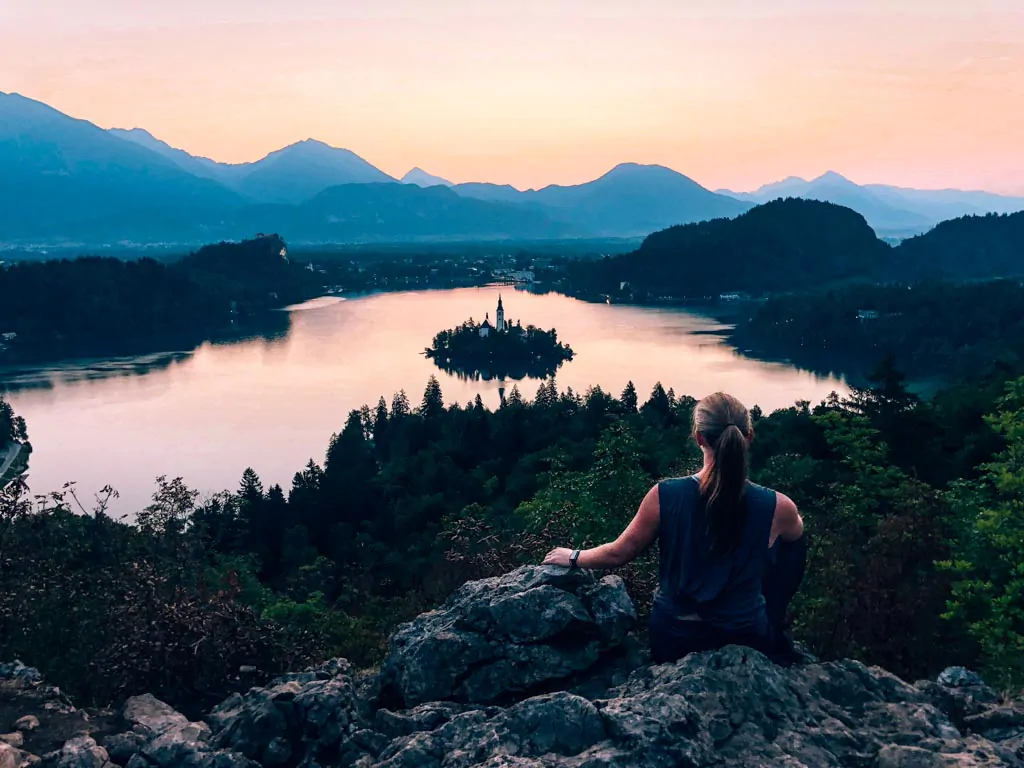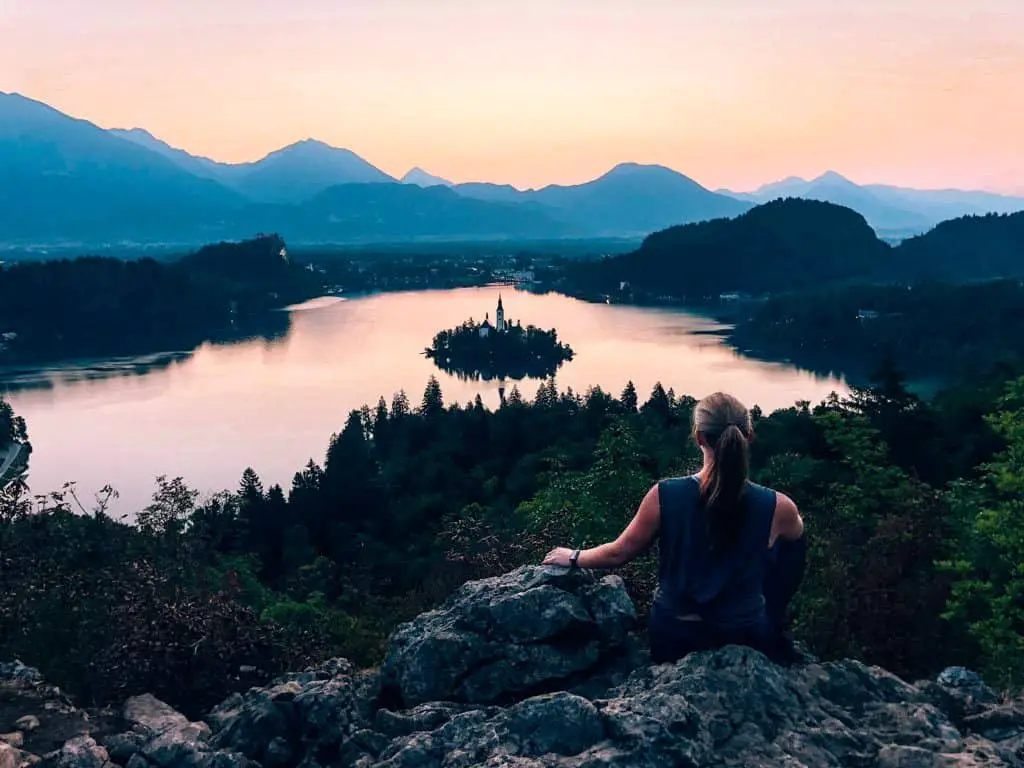 Take in the Views from Bled castle
In full transparency, we didn't actually enter the castle. We did make the 15-minute climb uphill to the castle in an attempt to take in the views. However, we didn't realize that in order to see them, we'd have to pay an entrance fee to the castle. We decided to save the entrance fee and use it for another bottle of wine. So if you want to take in the views from Bled Castle, then be prepared to pay to enter. To get there you can take the 15-minute hike up (straight uphill basically), but be sure to wear sturdy walking shoes. Or you can take the bus or drive up to it if you have a car.
Cost: €11 adult/€5 child
Open: All year around. Opens at 8:00 am but closes at different hours depending on the month. For the most up to date pricing and hours visit this informative site about Bled Castle.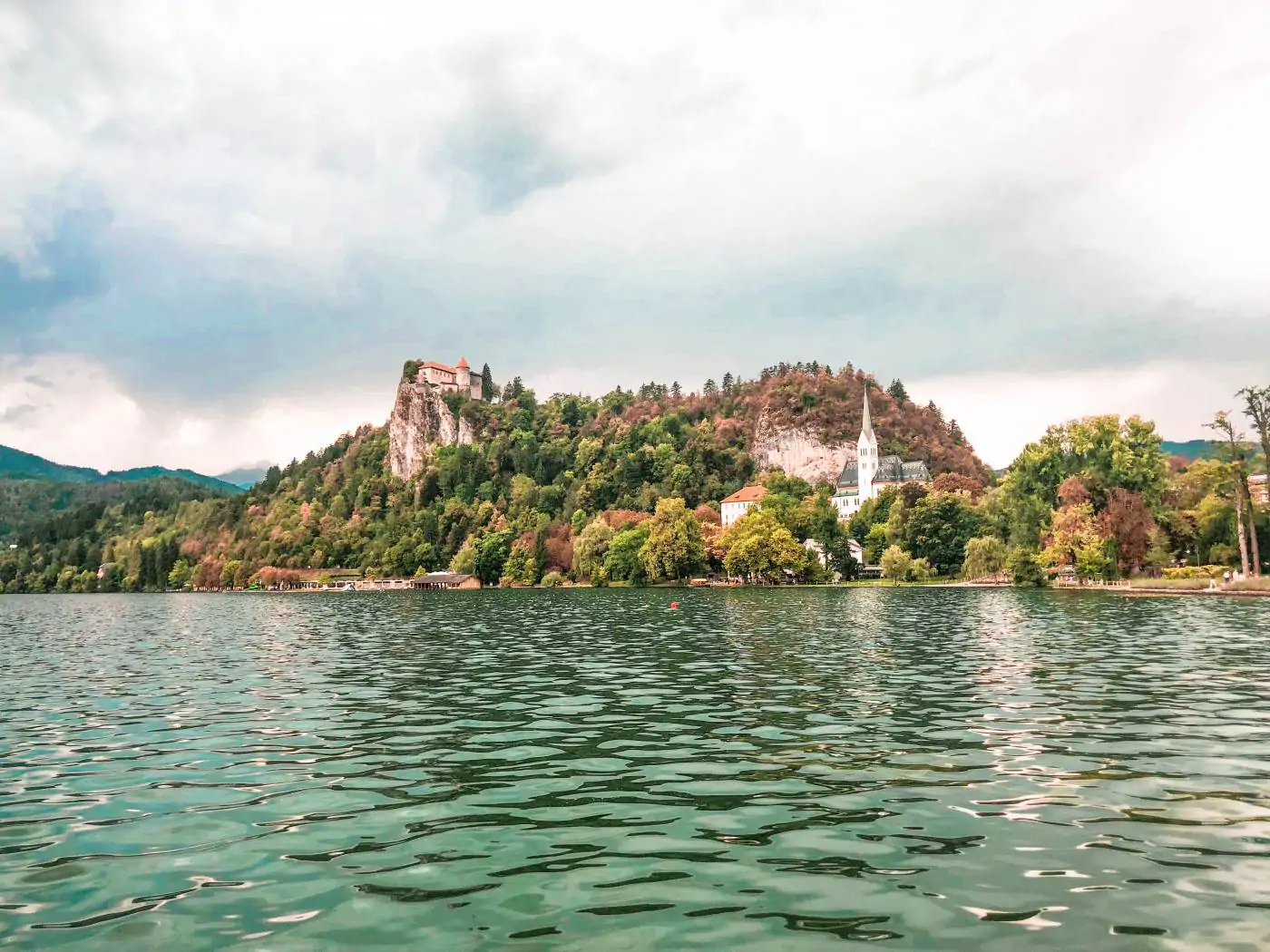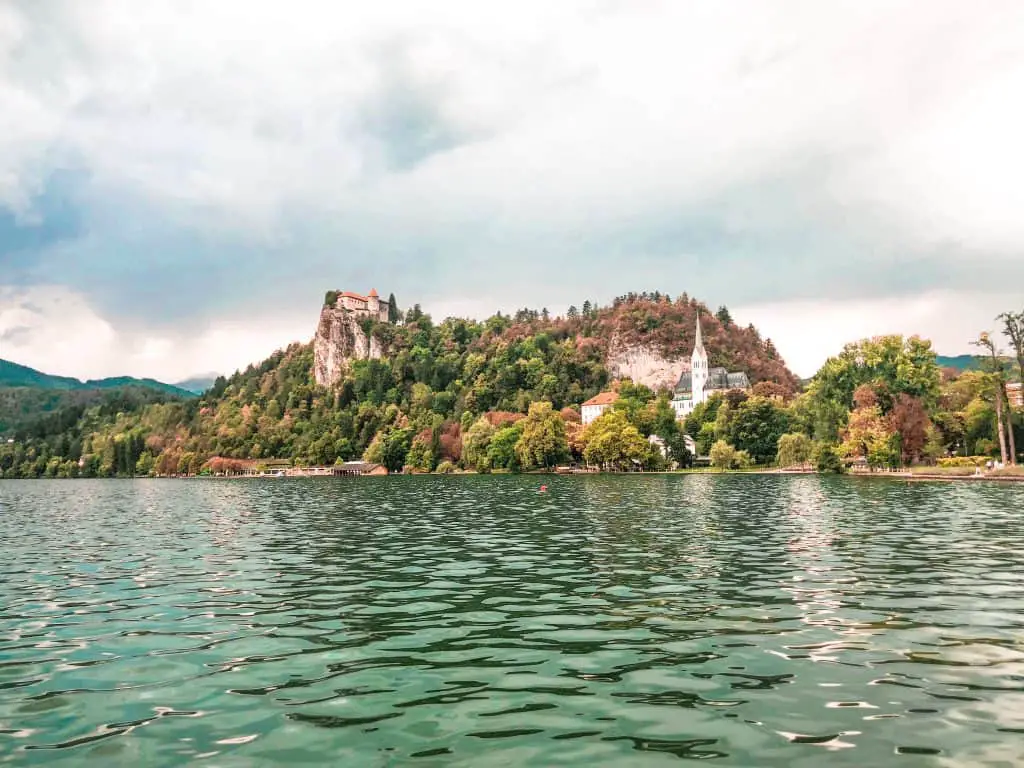 Day Trip to Lake Bohinj
Just a short 30-minute bus ride from Bled is the largest lake in Slovenia, Lake Bohinj. This lake is equally, if not more, beautiful than Lake Bled and is well worth the drive. Once you reach the town of Bohinj you can get off the bus at any stop around the lake. Kim and I got off at the Camp Zlatorog campground where there were restrooms, places to eat, and rent paddle boards or kayaks if you're so inclined.
The ground is very rocky so if you have water shoes, bring them. If not, just tiptoe your way into the refreshing glacial water of Lake Bohinj.
Cost: €2-€7 Check with the bus stop in the center of Bled for times.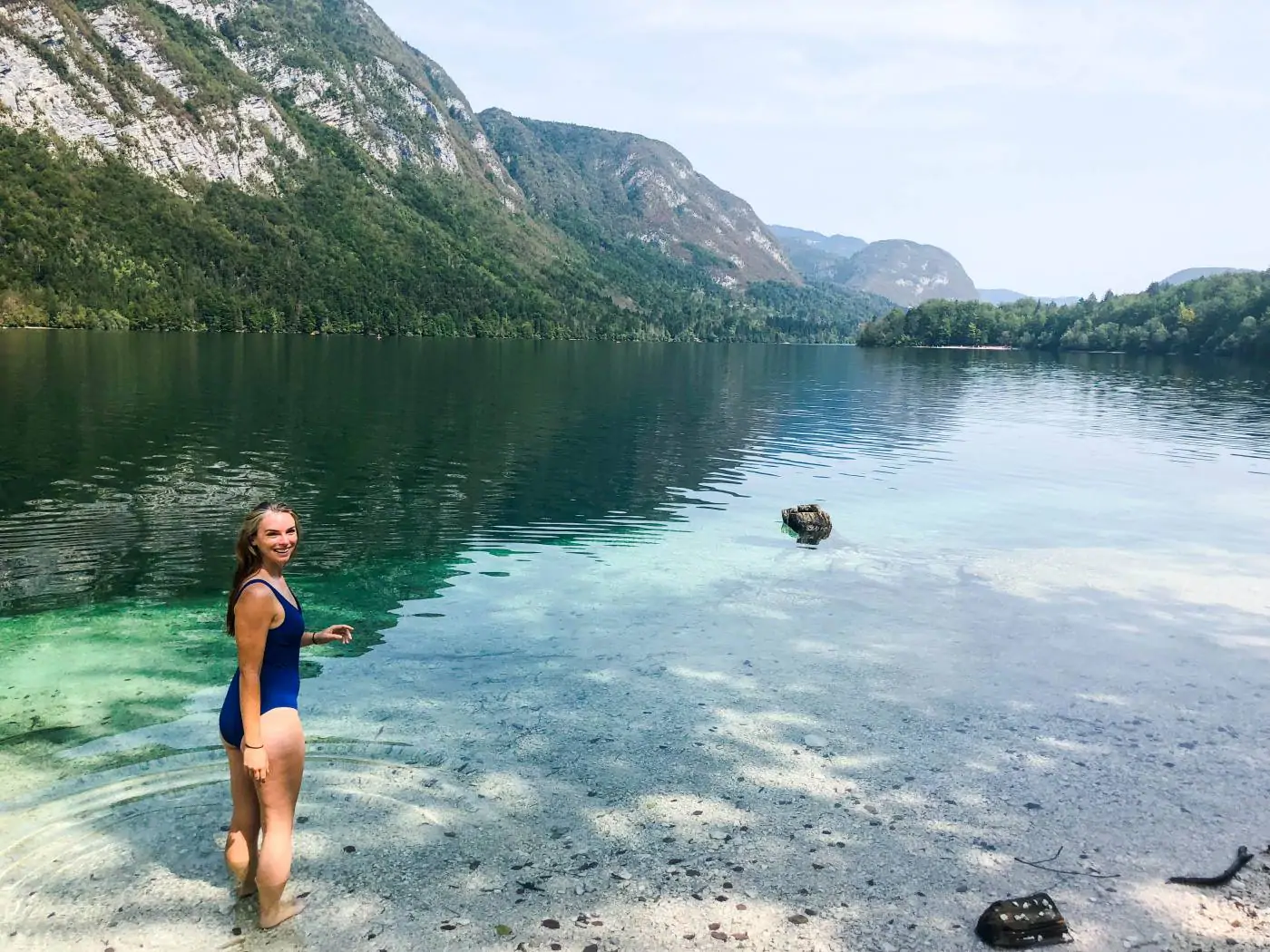 Day Trip to Vintgar Gorge
The highlight of my time in Slovenia is the few hours we spent walking through Vintgar Gorge. Vintgar Gorge is just a short 10-minute bus ride away from the center of Bled. Although, Kim and I decided to walk, which turned out to be an adventure in itself.
Vintgar Gorge is a 1.6km gorge (aptly named, am I right?). The clear waters of the Radovna river rush through this gorge creating rapids, pools, and epic waterfalls. To explore Vintgar Gorge, there is a wooden walkway that crisscrosses back and forth over the river, creating not only epic views for you, but amazing vantage points for photographs to make your friends still working that 9-5 jealous.
Cost: €1 for the shuttle bus ride from Bled. The entrance fee to the Gorge is €10 adult/€3 child. These sites are great for the bus schedule and up to date park info and hours.
Rent a Bike and Ride Through Triglav National Park
Lake Bled is incredibly close to the impressive Triglav National Park, which is technically where Lake Bohinj and Vintgar Gorge are located. So you've already explored a bit of it, but a really fun and adventurous thing to do is rent a bike from one of the shops in Bled and ride through the national park. There is a very small lake that is surrounded by the Julian Alps and it is just so picturesque, I can't really even put it into words.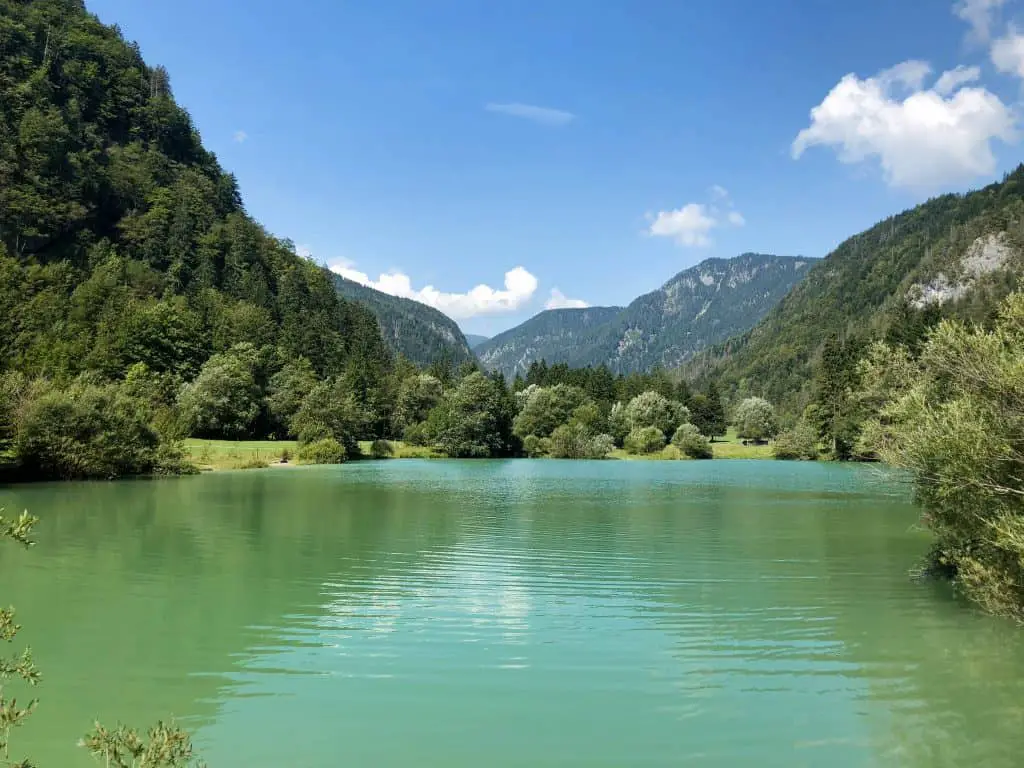 But the real bonus is that not many people come here unless you're local and have the inside scoop. So if you happen to visit Lake Bled during the busy tourist season, then escape for a few hours into the National Park, and get some exercise while you're at it. Ok, fine, I'll tell you the name of the lake. It's called Kreda, but let's just keep it our little secret.
Cost: Bike rental €10 for the day. We rented ours from a little shop in front of Traveler's Haven Hostel.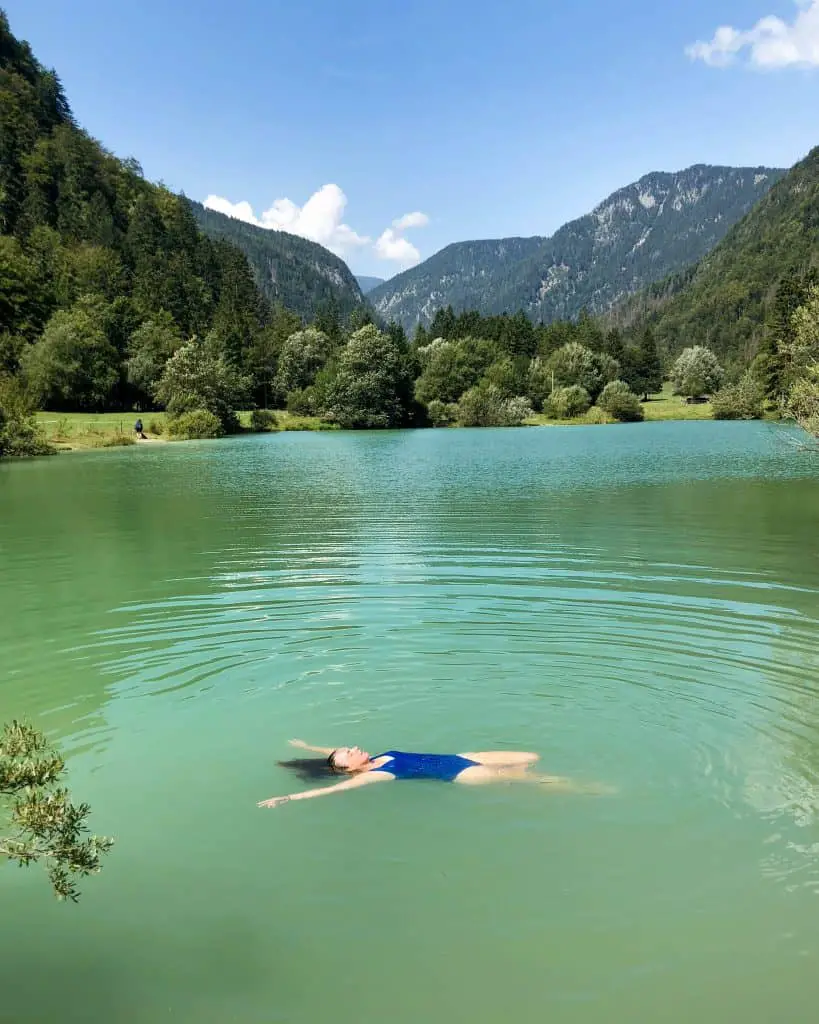 Relax in Lake Bled
I am a huge proponent of taking time to relax while you're traveling or on vacation. I burned myself out trying to see all of the churches and all of the sites in the first half of my travels through Europe, that I almost lost the joy of traveling. It really comes from the simple things and Bled is a perfect place to kick back and relax.
Pack yourself a picnic lunch and take it to the lake. Fill up a water bottle of cheap, yet delicious, wine from the grocery store and bring it with you. There is always space in a vacation to do absolutely nothing. So take a break from sightseeing and crossing things off of your bucket list and just be surrounded by the beauty of Lake Bled.
Cost: Free!
Lake Bled is truly a sight to see. As are the surrounding areas, I hope that you enjoy the beauty of lake bled and take a day trip or two to explore all of the beautiful parts of this area of Slovenia.
Need more help planning? Check out this resources
Like this post? Pin for later!