Charming, fairytale, idyllic, welcoming…all words I would use to describe Slovenia's capital city of Ljubljana. Ljubljana is a small, pedestrian friendly city that, while popular among visitors, does not have the overcrowded feeling of other popular capital cities in Europe (like Paris and Prague). You'll get everything you need from one day in Ljubljana. A castle on a hill overlooking the city that has a winding river running through it, flanked by charming cobblestone streets that are lined with cafes. I visited in the summer, but I can only imagine that Ljubljana is even more stunning during an Autumn in Europe when the changing colors of the trees provide a colorful backdrop to the dragon lined streets.
Did I mention Ljubljana has a thing with dragons?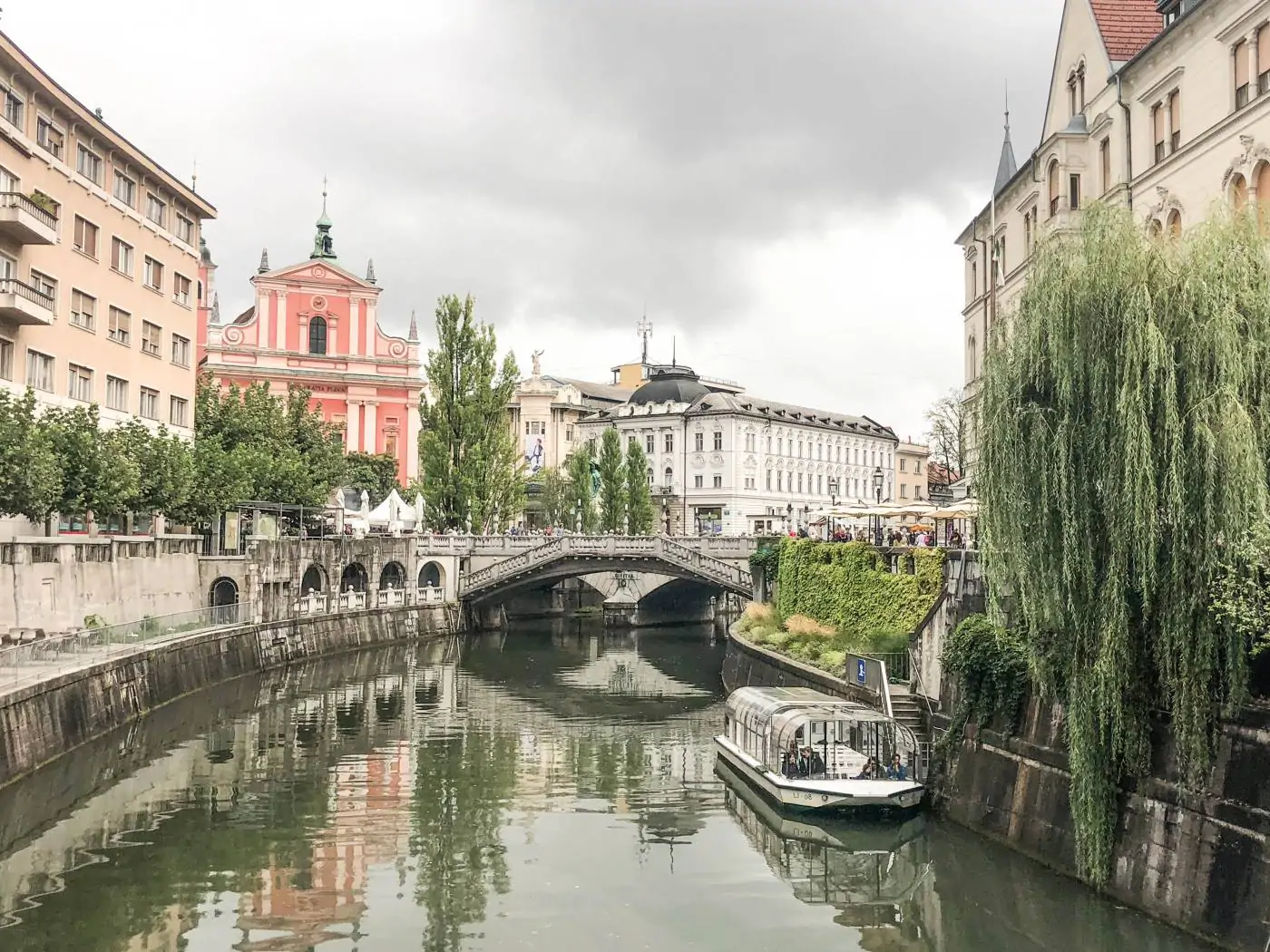 While one day is enough, I always suggest more than one day anywhere you go. This way you can take your time exploring and not feel rushed to check everything off of your list. But, I'm aware, not all of you can just up and quit your jobs to travel around for a year, so you're likely on a bit of a time crunch. You could definitely accomplish all of these items in one day or you could pick one or two of your top "must sees" and focus your time and energy. Additionally, Ljubljana makes a good base to explore Slovenia with day trips to other destinations like Bled and Piran. However, you decide to plan your trip to Slovenia, you're going to have an epic time in Ljubljana.
One Day in Ljubljana
Make sure you wear your walking shoes for today because you'll be doing a lot of it! Ljubljana is a very pedestrian friendly city and it's the best way to see it! I'll provide you with a general overview of which direction to walk so you can see most of the highlights efficiently, however, definitely veer into the alleyways and random side streets.
Breakfast at La Petit Cafe & Restaurant
Start your day off right with breakfast at La Petit Cafe & Restaurant. This French inspired gem of a restaurant is set a bit away from the old town on a charming street where you can choose to dine inside or outside. They are open daily from 7:30 – midnight, serving breakfast until 12:00 pm during the week and brunch until 5:00 pm. So even if you sleep in you'll have a chance to enjoy a Croque Madame and a smoothie.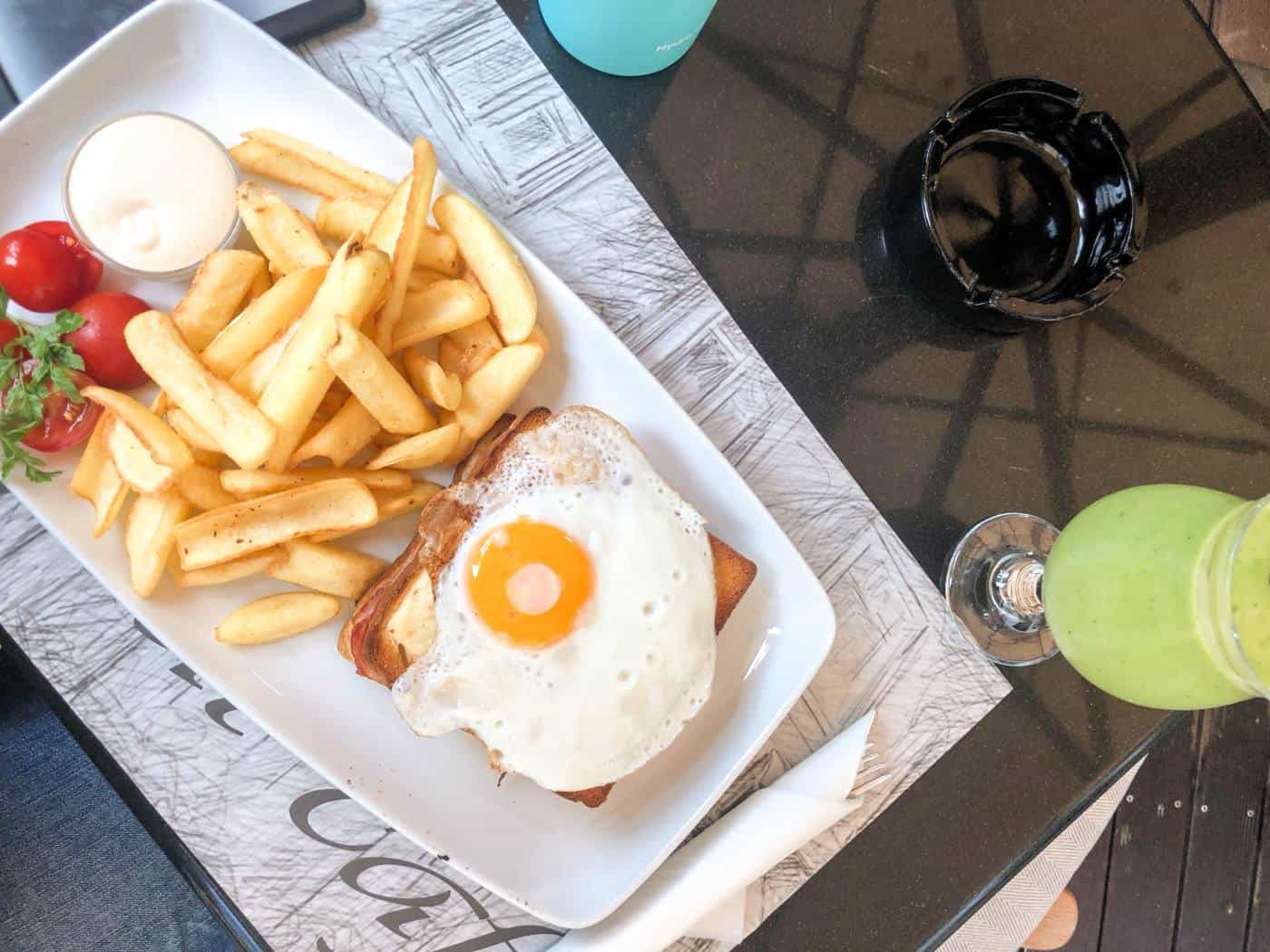 Walk Off Breakfast
After breakfast stroll along the river front towards the center of the old town, Preseren Square. Either side of the river will do, however, I quite enjoyed the castle side of the river. So cross over Cobbler's Bridge, which is where cobblers used to sell their shoes. This bridge provides a great view of the castle and the river running through the city.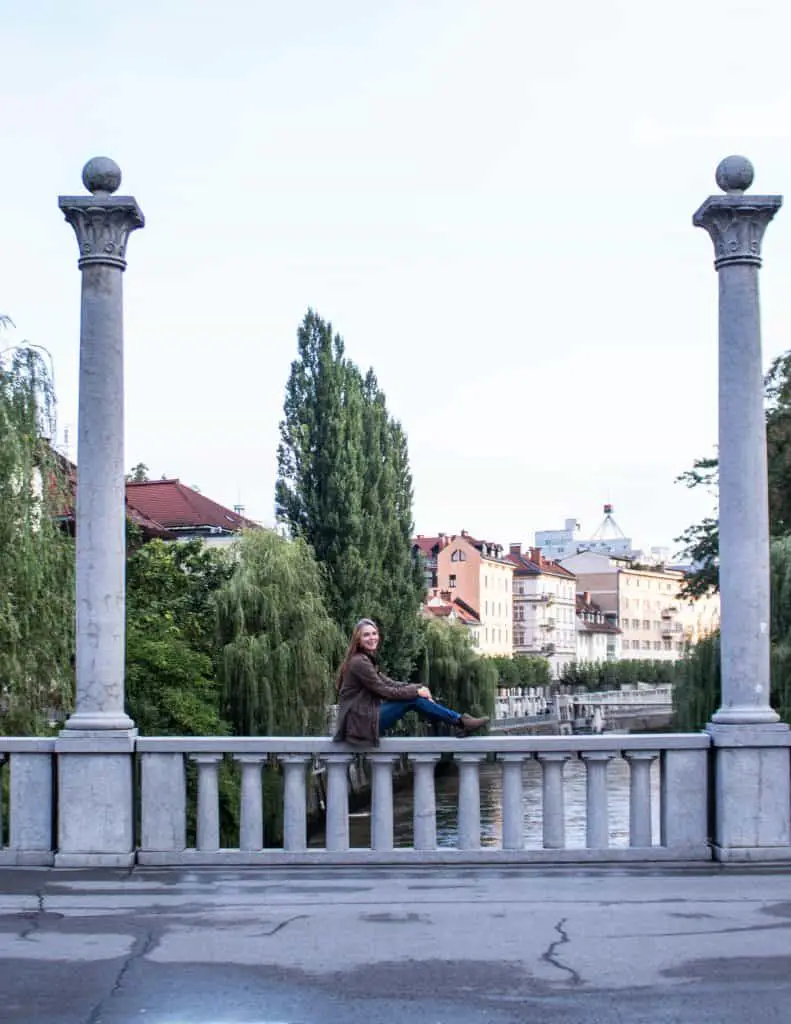 Check Out a Few Cafes
Along this route, there are a number of cute cafes to pop into. I suggest checking out Cafetino for coffee lovers and Cajna Hisa for tea fanatics (like me!). Another good option (on the opposite side of the river) is Kavarna Zvezda. But really, each cafe has a slightly different vibe, but they're all a welcome break from sightseeing for people watching!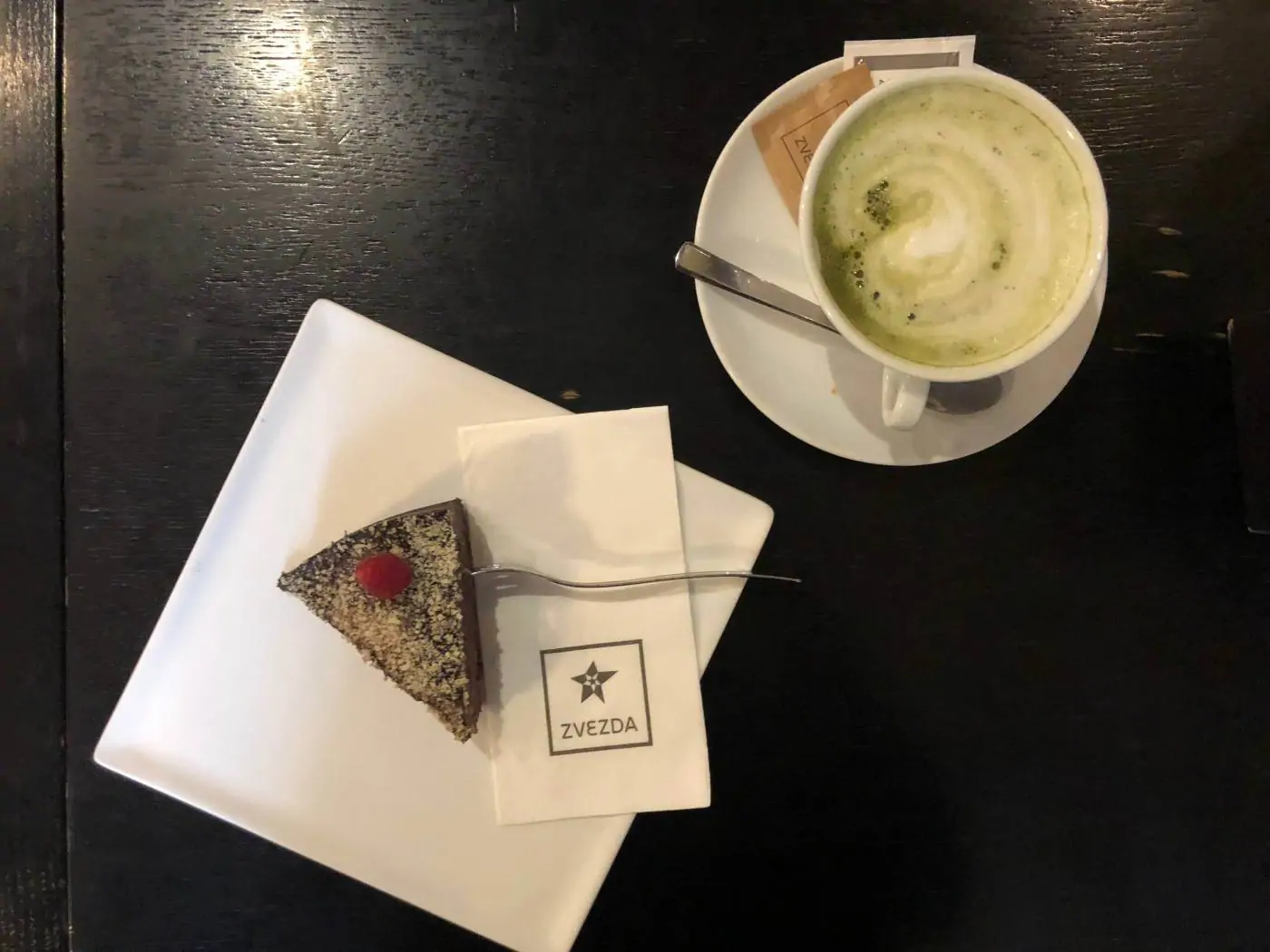 Ljubljana Cathedral
Along the way, you'll pass by Ljubljana Cathedral. Its green domes are a part of Ljubljana's skyline and it's interior much more stunning than its exterior. I'll admit, I didn't enter the Cathedral as each time I passed by it happened to be closed. However, the pictures of the interior make me wish I made a bit more effort in getting in, it is free after all!
Central Market
Just beyond the cathedral is Central Market which is really a one-stop shop for all your produce needs. Here you can pick up a wide range of fresh veggies, fruits, and flowers. There is also a section for clothing and stalls selling handmade, local goods. Try the cheese samples – so good! I recommend picking up some snacks from here or even gathering some produce for a homemade dinner. It's very budget friendly! Some of the vendors speak English and if not, hand signals and a smile always come in handy.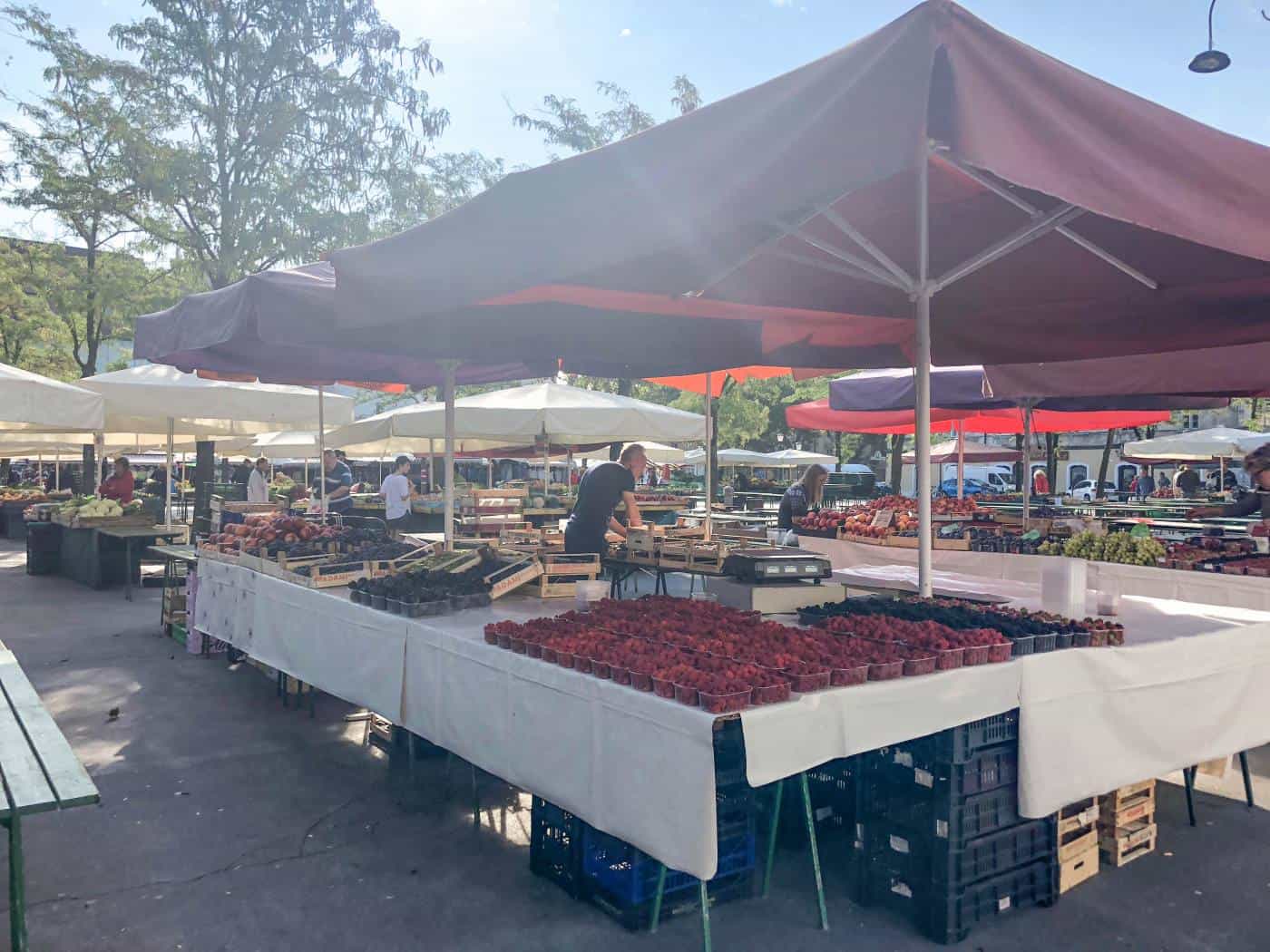 Get a Photo Opp at Dragon Bridge
Dragons are a thing in Ljubljana, well not just a thing, they're the city's symbol of power, courage, and wisdom. There are a number of legends as to how the dragon came to be the city's symbol, whichever one you believe, it's evident that the dragons are there to stay. You can find symbols of the dragon all throughout the city, but the most popular place to find them is on the Dragon Bridge. There are four of them guarding either side of the bridge. It's also a pretty spot for a photo opp with the Cathedral and Castle as a nice backdrop on a sunny day.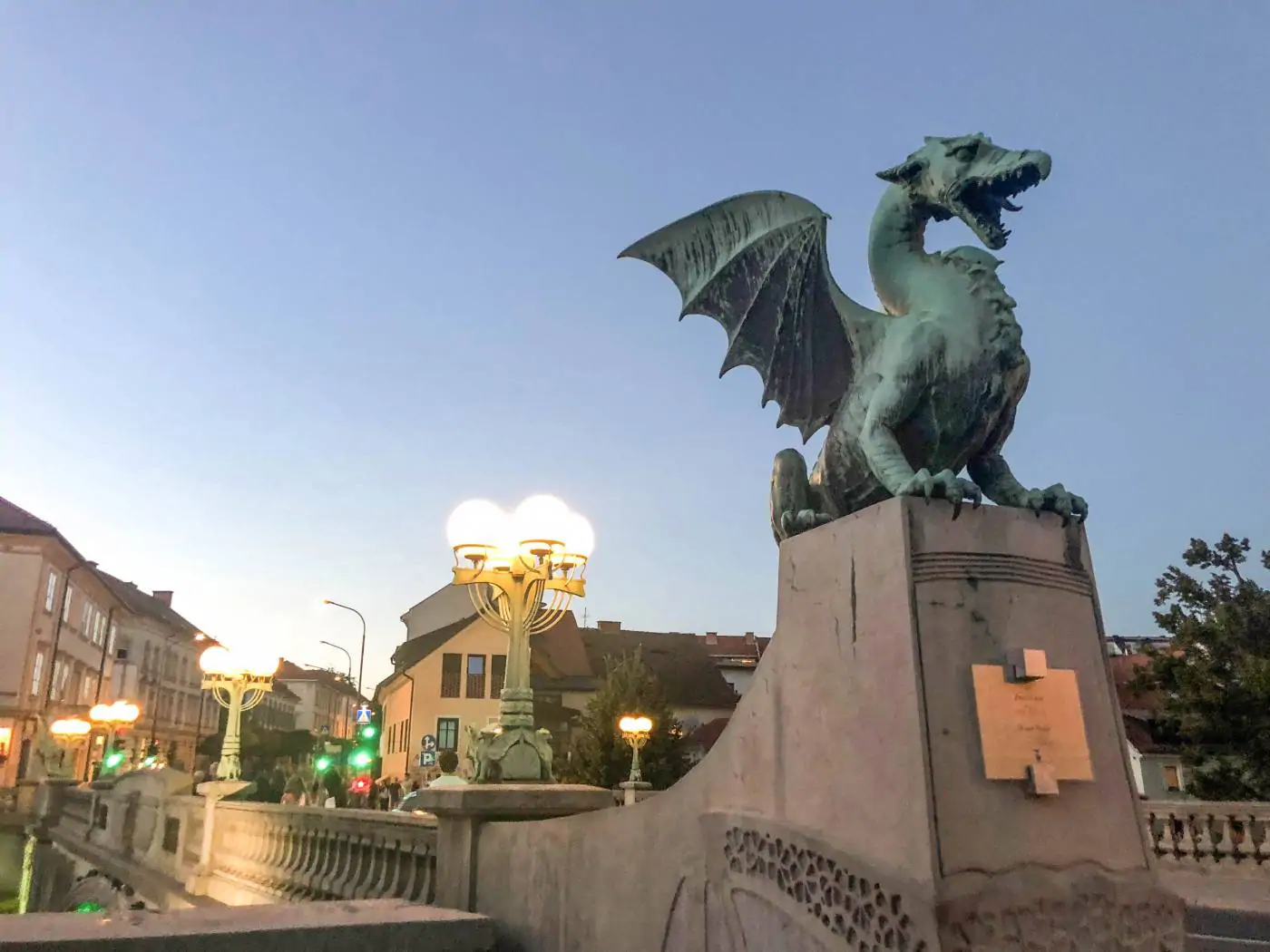 Have a Treat at Cacao
The ice cream at Cacao is so freaking good on a hot summer's day. Stop by here and continue your stroll along the opposite side of the river ice cream in hand.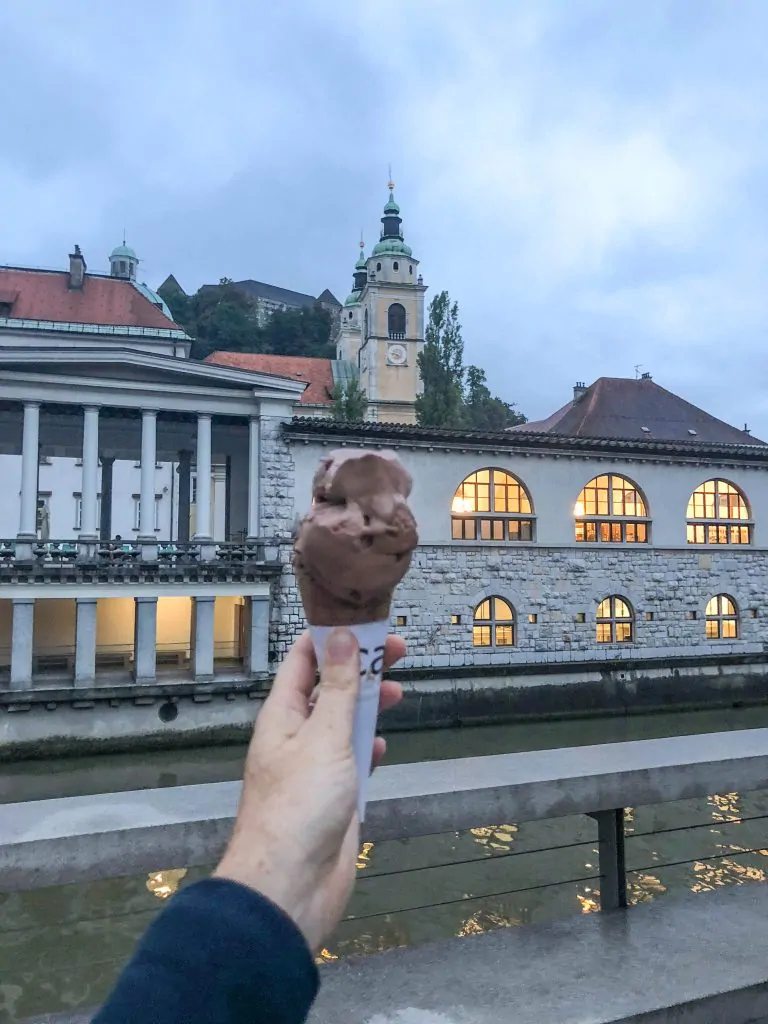 Walk Through Tivoli Park
As we head into the afternoon, the tourists come out to play, so head to Tivoli park for a bit of respite from the city. On your way to the park you will pass through the center of old town, Preseren Square. Here you'll find the pink church and statue of Preseren. This location serves as a gathering place for many people as it's easy to find.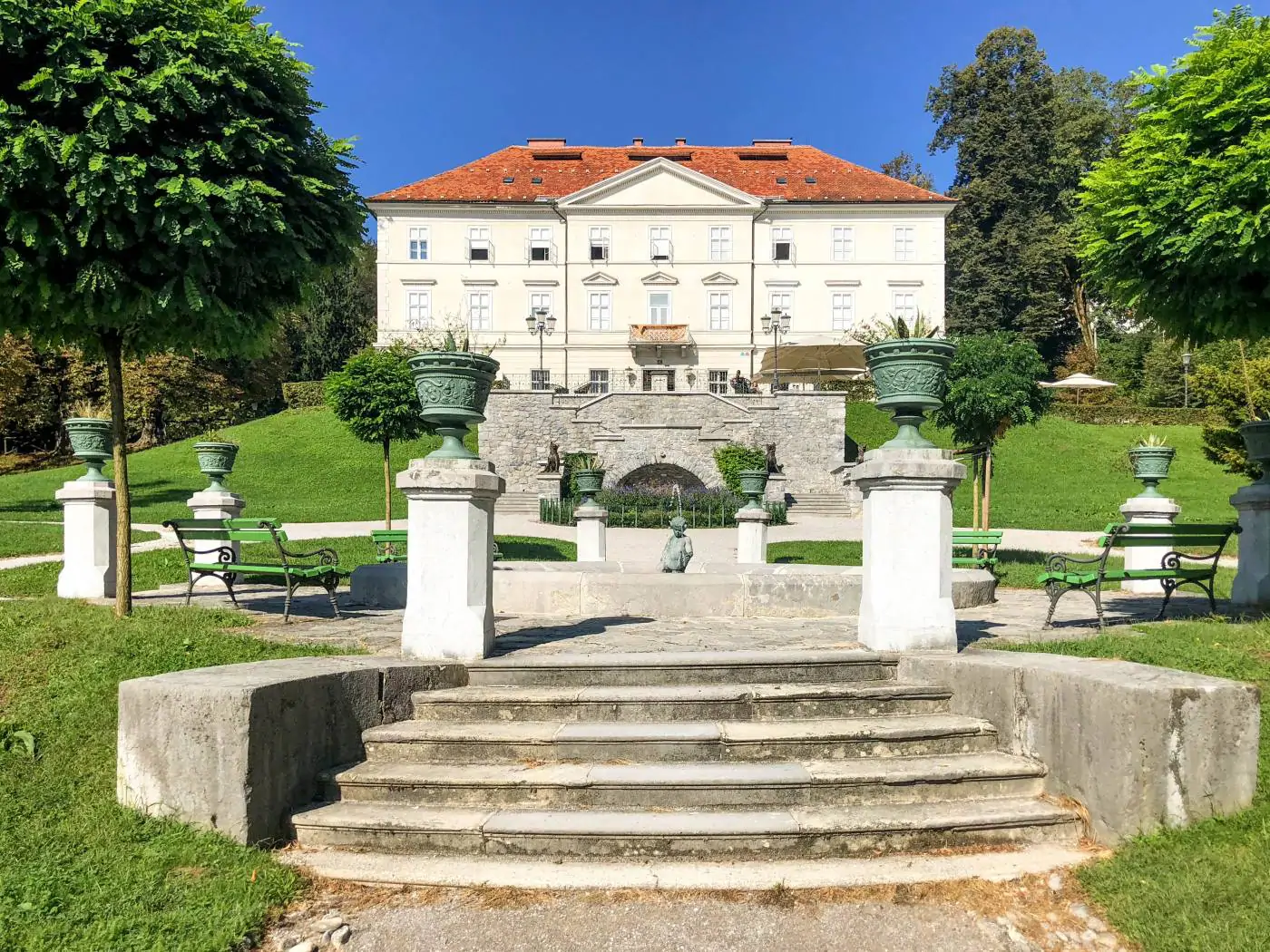 But don't linger here long, take your snacks and ice cream to Tivoli Park, a large green space just a few minutes walk outside of the city center. There are a number of wooded trails you can walk through, plenty of benches to relax in for a bit, an open-air art gallery, and even a sports complex. Even though Ljubljana is small and not as crowded compared to other capital cities in Europe, a breath of fresh air in a park is always welcome.
Sunset at Ljubljana Grad
When you've gotten enough fresh air head back to town and cross Triple Bridge – an iconic bridge in the city. Supposedly there is a funicular that will bring you up the hill to the castle, I never saw it! I followed a path just behind Central Market up to the top. It took about 20 minutes and is a steady uphill climb, which I desperately needed. But if you've had it with walking ask around about the funicular.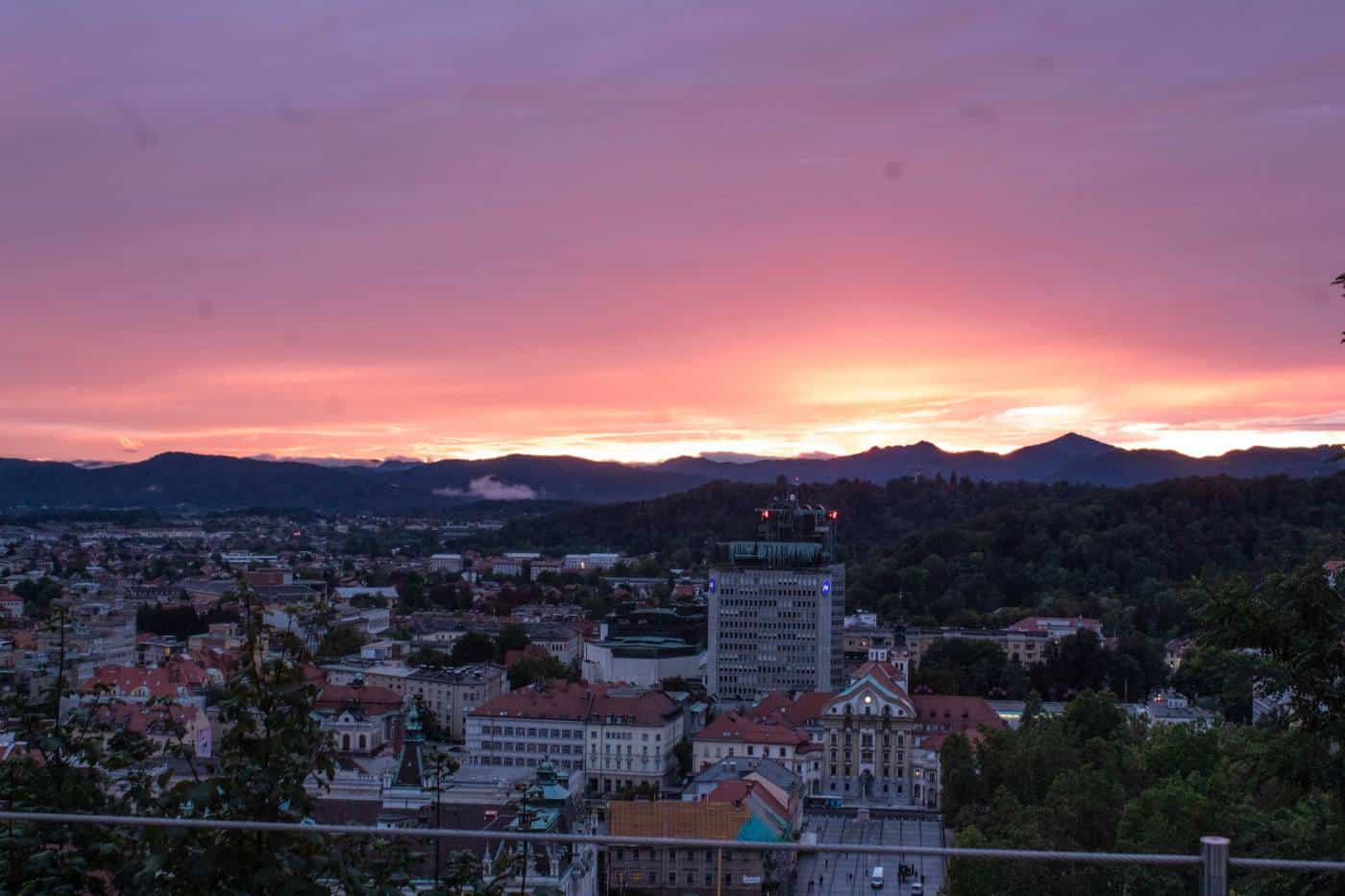 The castle is a great spot to watch the sunset over Ljubljana and watch the city lights come on. You can see most of the castle without paying an entrance fee. There is a viewing deck you can climb up, former jail cells, and much more you can do here for free.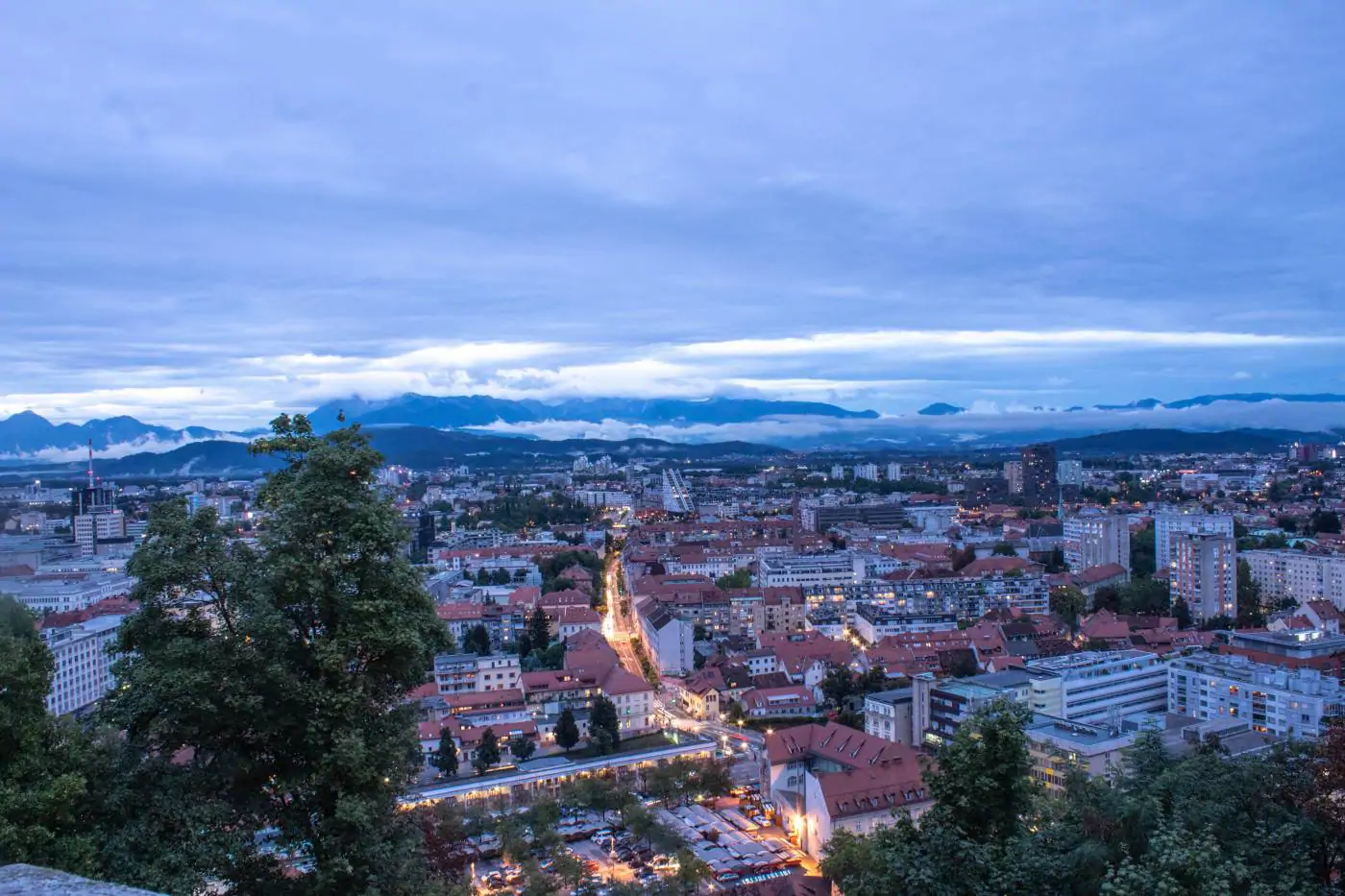 Enjoy a Drink Along the River
The riverfront is a very lively place. It's lined with restaurants and bars. On a nice evening, have a seat at one of the tables lining the river and enjoy a drink. It's a great spot for people watching and also to enjoy music from street performers. Another option for enjoying the river is to take a river cruise, which I did not do, but it looked like fun.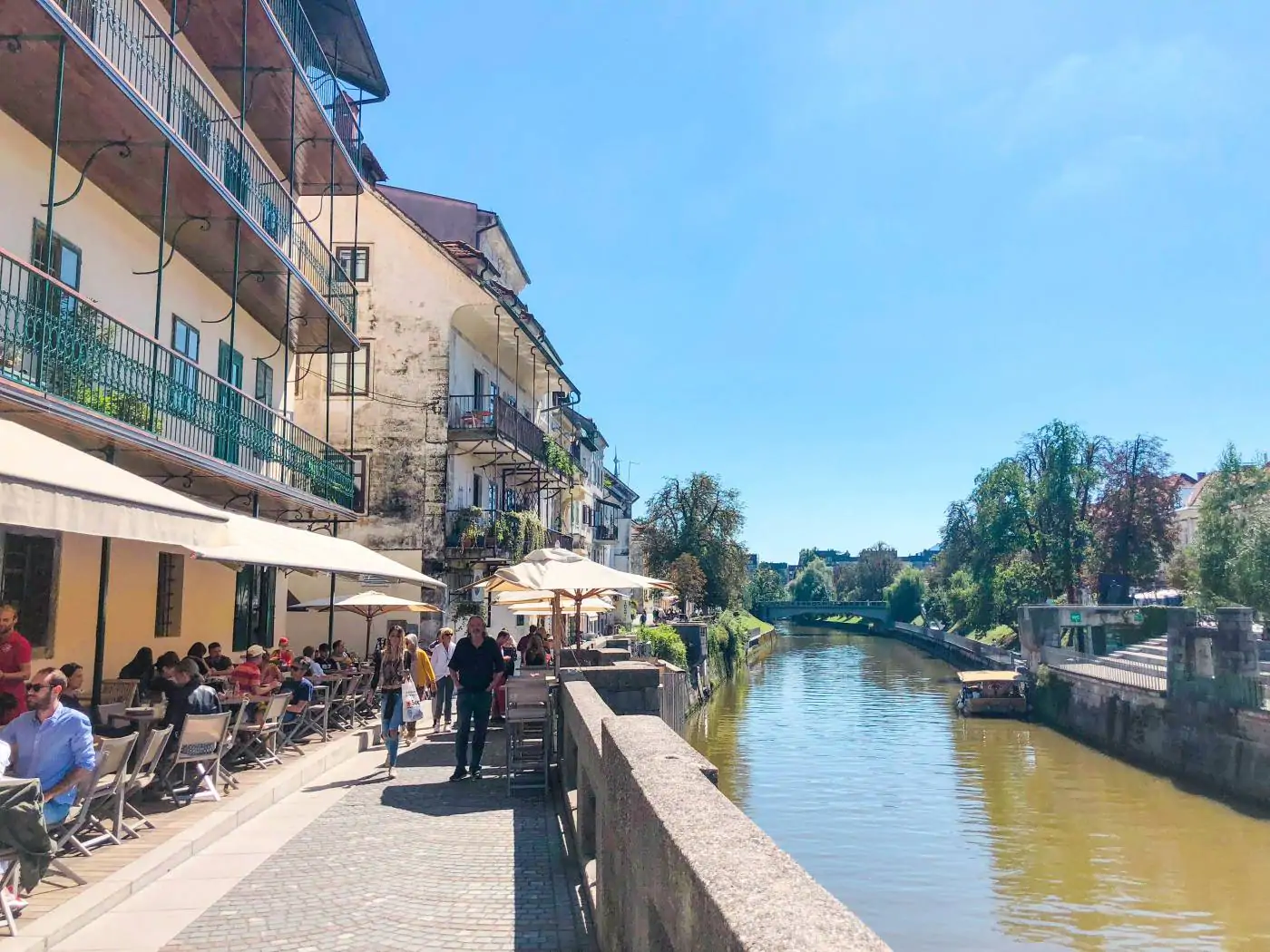 If You Have More Time
Simply spread this itinerary out. There is a lot in this one-day itinerary. You're likely feeling exhausted at the end of this day trying to cram it all in. If you have time, just spread this itinerary out over two days. Check out different cafes. Walk as far away from the city center along the river as you can. One of my favorite streets is called Trubarjeva Cesta, which I discovered one night while I was in search of dinner. This street has plenty of unique shops and cheap eats and is just a few blocks away from the Dragon Bridge, but most people reach the bridge and turn around.
Ljubljana is a great city to get a little bit lost because it's so small. You're never too far from where you want to go and you just might find something really cool. Use the castle as your guide to orient you when you do get a bit off track. I really hope you enjoy this charming city and the rest of Slovenia!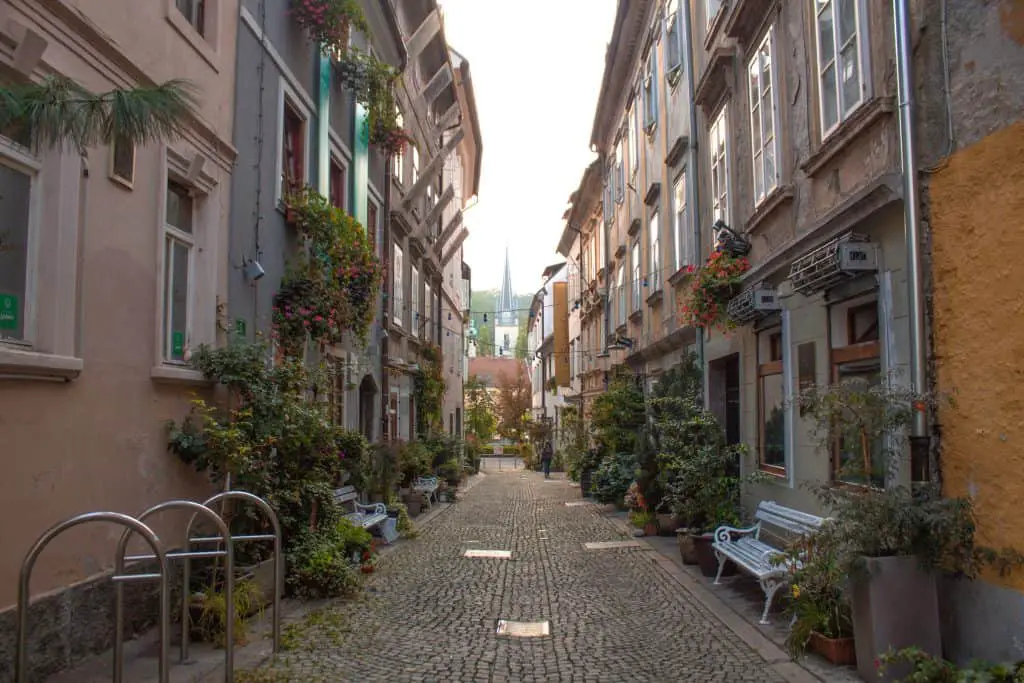 FAQ
How to Get to Ljubljana?
Ljubljana is well served by buses from neighboring countries such as Hungary, Croatia, and Austria. From wherever you happen to be in Europe search for bus routes to Ljubljana. Ljubljana is also a great jump off point for many day trips around Slovenia. I recommend checking out Get By Bus and FlixBus to find the best routes to Ljubljana. 
There is also an airport about 28km outside of the city. You can fly into Ljubljana airport (LJU) and then take a bus to the city or even to Bled.
Where to Stay in Ljubljana?
I stayed at Turn Hostel which is located above an English Pub. It had solid WiFi, comfortable beds, and clean showers. However, there was no kitchen which is one drawback. On one of my walks out of town along the river, I passed by Vrba Hostel. It took me about 15 minutes to get there but is on a cute tree-lined street with plenty of bars and restaurants as well.
Solo Female Travel Safety?
I never felt unsafe in Ljubljana. I walked back from the castle well after dark and felt completely safe. There were plenty of people going on runs in the area. Of course, always be aware of your surroundings and if your gut is telling you something is off, then pay attention.
Like this post? Pin for later!