When I think Croatia, I think exploring coastal cities like Split or Dubrovnik, island hopping, and Game of Thrones. Zagreb, Croatia's capital city, wasn't exactly the first destination on my Croatia bucket list, especially in the middle of a summer heat wave. But I needed to get some blogging accomplished and since it didn't appear that Zagreb had much to offer, I decided to book an Airbnb and get to blogging. I was so wrong.  After spending one day in Zagreb I realized it's just as worthy of exploring as any other European capital city!
Instead of blogging I explored the city's beautiful parks, admired the architecture, took in sunset over the city, ate delicious food and of course checked out a few cafes. If you only have one day in Zagreb because you're heading off to explore the Croatian coastline, here's what you should check out.
Overview of What to Do in Zagreb, Croatia
Breakfast at Korica

Zrinjevac Park

Ban Josip Jelacic

Dolac Market

Zagreb Cathedral

Lunch on Tkalcica Street

Museum of Broken Relationships

St. Mark's Church

Strossmayerovo Promenade

Dinner at Zrno Bistro
But First, Logistics
This post contains affiliate links, which means that, at no additional cost to you, I will earn a tiny bit of income if you decide to make a purchase or booking.
How to Get to Zagreb.
Zagreb is well served by buses from neighboring countries. Check out FlixBus or GetByBus to pick the best route for you.
Just be aware, that in Croatia, a bus might just leave you on the side of the freeway to have you change buses.
It was the craziest thing I'd seen. I was on a bus from Split to Korenica to visit Plitvice Lakes National Park when all of a sudden the bus driver pulled over in the side of the freeway and told me to get off.
He told me to cross the freeway and another bus would be along in about 10 minutes to pick me up. Ummm what?
So I followed directions. 10 minutes passed and just as I was getting ready to hitchhike another bus showed up and took me the rest of the way to Korenica. So weird. Just wanted to give you a heads up in case this happens to you.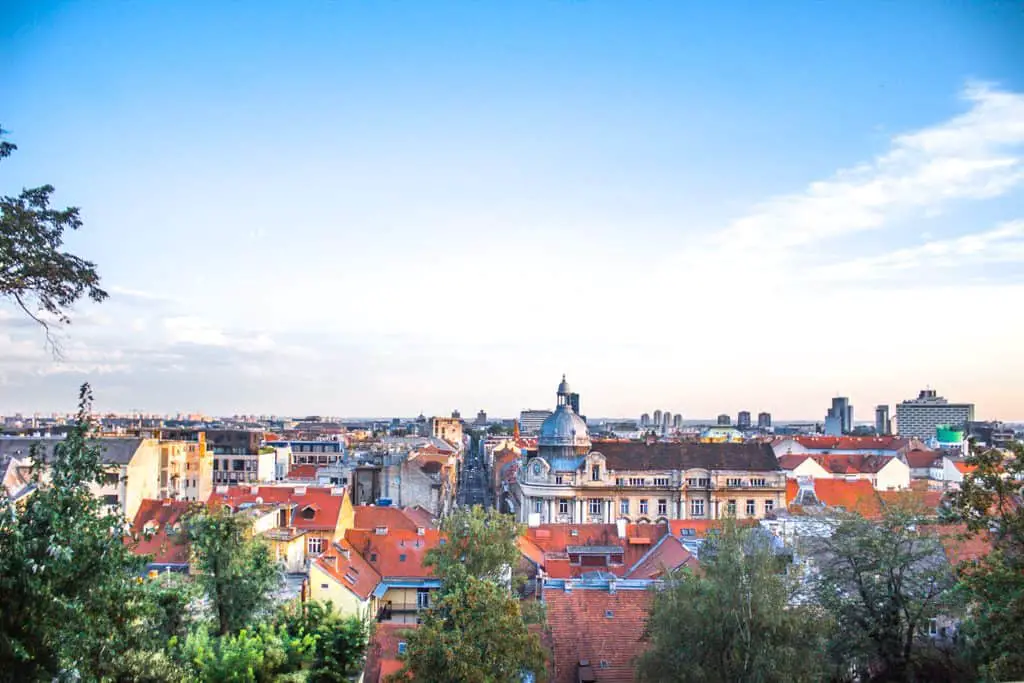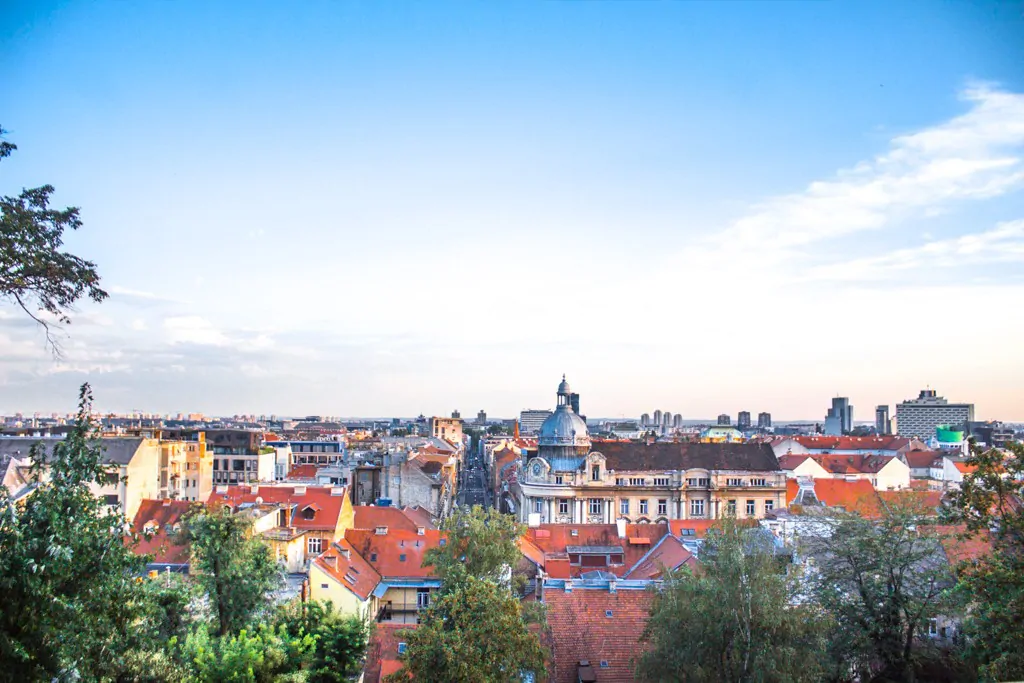 Where to Stay in Zagreb
Because my intention with staying in Zagreb was to work on my blog, I picked an Airbnb with a private room that claimed to be a 15-minute walk to the city. Turns out it was a 45-minute walk, at least. And a 15-minute walk to the bus that would take you into town.
So, I will not recommend that Airbnb (get $40 off of your Airbnb booking with this link!) Plus, with only one day in the city, you'll want to be close to the action. I suggest perusing the options from booking.com below that are near the main square of town, Ban Jelacic.
Solo Female Travel in Zagreb.
Even after getting left on the side of the freeway, I never felt scared or threatened in any way when traveling in Zagreb and the rest of Croatia.in fact at my hostel near Split, I inquired about a lock for the locker in the hostel room, the owner looked at me like I was crazy and said they didn't have any. Things just don't get stolen there.
The usual precautions apply, however. I did have a lock that I used for my locker. And when I was out well past dark in Zagreb I took an Uber instead of public transportation and walking.
Ok, now that's out of the way let's get to it.
An Itinerary for One Day in Zagreb.
Breakfast Pastry at Korica
Start your one day in Zagreb off right with a pastry and tea or coffee from Korica. Korica is a small bakery located on a quiet street in Lower Town with windows overlooking a park. In addition to delicious croissants, you can pick up freshly baked bread. They only accepted cash when I visited, so be prepared with kuna in your pocket.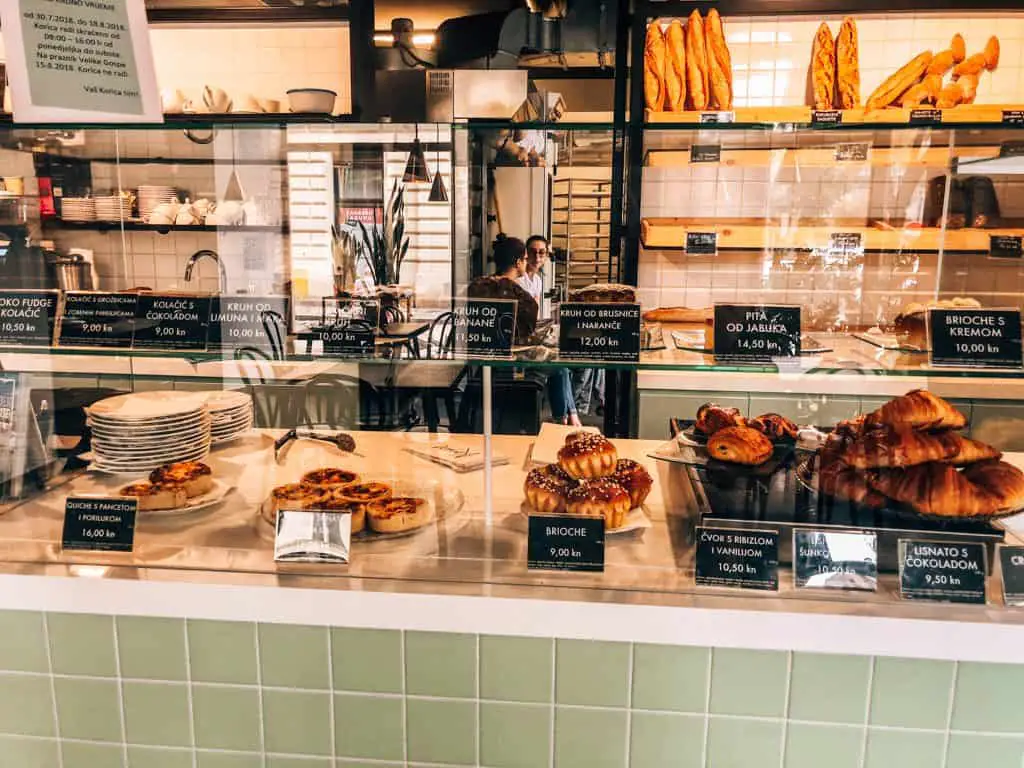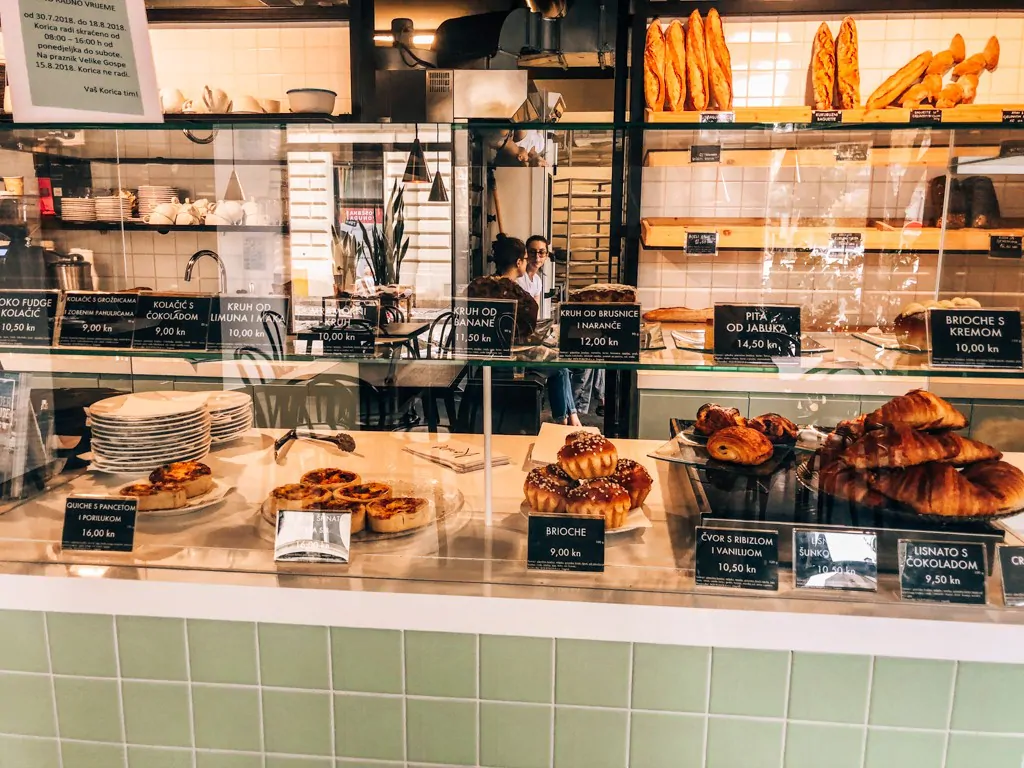 Zrinjevac Park
After breakfast walk towards North Town along Zrinjevac Park. This beautiful green space is home to the Art Pavilion (an art museum) Croatian Academy of Sciences and Art. This park is incredibly lively at any time of the day and is a great place to relax a bit. I was walking home through this park on a Monday evening and there was a live band playing and people of all ages dancing. It has such a great atmosphere.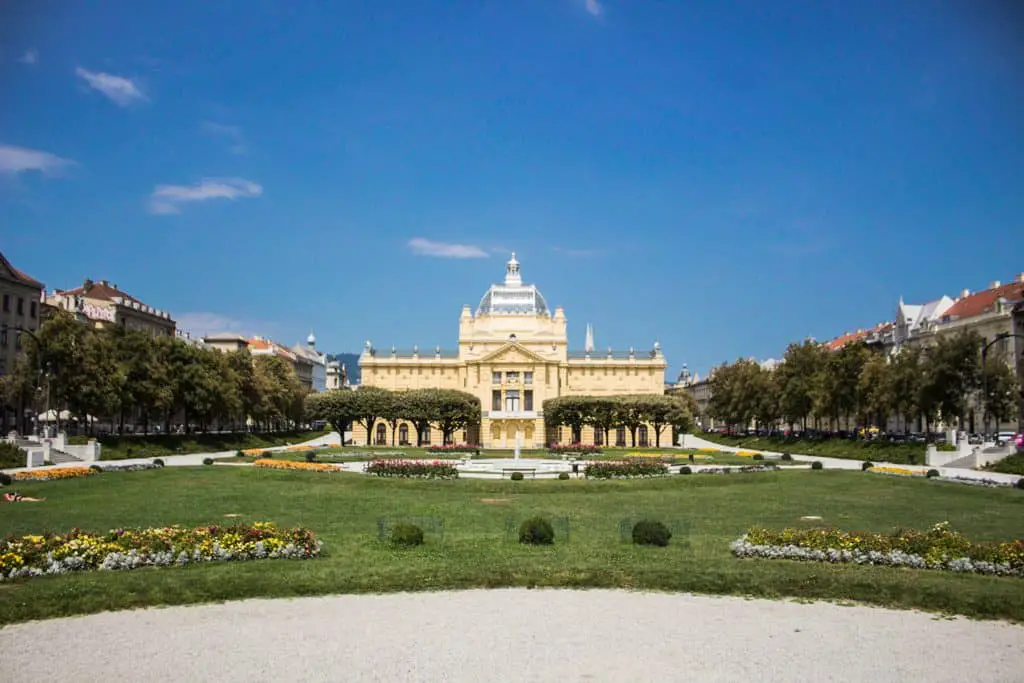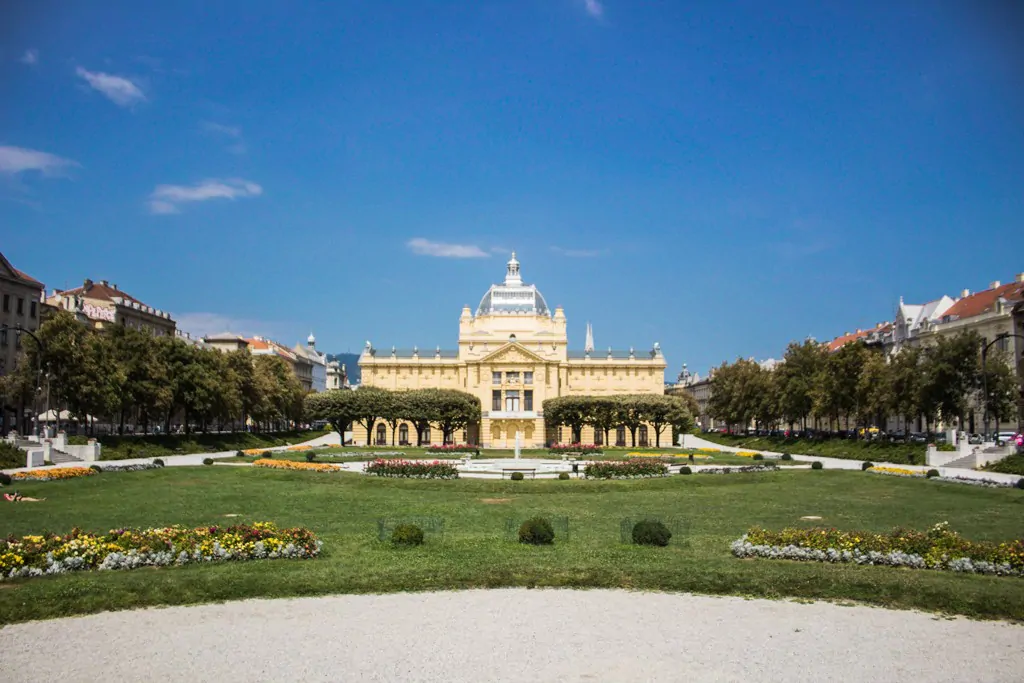 Ban Josip Jelacic
Now you've made it to Ban Josip Jelacic, the main square of Zagreb and a great meeting point in the city. This square and the streets surrounding it are very pedestrian friendly as they are inaccessible to cars. I love when cities have pedestrian only zones, it makes it less intimidating in a way. Surrounding this square are a number of cafes, restaurants, and hotels. But you won't spend too long here, there is much more to see!
Dolac Market
From the main square of Zagreb, walk North up to Dolac market, an open air farmers market that is open daily. Here you can find fresh, local produce, flowers, bakeries, butchers, cheesemongers, and much much more. It's always nice to pick up a sampling of local produce to make your own healthy meal while traveling. And you can get everything you need at Dolac Market.
Hours: Mon-Sat 7:00 am – 3:00 pm and Sun 7:00 am – 1:00 pm. I suggest visiting around midday.
Zagreb Cathedral
After you've shopped at Dolac Market head to Zagreb Cathedral, which is just a short walk away. I accidentally stumbled upon this Cathedral after the market, that's how little research I did before going to Zagreb. But the Zagreb Cathedral is really not to be missed. And it's hard not to as it's the tallest building in all of Croatia and its spires are a well established aspect of the Zagreb skyline. It's free to enter, which you totally should, as the inside is just as impressive as the outside.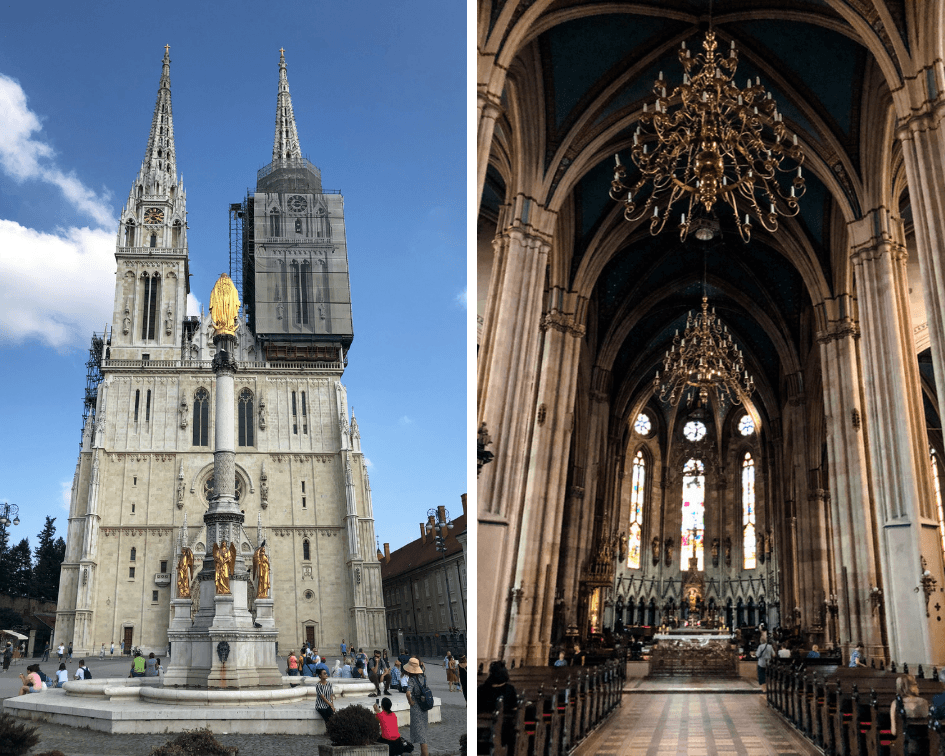 Lunch on Tkalcica Street
At this point, you're likely a little hungry, so head to Tkalcica Street. Here you will find a number of bars and restaurants. Seriously, I think that's all there is on this street. You can find any type of cuisine you're heart desires here and it's all reasonably priced and quite tasty. I was craving a cheeseburger (typical) so I ate at Otto & Frank, which I highly recommend. No matter where you decide to dine, try to sit outside so you can enjoy people watching on this busy street.
Museum of Broken Relationships
Now you're full and ready for one of the quirkiest and interesting museums I've ever visited. The museum of broken relationships. To get here, I suggest walking down towards the main square and then take this small alleyway off of Radiceva ul called Zakmardjeve Stube. It's a really cute little alley with a painted red carpet on the ground and graffiti on the walls. It leads to a tree covered staircase that once you climb up brings you to an insta-worthy and super cute promenade called Strossmayerovo. If climbing upstairs isn't your thing, you can also take a funicular up.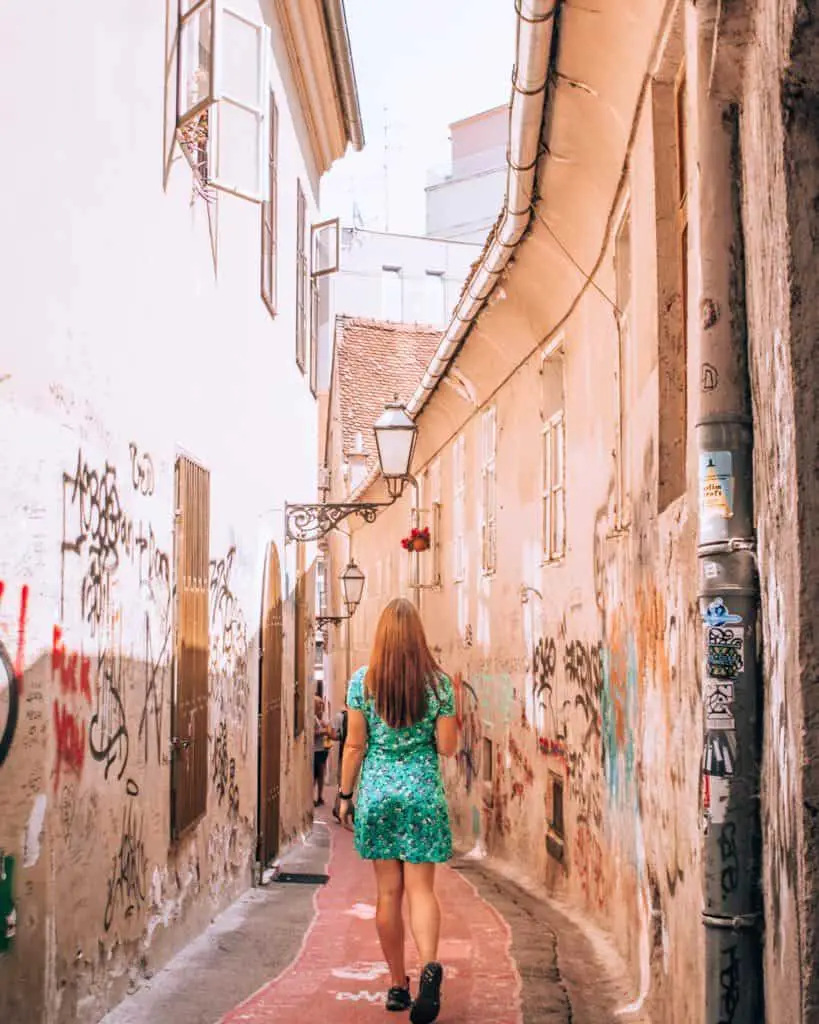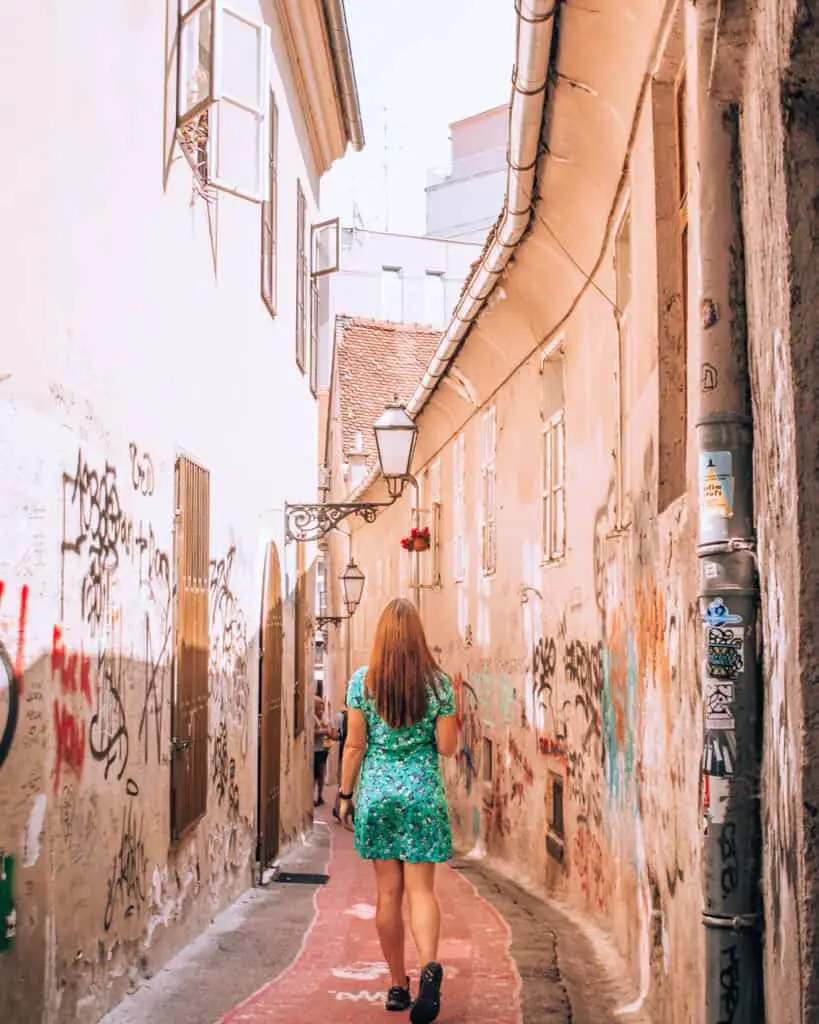 But that journey will bring you to the Museum of Broken Relationships. This museum is unlike any other. People from around the world send in mementos from relationships that didn't last alongside a little blurb about the object and the relationship. These objects and sentiments are then tastefully arranged in this museum. You'll find journals, shoes, clothing, wine bottle corks, and other trinkets from lost love. The sentiments that accompany the items are interesting and completely relatable if you've ever gone through a break-up.
Cost: 40kn (approximately $7 USD)
Hours: Hours of operation vary based on the season, but not drastically. The museum opens at 9:00 am and closes at 10:30 pm in the summer and 9:00 pm in the winter. For the most up to date information on the museum, check out the Museum of Broken Relationships website.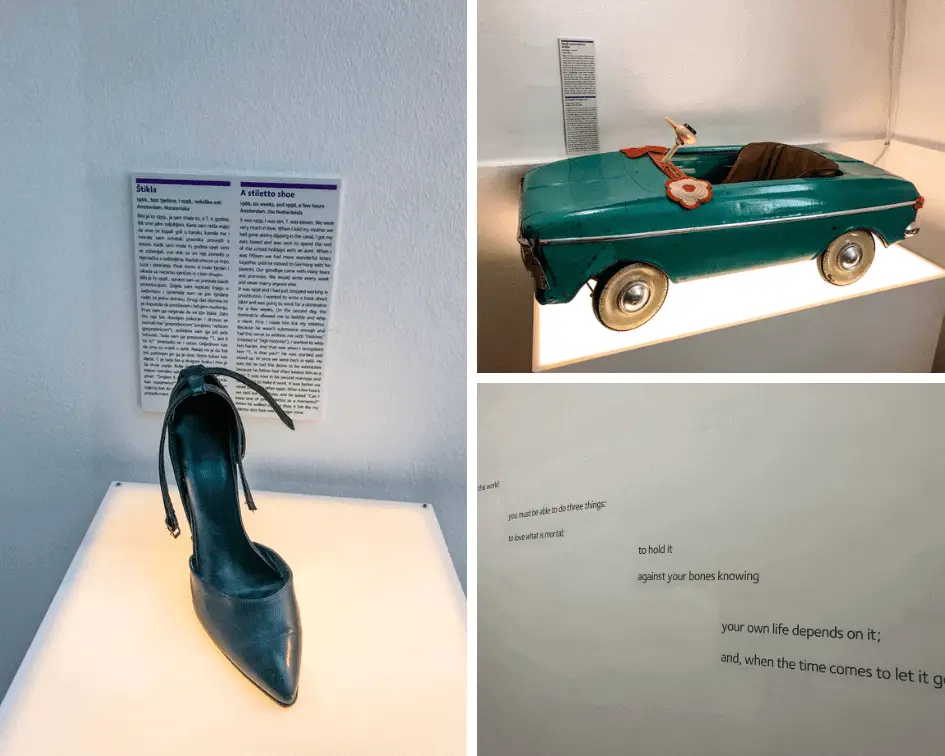 St. Mark's Church
Again, this church came as a total surprise to me. I was simply wandering around this area, waiting for my time to return to the Museum of Broken Relationships and I "stumbled" upon this stunner of a church. It's a small church but the tiled roof is spectacular and well worth a photo. The only way to see the inside is by attending a service, which I did not do.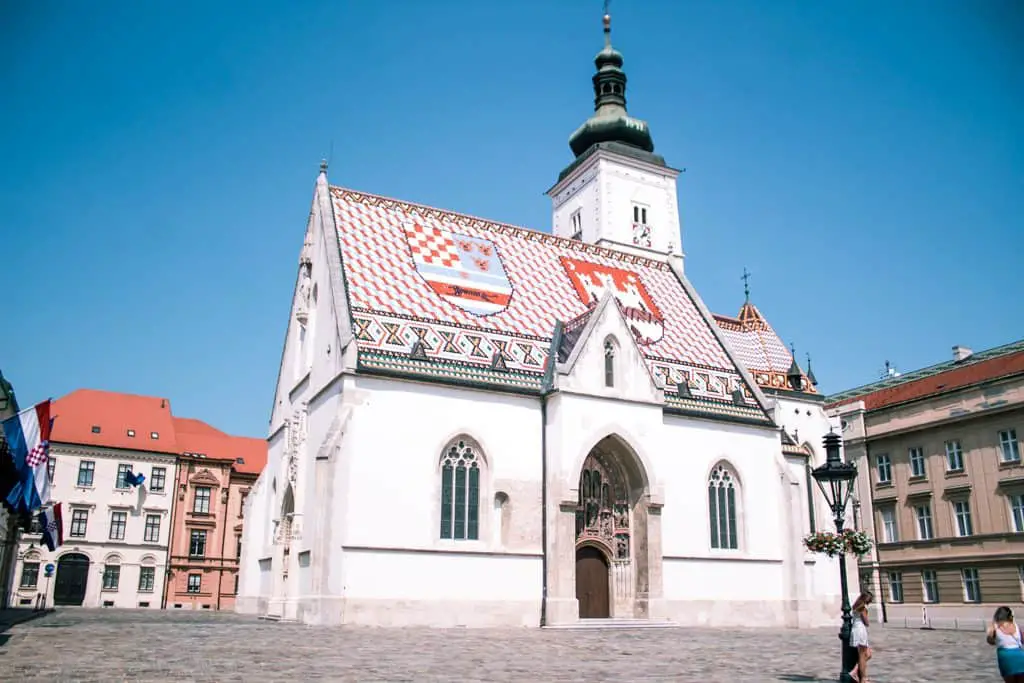 Strossmayerovo Promenade
After having a bit of a wander around St. Mark's Church and the plaza surrounding it, head back to Strossmayerovo Promenade for a drink and to watch the sunset. This is an excellent place to relax after a day filled with site seeing. There are a number of food stands and drink stands lining the promenade with ample seating. It's a cute pedestrian street, very Instagram friendly if you feel so inclined.
I suggest wandering towards Parc Gric, where it's a bit quieter, chandeliers hang from trees, and there are a few wooden benches. Here you can easily find a place to sit and admire the red rooftops of Zagreb from above as the sun sets.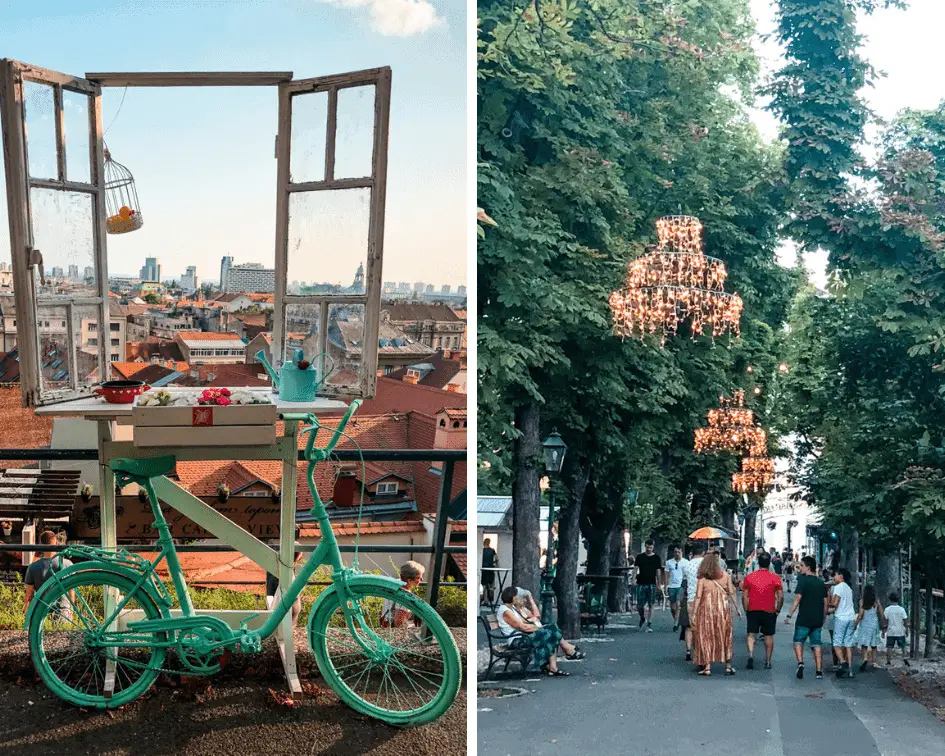 Dinner at Zrno Bistro
This Bistro is slightly out of the way and it closes at 9:30 pm. Which may pose a problem if you're watching sunset in the summer as it sets well past 9:30. So you could always pop in here for a pre-sunset dinner, I promise it's worth it.
Zrno bistro is the place to get a vegan and organic meal in Zagreb. I'm not vegan, but I do enjoy a vegan meal every now and then and this place fits the bill. I ordered a delicious salad with a side of smoothie and it felt so good to eat something so fresh!
If this isn't quite you're style for dinner. You could always head back to the restaurant lined street where you had lunch. Or try Good Food, for a bit of healthy street food, which is located near Zrinjevac park.
If You Have More Time in Zagreb
Admire the Architecture
This one day in Zagreb itinerary is pretty jam packed and has you walking all over the city, which will provide a solid sampling of the city's architecture. I found the imperfect and weathered buildings to be incredibly beautiful. If you have more time, I highly suggest going on a bit of a wander on the streets surrounding St. Mark's Church, to the Croatian National Theatre, and any side street that looks appealing.
…and the Street Art
There is some great street art throughout the city as well. The street art is well placed and fits into the wall it's painted on. Here are a few of my favorites.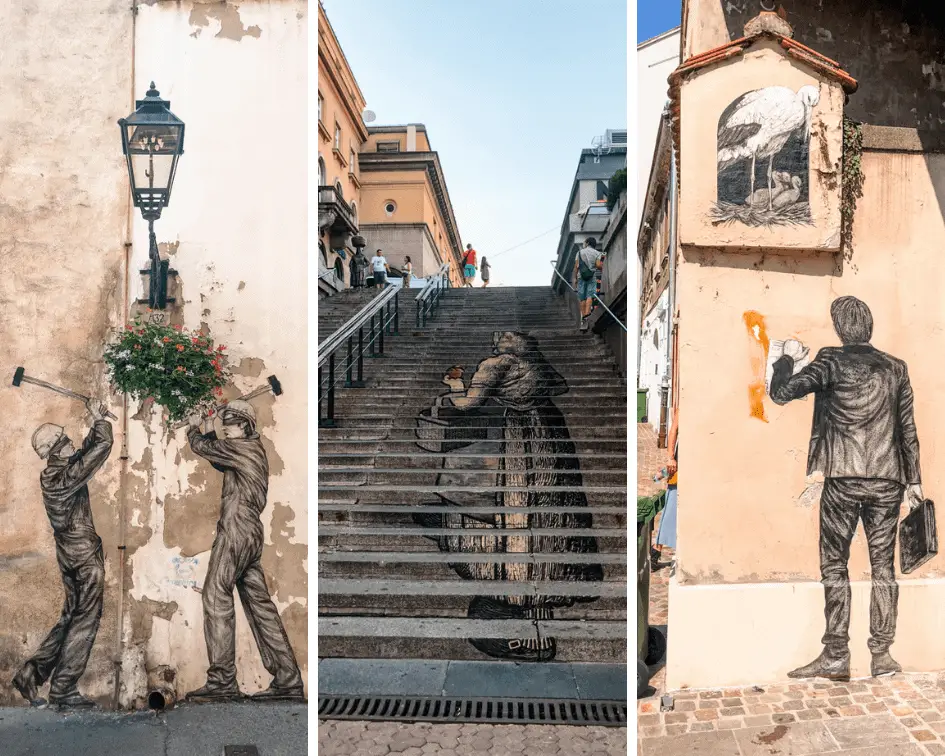 Chill Out in a Cafe
Ok, I did get a bit of work done in a few of the cafes that are in Zagreb. I frequented Cogito and Quahwa. I attempted to go to Botanicar and Eli's cafe but both were closed on each attempt. However, I was visiting during the summer when most Zagreb citizens hit the coast, so that is likely why.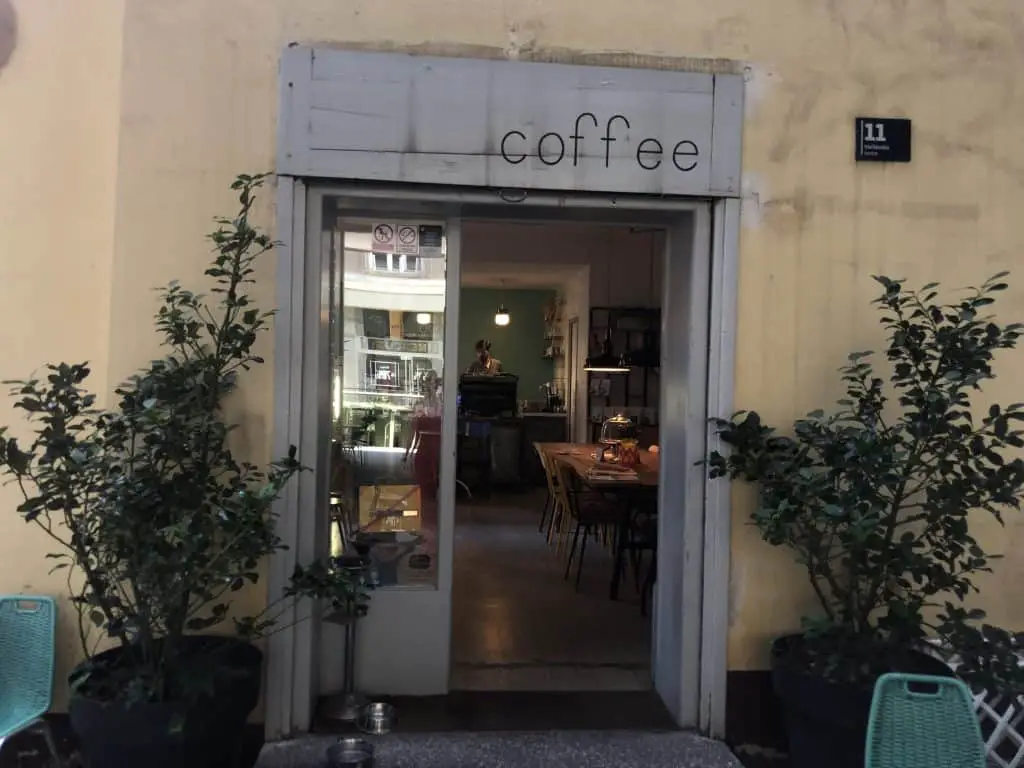 But Cogito and Quahwa both have very unique vibes and delicious matcha lattes. Cogito is located down an alleyway and has a light and airy vibe. Quahwa is located in a courtyard and looks like a traditional coffee roaster.
And just like that one day in Zagreb has flown by. You've definitely seen all of the "must sees" with this itinerary and hopefully also had an opportunity to get a glimpse at life inside Zagreb. Now it's time to head to the Coast and go island hopping!
Need more help planning your trip to Zagreb, Croatia? Check out these resources…
Like this post? Pin for later!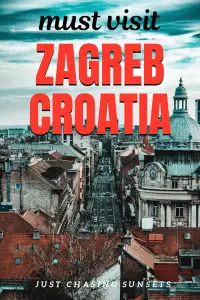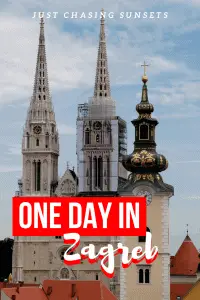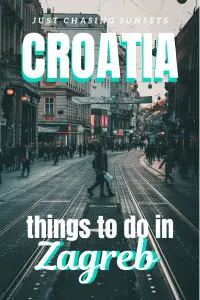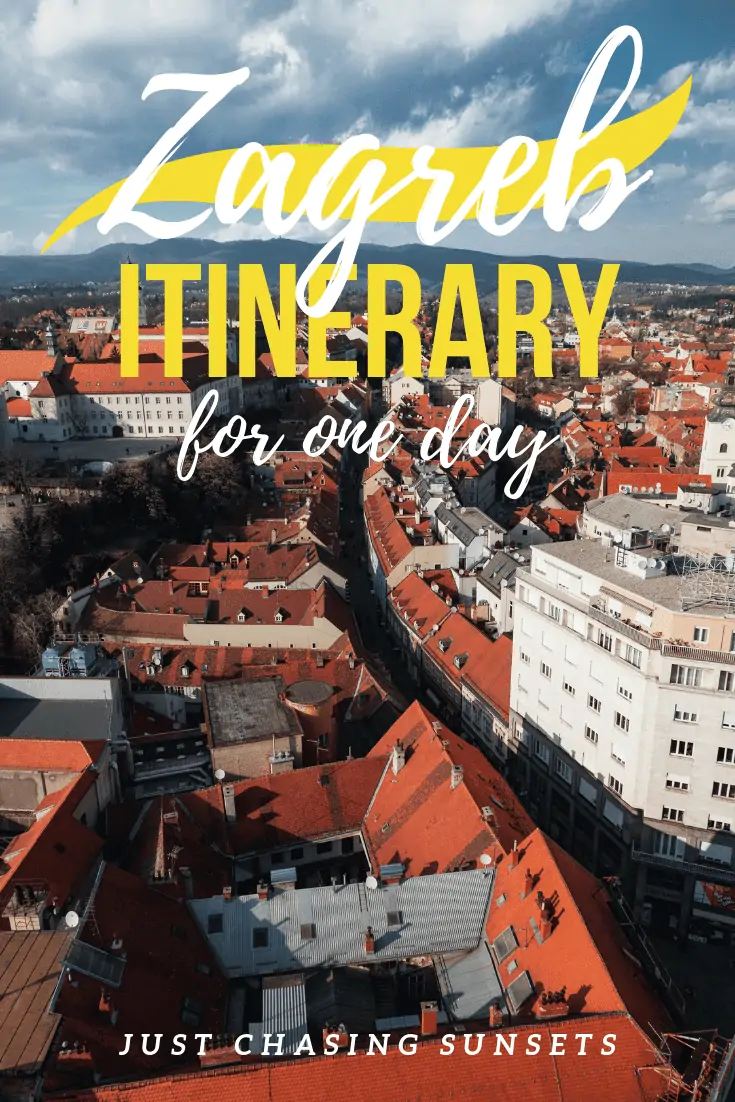 .